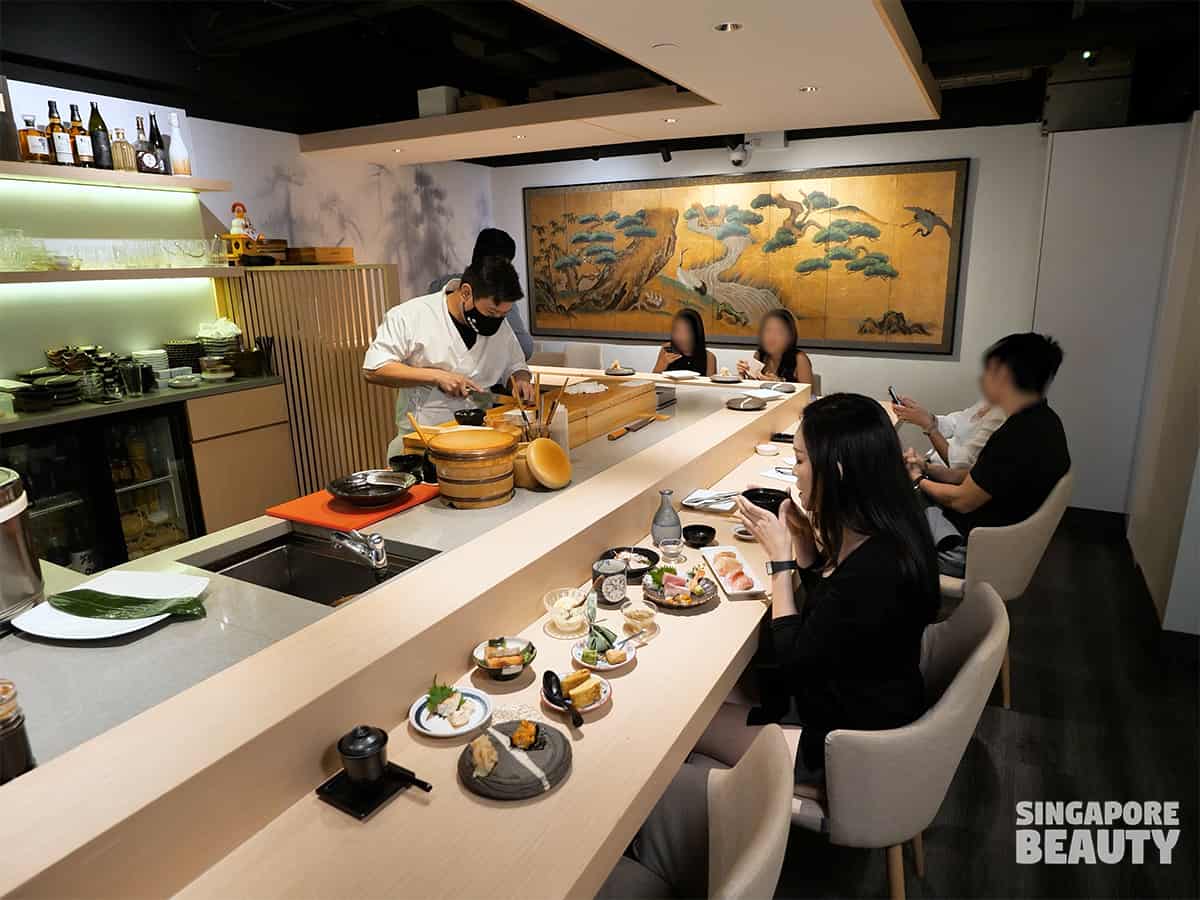 Ikigai Omakase is a popular chef omakase at Pickering Street, Raffles place Singapore. Serving mainly lunch, dinner omakase and lunch sets, this place has a Kyoto vibe with emphasis on the ikigai values and Zen eating experience.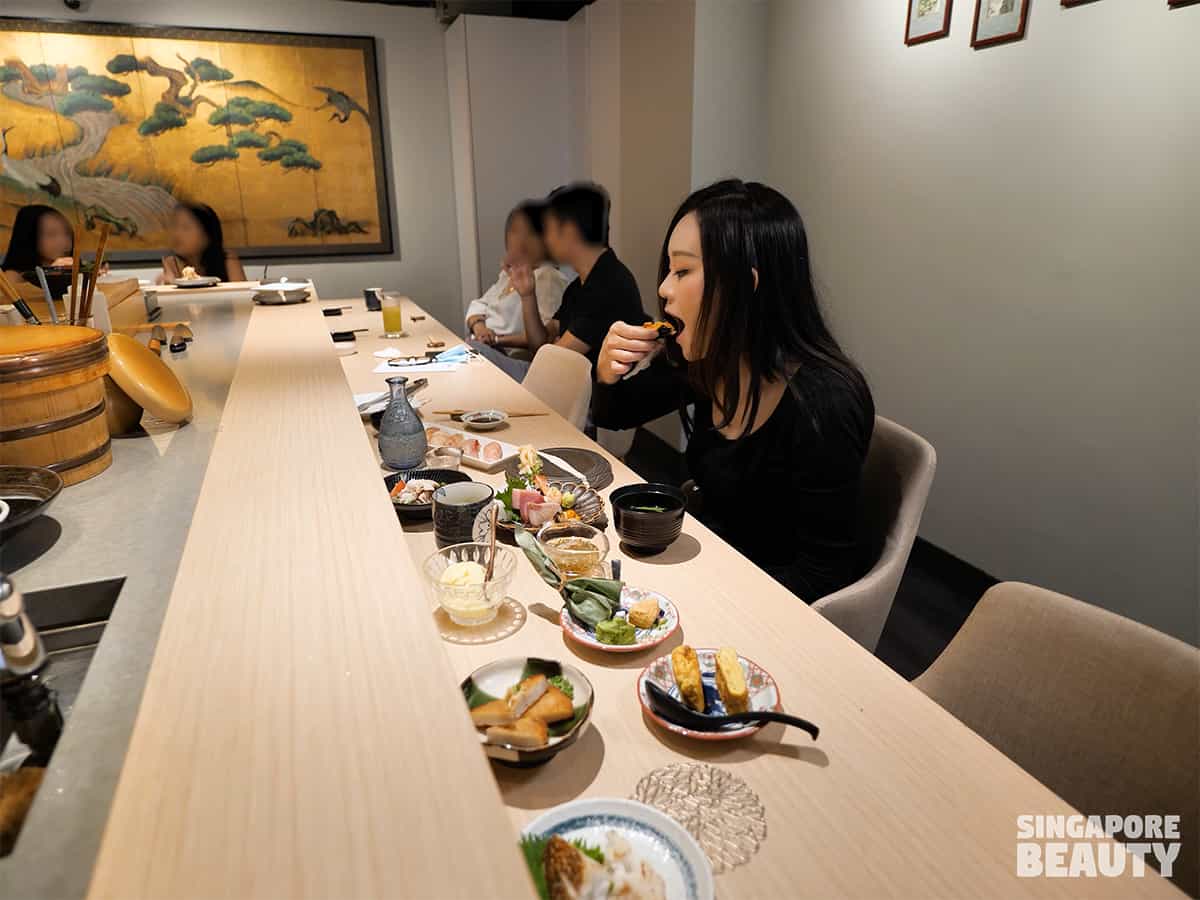 Here's our Ikigai Omakase review after trying their dinner omakase $188++. Pictured above is Ikigai Omakase, photos of the items we had, the dishes are served one at a time and well paced so that you can savour your food in a relaxed and positive manner. Although, the bites are of tasting menu portion, but the variety of dishes and quantity left us feeling full and satisfied.
We were told that with every Ikigai omakase experience here, the menu varies as it depends on the type of dishes curated by the chef based on the freshest ingredient available and seasonal premium catch.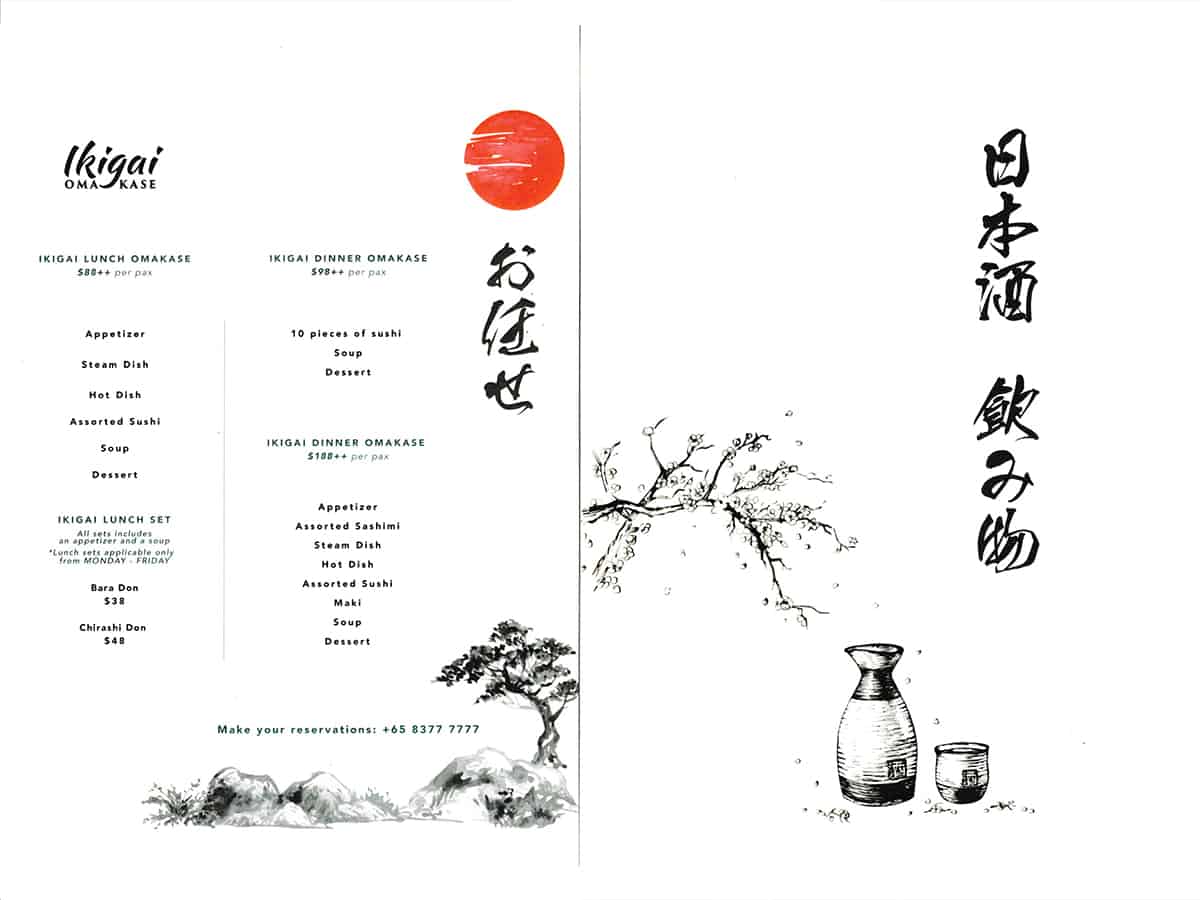 Here's Ikigai Omakase menu and price. Enjoy Ikigai Omakase in Singapore, lunch at $88++ per pax or dinner omakase at $98++ or $188++ per pax. 2-3 days advance reservation is recommended or you can try walk-in with no reservation for omakase but subjected to availability. Lunch omakase is a 6 course meal, dinner omakase $188++ is an 8 course gourmet experience.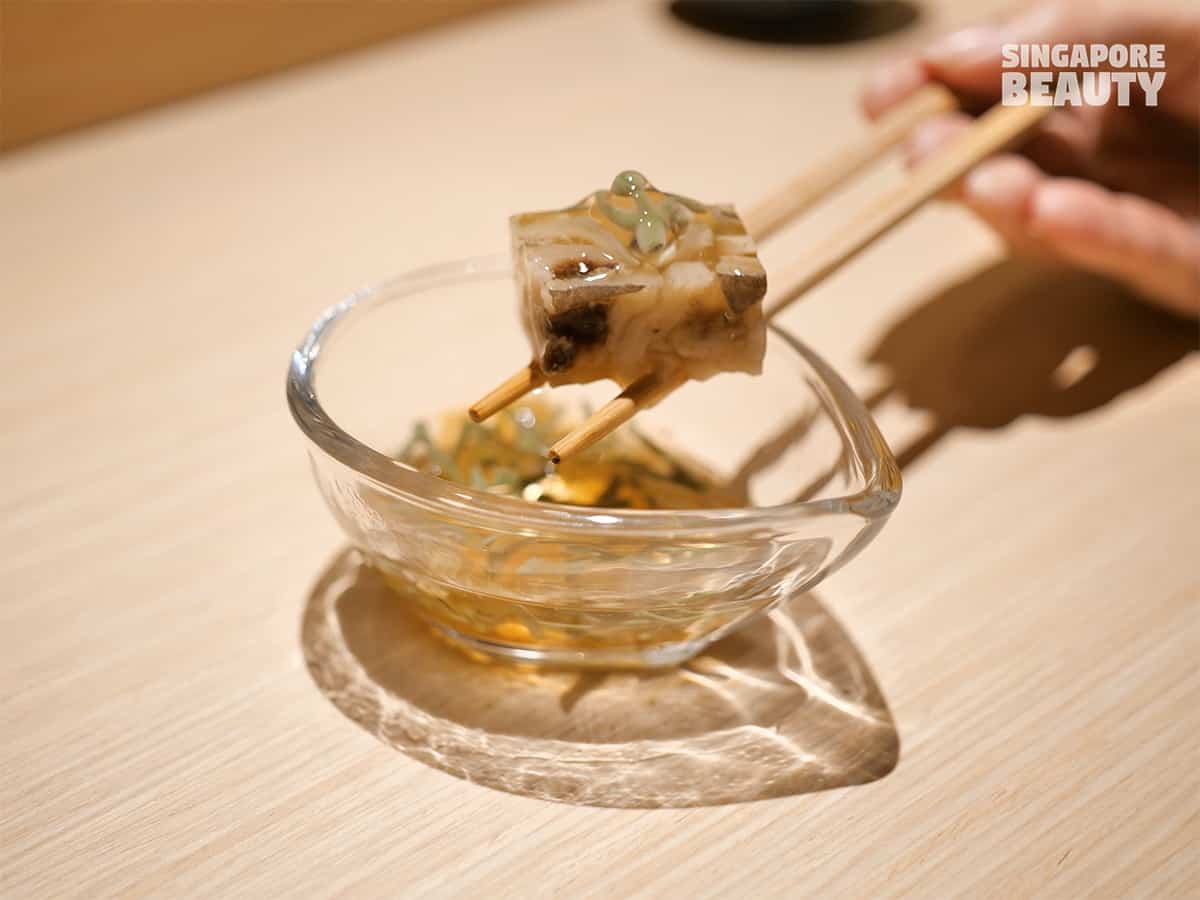 This gourmet omakase experience commence with an appetizer – fish skin jelly with Junsai water shield. This is a savoury starter rich in fish collagen and has a mild floral tone to compliment the gelatinous fish skin's oceanic flavours.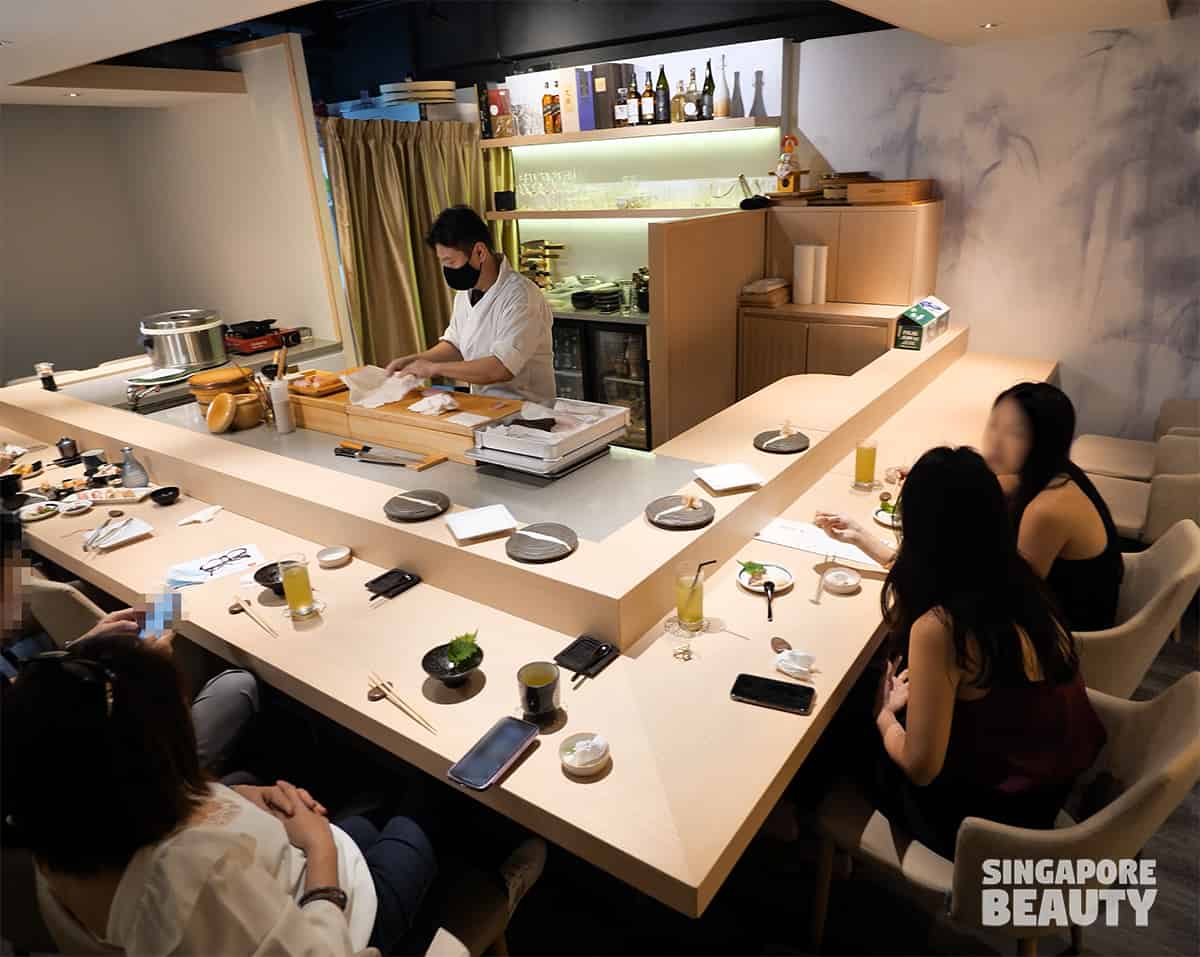 Ikigai Omakase at Pickering street is known for their 8 course dinner omakase. Enjoy visual treats of classic Japanese cuisine unfolding before you as the chef prepares each dish. Intimate setting with 12 pax indoor cozy seating served by warm and welcoming Chef Long. Located in Singapore busiest district, get respite from the chaos within this Zen retreat. Freshen up with a rustic Zen eating Japanese omakase in the heart of our city.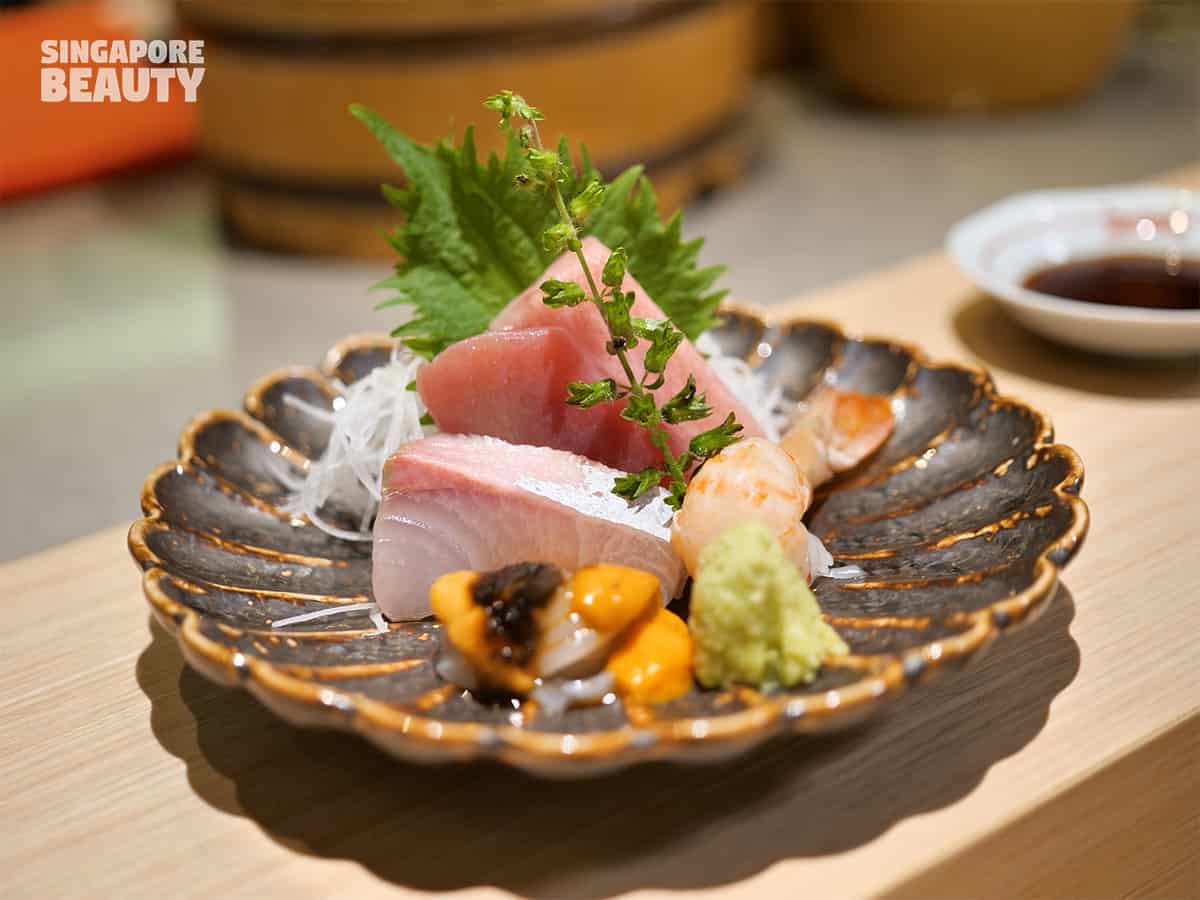 The second course consists of 5 premium selected sashimi. For this session, we had Otoro (fatty tuna belly), kanpachi (wild amber jack), botan ebi (jumbo sweet shrimp) and Japanese ika with Uni (squid with sea urchin).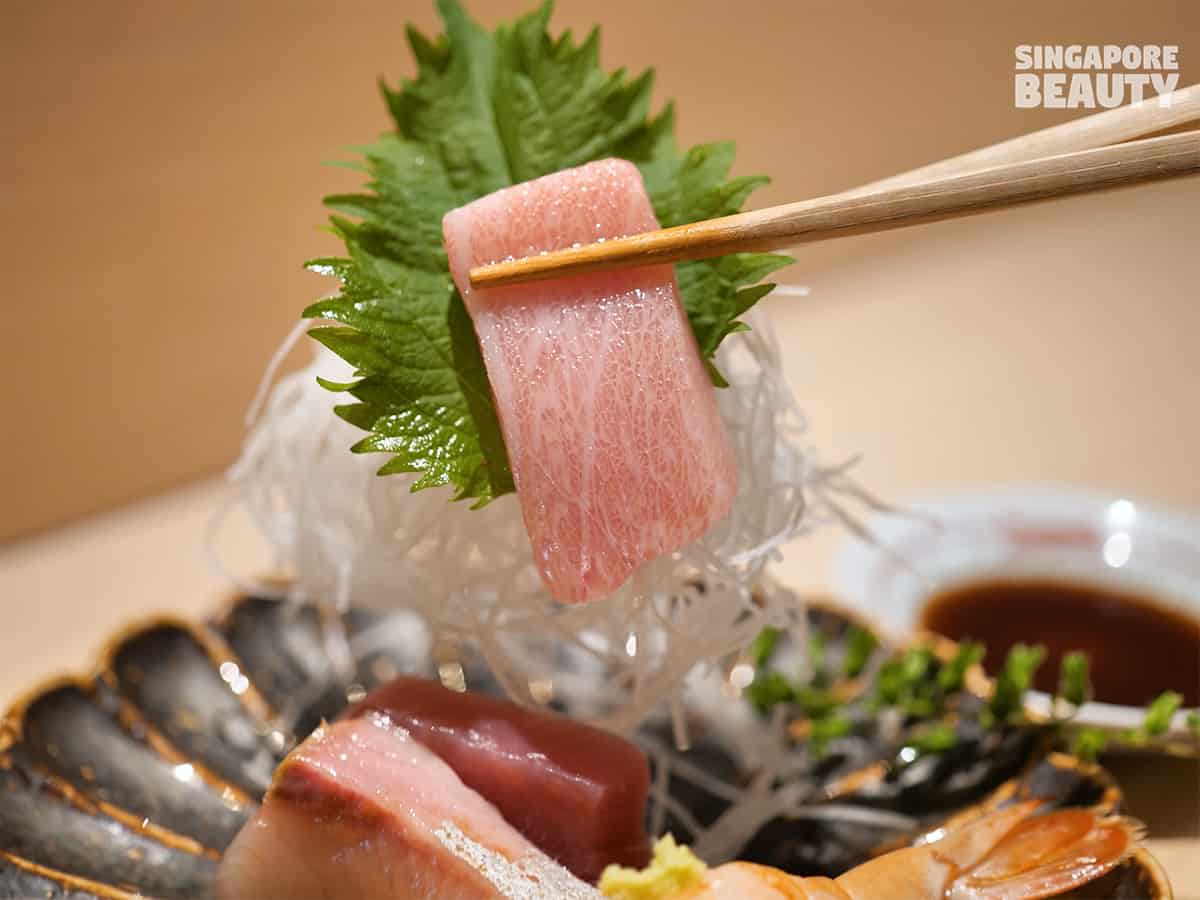 The otoro sashimi is the melt in the mouth type with a buttery milky flavour. Soft, moist and fresh tasting piece of sashimi that is best eaten on its own without any wasabi or soy sauce. Botan Ebi (jumbo sweet shrimp) as implies by it name is sweet and clean tasting.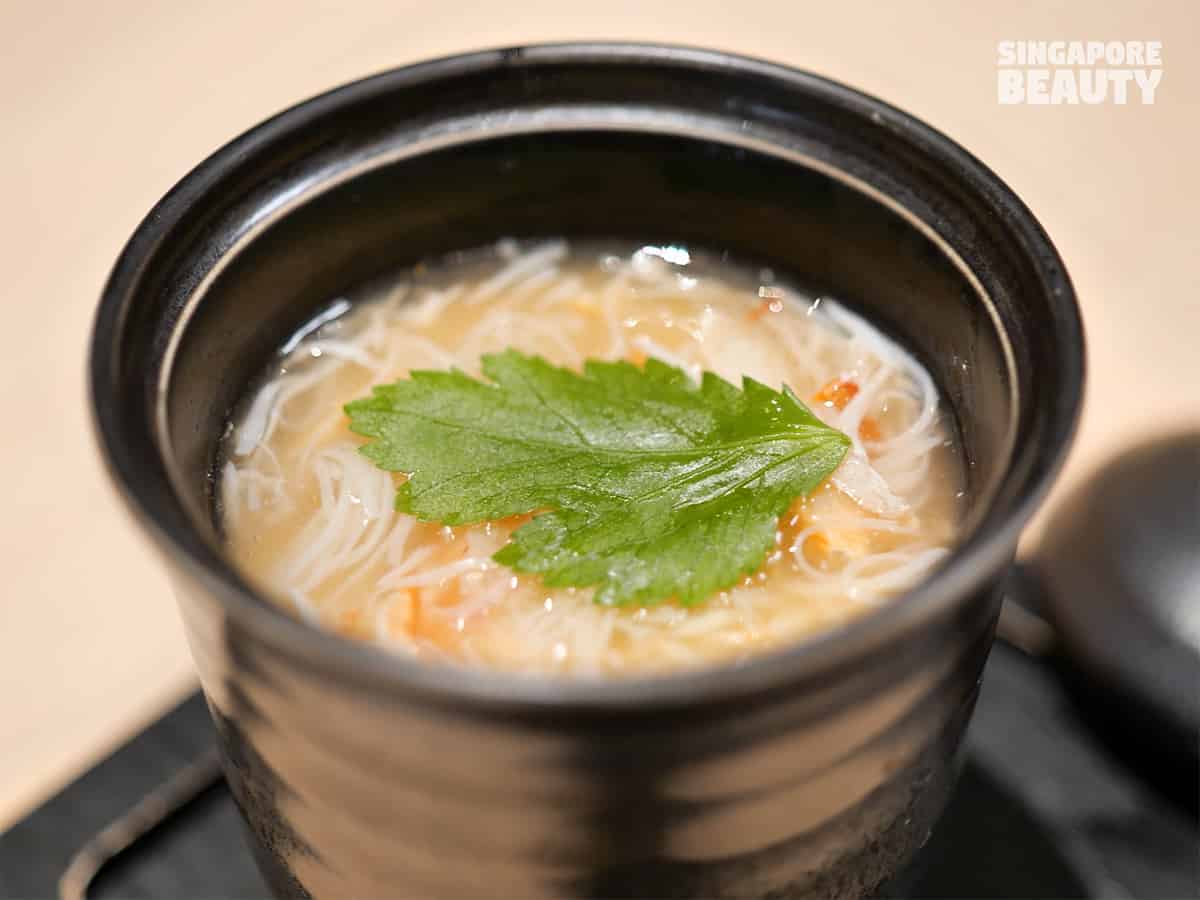 Steam dish for this Ikigai omakase session is Snow crab chawanmushi. Deshelled snow crab leg is steamed with dashi and egg. Hot freshly made chawanmushi is served straight to the table from the steamer, you get hit by the aroma of steamed egg after lifting the lid. The steamed egg is the jiggy type with strings of snow crab in it. We enjoy the fine velvety texture of the umami egg pudding with contrasting sweetness from the snow crab.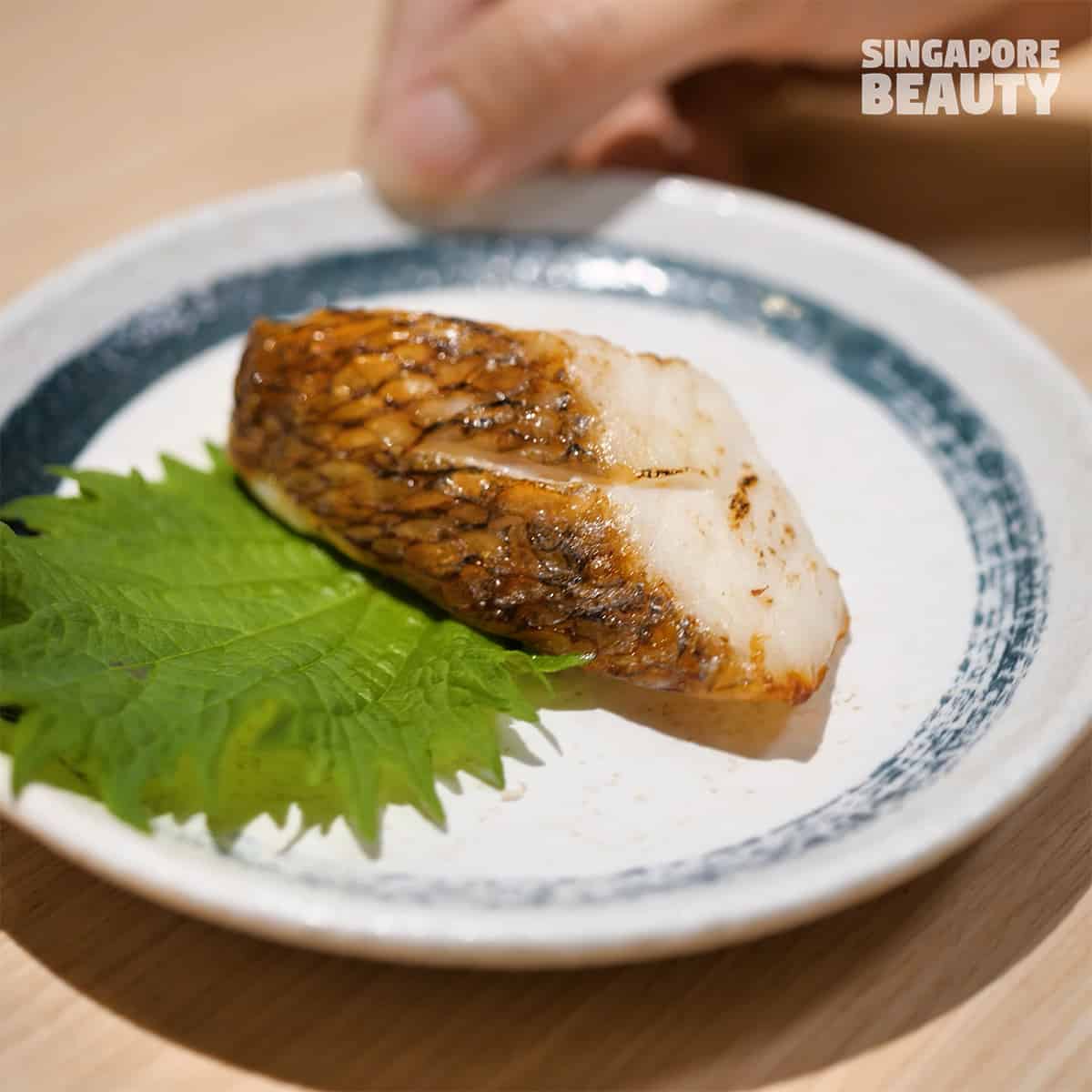 We were served hot dish – yaki sakana (Grilled white fish) with shio, the white fish steak were seared to seal in the juices and has hints of sake and shio undertones. Meat is moist, flaky and tender in the centre with a briny outer sear. Satsuma age -Japanese fish cake mixed with shochu & sake were next in line, best enjoy with some refreshing scallion and grated ginger paste to compliment the sweet flavour of the fish cake. Iberico pork shabu salad were served as a refreshing bite for the next sushi course.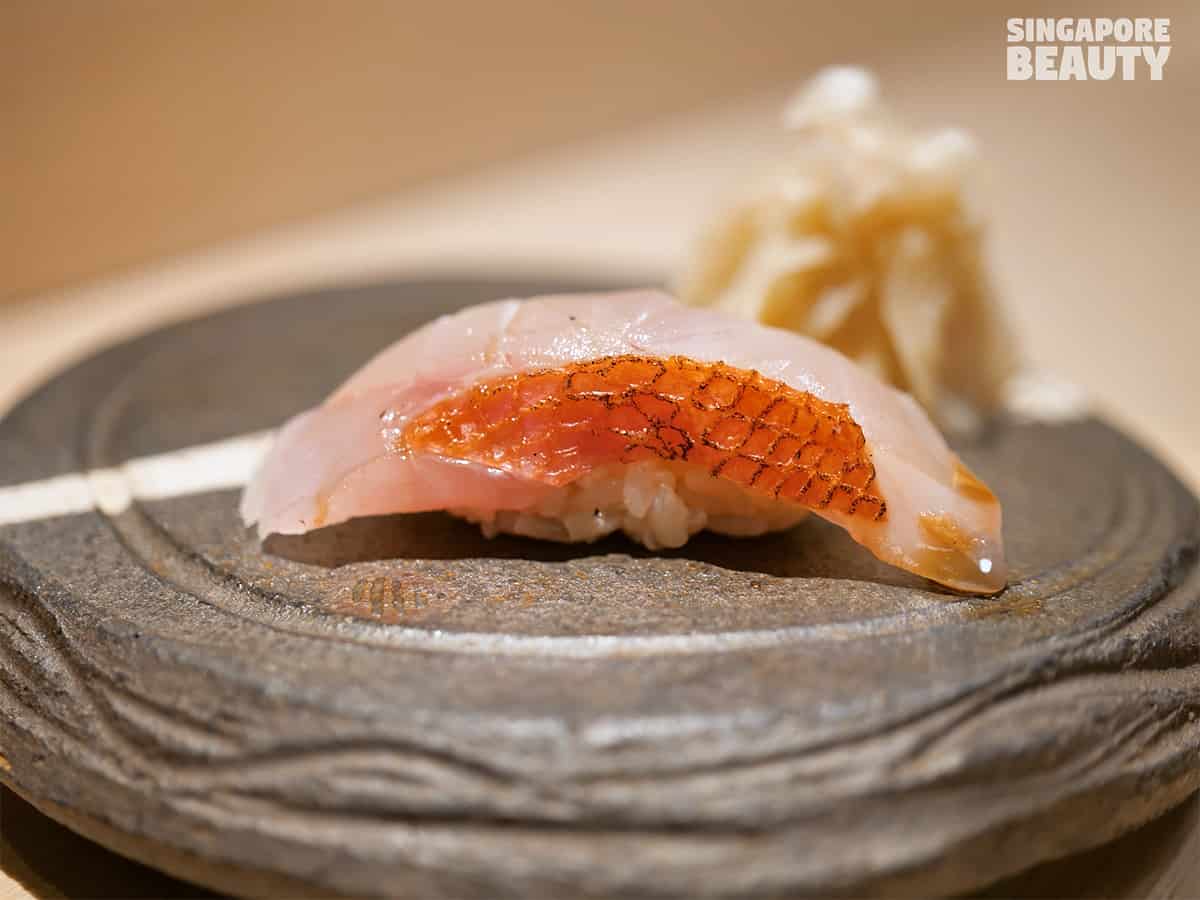 Assorted sushi and maki – consist of an assortment of handshaped sushi such as Jabara otoro (snake belly of japanese tuna), kinmedai (golden eye red snapper), shima aji (striped jack), hotate with yuzu peel (japanese scallop),tai kombu jime (aged japanese sea bream with kelp). Needless to say all these were of the freshest quality, tender and flavourful fats just melts in the mouth. Tamagoyaki made fresh before you and served steaming hot.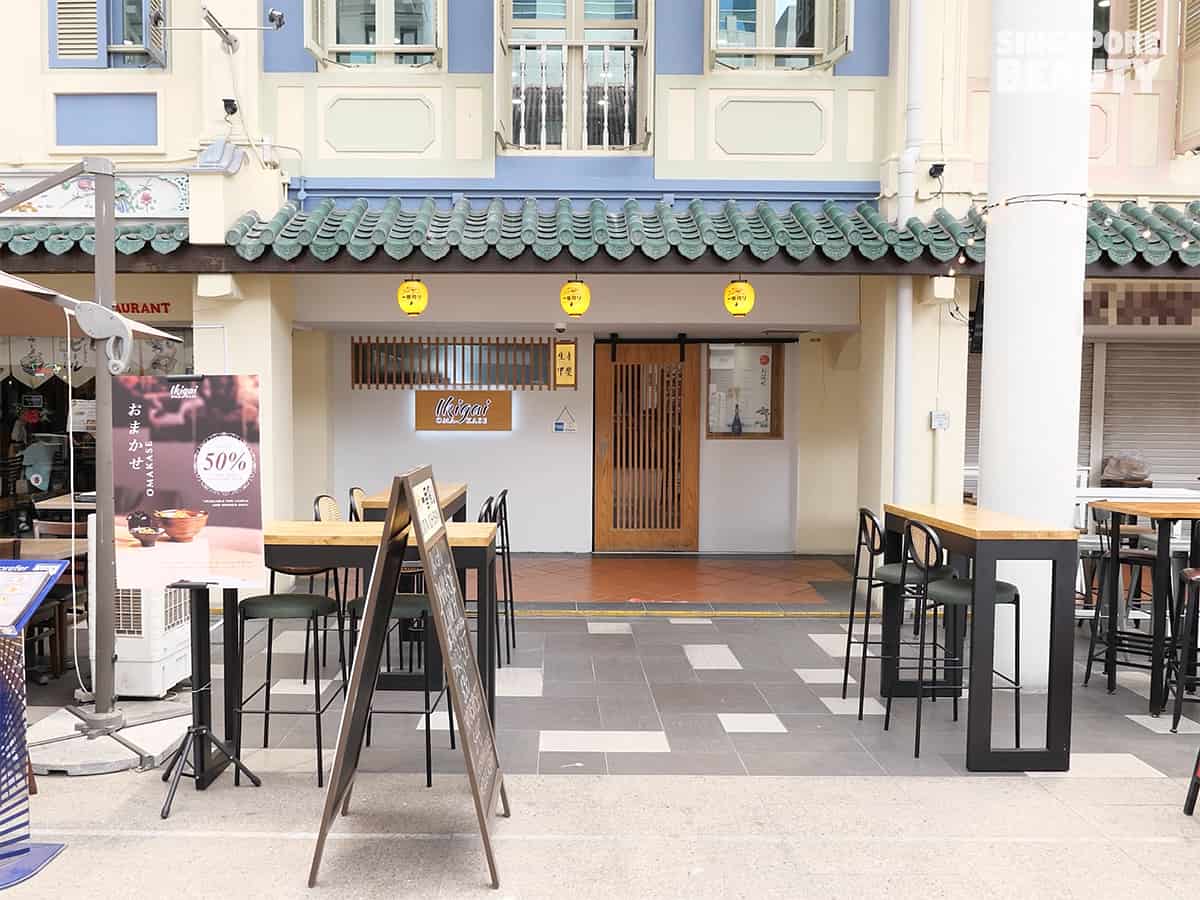 Ikigai Omakase at Pickering St has both indoor and outdoor seating. Indoor seating is prioritised for lunch & dinner omakase. For lunch sets, casual chilling or pre drinks before dinner, you may choose their outdoor seating or indoor subjected to availability. The outdoor seating is naturally cooled & ventilated within a high sheltered glass atrium with ceiling trusses. You can enjoy people watching, chill and watch the day goes by till the romantic evening sets in.
The star of the show is this uni crispy nori wrap. Pure burst of creamy, briny and buttery flavours with a neat sweet and salty crunch.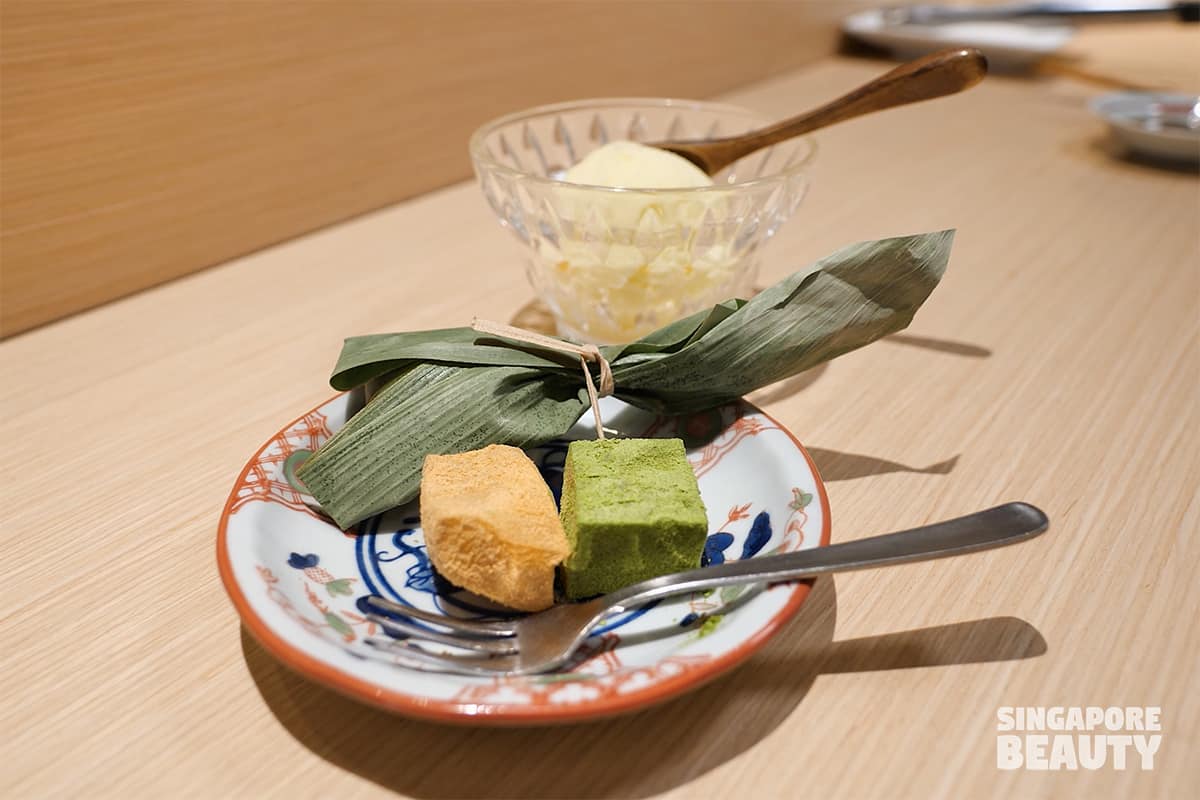 The whole omakase session is concluded with hot soup – Japanese clear bonito, a platter of cold dessert made up of cream custard jelly in bamboo leaf, soft & jelly-like matcha & kinako mocha. A serving of refreshing ball of zesty Yuzu ice cream that serves as a palette cleanser.
For omakase diners, do let them know in advance if you are celebrating a special occasion such as birthday. For the birthday special, they will prepare a dessert or a slice of cake of the day and a card penned with well-wishes to celebrate your special day.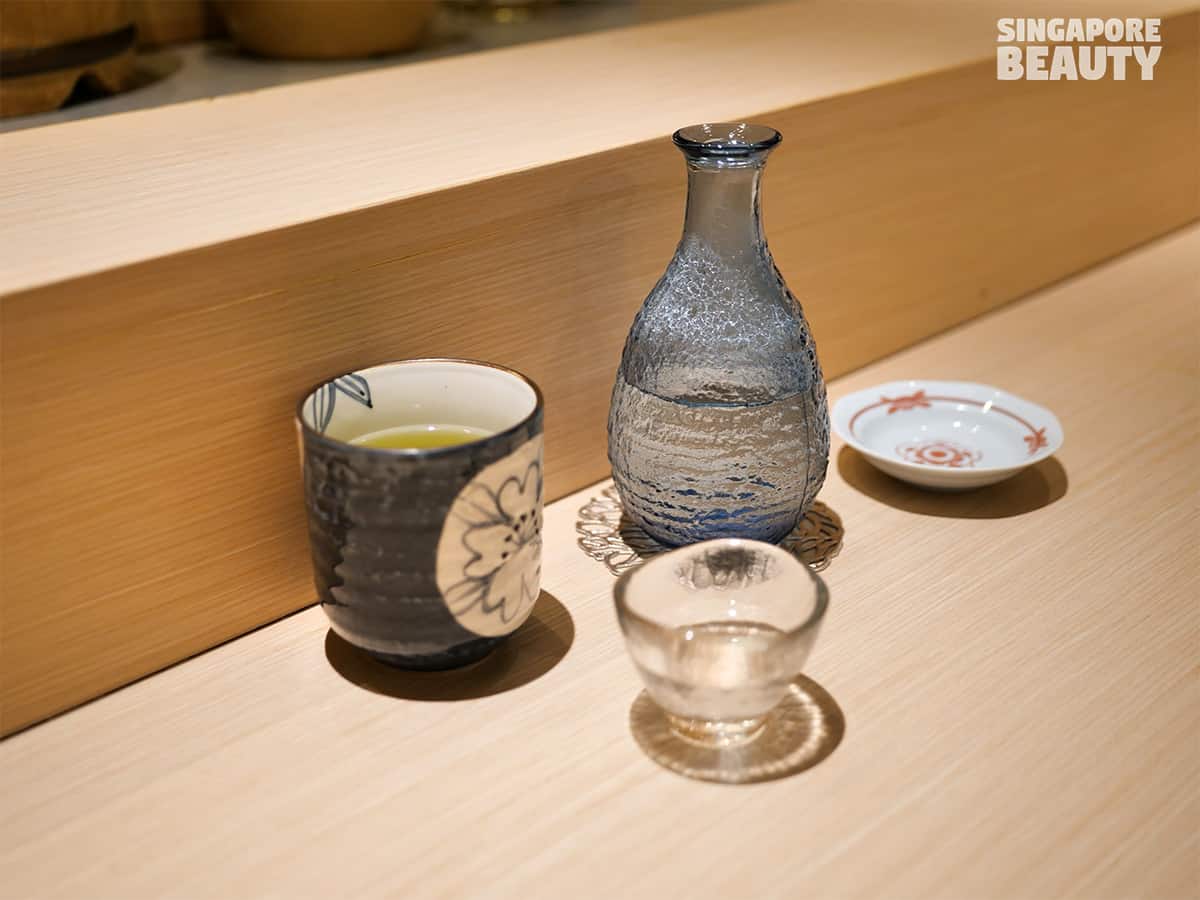 If you are looking for somewhere to chill near Raffles Place after work, do head over to Ikigai Omakase. With a spacious outdoor seating arrangement, you can be assured to get some much needed personal space to unwind into the night with sake in hand and good company.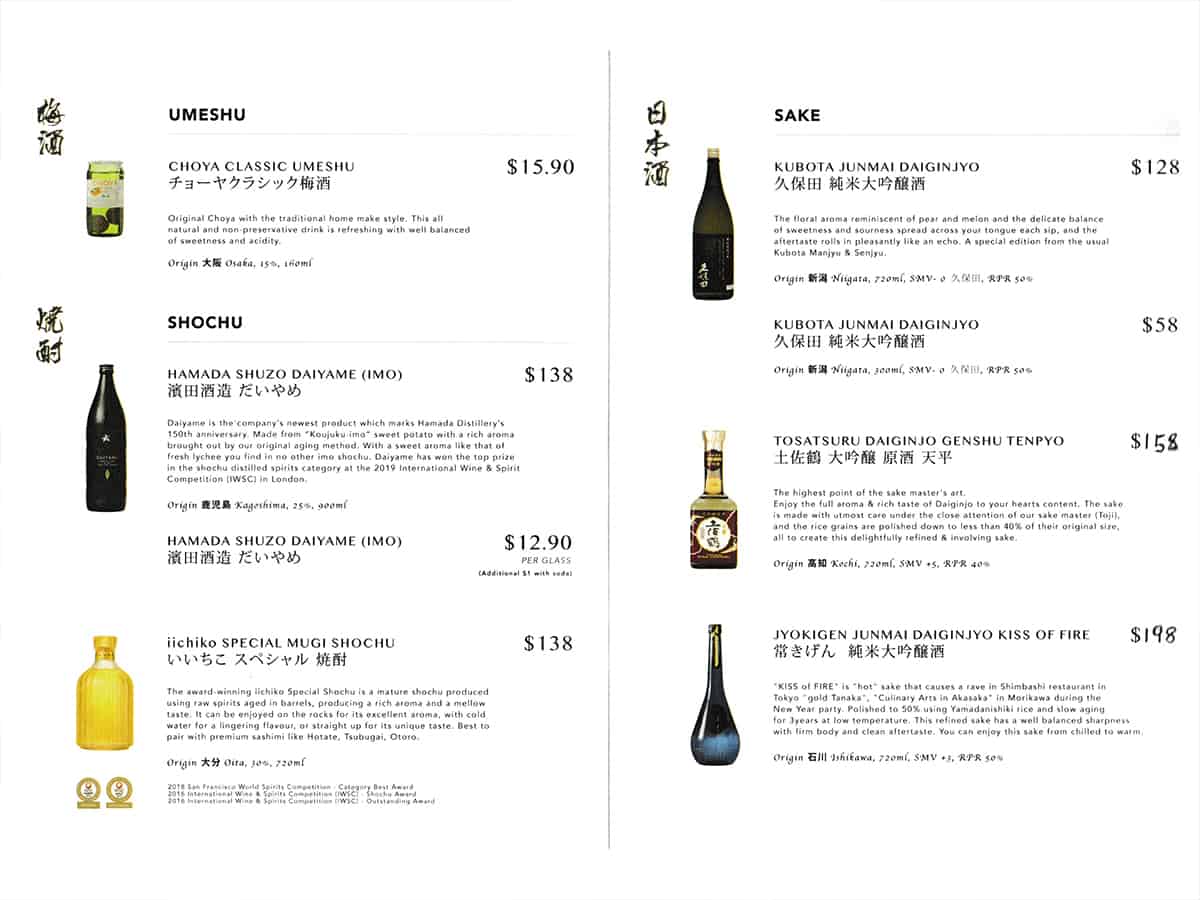 Here's ikigai Omakase menu for drink and the price. Enjoy a variety of alcoholic Check out their Kirin Ichiban beer promotion ($9), umeshu ($15.90), Hamada Shuzo Daiyame (IMO) shochu ($12.90) and more happy hours deals. They also have premium imported sake such as Niizawara Hakurakusei Junmai Daiginjo Hikari($318), Jyokigen Junmai Daiginjyo Kiss of Fire ($198), premium shochu such as Hamada Shuzo Daiyame (IMO)($138) and Iichiko Special Mugi Shochu ($138) and more.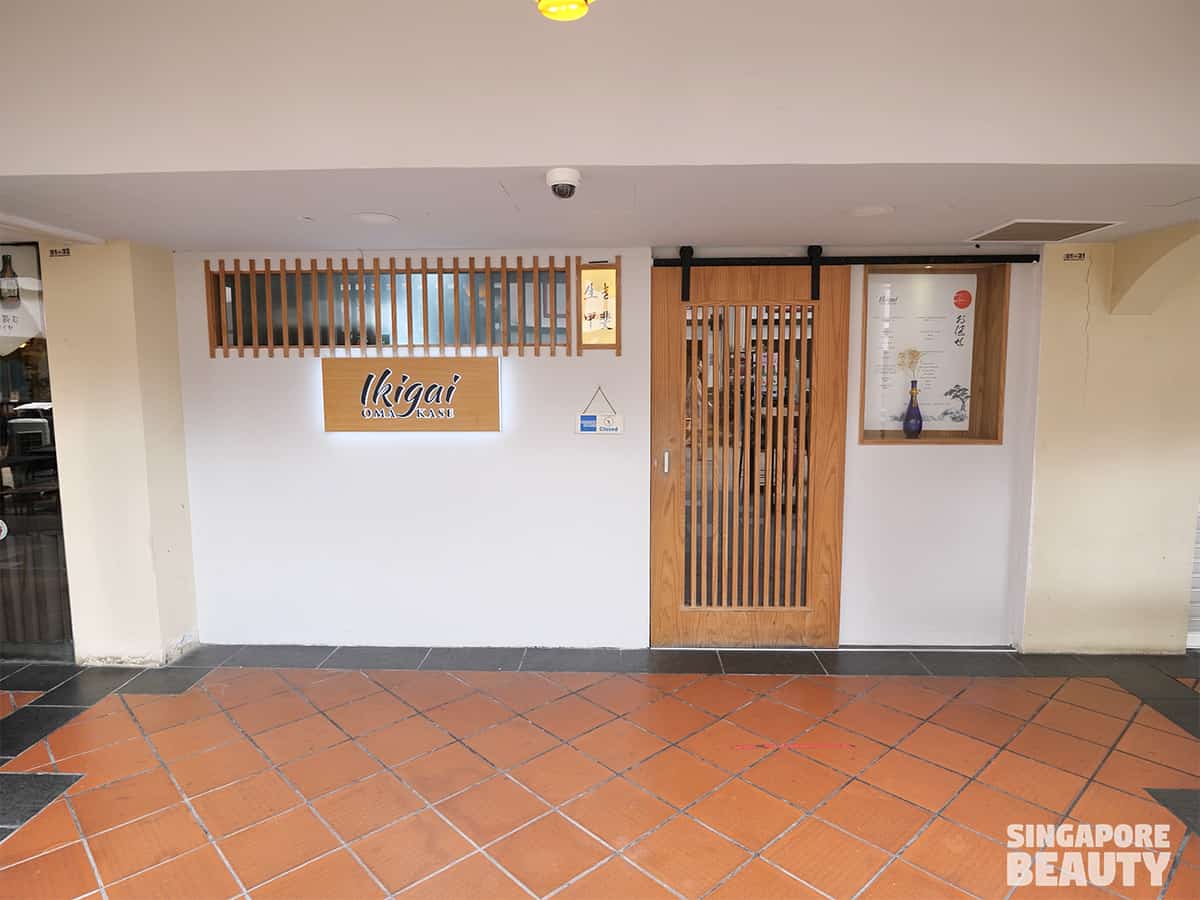 Head over to Ikigai Omakase at Pickering Street, Raffles Place Singapore for a Zen eating way of Japanese Omakase. The omakase is available for lunch and dinner with 2-3 days advance reservations. Walk in for lunch sets is also available weekdays, do note that as indoor seats are limited, it is advisable to make reservations to secure a Zen retreat indoor dining experience.
Address of Ikigai Omakase:
3 Pickering St #01-31 Nankin row
Singapore 048660
Ikigai Omakase Price :
Lunch omakase is at $88++ per pax
Dinner omakase is at $98++, $188++ per pax
Ikigai Lunch set price :
Bara Don $38
Chirashi Don $48
Lunch sets includes an appetizer and a soup, available from Monday to Friday dine in only
Check out their umeshu, shochu, sake & beer menu too for daily ikigai promotions
Walk in available for lunch sets & omakase, subjected to seat availability
2-3 days advance reservation for omakase is advisable, with exception of peak periods.
Opening Hours:
12-3pm, 6-10.30pm daily, Sunday closed
(last order 2pm and 9pm respectively)
For reservation, pls call: +65 8377 7777
Brought to you by Ikigai Omakase