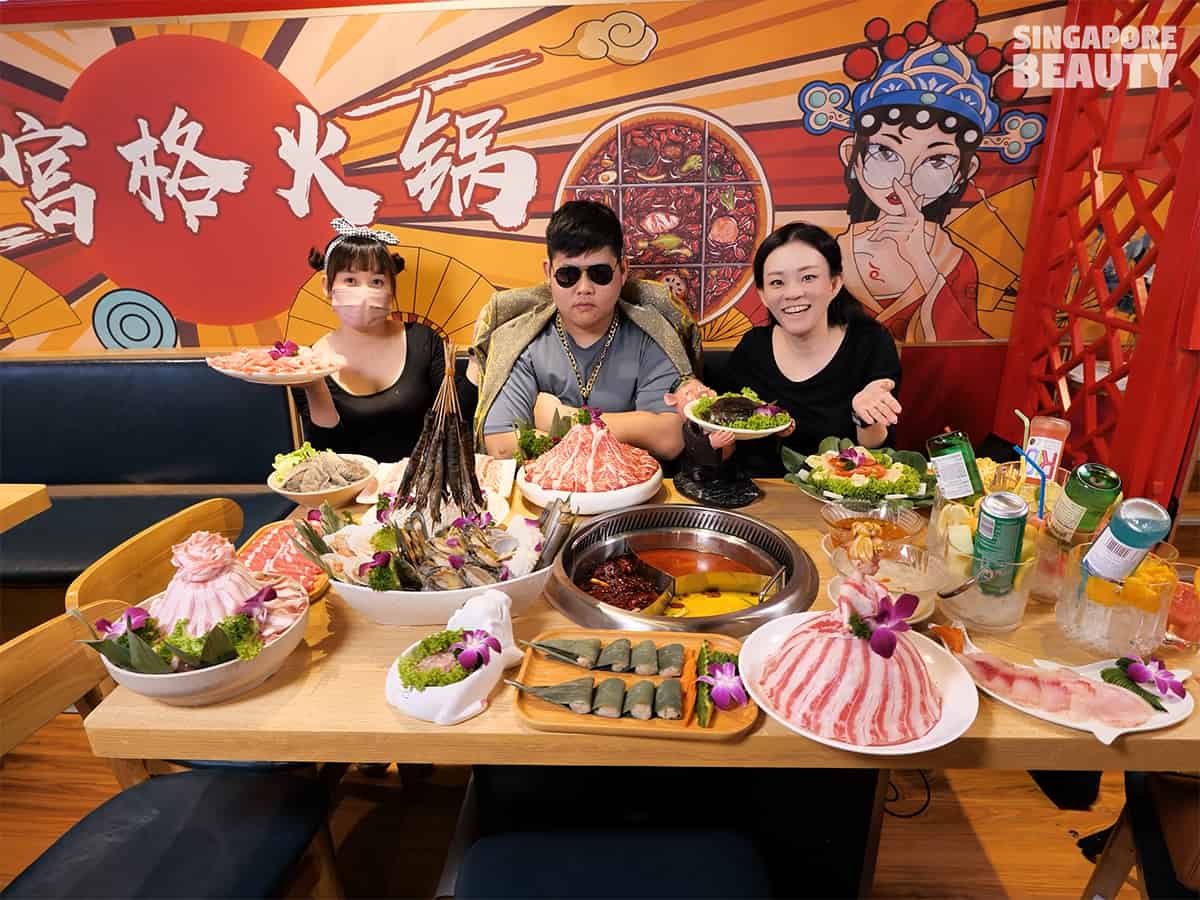 Ming Tang Jiu Gong Ge (名堂九宫格火锅) hotpot buffet in Bugis Singapore is back with more seafood, unlimited wagyu beef and black pork buffet. They are located at the famous hotpot and BBQ buffet stretch along Bugis Cube.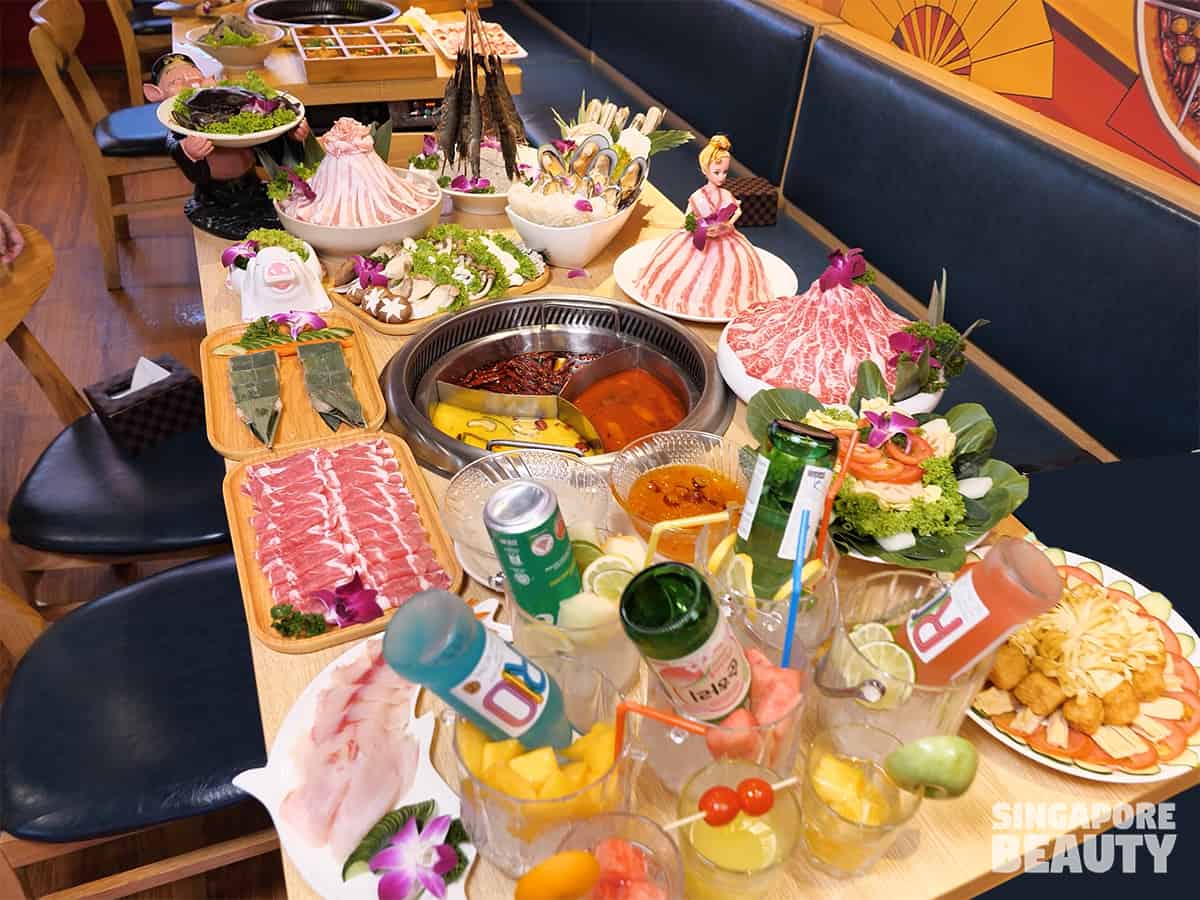 With more than 100 items on their wagyu beef Buffet B, you can enjoy unlimited shabu shabu meats, marinated meats, surimi, handmade meat balls, offals, seafood, garden greens, mushrooms, appetizers, carbs, fruits, ice cream and dispenser drinks at Ming Tang Jiu Gong Ge Hotpot Buffet in Bugis.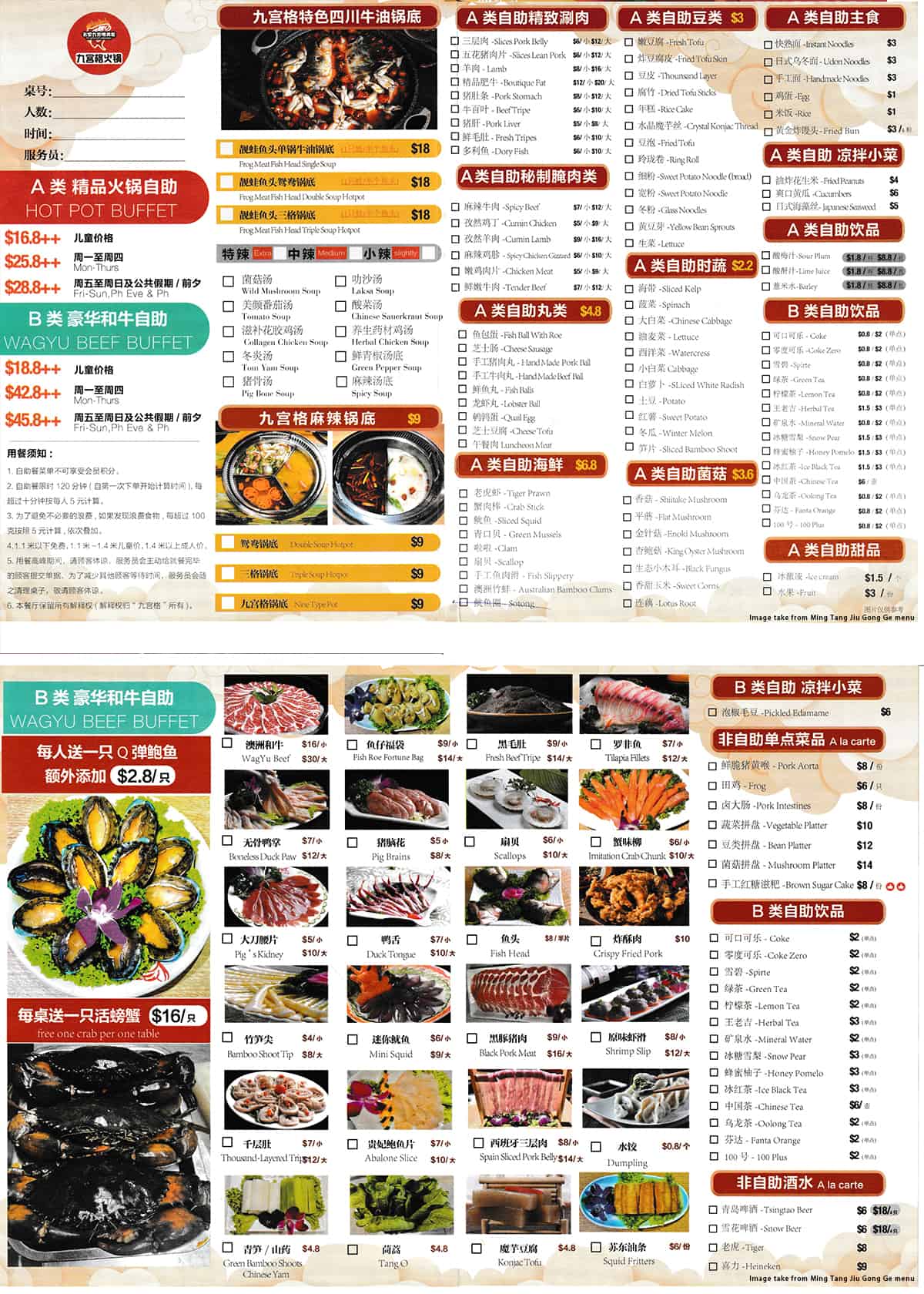 Here's the Jiu Gong Ge menu for hotpot buffet A and hotpot wagyu beef buffet B (featured). If you are having the wagyu beef buffet B, all the items under buffet category A are also included. For those who wanted the premium upgrade of soup bases, with fish head and frog meat in soup, these are at $18. Classic soup bases are at $9 for jiu gong ge 9 type pot, trio or double base.
There are also a wide variety of seafood for this wagyu buffet. Enjoy unlimited tiger prawns, sliced squid rings, green lipped mussels, clams, scallops, Australian bamboo clams, fish fillet, mock abalone slices and more. Each adult diner is able to redeem a half shell abalone once as well. The seafood is best enjoyed in the collagen chicken soup, it brings out a rich flavour with a mild briny undertone.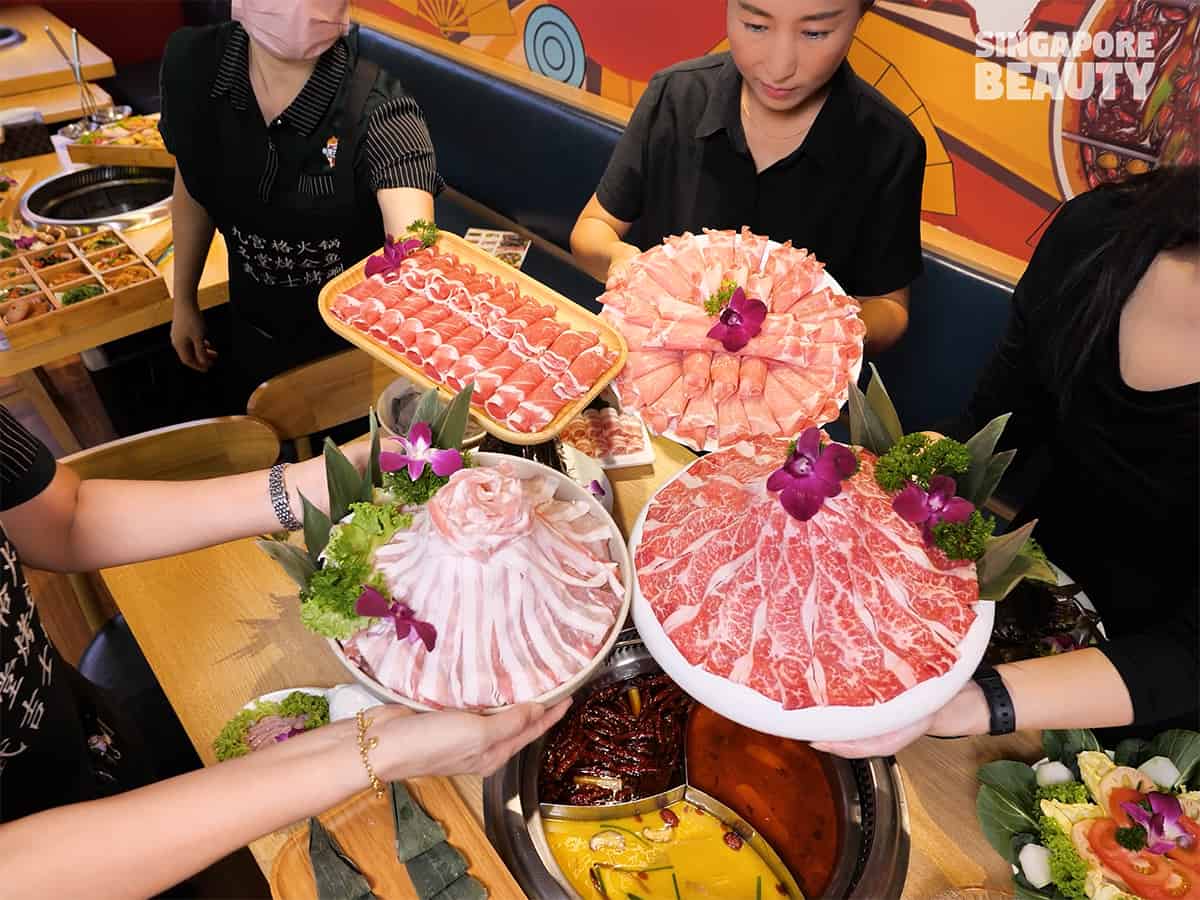 For the Jiu Gong Ge wagyu beef buffet B, the highlight of the hotpot buffet are many varieties of free flow shabu shabu meats. Enjoy freshly carved meats such as black pork, wagyu beef, Spain sliced pork belly, lamb and more. The meats are fresh and of a brilliant red hue, go well with their housemade mala soup.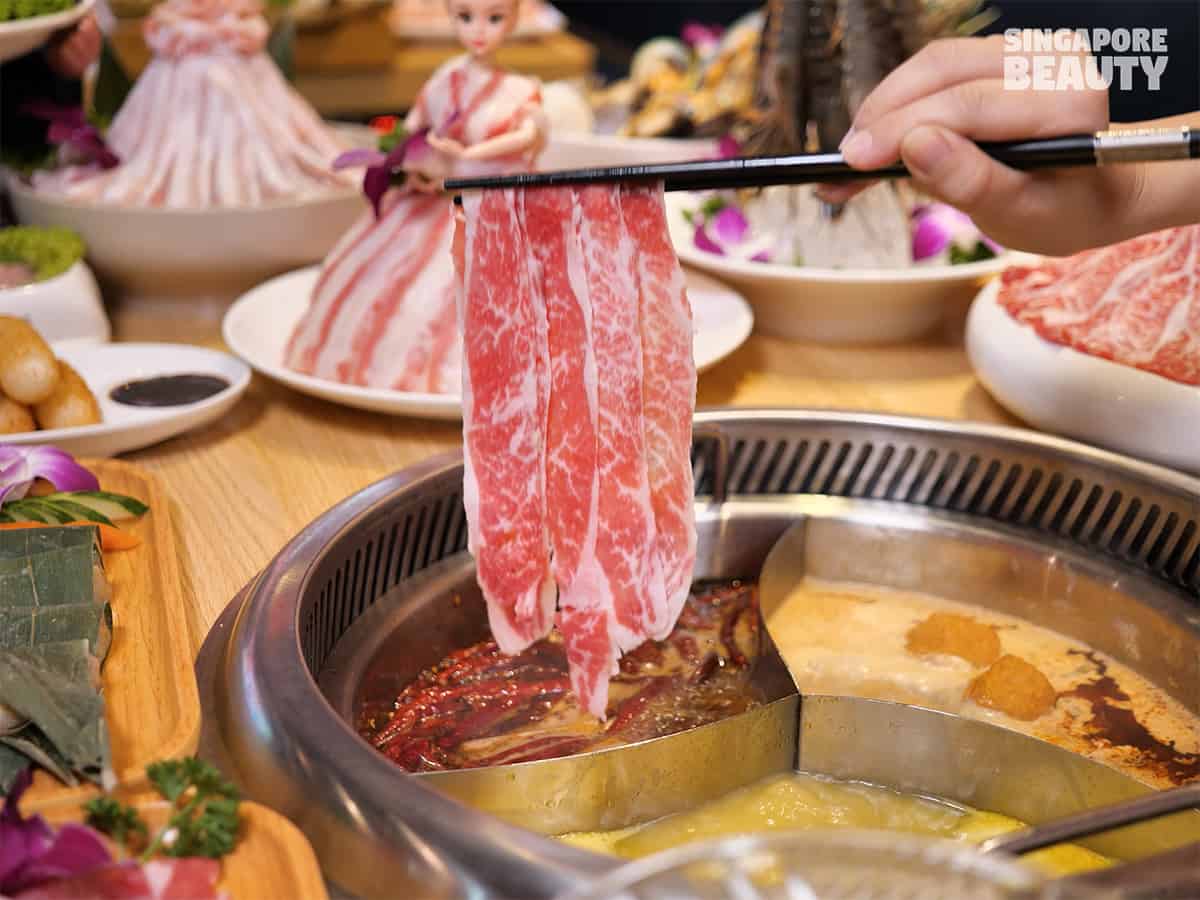 Here's our Jiu Gong Ge hotpot review. We love the variety of seafood and meats selections available for Wagyu beef buffet B. The wagyu beef are super tender and milky, after cooking in the mala soup. It has an umami, spicy and a subtle sweetness which make it very addictive.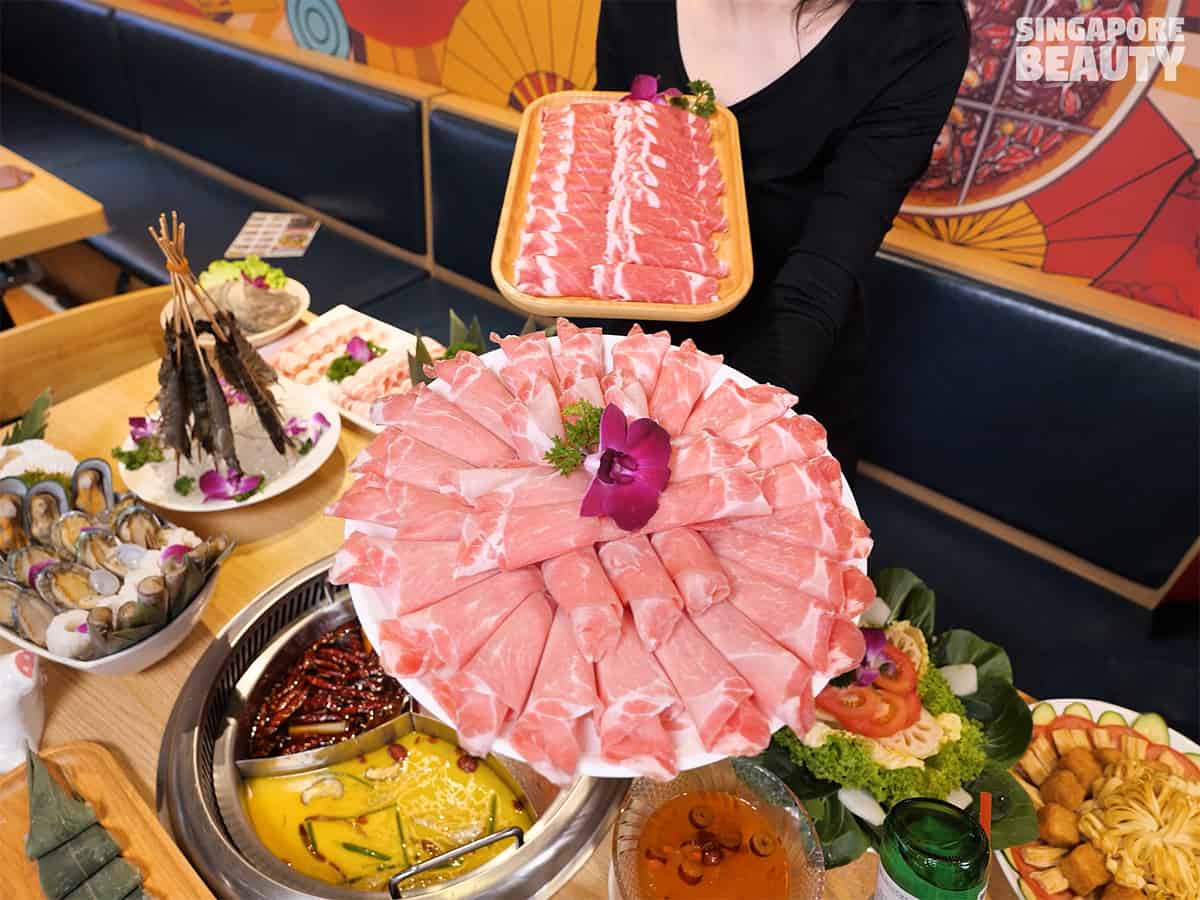 Besides the wagyu beef, the regulars also love their black pork shabu shabu meat, Spain sliced pork belly and lamb too. Check out the brilliant red hue of these platters, tell tale signs of a freshly cut meats. The black pork goes with collagen chicken hotpot soup, the nuttiness and umami flavour of the meat is great and not overly fatty. I also love the springy texture of the cooked shabu shabu meats cut to the perfect thickness for hotpotting, so you do not overcook them.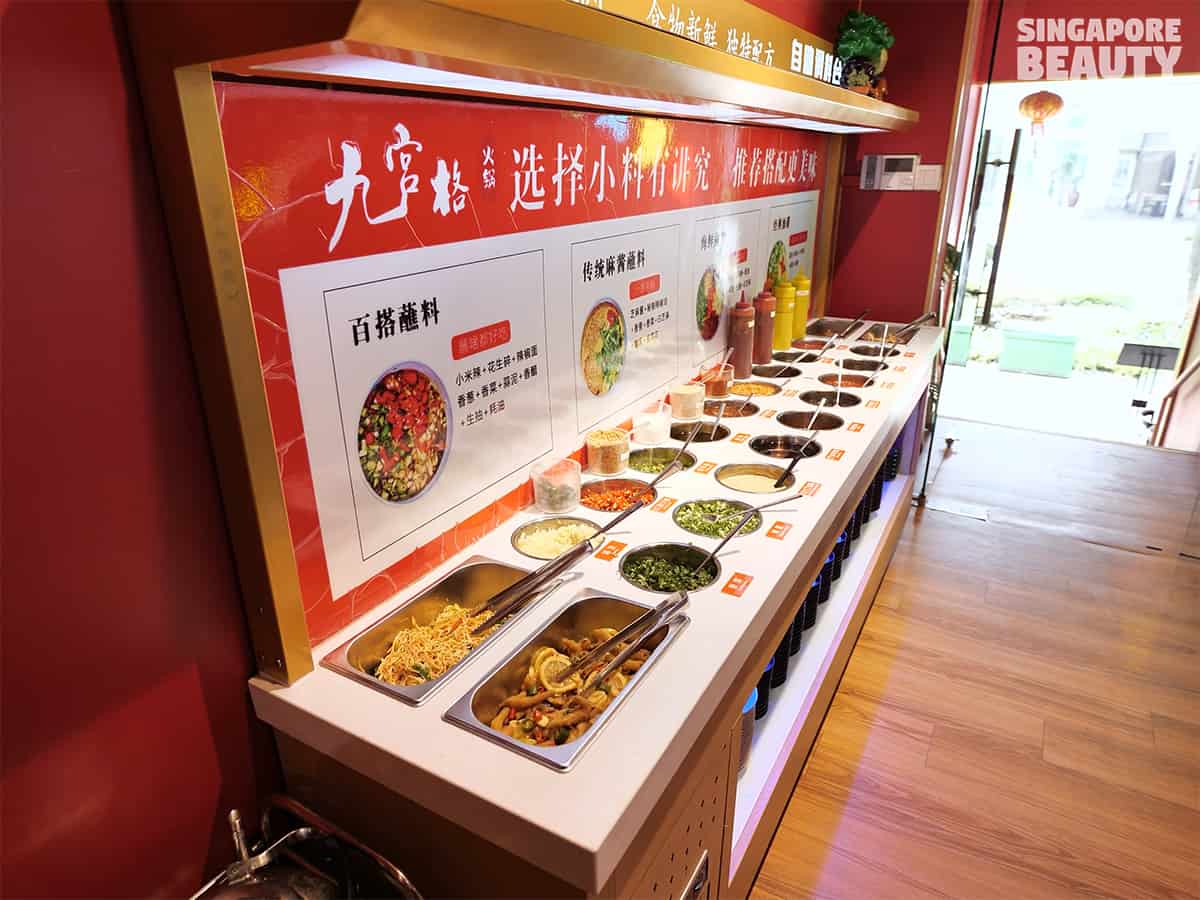 Enjoy a wide variety of DIY sauces, appetizers and dessert from the condiment bar. The appetizers are on rotational basis such as braised phoenix feet, marinated spicy bean curd noodle, cold dish king oyster mushroom and more.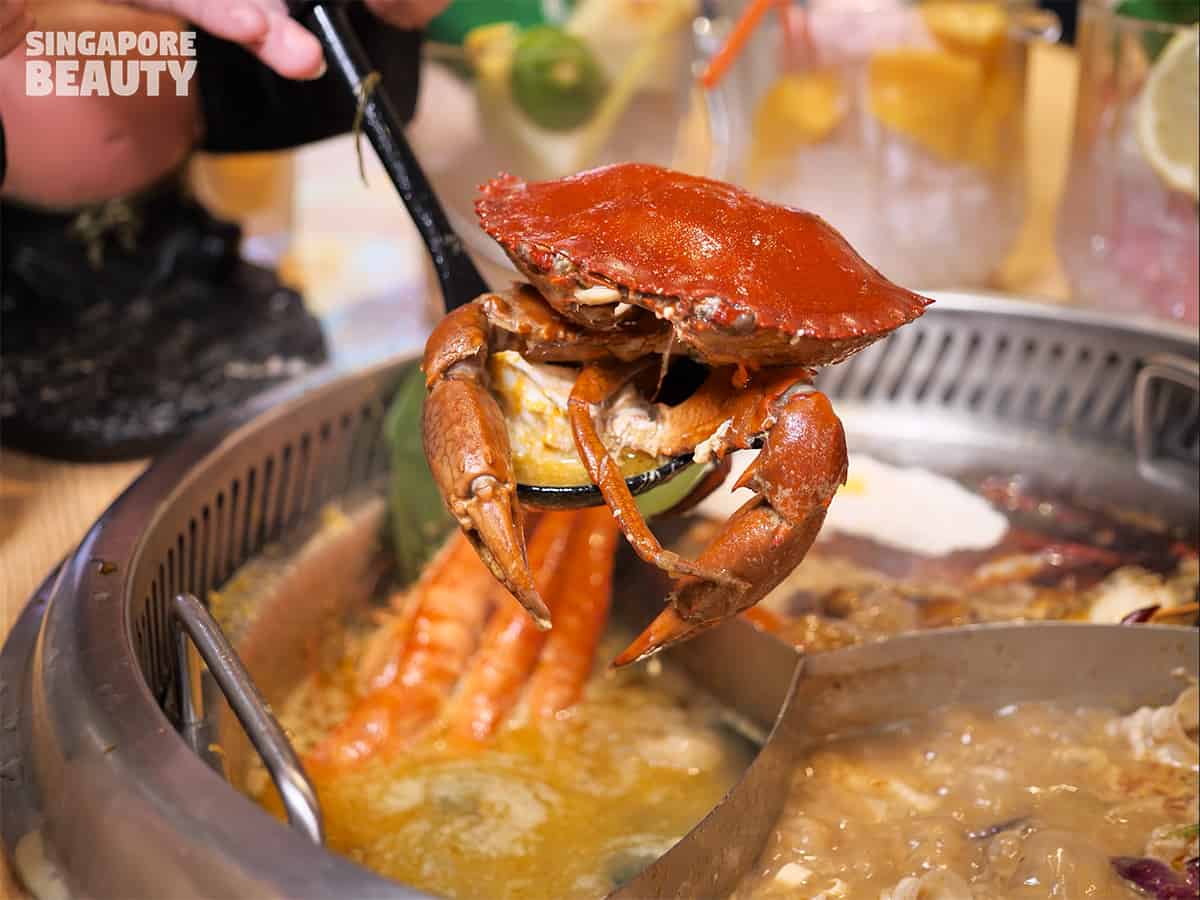 We started with hotpotting the mud crab in our hotpot soup base for some seafood goodness. This is a dispatch to order live mud crab, redeem one for each table for wagyu beef buffet B. The crab is served in 3 chopped up parts, the top shell and the body in 2 parts for ease of cooking. One part of the chopped claws is seen to twitch a little while cooking in the soup, a testimonial of freshly dispatched seafood. Takes some effort with the cracker to get to the sweet and succulent crab meat.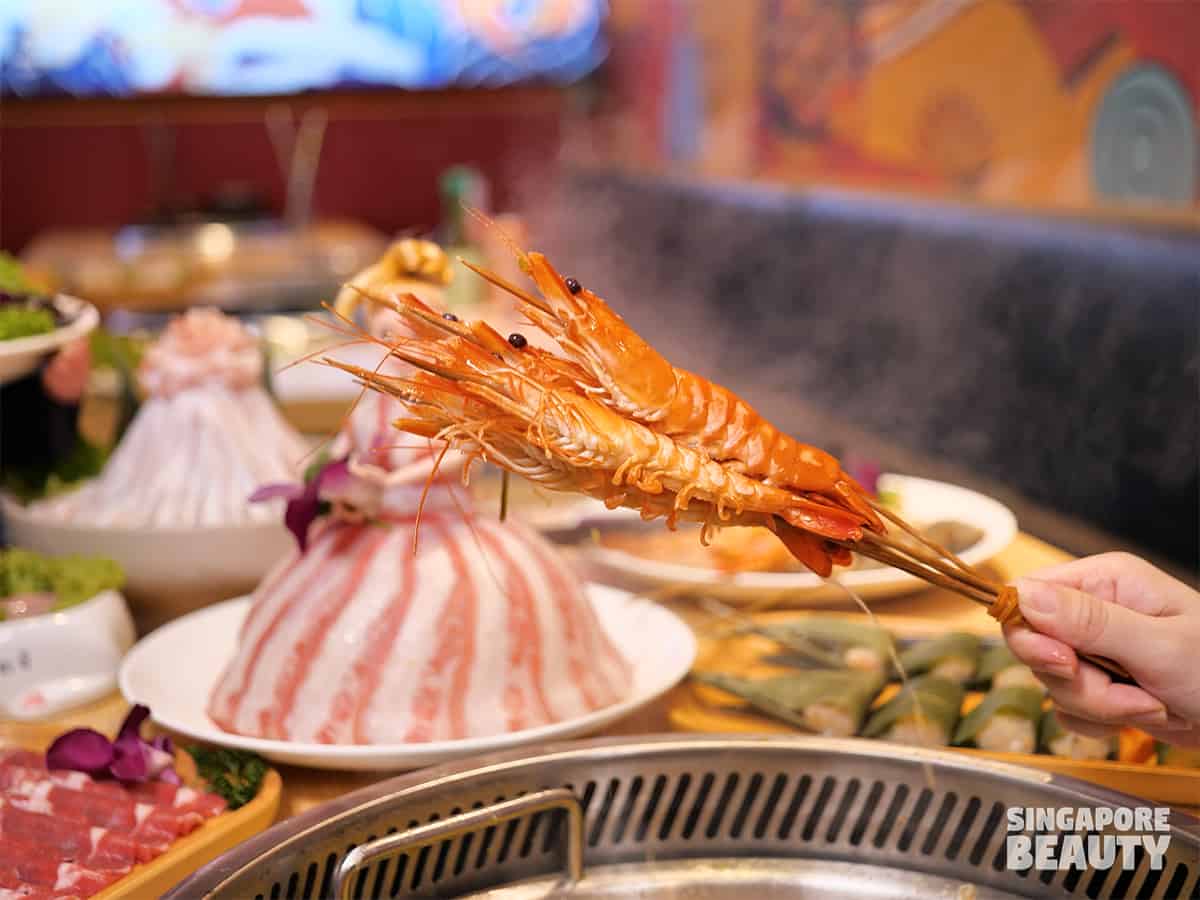 The tiger prawns are super fresh and can be easily deshelled with chopstick and spoon. Succulent and juicy head butter, just spotted a table of prawn lovers with a heap of prawn shells on their table and some ice cold beer. We are quite relieve that the tiger prawns are pretty clean without the sandy grainy texture that is caused by the back veins in some cheaper pick of prawns. All we had here are pure sweet crunchy texture of tiger prawns.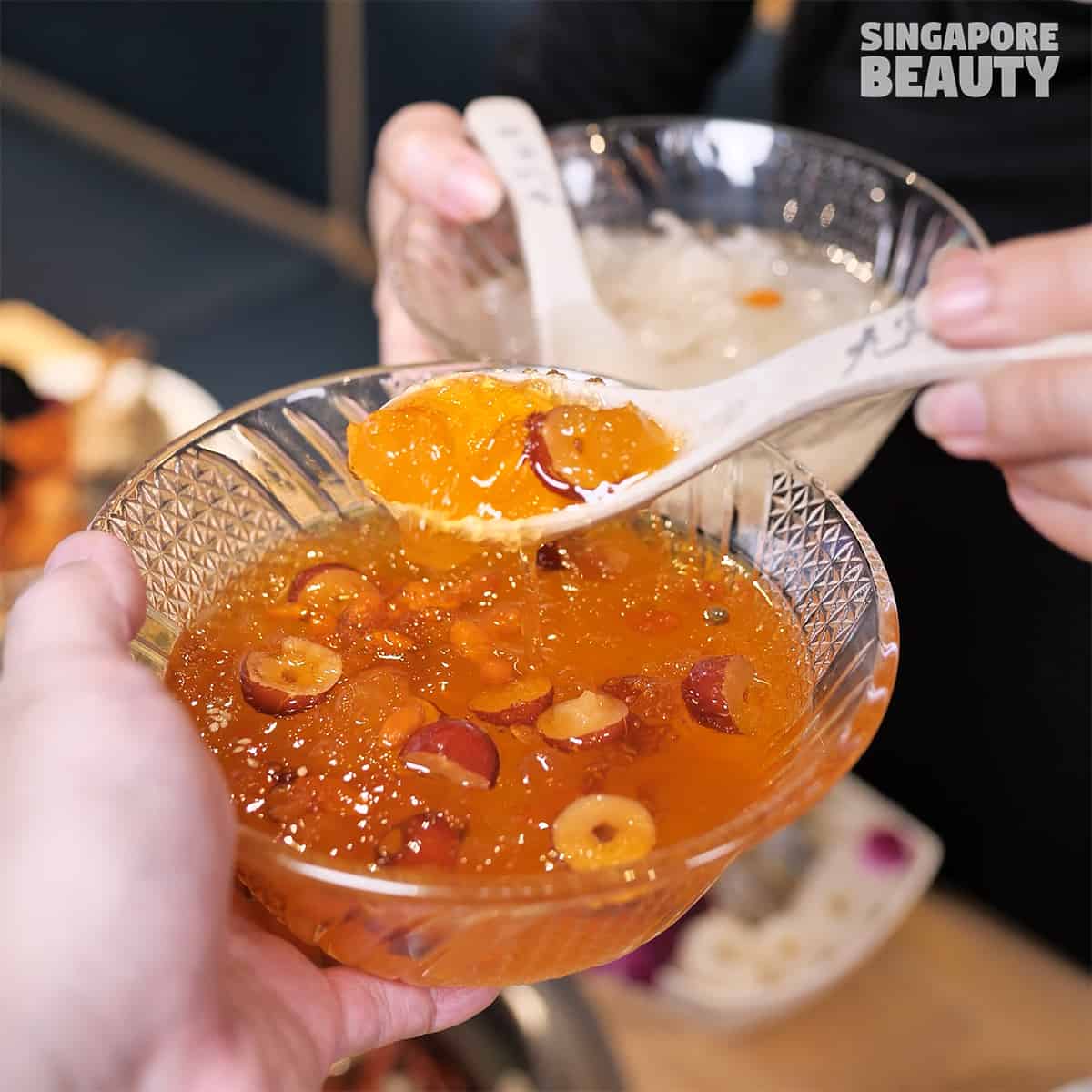 Chill with some cold dessert of the day such as xue yan collagen dessert with red dates, white fungus with dates or fermented rice wine rice ball dessert. These are free flow and rotated on a daily basis. My personal favourite happens to be dessert of the day the xue yan dessert. I was told these are a good source of collagen similar to bird nest and peach gum. The texture feels like bird nest with visible slippery strands of translucent gelatine jelly with a soft peach gum like soft cloud like gel. I had a double serving of these goodness.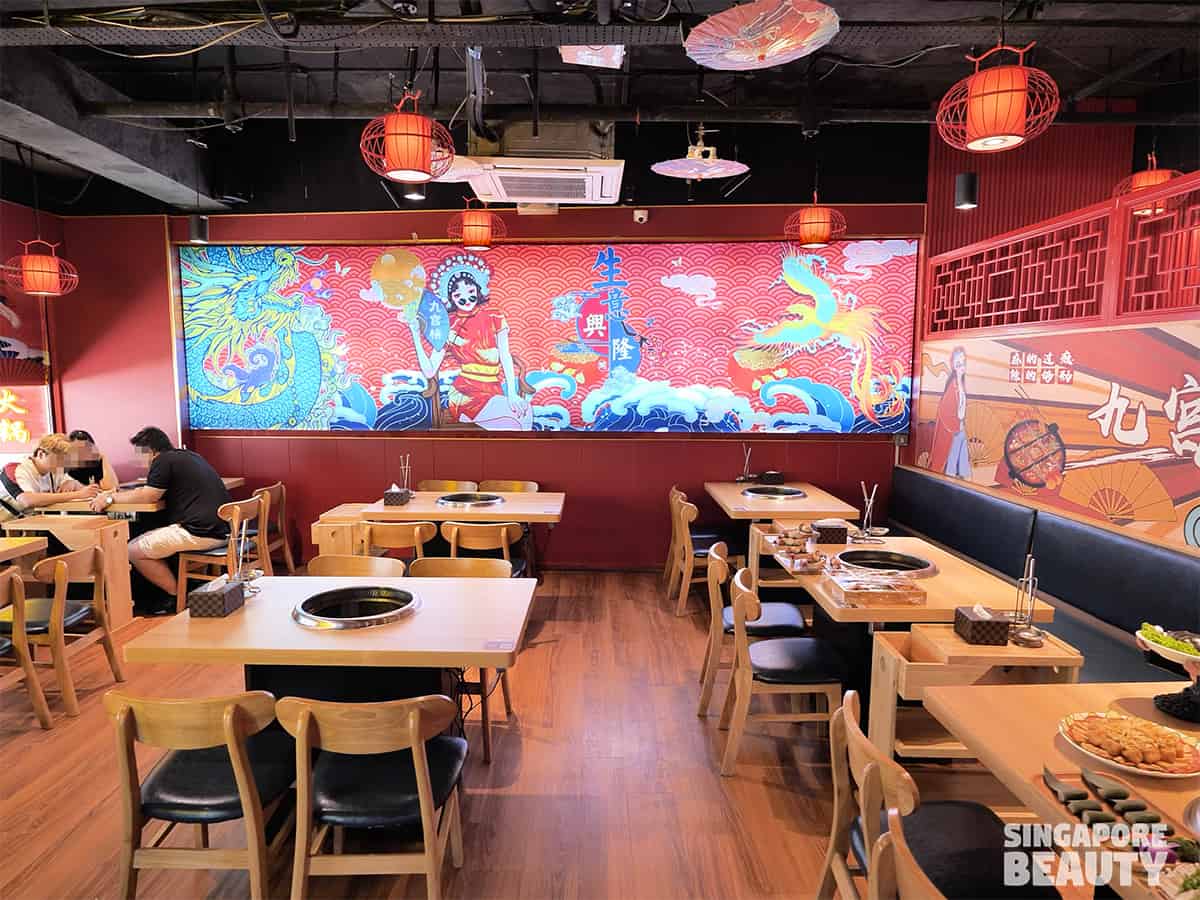 Here are the interiors of  Ming Tang Jiu Gong Ge Bugis in Singapore. It has a neat, clean and cold air conditioned table of 4 seating arrangement. The interior reminds me of ornate Beijing's courtyard design with wood carved interiors in brushed red lacquer finish. The Beijing opera billboard is also very festive framed with a auspicious dragon and phoenix. Lit with waxed paper umbrella and lantern profile lamp shade, it definitely eludes an imperial vibe to the overall decor.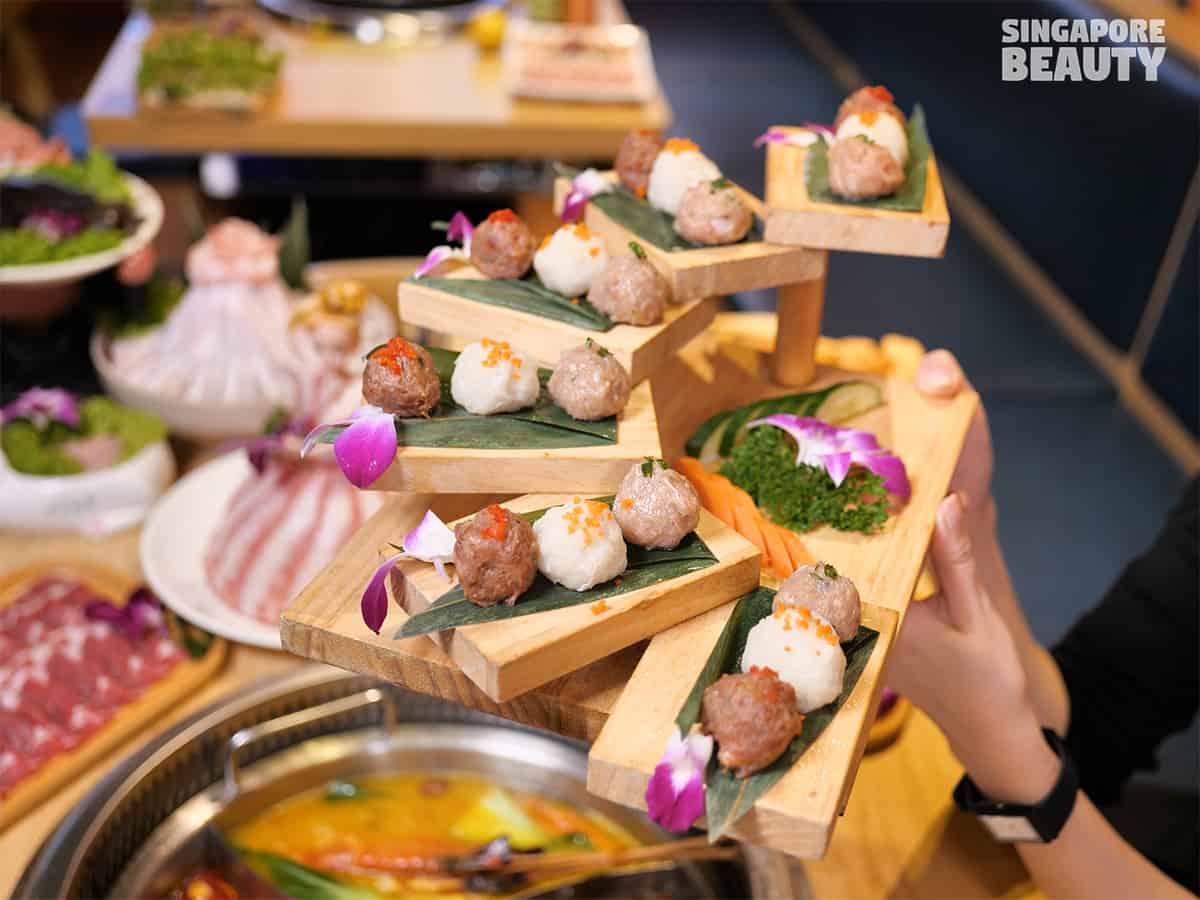 These are the hand beaten meat balls available in beef, pork and shrimp. The texture of these balls are springy with a crunchy texture of meat fats and shrimp bites. The flying fish roe on top of these handmade balls also give it a luxurious feel besides the fun popping effect it has when eaten.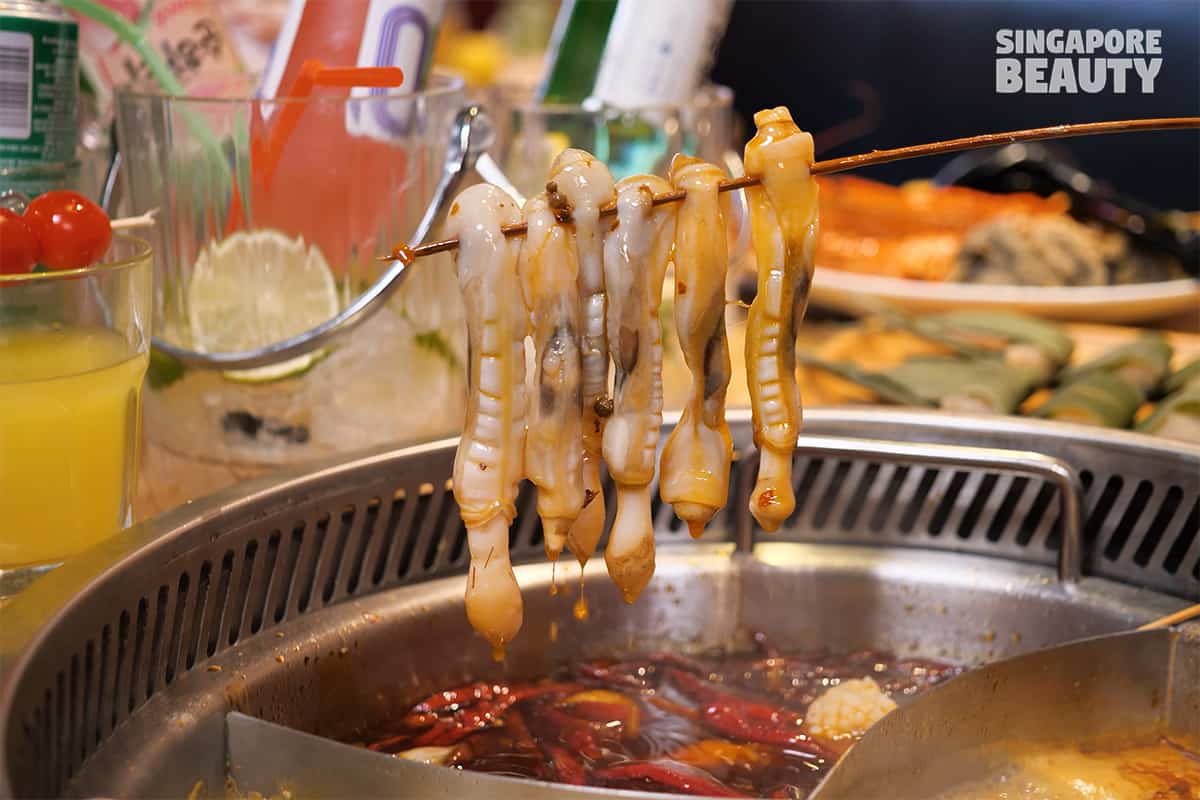 Australian bamboo clams in mala hotpot are heavenly. The sacs of the bamboo clams are infused with the hot mala savoury broth, be very careful of bursting juices when you enjoy these. The briny and spicy flavour works superbly together. I am always fascinated by how people pick these sea gems from the seabed by pouring salt on them, but after trying these am more fascinated with the flavour and snappy texture.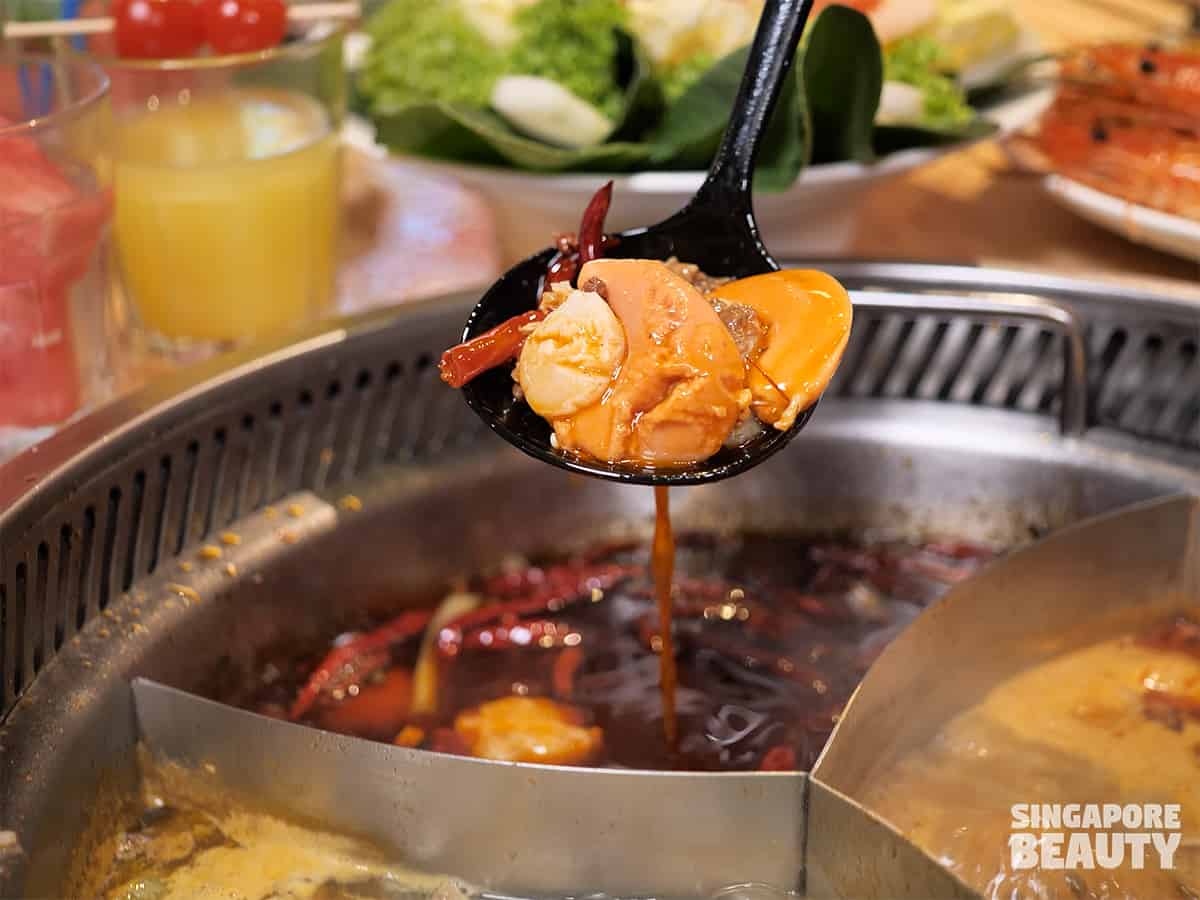 Scallops are huge and sweet. The orange sac of roe with buttery texture is my favourite along with the springy texture of the scallop. I could eat lots of these at one go in a hotpot buffet session these are known to be a good source of omega 3 and a kind of a super food too. Omega 3 is great for your heart and arteries in moderate amount.
Handmade brown sugar cakes ($8) are super crispy chewy mocha rice stick served with a smoky brown sugar dip. These are add on but worth every bit of your money because they are so good. The light breaded crust housed an melty airy mochi that is stretchy and chewy. To get the best texture, consume it once it is served. Get some sugar and crushed peanuts for a nutty flavour from the condiments bar too.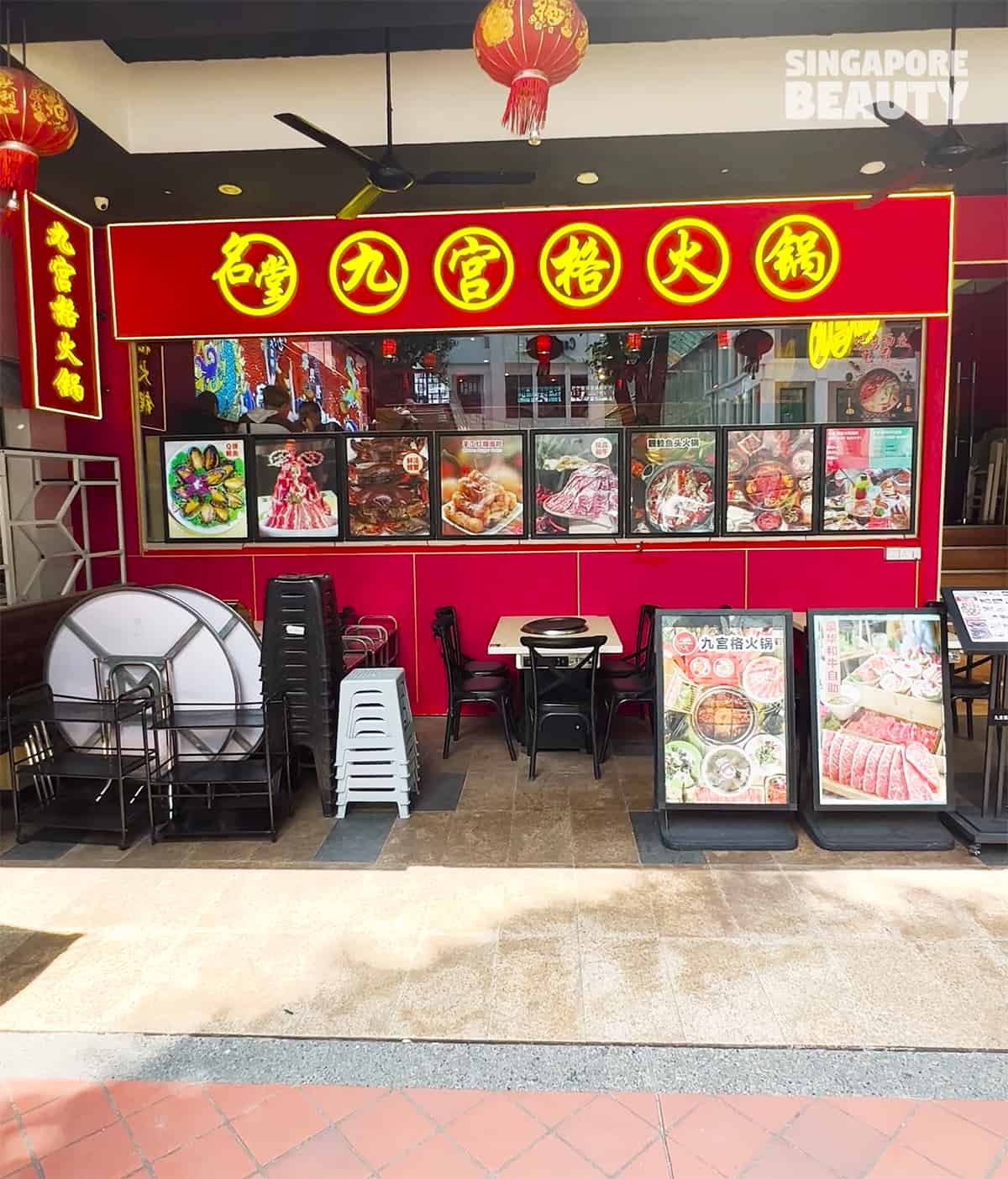 Ming Tang Jiu Gong Ge hotpot buffet is conveniently located opposite of Bugis Junction shopping mall. With comfortable indoor seating, open air outdoor dining during the evening where you can hotpot, enjoy the hustle and bustle of Bugis colourful night scene and even people watch. Our preference for their hotpot is the wagyu beef buffet hotpot with more than 100 ingredients to hotpot with especially wowed by their wagyu, black pork shabu shabu meats and seafood selection. Evening are usually crowded here, do make a reservation if possible, although walk in are fine too.
Address of Jiu Gong Ge Hotpot (名堂九宫格火锅):
Bugis Cube, 470 North Bridge Road,
#01-05, Singapore 188735
Adult Price for Classic Hotpot Buffet option A
Mon-Thurs $25.80++
Fri-Sun, Eve and PH-$28.80++
Children (1.1-1.4 metre tall) price $16.80++
Adult Price for Premium Hotpot Wagyu Beef Buffet option B
(As shown in video)
Mon-Thurs $42.80++
Fri-Sun, Eve and PH -$45.80++
Children price $18.80++
Dine in time 120 mins
Soup Add on for both buffet A and B:
Choice of Soup:
$9 for double, triple or JGG- nine type classic soup
Dispenser drinks are included
Opening Hours:
11.30am to 1am daily
For reservation, call: 6338 3405
Brought to you by Ming Tang Jiu Gong Ge (名堂九宫格火锅)