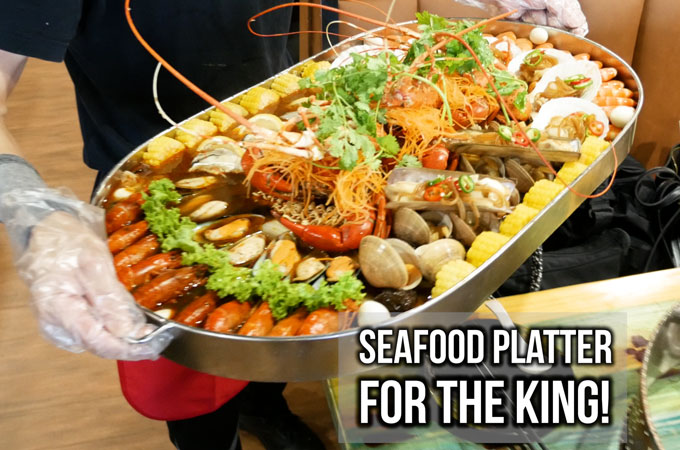 At Jiu Gong Ge Hotpot (九宫格火锅), they have Seafood Platter fit for a king. Conveniently located at Bugis- a popular shopping district and food heaven in Singapore – Jiu Gong Ge Hotpot (九宫格火锅) has three restaurants side by side serving hotpots, seafood and grilled fish.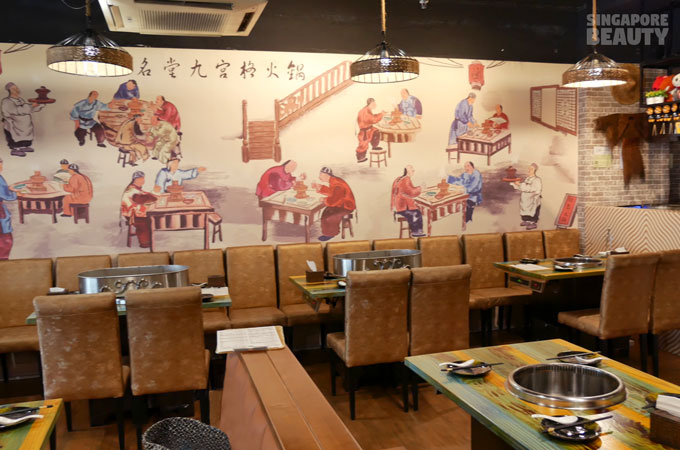 The restaurant has this Imperial China vibe to it. With the wallpaper murals depicting gentlemen enjoying hotpots at a tea house. It seems like hotpot is an old time favourite, old but gold. Finishes recreating a brick wall and hung pictures that remind one of the hand painted scrolls in Ancient China. Cushioned bench settee and good size tables. Comfortably seated, I can't help but start to picture myself in an Imperial China setting where the patrons are served like a king.
The order came fast and as a surprise. The sheer size of the platter deserves a wow. Served on an elaborately decorated silver platter- is a cabaret of graceful dancers from the depths of the ocean. The main cast of this cabaret are the lobsters and mud crabs. The orchestra team consists of oysters, half shell scallops, clams, bamboo clams and mussels. Fellow acrobats like the baby lobsters and the prawns are part of the highlight of this massive display of ocean's cabaret. These are performed atop a lawn of cabbages, lettuce, glass noodles, black fungus, quail egg and some seasonal greens. To heighten the experience, finely shredded carrots, coriander, chilli pepper and slices of fresh lemons are also included.
Somehow, I feel a bigger silver platter for the troupe will justify the amount of surprises in this large seafood platter. But fret not, we have some individual time with each member of this troupe.
Meet the….
Lobsters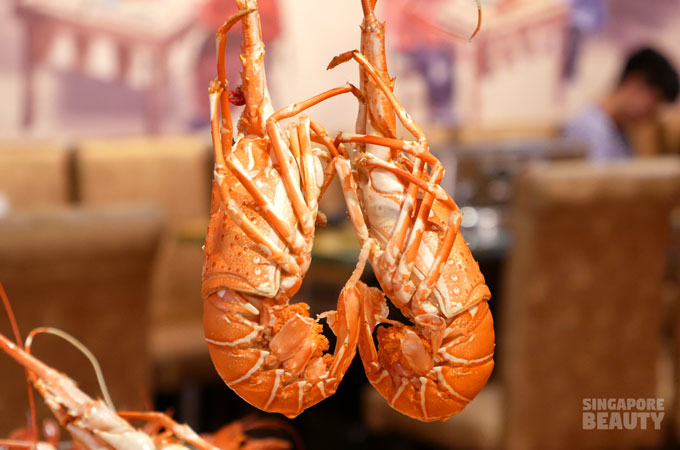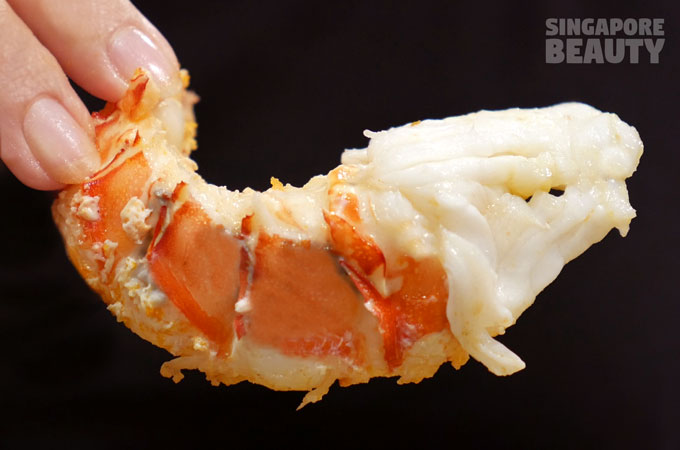 Fleshy and dominating, this has to be the lead of the pack.
Mud Crabs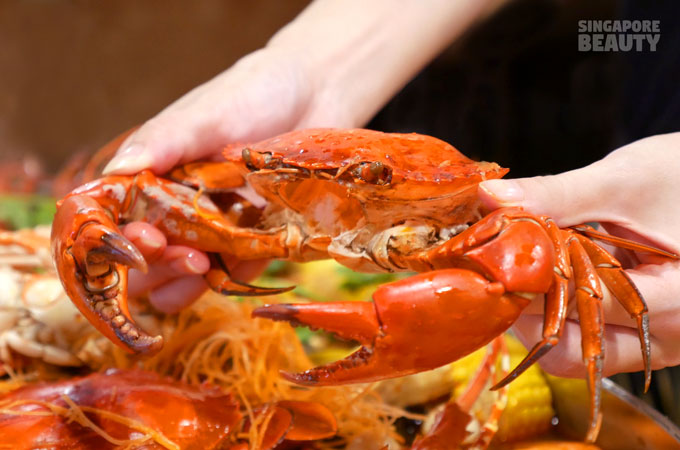 Hidden from view in the platter but will steal the limelight with their fleshy and firm texture.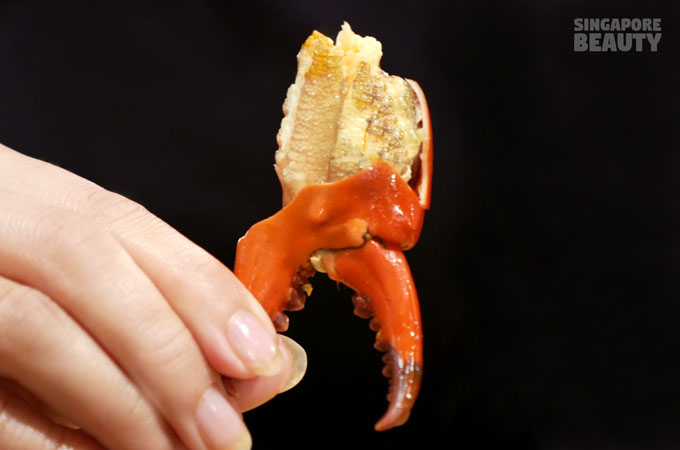 Look at the crab claw. Yummlicious.
Oysters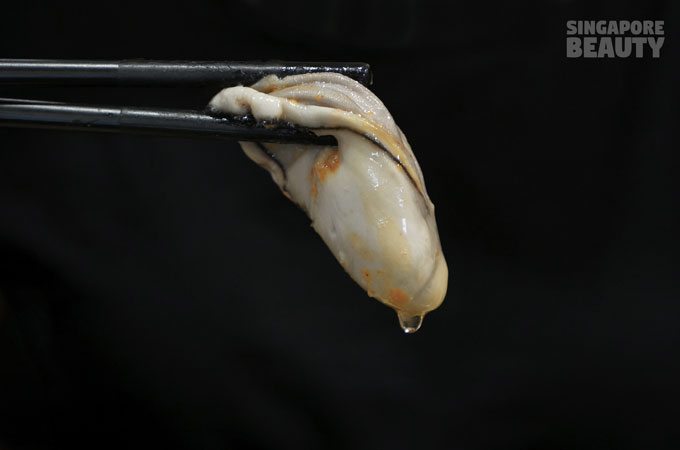 Not the ordinary oyster. Plump and large oysters in half shells, creamy and melts in your mouth.
Half Shell Scallops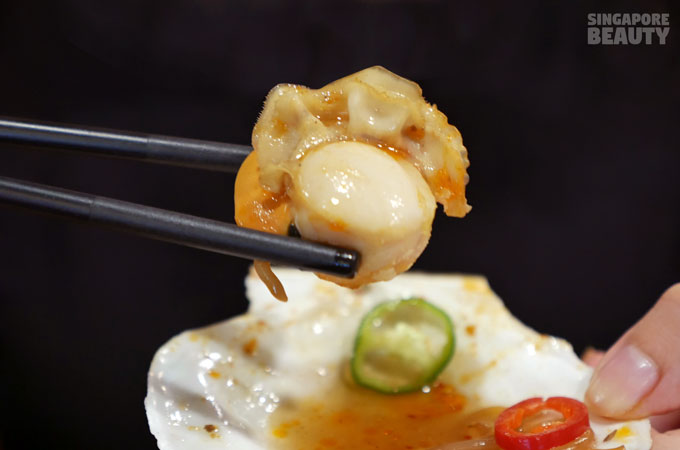 Large scallop topped with glass noodles and garnished with chopped chilli pepper for the kick.
Clams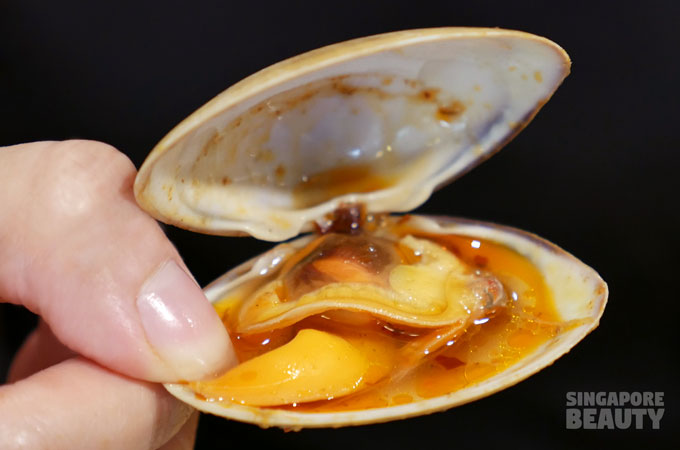 Go best with sweet chilli sauce.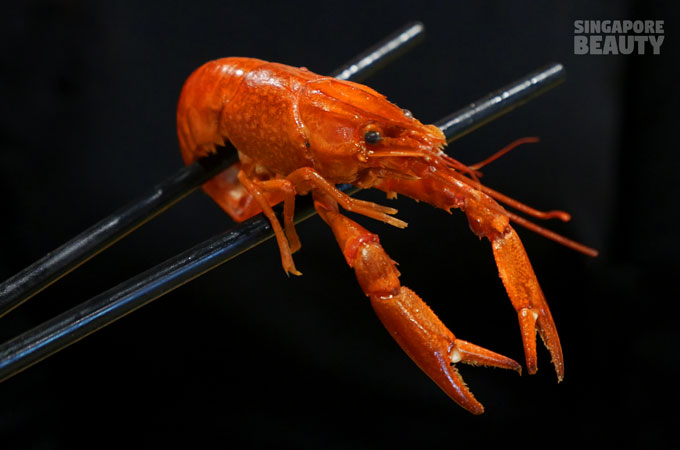 Prawns, mussels, bamboo clams and baby lobsters.
Lobster roe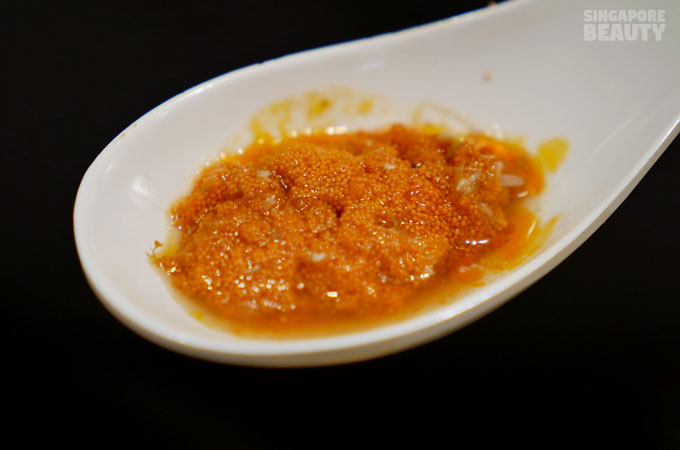 What can I say, these are just delicious, and I feel like these are served right from a kelong.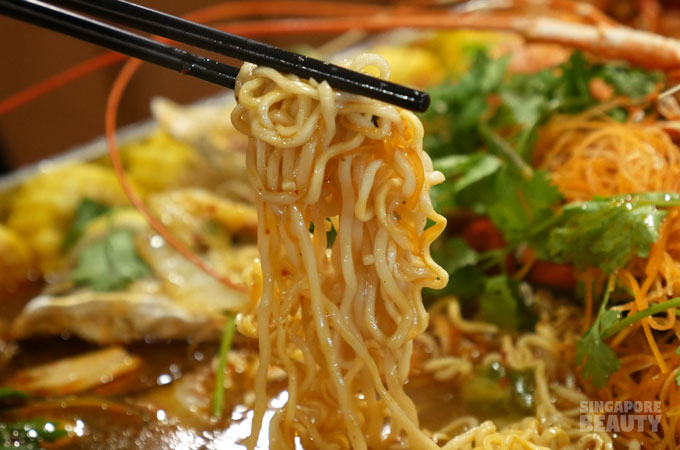 The cabaret is concluded with some flavourful noodles soaking up the Mala (spicy, savoury and aromatic) gravy and corn cobs to end on a sweet note.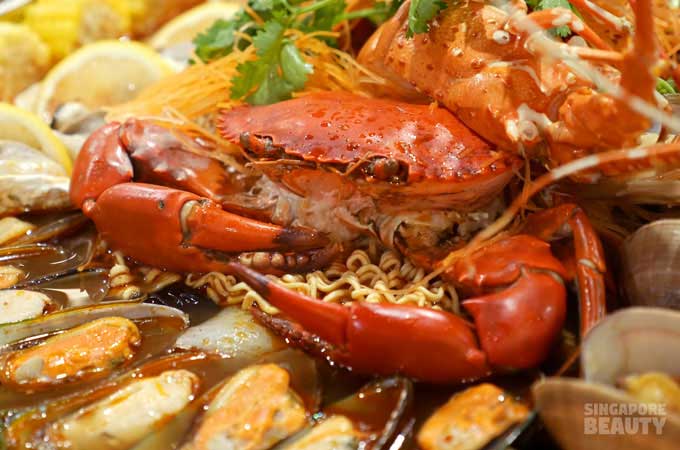 We are seriously having doubts if we can finish the platter. This XXL seafood platter ($168) for 5-6 pax, could be an understatement for normal eaters like me. Of course, if you are a seafood-natics or competitive eater, this may be just the right amount for you.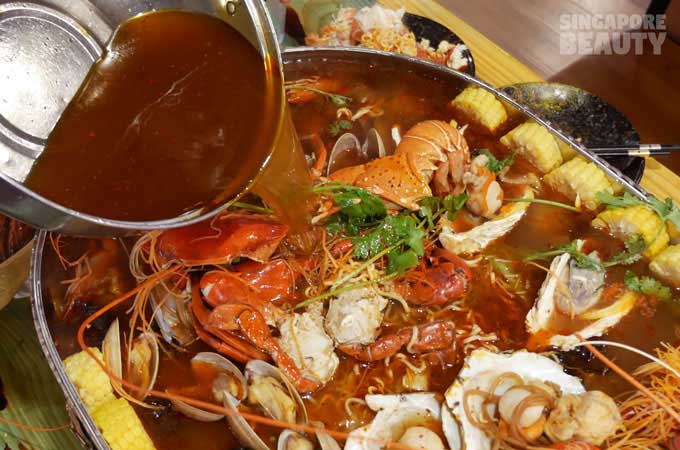 Slurp as much of the Mala broth as you like, the waitress will be delighted to help you refill and check that your platter is always piping warm. By the way, this platter is served atop 4 warmers, real warmers and not tea light. Thumbs up for this.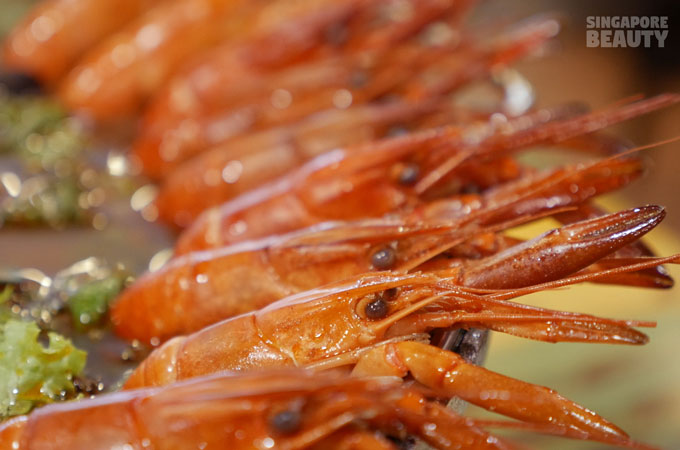 We choose the least spicy for the Mala broth, for those who take heat well, do order their dare devil level of spiciness. This broth is prepared with at least 10 spices, to give you the layered and flavourful broth. If you still want more to slurp the Mala gravy with, you are welcomed to order add ons from their ala carte menu.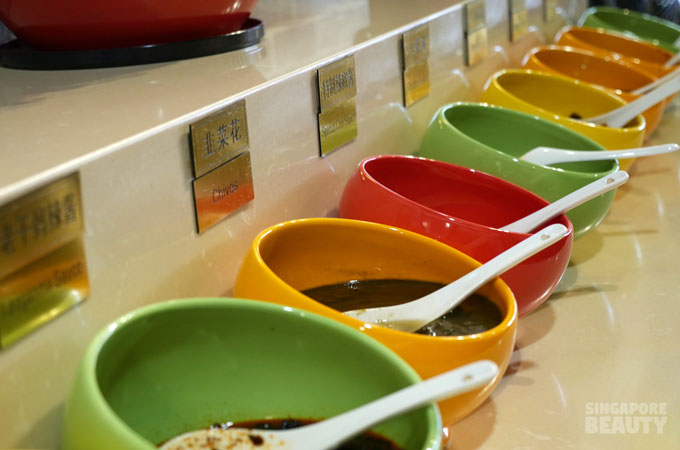 Unlimited condiments to go with the seafood are soya sauce, chilli oil, fermented bean curd, oyster sauce, seafood sauce, aromatic vinegar, beef sauce, chilli padi, chopped garlic, shacha sauce, coriander,special chilli sauce, chives,spring onion, sesame oil, pepper sesame oil, sesame sauce and even laoganma sauce.
Birthday Celebration Promotion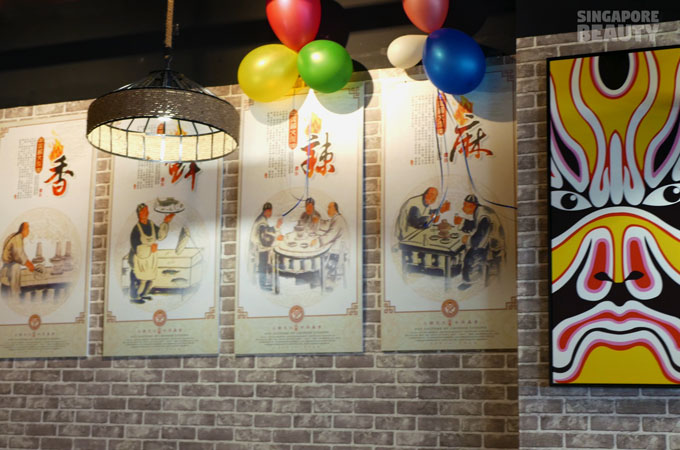 Jiu Gong Ge Hotpot (九宫格火锅) will host and decorate their restaurant for birthday parties and throw in a birthday present as well, just need to let them know in advance. From Monday to Thursday only. They are a perfect host for matchmaking sessions as well!
They have launched a new menu for seafood platter with Singapore's favourite chilli crab gravy at no additional charge.
Another popular dish in house is the spicy Grilled fish. Comes in Sichuan Mala, spicy Lychee,mango style, sour and spicy, black pepper, Congxiang (spring onions and ginger), tempeh sensation, classic spicy and sour pickled cabbage fish. This is definitely a good spread of authentic Chinese culinary dishes. All sound very tempting to someone like me who is still working during the wee hours of the day to bring you this article. I might be in time for supper at Jiu gong ge hotpot (九宫格火锅), since they operate till 2am.
There are a total of 17 cold dishes available, these dishes are known to be savoury and meant to be appetisers. However when it comes to food, there is no hard and fast rule. I like to have my cold dish at the end of a meal over some booze and chill. To each his own.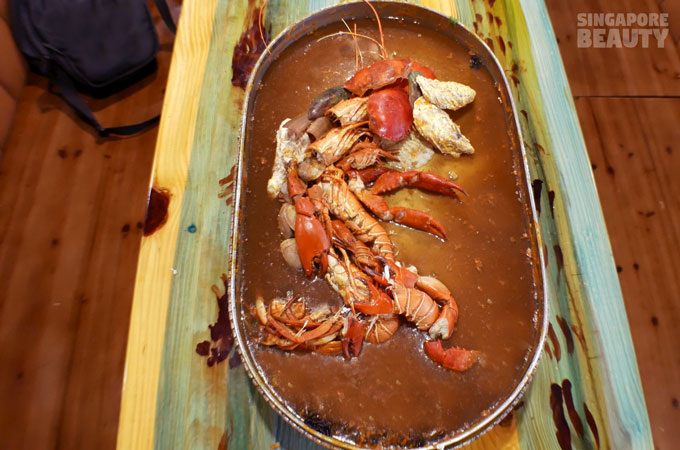 Did a little thank-you art for Jiu Gong Ge hotpot (九宫格火锅) for their great service before we exit. This is definitely a place I will return to try other dishes on the menu, too many choices and too little stomach space.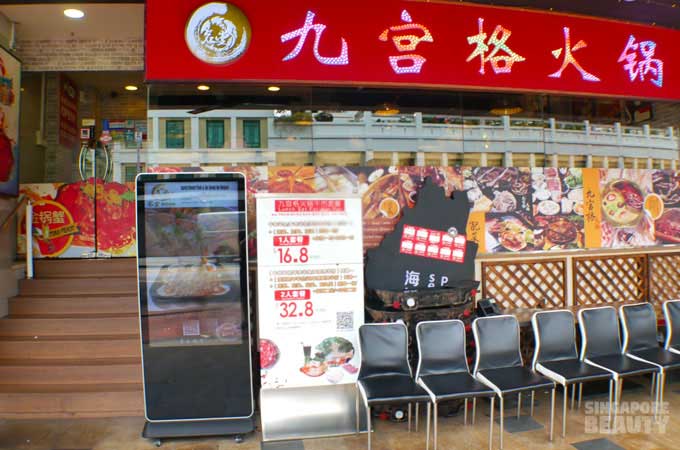 Swing by soon to Jiu Gong Ge Hotpot (九宫格火锅) and make a reservation to avoid their waiting queue.
Location:
470 North Bridge Road #01-02,01-03/01-04 , BUGIS CUBE, S188735
Operating Hours:
Open 11.30 am to 2am Daily
Reservation:
63383405
This post is brought to you by Jiu Gong Ge Hotpot.