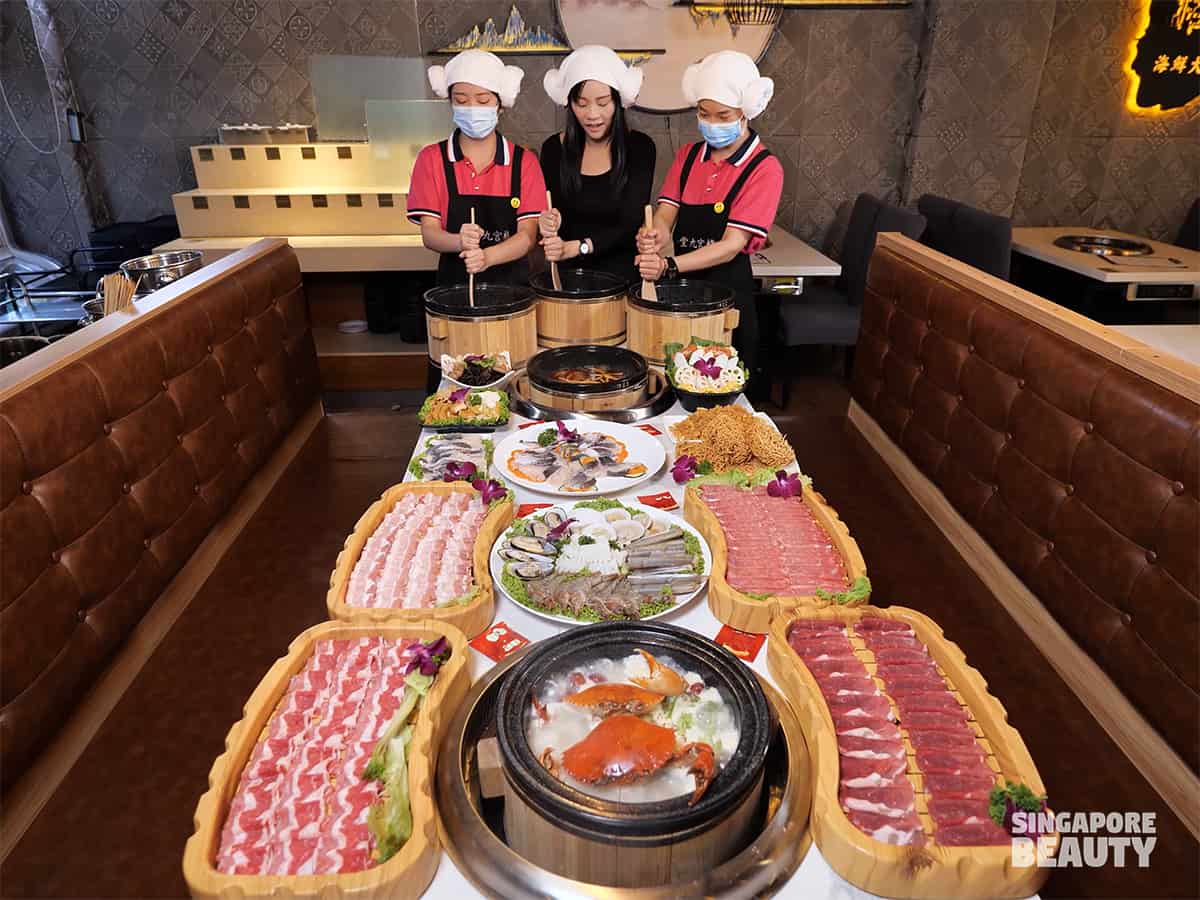 Singapore's sauna stone fish hotpot buffet with hot steaming broth and over 70 types of selection is now on at Jiu Gong Ge restaurant at Level 1 of Bugis Cube, Singapore. You get to enjoy a platter of freshly sliced Toman fillet, unlimited seafood, shabu shabu meat, free flow dory fish chunks and more in this buffet.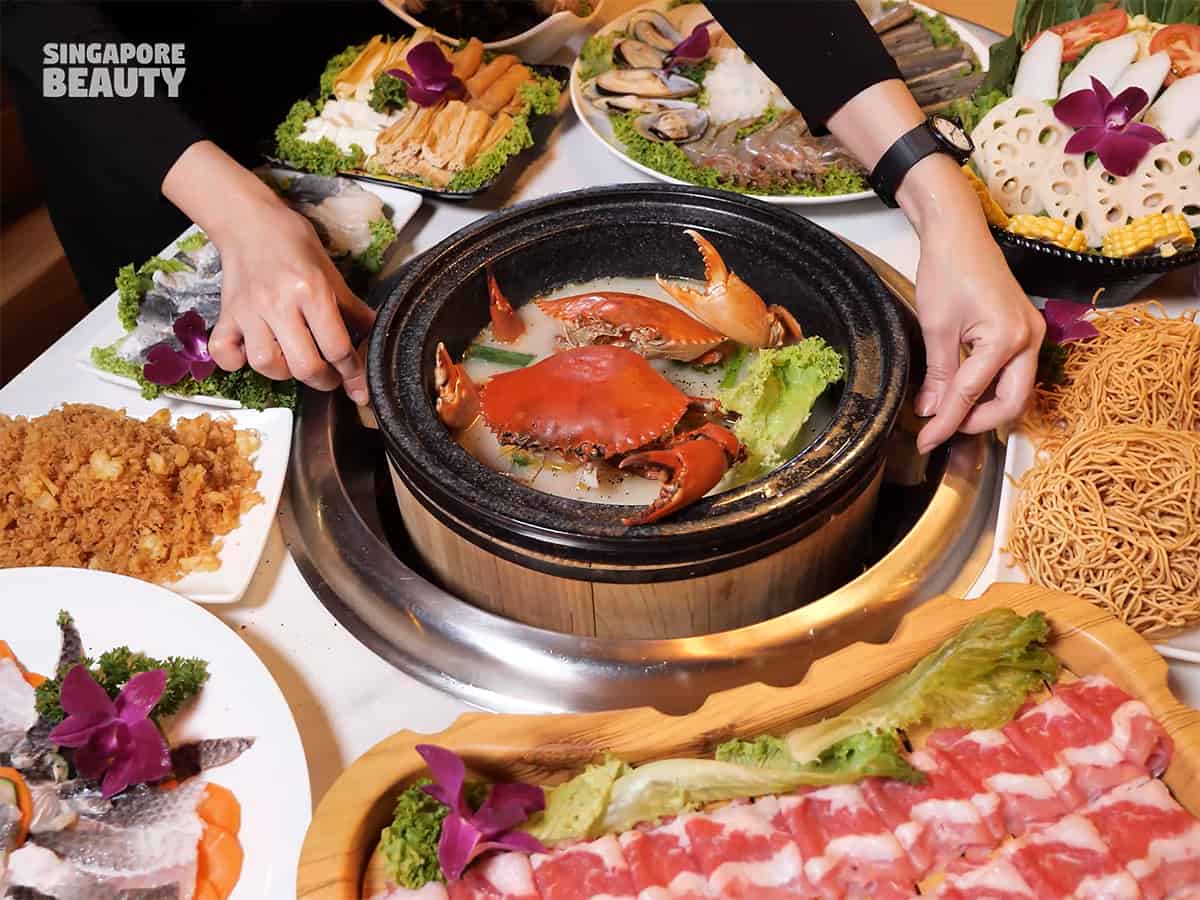 This sauna stone fish hotpot buffet is served in a stone pot with a bed of red hot natural mineral stones. Besides the sauna stone fish hotpot, you can also add and upgrade to JiuGongGe in house crab broth with 2 mud crab for $18++.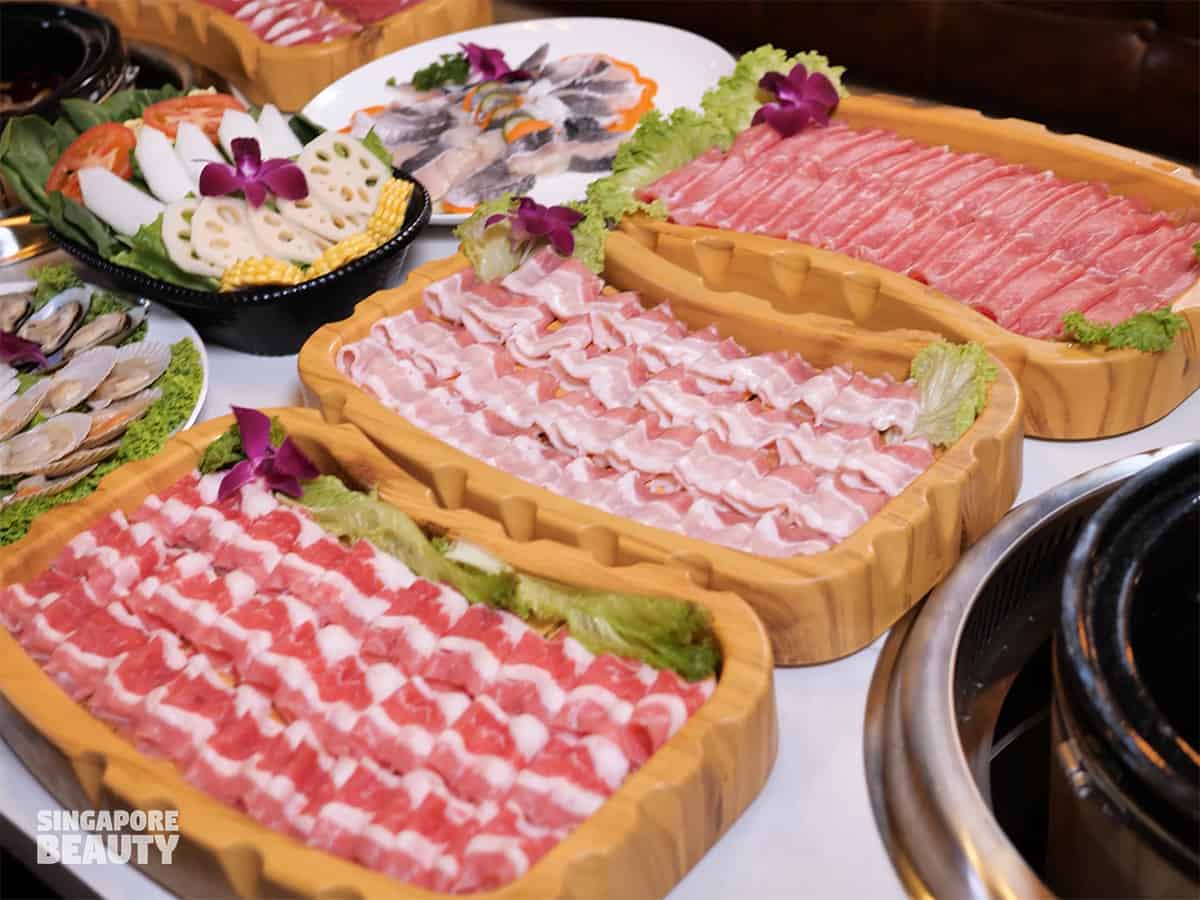 These signature Jiugongge huge platters of shabu shabu meats (pork & beef) are included in the buffet too. Let's start the Jacuzzi meat & seafood party!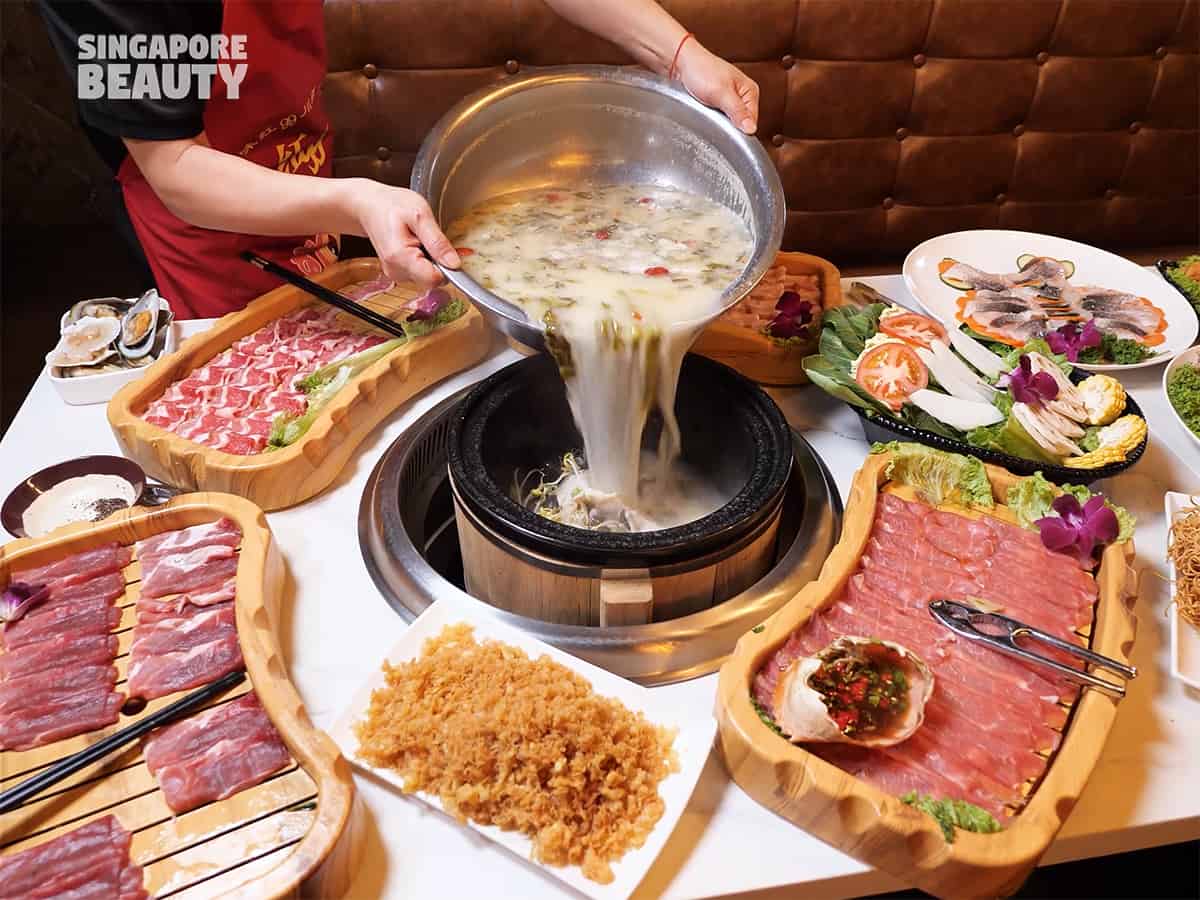 For this hot stone fish hotpot buffet, you have choice of 8 types of soup such as mala, pickle, tomato, chicken, hot and sour, tom yum, big bone and wild mushroom from $9++. The chef recommendation is the made in-house mala soup and the pickled mustard green fish soup for this Jiugongge hot stone fish hotpot buffet.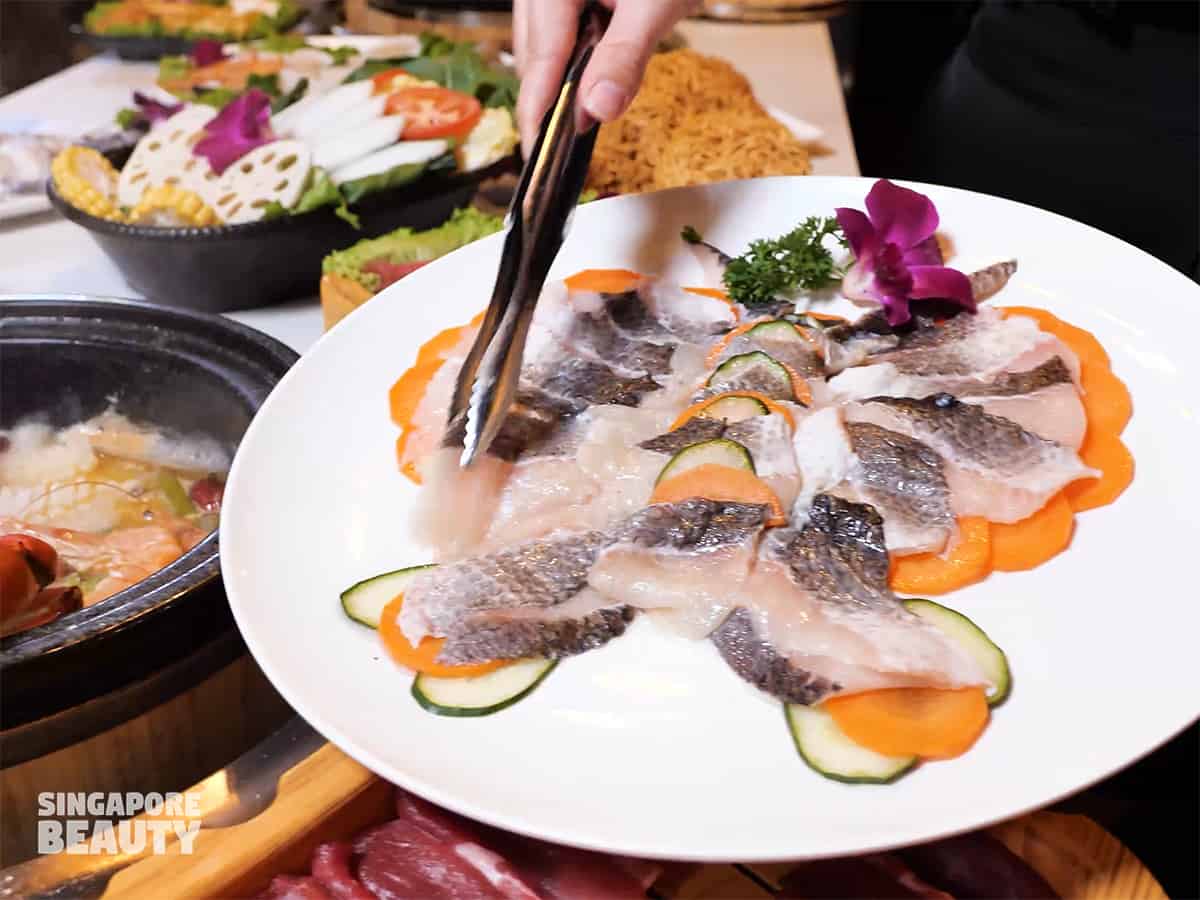 For those who are going for this hot stone pot fish hotpot buffet, each table can redeem a platter of sliced Toman fish. You can either have this fish platter cooked into the hot stone broth of your choice or hotpot these on your own into the soup. Do inform the service crew during ordering how you want this fish platter to be prepared and served.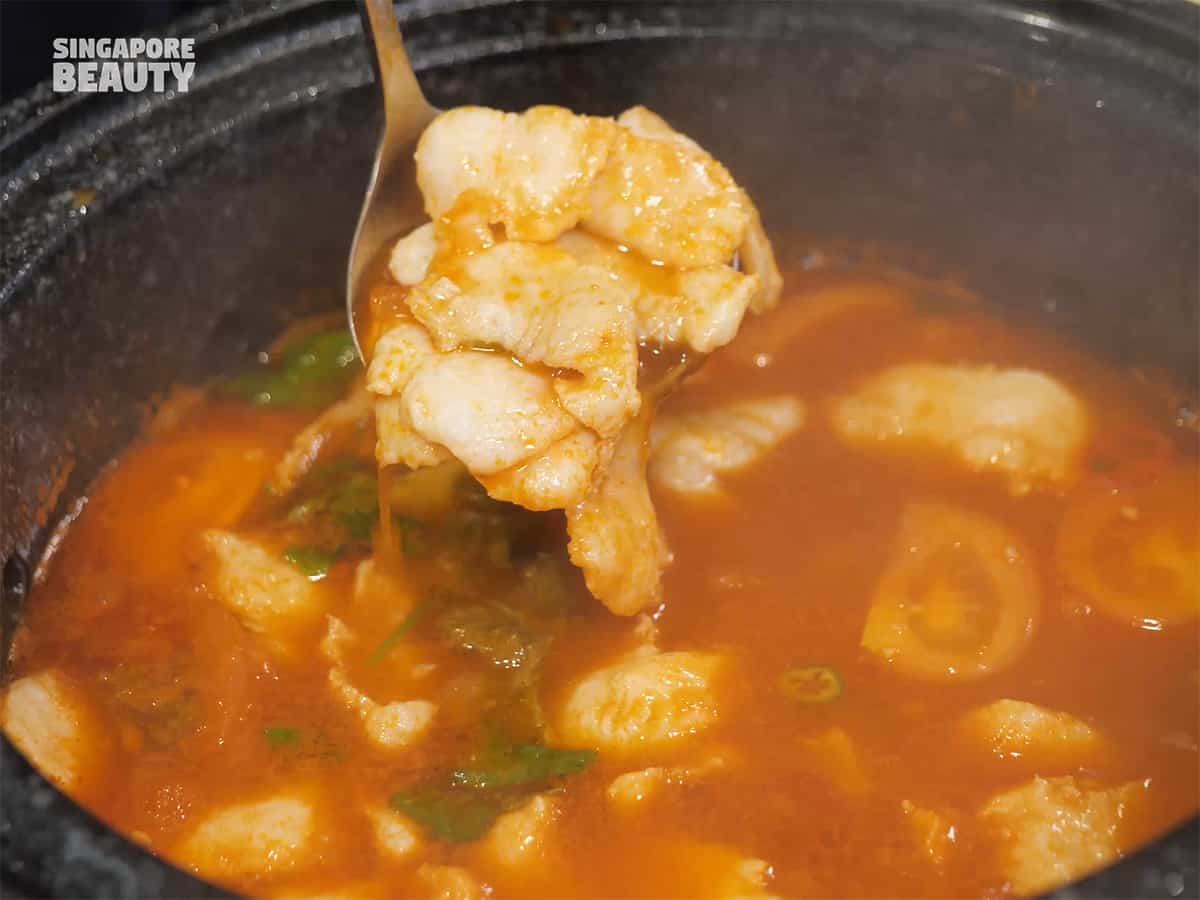 Need more fish to hotpot with after you are done with the platter of Toman fish fillet? You can enjoy as much dory fish chunks with the bubbling hot soup as they are inclusive in this buffet. These dory fish chunks are extremely delicate soft and pairs well with their signature Jiugongge mala or tomato soup.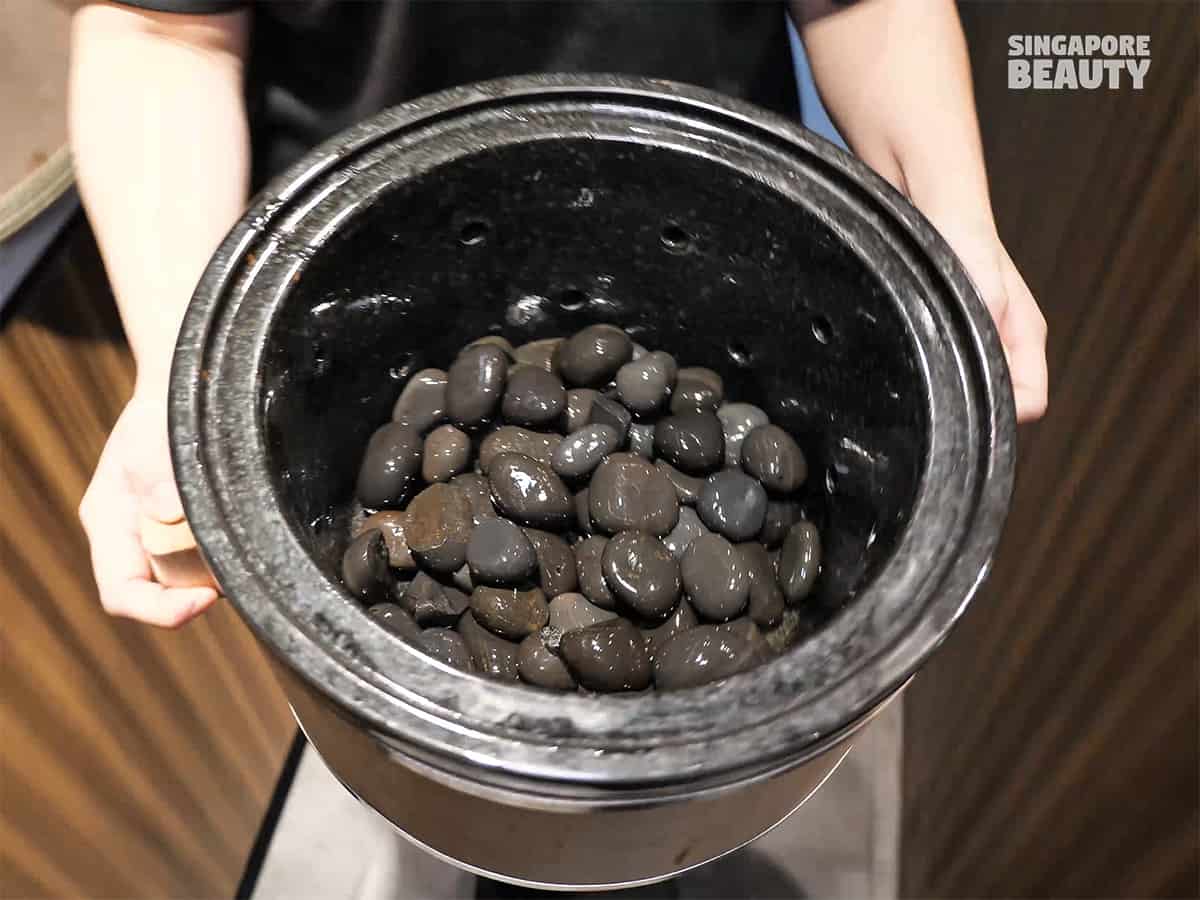 This is how this hot stone sauna fish hotpot buffet works. These natural stones are heated in a wok of oil up to 300 deg Celsius before it is ready to be used. This hot stones are laid into the stone pot as a base for cooking later.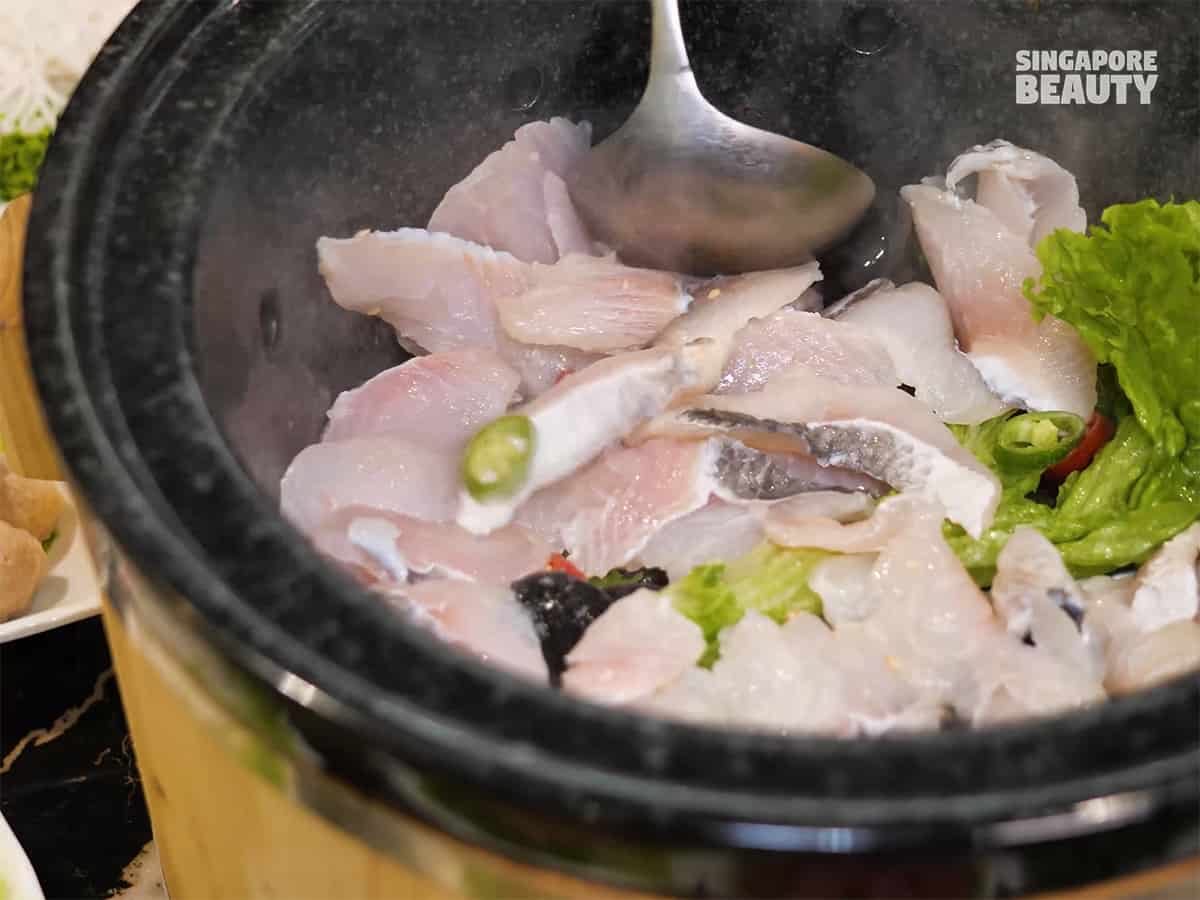 The freshly sliced Toman fish fillet are then cooked with the heat from the hot stone like in a sauna resulted in supple textured Toman fillet. Scallions, chilli pepper, sprouts, dates, goji, garlic and ginger are added for extra aroma.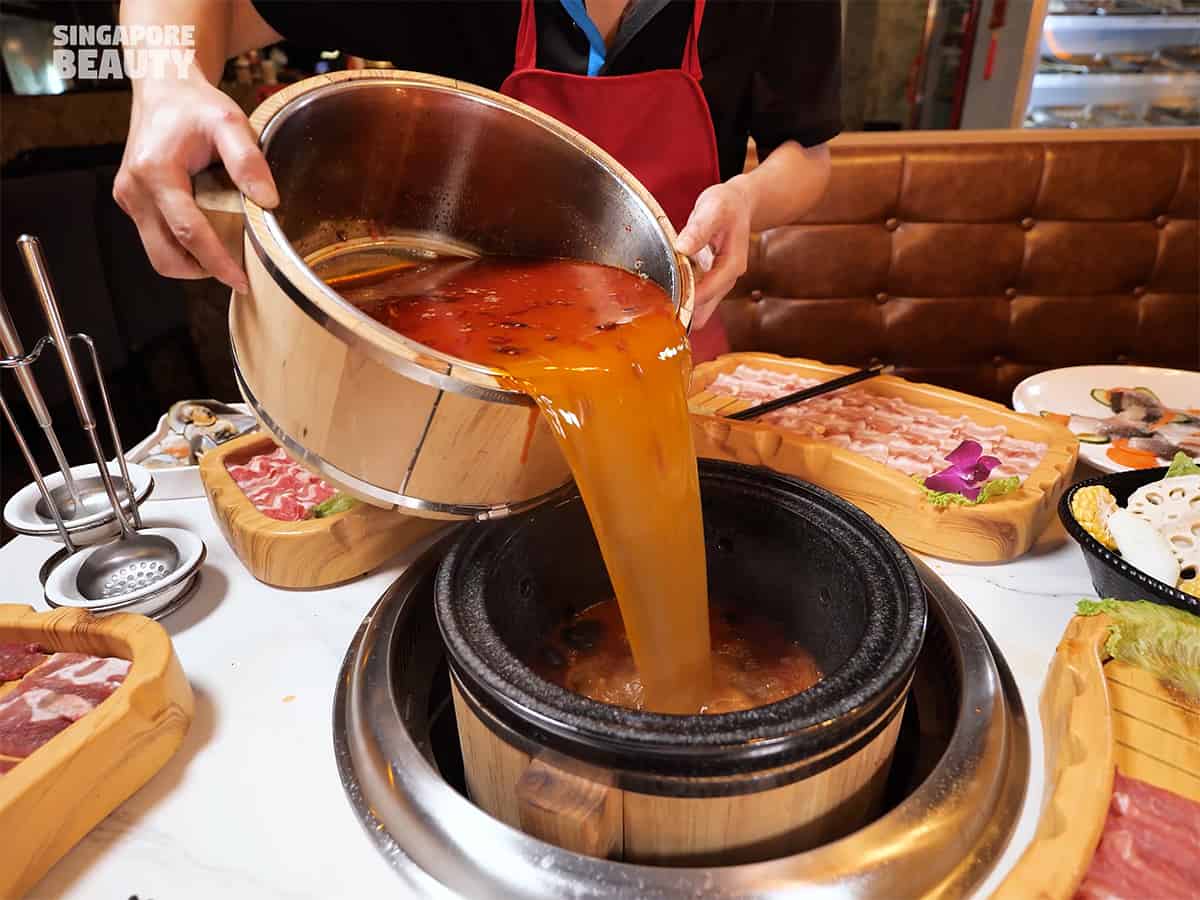 This is followed by adding meat broth to create the legendary waterfall of fish broth base into the stone pot. This stone pot is kept bubbling on a heated pad within the table, you can be sure that this stone fish pot is enjoyed piping hot even to the last drop.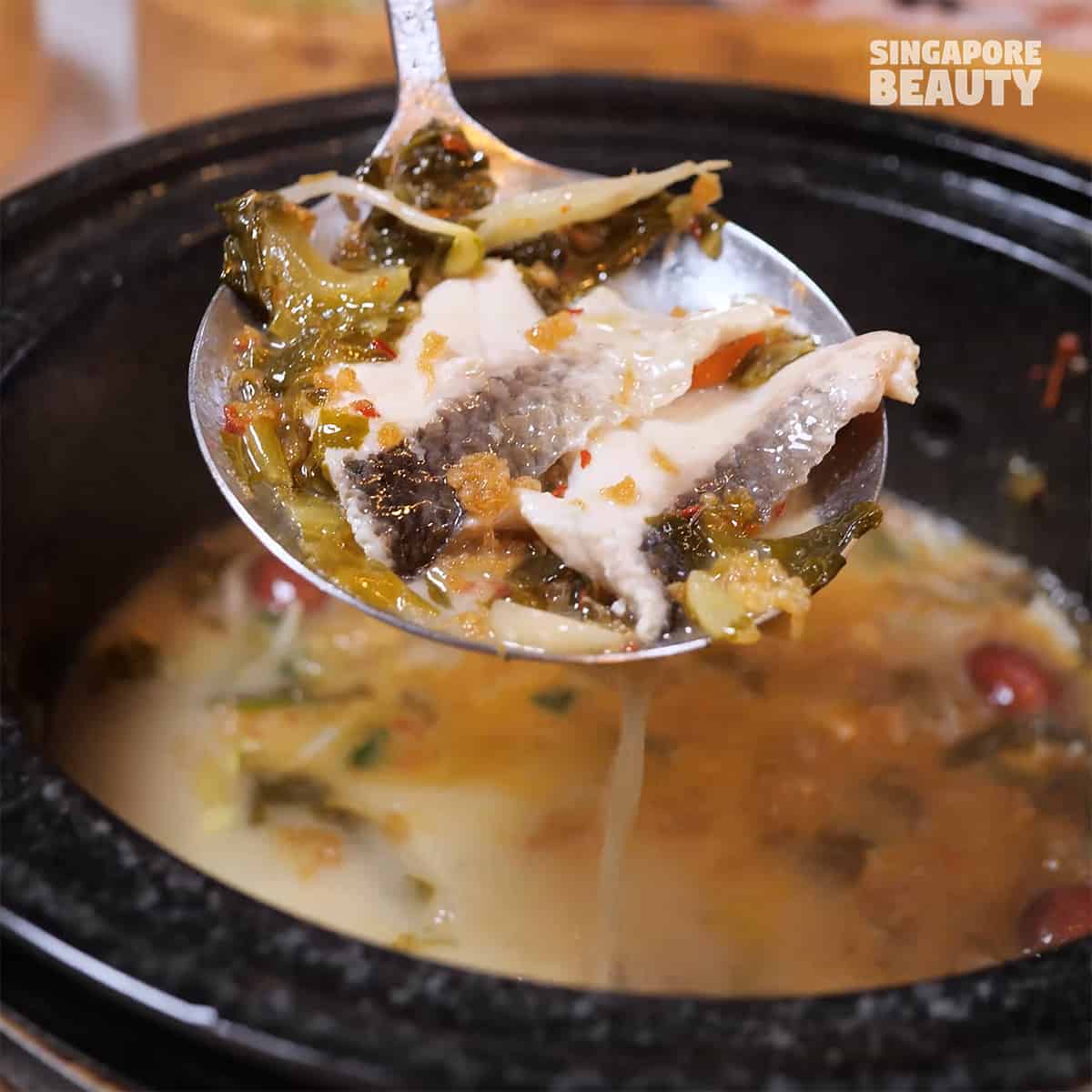 This hot stone fish pot in hotpot buffet style is now ready to be enjoyed. This is their pickled mustard green flavour hot stone fish pot. The pickled greens gave the fish fillet some added sharp and tangy flavours making them super addictive.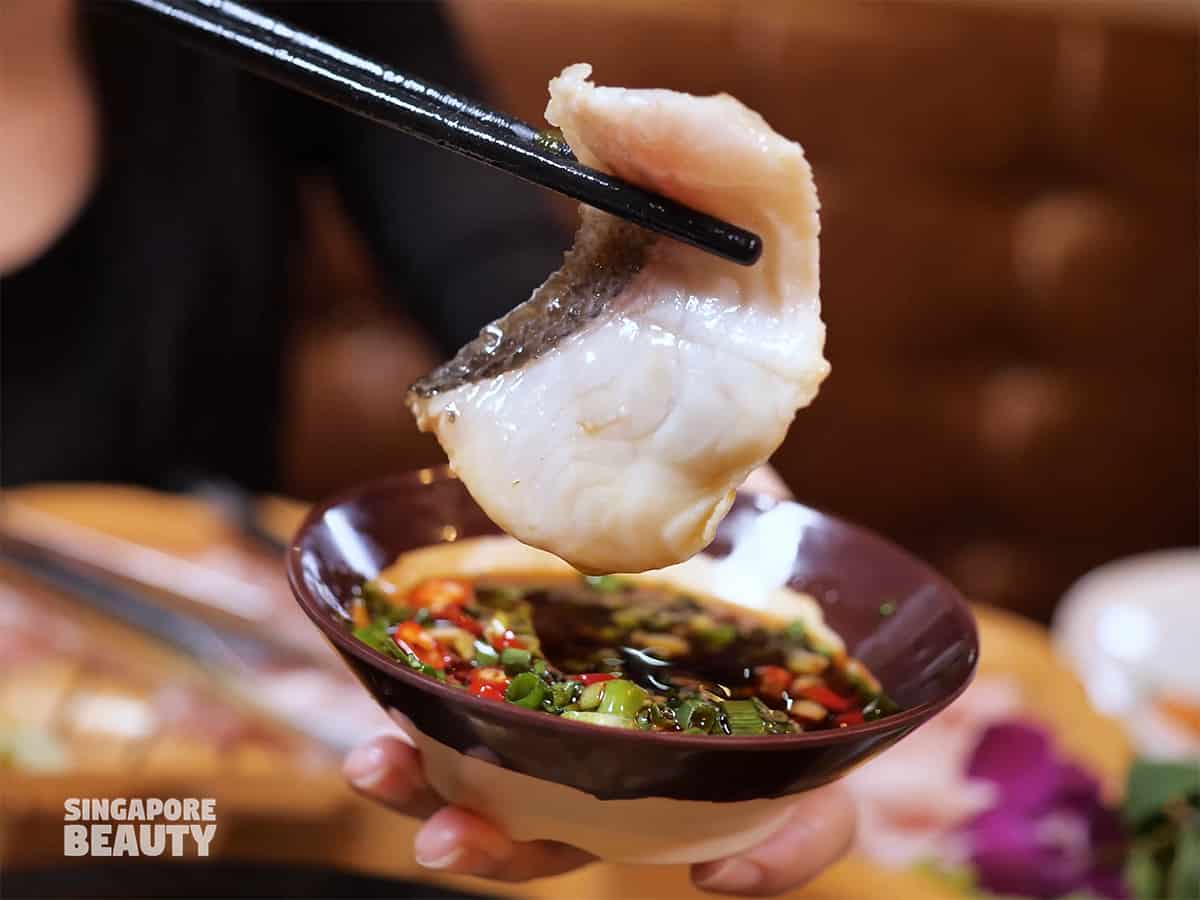 Enjoy these toman fillets with their in-house chill dip for extra umaminess to the tender slices.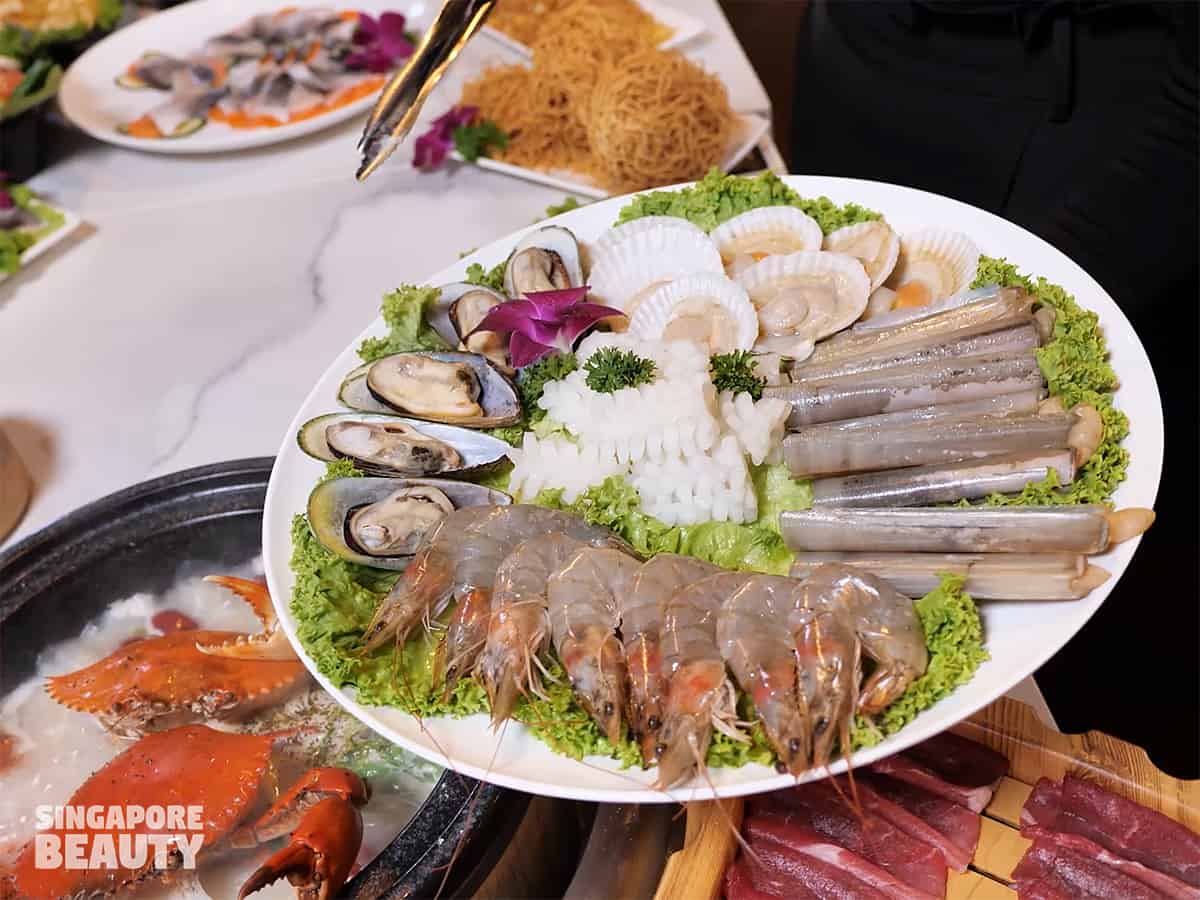 This hot stone fish pot JiuGongGe buffet also comes with free-flow seafood family platter of sweet shrimps, scallops, squid roll, mussels, Australian bamboo clams, asari clams, handmade prawn, meat and fish paste for your hotpotting pleasure.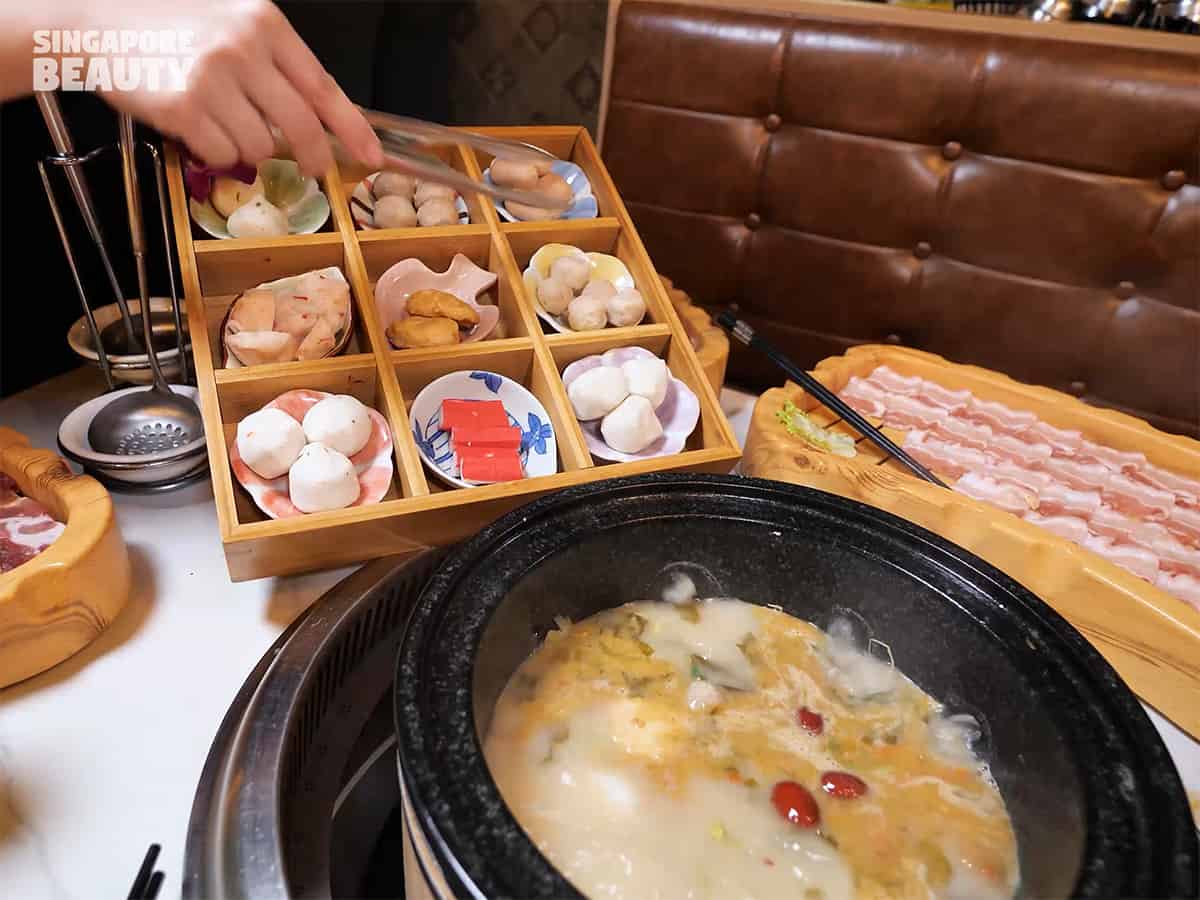 Get the JGG surimi platter for some sinful bites. This platter consist of sotong balls, crab stick, fishball, meat balls, lobster ball, cheese cocktail sausage, cheese tofu and fish roe cake.
Which hot stone pot buffet do you love – the crab broth or the Toman fish broth?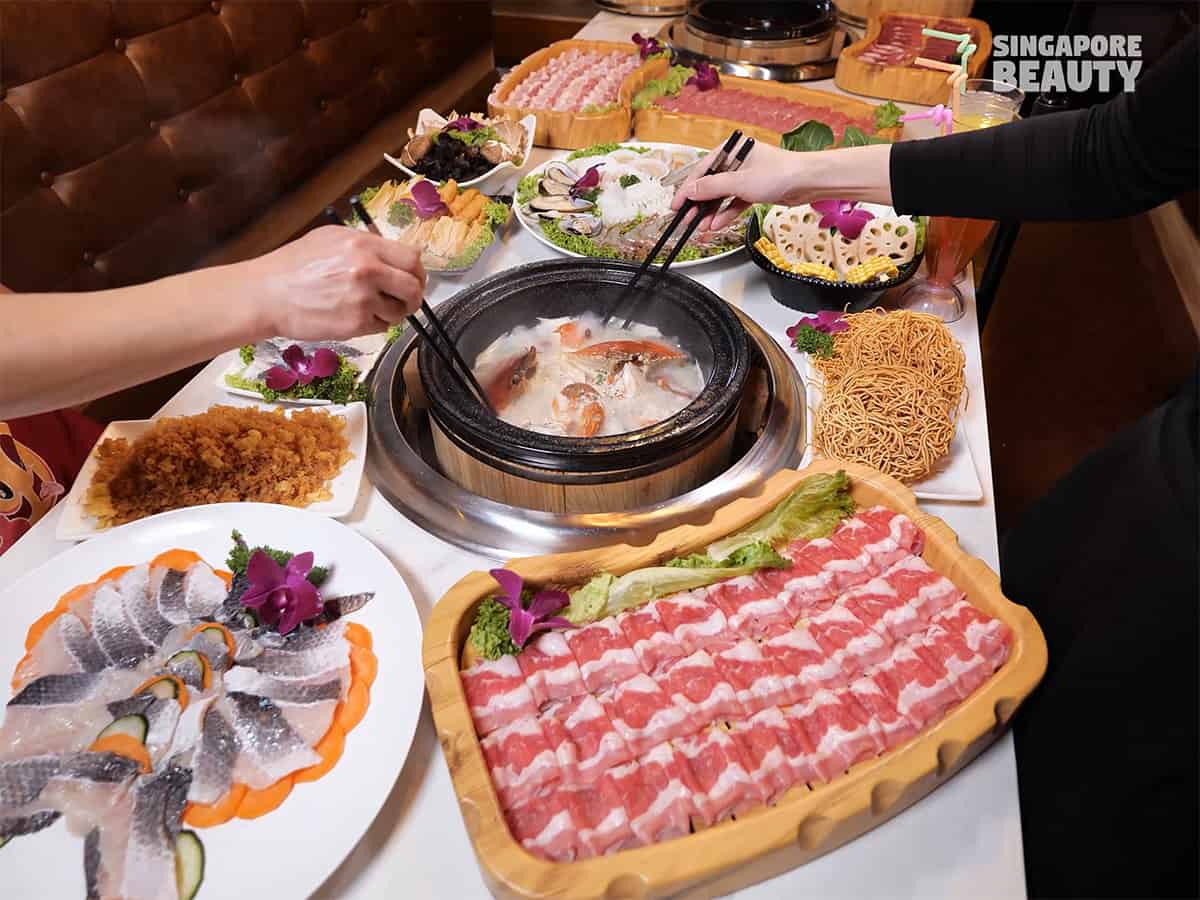 Come and enjoy this hot stone fish pot buffet brought to Singapore by this popular eating spot in Bugis – Jiu Gong Ge. With 70 types of meat platter, seafood platter, green, homemade drinks, noodles and surimi are all included in this buffet with add on options to upgrade to mud crab broth too.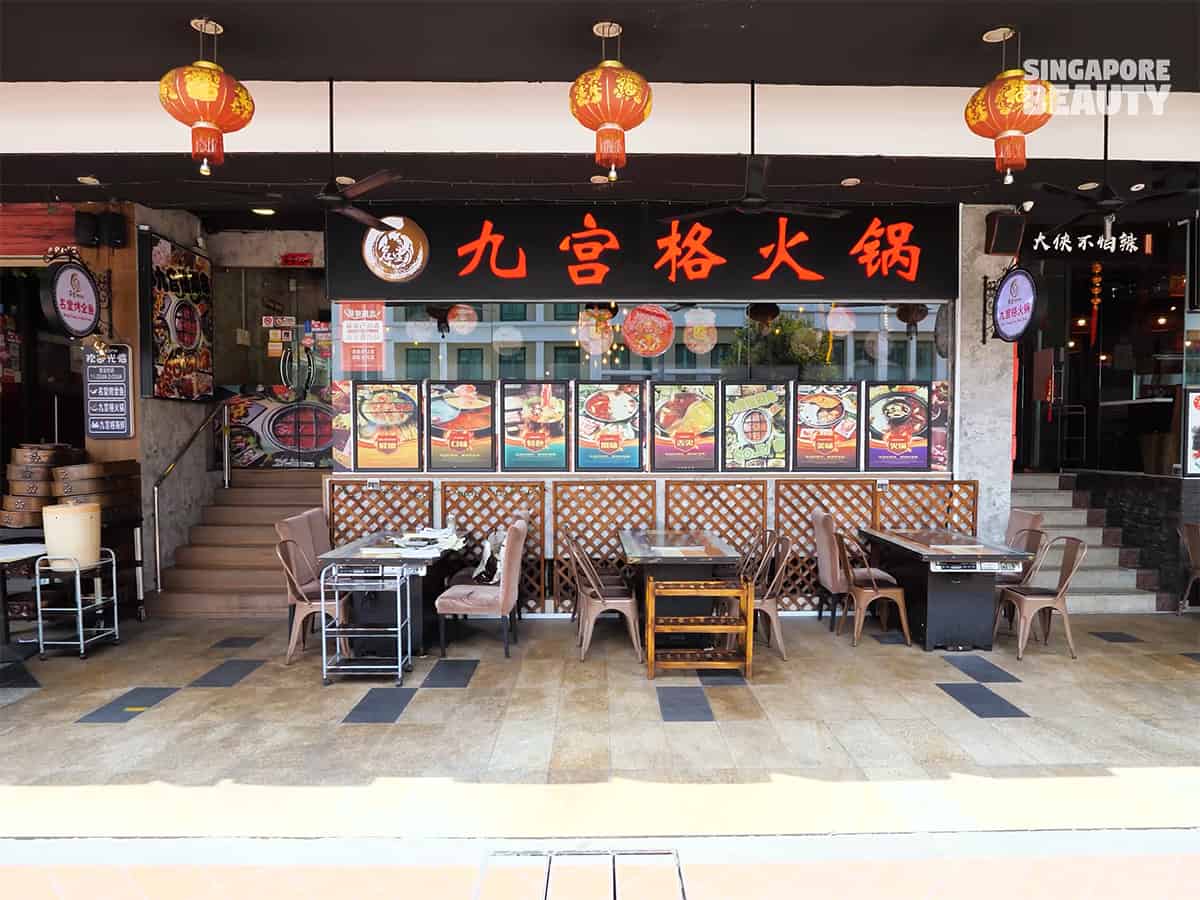 See you later at Jiugongge hot stone sauna fish pot buffet from only $26.80++ at Bugis, Singapore.
Sauna Stone Fish Buffet 九宫格木桶鱼自助餐
Adult price
Mon-Fri $26.80++ daily
Sat-Sun/PH $29.90++ daily
Include homemade drinks.
Dine time 2 hrs
Kids(4-10)$15.80++daily
Below 4 eat free
Single soup add 9++
Crab soup (with 2 crabs) $18++
Dine in time 2 hours
Walk in only
Ala carte can drinks & alcohol available
Location of Jiu Gong Ge :
470 North Bridge Rd
#01-02, Bugis Cube
Singapore 188735
Opening hours:
1130 am till 2am daily
For more enquires, call (+65)63383405
Brought to you by Jiu Gong Ge 九宫格