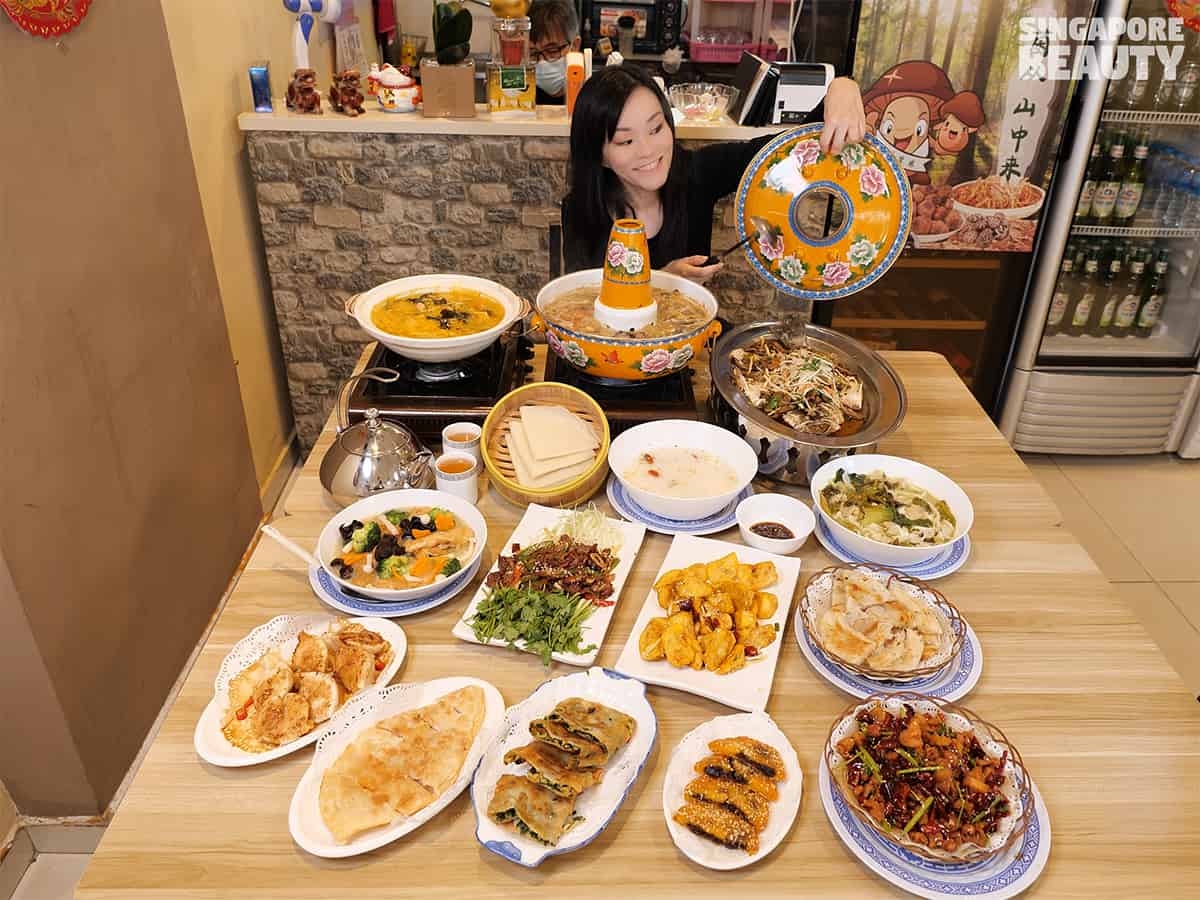 Chopstick Kitchen has 130 types of Chinese dishes for you to choose from. The variety of food served is as fancy as a Royal feast would be in ancient China era. Their best selling item is the abalone based steamboat with wild mushrooms and the handmade Chinese street food.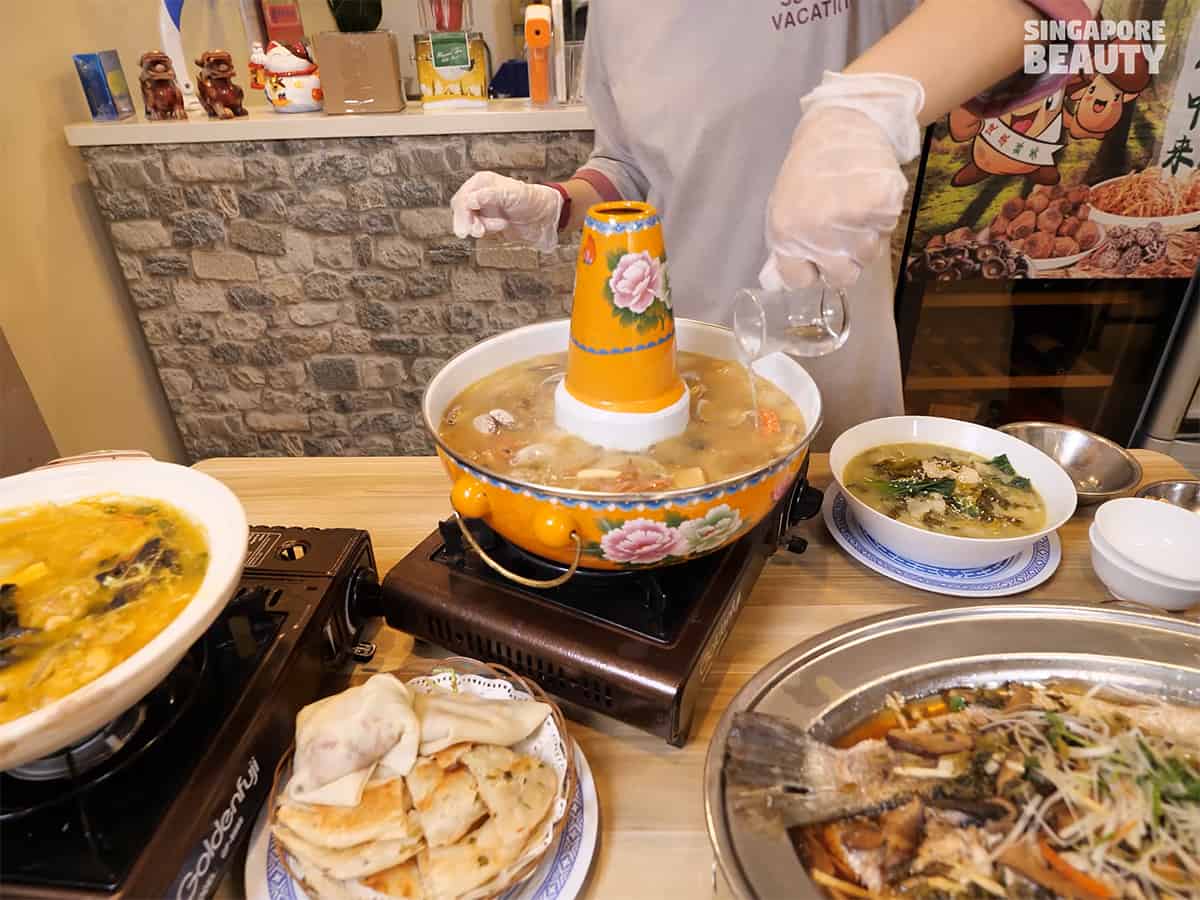 Get your hands on this unique authentic Chinese wild mushroom pot. It is made with the national drink of China – 63% white wine with chicken abalone as the soup base. This is an off menu item – steamboat pot – served exclusively at Chopstick Kitchen Geylang that is great for 2-4 pax to share.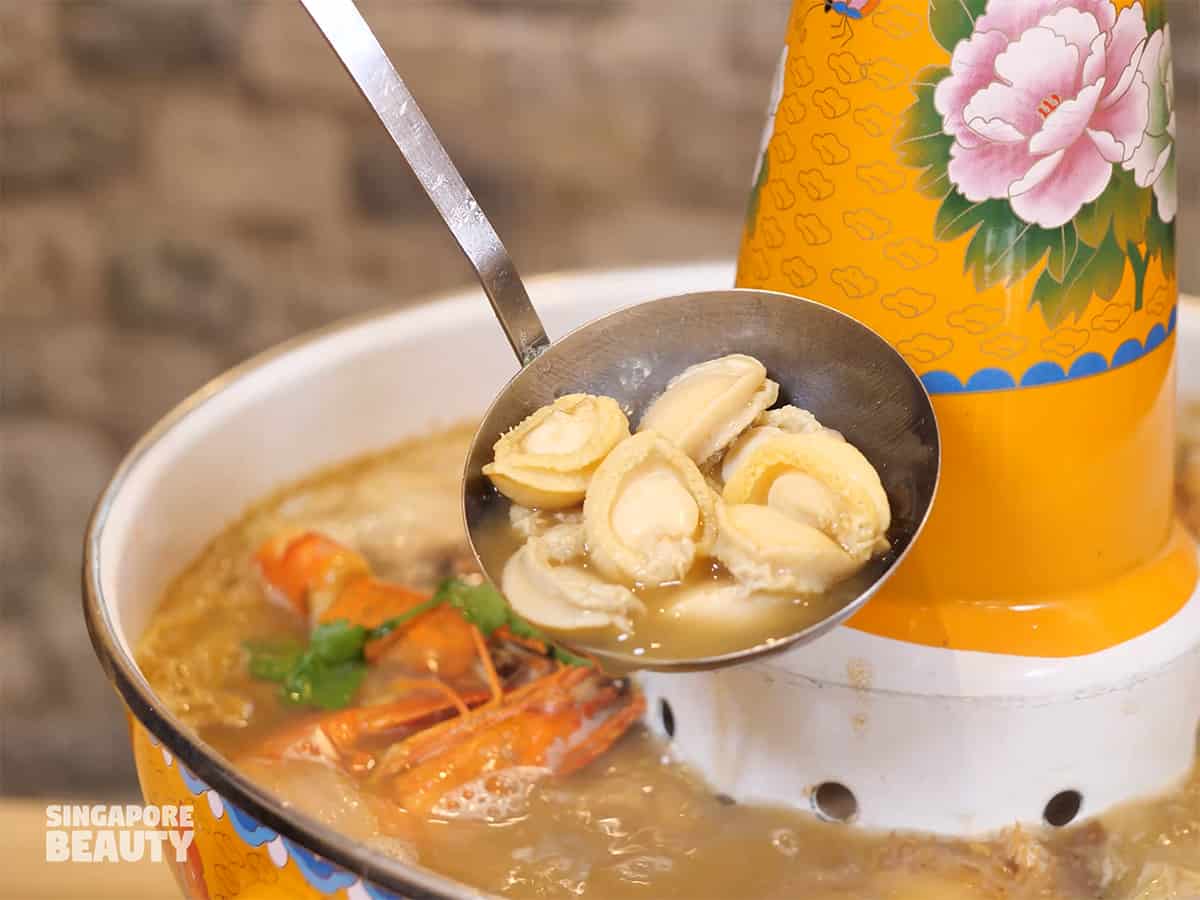 In this popular steamboat pot at Chopstick Kitchen, you can find exotic ingredients harvested from the sea, land and mountains. It is made with seafood such as Asari clams, prawns, chicken and wild mushrooms. They have mini brine abalone in the soup base as well for some oceanic deep seafood flavours.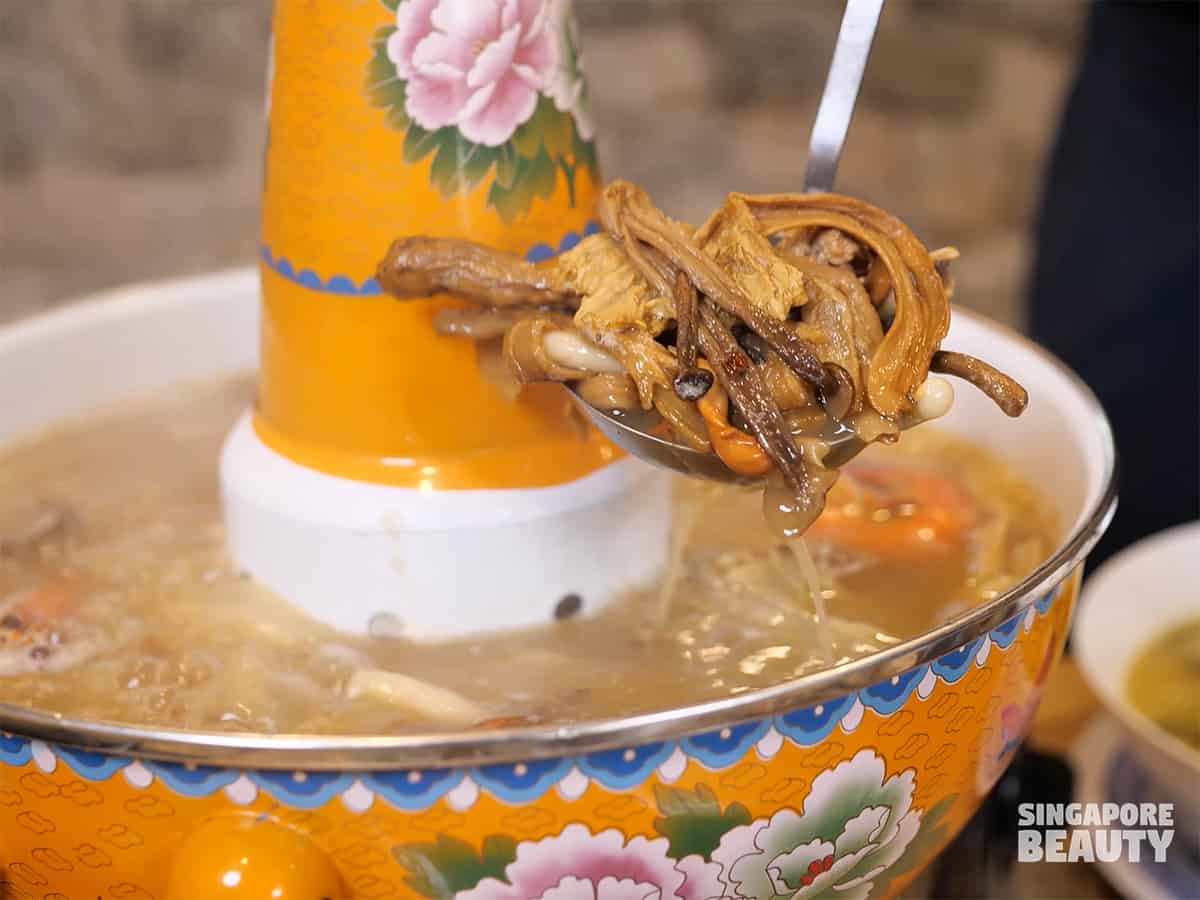 This hotpot is also full of exotic mushrooms harvested from the highlands and steep cliffs. According to Chopstick Kitchen spokesperson, this pot of bubbling goodness is always enjoyed right up to the last sip as it is brewed with up to 10 types of wild mushrooms with healing properties. The type of wild mushroom used is laorentou, song rong, jiyoujun, chongchaogu, houtoujun, zusheng and more.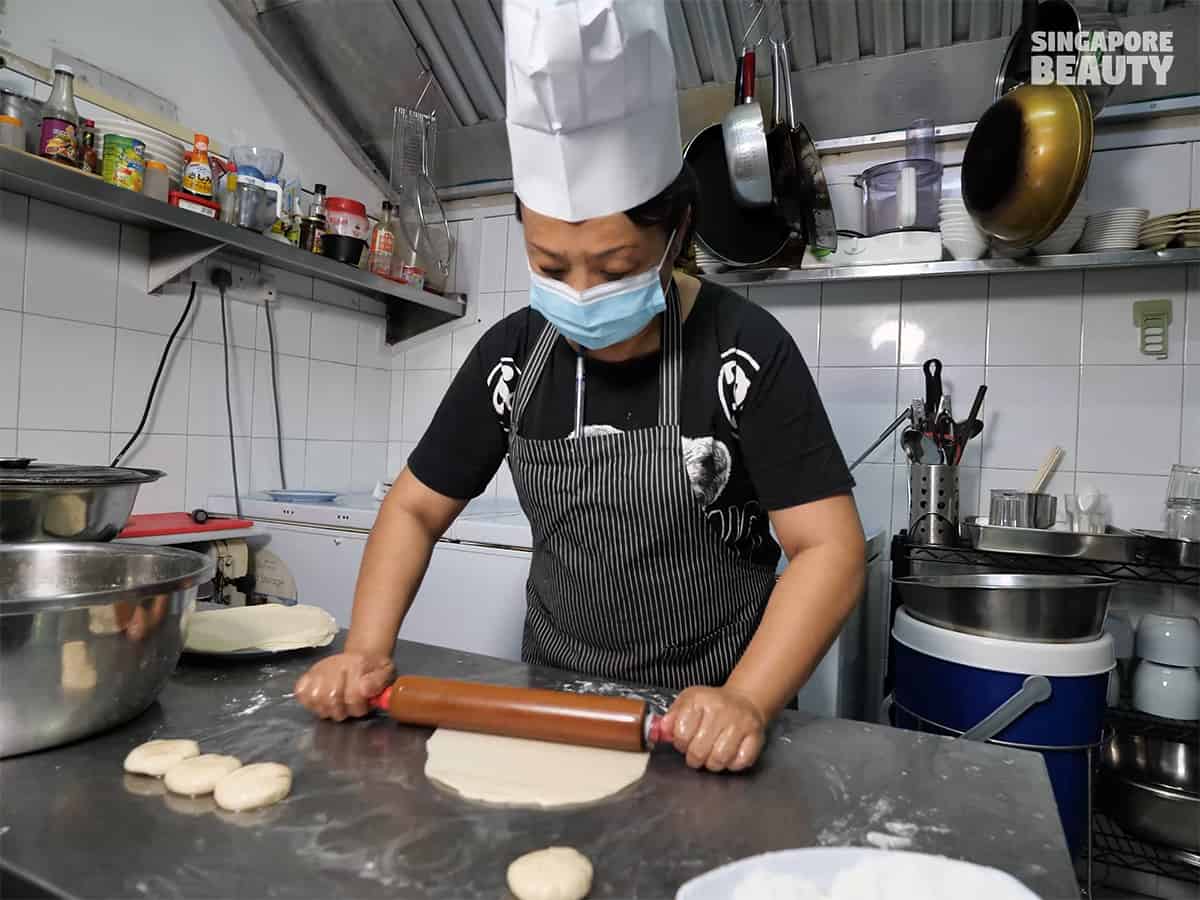 Beside the steamboat pot, they also have many handmade from scratch Chinese street food that many diners in Singapore love. These pastries are mainly reserved only for the nobles in ancient times. These are handmade in house from the dough, to the fillings and served freshly cooked from their steamer daily.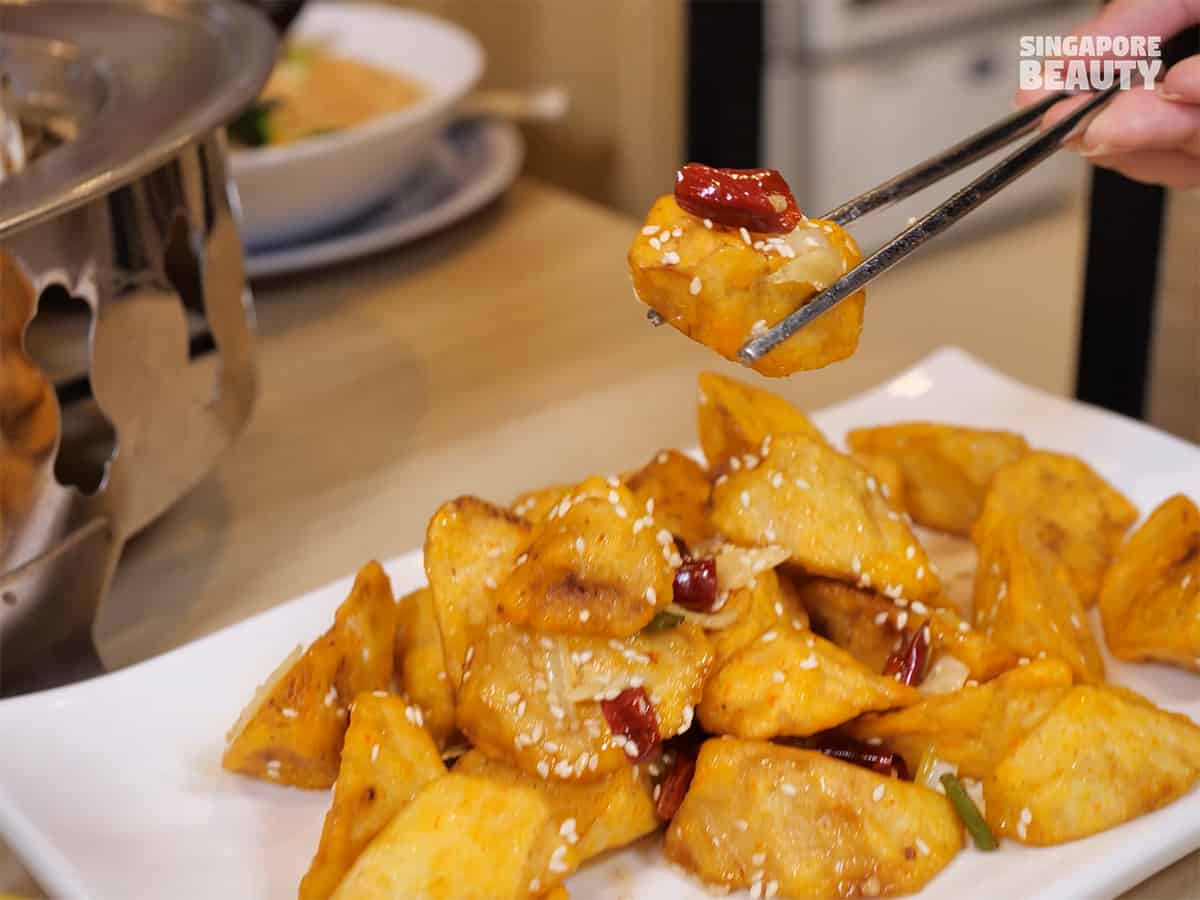 Chopstick Kitchen is also famous for their signature candied crispy eggplant, underground homemade beancurd stew and the must try Szechuan spicy chicken pop corn. The above eggplant is cut into wedges and fried till a light thin crispy crust is formed. It is then coated with a honeyed candy like glaze. Highly recommended and must eat once it is served to enjoy them at their optimum texture.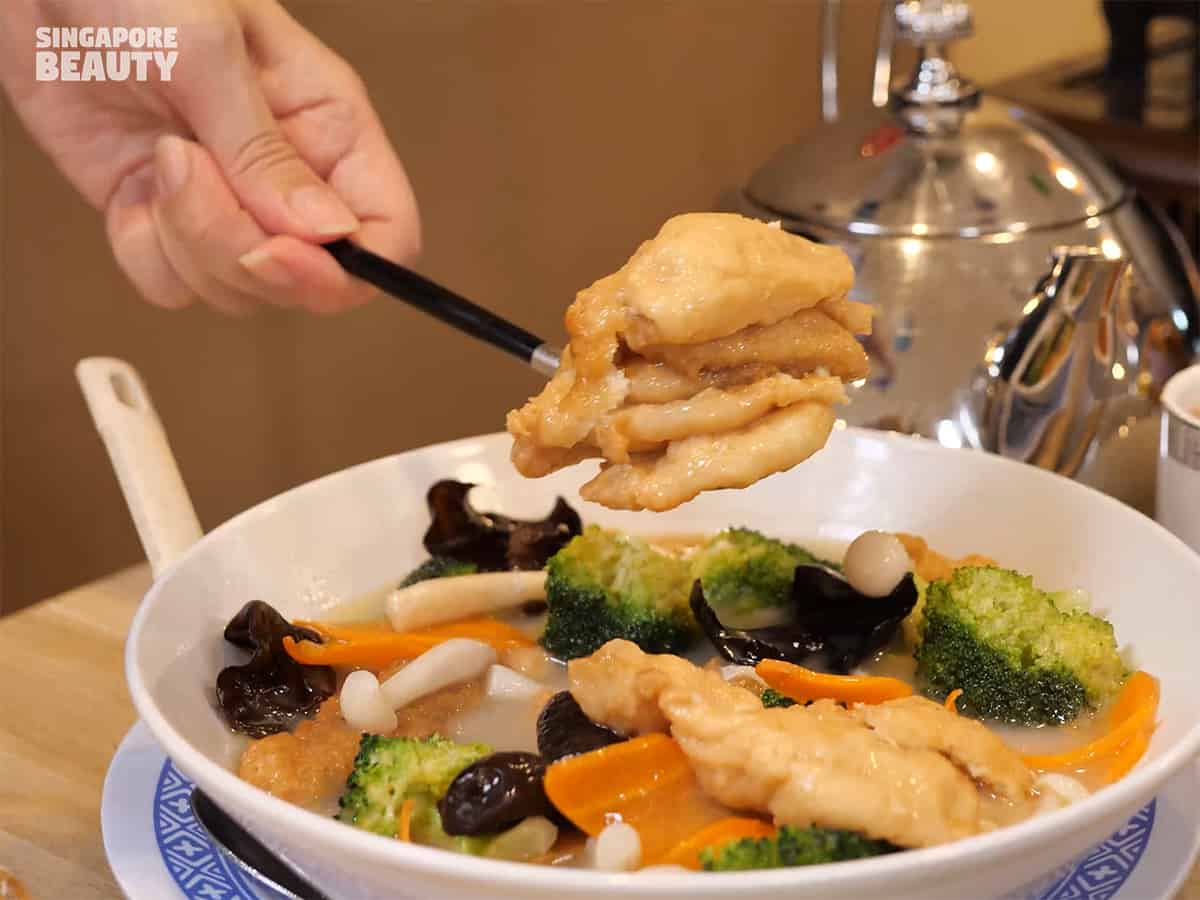 The underground homemade beancurd stew is a dish with housemade stuffed beancurd pouches with a party of green of different interesting texture. The soft curd pouch bursts with the juices when you bite into it and has a briny flavour.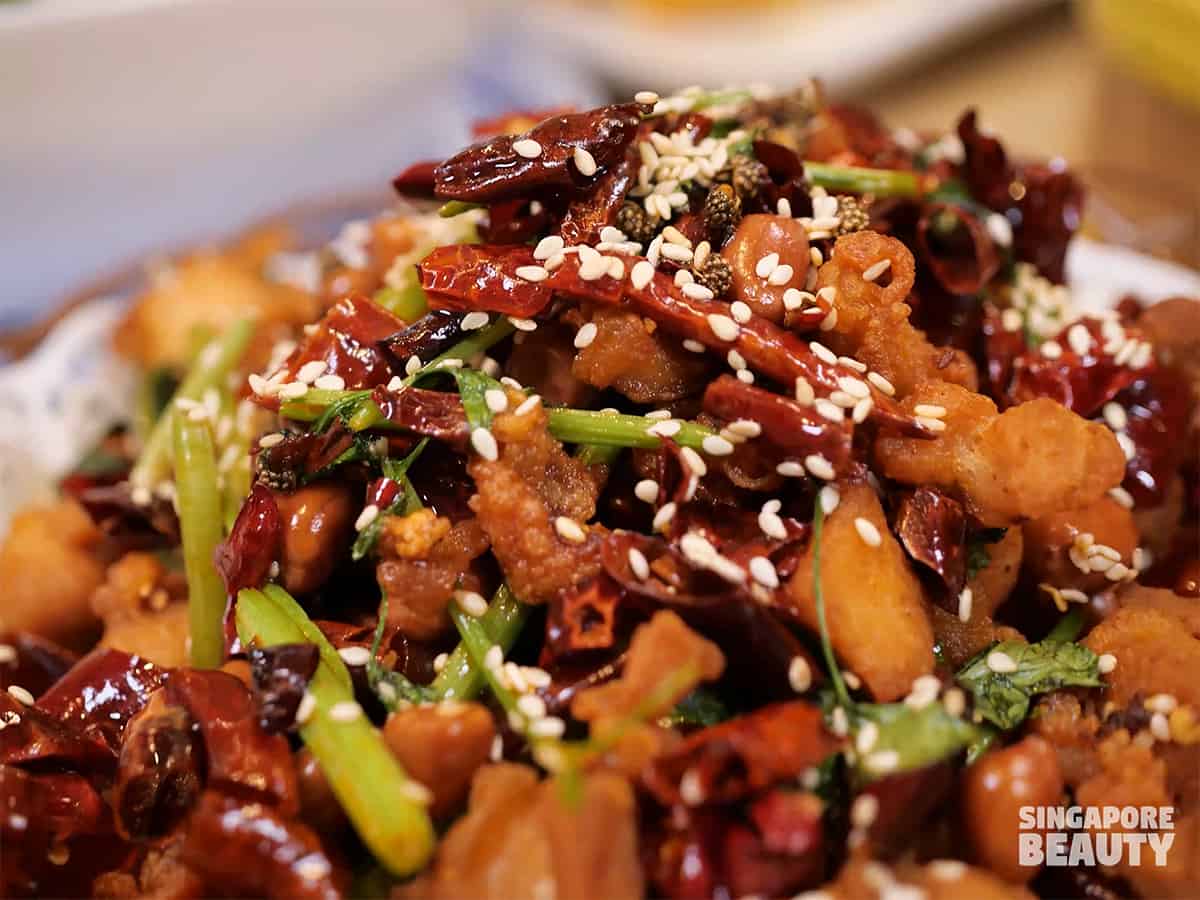 The must try Szechuan spicy chicken pop corn is made with only the meat. The meat is fried till just golden brown with a reddish tint to it.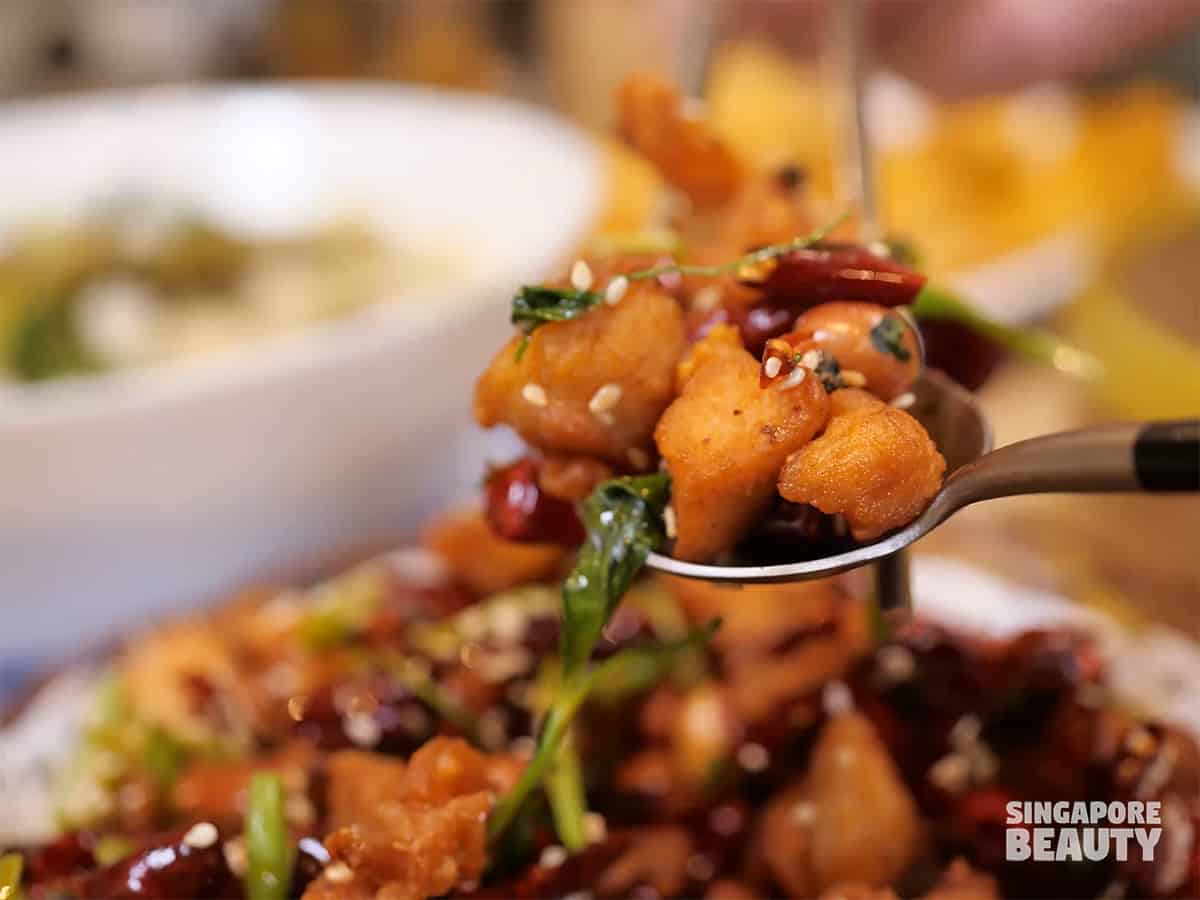 Each morsel of chicken pop is well marinated, with aroma of the sesame seeds, prominent flavour of dried chilli and peppercorn. The ground nuts that come with the dish are extremely crunchy and buttery too. Must try this super crunchy and addictive dish.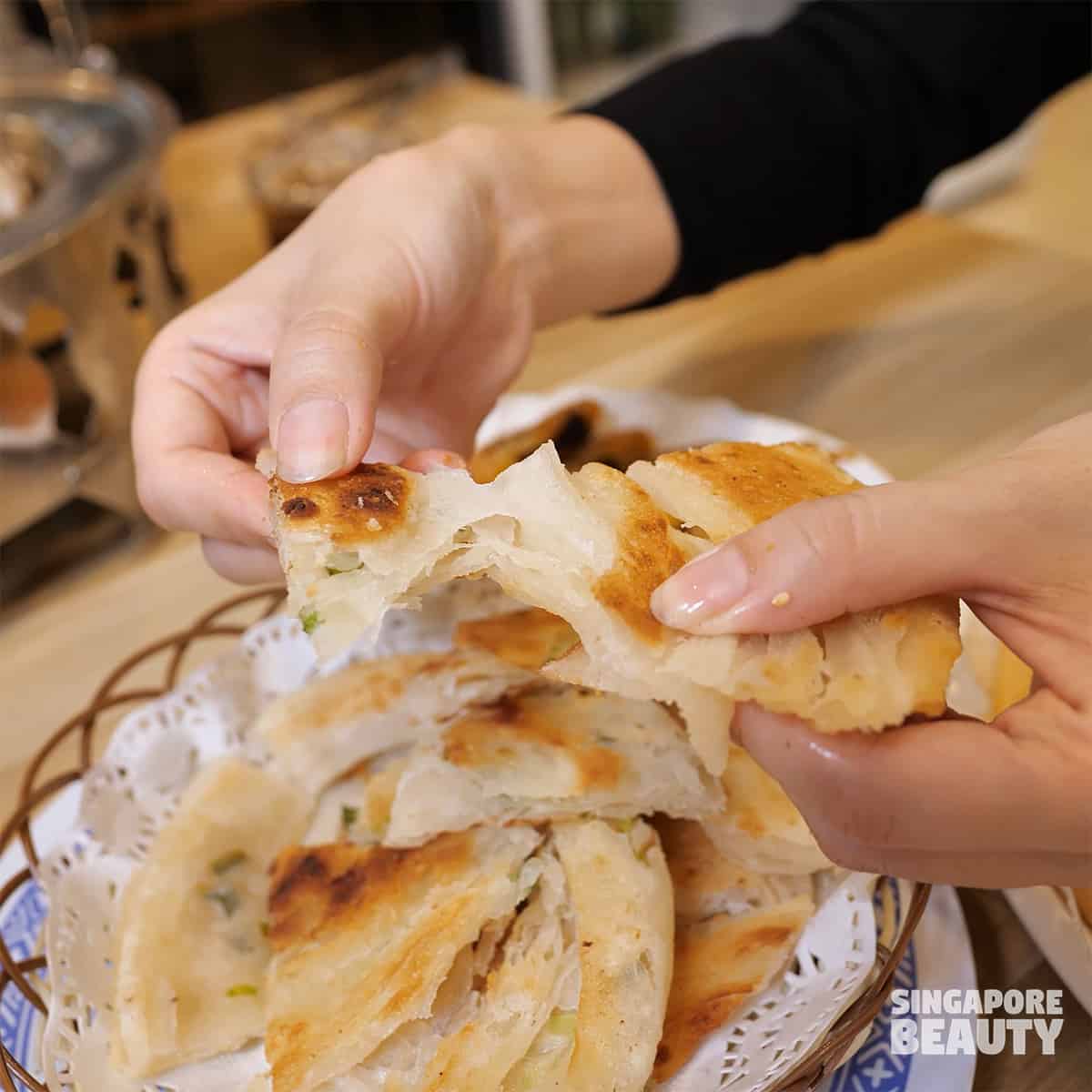 Thousand layers scallion pancake is one of their popular for the handcrafted pastry. These are hand made by rolling oiled dough with scallions and flattening it into a large pancake. This is then individually pan fried made into a pancake with crunchy, flaky layers and big on the scallion flavours.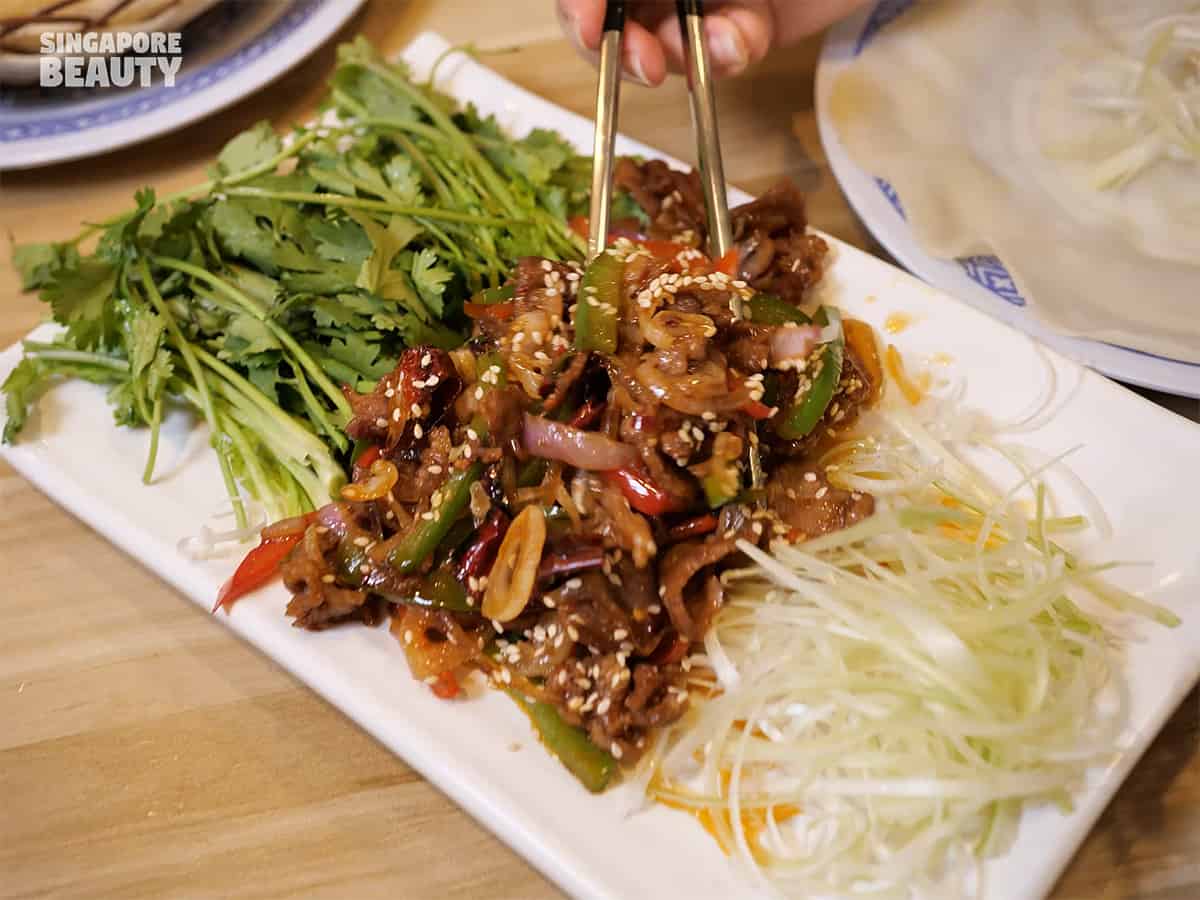 The Prince mutton roll is a hands on dish literally. It comes in two parts – a filling platter and a steamer with dough skin wrapper. It is enjoyed as a wrap with finely shredded leeks, cilantro, and stir fried mutton with spices as fillings. The wrapper holds the intense flavours of the 3 ingredients combined and is a taste bomb with the sweet, pungent, citrusy and spicy kick all at once.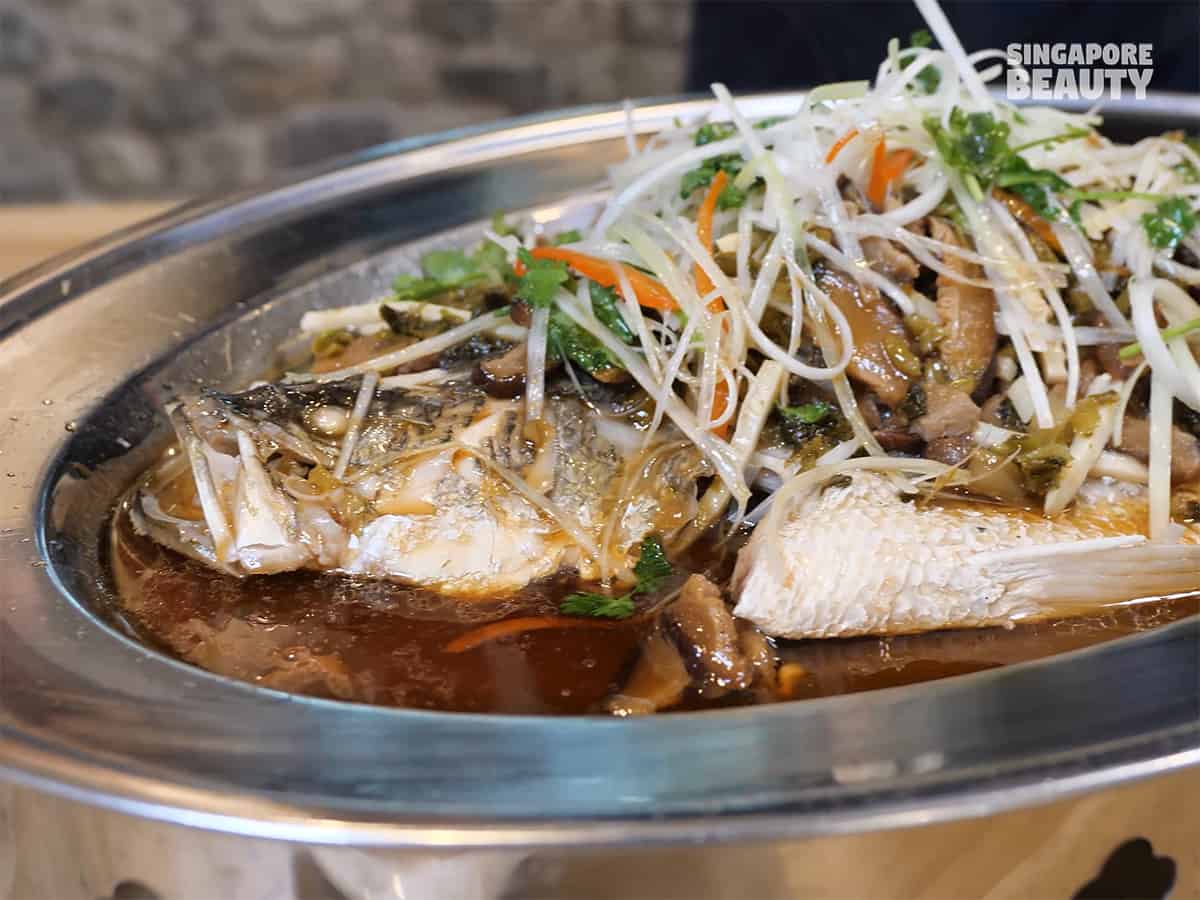 Chopstick Kitchen is also popular for the steamed fish on their menu. The chef recommendation is the Shanghainese steamed fish. There are four choices for their steamed fish available such as steamed fish with special sauce, Shanghainese steamed fish with pickled bamboo mushroom, Beijing steam with bean sauce minced pork and Hunan steam with chopped chilli. Supple and tender served on a heated simmering fish plate. The two type of fish available are seabass at $24 and the more premium fish grouper at $48.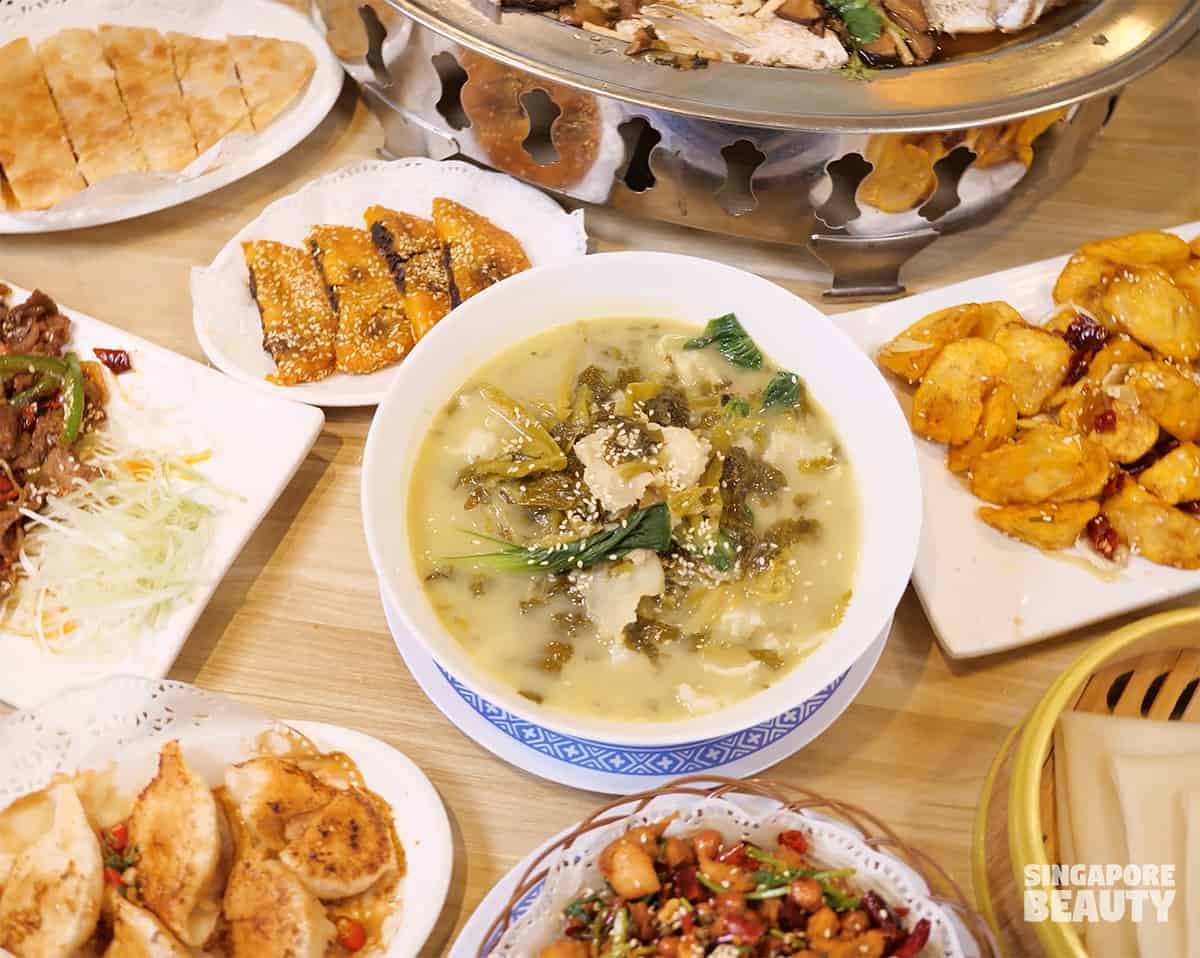 Their handmade Chinese pastry featured in here are Sweet red bean pumpkin cake, Peking pan fried meat cake, Spring pan cake with egg and chives, Pan fried pot sticker dumplings are also worth trying. If you are a noodle person, they also have a tangy sour pickled fish handmade noodle on their menu.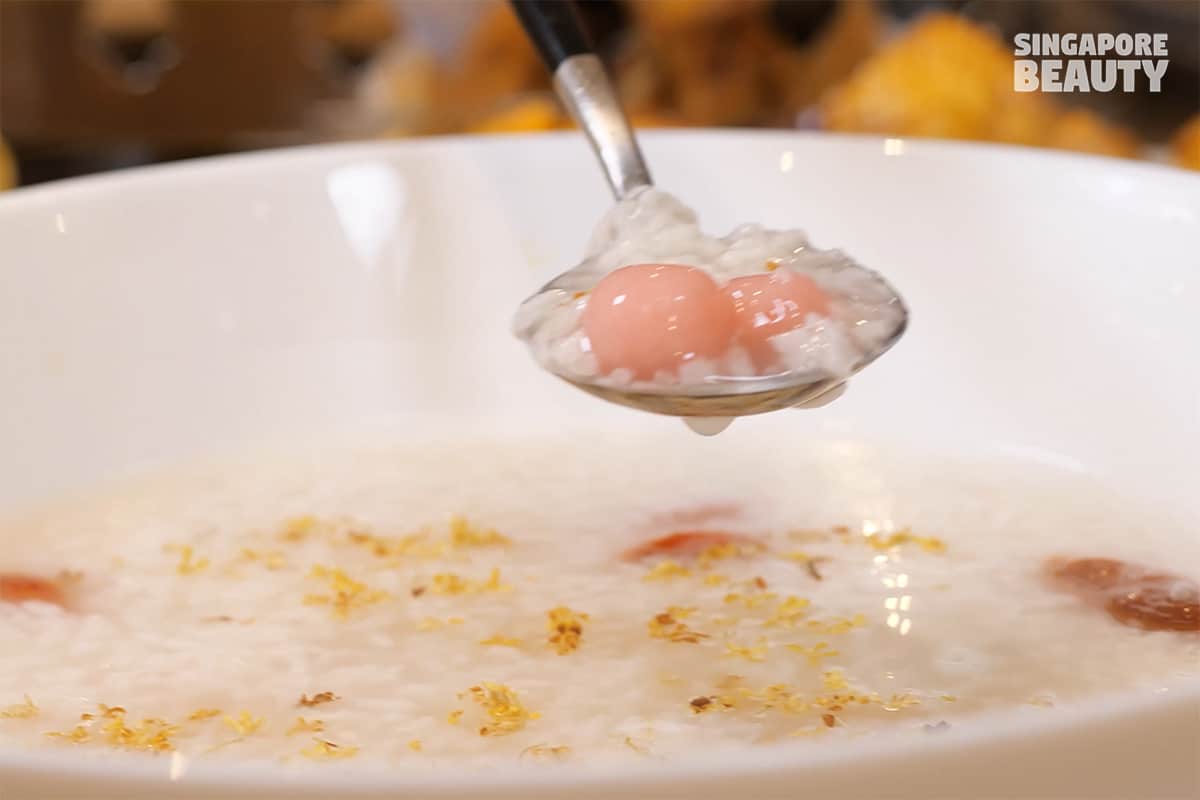 Go for the sweet red bean pumpkin cake or try their Shanghainese dish of Homemade fermented rice wine with osmanthus rice ball to end the meal on a sweet note.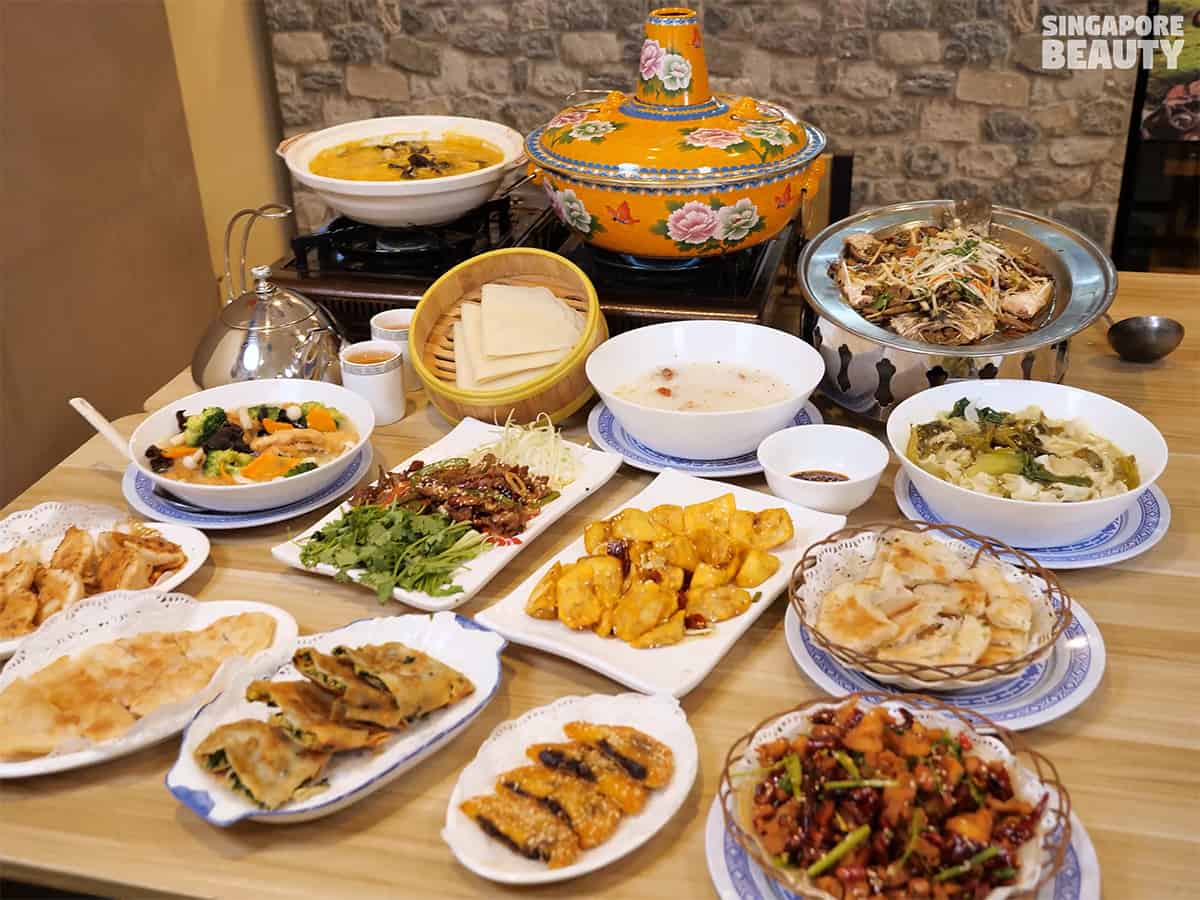 There is just so much Chinese Street food and cooked food to try. These are very rare Chinese handcrafted food that is served in Chopstick Kitchen in Singapore.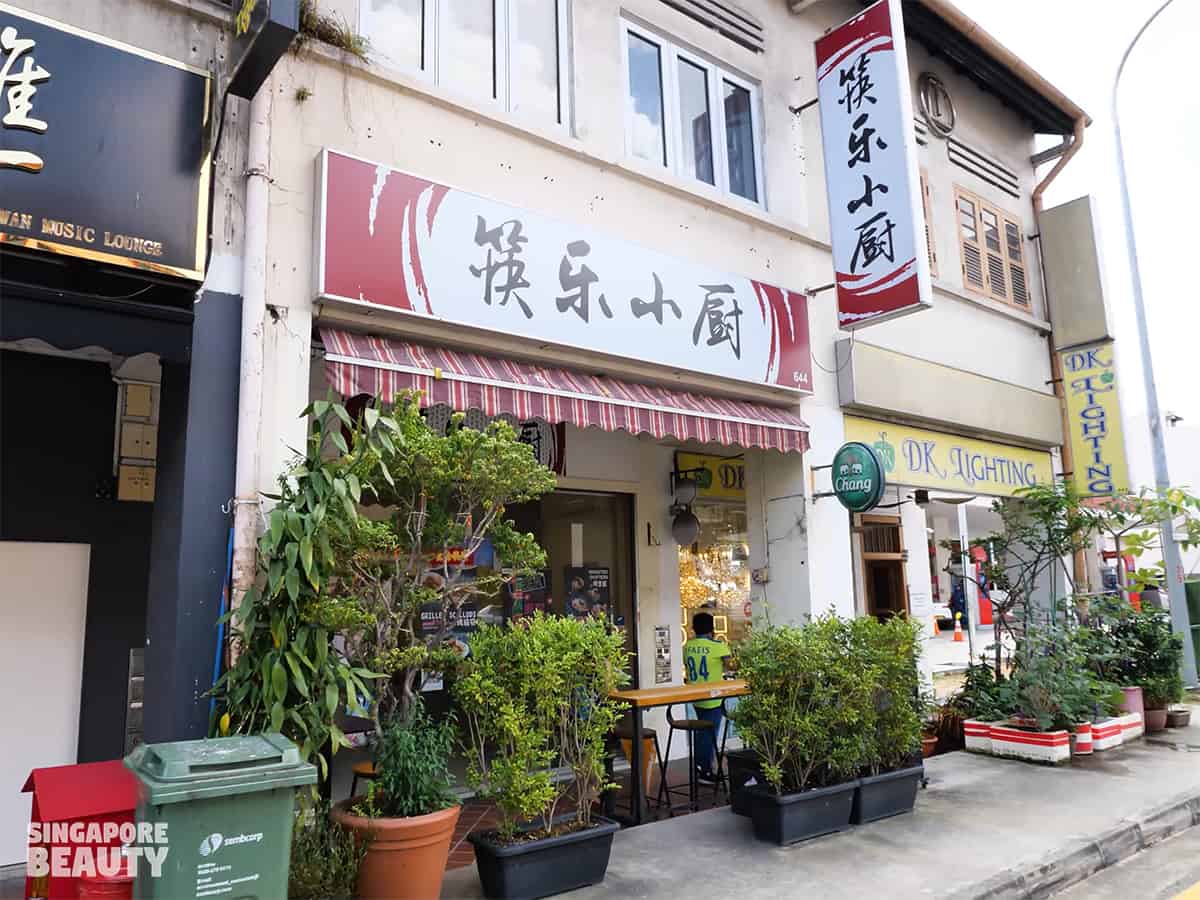 Head over to Chopstick Kitchen today to try these authentic Chinese handmade cooked food that is popular with their regulars at Geylang, Singapore. The place has a simple Inn like décor with air conditioned interiors. See you soon!
Location of Chopstick Kitchen:
644 Geylang Road, Singapore 389574
Opening hours: 12pm till 12am
Enquiries: (+65) 66557362
Brought to you by Chopstick Kitchen 快乐小厨