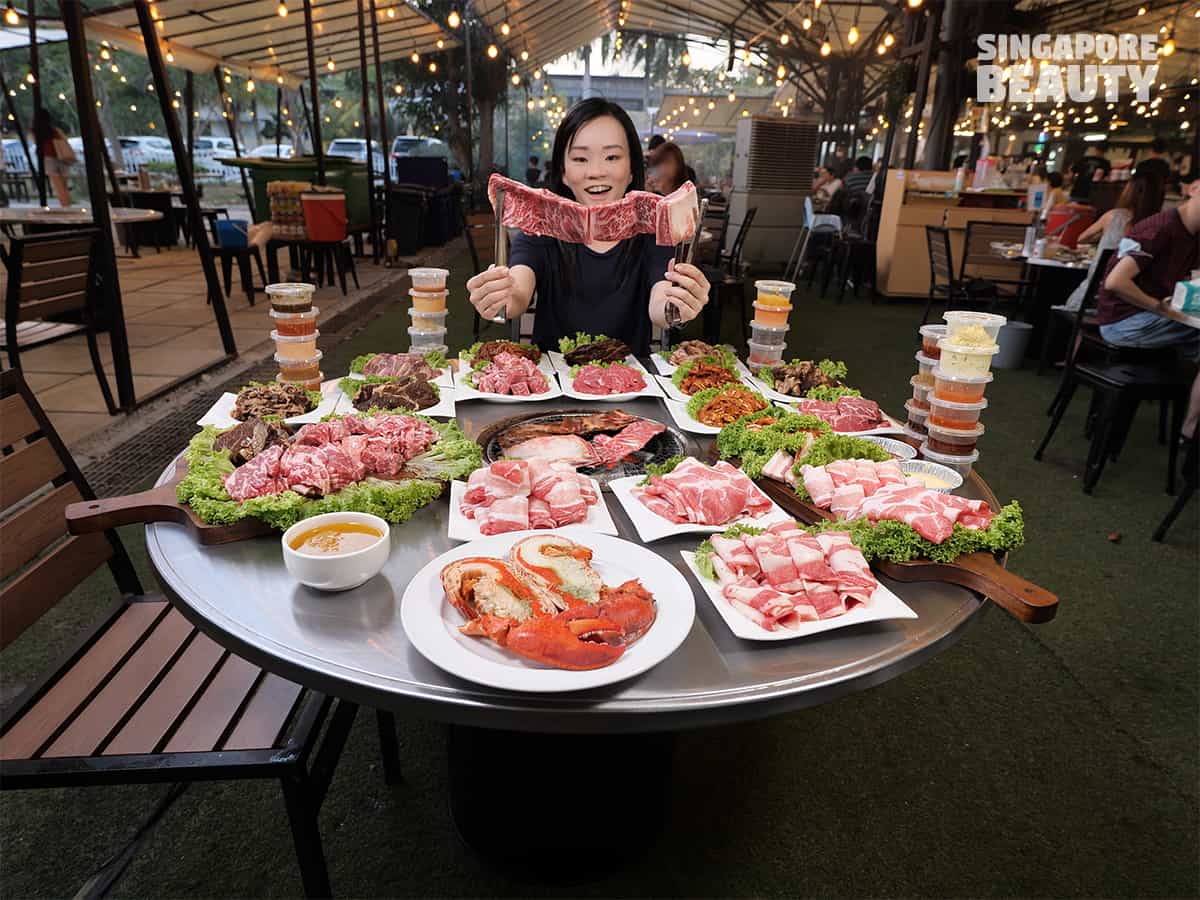 Singapore's largest AL fresco BBQ wagyu meat buffet is now on at The Three Peacocks. The buffet also comes with close to 30 types of dipping sauces, more than 25 types of meats including wagyu and Iberico Spanish pork. You also get access to their BBQ live station which serves marinated meat and occasionally seafood of the day such as clams or mussels.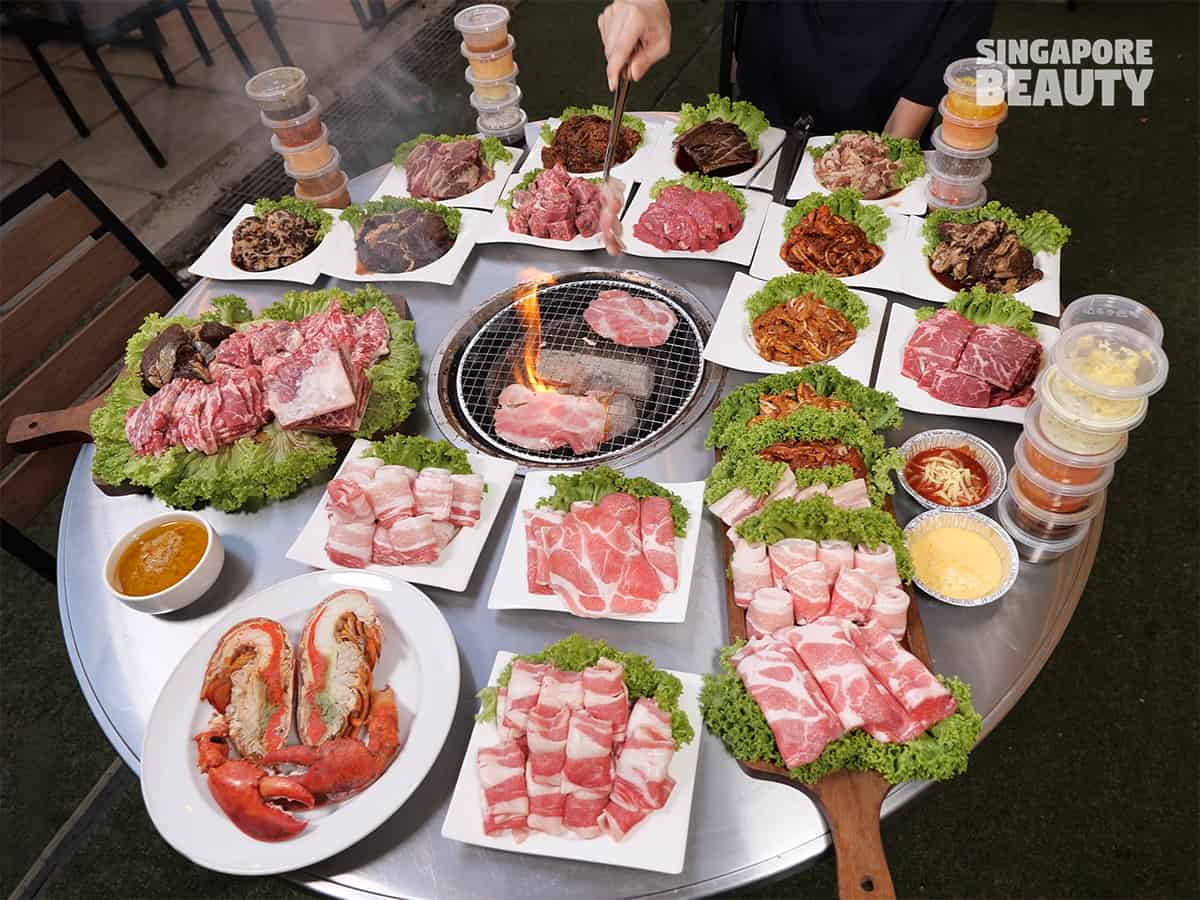 This newly added The Three Peacocks meat-only buffet is a free flow all you can eat of premium meats such as Iberico pork and wagyu sliced or in cubes all for one nett price of only $38.50 nett. There is a weekend surcharge of $5.50 on Friday to Sunday.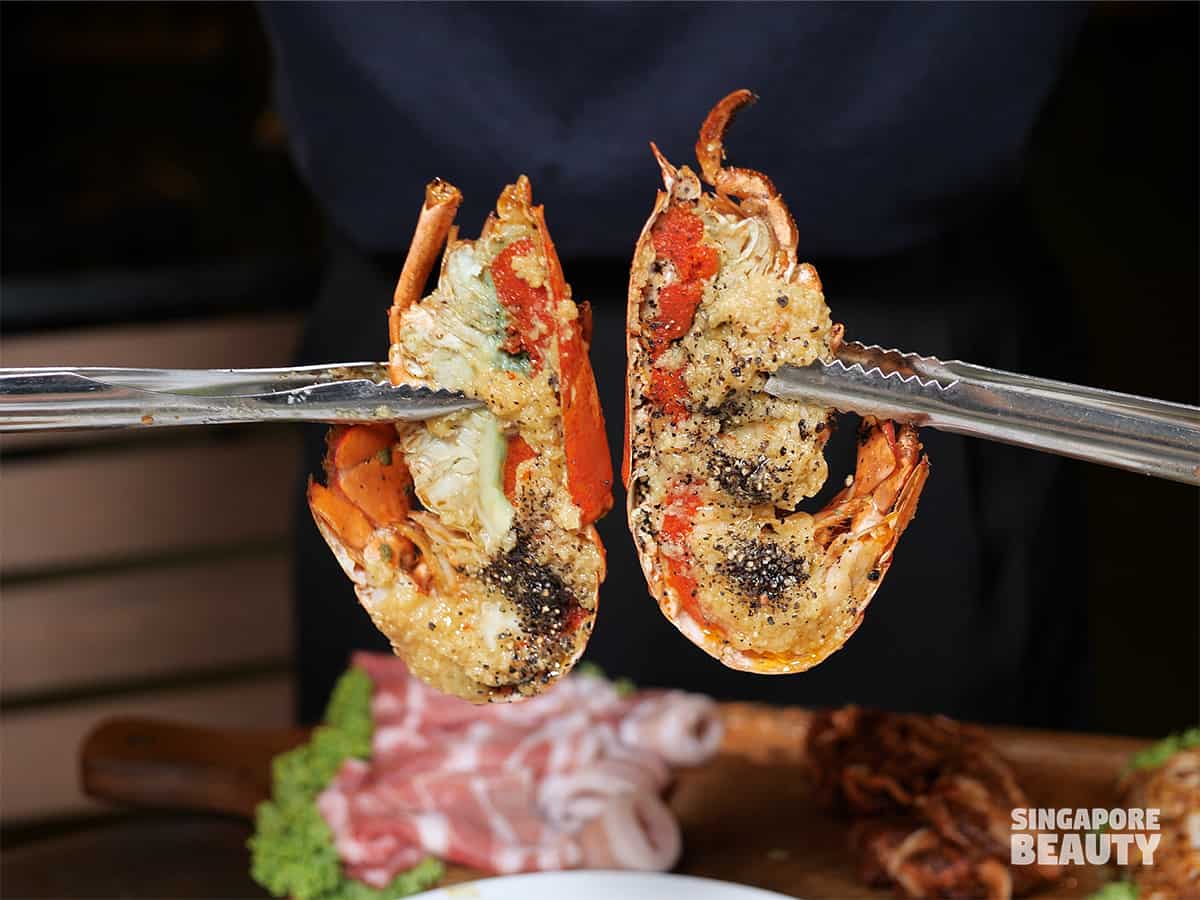 Although this is a meat only buffet, The Three Peacocks meat only buffet includes a one time redemption of ½ Boston lobster per pax.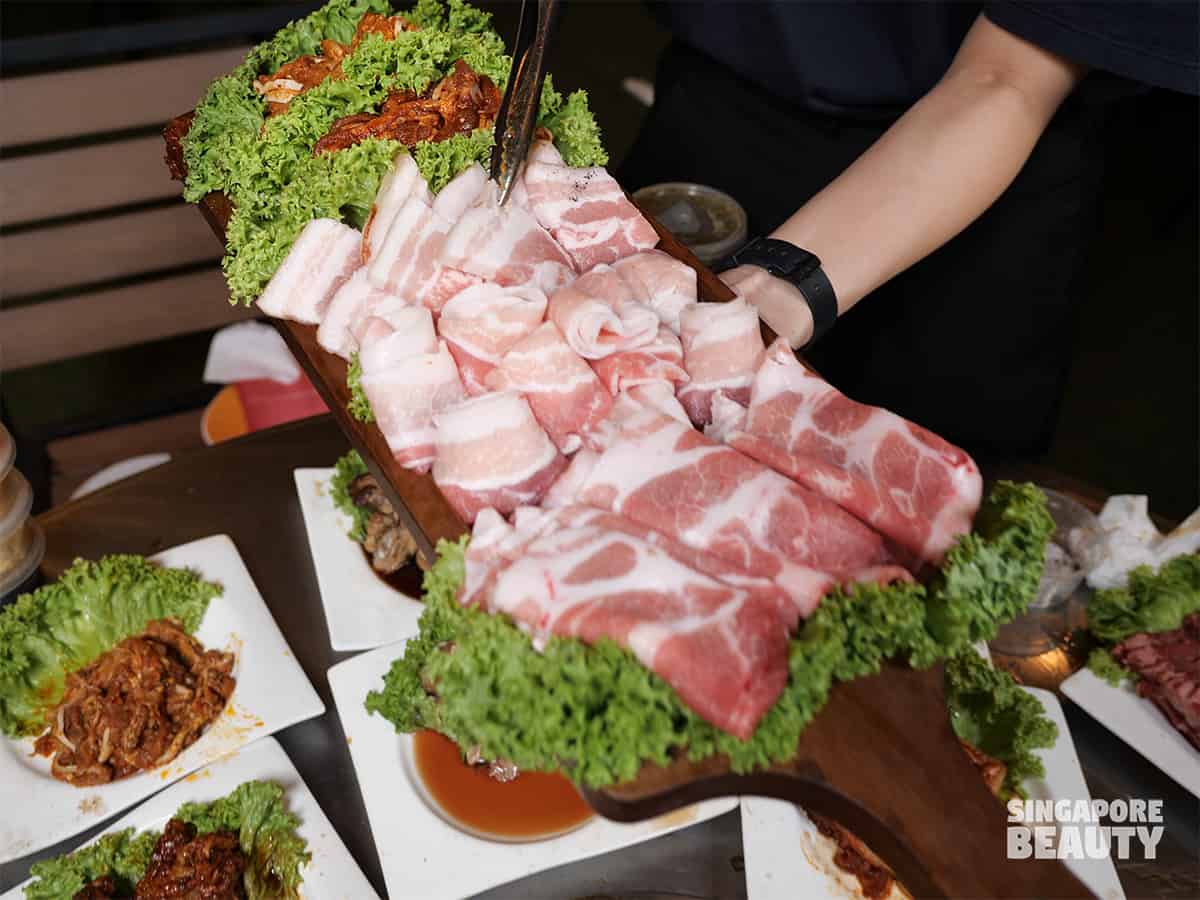 For those not into buffet, you can also get the Ala carte BBQ meat options at The Three Peacocks. Pork platters (from $58+) with 5 kinds of pork – iberico, thick cut pork belly, shabu shabu style pork belly and marinated meats are available now.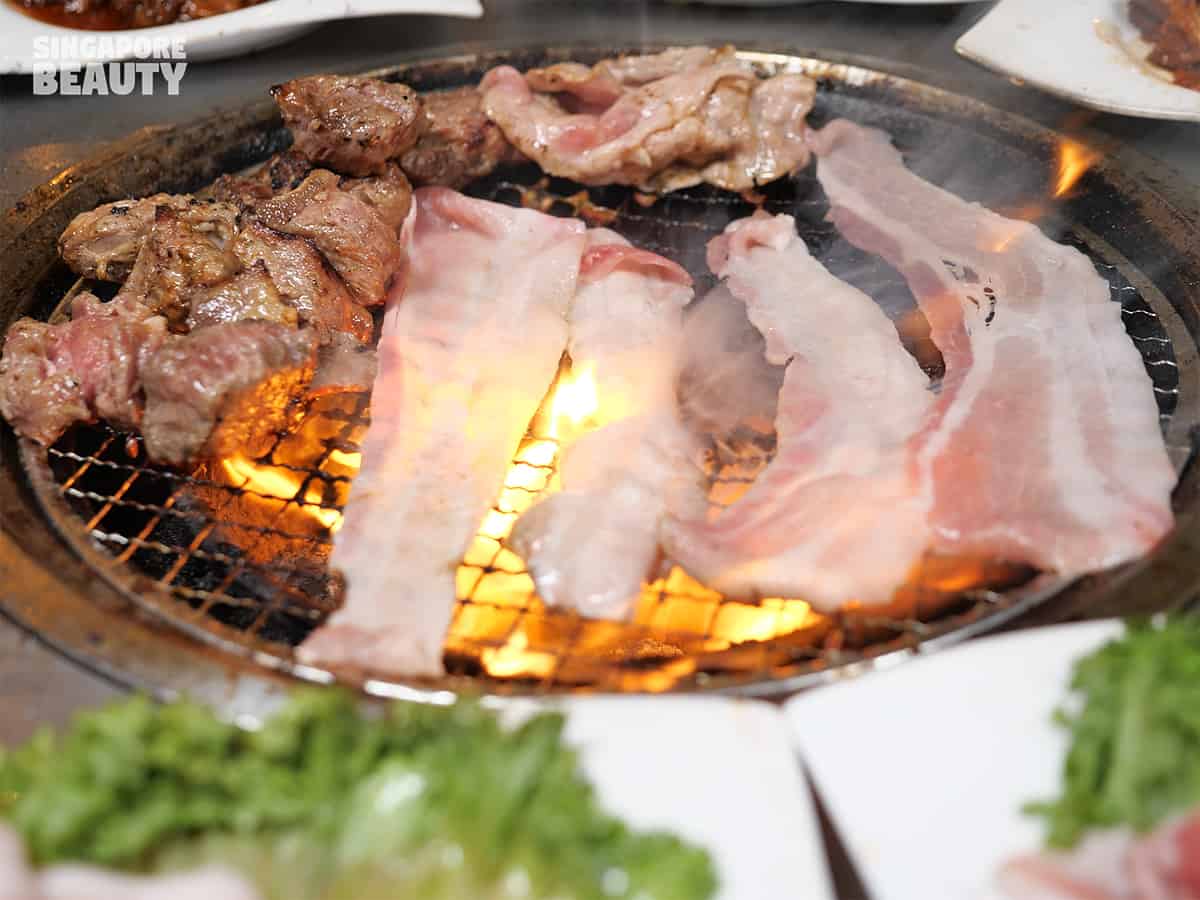 These are great for sharing for 2-3 pax. Barbecue these prized cuts of Iberico Spanish meat on their charcoal stoves and enjoy smoky char grill meats with the cool night sea breeze.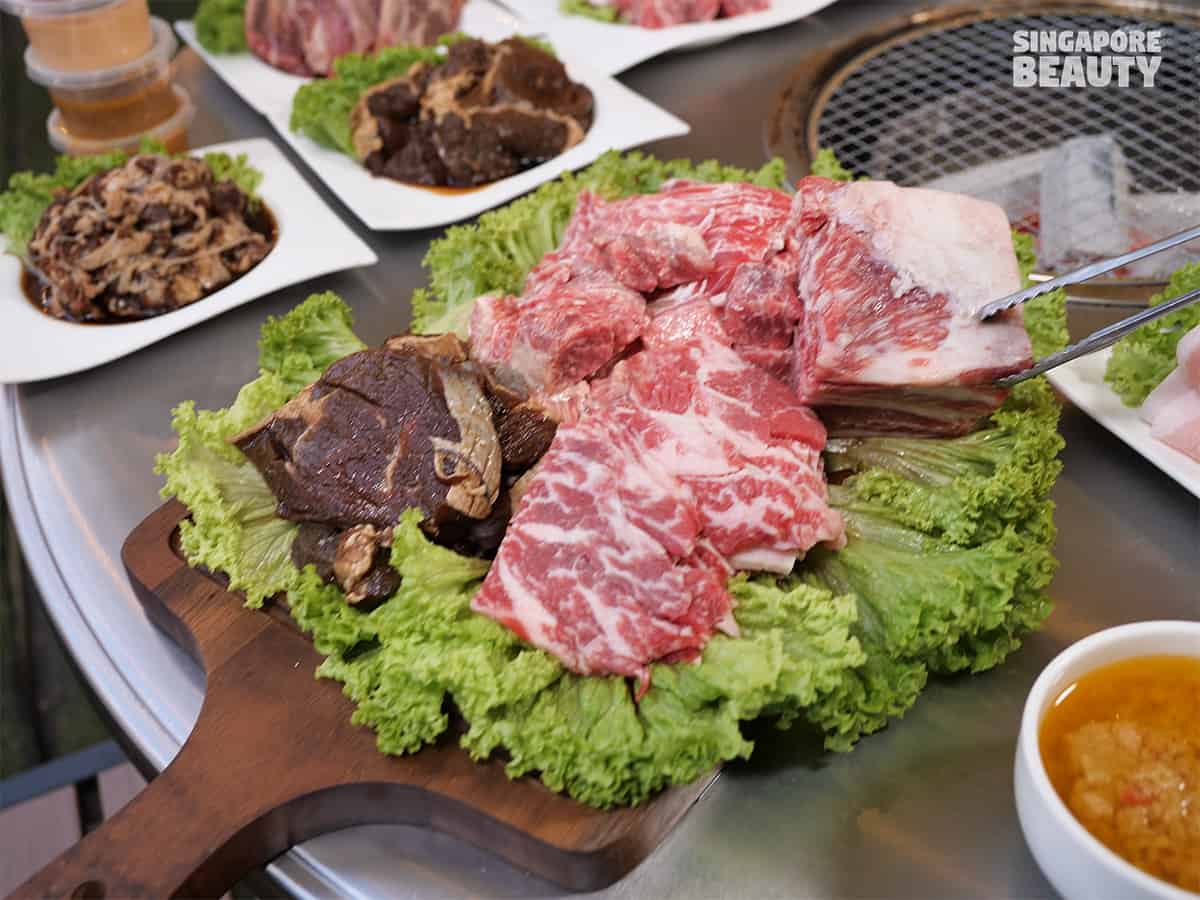 For beef lovers, you need to try their mixed beef platter from $88+. It comes with beef brisket, marinated bulgogi beef, wagyu, marinated ribeye and galbi gui.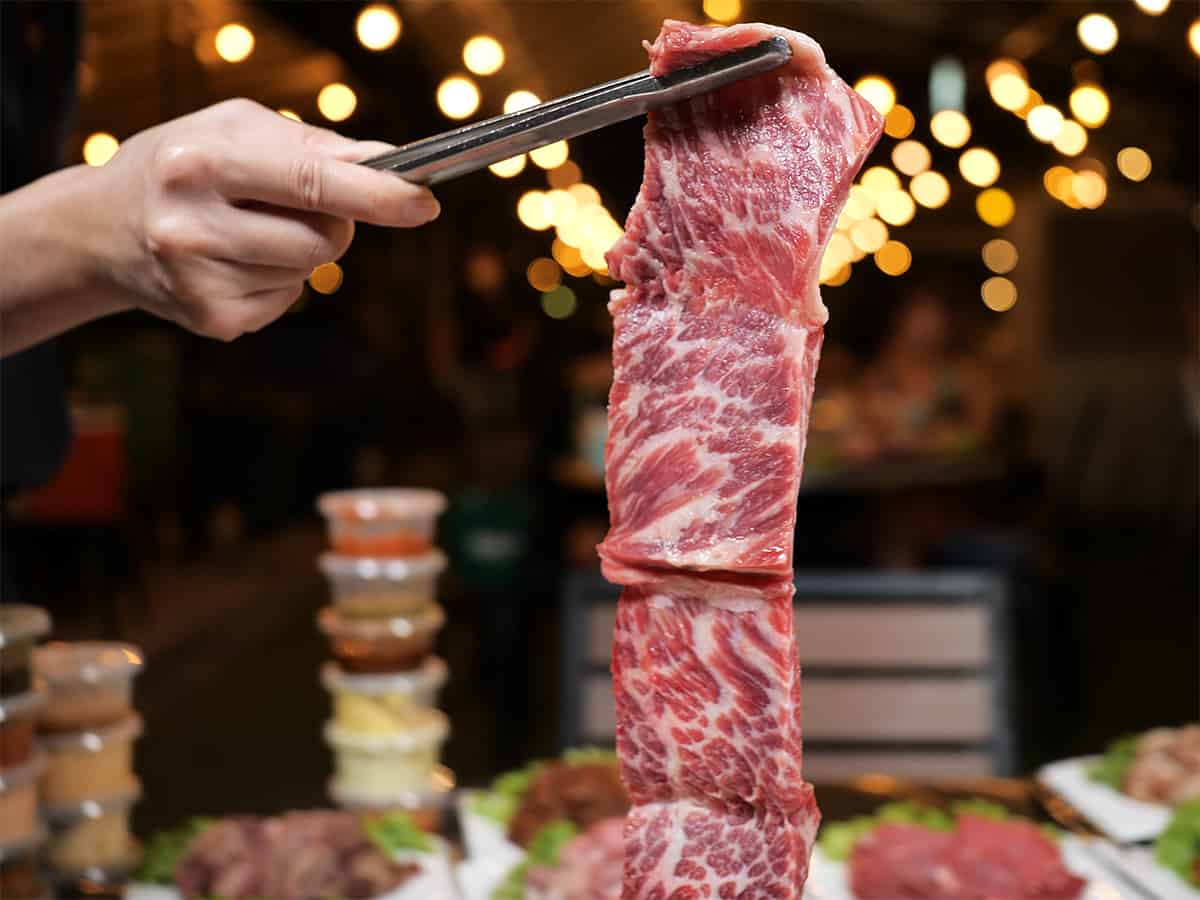 Check out the marbling on this galbi gui slab of beef. This is also available in the meat only buffet as free flow meat. If you love a good mix of meat and thick cut beef marblings, you should get this at their meat only buffet.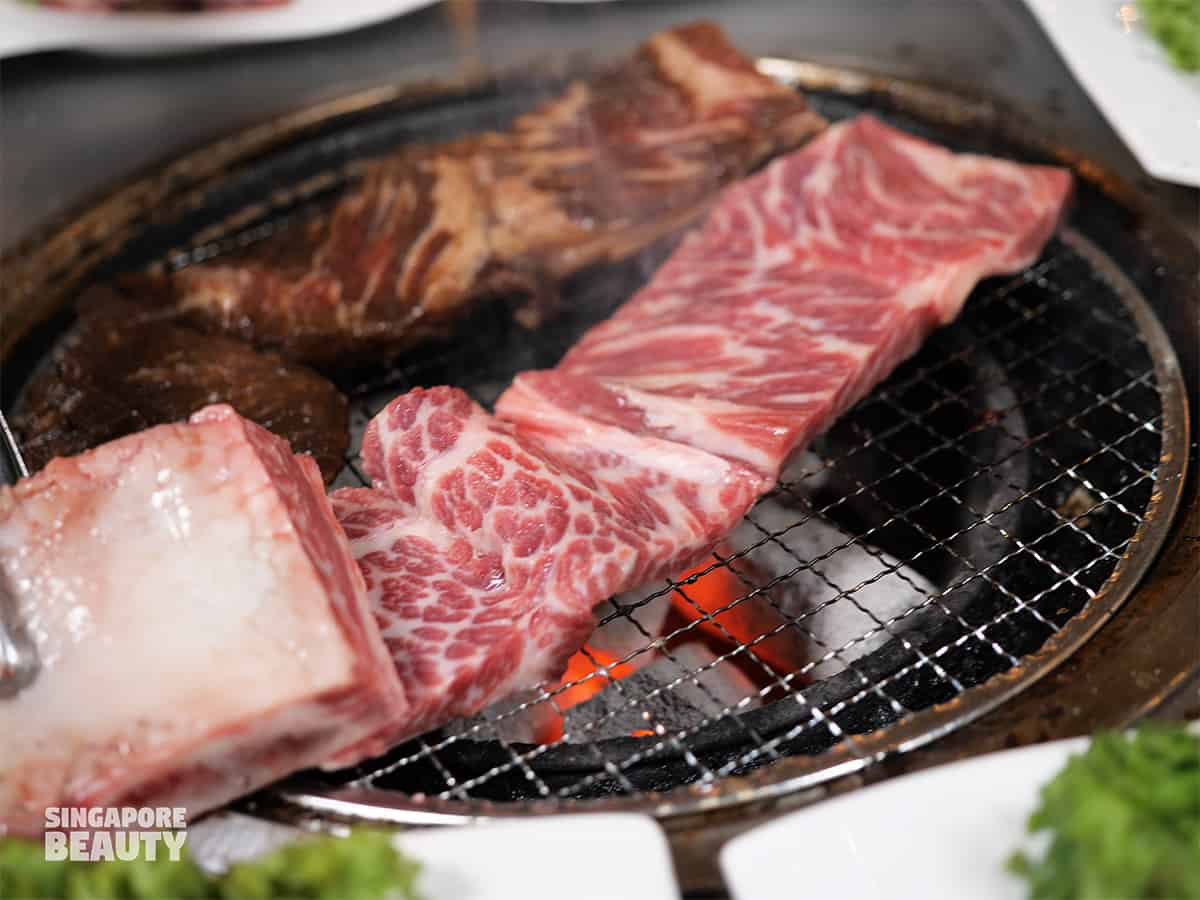 The galbi gui is specially cut spread out like a accordion for ease of barbecuing and you can lay it out flat on the charcoal grilling pit on your table.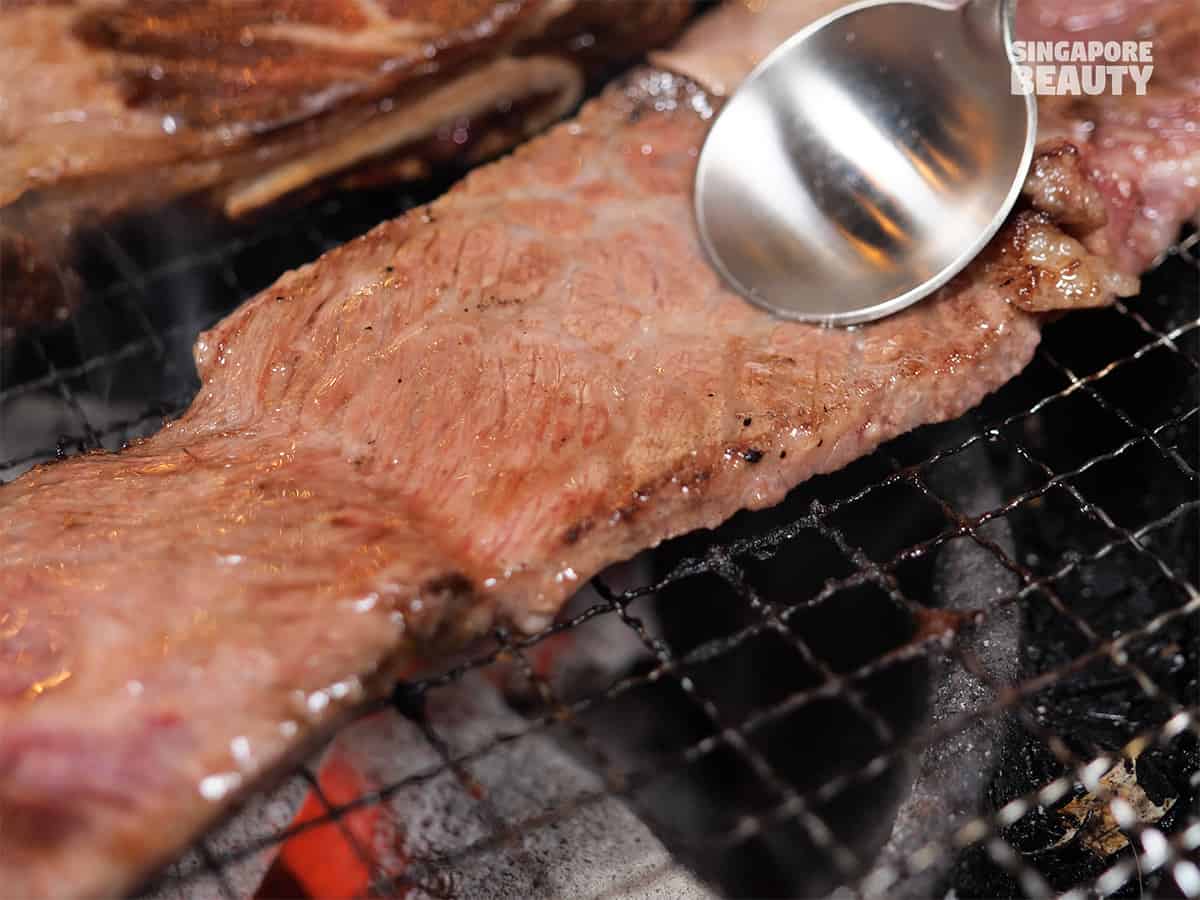 The result is a char grilled exterior with a medium rare doneness in the centre of the meat. Do flip the meat during the process of grilling for the perfect texture. Cut to bite size to enjoy. This is great for sharing as each bone in galbi gui is quite substantial in quantity.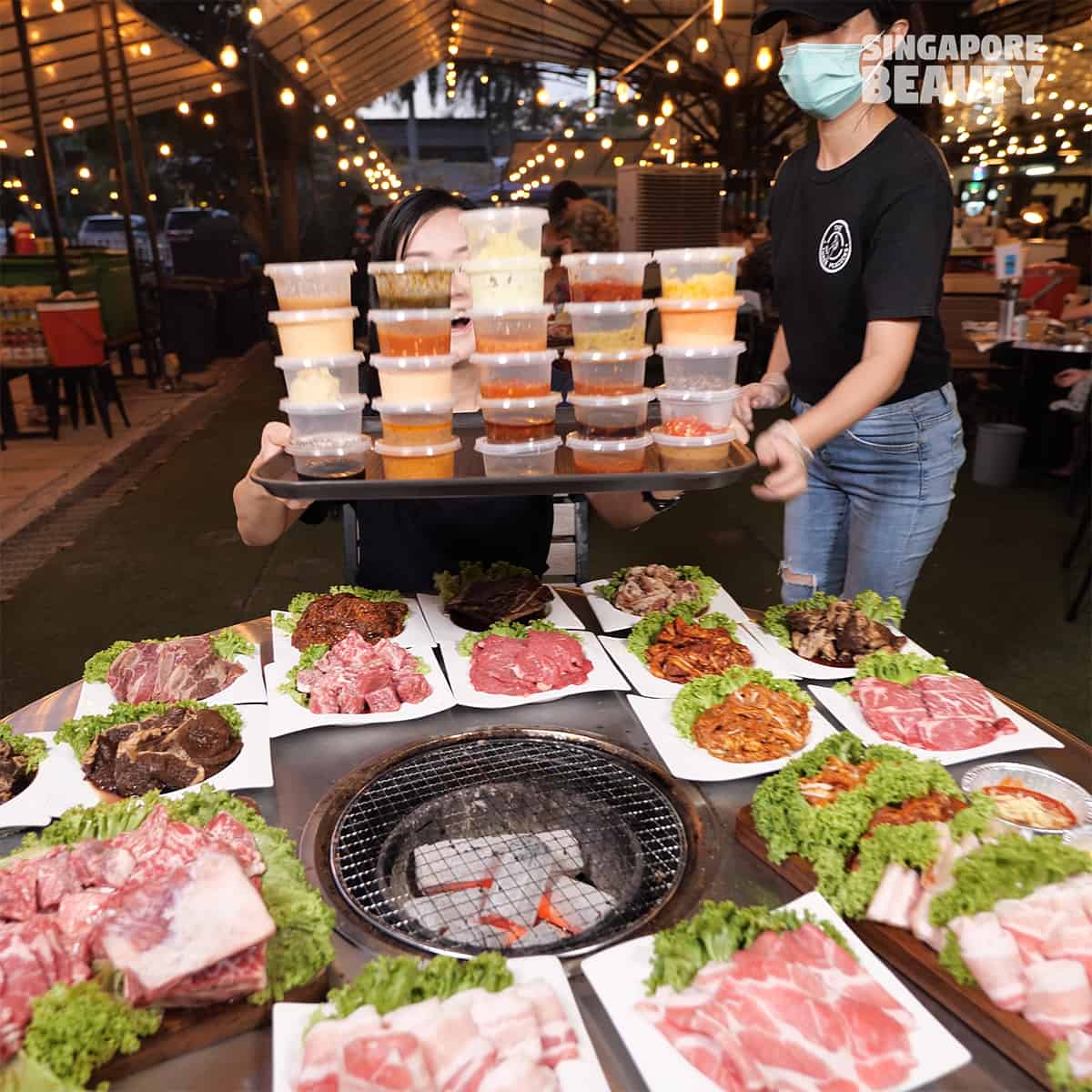 They also have close to 30 type of sauce and condiments for you to enjoy at this meat only BBQ buffet. Paired the meat with made from scratch dips. Garlicky, spicy, tangy, sweet, cheesy, buttery, nutty or sour kicks to tease your taste buds. Get creative with these exclusive sauces!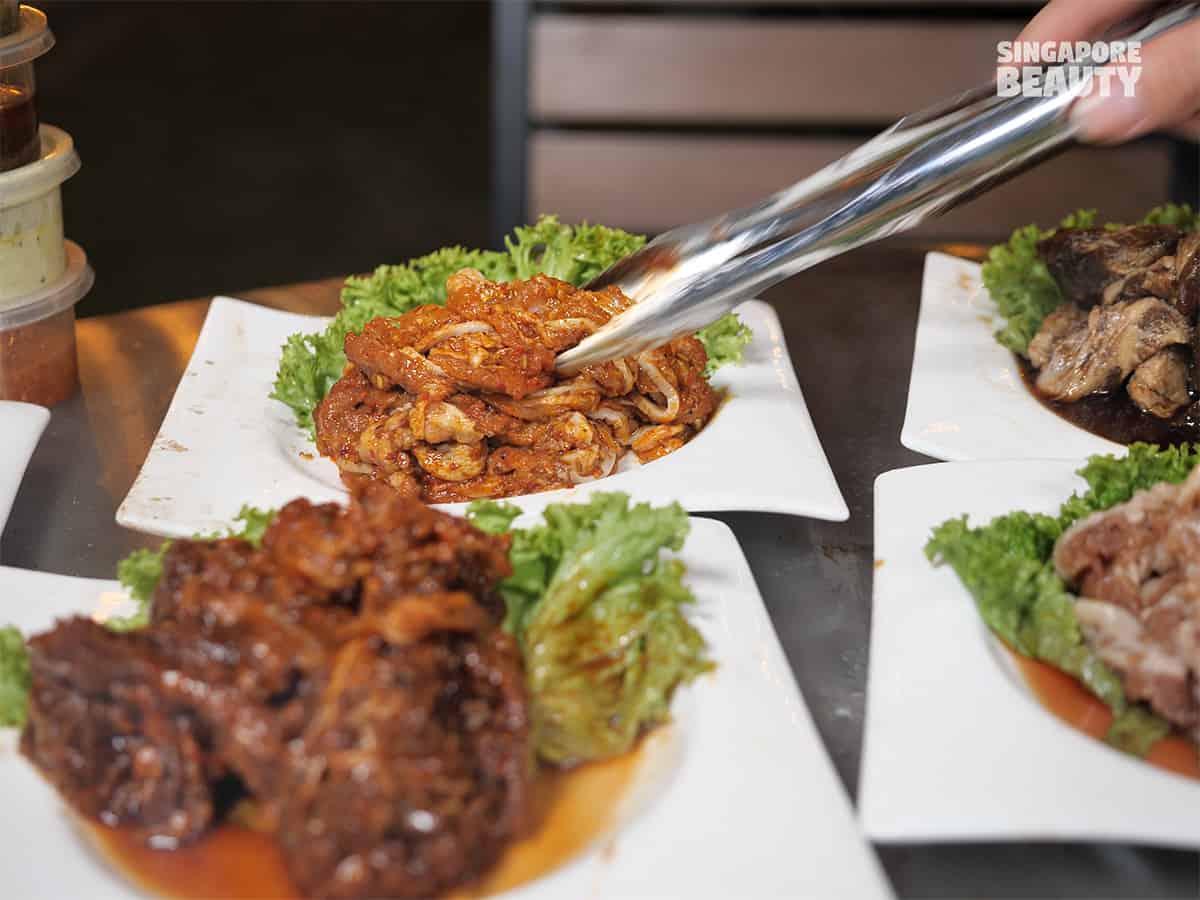 Personal size ala carte meat for non-buffet option starts from $16+. If you are going for the buffet option, these are free flow for you to BBQ to your heart's delight. Various marinated meat (pork, beef, chicken) are available such as bulgogi, spicy, honey soy, lemon grass, cumin flavour and more.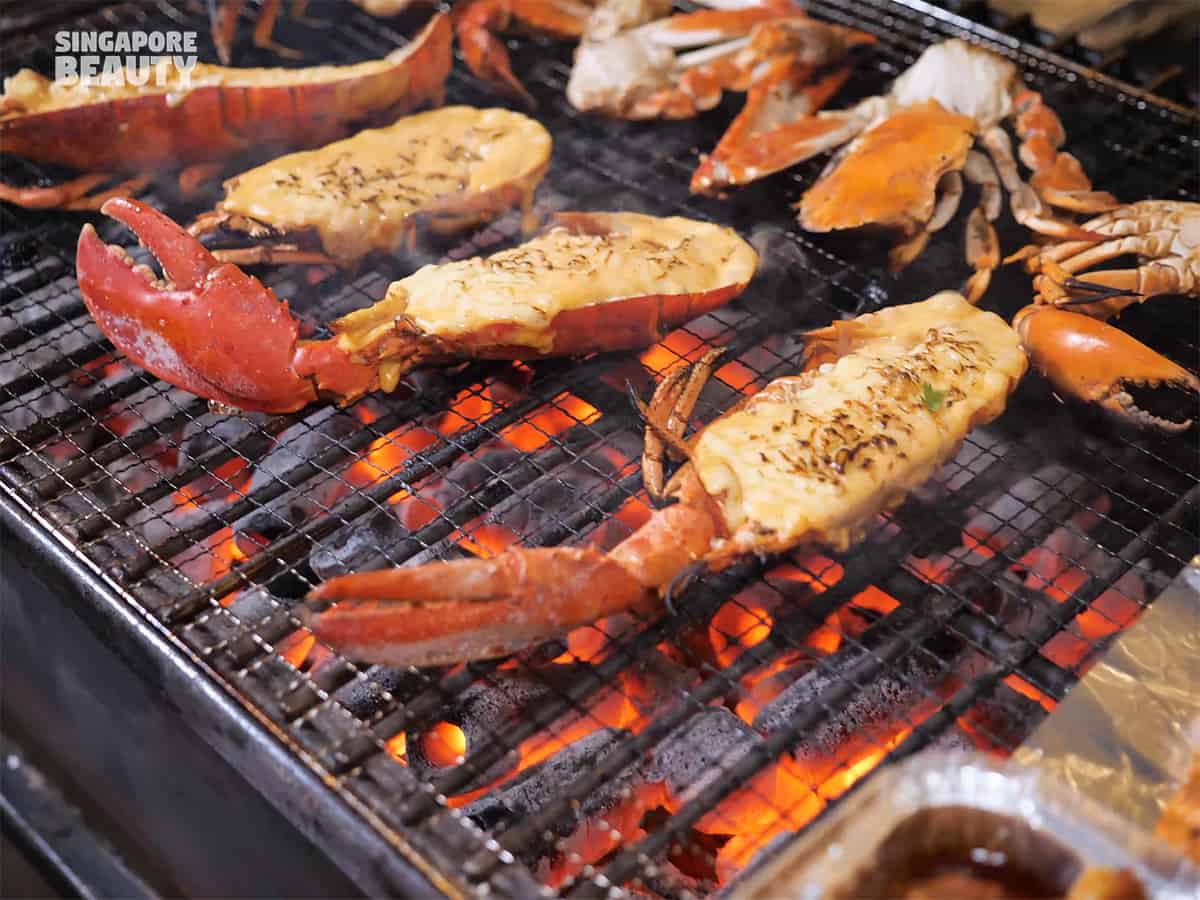 At The Three Peacocks meat only & wagyu buffet, every paying adult is entitled to redeem ½ Boston lobster straight off the grill. These lobsters halves are served with the sauce of the day such as garlic butter, lemon butter, cheese and more. These are one of the highlight of the meat only buffet that you should not miss.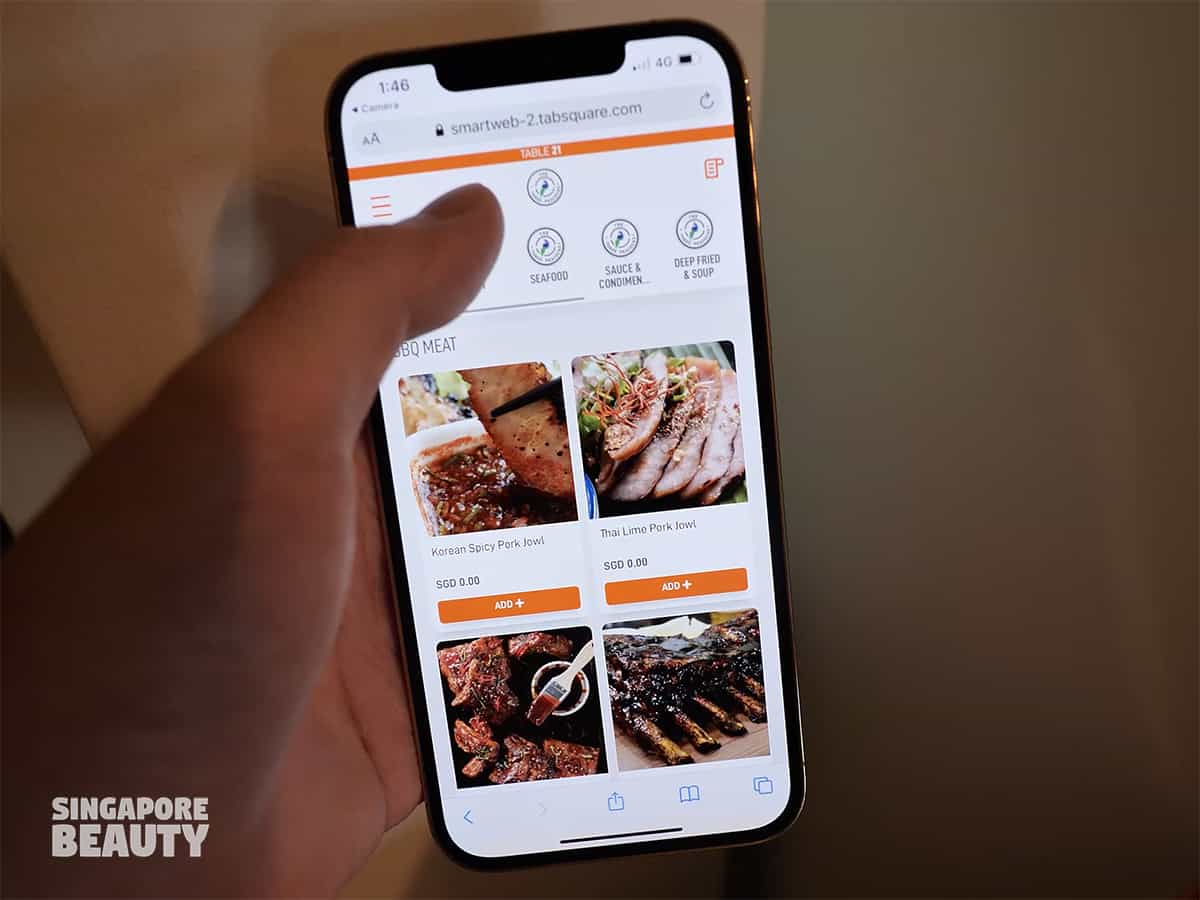 Ordering for either ala carte meat or buffet is made simpler now with their newly added scan to order QR code menu. There is a unique QR code stand on every table, just use your mobile to scan the menu. Once you have placed your order for the food, just sit back and wait for them to serve to you ala carte buffet style.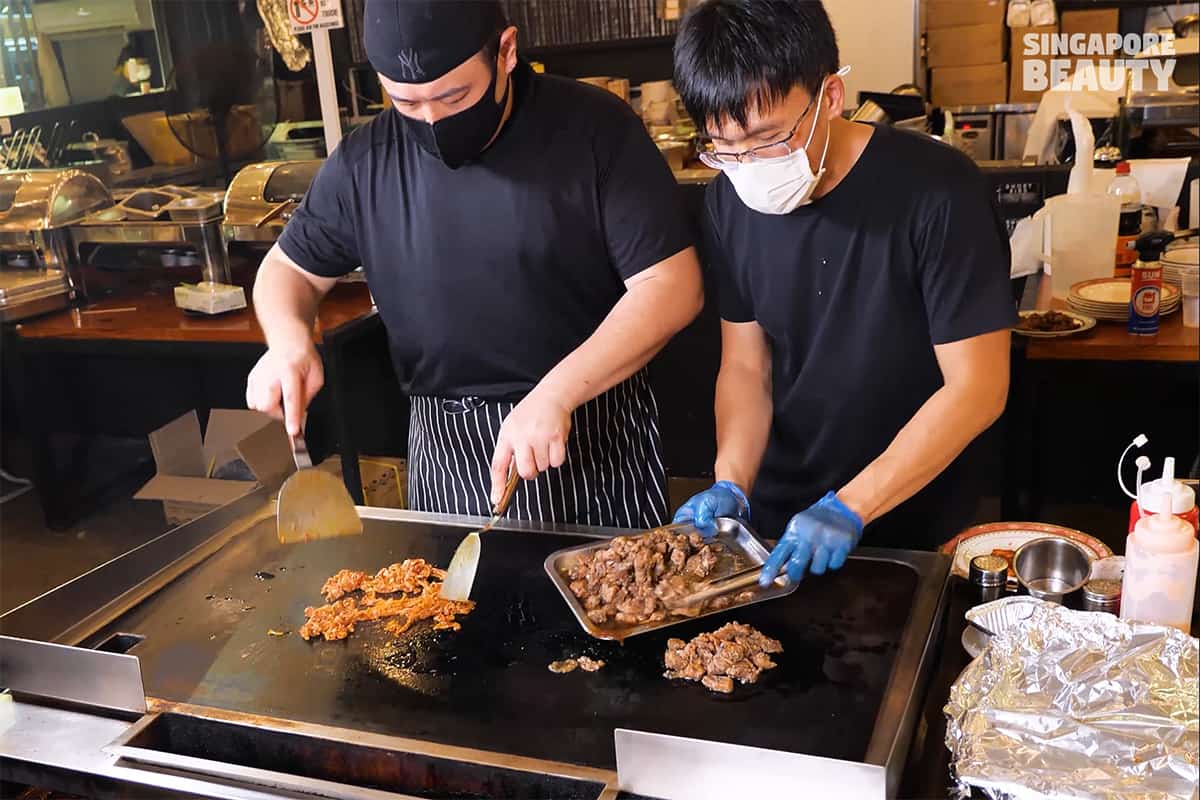 For those who are going for the meat only buffet, you also get access to their bbq live station. The teppanyaki chef will prepare ready to eat marinated meats of the day with their cook for you service. Just simply place your order via the QR menu system using your mobile device.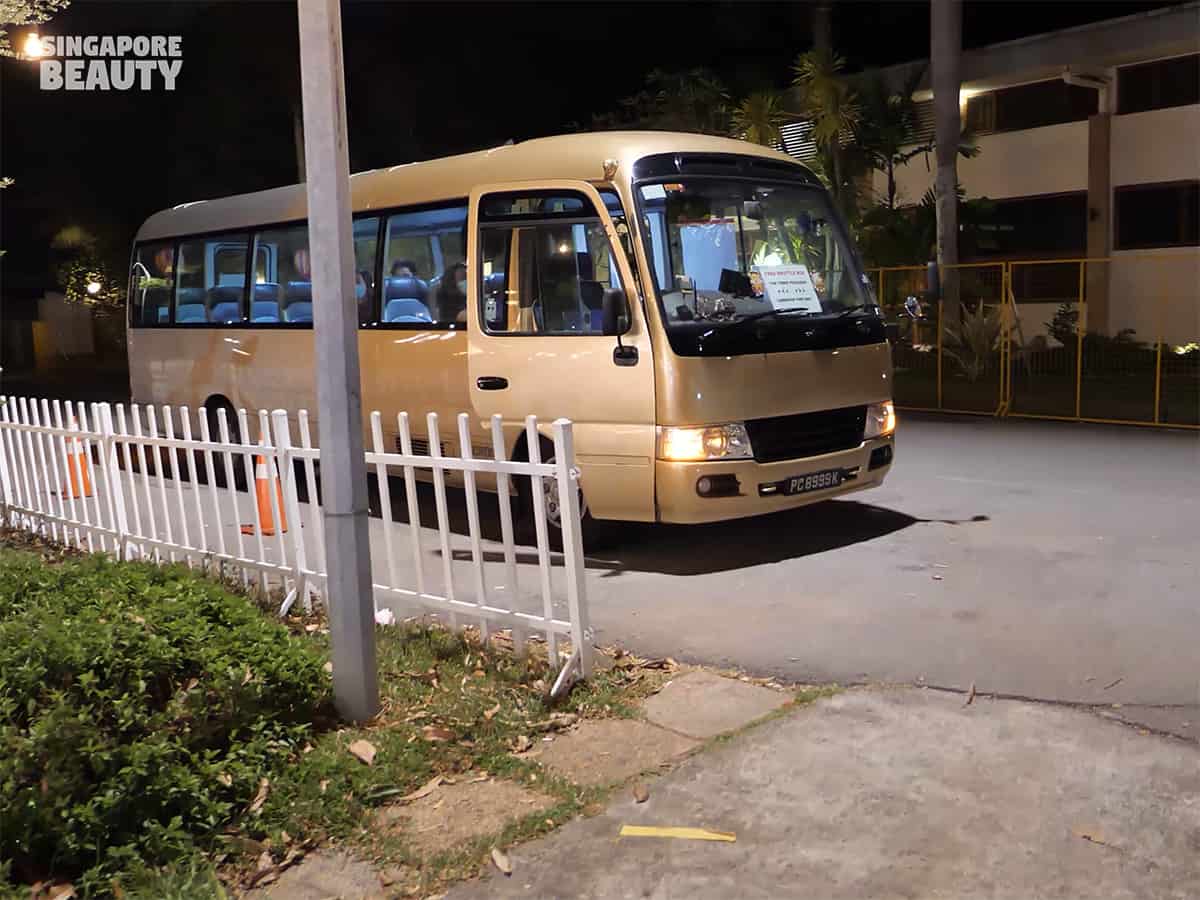 How to get to The Three Peacocks? The Three Peacocks has a exclusive shuttle bus rounded journey service, pick up point is from Labrador Mrt exit. The operating timetable is from 530pm to 10pm (30 minutes intervals). Just watch out for the friendly chauffeur uncle who ferry The Three Peacocks diners in his golden limousine-like bus.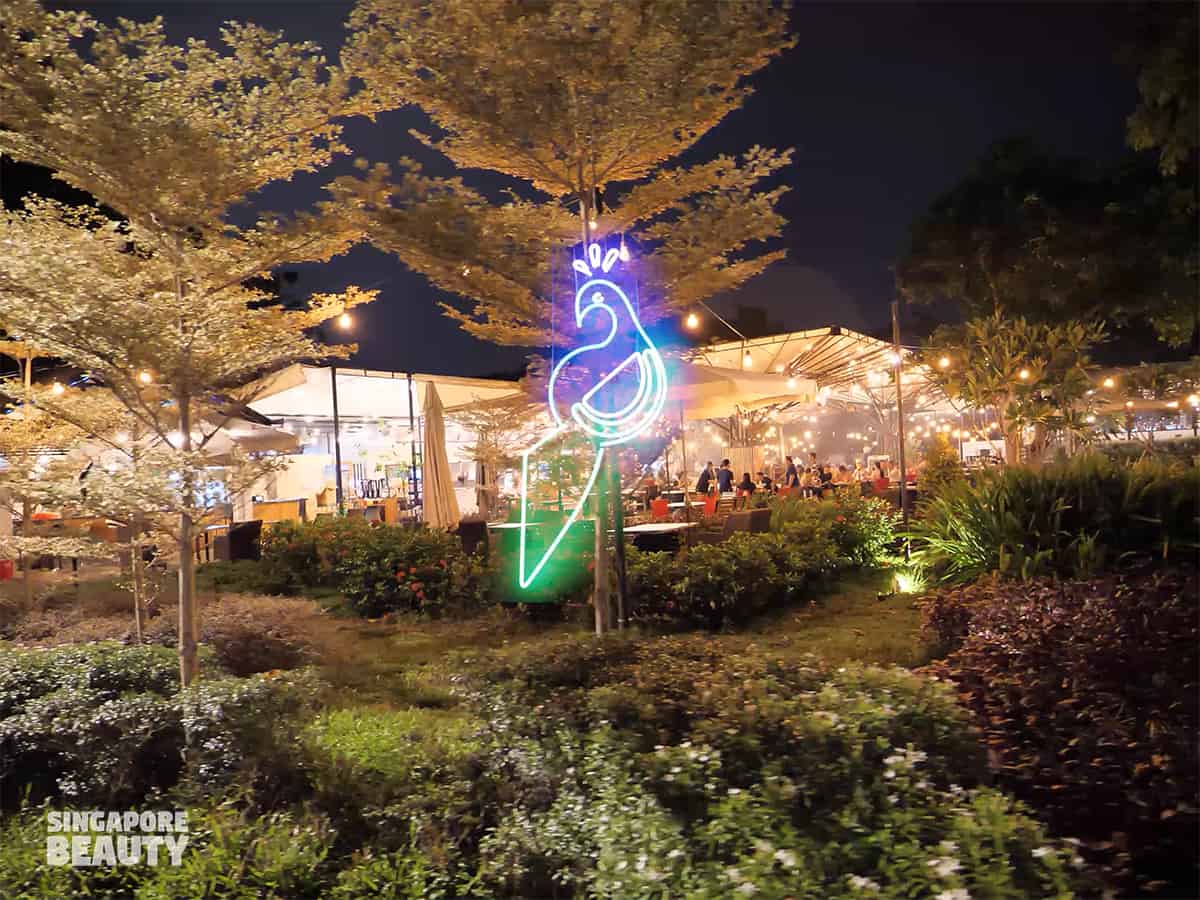 See you at The Three Peacocks – Singapore Largest Alfresco Barbecue Place where all the magic happens! Check out their newly added garden pavilion to house more BBQ lovers. Eat to your heart's content with their amazing spread of meats and the very rare stone throw away from seaside resort type of dining experience.
Location of The Three Peacocks:
8 Port Rd, Singapore 117540
The Meat Only Buffet includes
Meats at teppanyaki & bbq live station, satay, meat station
Price Inclusive of ice cream and cold can drinks for buffet
half a Boston lobster per adult
Meat only, wagyu & Iberico Buffet Price
Monday to Thursday
adults/ senior  $38.50nett
children is 50% off adult price
Add $5.50 nett surcharge for weekends (Friday to Sunday)
Buffet dine time
Weekdays 3 hrs, weekend 2.5 hrs
Heineken beer promo $22 nett for 5 bottles (buffet customers)
Ala carte meat bbq – meat starts from $16+10%.
No other charges for bbq grill stove
Free Parking and shuttle bus
Call: 6251 0213
Brought to you by The Three Peacocks