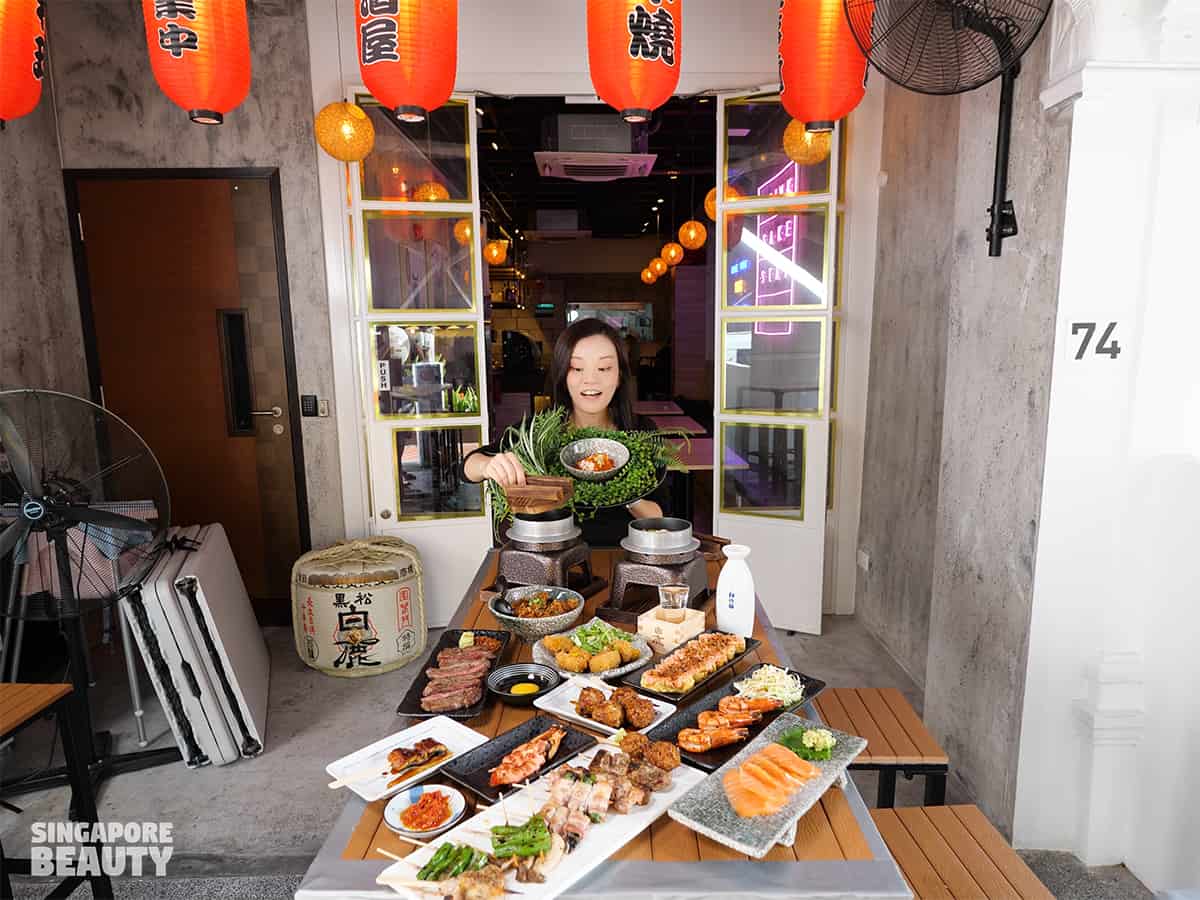 This is a newly open Japanese yakitori bar in Desker road. This yakitori bar is housed within a heritage conservation shophouse in Little India, Singapore. Serving up to 80 types of kyo kaiseki style Japanese cuisine, unique type of yakitori, kamameshi aka kettle rice, thrice weekly air flown delicacy from Japan and a great variety of sake.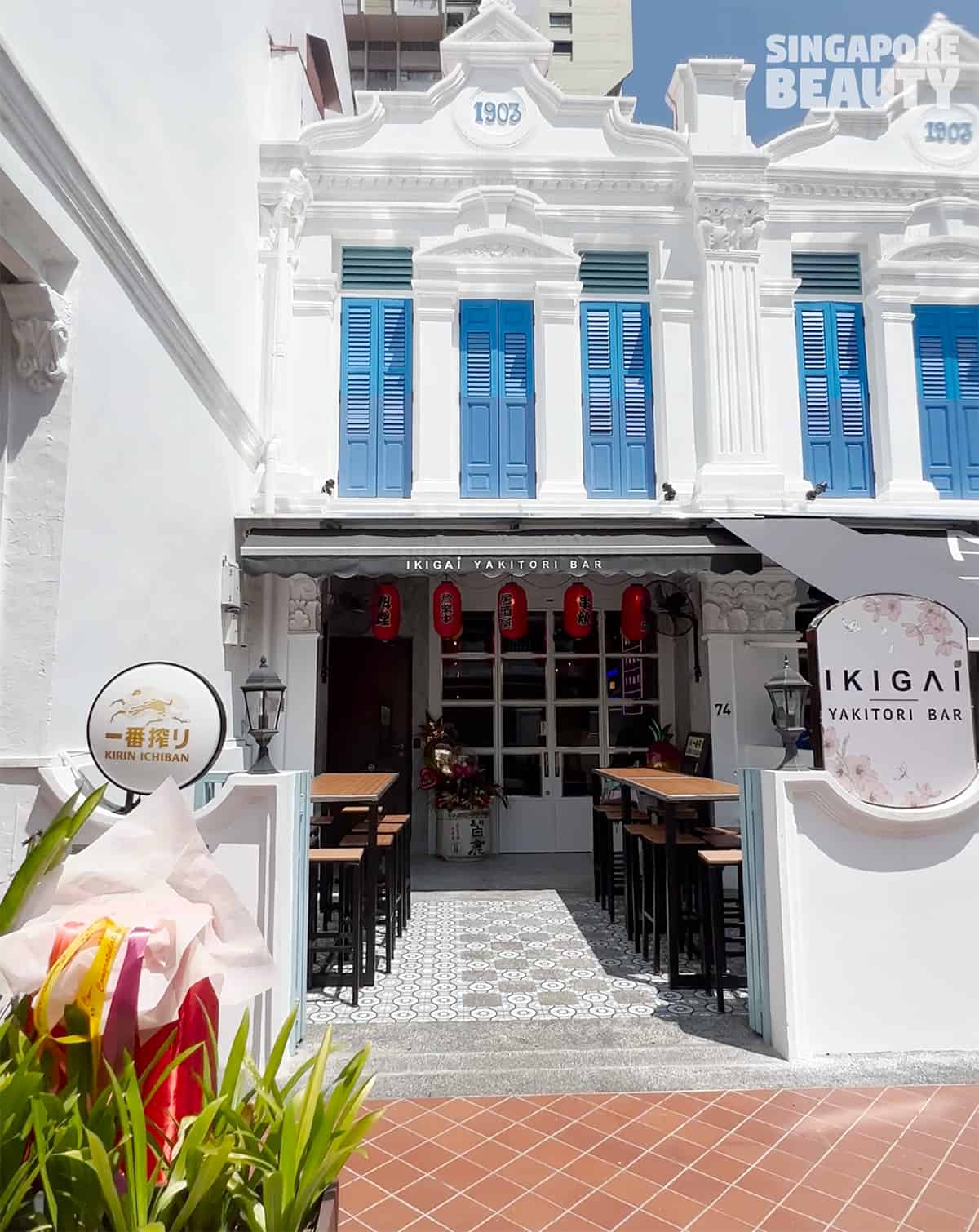 Ikigai means passion, mission, profession and vocation. Propelled by these 4 values, they strive to bring the best Japanese dine in experience to Singapore, just like what you will be having in Kyoto Japan. This yakitori bar is housed in this unique heritage shophouse with an alfresco courtyard dining where you can enjoy the nature breeze and people watching in culture rich Little India. It is recessed from the main walkway for you to chill out when the sun sets, away from the main hustle and bustle. It also has an indoor table setting and bar seating.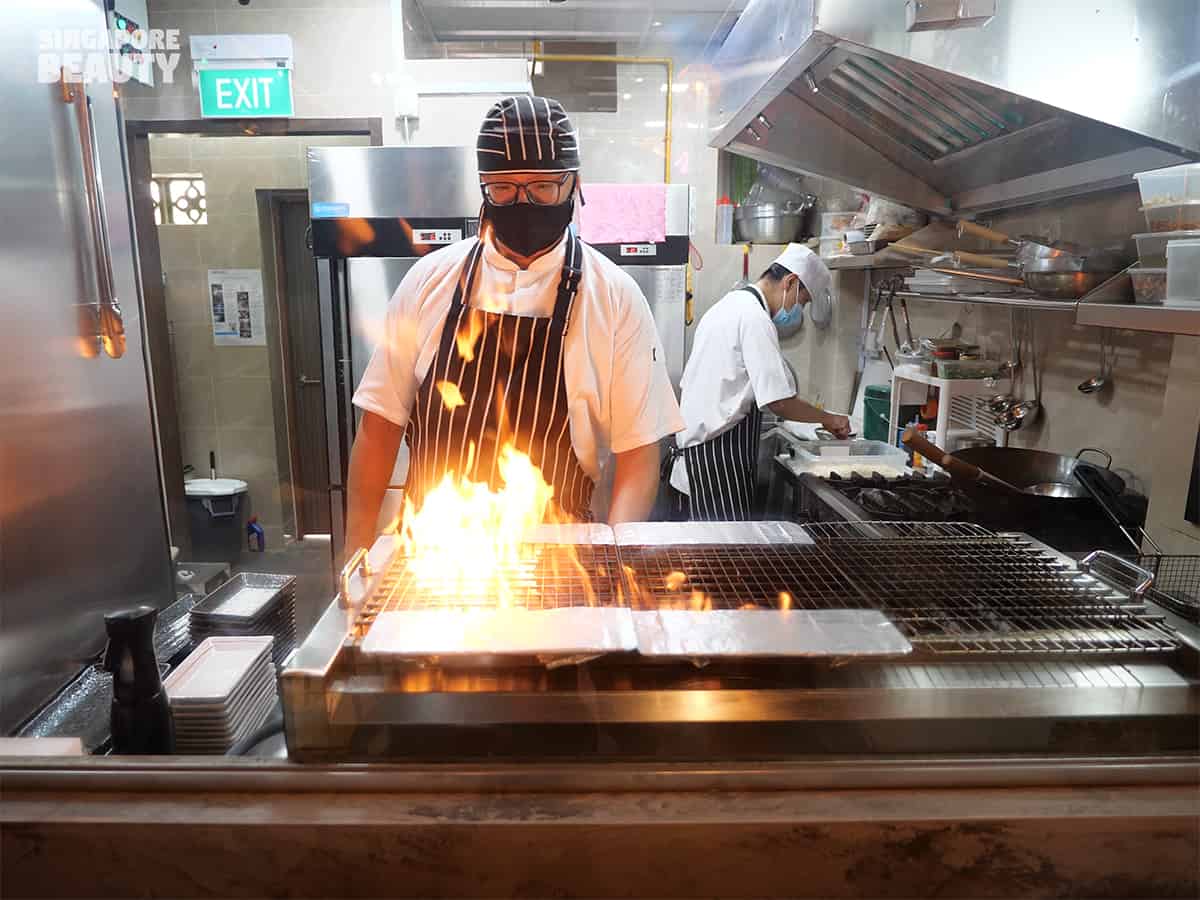 Ikigai yakitori bar with an open concept kitchen, lets you enjoy some real showmanship of the chef preparing your yakitori from scratch. The glistening sticks of yakitori, tossing of fried rice, flame licking wagyu steak and the graceful seasoning of the meats, all in the comfort of your bar seat behind the heat proof glass.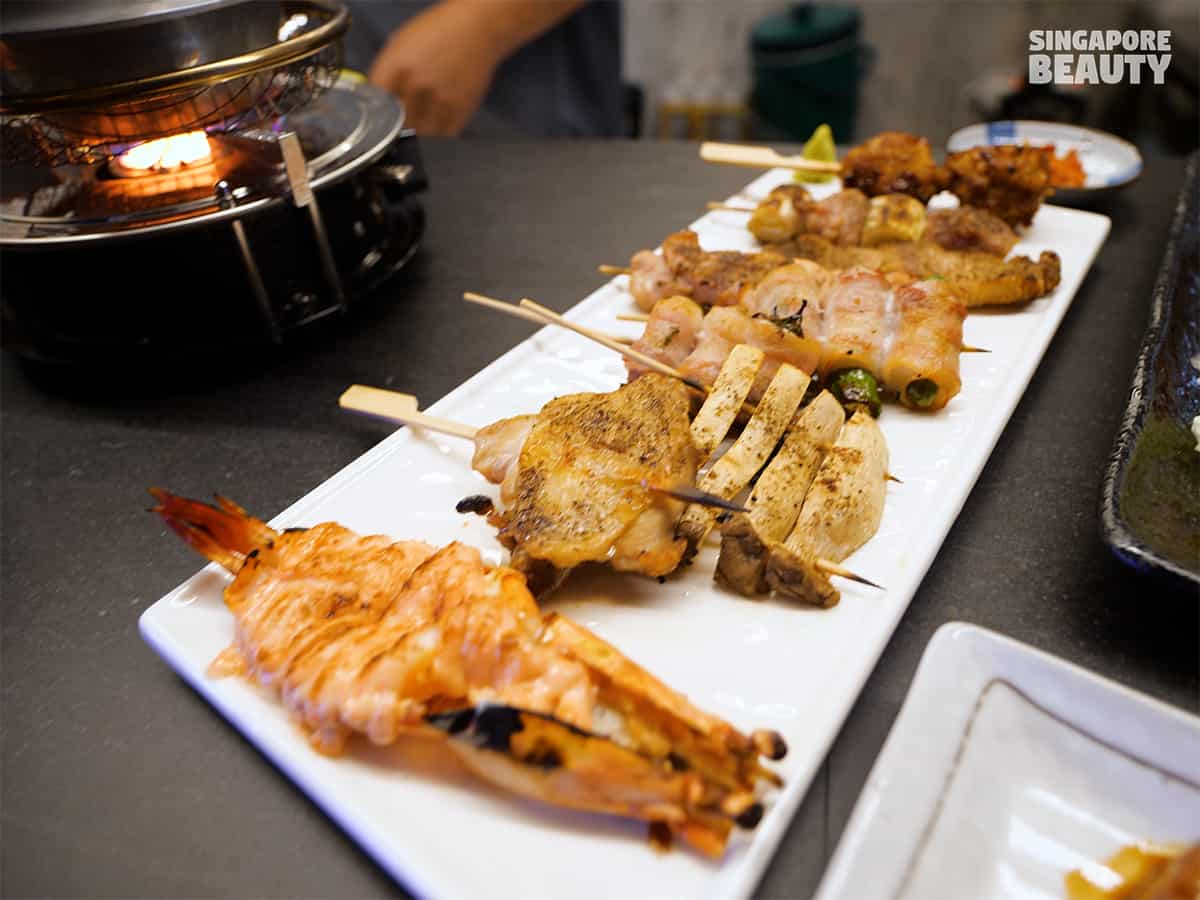 Ikigai yakitori bar is now having a skewer platter promotion. 6 sticks of yakitori at $15.90 (U.P $19.90) and 10 sticks at $22.90 (U.P $28.90). Diners are free to choose the skewers of their choice in this promotion. Get a Kirin pint at $10++ or a Kirin Jug at $22++ daily to go with the skewers.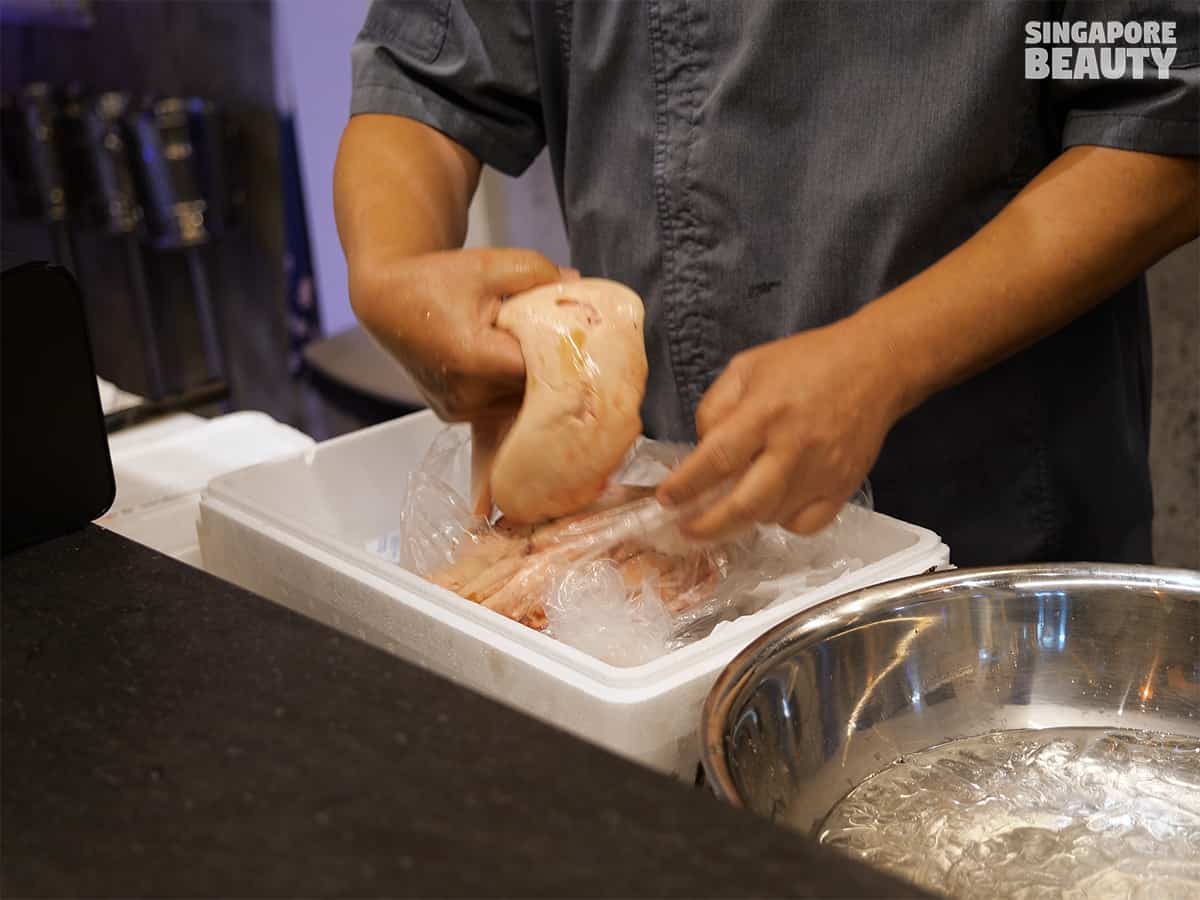 Ikigai Yakitori bar is one unique bar that serves products imported from Japan, as frequent as 3-4 time weekly. Their unique Japanese winter delicacy this month is monkfish liver serve sashimi style in a housemade sauce. Enjoy the taste of Japan in Singapore right here in Ikigai yakitori bar. Some dishes have adopted slight modifications in preparation to align with local palate.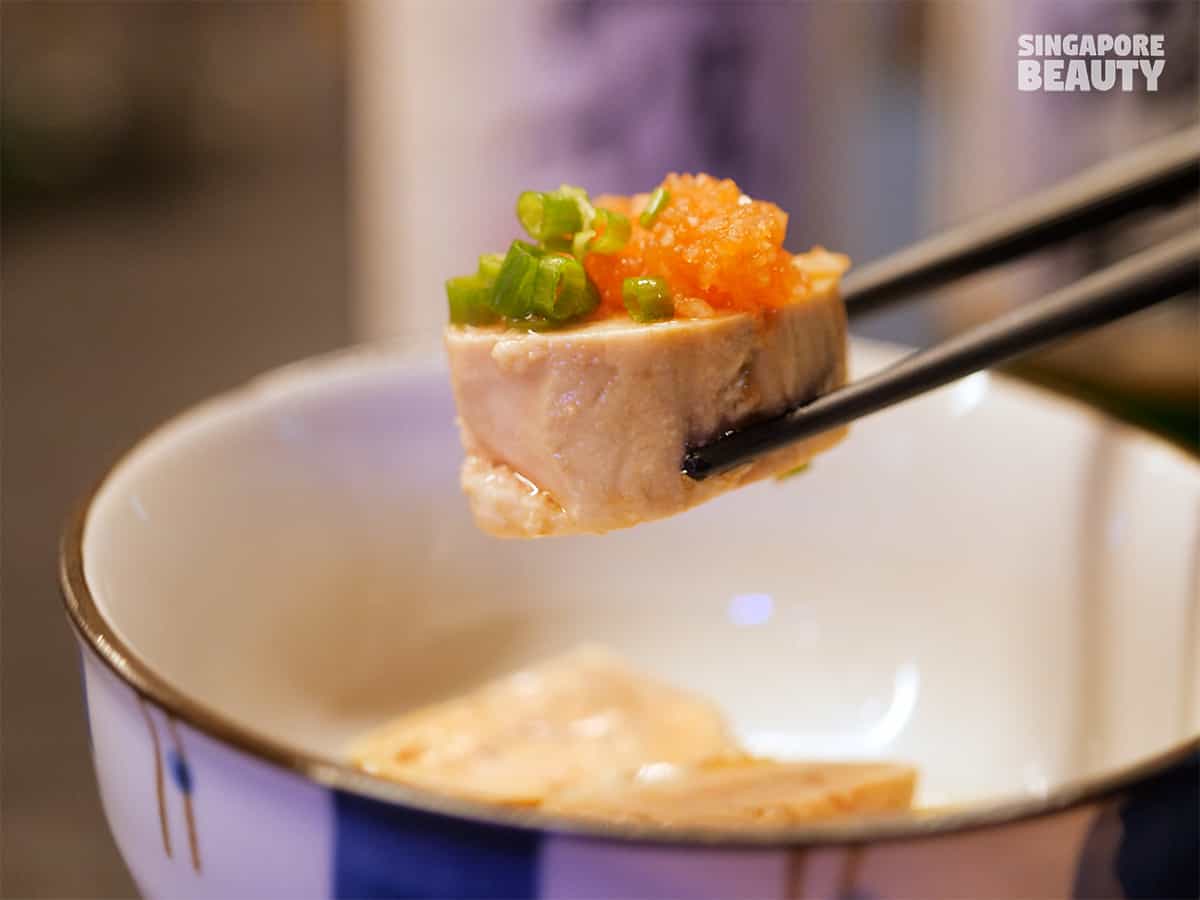 If you are an adventurous eater or has a penchant for delicate Japanese cuisine, do head over to try their monkfish liver sashimi whilst stocks last. Ikigai Yakitori Bar will be bringing in many other seasonal items from Japan from time to time, do check with them the speciality of the week. This is a great place to wow your guest with authentic food from Japan.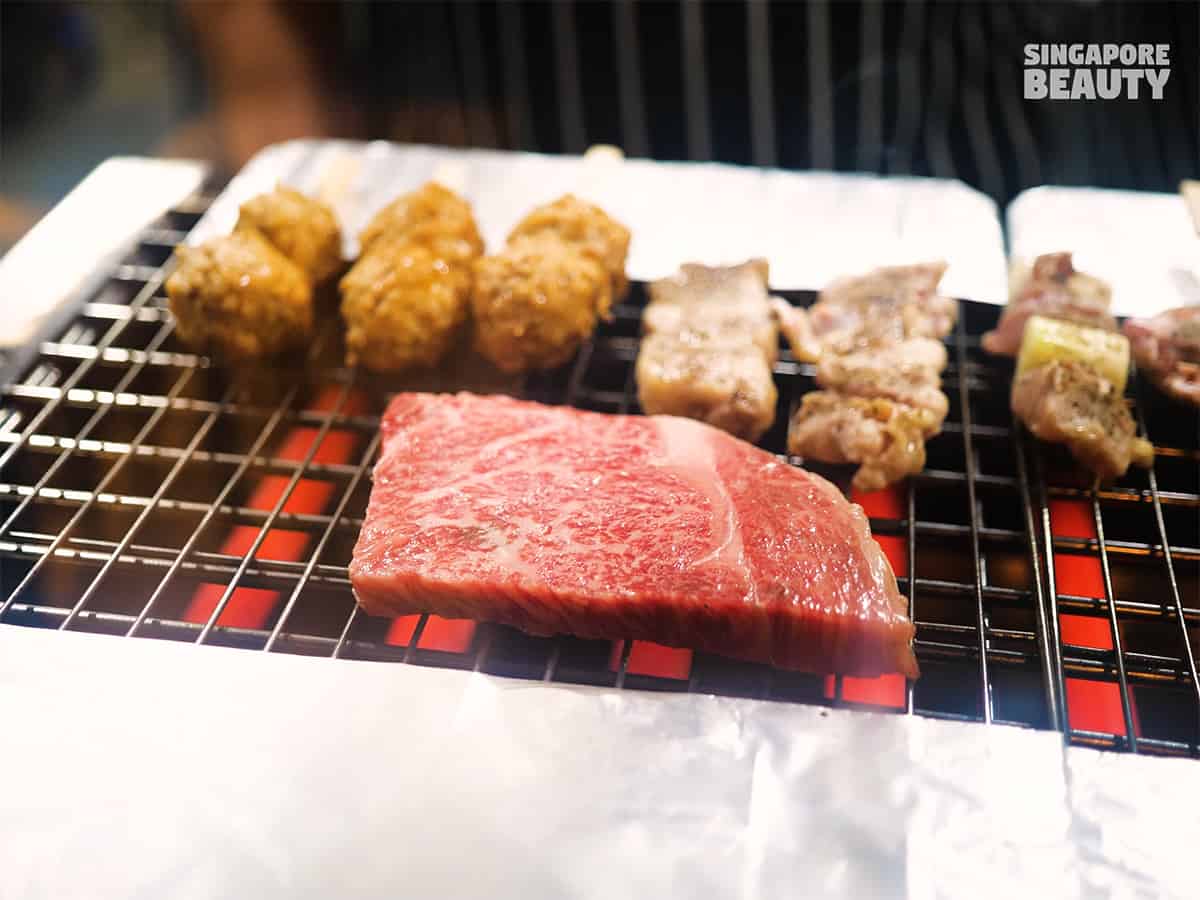 Ikigai yakitori is started by 4 best friends from school days driven by their love for Japanese food. The yakitori bar is helmed by a chef with 37 years of experience in Japanese cuisine. The head chef is also ex-Fullerton Hotel chef and trained in Kyoto to master the ancient craft of preparing kyo kaiseki style traditional Japanese fine cuisine. With roots in such training, the yakitori are prepared with simple seasoning to complement the flavours of the meats. Expect better cuts of meats such as Miyazaki A4 wagyu steak with superb marbling, Iberico pork belly, Japanese unagi kushiyaki and more.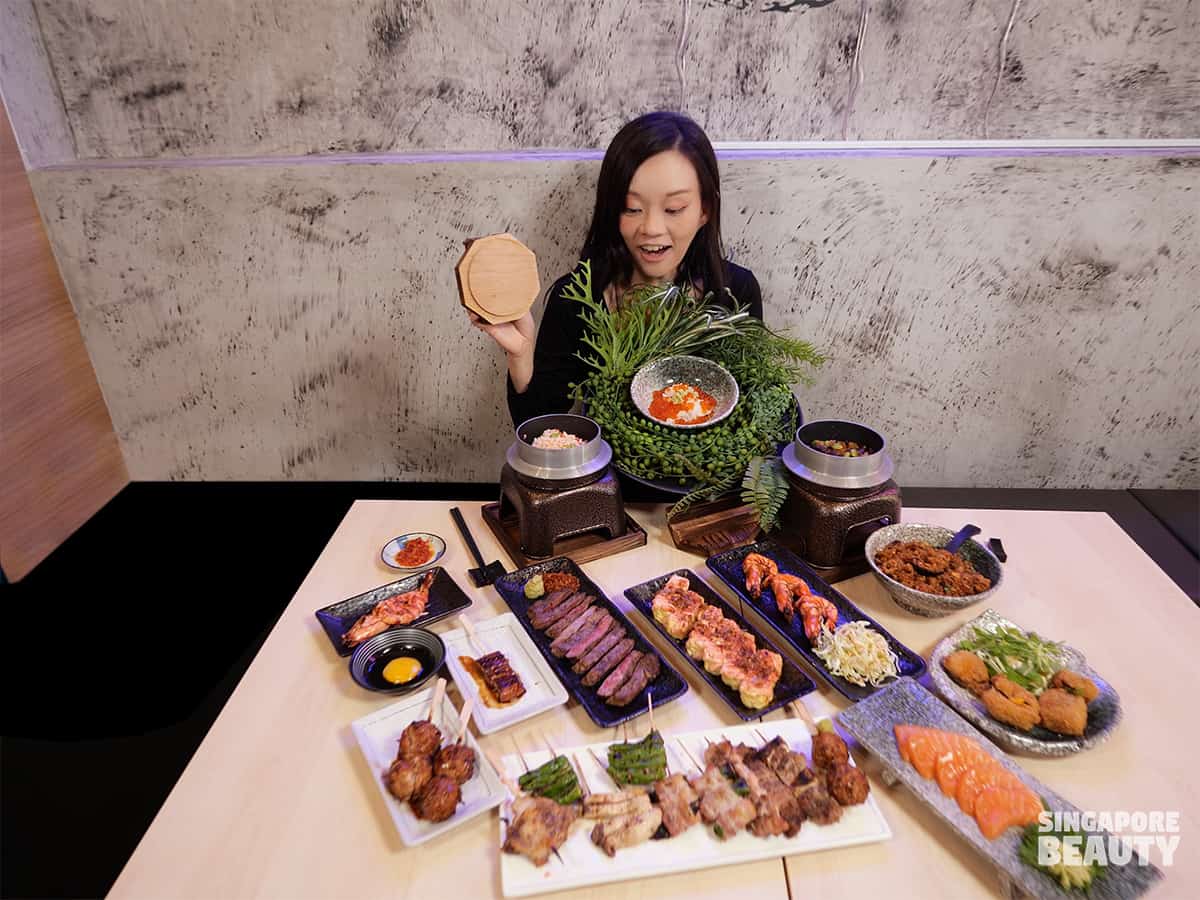 They have over 80 items on their menu – popular items such as grilled prawns with mizuna in housemade yuzu chilli, Iberico pork belly, kyo Iberico char siew kamameshi, kyo salmon kamameshi, Miyazaki A4 wagyu steak, Tsukune chicken ball with yolk sauce, USA short ribs and Kurobuta kakuni. Other than the popular items, the Ikigai yakitori bar menu also includes appetizers, sashimi, age/deep fried bar bites, yakimono, yakitori grill, main course, drinks such as sake, whiskies and more.
Ikigai yakitori bar main course food price starts from $8.90 for a comforting bowl of garlic fried rice to a more elaborate bowl of Ikura don at $29.90 as shown above. The fluffy grains with the bursting salinity of oceanic flavours of ikura roe and a kick of pungent wasabi is the epitome of happiness.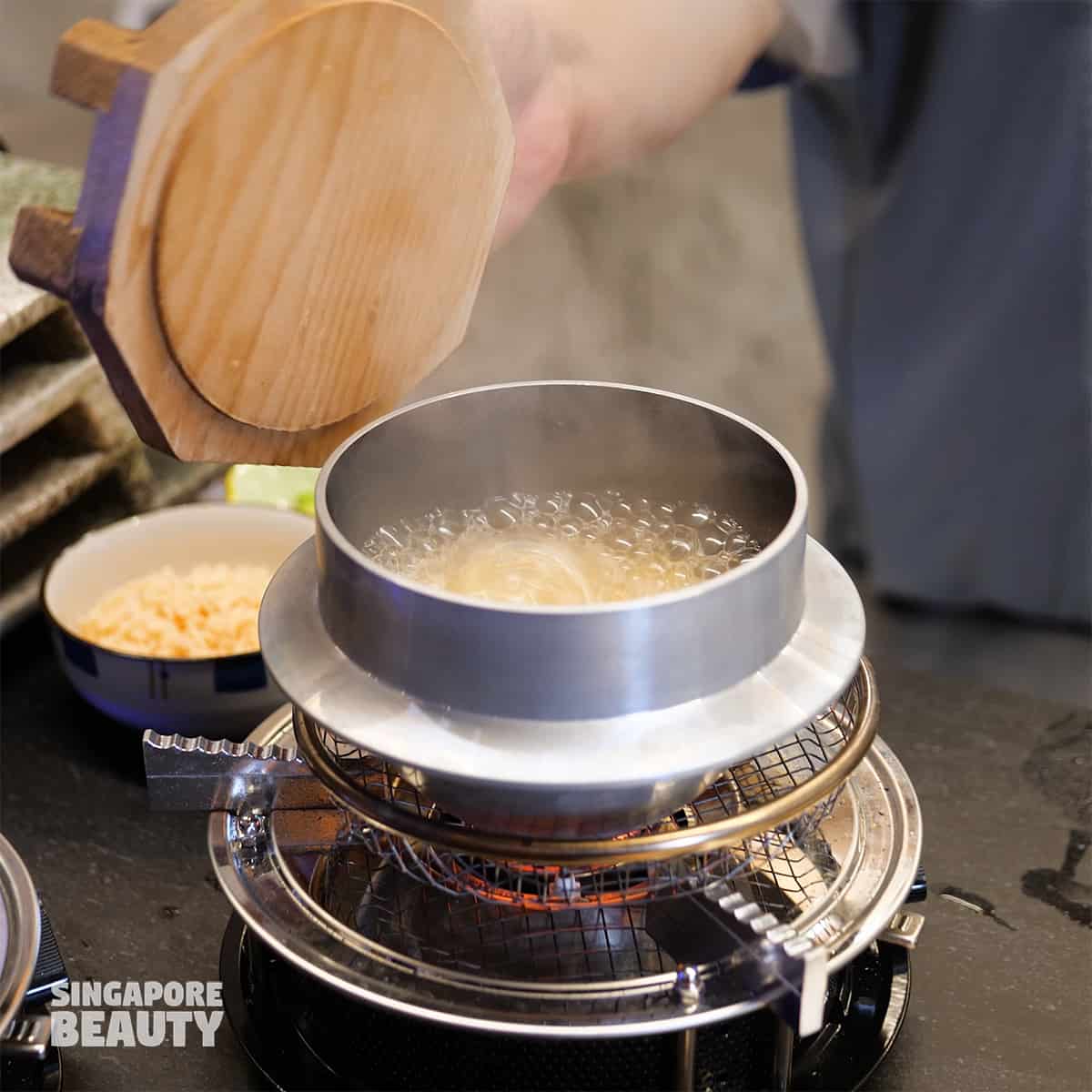 Kyo kamameshi simply means rice cooked in iron pot. These are cooked from scratch by the chef at their bar counter. The iron pot are filled with some soaked fluffy rice grains and simmered in housemade dashi stock. The ingredients are added in to add a variety of texture and for more dimensions in flavours.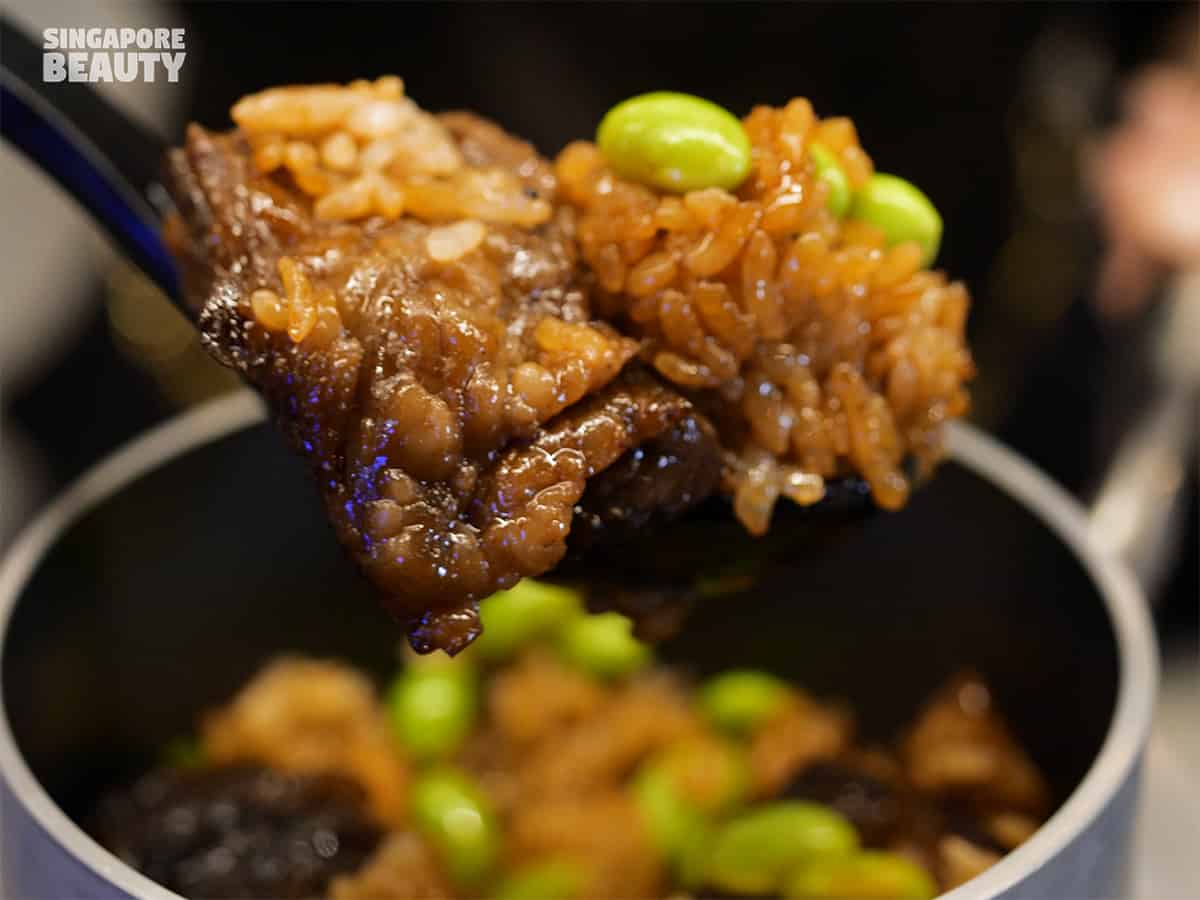 These Kyo kamameshi are also known as kettle rice and is a traditional Japanese rice dish. The popular choices here are the Iberico char siew, salmon, unagi and seafood kamameshi. Get these if you are looking for a comforting bowl of savoury piping hot rice with toppings. The above is the kyo Iberico char siew kamameshi ($15.90). The Iberico pork is well marinated with sweet and savoury caramelised fluffy rice. It is very hot when served, enjoy it slowly.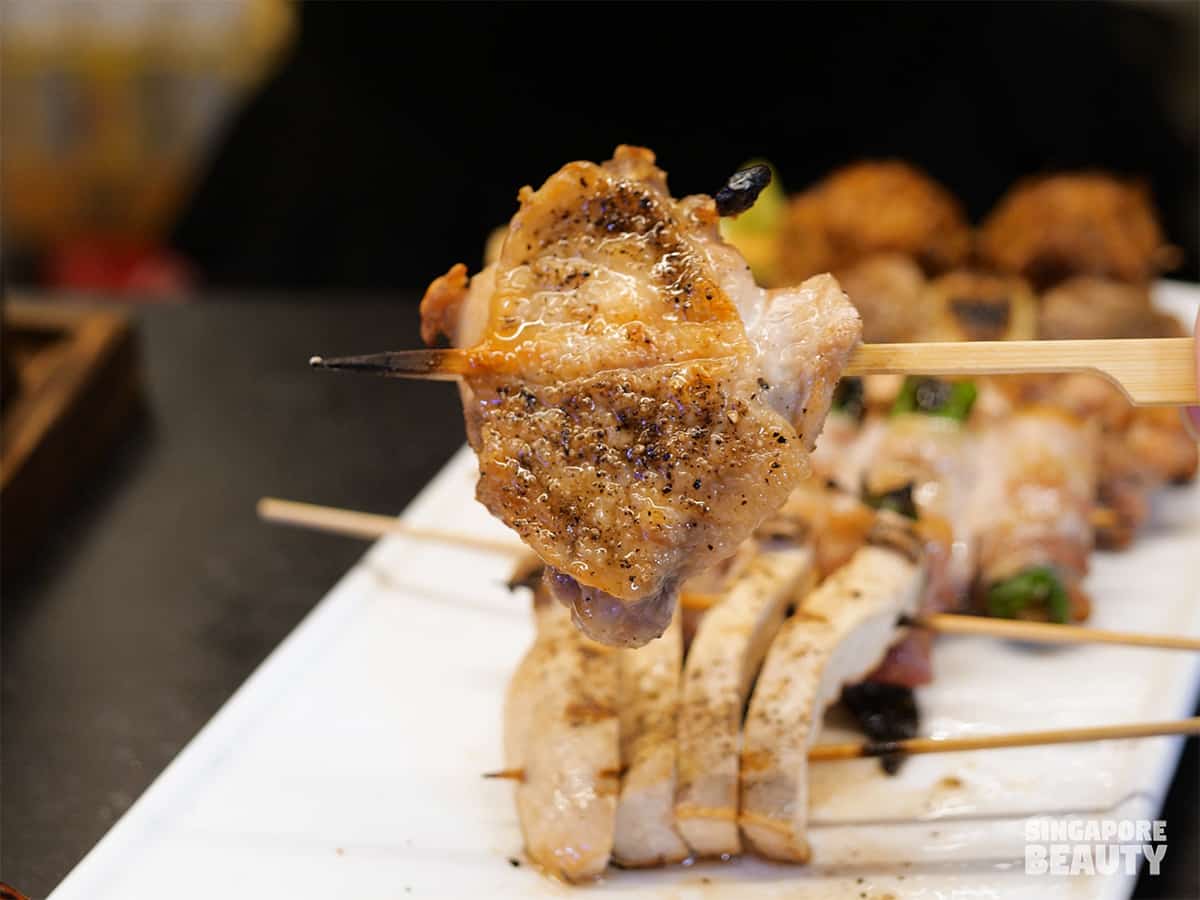 Ikigai yakitori bar specialises in grilled skewers aka yakitori. Ikigai yakitori bar skewers and grill price starts from $2.90 for quail eggs to $16.90 for grilled prawns. Their skewers/ grill menu includes grilled tiger prawns with menti aburi $6.90, Iberico pork belly stick $6.90, king oyster mushroom $3.90, chicken thigh skewers $3.90, chicken cartilage $4.50, chicken liver/gizzard $3.90 and more. I like that their yakitori has the right amount of char and crisp to it.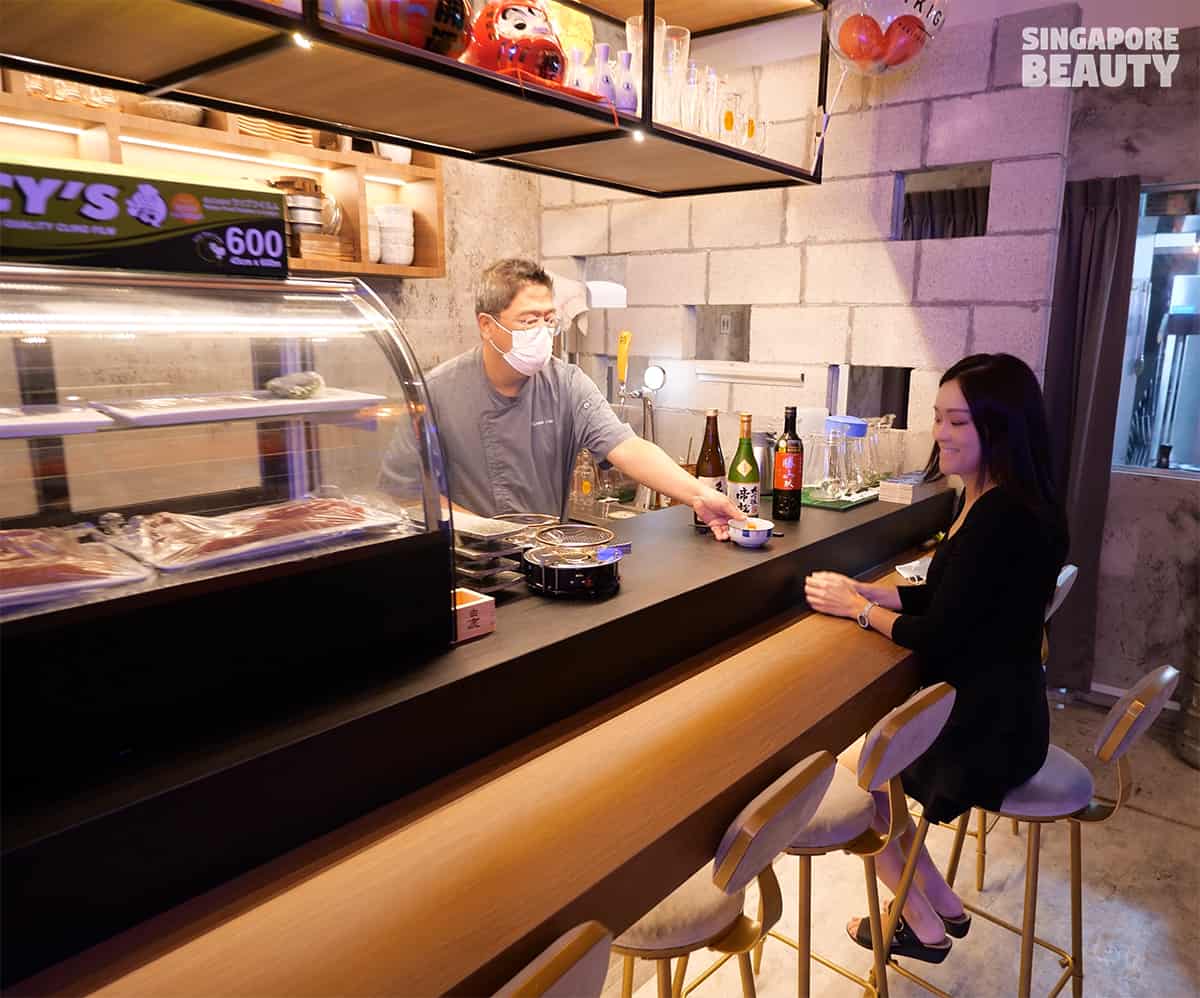 For those who are prefer a more intimate dining experience, you may choose their lounging bar seating area where you can sip on some of the finest sake, whiskies, handcut sashimi and even monkfish livers. This is the seat closest to the open concept kitchen where you can catch some action from the chef behind the heat proof glass – grilling yakitori.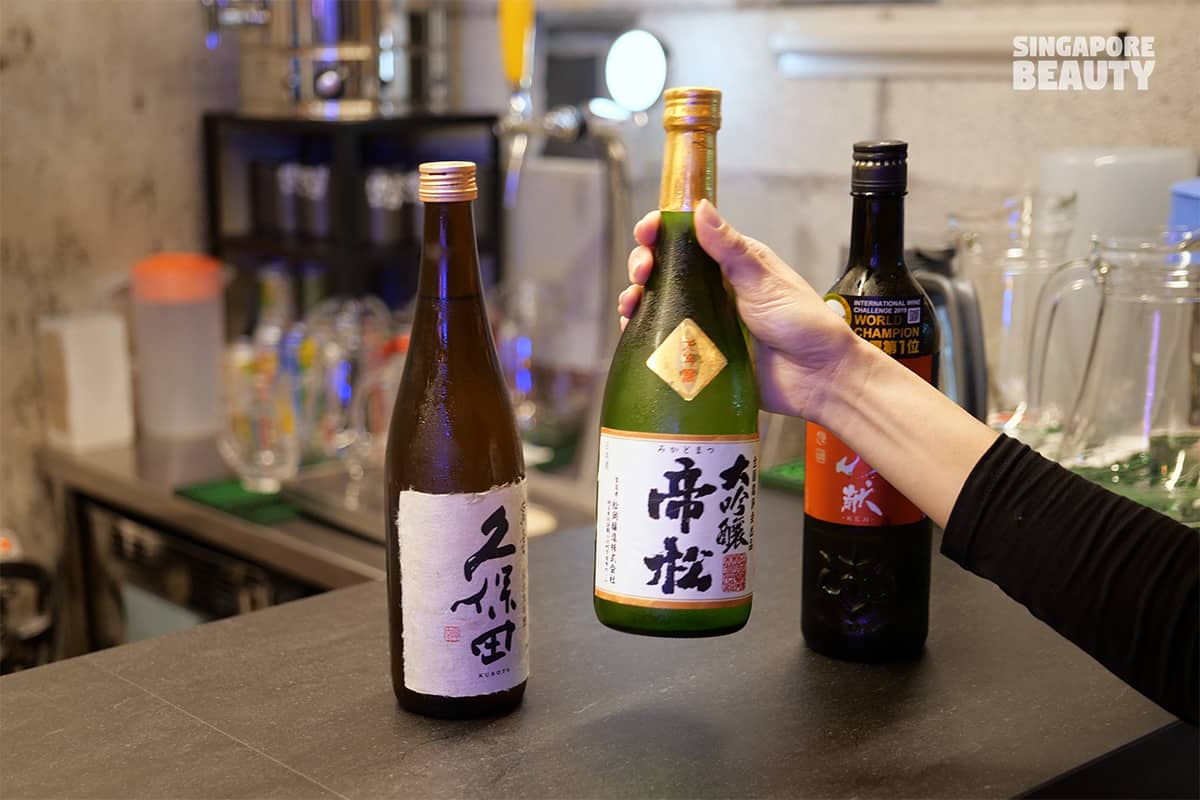 Indulge in fine sake such as Katsuyama shuzo sensuous masamune, ken junmai ginjo, Mikadomatsu daiginjyo, Ginjyo "CEO's sake" and more. Price for sake starts from $19.90 for a bottle of Gekkeikan Kasen 250ml to the more premium CEO's sake at $89.90 and Mikadomatsu Daiginjyo 720ml at $122.90.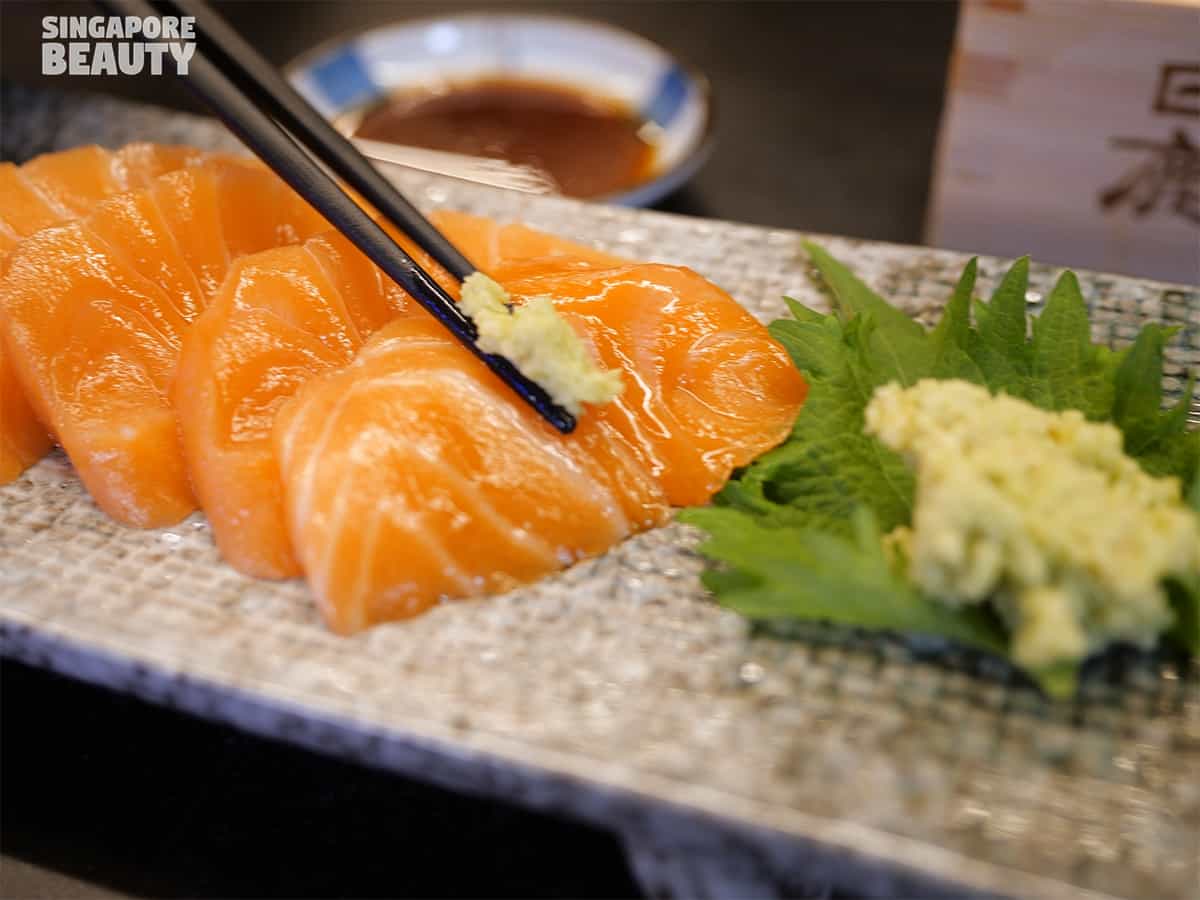 Get fresh handcut sashimi such as salmon, tuna and mekajiki at their sashimi sake bar. Sashimi are those thick cut types that melts in your mouth. Salmon sashimi (5pcs) at $13.90 and mixed sashimi platter (3 kind of sashimi) from $18.90. Enjoy some unique Shiro Baigai sake zuke at $8.90 whilst stock last.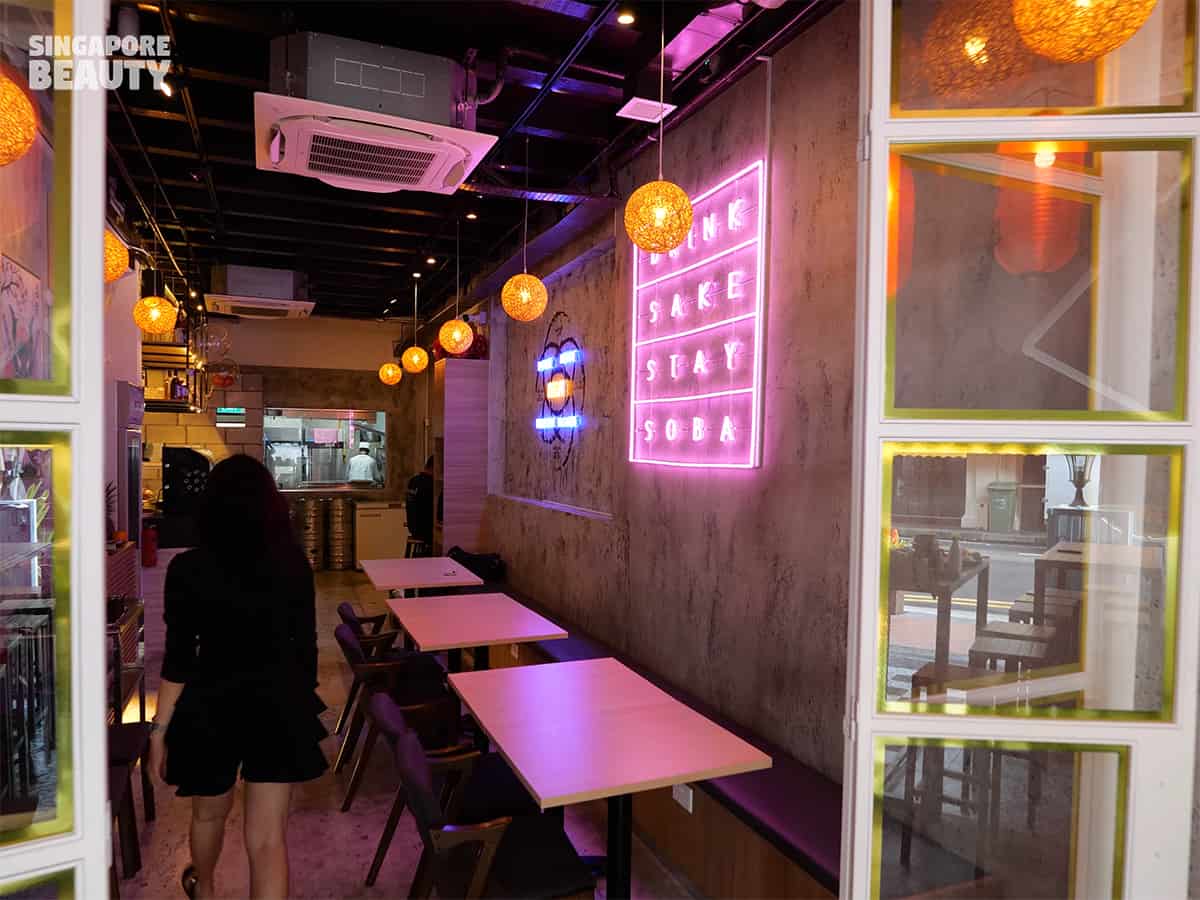 Ikigai yakitori bar is located at 74 Desker Road at Little India, Singapore. In a conservation area with a rich culture surrounding it, this bar is sending out trendy vibes that shouts authentic traditional Japanese cuisine with a twist helmed by an ex-hotel chef with 37 years of experience in his back pocket. Cool neon aesthetics lounging vibes with unique yakitori, sake, beer & hot kettle rice for a great night out.
Beer Promotion :
Kirin Pint $10++ daily
Kirin Jug $22++ daily
Skewers of your choice promotion:
6 sticks platter $15.90
10 sticks platter $22.90
Address of Ikigai Yakitori Bar:
74 Desker Road
Singapore 209597
Opening Hours :
Monday Closed
Tuesday-friday -3pm till 12 midnight
Saturday-Sunday -12 noon till 12 midnight
Parking available along Desker road, alternative parking at Veerasamy road HDB
For Reservation, call: 9772 7400
Brought to you by Ikigai Yakitori Bar