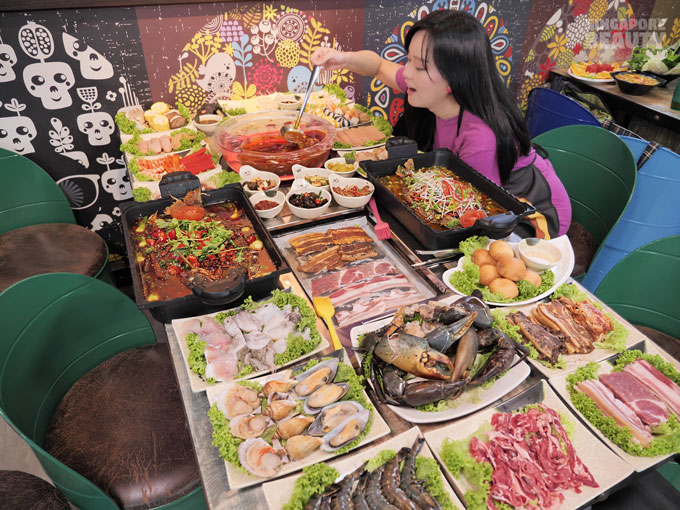 Grilled fish, BBQ and hotpot 3 in 1 for the price of 1. This is a hotpot BBQ buffet with loads of seafood, Korean style marinated meats, shabu shabu meats , greens, hot station with cooked sides, condiments, fruits, duo soup bases and a grilled fish of your choice – all included at no extra charge. (single soup $6/dual soup $10). Due to overwhelming response, the offer is being extended till 31 July 2019!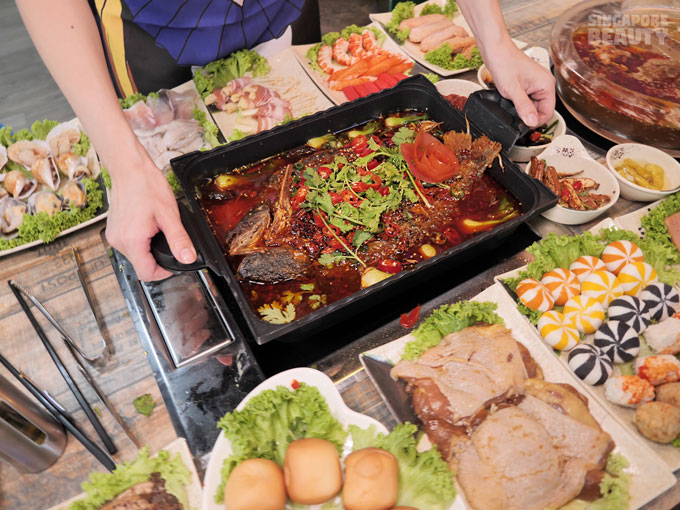 Included in this buffet is a good size grilled fish of your choice. This grilled fish is available in 2 flavours – spicy fragrant mala and sour pickled cabbage gravy.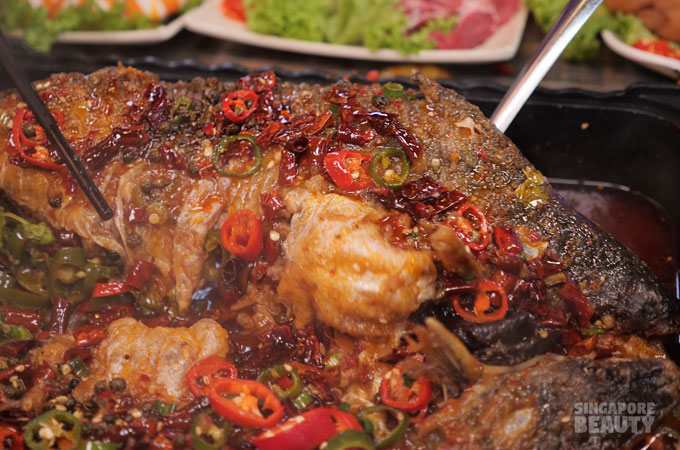 The fish is lightly charred with a smoky flavour. Skin is surprising good – still gooey and gelatine-like.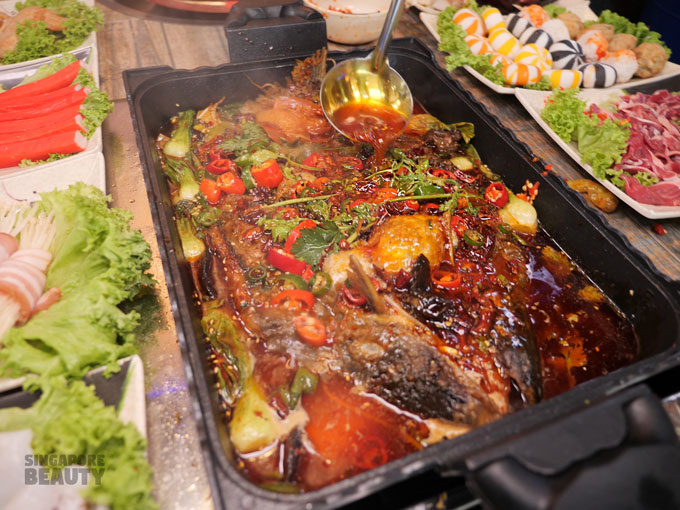 With so much peppercorns, green pepper, red chilli, dried red pepper and thick gravy, this dish has to be intensely flavourful.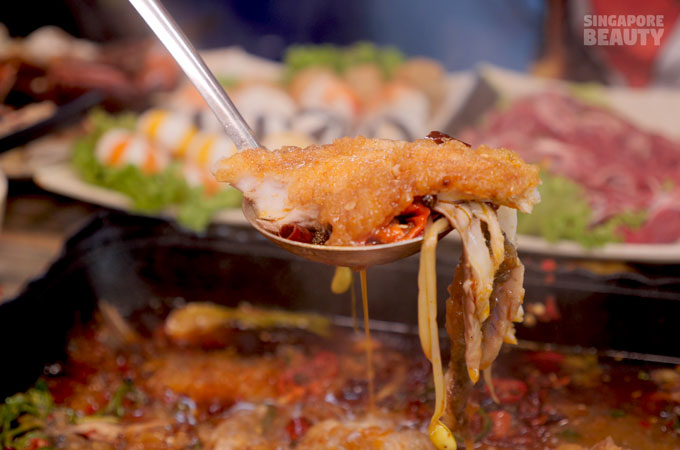 The gravy is definitely not the watered down type. Pile on loads of sides from the buffet spread to soak up the briny and savoury mala gravy at no extra charge.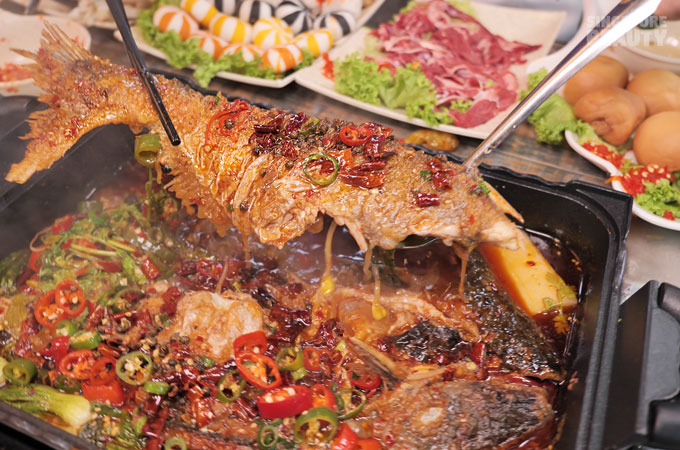 The chunks of meat are delicate and juicy in the piping hot stew of spices, peppers, soy bean sprouts and chopped parsley. Gravy is surprisingly light and can be slurped without feeling jelak.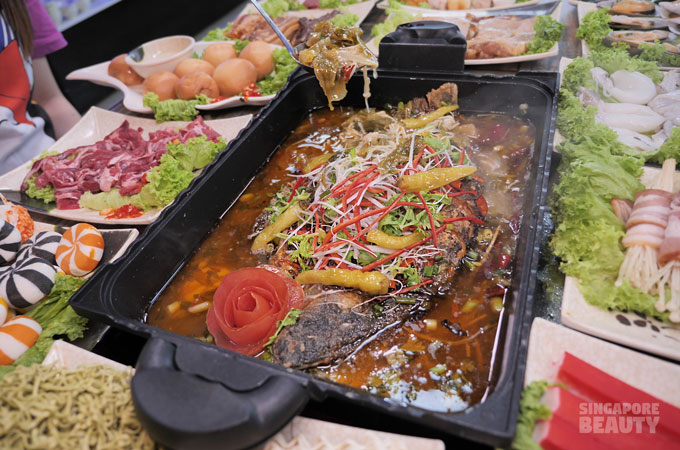 Pick the pickled cabbage grilled fish over the mala grilled fish if you love something more on the tangy end. The broth is not overly sharp but a mild hint of the sour cabbage.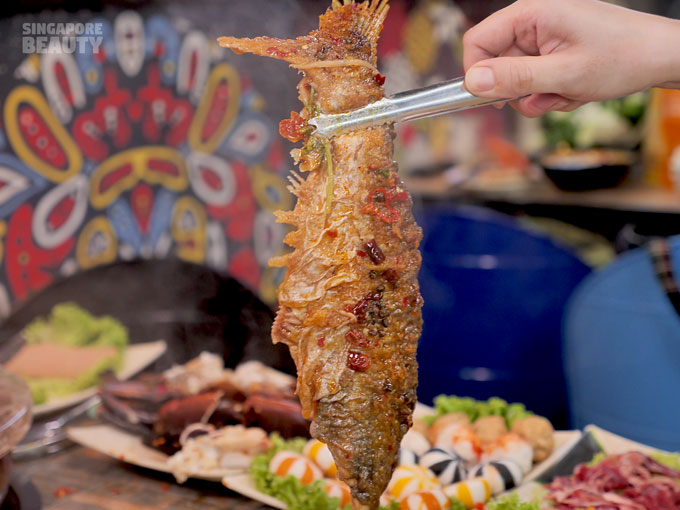 Different flavours but same good chunks of savoury meat to tantalise your taste buds. Look at the folds of the golden browned skins, these are tell tales signs of a yummy grilled fish. My preference of the two is the mala version of grilled fish with its aromatic and savoury gravy.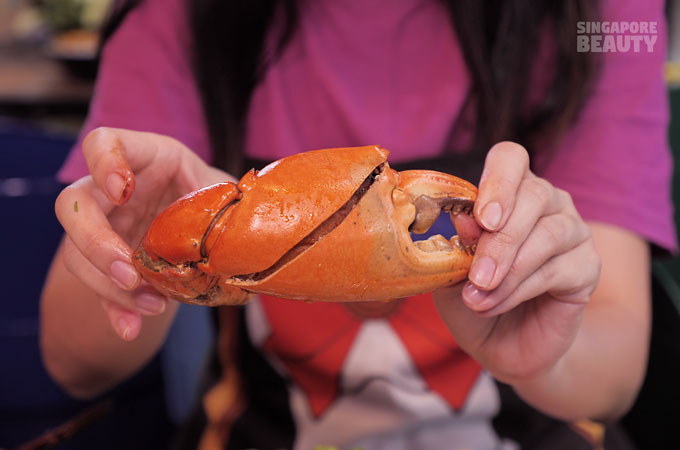 Incredible big crab claws or bigger than usual crab claws.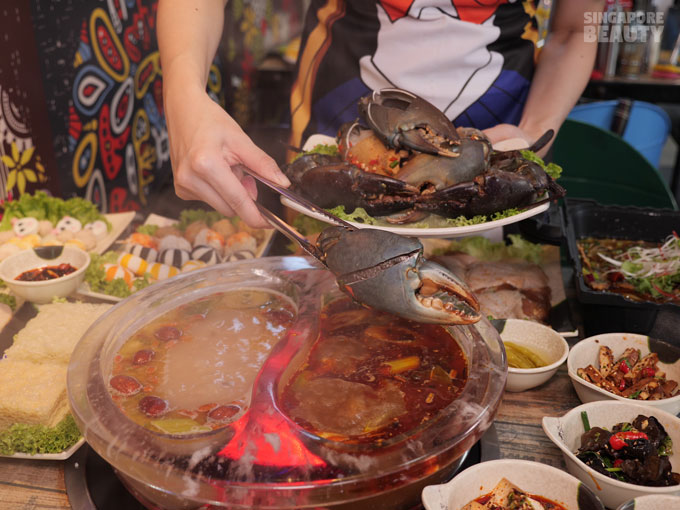 These are unexpectedly big for a buffet of this price range. This is certainty the must whack seafood or the reason I will make return visits.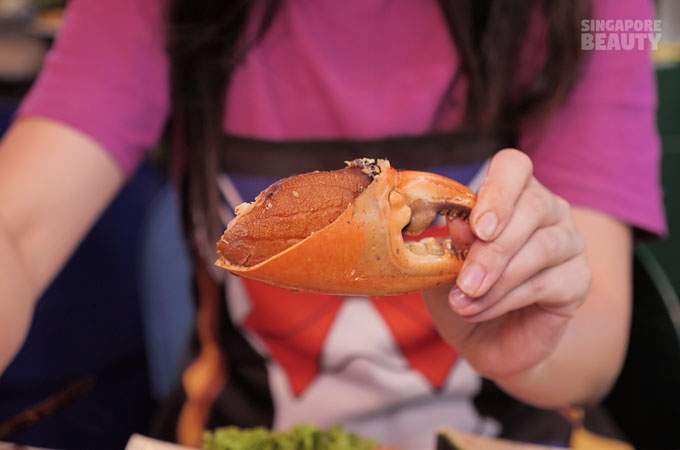 Real meat claws not water crabs claw. Definition of a water crab is one that has huge shells but once you deshell it, looks like it has been shrunk.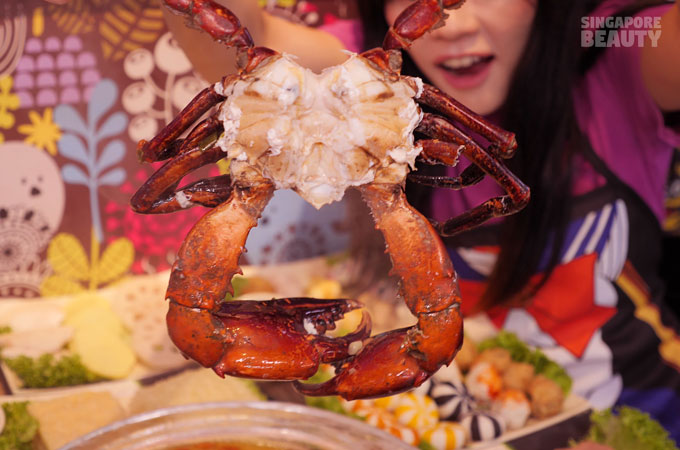 Enough said of the crab in this buffet, let the pictures do the talking.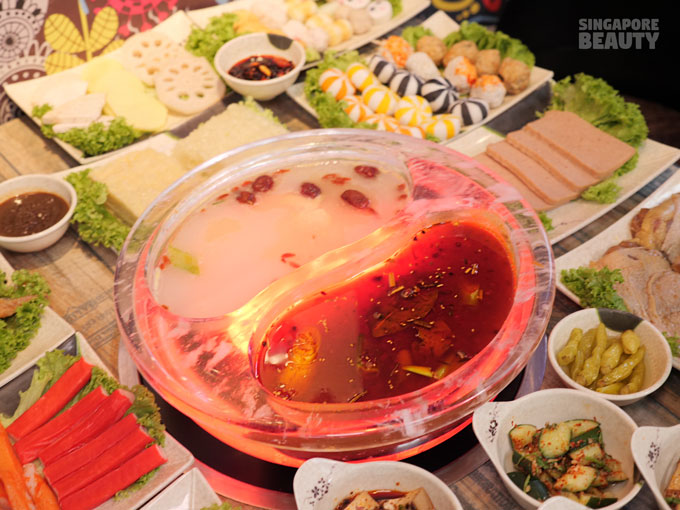 The hotpot pot size versus the crab claws size. Crab claw wins hands down.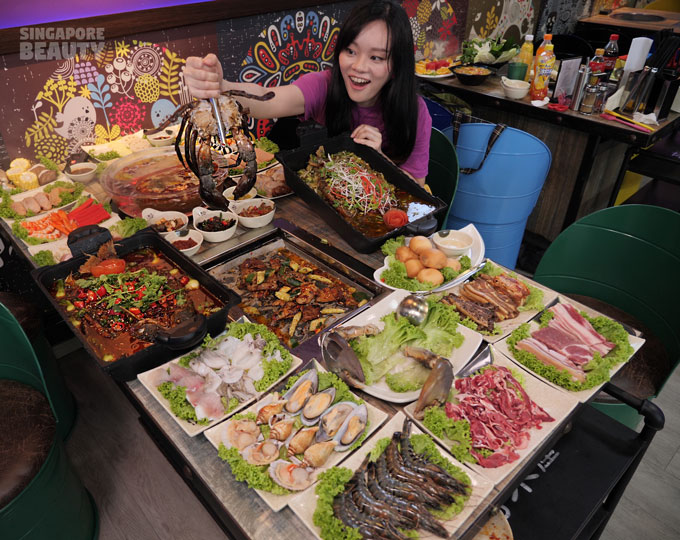 Who needs a seafood hotpot buffet that burns a hole in your pocket? I rather be here.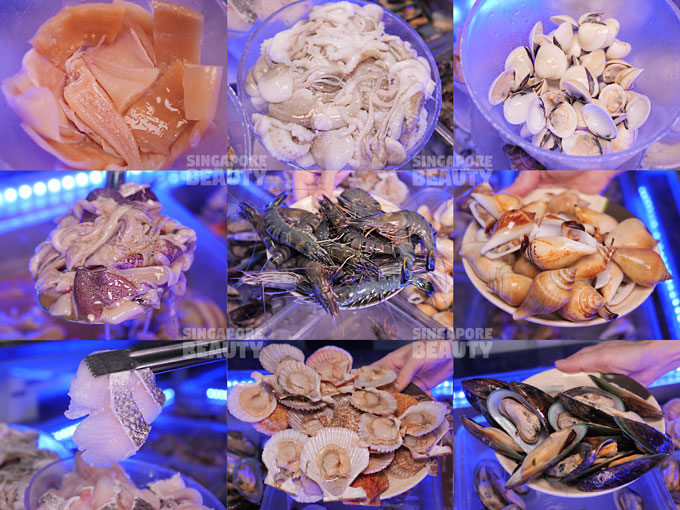 This is the Hollywood of seafood hotpot and BBQ buffet. With as many as 15 types of prized seafood of incredible sizes. XL mud crab claws, half shell scallops, gong gong, green lipped mussels, marinated squid, tiger prawns, asari clams, toman fish fillet, dory fish fillet, baby octopus, cuttle fish, big fat oysters, white venus clams, baby cuttlefish and squid rolls.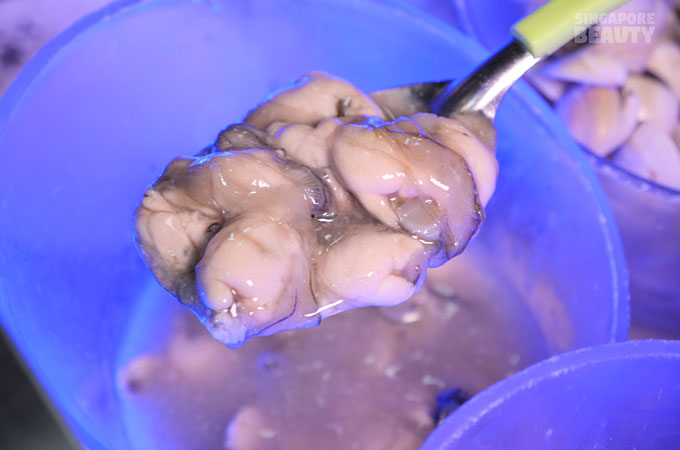 Big fat creamy oysters. These oysters are such a joy to eat and have a great briny flavour to it. Please help yourselves to unlimited serving of oysters if you love them. However be very gentle when scooping them, as they are very delicate and breaks easily.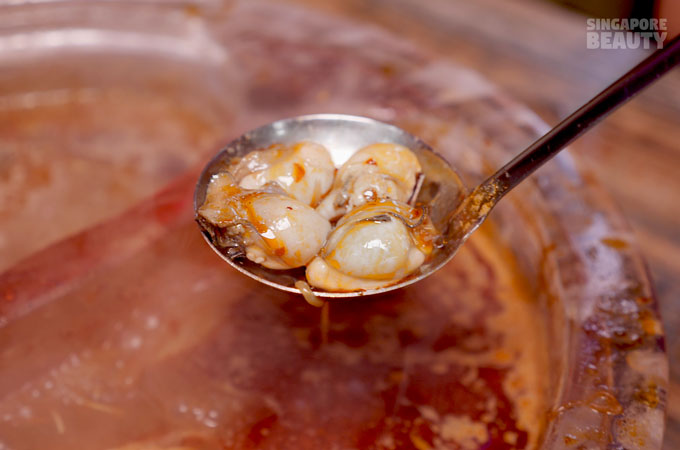 Still tender and succulent even after cooking in the hotpot.
In-house special – live demo of tepanyaki style oyster omelette by the crew. The oyster omelette is nicely seasoned and make into an omelette maki. Platted piping hot and served with drizzle of tangy sauce in bite size roll. Yum.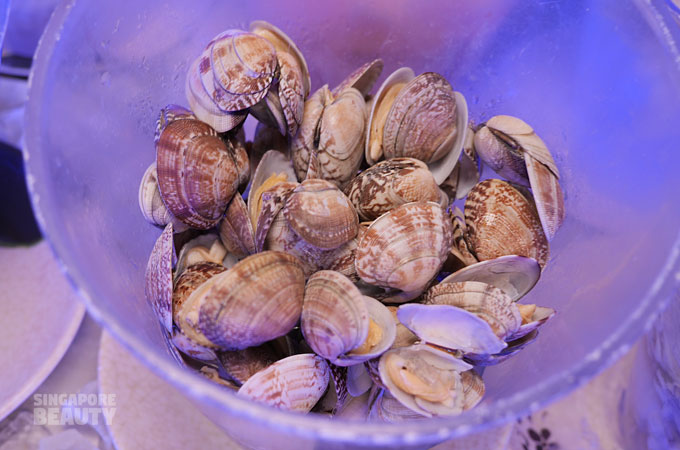 How about DIY-ing some stir fry asari clams in sambal, garlic and chill? You can have loads of these clams the way you want it using the BBQ hot plate, chomp chomp style!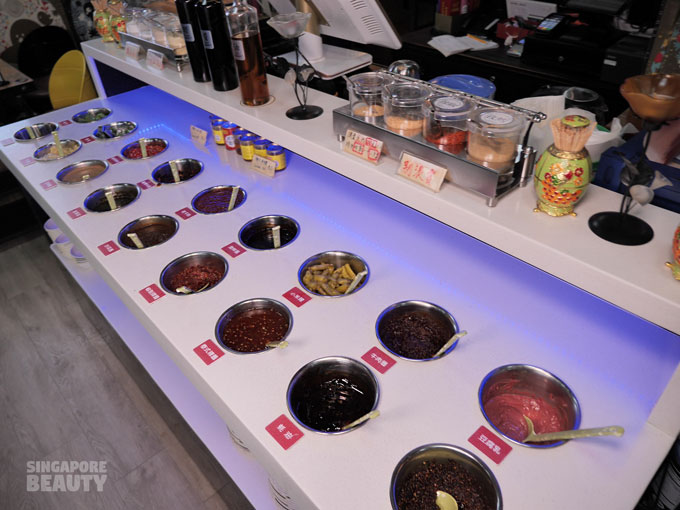 With more than 30 types of condiments, such as pickled green pepper, fermented bean curd, Thai chilli sauce, lao gan ma sauce, sesame sauce, minced beef sauce and many more to DIY your perfect BBQ seafood with or as dips to your hotpot items.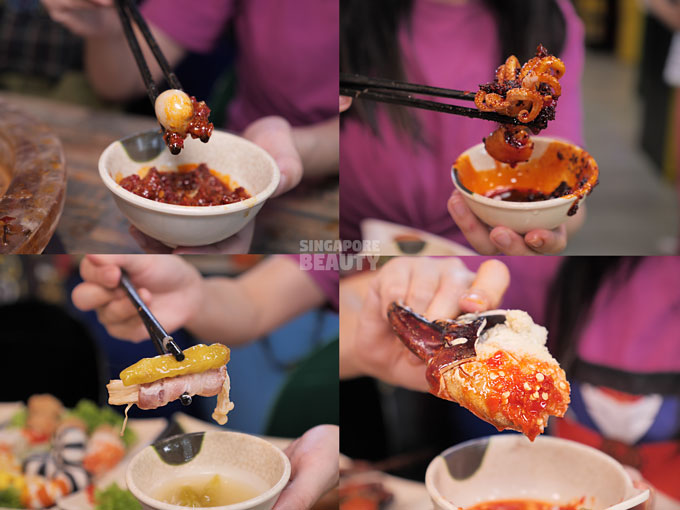 The pickled green pepper has a mild spiciness balanced by the tangy flavour. These go best with the BBQ meats. In-house special chilli sauce for the seafoods, Chinese dried crunchy chilli for oysters and sweet chilli sauce for the baby octopus.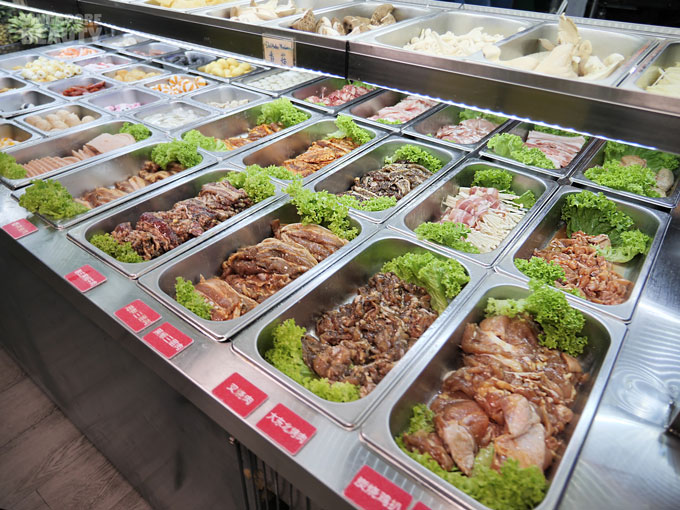 Meat lovers rejoice! They have plenty of shabu shabu meats that are freshly cut in shop. Korean and Chinese style marinated meats at the meat station for BBQ hotpot.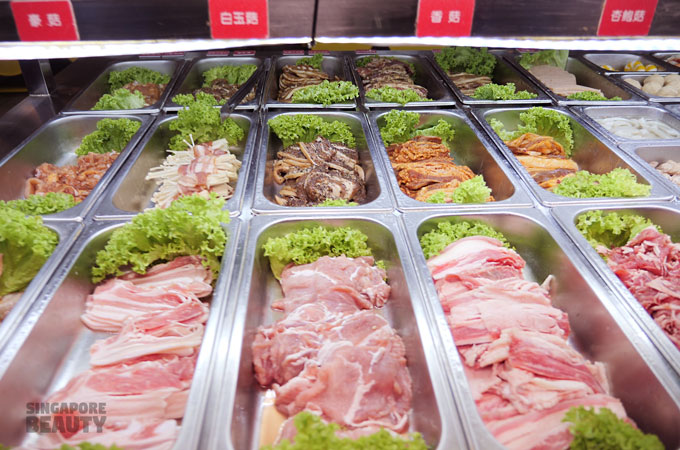 They have chicken, beef, pork and even mutton cuts!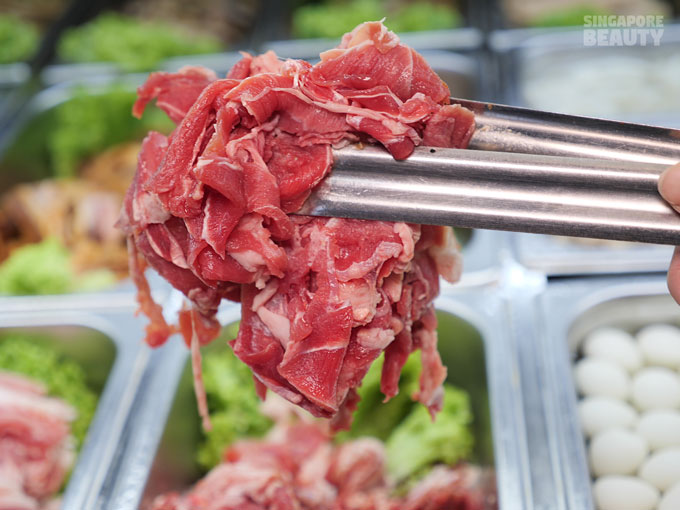 Mutton is prized for their tender texture with a hint of sweet undertone. Best way to BBQ them with the ground spices, salt and pepper provided at the condiment counter. This is the time to load up on mutton!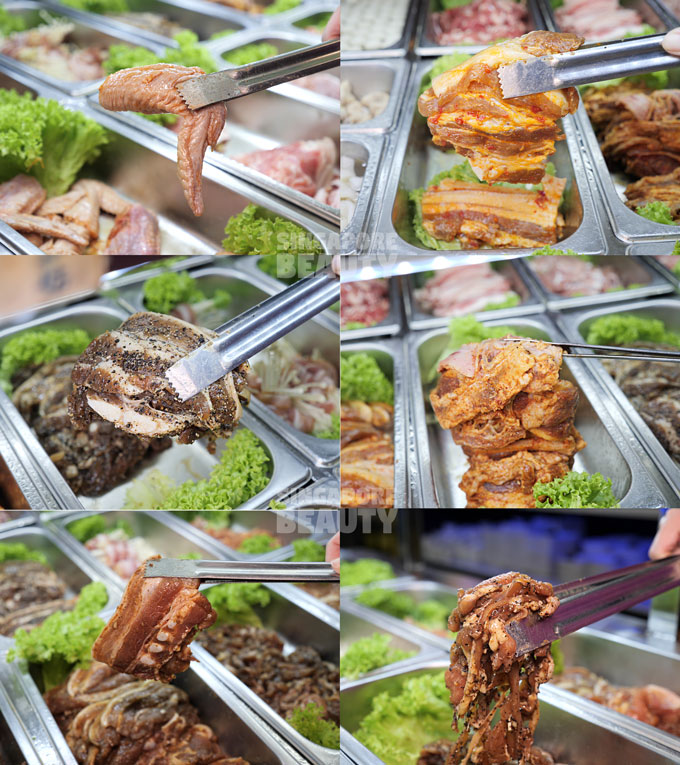 There are so many varieties of marinated meats and shabu shabu meat that you will be spoilt for choice. Gosh, the meat in Hollywood is so well marinated, there is never a dull moment. You can literally see the marinades – crushed black pepper, ground soy paste, chilli powder, grounded spices and garlic bits on the marinated meats. These meats have gone through deep tissue massages and spa inside the kitchen during preparation!
Time to BBQ them! The meats are ready when you see the orangey juices sizzling away and oozing out.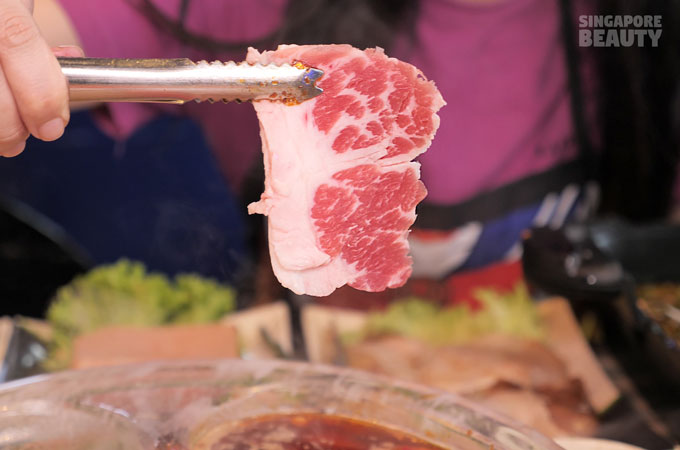 Hotpot for shabu shabu meat.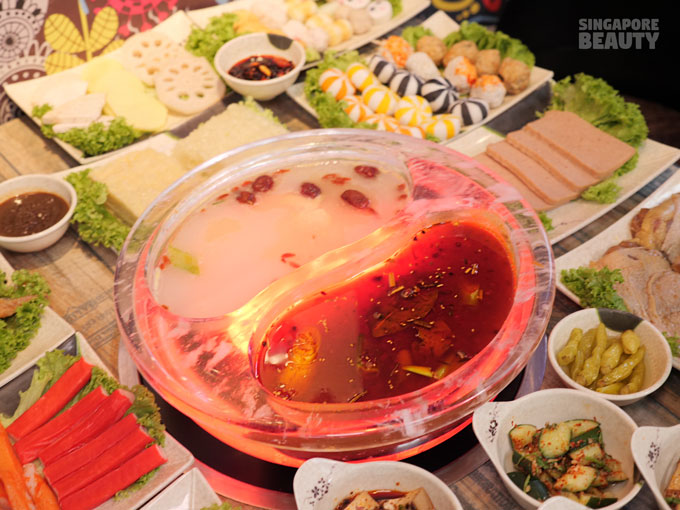 Hotpot is served in a crystal pot that is curated and made to order specially for the owner of Hollywood. The soup base available are Chengdu spicy (mala), nourishing mushroom, in house special pork bone soup, Thai Tom yum, herbal and tangy tomato soup.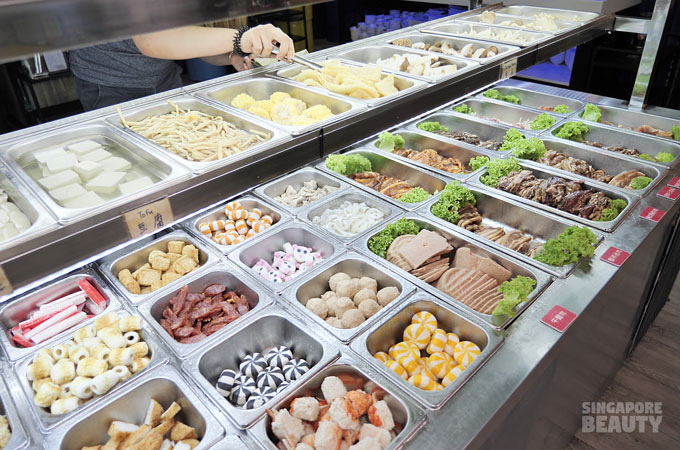 This is their spread of surimi. Crab claws, fish roe balls, luncheon meat, Chinese sausage, fish cake, roasted surimi roll, crab sticks, cheese tofu, dumplings, meat balls, crab balls, lobster tails, snow crab legs, black ink sotong balls, quail eggs, piggy Japanese fish cake and many more. The selections are amazing.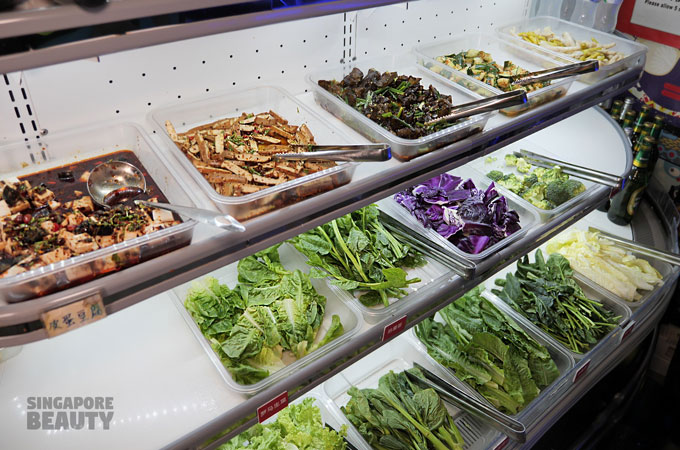 The green and starters station. The greens are premium selections – butter heads, di huang miao, red cabbage, broccoli, lettuce, caixin, you mia cai, spinach and Australian cabbage – great for hotpot or as meat wraps. The starters are those that you pay extra for in a restaurant but here in "Hollywood" buffet they are complimentary and free-flow. These are good if not better than those paid ones.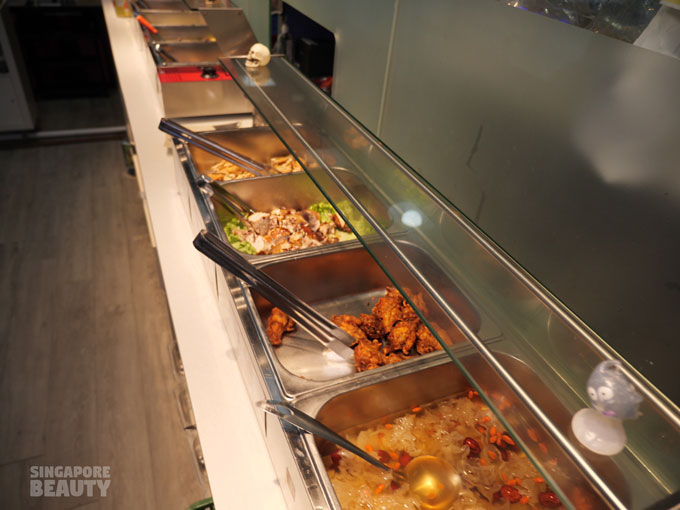 Hot station with 9 types of cooked food and dessert. These foods are served on a rotating basis.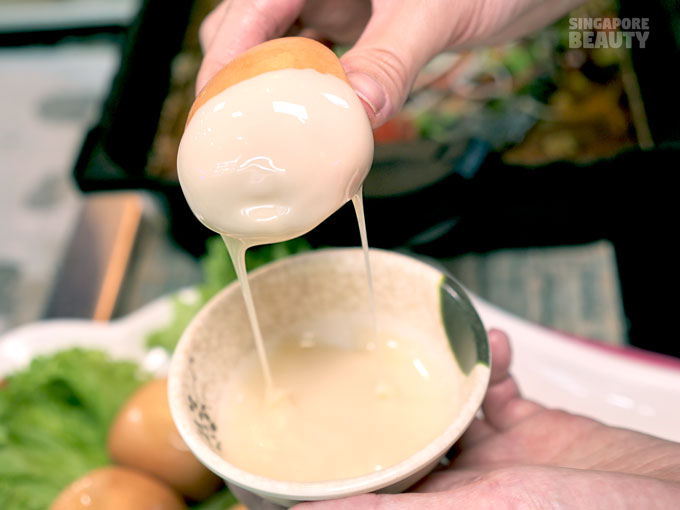 This time round they have white fungus wolfberry dates dessert, fried wings, roasted chicken, potato wedges, crispy bean curd skin rolls, mantou, pork ribs radish corn soup, mixed greens fried rice and nuggets. Mantou in condensed milk dip.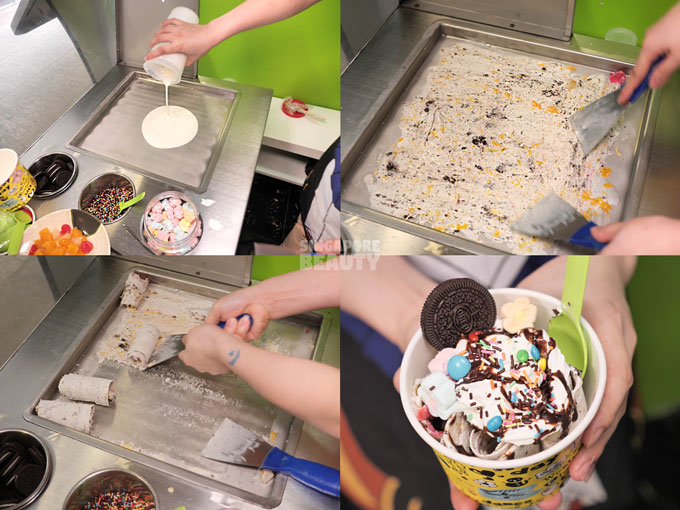 You can even DIY your own ice cream for add on of $5.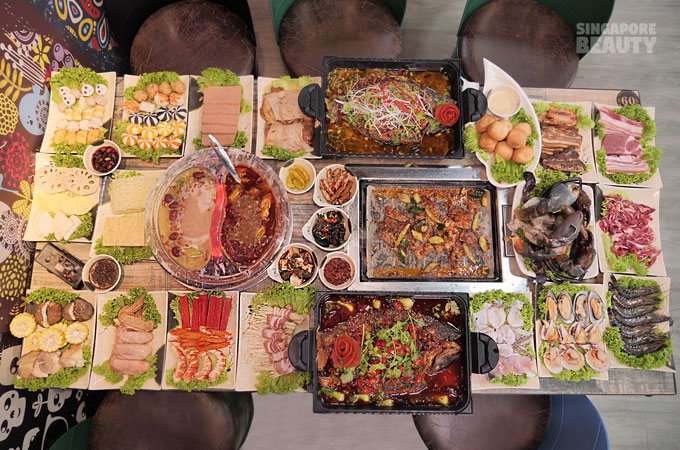 With so many types of quality seafood, marinated meats, shabu shabu meat, starters, cut fruits, hot station, entertainment, mala grilled fish, BBQ hotplate, crystal hotpot in this "Hollywood " Hao Lai Wu BBQ steamboat buffet, it is literally unbeatable in terms of food experience and price.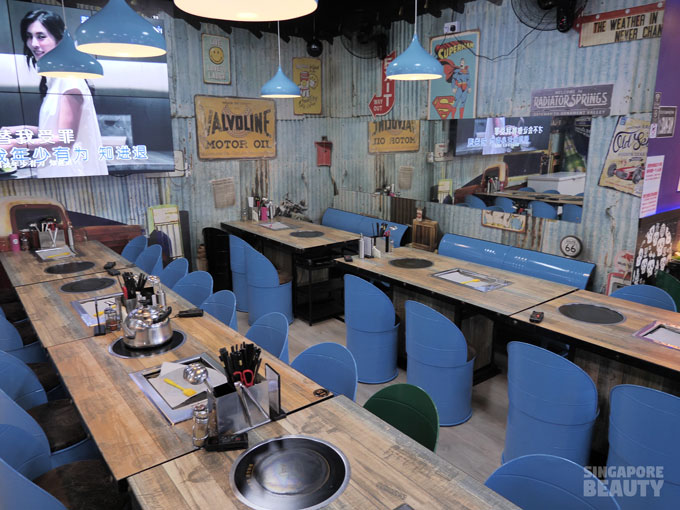 This is an air conditioned indoor BBQ hotpot place, great for small to large group gatherings.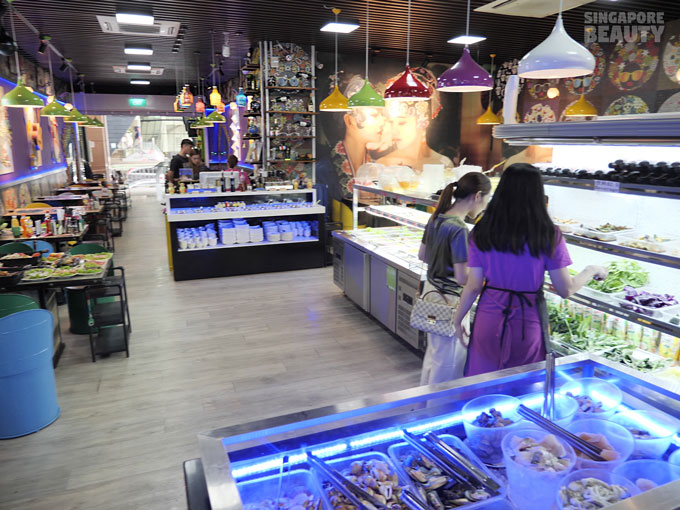 Ample space to pick and choose your food. Sitting arrangements are great too with good circulation space between adjacent tables. The seats double up as bag storage.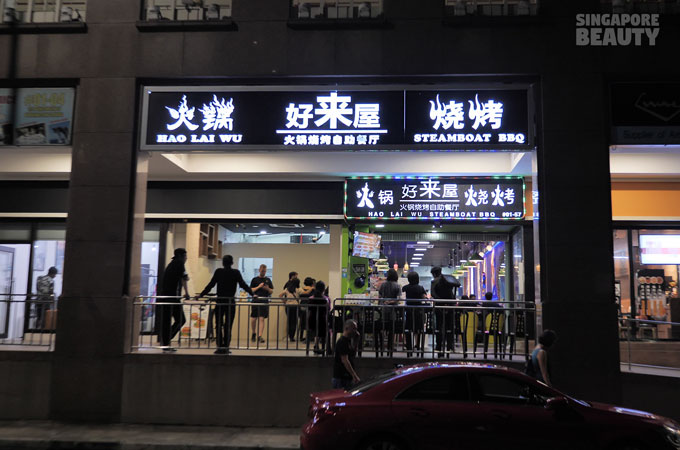 Conveniently located at the bugis and chinatown area. Head over soon or make a reservation for your table now!
This 3-in-1 hotpot & BBQ buffet with 1 grilled fish usual price is $45.60+. If you quote SingaporeBeauty, you will get them at $22.80+! One ala crate grilled fish is already $18.80+ but is now free with the buffet!
Minimum 2 pax to go for this buffet. Price quoted per pax in Singapore dollars. Offer extended till 31 July 2019!
Adult price for BBQ & Hotpot buffet + 1 grilled fish:
(Quote SingaporeBeauty to enjoy the below promo prices)
Monday to Sunday $22.80 +10% service charge
Eve and PH is $26.80 +10% service charge
$22.80+ per pax all days (quote SingaporeBeauty) from now till the 30th of June 2019.
Soup is included in buffet, choice of 6 soup bases – Chengdu spicy (mala), nourishing mushroom, in house special pork bone soup, Thai Tom yum, herbal and tangy tomato soup. You also get one grilled fish per table.
Single soup $6/ Dual soup $8.
Prices subject to changes without prior notice, call to ensure.
Buffet operating hours:
Monday – Sunday: 11.30am till 3am daily
Dine time:
No time limit**
**Unless peak hours – dine time may vary
Location:
Branch 1:
175 Bencoolen Street Burlington Square #01-57, Singapore 189649
8 mins walk from Bugis station (EW12/DT14)
Branch 2:
No. 6 & 8 Sago Street, Singapore 059012
Reservations:
Call them at
(+65) 67320816 (Bencoolen Street branch)
(+65) 62210065 (Sago Street branch)
Brought to you by (好来屋火锅烧烤自助餐厅) Hao Lai Wu steamboat & BBQ.