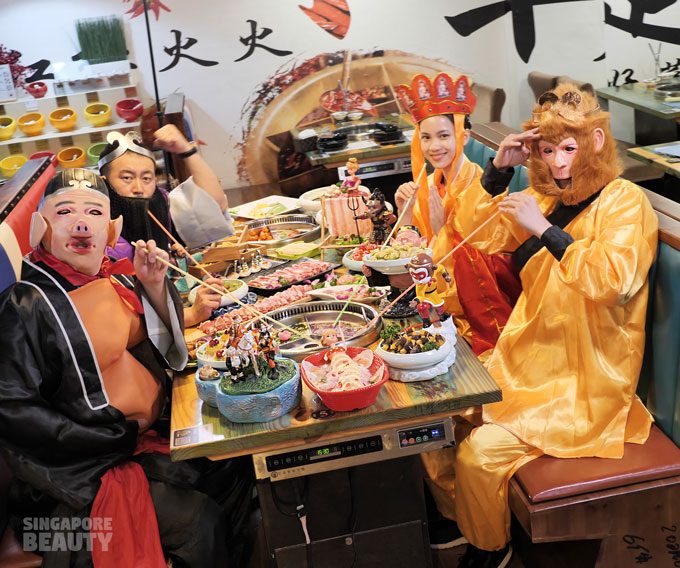 Want to have fun while enjoying your favourite bubble tea and mala hotpot?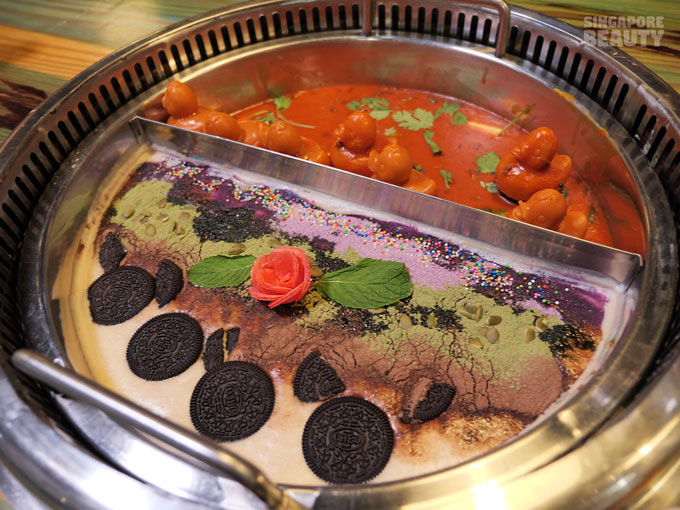 Jiu Gong Ge Hotpot has added bubble tea hotpot for your sweet tooth while having the savoury mala hotpot at the same time.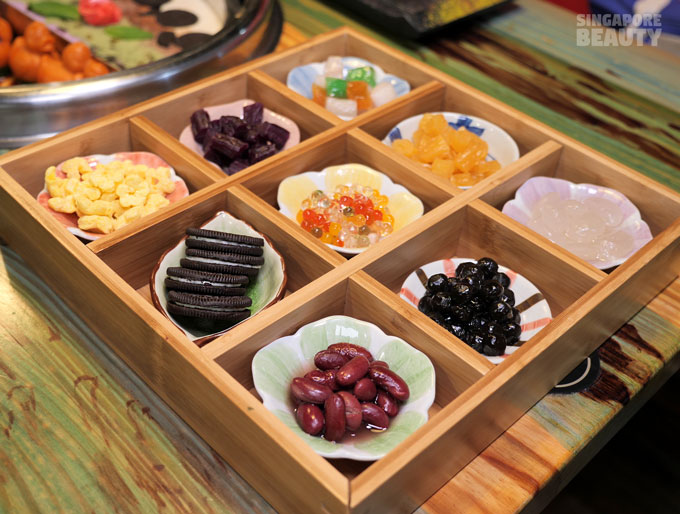 A platter with 9 toppings for your bubble tea hotpot.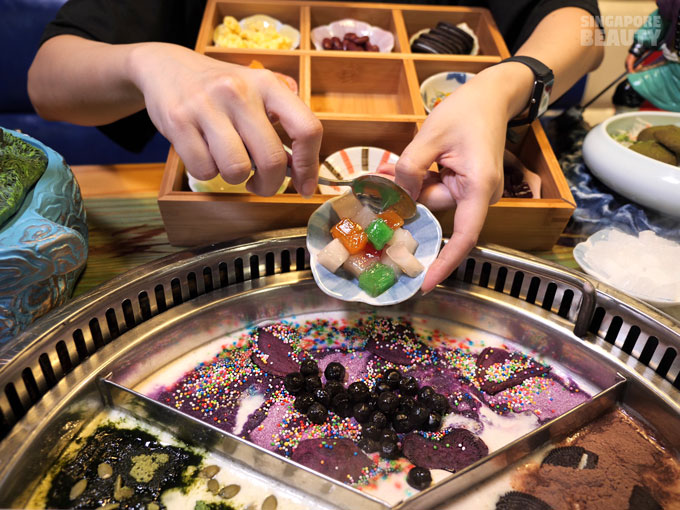 Red kidney beans, brown sugar pearls, attap chee, tadpole eggs, sweet potatoes chunks, oreo, purple yam, honey stars and bobo chacha.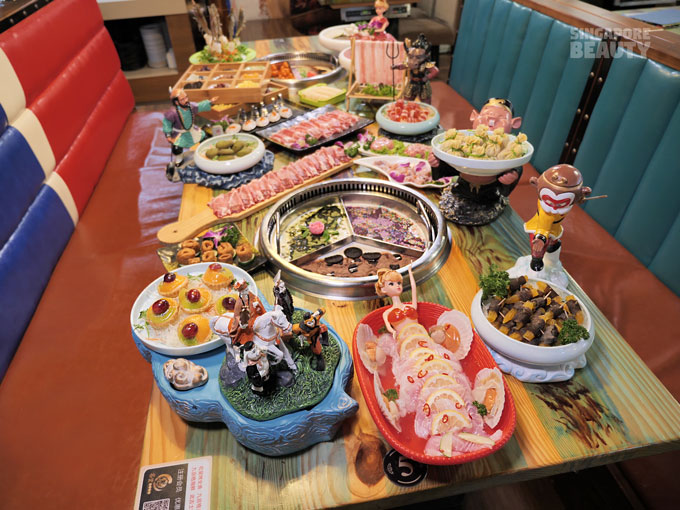 The restaurant's theme for this season is a remake of the Chinese fantasy – Journey to the West (JTW) with JTW meal.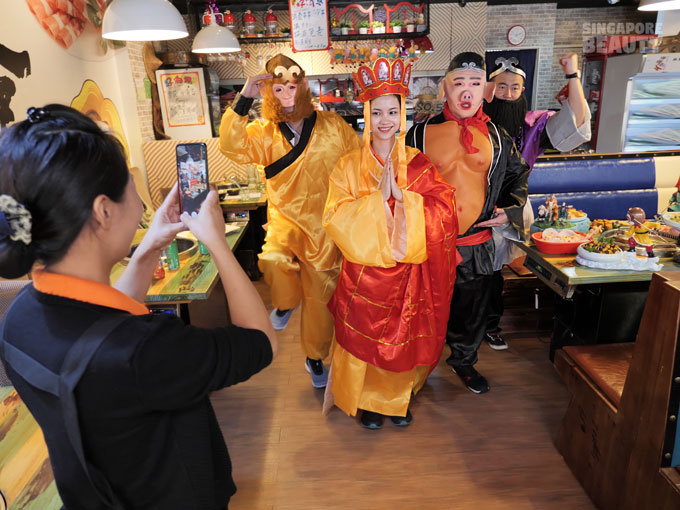 Jiu Gong Ge Hotpot has recreated this Chinese fantasy where you can get to role play and take a selfie with your mates in the restaurant when you order the Journey to the West meal.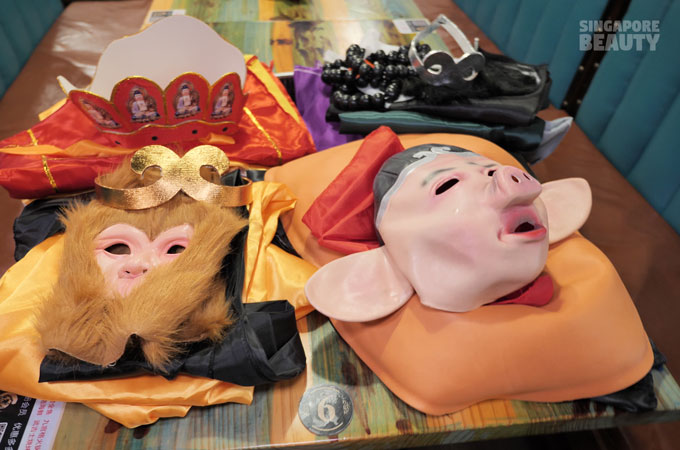 Role playing with the most realistic costume, accessories and head gear – that is promised to tickle your funny bone. They have Tang Sanzang and his disciples – Sun Wukong, Zhu Bajie and Sha Wujing.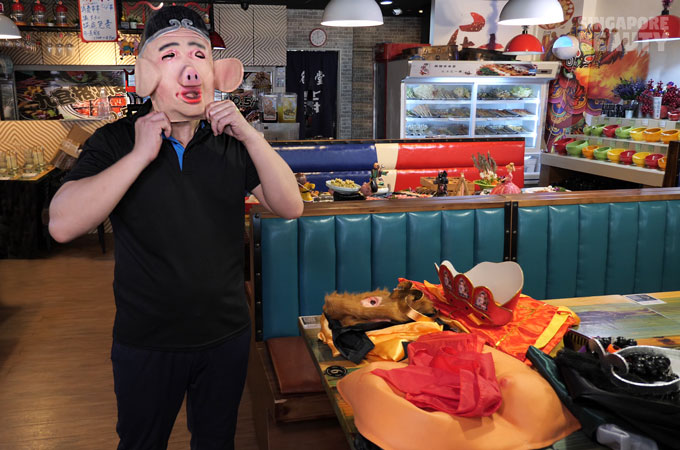 Here is one of their customers trying on his costume for a selfie.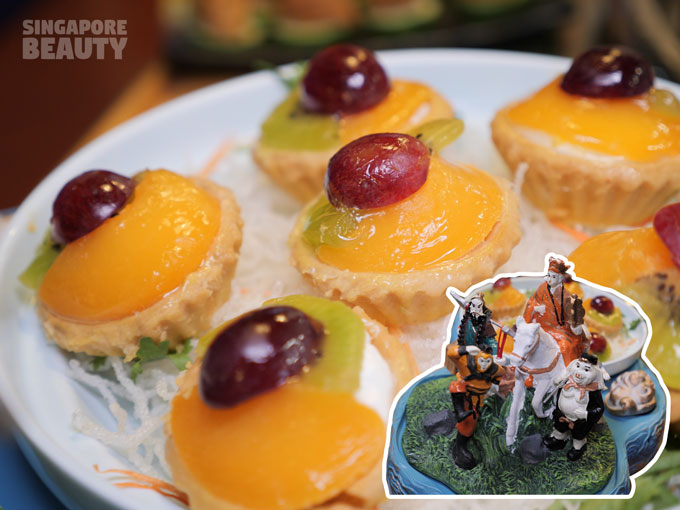 Some of the selections from the Journey to the West's menu. The Tang Sanzang and his disciples mixed fruit tarts as starters.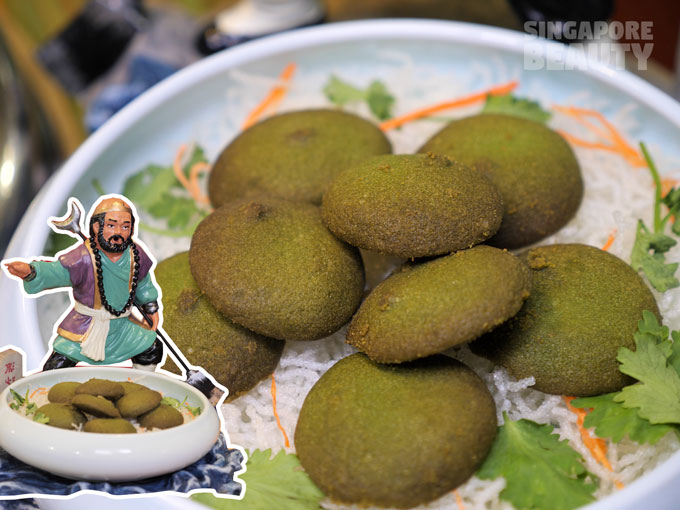 Sha Wujing with his matcha cream core cookie for your sweet tooth.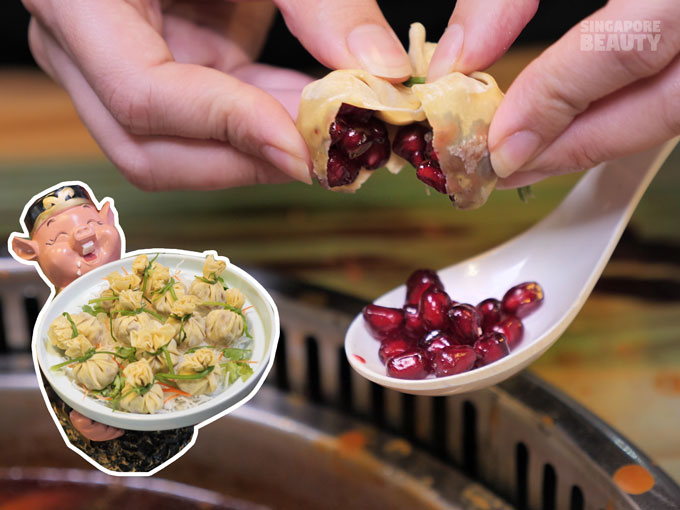 Zhu Bajie with his handmade pomegranate dumplings.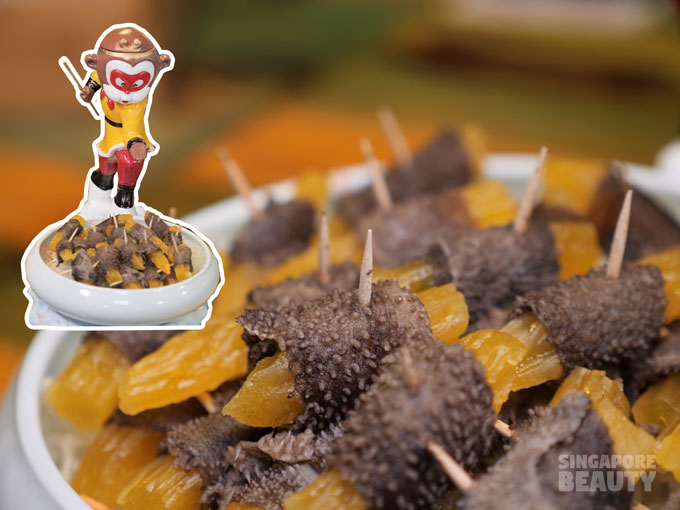 Sun Wukong with his sweet potato offal wrap.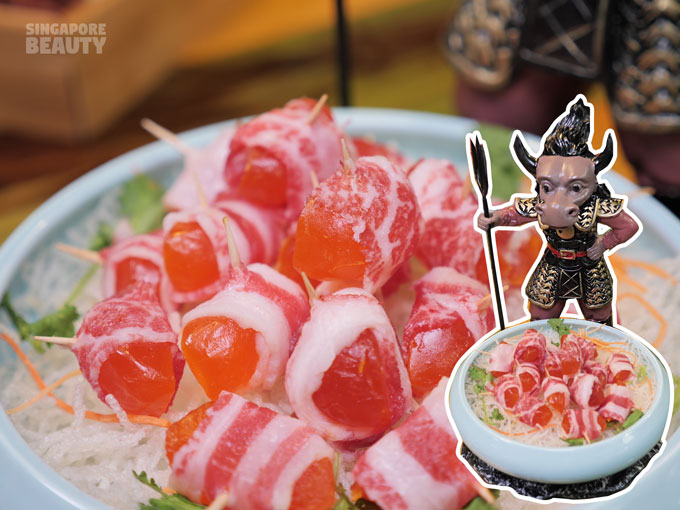 Bull demon king with his salted egg beef roll. For salted egg lovers, these are golden custardy salted egg yolks for you to savour with ribbons of beef.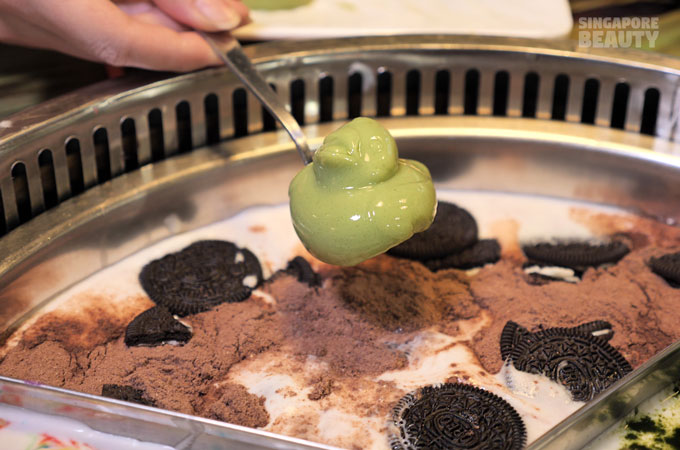 Cute duckling or fish pudding in 3 flavours (matcha, mango and durian) are also available for the bubble tea hotpot. Check availability with them if you are heading over for a certain flavoured pudding.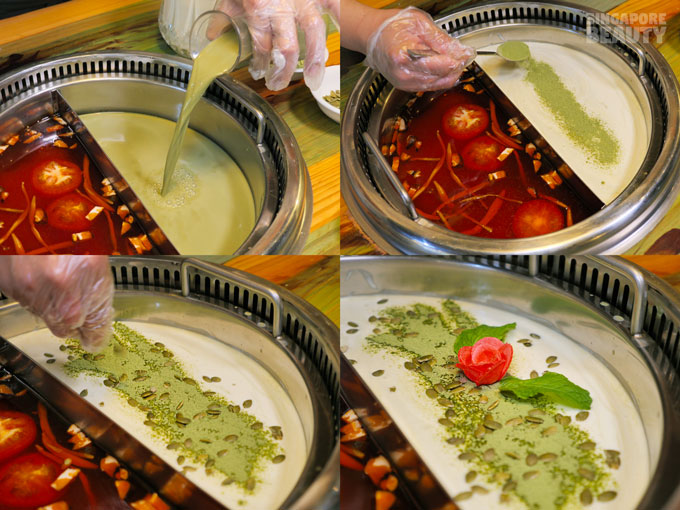 Ever wonder how your favourite bubble tea is made? You can request for a live demonstration of how it is made when you order your bubble tea or DIY it yourself. The service crew will be happy to assist and show you how it is done.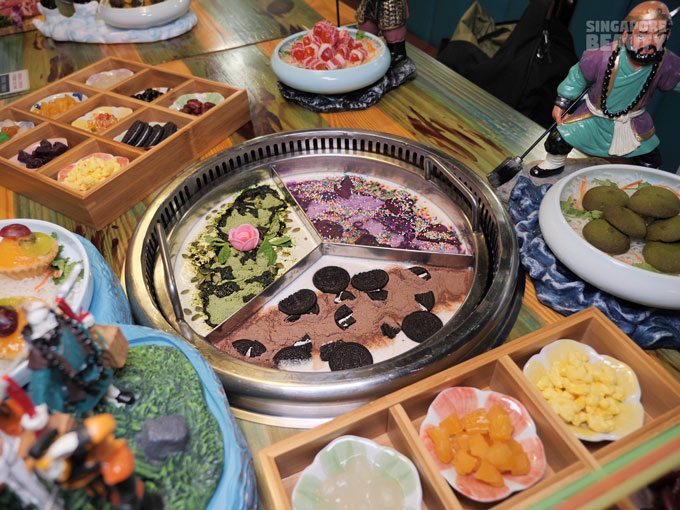 Here is a trio bubble tea hotpot. It has the best of three worlds – purple yam, cocoa and matcha bubble tea pot.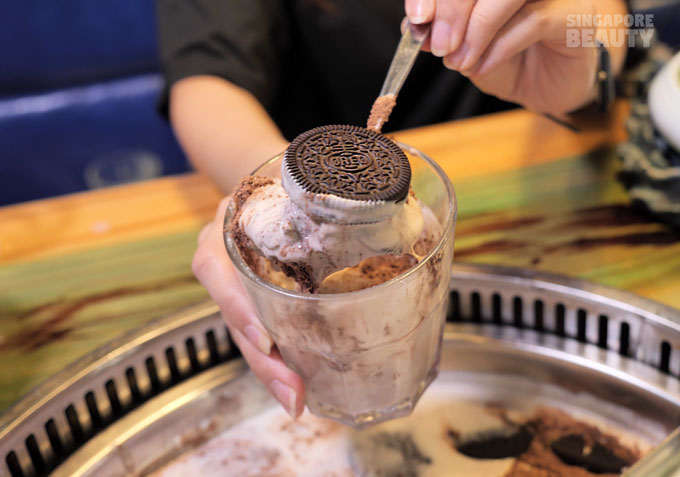 Share the bubble tea with your friends, great for 4 pax and more. The consistency of the bubble tea is of a creamy custardy texture with some interesting bites from the toppings.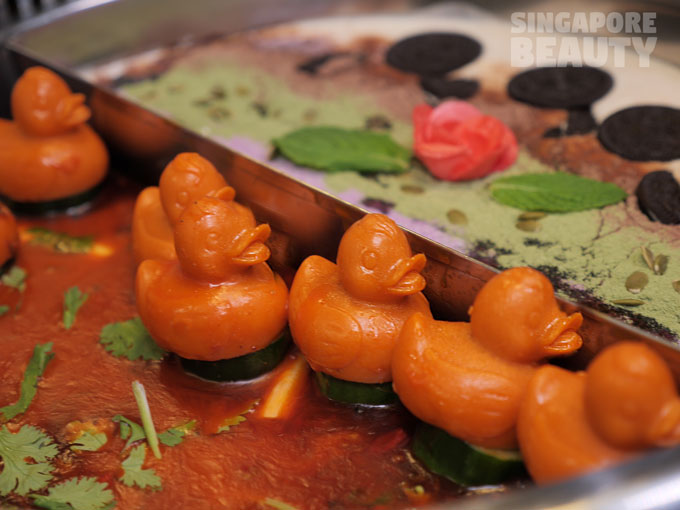 Of course, besides the bubble tea hotpot, you can choose a soup base of your choice in the duo pot. We choose the chef's recommendation – the mala soup base. The cute ducklings are mala butter to give the soup a velvety texture.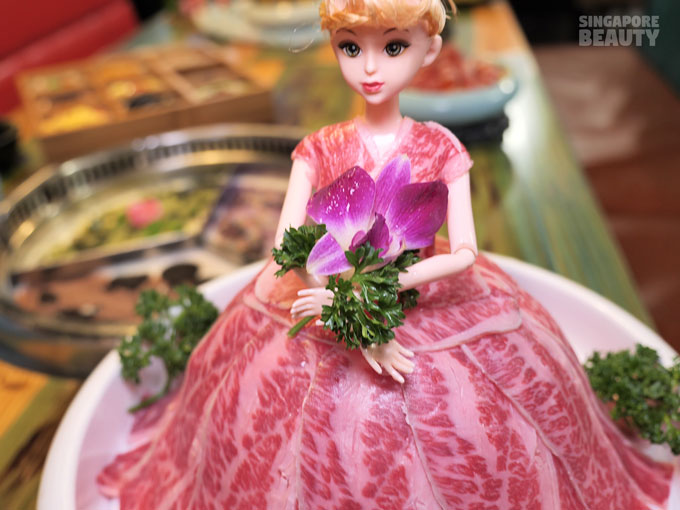 Barbie wagyu beef comes with ribbons of marbled shabu shabu meat. These are great for mala hotpot as they cook quickly and the fat to meat ratio helps to ensure these cooked wagyu remain tender.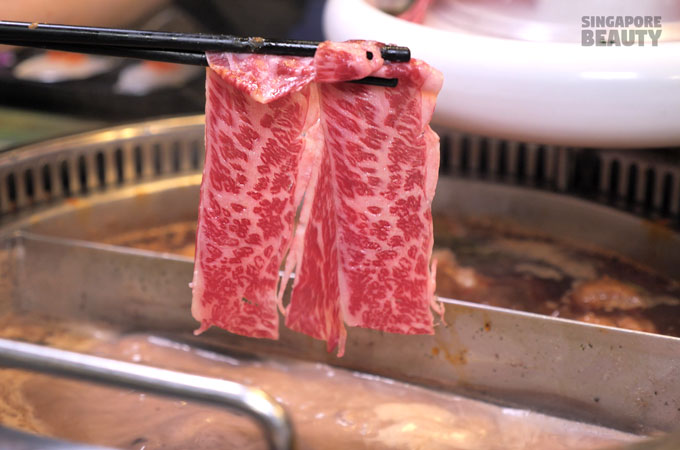 Try cooking these wagyu in the bubble tea hotpot, the cream in the hotpot renders it an interesting milky flavour. This is an acquired taste but is a great new experience.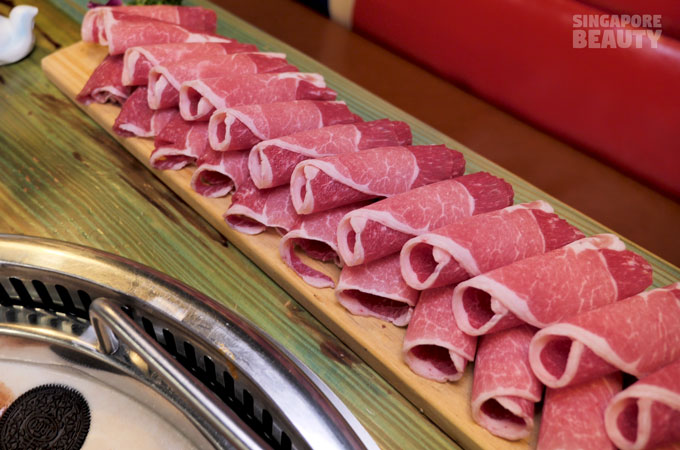 Mutton platter right off the chopping board for the mala hotpot.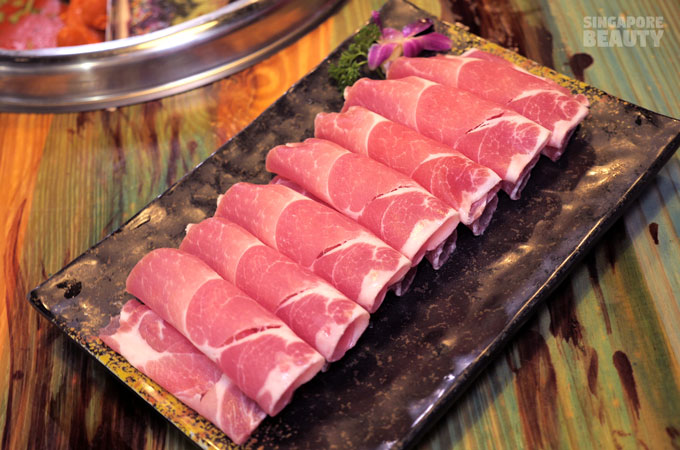 Shabu shabu pork is great for 2 pax to share.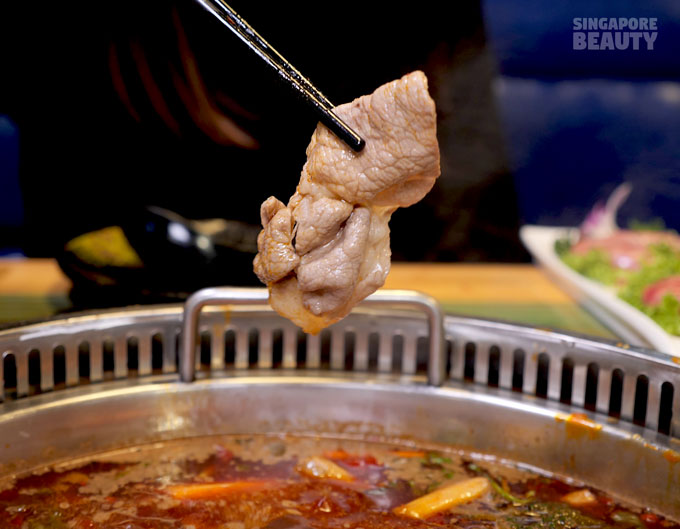 The cooked shabu shabu pork is infused with the flavours of the Mala hotpot spices.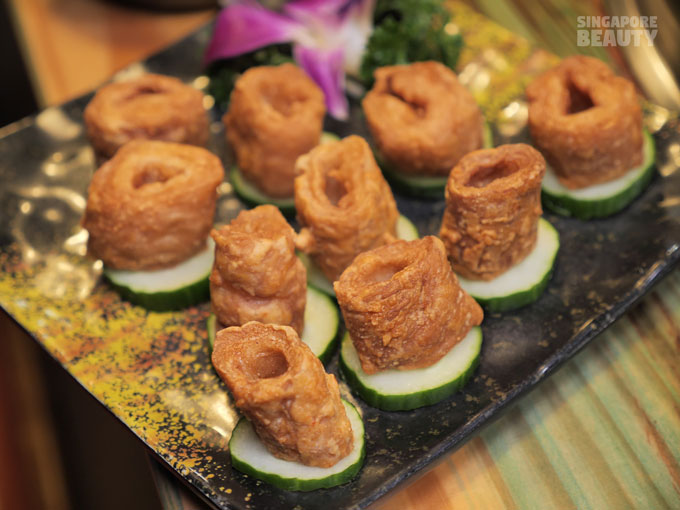 Crunchy springy pork intestine are best eaten hot. This is a special order that you have to let them know if you want your pork intestine fried.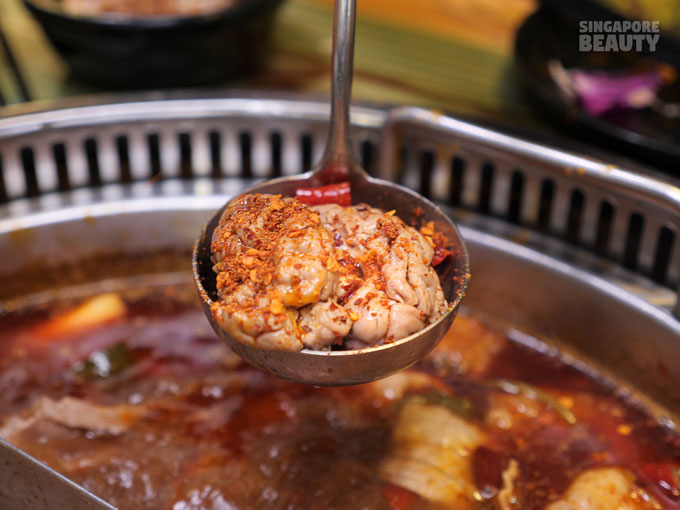 Pork brains with dry chilli spice powder. Melt in your mouth custardy and creamy.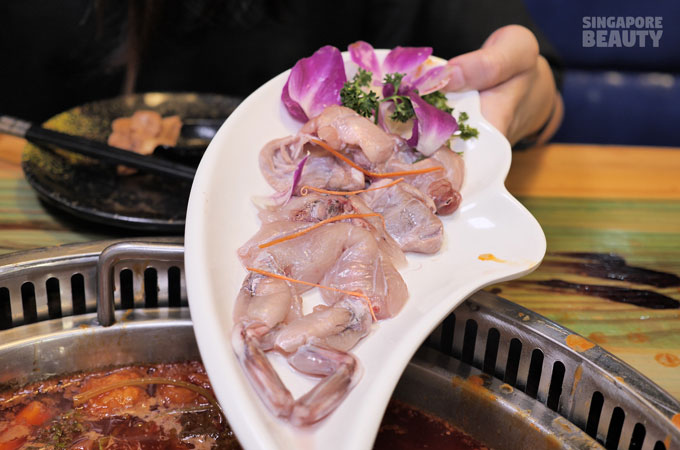 Exotic bull frogs are also available. This texture is liken to that of chicken and has some gelatine-like bite to it.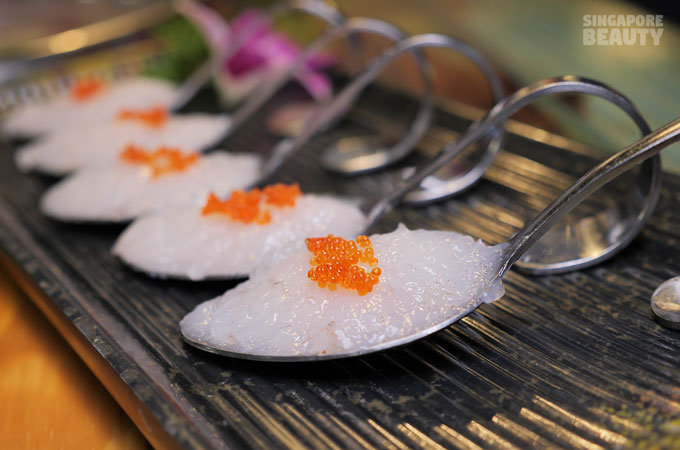 Handmade fish paste with flying fish roe.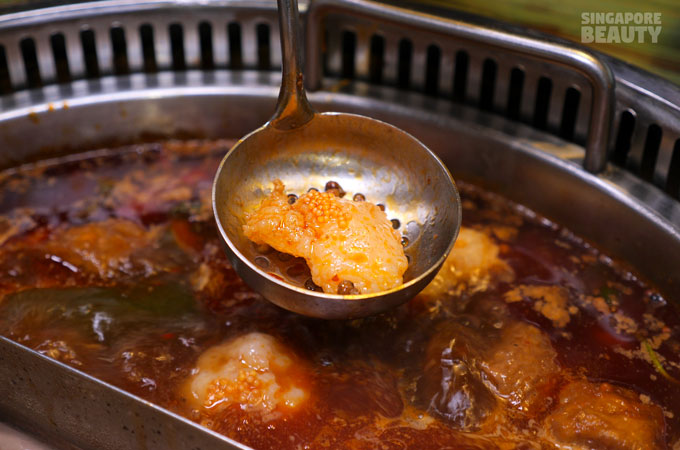 Love the texture of these cooked fish paste with the occasional pops from the roe.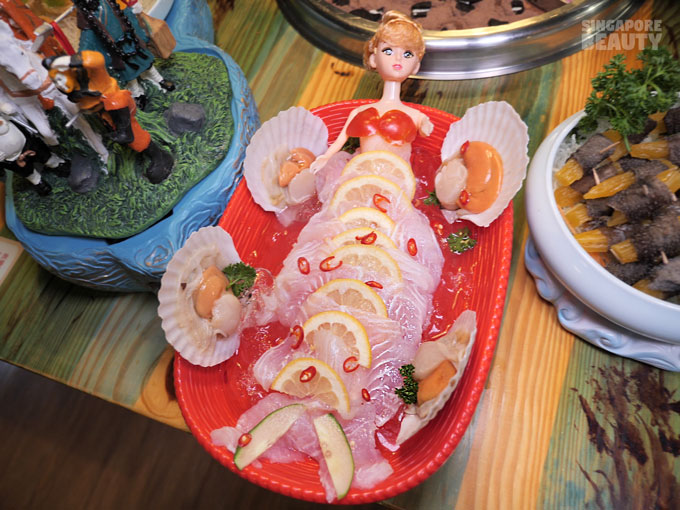 Or some mermaid dory fish fillet for your hotpot?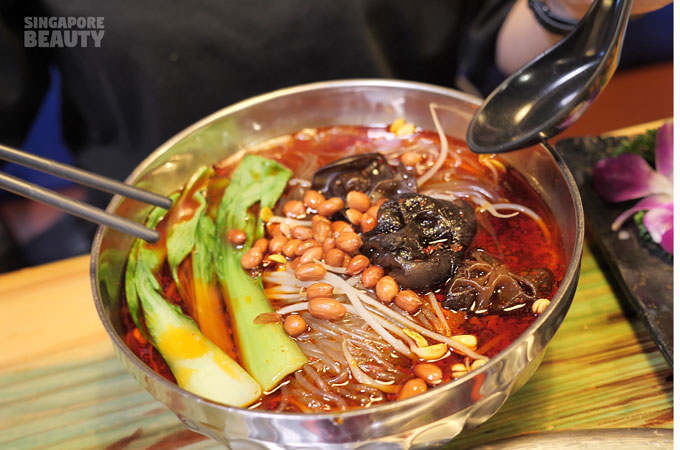 Hot and sour rice noodle got me hooked after trying this at Jiu Gong Ge Hotpot. Simple dish of rice noodle in savoury spicy and sour soup. Comes with some greens, soy bean sprouts, baby black fungus and crunchy ground nuts.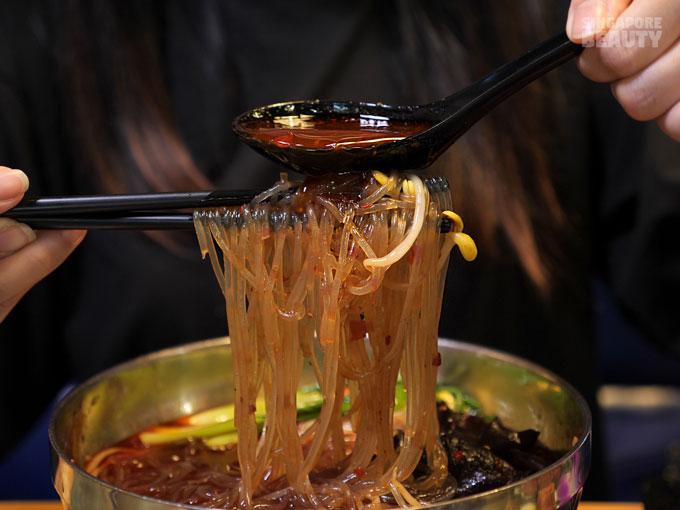 The noodle texture is addictive. This is my first encounter with hot and sour rice noodle and will definitely not be the last. Try it.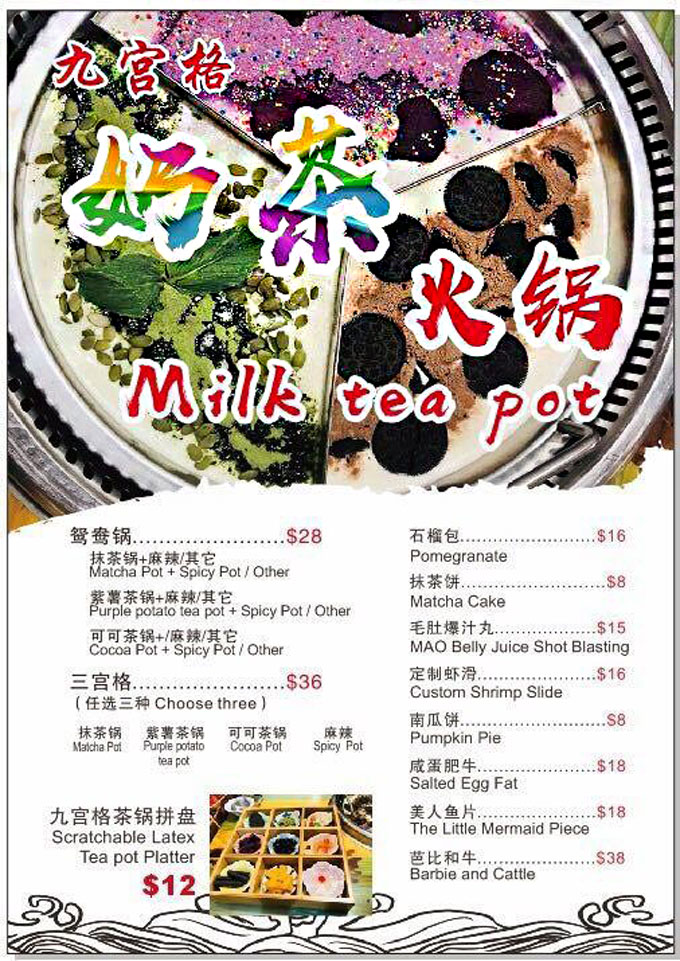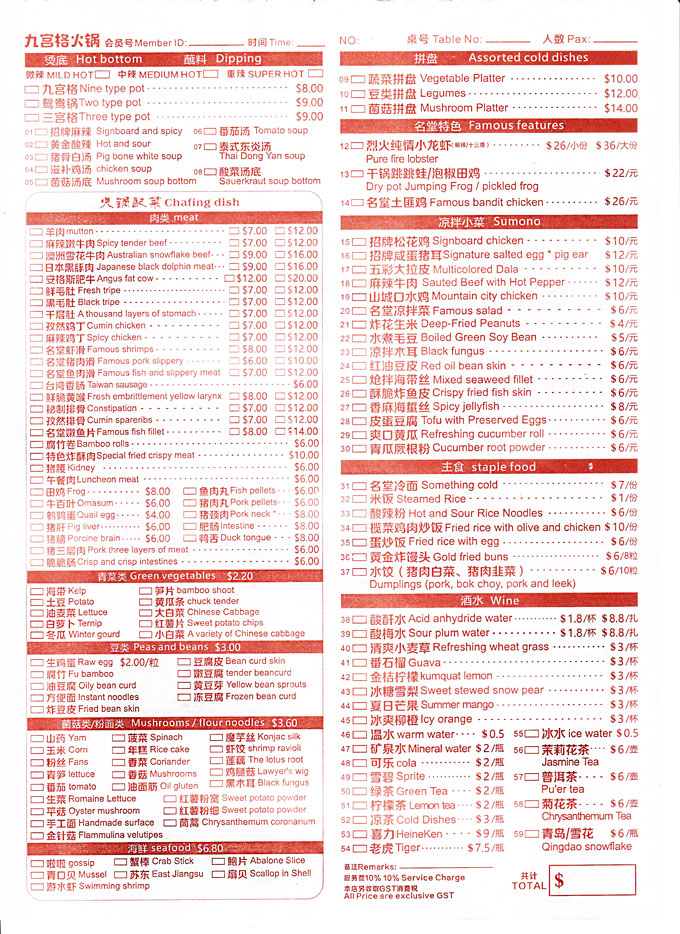 Check out the prices and items on the menu here.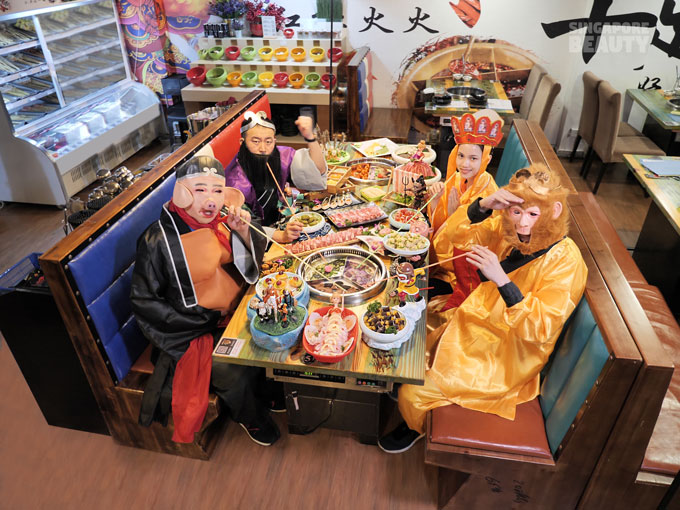 With so many creations in Jiu Gong Ge Hotpot, it is time to head over soon and make a reservation for your Journey to the West bubble tea and mala hotpot meal.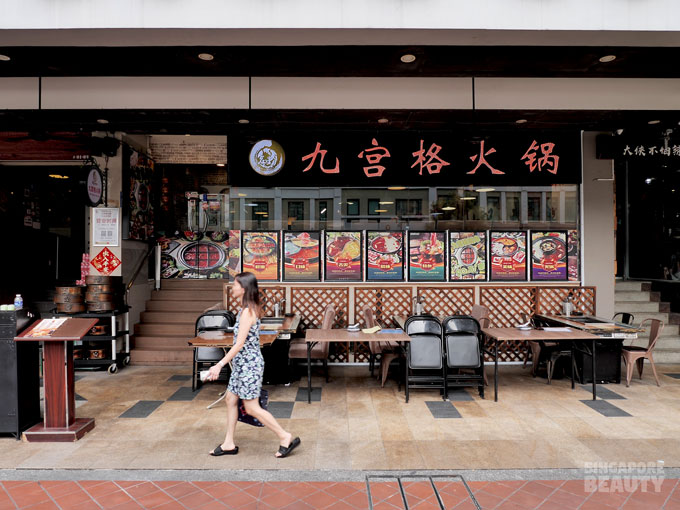 See you there!
Location:
Jiu Gong Ge
470 North Bridge Road #01-02/#01-03, Bugis Cube, S188735
Operating Hours:
Open 11.30 am to 2am Daily
Reservation:
(+65) 63383405
Brought to you by Jiu Gong Ge Hotpot (九宫格火锅)