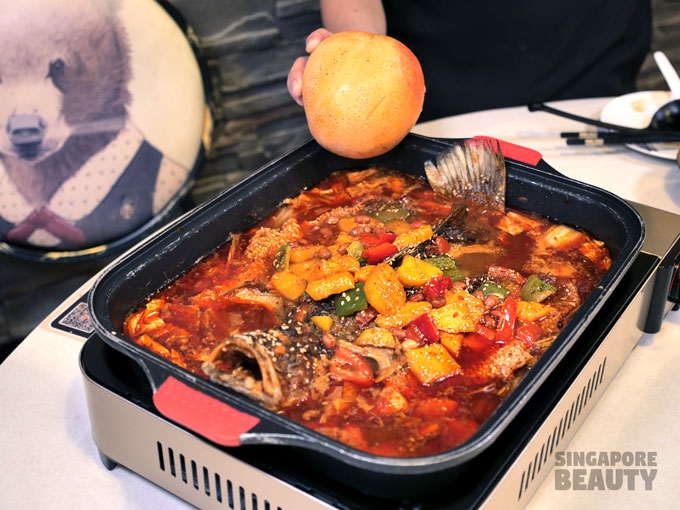 Ming Tang spicy roast fish (名堂烤鱼) has launched an incredible new flavour for grilled fish, Mango Tango grilled whole fish in mala broth. With 7 flavours of grilled whole fish to choose from at only $9.90* each, available Monday to Friday lunch (exclude Public Holidays and Eve) with no minimum spending. The usual price of grilled fish starts from $30* to $48* for any other time and days of the week.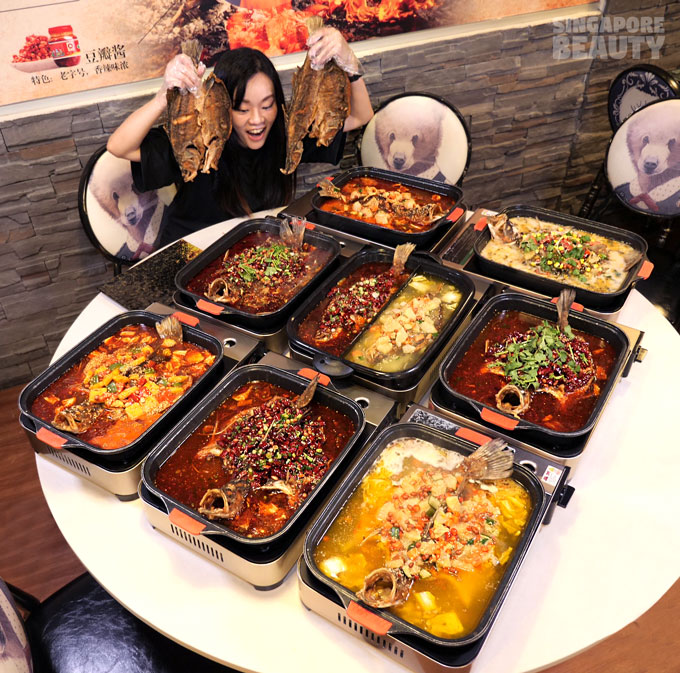 For $9.90* grilled fish for lunch, you get a whole good size grilled fish with generous amount of ingredients. This is good for 1 to 2 pax to share.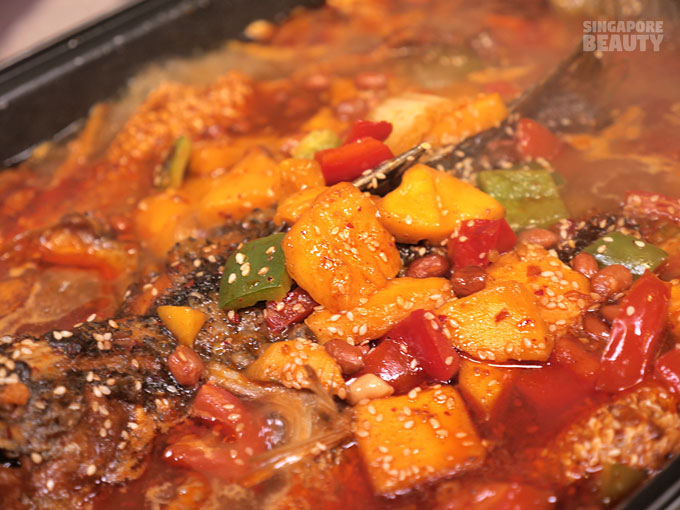 Mango tango grilled fish with chunks of sweet mango, green pepper and red pepper in Mala gravy. The mango adds a refreshing dimension to the savoury mala gravy.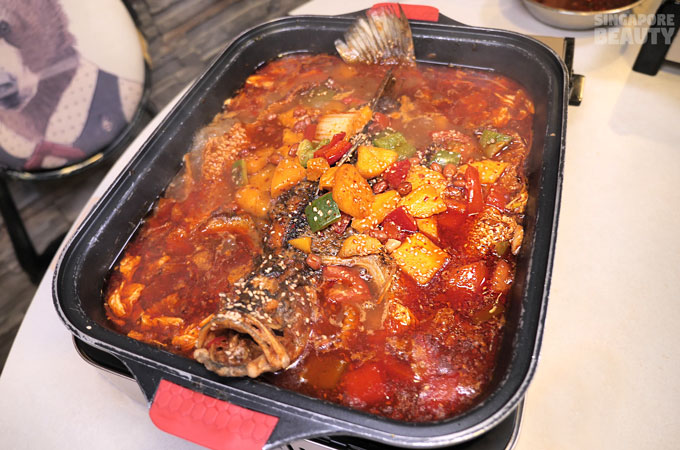 The ingredients are chunky mango, green pepper, red pepper, roasted ground nuts, sesame seeds, tomatoes, loads of savoury fish on a bed of cabbage and soy sprouts.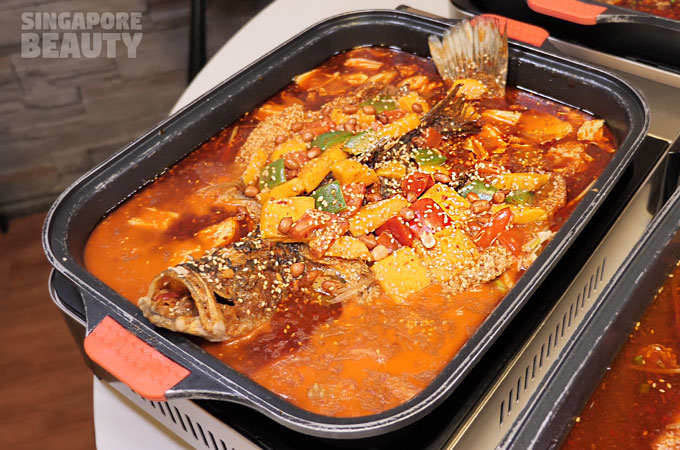 Attack those chunks of mango once it is served, once it starts to simmer, the mango will melt into the buttery mala soup base.
The mangos used are the premium types with thick chunks of juicy flesh and minimum fibres. These freshly cut mango goes well with the savoury mala soup base that is light and delightful. Must try.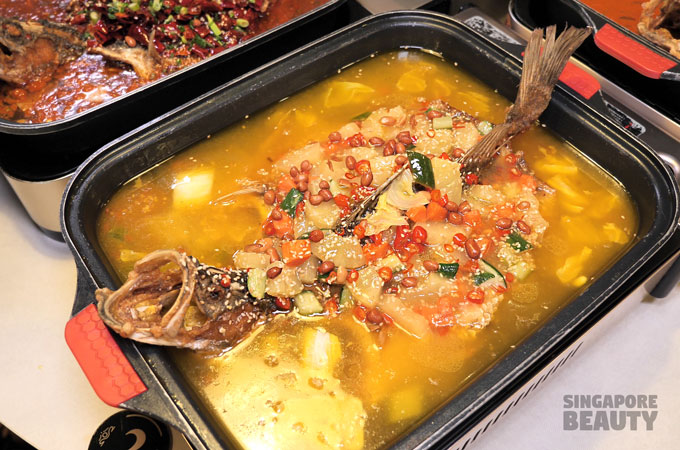 The other new flavour is pineapple grilled fish.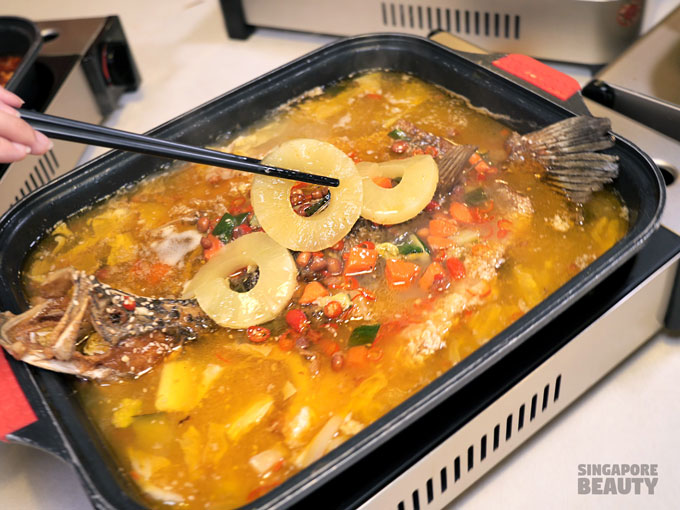 The pineapple heightens the sweetness of the fish. The golden hue of this fish broth is how rich in flavours this pineapple grilled fish is.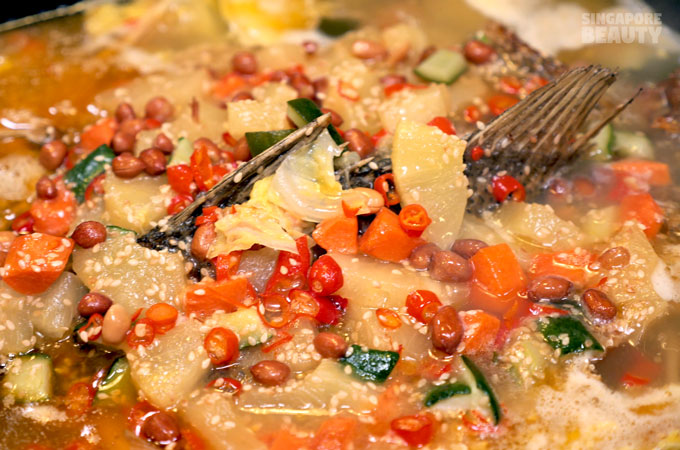 The ingredients for the pineapple grilled fish are pineapple chunks, Japanese cucumber cubes, carrots, ground nuts, loads of fish on a bed of cabbage and soy bean sprouts.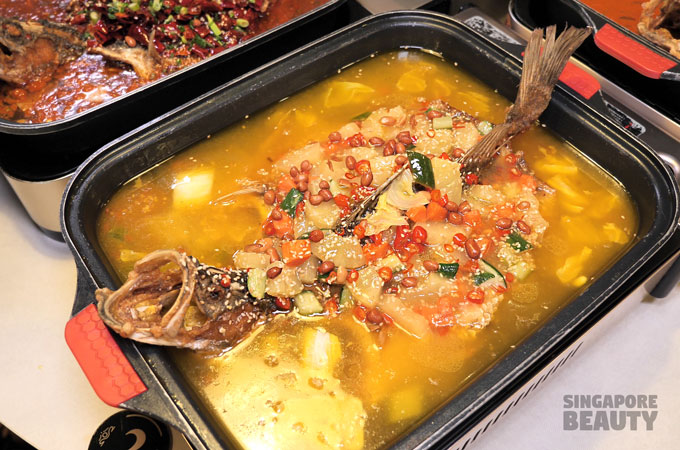 The golden chunk of fruity pineapple goes well with the tangy soup base that is not overly sharp. The soup base is excellent broth for the fish and has an old school taste to it.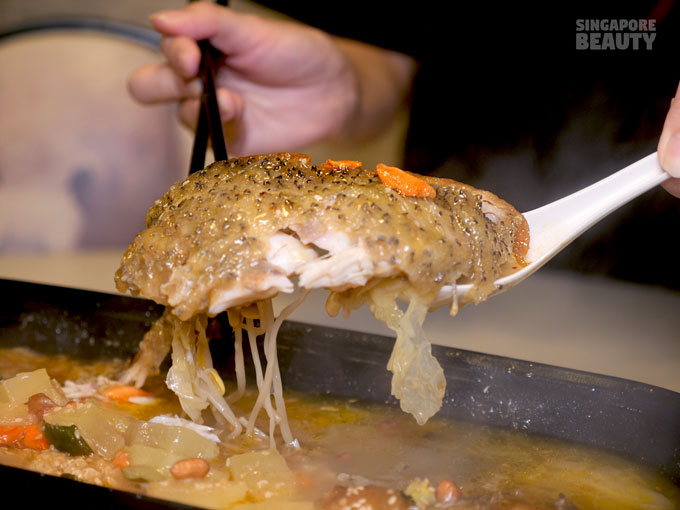 The soup base is like the Teochew style steamed fish soup base. Addictive fish chunks, a hint of brine with a sour undertone that is pleasant to the taste buds. Another must try.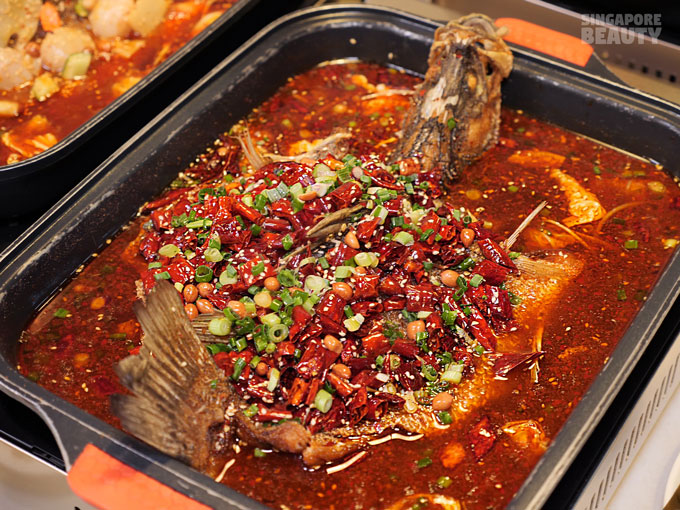 At Ming Tang Kao Yu (名堂烤鱼), Mala grilled fish is one of the must order. The intense orangey red chilli and gravy says it all. Strong depth of Mala flavour infused into every inch of the grilled fish.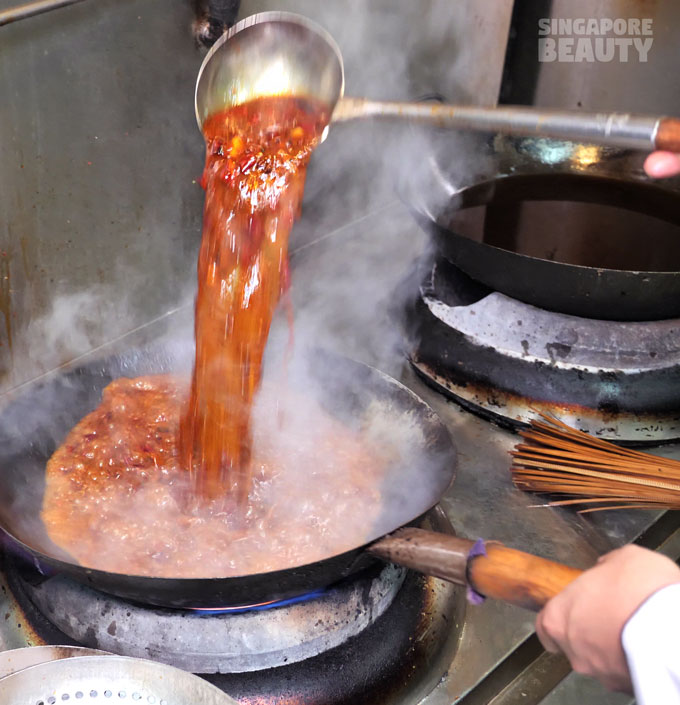 The mala gravy is made from more than 9 ingredients cooked on high heat and made fresh for every grilled fish.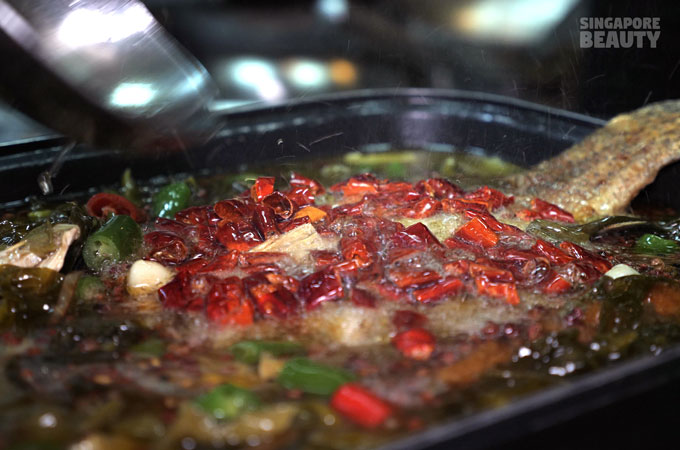 You can almost smell the fragrant and pungent strong flavours emitted when the red hot oil is doused on these dried chilli pepper for the mala grilled fish.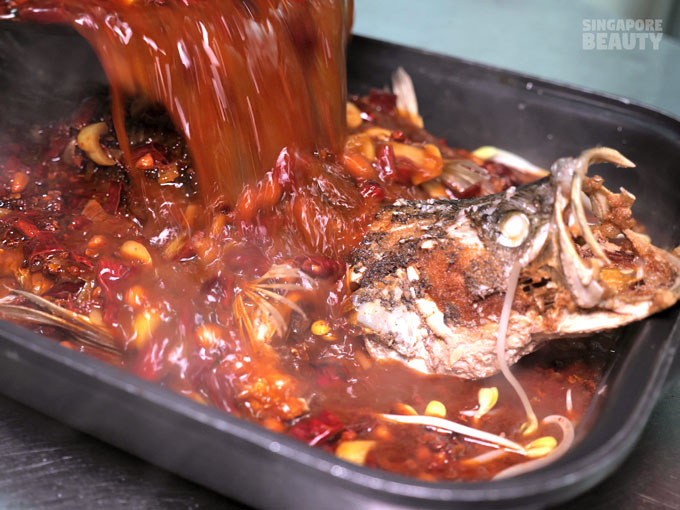 After which the mala gravy is doused on the fish and served simmering on your table.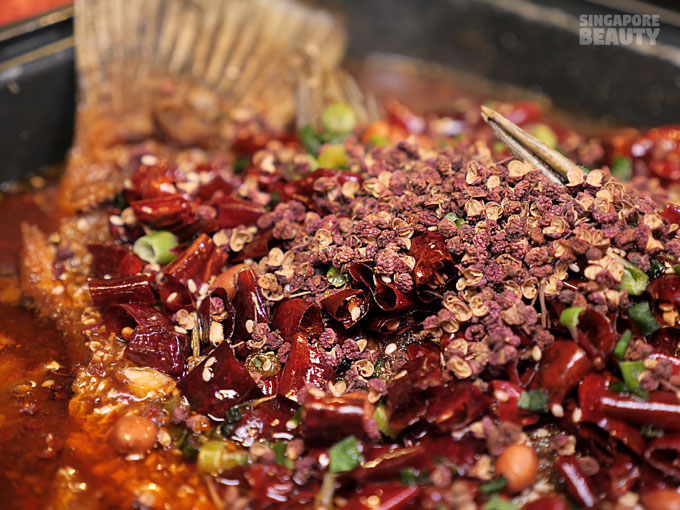 Loaded with Sichuan peppercorns, dried chilli, pops of garlic, spring onion, ground nuts, bed of cabbage, soy bean sprouts and a rich butter based mala gravy, this mala grilled fish is all out to wow you.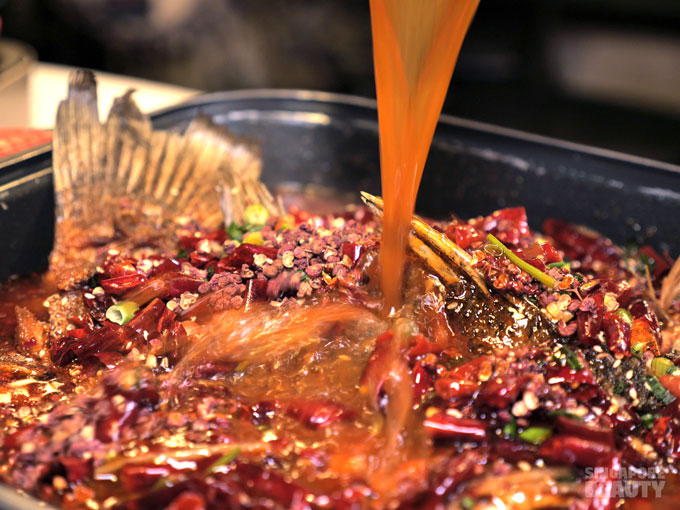 The lip numbing and complex flavours of the mala could not get better than this. You can adjust the spiciness of the mala grilled fish to your preference.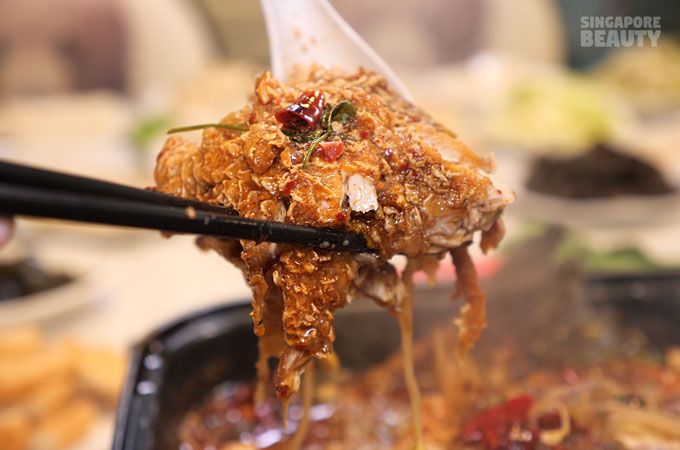 Chunks of fish with fluffy gelatine like skin oozing with chilli laden gravy.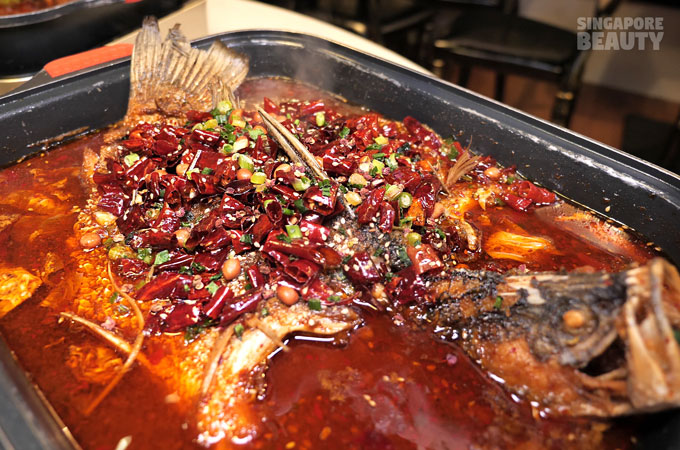 Intense.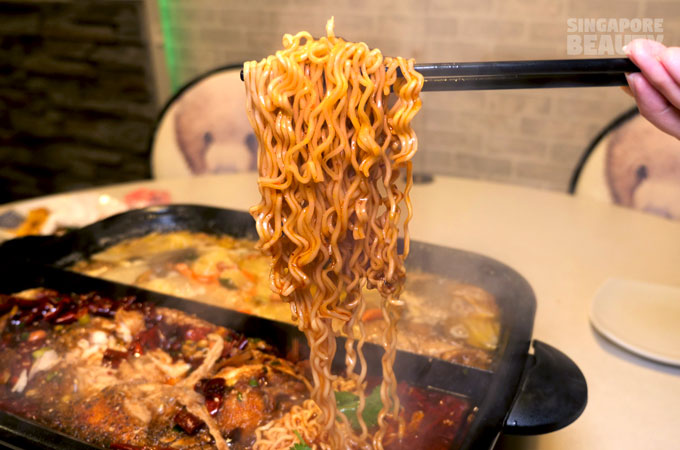 If you order mala grilled fish, do get an instant noodle to cook in the mala broth. Mala and instant noodle are the best friends that go hand in hand.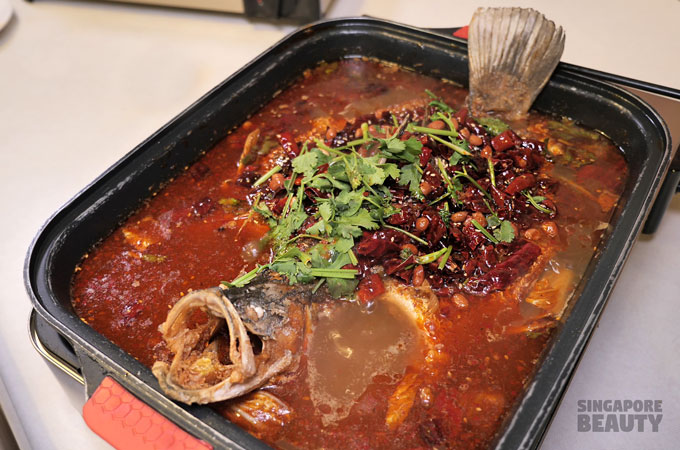 Fragrant and spicy grilled fish is a distance cousin of the mala grilled fish. Fragrant grilled fish is characterized by the aromatic parsley flavours in place of the numbing Sichuan pepper corns.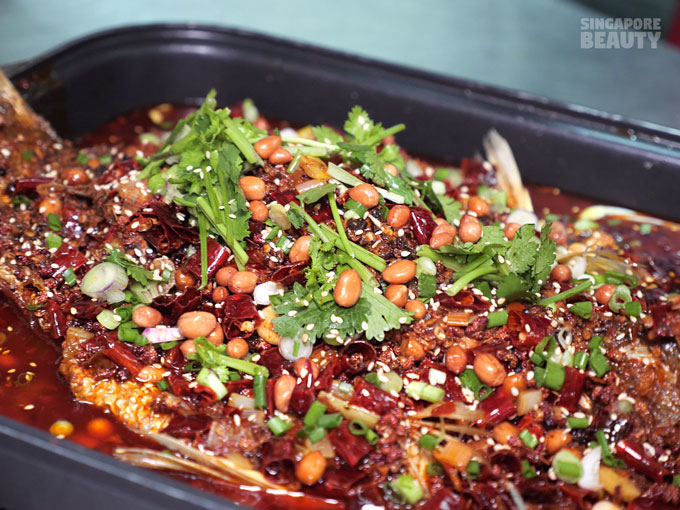 Get high on aromatic chopped parsley, ground nuts, sesame seeds, green spring onions, garlic pops and crispy red onions.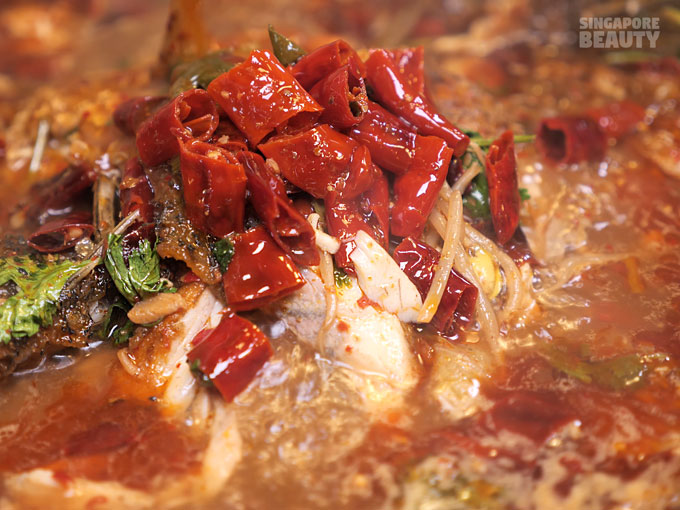 Chunky fish with parsley, ground nuts and chilli pepper.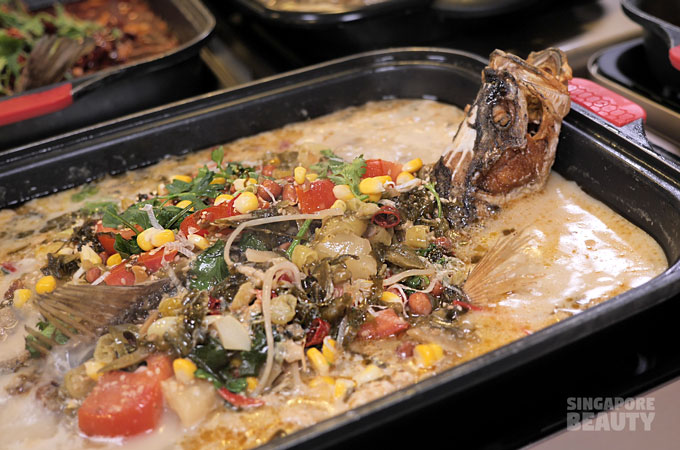 Pickled cabbage grilled fish in a creamy gravy.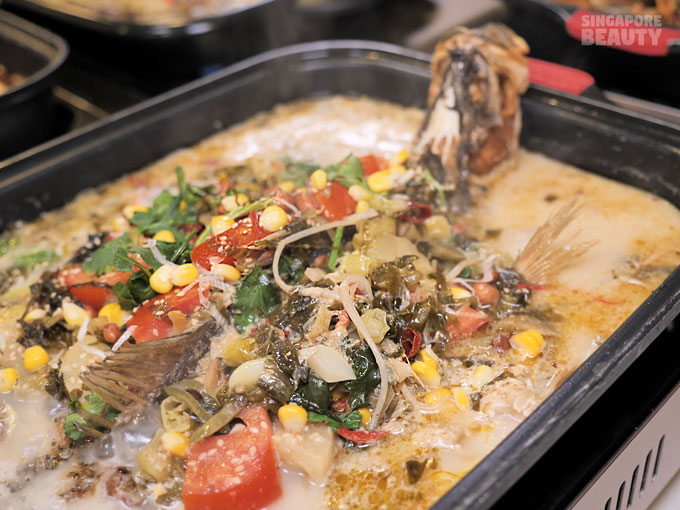 The gravy is not as intense as the pineapple grilled fish. The gravy has a creamy and sweet undertone like a deep fried fish soup kind of texture.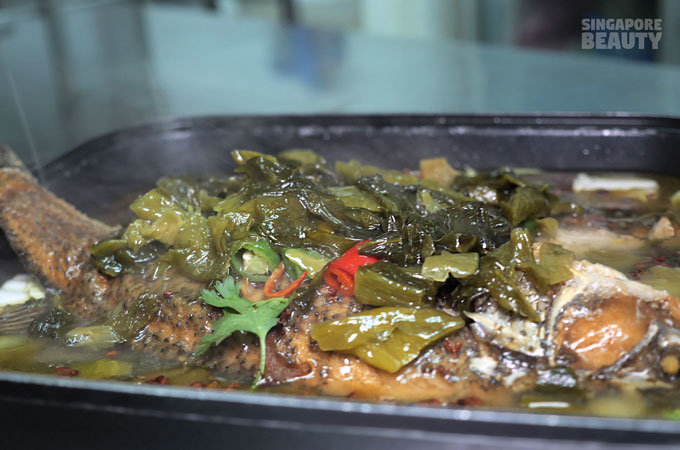 The real punch comes from the pickled cabbage. Soft pickled sweet, briny and mildly sour cabbage that melts in your mouth with the fish.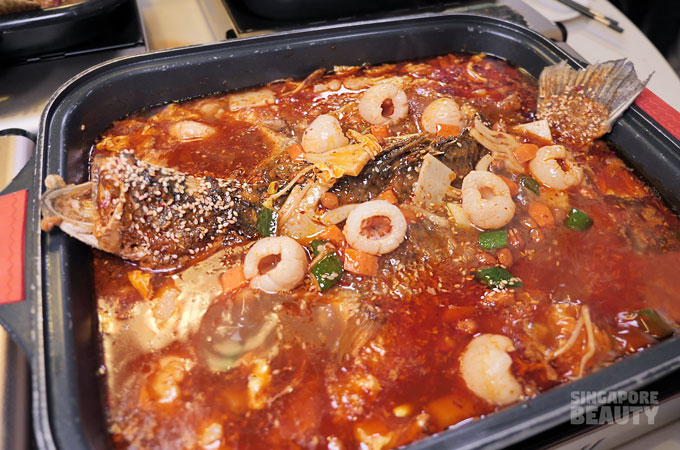 Lychee grilled fish is served in sweet and spicy broth. The ingredients are lychee, cucumber cubes, carrots, bamboo shoot slices, ground nuts, fish on a bed of cabbage and soy bean sprout.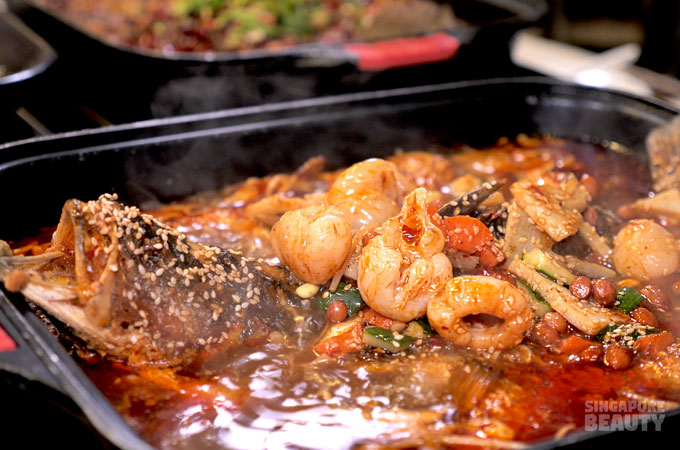 The lychees are a delight to eat with the fish. The tropical fruity flavours with a crisp crunch of the slices of bamboo shoot and load of savour fish. Interesting fusion of tropical fruits and Sichuan flavours.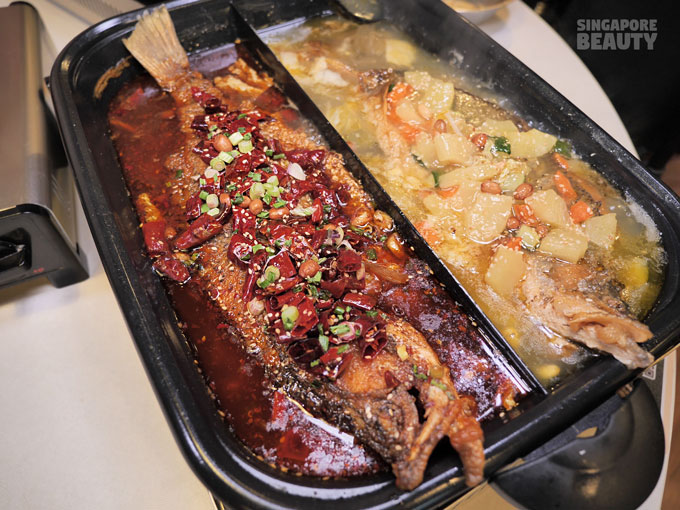 If you cannot decide what flavours to have, you can opt for the duo fish flavours at $16.80*. This is one whole fish in 2 flavours of your choice.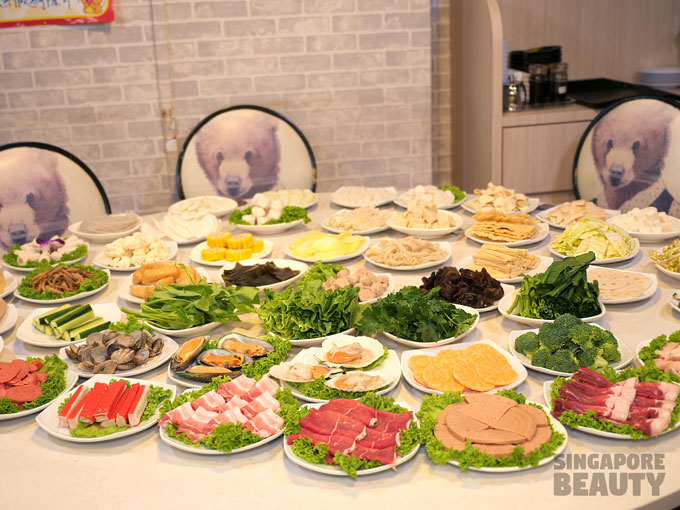 They also have a wide selection of shabu shabu meats(pork, mutton, beef), greens, surimi, bean curds, peas, fungi and seafood to add on to your grill fish broth starting from $2.20* to $4.80*.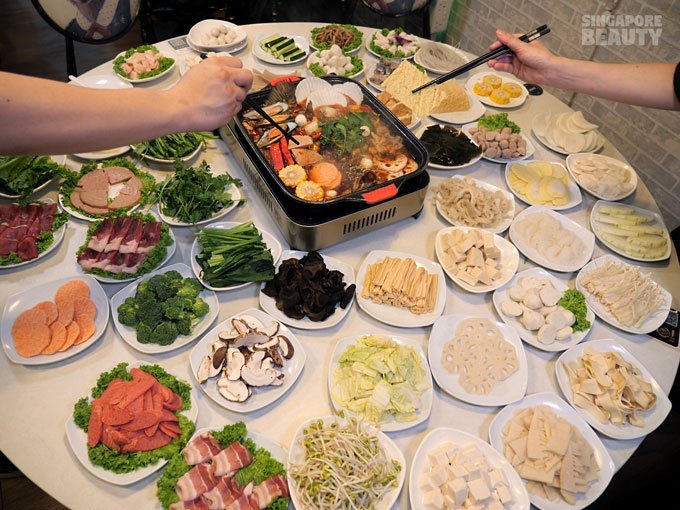 Reasonably priced with a fair portion, you can enjoy to your heart's delight.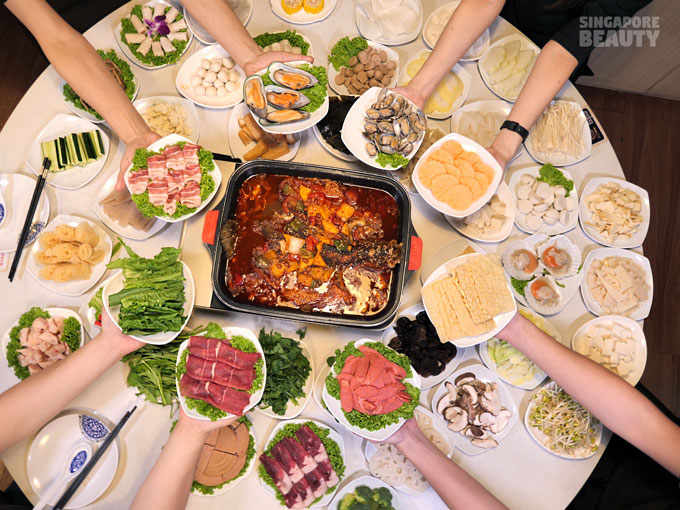 There is something for everyone.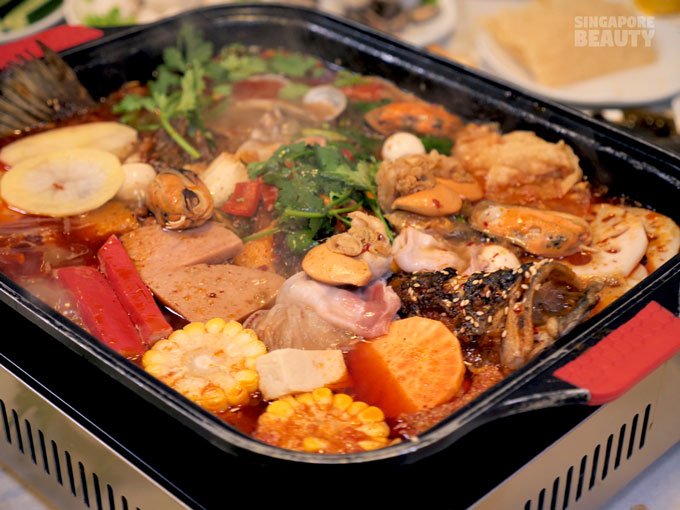 Enjoy your simmering "prosperity" pot of seafood, meats and greens.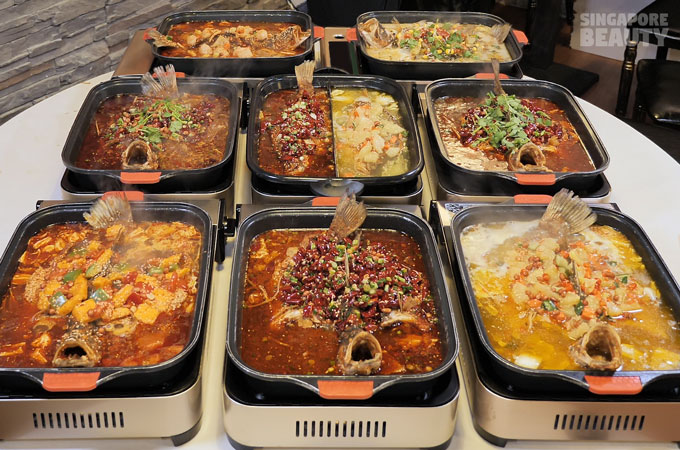 This unbelievable lunch promotion for grilled whole fish at only $9.90* each is now happening at Ming Tang Spicy Roast Fish (名堂烤鱼).
Head over now for lunch today, accepts walk-in only.
Location:
Ming Tang Spicy Roast Fish (名堂烤鱼).
470 North Bridge Road #01-03, Bugis Cube, S188735
Promo 1:
$9.90++ for single flavour whole fish
$16.80++ for duo flavour whole fish
Only available for weekdays(Monday to Friday, exclude PH and Eve) lunch from 11.30am to 3.30pm. Promotion ends 30 June 2019.
Accepts walk-in only, no reservations available. No minimum spending required!
Usual price for grilled whole fish is $30-$48.
Call for confirmation of price for that day you are going, promotion might be withdrawn anytime!
Operating Hours:
Open 11.30 am to 2am Daily
For more information:
(+65) 63383405
Brought to you by Ming Tang Spicy Roast Fish (名堂烤鱼).