Hao Lai Wu steamboat & BBQ is having a 5 in 1 buffet for a limited period only.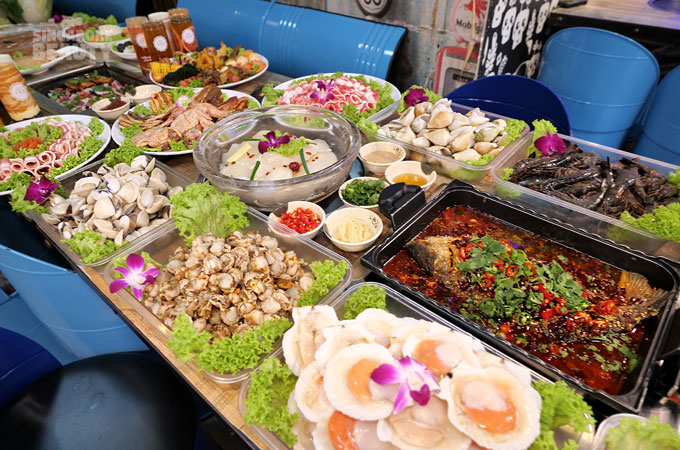 For 1buffet price, you get to enjoy hotpot, BBQ, fried satay skewers, unlimited bubble tea/ fruit tea and a complimentary mala grilled fish.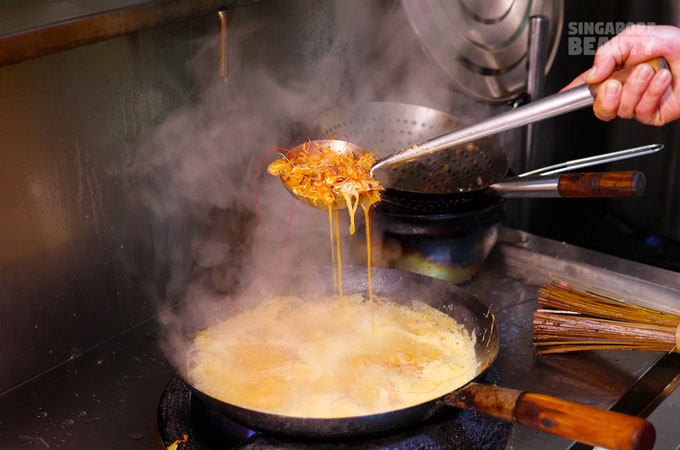 They have introduced 2 new soup bases – prawn soup broth made from scratch and collagen soup made from simple but nutritious ingredients.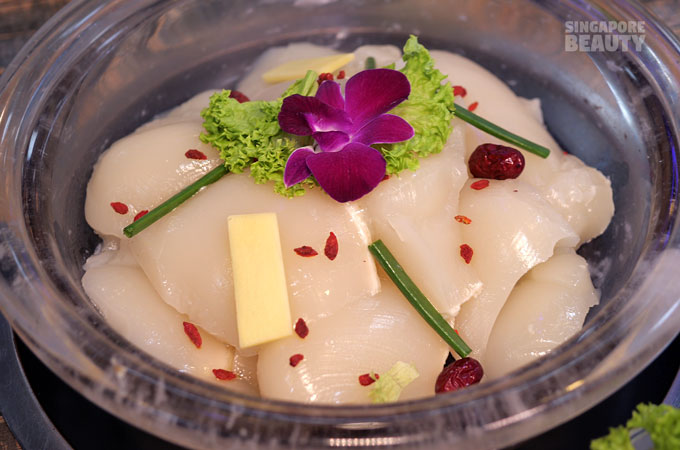 This is the collagen soup made from simple but nutritious ingredients such as pork trotters and chicken.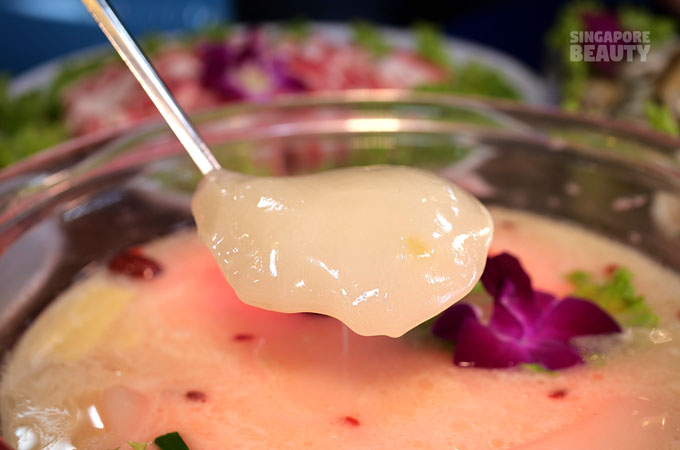 Slow boiled on hours till melted to form this collagen concentrated soup.
The other soup to order is the prawn soup. You can feel the rich prawn broth cooked from lots of prawns head, extremely flavourful and with a strong umami tones.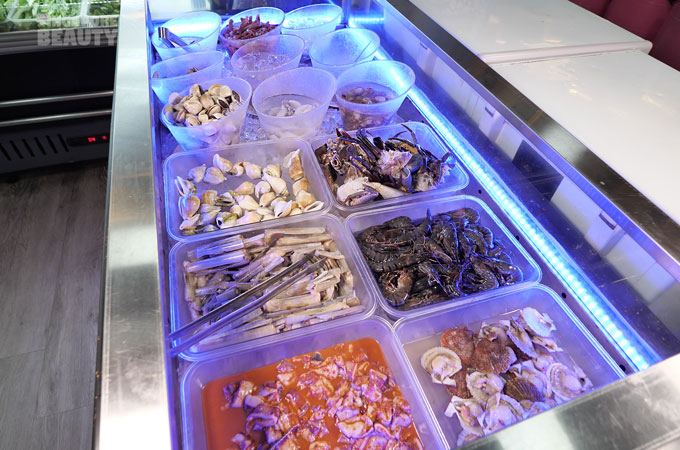 They have over 15 types of seafood on ice such as large scallops, mussels, gong gong, white venus clams, Japanese hotate, medium size octopus legs, tiger prawns, medium size mud crabs, marinated squid, baby octopus, baby cuttlefish, asari clams, bamboo clams, oysters and tioman fish.
This time round they have expanded their seafood variety to include some interesting seafood selection such as the octopus legs, hotate and oysters.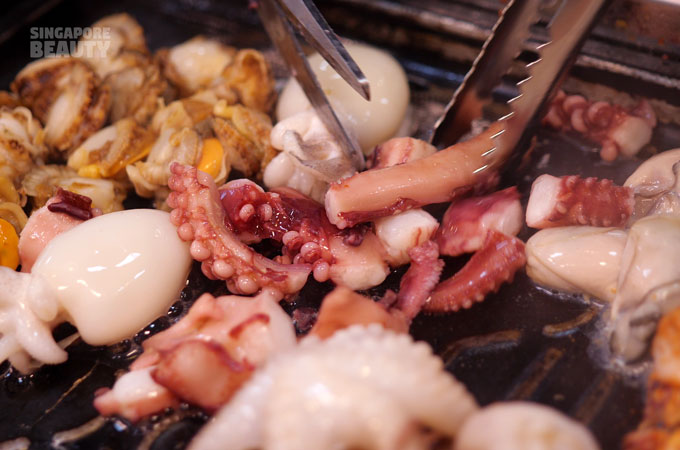 You can do your own seafood teppanyaki here with the octopus legs and sauce from the condiments counter.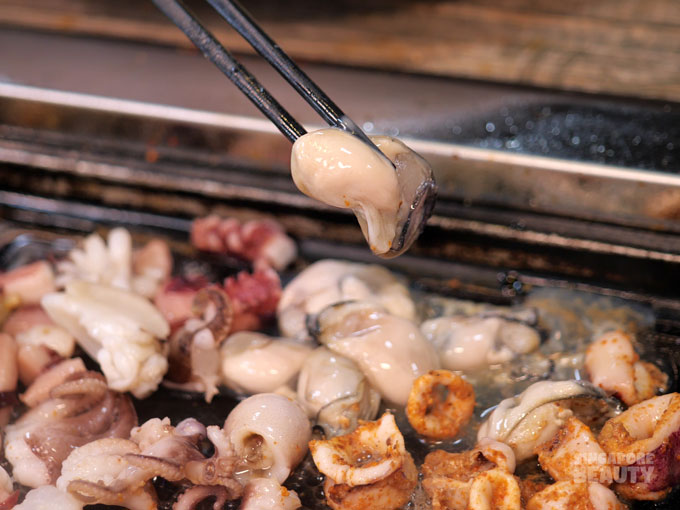 I love some oysters omelette too with their fat creamy oysters.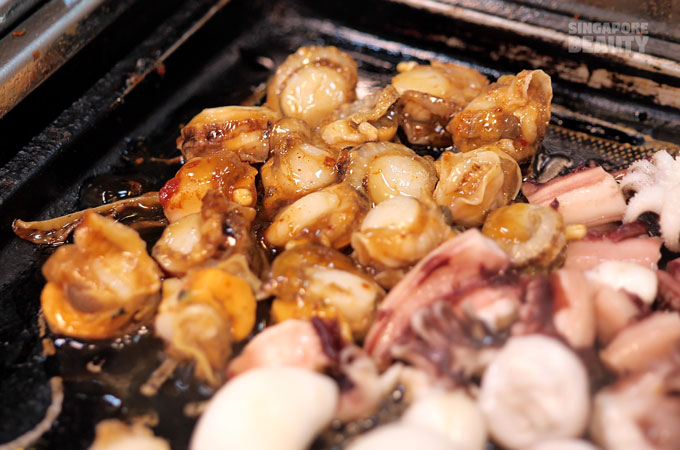 Grilled Japanese hotate in their own marinade.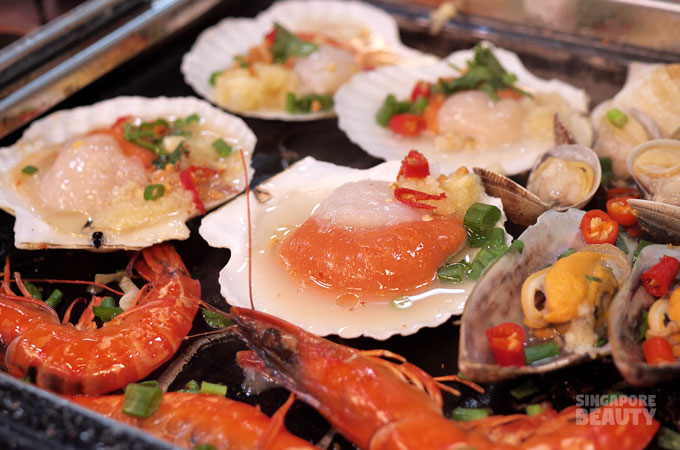 You will also need some medium size scallops with garlic oil in this bbq to complete it.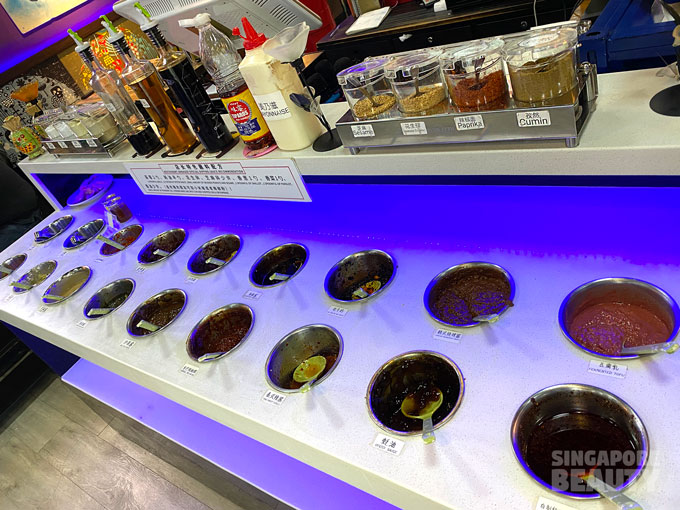 They have over 32 types of condiments for you to diy the perfect dips for your bbq and hotpotting. They even have mayo and Thai fish sauce.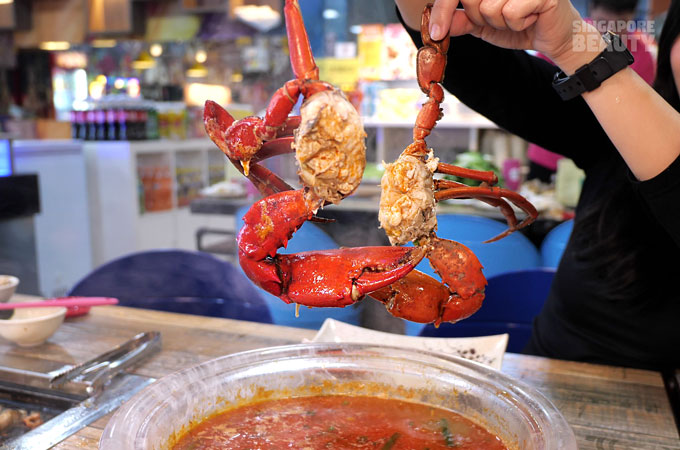 The regulars love their free flow mud crab with meaty claws.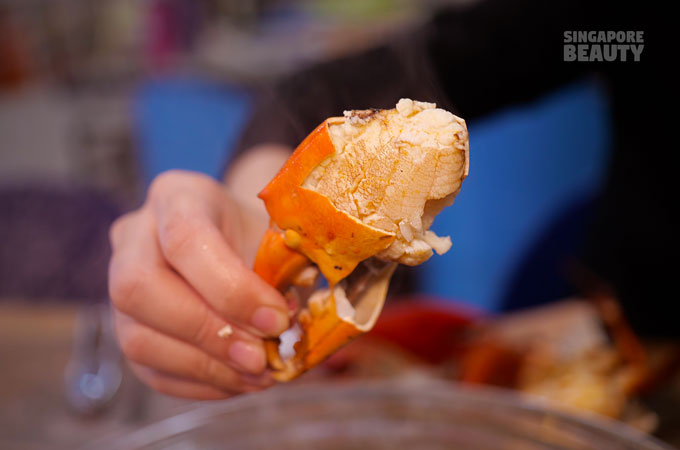 Meaty claws!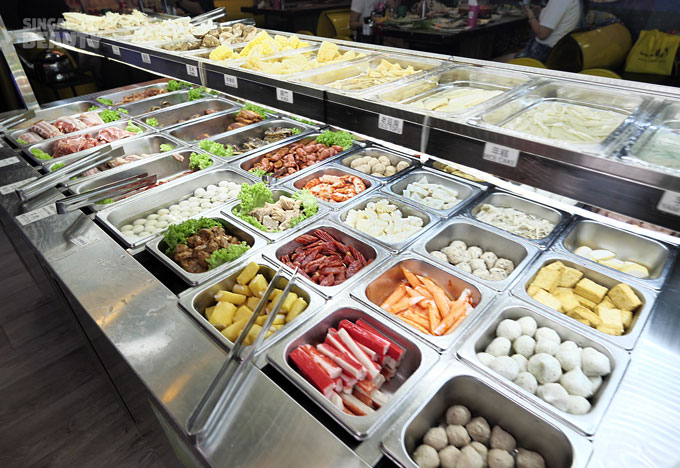 Besides seafood and meats, these are the selection of surimi that spans 3 tier high over 2 counters.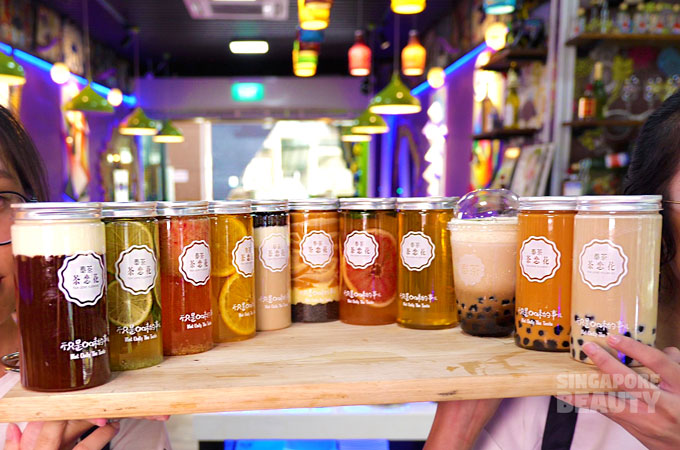 There are over 11 types of selected daka milk tea, fruit tea and cheese tea to choose from that is free flow.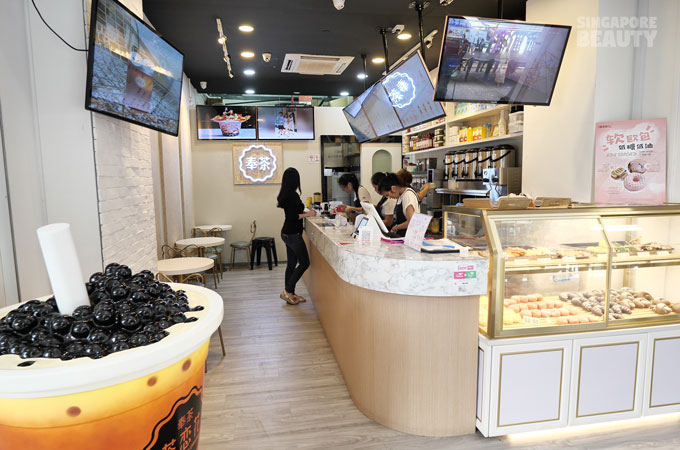 These free flow tea promotion is a collaboration between Hao Lai Wu and Feng Cha tea house that has over 3000 outlet globally. This is Feng Cha's first flagship store in Singapore.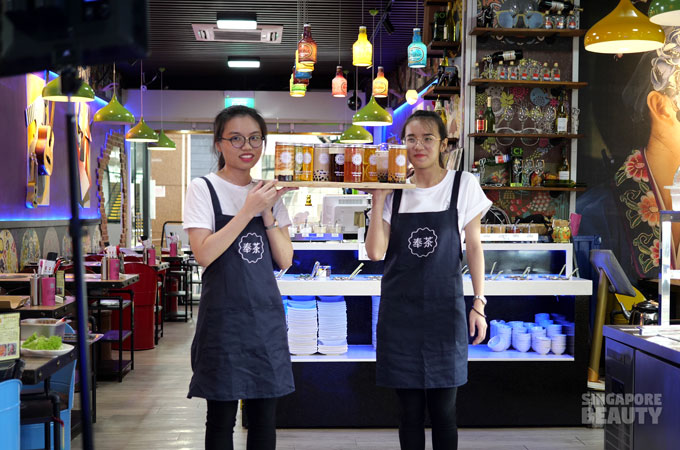 Top up $3.90 for free flow selected teas exclusive to Singaporebeauty. Quote us to get the free flow bubble fruit tea and promo buffet price at $22.80(excludes eve,Ph & CNY wk). Just order the selected teas from the menu, and they will be sent to your table at no extra charge.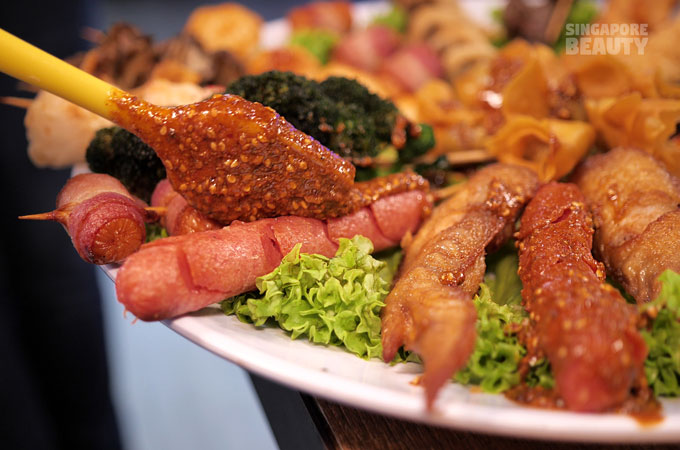 They also have 14 types of skewers to choose from.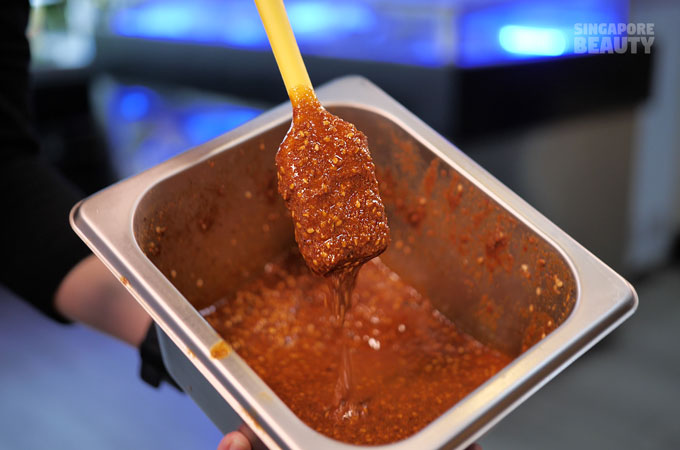 You can help yourselves to unlimited skewers from the DIY fried food counter. Spread on thick coat of these gooey sweet and spicy nutty sesame chilli sauce.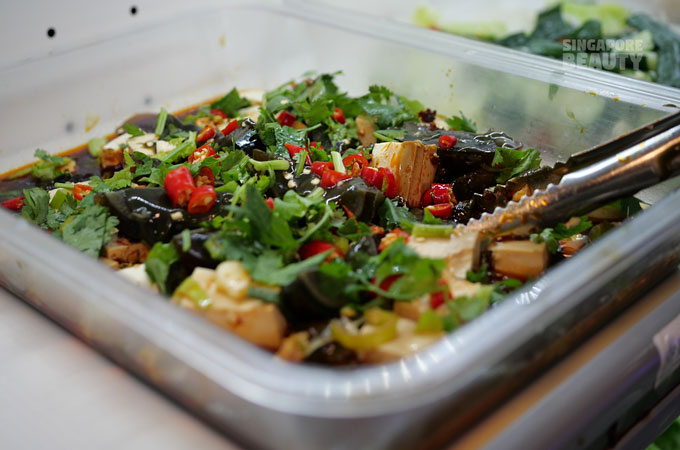 Beside these, they also have up to 10 ready to eat hot and cold dishes to choose from.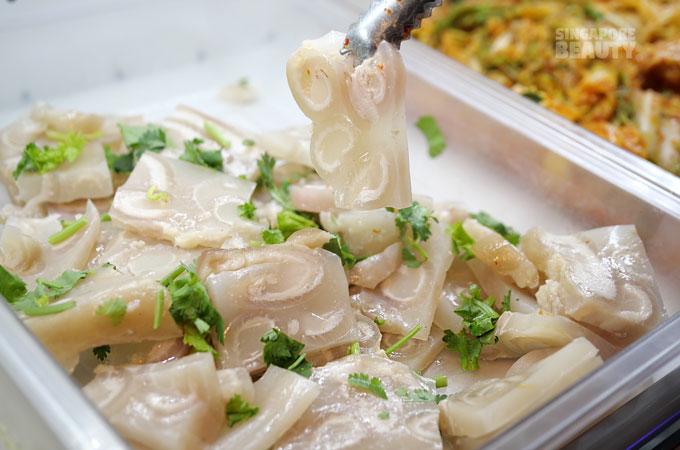 White fungus dessert, fries, fried rice with mixed veg, pig trotter jelly, chilled silken tofu with century egg, kimchi, pickled cucumber and many more.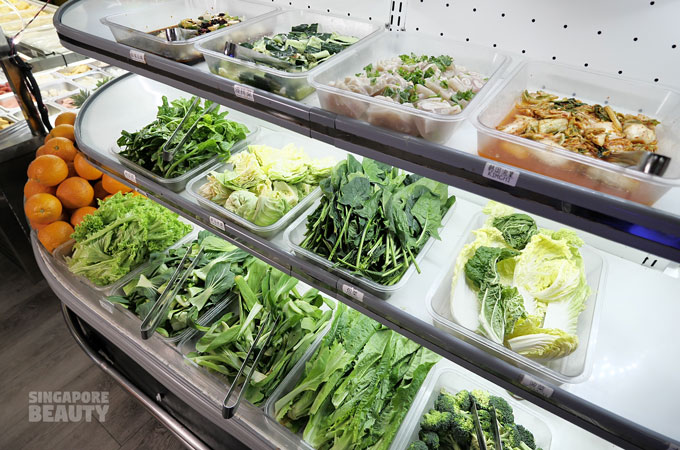 Plenty of amazing green and crisp vegetables to go into the hotpot too!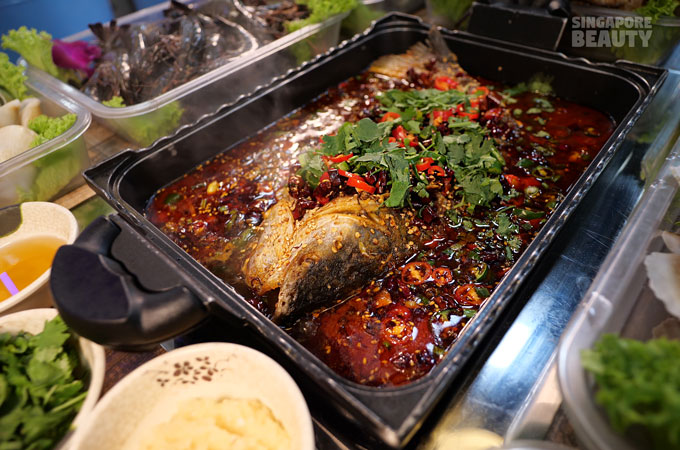 Each table is entitled to 1 mala or pickled spicy grilled fish. Enjoy unlimited top up of broth for this grilled fish.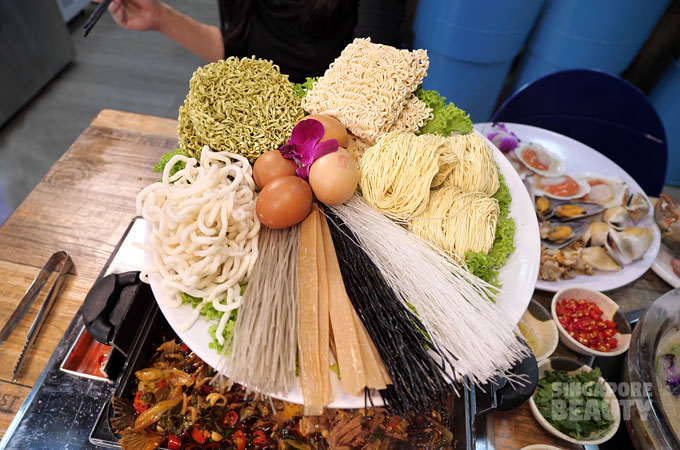 You can continue to enjoy the mala broth by cooking meats, seafood and noodles in it.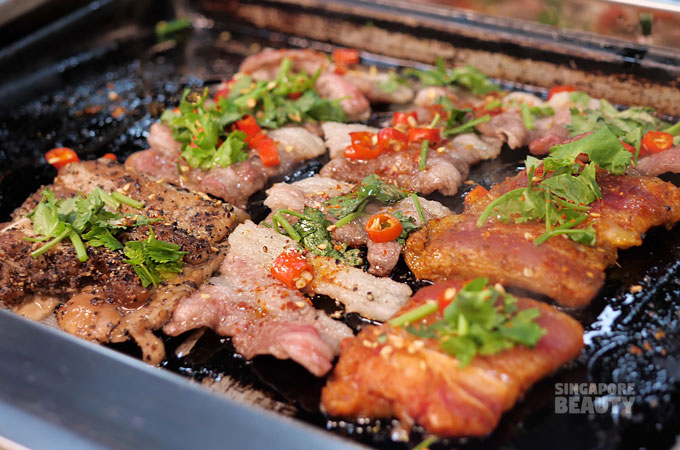 With over 21 types of shabu shabu and marinated meats to choose from, you will be spoilt and amazed at the same time.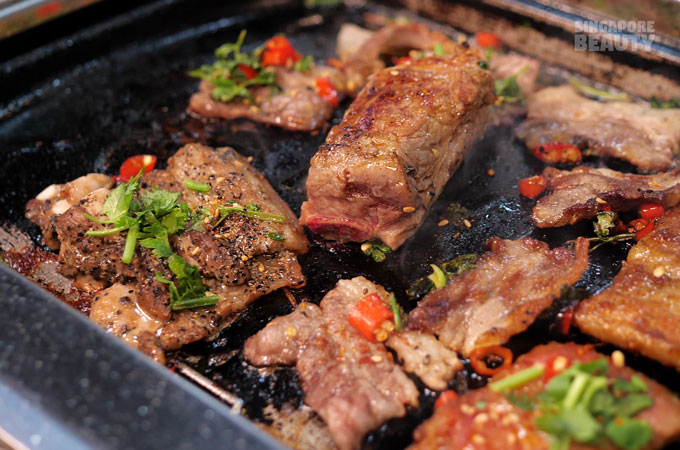 They even have prized meats such as barbequed pork ribs, whole chicken thighs steak and bacon with enoki.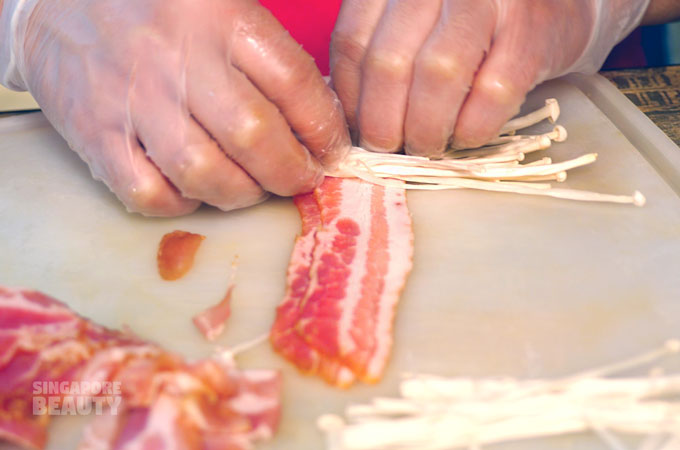 Many of these meats are creations in house, such as the hand-rolled bacon enoki, black pepper beef, spicy chicken, mutton and cumin pork belly.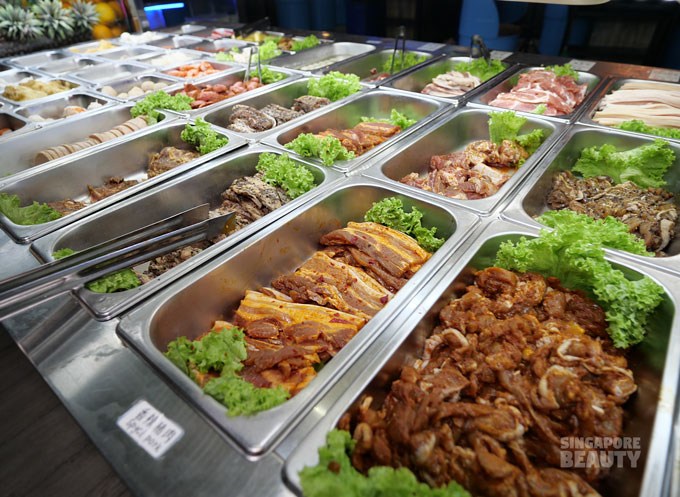 This is meat heaven for meat lovers!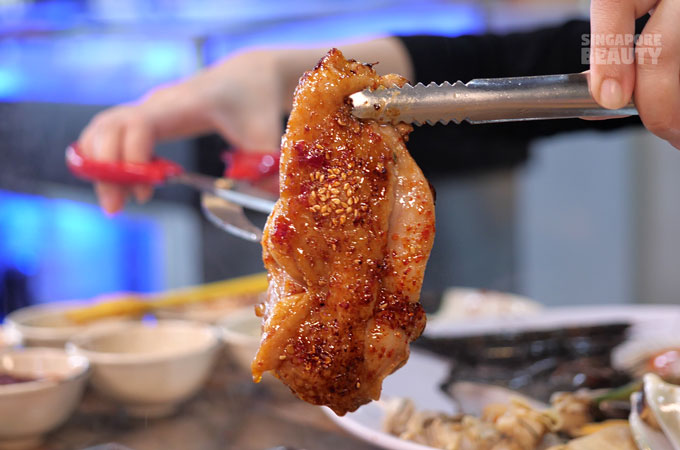 This is the signature chicken steak (whole deboned chicken thigh) that is juicy and soft even after barbequing.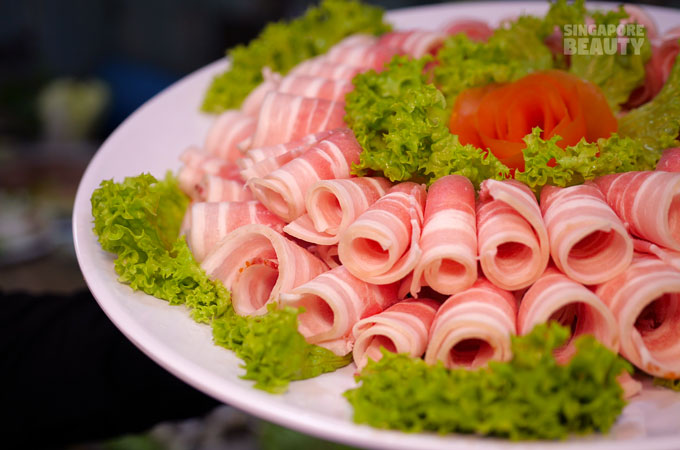 This is shabu shabu pork belly platter, do get some of these to go with prawn soup, great bite and texture for hotpotting.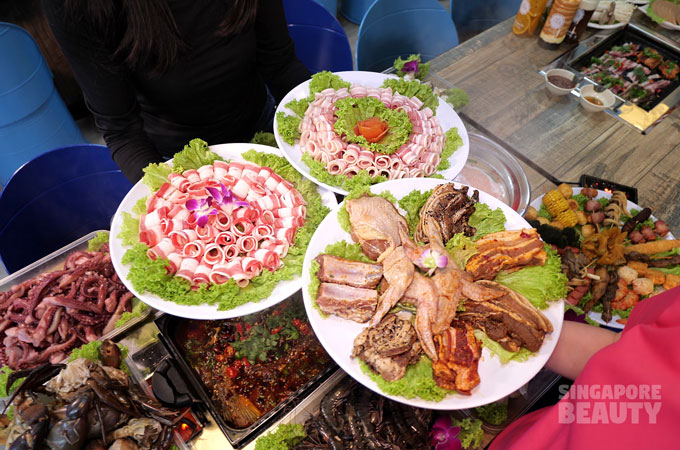 Delightful meat rolls and marinated meats that is part of the buffet.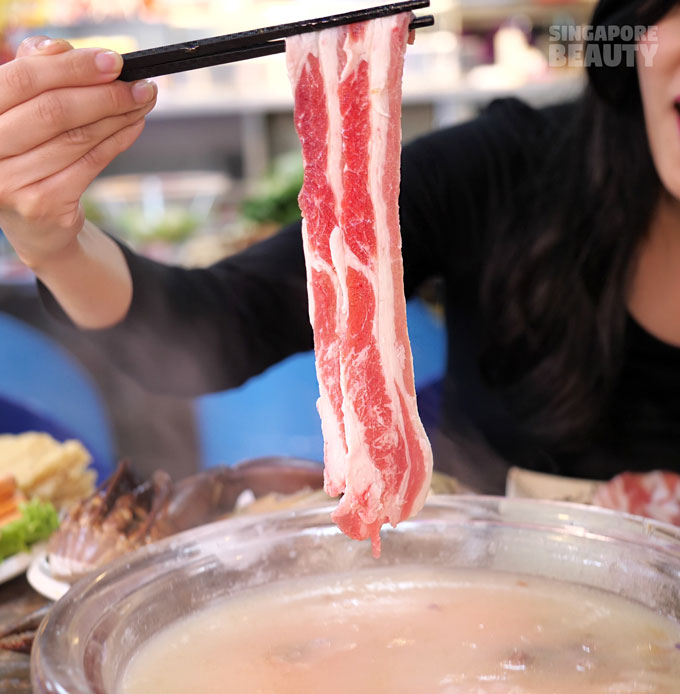 BBQ and hotpot the meat to your delight.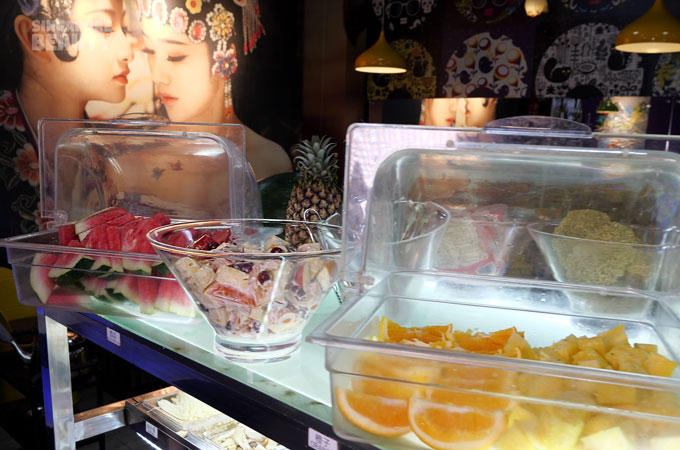 Enjoy some cool cut fruits or salad of the day after this heavy 5in1 hotpot and bbq experience.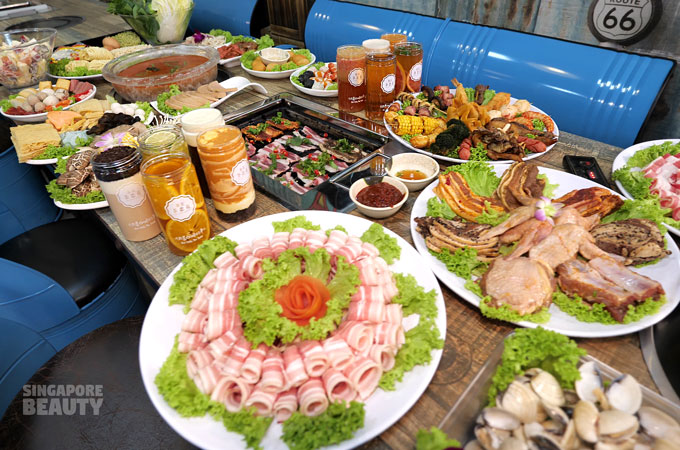 You need to be here to try this buffet if you love bubble tea, fruit tea, grilled fish, BBQ seafood, hotpotting shabu shabu meats and fried crispy skewers with special sauce.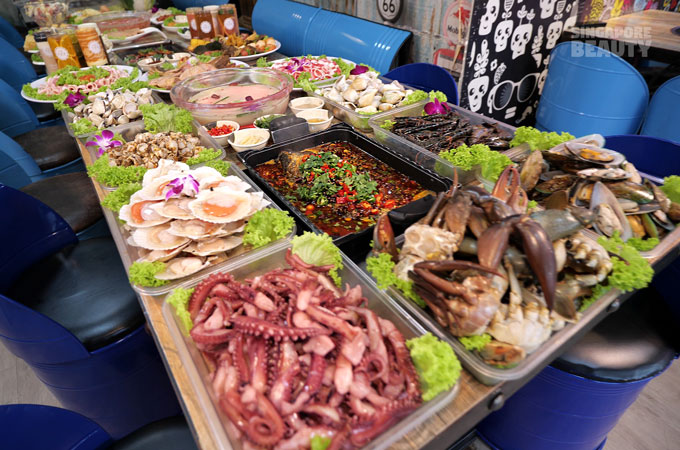 Or all of the above at an amazing breakneck price.
Hao Lai Wu Buffet Price. Promotion ends 31Jan2020.
Promo1
Adult price for 4-in1 BBQ & Hotpot buffet(1 grilled fish per table+ unlimited Skewers):
(Quote SingaporeBeauty to enjoy the below promo prices)
Monday to Sunday (exclude Eve, PH & CNY period) $22.80 +
Promo 2(only at Burlington Square branch):
Adult price for 5-in-1 BBQ & Hotpot buffet (1 grilled fish per table+ unlimited Skewers+ free flow 11 types of Cheese tea, brown sugar bubble boba tea, fruit tea from Feng Cha ):
(Quote SingaporeBeauty to enjoy the below promo prices)
Monday to Sunday (exclude Eve, PH & CNY period) $26.70 +
Bubble tea is only for dine in(takeaway not available), no sharing of tea.
CNY period (24-25-26-27/ Jan/ 2020)/PH & Eve
Buffet at $28.80+
(tea promo not available during CNY period/ Eve & PH)
Promo 3:
New Collagen or prawn soup is at $6 single/ $8 for duo soup pot. Collagen limit to 100 pots a day.
Normal Soup base:
Add $6 single/ $8 for duo soup pot
$10 Chengdu spicy (mala) soup pot
Choice of 6 soup bases –nourishing mushroom, in house special pork bone, Thai Tom yum, herbal and tomato soup.
All prices subject to 10% service charge. Minimum 2 pax to go for this buffet. Price quoted per pax in Singapore dollars.
Buffet operating hours:
Monday – Sunday: 11.30am till 3am daily
Dine time:
No time limit**
**Unless peak hours – dine time may vary
Peak hours dine time :
Three pax and below – 90 mins
Four pax and above – 120 mins
Location:
Branch 1:
175 Bencoolen Street, Burlington Square, #01-57, Singapore 189649
8 mins walk from Bugis station (EW12/DT14)
Branch 2 (no bubble tea)
No. 6 & 8 Sago Street, Singapore 059012
Reservations:
(+65) 67320816 (Bencoolen Street branch)
(+65) 62210065 (Sago Street branch)
餐厅) Hao Lai Wu steamboat & BBQ.