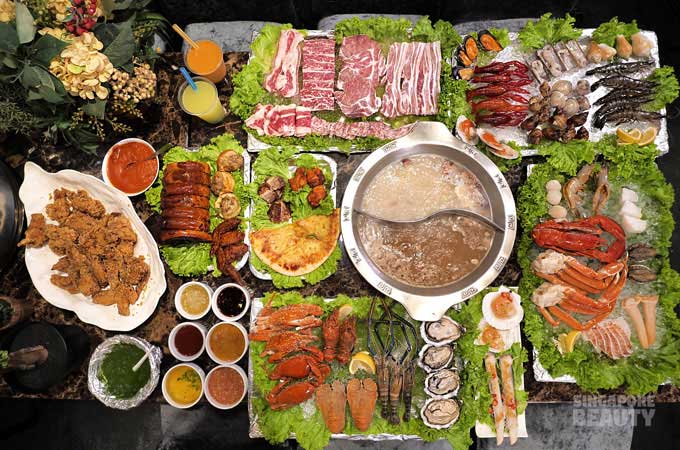 The Three Peacocks hotpot has over 25 types of iced and live seafood for its CNY Chinese New Year promotion.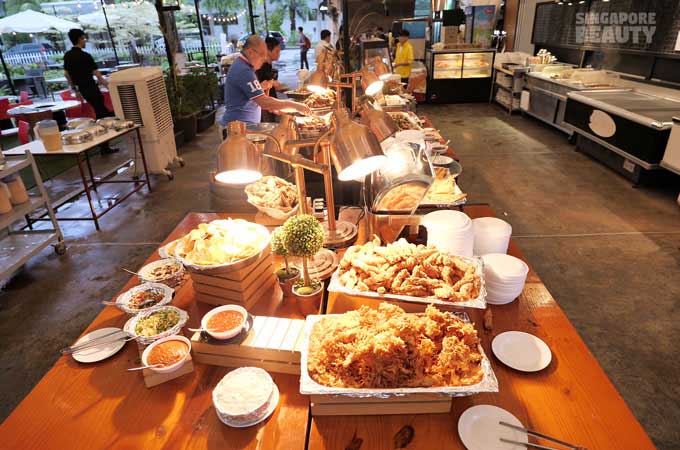 Diners of the hotpot also have access to the BBQ spread of international cuisine and live seafood. With a total of over 32 types of cooked food, you will be spoilt for choice.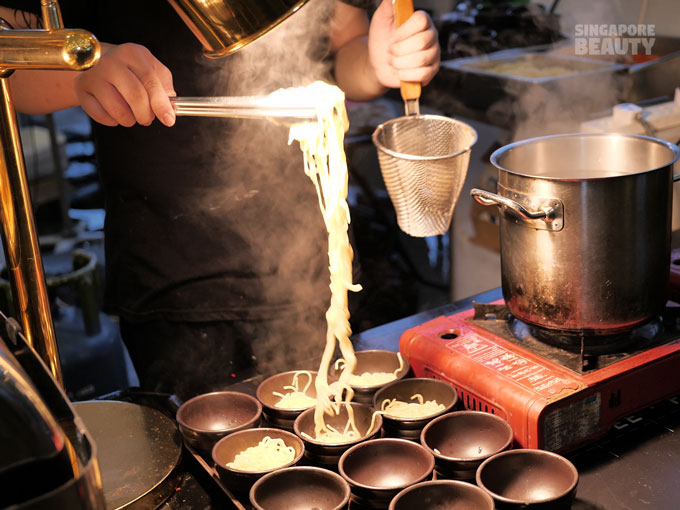 They have live station with "butlers" as well that serves ramen, teppanyaki, wagyu mini burgers, grilled seafood with special in-house marinade and sushi. These are the top picks of the cooked food.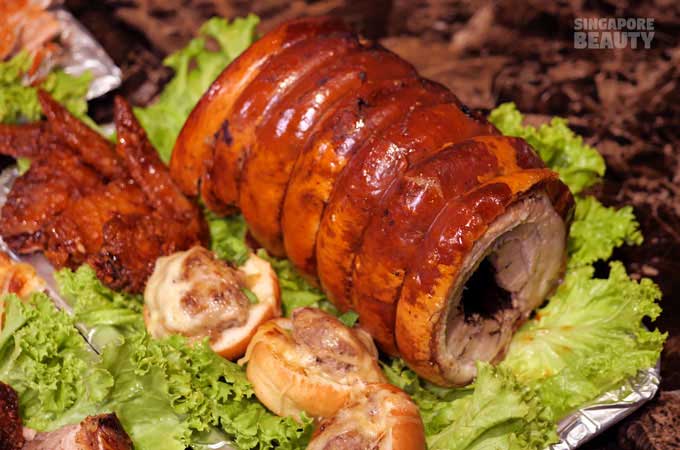 The authentic Lechon recipe and crafted by their in-house Chef from Philippines. Korean wings by the in-house Korean chef. Curries, butter chicken and naan by their Chef from Pakistan. Mala chicken and roasted delights by their chef from Fuijian, China.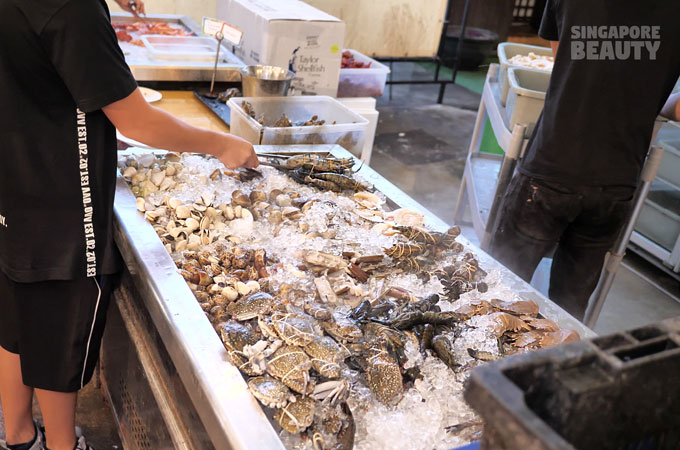 The iced seafood is also one of the highlights in this hotpot buffet.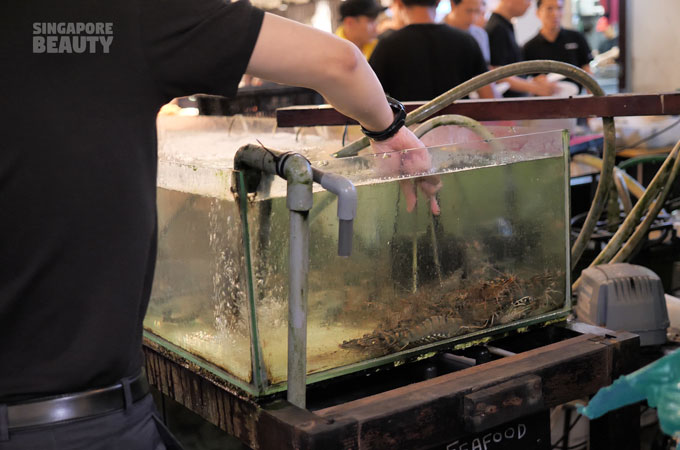 The dispatch-for-you live mud crabs, shuck-for-you Japanese oysters and the catch your own live tiger prawns.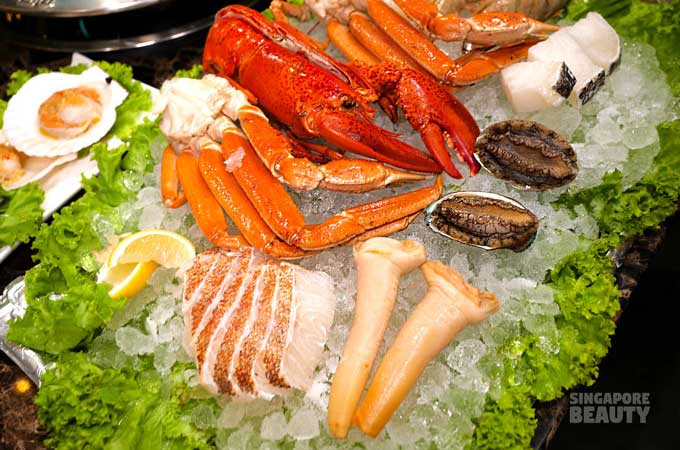 Each diner is entitled to a limited platter of prized seafood. The platter shown above is for 2 pax. The special platter includes grouper, choice of geoduck or scallop, abalone, snow crab leg, halved boston lobster, angka prawn, seabass fillet, cod fish, steamed large scallop with garlic & vermecilli and XL steamed bamboo clams.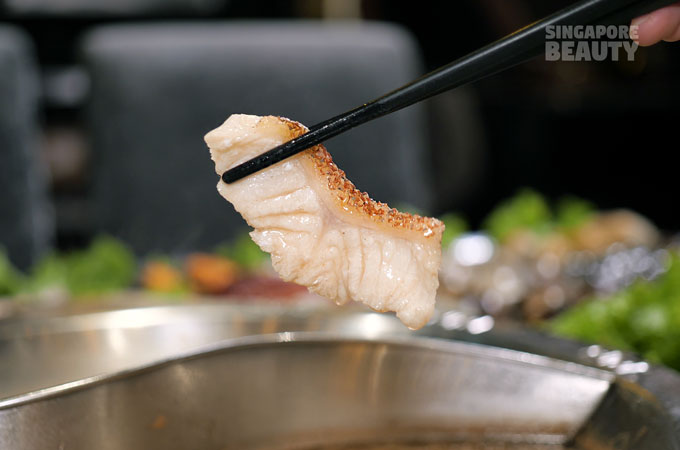 They have a few types of soup for hotpotting to choose from – Japanese white ramen, Japanese dashi XO fish, curry and sukiyaki soup. The new soup added is the XO fish soup and Japanese white ramen soup. XO fish soup pairs well with the grouper fish fillet, seabass fillet and cod fillet from the special platter.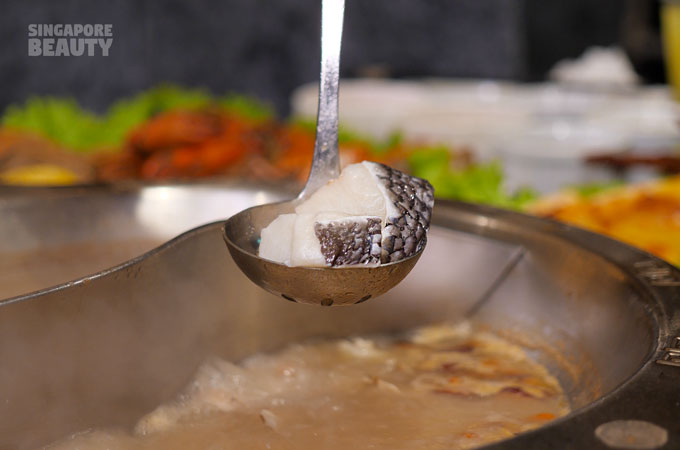 Cod fish for hotpot is a delightful addition for this CNY special platter.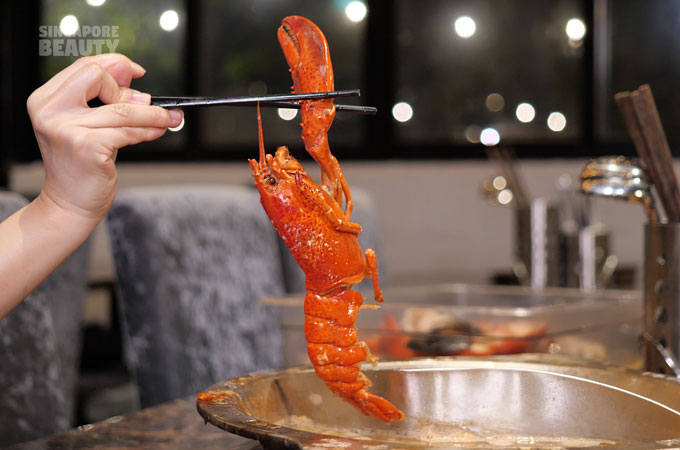 This is the size of the complimentary halved Boston lobster.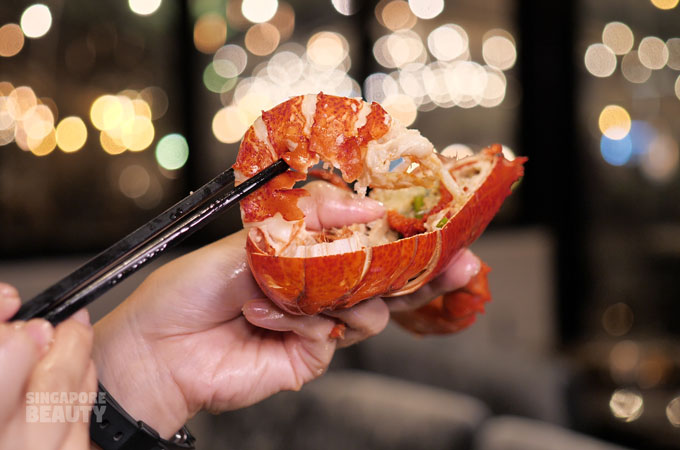 The halved lobster is served cooked for your convenience.
Claws that is considerably meaty and sweet.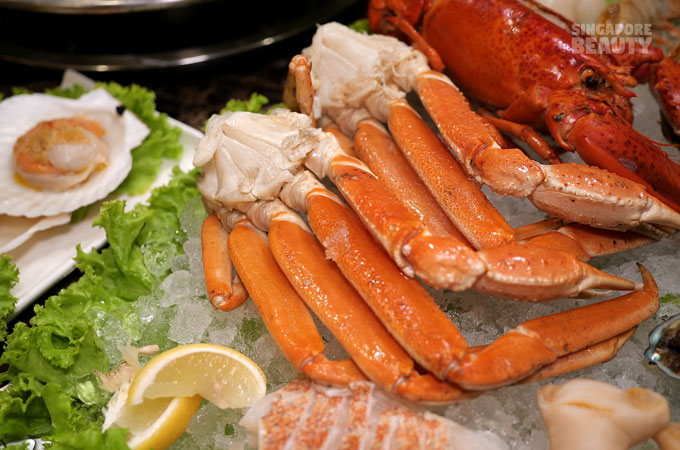 Get a set of these snow crab leg with the special platter. Shown above is snow crab legs for 2 pax.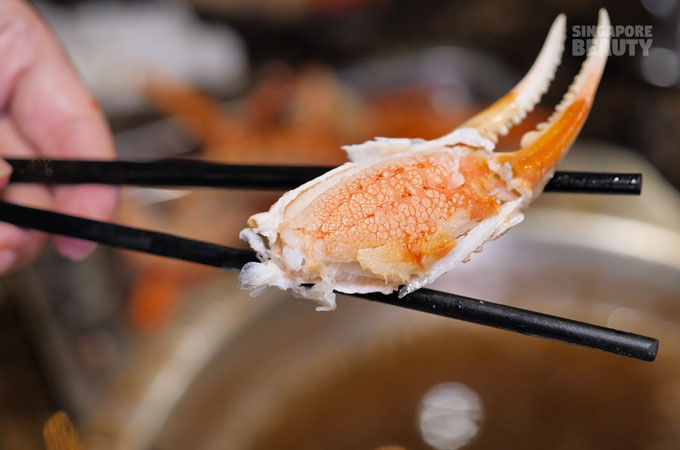 Here's the claw from the snow crab legs, firm and stringy texture.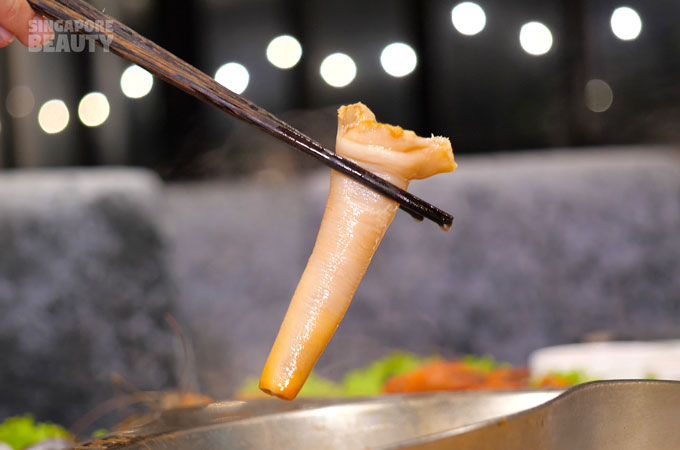 Choice of either the geoduck or the scallops for the special CNY platter. These are cut into thin slices and hotpot quickly for some crunchy texture.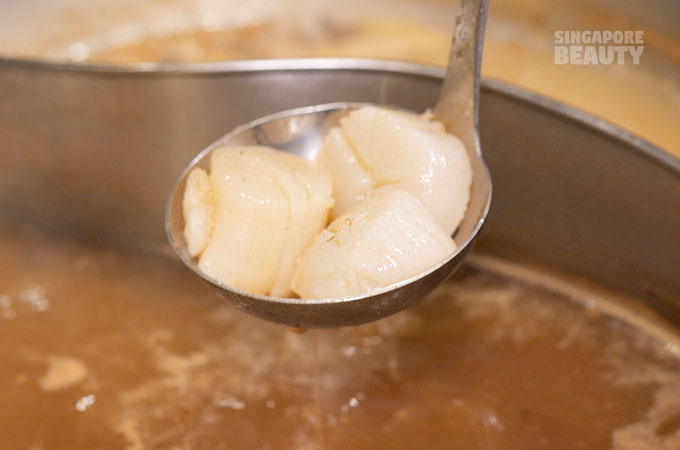 These are the alternative to geoduck if you are a lover of scallops instead. Thick scallops with a chewy texture.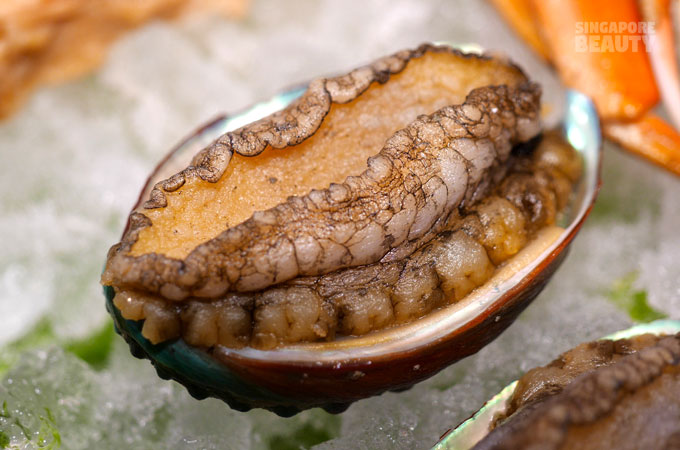 Of course for CNY, a abalone is a must have in a hotpot to ensure you will always have excess in the coming new year.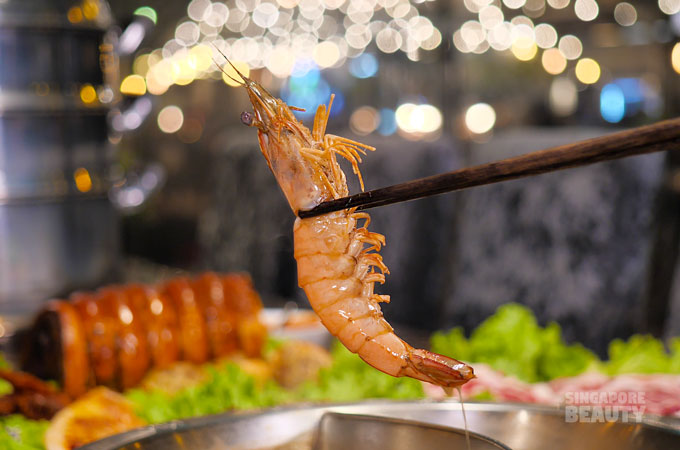 Also include in the special platter is Angka prawn loved for it fleshy and sweet flavour.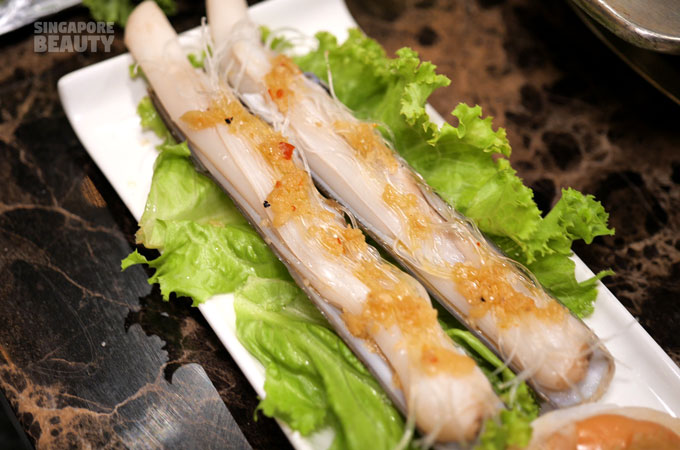 Here's the XL size steamed bamboo clams with garlic sauce with glass noodles to soak up the briny flavours. Springy glass noodles and soft at the same time. Portion shown above is for 2 pax.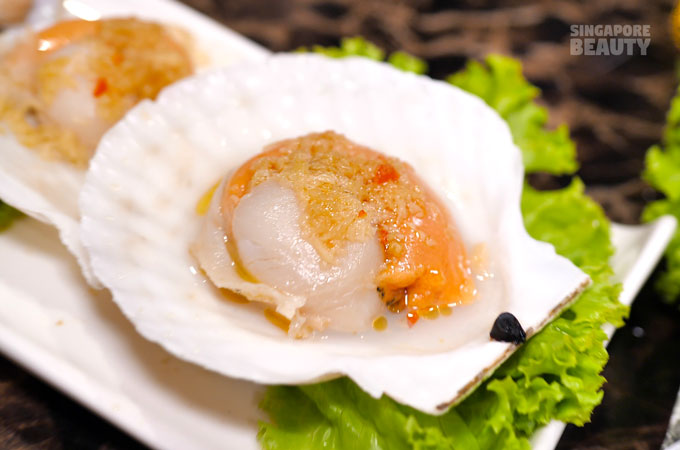 A good size scallop steamed in chilli garlic sauce. Limited to 1 per pax.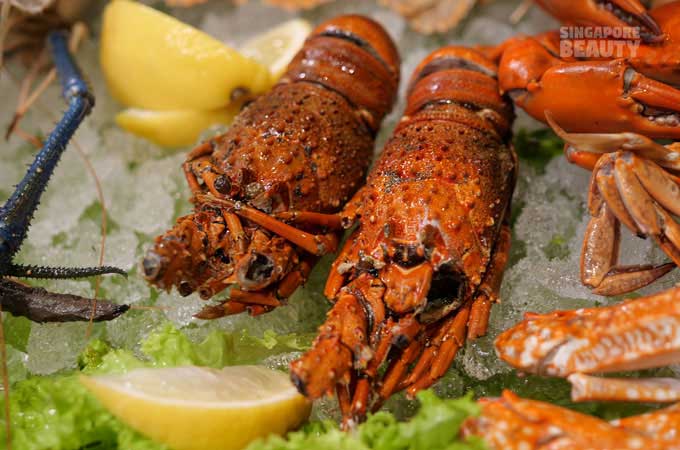 Free flow baby lobsters from the iced seafood bed. These are great for hotpotting after you deshell them. The lobster meat taste sweeter and more tender compared to bigger lobsters. Load up on these if you love lobsters!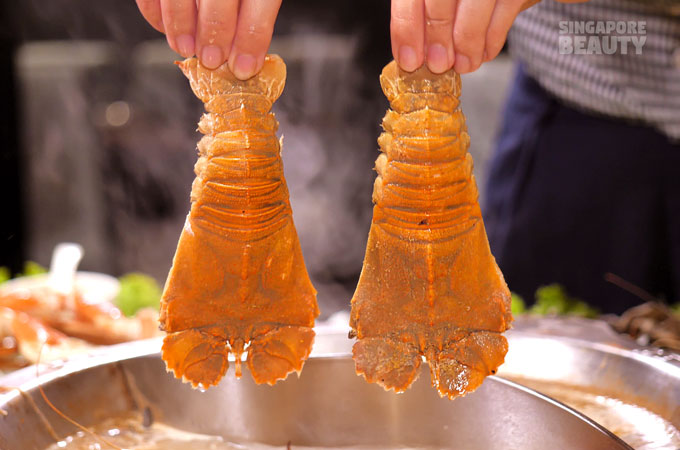 How about unlimited slipper lobsters too? Again these are best cooked deshelled.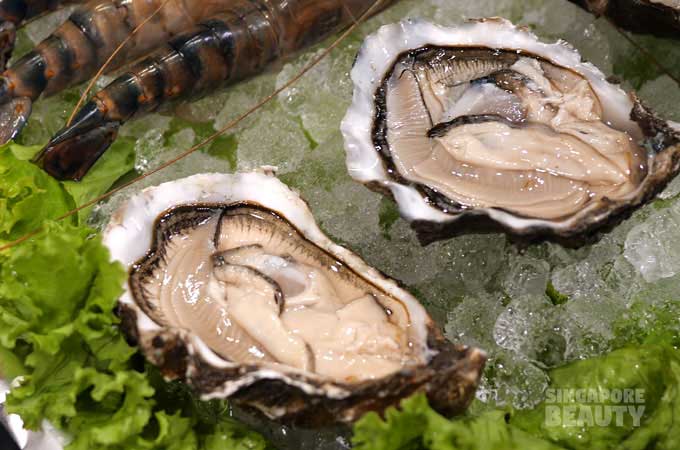 Freshly shucked for you oyster that can be eaten raw with some lemon or tabsco sauce. Fat, plump & creamy texture.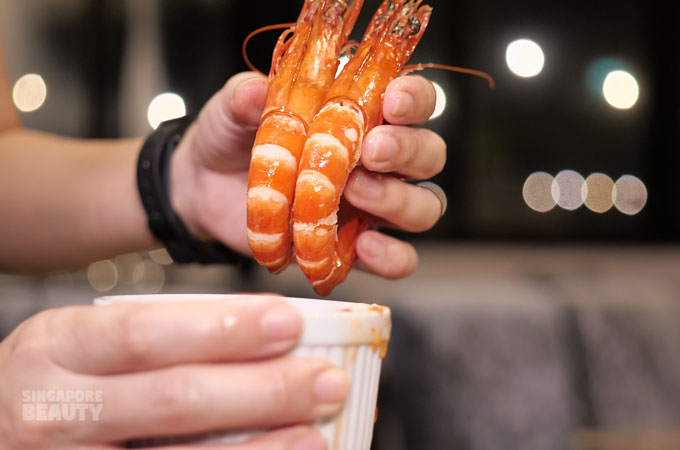 Freshest tiger prawns you can catch. The brilliant and firm texture says it all about how fresh these catch- your-own tiger prawns are.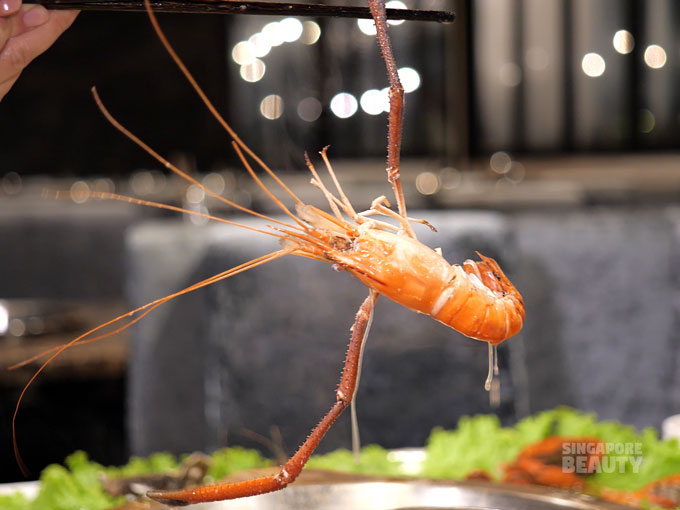 Go for these Thai river prawns if you are a lover of head butter.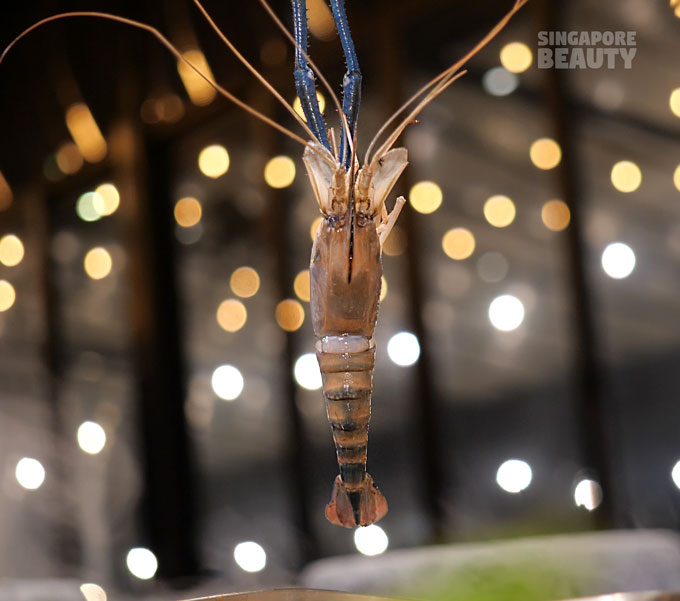 Look for the prawn with long navy blue long claws.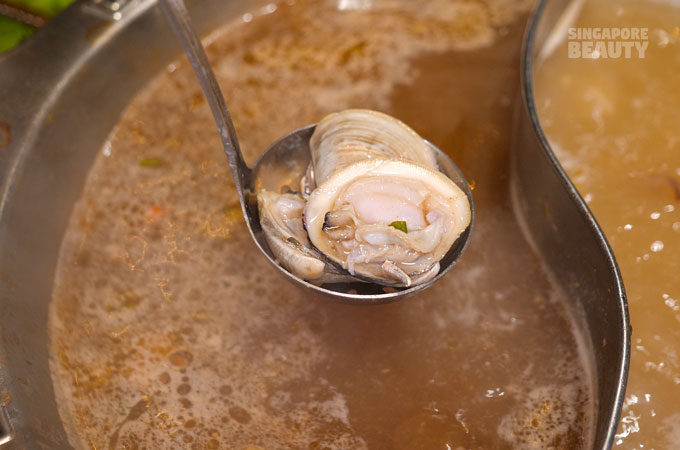 They also have various shellfish to hotpot with and best deshelled before hotpotting. Get some XL clams from the iced seafood bed.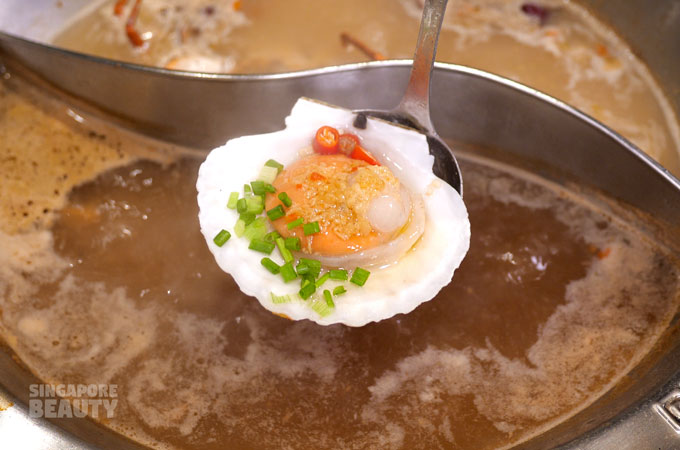 And some half shell scallops from the iced seabed too.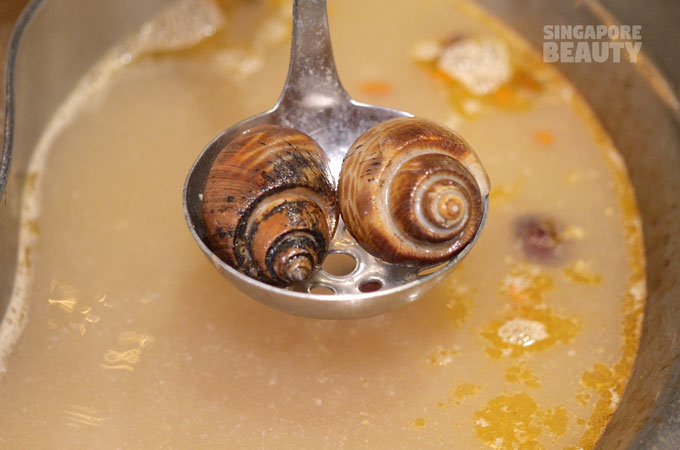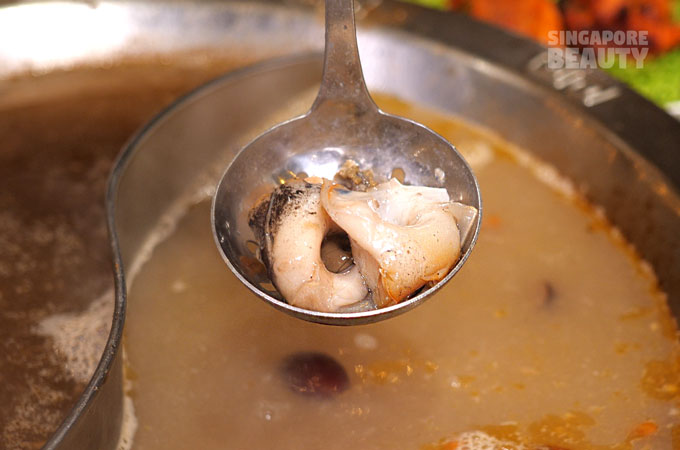 This time round, there are some large sea conch too for hotpotting at the iced seafood bed. Enjoy some tender chewy conch meat.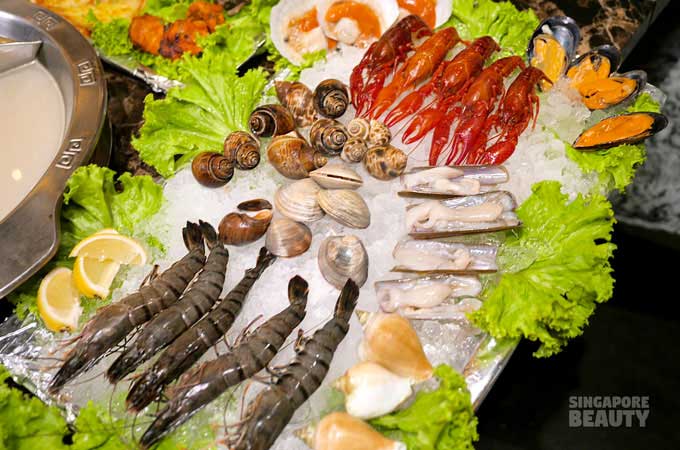 Customised your own shellfish and crustacean platter from the ice seafood bed and start your hotpotting feast.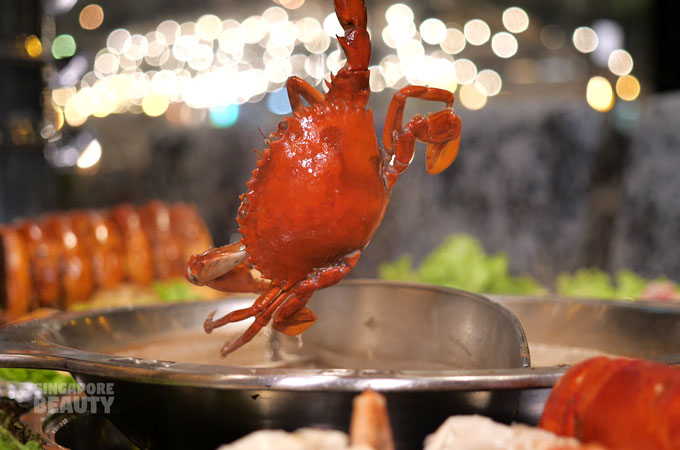 Cook the dispatched-for-you live mud crabs and customise it with the chilli crab sauce from the international buffet spread.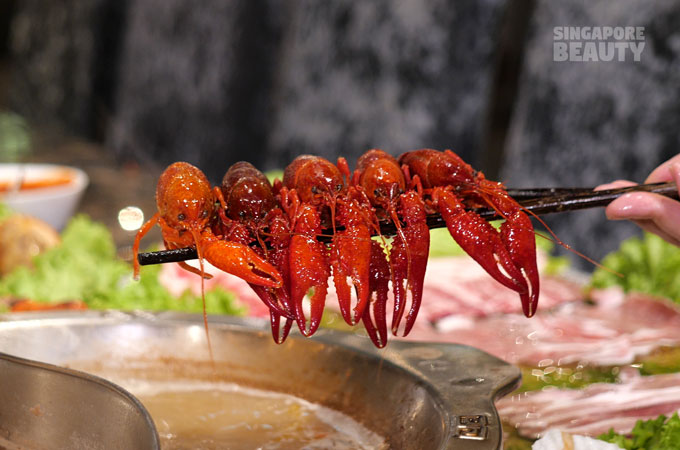 Have unlimited crawfish to sweeten up your soup base.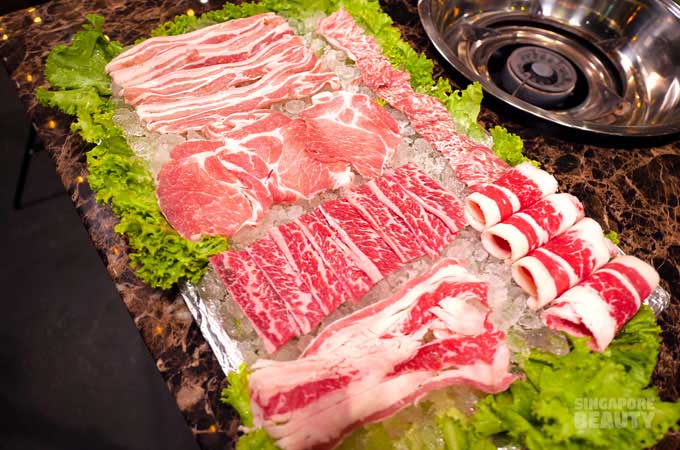 Free flow shabu shabu meat cut inhouse daily with great cut of beef, pork and marinated meats too.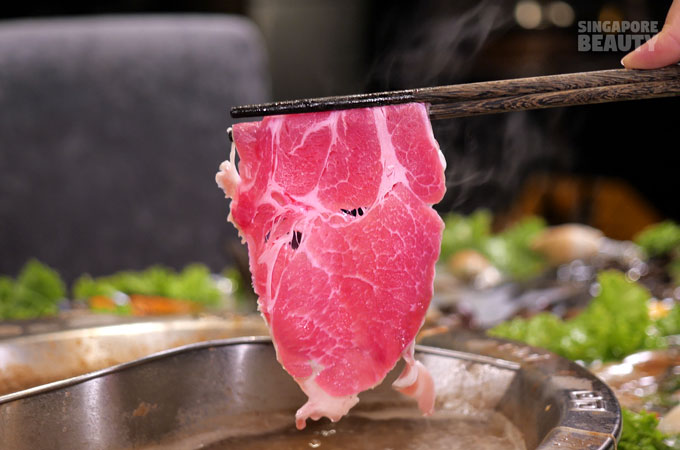 Try their pork collar for hotpotting.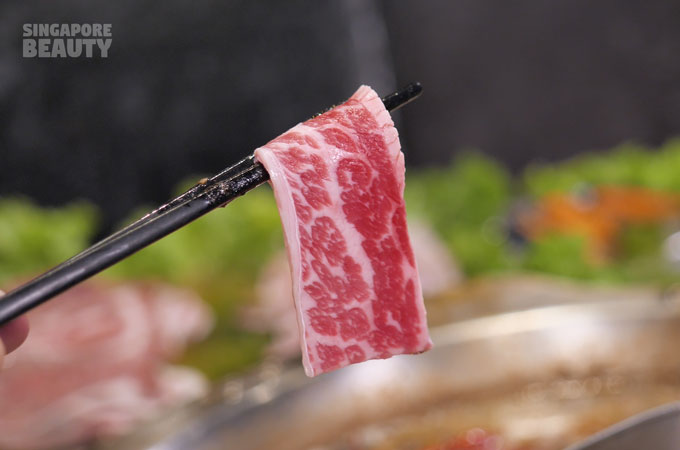 Or the marbled beef. These are really cool meats for hotpotting. All you can eat meats! Enjoy these tender meats with some extra hot spicy chilli dips.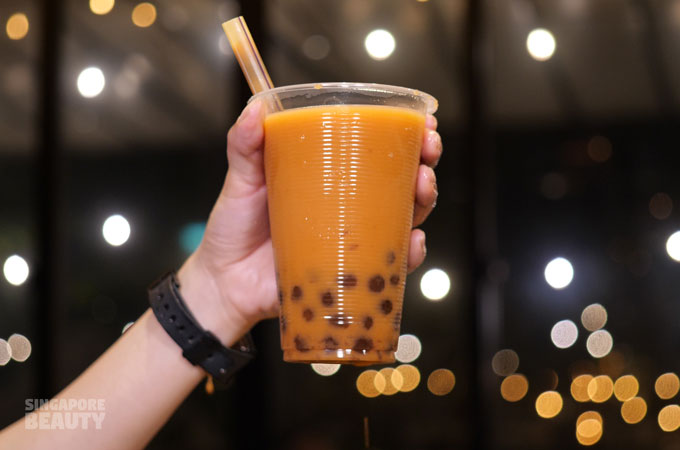 Wash it all down with a cup of bubble Thai milk tea or juicy boba tea.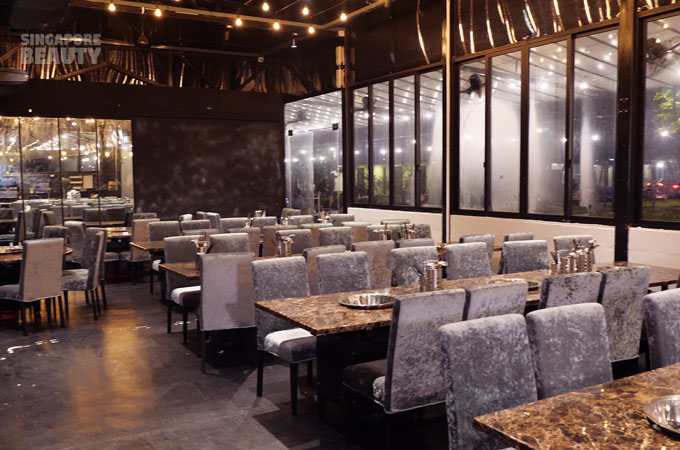 High back cushioned chairs with marbled hotpot table in a low light cosy indoor environment. Come over soon for this new Japanese broth hotpotting experience.
The Three Peacocks hotpot buffet with 1x Festive platter.
Adult $59+ (include drinks & prized festive seafood platter)
Kids (7-12 years old) $30+
Kids (6 and below) FOC
Senior Citizen $45+
Free soup change.
:::::::::::::::::::::::::::::::::::::::::
Regular hotpot buffet without the festive seafood platter.
Adult $41+
Kids (7-12 years old) $20.5+
Kids (6 and below) FOC
Senior Citizen (60 and above) $31+
Milk tea and soft Drinks add $4+
:::::::::::::::::::::::::::::::::::::::::
Choose from 4 types of soup – ramen soup, Japanese dashi XO fish, Japanese Curry, Sukiyaki soup.
Access to BBQ area international buffet, meat, live seafood & iced seafood.
Dine time : No time limit
No GST. All price SGD per pax and subject to 10% service charge.
Hotpot buffet operating hours:
Mon-Sun: 5.30pm to 10.30pm(dinner only)
Last call 9pm
Location:
The Three Peacocks
8 Port Rd, Singapore 117540
(Close proximity to Labrador Nature Reserve)
Upon arrival, you will see their huge outdoor BBQ section. Indicate to the cashier you want indoor hotpot. You will be guided to their indoor restaurant for hotpot after payment.
If you are driving, parking is free with lots of space.
15 mins walk from Labrador MRT station (CC27)
Reservations:
Call them at 91787876 or 62510213
Brought to you by The Three Peacocks