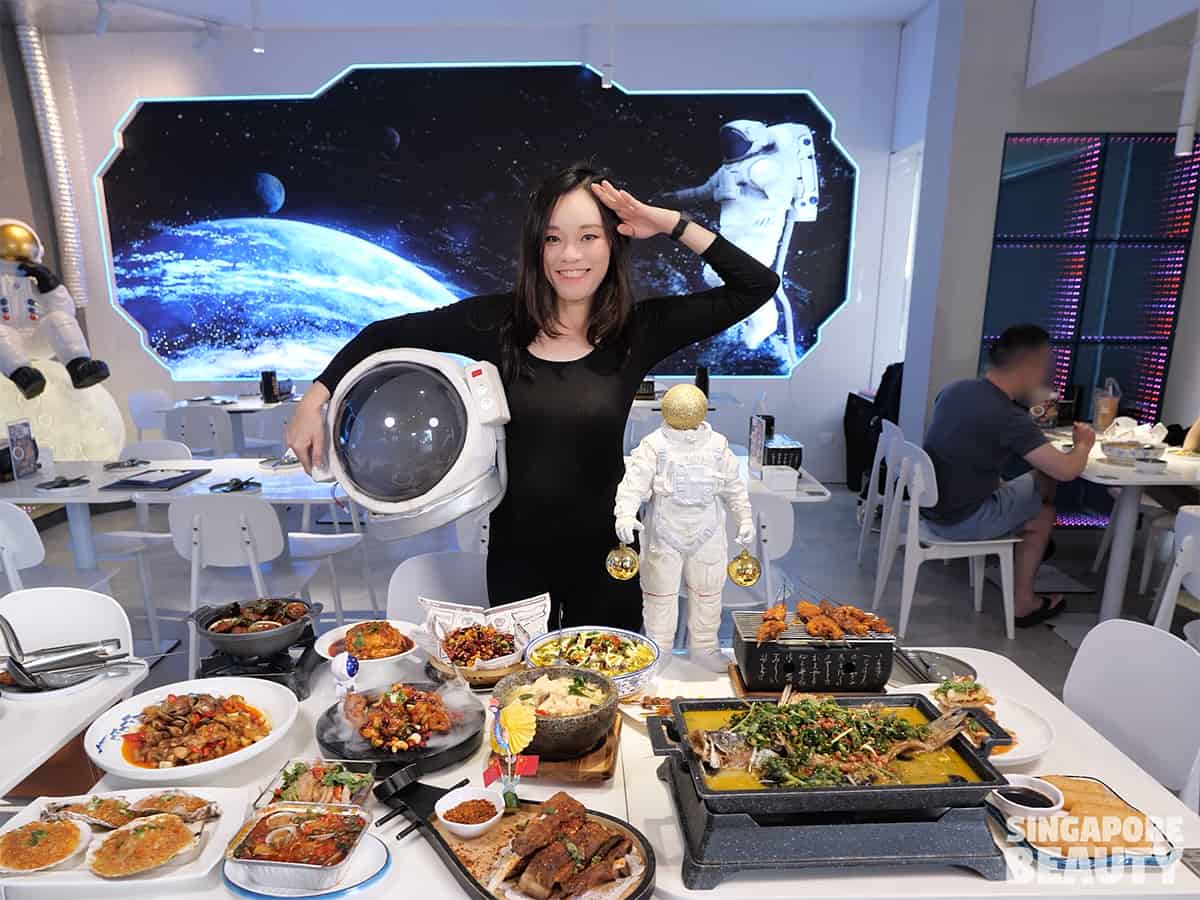 Chef China Hua Chu is a space themed restaurant serving Sichuan food, hotpot, grilled fish & bbq skewers at Bugis Singapore. They are popular for the futuristic galaxy interiors with photo worthy spots of life size astronauts decors and the galaxy.
Chef China Hua Chua menu consists of over 130 dishes from signature grilled fish, hotpot fish, pickled vegetable fish, fragrant pot, appetisers, specialty series, chef recommendation, barbecue skewers, cold dishes, hot dishes, soup stew, stir fry vegetables to desserts.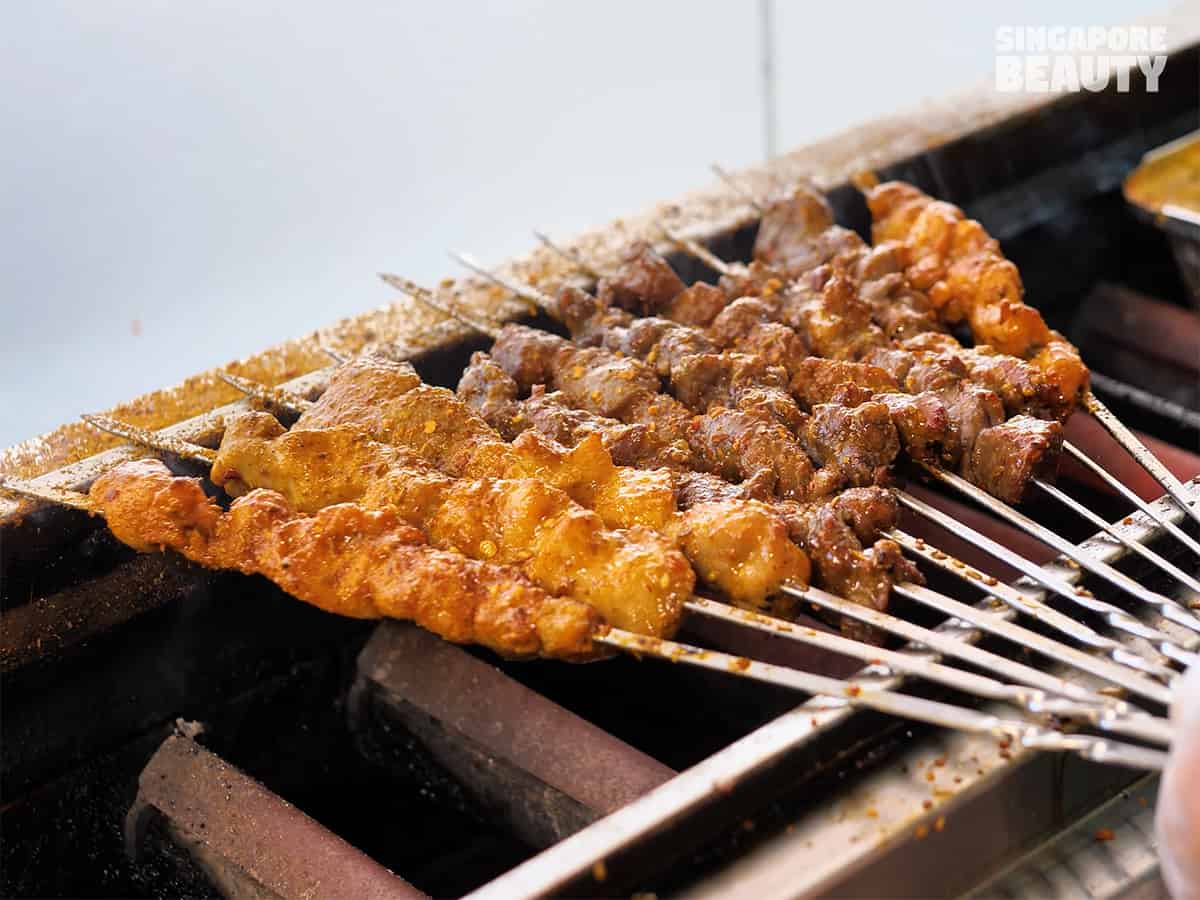 Chef China at Bugis Singapore has a dedicated barbecue show kitchen where you can see the barbecue process of your bbq skewers. Their best sellers are their meat skewers – mutton, beef, pork & chicken – with chicken skewers starting from $1 each, minimum order of 3 sticks. The meat are well grilled served piping hot from the grill dusted with an aromatic savoury bbq spices that consist of chilli powder, cumin and more. Must try these bbq skewers when you are there.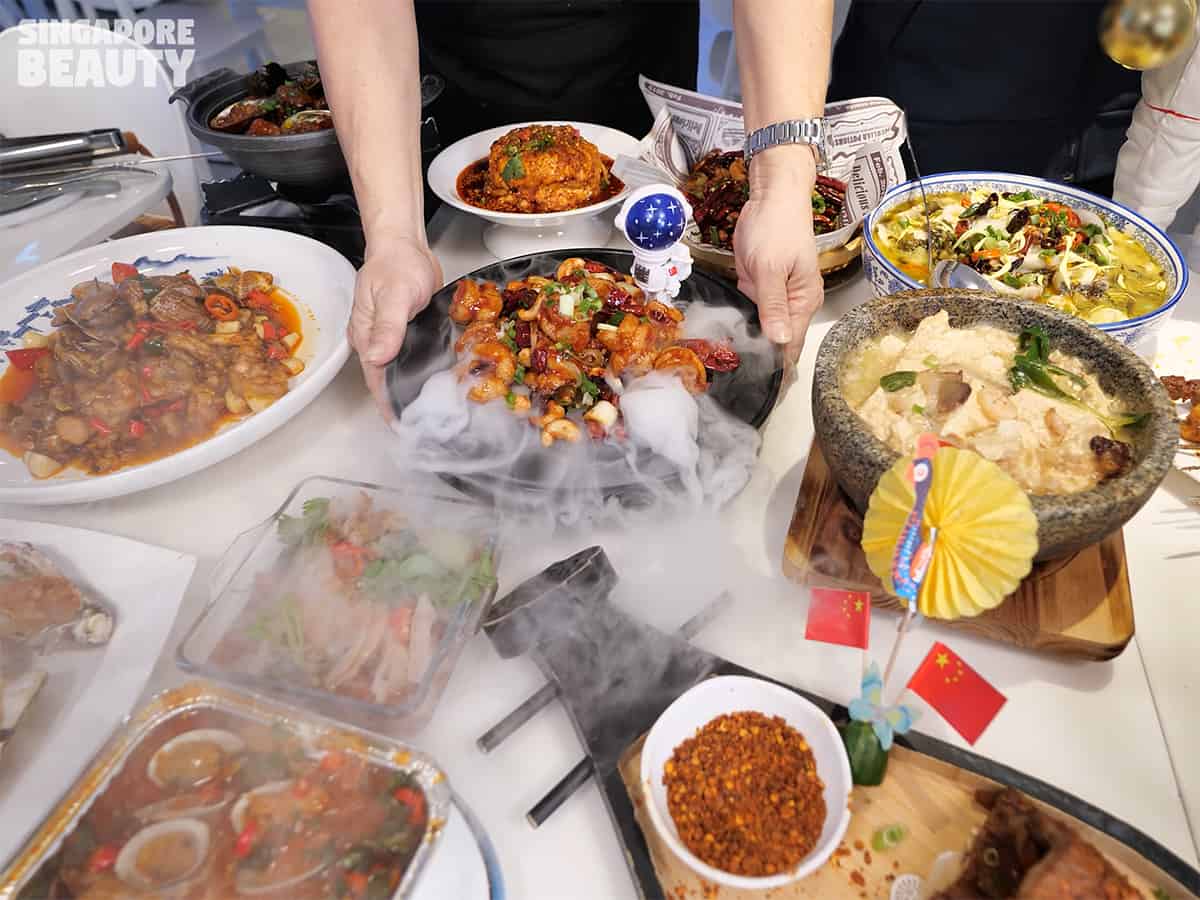 Looking for place to eat Sichuan and Dongbei food in Bugis? Chef China Hua Chu in Bugis serves some specifically designed space themed food for an out of this world experience. Some of the galactic themed food comes with mini astronaut, a galactic effect with dry ice and hotpot ingredients served in a futuristic blue hue tray that lits up.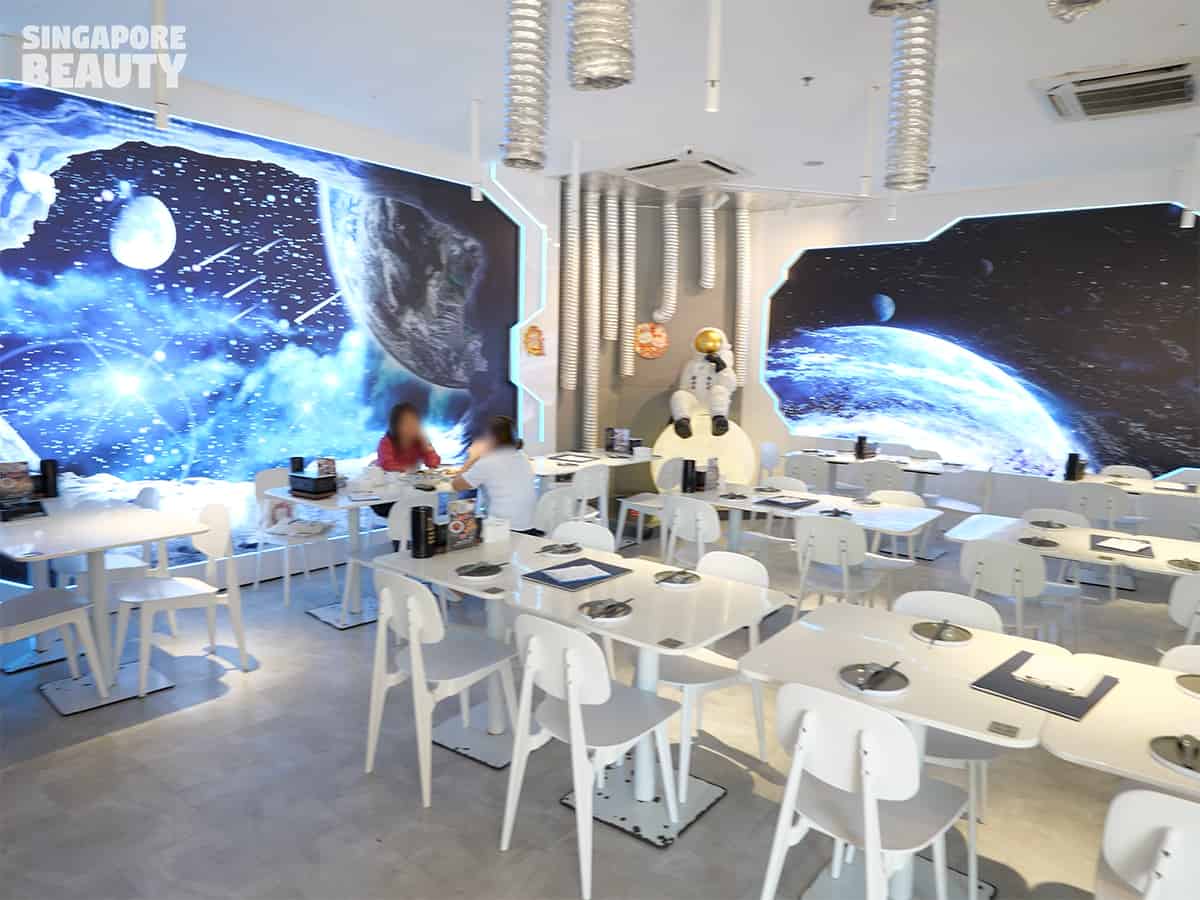 The interiors are backdrops of space travel, planets, galaxy & astronauts in space. White frames with neon blue light borders to mimic windows of space vessels. The tables and chairs takes on a clinical white shade with silver "space ducts" hanging from the ceilings. The place is definitely photo worthy with a bluish hue ambience lights.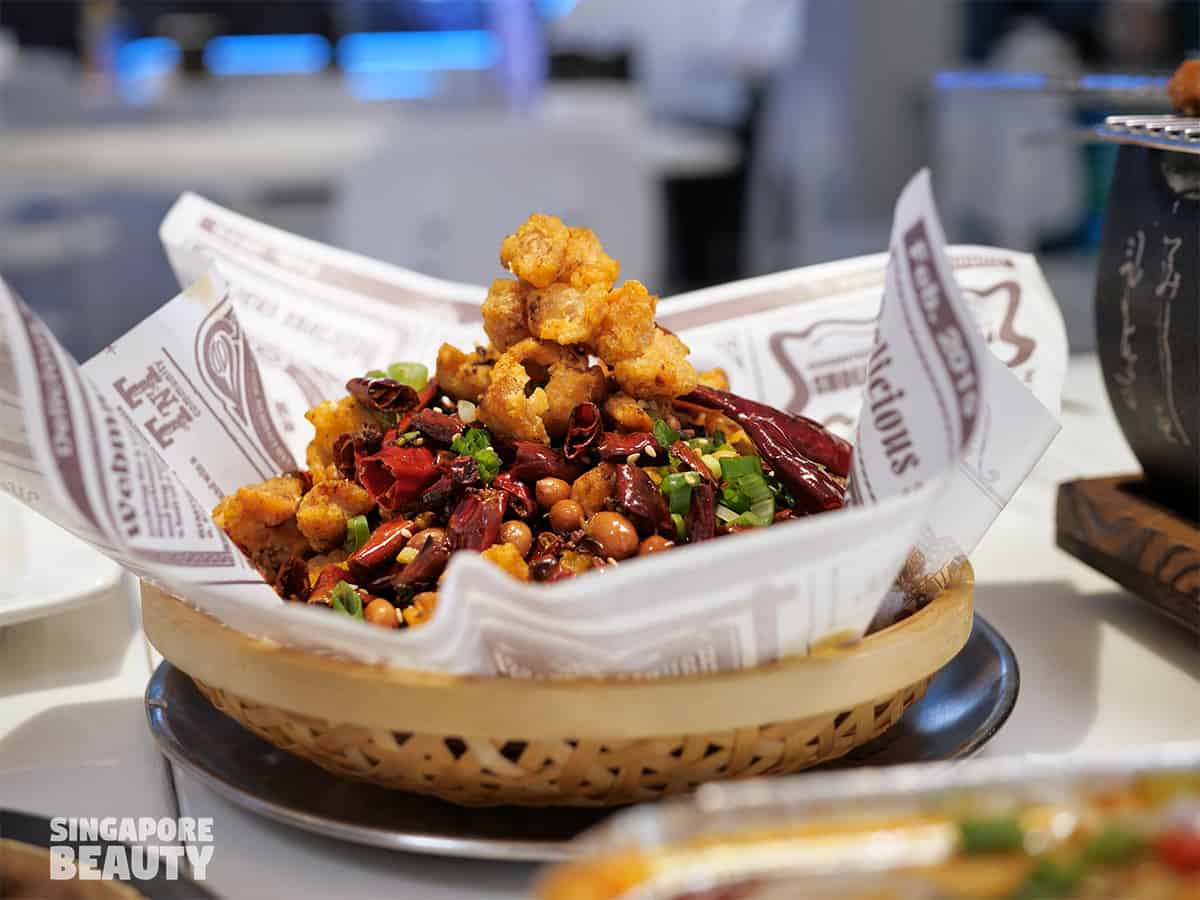 Here's our Chef China review after trying many of their signature dishes recommended by their chef. With so many choices of Sichuan & Dongbei style food, we are spoilt for choice and is a tight spot to pick out our favorite. But our editor's choices are the BBQ skewers and the Chongqing Spicy Chicken ($18.80). Perfecting heat, salinity & savoury with good proportions of crispy crunchs & meats. There are also options to customise the heat level to your preference. Delightful mixture of dried chilli pepper, crunchy ground nuts, fresh scallions, numbing peppercorns, crunchy fried chicken pops and crispy cracker like crunches.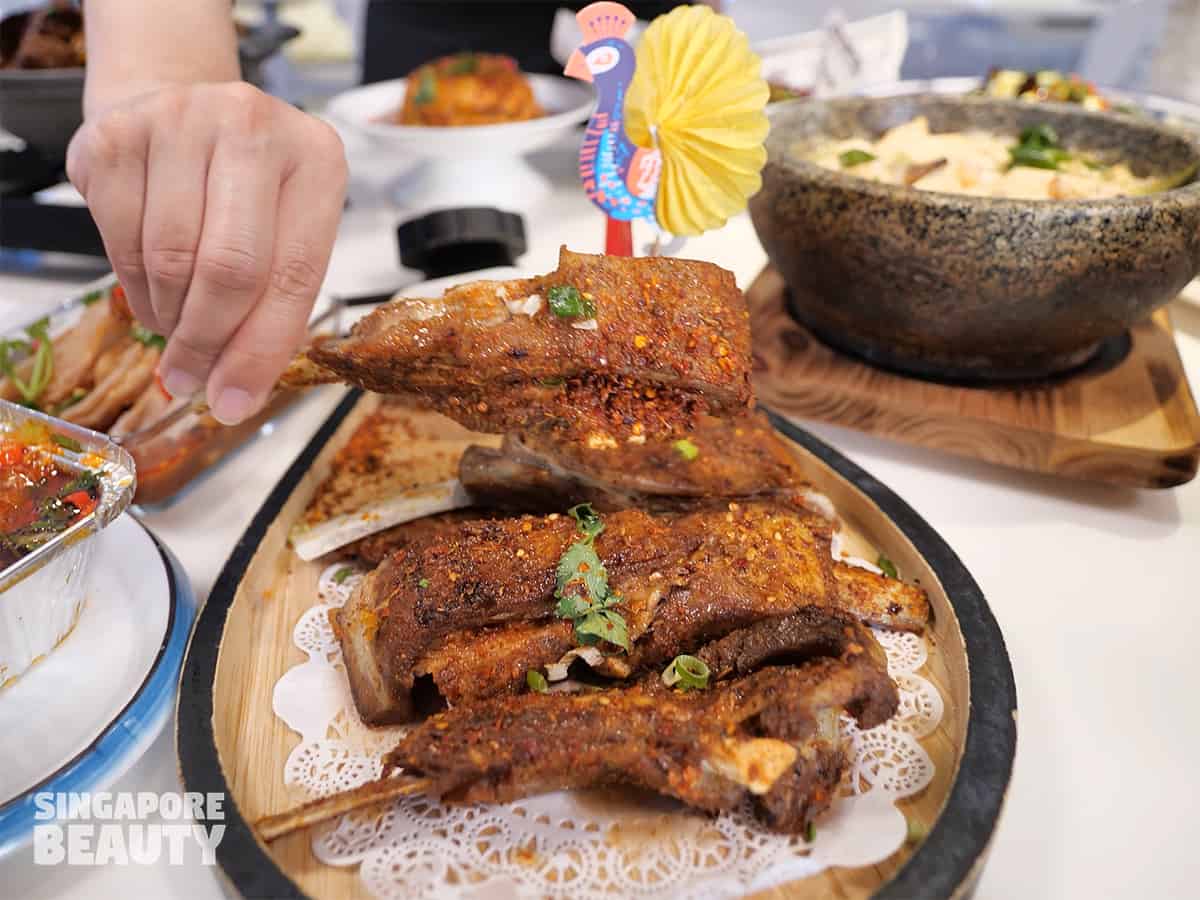 Grilled Lamb Chop ($21.80 per serving) is also one of the bbq meats from their speciality bbq bar. The lamb racks are poached gently before going to the grills. Meat is super tender that will jiggle when you pick the lamb rack up by the rib bone. Eat these when they are served hot off the grill for the fall of the bones texture. Comes with a dry spice dip for an extra peppery kick.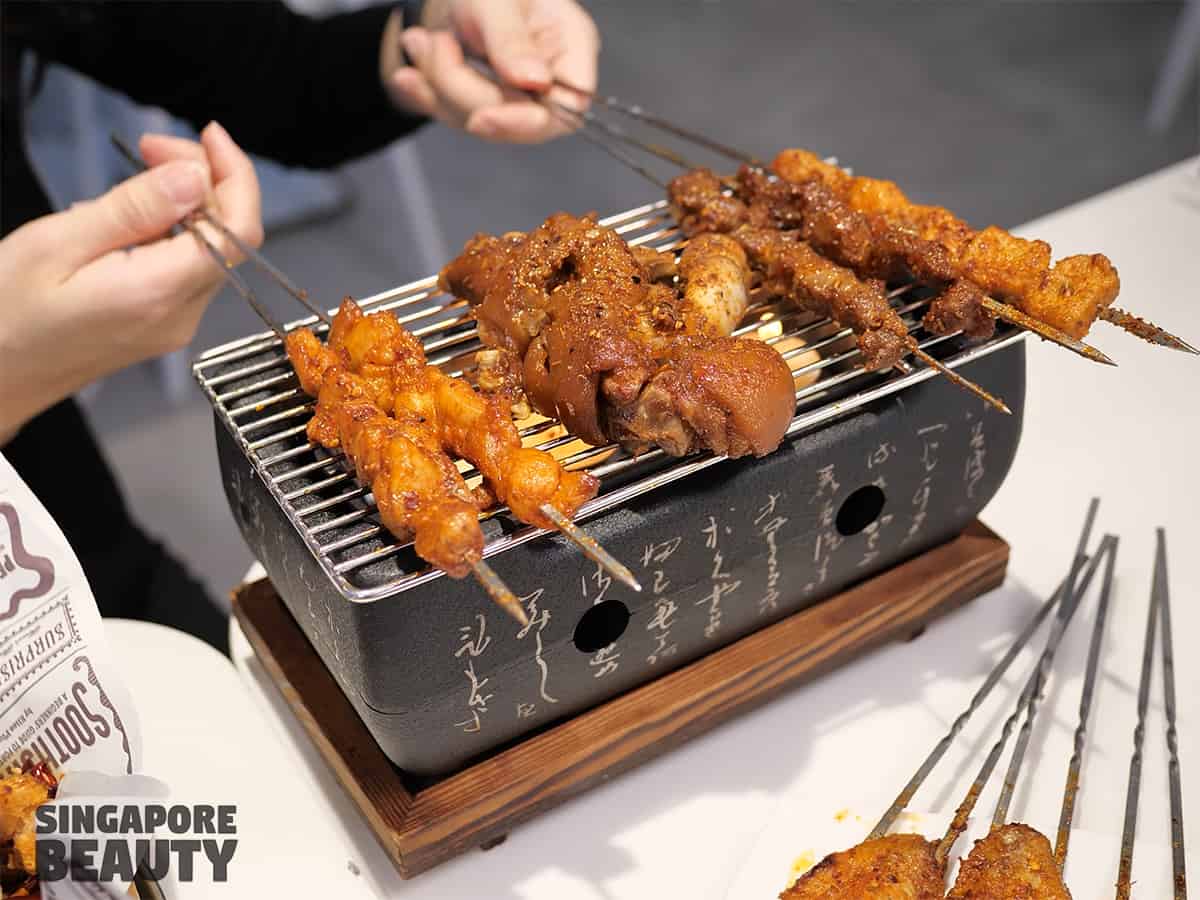 When you order their bbq skewers, there is a table top mini heated stove for you to put your skewers on to keep them warm and tender while you feast. They have various bbq meat skewers beef, lamb, pork and chicken in various marinades. The bbq series on their menu also consist of tin foil seafood, grilled seafood such as squid, garlic oyster, jumbo scallop, squid, prawn and shishamo. With some special items like grilled duck head, grilled chicken feet, pork kidney, beef tendons, chicken livers and pork knuckles. They are pretty good with their grilled meats and seafood. Tender & umami for the meats & savoury and succulent for the seafood.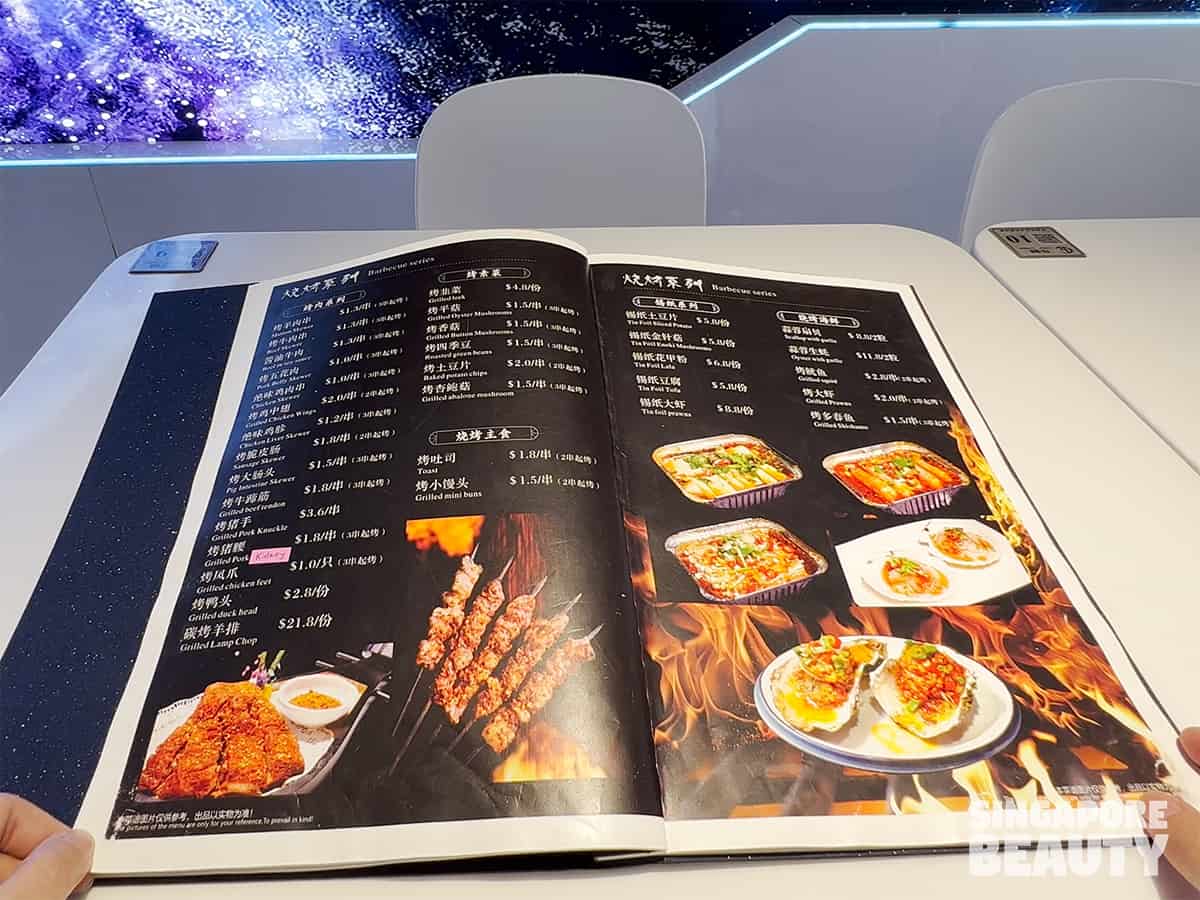 This is Chef China BBQ menu. Get your grilled bbq meat, grilled seafood, vegetables and offals fix here with an icy cold beer. If you are looking for a cheap & good place to enjoy Sichuan Dongbei style grilled bbq skewers in Bugis, try Chef China bbq grills.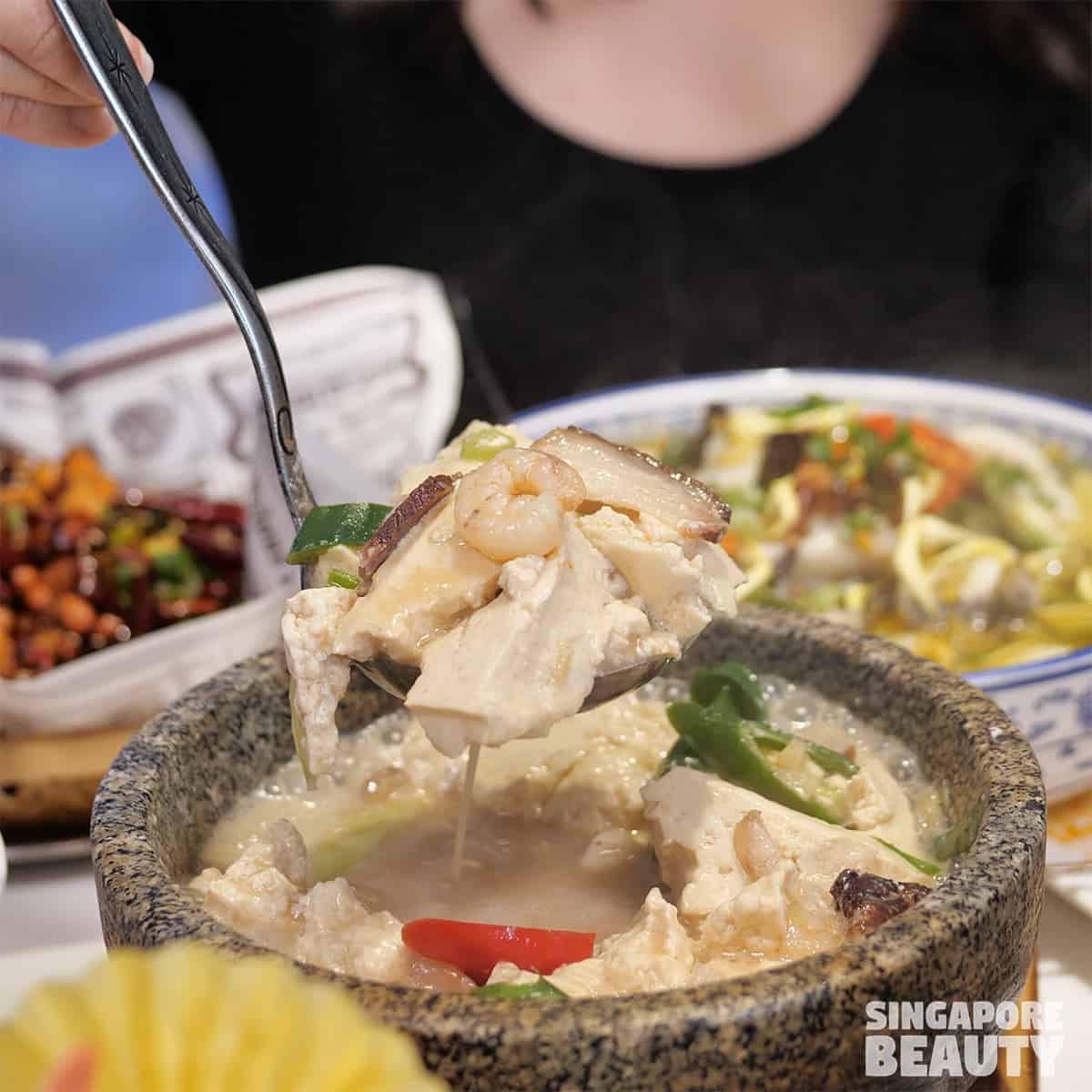 They are on a mission to bring piping hot choices, chef cook food & bbq grills. One of the piping hot choices is this Shrimp & Tofu ($18.80) served in red hot granite stone pot. The tofu came bubbling in a hot tofu stone pot that is very enticing and we are roaring to dig in. The tofu are those firm but soft ones with a strong bean flavour which we love, very much like Korean tofu in bean paste stew but a lighter comforting version. A very homely dish with savoury tofu and crunchy shrimps.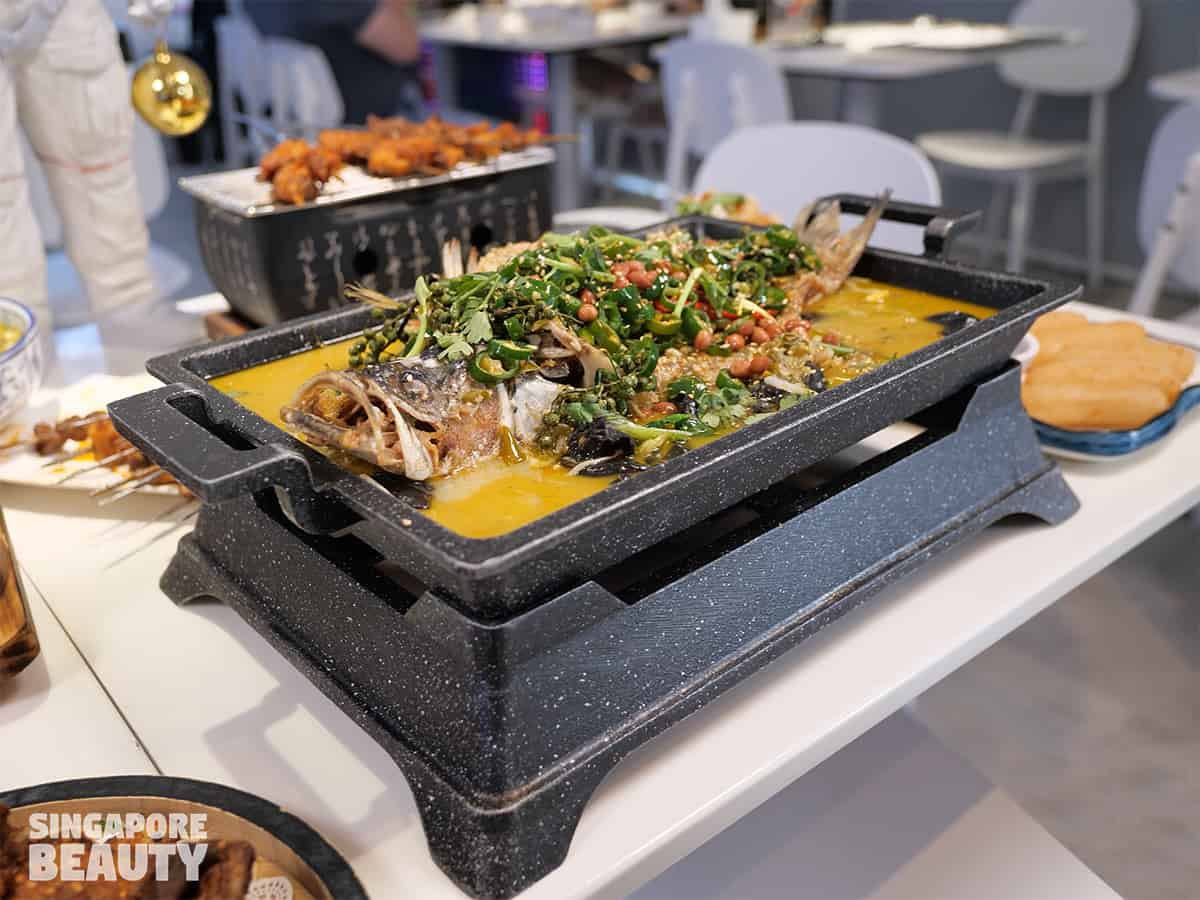 Grilled Fish ($32.80) are seabass that is deep fried to crisp and golden served in a savoury broth of your choice. The broths available are spicy pickled vegetable, mala and green pepper. The chef recommendation is the Green Pepper Grilled Fish, as we were told that this is a unique dish that they specialise in. The grilled fish is served on a heated stove and dressing in fresh green peppers and a golden chicken pork base soup. Enjoy chunky meat that is savoury & refreshing with pepper flavours.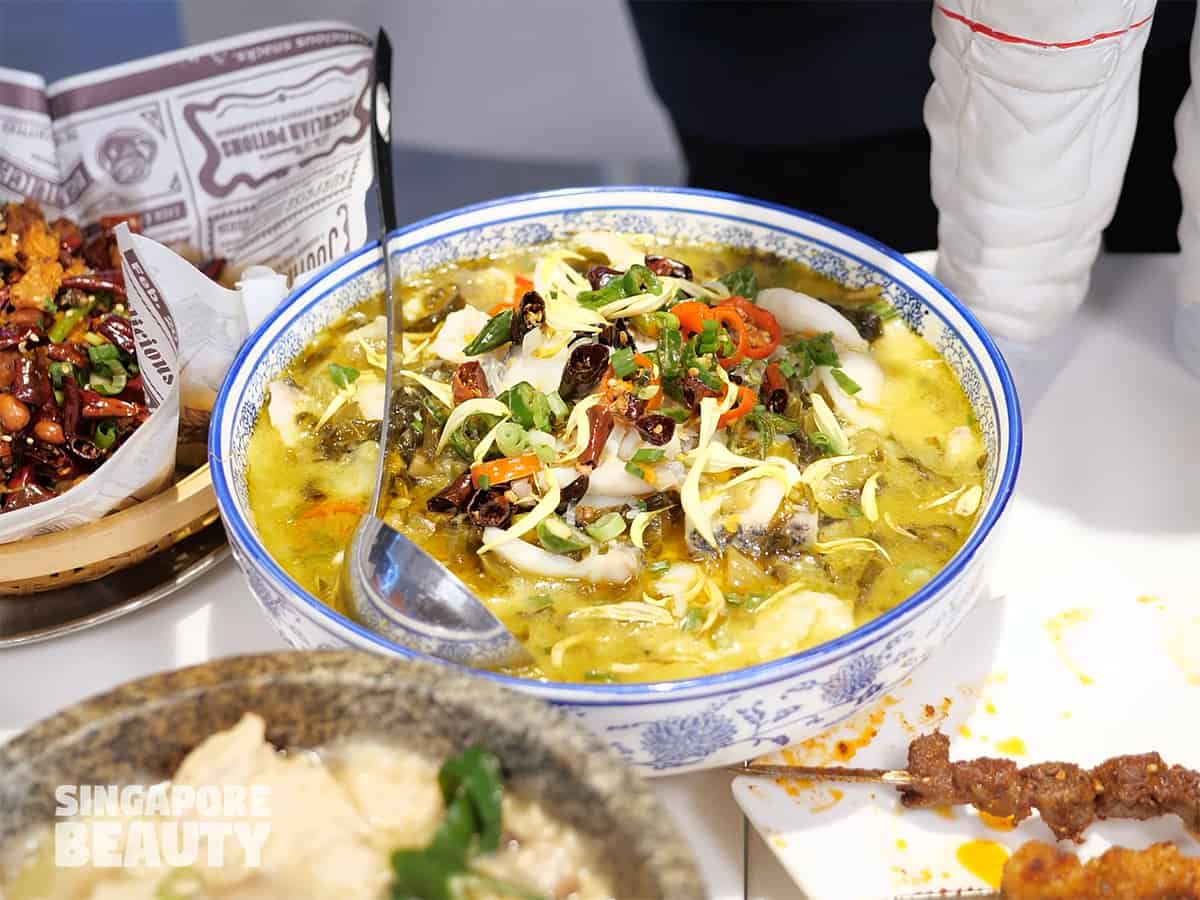 Pickled Vegetable Fish Fillet ($26.80) is a popular fish in a tangy almost tart tasting soup with succulent fish meat. This is a popular Sichuan dish that some restaurants require weeks of advanced booking. If you are craving for this dish, do head over to try Chef China Pickled Vegetable Fish Fillet at Bugis. This is a beautiful dish with golden soup, tender toman fish fillets, pickled vegetables,  glass noodles, cabbage topped with fresh chrysanthemum flower petals & peppercorn oil.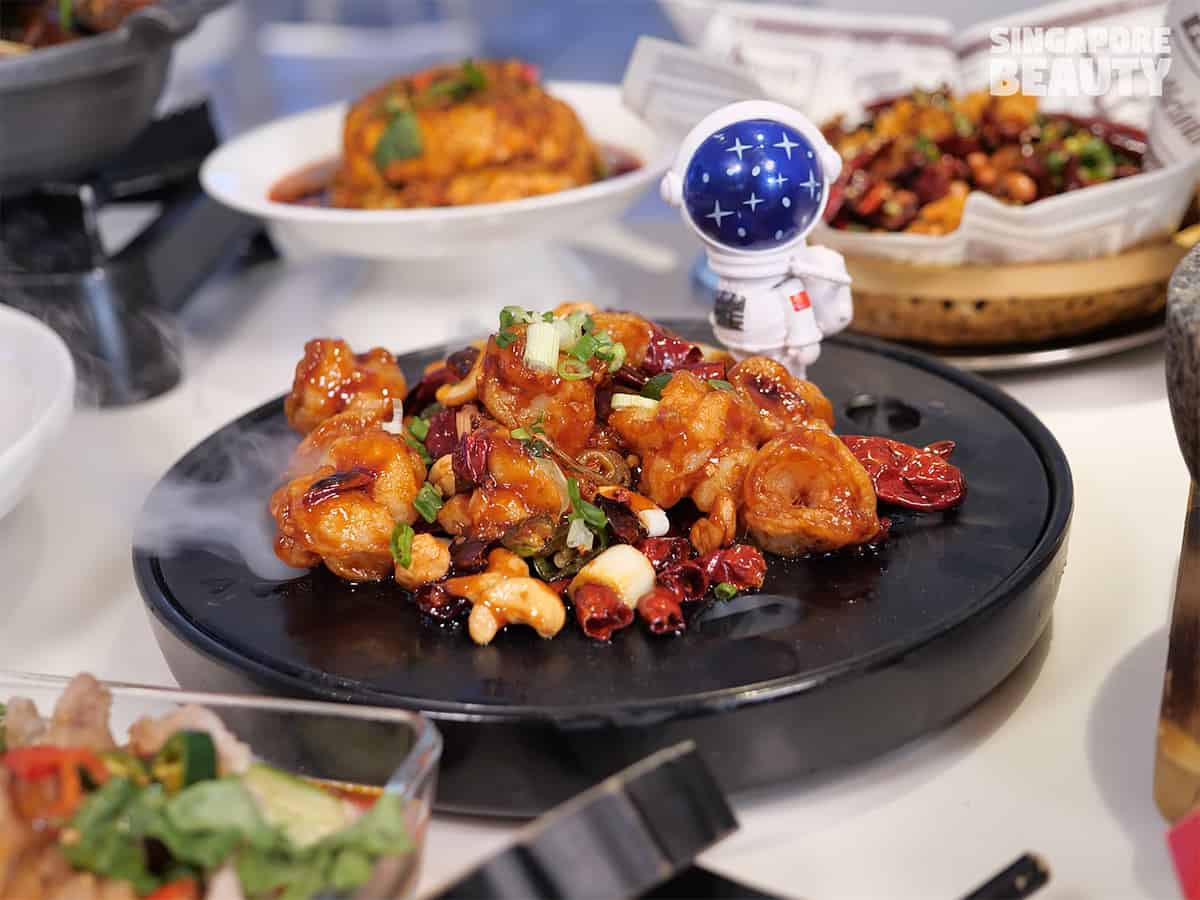 Gongbao Prawn Balls ($25.80) is served on a saucer with an astronaut space landing effect of white clouds from the dry ice. The prawn balls are a mouthful and consider a good size. Sweet and spicy coated crunchy whole prawns with cashew nut for a butter flavour. You can also customise the heat level for this dish to suit everyone at the table.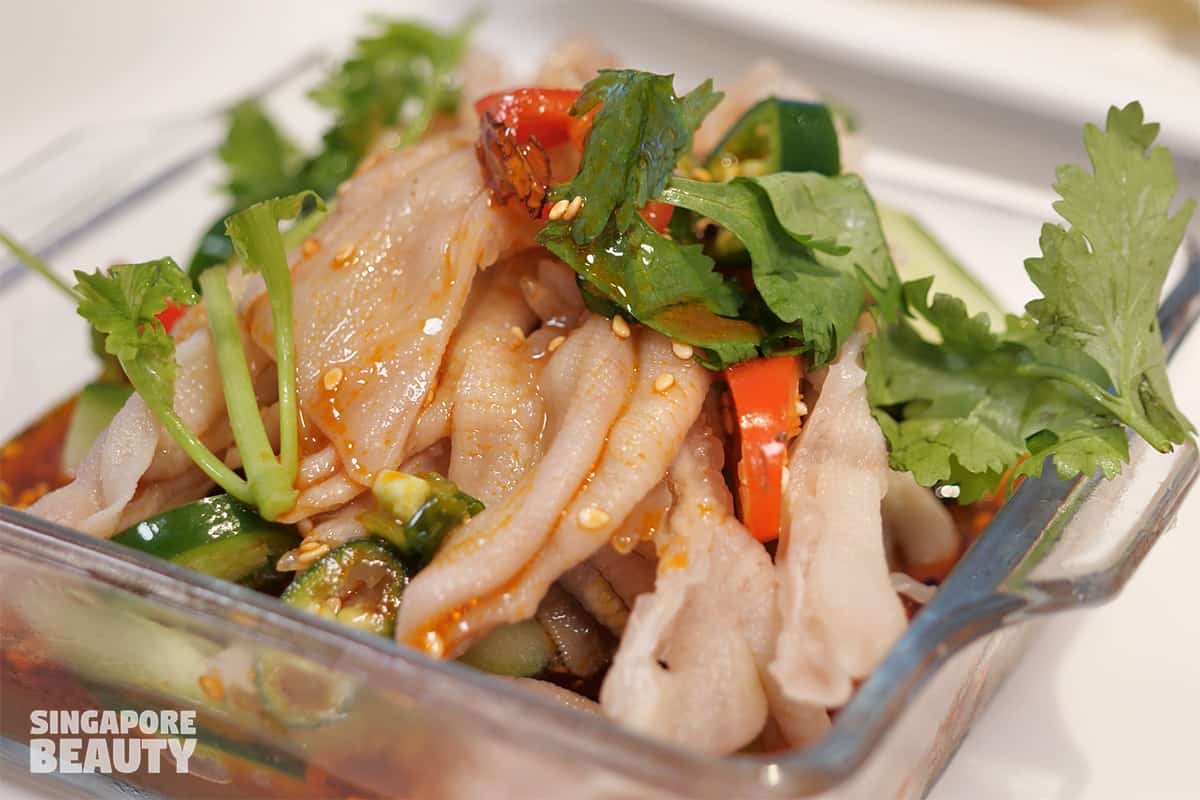 Boneless Duck Feet with Fresh Pepper ($11.80) are deboned poached duck web that is rich in collagen and gelatinous in texture. The crunch of the duck web with soft cartilages and the refreshing dressing makes it very addictive. This is a cold dish served cold and is great starter to the mains.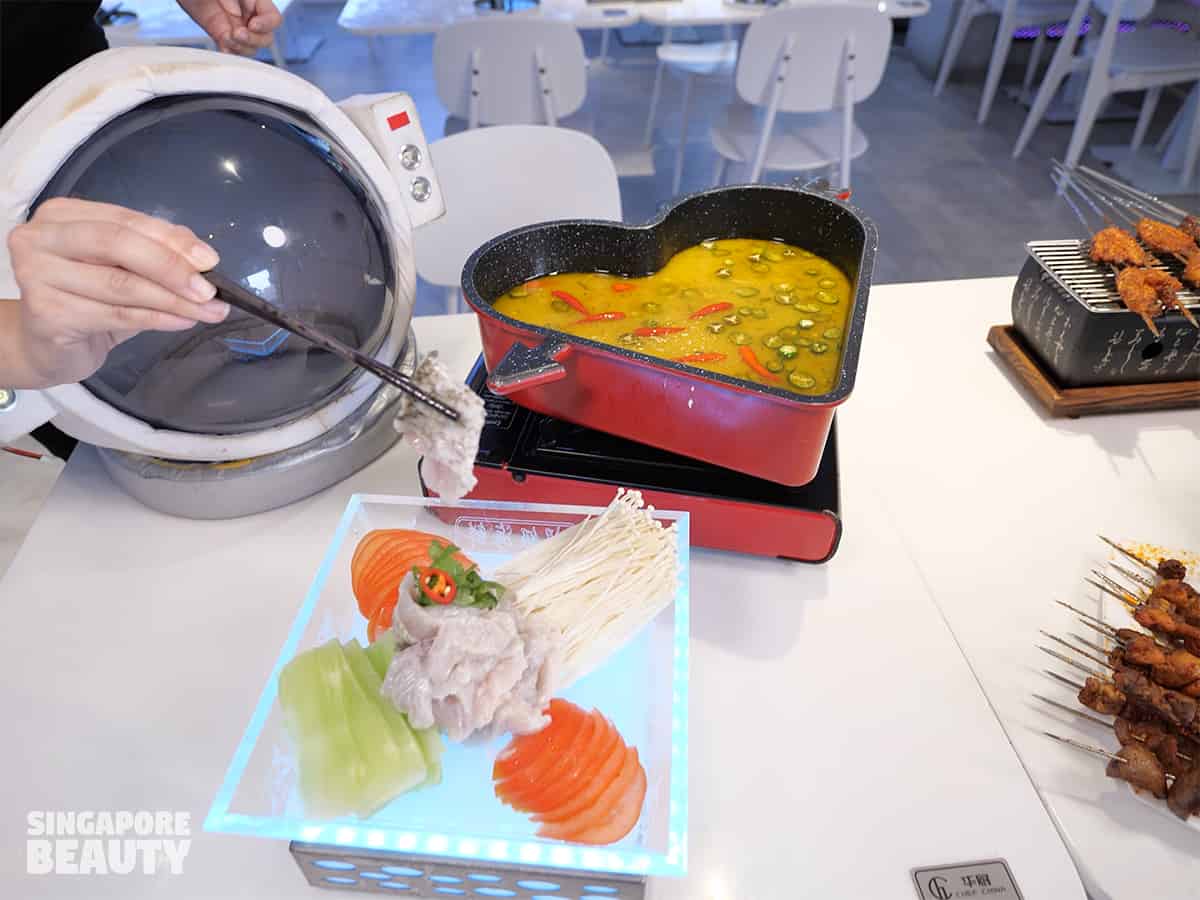 Fresh fish platter ($26.80) with 400 grams of seabass fillet, green shoots, tomato and enoki in a heart shaped hotpot with top up soup of your choice. Soup choices ($38.80 each) are signature green pepper soup, ChongQing mala soup and Nourishing clear soup base. The chef recommendation is the green pepper soup base, to best enjoy the fresh fish platter with.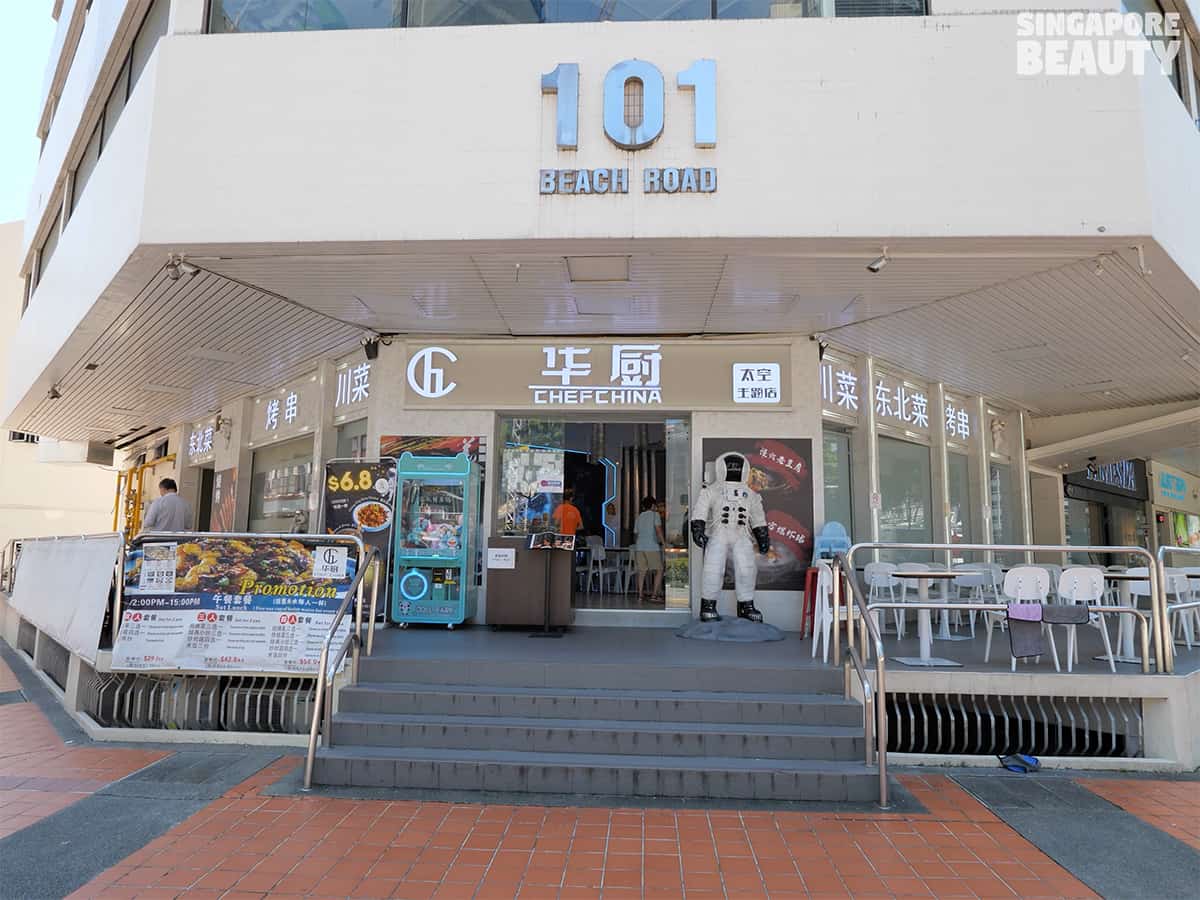 Takeoff now to a far away galaxy and land safely with Chef China Sichuan Dongbei Cuisines. Come explore this galaxy themed restaurant with many photo worthy spot and interactive décor. We also tried their Braised Pork with Abalone on heated stove which has whole abalone with pumpkin & hash browns. Wah Ha Ha stir fry with red & green pepper, get the best of both worlds with braised spicy frog meat and clams. Brown sugar glutinous rice cake are stretchy sweet gems with a light crisp crust to end the meal. House made tofu with big soy beans on a sizzling hotplate tender tofu with bean paste meat and more. Jet off now to this space themed restaurant Chef China Hua Chu at Bugis Singapore.
Chef China Promotion:
To celebrate their 2nd Anniversary, they are having a 20 % off for dine in till 31 July 2023.
Address of Chef China:
101 Beach Rd, 01-01
Singapore 189703
Opening Hours: 11am to 4 am daily
Call: 6566 2188
Brought to you by Chef China Hua Chu 华厨