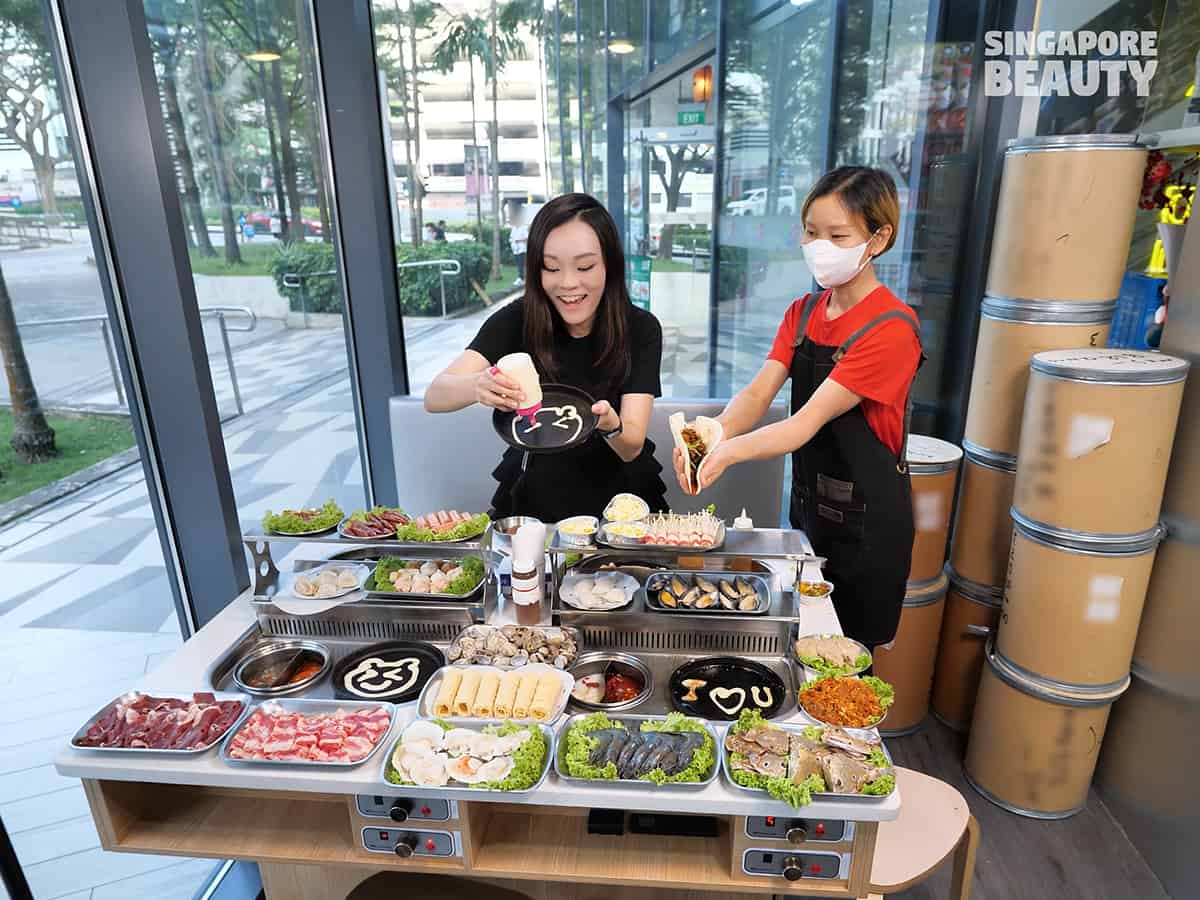 La Jiang Shan Hotpot is a popular hotpot and bbq buffet restaurant with Singapore's first personal hotpot and bbq plate. For those who are looking for a place to hotpot and barbecue without sharing, this is the place to try. They even have DIY pancake art for you to make your own pancake.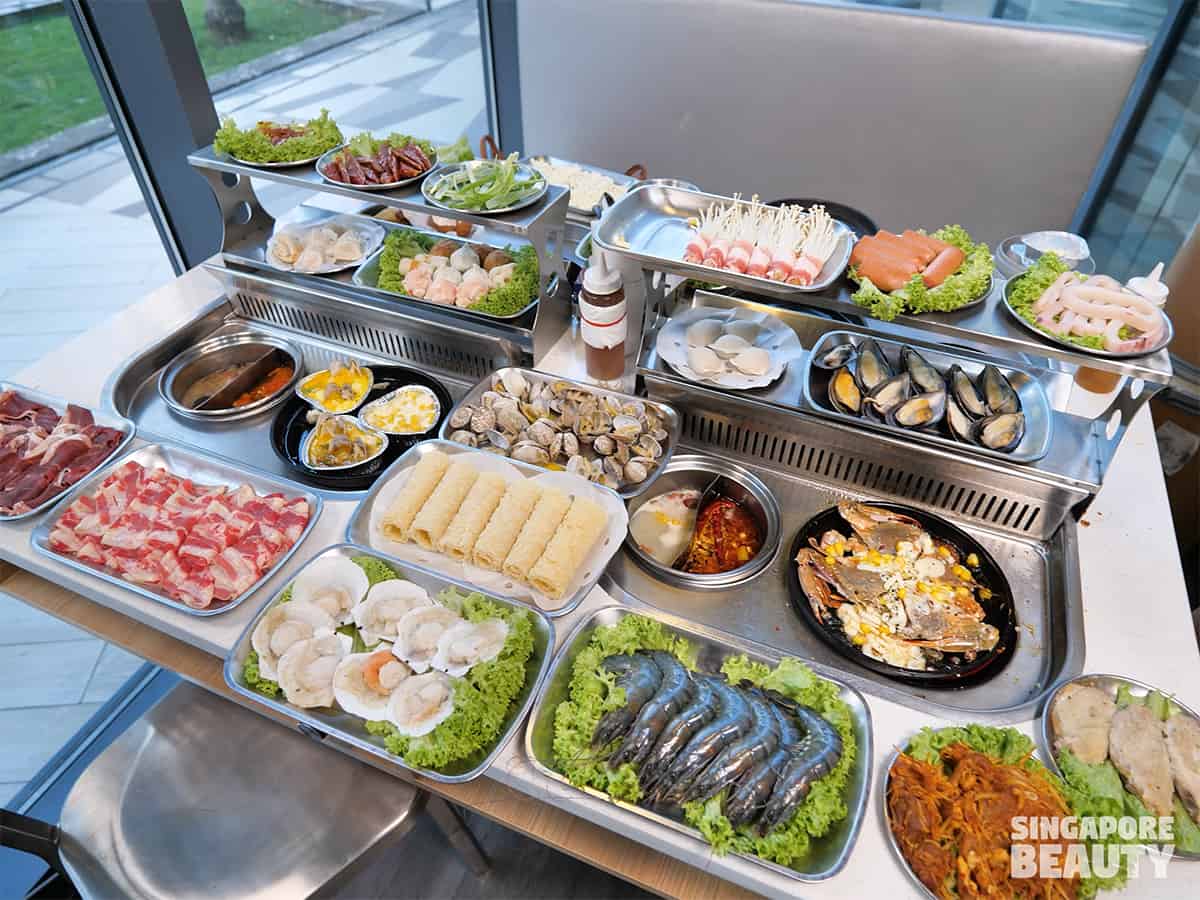 With over 70 items on the menu for dinner buffet, you will be spoilt for choice. La Jiang Shan hotpot is also loved by their regulars for special creations like baked eggs in tin foil, chef cook ready to eat dishes, DIY appetizers from their starters counter, free flow flower crabs, marinated meats with matching ingredients, steamed xiao long bao, handmade dumplings and more.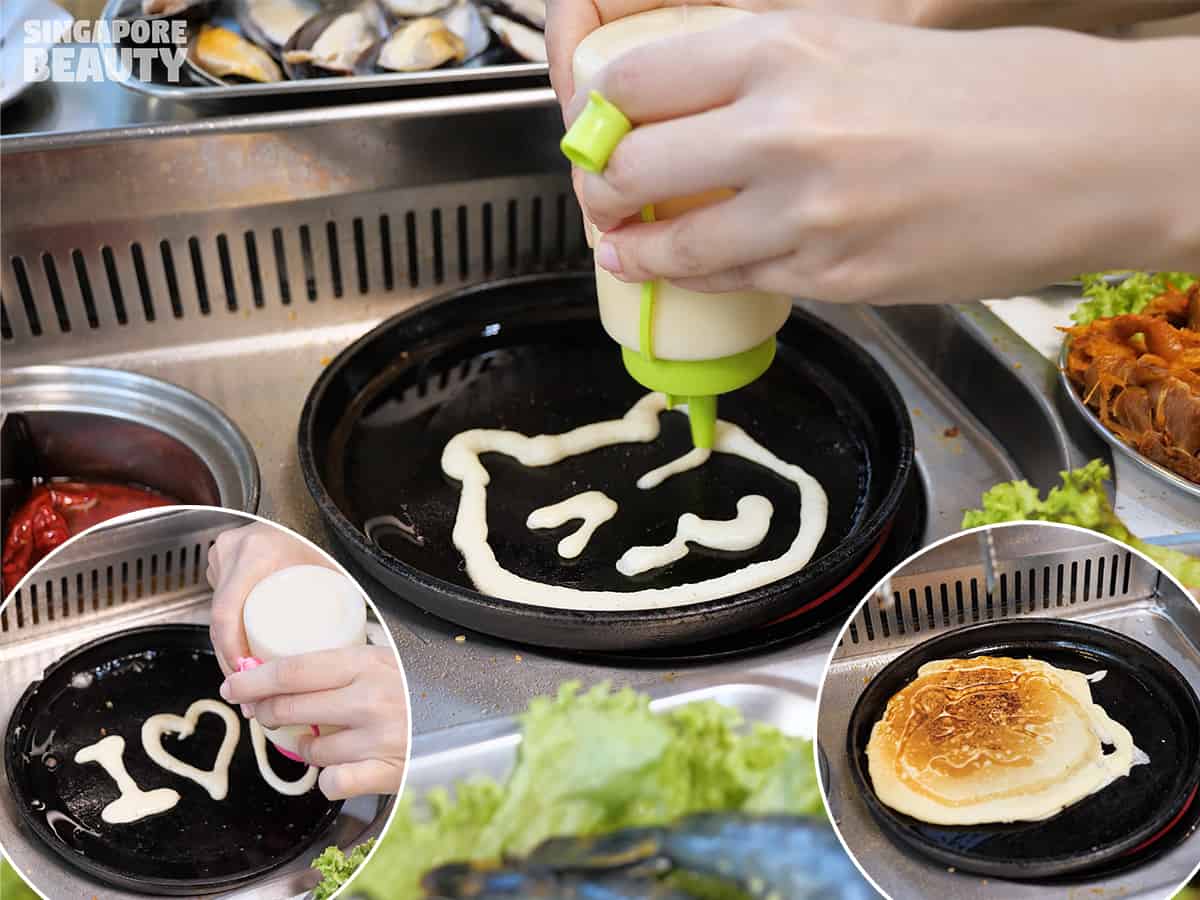 La Jiang Shan Hotpot at Clementi has added a new and fun item to their menu – DIY pancake art on your personal bbq plate. Before starting your bbq session, get your hands on these pancake batter in a squeeze bottle from their display chiller. After drawing the pancake, you can put the bbq plate back on the stove, turn it on and get the pancake batter cooked. Show your creative by DIY-ing your own pancake. You can draw cartoon pancake, write a message to your dinner partner or just simply make a pancake to enjoy.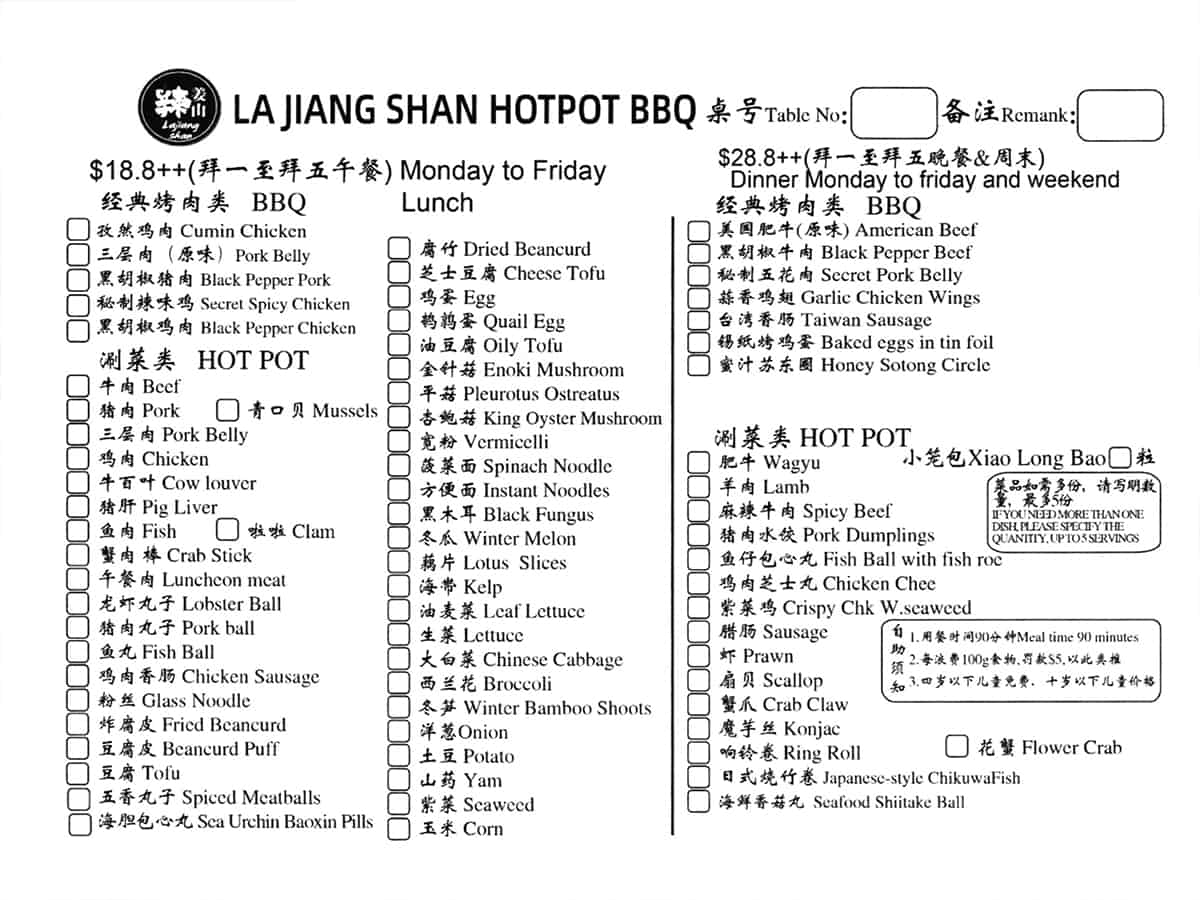 Here's La Jiang Shan Hotpot menu for the Clementi branch. There are more than 70 items for dinner buffet and more selection of seafood and meats during the dinner buffet. Buffet lunch price for La Jiang Shan Hotpot is priced only at $18.80++ inclusive of meats and selected seafood. Top up $2.80++ for a single soup of your choice. La Jiang Shan menu for the Selegie outlet may differs slightly from the Clementi outlet.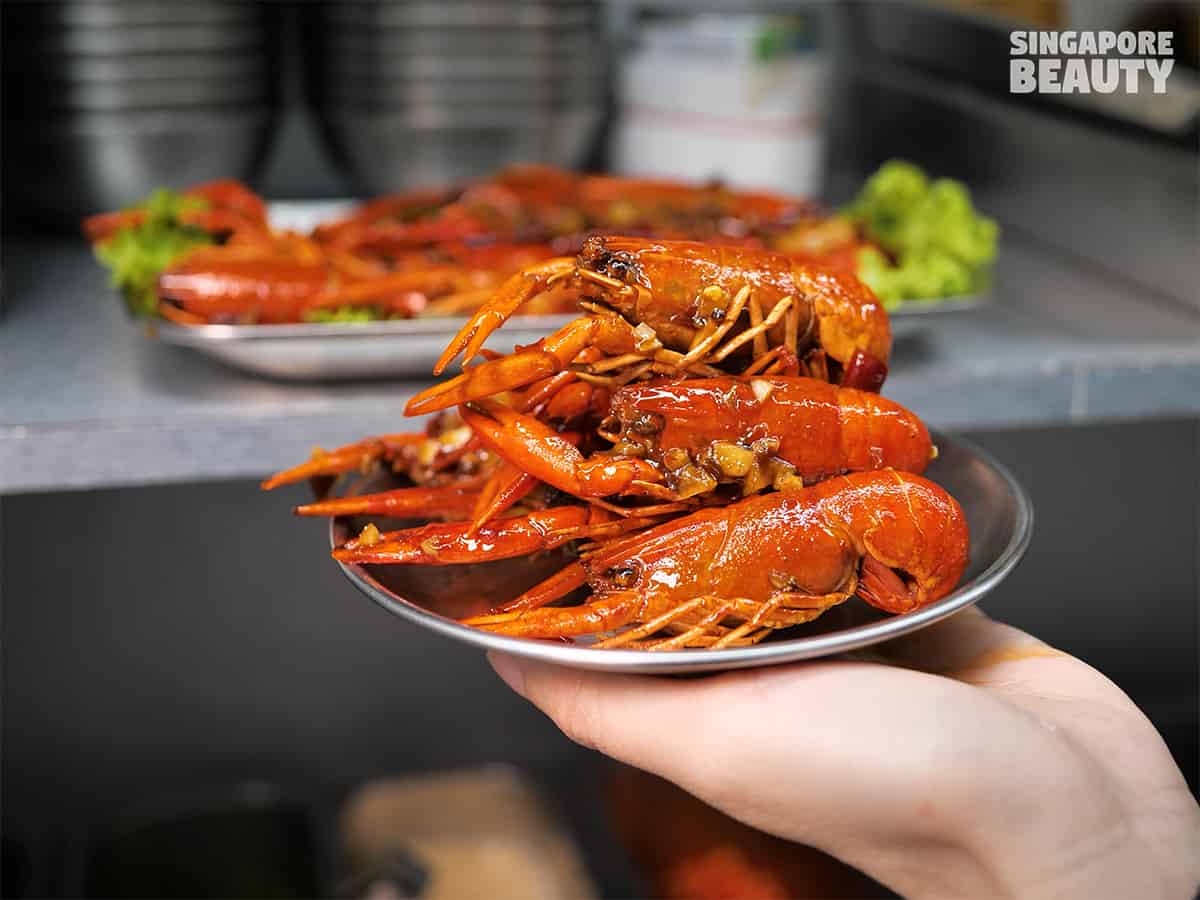 Enjoy daily dinner specials like chef cooked spicy mala crawfish from their starter counter. These are cooked fresh by their inhouse chef for dinner session buffet. You can get your own mala crawfish from their starter counter above the condiments station. The chef cook dishes are on a rotational menu, it could also be chef cooked prawns, flower crabs etc to offer a varied experience for every visit.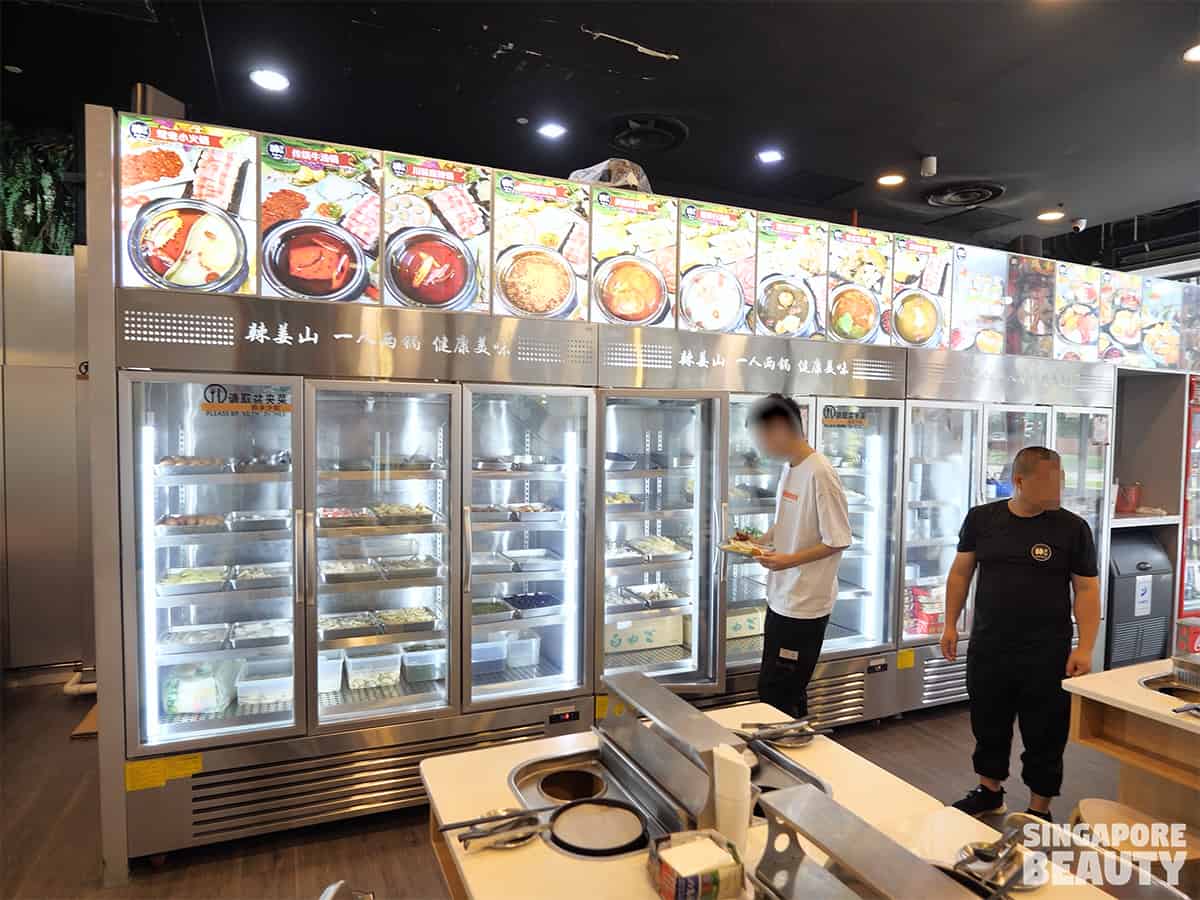 Here's La Jiang Shan Hotpot review of their dinner buffet at the Clementi outlet. We enjoy the accessibility to how close the display chiller is to our dining table, we can get all the shabu shabu meats easily and quickly for hotpotting. You are able to pick and choose fat or lean cuts as they are all displayed in the chiller. There are a stretch of 9 door display chillers with 5 tiers of food to choose from. Seafood in this buffet are table service where you order by ticking on their menu, the chef will prepare to order.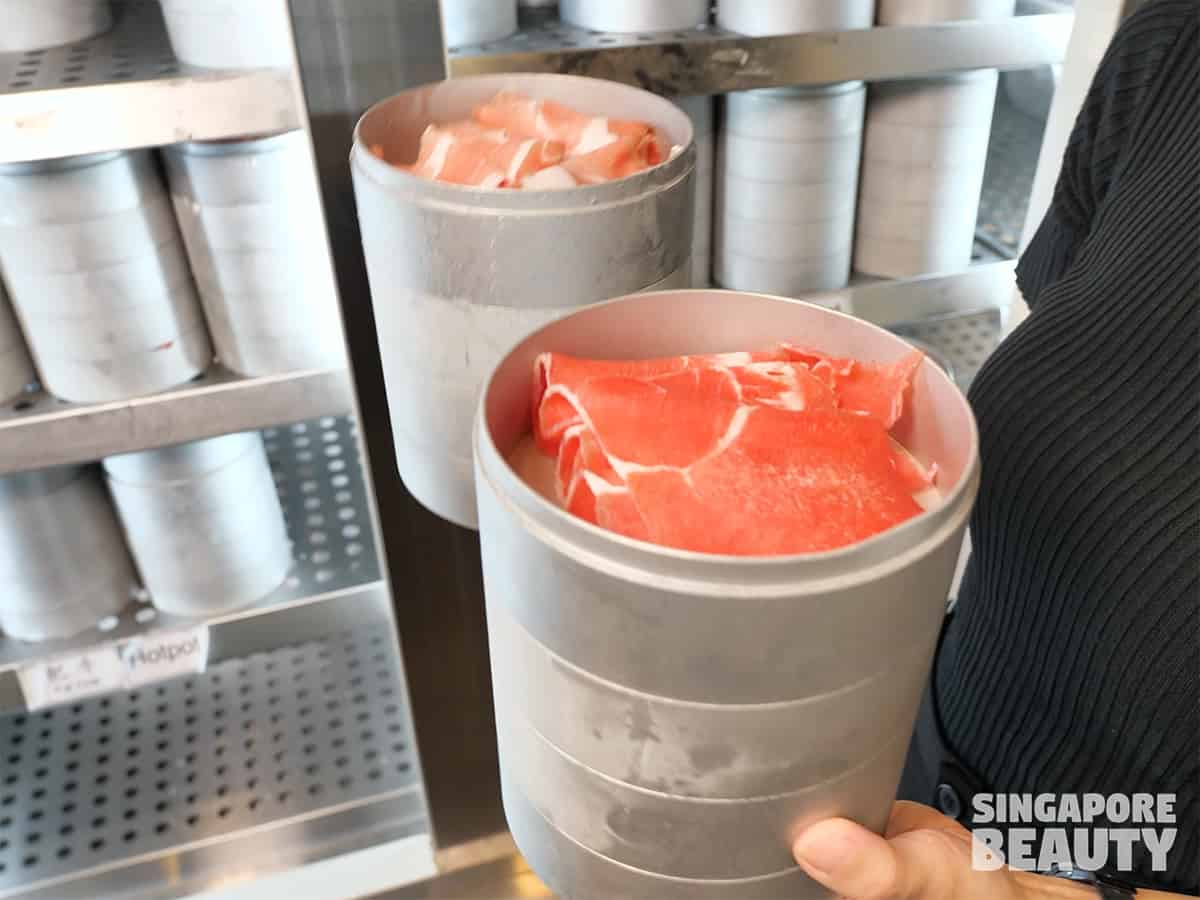 Enjoy a shabu shabu meat buffet with many selections of meats. For dinner buffet, you get marinated meats paired with ingredients, shabu shabu meats and bbq thicker cuts of meats. Meats available are American beef, black pepper beef, secret pork belly, garlic chicken wings, Taiwan sausage, US fat beef, lamb, spicy beef, cumin chicken, original pork belly, black pepper chicken and more. Offals such as beef tripe and pork liver are also available.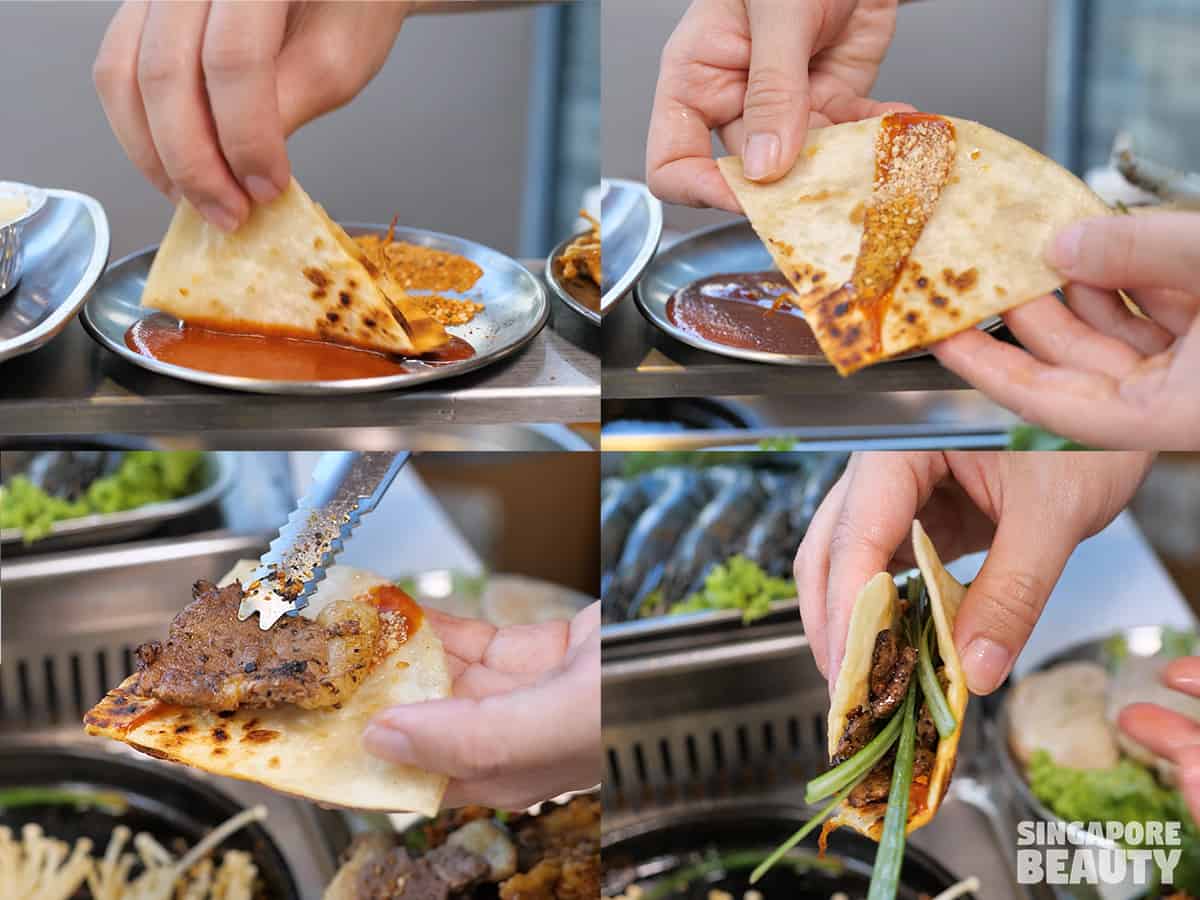 The latest addition to the menu is a meat aka kebab wrap with tortillas. Lightly toast the tortillas on the grill till soft and fluffy and fold the tortillas into half. Dip into the wrap sauce and dry spices condiments, top with bbq marinated meats (kebab grilled on bbq plate) or seafood. Add stalks of refreshing scallions, fold & pop into your mouth to enjoy in one bite.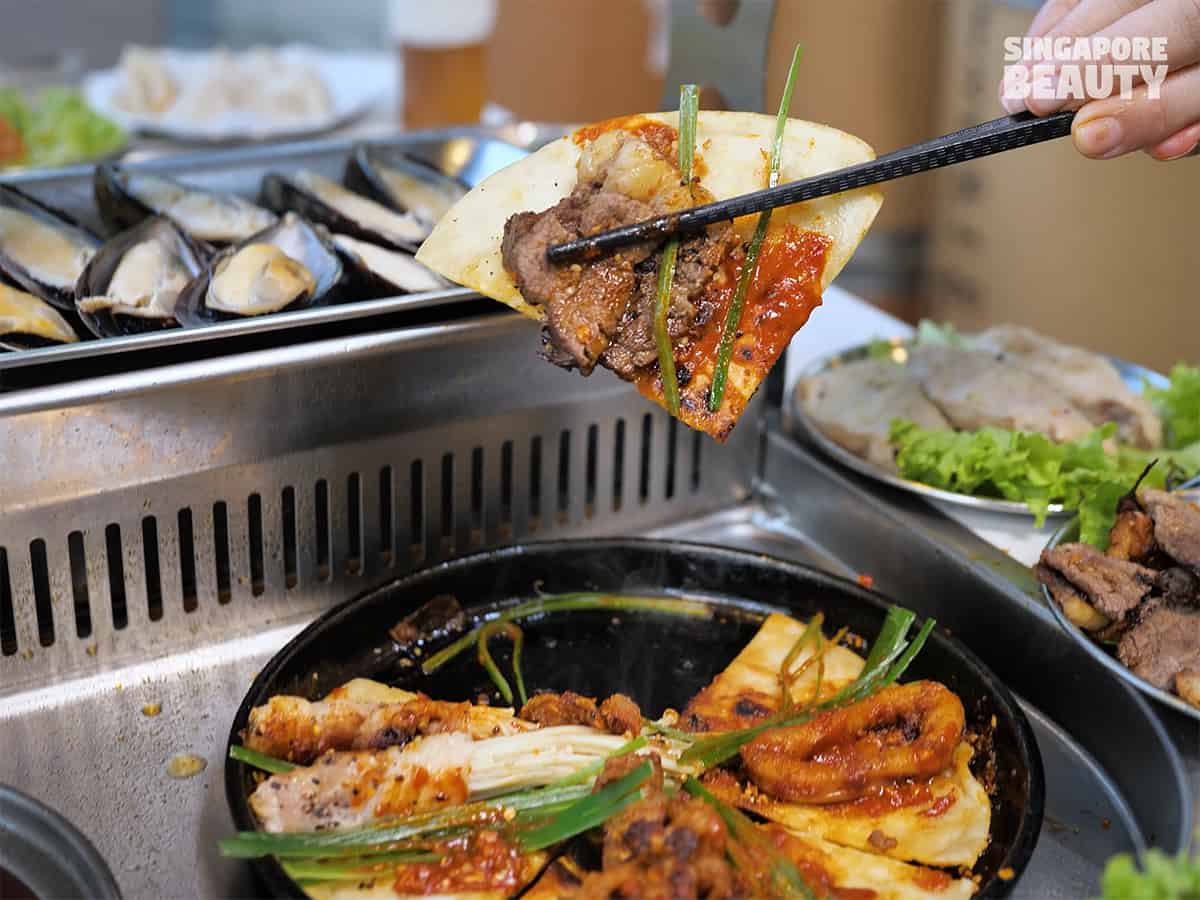 Keep them toasty on the grill while you enjoy your wraps. The warm soft tortillas with savoury meats and a burst of refreshing punch from the scallions are addictive and satisfying.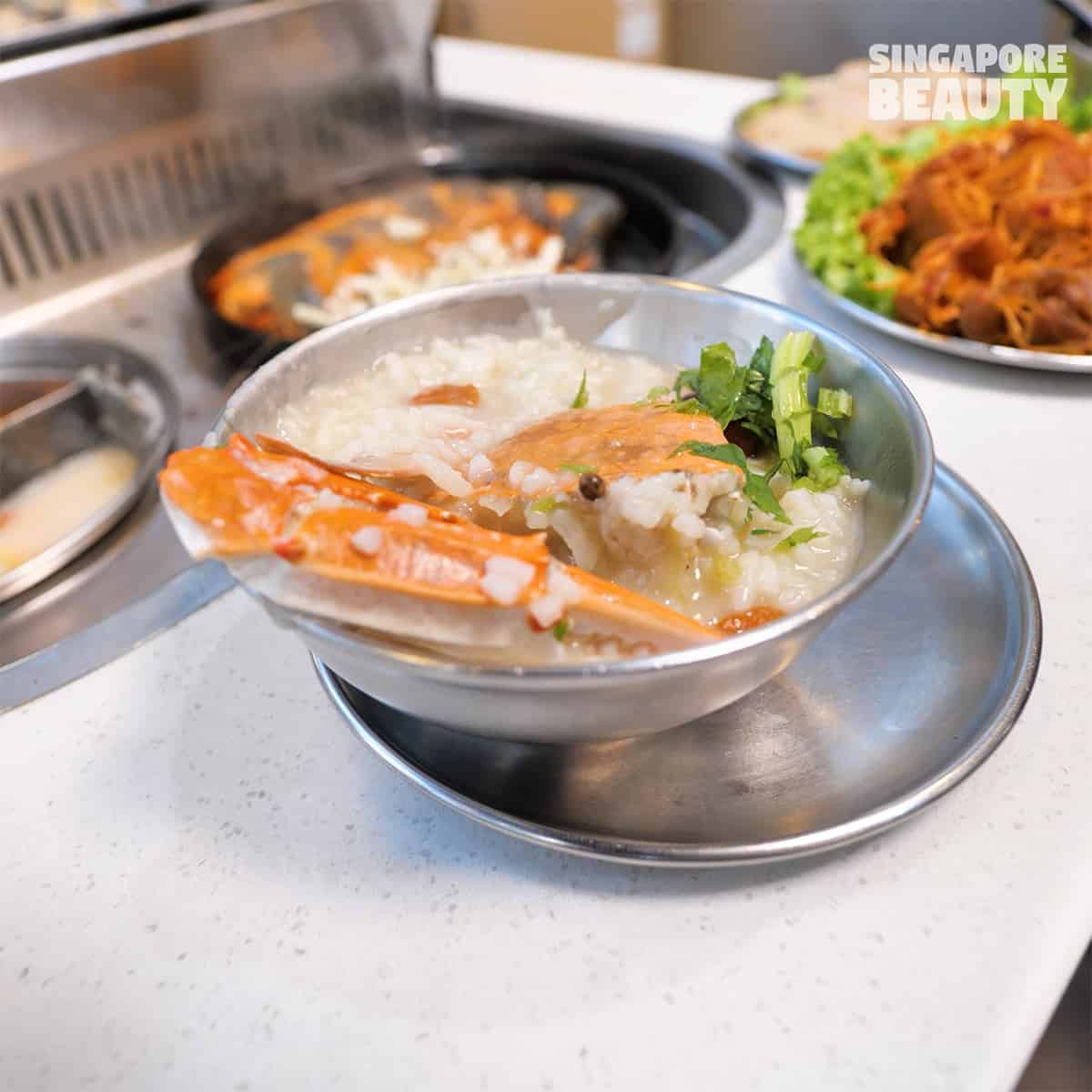 Enjoy a piping bowl of seafood goodness by DIY-ing your own flower crab congee. Free flow flower crab are included in the dinner buffet. Get some steamed rice from their condiment counter, sweetness make this a comforting dish to enjoy especially on a cold day.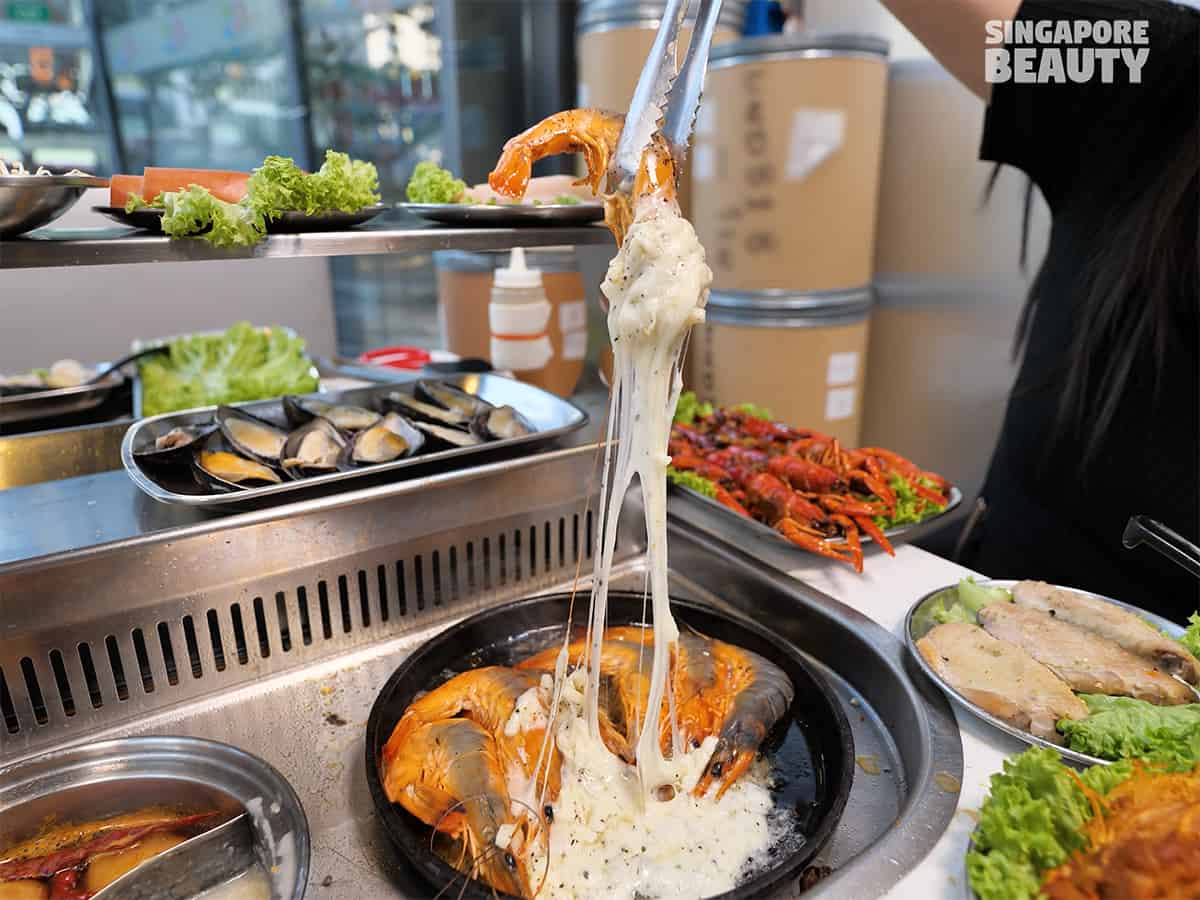 Get some cheese from their display chiller and add to some bbq prawns. Enjoy some savoury cheese pull with sweet crunchy prawns. The good size tiger prawns are sweet and interesting to eat with the chewy cheese.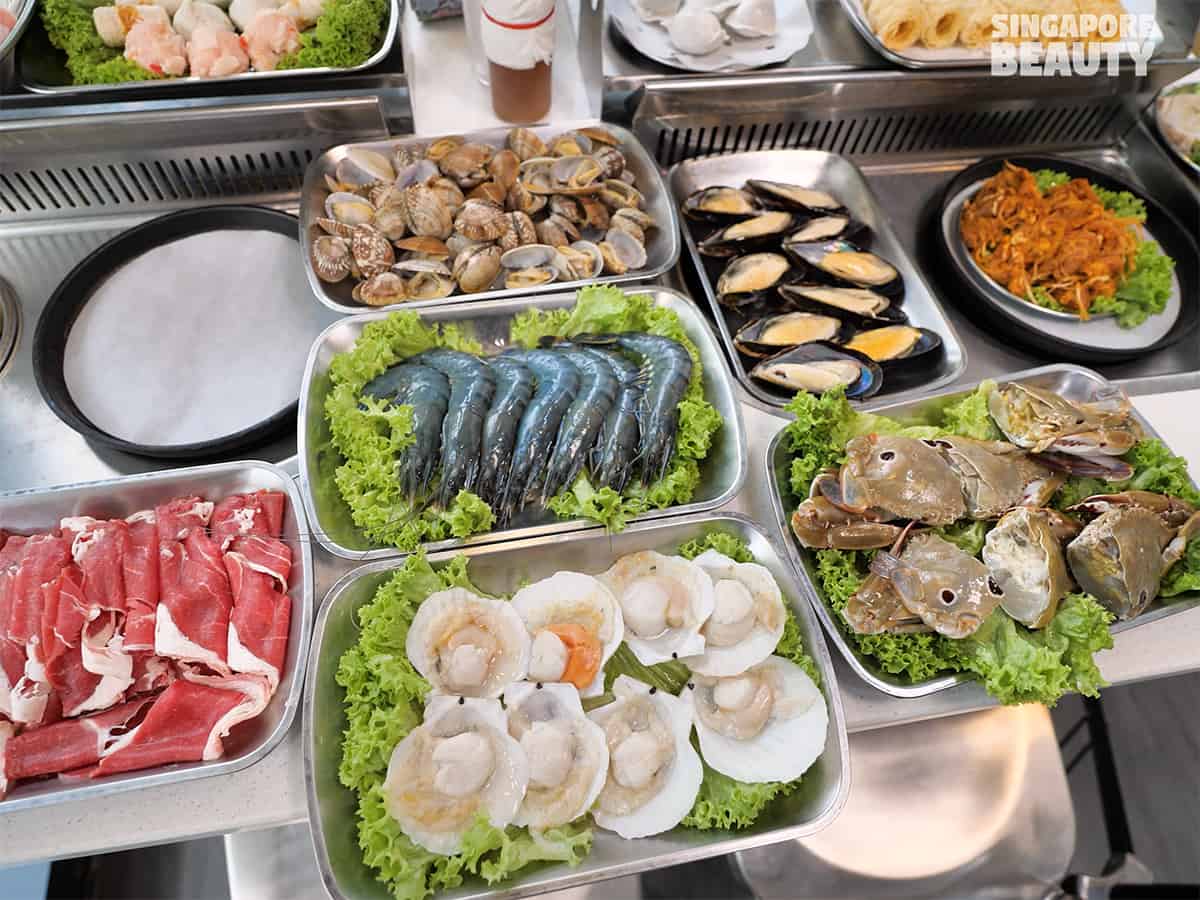 Here are some of the seafood we had at La Jiang Shan dinner buffet. The seafood available are scallops, Asari clams, dory fish, mussels, tiger prawns, flower crab and more. Enjoy the seafood by grilling them with the condiments, ingredients from the display chiller.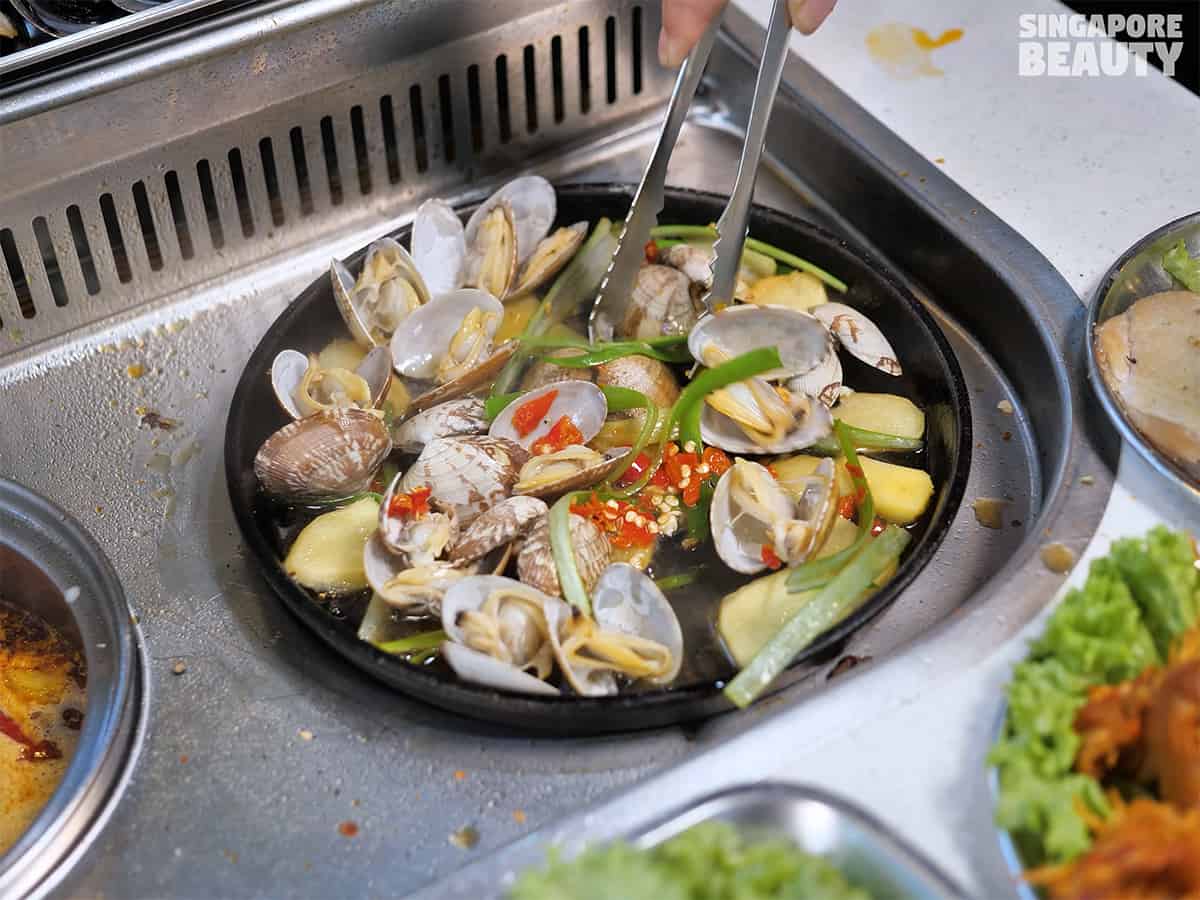 You can even stir fry them on the grill pan. We stir fry these lala with condiments and got some really delicious lala gravy to slurp on. Lala were quite clean and tender without grittiness.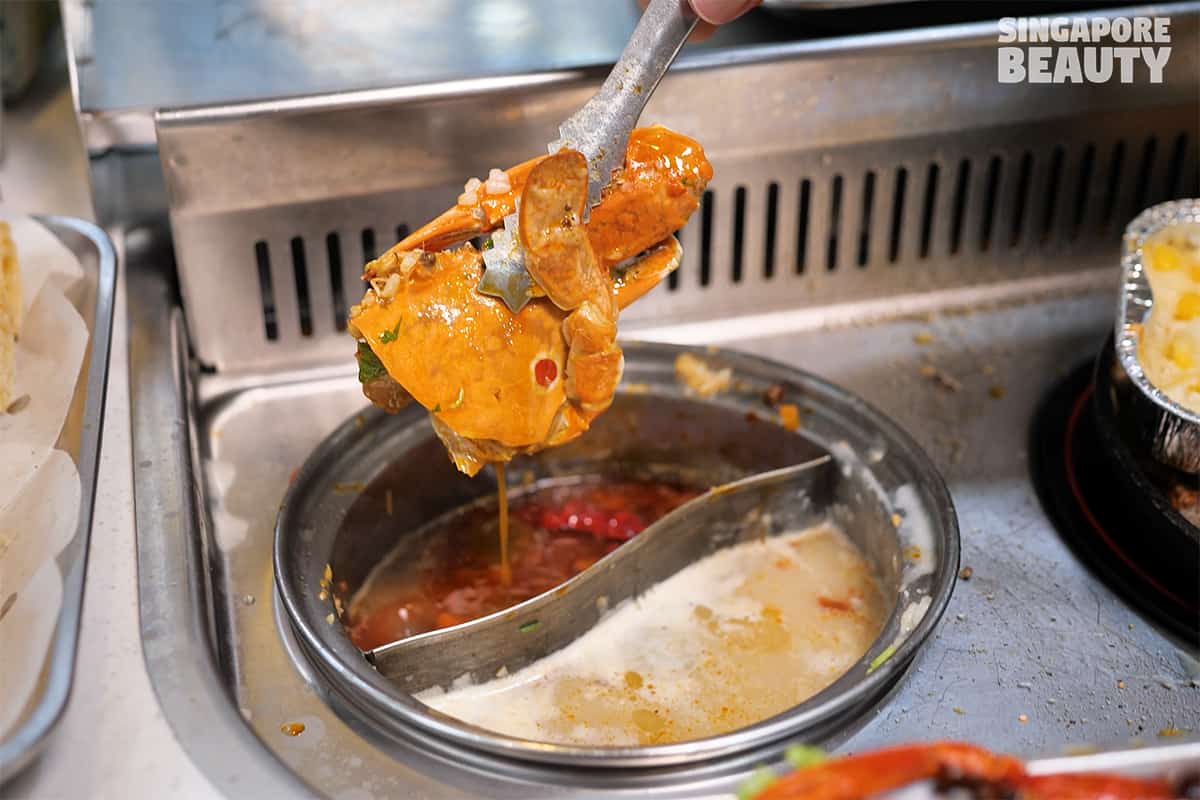 Hotpot seafood is also great with their spicy beef butter soup. The soup literally makes any seafood and meat taste good with the intense flavours. Hotpotting is a better cooking option for those seafood that required a longer cooking time, so you spend less time cooking and more time enjoying the spread of food they have.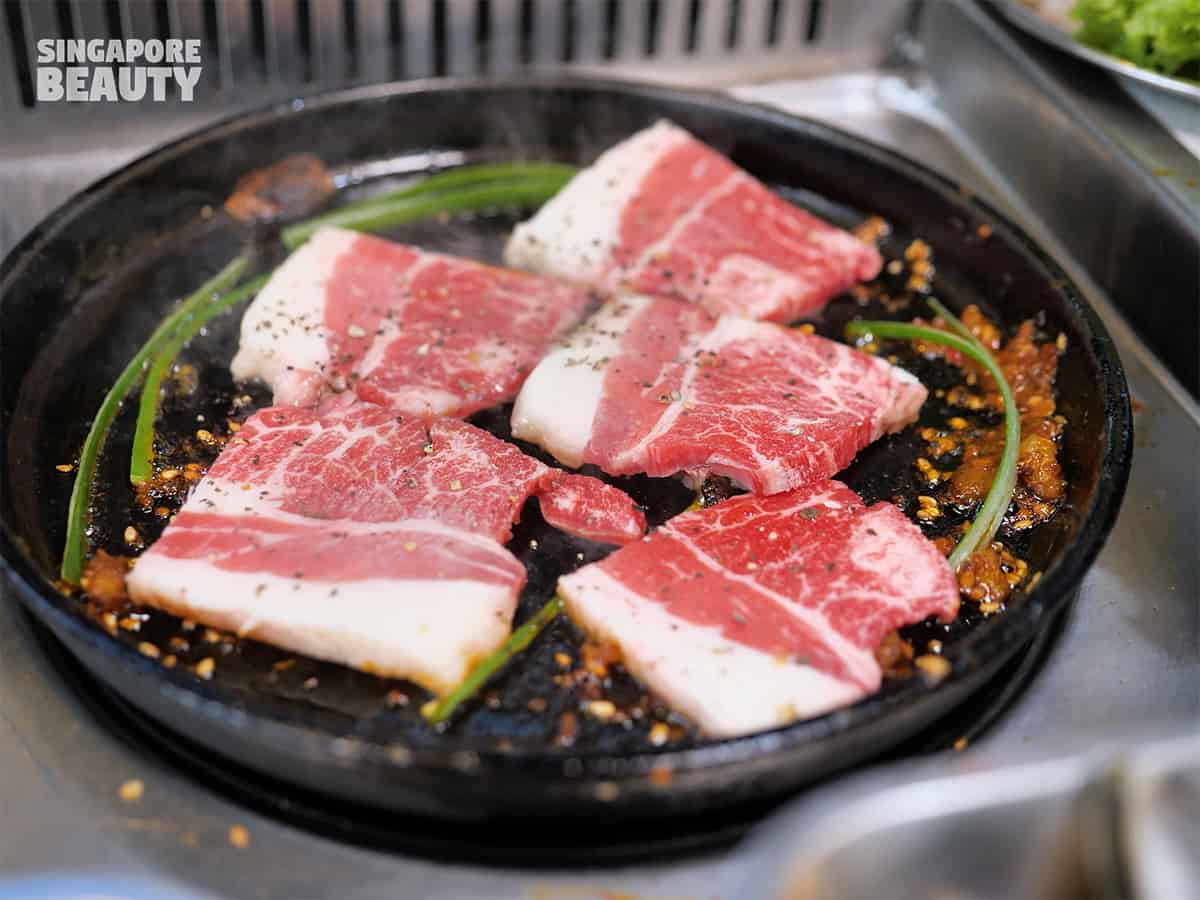 You can also grill some pretty marbled grained beef with some spices or pepper. Do check out their ready to eat food by the chef, such as crispy buns with condensed milk and peanuts, steamed to order xiao long bao, one chef cook dish of the day etc mala crawfish, stir fry clams etc. For the Selegie outlet, they have liang mian cold noodles, chilli vinegared black fungus starters, salted peanuts and mantou also on a rotational menu. Do not forget to get their durian popsicles as well to end the meal on a sweet note!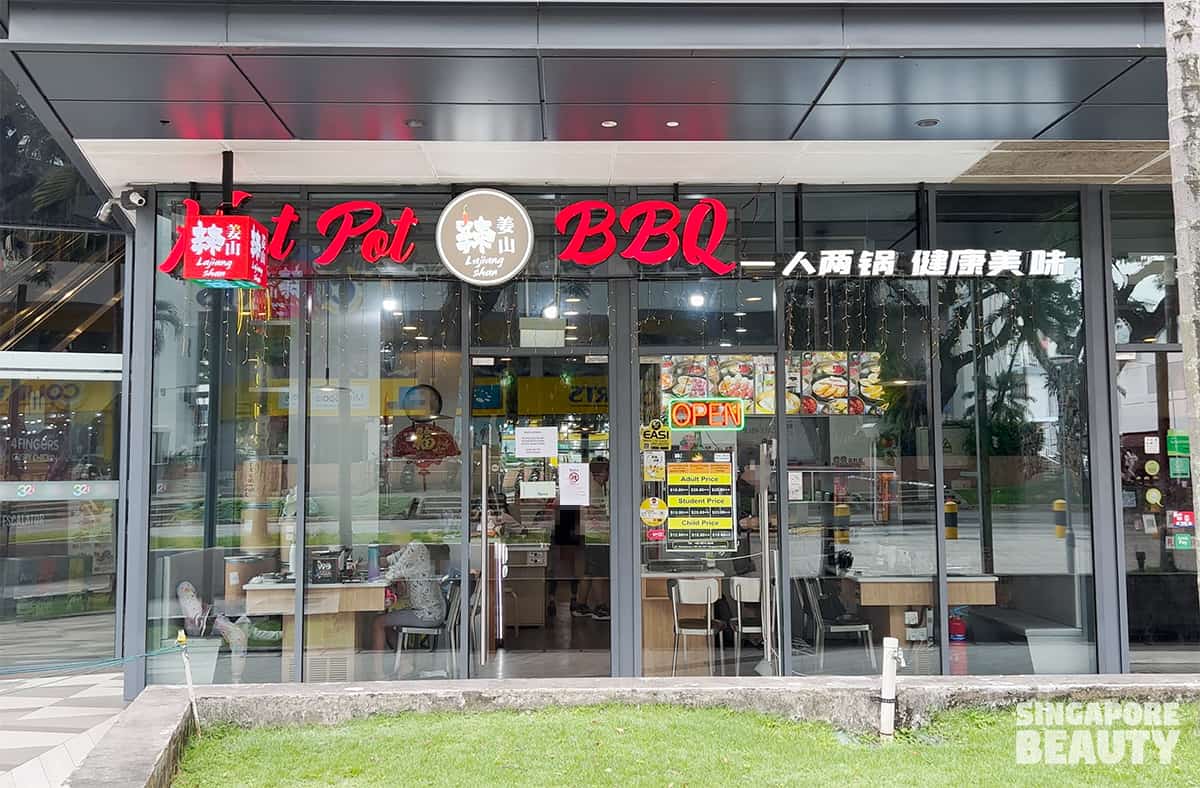 La Jiang Shan Hotpot is currently available in 2 locations –  Clementi and Selegie Road. Both La Jiang Shan hotpot location are conveniently accessible by few minutes walk from MRT stations. For affordable hotpot and BBQ in Selegie and Clementi with a good selection of meats and seafood, this is your go to place.
Address of La Jiang Shan Hotpot BBQ buffet :
Outlet 1 ( Note: food variety may diff from branch at Clementi):
35 Selegie Rd, #01-06
Parklane Shopping Mall, S188307
Call: 6265 8995
Outlet 2 (featured in article & video) :
321 Clementi Ave 3, #01-09/10/11, S129905
Call: 6970 6649
Price of Buffet :
(Mon- Fri) Lunch (last order 4pm)
Adult $18.80++
Student $15.80++
Child $12.80++
Mon-Fri Dinner & weekend
Adult $28.80++
Student $25.80++
Child $18.80++
Child below 4 eats free
DIY Pancake art & kebab wrap is available at both outlets daily
Note: Weekday lunch buffet -smaller variety of seafood & meats
Dinners & Weekend/ PH & Eve – larger variety of seafood & meats. Includes appetizers, free flow xiaolongbao, flower crabs.
Add on Hotpot soup (9 flavours)
Single 2.80++
Double 4.80++
Dine in time: 90 mins
Opening hours:
Parklane Branch
Mon 11am-11pm
Tues to Sun 11am -6am
Clementi Branch
Mon to Sun 11.00am to 2.00am Last order 24:00.
Brought to you by La Jiang Shan Hotpot BBQ