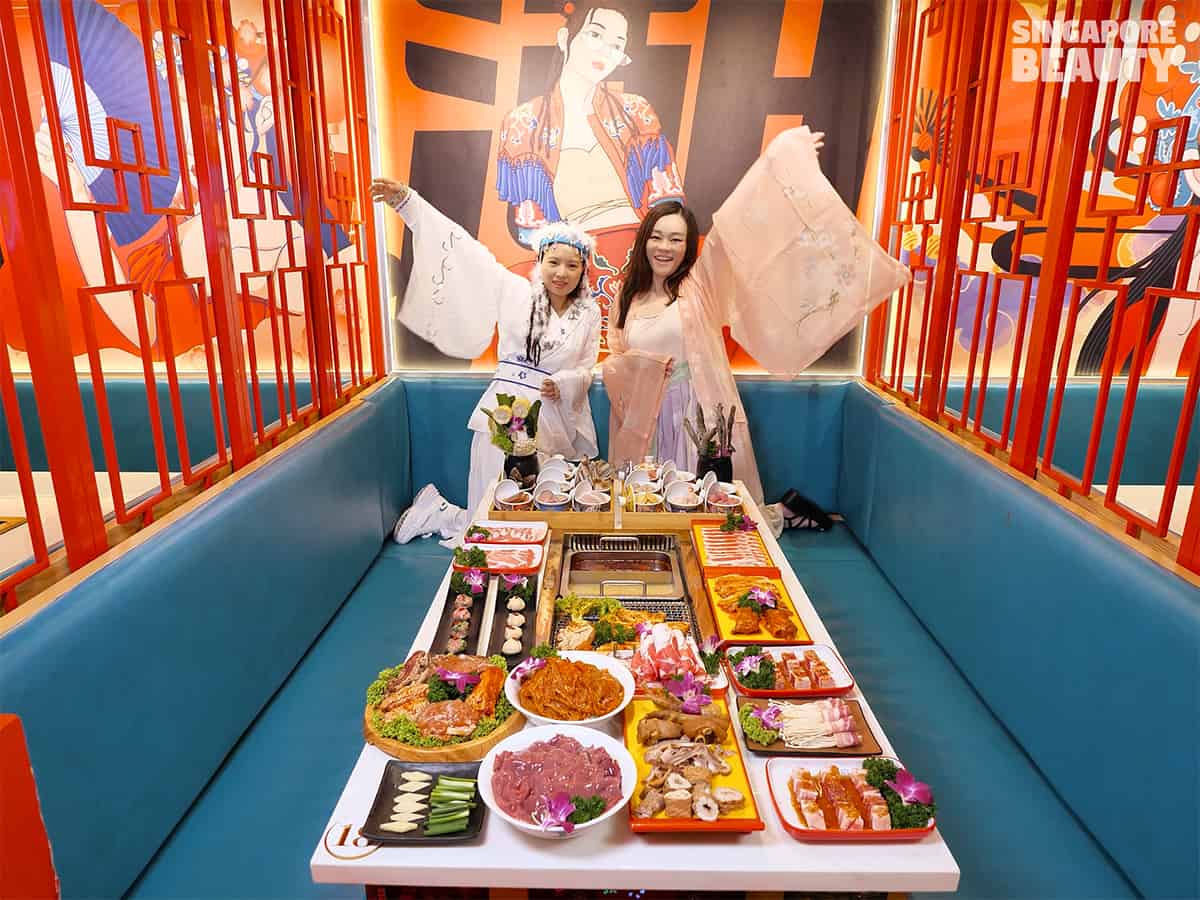 Hao Lai Wu is a steamboat and BBQ buffet restaurant with a costume wardrobe. It is an all you can eat buffet located around the Rochor area near Sim Lim and walking distance from Bugis. This is an ala carte buffet where you order food from their menu and get served to you table style. With more than 80 ingredients on the menu, be sure to try all the varieties for bbq and hotpotting.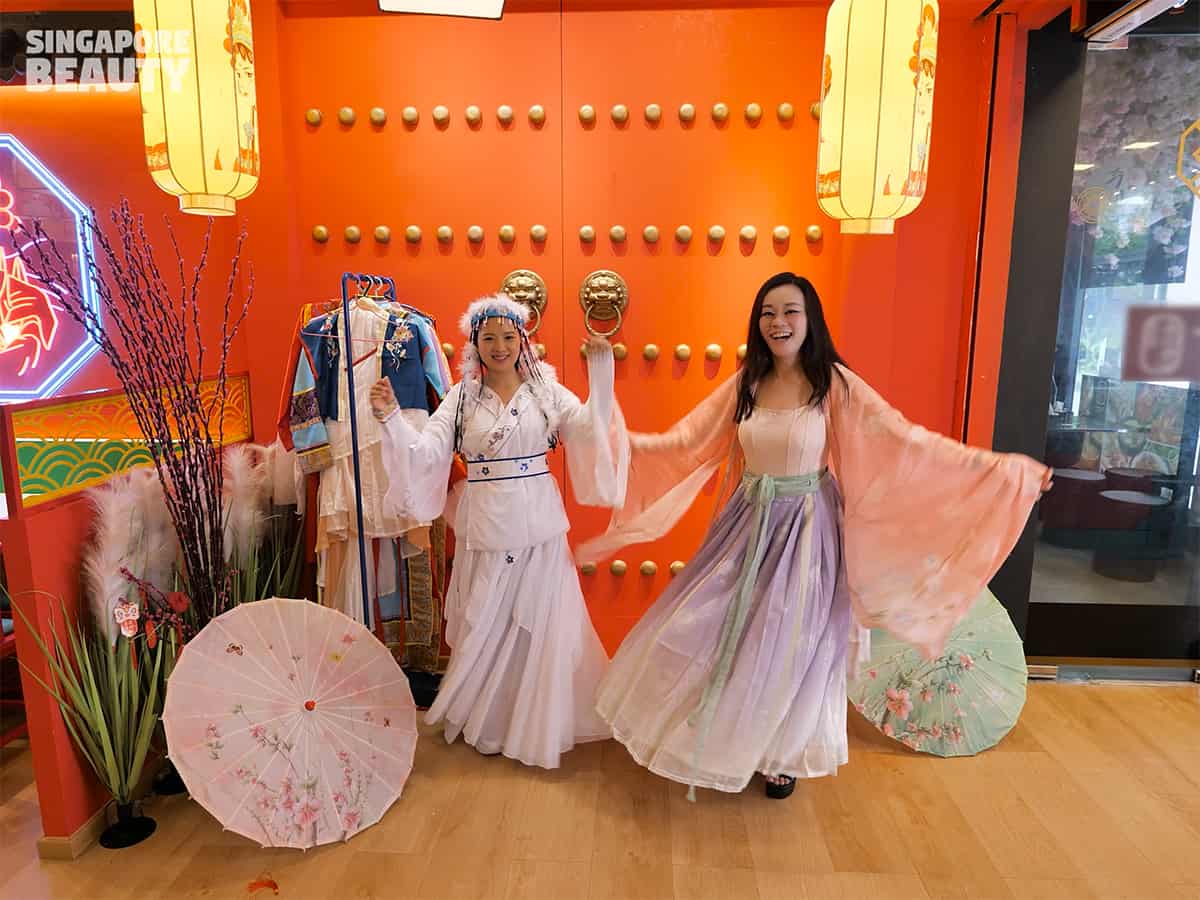 Besides having a buffet feast, Hao Lai Wu also offer all its diners a chance to experience ancient drama style cosplay. They have a beautiful selection of Chinese drama costume and some impressive head gears for you to don. You can be a Mongolian style princess with feather head gears complete with plaits or an ancient court lady with flowing sleeves. This costume wardrobe is only available at the Burlington square outlet of Hao Lai Wu.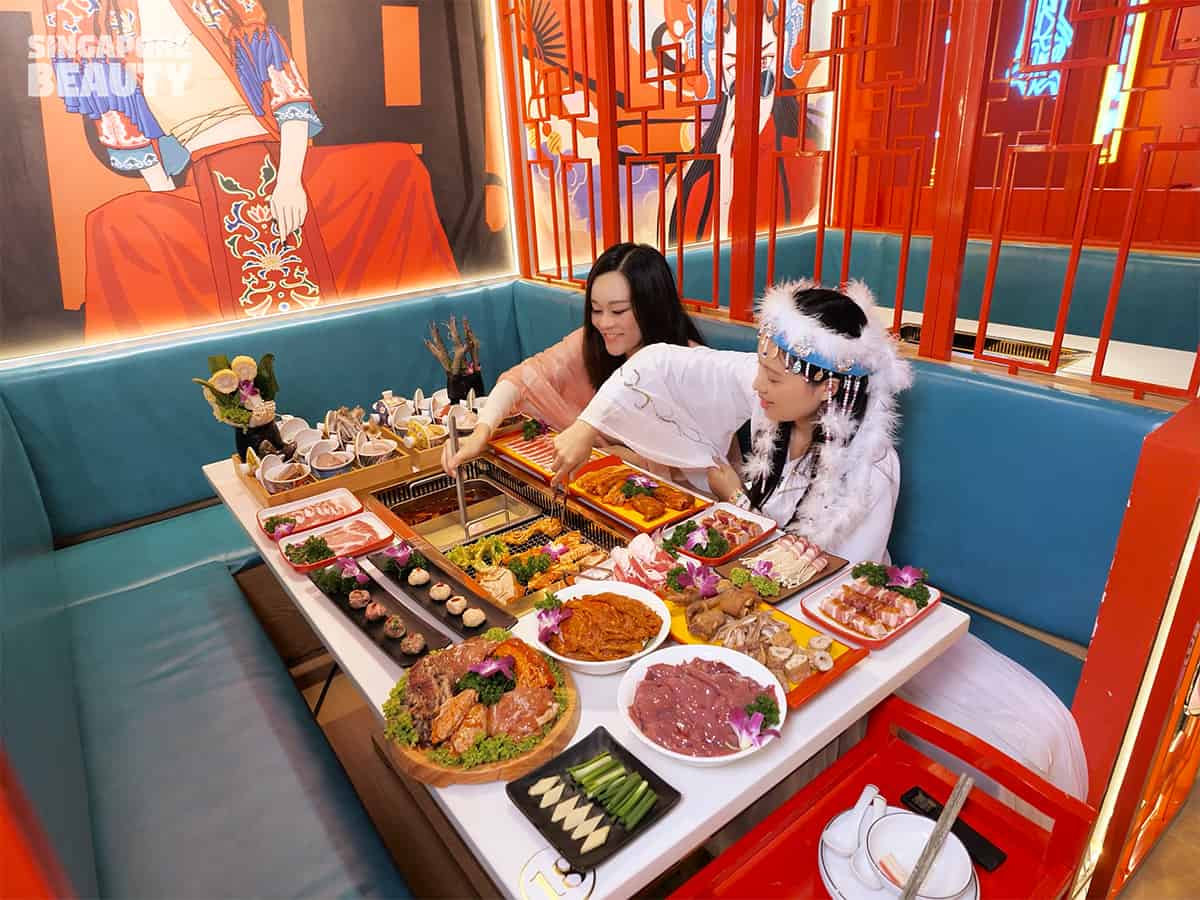 Here's our Hao Lai Wu review at their Burlington Square outlet. The menu has a good selection of meats, seafood and even braised offals. The meats are well marinated and definitely are great for barbecuing with many cuts available. If you love meats, this will be the perfect meat buffet place near Bugis for you, with various ribs, wings, chops and their marinated bbq series.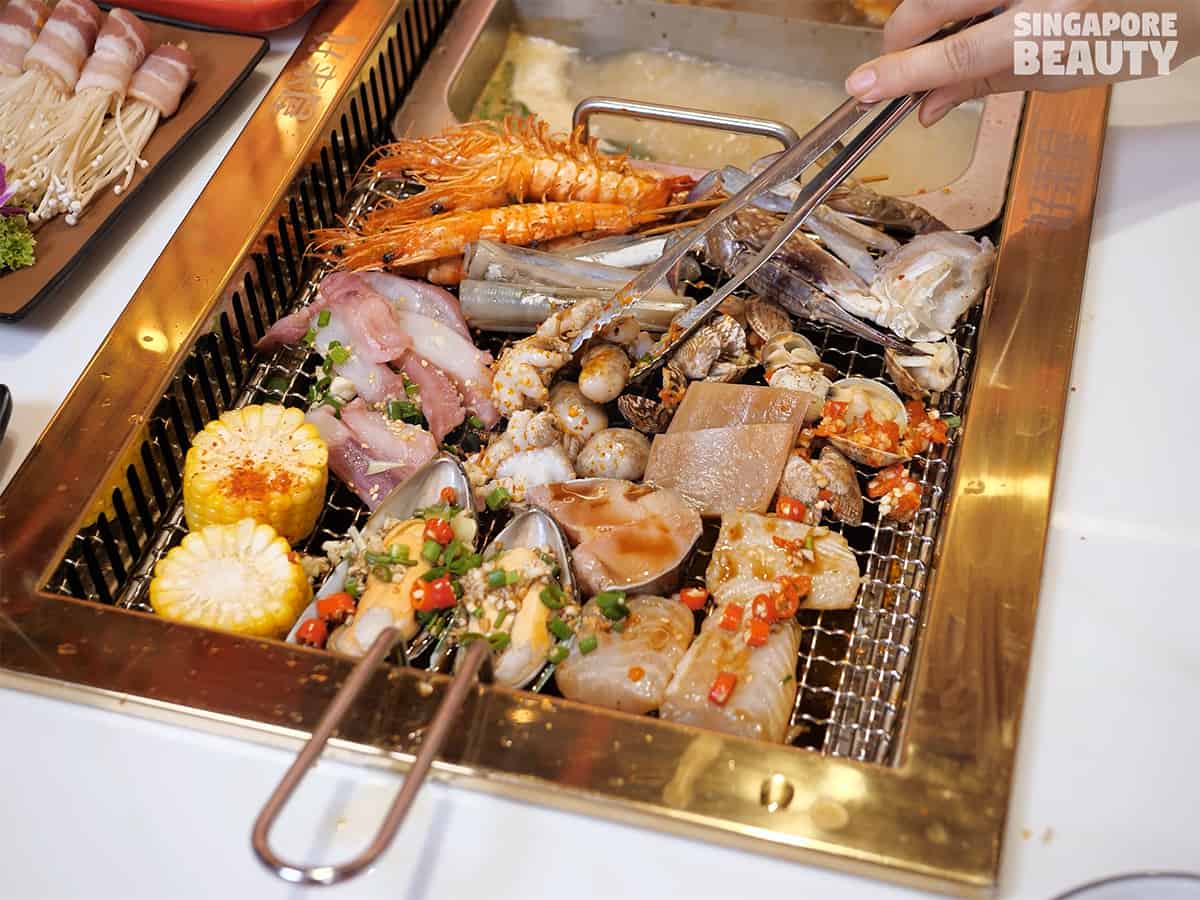 If you are a seafood lover, they have up to 11 types of seafood to grill and hotpot with. Seafood here are not marinated but they come in dainty tea cups with lid where you can DIY your own marinated seafood before going onto the grills.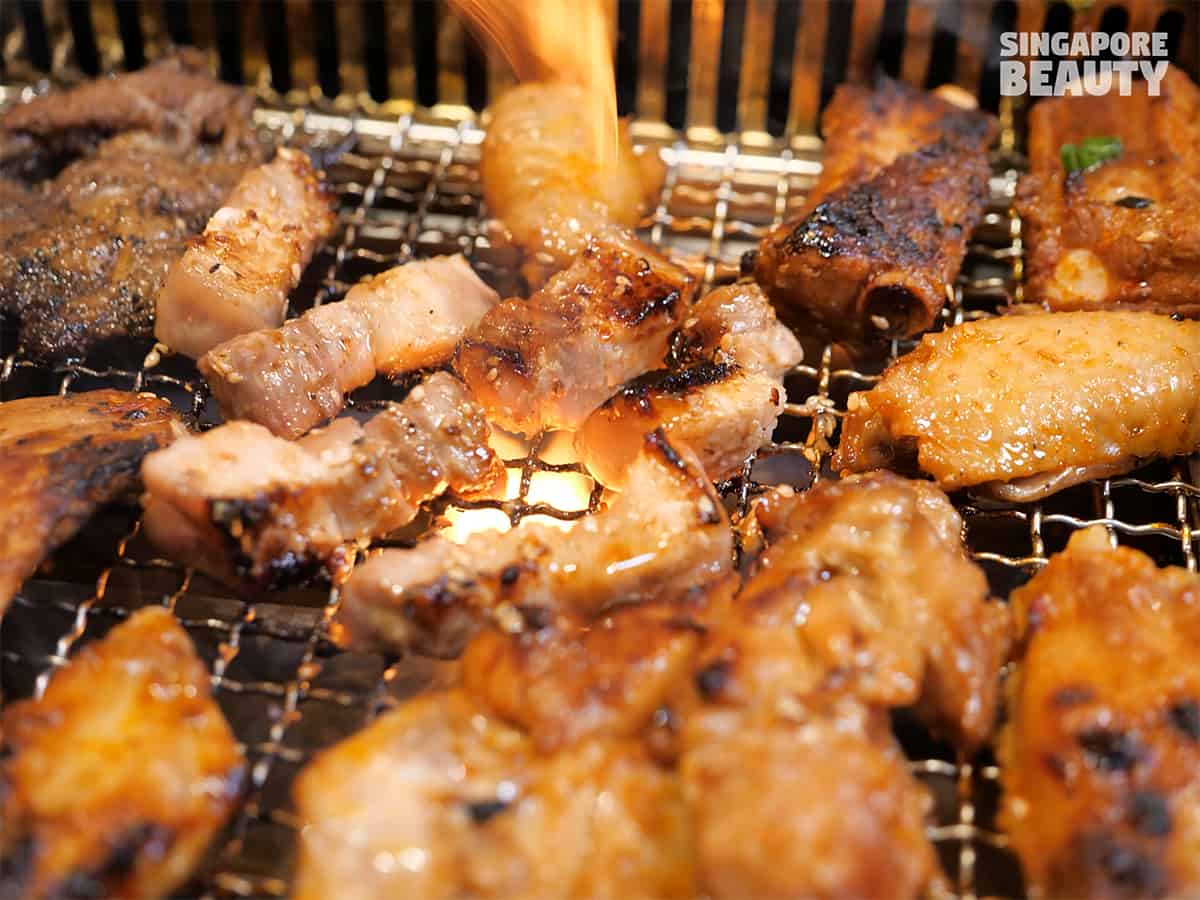 The grills for barbecue here are the Japanese yakiniku or Korean style open grill instead of a hotplate. The meat cooks quickly and the excess oil from the meats are drained off during the cooking process. You get crispier meat edges with a bit of char flavour. While cooking do keep a keen eye on the meat as they cook rather quickly.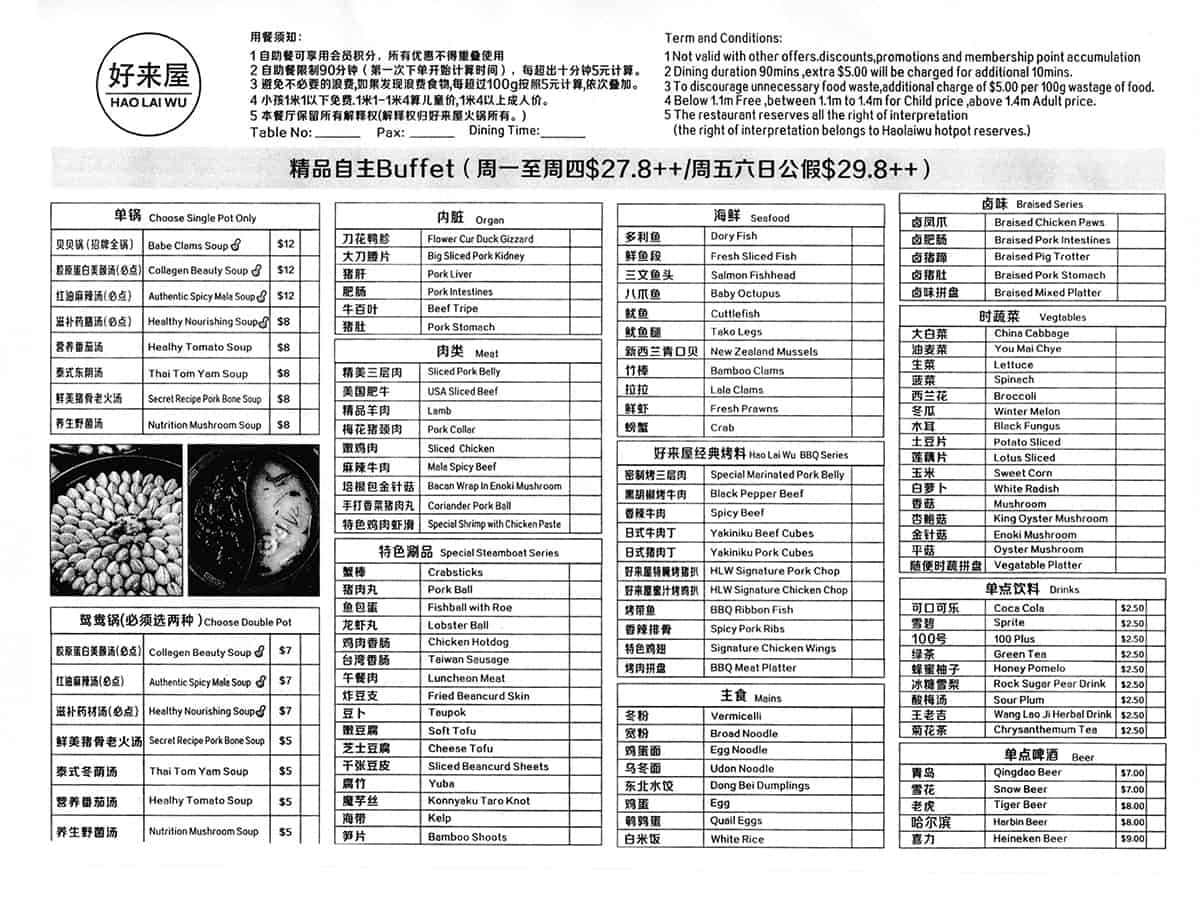 Here's the Hao Lai Wu menu and the buffet price for adults. The menu has more than 80 ingredients which include shabu shabu meats for steamboats, marinated meats for bbq, seafood, vegetables, braised cooked meats, carbs, offals, vegetables, surimi and soup bases. Drinks are ala carte items on the menu. Adult buffet price are $27.80++ weekdays and $29.80++ weekends starting from Friday.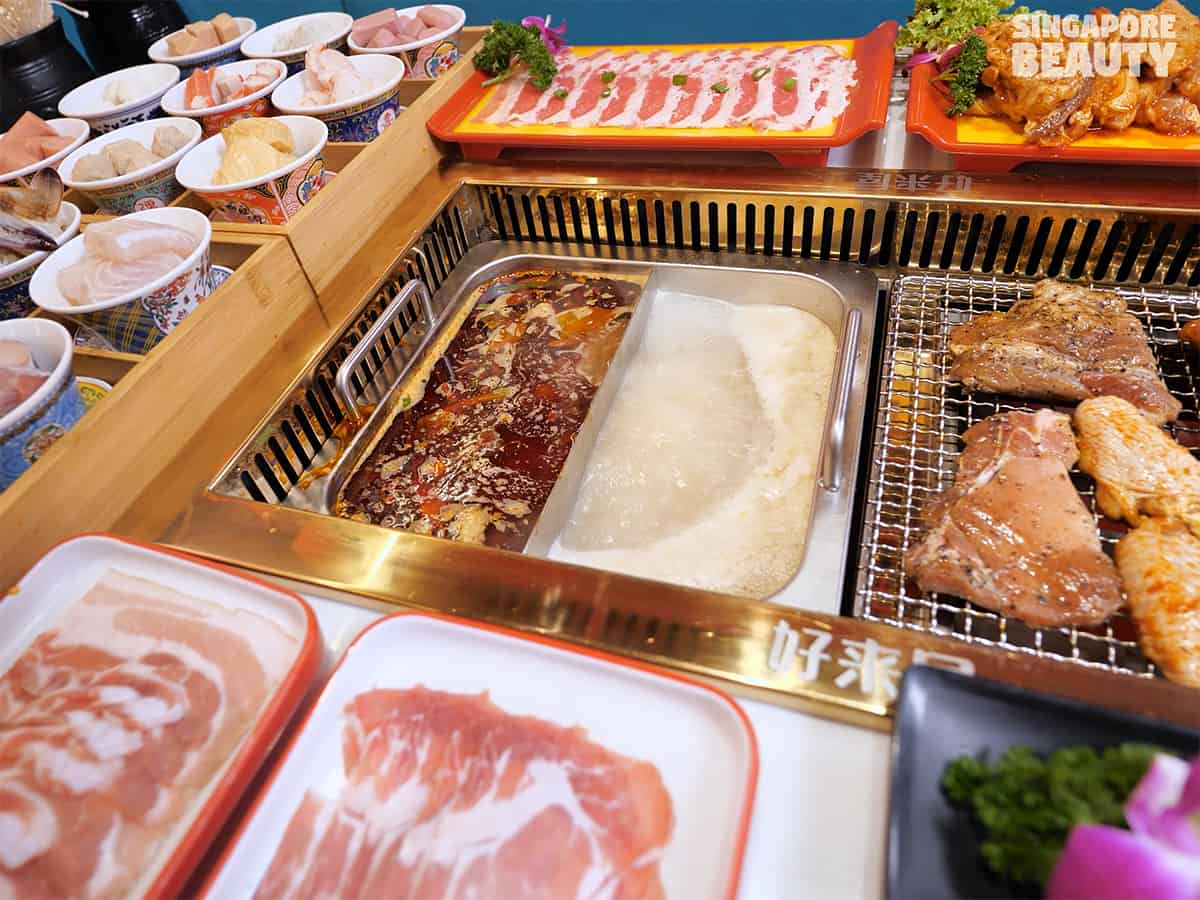 There are 8 types of soup bases to choose from such as babe clam soup, collagen beauty soup, authentic spicy mala soup, healthy nourishing soup, tomato soup, Thai tom yam soup, secret recipe pork bone soup and mushroom soup. Their chef recommendation is the collagen beauty soup and the authentic spicy mala soup. You get the best of both worlds – nourishing properties from the collagen soup and shiokness from the spicy mala soup. Soups are add ons from $5 onwards each for dual soup base.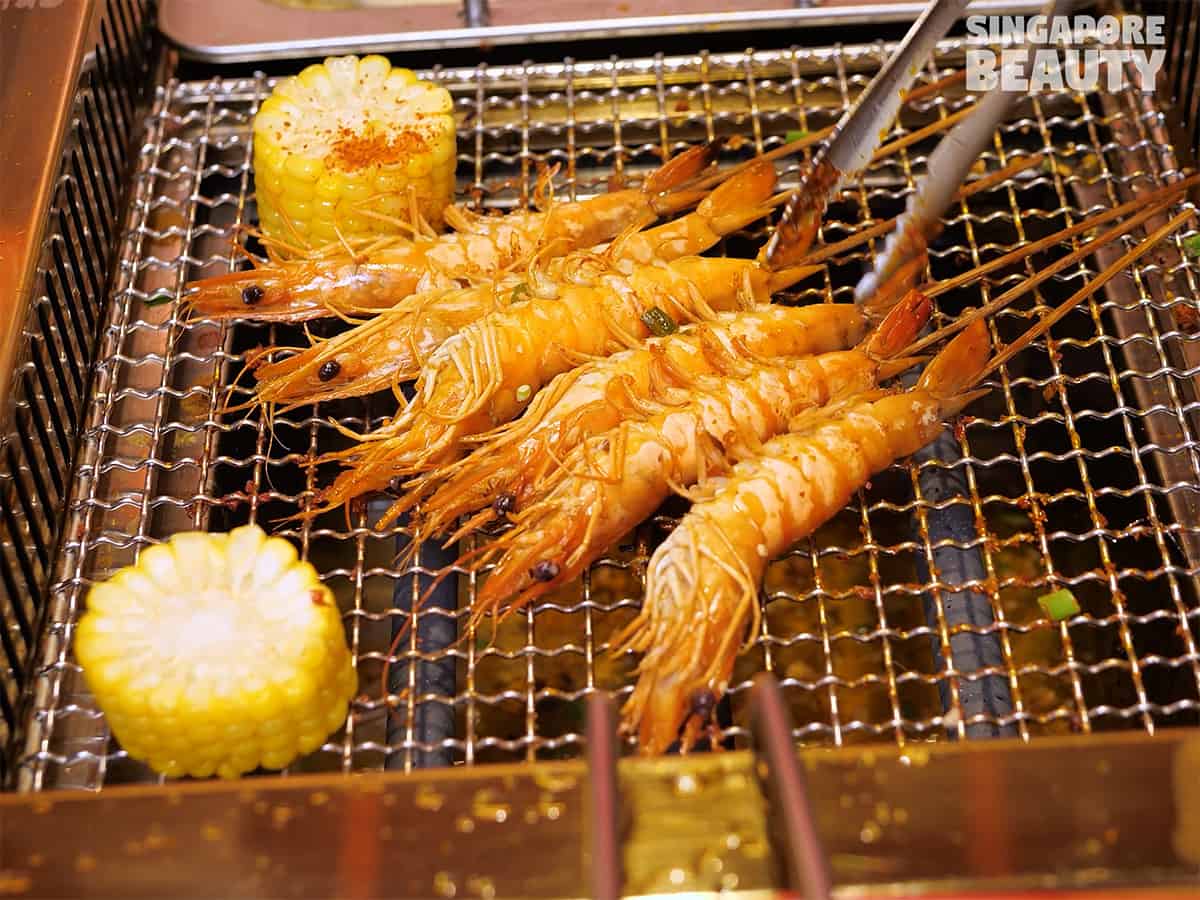 Here are some of the ingredients we particularly enjoyed during our session at Hao Lai Wu bbq & steamboat buffet. The prawns on skewers are visually pleasing served in a pretty vase like a prawn bouquet. These tiger prawns are crunchier and sweeter in flavour when grilled. You can enjoy them with a pinch of salt to taste the original sweetness of these crustaceans.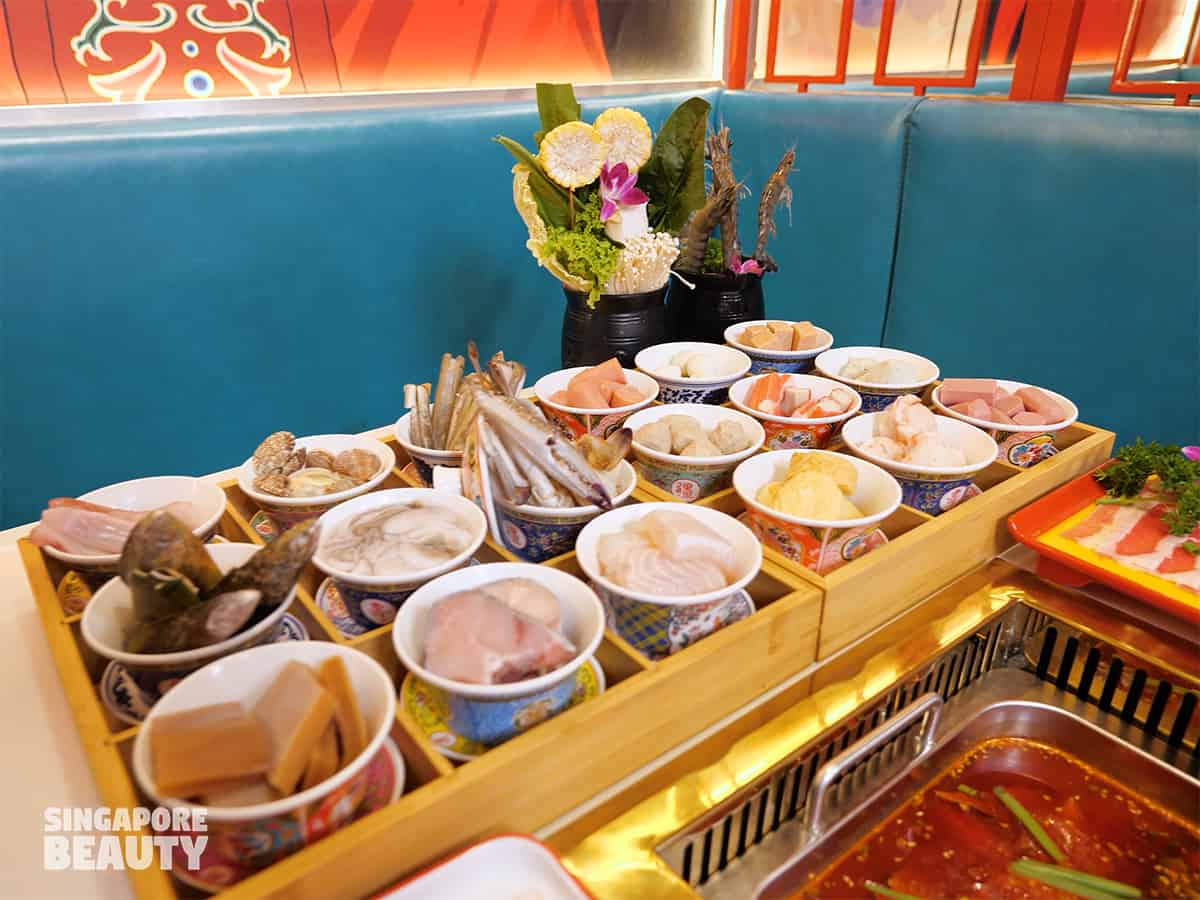 The seafood are served in these dainty tea cups with oriental antique tableware design to tie in with the outlet's palace theme. Seafood includes crabs, dory fish, sliced fish, salmon fish head, baby octopus, cuttlefish, tako legs, New Zealand mussels, bamboo clams, lala, fresh prawns and even ribbon fish!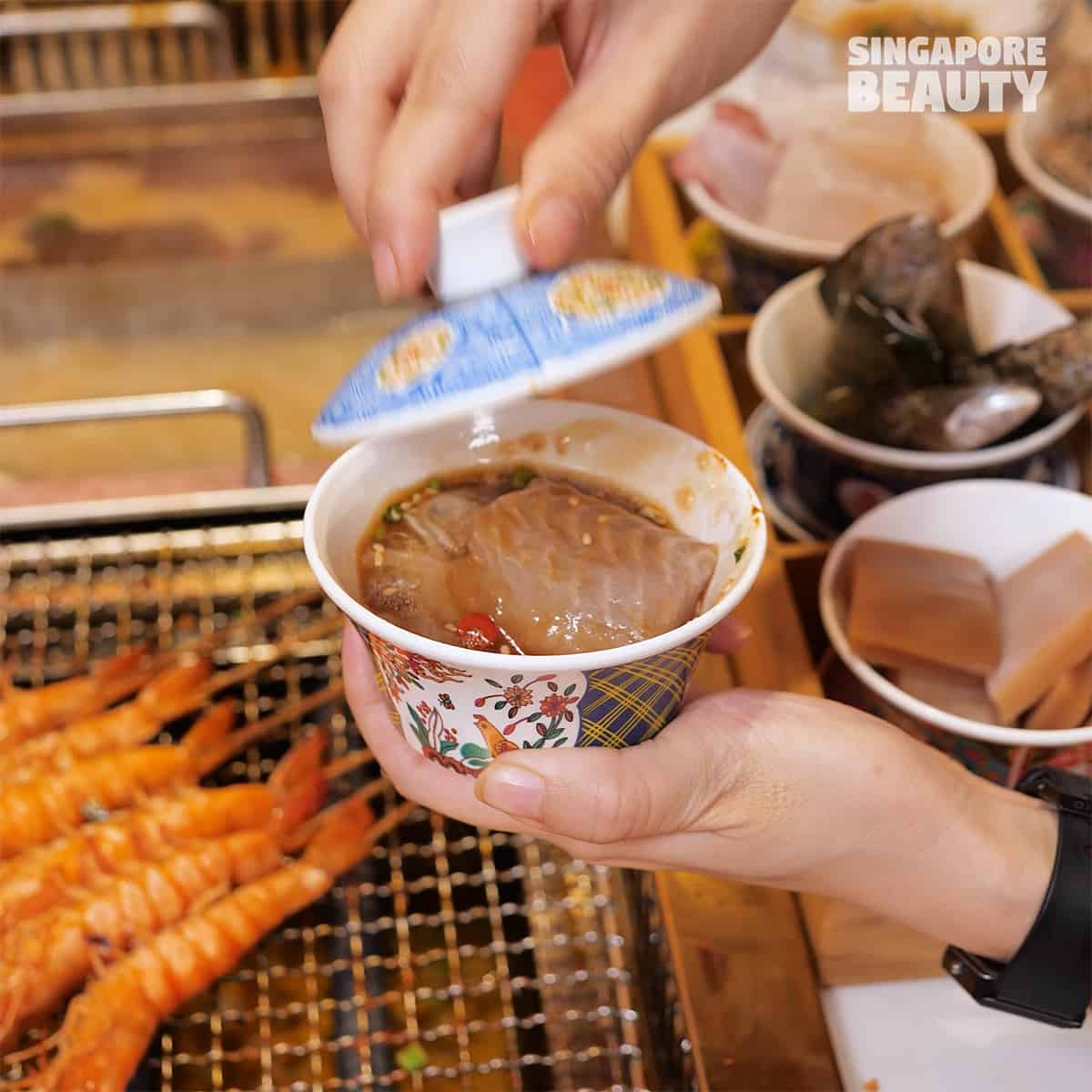 You can DIY your own marinated seafood by getting condiments from their counter. Shake the sauces with seafood in a close lid teacup. Grill the seafood on the yakiniku style open grill and watch them bubble and sizzles.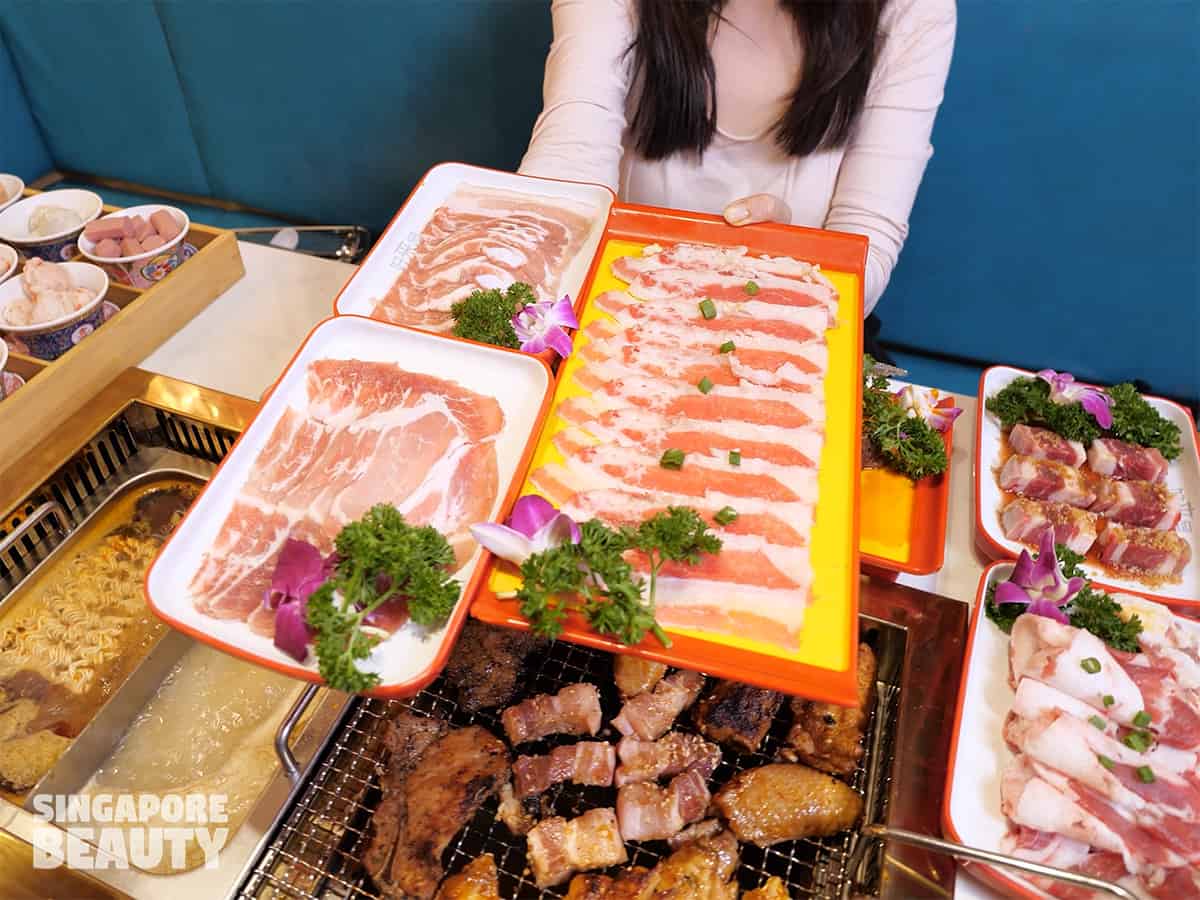 For hotpot menu, they have various types of shabu shabu meats such as sliced pork belly, USA sliced beef, lamb, pork collar, sliced chicken, mala spicy beef, bacon wrapped enoki, coriander pork balls and even shrimp with chicken paste balls. Cook these gently and enjoy these tender and springy meats with the condiments.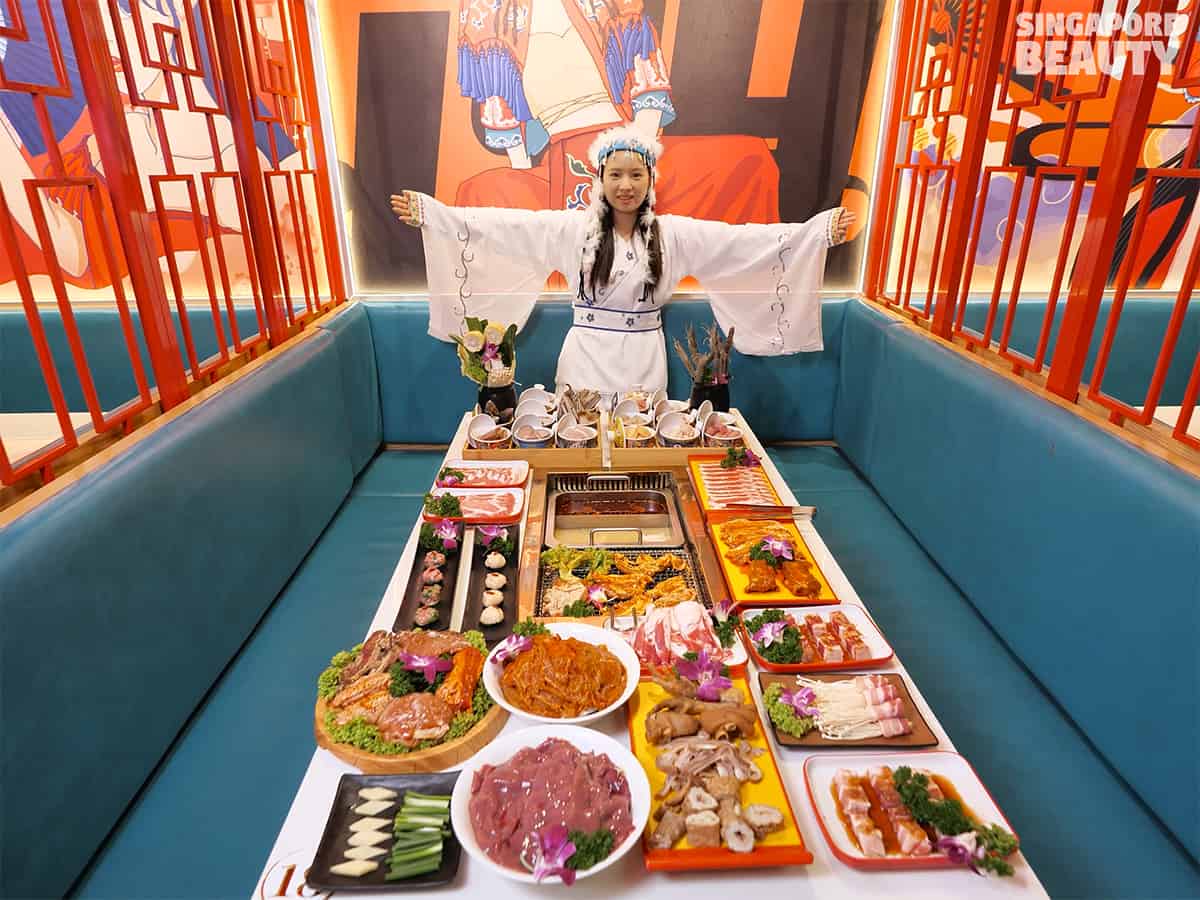 Exclusive to Hao Lai Wu Burlington Square branch, you get to eat free if it is your birthday with a paying adult in tow. The costume wardrobe experience is also exclusive to this outlet only. Come celebrate and make you booking now to enjoy this special birthday experience of dining in a Chinese drama palace themed restaurant with cosplay costumes.
This is our editor's choice – the braised meat series with braised chicken feet, pork intestines, pig trotters and pig maw. Cook all these in the spicy mala soup with their springy noodles for a satisfying bowl of piping hot savoury spicy braised meats noodles. The meats are pre-cooked and braised till tender and full of collagen and gelatinous bites. Even the pork intestines and pig trotter are soft and giggly in texture with a light spice aroma. Must try if you are a braised meat lover.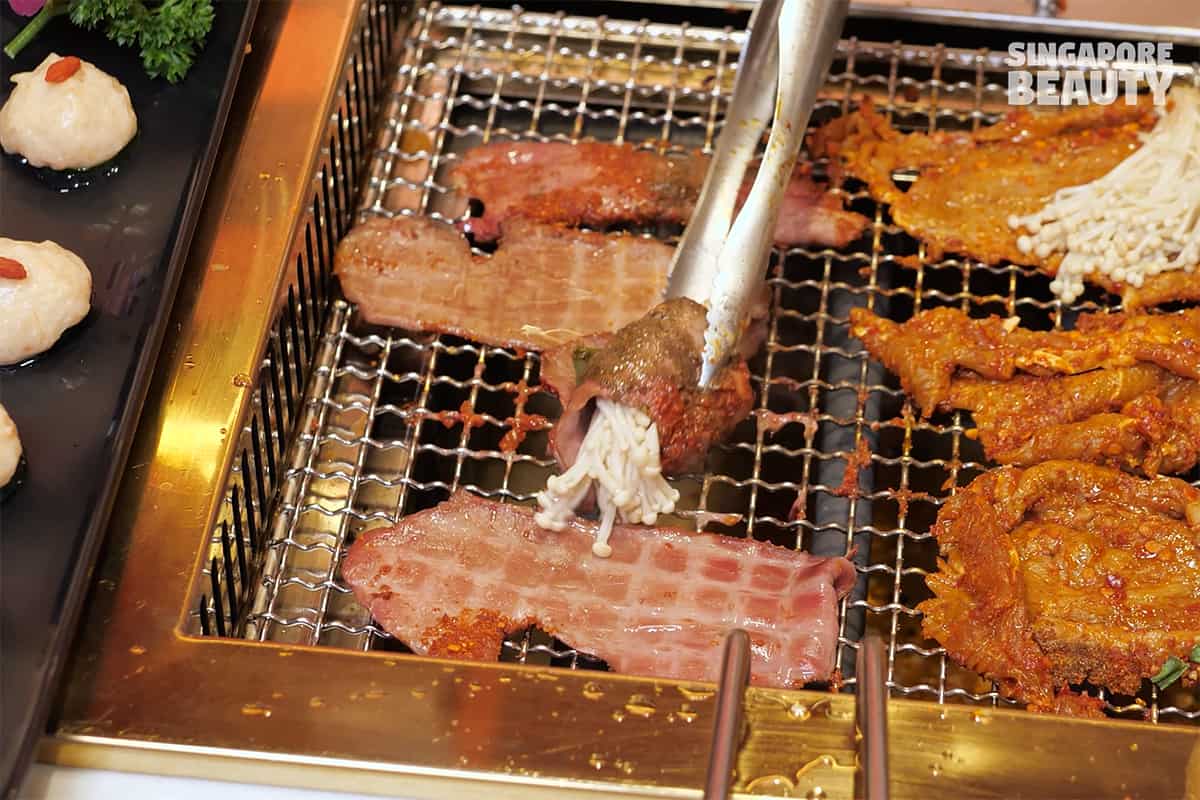 They also have all kinds of offals such as flower cut duck gizzards, pork kidney, pork liver, pork intestines, beef tripes and pork maw for you to either hotpot or grill. Grill these yakitori style with their dry spices such as chilli powder, cumin powder, sweet sauce, salt and pepper for a savoury sinful bite of happiness. You can also pair them with enoki or any other greens.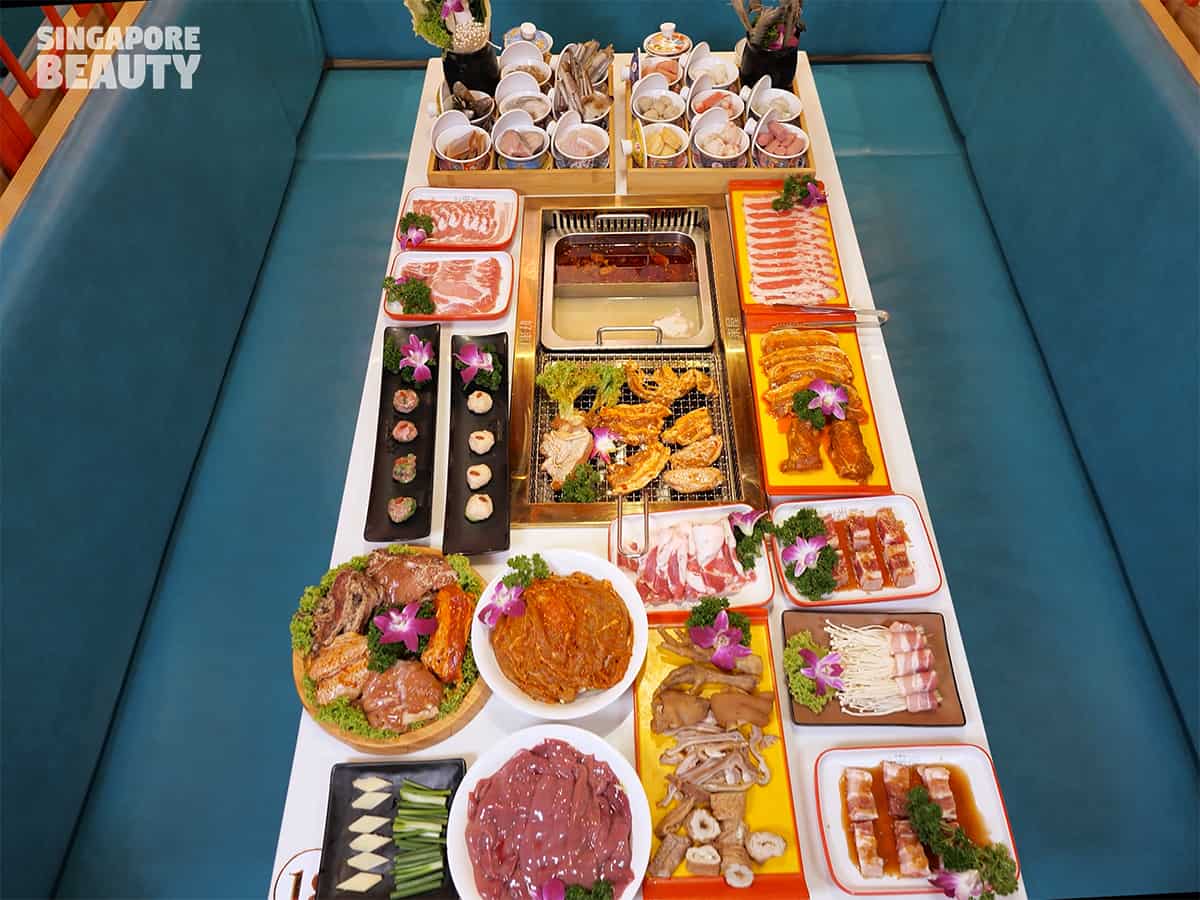 Come enjoy a bbq and hotpot buffet feast of meats, seafood, offals, braised meats, vegetables, carbs and surimi at Rochor Burlington Square outlet near Bugis! Fill your tummy and senses with fun dress up experience with the costume wardrobe. Costume wardrobe has options for ladies, men and children, check with their staff for the many costume options, with some even brand new in package! Many photo worthy spots to take pictures too with your family.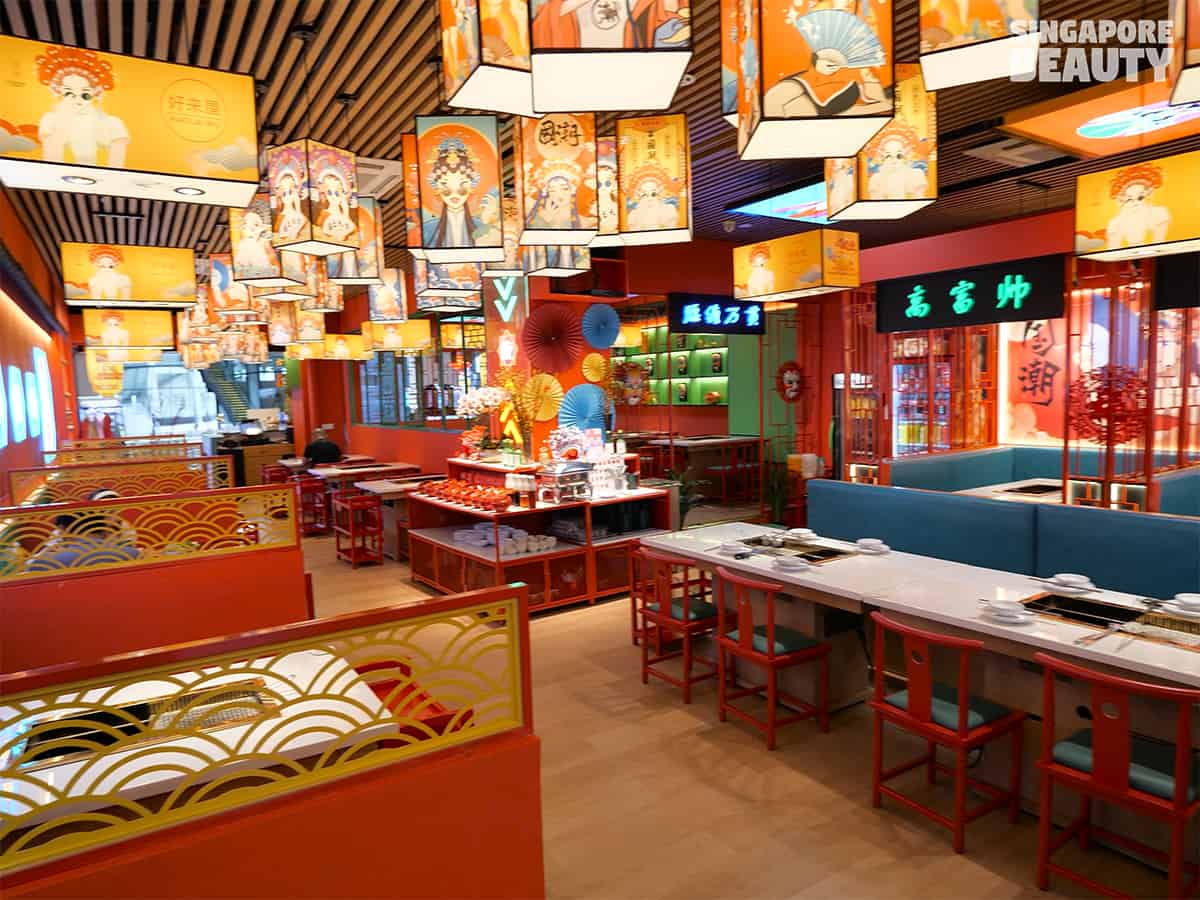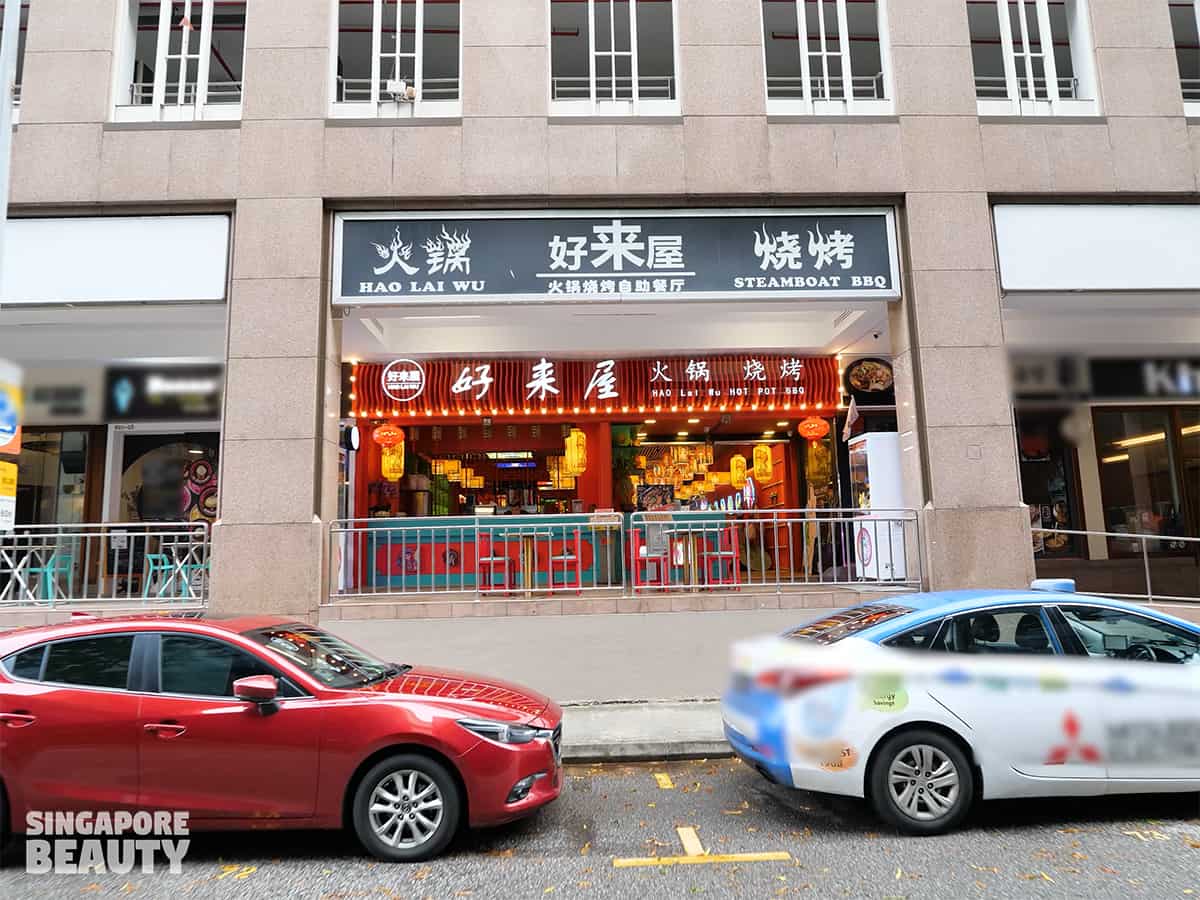 Head over to Hao Lai Wu Burlington Square to enjoy this feast for both the taste buds and the senses. Fun and plenty of unique food beckons, book now or just walk in! Parking available along the shop front or head over via the nearest Rochor MRT or walking distance from Bugis MRT.
Address of Hao Lai Wu :
175 Bencoolen St, 01-57
Burlington Square, S189649
For booking, call: 6732 0816
Adult Buffet Price:
Mon to Thurs $27.80 ++
Fri to Sun/ PH $29.80 ++
Kid below 1.1m eat free.
1.1 to 1.4m child buffet price $16.90++
Above 1.4 m child is adult price.
Top up Soup from $5 each for dual soup base
Drinks not included.
Promotion for Hao Lai Wu at the Burlington Square Outlet only  –
1) Eat free on your birthday with at least 1 paying adult. T & C applies
2) Costume wardrobe is available for every diners.
Dine in Time: 90 minutes
Opening Hours:
11am to 3am daily
Brought to you By Hao Lai Wu