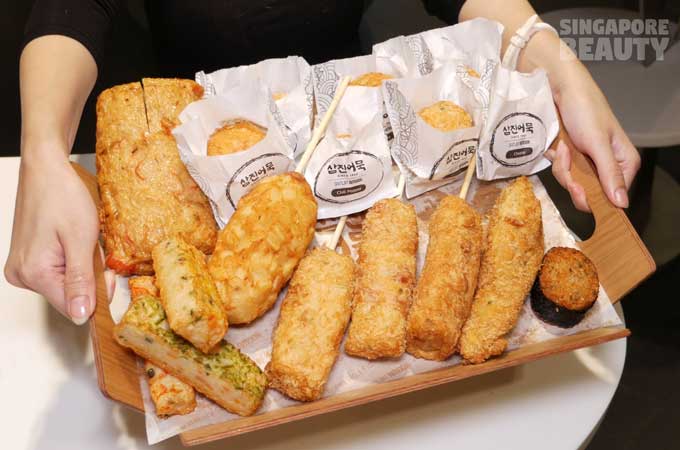 Samjin Amook, 삼진어묵, Korea's Top fishcake has opened its first flagship store in Ion Orchard, Singapore.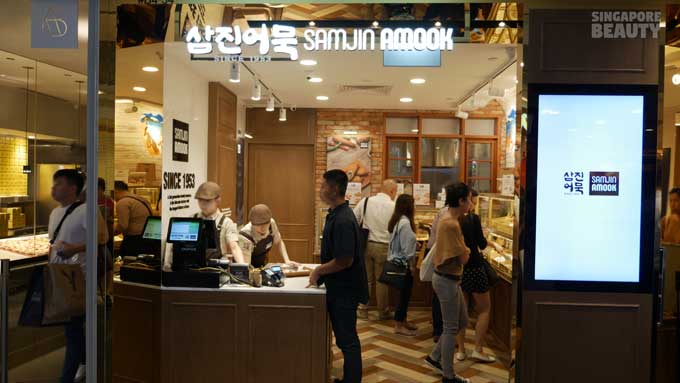 Located between BAKE cheese tart and Koi, this is a stop you must visit for the authentic Korean amook experience.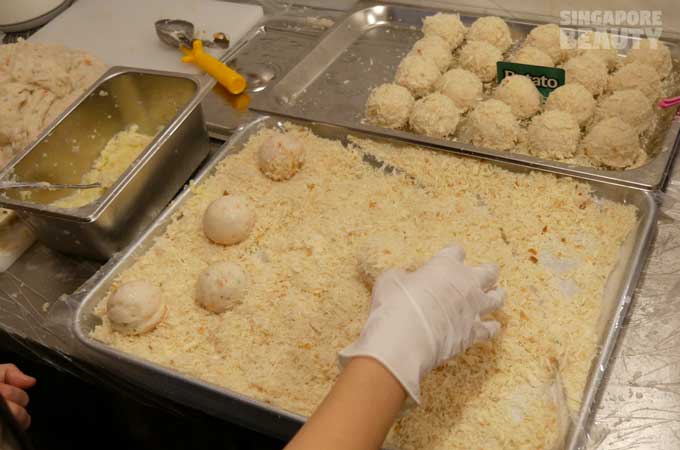 "Amook" simply means fishcake in Korean and the history of Samjin Amook's fishcake dates back to 1953. Started in Busan,Yeong-Do Bong-Nae traditional Market, over a span of 60 years, they have perfected the art of making fishcake by adding innovation to tradition. Samjin Amook believes that it is good-quality ingredients over profit and strives to bring only the best to its customers. From kitchenware to fresh ingredients, all these are sourced directly from South Korea to uphold the consistency in quality.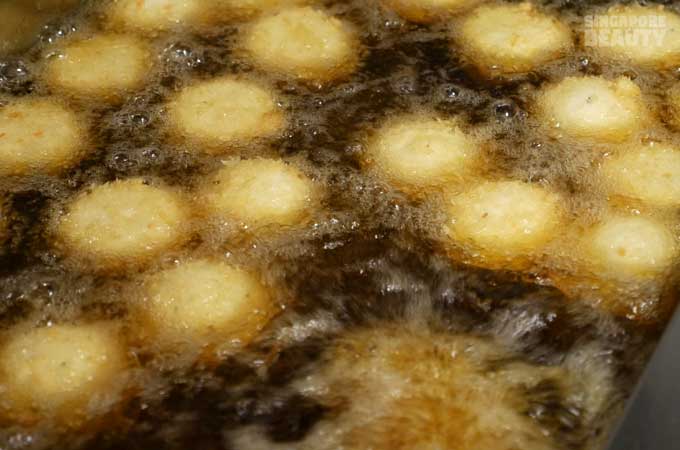 Supported by a good size kitchen team, these labour-intensive amook are handcrafted daily in store.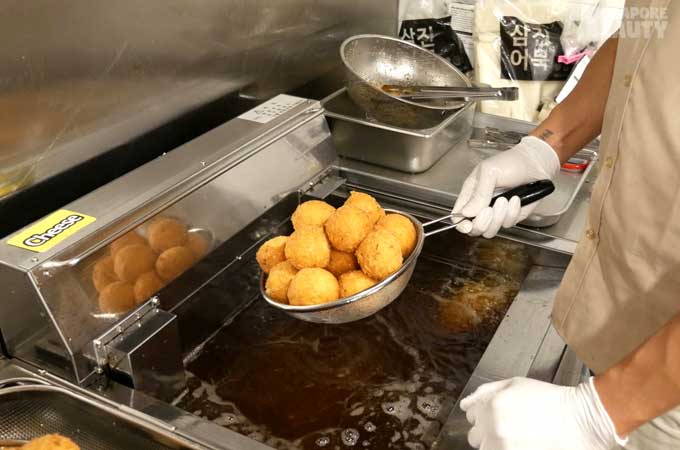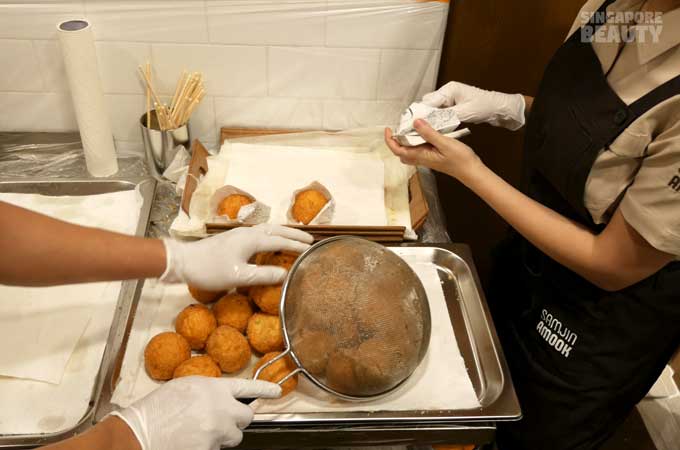 Piping hot amook are deep-fried in small quantity and stays fresh due to the high turnover.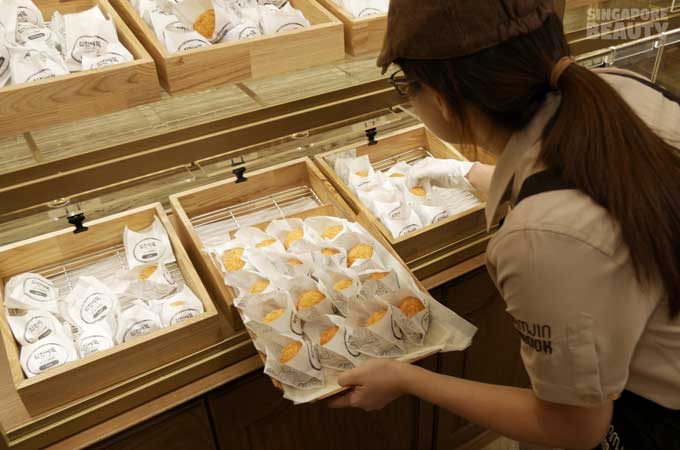 Look out for the piping hot amook coming from their kitchen, when their crew "sings" a Korean tune. It goes something like this in Korean- Welcome! Hi, we are Samjin Amook, hot hot (product name) is coming. The Korean experience.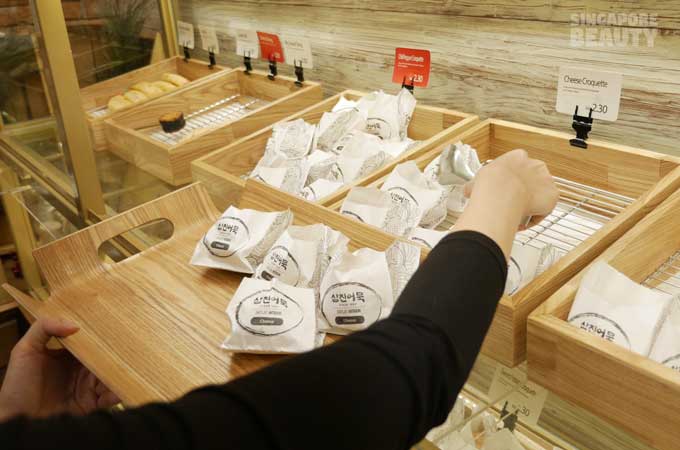 The store's layout in a simple bakery setting, where you get to choose the amook with a tong. The spicy amook are tagged red and the non-spicy white.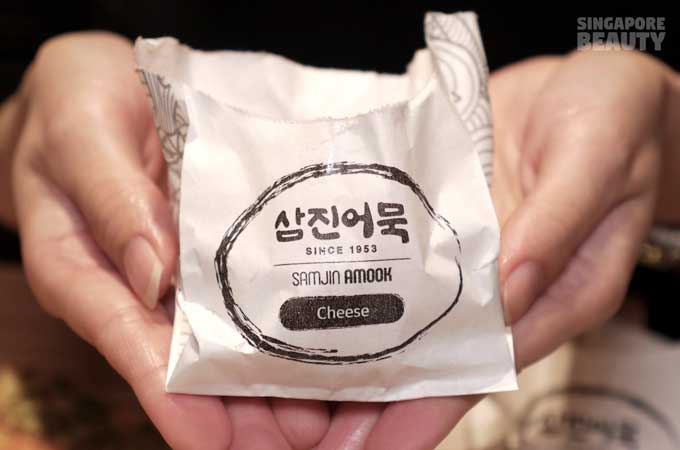 Each Amook Croquette is individually packed and labeled so feel free to plonk them on your tray.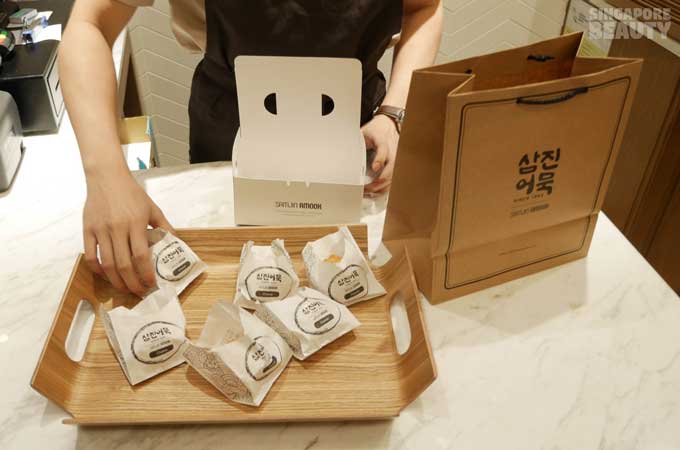 Takeaway these croquettes in a box for 6 or more purchased. Priced between $1.20 to $5.50, these are affordable casual bites for anytime of the day and great for parties.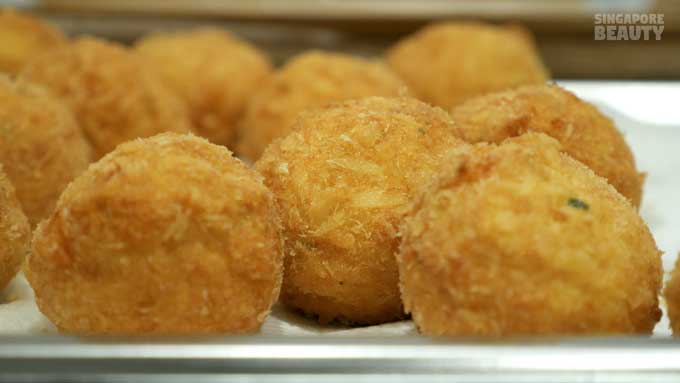 Amook croquette are wrapped with amook-minced fish with diced onions and carrots – coated with a thin layer of panko and deep fried till golden-brown. They come in 6 varieties, chilli pepper, cheese, potato, sweet potato, shrimp and curry.
Chilli Pepper Amook Croquette ($2.30)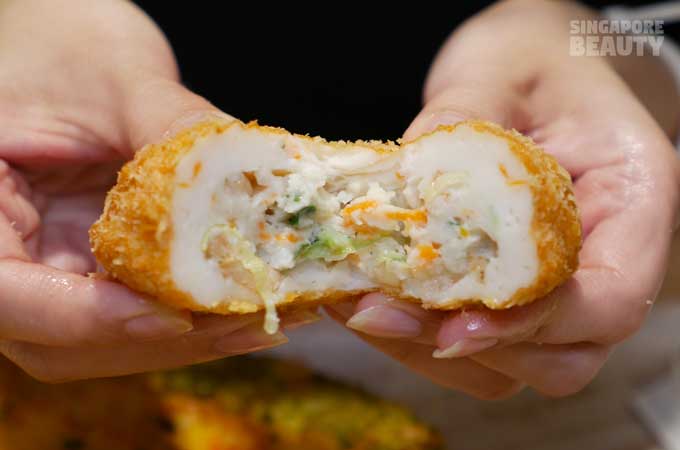 Stuffed with chilli pepper, onions, carrots and some other fresh vegetable. It packs an instant kick of heat that comes and goes in a flash. The pleasant type of heat that neither lingers nor burns your tongue, but leaves you wanting more. An unpretentious filling that packs a punch. Must Try.
Cheese Amook Croquette ($2.30)
Stuffed with a sizeable amount of mozzarella and cheddar cheese. The "molten" cheese is not overpowering and has the perfect balance of both types of cheese.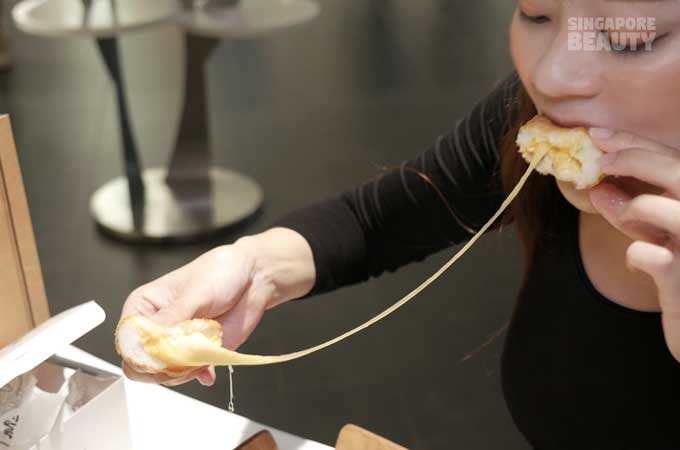 You can challenge your friends to beat you at pulling the longest cheese bridge. Look at my cheese bridge! This is best eaten hot.
Potato Amook Croquette ($2.30)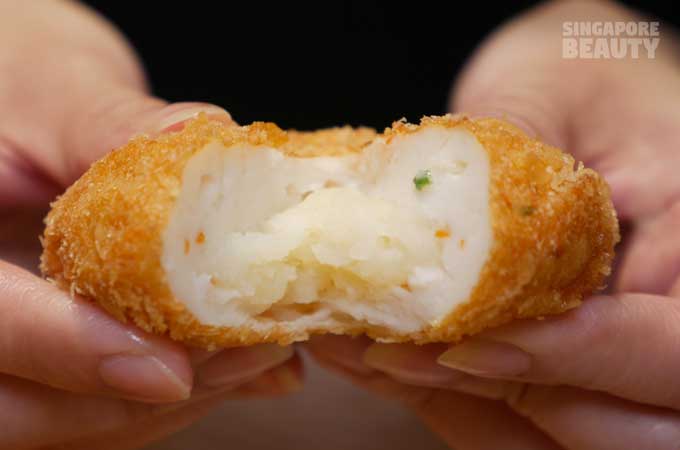 Stuffed with soft mashed potatoes. The savoury filling is creamy, warm and moist. My idea of a perfect potato filling for a croquette.
Sweet Potato Amook Croquette ($2.30)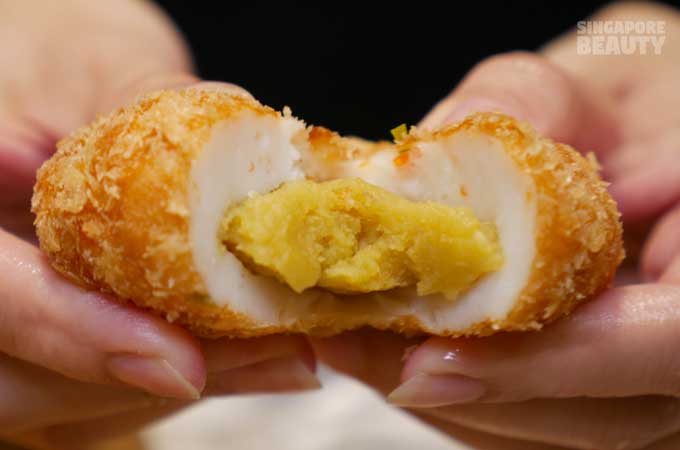 Stuffed with soft sweet potatoes paste. The paste has a natural sweetness of sweet potato and compliments the savoury vegetable amook paste well. I am pleasantly surprised at this combination.
Shrimp Amook Croquette ($2.30)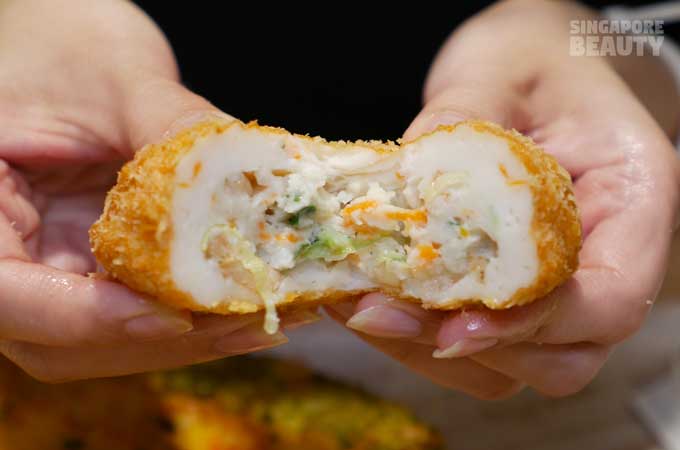 Stuffed with plump shrimps and diced greens. The element of surprise comes when you bite into that "Q" textured shrimp with the diced greens.
Curry Amook Croquette ($2.30)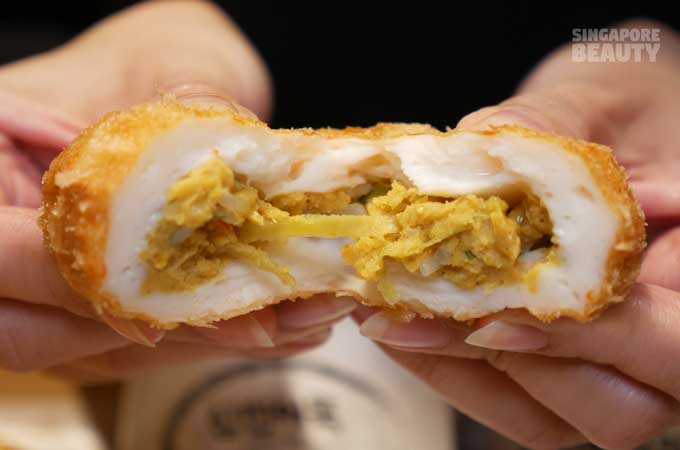 Stuffed with curry flavoured diced carrots, onions and glass noodle. This sweet curry filling could pack more heat and more intense curry flavour to it. This is not your typical 3 for a dollar curry puff, but more of the sweet curry used in Japanese curry. My opinion is divided over this.
Fried Chilli Pepper ($3.50)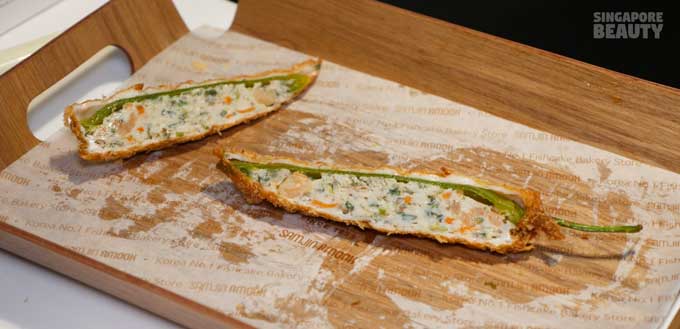 This is one of the best-selling items in Samjin Amook. The green chilli pepper is a fresh produce imported from Korea. Stuffed with fish meat, fresh diced greens and whole plump shrimps within a deseeded whole green chilli pepper. The green chilli pepper is actually sweet and not as intimidating as it looks. Try it.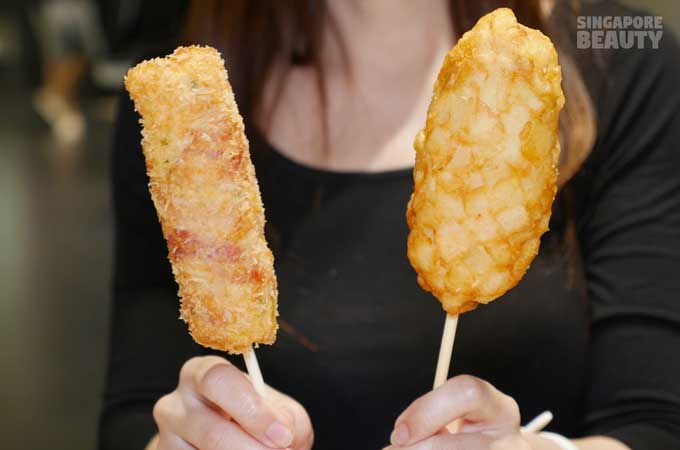 Goblin's Mace ($3.50)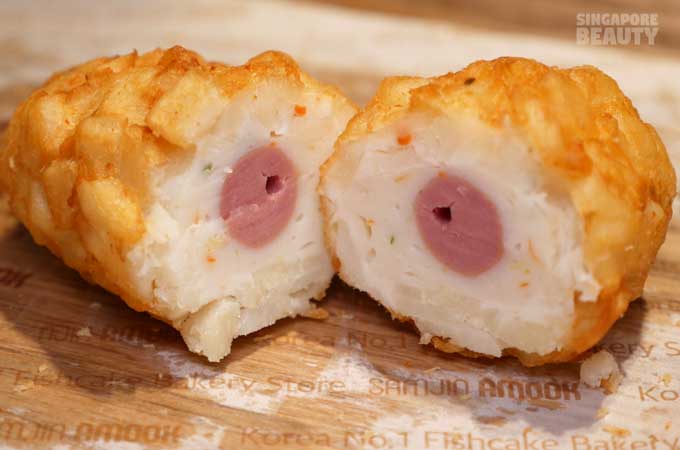 This is a sausage wrapped with amook and coated with cubed potatoes resembling a Goblin's Mace.
This is a mace (a weapon) to chase away your weekday's blues, great as breakfast. It tastes like hash brown and sausage all rolled in one. Goblin's Mace and kopi in hand, what more can you ask for? Maybe a toast?
Bacon dog ($2.80)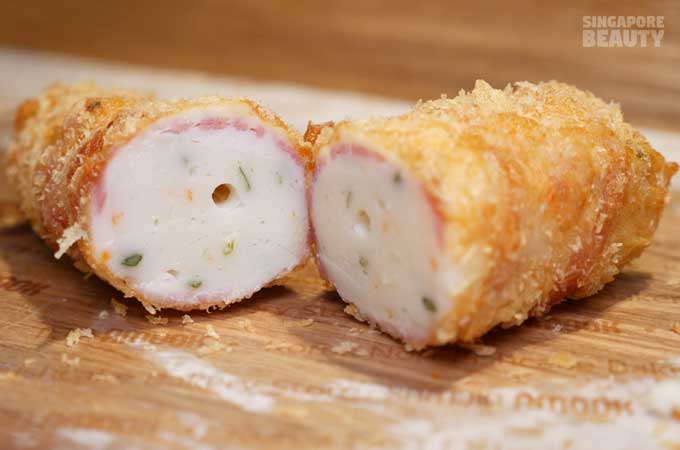 Bacon wrapped amook coated lightly with crispy panko. The fats from the bacon sizzle and melt into the amook. Smoky and rich flavour.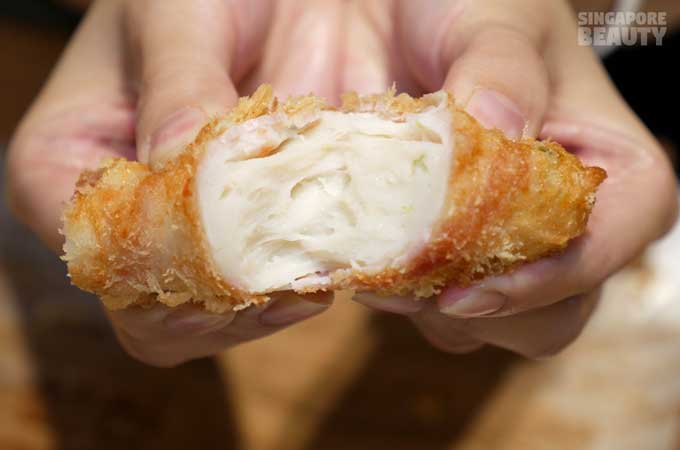 Look at how QQ the amook is!
Half Moon Sesame Leaf ($2.80)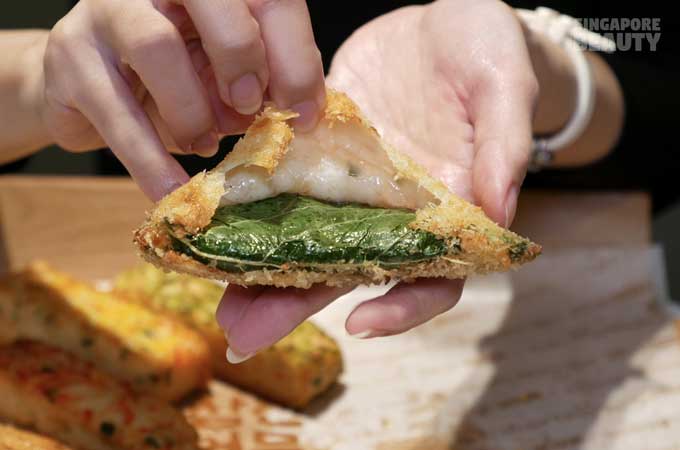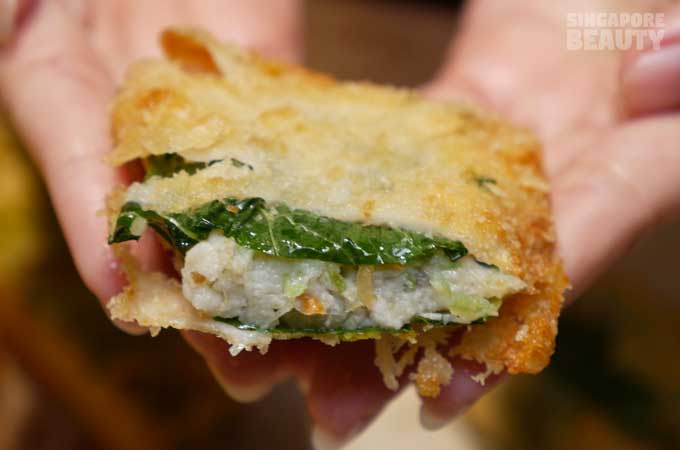 Amook wrapped with 1 whole leaf or more and coated in crispy pink. Sesame leaf (perilla leaf) is a herb with light note of anise. The filling is spicy enough for my liking. Yeah, I like this.
Shrimp Paprika comes in Yellow, Red, and Green ($2.00)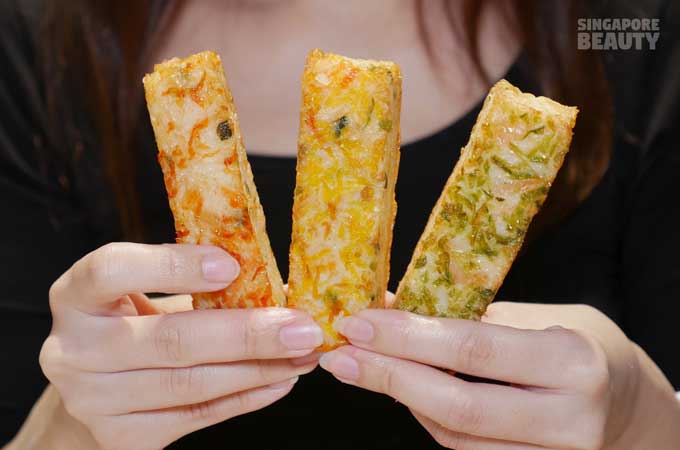 Amook topped with shredded yellow, red or green paprika (air dried bell pepper). Good as snacks for kids as these are not spicy but slightly sweet.
White Whale ($5.50)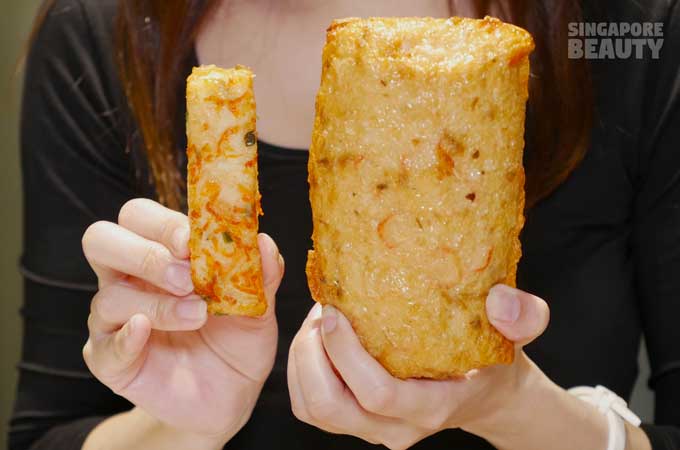 This is premium amook with diced greens, crab meat and fish meat in a light crispy crust. The sheer size of this White Whale makes the Shrimp Paprika shy away from it. Buy this if you want many hearty bites of amook goodness and a bang for your bucks.
Prawn Roll Hotdog ($3.50)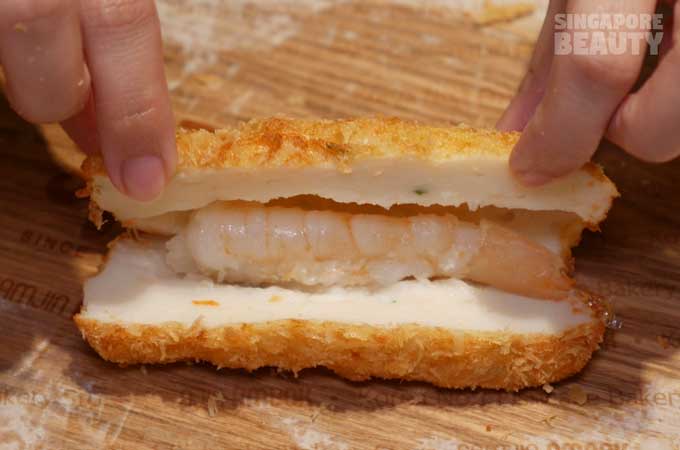 Full prawn wrapped in amook in a light panko crust. This cocktail prawn is deep fried to perfection, the flesh is delicate and the tail is so crispy.Yum.
Laver Roll ($2)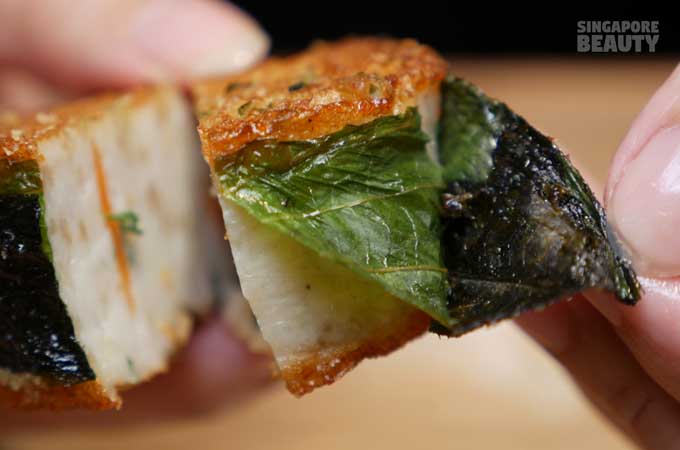 Amook rolled in sesame leaf and laver and deep fried. Taste like roasted seaweed with a QQ filling.
Ricecake Hotdog ($3.50)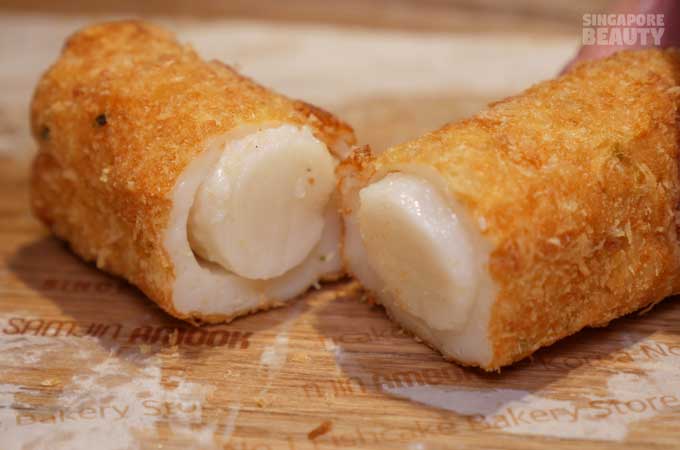 A full stick of Korean ricecake (tteokbokki) wrapped in amook. Very addictive soft, chewy and sticky ricecake.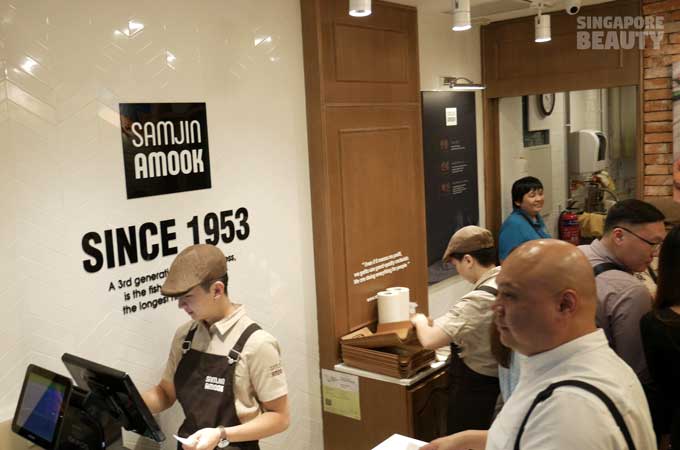 Samjin Amook is definitely going to be on my list of must-eat-Korean snack in Orchard. With over 40 variety of amook, you will be spolit for choice. Let's make it a point to try all of their amook and share with us which are your favourite amook on our facebook link.Thank you Samjin Amook for bringing the traditional No. 1 Korean fishcake snack from Busan to Singapore.Amook-licious!
Address:
ION Orchard, 2 Orchard Turn, #B4-34
Singapore 238801
Operating Hours:
Open daily from 10am – 10pm.