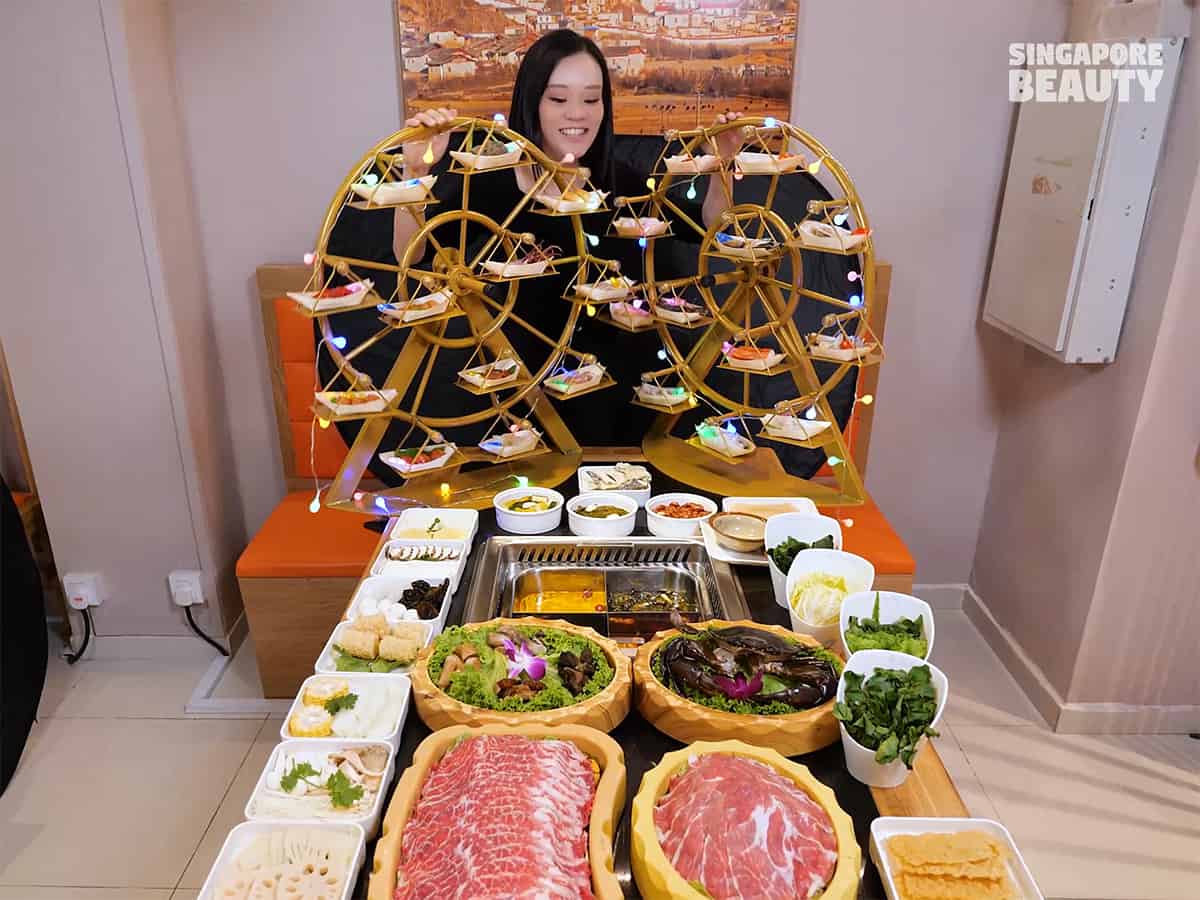 Ah Ma Shi Yunnan Hotpot restaurant has added a new Ferris wheel to their menu. With over 100 choices of ingredients for hotpot option B, you will be spoilt for choice here. The Ferris wheel consist of meat, surimi and seafood choices, you can ask for their standard combo in the Ferris wheel or customised accordingly. Now you have more table space to spread your food choice vertically with this new Ferris wheel as well as horizontally on the table while you feast.
Ah Ma Shi Yunnan Hotpot restaurant menu option B with their popular selection of wild mushrooms and massive selection of shabu shabu meat has won hearts of many new patrons who visited. Those familiar with Yunnan cuisines are here for Ah Ma Shi Yunnan Hotpot restaurant's wild mushroom platter that is distinctive in Yunnan hotpot recipe. The variety of wild mushroom here are exotic and not our usual oyster mushrooms, king mushroom, enoki or the commonly available fungi in supermarkets. The size and variety of the mushroom platter is served based on the number of diners at the table for 1 round.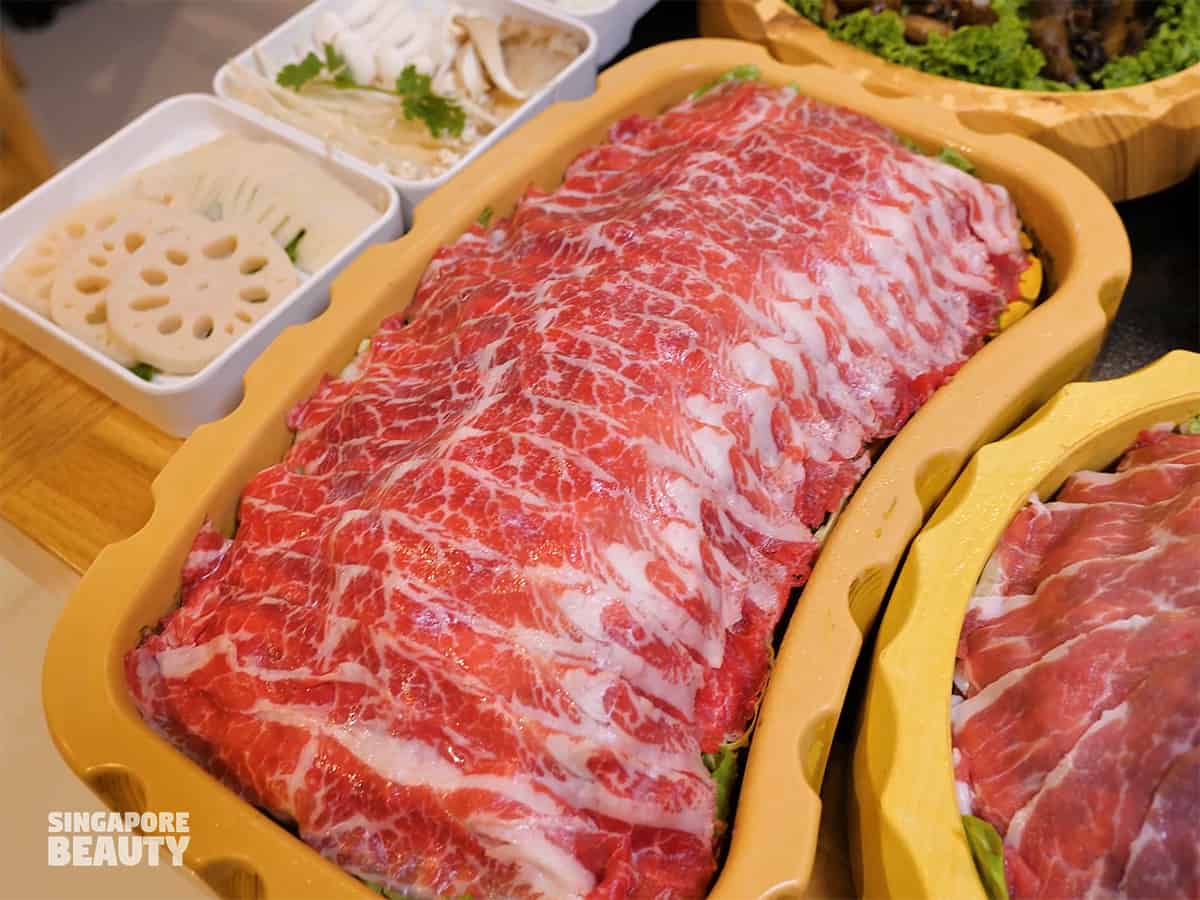 Ah Ma Shi Yunnan Hotpot restaurant is also popular for their massive meat platter for option B. These are thinly sliced shabu shabu meat that is perfect for hotpot. They have many choices of meat with basic and premium types of meats such as Wagyu and Spanish Black Pork. The hotpot must haves meats such as fine beef, sliced lamb, pork belly, pork shoulder, tender beef and chicken fillet.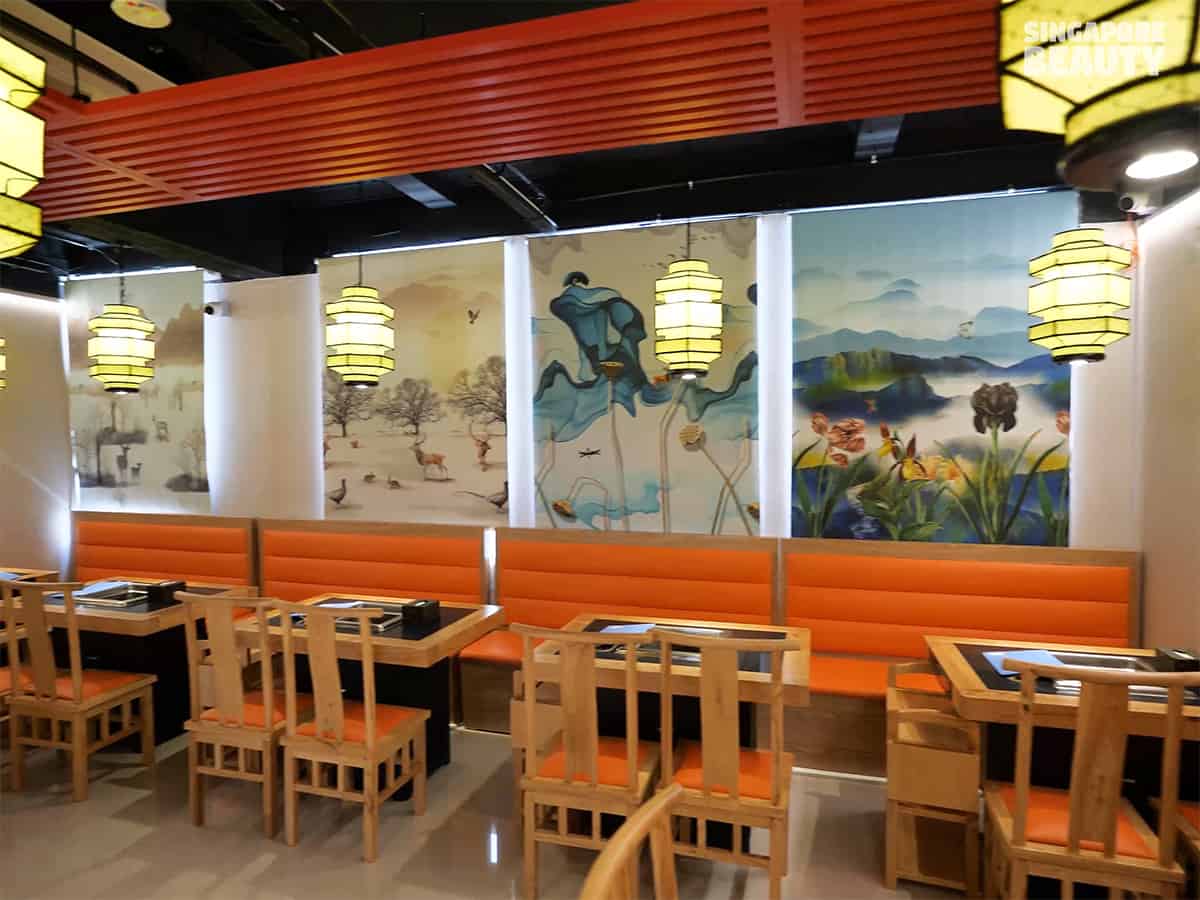 Ah Ma Shi Yunnan Hotpot restaurant is located at 26 liang seah street serving hotpot buffet with Yunnan cuisine style dishes. They are located a stone throw away from the popular Bugis Junction shopping mall and is a ideal place to rest your feet and feast after your shopping haul. It is housed in a three storey shophouse with second storey dining space and a VIP room that can house up to 10 pax.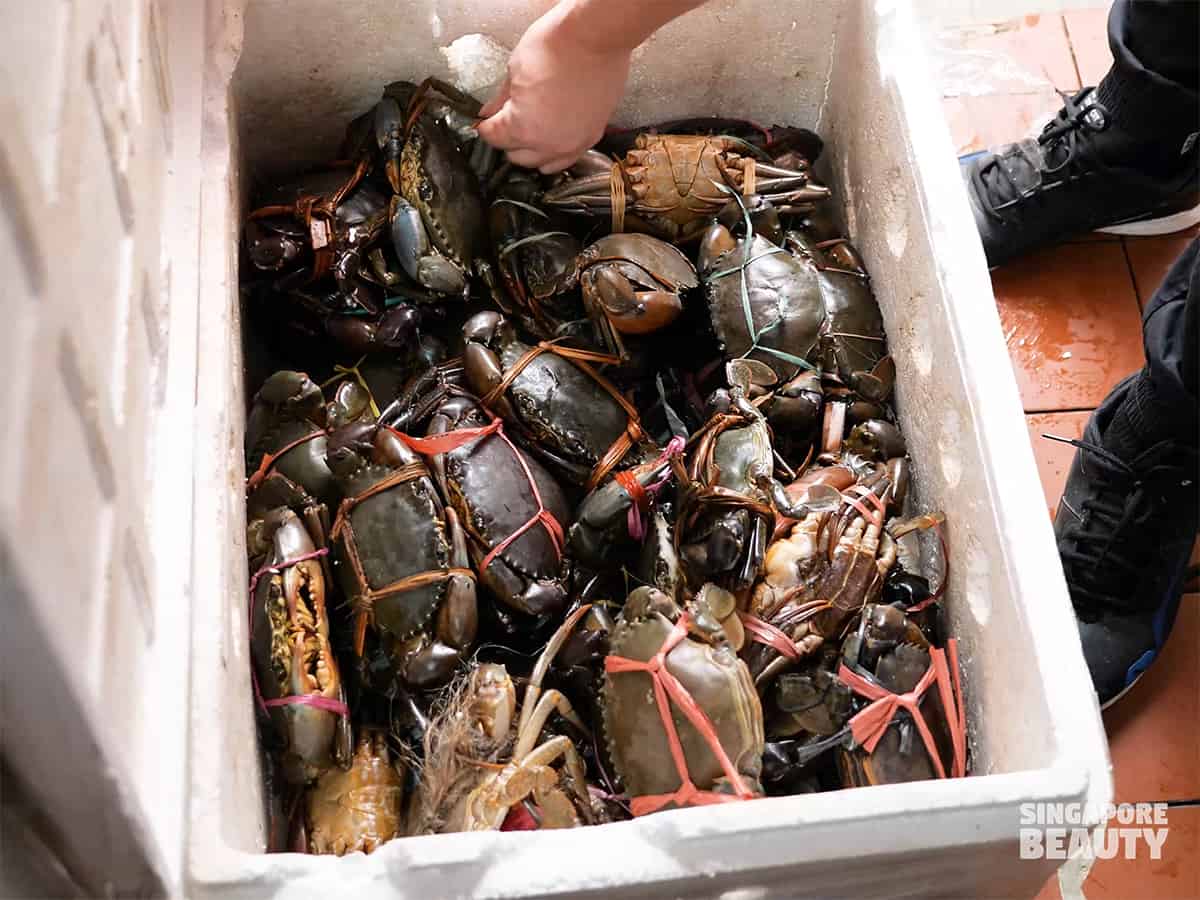 Those diners having hotpot buffet Option B will be able to redeem live mud crab based on the number of diners per table. For a group of 6 diners and above, you are able to redeem 3 nos. of dispatch-for-you live mud crabs as part of the buffet. These crabs are delivered daily to this Bugis hotpot buffet place to ensure they are at their optimum freshness.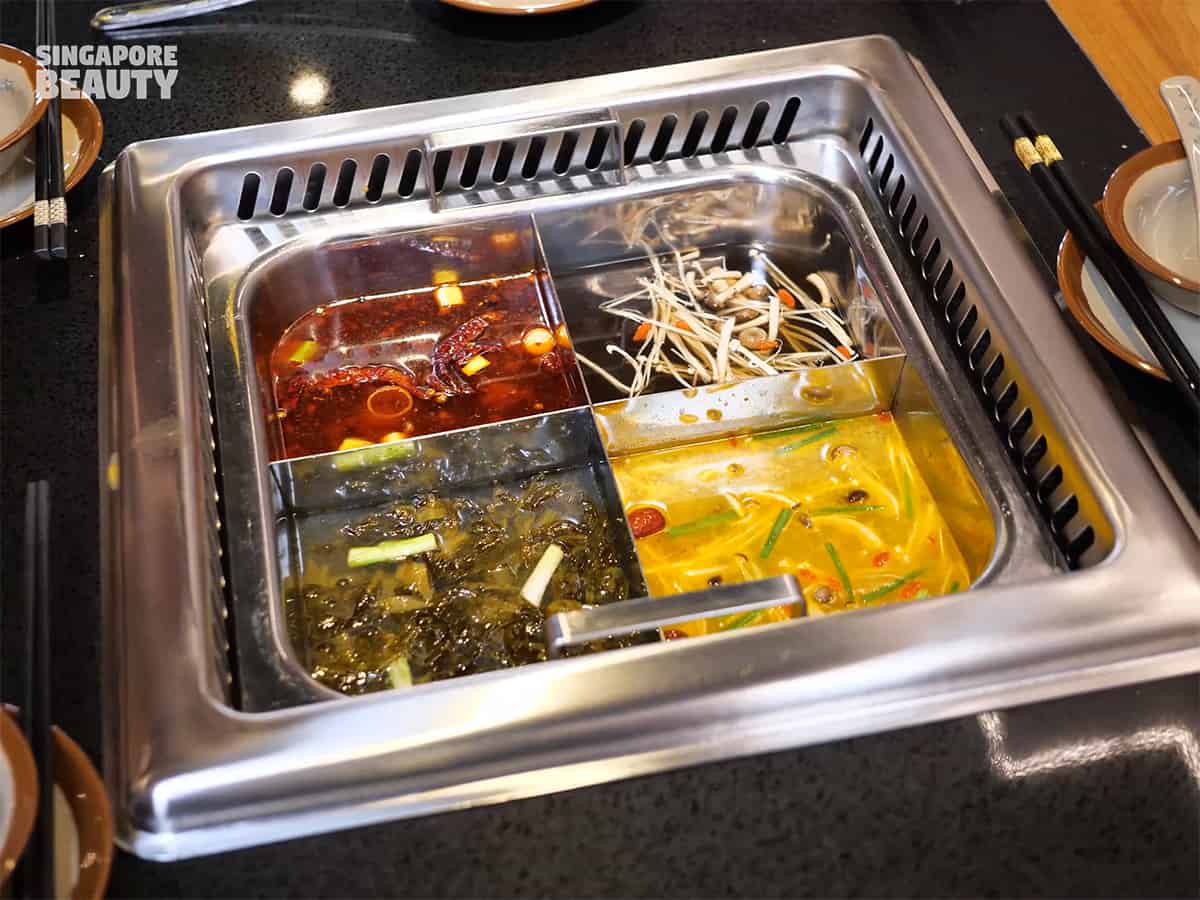 Ah Ma Shi Yunnan Hotpot buffet restaurant also have some worth mentioning soup bases. They have 8 types of soup to choose from such as wild mushroom, hot & sour, mala spicy, chicken, tomato, tom yum, pig bone and pickled cabbage soup base. They have upgraded the previous trio soup base pot to a 4-soup base soup pot. 4 soup of your choice is price at $8. It translates to about $2 per soup base! This could be the cheapest soup base for hotpot buffet restaurant. The chef's recommendations if you are taking Option B buffet are the wild mushroom, mala spicy, chicken soup and the pickled cabbage soup. Note that the basic wild mushroom soup does not come with wild mushrooms. Only for Buffet Option B, you will get a wild mushroom platter to add into the soup that will significantly enhance the flavour after cooking for 10 minutes.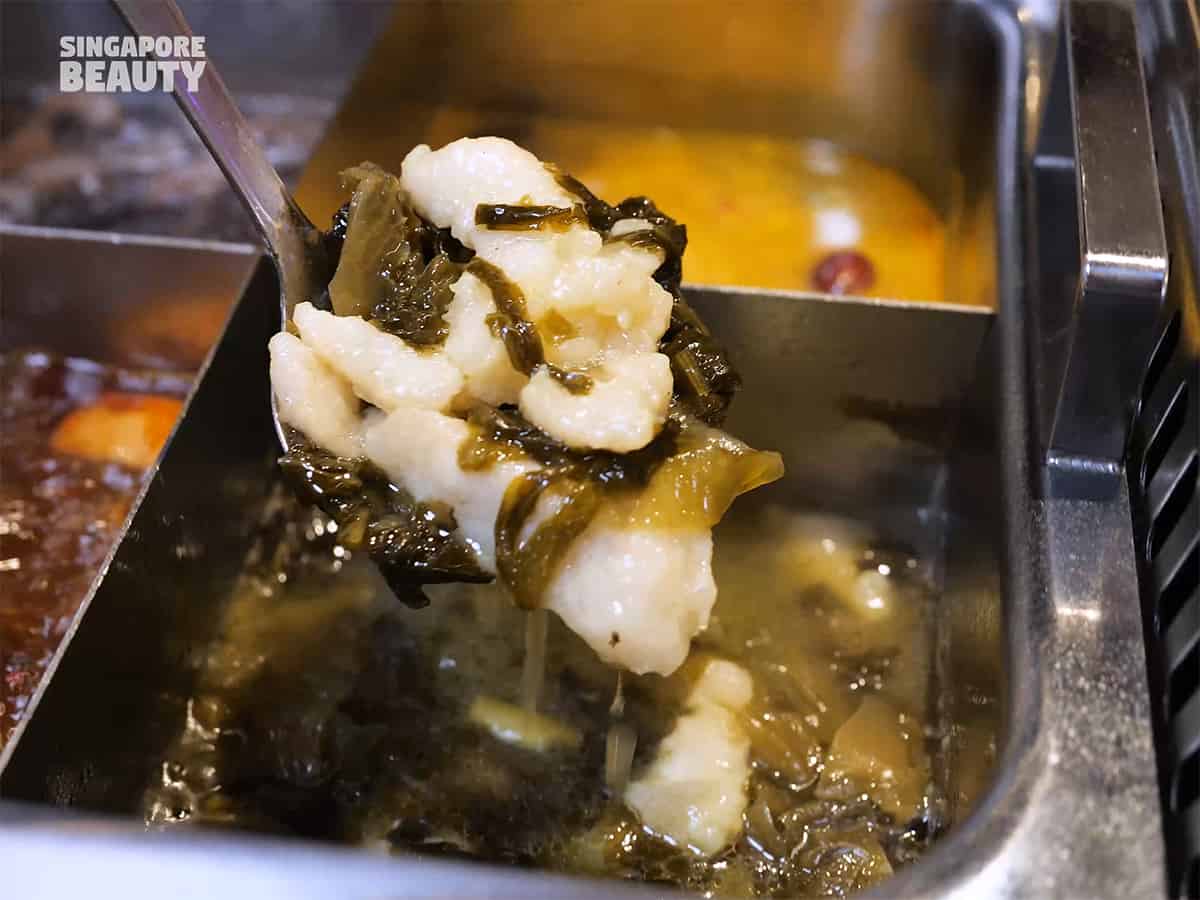 The pickled cabbage hotpot soup base comes with some pickled vegetable that are so soft that they melt in your mouth. The sour tone makes you salivate when the tangy note hits your nose. This soup match well with large chunks of dory fish that are delicate and infused with the flavours of the pickled vegetables.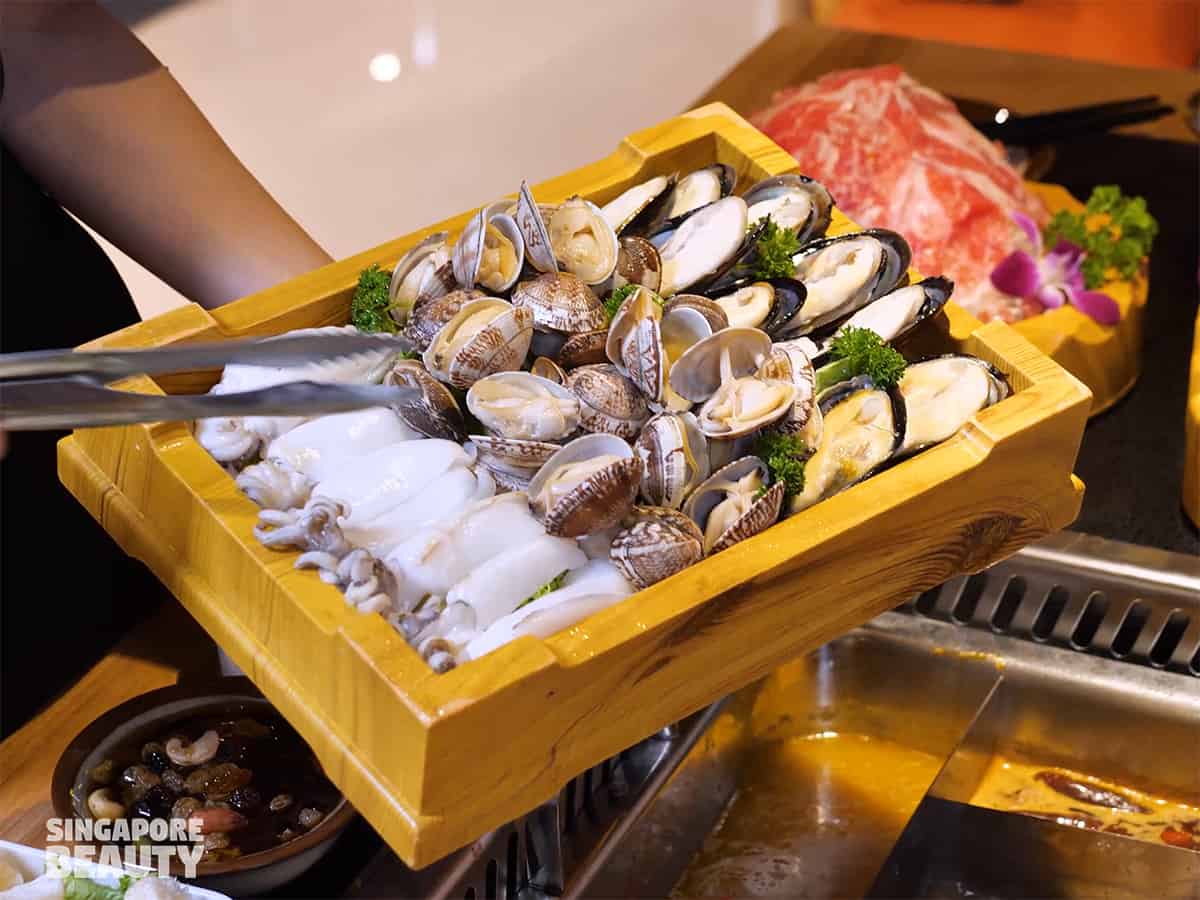 The variety of seafood for this Bugis buffet hotpot are baby octopus, crab stick, fresh prawns, sliced squid, green lipped mussels, Asari clams, tiger prawns, half shell scallop, razor clams besides the mud crab redemption. The seafood goes well with the mala soup base and the chicken soup base if you are into the oceanic briny flavours. The shellfish adds a depth of flavour to the meat based soups. Succulent clams and creamy custardy mussels with tender baby octopus infused with the umami of the soup bases.
The tiger prawns are great for hotpotting too. The tiger prawns are firmer than the regular fresh prawns and has a better crunch when cooked. However the fresh prawns also known as glass prawns are sweeter and less of shrimpy flavours. Both types of prawns are served in this hotpot buffet menu and are loved for their head butter.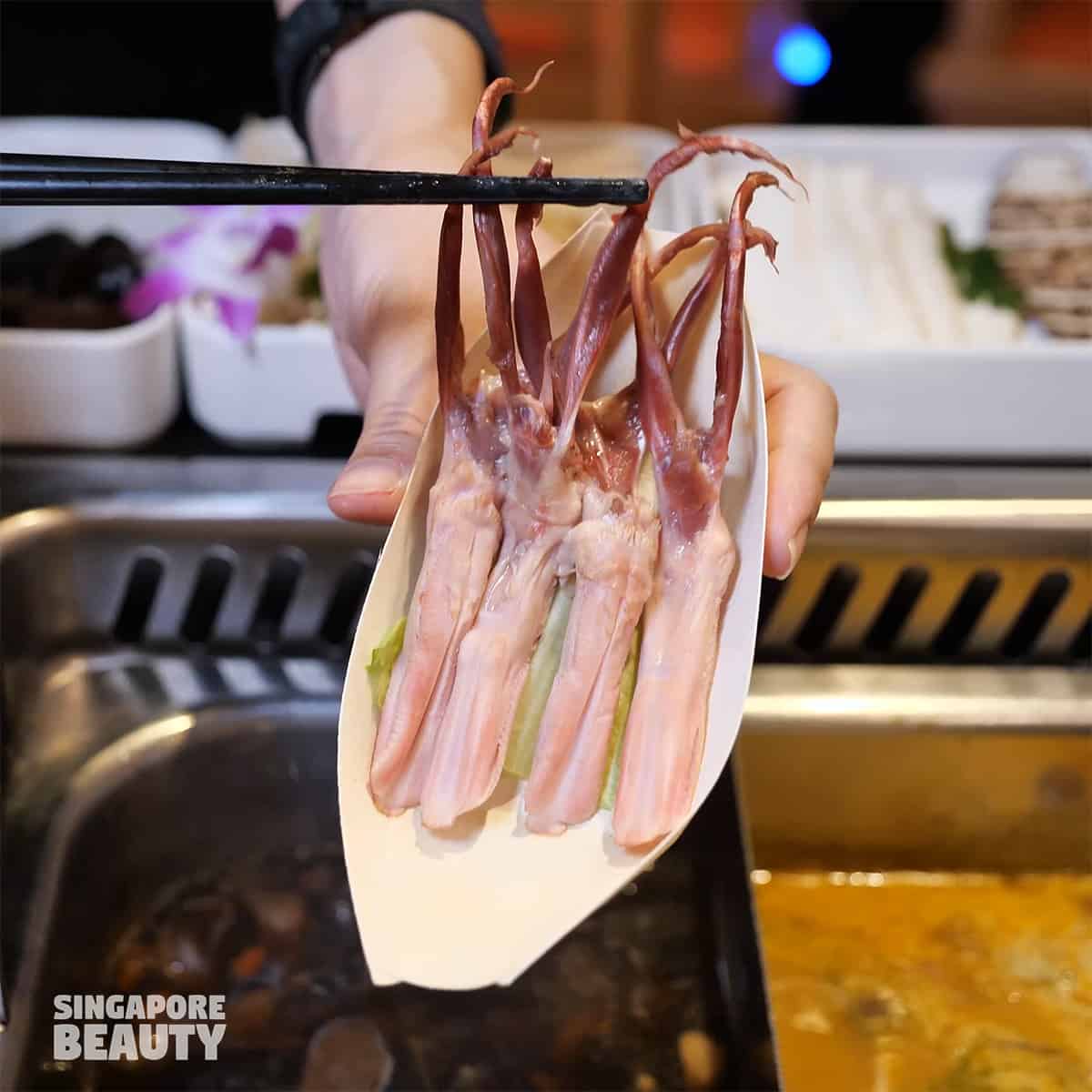 It is rare to get duck tongue served in a hotpot buffet restaurant as these nibbles are pricy when you buy them at the braised offal shops around town. Here you get them free-flow! To all braised duck tongue lovers, here is your chance to get a quacking good feast on these noble nibbles. The duck tongue is gelatinous like with soft cartilage and a fatty springy texture.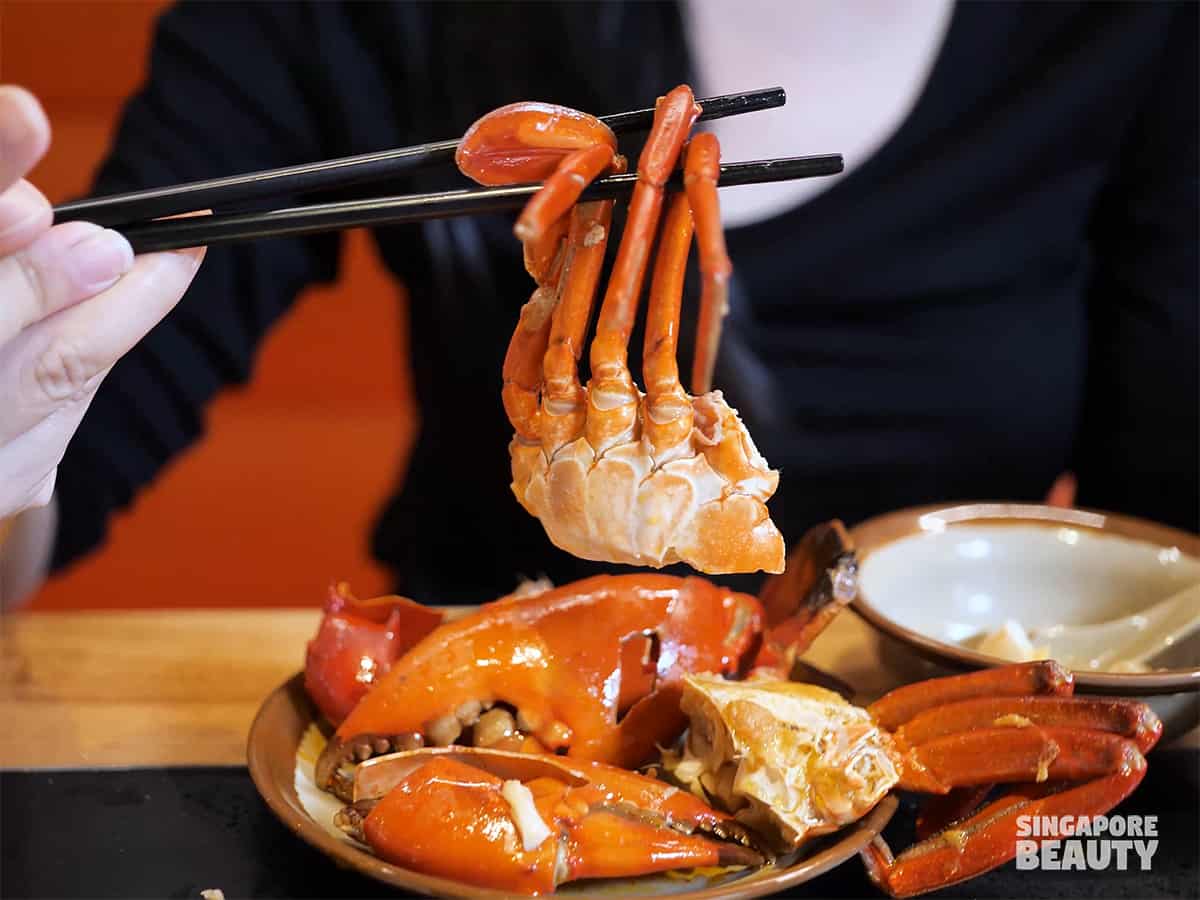 The mud crab is of a good size with the claws cracked nicely for ease of consumption. The legs and the main body of the crab definitely yield some sweet meat with much effort. Hold the legs at the joints and crack them apart and you get your crab lollipops of meat chunks hanging from the soft whitish shells.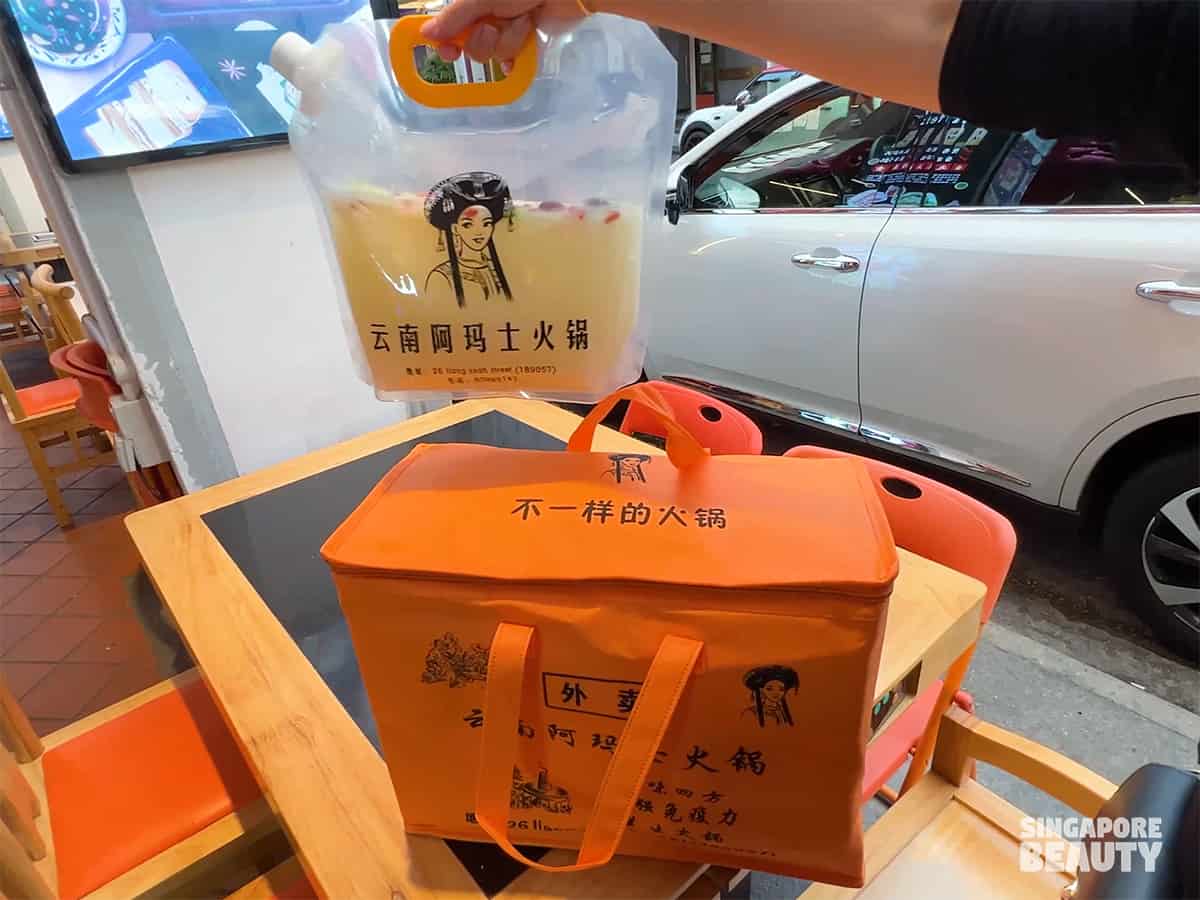 Ah Ma Shi Yun Nan hotpot menu are also available for delivery now. The Ah Ma Shi Yun Nan hotpot delivery is sent in a sealed insulated carrier for food items. Soups are delivered in a no spill carrier with sealed sprout. Reservations are also available for a fuss free hotpot experience.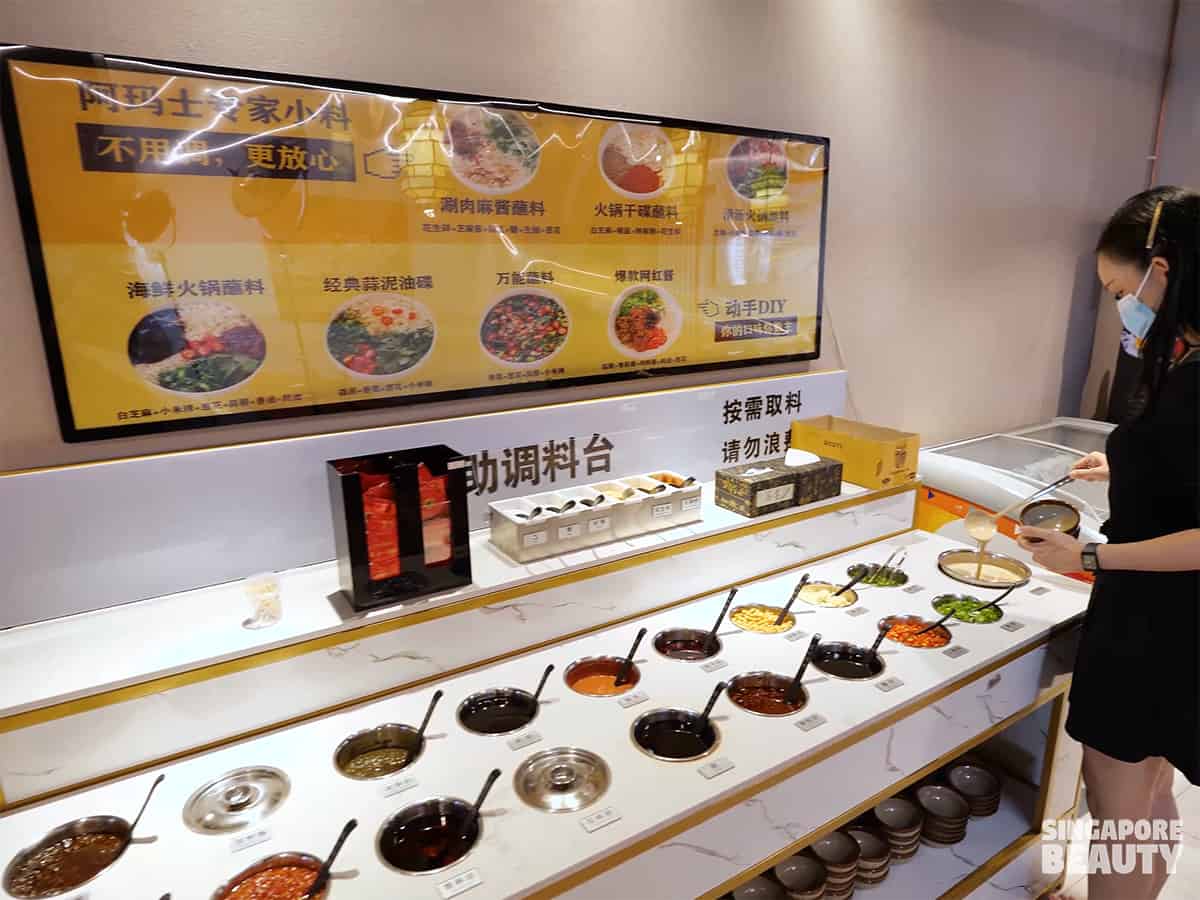 The joy of hotpot is also having an array of condiments to go with the piping hot meats and seafood. Ah Ma Shi Yunnan Hotpot buffet has more than 25 types of sauce and ingredients to choose from at their condiments counter with no extra charge for sauce. if you are lost on how to create the perfect sauce for hotpot needs, you can refer to their recommended DIY sauce combo billboard for meats, seafood, offals and more to complete the Yunnan Hotpot experience.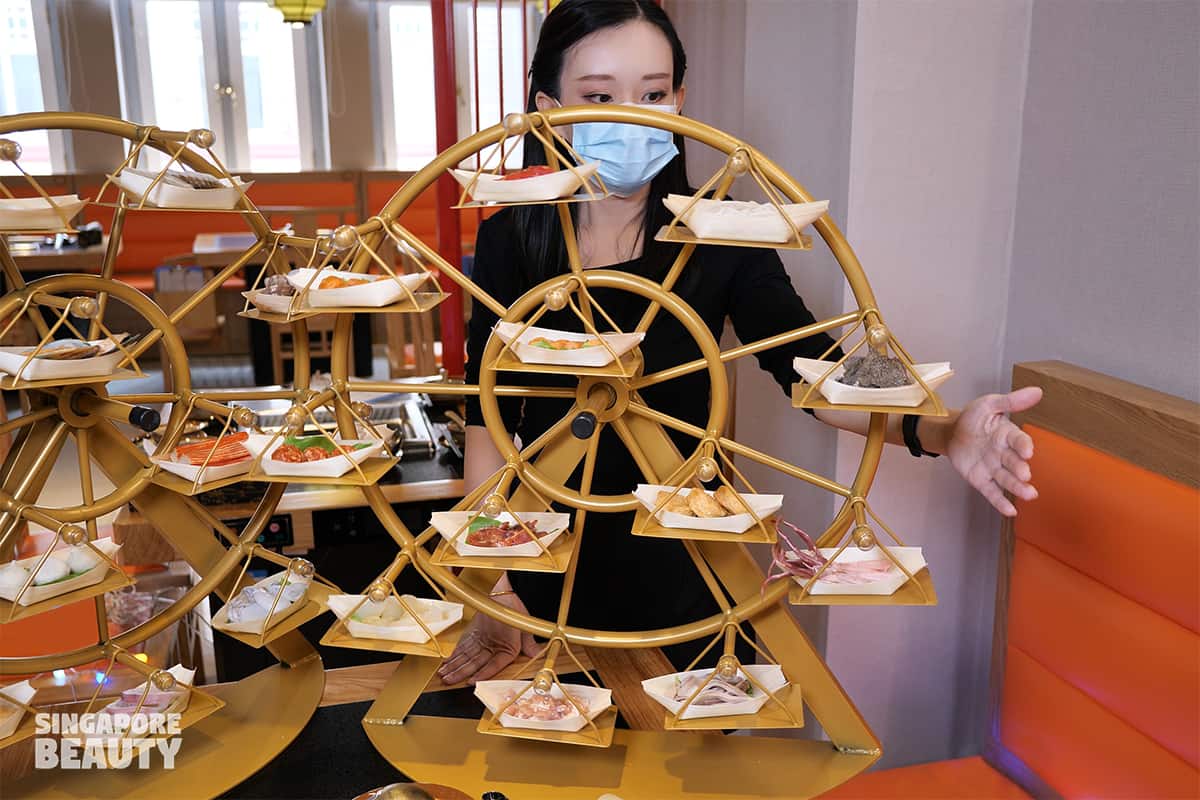 The newly added Ferris wheel hotpot buffet has 12 carriers for food. To redeem this Ferris wheel, quote SingaporeBeauty with 5 paying adults. This Ferris wheel makes the hotpot experience fun and interactive with the different type of taster size hotpot ingredients. Each carrier is removable from the wheel. Once removed, the Ferris wheel will rotate due to gravity and presents the next food on the carrier. This is your instaworthy moment with this Ferris wheel of food.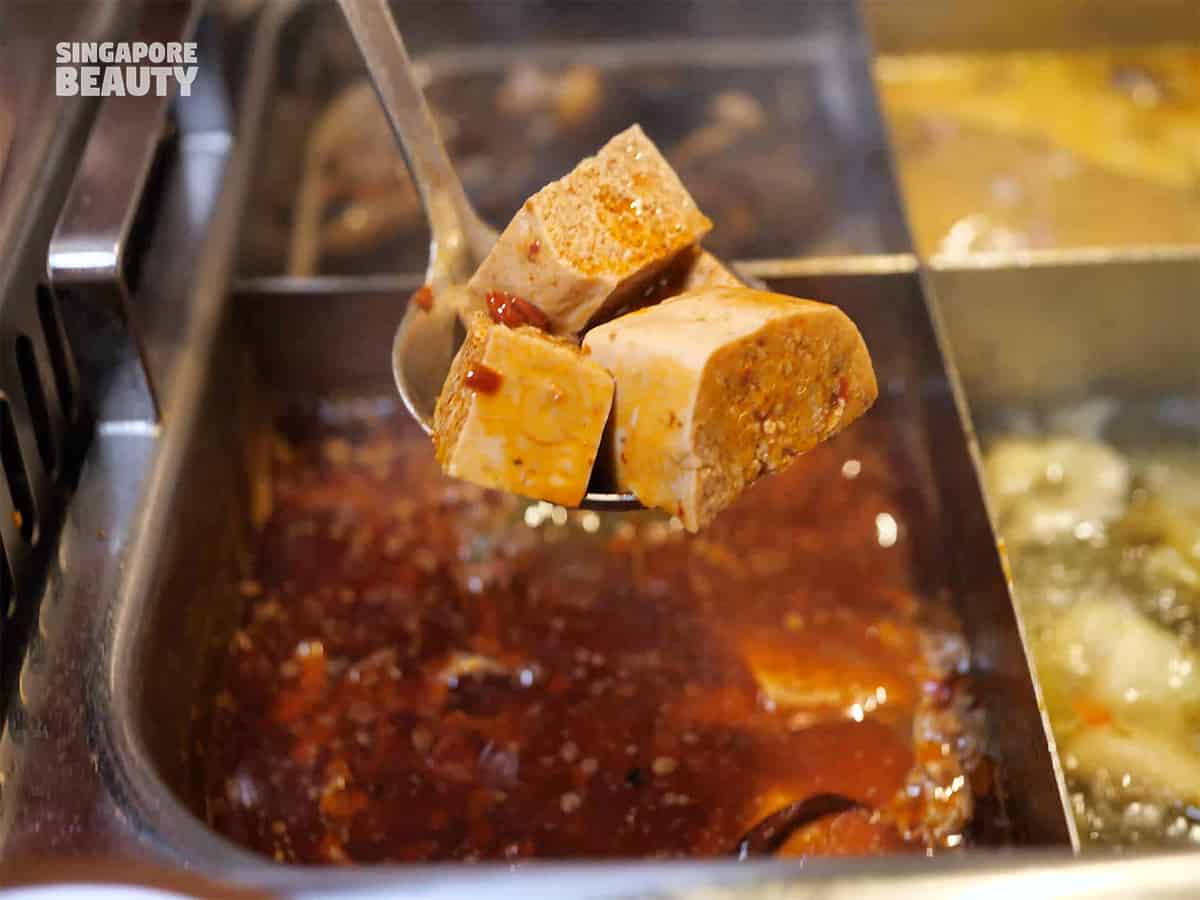 The mala soup at Ah Ma Shi Yunnan Hotpot is the must-order soup bases. The soup base is super intense and flavourful. Check out these frozen tofu cubes that was cooked in the mala soup for some time. The mala flavours has seeped into the air pockets in the tofu rendering it super braised with the aroma of mala – numbing and spicy.
For the unique Yunnan hotpot buffet experience at Bugis, head over to Ah Ma Shi Yunnan Hotpot at 26 Liang Seah street. The shop front is a bright eye catching orange with a double shop frontage. Plenty of seats available on the ground floor and second storey dining space. See you there!
Basic Buffet A
Adult buffet price
(Mon-Thurs) $25.80++
Fri-Sun / Eve of PH & PH $28.80++
Premium Buffet B (with wagyu, black pork & more items)
– Redeem mud crab & wild mushroom platter.
Adult buffet price
(Mon-Thurs) $42.80++
Fri-Sun / Eve of PH & PH $45.80++
Quote Singaporebeauty for 1 set of Ferris wheel only available for 5paying adults.
Top up $8 for 4 soups
Dine in time : 90 minutes
Live Mud Crab & wild mushroom redemption for buffet B only
2-3 pax – 1 crab, 4 wild mushroom platter
4-5 pax – 2 crabs , 5 wild mushroom platter
6 pax above – 3 crabs , 6 wild mushroom platter
Drinks & Ice cream included
Opening Hours : 11.30am to 2am daily
Address of Ah Ma Shi Yunnan Hotpot 阿玛士云南菌汤火锅
26 Liang Seah Street
Singapore 189047
Call for Reservations : 6980 6856 / 8399 9127
Brought to you by Ah Ma Shi Yunnan Hotpot