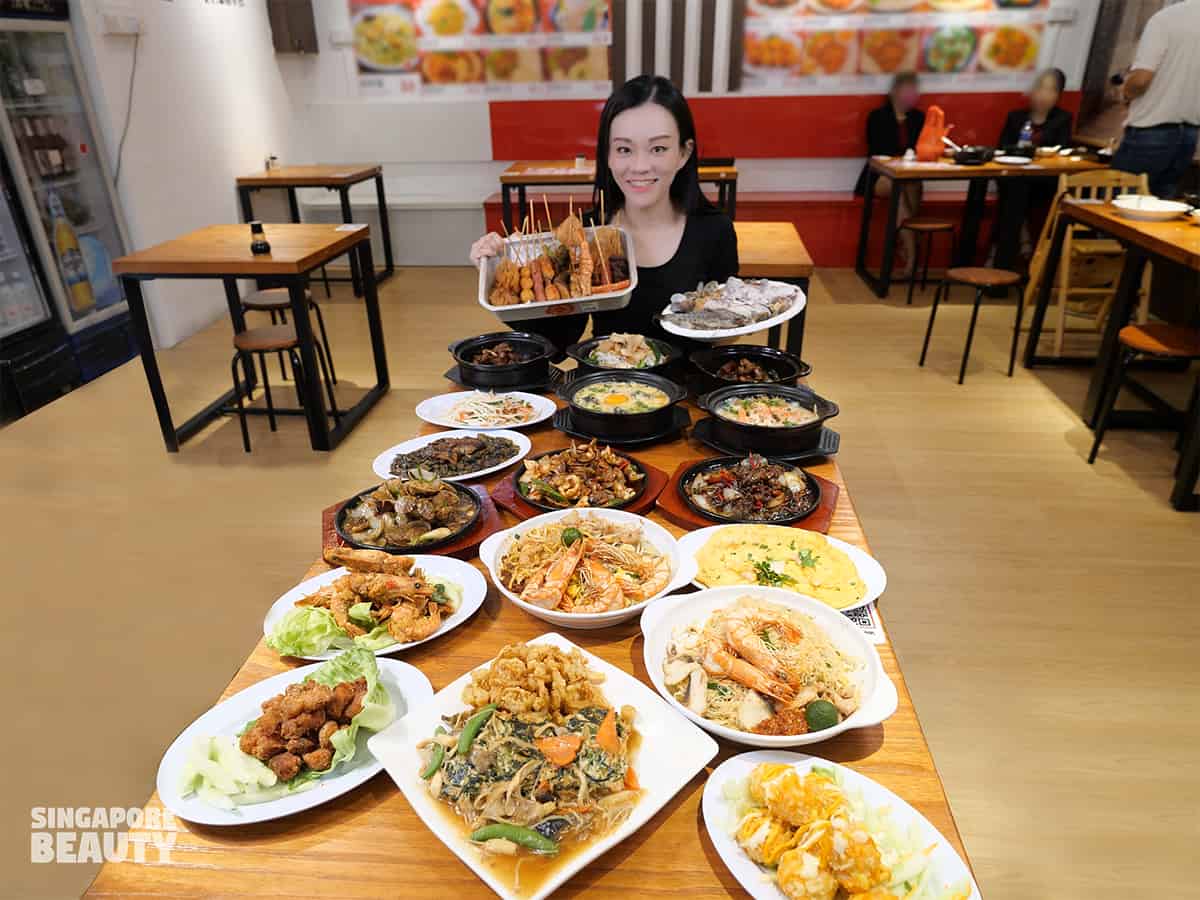 Delicious Porridge is a newly opened eatery specializing in dried scallop based claypot porridge with different toppings to choose from, Malaysian style lok lok and seafood zi char in Orchard Road. This is becoming a popular lunch spot for those working around orchard road looking for affordable local food that is comforting and nourishing. The zi char served here are the Singaporean's favourite dishes such as salted egg prawns, hotplate beef, sambal lala, onion omelette and home-made boiled Cantonese soups.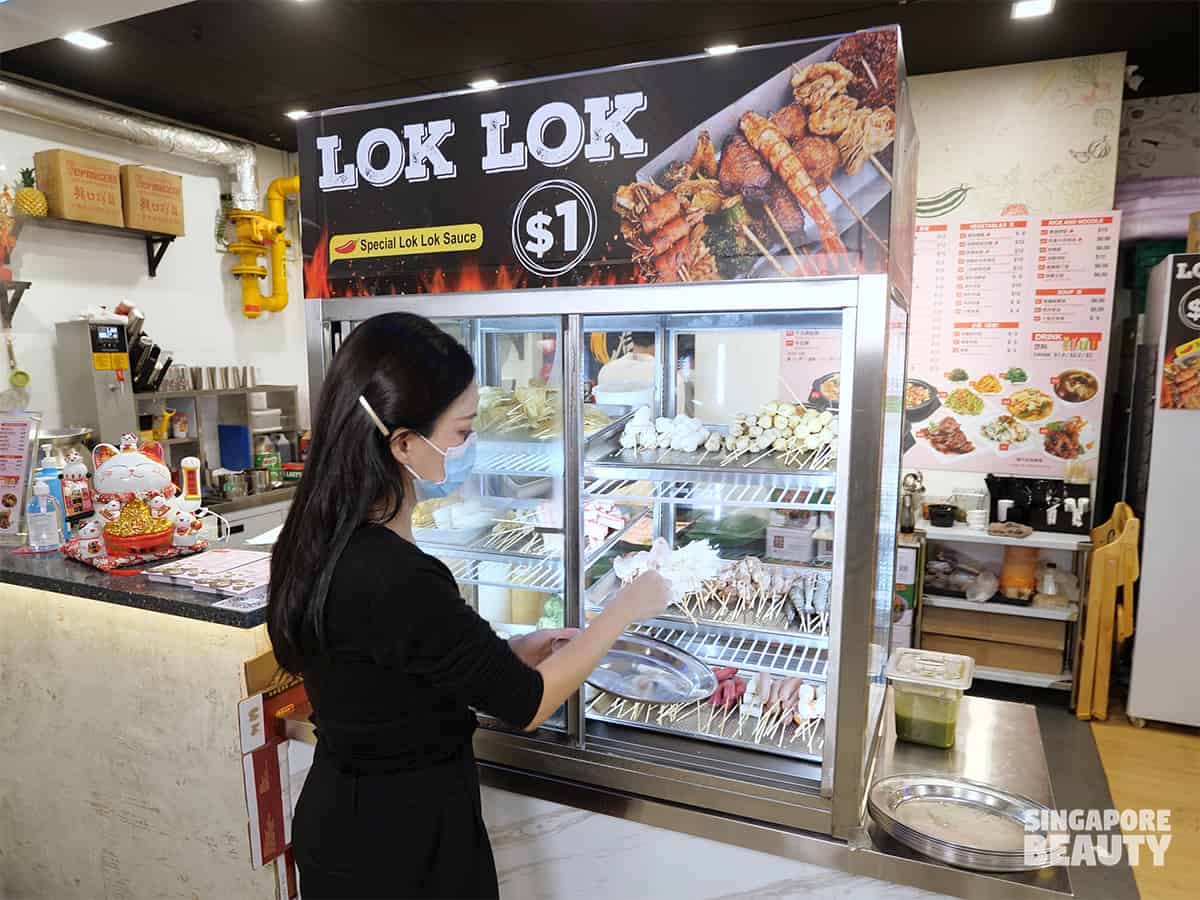 Delicious Porridge is also popular for their lok lok kiosk at orchard Road Far East Plaza. They are selling the Malaysian style lok lok with a special homemade sauce made with green chilli and some other ingredients. They have more than 20 types of $1 lok lok that are hand skewered daily in house. This is how to get the lok lok. Pick your lok lok and pass them to the servers on the steel plate. The chef will proceed to deep fry these till golden and serve them with the special green sauce dip. They also have mayo and nacho cheese drizzle too if you prefer something more creamy and rich.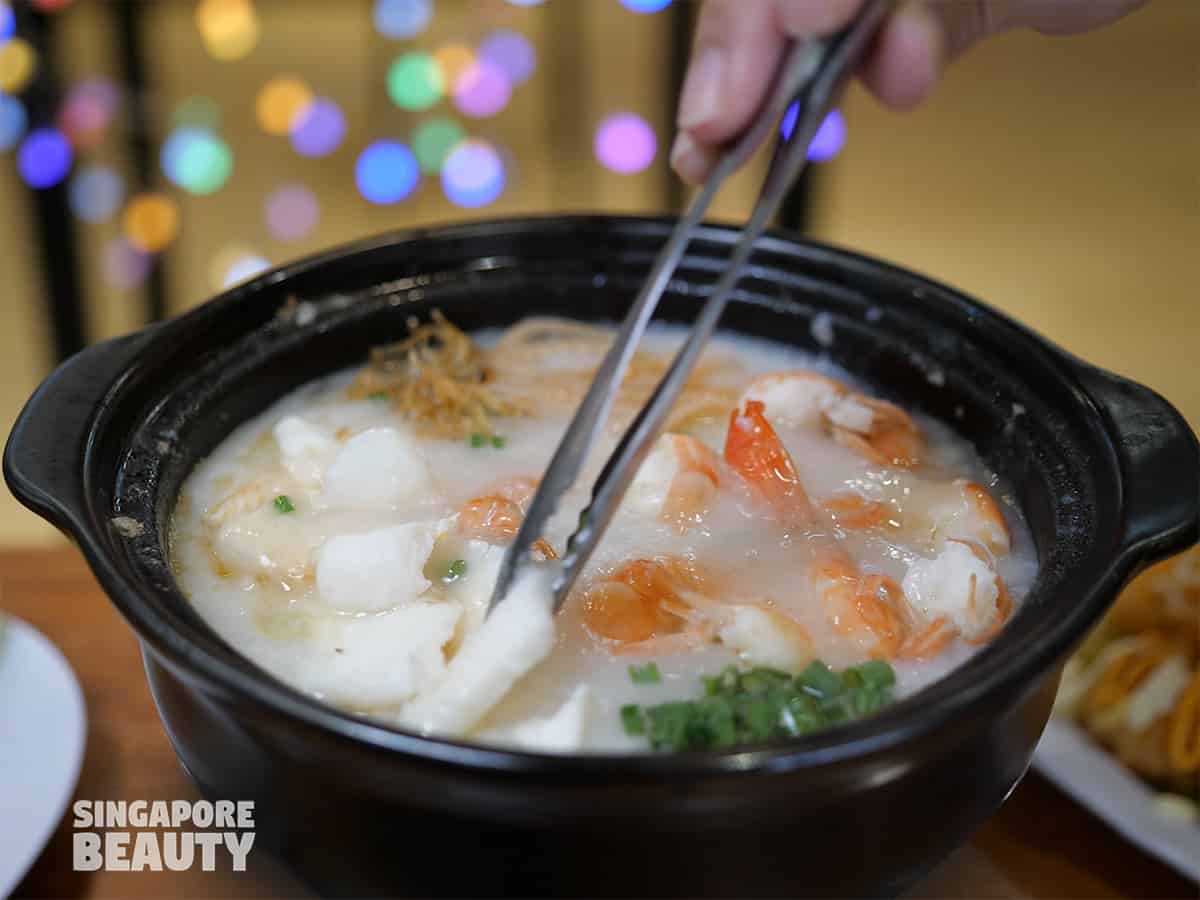 When you are craving for local delights such as claypot porridge in Orchard that is affordable, you can get your craving fixed at Delicious Porridge. They specialized in dried scallop aka conpoy based porridge with different type of toppings combo. They have dried scallop based porridge with cuttlefish, with century egg minced meat, frog meat, seafood, sliced fish, shredded chicken or the original scallop porridge starting from $3. You can also add on the peanut, you tiao and egg from $1.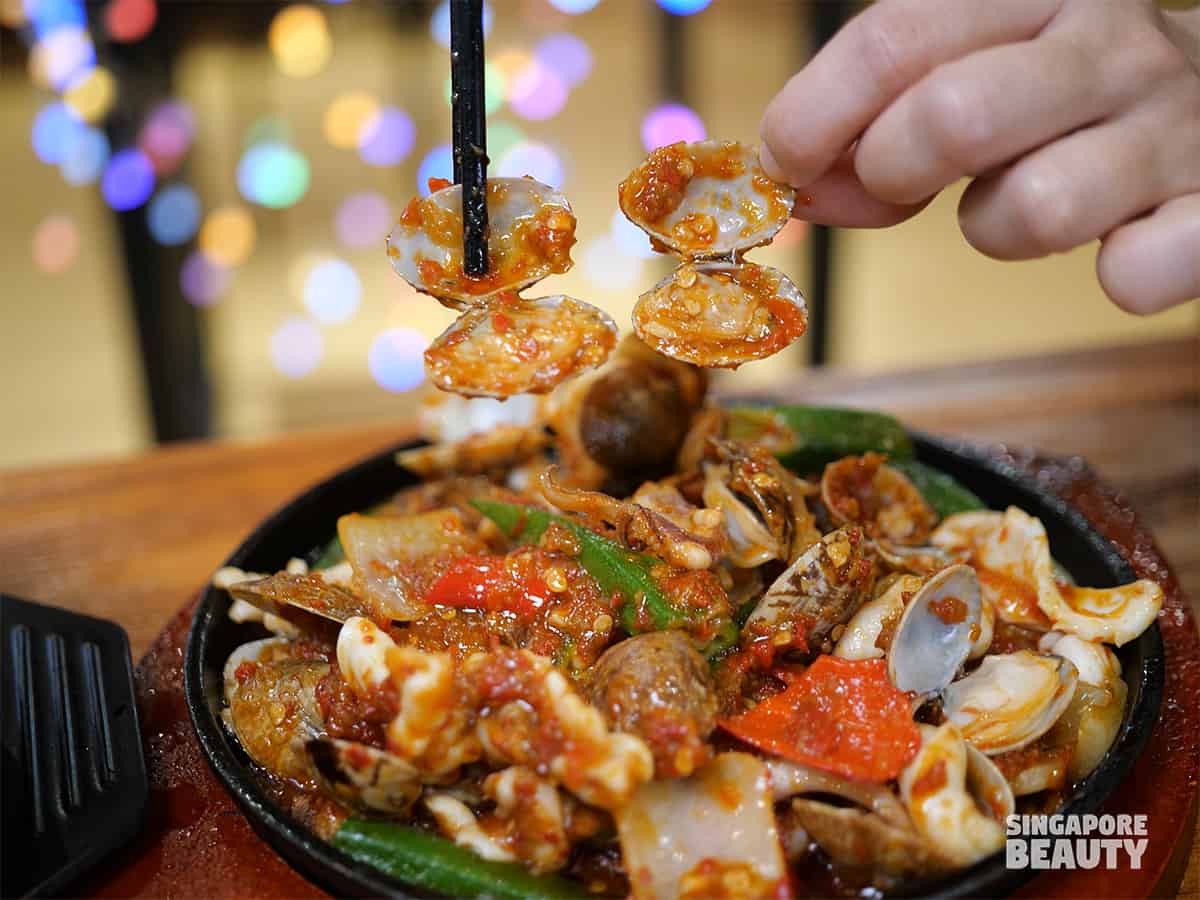 Where can we find Singapore and Malaysia style zi char at Orchard road? The owner of Delicious Porridge comes from Malaysia and has been working in Singapore for a long time. She has brought with her Zi Char style from Malaysia and married it with Singaporean style Zi Char, to create the dishes in her new shop menu. There are a total of 33 types of our local favourite zi char dishes to choose from.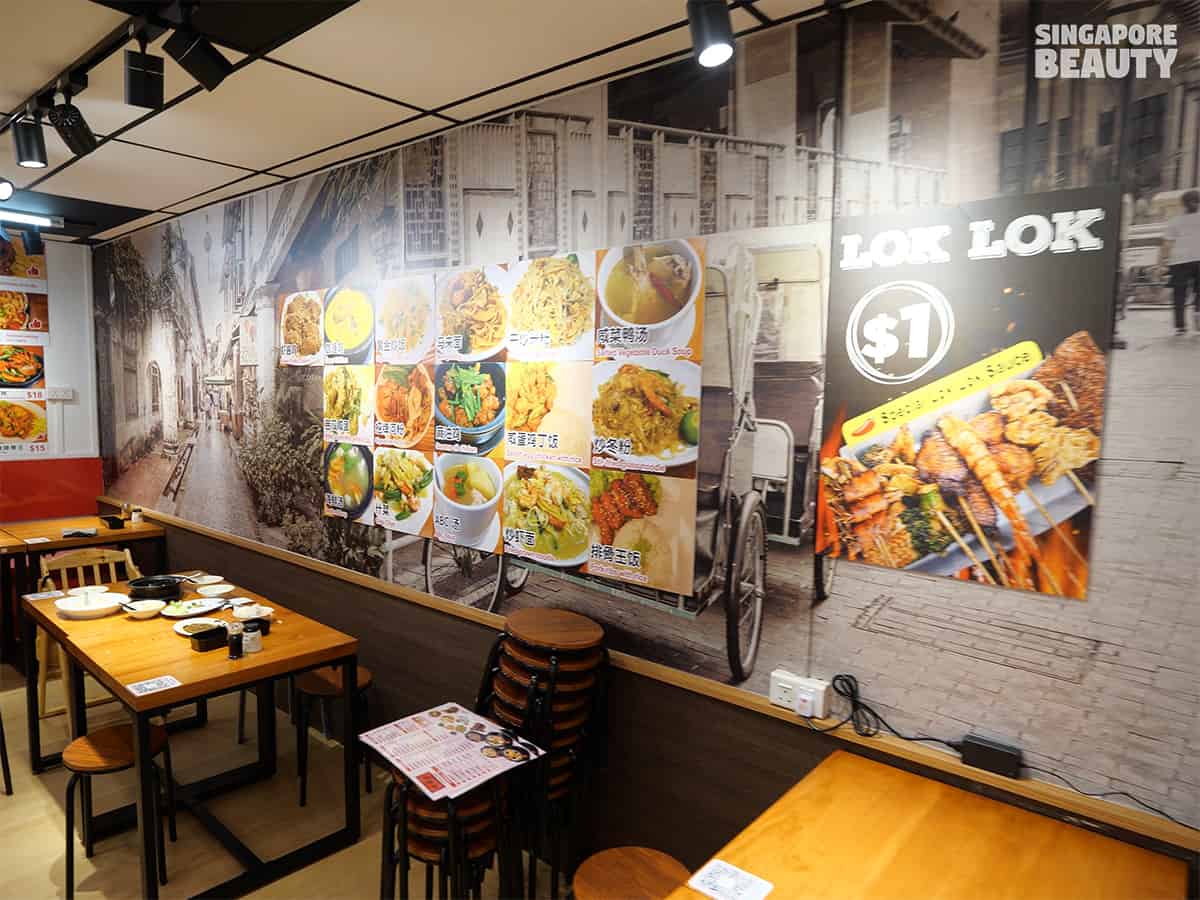 The pictorial menu on the walls of the shop makes it easier for those who prefer to order from visuals. However, Delicious Porridge menu is also available in a flyer form at their cashier counter if you wish to sit down and choose the dishes from a worded menu. The menu includes porridge, zi char meats in hotplate or without hotplate, claypot stew meats, seafoods, 3 soups of the day, stir fry vegetables, omelette, rice, noodle dishes and appetisers salad.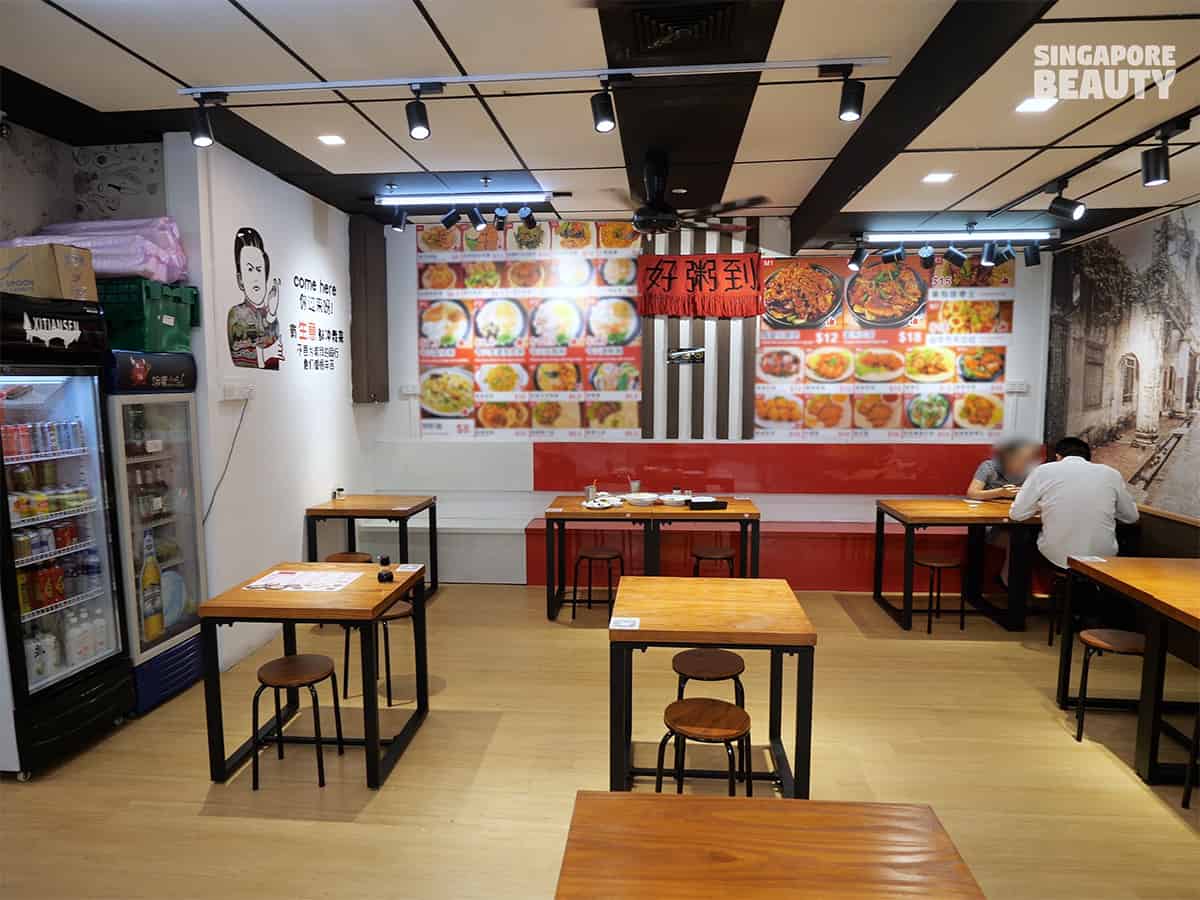 Delicious Porridge is located on the fifth floor of Far East Plaza Orchard with a double shop front. They served hearty zi char with many unique home cooked style dishes that is not commonly available. Some of the unique comfort food in Delicious Porridge menu that you can find are salted fish pork belly claypot, nan ru fried pork, Ten tonic herbal chicken soup, fried bean sprout with salted fish, minced pork omelette and salted egg bitter gourd.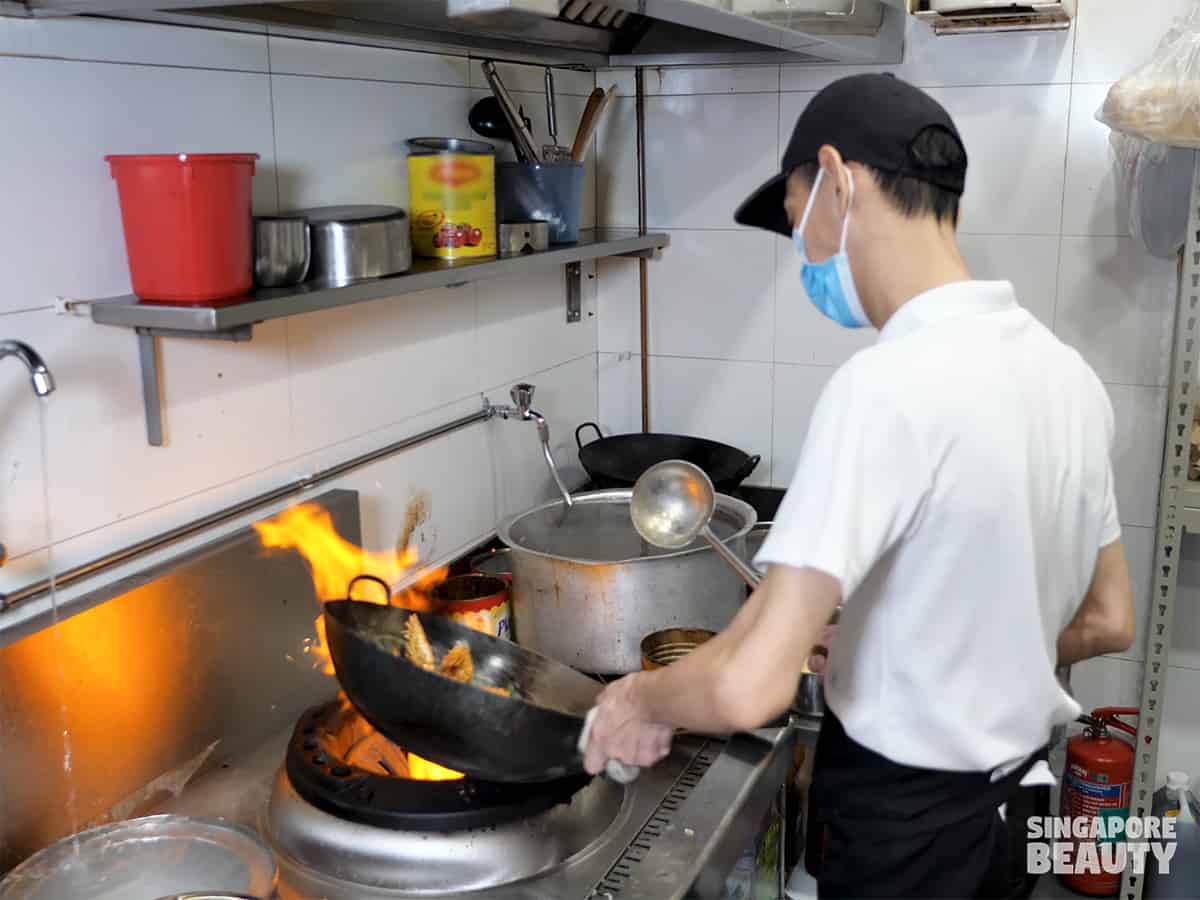 Besides the unique dishes, there are also zi char staples such as hotplate seafood lala, sambal clams, steamed sotong clams, pork ribs king, claypot chilli frog meat, gong bao frog, slice fish with ginger and scallion, lemon chicken, sesame chicken, hotplate beef, salted egg ribs and more. The dishes are cooked with a Chinese wok so you can assure there is a good amount of wok hei for your zi char dishes.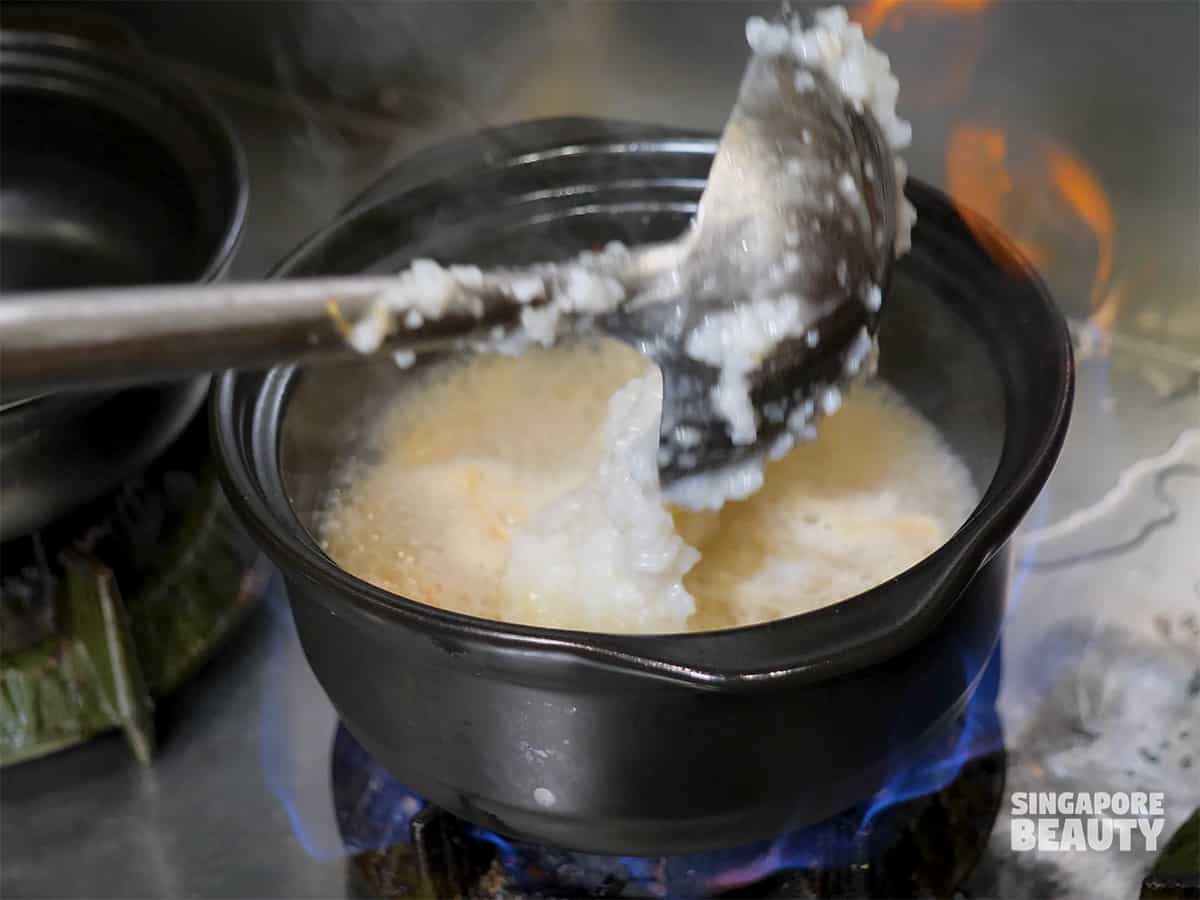 The type of porridge served here are the Cantonese type of porridge aka jook with visible soft grains of rice. The base of the porridge that is used are dried scallops aka conpoy to give it an umami base. The dried scallop porridge is cooked individually for each order with the toppings that you choose. They have 7 types of porridge to choose from and they are served piping hot in a claypot. Compared to congee which is usually cooked with a stock and more watered down, this Cantonese porridge is more filling and thicker in consistency.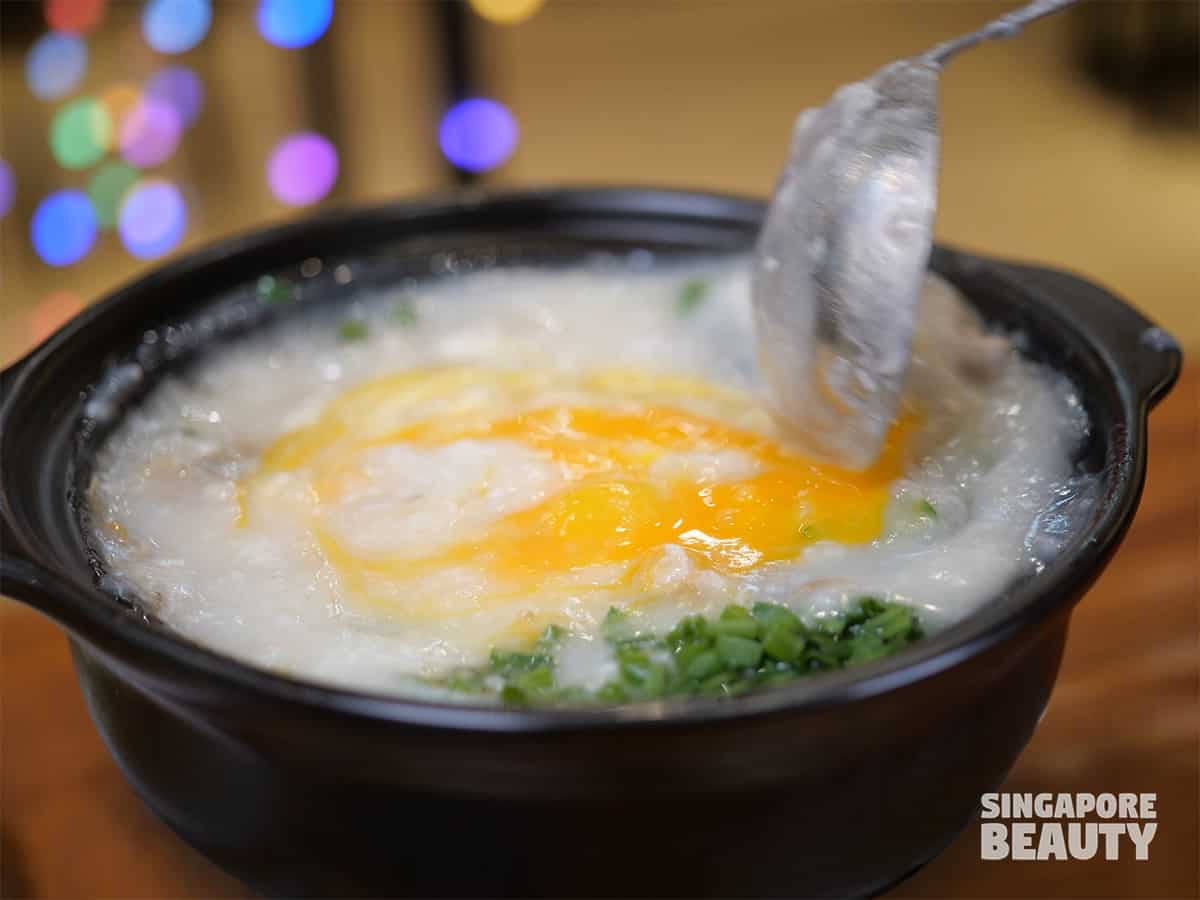 To best enjoy this porridge, a raw egg is usually added into the Cantonese porridge and served. The heat from the porridge will half cook the raw egg to form a velvety glaze over the grains of porridge, making the porridge more silky and delicious. For those who are craving for a simple no topping porridge, they also have $3 original scallop porridge to go with their zi char dishes. You may order the zi char dishes of your choice to enjoy with the porridge.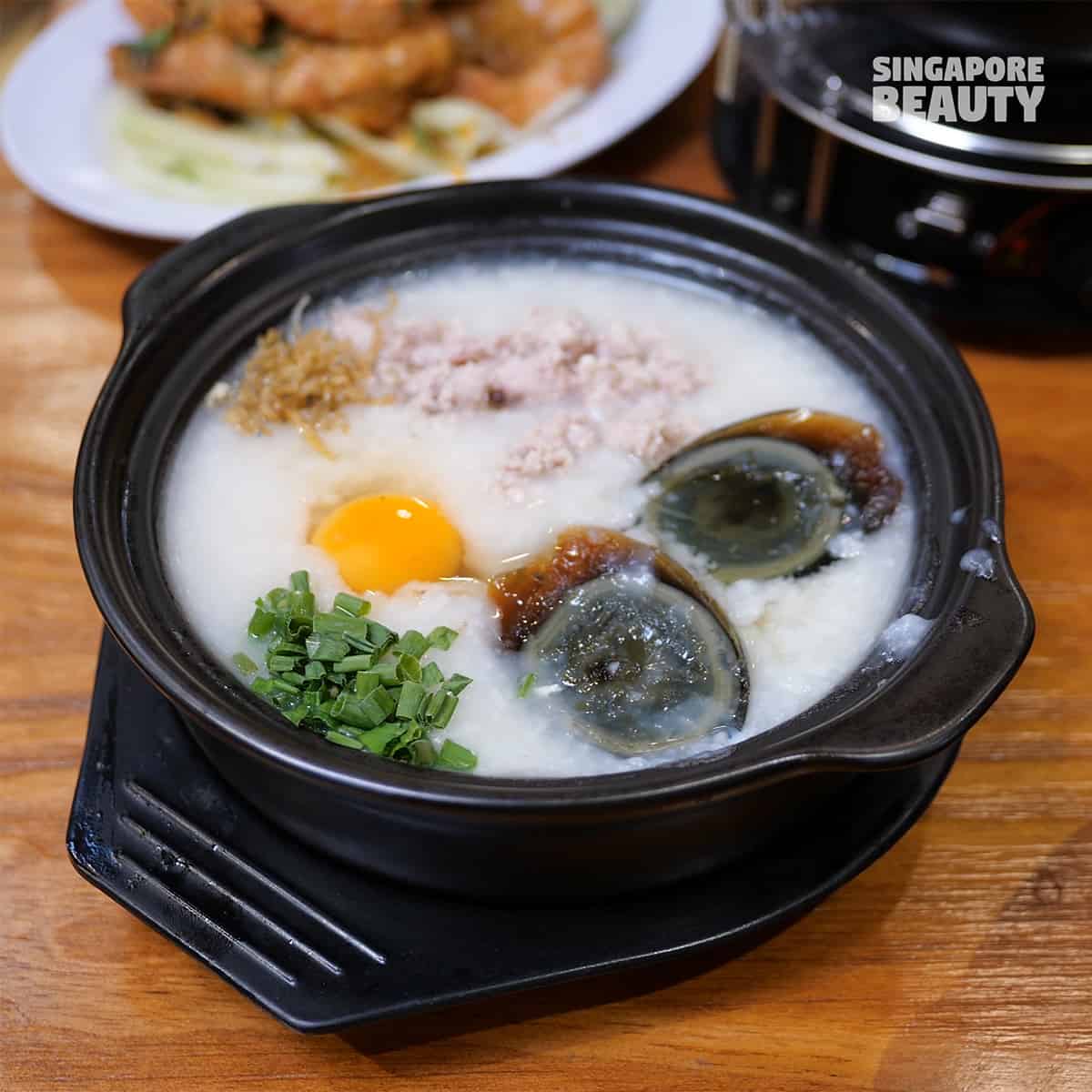 Dried scallop porridge with century egg, minced meat with add on raw egg. The century egg is lightly cooked with the heat of the porridge. The texture of the porridge is extra buttery with the tang xin century egg. Lightly break the yolk to blend into the piping hot porridge for the smooth consistency. The slightly ammonia flavour of the century egg gives the porridge a unique flavour. The scallions with the crispy fried sliver fish adds a crunchy mild briny flavour and a refreshing undertone.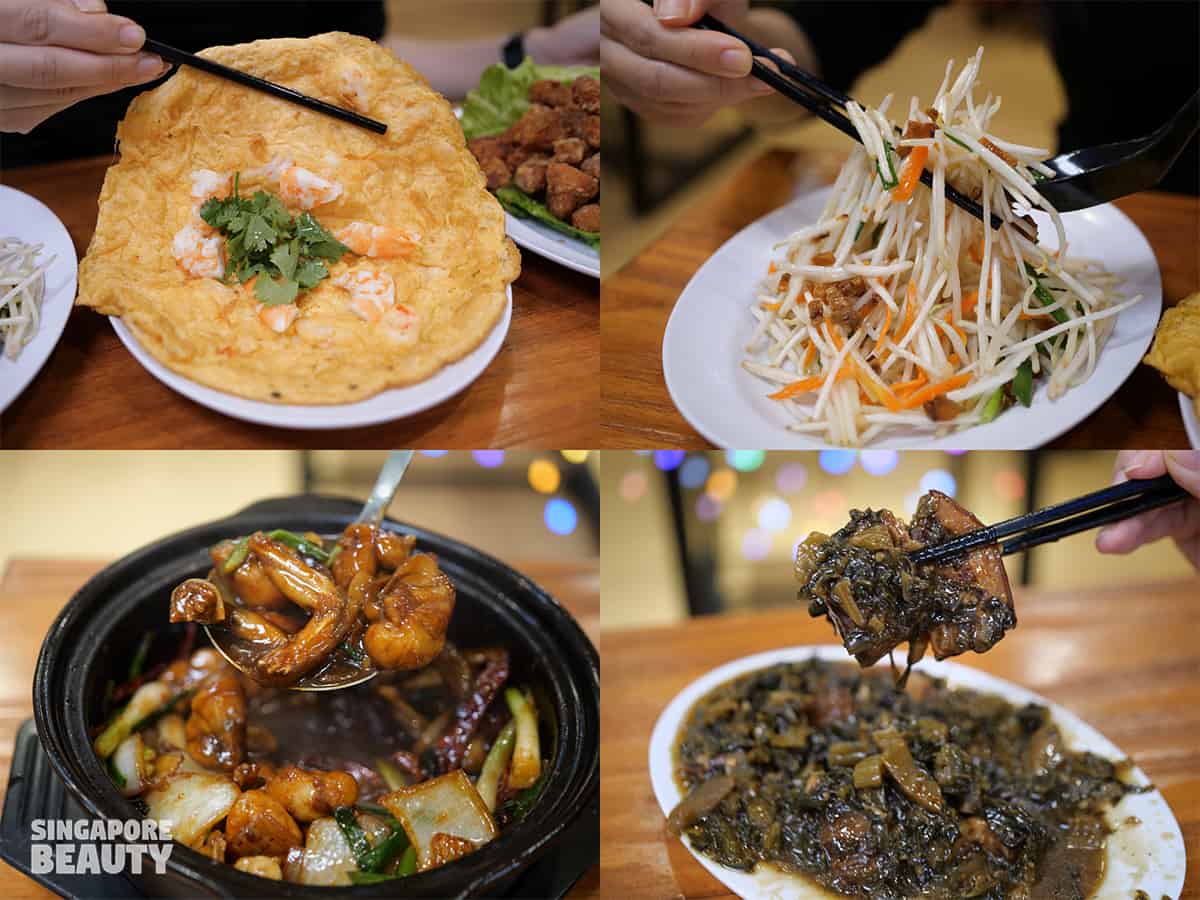 Here are some of the zi char dishes that goes well with the porridge. Preserved salted vegetable with pork belly $12, omelette available in prawn, onion, minced pork toppings from $8, fried bean sprout with salted fish $8, claypot dried chill frog meat or gong bao frog meat $18. Preserved salted vegetable is stewed till they are the melt in the mouth type and very appetising. The omelette are neater and not overly greasy. Fried bean sprout has addictive little nuggets of super crispy salted fish with the sweet crunch from the sprouts. Claypot frog is super flavourful with the rich thick gooey sauce and frog are pretty meaty with gelatinous tendons.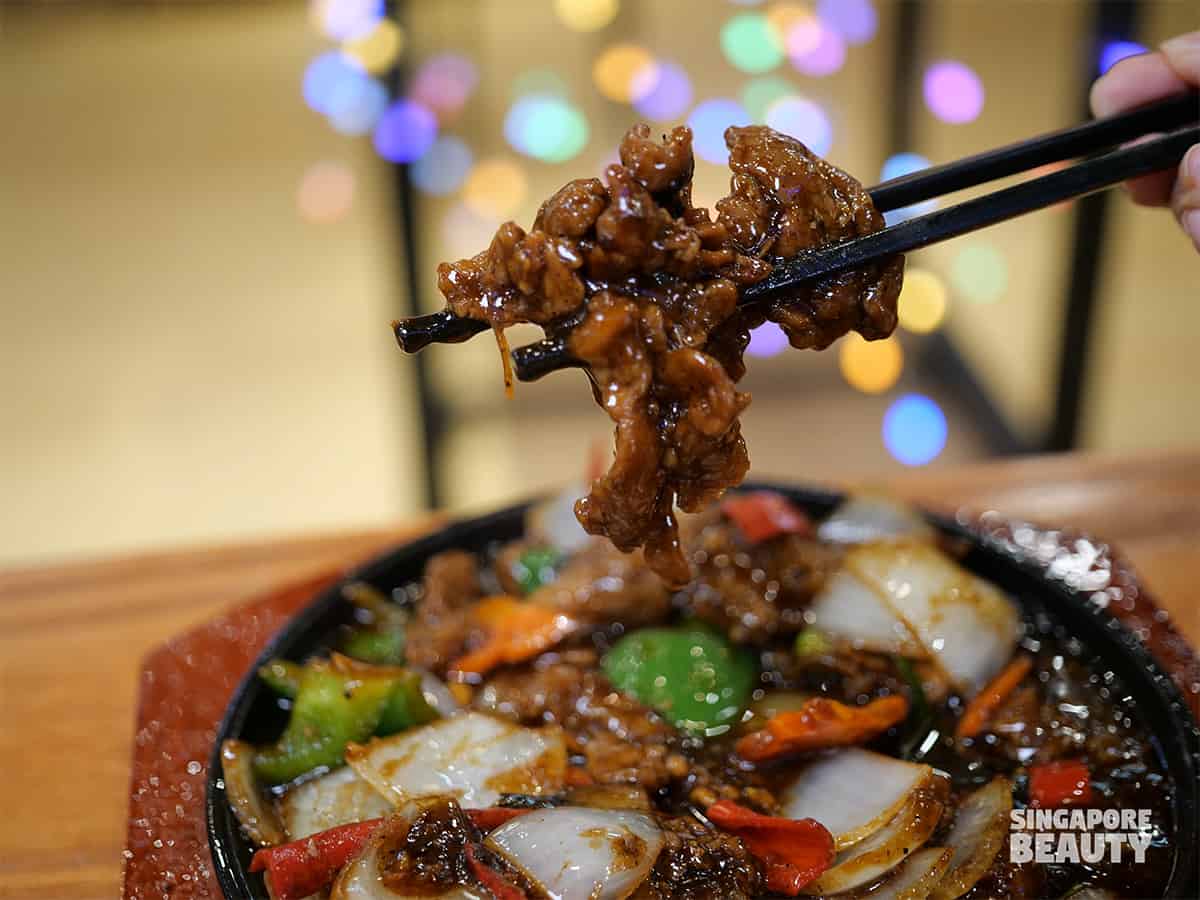 Delicious Porridge also served many hotplate and claypot dishes on their menu. Some of the seafood dishes such as ginger scallion clams, sambal lala, black pepper beef, scallion beef are served on hotplate so that these are kept warm while you eat. The hotplate comes really hot so get ready for some sizzling action. Sliced beef are tender and the clams are pretty plump too.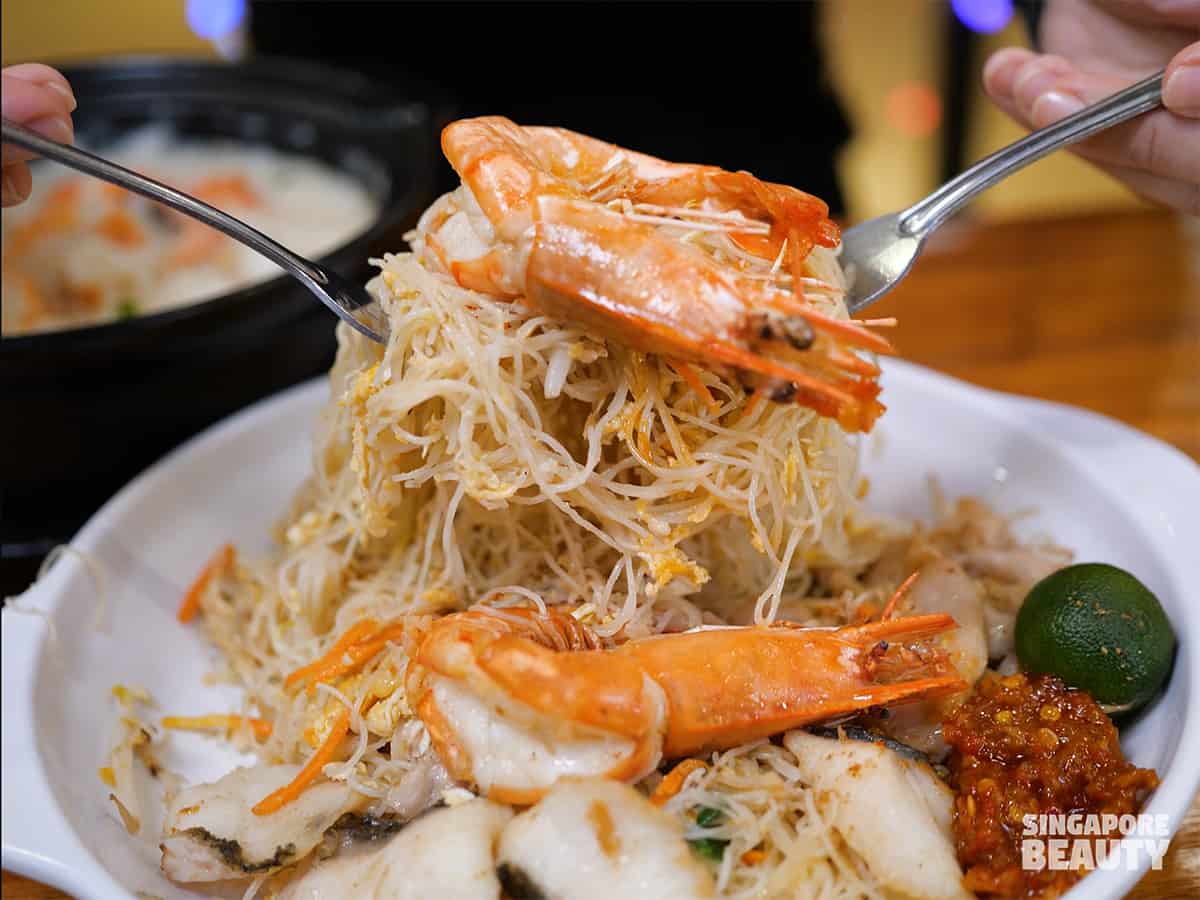 They also have a good variety of personal serving of rice and noodle dishes. Signature fried rice $10, fried fish bee hoon $6.80, claypot noodle $6.50, signature ho fun $10, salted egg chicken with rice $6.50, fried bee hoon with prawns and many more. This is the fried bee hoon with prawns that comes with a very shiok sambal chilli paste with chilli seeds for extra kick. The burst of lime juice also add a tangy tone to the aromatic fried beehoon that has a nice bite. Toman sliced fish are lightly seared and prawns are sweet with head butter.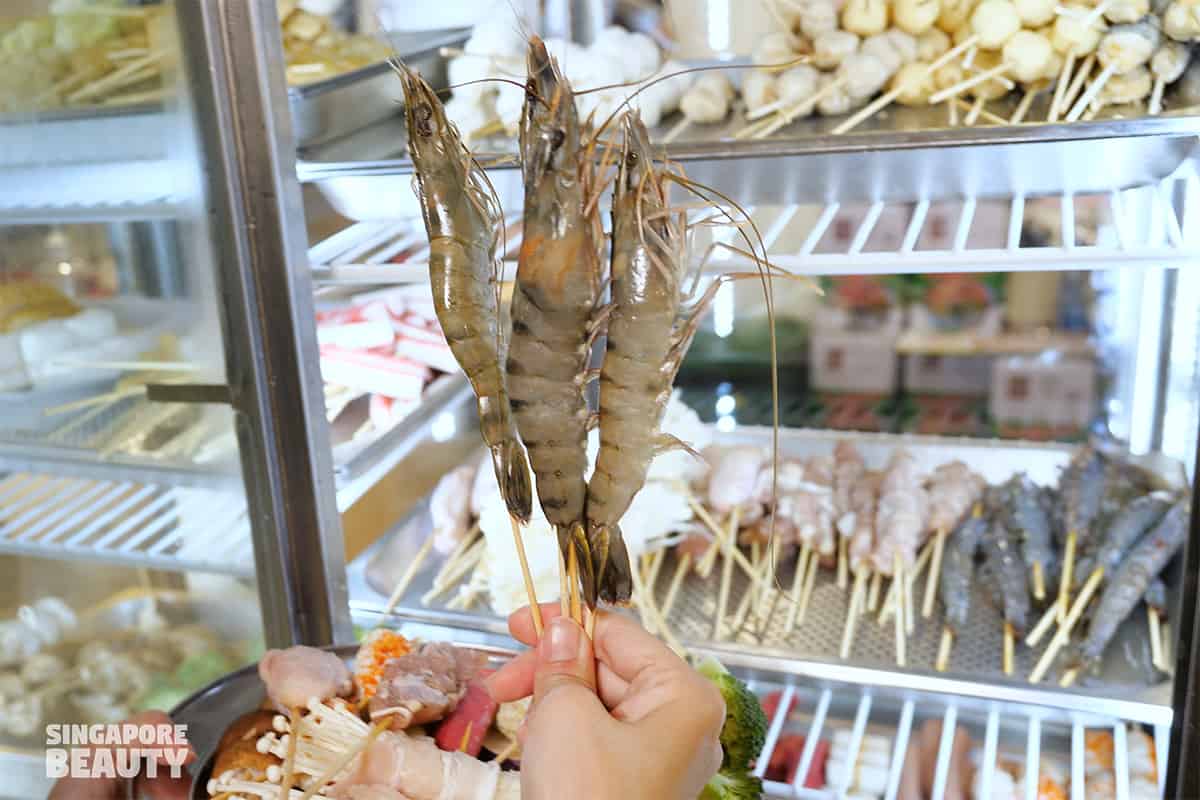 This lok lok kiosk is also one of the crowd magnet at their new shop. During lunch, this kiosk is often spotted with queue for their lok lok kiosk. There are more than 20 types of lok lok such as jumbo wanton, egg, balls, hotdogs. Taiwan sausage, mushrooms, broccoli, crab claw surimi, mock goose, chicken mid wings, bean curd skin with fish paste, prawns, enoki with bacon, meat skewers and more. These lok lok are all priced at $1 nett each regardless of meat, seafood, vegetables or surimi. The prawns and the meat items are good deals but do not forget their beancurd skewers as these are the shiok items that are super satisfying to munch on.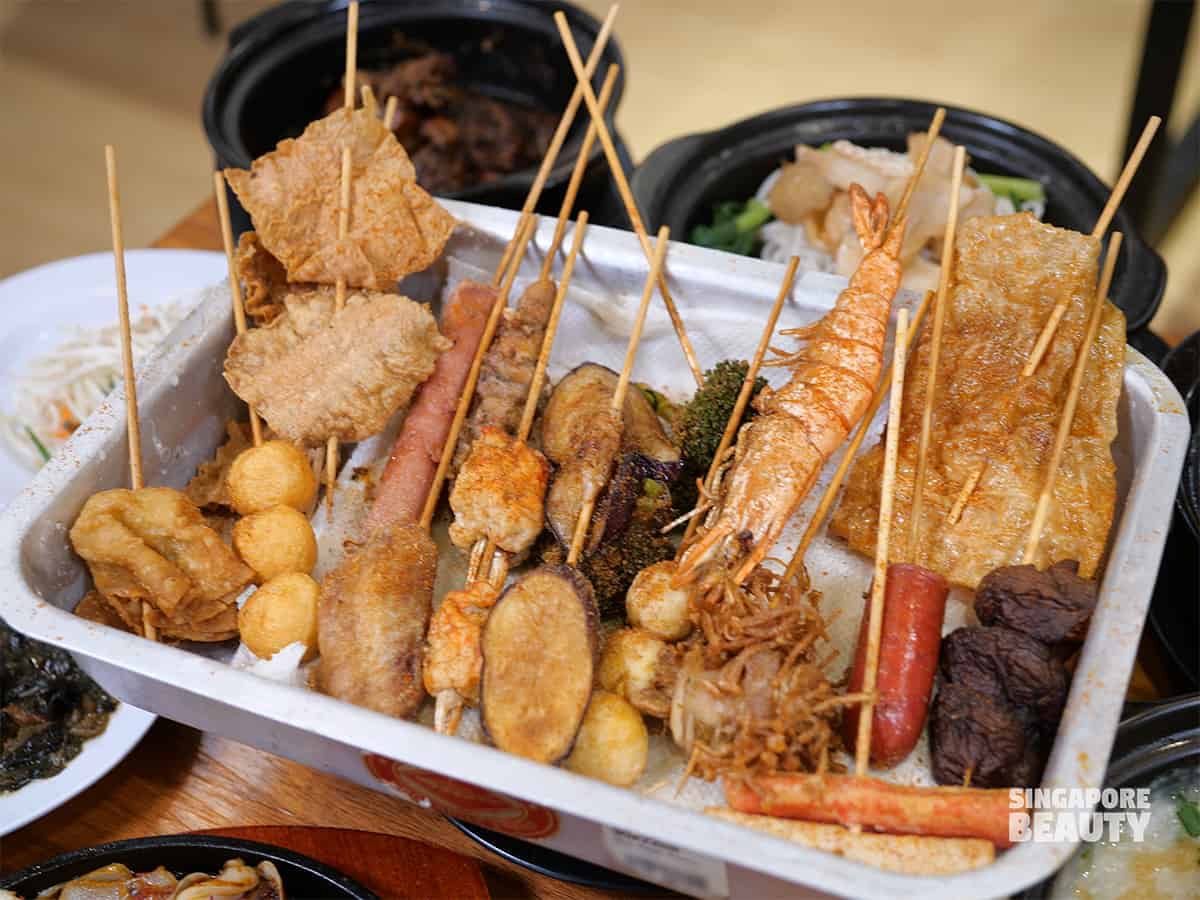 These are the lok lok we have chosen and tried. The beancurd skin surimi is super crunchy and shatters when you bite them. We also like their prawn, wings, mock goose and Taiwan sausage with the unique seasoning on them. These lok lok are seasoned with a mix of salt, pepper and some other aromatic spices before serving. The mix of salty, umami, spice and heat kick is addictive. Besides the seasoning, they also have a special Malaysian style green chilli dip, mayo and nacho cheese drizzle to go with the lok lok. The best drink to go with these lok lok are their icy cold booze hidden away from sight in their display fridge near the wall with a naughty Chinese slogan. Their booze promotion with selected brands are starting from $5 each. Add this to your list of place to chill at Orchard after work with these cheap lok lok!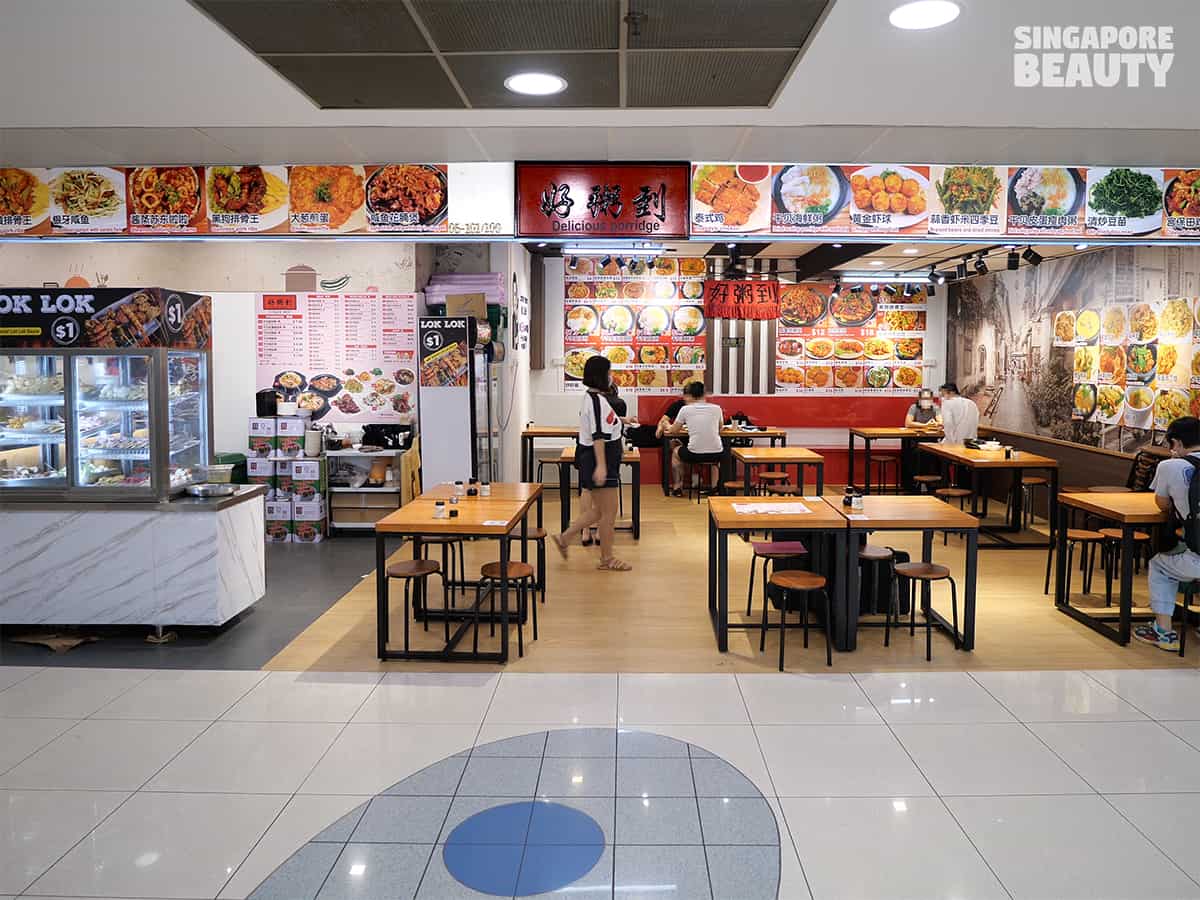 Delicious Porridge 好粥到 is located on the fifth floor at Far East Plaza Orchard Singapore. It is one of the rare place that serve dinner zi char in Orchard. If you are looking for a lunch place that serves affordable Cantonese porridge, Singapore – Malaysia style Zi char or a place to chill with lok lok, you have come to the right place. They also serve some hearty homemade soup and nourishing ten tonic herbal chicken soup for those needing a boost of energy on a rainy day. See you there later!
Delicious Porridge address :
Far East Plaza #05-100
14 Scotts Road, Singapore 228213
Call: 8223 3631
Brought to you by Delicious Porridge 好粥到