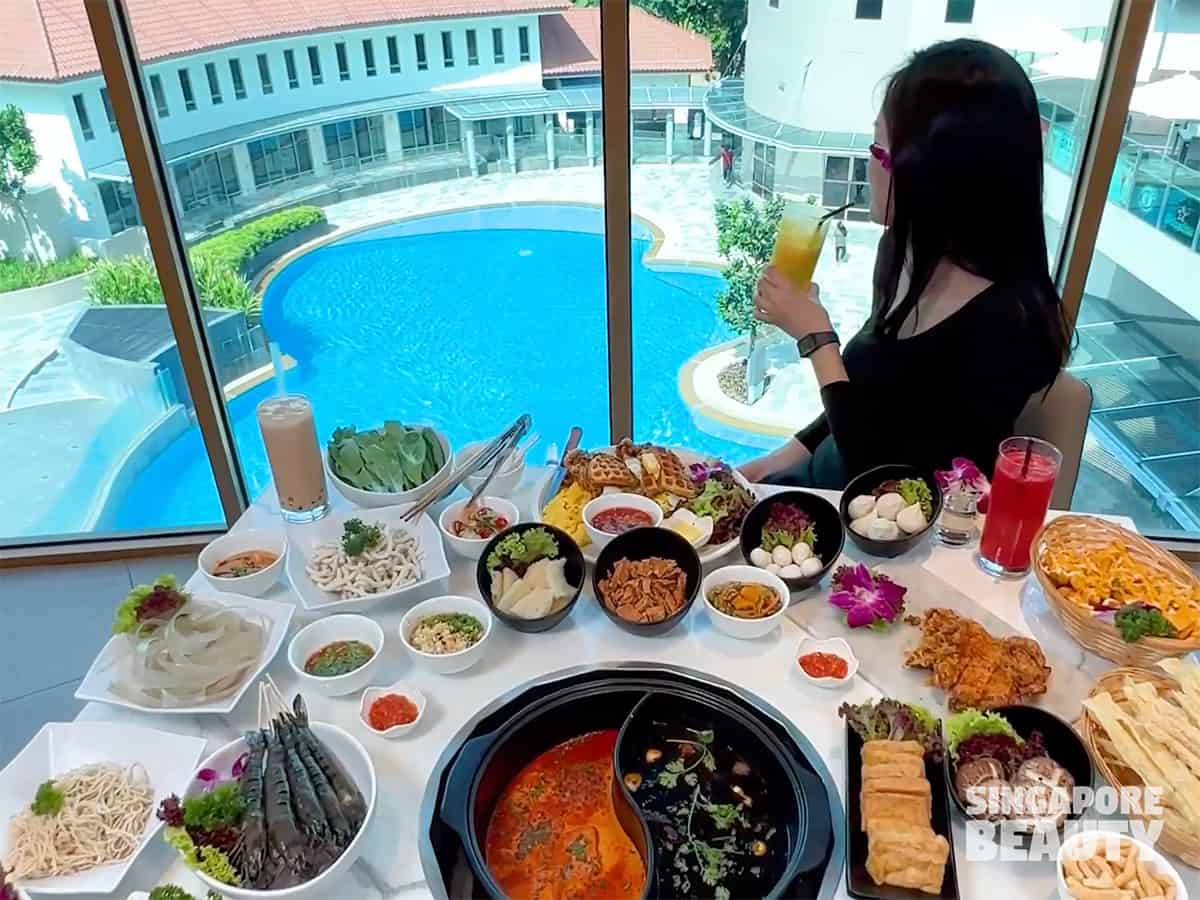 Qi Xiang hotpot Chevron is adding some new items to their menu. They have added all-day breakfast menu such as chicken cutlet with waffles, rosti plates, hungry breakfast, sausage breakfast and smoky chicken chop. For those who like to chill, you can try their draught beer buffet. For a limited period, you are also able to redeem some dishes by saying their secret code. Qi Xiang Hotpot is located at Chevrons clubhouse with view of a swimming pool and occasional glimpse of special football screening from a vantage point.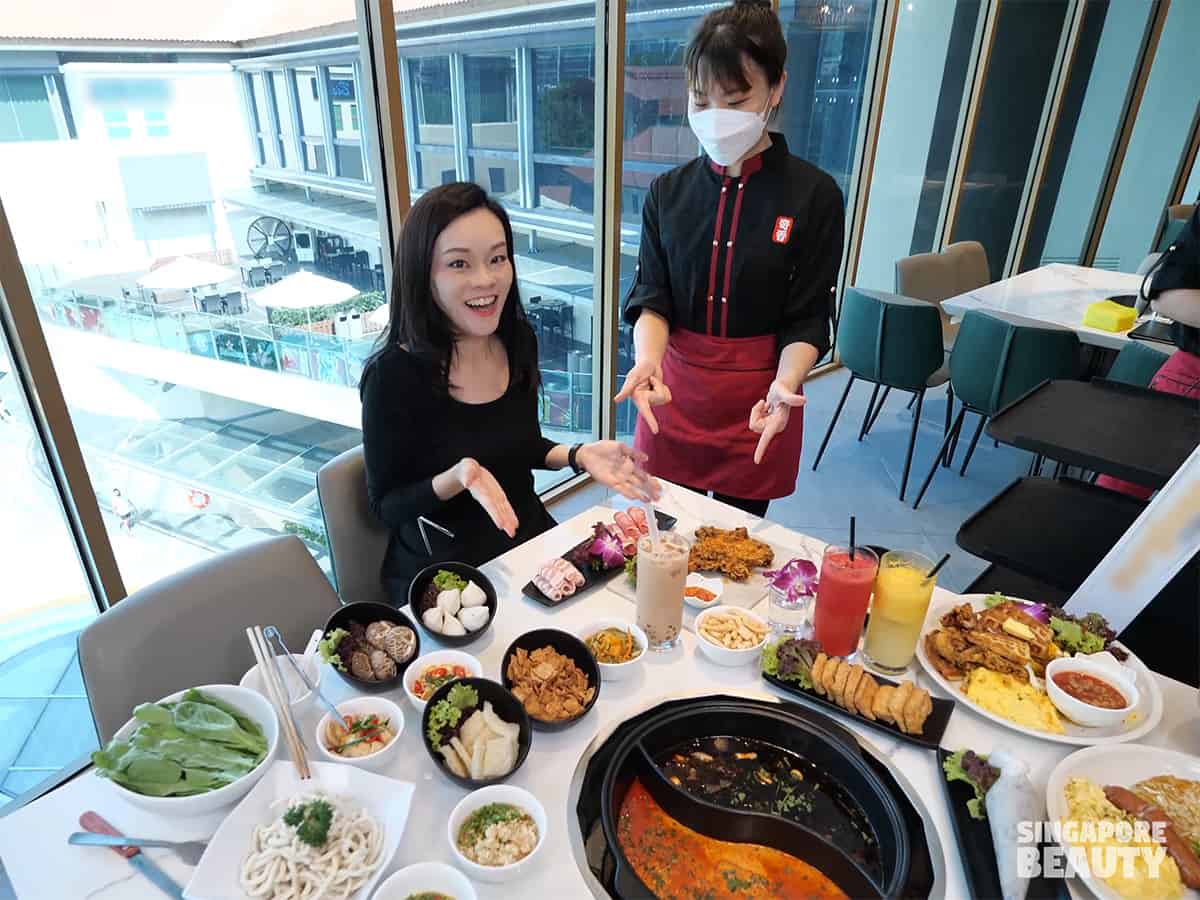 Qi Xiang Hotpot Chevrons menu has some exclusive items such as all-day breakfast and secret code to redeem items. To redeem the items you have to whisper to their servers the secret codes. This is considered one of Qi Xiang Hotpot latest hotpot promotion code. 我是小仙女,我要吃小鲜肉 – to redeem a selected platter of shabu shabu pork. 大吉大利,我要吃鸡 – to redeem a plate of chicken cutlet. Sing a few lines of Gem's song titled bubble 泡沫 to redeem a cup of bubble milk tea. These 3 redemptions are limited to once per table.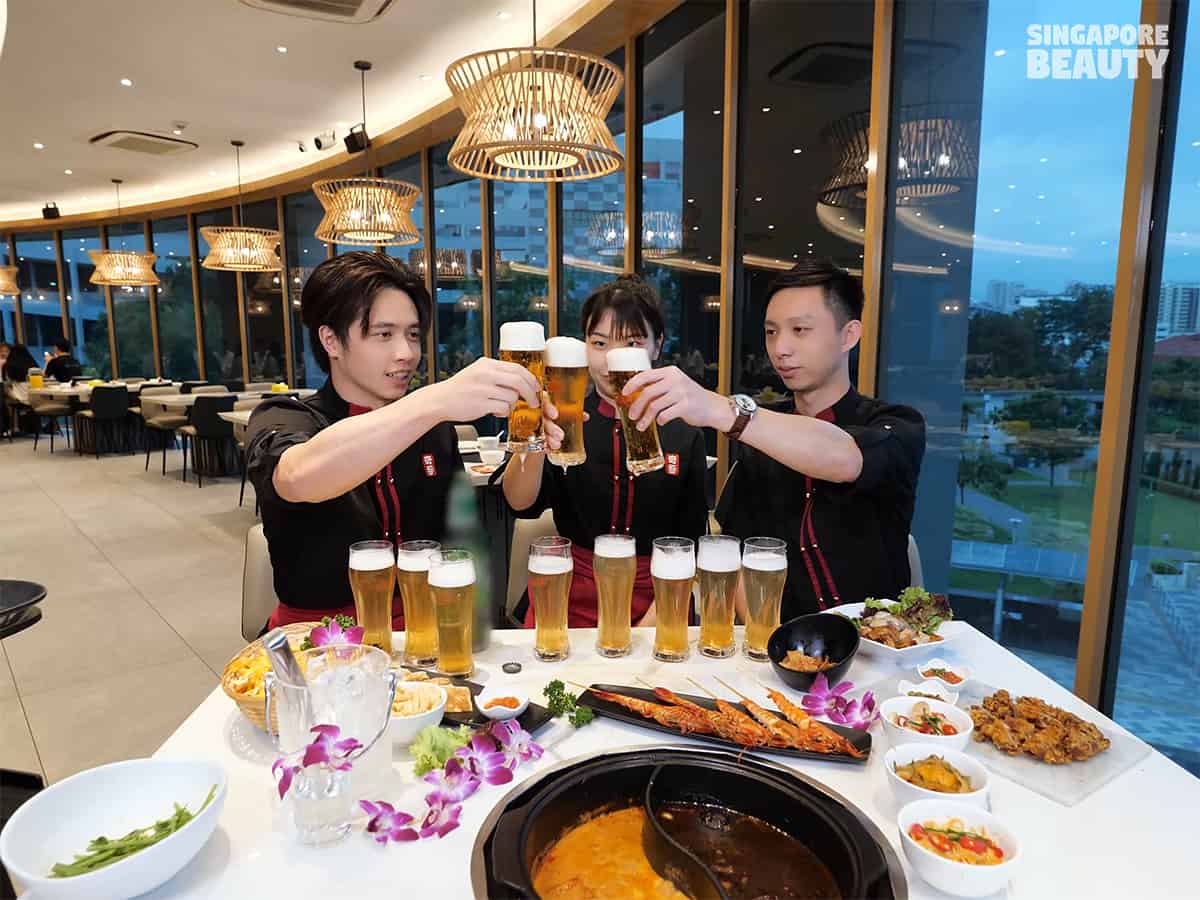 Qi Xiang Hotpot Chevron has added a new draught beer Buffet to their chicken claypot ala carte menu. This is a 3 hour beer buffet with any order of their claypot chicken hotpot. Sapporo beer is served during this draft beer buffet and you can drink to your heart's delight with some piping hot claypot chicken and their inhouse finger food.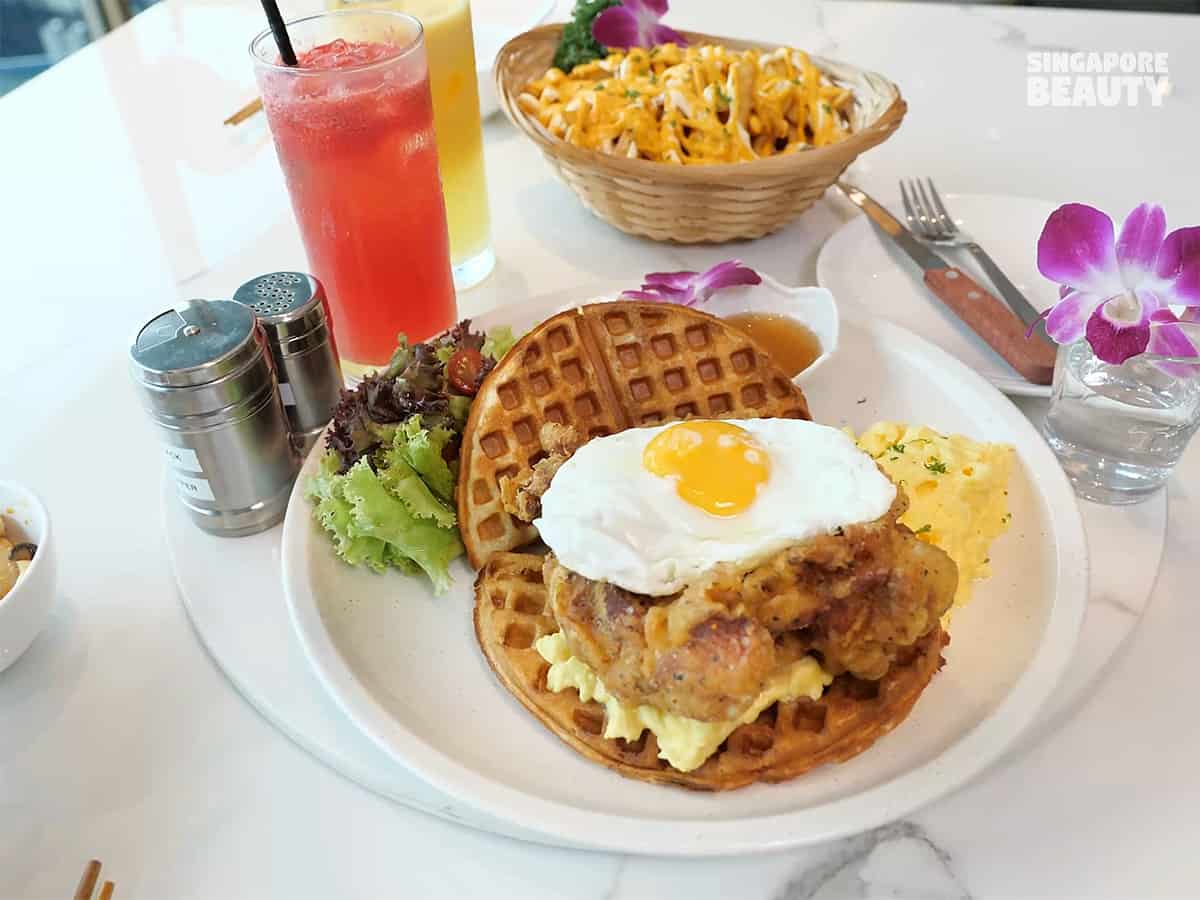 Qi Xiang Hotpot has also added a new all day breakfast menu. There are five choices of breakfast platter such as chicken cutlet on waffle, rosti plate, hungry breakfast, all about sausages and smoky chicken chop. The chef's recommendation is the chicken cutlet on waffle and rosti plate. Chicken cutlet on waffle is served between two waffles with scrambled eggs, thick piece of chicken chop, a side of garden greens with butter and maple syrup. The size of the breakfast serving is huge and definitely filling. For a more complete experience, do add on freshly juiced drinks such as the watermelon juice or orange juice.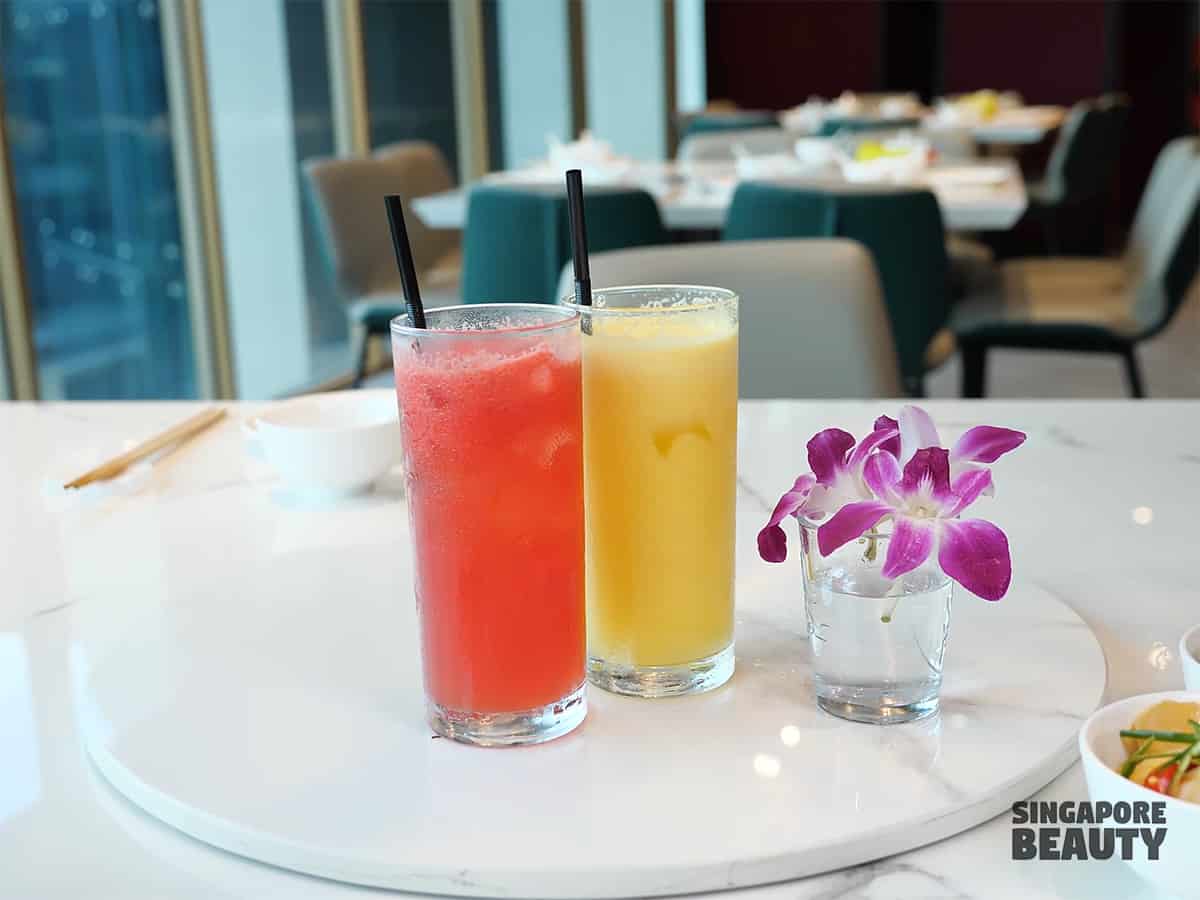 There are five all-day breakfast menu starting from $9.90 for ala carte breakfast, or you can enjoy a breakfast set meal with drinks at $11.40. The drinks for selection are sour plum, water chestnut, winter melon, coke, sprite sparkling soda. With a top up of $2 to the set meal, you can upgrade to orange juice or watermelon juice.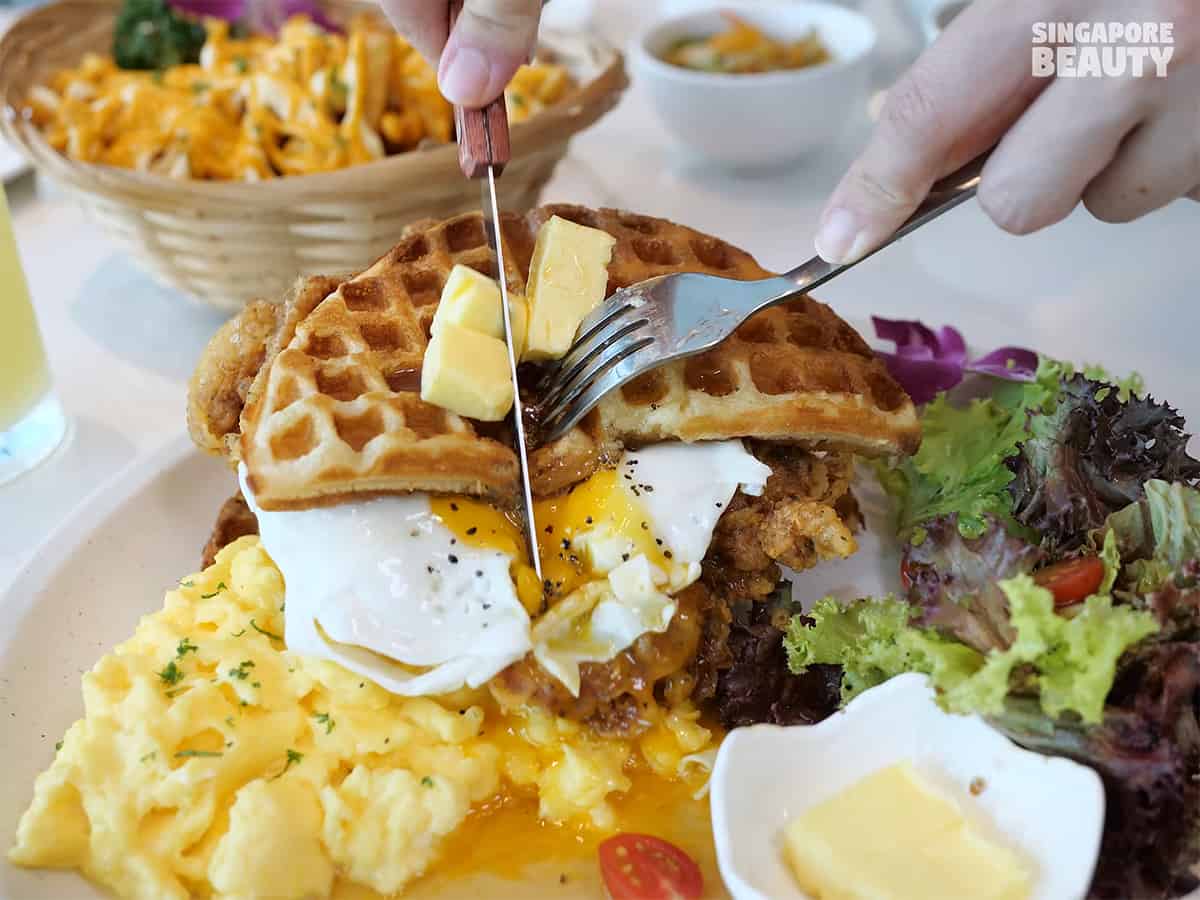 You can also customize the breakfast to your preferences by adding up to 15 items. Items include hashbrown, sunny side up, scramble eggs, baked beans, French fries, chicken cutlet, smoked sausage, cheese sausage, spicy sausage, cheese fries, garden salad, rosti, waffles, toast and sautéed mushroom from $1.30 ~$5.90 each.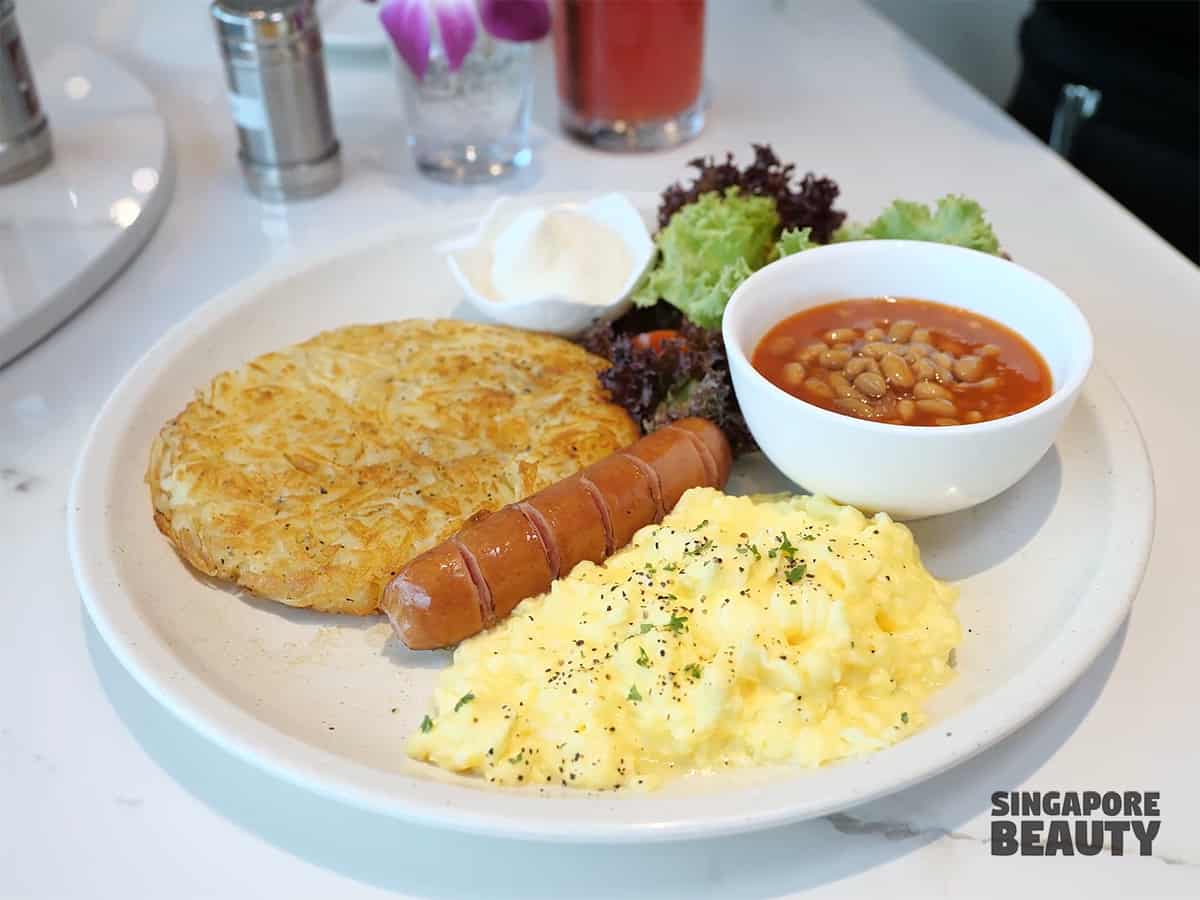 Qi Xiang Hotpot breakfast menu is prepared exclusively by their chef who is well versed with western breakfast. Their chef recommendation is the rosti plate $10.90 with an add-on of bake beans $1.50. The rosti is well done with an outer light crunchy crust and moist inside. It also comes with a side of sour cream, crunchy sausage and creamy scrambled eggs. It is recommended to add-on the baked beans for some extra tangy flavours and nutty notes.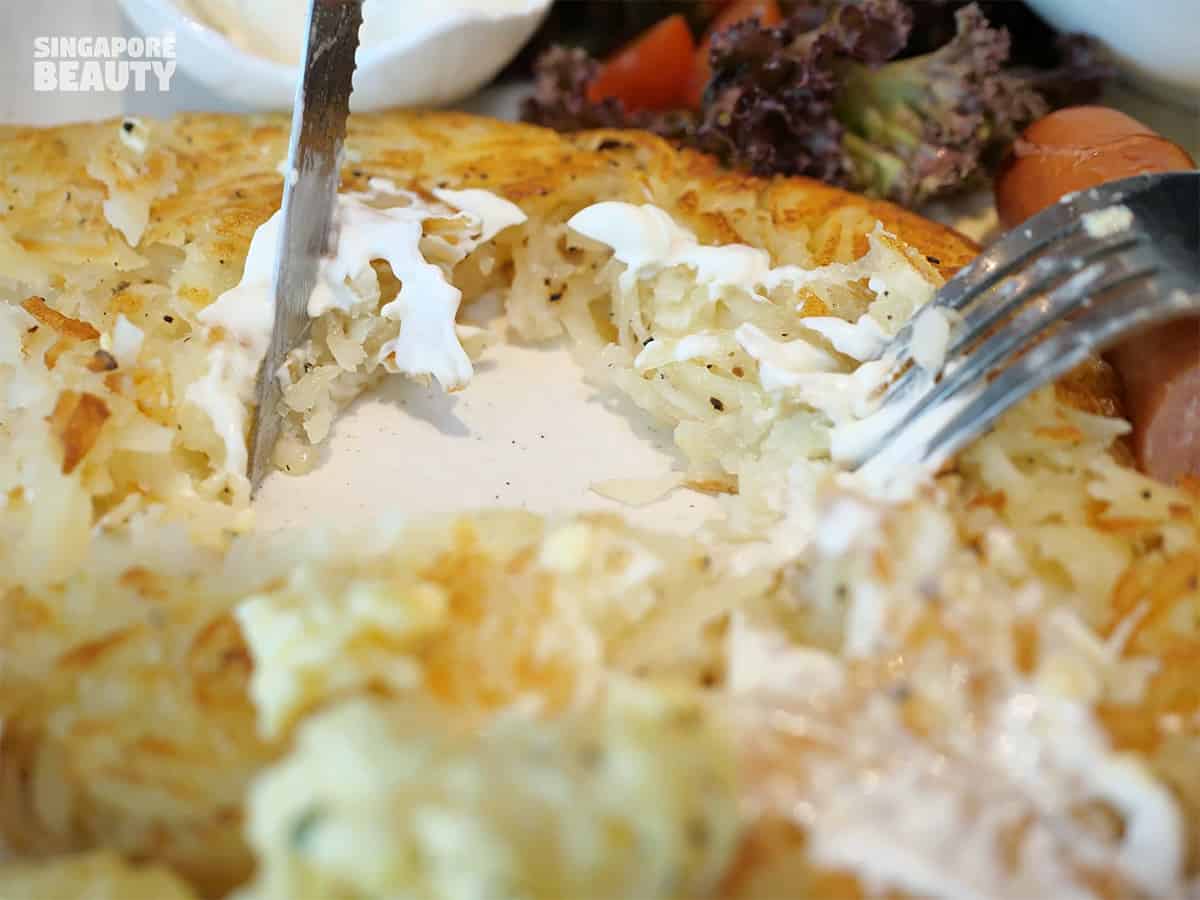 The rosti is well made with a flat pan profile and a golden light crust that is not bitter. The inside of the rosti reveals moist, semi-soft shredded potatoes. Add a dollop of sour cream for extra velvety texture to the rosti. The garden salad is served with refreshing balsamic vinegar dressing topped with some nutty crunch. The secret to their creamy scrambled eggs is the use of buttermilk for the extra richness which goes very well with pan fried rosti.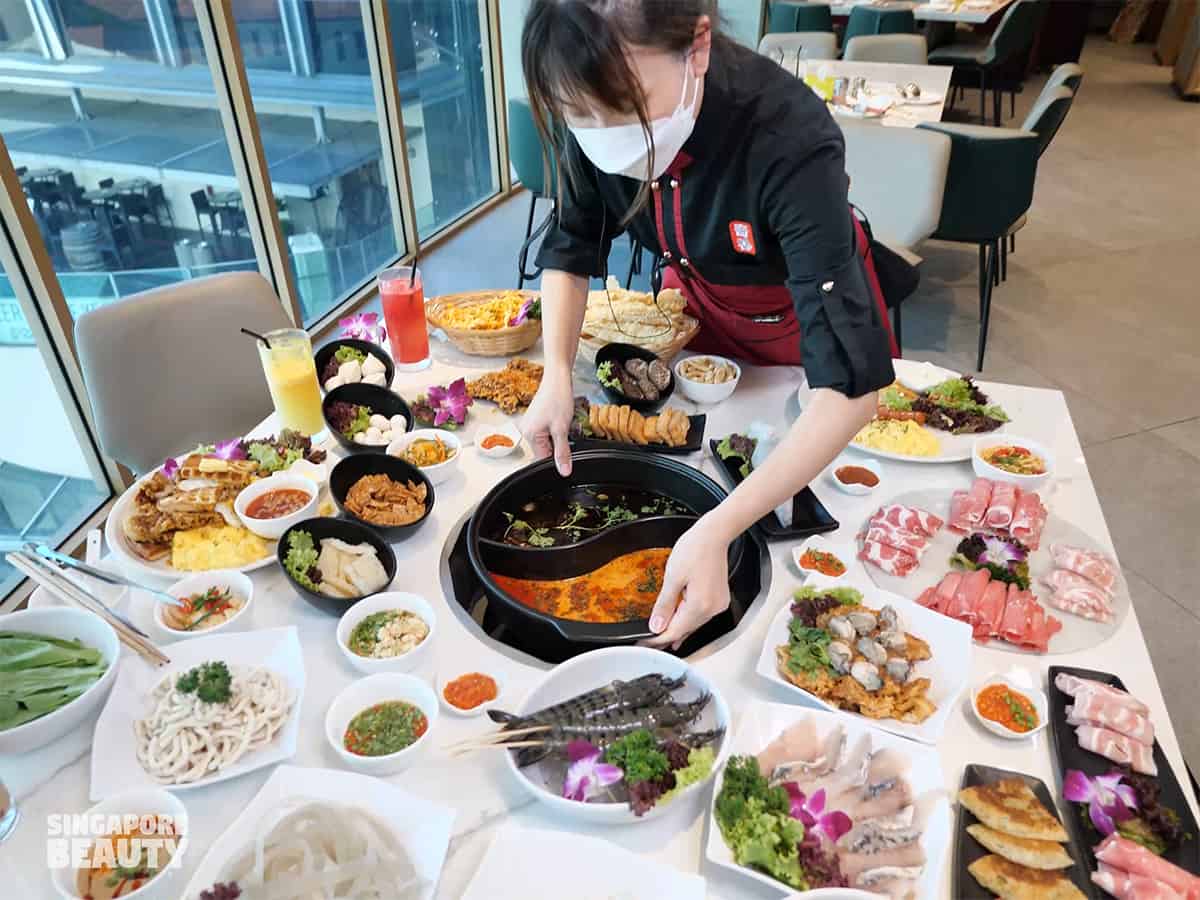 There are eight choices of soup base at $11.90 each in Qi Xiang Hotpot menu. The newly added soup bases are collagen, mala Tang and Laksa. Together with their regulars' favourites such as Signature broth soup aka chicken claypot hotpot, pumpkin, sour vegetables, herbal and tom yum. The chef recommendation is the most ordered signature broth soup that comes with chunks of chicken.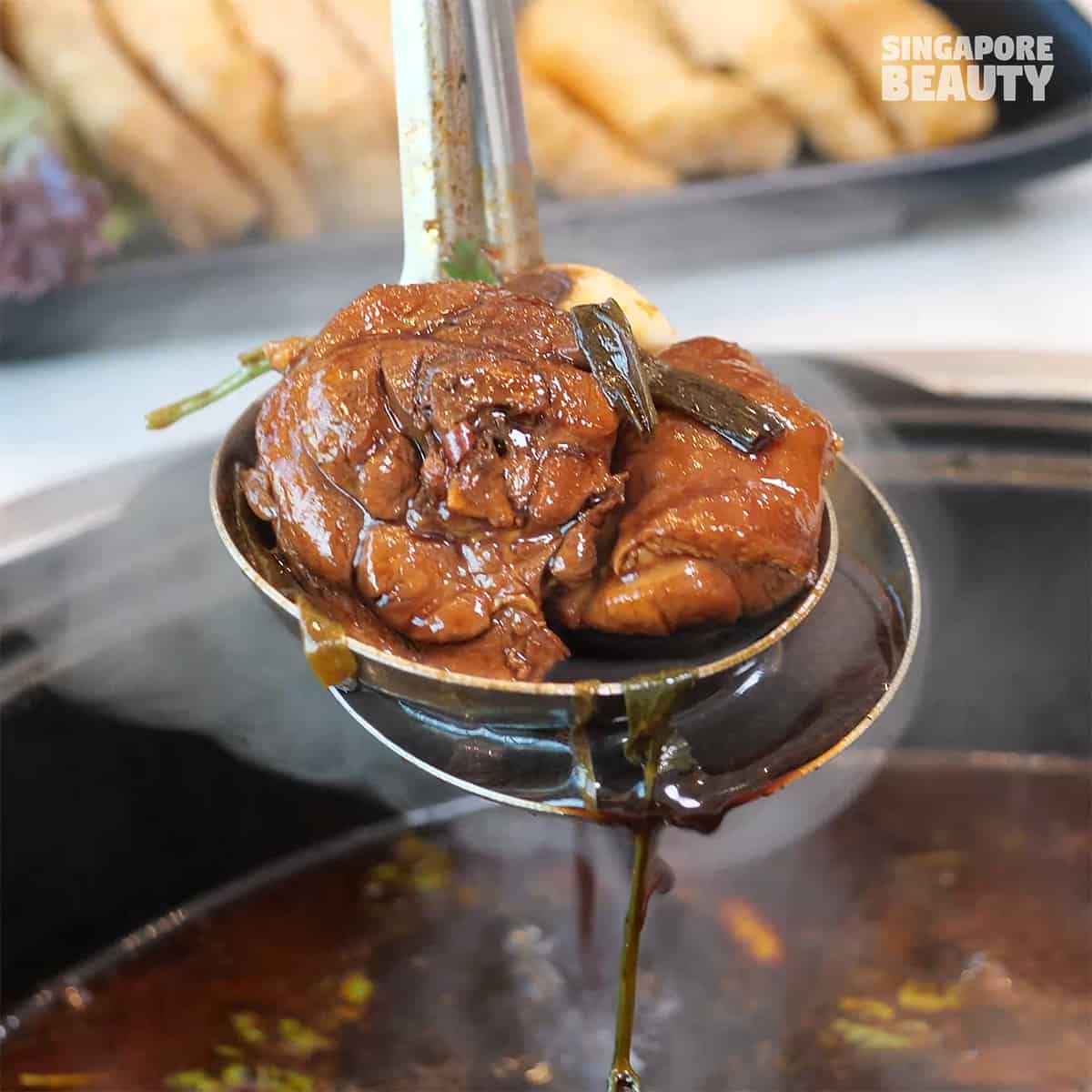 The chicken chunks in the signature Broth soup are well marinated with a rich soy flavour. You can customize the spiciness of the signature broth soup according to your preference. The chunks of chicken are tender and infused with a light herbal flavour. You may add on half a chicken $12.90 or a set of chicken thighs at $8.90 to fully enjoy the remaining broth.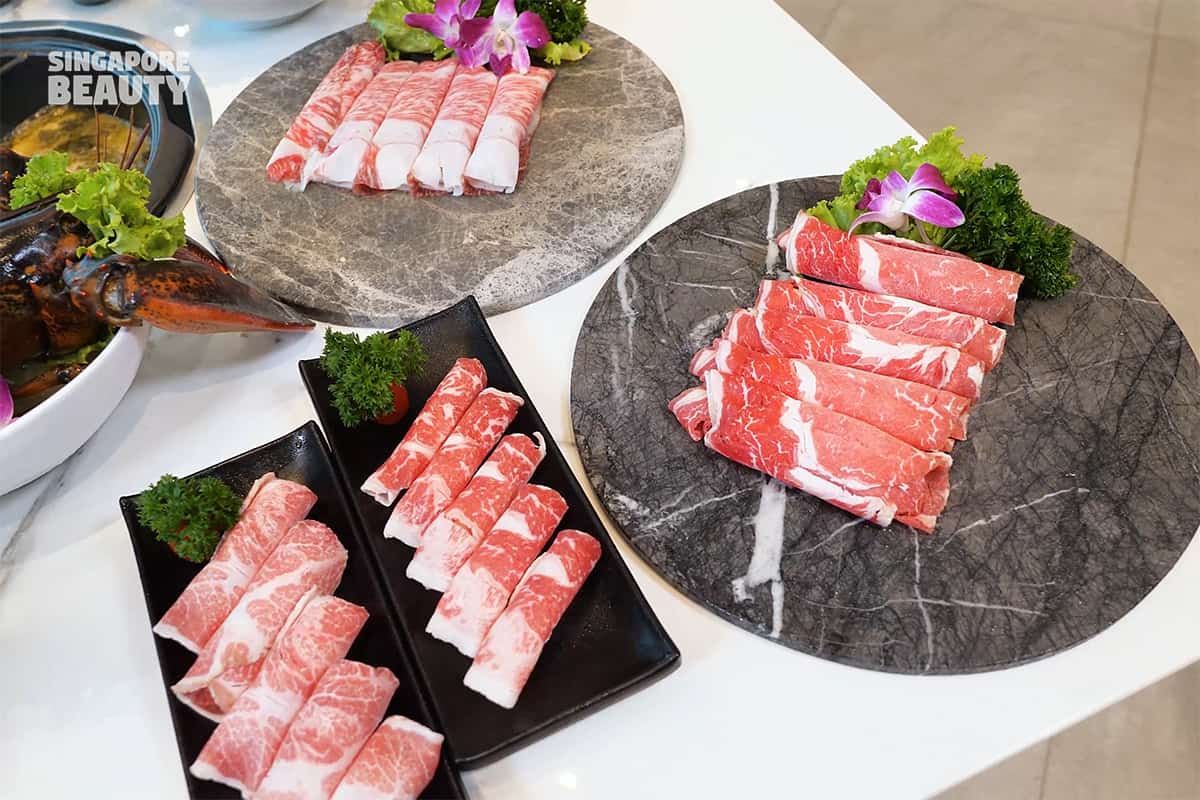 They have a variety of shabu shabu meat to select from, such as the premium Japanese wagyu Chuck, Japanese wagyu round, US beef rib eye, US Beef short plate, marinated beef striploin cut, beef shabu shabu, Iberico pork collar, belly, homemade meatball, mushroom meatball, different types of sausage, half chicken, luncheon meat, lamb, pork intestine, pig stomach, and even whole frogs. The marbling on the Japanese Wagyu chuck is insane and has a milky flavour to it when cooked.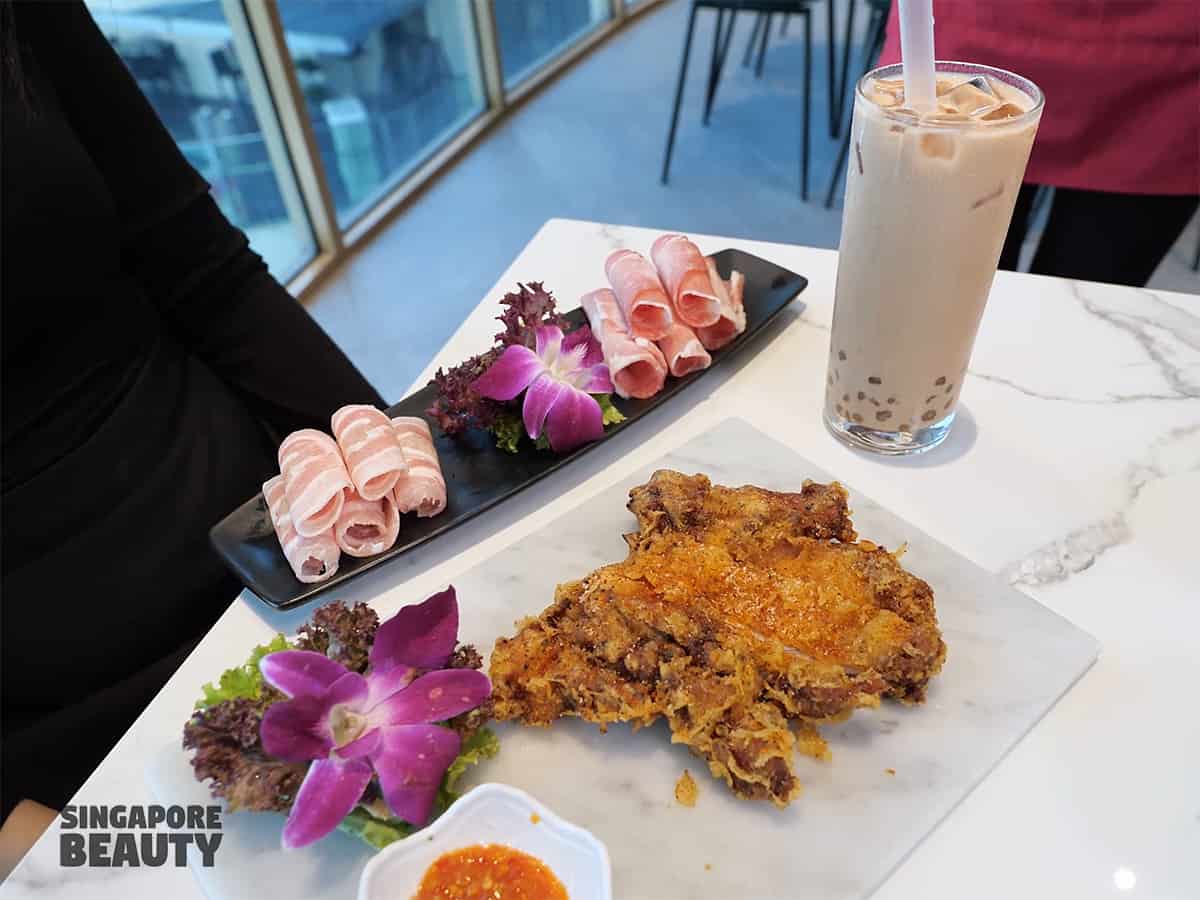 Qi Xiang Hotpot Chevrons secret code promotion items are a platter made up of pork belly and pork collar, bubble milk tea and a set of chicken cutlet with homemade chilli limited to one redemption per table. The chicken cutlet is similar to the breakfast menu chicken chop with a crunchy thin crispy skin encasing a think chunk of thigh meat. The crunchy crust is seasoned with salt, spices, pepper and chilli powder. Dip them in some chilli padi paste for a peppery kick.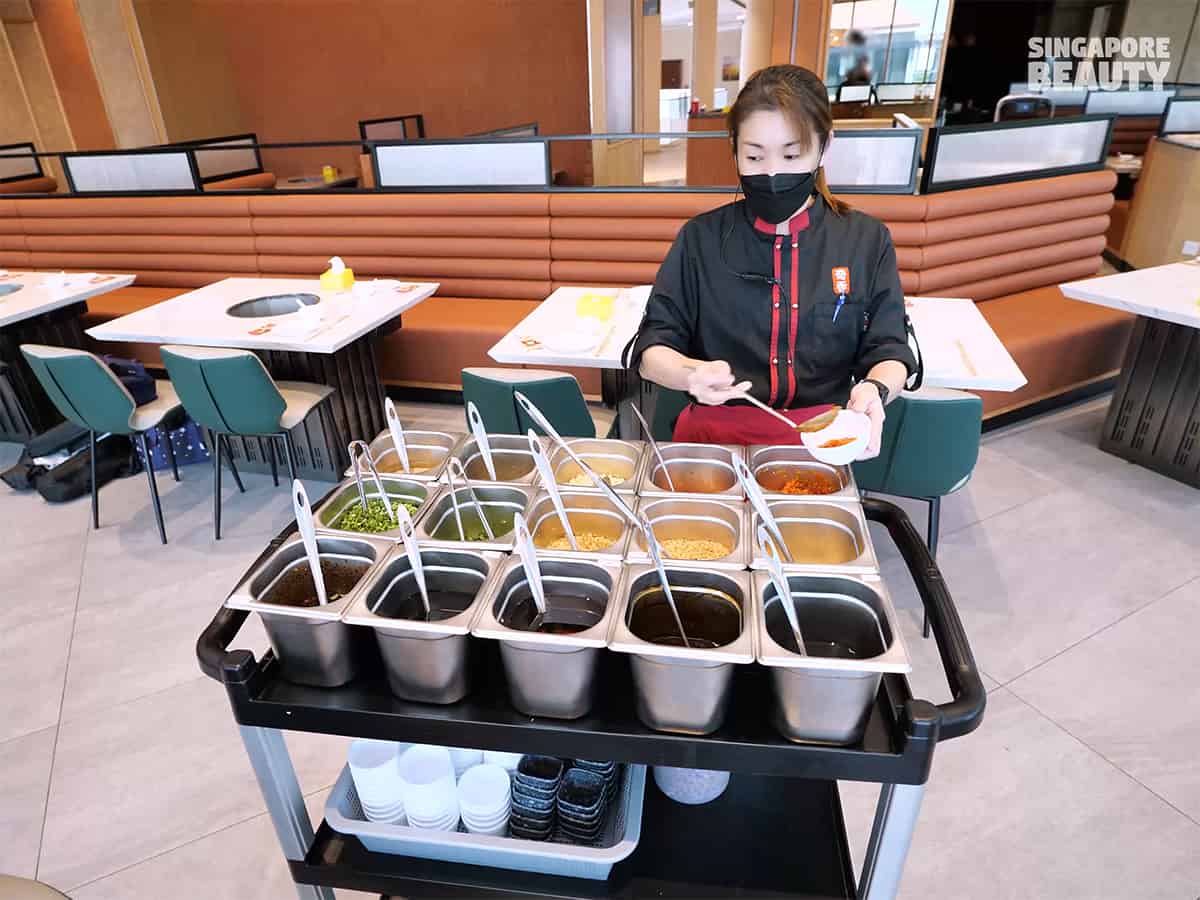 They have table service condiment trolley with up to 15 choices to choose from, unlimited drinks such as Chinese tea, lime juice and ice cream for add-on of $5 per pax. You can also get unlimited appetizer such as seasoned sliced king mushroom, pickled cucumber, prawn cracker and seasoned beancurd skin. Do not forget their lime slushie that is also complementary after your hotpot session.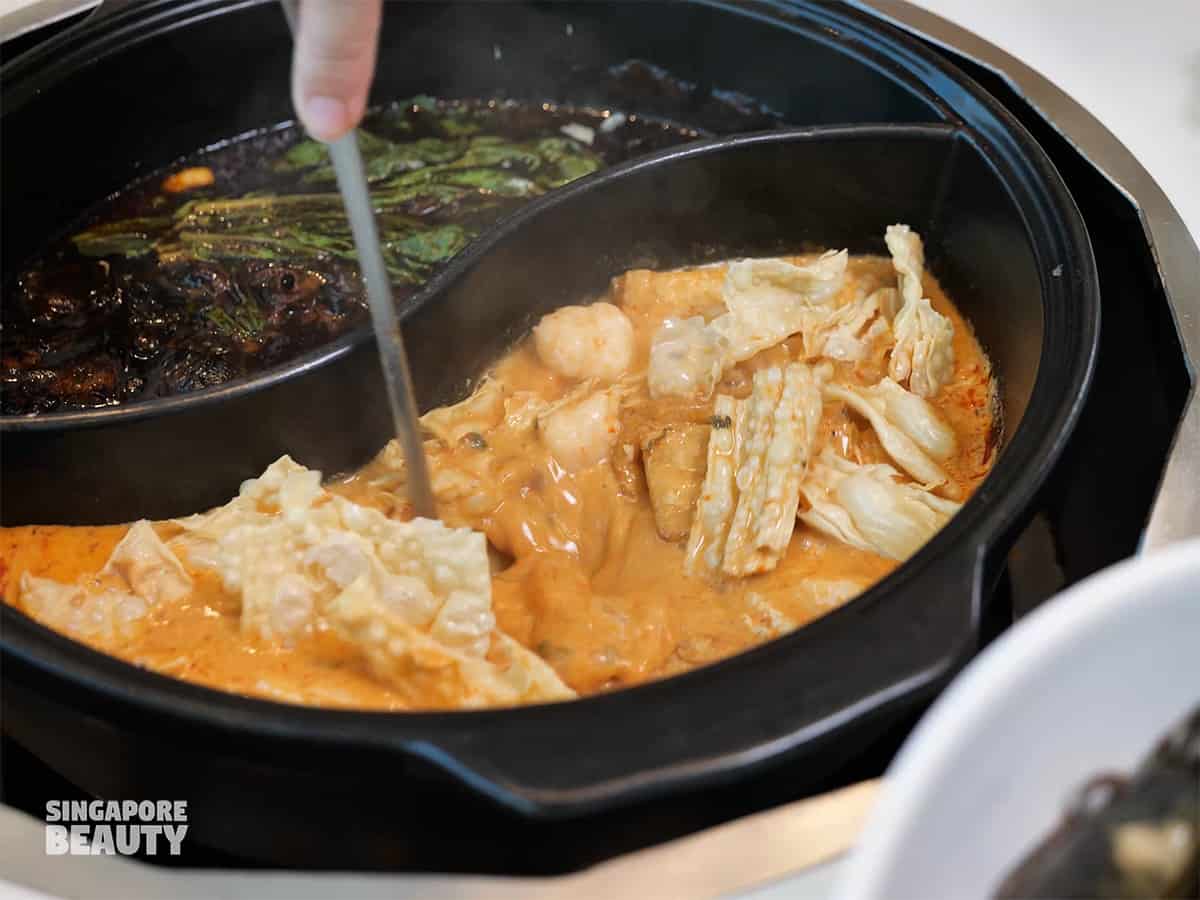 The other recommended soup base in Qi Xiang is the newly added Laksa hotpot soup base. It is rich with the coconut flavour and of a good consistency for hotpotting. It comes with some soft tau pok that soaks up the gravy of the Laksa. The ingredient that go well with this broth is an extra serving of tau pok, must try the hand fried tau kee, quail egg, fried pork skin, prawn paste, tiger prawns and even their wild seabass fillet.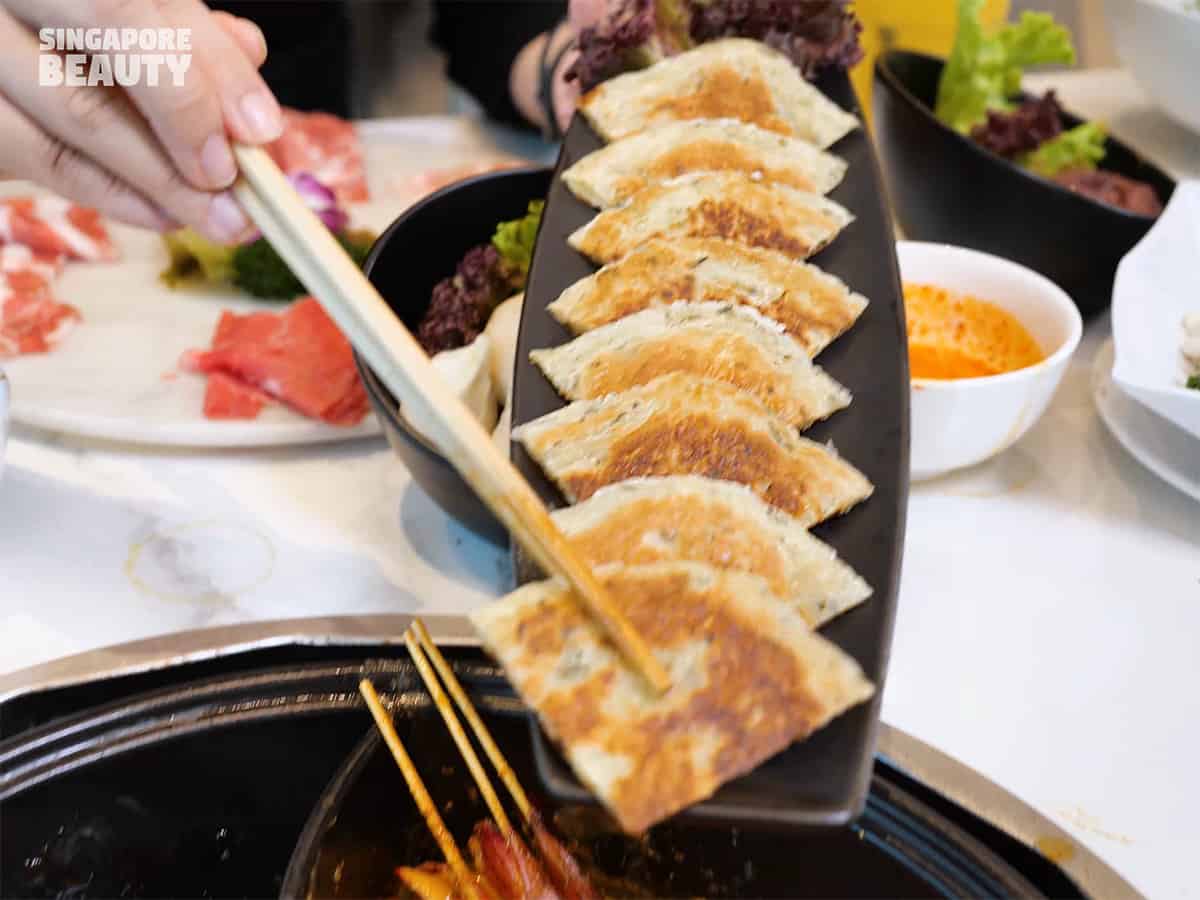 They also have some local appetizer, such as smoke infused duck in Szechuan sauce, oyster omelette, XO carrot cake, prawn pizza, deep fried pork collar, luncheon meat and more. There are some newly added appetizers such as vegetarian goose cracker, scallion pancake, deep fried oyster mushroom, deep fry mushroom shake, silver bait and fried dumpling. The scallion pancake is recommended to be enjoyed with the laksa broth. It is light and crispy not overly oily, and has a light aroma of roasted scallions.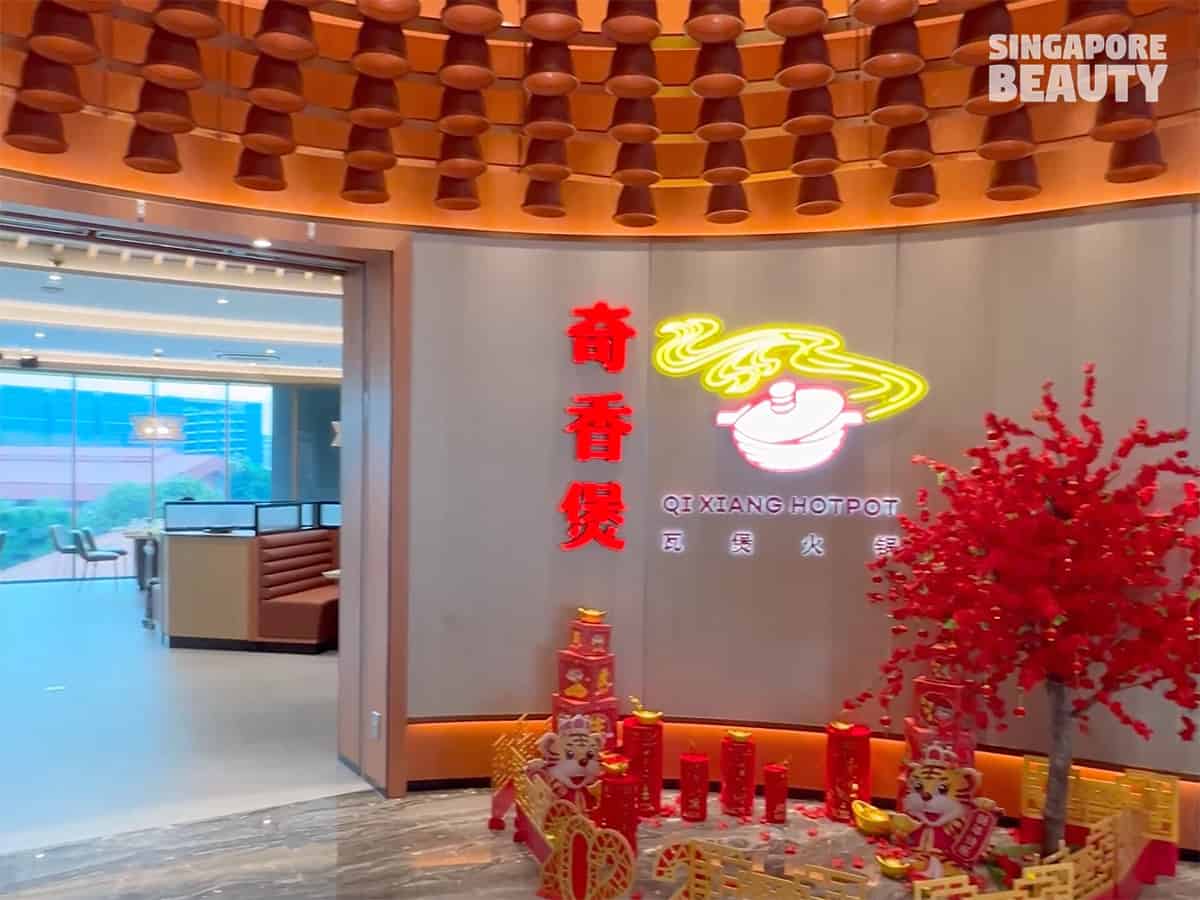 Qi Xiang Hotpot is open till 3am daily with up to 90 items to choose from for your hotpot needs. From All-day breakfast, beer buffet to a full fledge hotpotting experience, they have it all. For those who prefer to enjoy the hotpot experience at home, they also have Qi Xiang delivery to your doorstep.
Details of Sapporo Draught beer:
Mon-Thurs
$28.80++ 2hrs with free extension of 1hour
Fri- Sun, Eve and PH
$38.80++ 2hrs with free extension of 1hr
Alcohol consumption period
Mon-Thur & Sunday till 2359hrs
Fri, Sat & Eve till 3am (last order 2.15am)
Beer Buffet only with min purchase of one soup base & beer will be serve pint to pint
Address of Qi Xiang Hotpot :
48 Boon Lay Way #03-06
The Chevrons, Singapore 609961
Opening Hours :
Fri, Sat & Eve of PH – 11am to 3am (last order 2.15am)
Sun to Thurs – 11am to 11pm (last order 10.15pm)
For reservations call : 6908 4333
Brought to you By Qi Xiang Hotpot