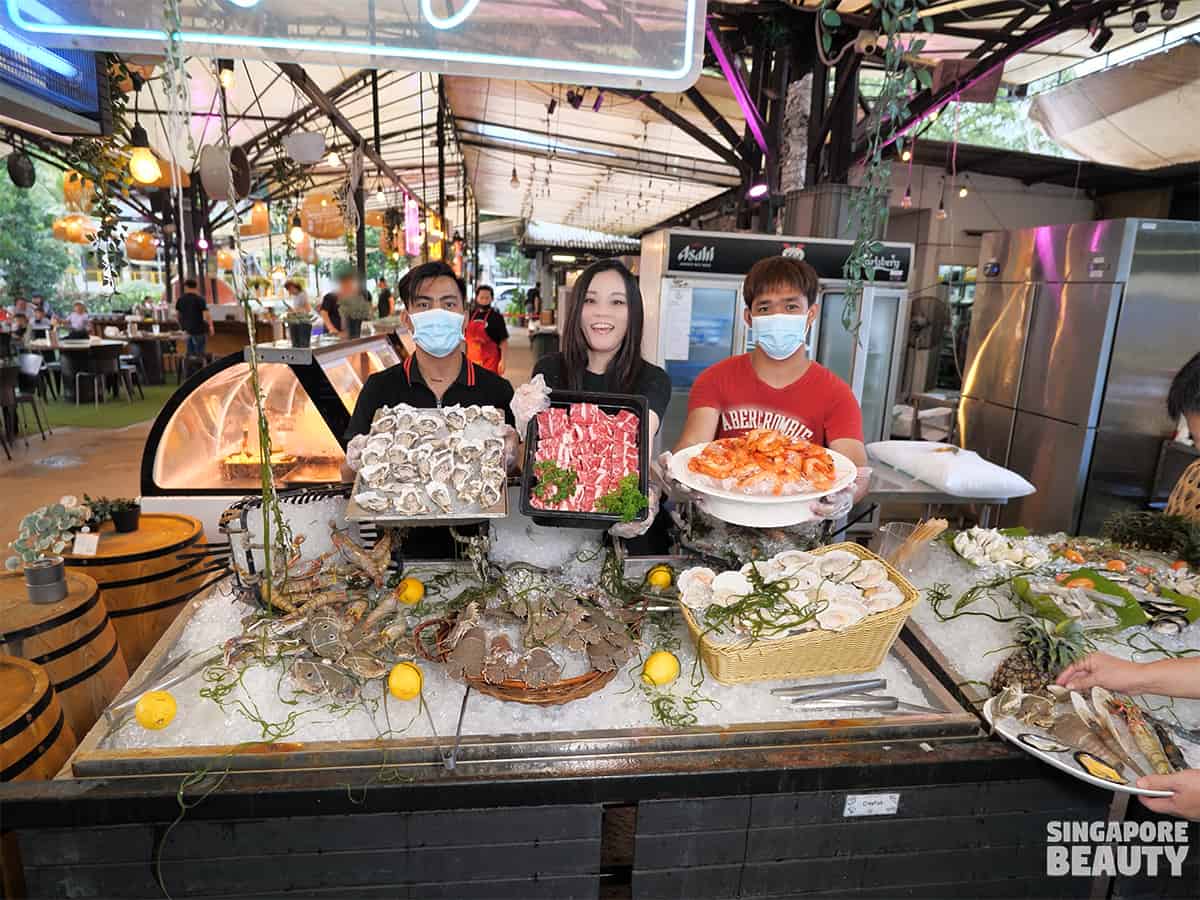 The Three Peacocks is Singapore largest outdoor bbq & hotpot now with a tropical style buffet. They have revamped the place with streamlined food display, plating and menu for a warm & vibrant ambience that can be enjoyed by anyone. The premium meat grocer bar & the fresh seafood bar on ice are the main attraction in this charcoal bbq and hotpot buffet.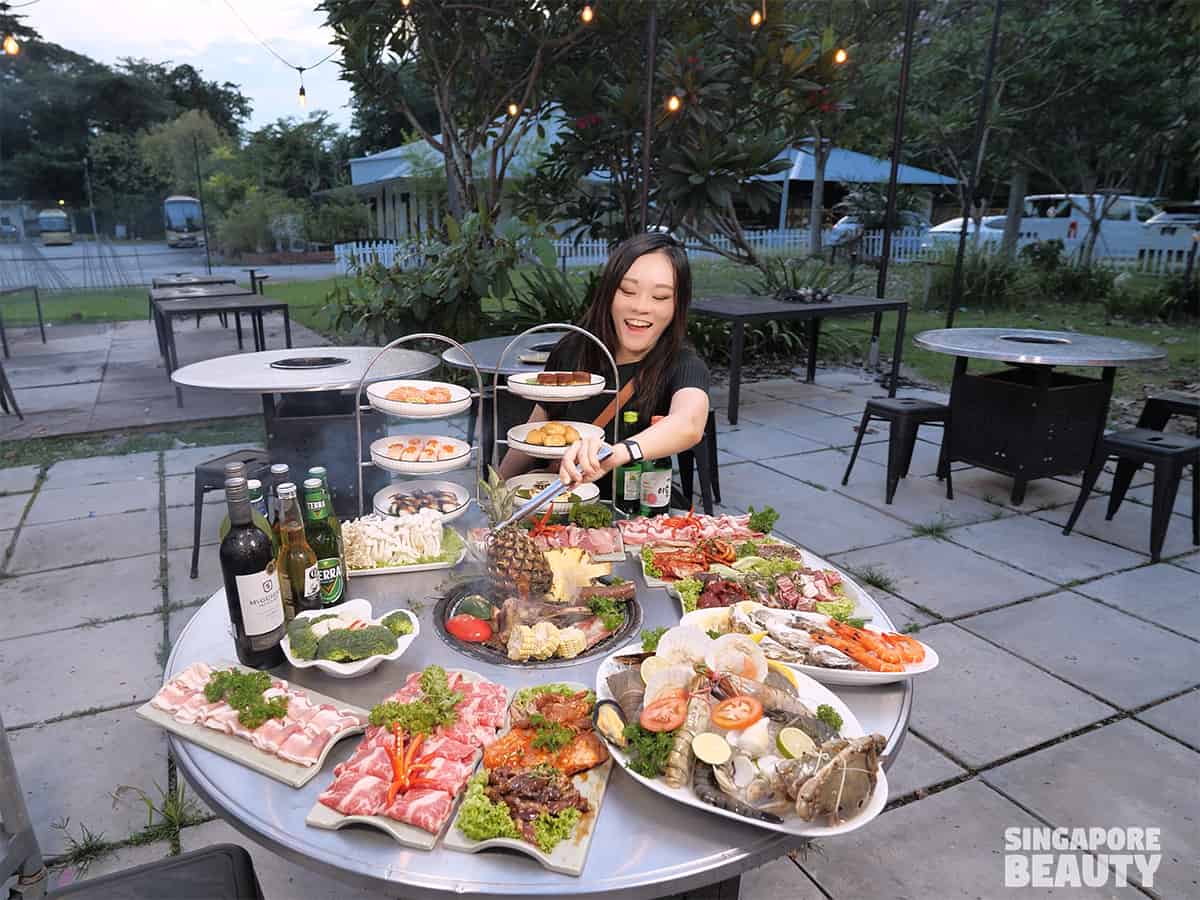 Enjoy barbecue from dawn to dusk under the open air night sky where the sky is the limit. Best of all, you get 15% off buffet now till end Nov as part of The Three Peacocks promotion. This tropical style buffet also sees some new items such as an assortments grilled vegetables, sweet corns and even pineapples. You get a myriad of vibrant summer ingredients to barbecue with from their display chillers.
The Three Peacocks is located at Labrador Park with outdoor and sheltered bbq areas amongst lush resort like landscaping. Enjoy a huge international spread of seafood on ice, marinated seafood, premium meat cuts, steaks, marinated meats, Japanese sushi, sashimi, hotpot bar, international condiments bar and a whole spread of buffet line with hot food.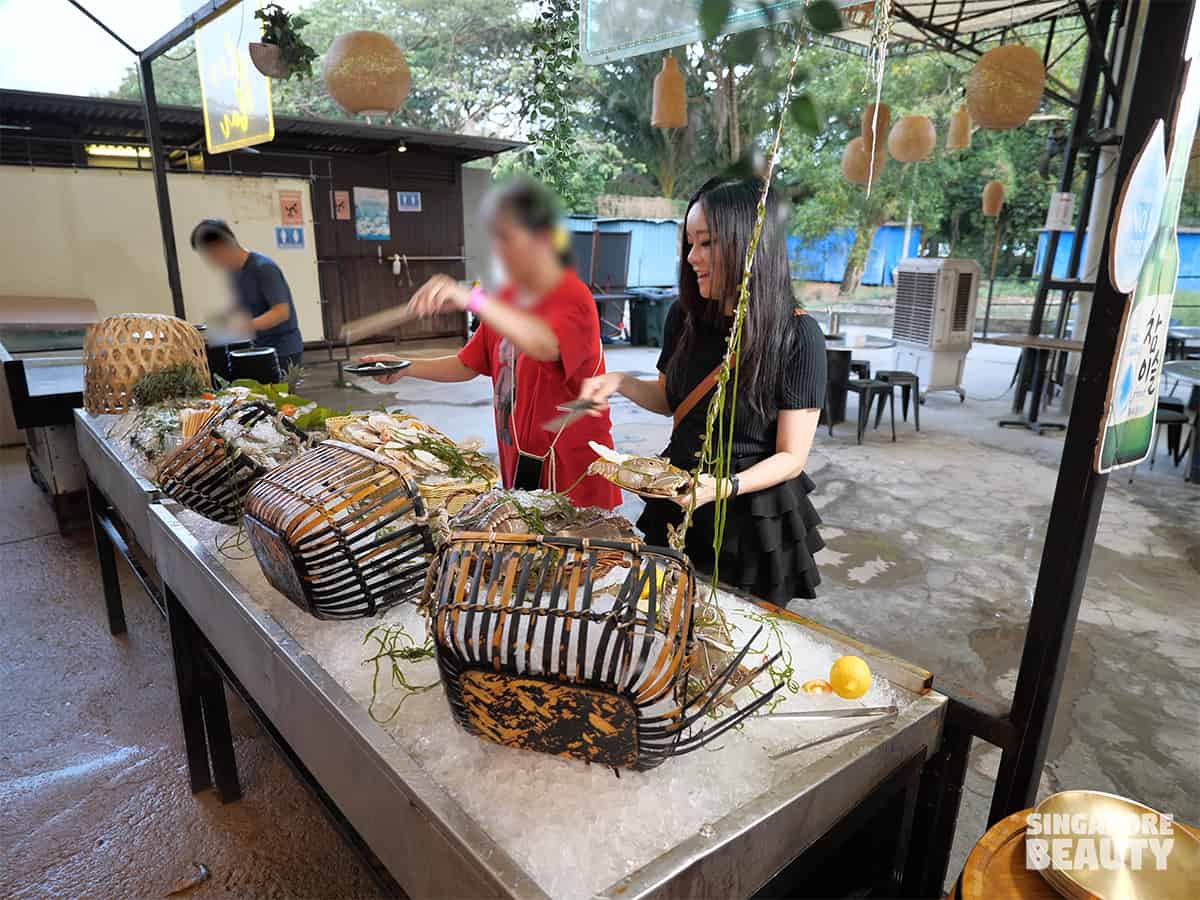 Get started by heading over to The Three Peacocks buffet seafood bar. Now pick & choose your own seafood platter from over 20 types of seafood, either fresh iced seafood or marinated seafood from their display chillers.
This is their streamlined display chillers which houses a desserts, fruits & cakes, various salad selections, appetiser bar, followed by a stretch of hot food buffet line on warmers, hotpot ingredients featuring some selection of Korean ramen, premium meat and steaks, marinated meats, marinated seafood and lastly the seafood on ice. You can also get free flow soft drinks, ice cream from the dispenser near the cashier.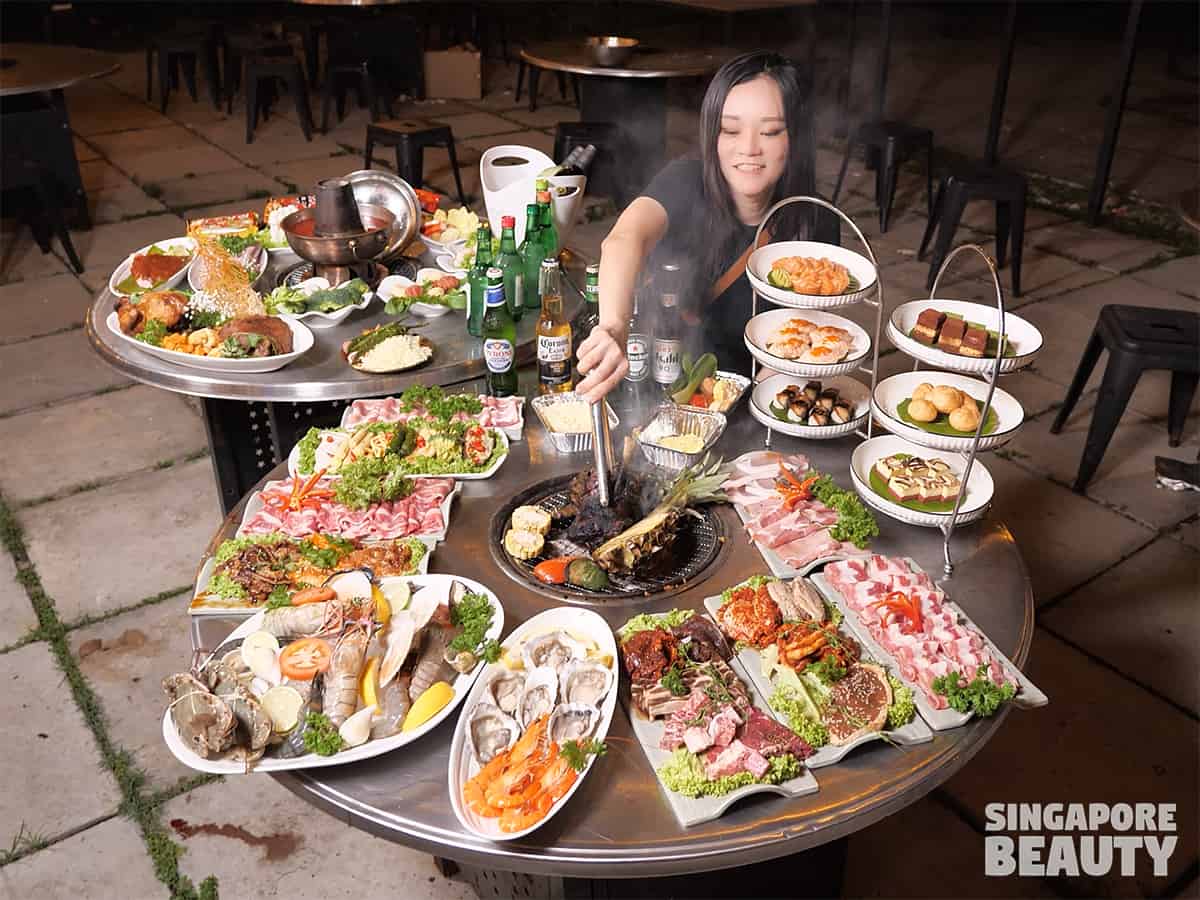 Here's The Three Peacocks review after trying their Tropical charcoal BBQ & hotpot buffet. We love the wide selection of meats from steaks, ribs, leaner meats to fatty cuts. The seafood on ice is great if you know how to make use of the condiments to create the delightful bbq seafood experience. Otherwise, you can get their marinated seafood, where the flavours are all sorted out for you by their in house chef. The open air bbq area under the night sky is also a unique selling point at The Three Peacocks where you get tons of fresh night breeze and a rare star glazing experience while barbecuing.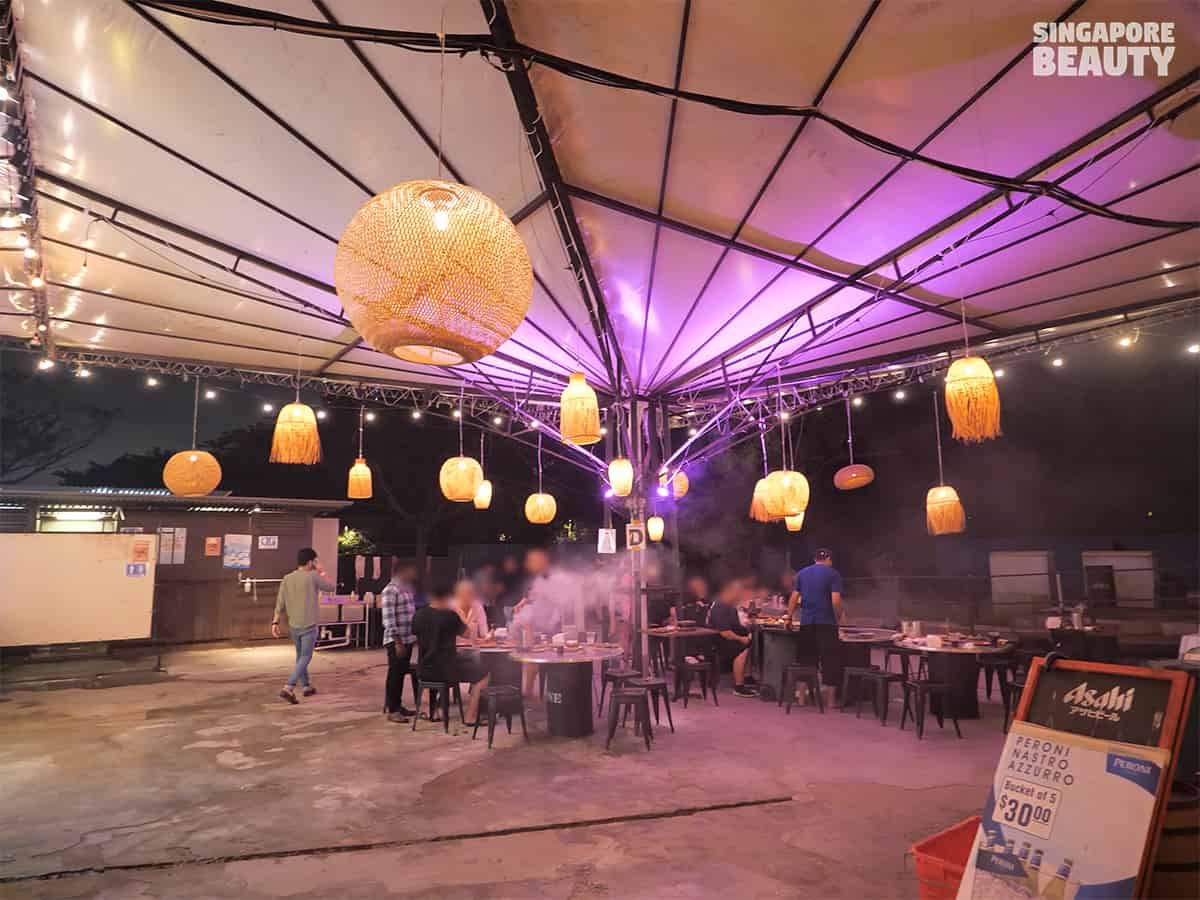 Since Christmas is around the corner, many of us are looking for a place to celebrate Christmas in Singapore. If tropical style décor with laid back ambience is your thing, this spacious place is great for large gatherings and events. Since there is no strict dress code here, you can be in your most relaxed mode and enjoy the joy of charcoal bbq seafood and meat with hotpot buffet. For Christmas, check out their festive special roasts and grills on their rotational menu such as roasted honeyed chicken, smoked beef brisket, crunchy pork knuckles and more.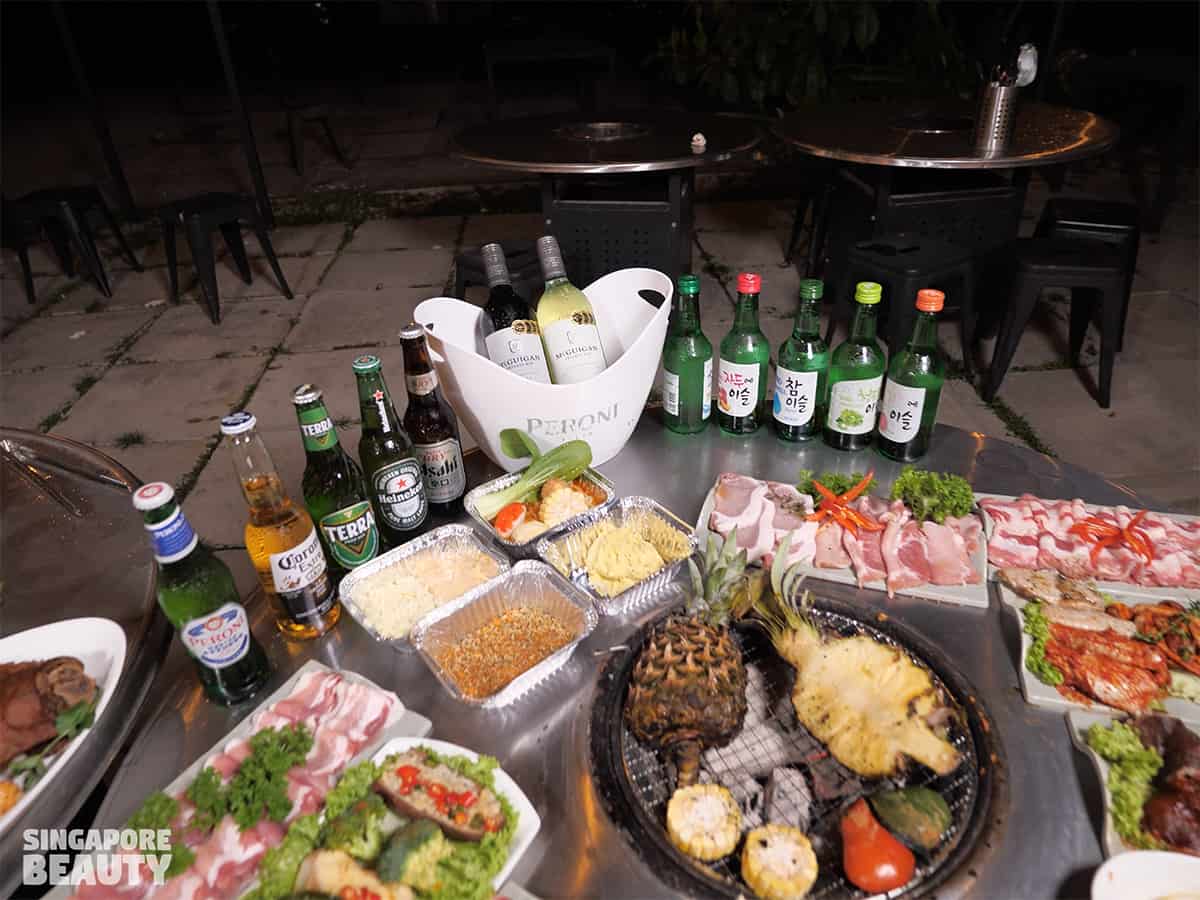 If you are someone who loves alcoholic drinks, they also have some great beer promotions on certain days for their Korean Soju, imported beer and even red wine and white wine for that special occasion. The beers available are Peroni, Corona, Heineken, Asahi and Terra, check with them for the special beer promotion.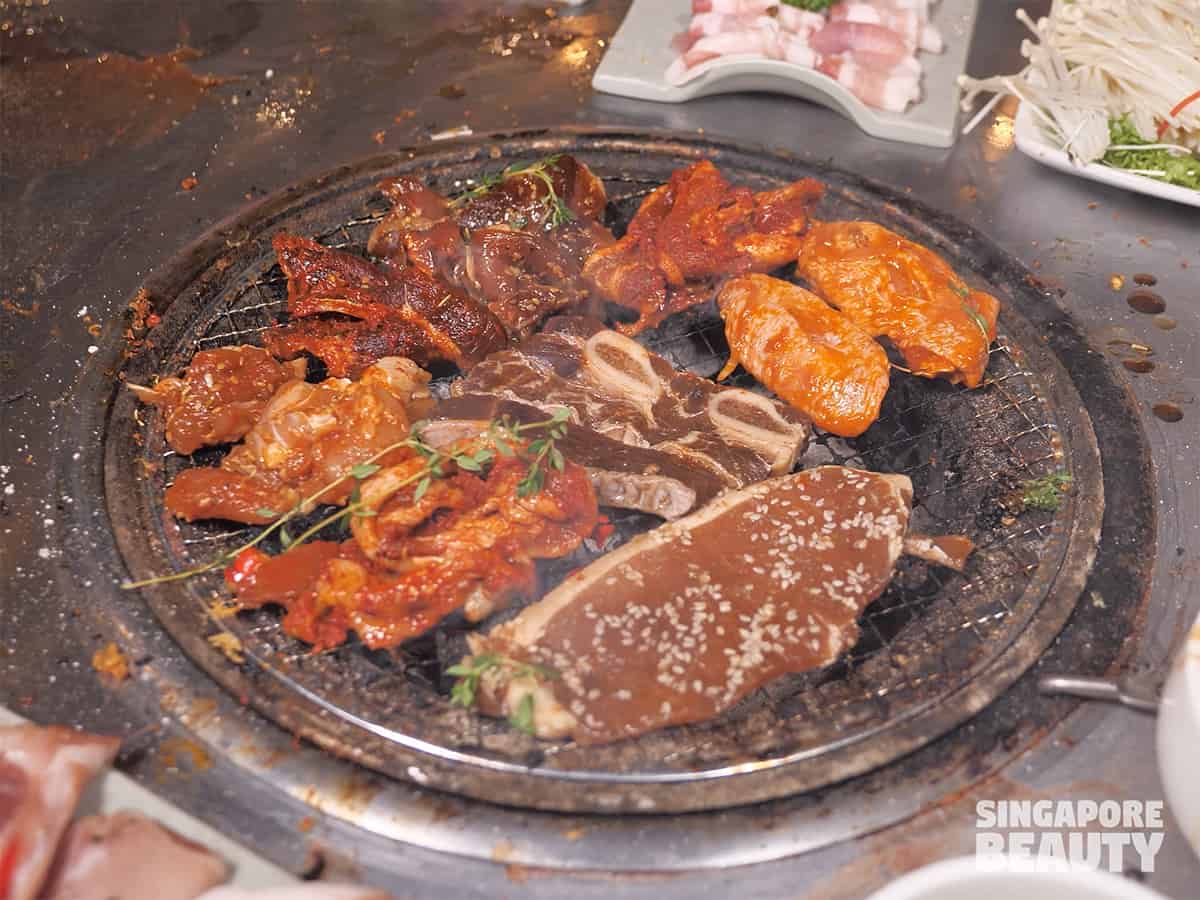 A must try are their premium gourmet meats & some limited time cuts for the perfect meat buffet. Get your hand on USA, Australia beef, melty beef cubes, bone in Korean ribs, Chestnut pork belly, Angus short plate, oyster blade, wagyu karubi, USA bone on short rib, Thai style pork, Korean wings, pork chops, beef shabu shabu, bone in beef brisket and even pork jowl.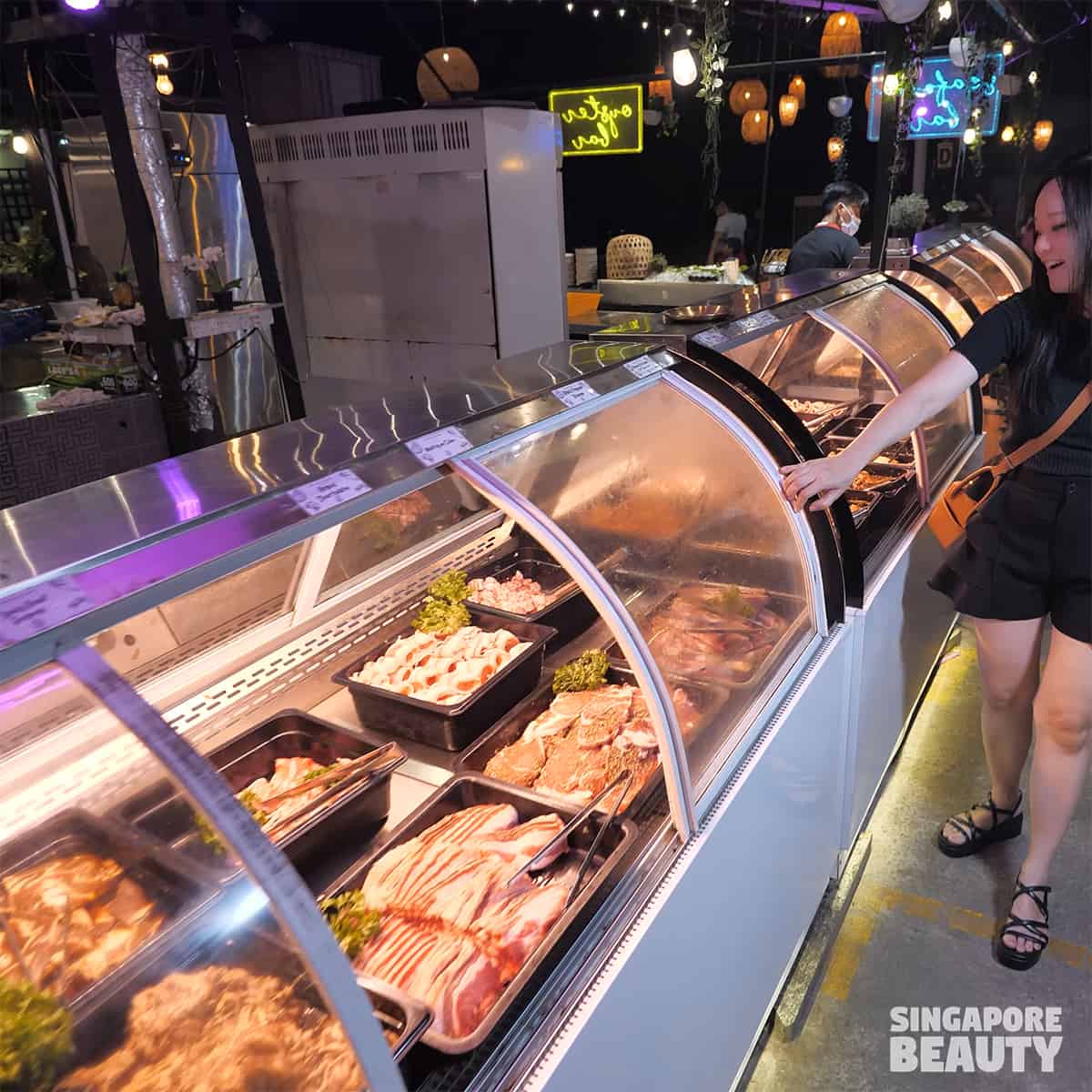 Get their non-marinated premium steaks, cuts and seafood from their meat grocer display chiller bar shown above. Create your own seasoned bbq food with international condiments from their bar. If you are not good with seasoning your own meats and seafood, simply get their marinated meats and seafood.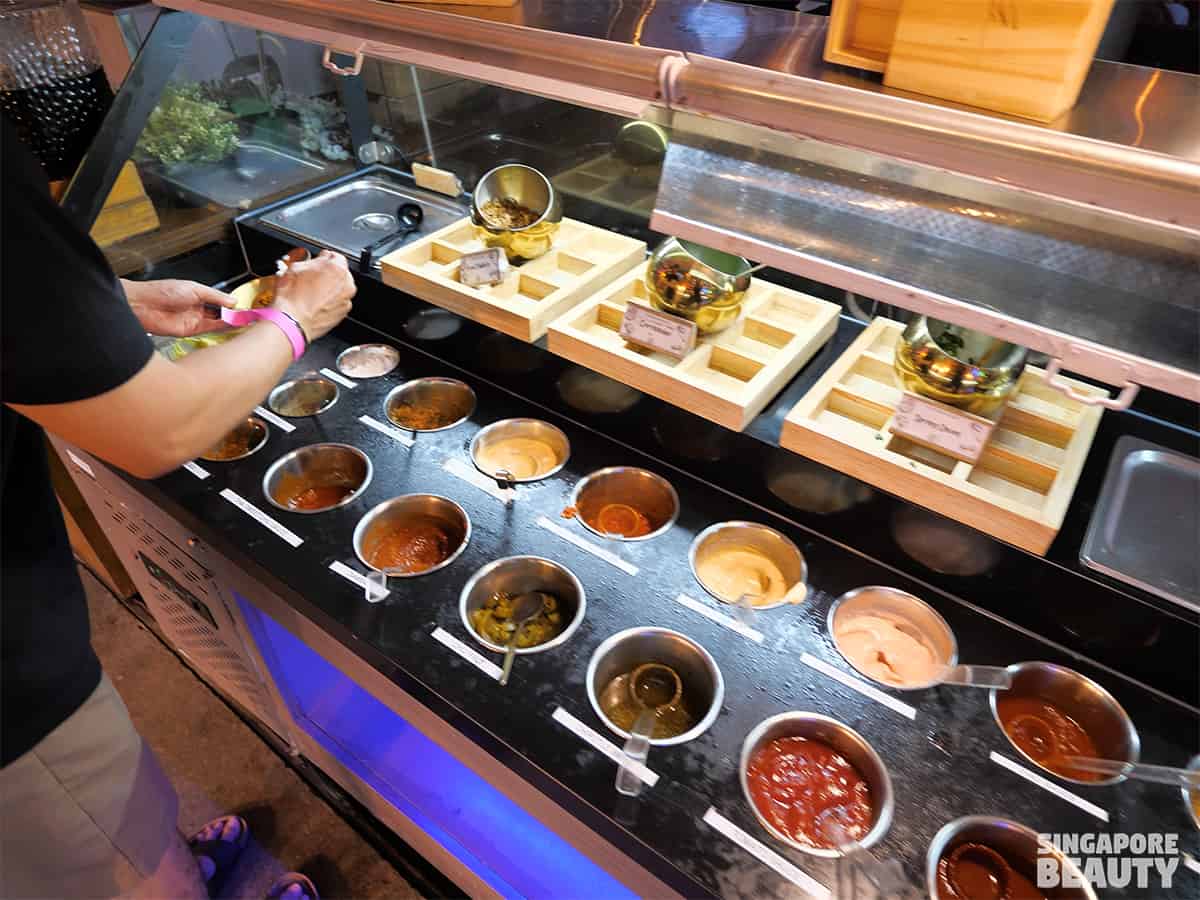 This is their condiment bar with international sauces such as Japanese ponzu sauce, Japanese La-yu chilli oil, Japanese mentaiko mayo, spicy mayo, wasabi, Thai lime juice, Thai fish sauce, Chinese black vinegar, Sriracha chilli, western garlic butter, Chinese lao gan ma, grounded spices, cumin mix, Malaysian sambal, Chinese special garlic sauce, Mexican style pickled jalapenos, chipotle mayo, Korean Gochujiang, Peacock sauce, cheese tray (inside their display chiller with hotpot ingredients) and more.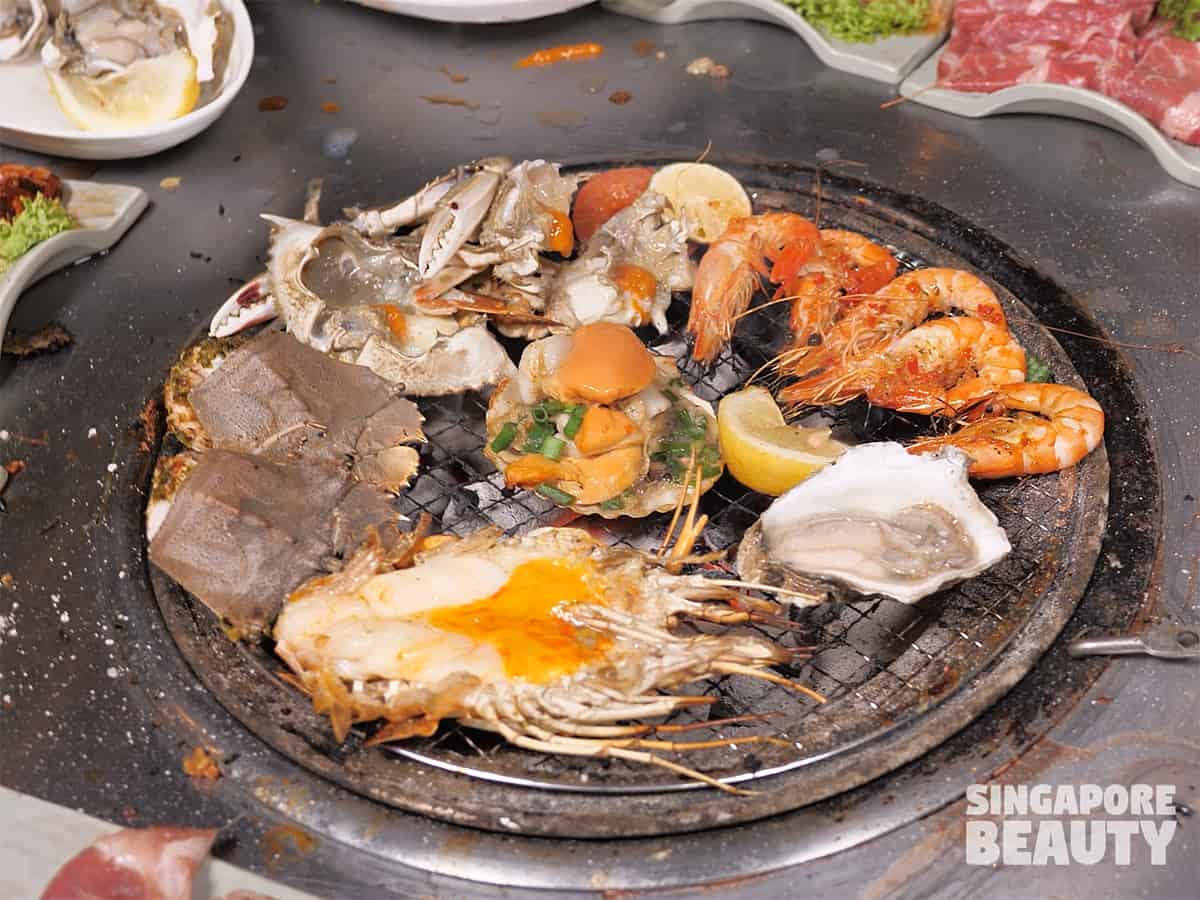 The Three Peacocks buffet at Labrador Park is also popular with Seafood buffet lovers where they can bbq all the seafood to their heart's desires and as much as their stomach can hold. In this popular buffet in Singapore, you can bbq giant river prawn, crab, tiger prawn, oysters, slipper lobsters, scallops, bamboo clams. They even have marinated seafood trays like squid, octopus, crawfish, conch & various shellfish.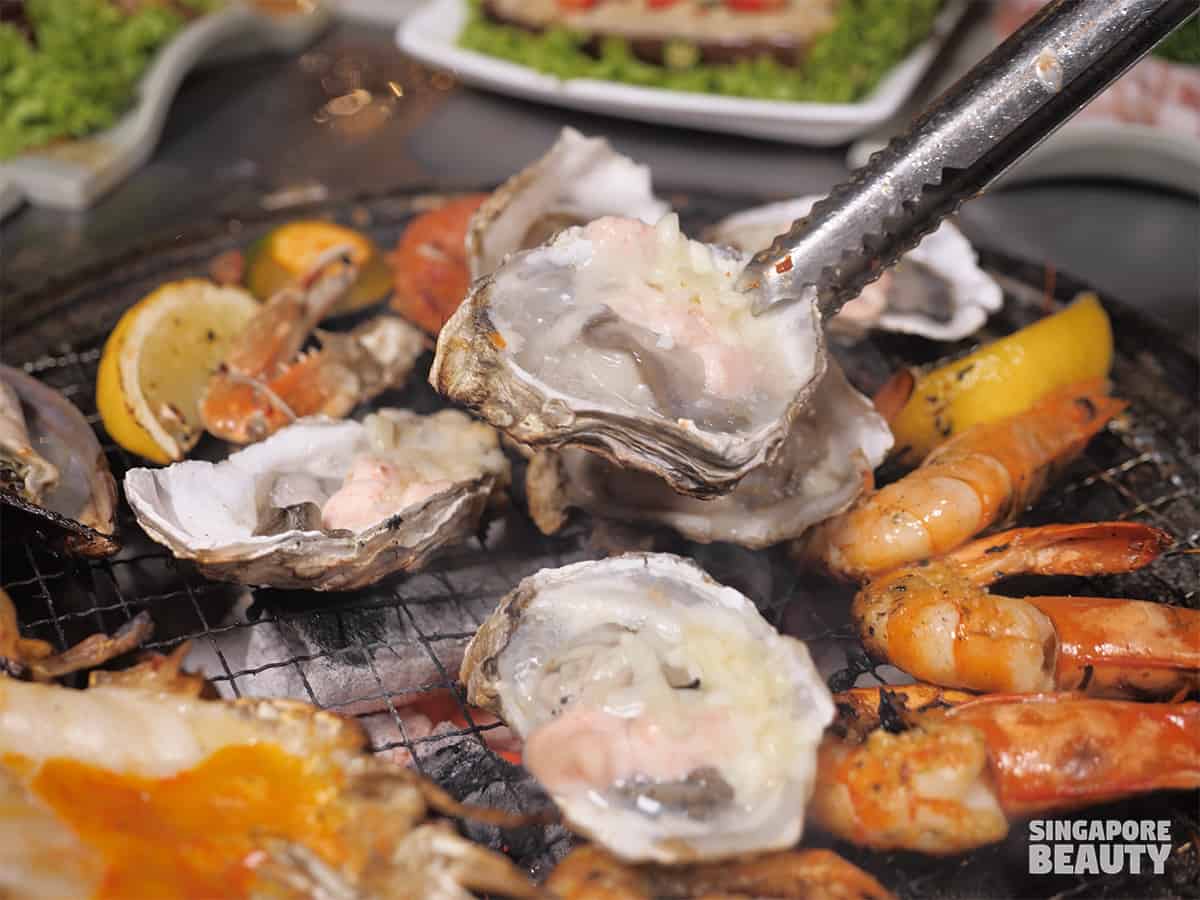 Shucked sashimi grade oysters are also available too. You can either hit them with fresh zest of lemon juice, Tabasco or grill them with condiments too. Grilled fresh oysters with garlic soy, grilled oysters with mentaiko cheese, grilled oysters with vinegar, pepper and shallots and so many other ways to enjoy these briny delicacies.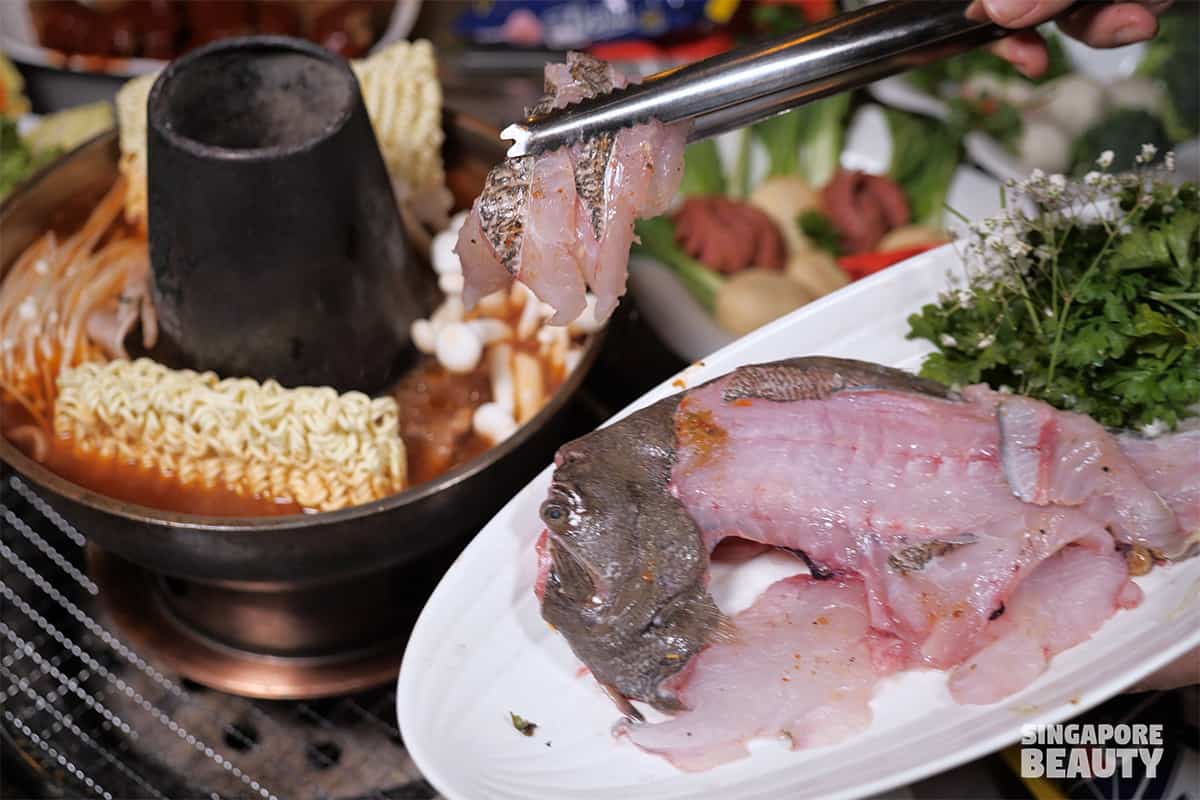 They also have seasonal specials such as turbot fillet, stingray on banana leaves and special catch of the day too to surprise your taste buds. These special catch are truly a treat for the taste palate, great for hotpotting and grilling respectively.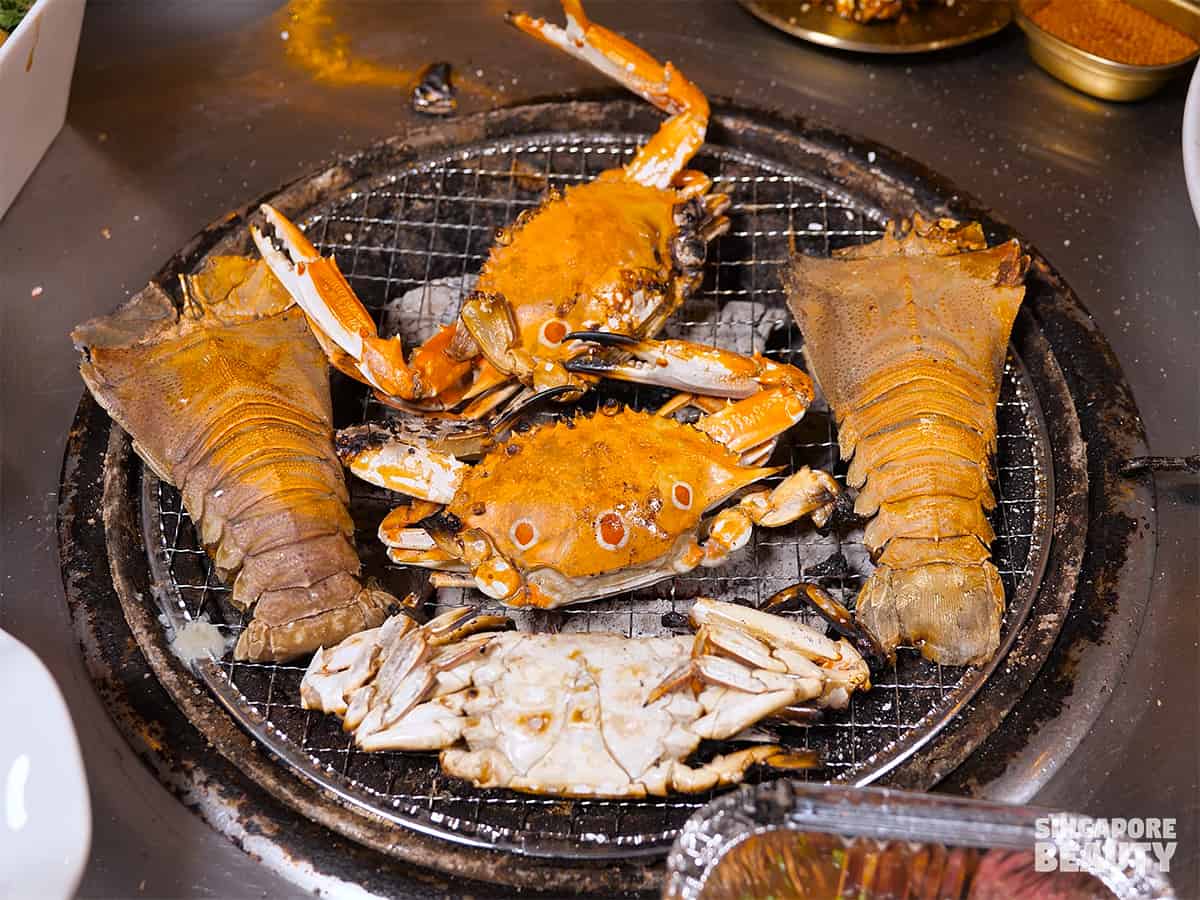 We had a sumptuous seafood buffet dinner bbq their giant river prawn with buttery head, three spot crab delicate with sweet roe, tiger prawn char with garlic butter, fresh oysters with mentaiko cheese, slipper lobsters with hot & sour peacock sauce, scallops in Japanese ponzu & scallions, scallops with garlic and cheese, bamboo clams with Chinese chilli oil, squid & octopus marinated seafood, crawfish & seafood tray, conch & various shellfish, vannamei sweet prawns with Thai sweet chilli and so much more.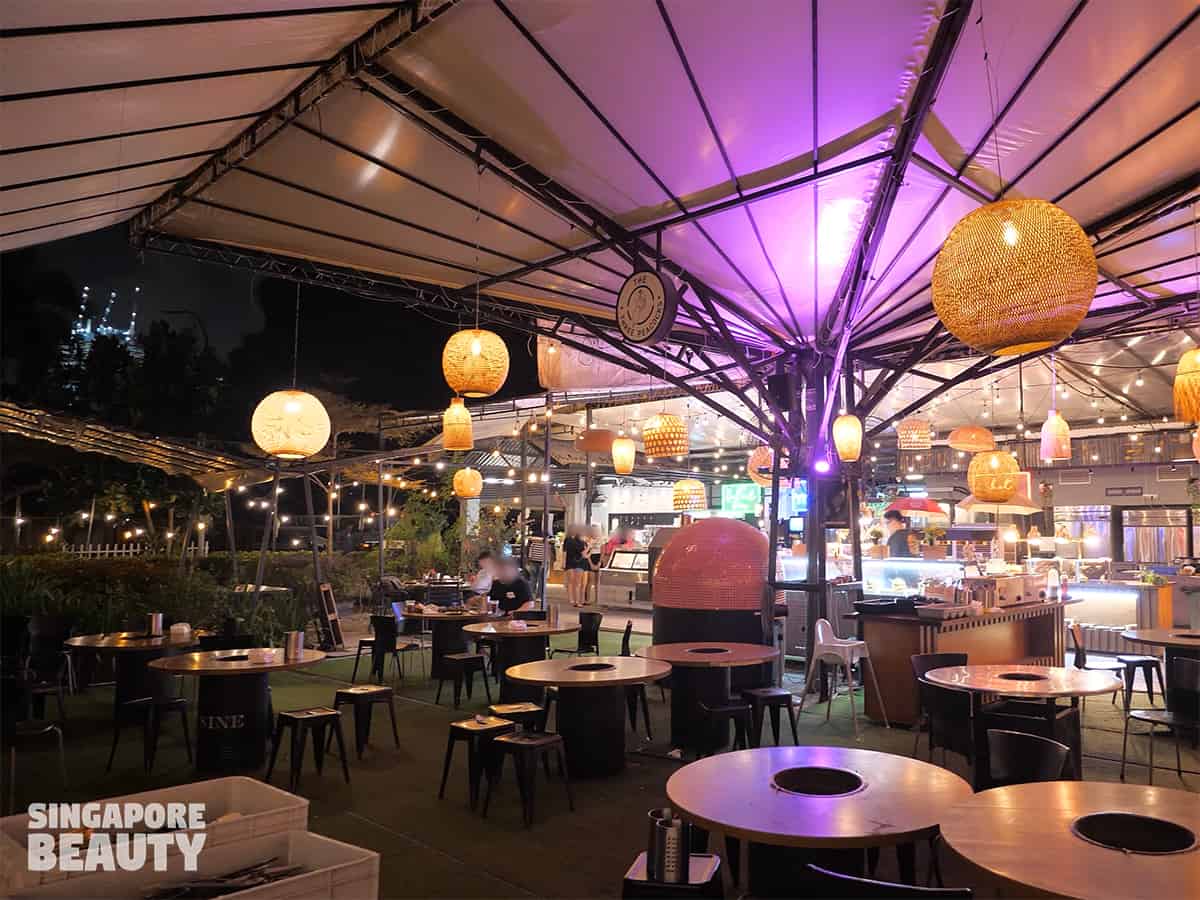 The Three Peacocks at Labrador Park – Singapore largest outdoor BBQ & hotpot buffet – awaits you with over 30 types of marinated meats & premium steaks, over 20 types of seafood on ice and marinated seafood, a whole hot food buffet line, Japanese sashimi, sushi, Korean ramen seafood hotpot, tropical ingredients and more.
The Three Peacocks Address :
8 Port Road, Labrador Park Singapore 117540
Promotion : Now with 15% off buffet till end November 2023, prices below are before discount.
The Three Peacocks @ Labrador Park Buffet Price
Weekdays (Mon-Thurs)
Adult: $ 49.90++
Senior: $ 47.90++
Kids: $ 38.90++
Weekends (Fri – Sun)
Adult: $ 55.90++
Senior: $ 52.90++
Kids:$ 44.90++
PH, PH Eve & Festive
Adult: $ 60.90++
Senior: $ 57.90++
Kids: $ 49.90++
*Kids 7- 12 years old.
Children under age of 6 years old dine for free.
Free flow soft drinks included
Dine in time :
3 Pax < = 2 hours
4 Pax > = 2.5 hours
Opening Hours :
5.30pm to 10.30 pm (Mon to Friday)
5 pm to 10.30 (Sat and Sun)
For enquiry & reservation call: 3129 2374 / 8870 3998
How to get to The Three Peacocks:
Ample Free Parking available or take shuttle bus at Labrador Park MRT Exit A from 5.30pm-10.30 pm (every 30 minutes intervals)
Brought to you by The Three Peacocks