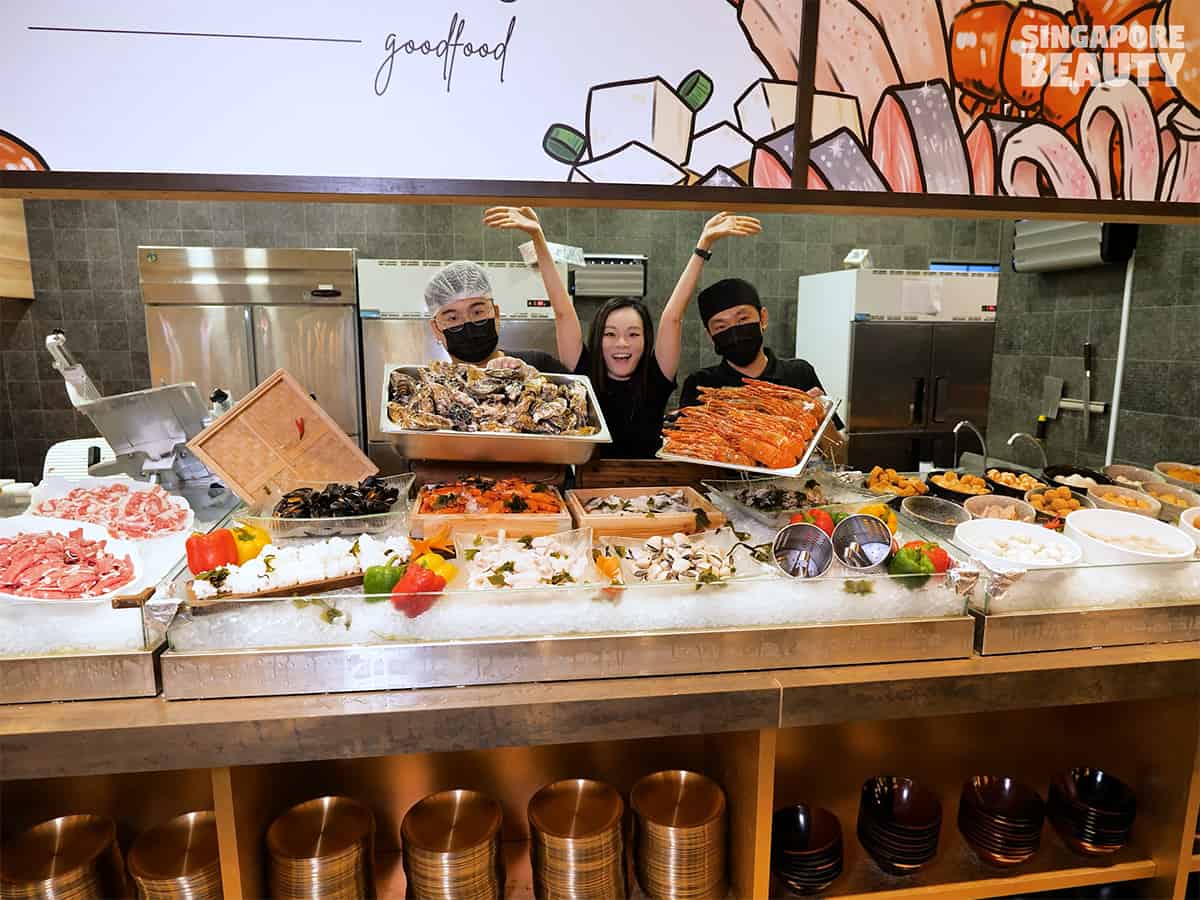 Overeat Marina One Singapore is a buffet restaurant that has hotel style buffet with live oysters, sashimi, seafood and wagyu. Besides bbq seafood and meats, they also have complimentary shabu shabu hotpot for every table. They even have buffet line of international ready to eat cooked cuisines in various style like Chinese, western, Japanese, our Local delights and more. Enjoy unlimited seafood such as sweet Vannamei prawn, white fish chunks, tioman fish, squid roll, Venus clam, salmon, tuna, scallops and crunchy prawns.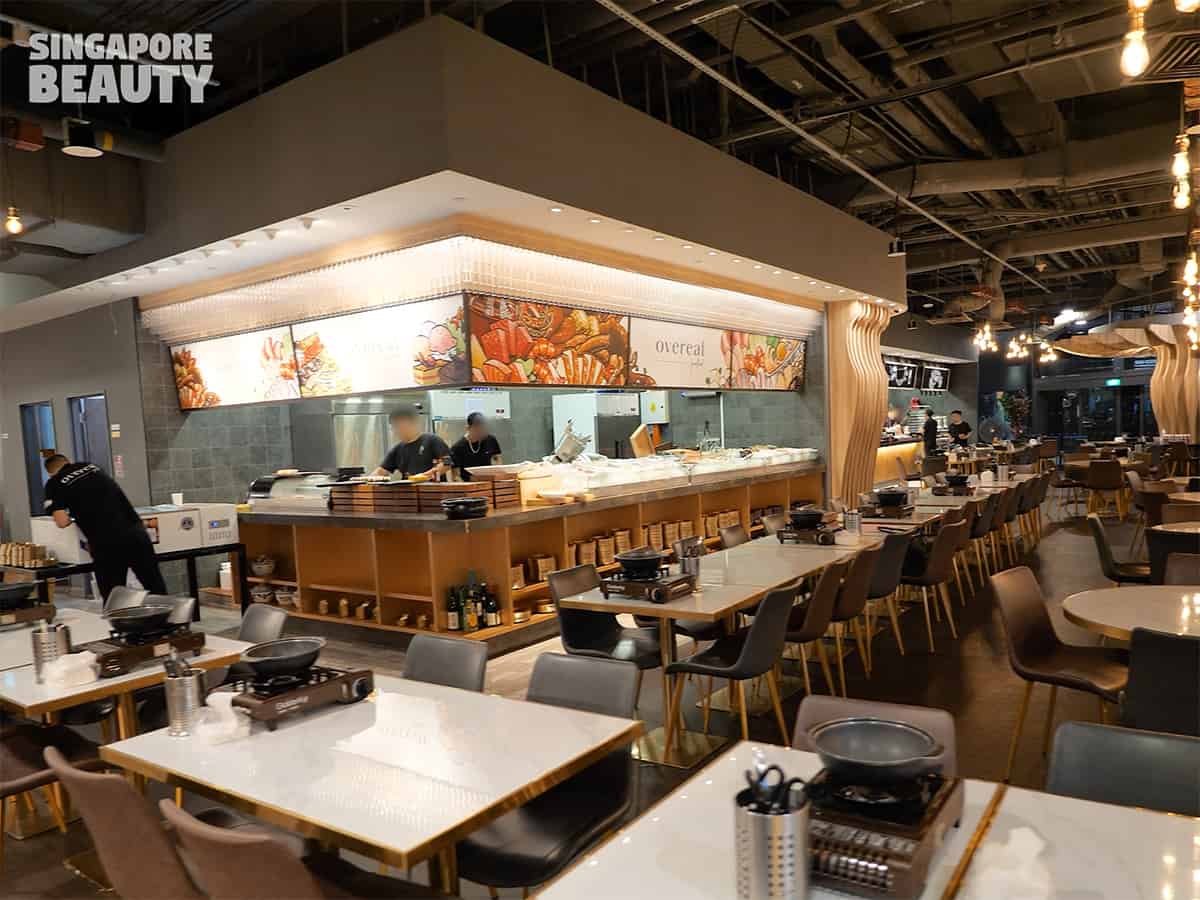 Overeat buffet menu consist of over 100 items from Chinese style cooked food, western sides, various types of hotpot soup bases, teppanyaki, hotpot ingredients, seafood on ice, maki, sashimi, shuck for you oysters, bbq grill meats and seafoods, pizzas, baked cheese dishes, various types of curry, stir fried cuisines, cut fruit cocktails, pastry, various drinks and more. The interiors are spacious with a classy vibe and food are served hotel style with buffet display heat lamps, heated water tray and all food labelled so you know which one to dive for.
Overeat is one of Singapore popular buffet with free flow charcoal grilled wagyu, ribeye, scallops and oysters. They have a grill and BBQ live station where you place your order for the steak and they will grill for you on the spot, so you get the ribeye steak and wagyu steak really sizzling hot, tender and juicy every time. The wagyu steak is our top favourite in this buffet and we had multiple servings of it. They also have char-grilled cheese scallop, baked mentaiko scallop and bbq fresh squid with herb & caper dressing.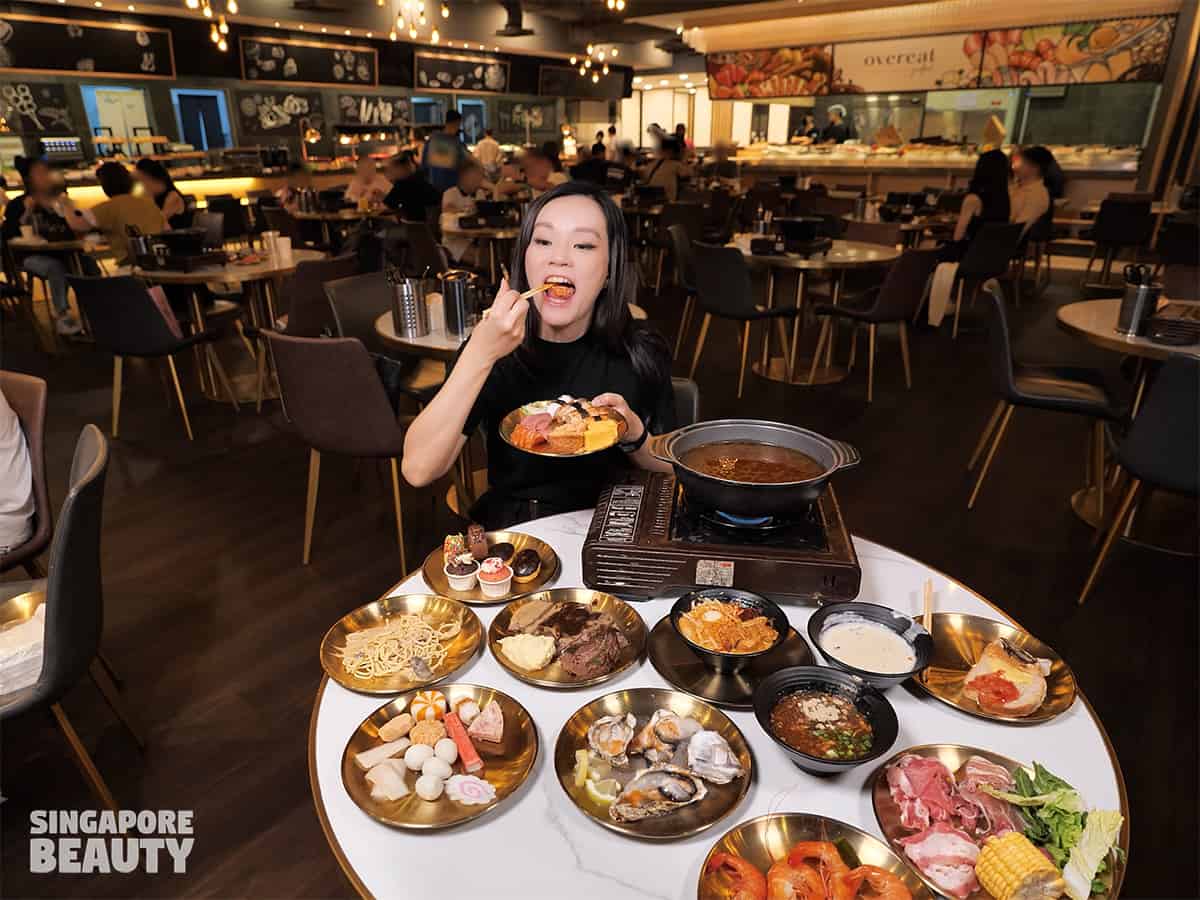 Here's our Overeat buffet review with some photos of the dishes available in this Hotel style buffet. We are trying their dinner buffet for this review with the full spread of over 100 food items on their menu. The weekday lunch Overeat buffet is their cheapest option priced from $21.80++ for adults. For lunch, the menu does not include oysters, half shell scallops and others. If you love their all-you-can-pack bento, you can also get their bento-to-go at their Marina One location during lunch or dinner, together with the buffet goers.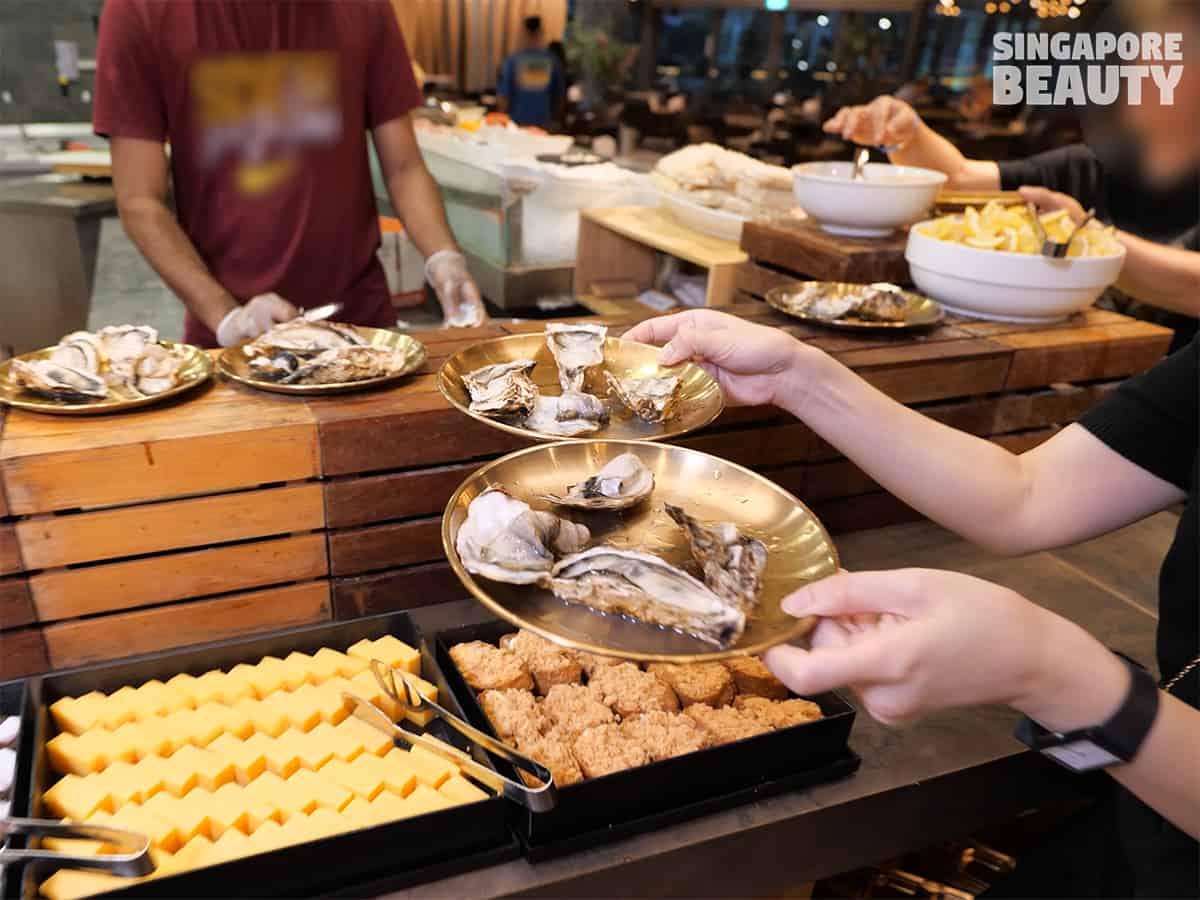 This is the shuck-for-you live oyster bar, you can get as many oysters at one go as you fancy. The oyster shucking guy's speed of shucking the oyster, is as fast as you can wolf down these plump briny oysters. The live oysters are sashimi grade, cool and fresh tasting. Enjoy them with a dash of lemon juice or some Tabasco sauce.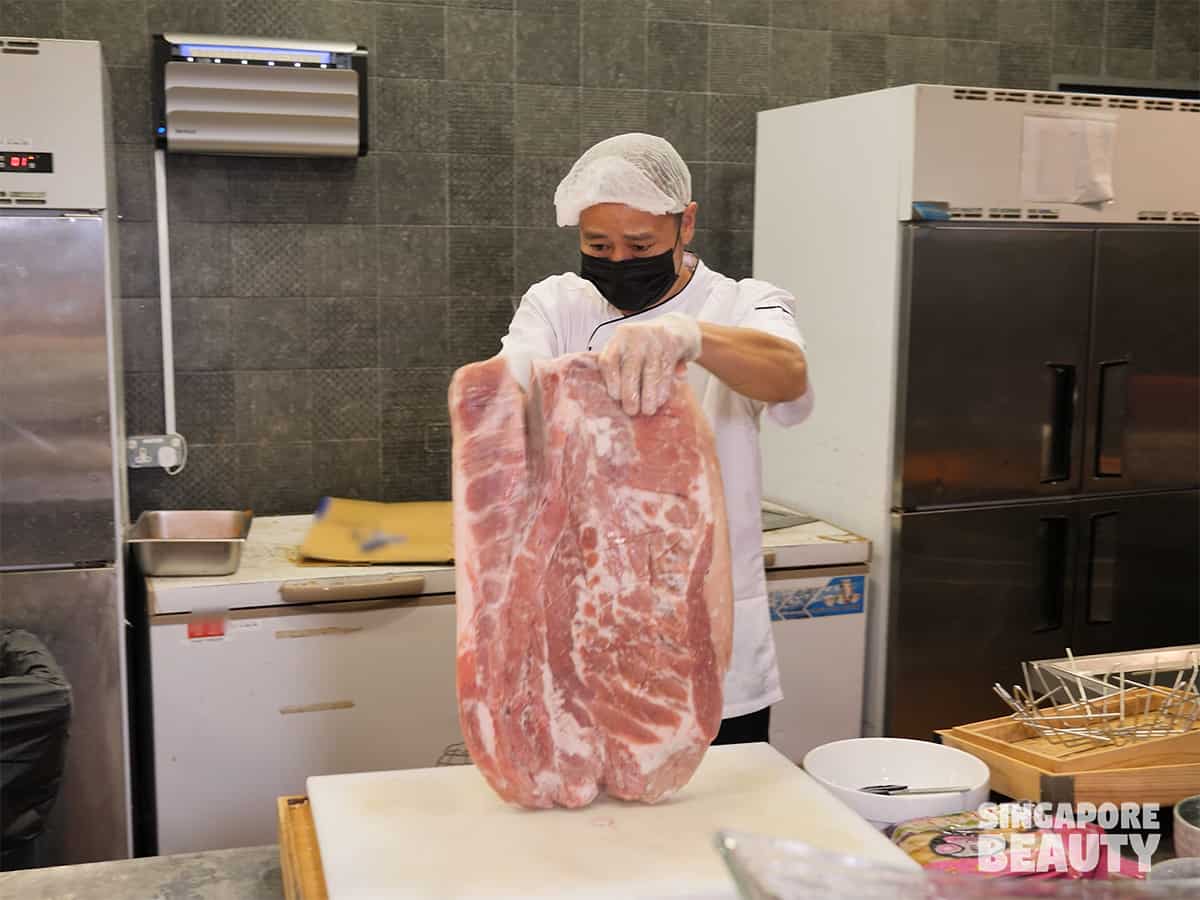 Overeat buffet is also loved for their freshly cut on the spot shabu shabu meats. We caught their chef in action, preparing a giant slab of meat for slicing to shabu shabu meat for hotpot. Enjoy freshly cut shabu shabu meat rolls such as Iberico pork collar, pork belly, beef sirloin and Angus beef and more. As Overeat buffet serves other meats and alcoholic drinks (ala carte), they are not halal certified.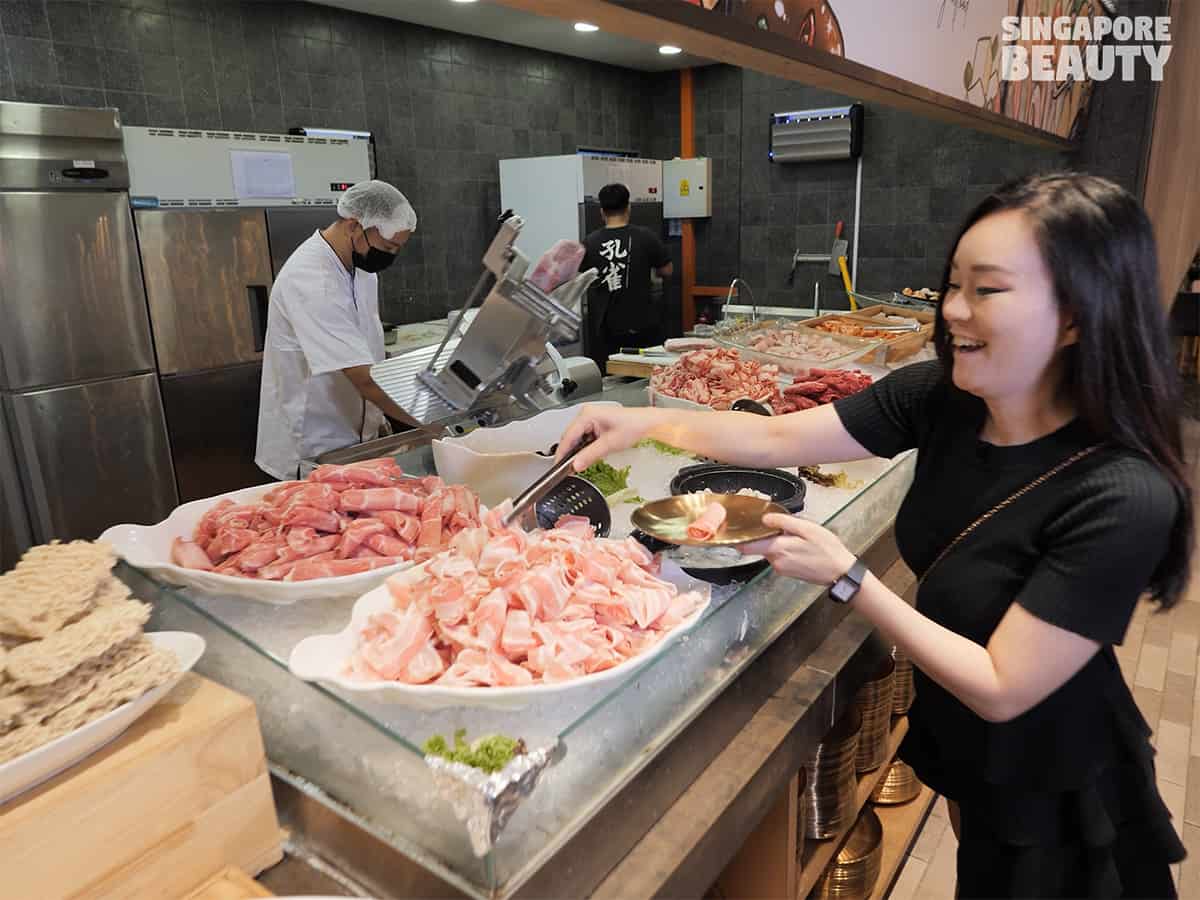 These shabu shabu meats are served on ice displayed like heaps of meat mountains. This is as good as a Japanese sukiyaki buffet with these premium cuts of meats.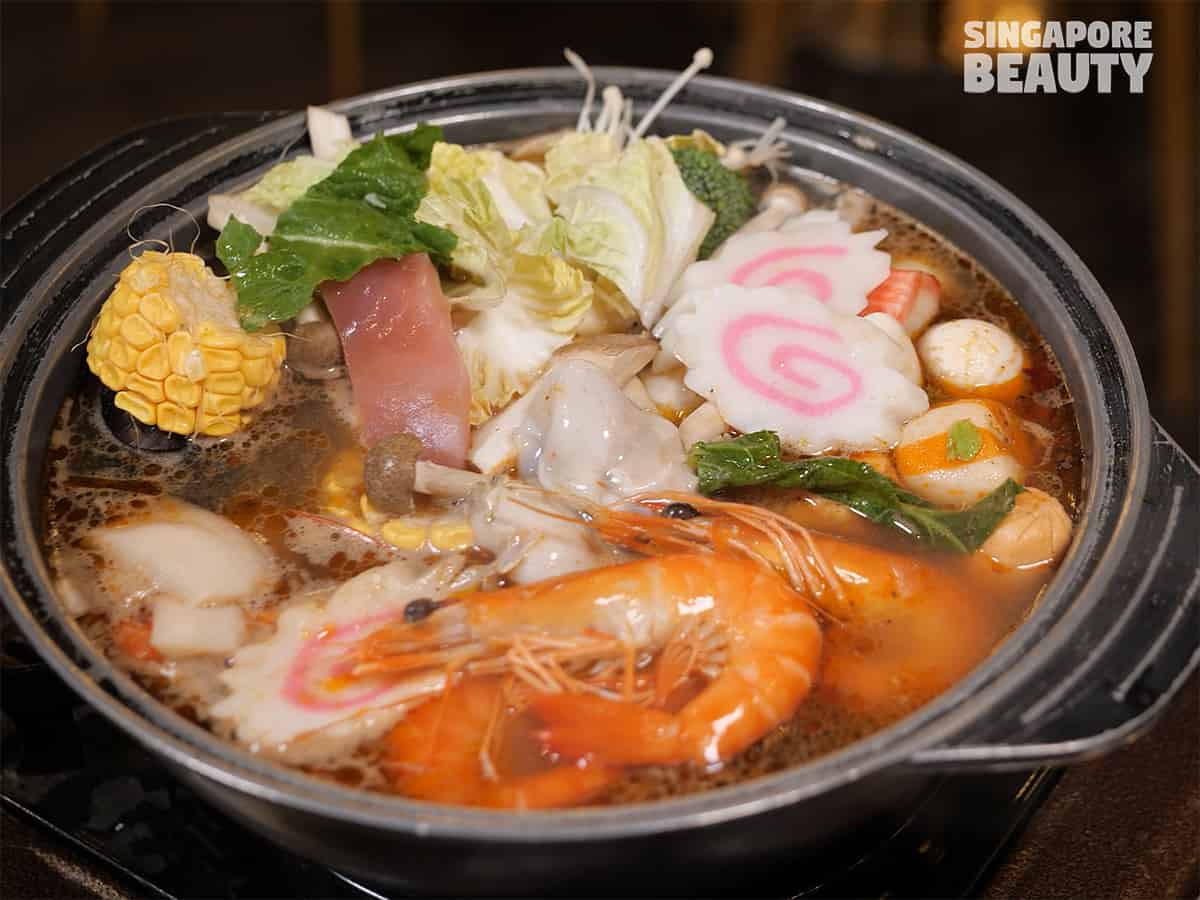 As the beef and pork are freshly sliced and chilled, the texture is delightfully springy, buttery and umami. The sliced meats are also of the perfect thickness, so you can get it cooked to the correct texture easily in this Sukiyaki pot. Shabu shabu hotpot also includes 3 soup bases such as miso, mala and herbal soup. The soup bases are served in hot flask, so you can try all 3 flavours if you like. You can make your own seafood stew with salmon, tuna, prawns, sea shells and various fish or Japanese sukiyaki pot with narutomaki, good selection of greens and surimi including mock abalone, lobster balls and fish roe swirl balls.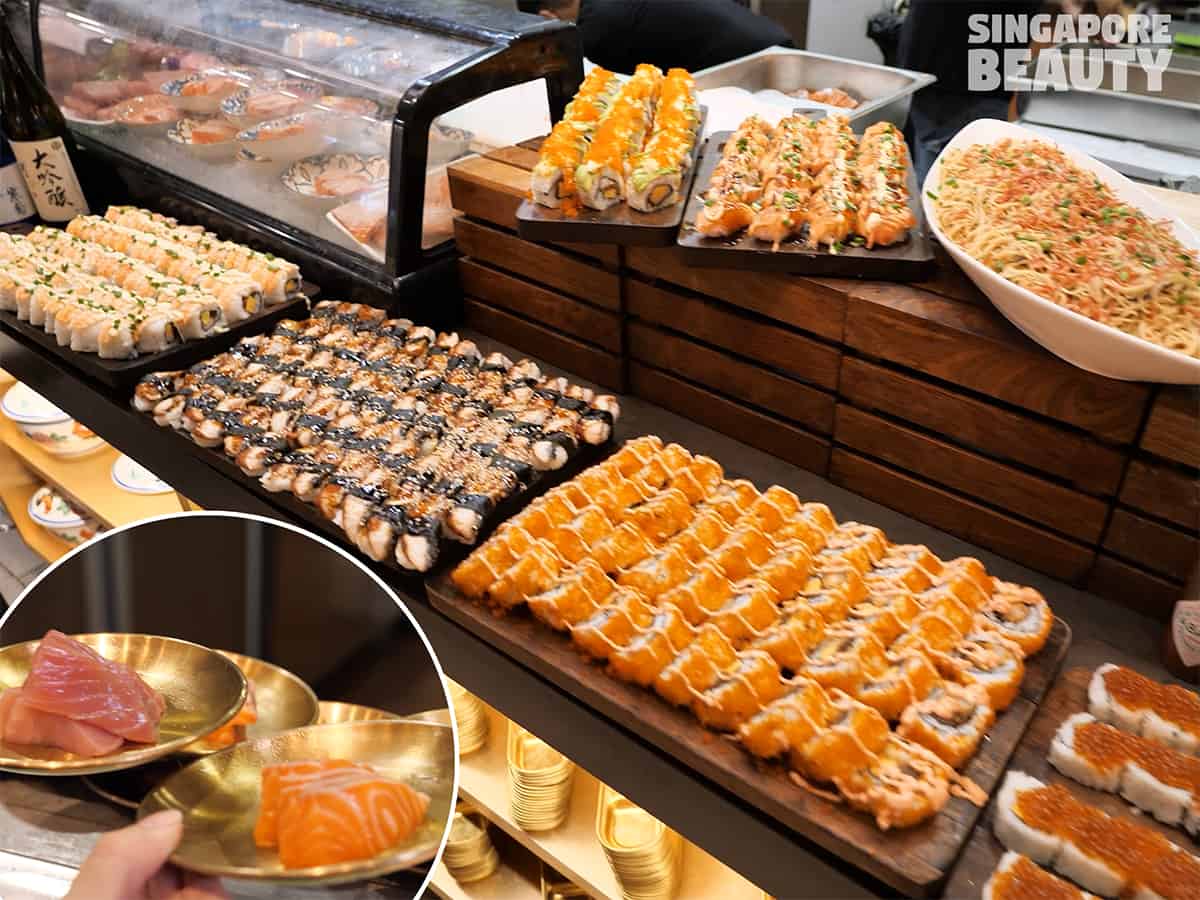 Since it is an international buffet, you can also get handmade maki, sushi and thick cut sashimi. Their thick cut salmon sashimi and tuna sashimi are melt in the mouth type with a buttery undertone. You can also find a large variety of chef handmade unagi maki, California roll, ikura roll, shrimp sushi, mentaiko topped wakame roll, salmon and so much more. Japanese appetisers and otsumami popular with izakaya restaurant such as coleslaws, chuka hotate, wakame and chuka kurage, can be found at their salad bar next to their beer on taps bar. You can enjoy these with some ice cold beers, sake and bottle beers (all alcoholic drinks are ala carte).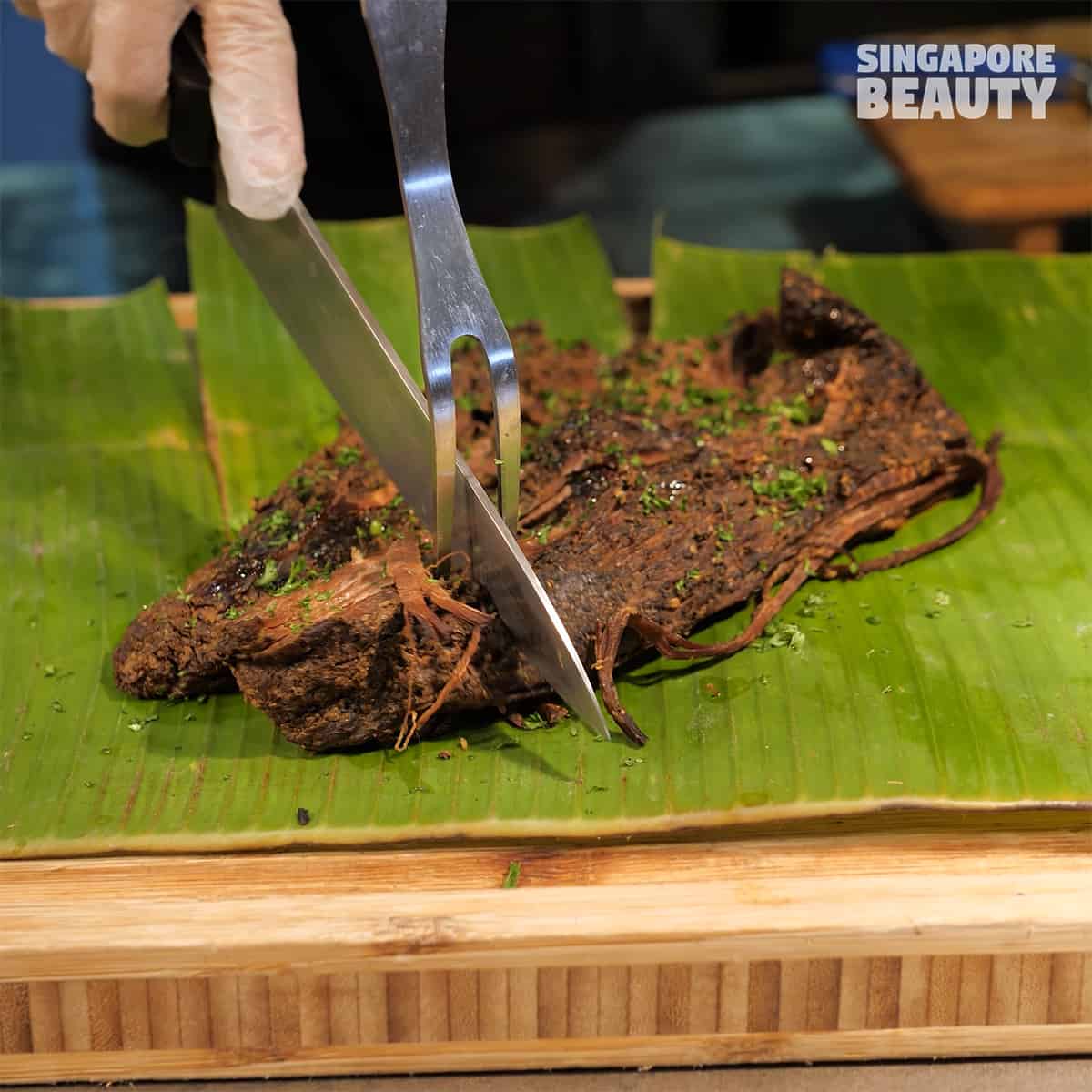 They also have self carving gourmet station with Texas style smoked beef brisket where you get to carve out your own brisket. Enjoy these with their hot mashed potato sides, piping hot black pepper gravy and mushroom sauce with sliced Swiss button mushroom.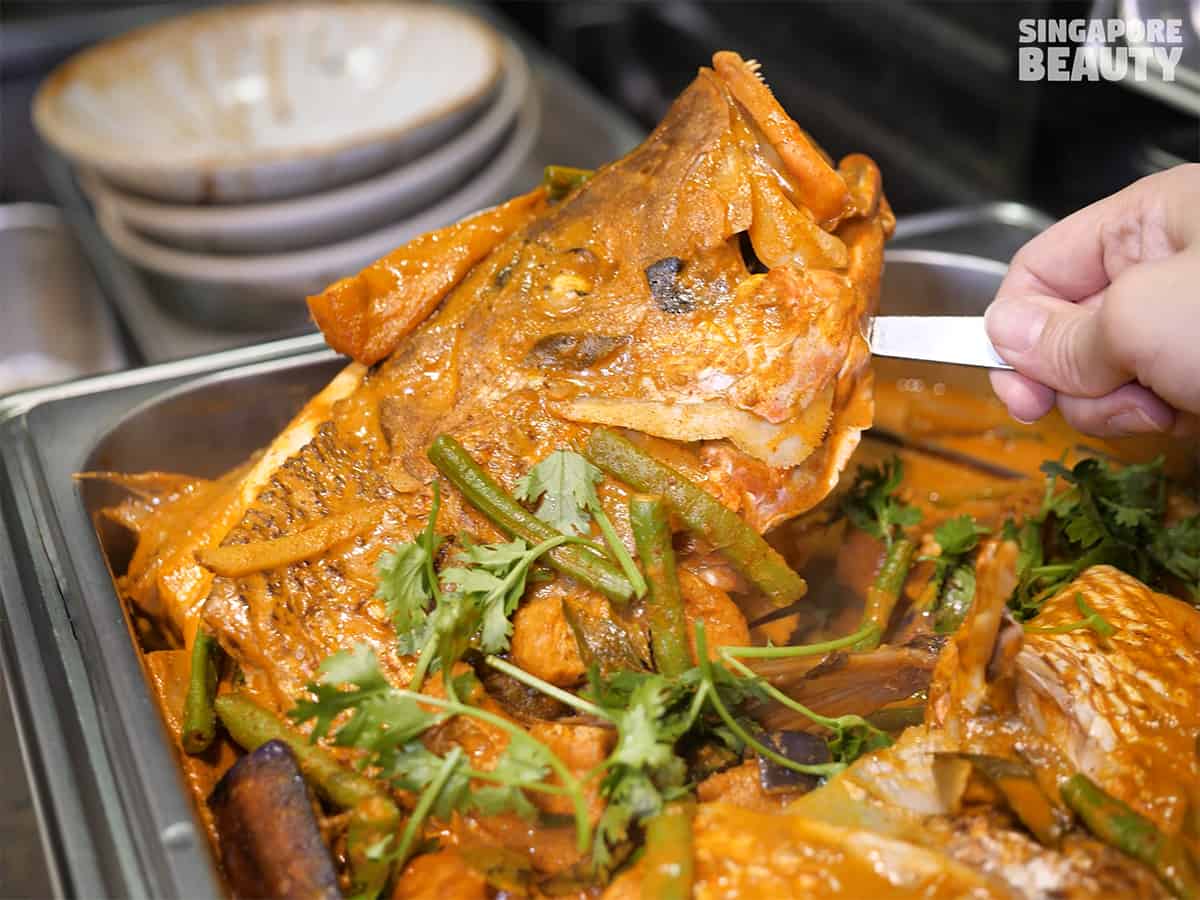 They also have chef cook local delights on heated stove with chilli crab bun, Curry fish head, Mala crawfish in spicy numbing sauce, Teriyaki roasted chicken, Sweet & sour fish, Braised Ee-Fu noodles, Cantonese steamed fish with shallots oil and so much more dishes that are found in local, Cantonese, Chinese or Hong Kong style restaurant. We especially love the curry fish head with using only the sea bream fish head aka Ang Go Li. This fish is well loved for it gelatinous cheeks, collars and the jello like eyes too. The curry is savoury and rich with okra, eggplant, long beans and more.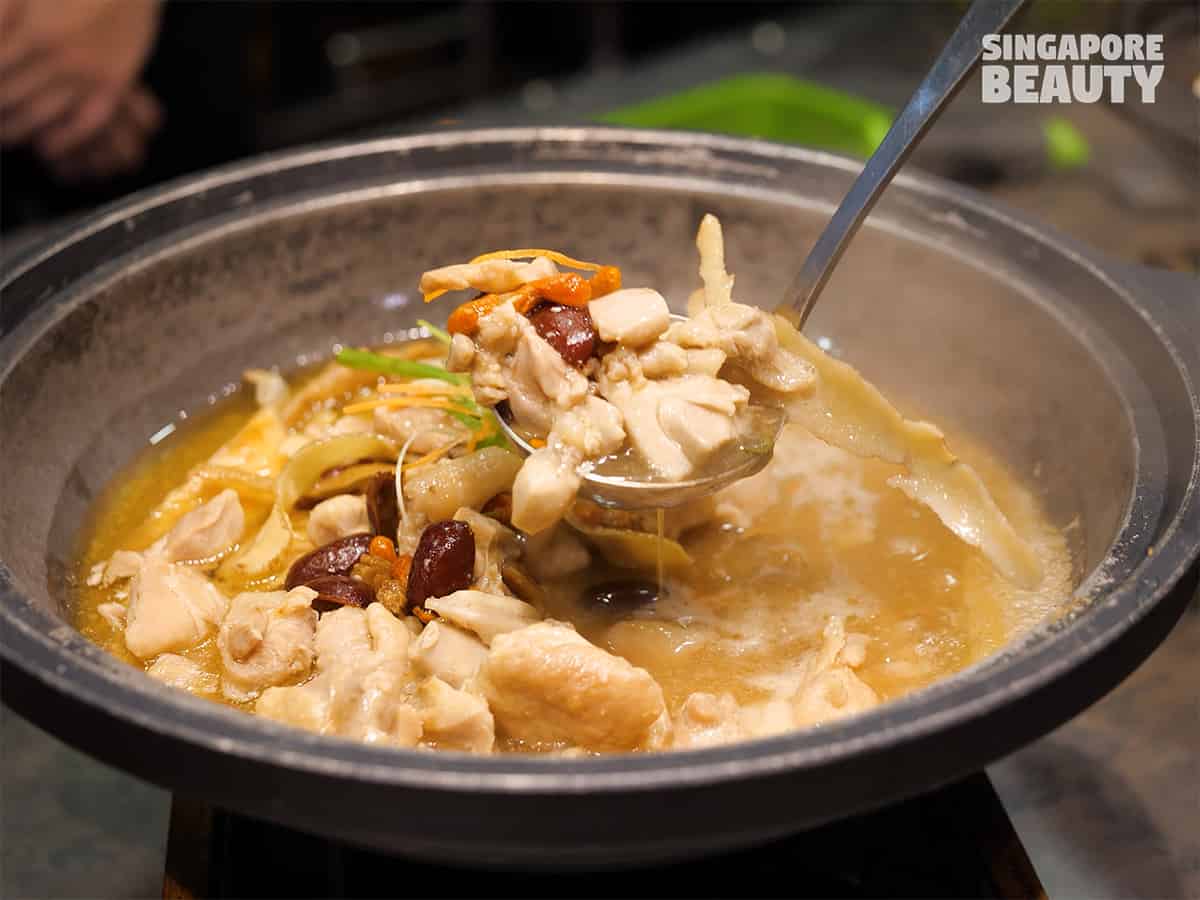 Overeat buffet also have a new section serving nourishing claypot Herbal drunken prawns, claypot Malaysian style braised pork in soy sauce, claypot Emperor's herbal chicken with dang gui & dang shen and more. These are serving simmering on stoves where you can get tasting bowl size of every delicacies and slurp on the rich gravy.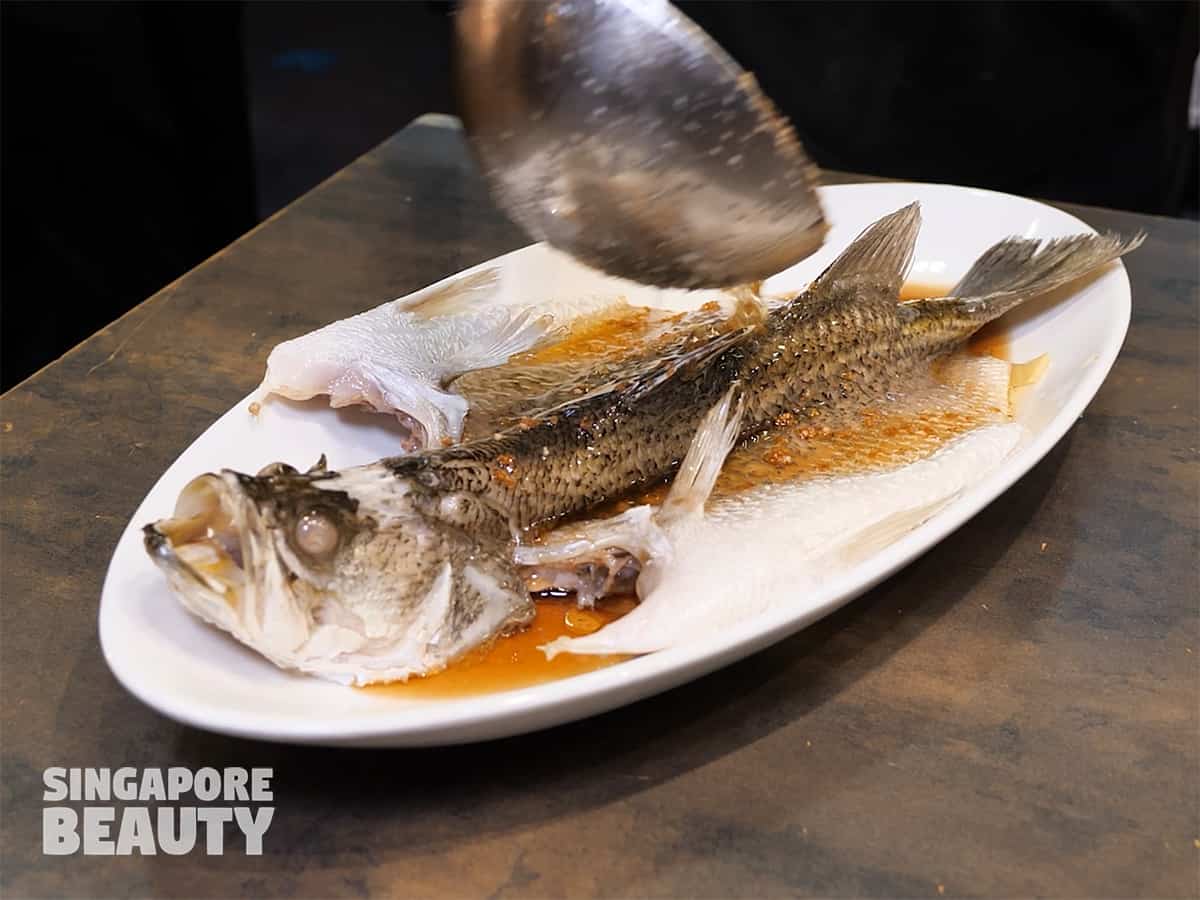 Not only that, the Cantonese steamed fish with shallots oil are steamed fresh and drizzle with hot shallot oil. The sweetness of the tender fish meat with the umaminess from the soy sauce is addictive. This dish is such a crowd pleaser and we only managed to get one serving before it is all tail and bones. Wait for the second round, as this is steamed fresh for every serving. Do give it a try if you love fish.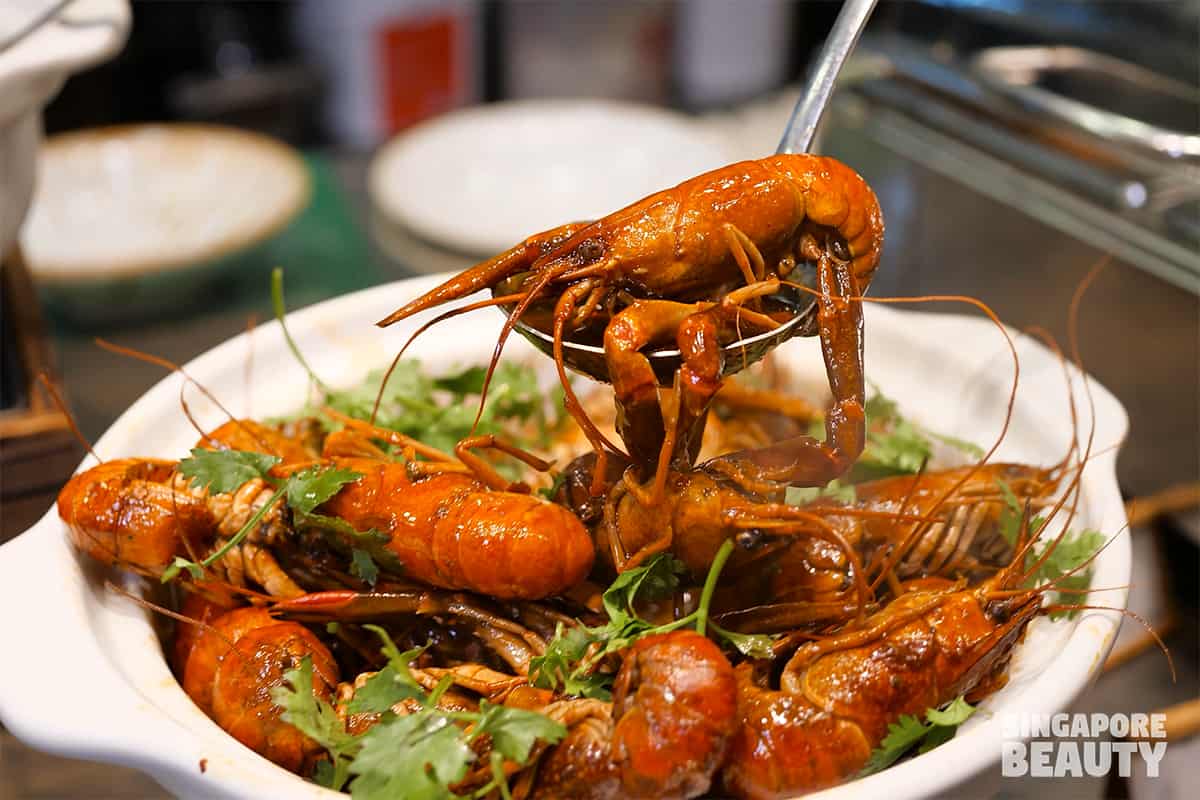 I was pleasantly surprised when I saw these on their buffet line. Mala crawfish in spicy numbing sauce is best paired with chilli crab crispy golden bun to soak up all the savoury sauce with the bun. It is quite a chore to deshell these crustaceans, but the sweet tender lobster like flesh makes it all worth while. Get your hands dirty and enjoy these delightful morsels of meat. As all these are on a rotational basis, do watch out for similar exciting dishes when they swap these out.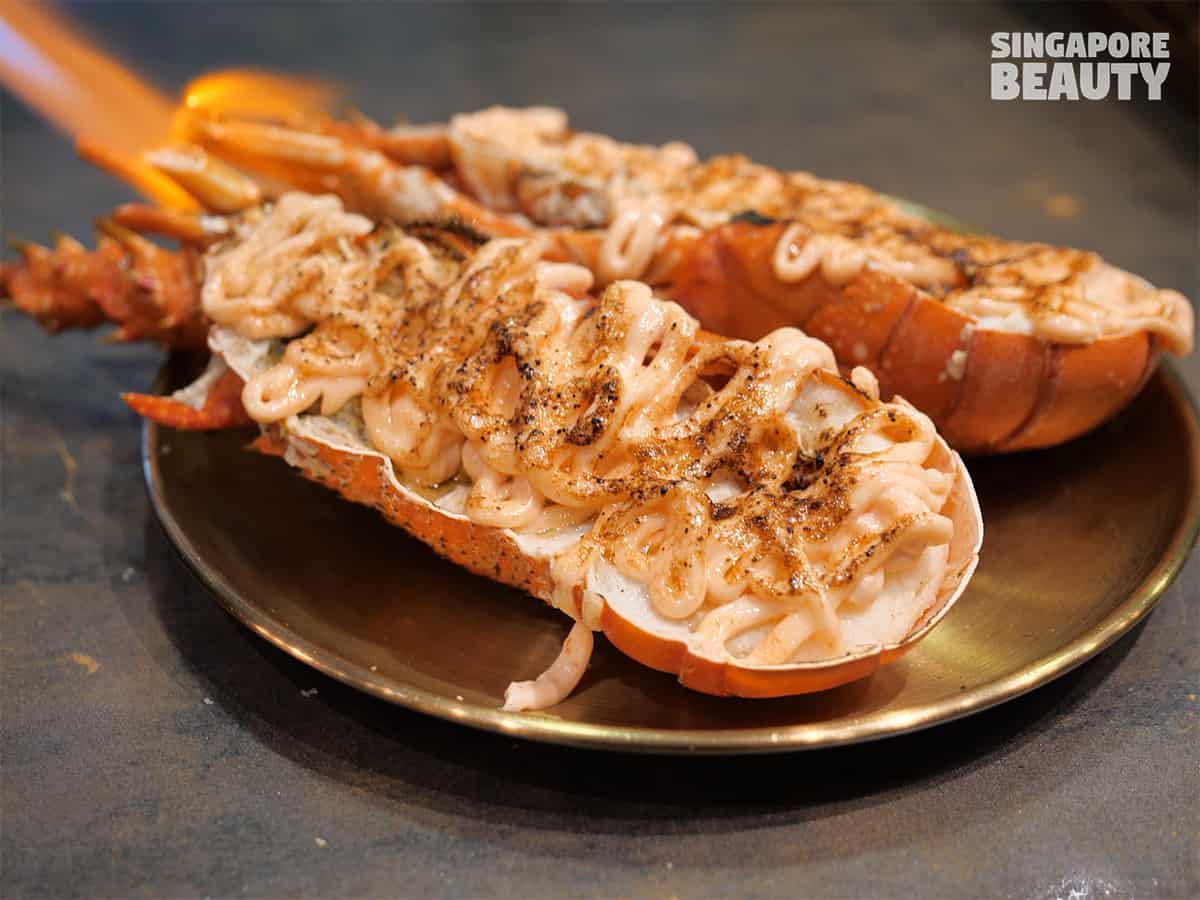 How about some mentaiko lobster to add on to your buffet? These are available at $9.90++ for halved lobster with luxurious creamy mentaiko toppings and popping briny tobiko. The size of these lobster halves are quite decent if you are craving for succulent lobsters with mentaiko dressing. These are torched to order so you get a freshly torched melty lobster everytime.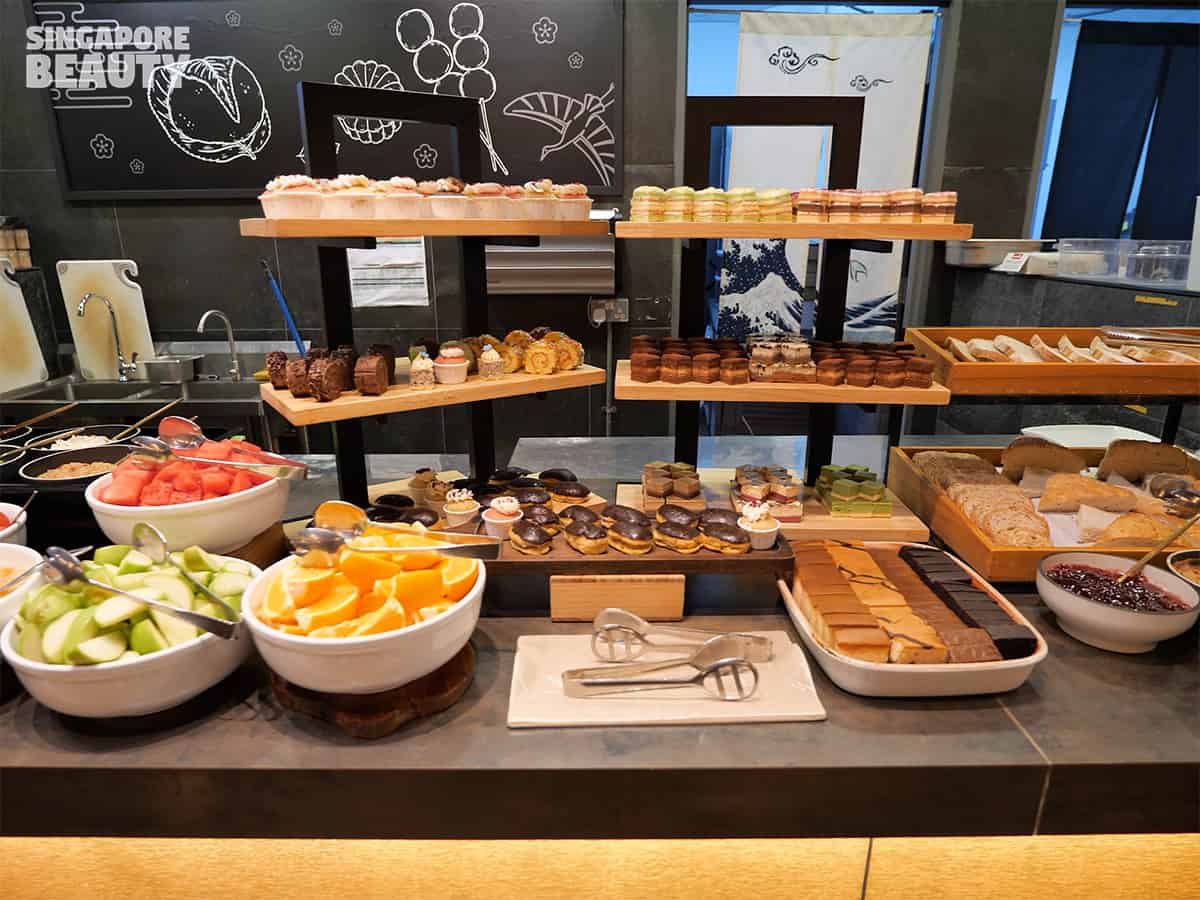 Overeat buffet line at Marina One also have a good selection of pastry, cakes, salad, fruits such as cupcakes, choco coated éclair with chocolate cream, French choux, sugar roll with sprinkles, double chocolate cupcakes with butter cream frosting, red velvet cupcake with crushed candy and various toasts with strawberry, butter, peanut and chocolate hazelnut spread.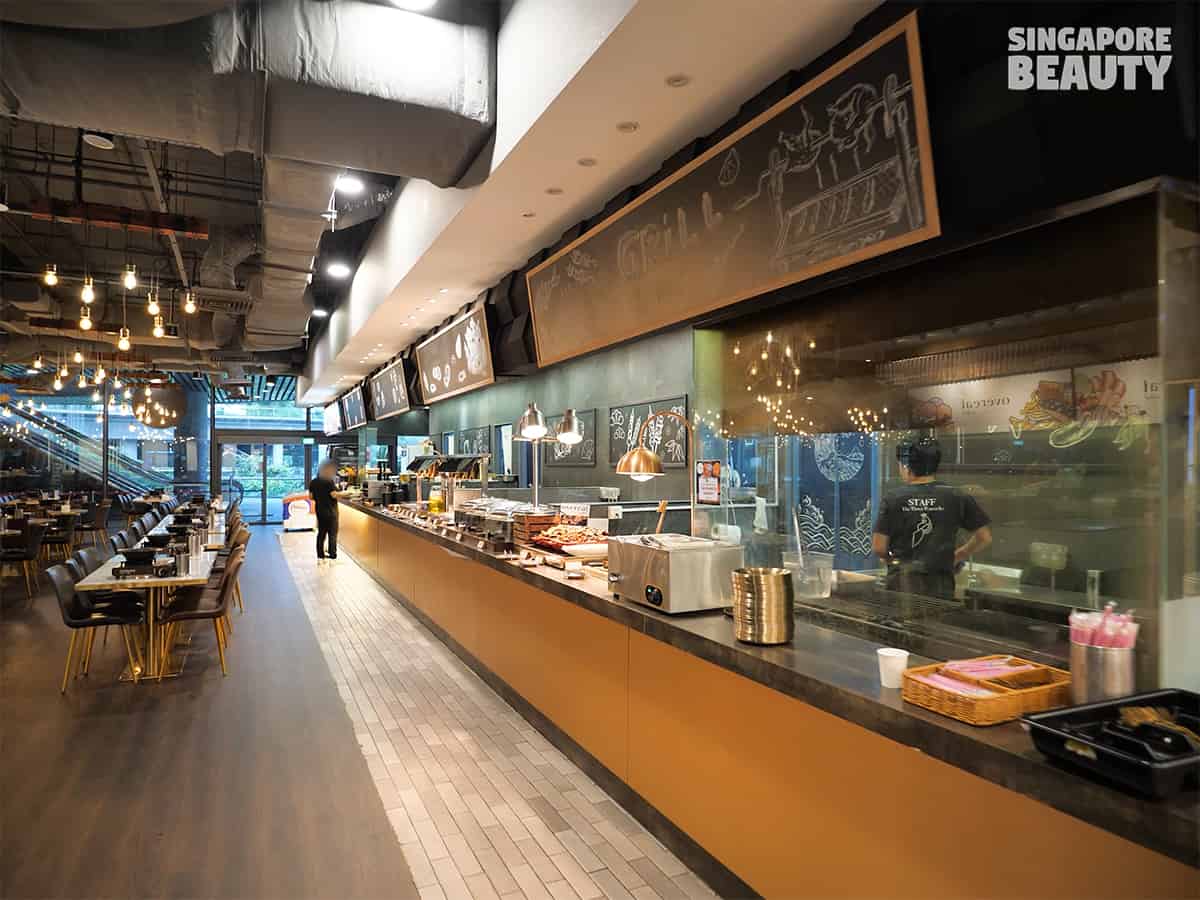 With over 100 food items at Overeat buffet line at Marina One, you will be spolit for choice. Also check out the other delicacy such as Cantonese roast pork belly, Indonesian chicken curry, garlic butter mussel, Hawaiian pizza, local delights DIY Laksa, truffle mushroom soup, honeyed bbq pork ribs, Italian style pesto fusilli, wasabi mayo prawn ball and chef Japanese Teppanyaki. Gather your buffet buddy at Overeat.
Address of Overeat:
5 Straits View, Marina One West Tower, #02-04, Singapore 018935
For reservation, pls call: 8876 0098/ 3138 5314
Price of Overeat Buffet
Mon to Thurs, Fri Lunch
Adult: $21.80++
Kids: $16.80++
Mon to Thurs Dinner
Adult: $36.80++
Kids: $28.80++
Sat & Sun Lunch
Adult: $26.90++
Kids: $18.90++
Fri, Sat, Sun Dinner
Adult: $39.80++
Kids: $31.80++
Note: Full spread of buffet items is available for dinner buffet only.
PH/PH Eve/Festive/Festive Eve Lunch
Adult: $31.80++
Kids: $23.80++
PH/PH Eve/Festive/Festive Eve Dinner
Adult: $42.80++
Kids: $34.80++
Note : 1-6 FOC, 7-12 kids/child price
Add on mentaiko lobster: $9.90 ++
Free flow drinks: $3.90++
Overeat take away Bento:
Bento S size: $8.90 +
Bento L size: $12.90+
Brought to you by Overeat