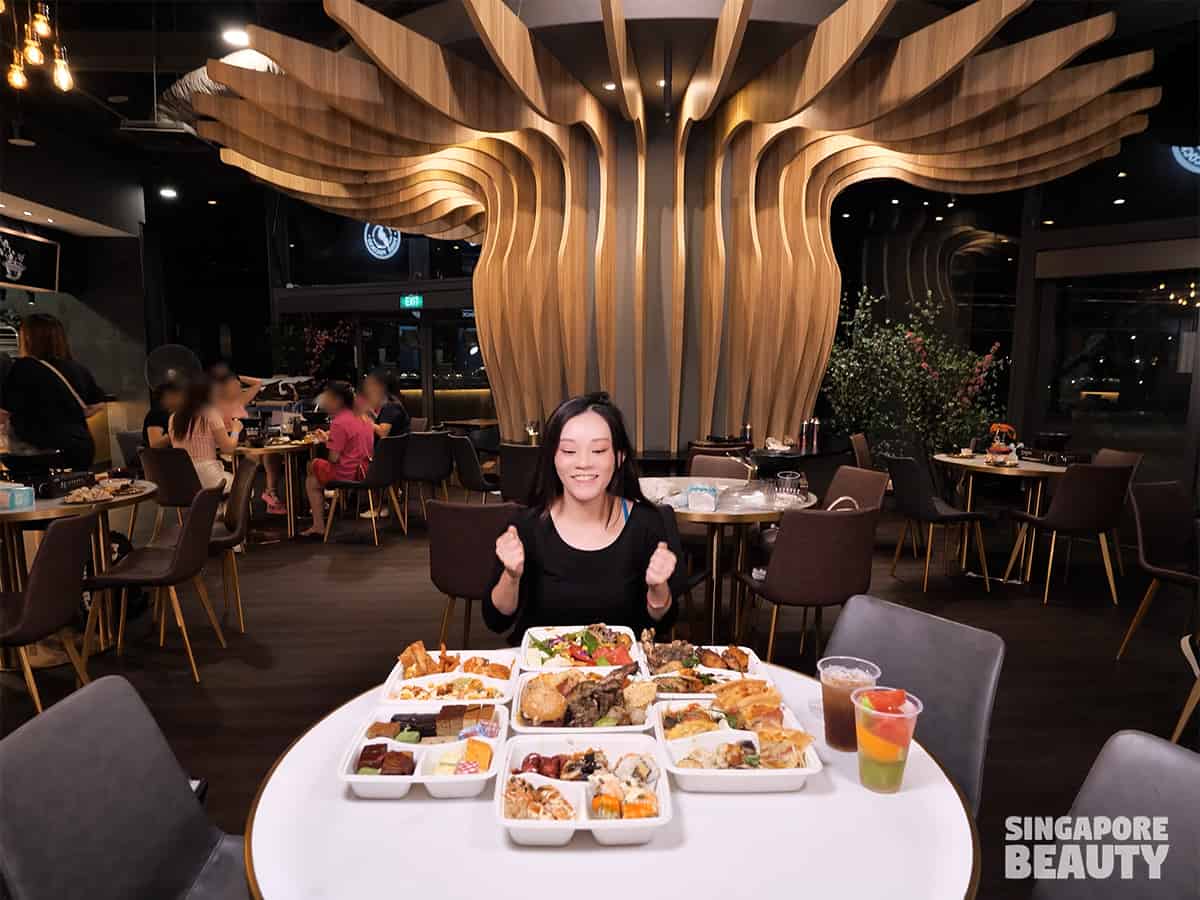 All you can pack takeout bento from just $9.90++ for 3 bento or more in a single receipt for lunch, otherwise is from $12.90++ each. This is their latest promotion at the very popular Overeat at Marina One, Singapore.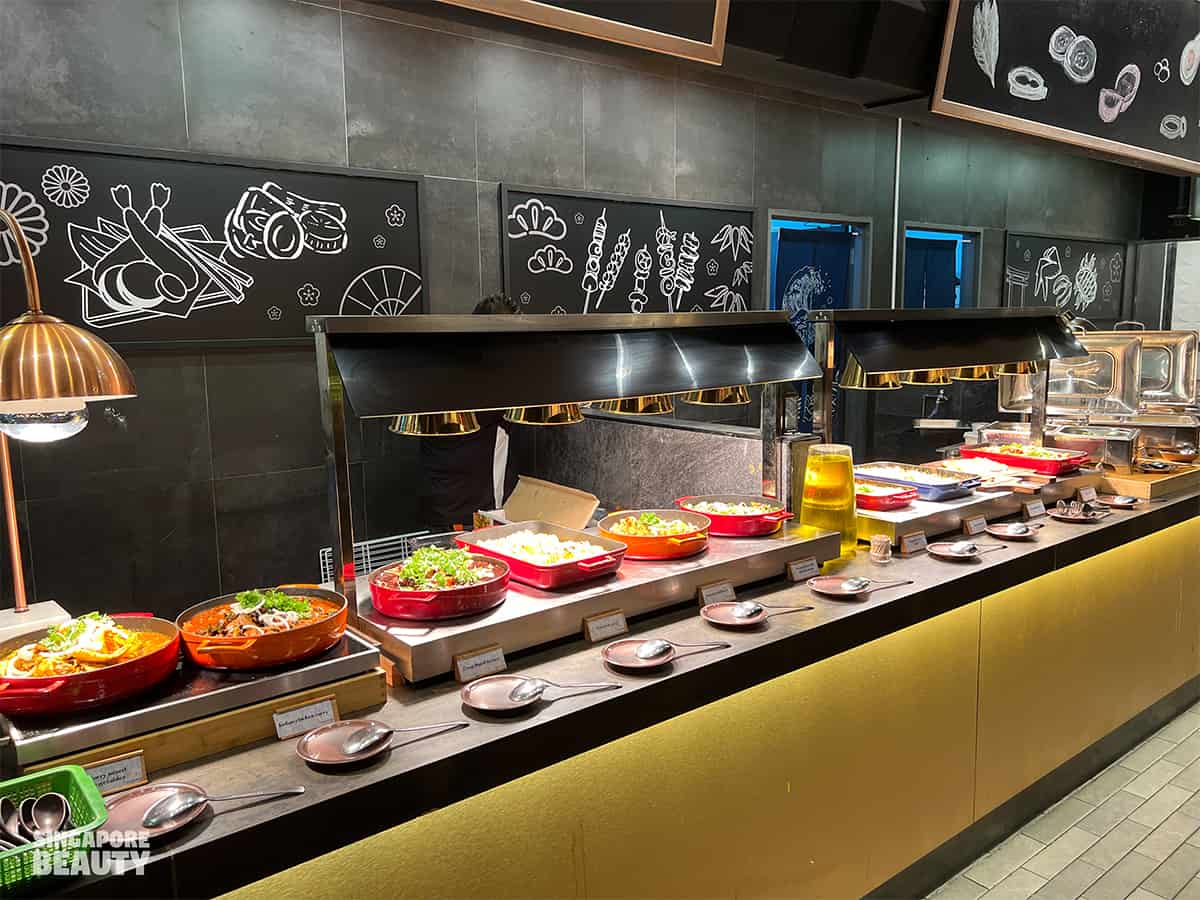 At Overeat at Marina One, Singapore, you get to enjoy a wide variety of international spread of food on a rotational menu so that return customers will get something new every time. This All you can pack takeout bento are not leftover food from the buffet. You get to go into their buffet line to pick and choose the food, same time as the buffet opens for the day. The only difference is you can only do takeout for the bento and no dine in is available, which is understandable for this value price point the bento is marked at.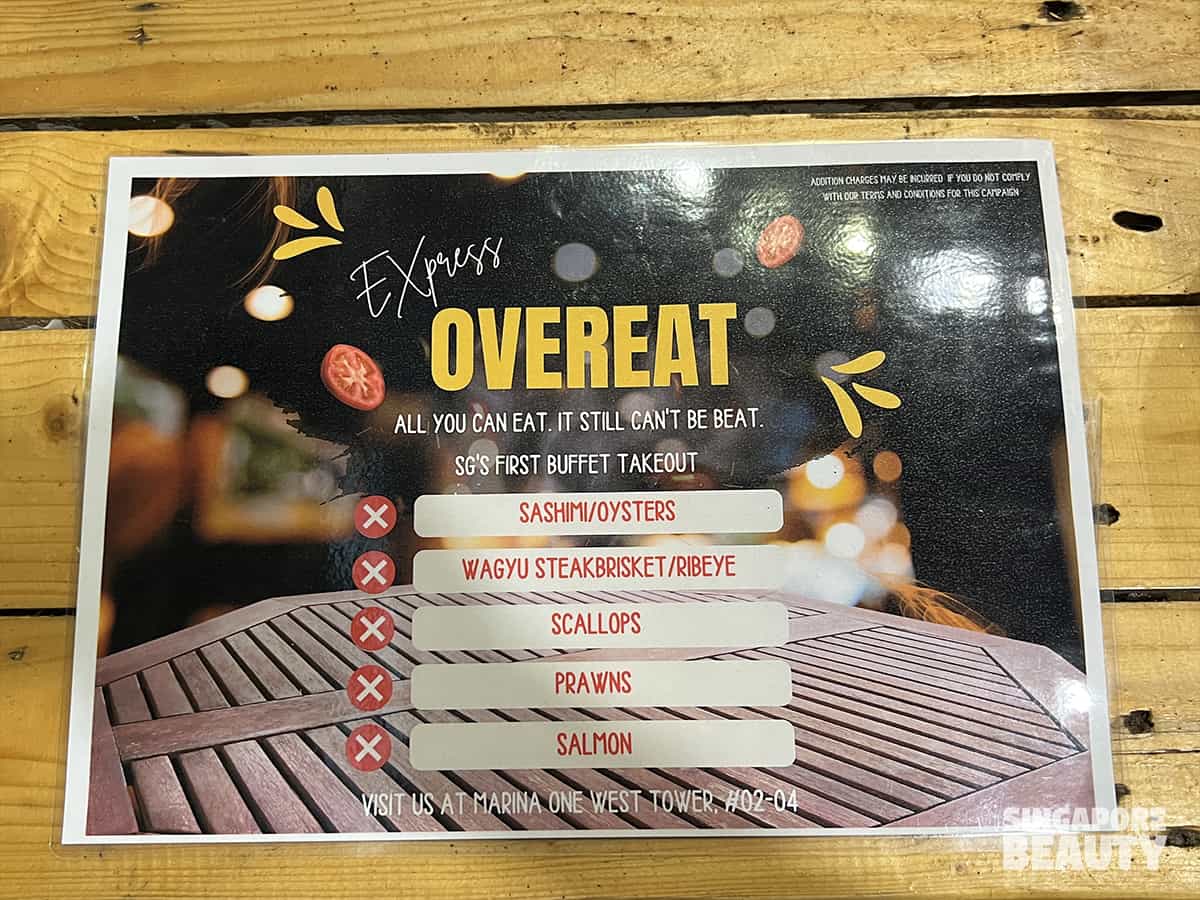 You are encouraged to fill the bento with food to the brim to create your best value desired bento with most of the food from the Buffet line and close the lid to go. However do note that, Sashimi, oysters, wagyu steak, brisket, ribeye, scallops, prawns and salmon are not part of this Bento promotion. If you do take some of these, there will be additional charges incurred. All the food in this bento promotion is on a rotated menu, so not all variety of the food items will be available in one session. This is what we had during one of the dinner session at Overeat for the all you can fill bento.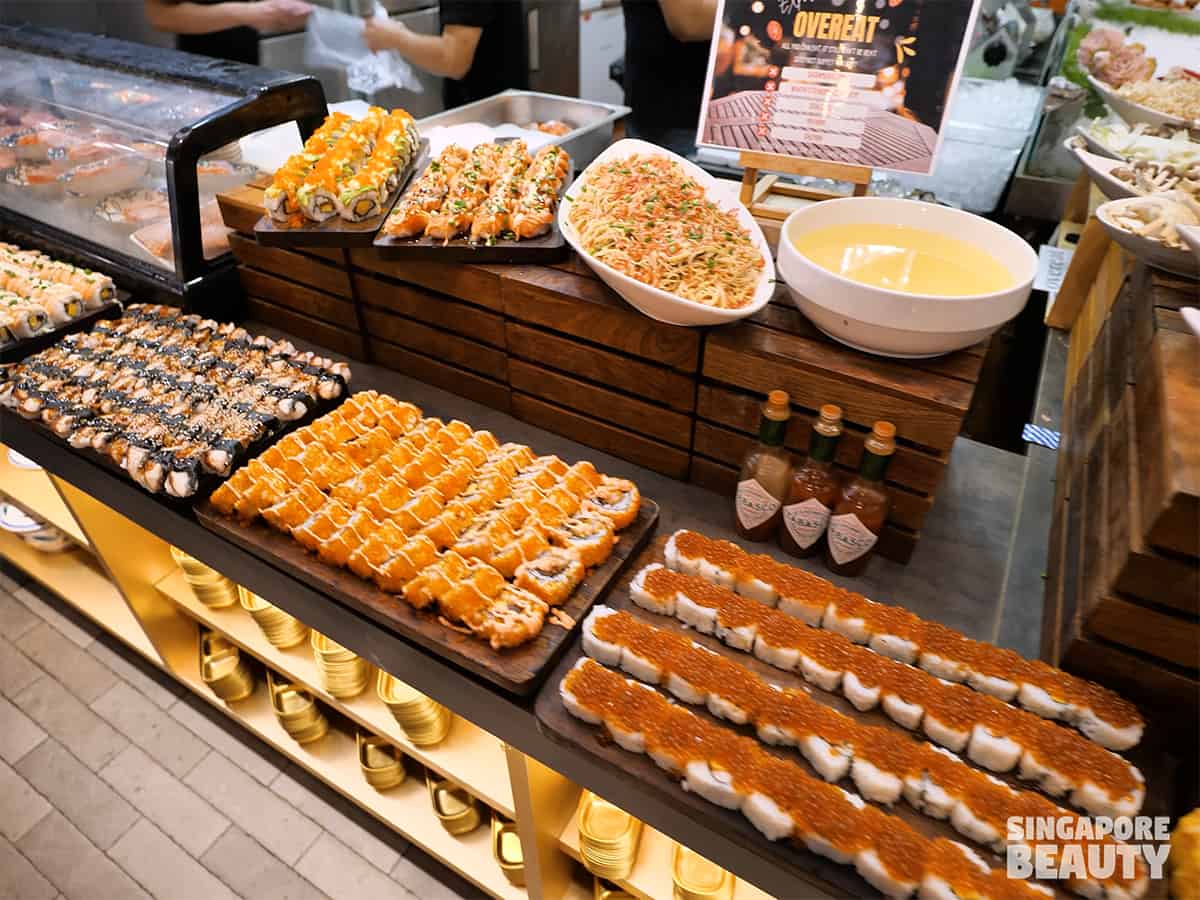 However, in Overeat Marina One menu for this Bento, these sushi and maki are included in the bento promotion. There is no limit to how much of these you can pack into your bento, if you love Japanese food, here's your chance of feasting on sushi and maki from just $9.90++ each for 3 and above takeaway lunch bento. The limit of 4 pieces of sushi or maki per bento has been lifted for this promo, you can takeaway as much sushi as you can pack and close the lid to go.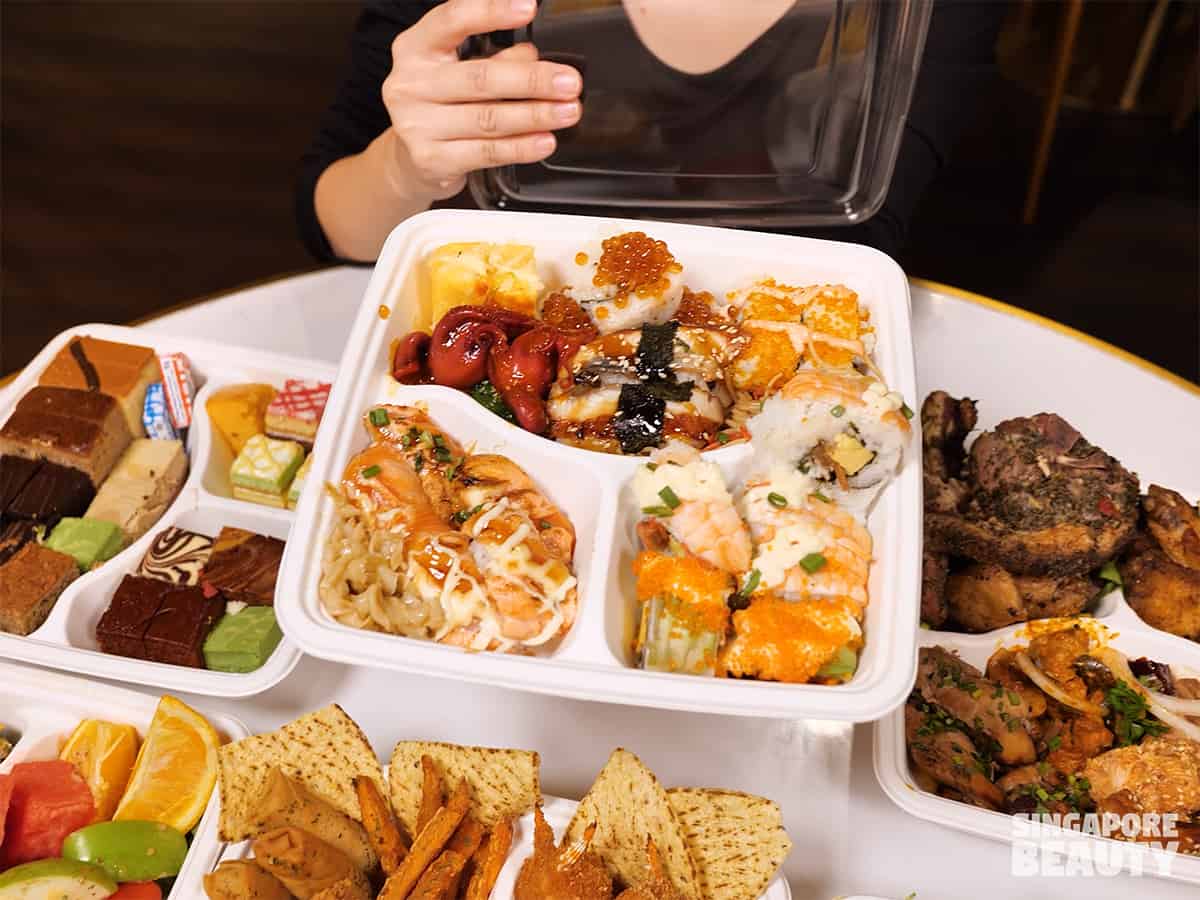 The sushi & maki available are on a rotation menu meaning that the variety will be different every session. For our bento dinner session, we manage to get ebi mayo sushi, avocado California roll, tamago roll, torched mentaiko salmon sushi, salmon sushi, scallop fins and marinated baby octopus from the appetizers, tamagoyaki, unagi sushi, tobiko roll and even ikura maki. At this price point and with these all you can pack sushi and maki, this bento promotion is definitely a steal.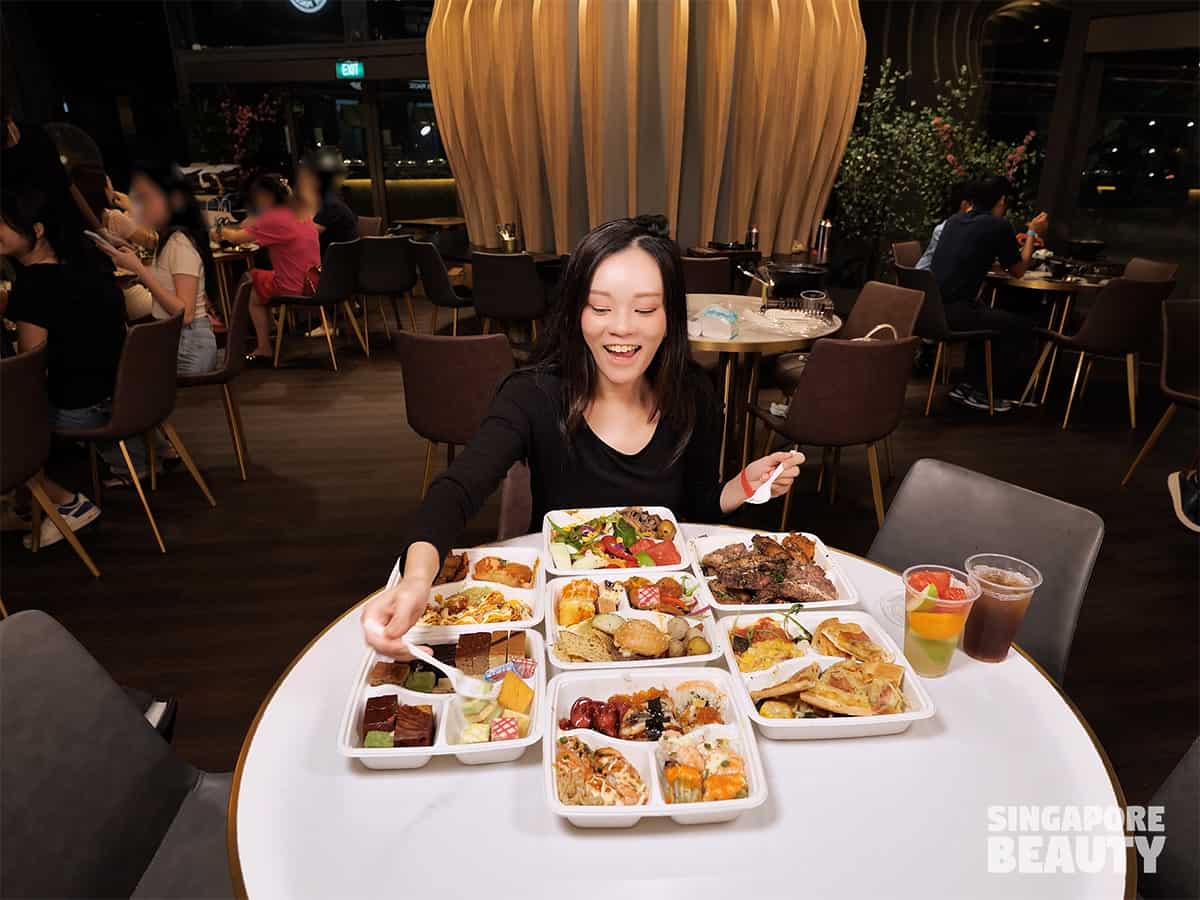 Here are our Overeat reviews after trying all their selections of food for the takeaway bento. The spread of food is amazing for this bento, laid out hotel style over heated lamps and some over warmers too. Nice interiors, spacious and comfortable air-conditioned environment where you can slowly pick and choose your food for your desired bento. Disclaimers: All you can pack Bento are only for takeaway not for dine in, we "borrowed" the table space above to review the food only, after which we take away the bento to enjoy elsewhere.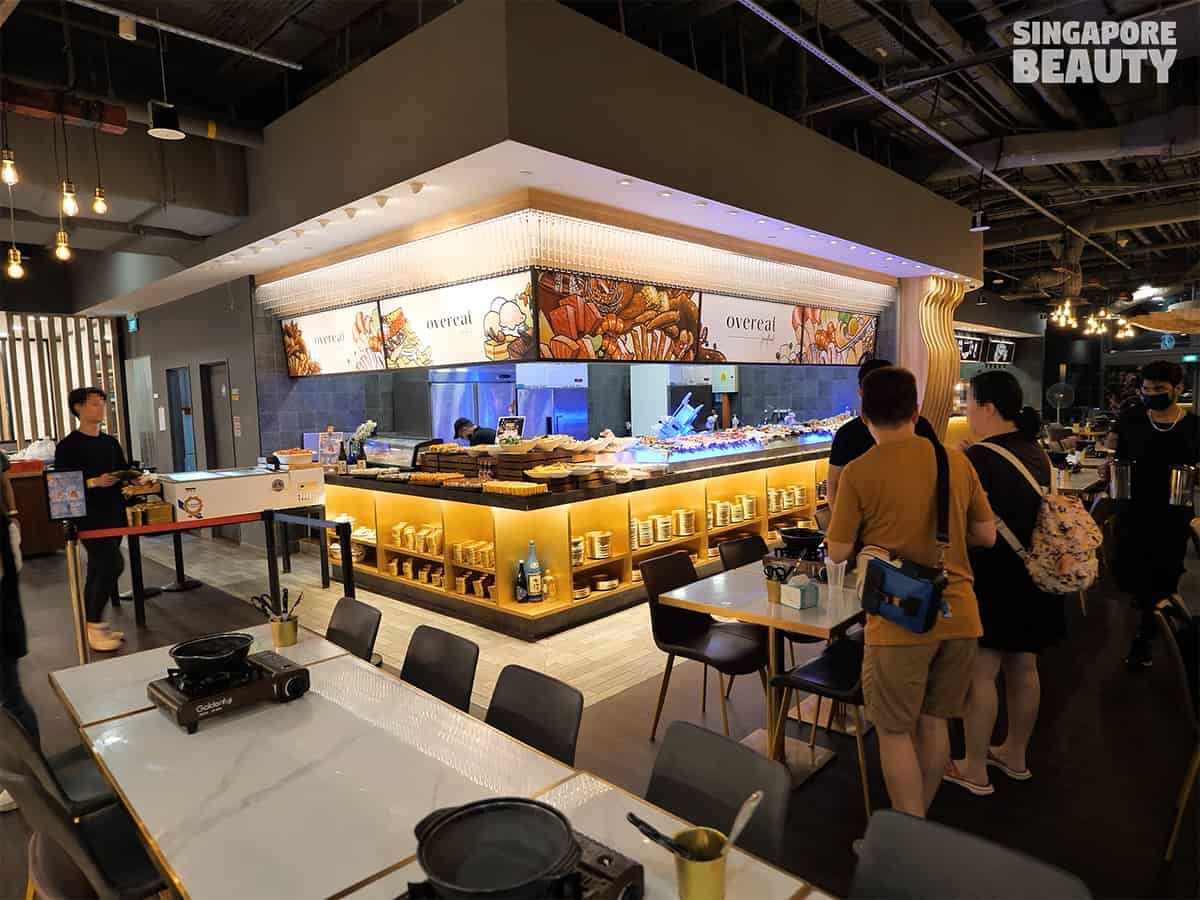 Most important of all, you get to go in the same time Overeat Marina One buffet opens, to pick you food for the takeaway bento which is non-buffet. These are not leftovers from the buffet but freshly prepared by their chef for the buffet of the day.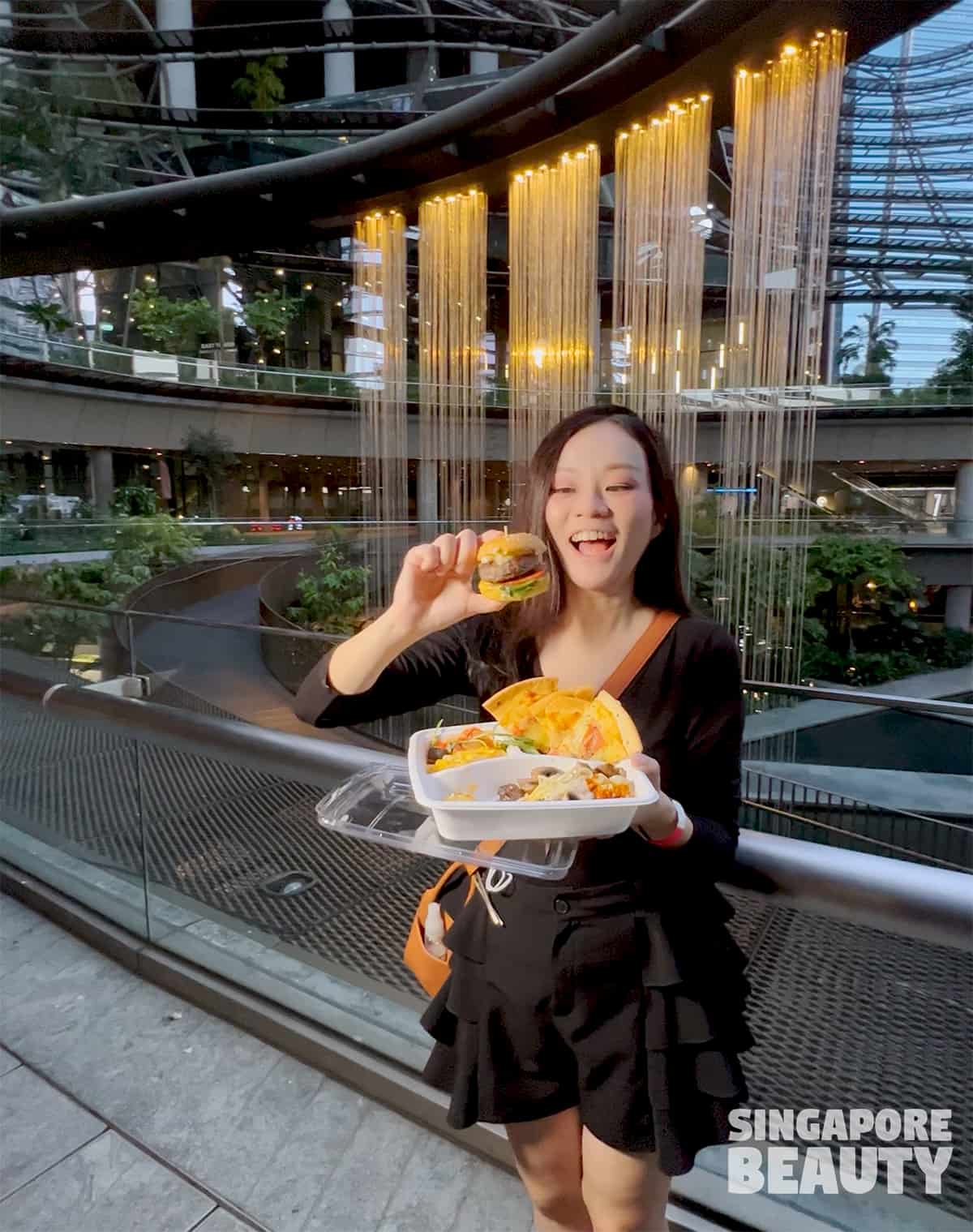 Overeat is located at the beautiful Marina One – a mixed development where there are residence, office, retails and a green core. Overeat is surrounded by the breathtaking view of the landscape & waterscape of this development. Enjoy your takeout with this mesmerising view of water curtains amongst lush greenery and the gentle caressing breeze within these cascading gardens.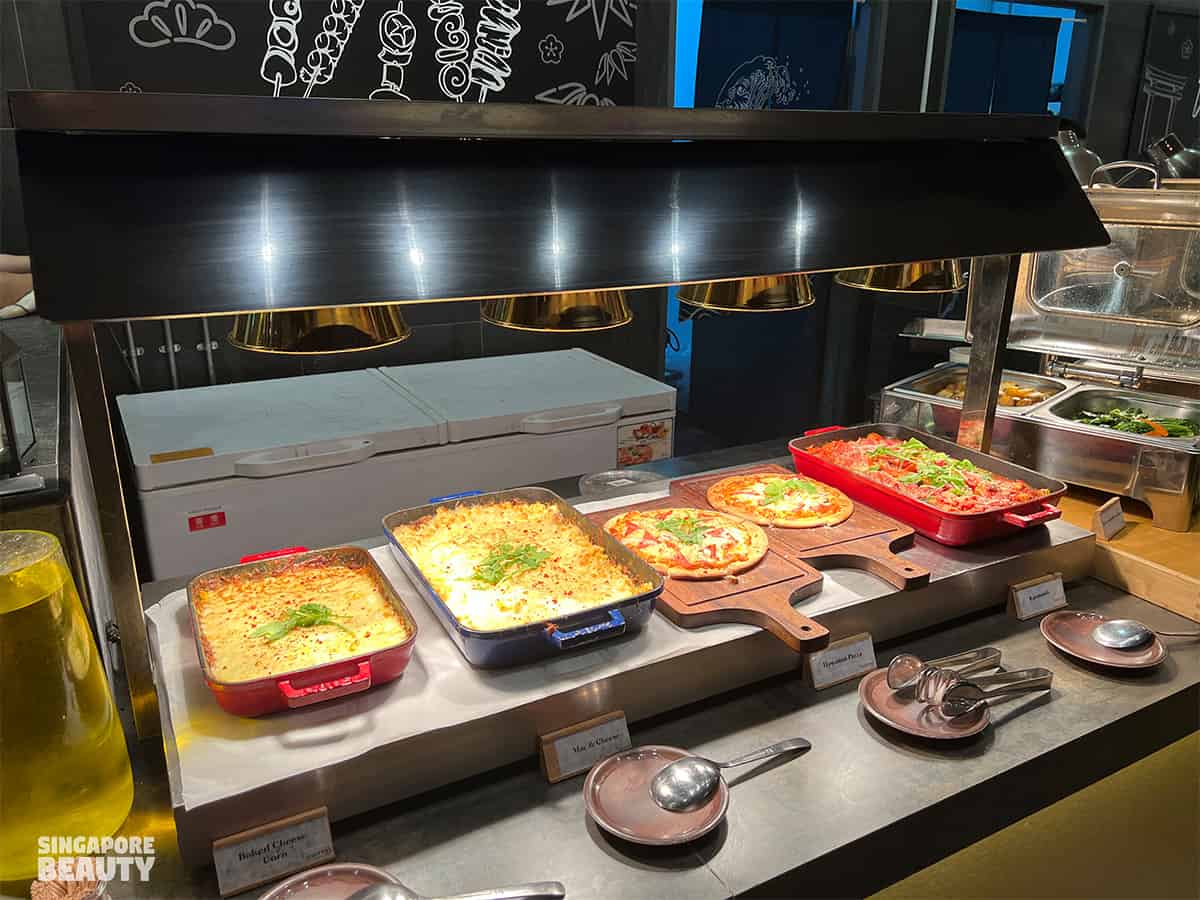 Here are some of the photos of Overeat showcasing partial selections of their western food. Baked cheese corns, mac & cheese, Hawaiian pizza, Ratatouille (roasted vegetables), sautéed mushrooms, baked greens, slider burger, lasagne and more on a rotation menu.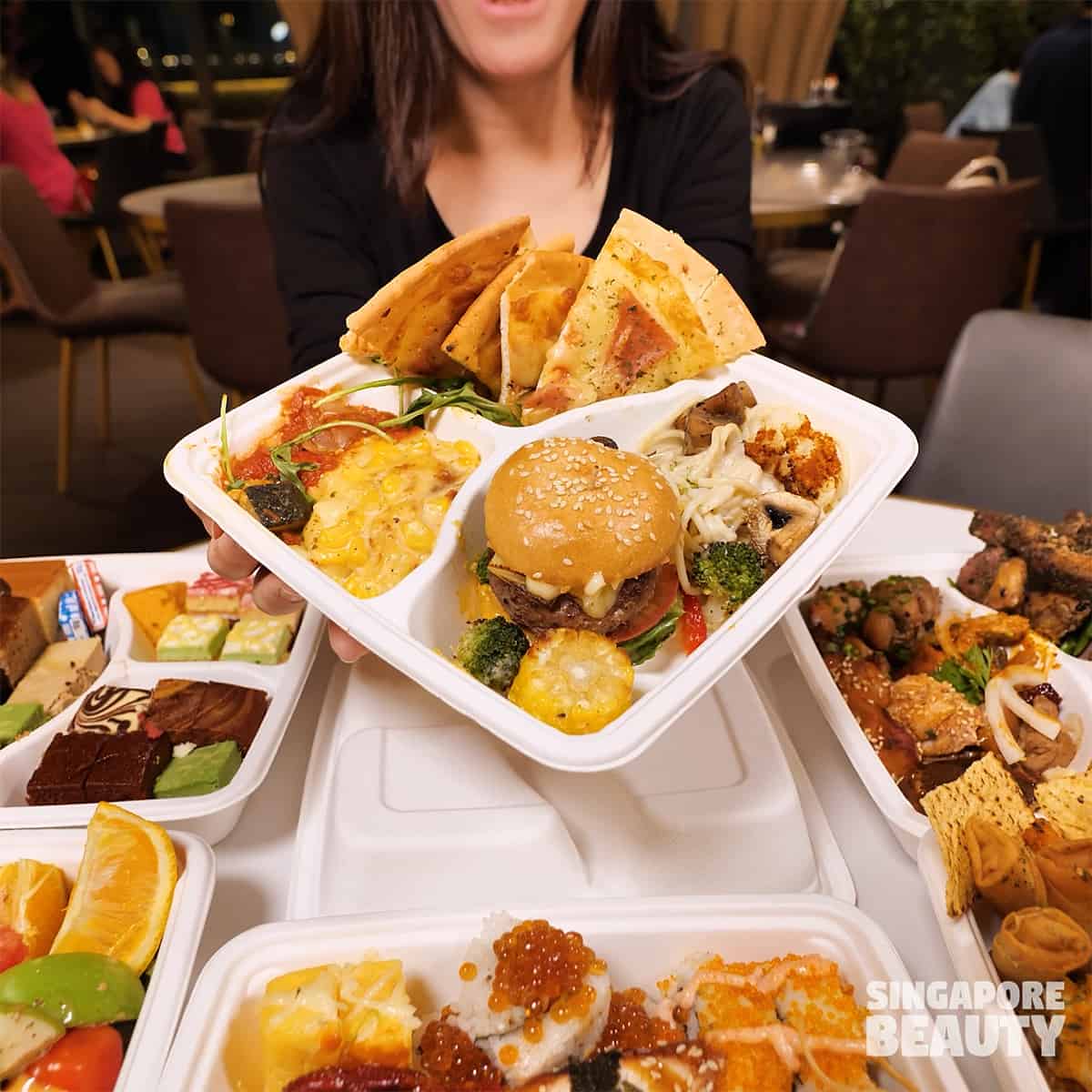 The baked cheese dishes pack some serious springy cheese pull which is delightful to eat. The pizzas are the thin crispy crust ones with ham, cheese and pineapple toppings. Just get a few slices of these pizza & a slider burger, you already got your bento worth of money back, the rest of the food is bonus for you. There are also chips at their fast food selections to go with for some extra crunchy.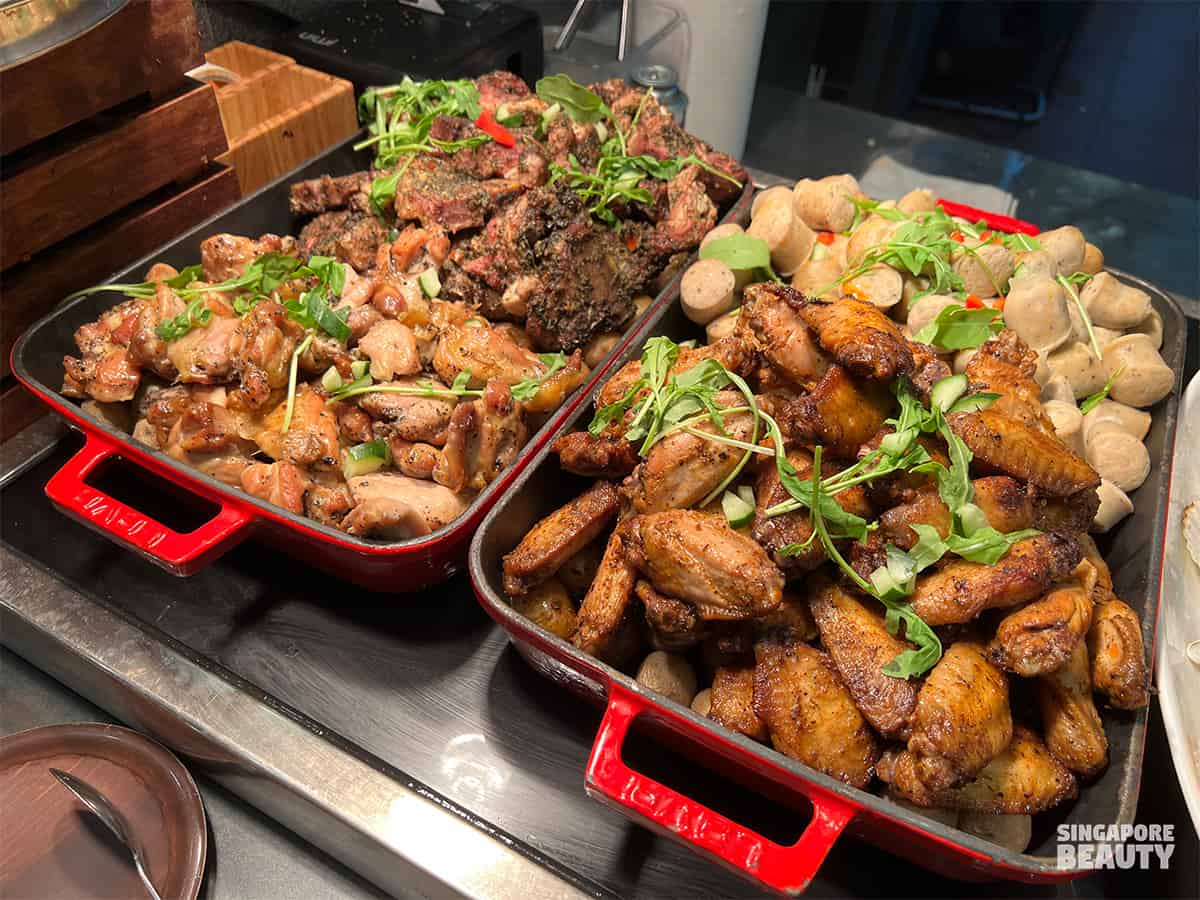 For meat fan, pile up on your protein cooked in many ways, Chinese stir fry, grilled and baked. Choices of meats available are pork, chicken and lamb. Think grilled mid wings, pork sausages, chicken sausages, grilled lamb, honeyed chicken, gong bao spicy chicken and more on rotation menu. Lamb chops are included as part of the bento if it is available on the line for the day. Get some of their baked baby potatoes to go with your meat as they are delightfully soft and roasted.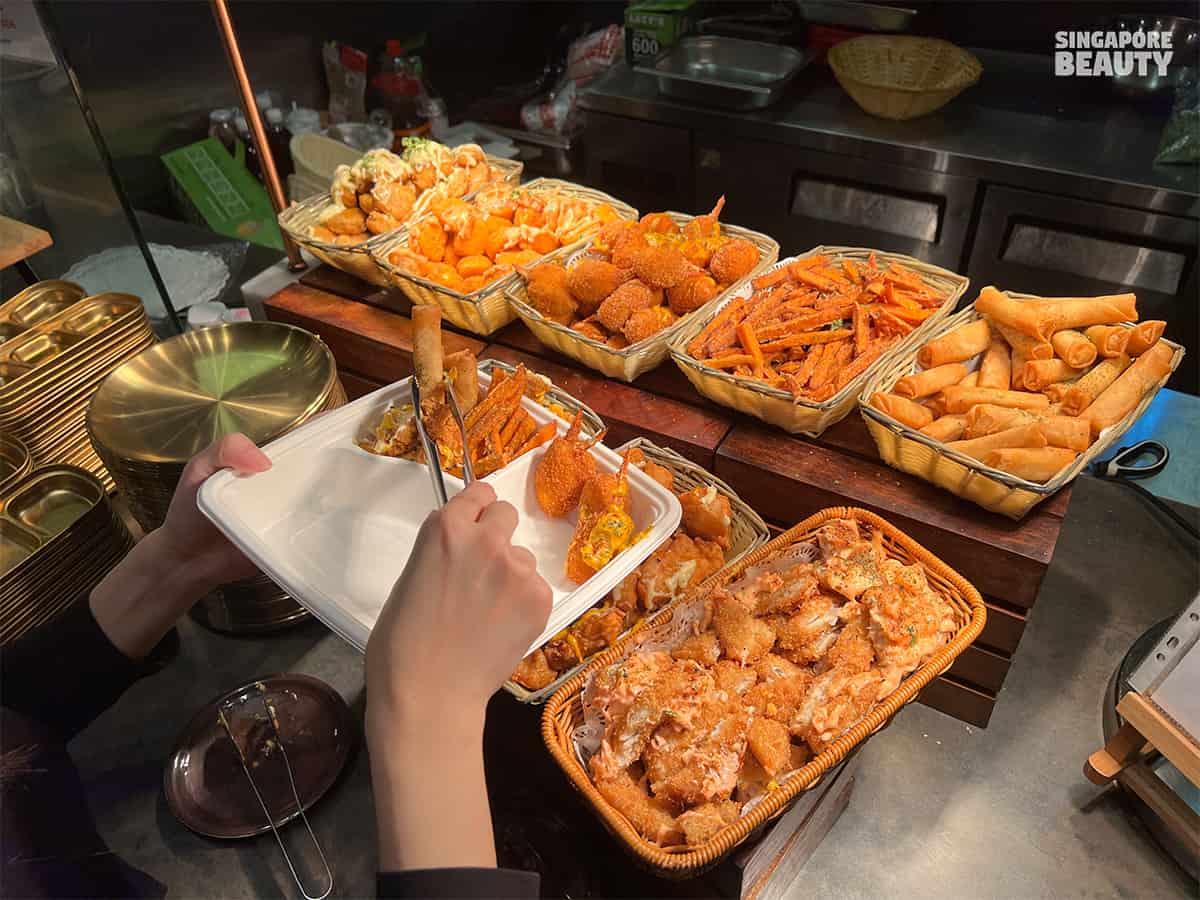 For fast food fans going to Overeat, they have plenty on the list for you to choose from. Crunchy spring rolls, sweet potato fries, crab claws surimi, scallop surimi, mini slider burgers, chicken karaage, nuggets, chips, fish fillet, taco chips, tomato salsa dip and fish nuggets. Our favourite is the sweet potato fries, crispy on the outside and warm soft and sweet inside. The crab claw surimi and the spring roll are also on our list. Former for the springy texture with umami crab flavour and latter for the crunchiness.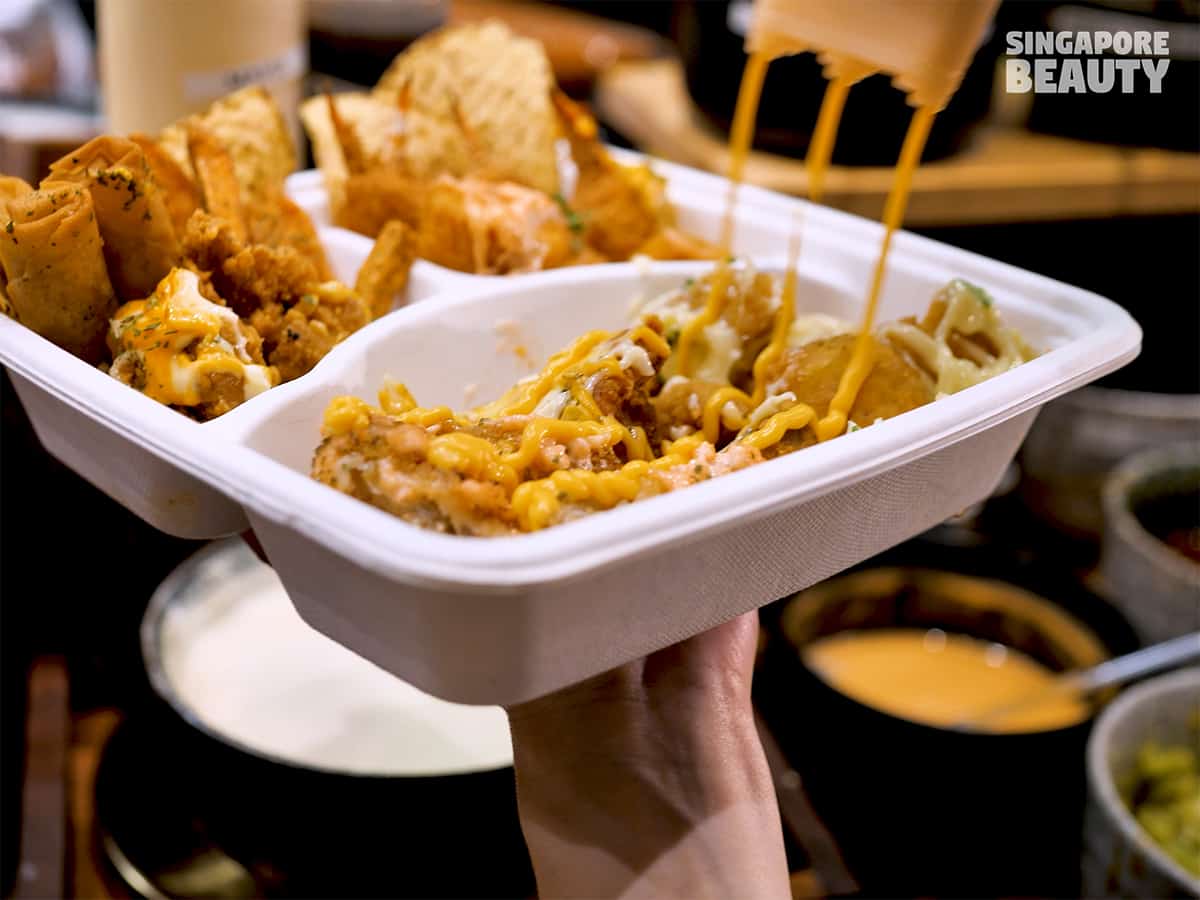 Flood your fries, taco & fried chicken with mentaiko sauce, nacho cheese and salsa for the extra sinful indulgence. Nothing makes me happier than fast food with the sinfully good mentaiko nacho cheese. They also have a full fledged condiment and dip counter where you can go nuts over their wide variety of dips for finger food and sauce for your meats.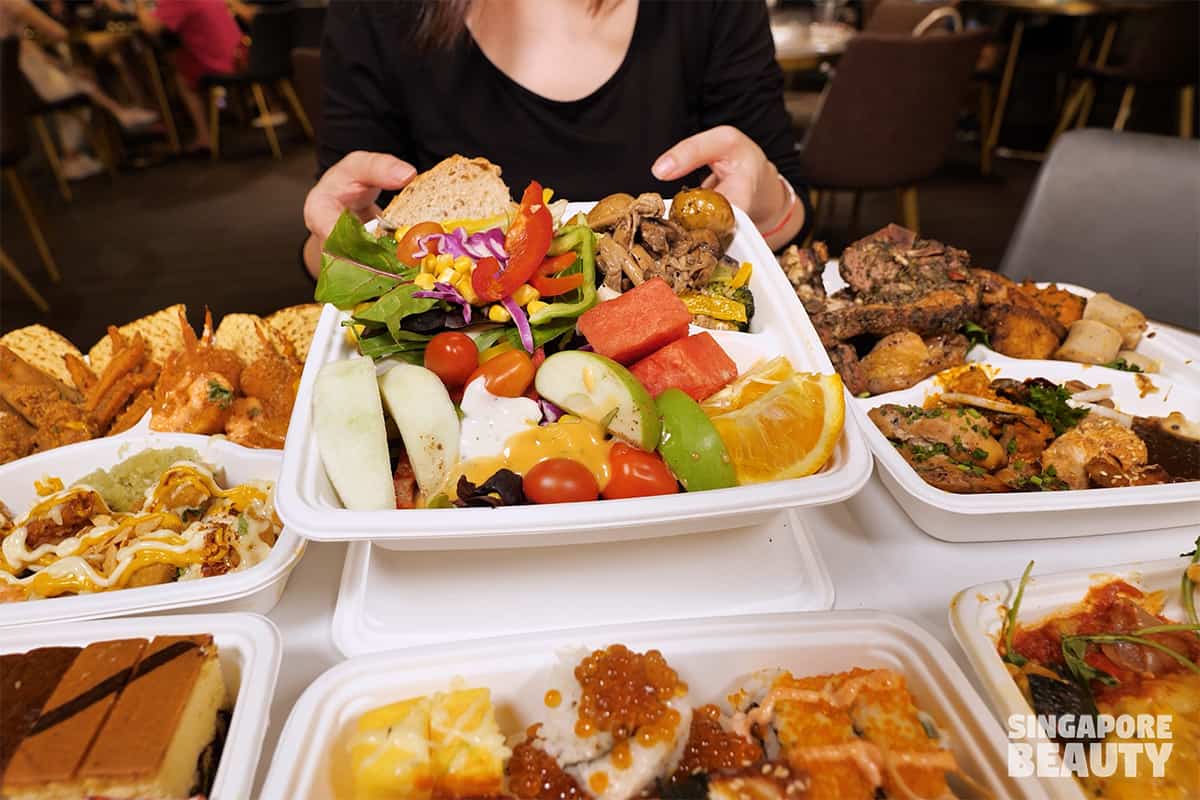 Get a balance diet too with the salad, greens and fruits selection. Mixed garden salad, sautéed mushrooms and greens, vegetable curry, freshly toasted multigrain breads, cut fruits, nuts, grains and more. Refreshing and light choice for dinner, after a workout or just to detox for the day.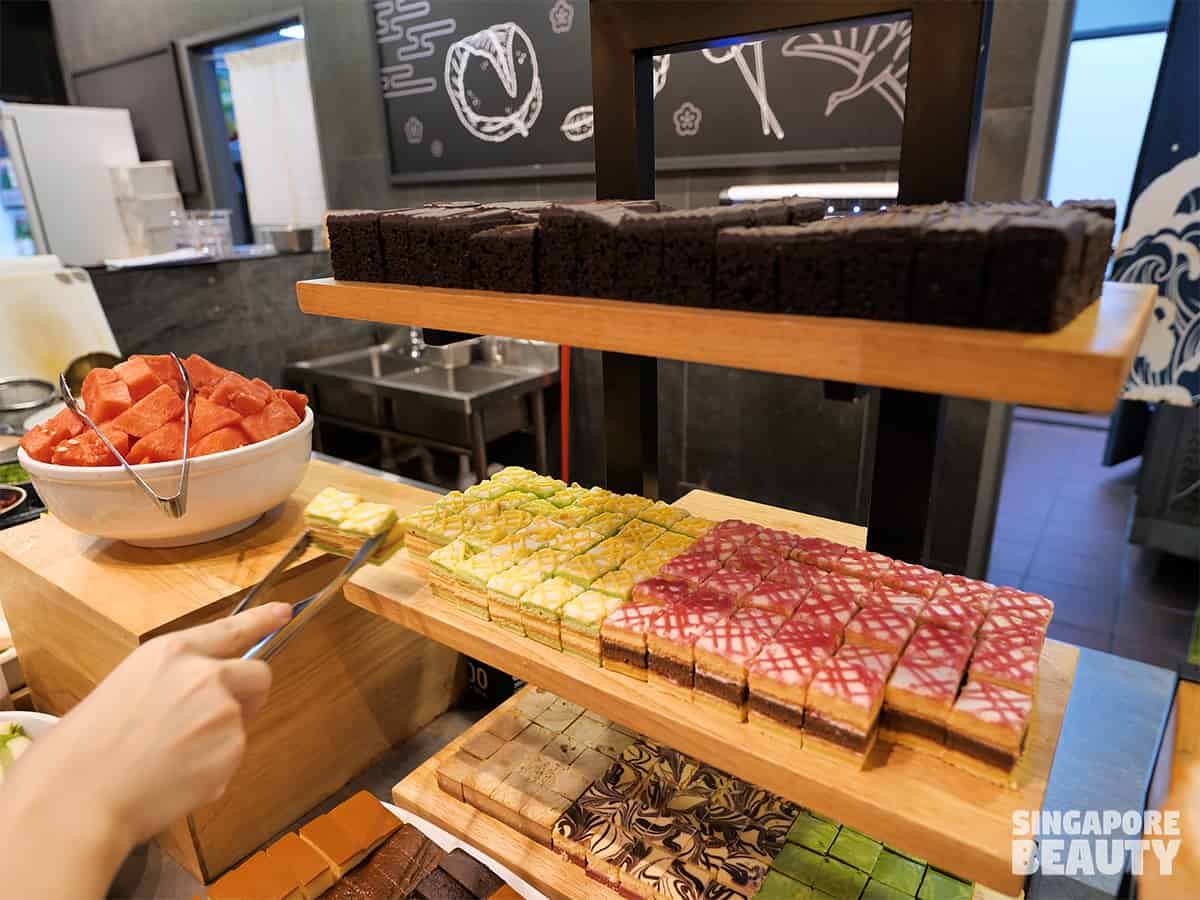 To satisfy your sweet tooth or for high tea tai tai, come and get a bento box of cakes and bakes. Various type of cakes such as pandan, strawberry cream, brownie, chocolate, marbled, matcha, coffee, butter pound, orange cake and more. Our favourite is the chocolate cake with soft chocolate cream on top of it. They also have various type of bakes such as garlic bread and multigrain bread. You can toast them on the rotating oven next to it, to get them nicely crisp and toasty with a dollop of salted butter.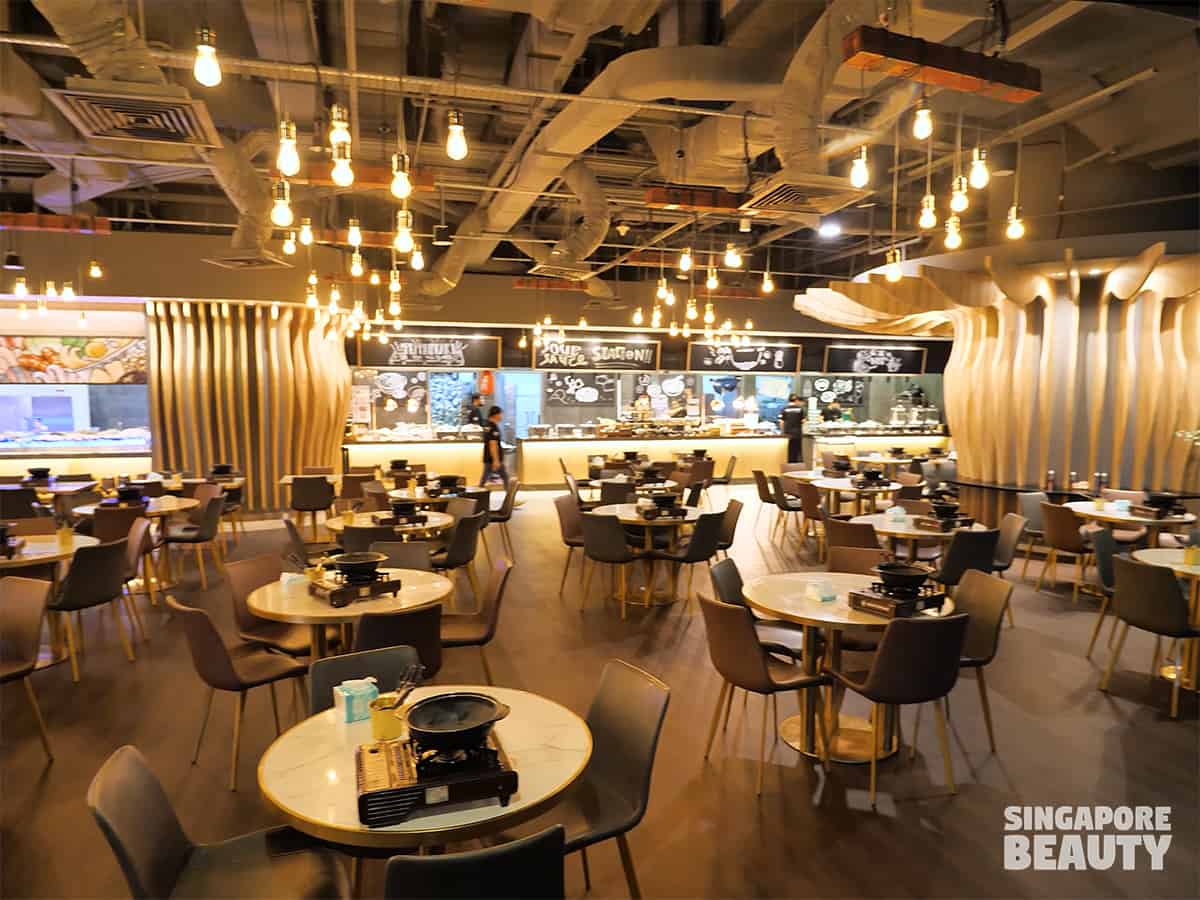 At Overeat Marina One Singapore, is not only popular for their buffet but also for their all you can pack, stack or fill takeaway bento from only $9.90++ for 3 or more boxes in 1 receipt for lunch only, otherwise is from $12.90++ each bento box. Top up $1.90++ for a drink to go, whip up your own fruit punch with fresh cut fruits from their salad section for a refreshing drink. Not forgetting our cai png fans, get all the cooked Chinese cuisines too. If you are the want it all, just mix everything that you desired to create your dream bento. We really like this takeaway bento for the great value and the variety of food. Must get their $9.90++ each lunch bento 3 boxes deal ya!
Address of Overeat:
5 Straits View #02-04
Singapore 018935
For enquires, pls call: 3138 5314
One bento is $12.90 ++, get 3 or more bento at $9.90++ each in one receipt.
Top up $1.90++ for a drink to go
Price update as of 9 June 2023:
Lunch bento is $12.90 ++, get 3 or more bento at $9.90++ each in one receipt, only for lunch.
Dinner bento is $15.90++.
Menu for Lunch and Dinner varies, featured above is during their dinner buffet.
This is how it works for Express Overeat: Start by paying at the entrance cashier, get a wrist band & collect a bento box. Stack as much as you can and must be able to close the lid to go. Take note of the items excluded from the bento deal selection and do not take them to avoid incurring extra charges. Only takeaway available.
Bento availability:
Lunch 12pm to 2.30pm
Dinner 5.30pm to 10pm
Brought to you by Overeat