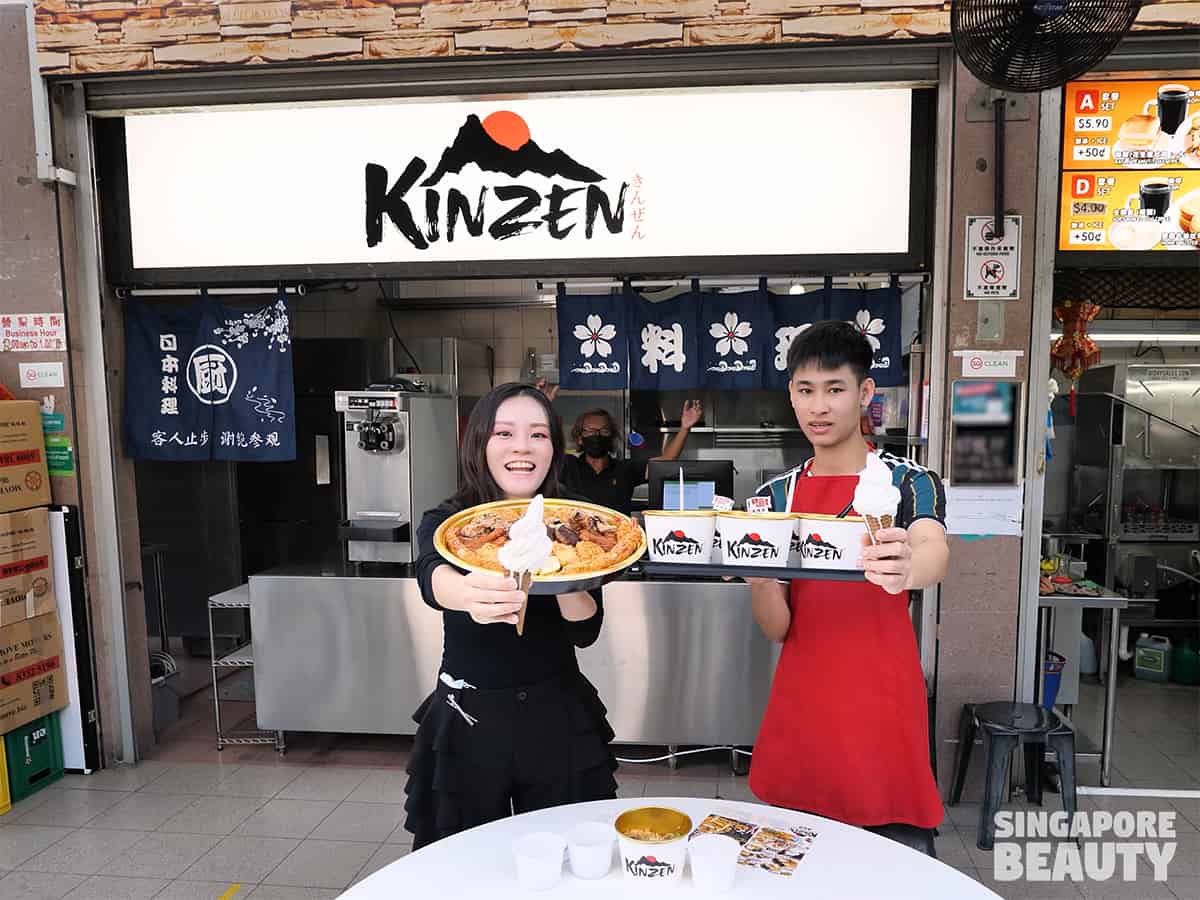 Kinzen has moved and is now located within Brunners Coffeeshop at East Coast Road. Kinzen used to be operating from Yishun at Kopi Kedai specializing in Japanese cuisines. They are known for their party platters, don and udon. To sweeten the whole Japanese cuisine experience, they have brought in a Japanese Soft Serve ice cream machine so that you can enjoy some cold oishi Hokkaido soft serve in our sweltering weather with savoury don & udon.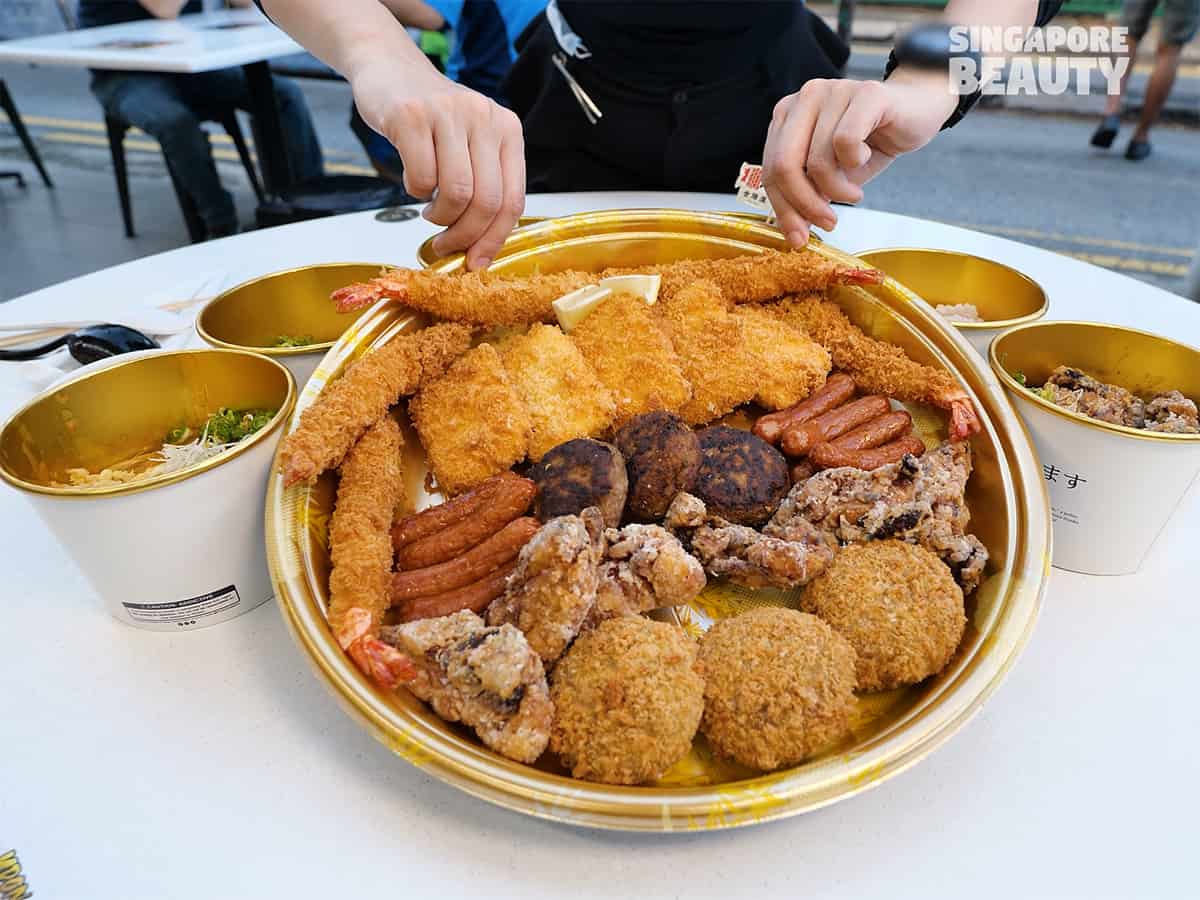 Kinzen is popular for the Party Platter that is good for 3-5 pax to share. This platter is usually ordered for office functions, party, festive period like CNY, baby showers, birthdays, movie nights and any other gathering where you need some unique Japanese katsu platter. The platter is one of the highly rated items in Kinzen menu & on their google review by their regulars.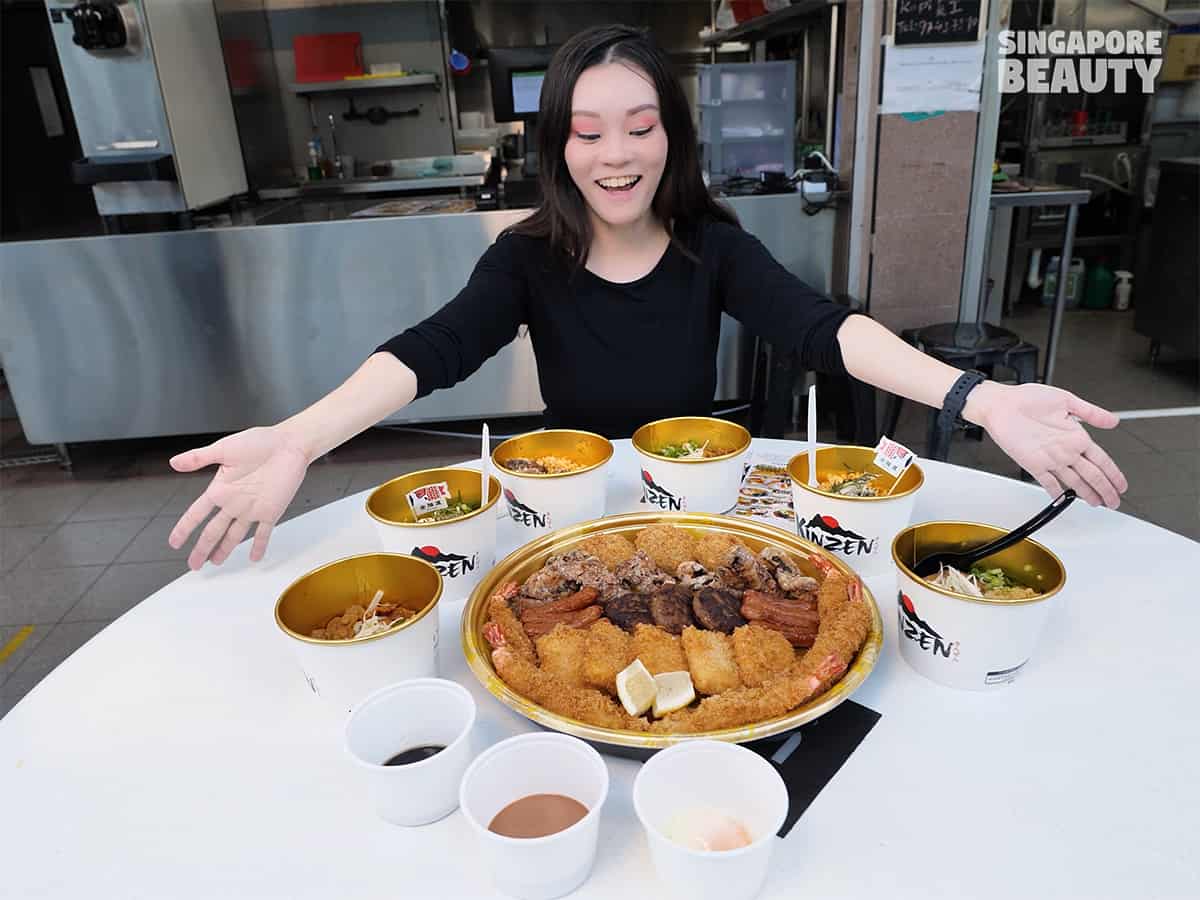 Today, we are going to review all the items on Kinzen menu – from udon, don to their party platter and not to foget their Hokkaido soft serve ice cream too. The food items are hawker price, udon starting from $5.80, don from $7.80, katsu sides at $2.50. These savoury bowls are so affordable, you can now enjoy Japanese udon & don, katsu any time with these everyday prices.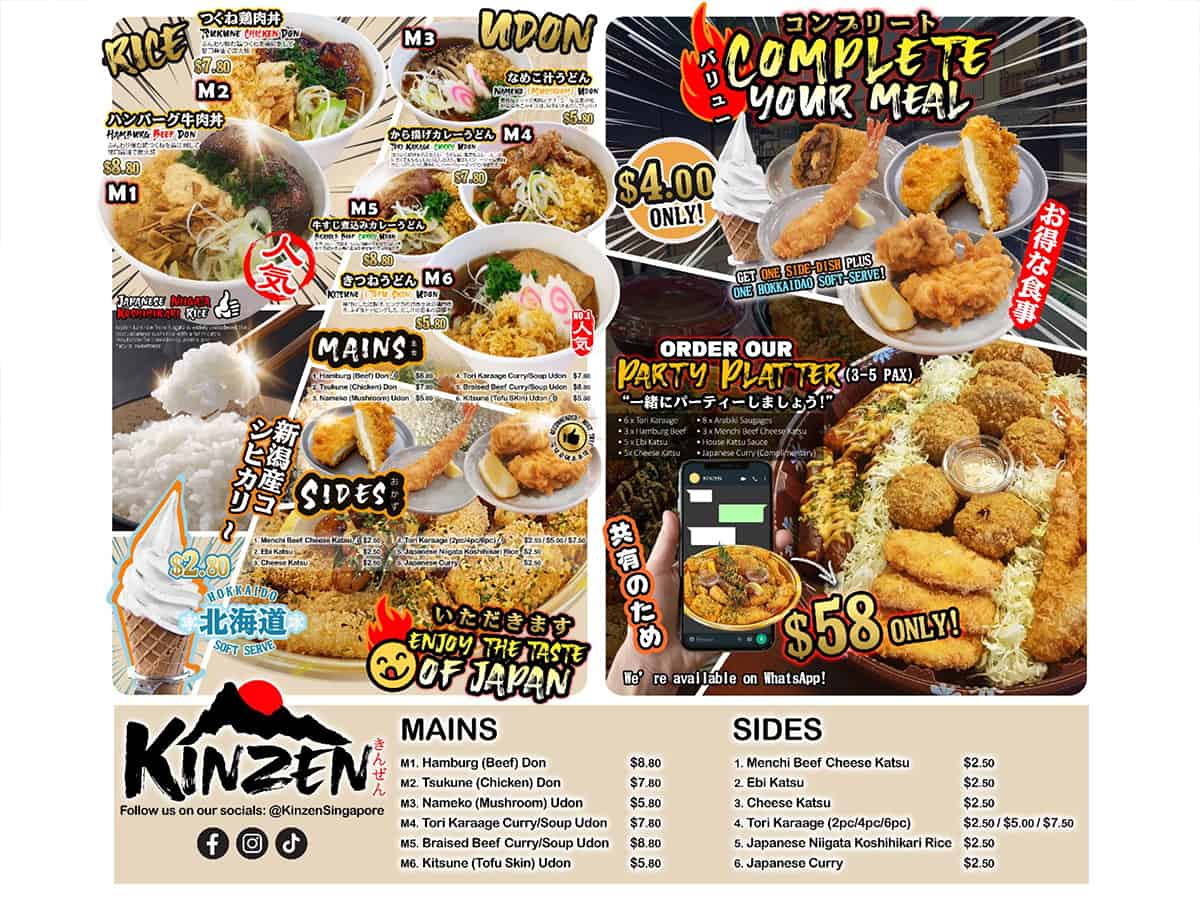 Here's the full menu of Kinzen at Brunners Coffeeshop. They are not halal certified as they use mirin in these Japanese foods. They have 6 types of mains such as Hamburg (beef) don, Tsukune (chicken) don, Nameko (mushroom) udon, Tori karaage udon & Braised beef udon (choice of dashi clear soup or curry) and Kitsune (tofu skin) udon.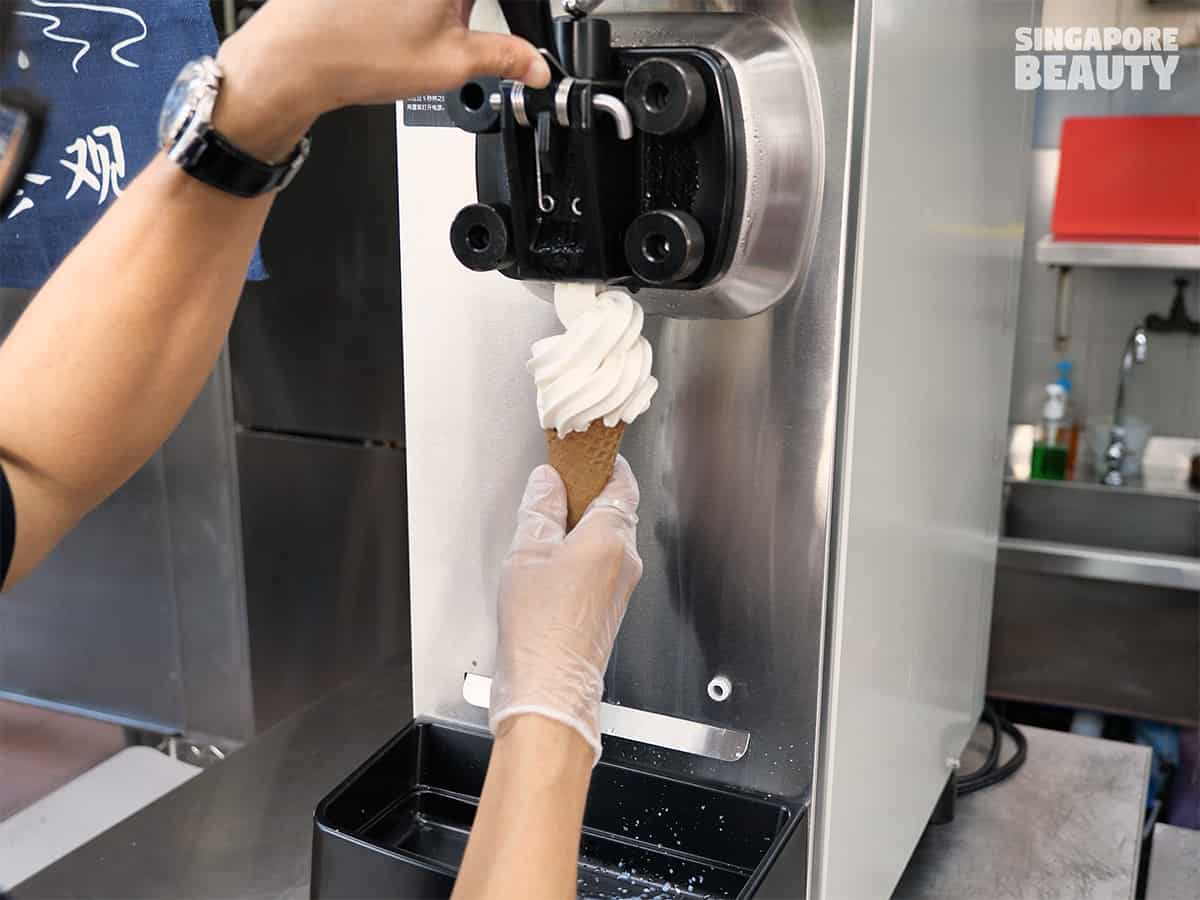 Besides the mains, the other must try is their Hokkaido soft serve ice cream. The ice cream is as its name indicates – soft & creamy. The texture of the ice cream is extremely velvety, light and airy. It is only available in vanilla flavour with a distinct milky aroma. This Hokkaido soft serve is same as what you get at pop up Japanese fair in Singapore, now you can have them all year round at Kinzen. Just get one on the go to beat the sweltering heat, if you happen to pass by but not in time for mains.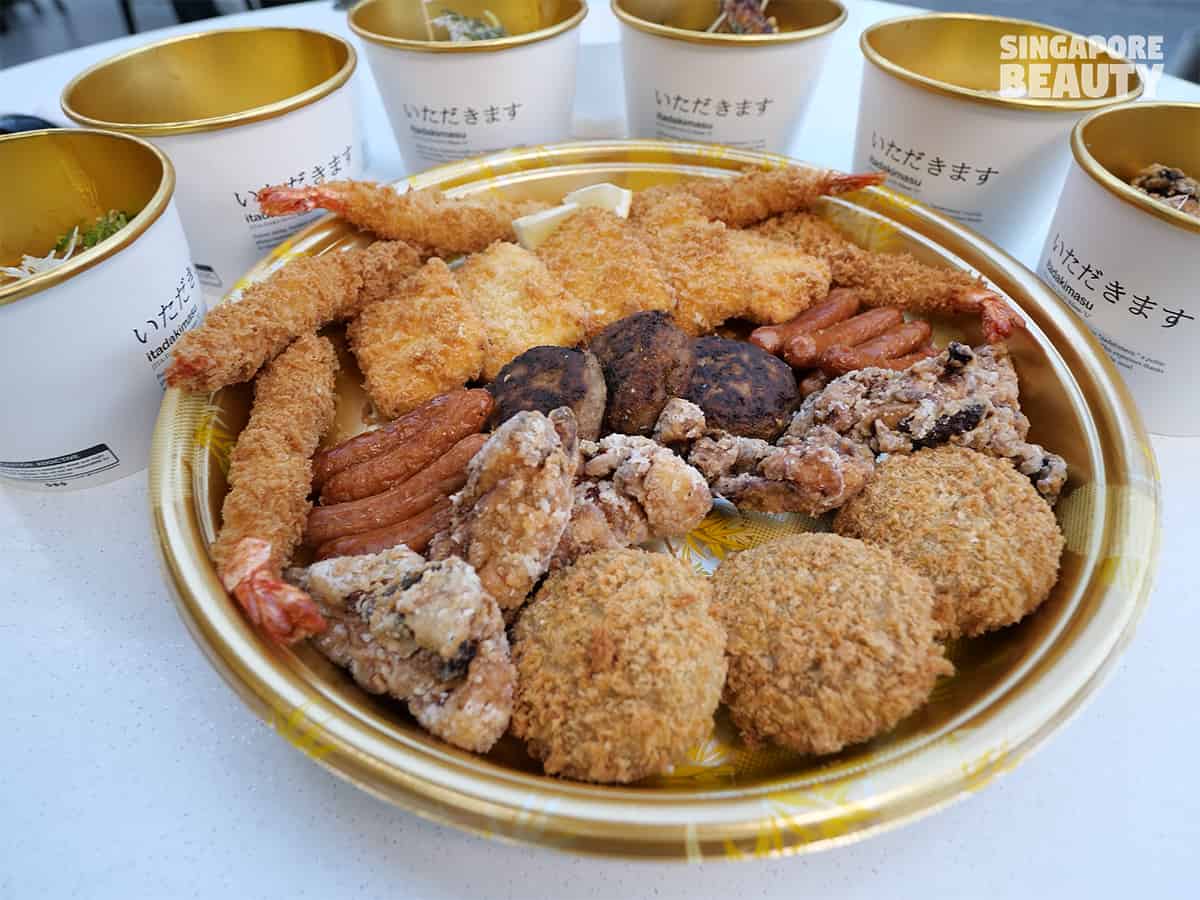 Kinzen katsu party platter ($58) consist of Tori karaage (6pcs), hamburg beef (3pcs), ebi katsu(5pcs), cheese katsu (5pcs), Arabiki sausage(8pcs),Menchi beef cheese katsu (3pcs), 2 dips- House katsu sauce and Japanese curry (complimentary). This is a party platter for 3-5 pax and you can WhatsApp them to order.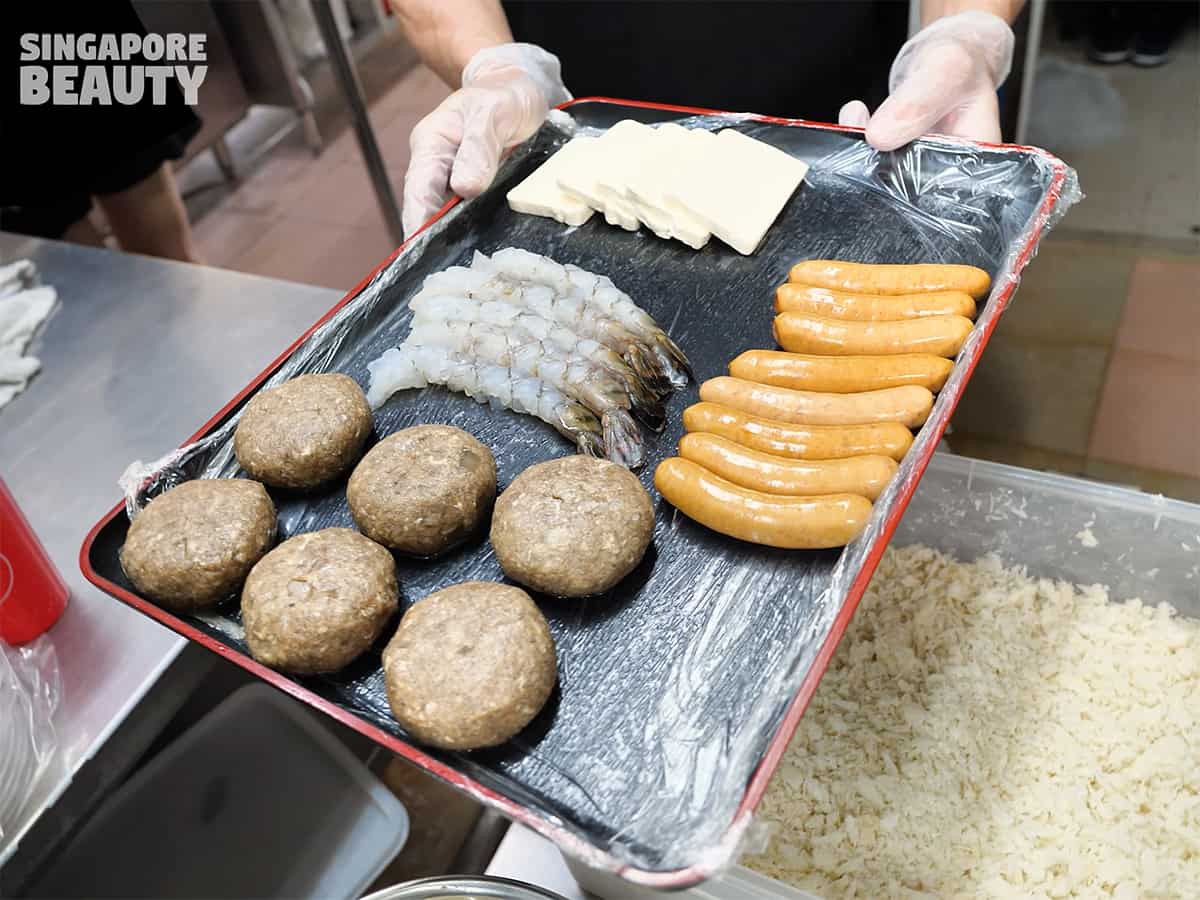 These are some of the ingredients used in the Party Platter. It consists of freshly handshaped hamburg beef patty, good size deshelled tiger prawns, arabiki sausages and cream cheese. These katsu are really food of workmanship as they are freshly breaded & fried for every order. You can be assured the katsu from Kinzen that you are getting are not ready to eat frozen food from the mart.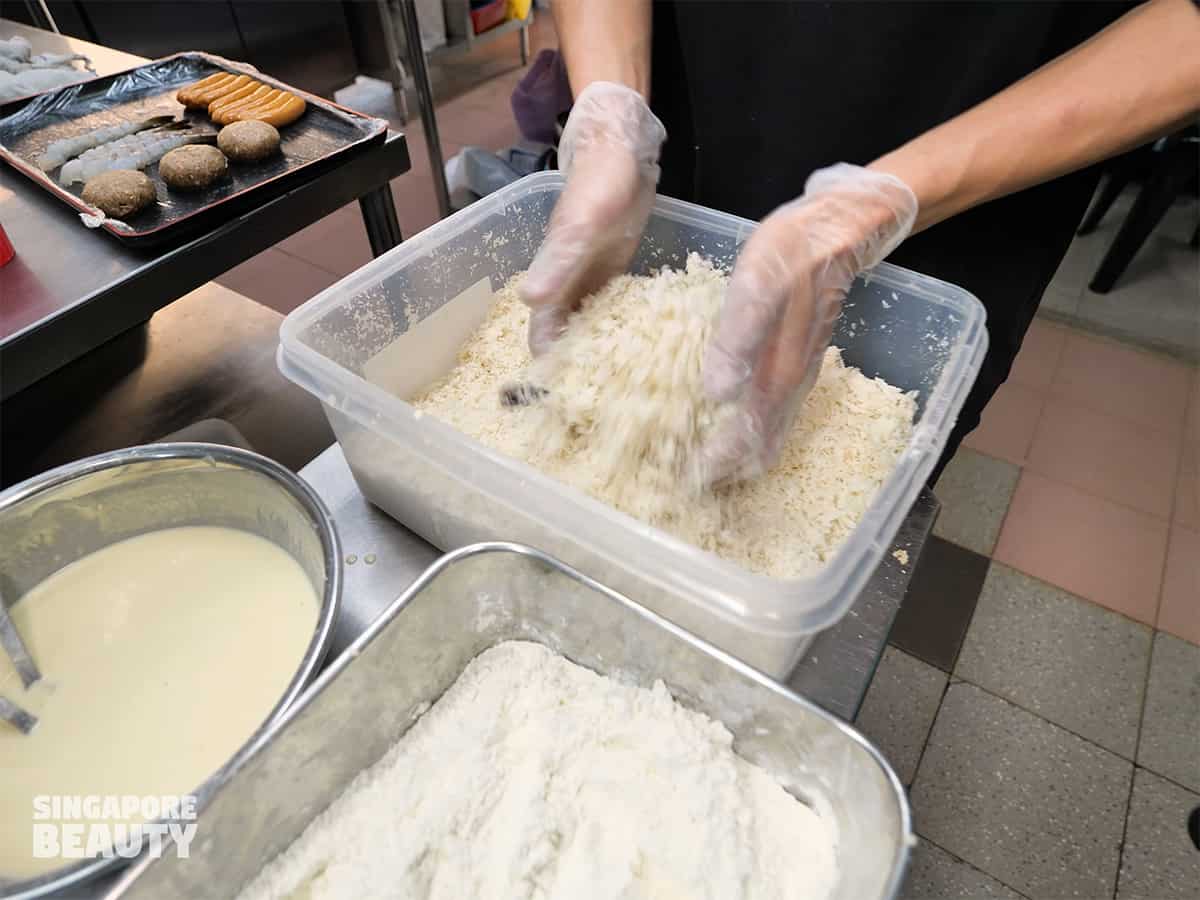 We are wowed by the steps needed to make a katsu. The items are lightly dusted with special flour, dunk into a batter and hand breaded to shape. After which each breaded katsu has to immediately lowered with care into the deep fryer.
The precision of the frying is also controlled with a timer to ensure the perfect golden katsu every time. It can get pretty chaotic when all the timers goes off one after another like a symphony, but the chef got it all under control knowing exactly which one to remove from the commercial deep fryer. The katsu are frying beautifully in the clear oil with evenly breaded crust all around.
Here's the katsu for our Party platter are ready to be assembled. According to the chef, they used panko to handbread the katsu to make them stay crisper longer. Panko are actually steamed dried bread make into bigger bread crumbs for frying. The katsu are all of the same golden hue as a result of the stringent time control on frying them.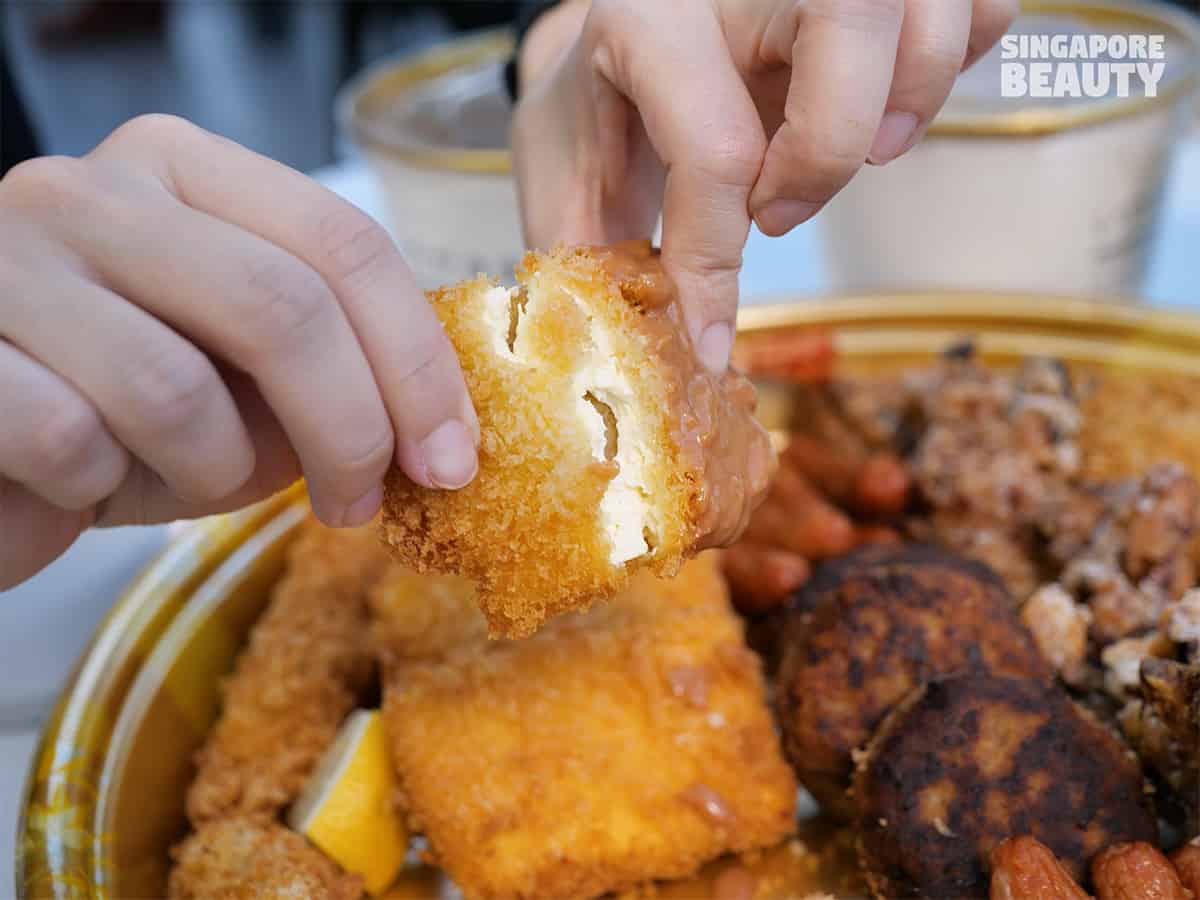 Our Editor's choice is the cream cheese katsu. The contrast of the crunchy breaded crust and the creaminess of the cream cheese are perfect for each other. We had a dash of lemon juice that gave it a tang which makes it even more delightful. We are so glad there are 5 pcs of these in the platter so we everyone gets to try it. Recommended to add on these to your don or udon at $2.50 each.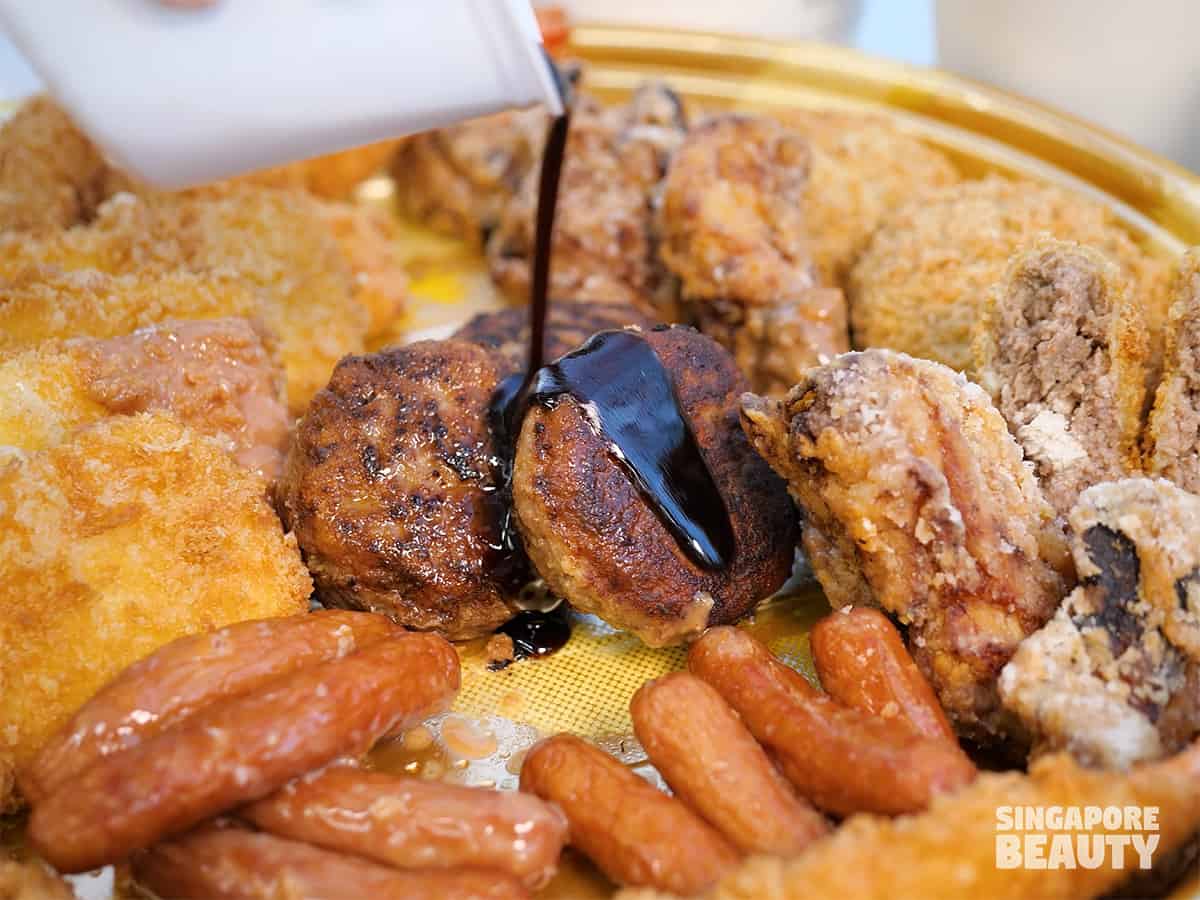 Hamburg beef patty are handshaped round disc of juicy minced beef. Enjoy it with the katsu sauce provided for a sweet & savoury burst of flavours. The lightly char on the patty also add an extra smoky dimension to the overall savoury flavour with the caramelized teriyaki style katsu sauce. This is the same patty used in their top seller hamburg beef don ($8.80).
If you have not heard about Kinzen's don, here's what you need to know. Kinzen uses top Japanese Niigata Koshihikari rice for their don. This rice is loved for their distinctive aroma, sweetness, chewier texture and sticky texture. If you are a rice connoisseur, this needs to be on your list. Tori karaage don is coated lightly with special flour and doubled fried for extra crunchiness. The karaage is well marinated and goes well with the cream and sticky rice.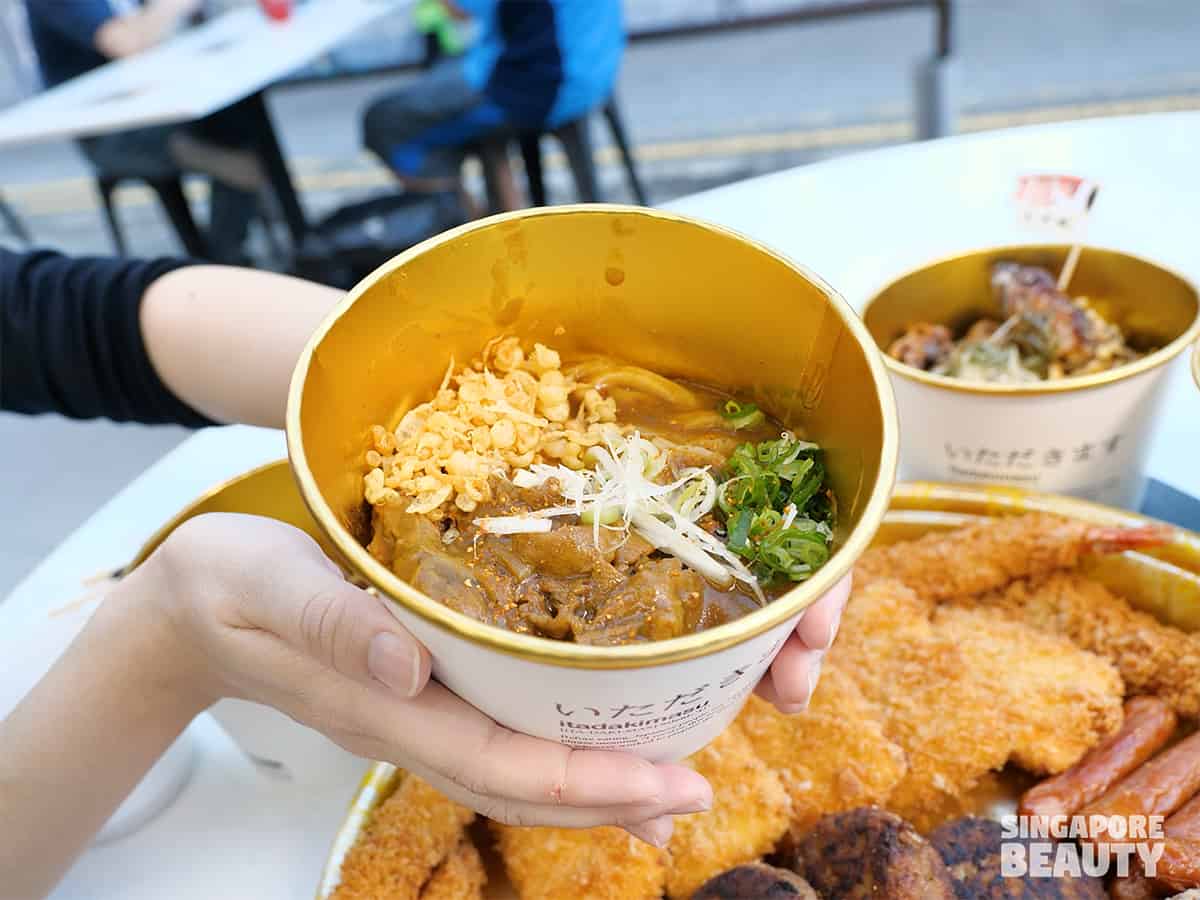 Braised beef curry udon ($8.80) is a bowl of simmered braised beef in shoyu in sweet Japanese curry. The udon is chewy and springy. Every strand is coated with curry interlaced with the crunchy homemade tenkasu and freshly chopped green onions and sweet leeks. This bowl is full of flavours and recommended to try if you are feeling the vibe for some hearty beef curry udon.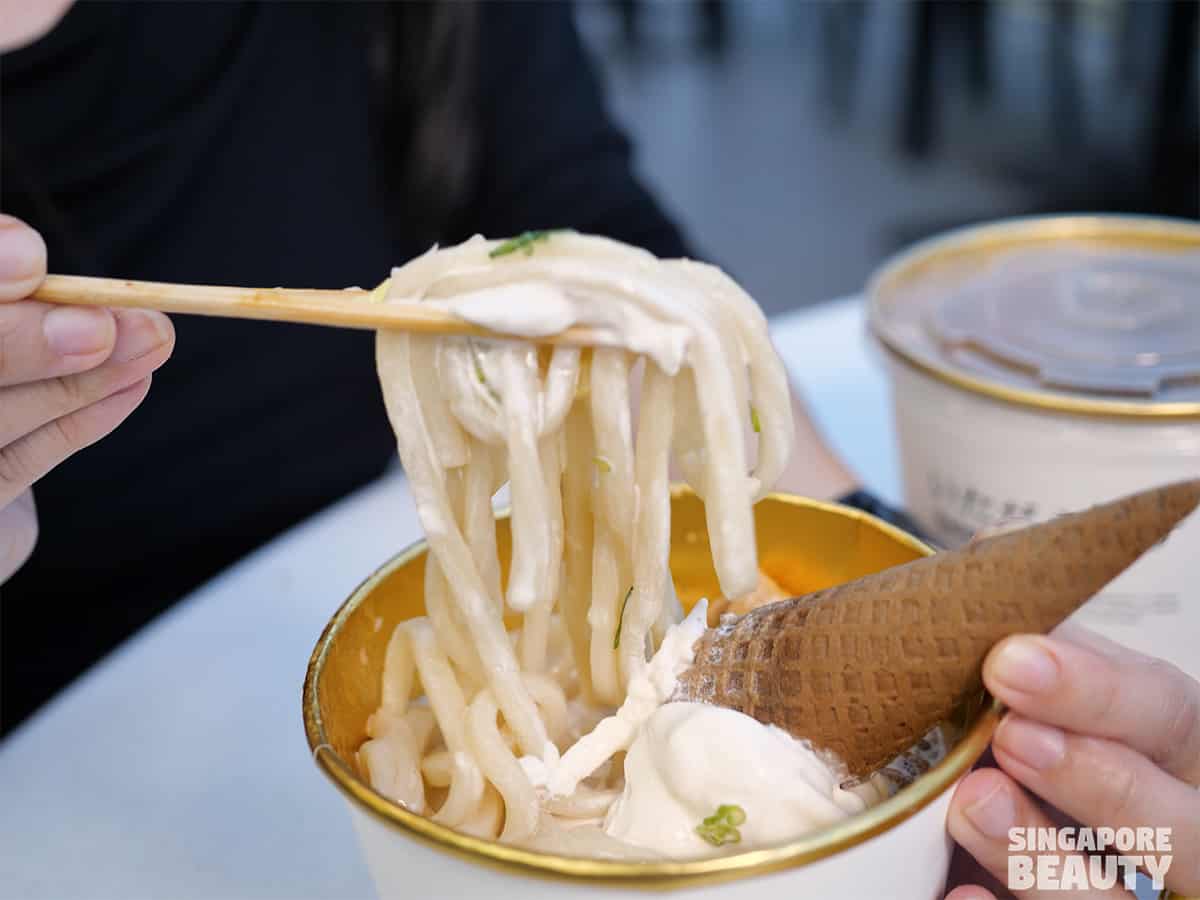 Kitsune(tofu skin) udon ($5.80) is a bowl of fluffy soft sweet tofu skin with udon in savoury dashi broth. We added a side (a choice of katsu) and one Hokkaido soft serve for $4. Being an adventurous eater, with a Hokkaido ice cream in hand and a bowl of savoury udon. I had to try the best of both worlds at one go, dunk the ice cream in the udon. The udon became extremely creamy like carbonara & the cooled dashi broth immediately send a cold gust down my throat – instant relief from the hot weather. Some say I butchered the udon, I think I nailed it, to each their own.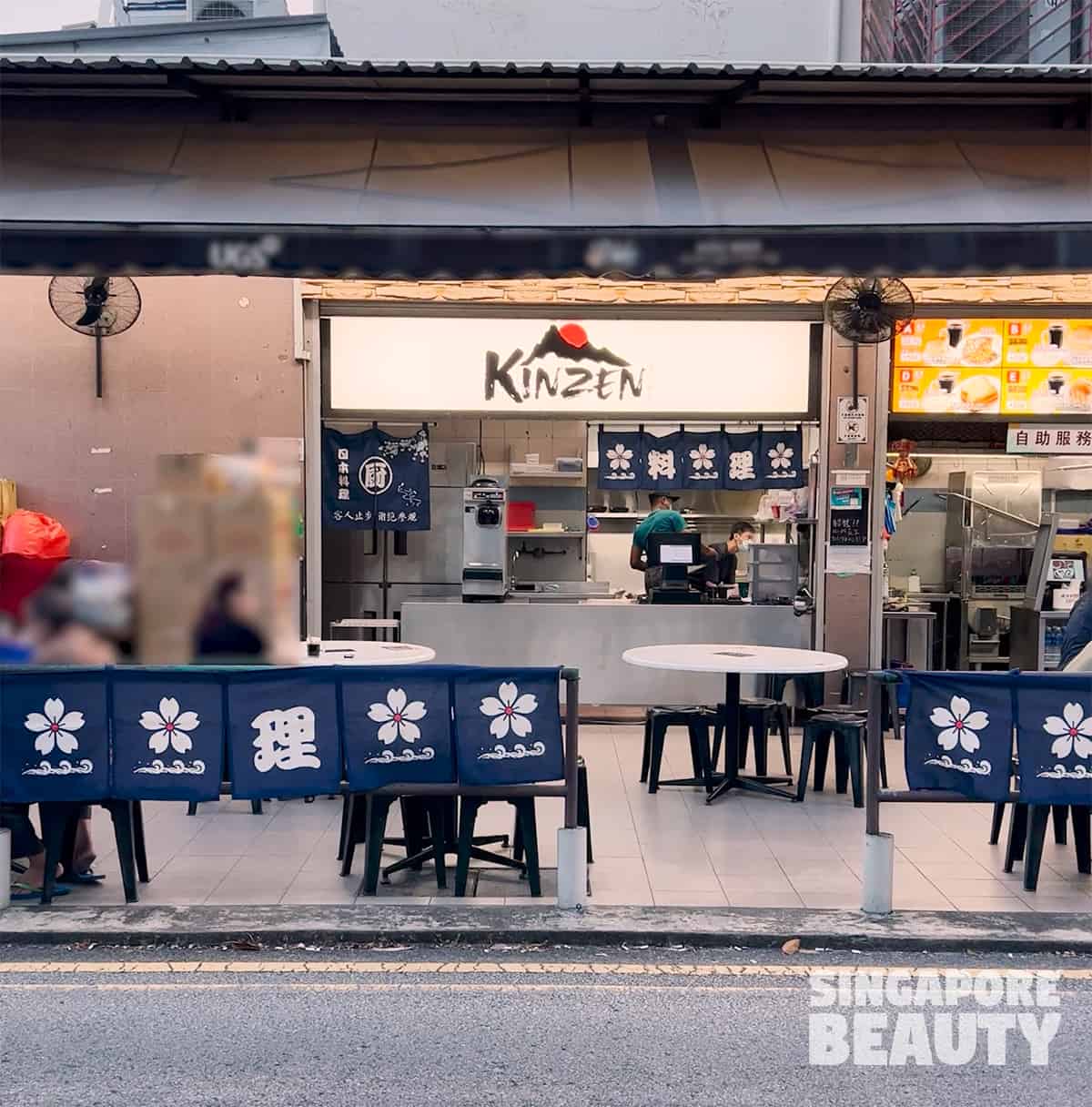 Head over to Kinzen for their highly raved katsu party platter, udon & don today. You need to get your hands on the Hokkaido soft serve the moment you get there. Crunchy Katsu handbreaded and fried to order, don with top Japanese Niigata Koshihikari rice, udon with savoury hot dashi clear broth and rich braised beef Japanese curry udon, you will be spoilt for choice.
Kinzen Address:
228 East Coast Road,
Brunner Coffeeshop, S428925
Opening hours: 11am to 9pm daily
WhatsApp: 8013 6852 to Order party platter T & C applies.
Brought to you by Kinzen