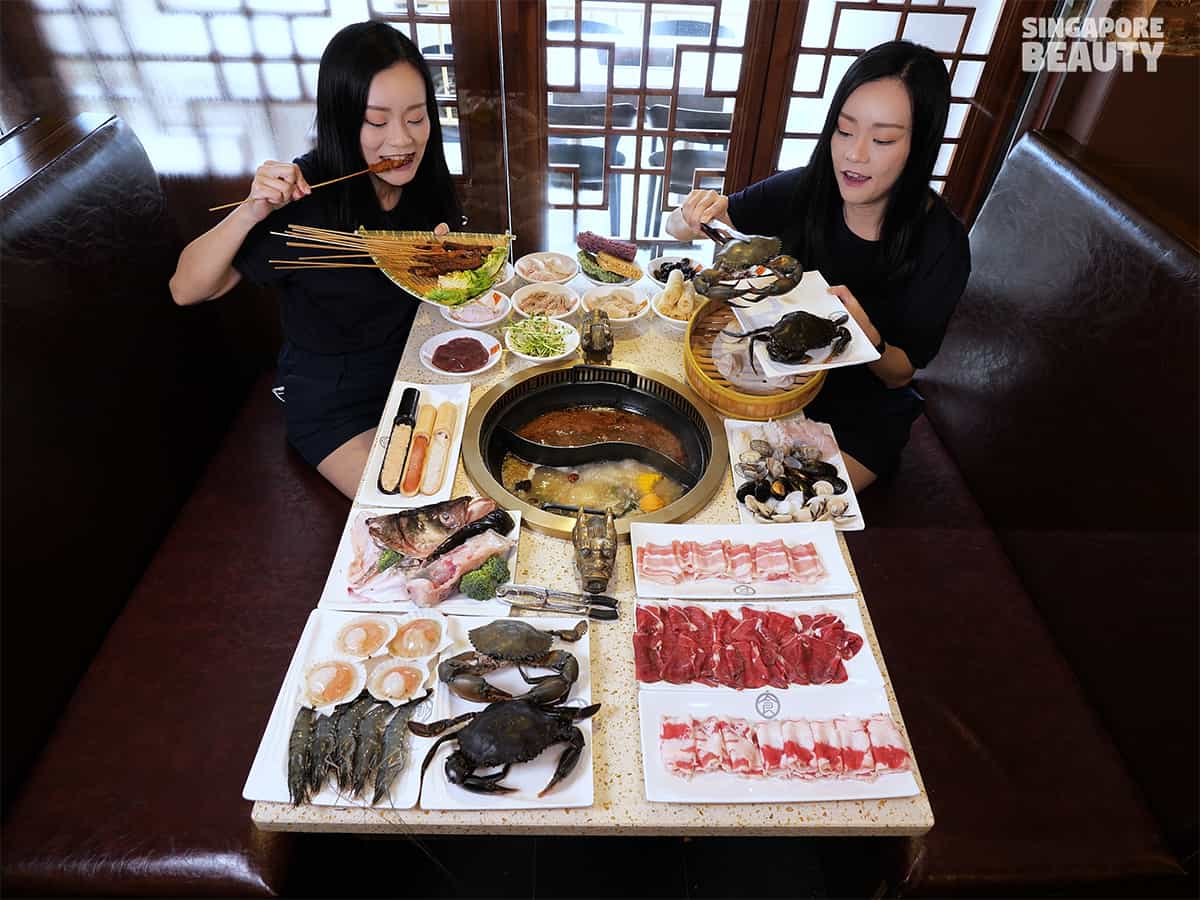 Ma La Kong Jian 麻辣空间 is having a hotpot buffet with a live mud crab, exotic offal, grilled meat skewers, unlimited seafood and starters for each diner.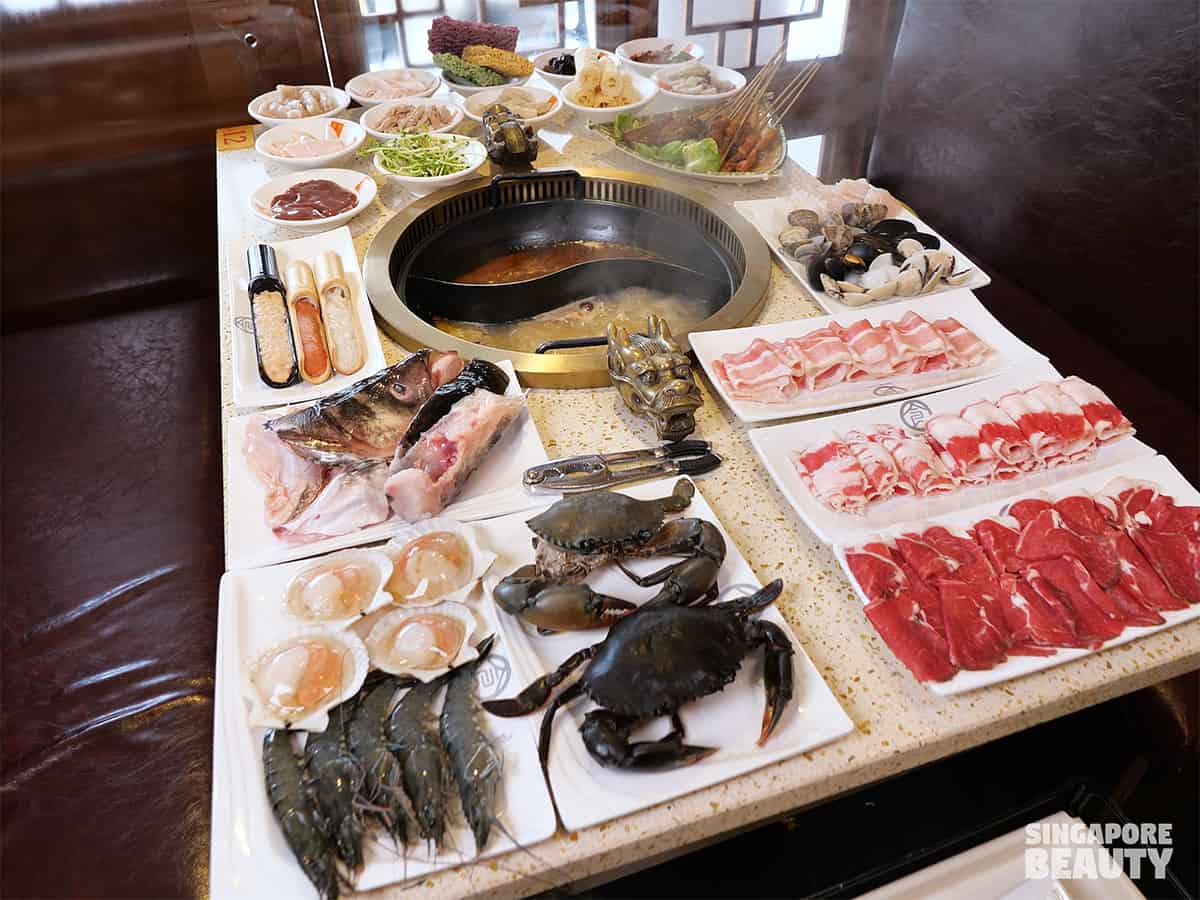 There are over 70 varieties of ingredients for you to choose from at Ma La Kong Jian hotpot buffet. This steamboat feast has must eat items such as the live crab, shabu shabu meat, seafood, fish head, meat paste, meat skewers and more.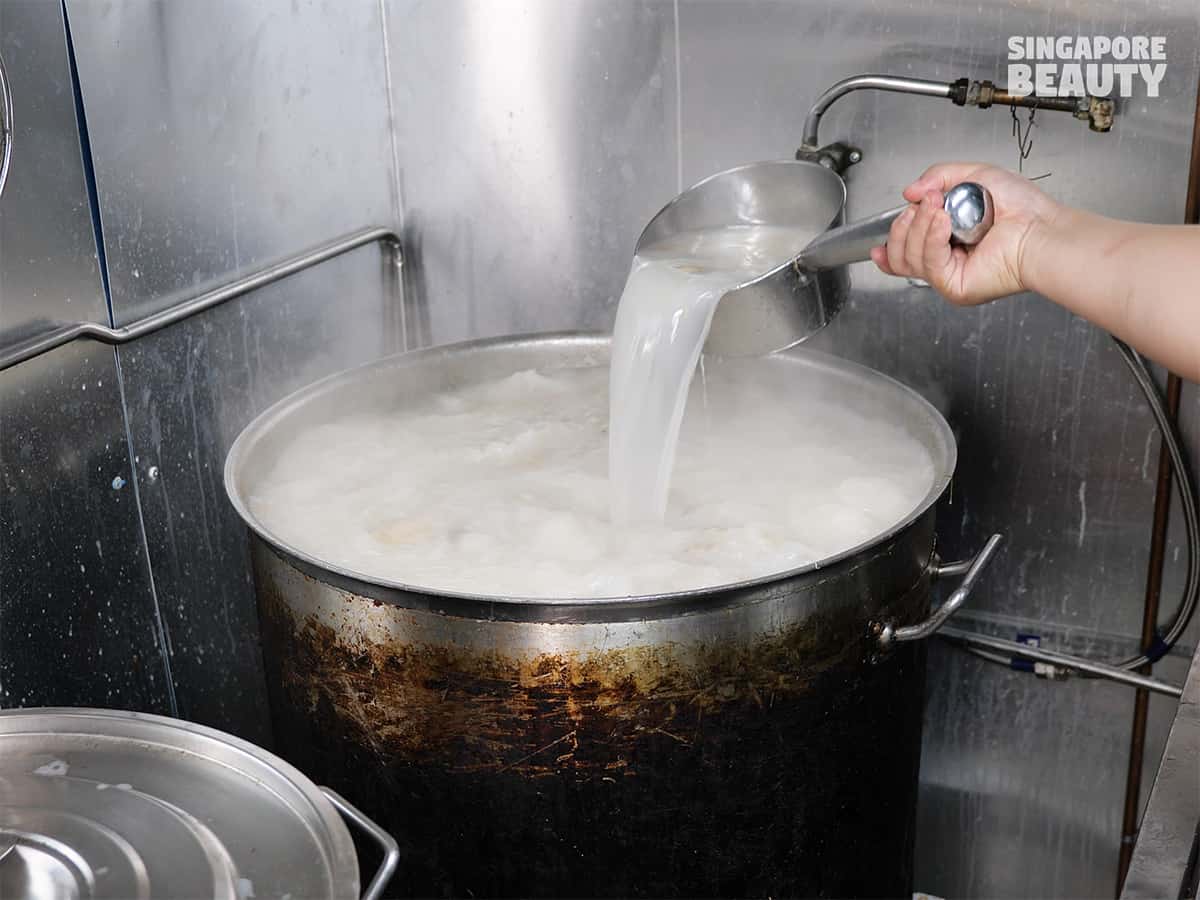 The Ma La Kong Jian soup bases are boiled from scratch with real ingredients such as big bones, chicken cage, herbs and more. You can taste the difference in their authentic soup base before you start adding the hotpot ingredients.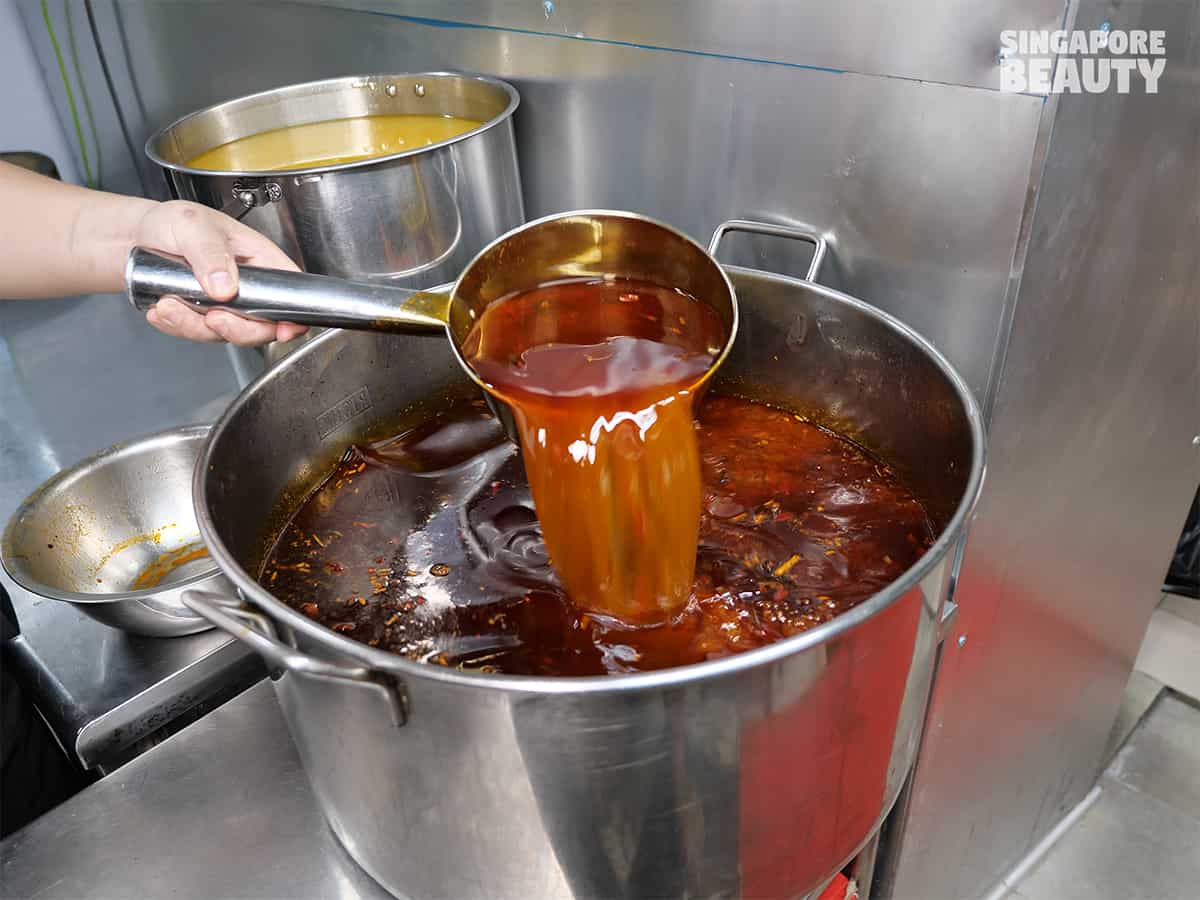 Try the fan's favourite nourishing dang shen old hen chicken soup (党参老母鸡汤) and the signature Ma La Kong Jian soup. Total of 8 types of soup to choose from, also available are the super spicy, little spicy, tomato, herbal, Thai tom yum, Sichuan sour fish and mushroom soup. Top up $6 for each soup base and additional of $2 for Sichuan sour fish soup.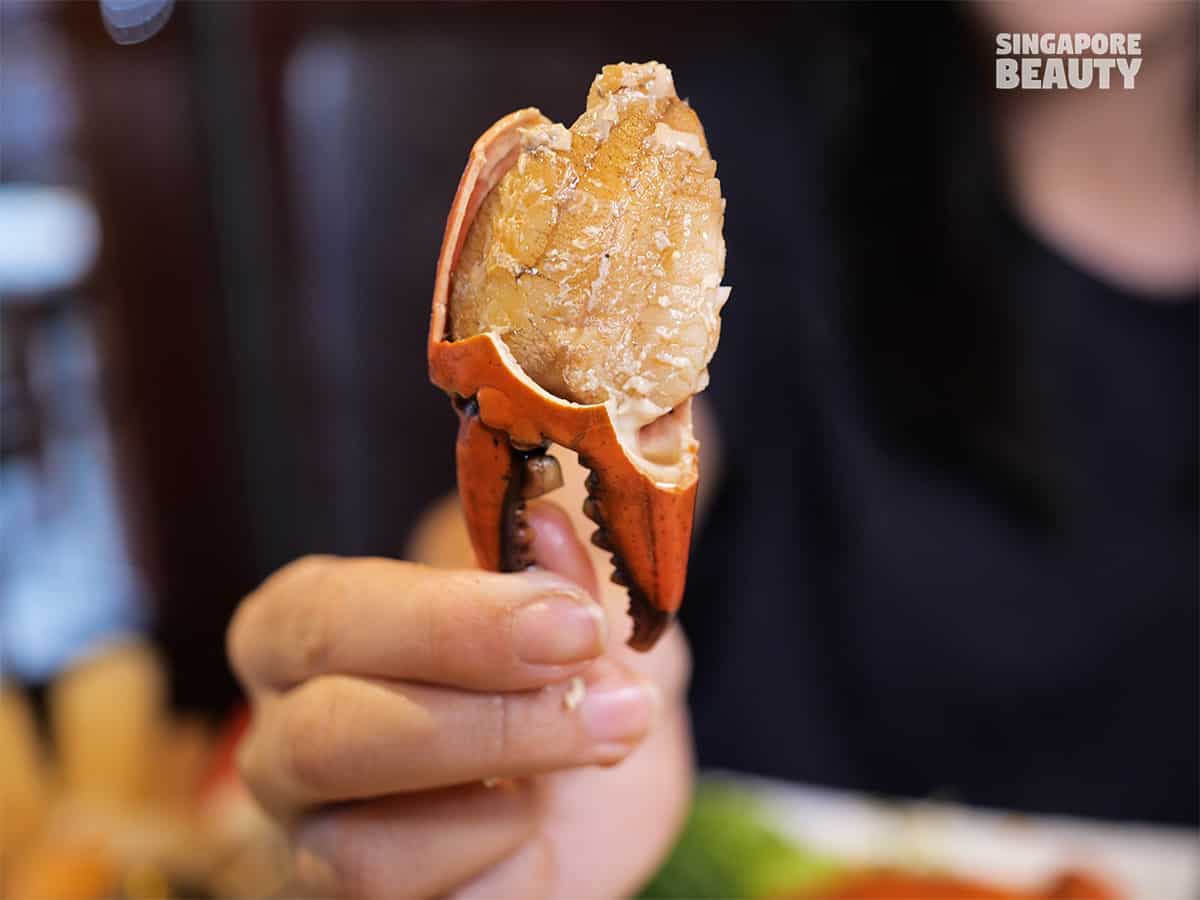 For every paying adult diner, you get a live mud crab to go with your hotpot. Check out the crab claw. Best eaten on its own to savour the sweetness of the meat or with the in house dipping sauce provided.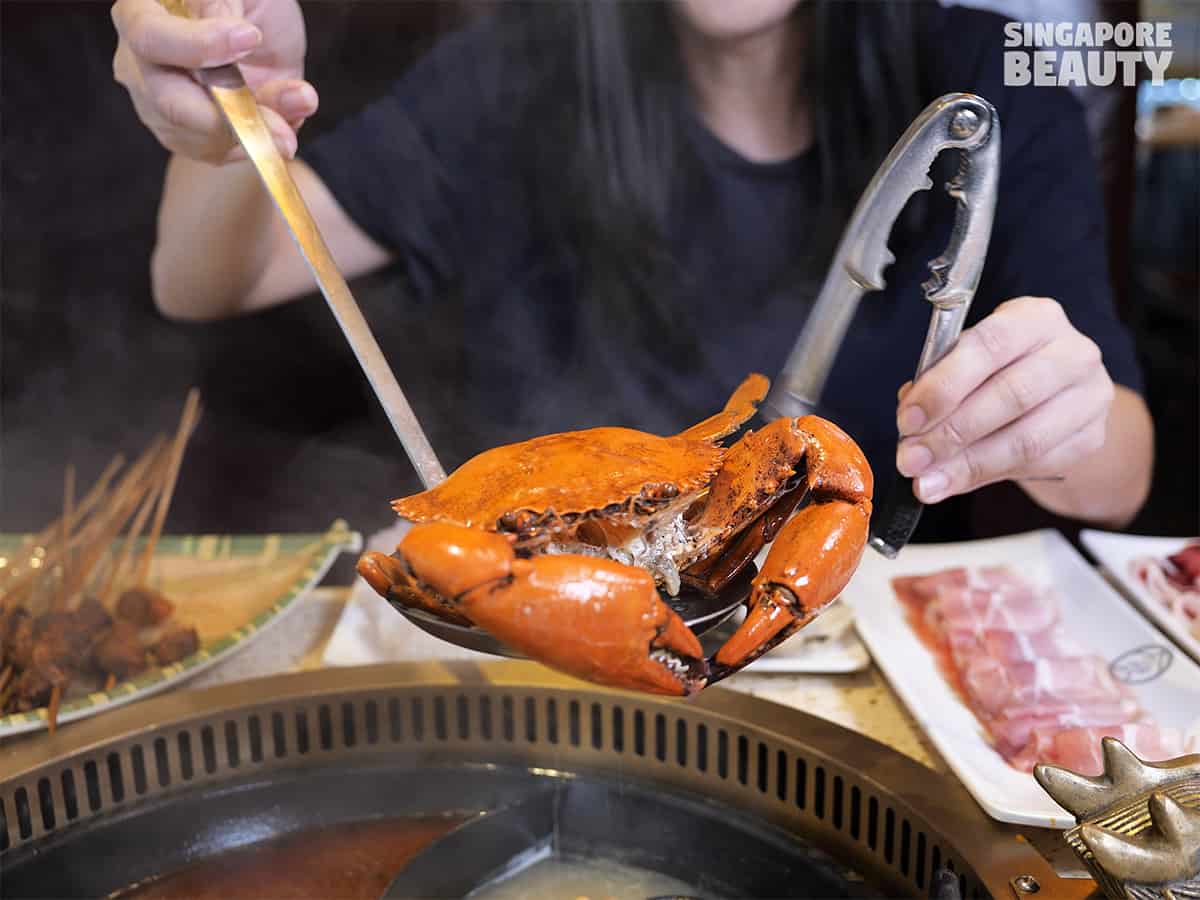 This crab is dispatched to order for each new diner and is as fresh as it can get.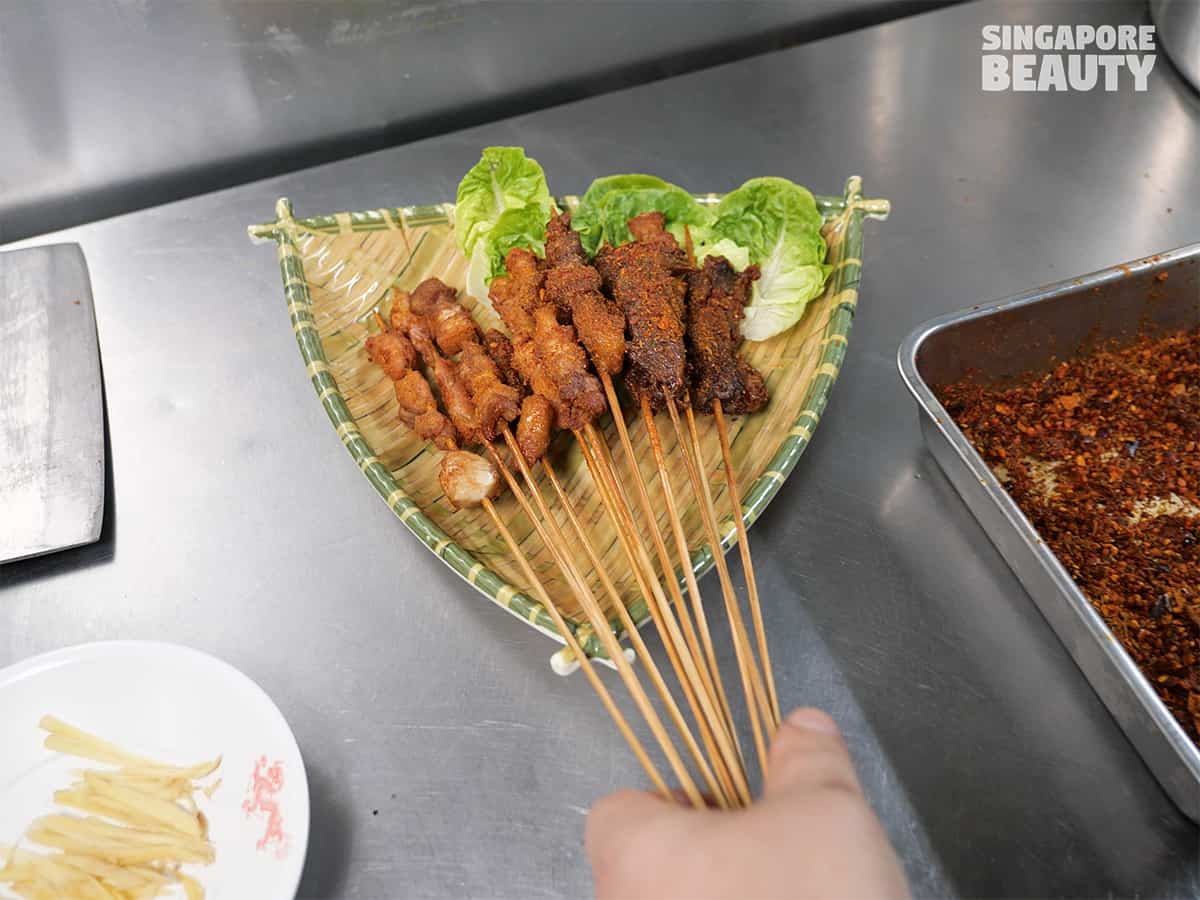 These spice loaded grilled meat sticks are also one of the must eat at Ma La Kong Jian Hotpot. The meat skewers are alternates bites of savoury aromatic meats and crunchy fat crackers. There are 7 types of grills such as chicken, pork, beef, lamb, chicken wings, dumplings and sausages. Expect addictive bites of spice loaded flavours meats such as cumin, fennel, chilli pepper and more.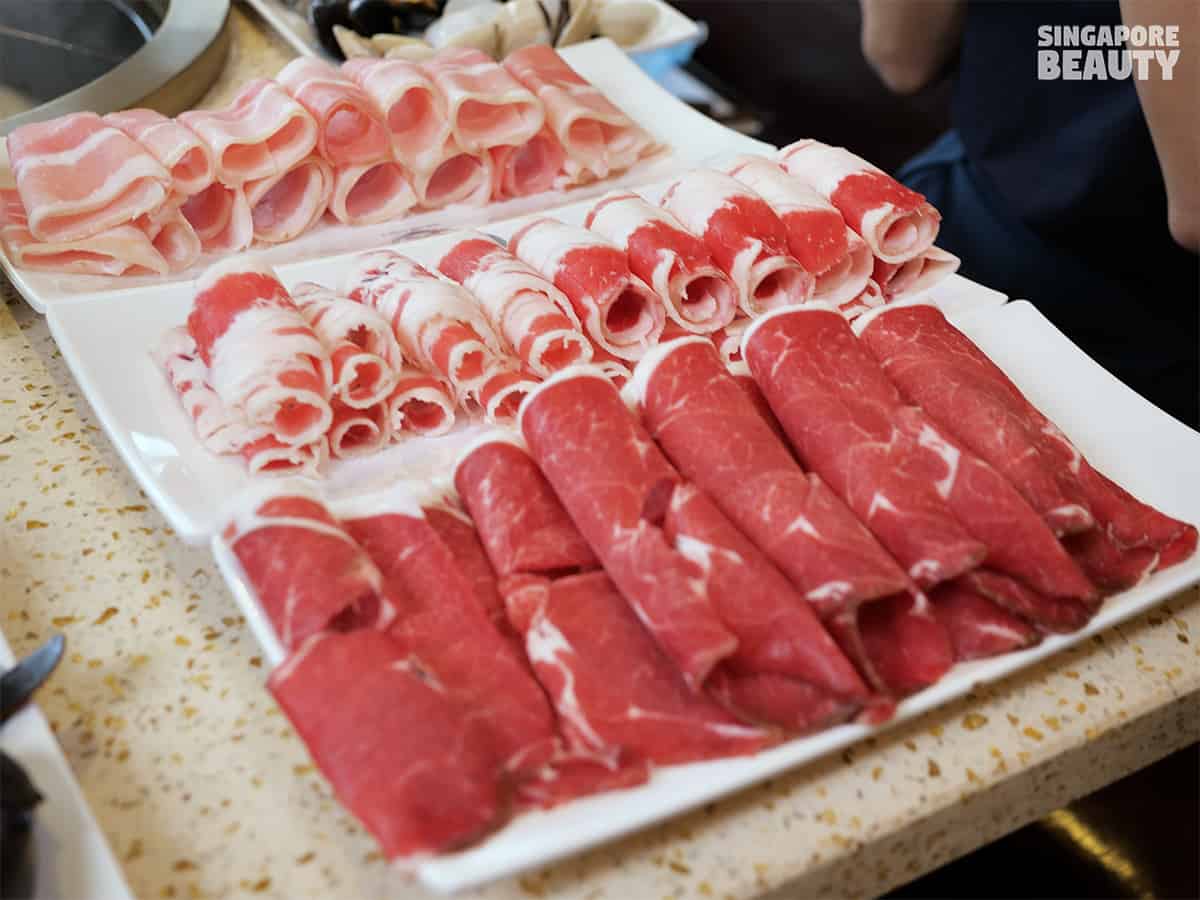 Enjoy these freshly cut shabu shabu meats with choice of beef, lamb, pork and chicken. The proportion of meat vs fat ratio of these shabu shabu meat makes it a joy to eat without much chewing needed.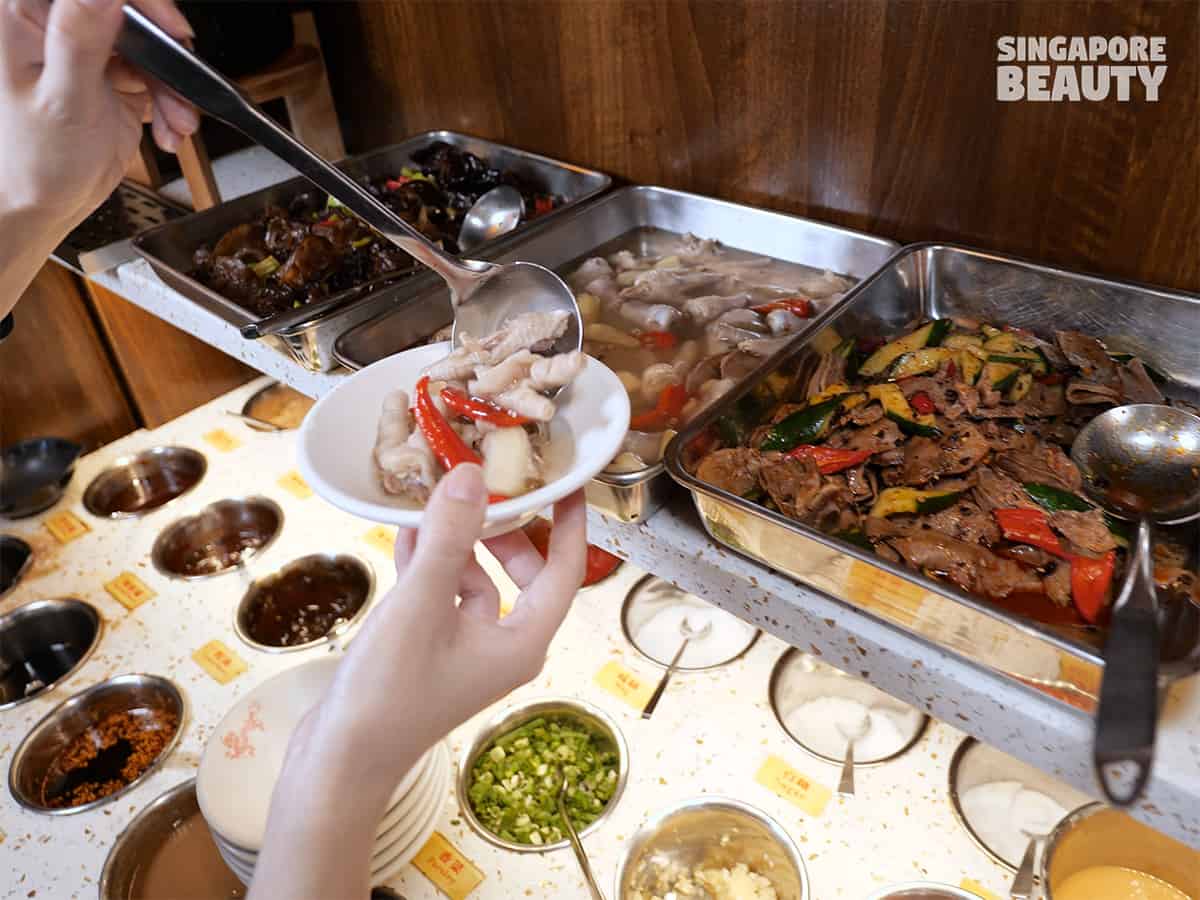 Get these starter cold dish and appetizers such as steamed chicken with chilli sauce, chicken feet with pickled peppers, pork lungs in chilli sauce, black fungus in vinegar, clear noodles in chilli sauce and cucumber with pig ear. These are served on a rotational menu daily. They also have more than 20 types of condiments to go with your hotpot ingredients.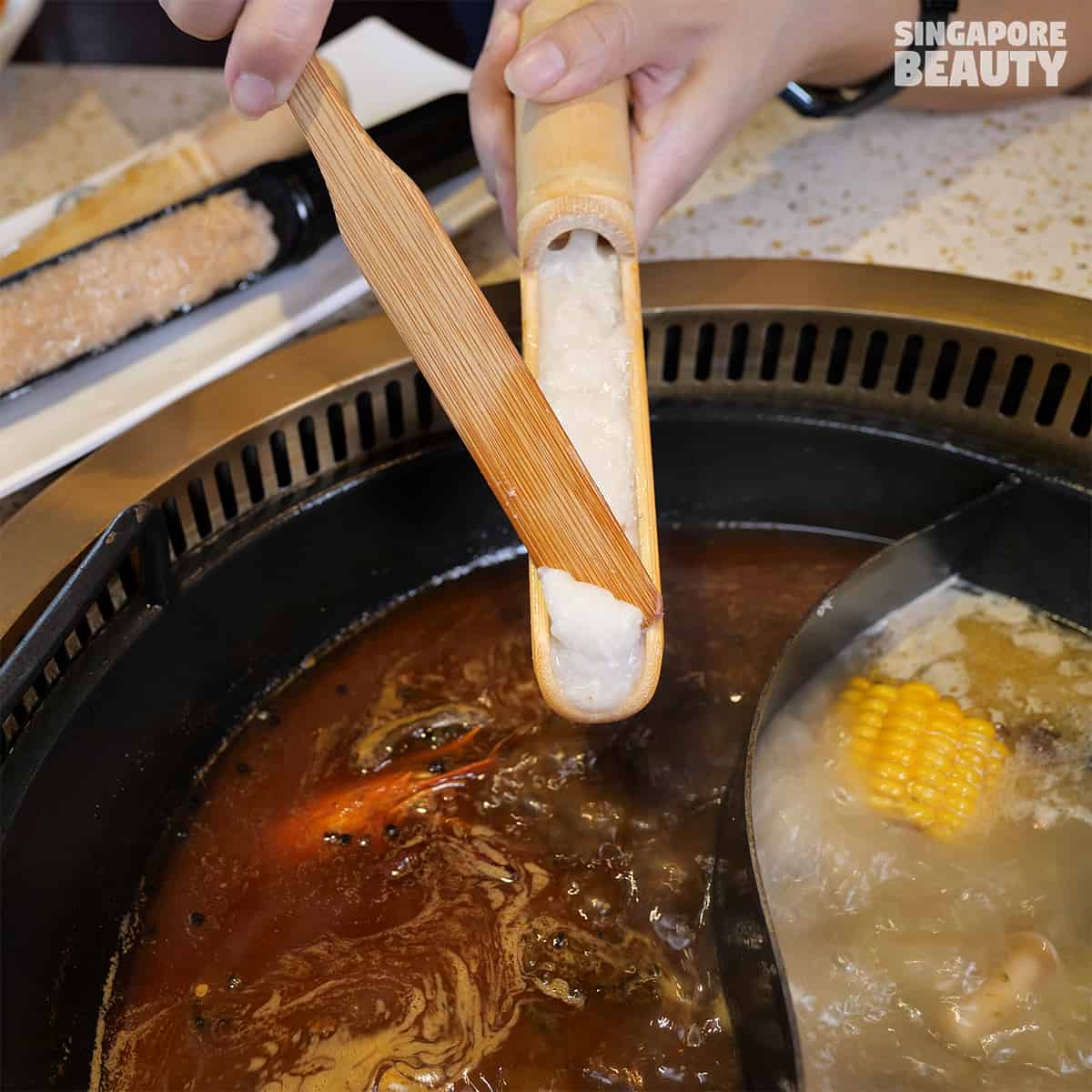 Handmade meat paste such as prawn, pork and fish paste are also included in this buffet. These meat pastes comes in a bamboo shapes holder where you slide the paste into the hot soup with a pusher. When they float to the top, plump and bouncy, they are ready to be enjoyed.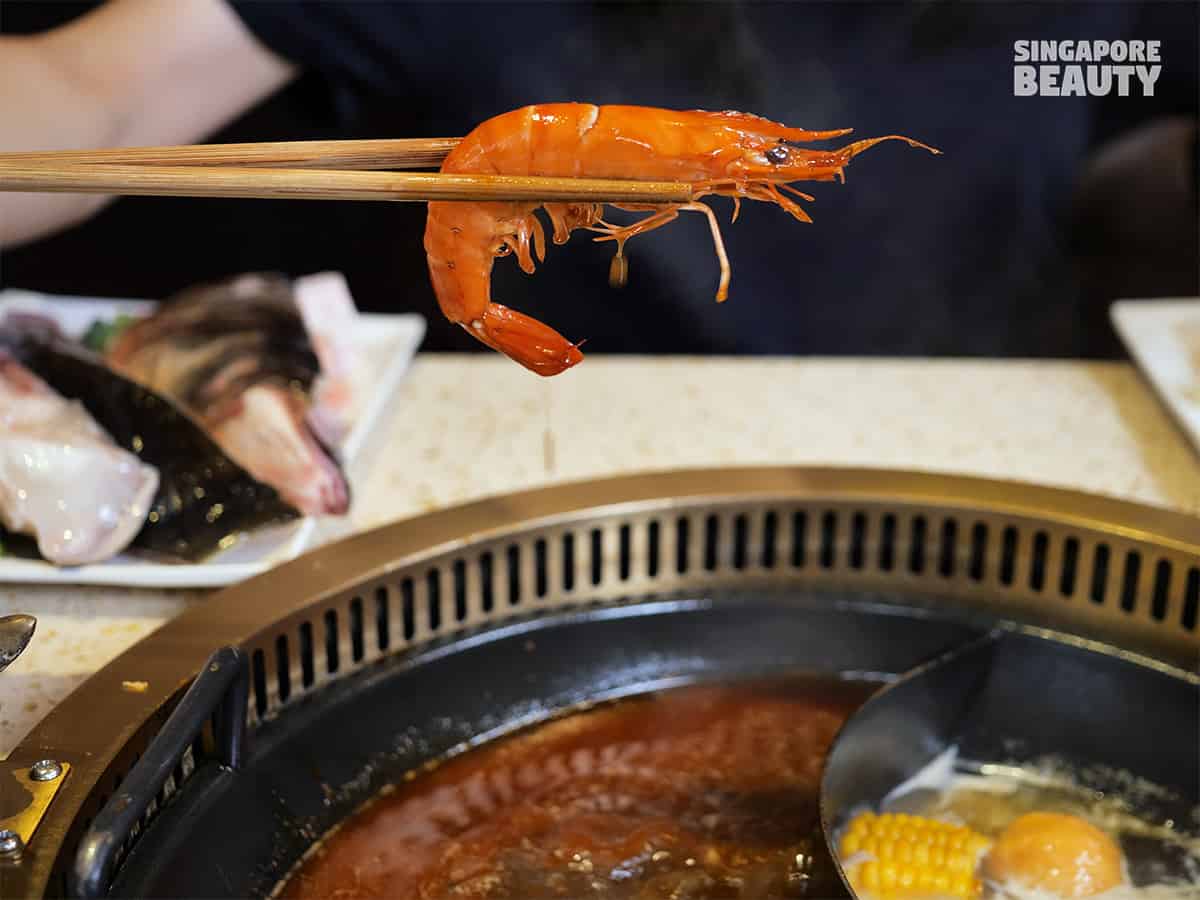 Check out these crimson red prawns – succulent and crunchy. I have seen many of their regulars purely after these crustaceans during their hotpot feast and many left with happy bellies.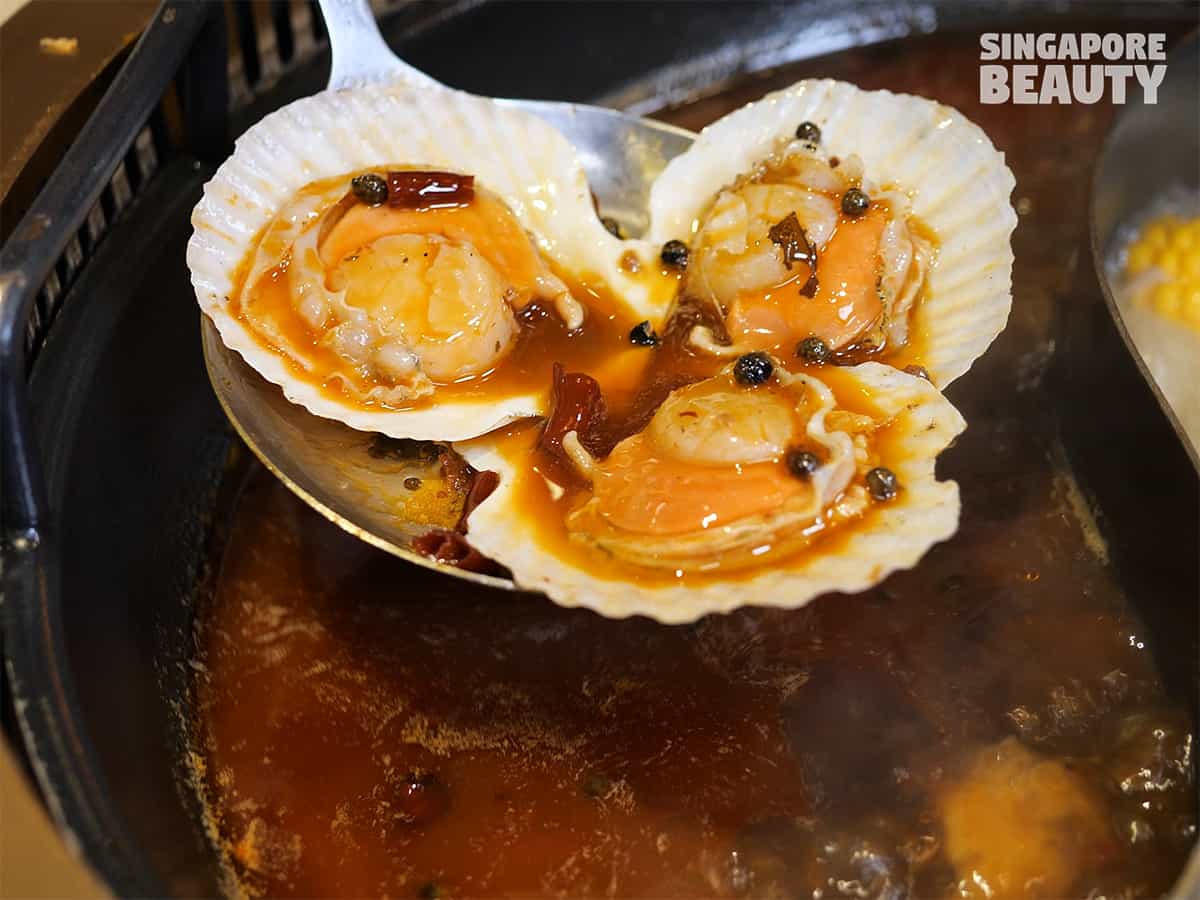 If you are a seafood lover, you will enjoy the large half shell scallops, prawns, fish chunks, clams, lala, giant fish head, squid, assorted shellfish and other variety they have here at Ma La Kong Jian hotpot buffet.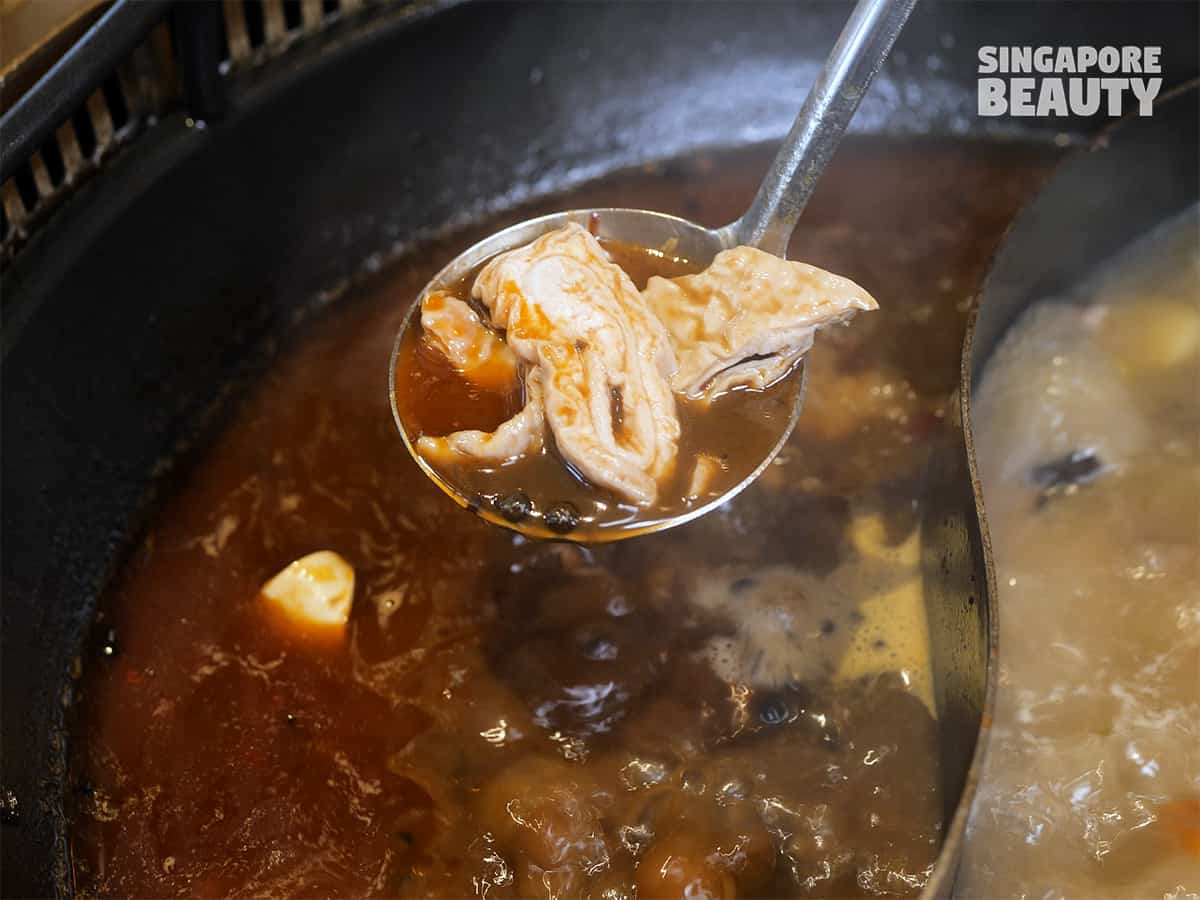 Are you game for some exotic pork and beef offal? At Ma La Kong Jian hotpot buffet, you can enjoy these premium innards and offals to your hearts delights. Fish maw, beef tripe, five spice pork large intestines, fresh aorta, pork kidney and beef tendon are all included in the buffet. You can also add on a pork brain for $4 for those who love the creamy custardy texture.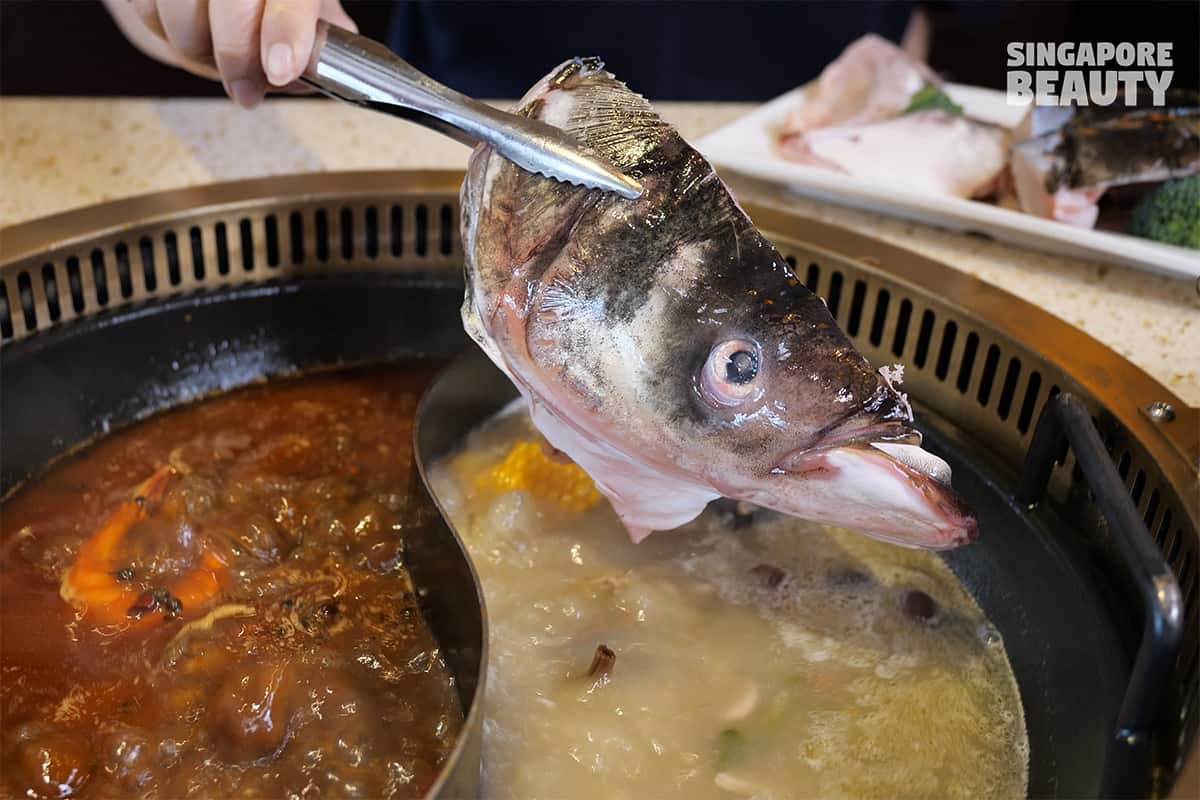 Who can resist this giant fish head in chicken soup? Enjoy the gelatinous texture of this giant fish head once it is cooked with their inhouse special chilli sauce.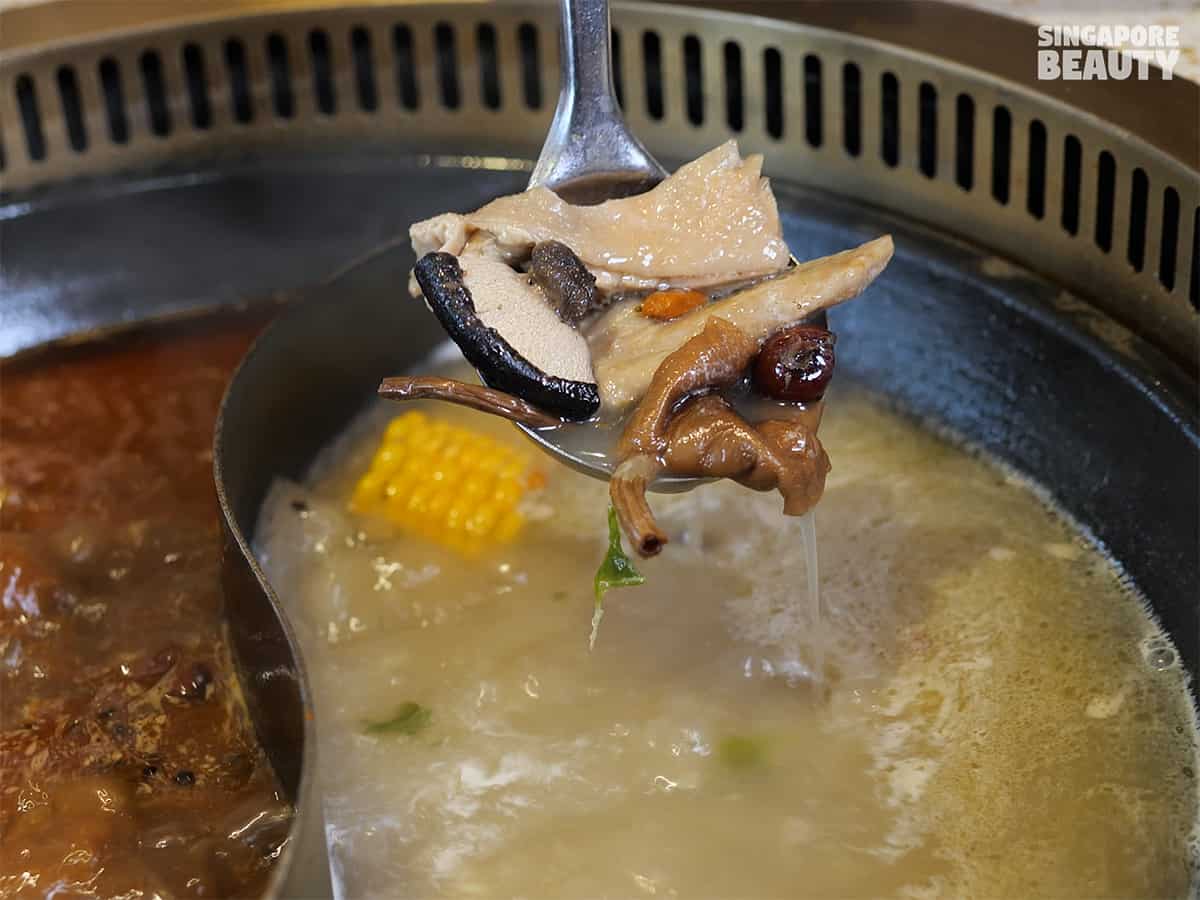 For greens, they have exotic wild mushroom which is beneficial to health to add to your old hen chicken soup. Check out their tea tree and lingzhi mushroom. Romanine lettuce, ice berg, di huan miao, winter bamboo shoots, dou miao and more crisp green that is great for steamboat. With over 25 types of greens and fungi, you will be spolit for choice.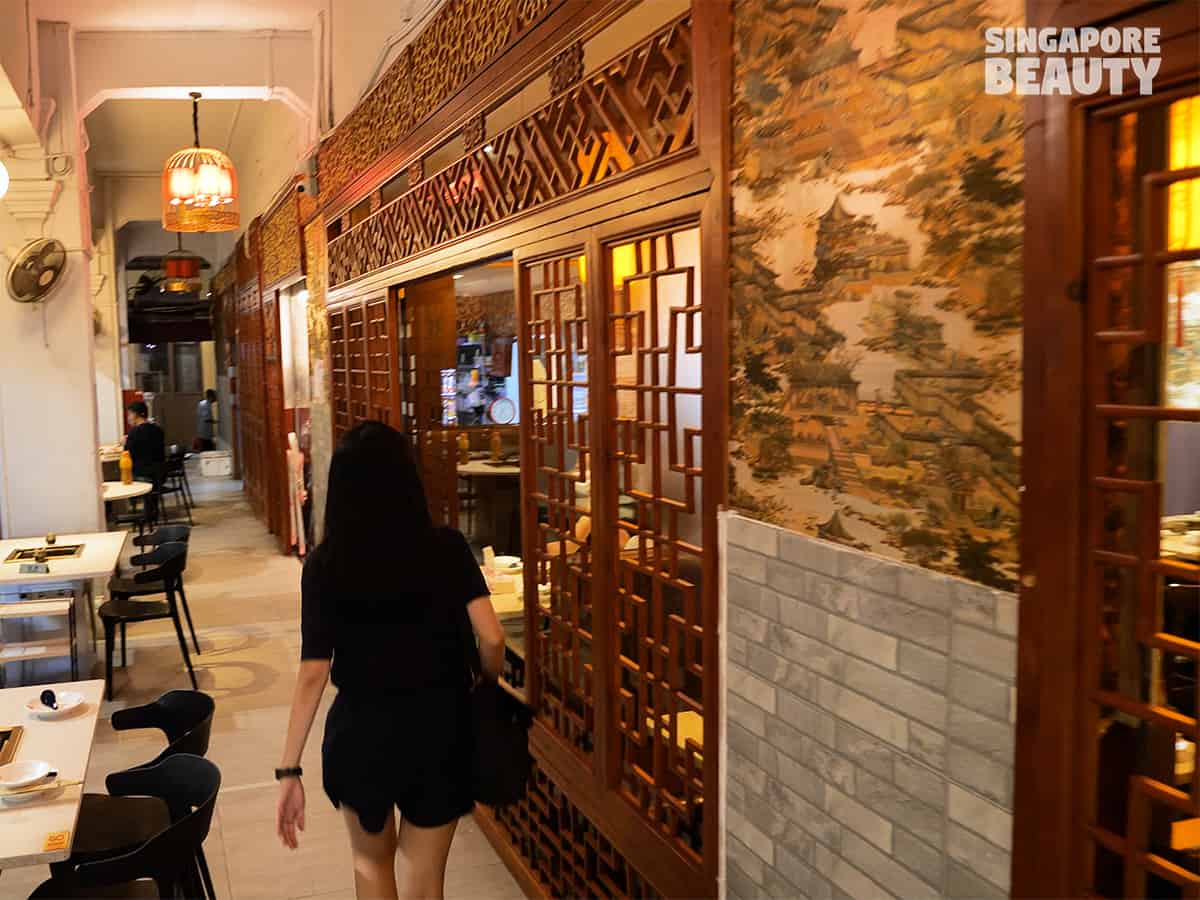 Ma La Kong Jian steamboat buffet is conveniently located in Geylang with a teahouse design. You can choose either outdoor dining to enjoy the cool evening breeze or indoor with cushioned bench seating with cozy aircon. They have so many items on their menu included in the buffet, we suggest you make a trip over to try the rest of the items such as xiao long bao, veg juiced noodles, ice tubs or potongs, assorted of surimi and more. This is also a great place for supper place at Geylang as they are open till late. See you there.
Ma La Kong Jian 麻辣空间 Location:
269 Geylang Rd Singapore 389323
Adult buffet pricing $27.80+ daily exclude PH, Eve & cny
Children (6-11 years old)buffet price $15.80+
10% service charge
Add on soup from $6 each
Dine in time:
1.5 hrs peak hours
2 hrs non-peak hours
Minimum 2 pax to dine
Opening hours:
Mon-Thurs 2pm to 12am
Fri-Sun 2pm to 2am
Call: 6747 8623
Brought to you by Ma La Kong Jian