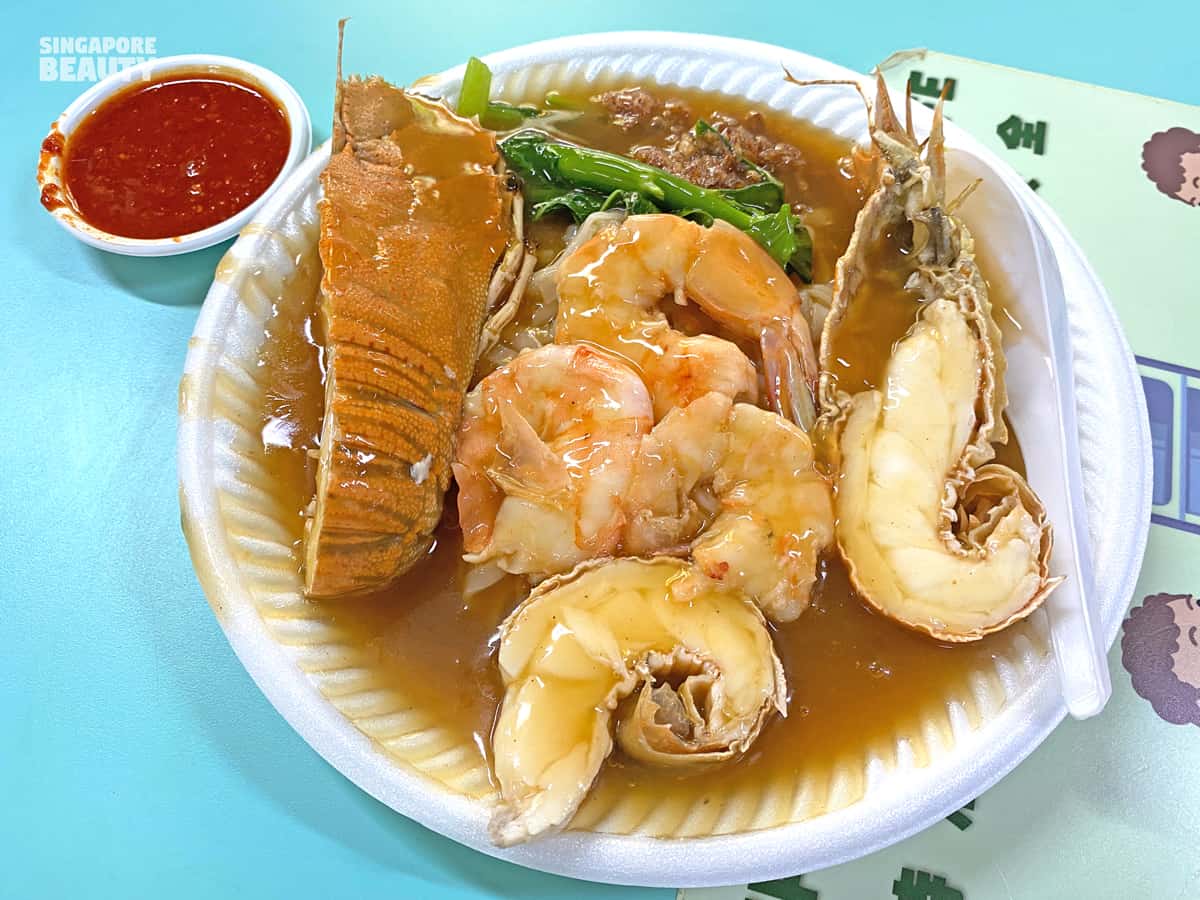 Tuck Kee Ipoh Sah Hor Fun is hidden at a corner of Hong Lim Food Centre on a slightly raised ground on level 2. Was looking around for food to try at Hong Lim besides the usual popular hawkers stall and stumble upon the sight of many diners slurp away a plate of hor fun with crayfish. I vaguely remember this old school Singaporean hawker dish sold at Chinatown Food complex (next to the famous vegetarian noodle stall) as my childhood staple with my mommy. The feeling is so nostalgic almost déjà vu that I had to revisit this 40 over years lost childhood food that I missed so much together with the memories. Not sure if they are related to each other, but the similarity in the dish propelled me to want to try it at all cost, literally no matter how much it cost in monetary sense. It turns out to be very affordable although the price has increased over the years due to food cost. By the way, Tuck Kee Ipoh Sah Hor Fun is a hawker stall that has been around for over 40 years selling seafood Ipoh hor fun.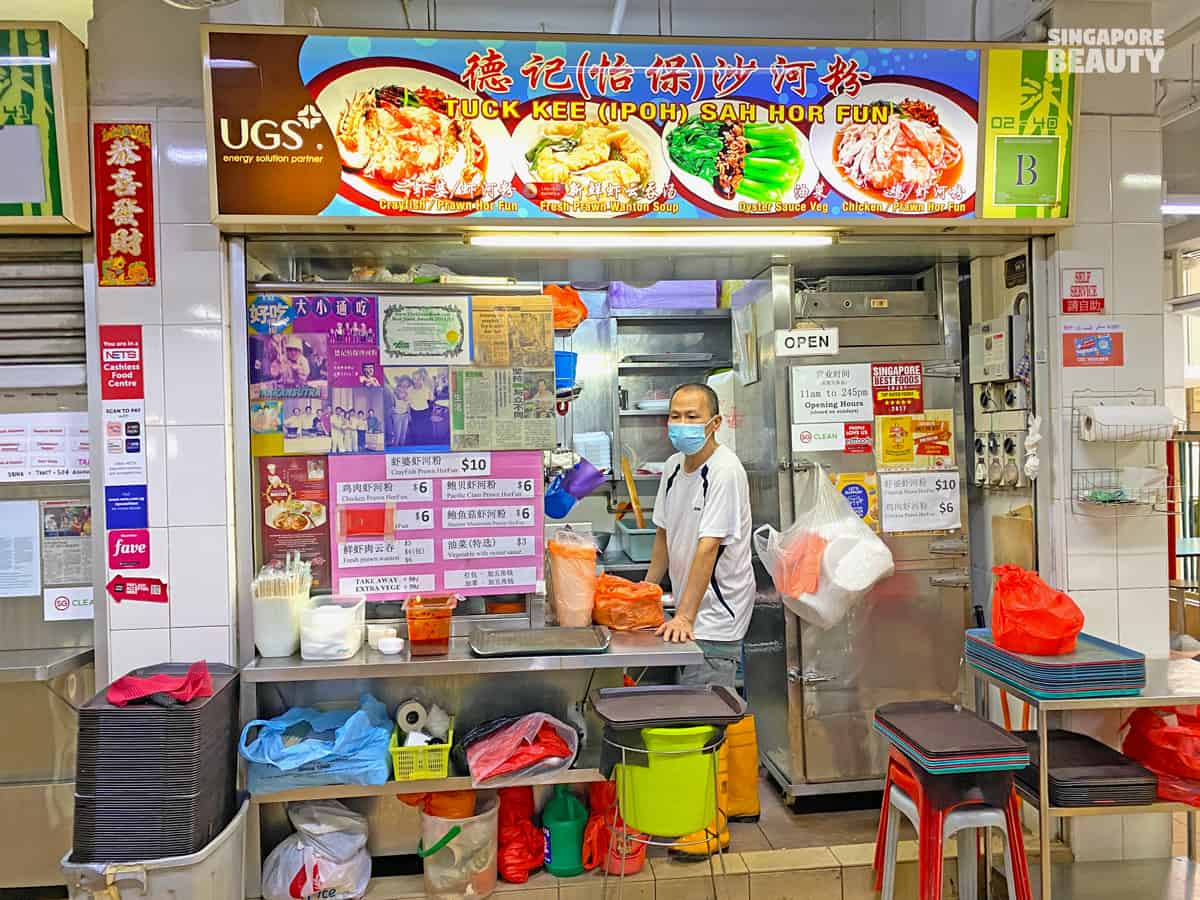 Luckily for me, there is no queue! Somehow I happened to be their last customer of the day. Tuck Kee Ipoh Sah Hor Fun is famous for their crayfish hor fun on many food delivery app if you do not have time to queue at the physical stall. This seafood hor fun dish is the must eat at Hong Lim Hawker centre.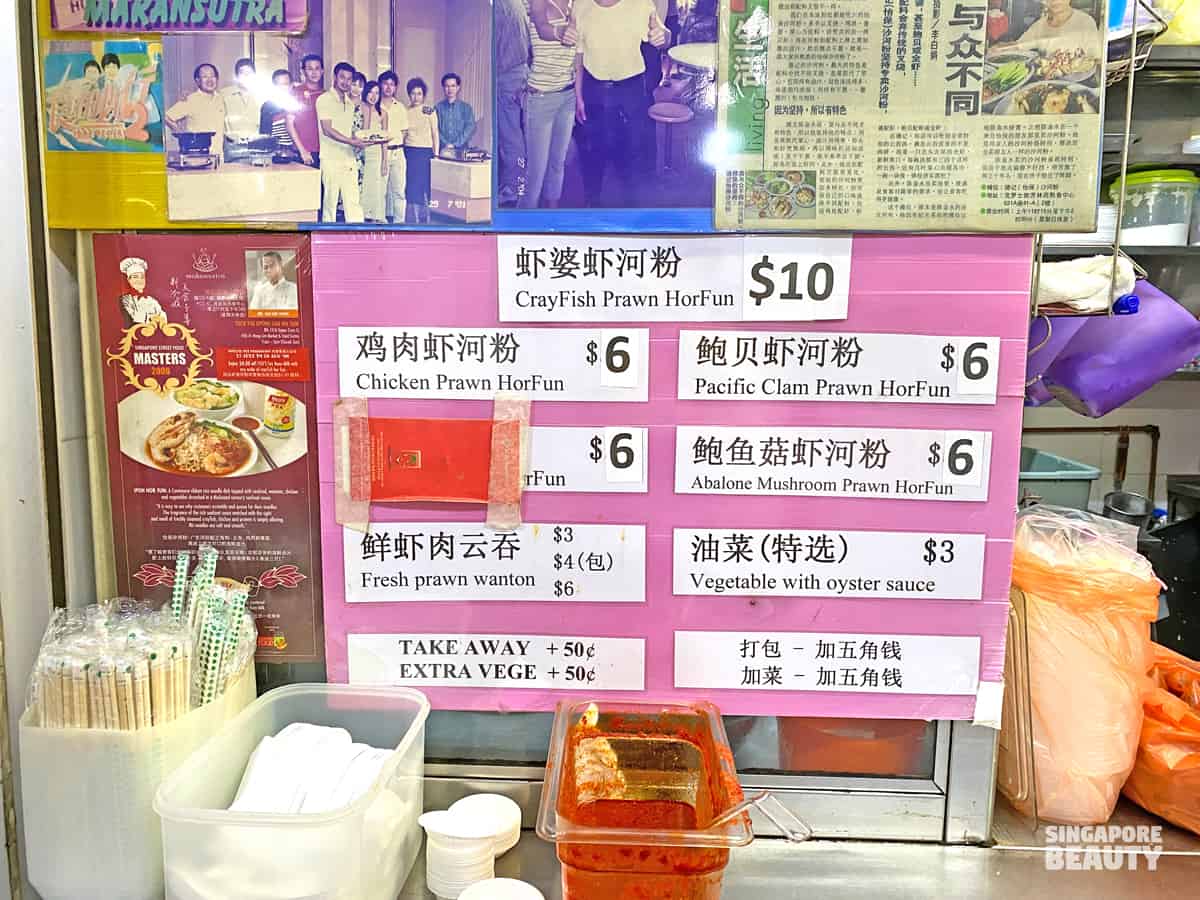 The menu of Tuck Kee Ipoh Sah Hor Fun has 6 items such as crayfish prawn, chicken, abalone mushroom, pacific clam and fresh wanton noodle in various combos. An elderly lady presumably Mrs. Tan who co-run the stall walked over and recommended their signature dish, crayfish prawn hor fun. For $10, you are getting a plate of hor fun drenched in glistening gravy with some good size crayfish and whole deshelled prawns and some jade green kailan. The amount of ingredients is overwhelming and the best thing is it did not cost me an arm or a leg. It is affordable and in fact a bargain in Singapore! Here's why.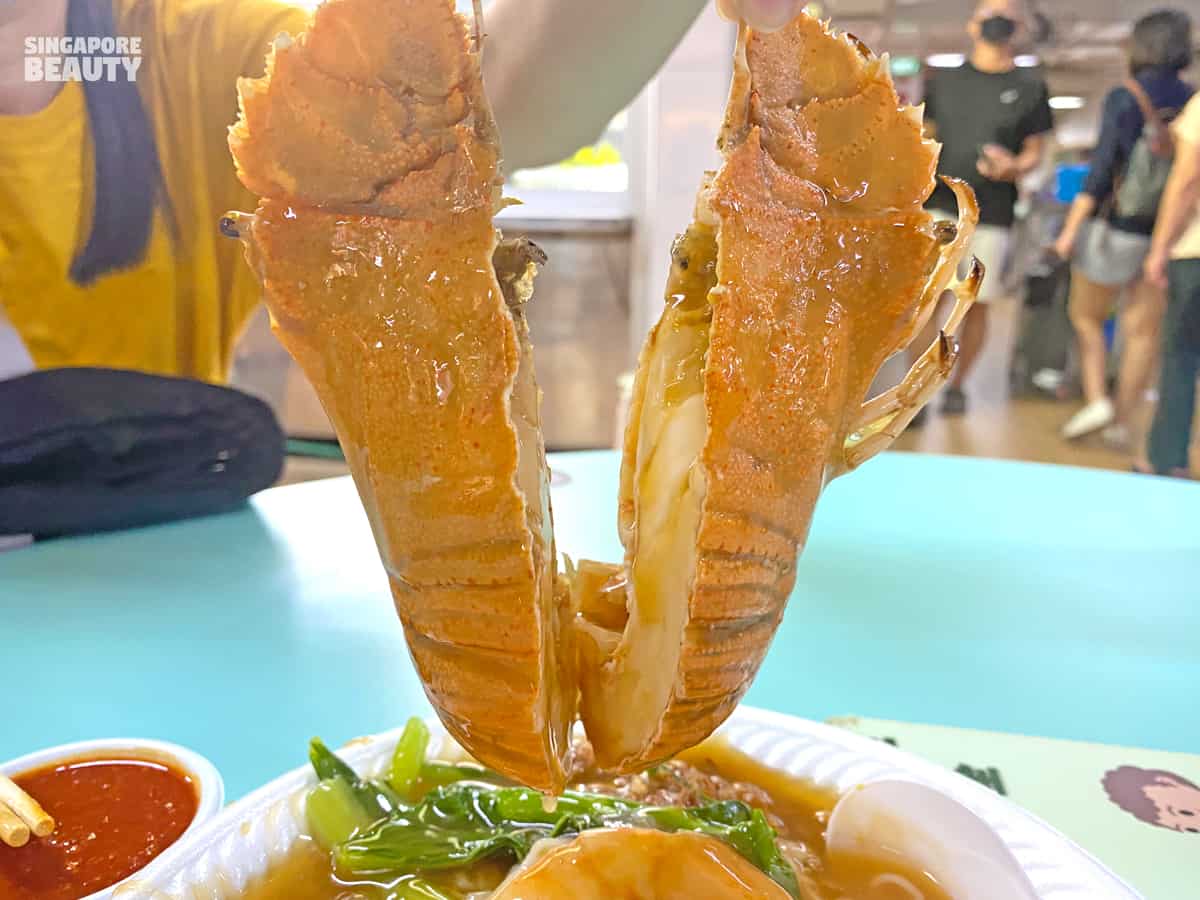 The serving for the crayfish are generous. There are 3 crayfish or slipper lobsters halves in my plate of $10. The tell tale signs of a fresh crayfish is when cooked, the shell takes on a brilliant orange-red hue.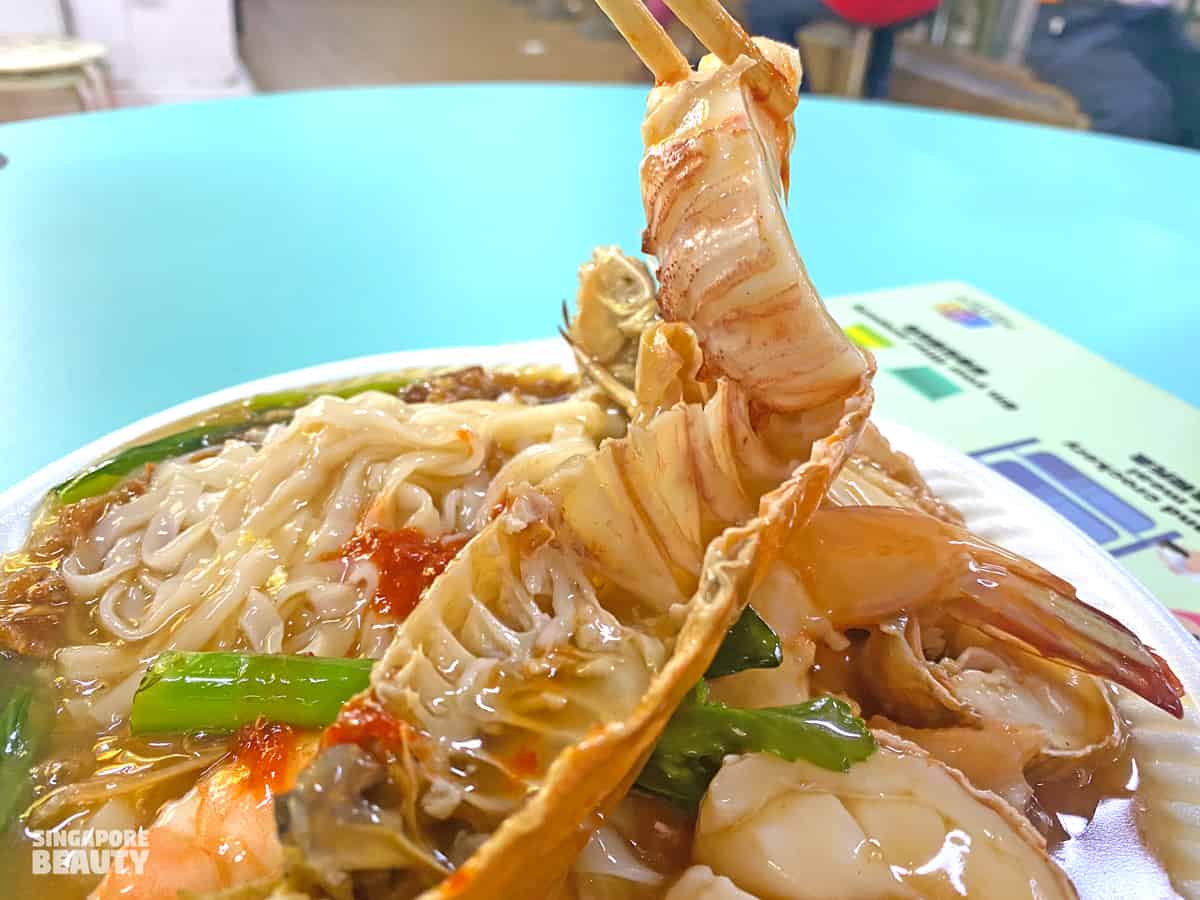 The crayfish are halved for ease of consumption. You can easily ply that succulent meat with pinkish-red dotted bands with a little resistance from the end of the tail. It has an alluring oceanic flavour with a mild briny undertone to it. The meat is naturally sweet with a texture that is a hybrid of mud crab and shrimp.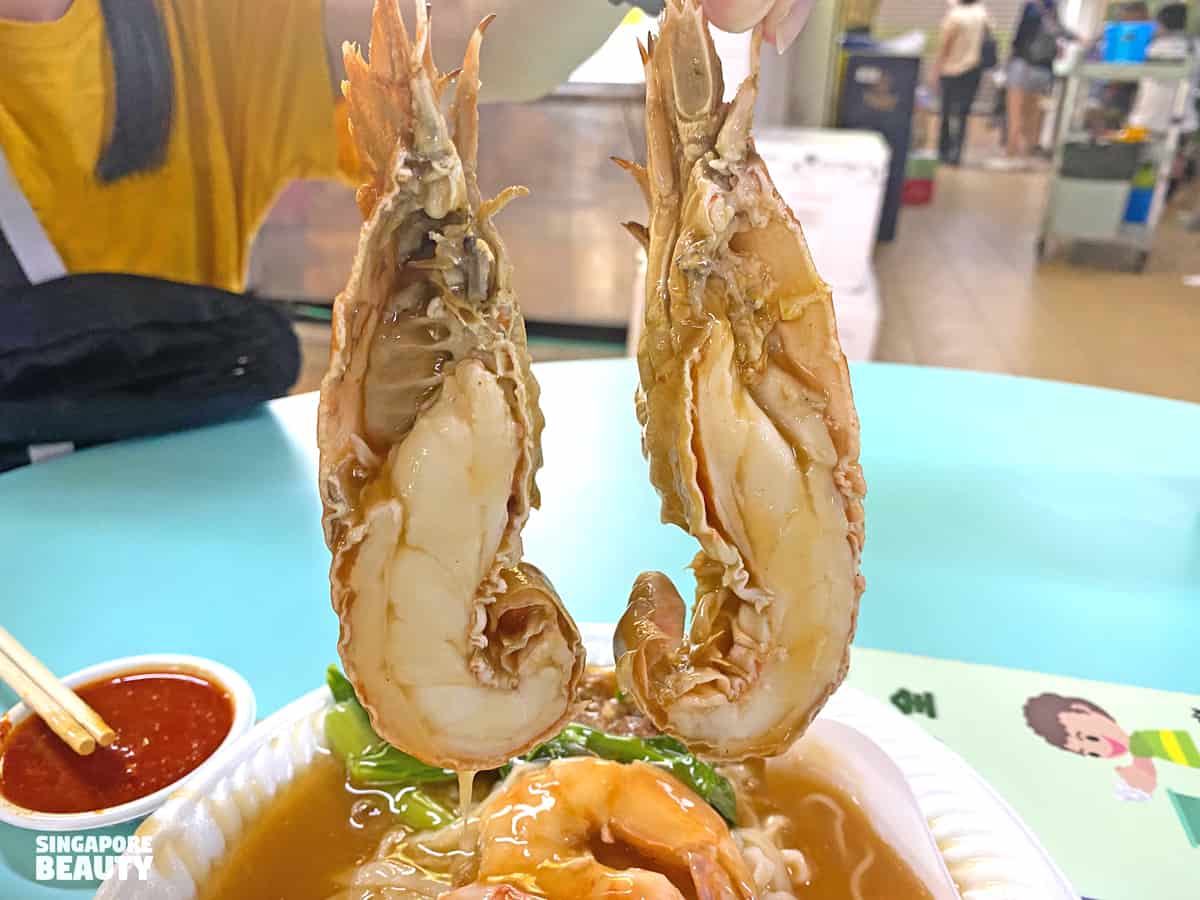 The sign of a fresh slipper lobster or crayfish is that the meat after cooking is bright white instead of yellowish. The meat should be firm to the touch and not mushy like cottage cheese with a strong seafood odour.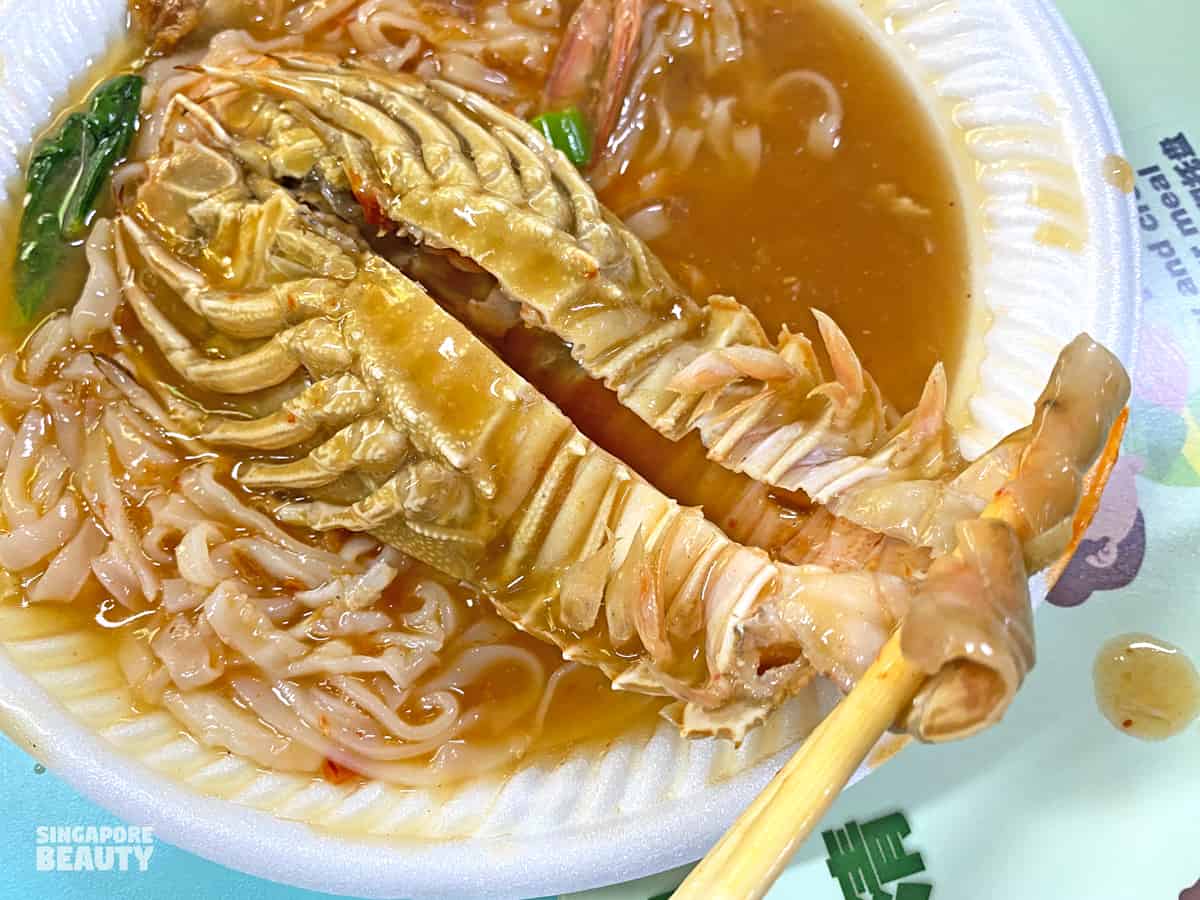 Lastly, the most reliable trick to tell if the lobster is fresh is by looking at the underside of the shell. If the shell is pale white like the one shown, the slipper lobster or crayfish is fresh.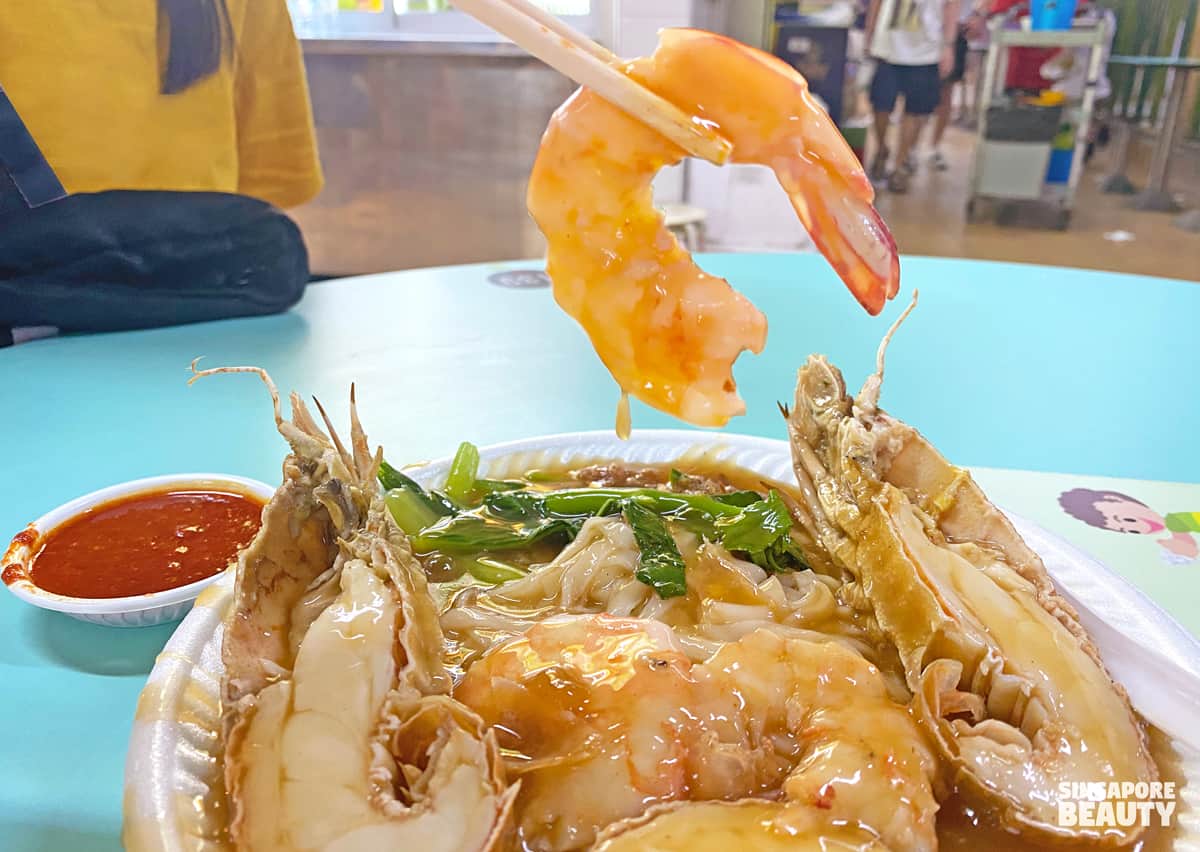 The serving of the prawns are also generous. These are prawns and not shrimps in terms of size. These deshelled prawns are served whole and not those halved prawns. It is the real deal – what you see is what you get. Crunchy and sweet fresh prawns. It is very disheartening when you go for prawn based dishes and there is this one stale prawn that the unscrupulous hawker will slip into the dish. That is mushy, halved and comes with gritty texture from the intestines that is still in the prawns even though it is halved. At Tuck Kee Ipoh Sah Hor Fun, the prawns seems like they are deveined even though it is a whole prawn, which is very encouraging for a prawn lover like myself. Usually I will devein them before eating, but if it is done for me, it says a lot about the standard these hawker set for themselves toward their food.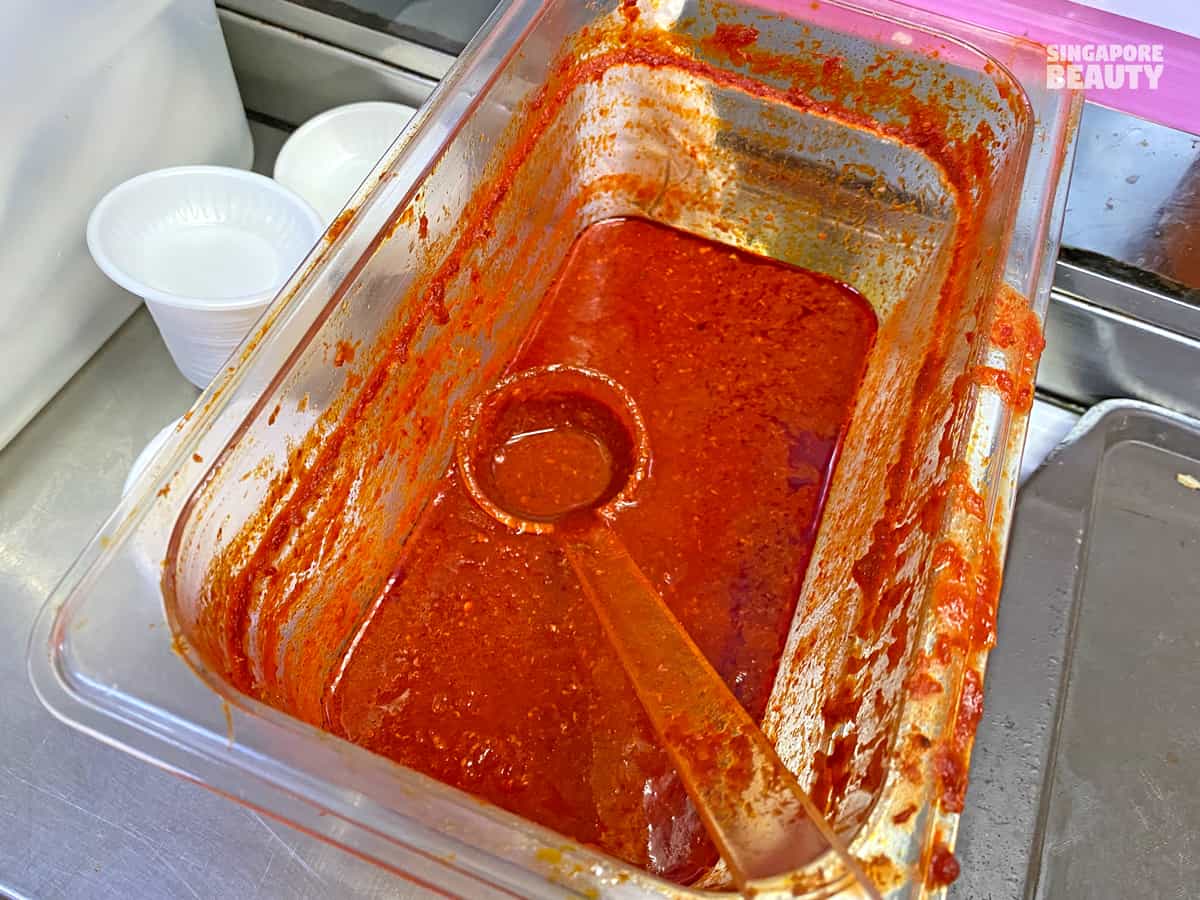 The chilli sauce is a must have for this hor fun. The chilli sauce has a strong belacan flavour and pairs very well with the seafood in this plate.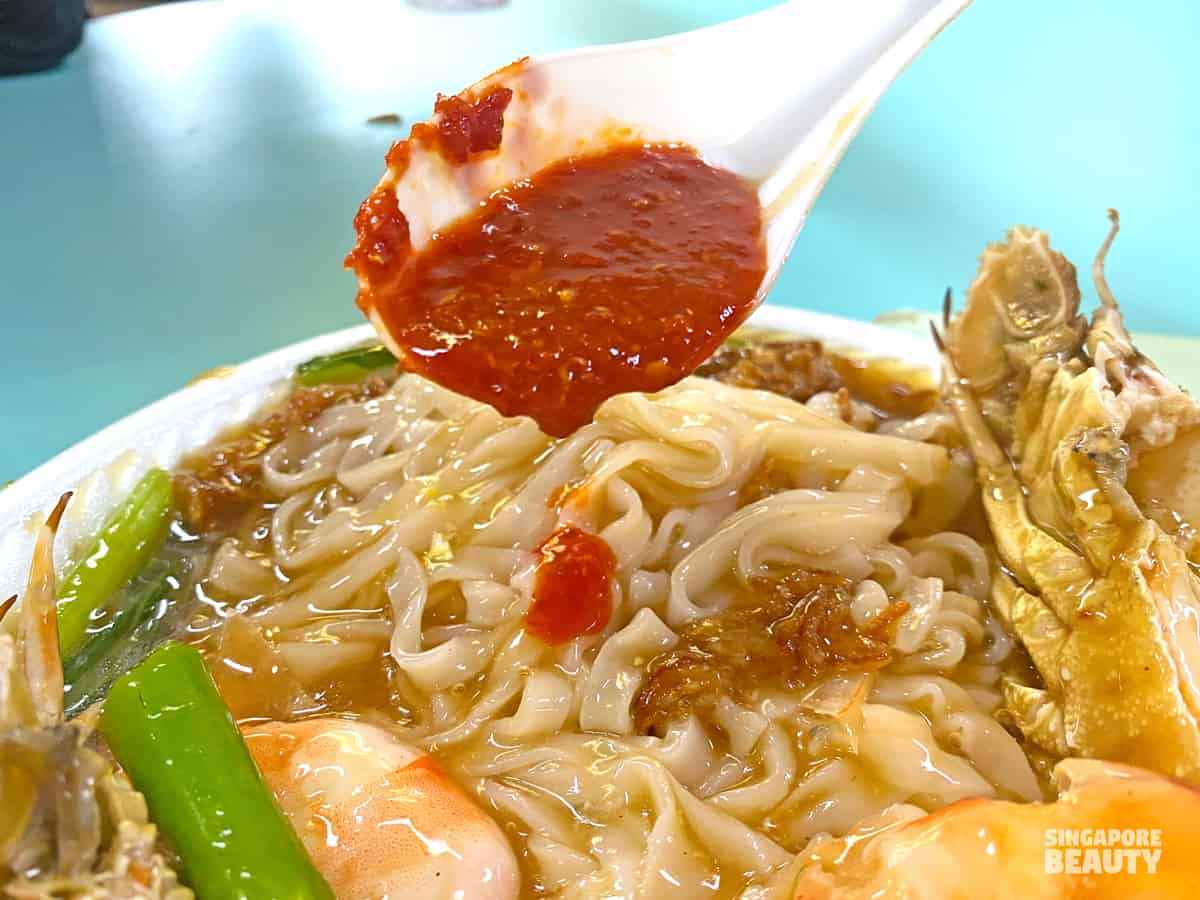 The regulars would mix this chilli sauce into the hor fun to create their own spicy version with a full-bodied flavour. The chilli has a spicy tang to it which is great for the seafood. The shallot oil that topped this hor fun also adds an extra sweet fragrant factor to it.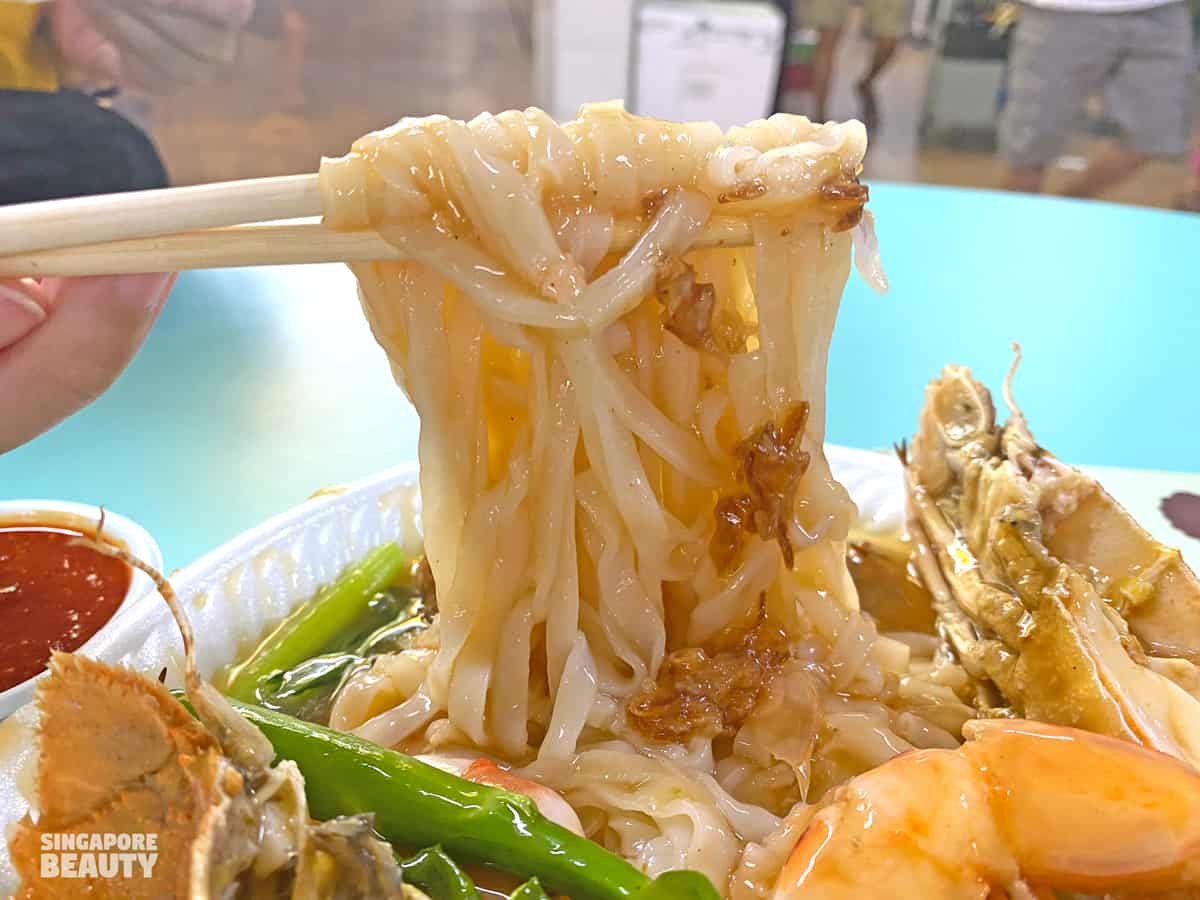 The hor fun used is thinner in width and silkier too. The silky flat hor fun has a springy texture with a mild rice flavour that is different from those zichar broad flat horfun with wok hei used in most Singapore stall. They glazed the whole plate of Ipoh style sah hor fun including the seafood with this savoury gravy. You can literally slurp up the hor fun with the gooey sauce.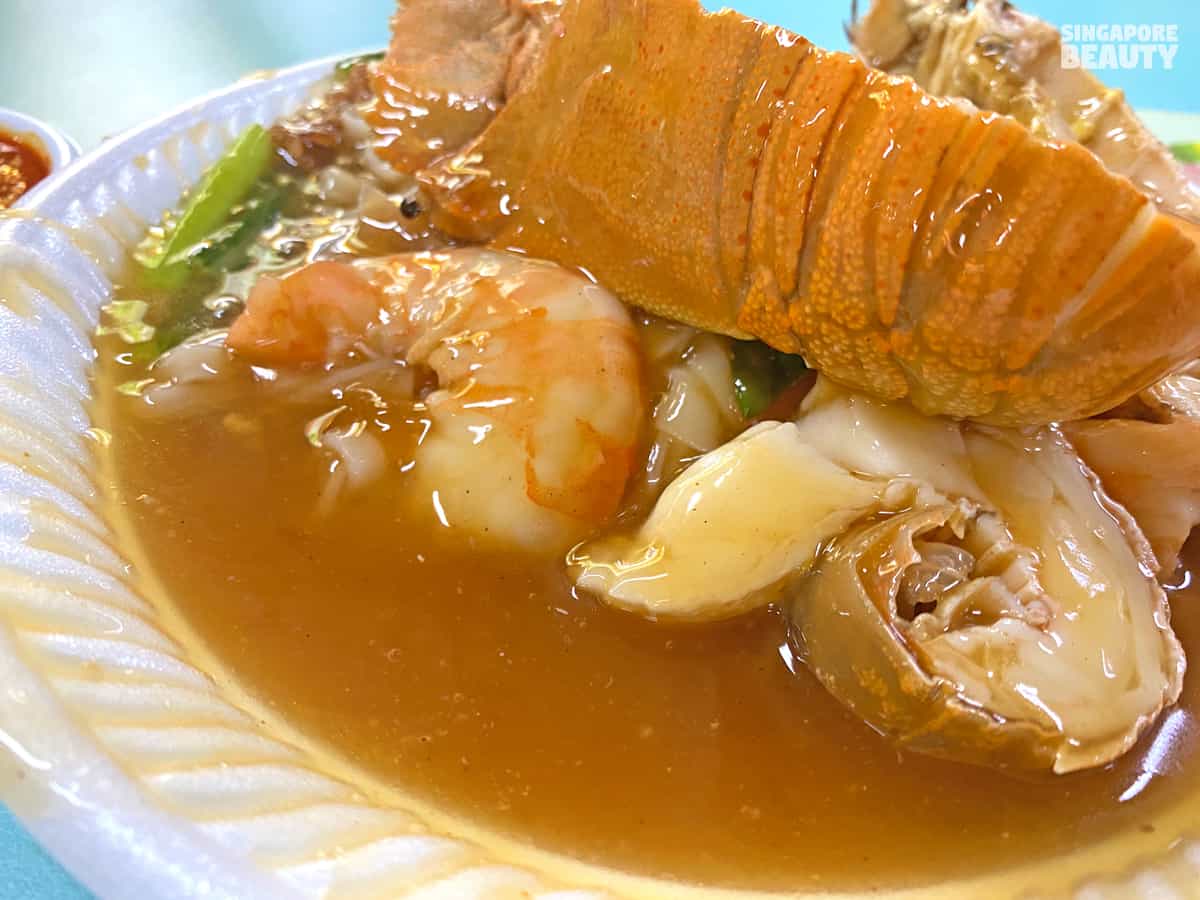 The light amber gravy is said to be made from chicken bones, prawn heads and shells. The stock is then thicken to form that luxurious sauce to drizzle over the hor fun.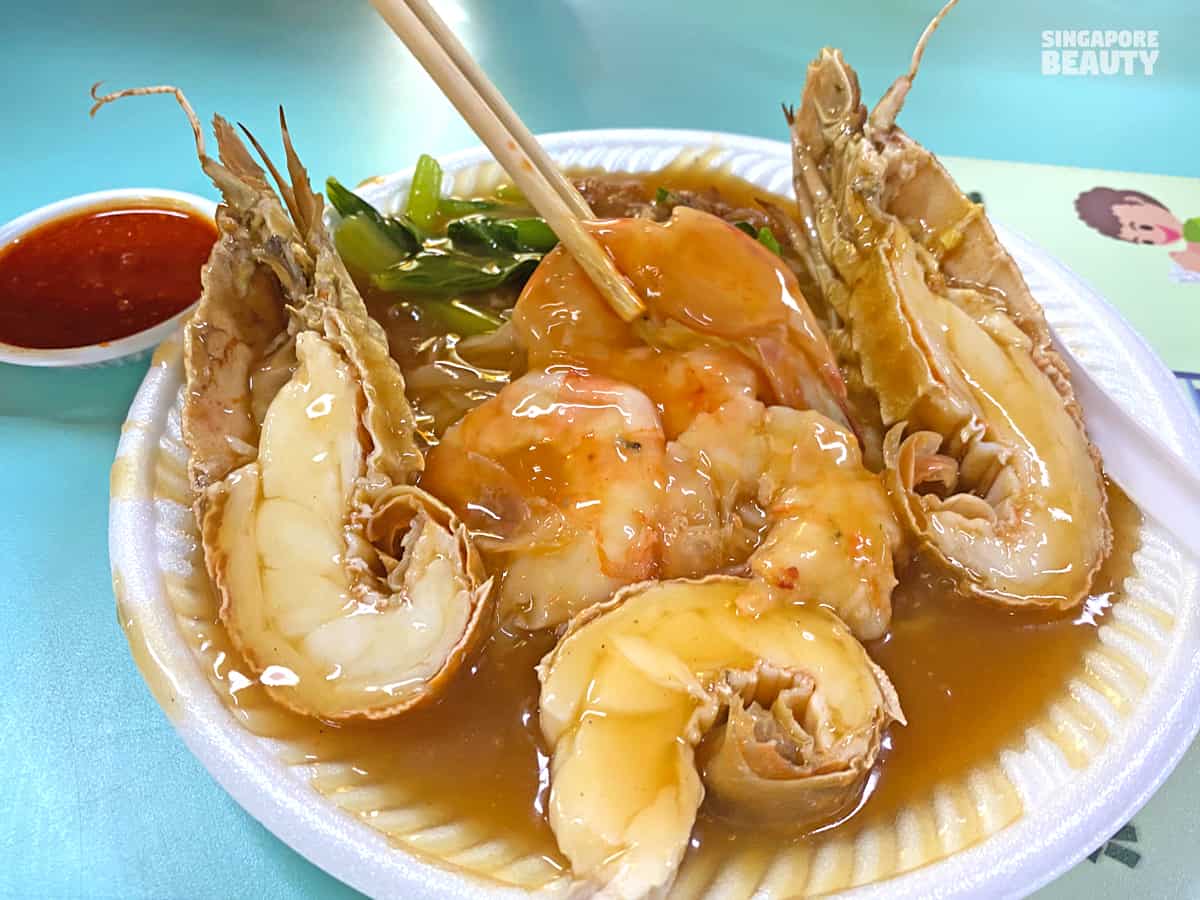 This is one of the best Ipoh Hor fun in Singapore with crayfish or slipper lobster.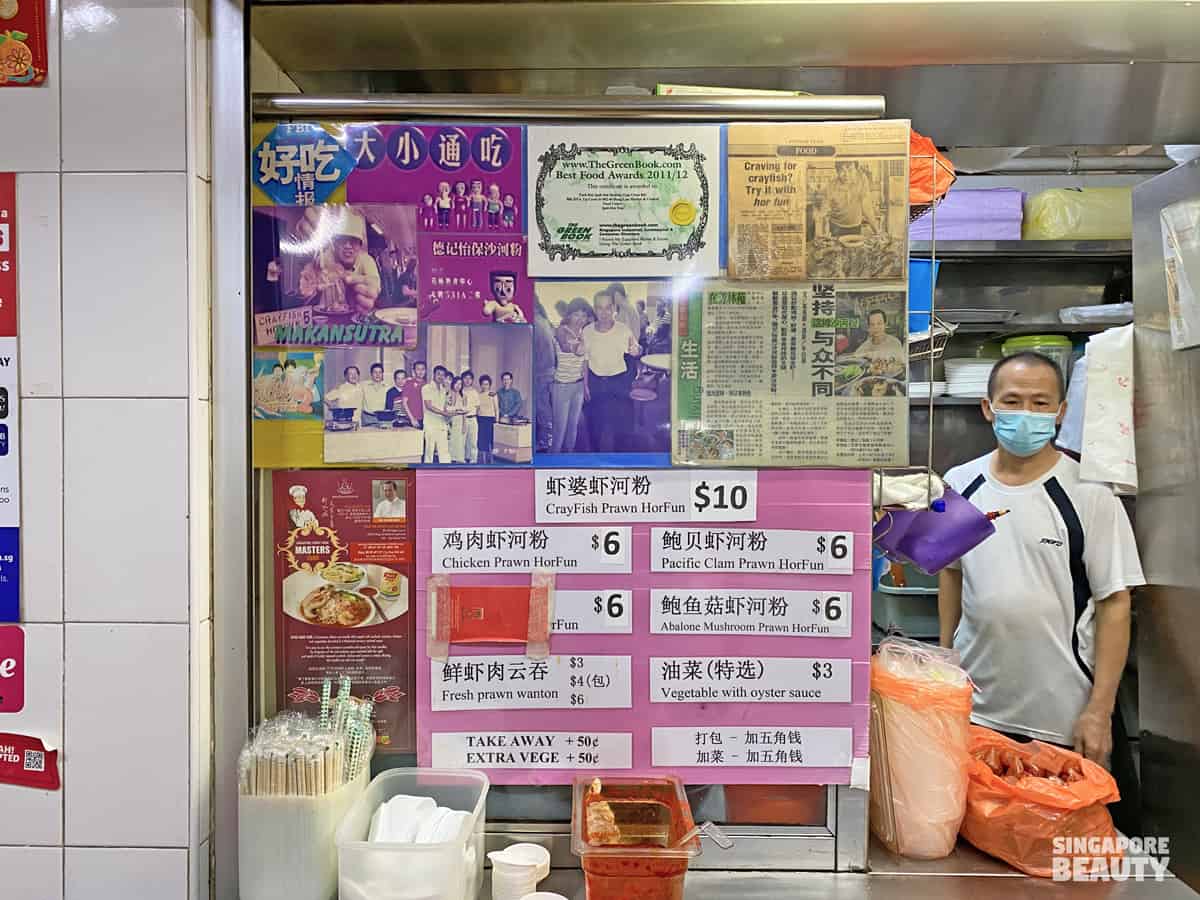 This is the Tourist must eat Tuck Kee Ipoh Sah Hor Fun 德记怡保沙河粉 crayfish hor fun if you are around Hong Lim- Chinatown hawker food centre. Not around also try to make your way there! Do take note of the short operating hours – slightly under 4 hours, slightly shorter than the time to drive to Ipoh, Malaysia.
Opening hours:
11am to 2.45 pm
Sunday closed
Tuck Kee Ipoh Sah Hor Fun 德记怡保沙河粉 Location :
Hong Lim Food Centre & Market
531A Upper Cross Street #02-40 Singapore 051531