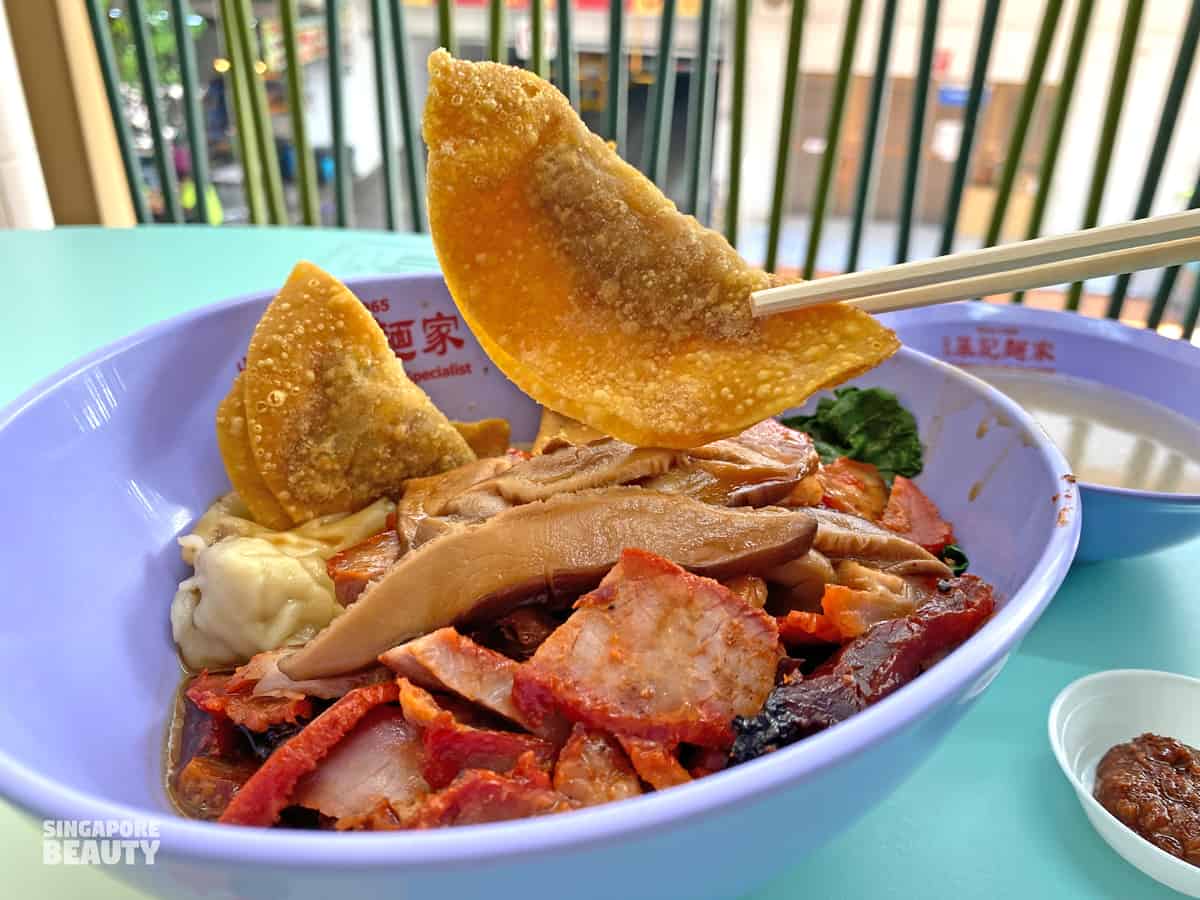 Ji Ji Wanton Noodle specialist at Hong Lim is often spotted with a long queue during lunch hours. Spanning across three hawker stall space, there has to be something special about this wanton noodle. The noodle starts from $4.50 each bowl. This is a bowl of affordable famous wanton noodle with 6 ingredients. At Hong Lim Food centre, this is one of the must eat food and most popular wanton noodle review in Hong Lim besides Outram Park Fried Kway Teow, Cantonese Delights and Tai Wah Pork Noodle.
Ji Ji Wanton Noodle Specialist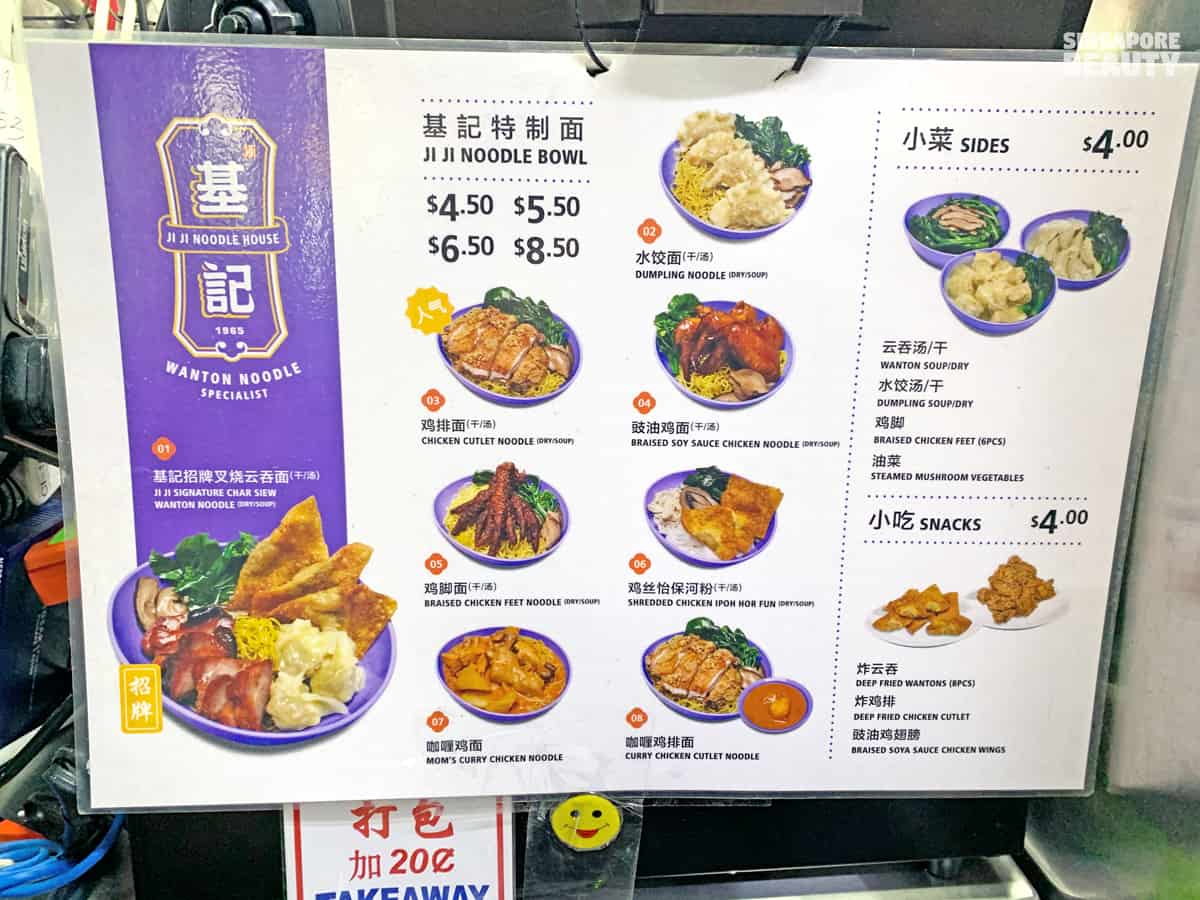 On their Ji Ji wanton noodle specialist menu are dishes such as chicken cutlet, braised soy sauce chicken, chicken feet, shredded chicken Ipoh hor fun, mom curry noodle, curry chicken cutlet noodle, wanton or dumpling soup.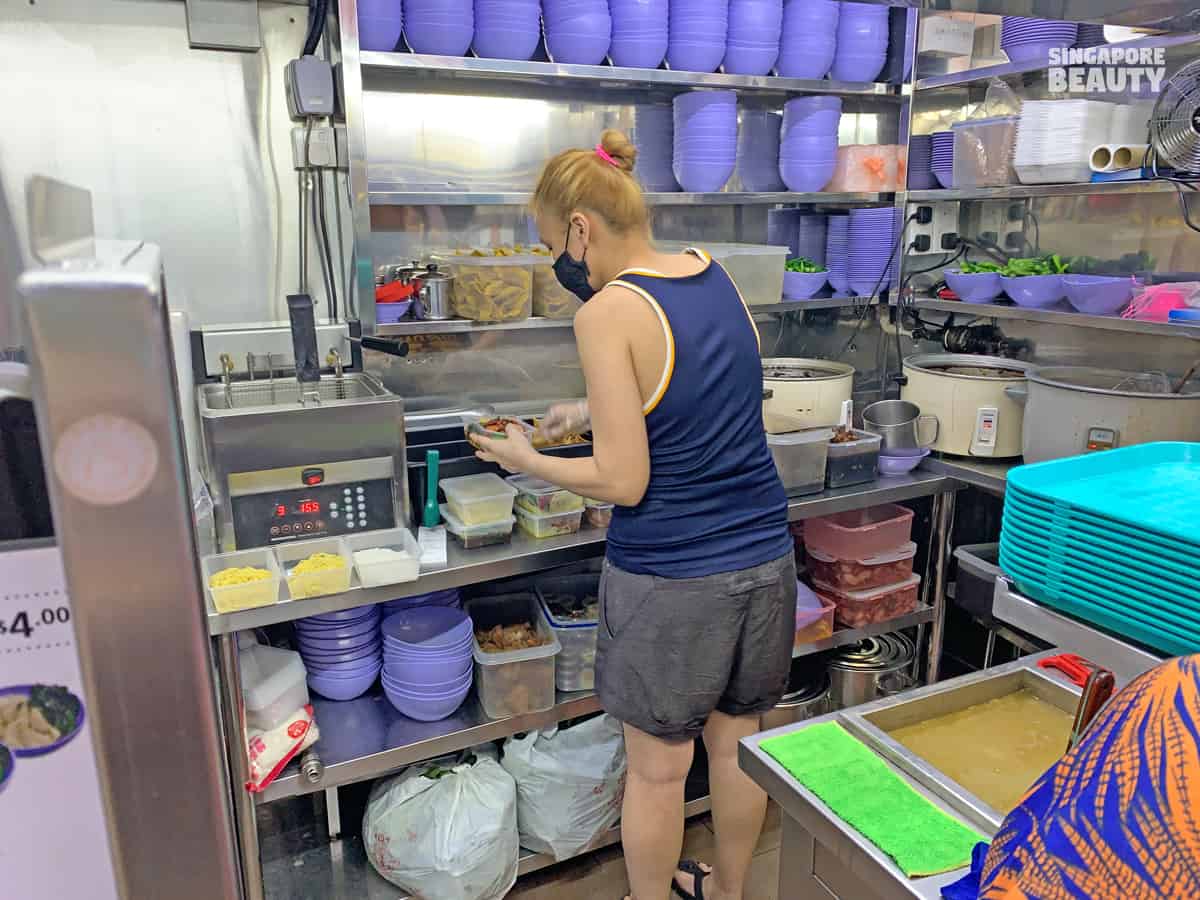 This is also a unique stall that has a noodle cook and toss machine. The long hours and work load has taken a toll on Ms Choong's wrist and they have taken a bold innovative step to incorporate this machine into their noodle cooking routine to ease the load and continue their family legacy and wanton noodle recipe.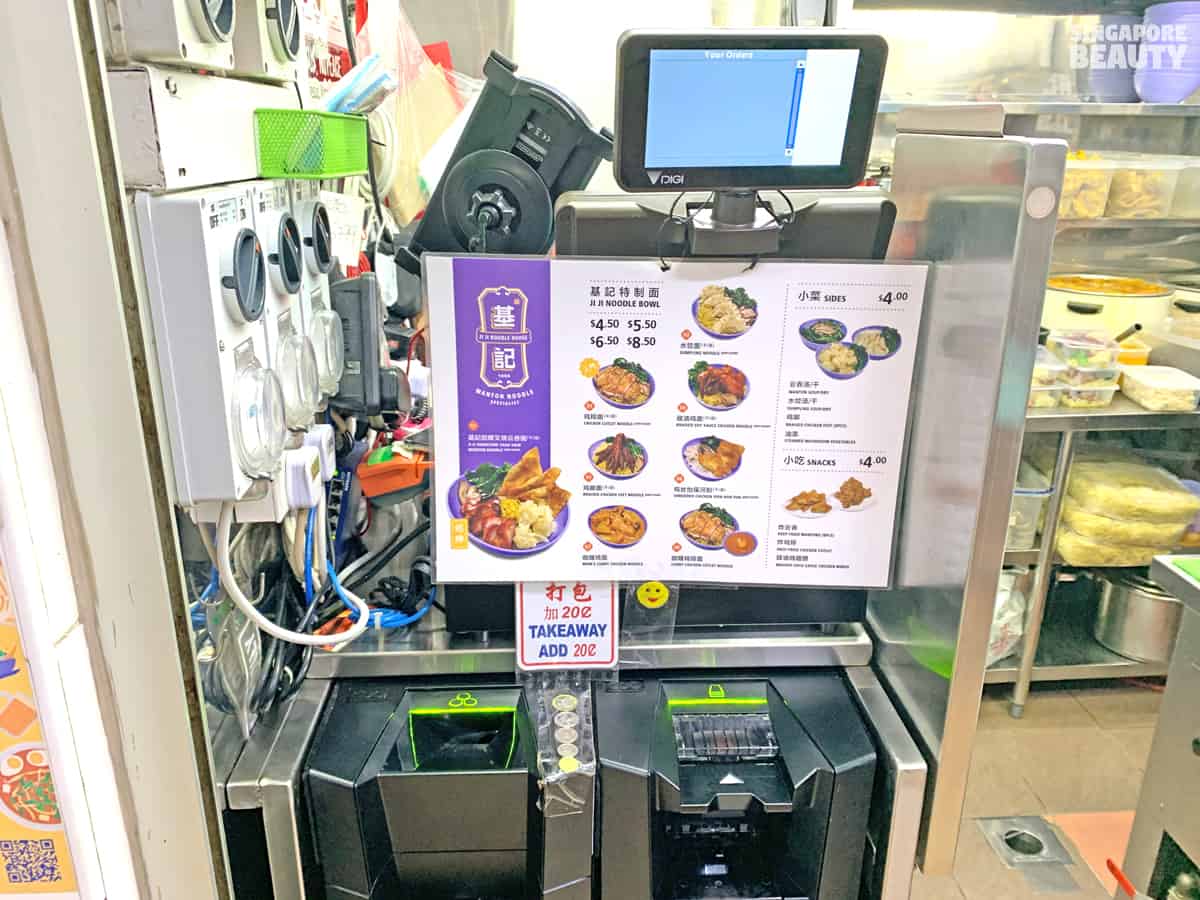 Besides that, Ji Ji Noodle House also has a cashier machine that helps to increase their productivity and hygiene standard by not handing money.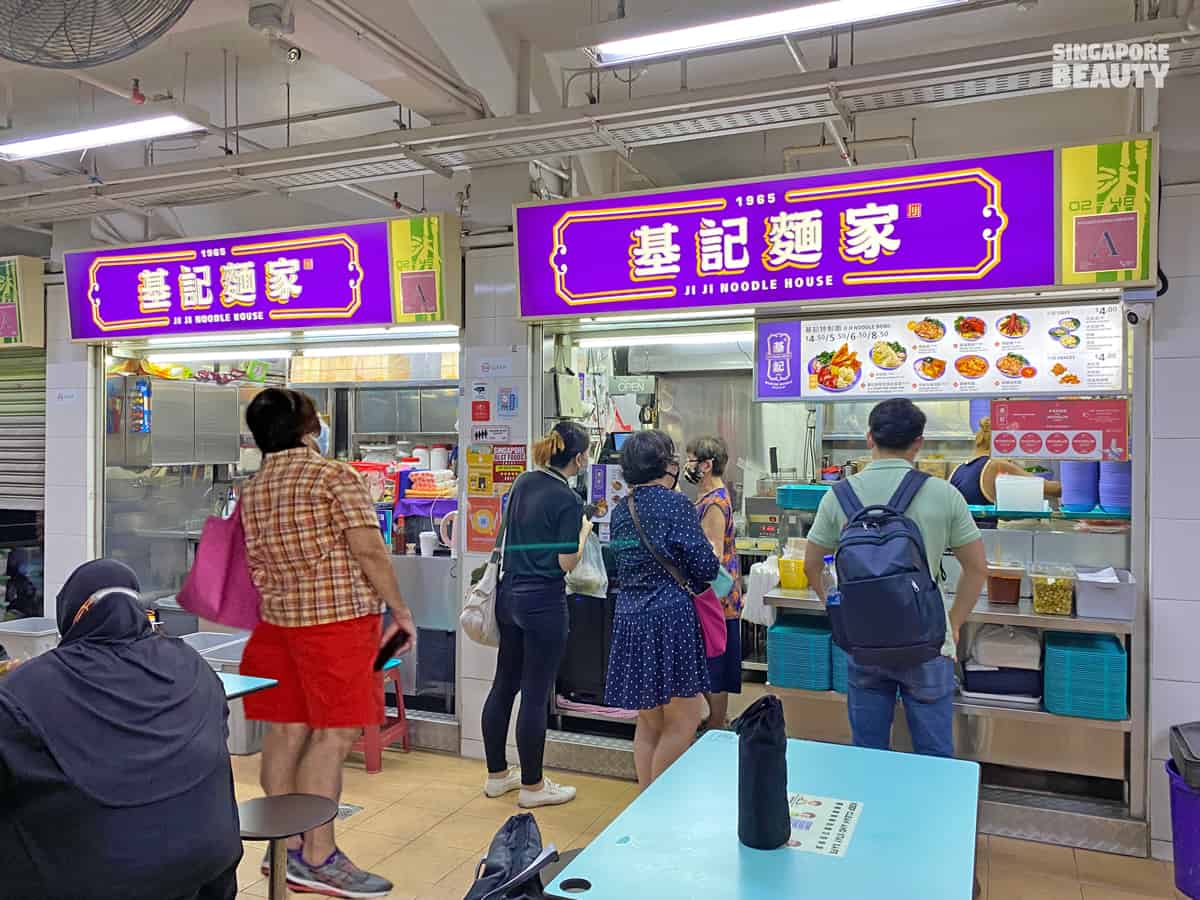 Ji Ji wanton noodle specialist hawker stall is run by the 3rd generation Ms Choong currently. Choong's grandparents Mdm Chang and Mr Lai Ji used to peddle the noodles from a pushcart named Ji Ji Noodle from "山仔顶" Chulia Street since 1963. They then settled down in this hawker centre in 1978. It is then handed down to Choong's mother, Mdm Lai Yau Kiew and now Mdm Lai's daughters Ms Kristen and Jill Choong. A typical day of work starts from 5 am till late 9 pm daily for food preparation and clean up after the stall closes for the day.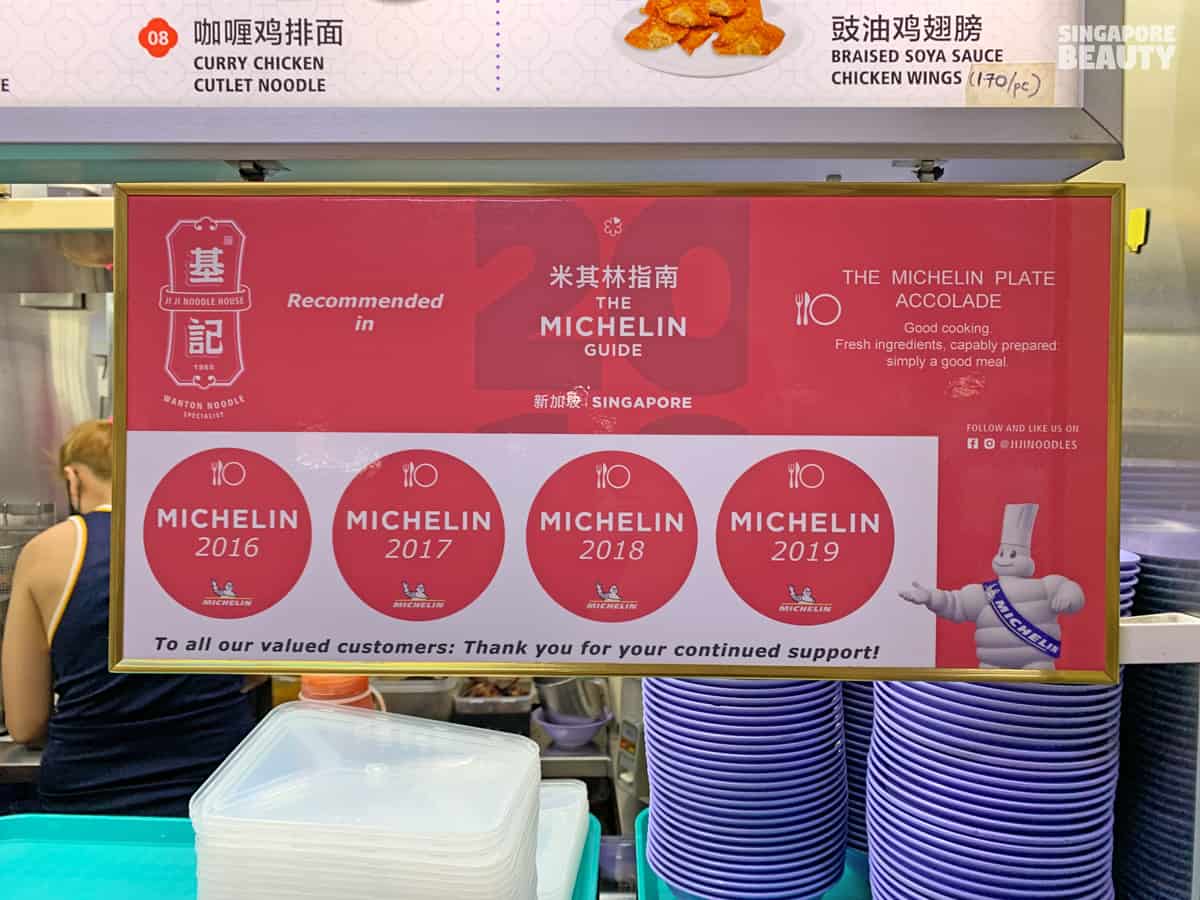 They are also listed in Michelin Food Guide Singapore with a Michelin plate 2016 to 2019 and has participated in the Michelin's Guide's Street food festival. With a second full fledged eatery in one of the shophouses at Kreta Ayer road, they have expanded their menu to include finger food such as deep fried chicken wings and Muar premium fish otah. Under the Singapore's hawker heritage scheme, they are prepared to train students on their wanton noodle trade skills in view of future possible expansion.
Ji ji Wanton Noodle Specialist Hong Lim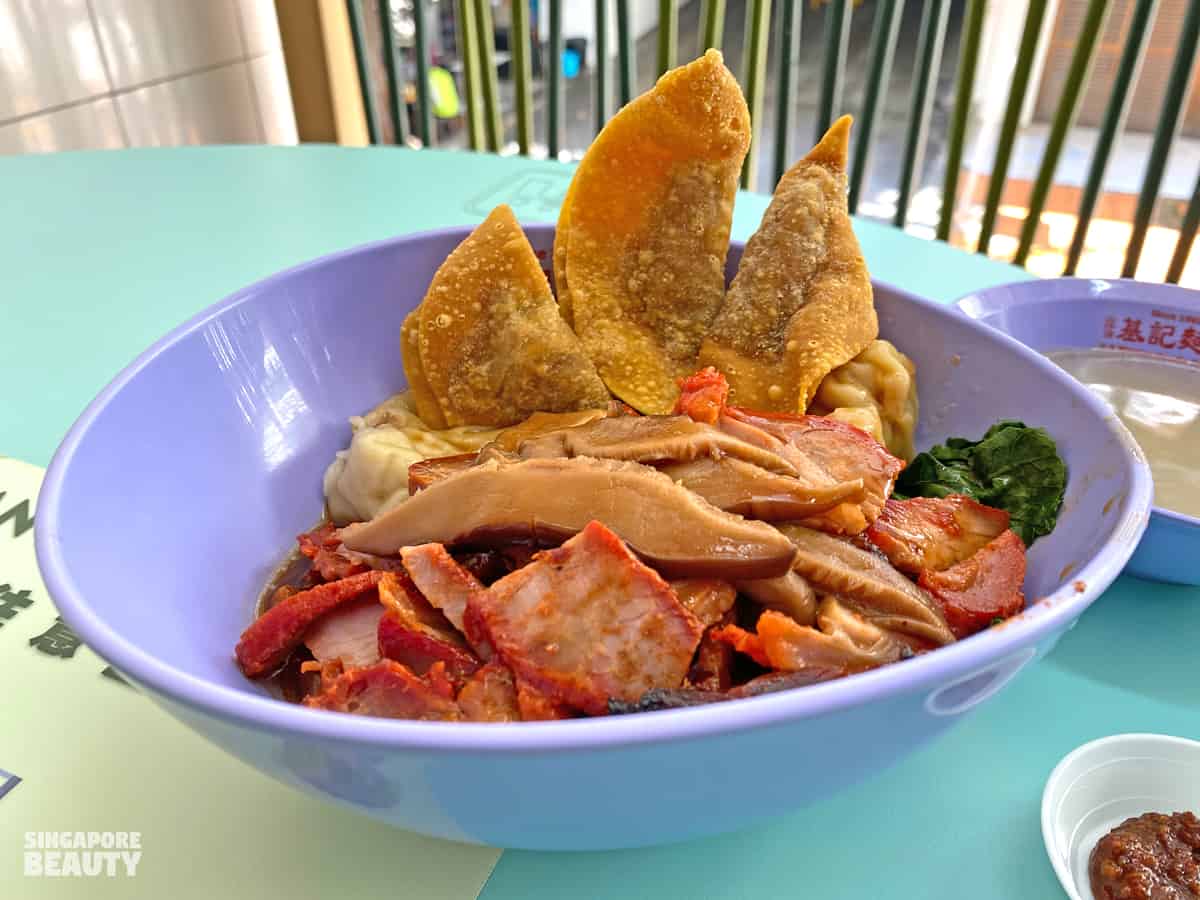 Ji ji Wanton Noodle Specialist best seller is their basic bowl of Ji Ji signature char siew wanton noodle $4.50 comes with barbecued pork, boiled dumplings, deep fried wanton, mushrooms, cai xin and some al dental yellow egg noodles. You can order them dry with dark sauce and a dollop of chilli paste or noodle in some umami soup. This combination of ingredients for wanton noodle is only available at this Hong Lim hawker centre, near Chinatown. I do not remember coming across any similar combo elsewhere.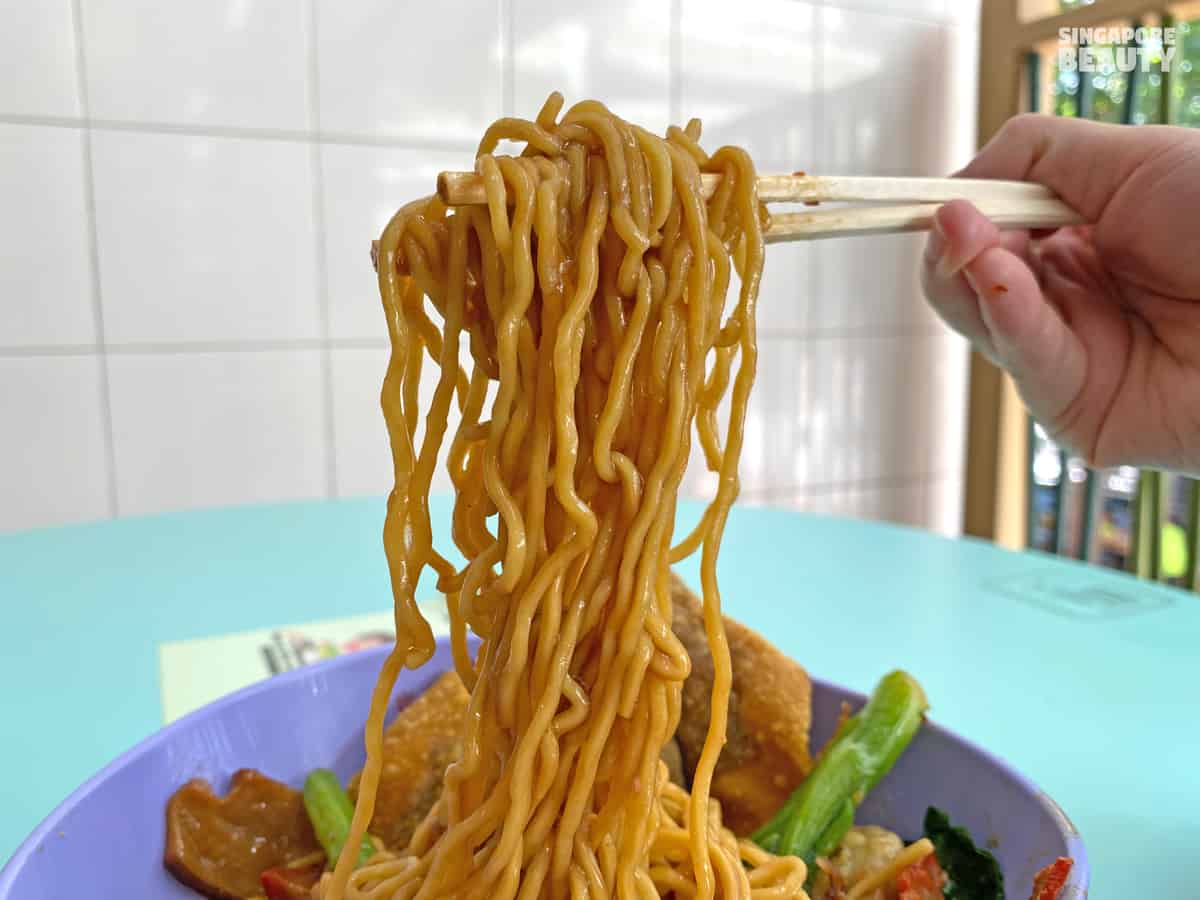 The yellow egg noodle are different from the usual springy and chewy wanton noodle. These noodles are like a hybrid of spaghetti and ramen. These noodles are specially made for them by a noodle maker and supplier. The noodle has a round thicker profile that gives it a unique bite and the elasticity of ramen. It has an alkaline flavour to it and a mild bitterness. Tossed in dark soya and mushroom sauce, the flavour is a cross between bak chor mee and Malaysia style wanton mee.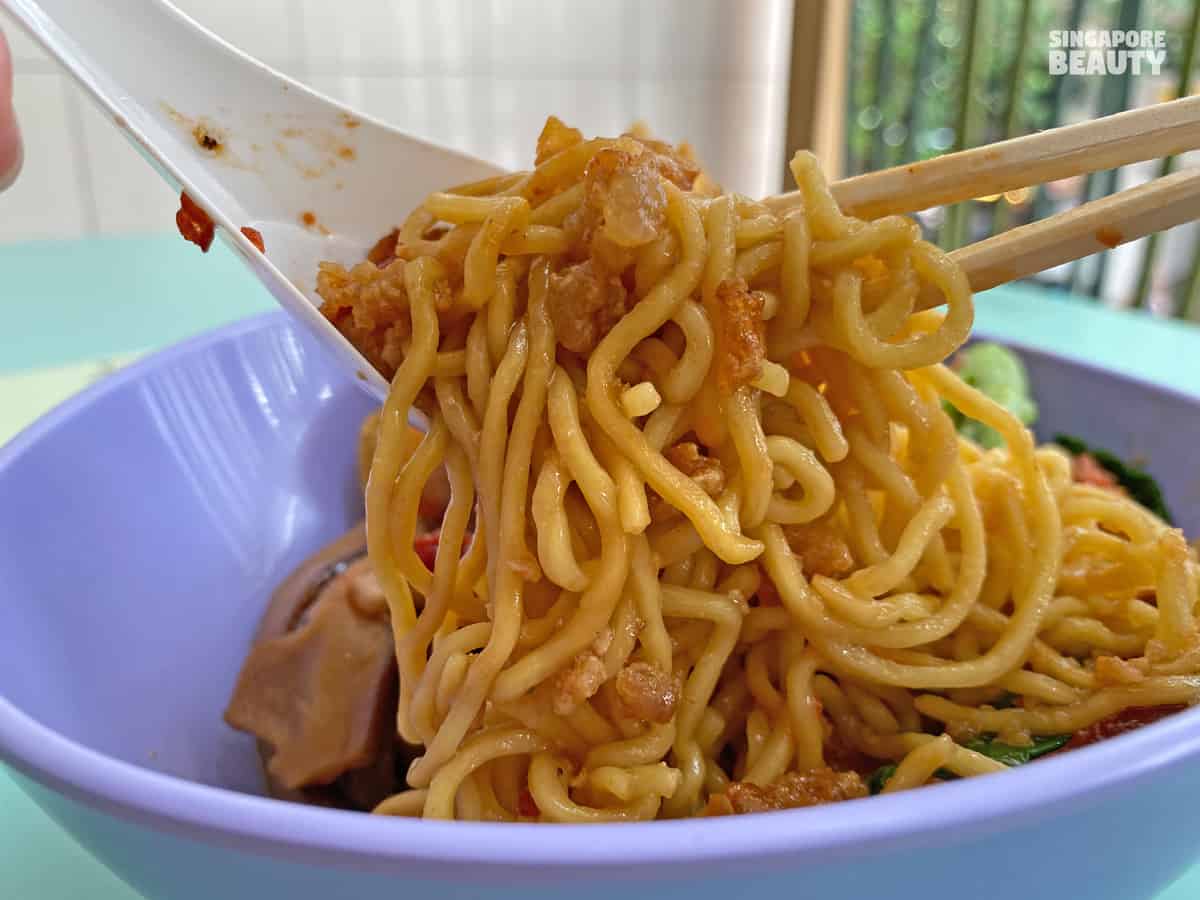 The dry noodle are glazed with some fragrant pork lard shallot oil. The dollop of chilli paste are served separately on a small saucer with interesting smoky flavour and bits of shrimpy hae bee. Small bits of crunchy pork lard and sweet shallots coated the noodles for the extra burst of flavour.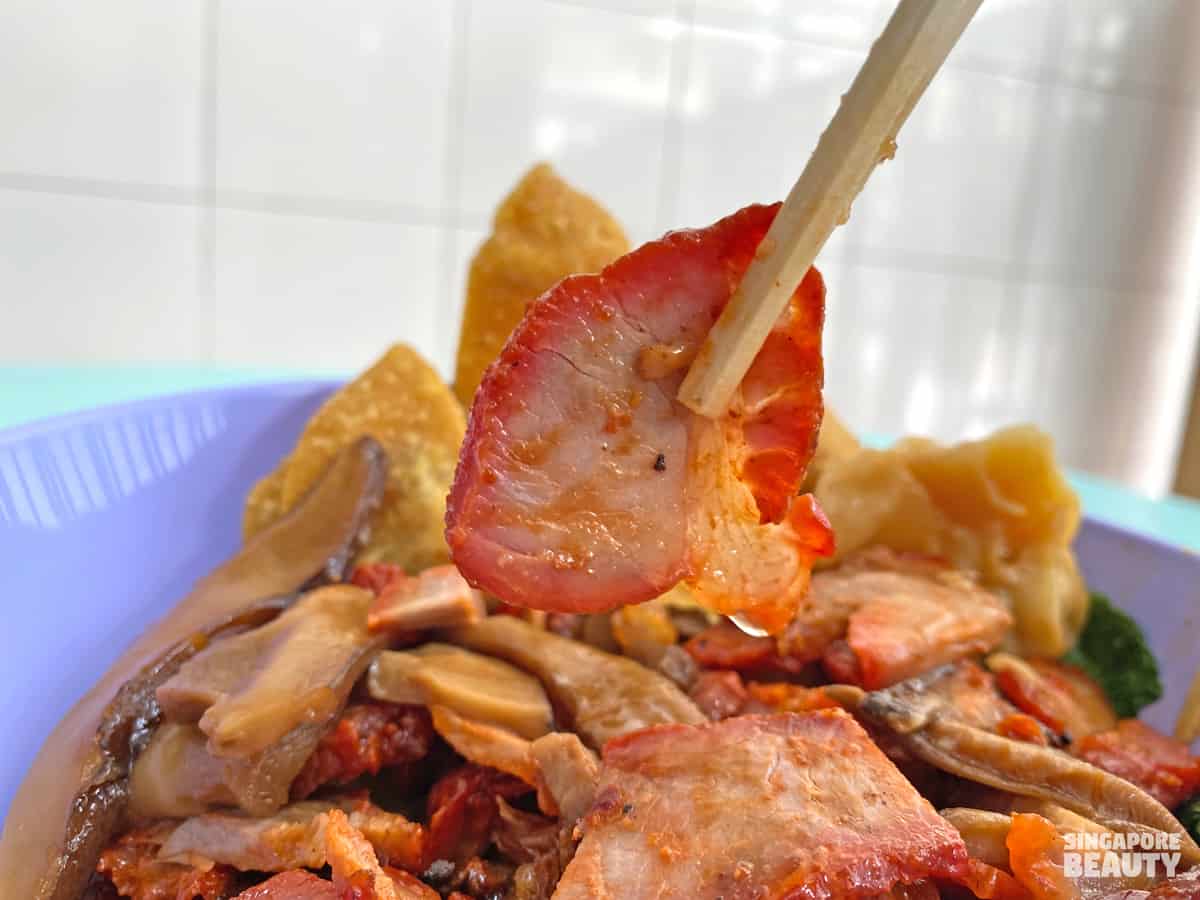 The homemade char siew are tender and well marinated. The mid portion of the char siew are those with a distinctive red border. Care has been taken to slice against the meat grain, to break down the fibres for some char siew that are tender to the bite. There are also a good amount of fat vs lean meat ratio to keep each slice moist. Each slice of char siew is well caramelised on the edge and the ends of the char siew are in a deeper shade of maroon.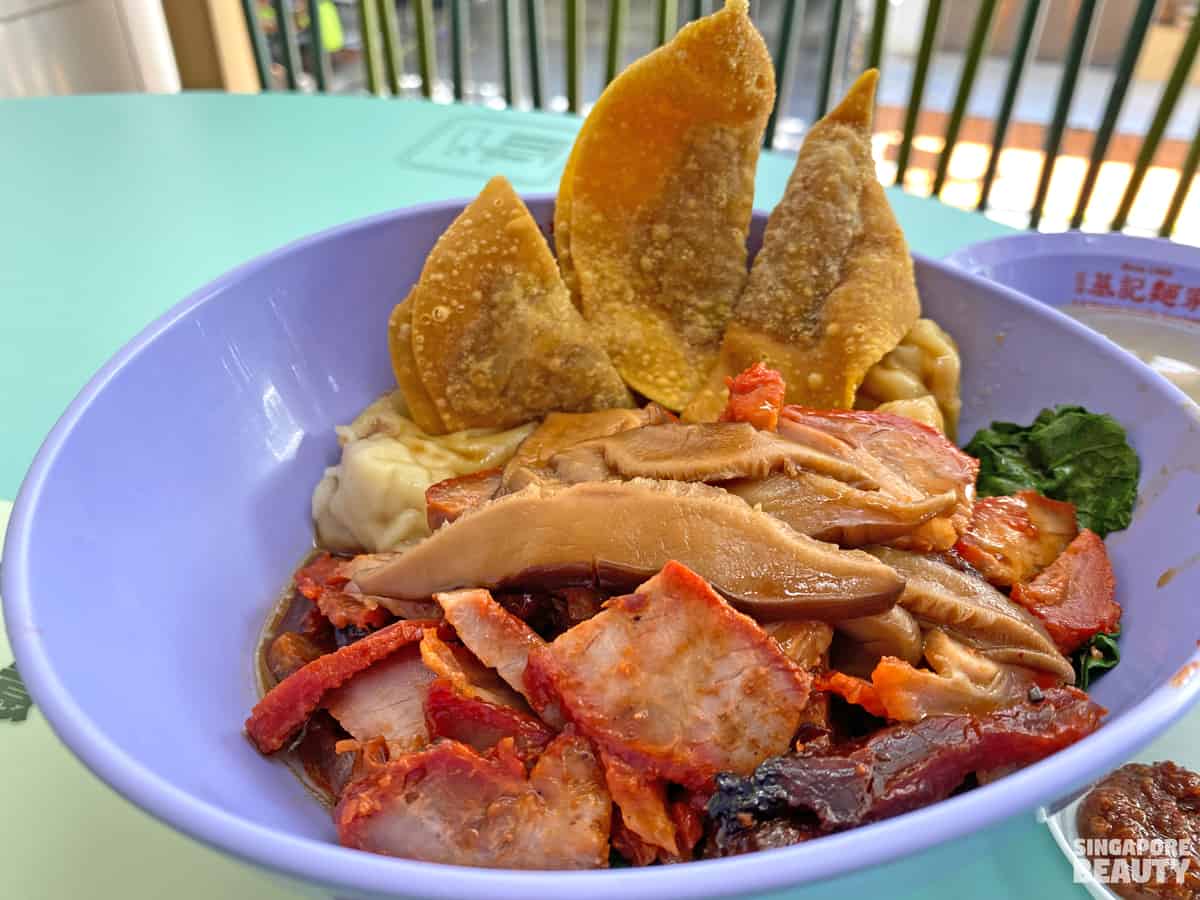 These darken shade of barbecued pork char siew ends are well caramelised to almost a honeyed like state where the meat has taken on a deep translucent hue. It taste like smoky cured meat with a deeper flavour to it and more chewy.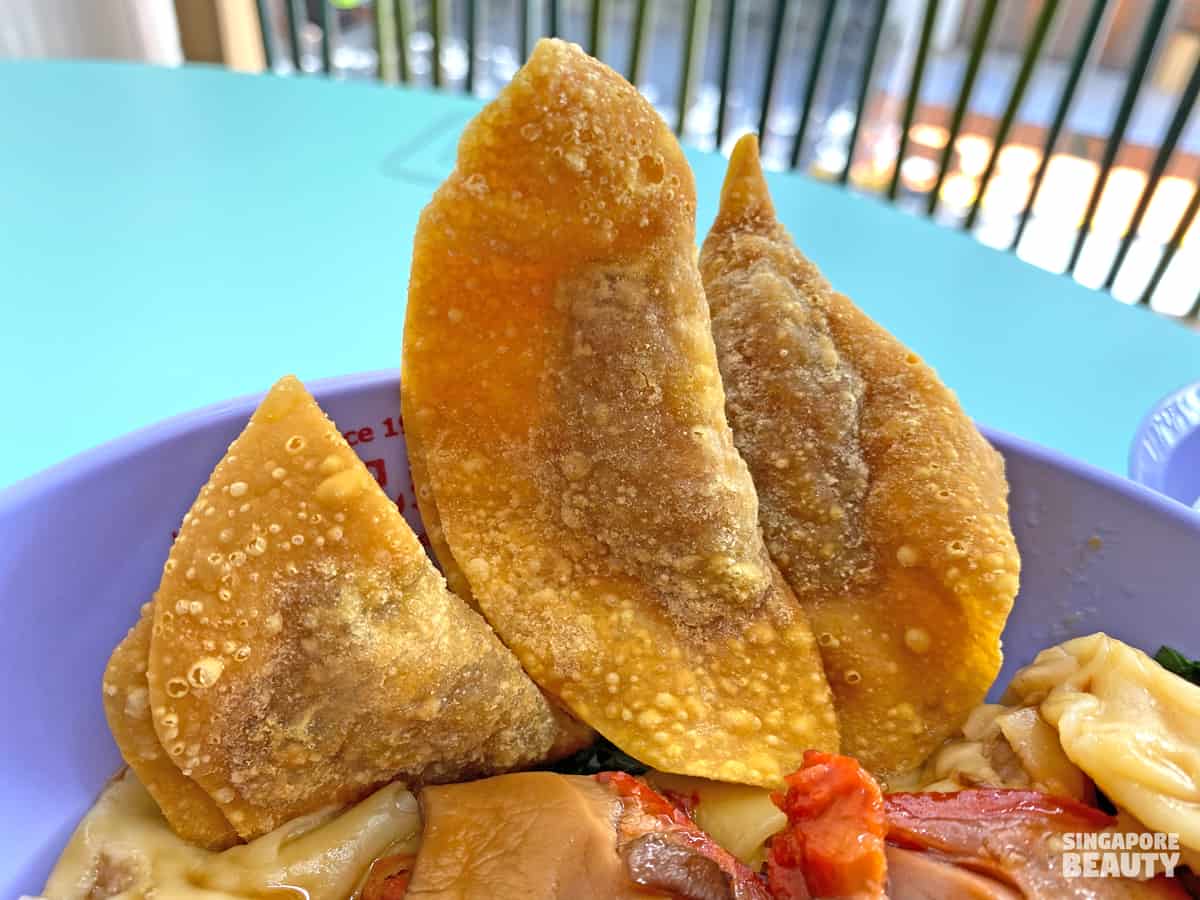 The fried wanton are crunchy and well fried. It has a golden hue to it with little blisters – signs of a well fried wanton skin. This is Ji ji Wanton Noodle Specialist's most popular ingredient.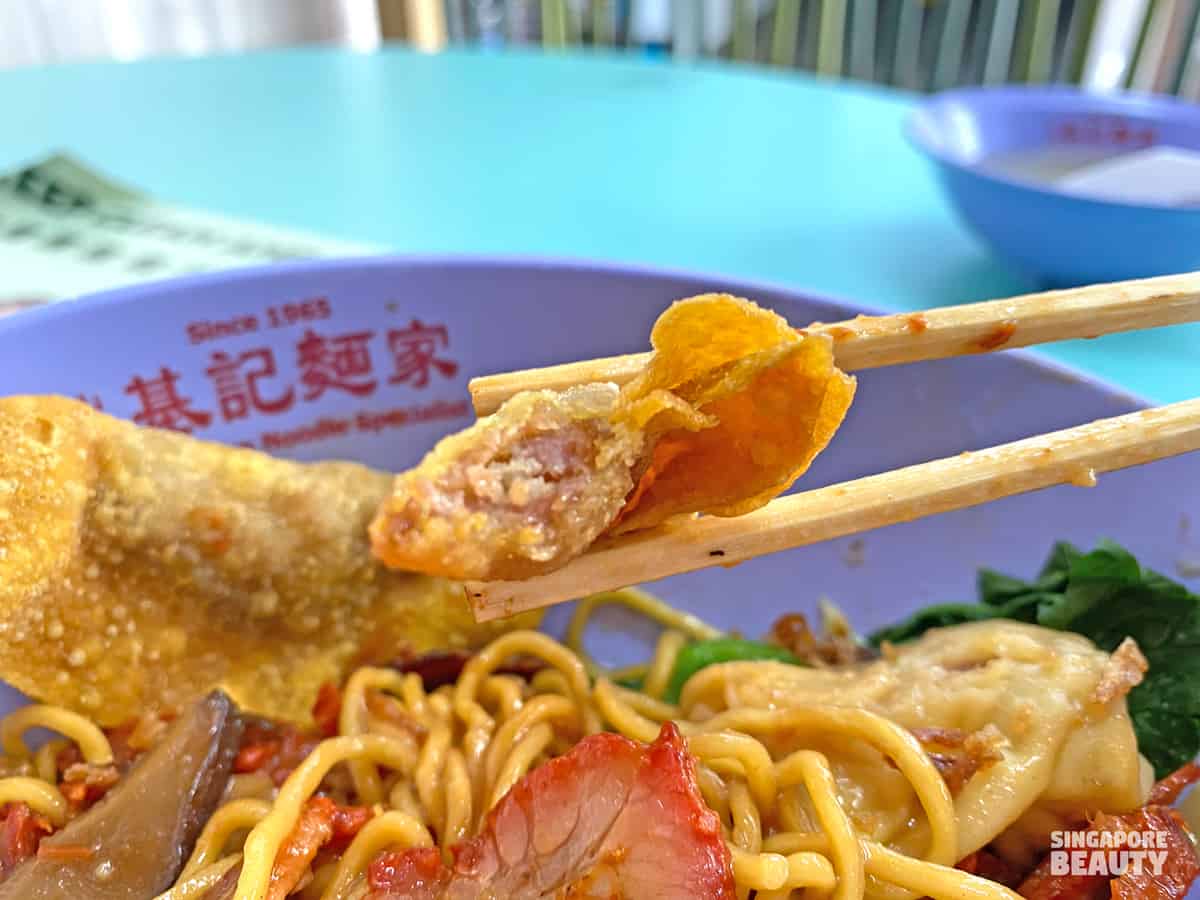 The generous savoury meat filling has a saline kick to it and is kind of addictive.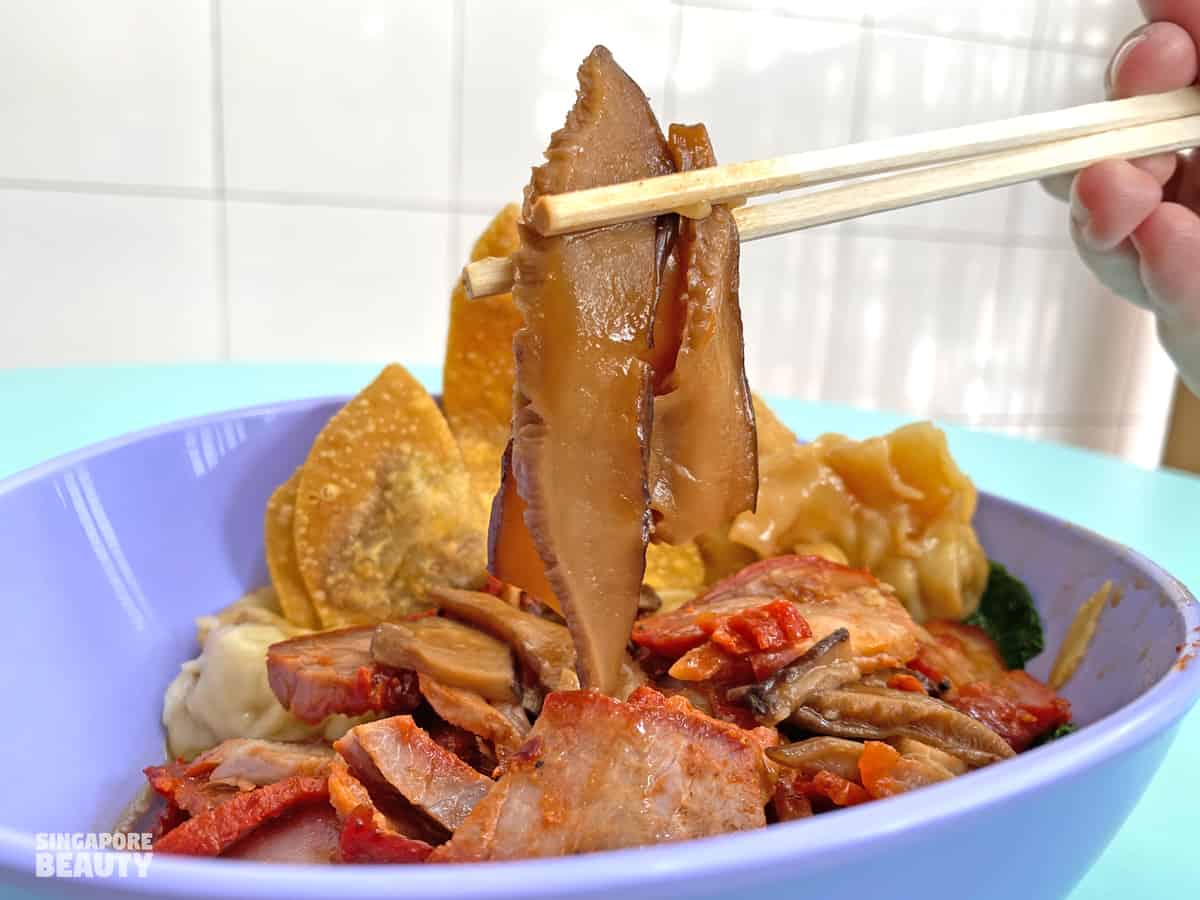 The braised shitake mushrooms are well braised with a strong earthy flavour. The sliced mushroom used are the thick type that soaks up the braise marinade well and taste similar to those used for bak chor mee.
The wanton are the boiled type that are handmade daily. Although the fillings for the wanton is considered generous, the meat are more on the fatty mix of meat.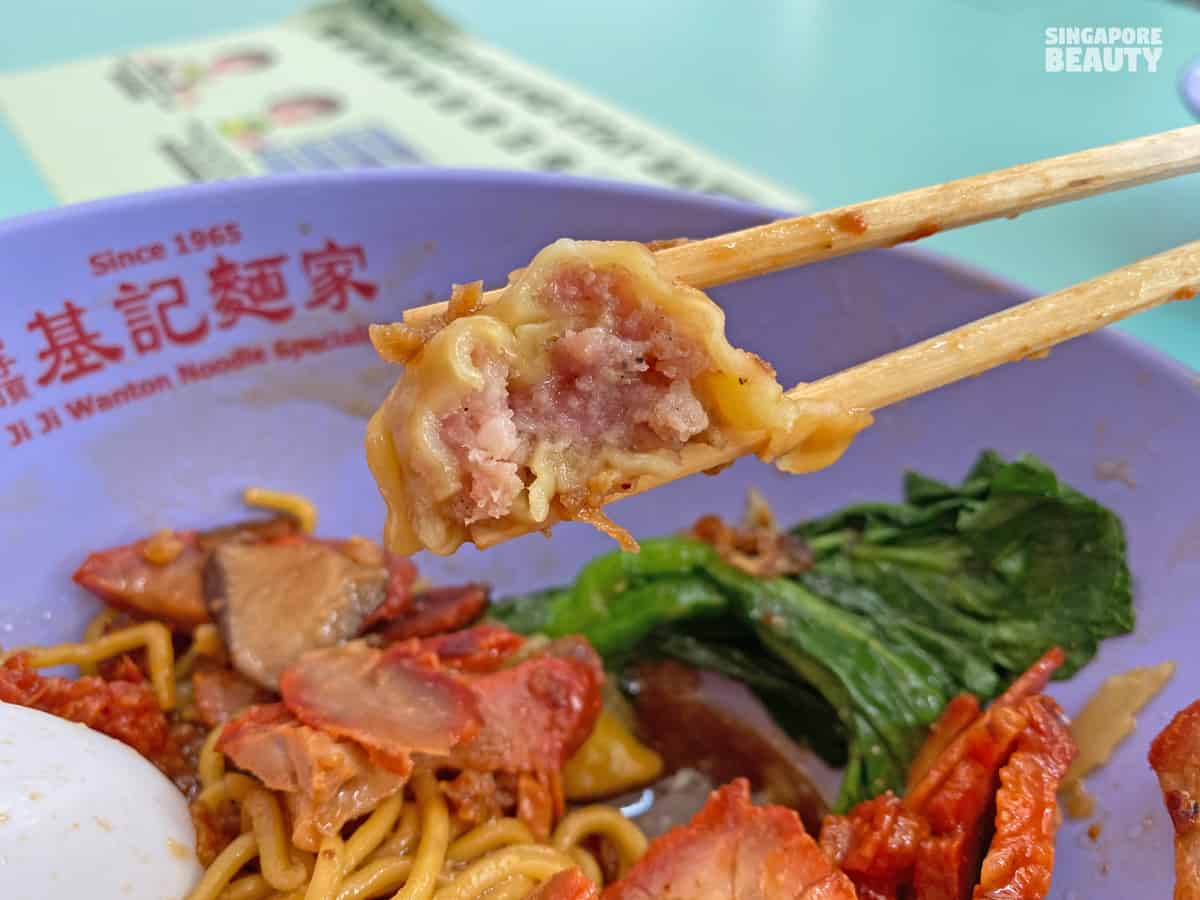 The fats give it a nice springy texture but lack the savoury meat texture with anchovy flavour that we are used to in a typical wanton soup. The skin is the thick type which is a little doughy for our liking.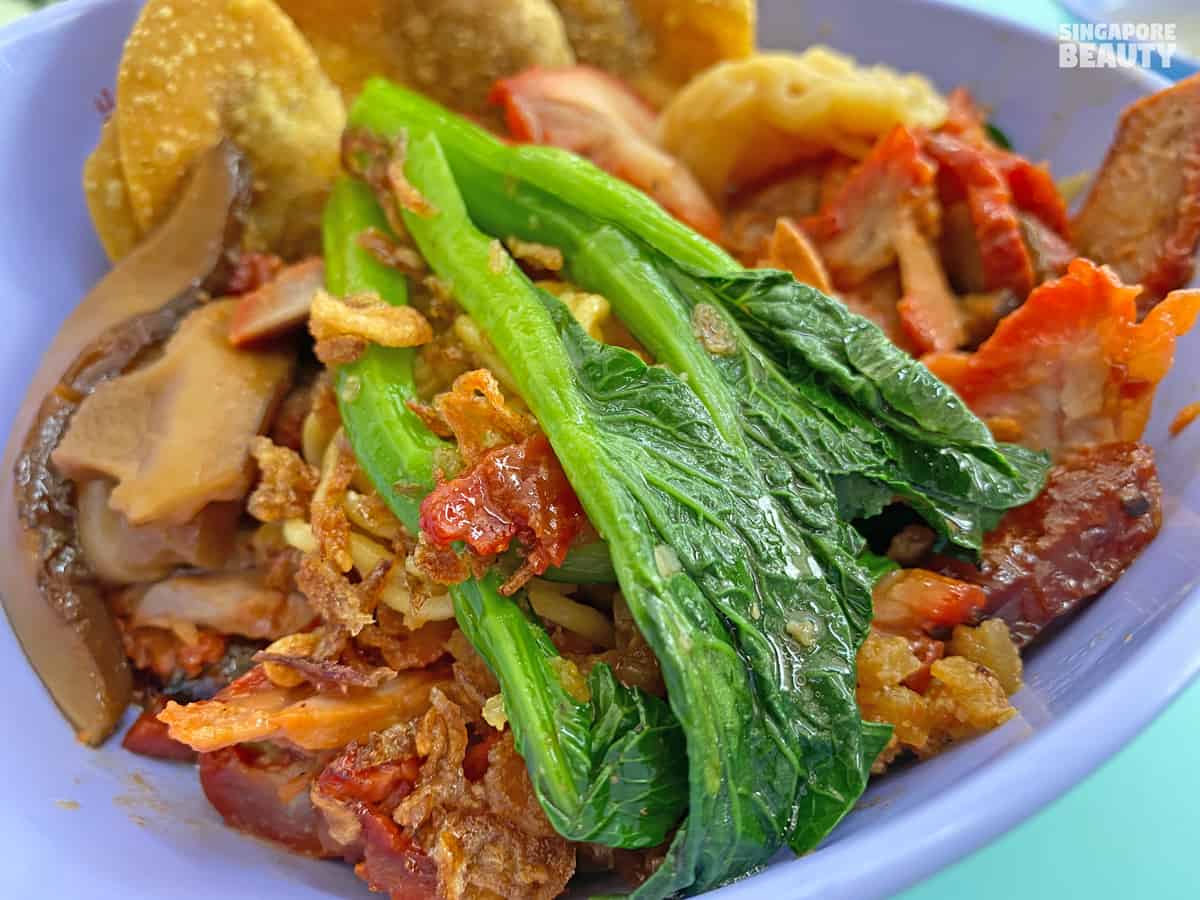 There is a stalk of poached cai xin to cut the grease if any. Sweet young cai xin with a sweet undertone with a perfect jade green hue.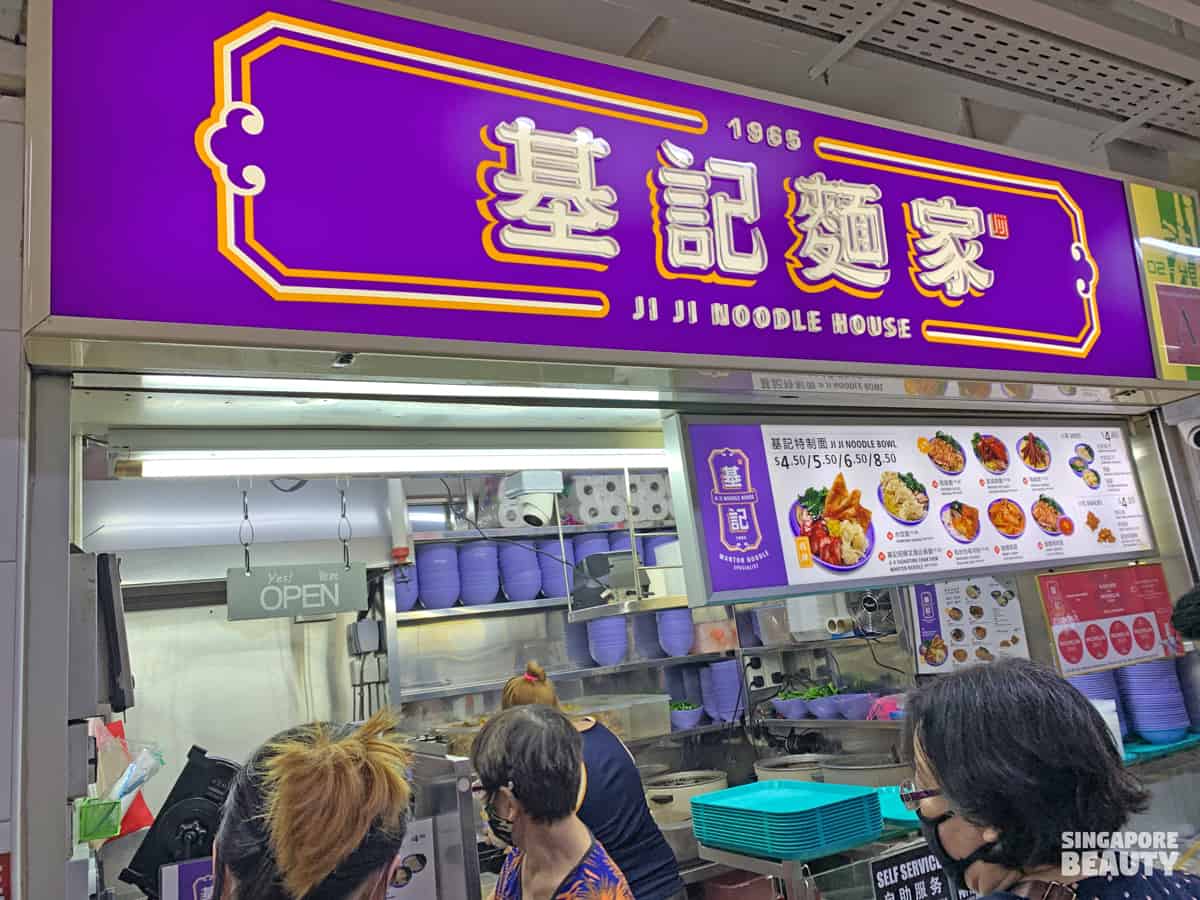 This is a bowl of very satisfying wanton noodle at a reasonable price and generous servings too for the price. Please come over to try Ji ji Wanton Noodle Specialist 山仔顶基记面家 different type of noodles whenever you are at Hong Lim Hawker Food Centre. You can also drop by their second eatery Ji Ji Noodle House at kreta Ayer Road for a more comfortable air conditioned dining environment and a menu with a wider variety of selection.
Opening hours:
7am -8pm (Mon-Sat)
7am -7pm (Sun)
Ji ji Wanton Noodle Specialist 山仔顶基记面家 Location :
Hong Lim Food Centre & Market
531A Upper Cross Street #02-48/49/50 Singapore 051531
Tel: 65322886