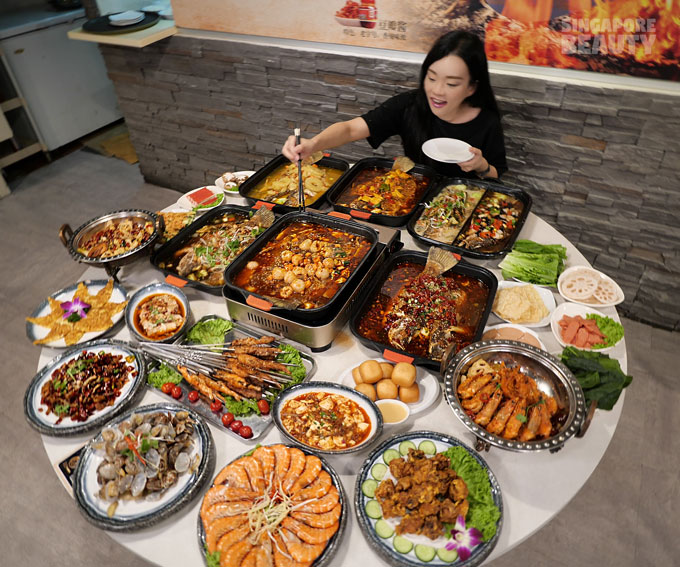 Ming Tang Spicy Roast Fish (名堂烤鱼) is returning with the much anticipated lunch and happy hour deal of roast grilled whole fish and zi char buffet. They have introduced 8 flavours of roast fish with all you can eat buffet with over 30 unlimited sides and 14 cook-to-order hot dishes Chinese zi char.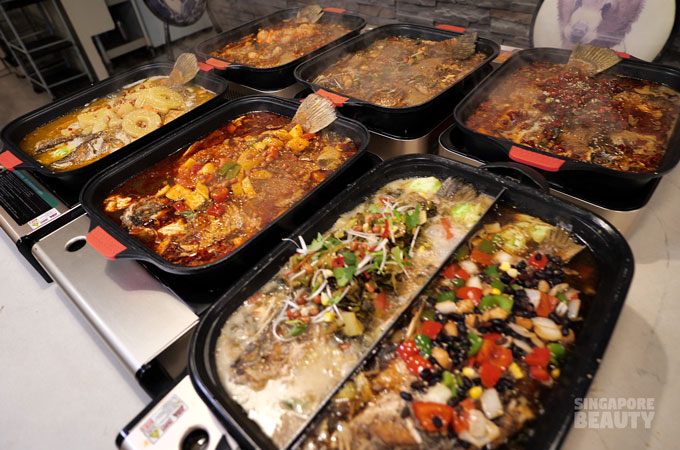 The 8 flavours of roast fish with all you can eat buffet for dinner are mala, spicy fragrant, hot & sour pineapple, lychee, mandarin mango duo fish ($12.80), fragrant onion flavour, fermented soya bean and Chinese pickled cabbage flavour.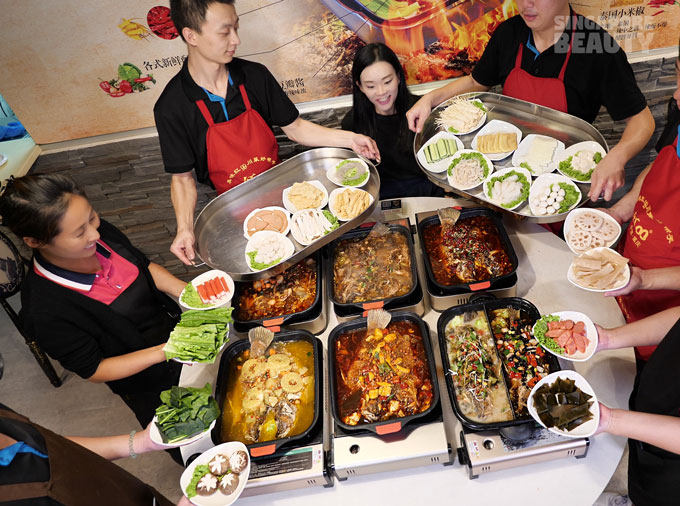 This is an all-you-can-eat grilled fish buffet with over 30 unlimited sides such as vegetables, mushrooms, beans produce, meat (sausage, luncheon, fish balls, crab sticks, quail eggs, omasum etc), carbs (golden fried buns, steamed rice), noodles and more.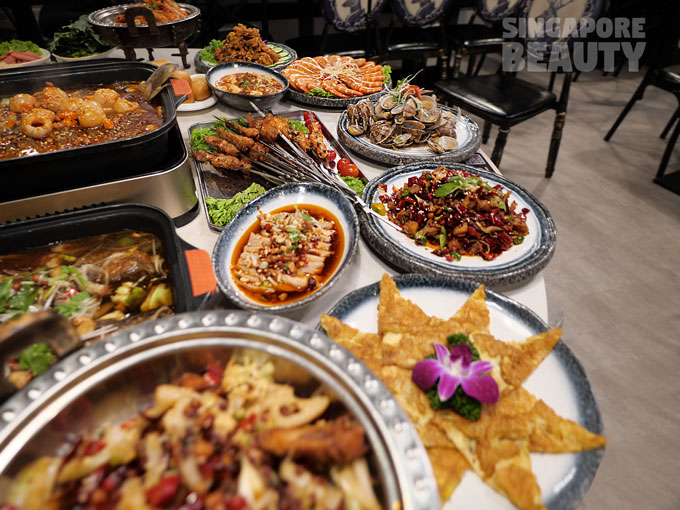 Included in this dinner buffet are 14 types of Chinese style zi char with premium dishes such as boiled prawns with shredded ginger, Chongqing spicy chicken, stir fry lala, dry pot spicy prawns, mapo tofu, fried chicken, hot pot chicken offals, steamed chicken in red hot chilli oil, fried eggs with onion, dry pot fried intestines, cold dish appetizer such as tofu with century eggs, black fungus, Shanghai green in minced garlic and many more.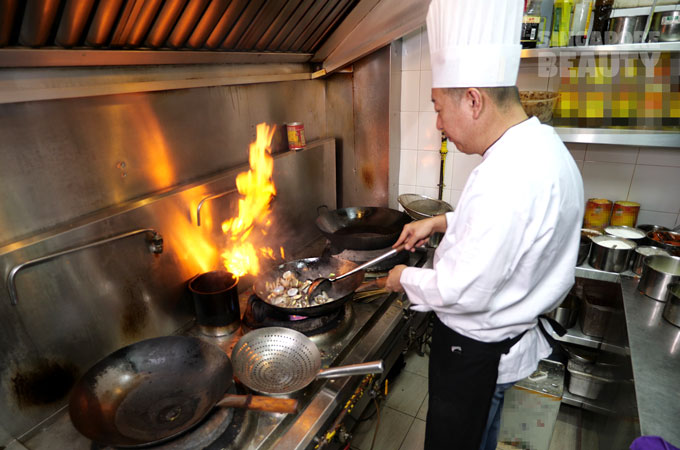 These dishes are cook to order and served straight from the wok to your table.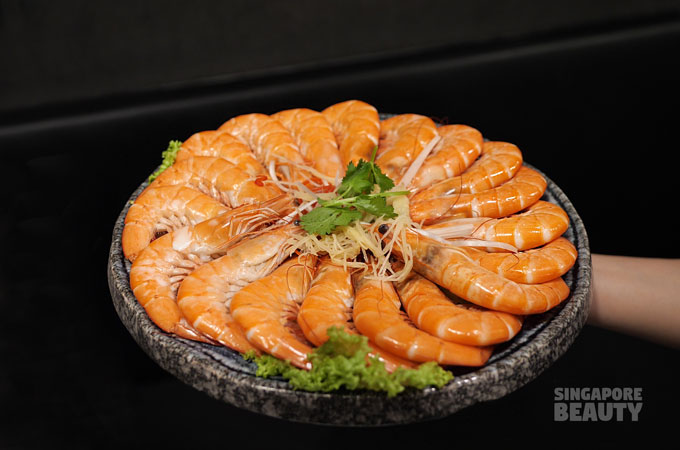 Poached prawns with shredded ginger are poached prawns in hot water and topped with shredded ginger for extra zest to it. The natural sweetness of the prawns is what you are after in this simple but addictive dish.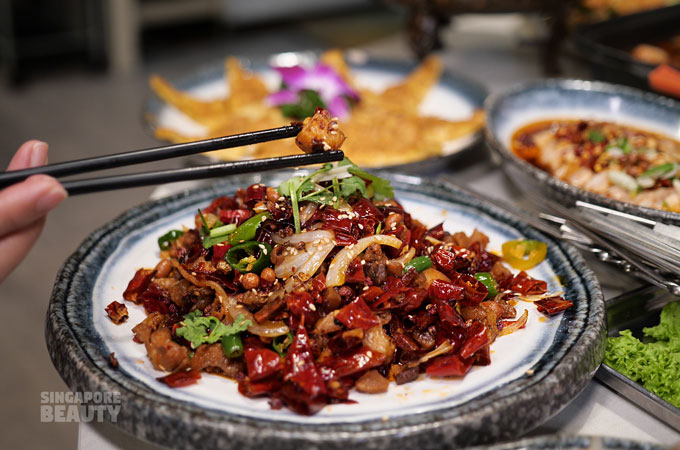 Chongqing spicy chicken is fried chicken morsel with numbing spices and spicy at the same time. Each bite of chicken morsel is interlaced with crispy chicken meat and savoury chicken lard.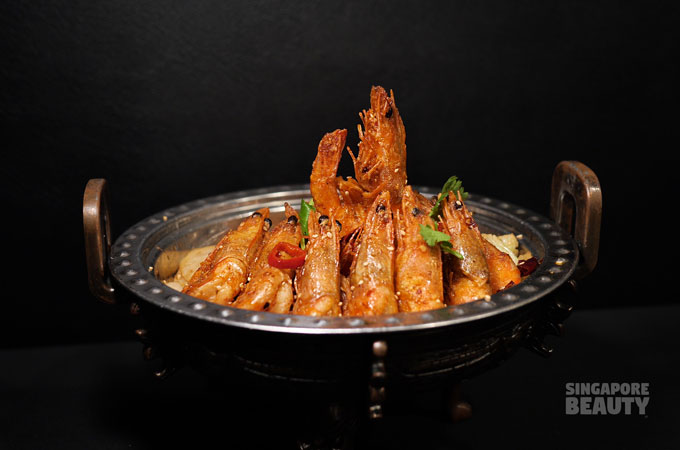 Dry pot spicy prawns are deep fried and stir fried again in a concoction of red dry chilli pepper, sautéed garlic oil and topped with a sprinkle of toasted sesame seeds.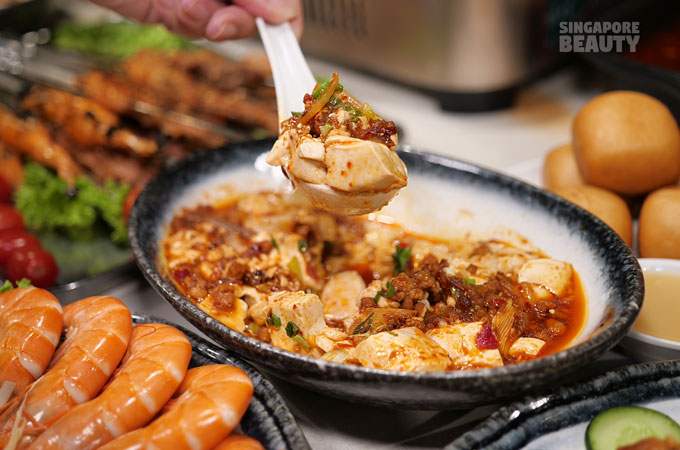 Mapo tofu are soft silky tofu simmered in spicy bean sauce with savoury minced meat in hot chilli onion oil.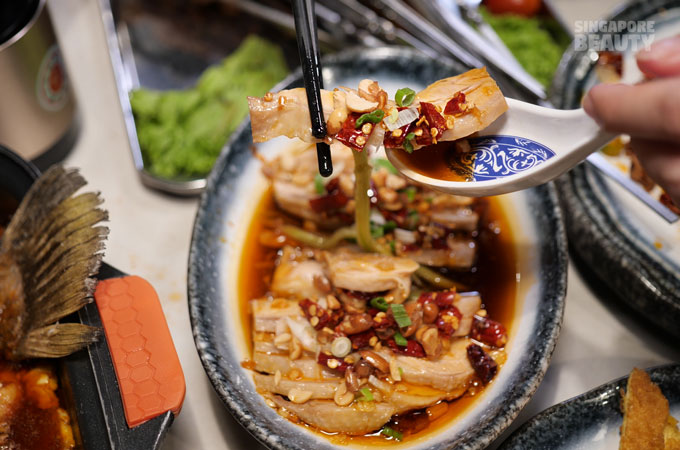 Steamed chicken in red hot chilli oil topped with crunchy ground nuts and dry toasted chill pepper flakes with a drizzle of hot oil on spring onions to bring out the aroma.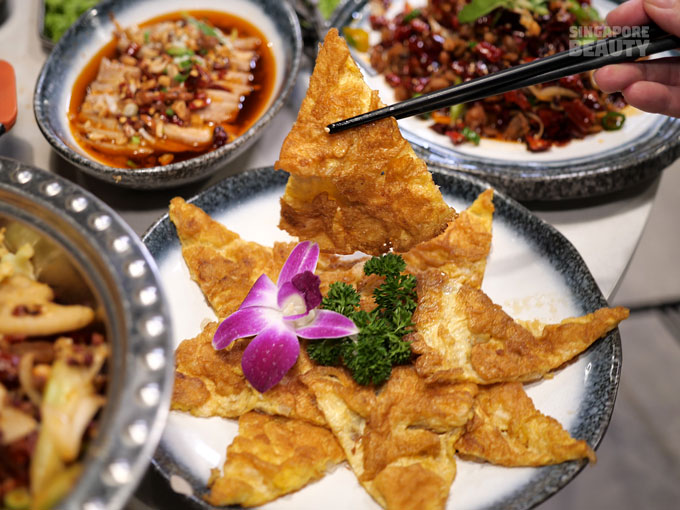 Fried eggs with onion is plated in shape of a starfish, spongy and light egg omelette that has a homely feel to it. Onions fillings are soft and caramelized.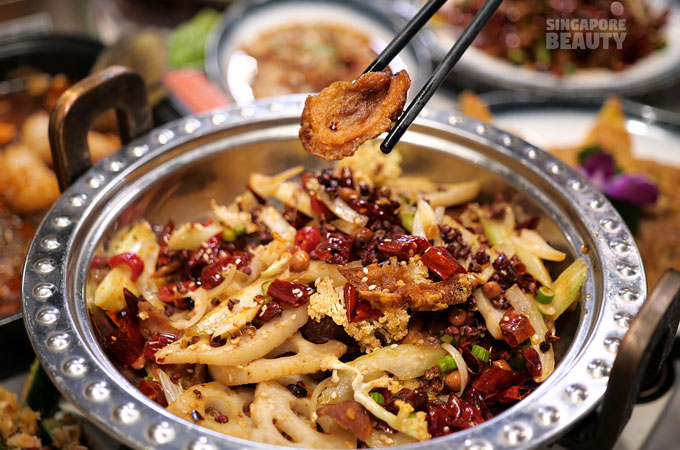 Dry pot fried intestines are juicy rich delightful morsel of pork offals deep fried and stir fried again with a party of sliced boiled lotus roots, cauliflowers, leeks, dry red pepper chilli chunks and lots of numbing peppercorns.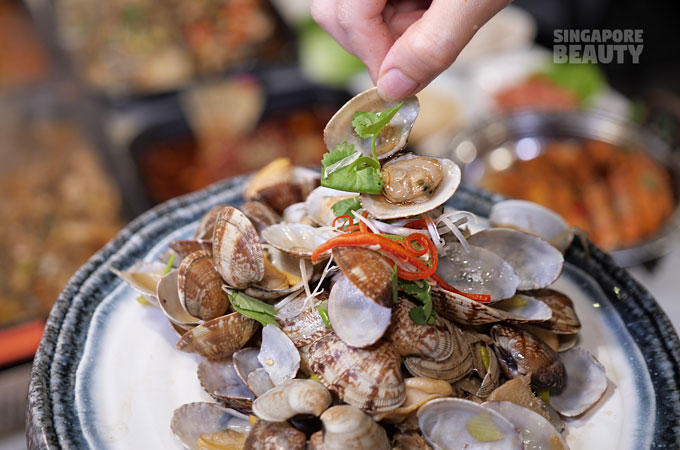 Stir fry lala with green onions sautéed in oil & a dash of cane sugar to bring out the briny flavour of the clams.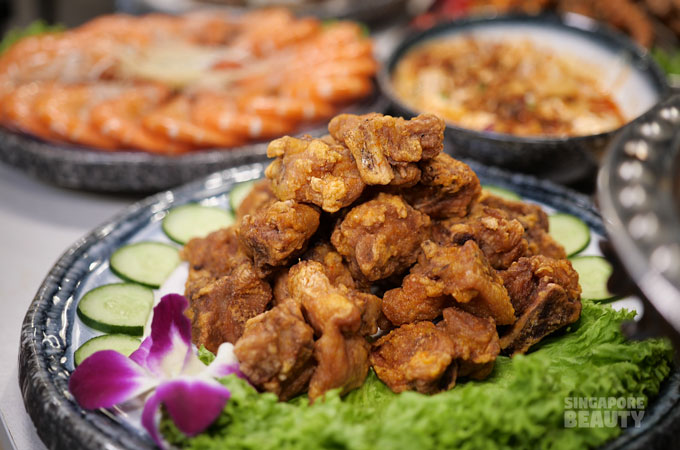 Deep fried chicken in bite size with a golden brown coat and morsel of chicken tenders.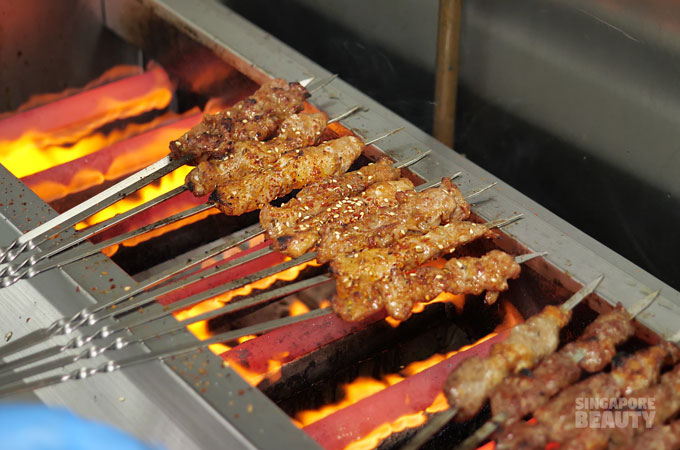 Want more? You can add on barbecue grilled meat skewers (mutton, beef kebabs, roasted wings, pork belly) and seafood prawn skewers from $1 each, minimum of 5 skewers.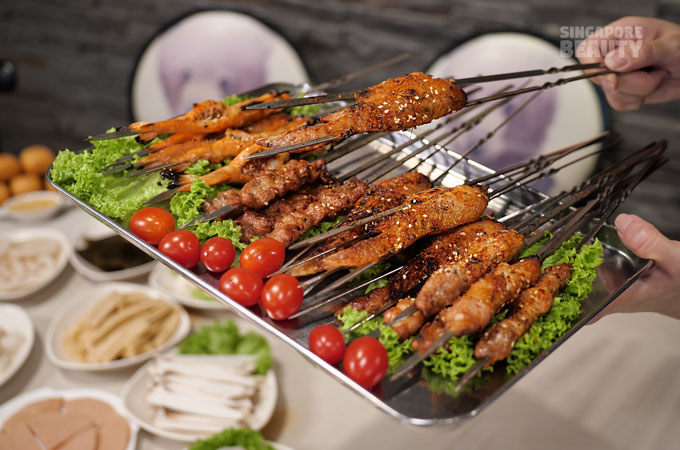 These skewers are dusted in ground spices and chilli power which gives it a saline oomph and bursting with aromatic cumin aftertaste.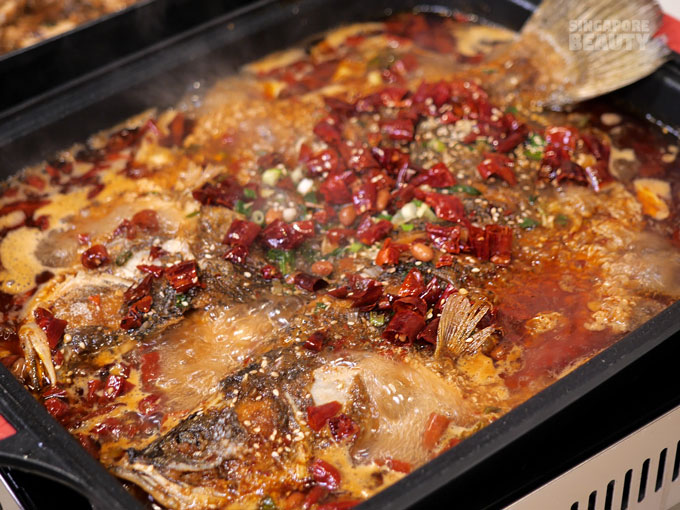 Mala fish top with heaps of roasted ground nuts, numbing spices, green onions drizzle on some hot oil to release the aromatic spices and pungent but pleasing chilli aroma. Recommended by the chef as the hot favourite among patrons.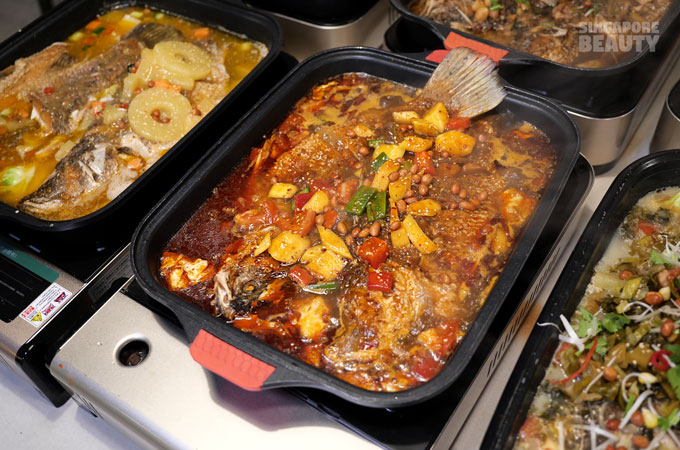 Touted as one of the most popular refreshing dish by the regulars with chunks of freshly cut mango, is a new creation by Ming Tang Spicy Roast Fish (名堂烤鱼), sweet juicy mango chunks with spicy bean paste soup base. The huge chunks of red and green pepper add a nice crunch to the dish.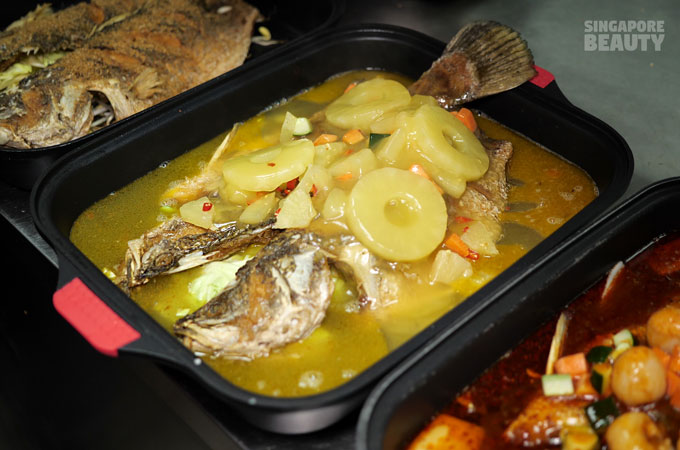 Pineapple hot & sour fish is glazed with a sweet & sour soup base with visible chunks of sweet pineapple that is complimentary to the mild peppery tart flavour.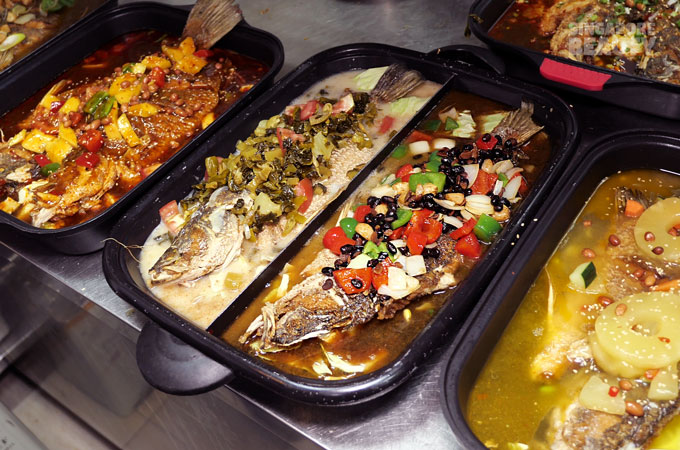 If you cannot decide which flavour to have, try the duo flavour fish ($12.80), the one shown above is the Chinese pickled cabbage and fermented soya bean flavour. You can satisfy your duo cravings with 1 dish at Ming Tang Spicy Roast Fish (名堂烤鱼).
Slurp endless hot piping soup with unlimited clear soup top ups with chunks of tender flaky fish meat in mouth watering flavours.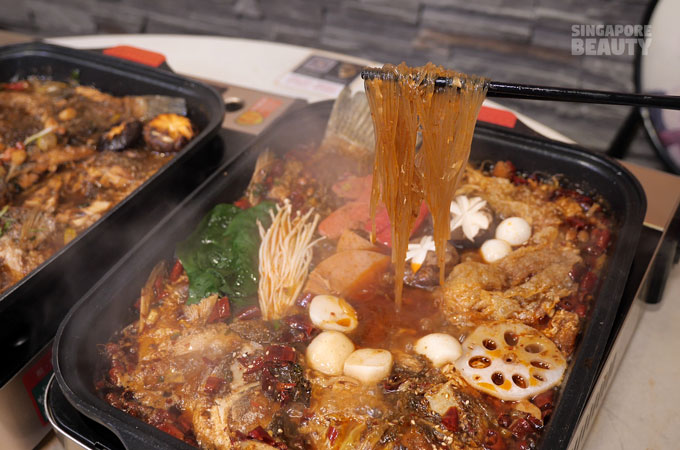 For grilled fish buffet, sides are included in the buffet. End the roast fish buffet using the soup base like a hotpot to cook the sides. Delight in some sweet potato noodles soaking up the flavourful soup base or some crunchy greens and surimi.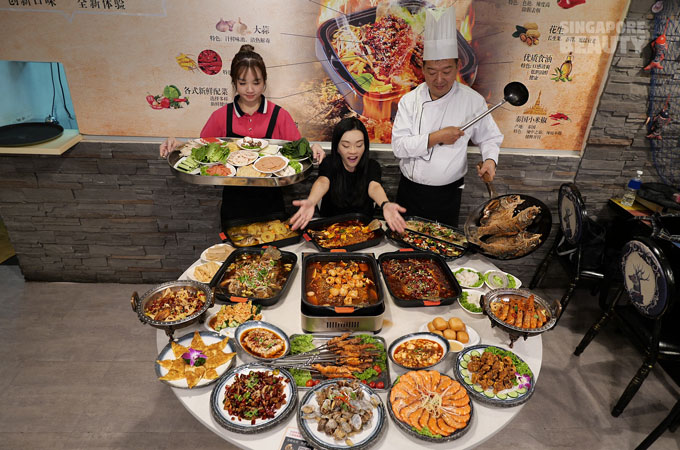 Enjoy this feast while it last. There is no better time to feast then now.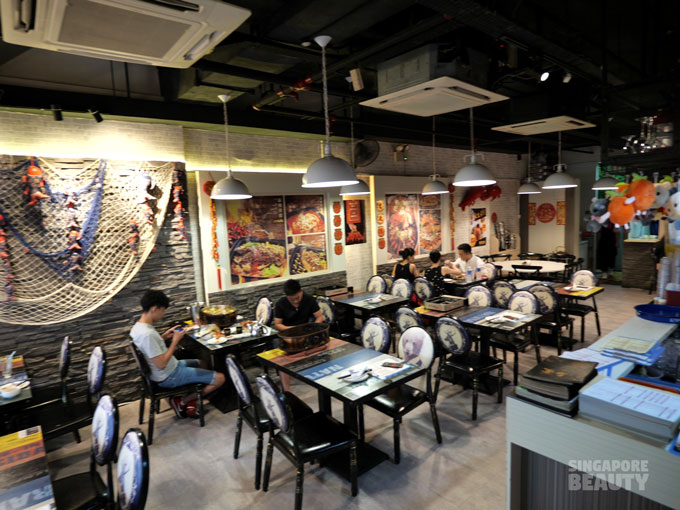 Conveniently located opposite Bugis Junction in Bugis Cube. This is the place to go rest your feets and reward yourself after your hauls. Great place for large groups (maximum of 5 pax as of now) too.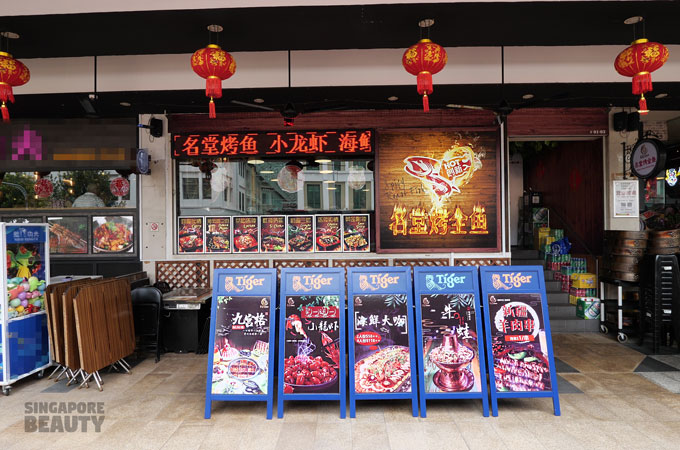 Head over to Ming Tang Spicy Roast Fish (名堂烤鱼) today.
Location:
Ming Tang Spicy Roast Fish 名堂烤鱼
470 North Bridge Road #01-03, Bugis Cube, S188735
Roast Grilled Fish & Zi Char Buffet Lunch and Happy Hours Buffet
This buffet is available daily from 11.30am to 5.50pm
Walk in only, reservation is not available.
Adult Pricing
Monday to Sunday (includes PH & Eve) – $26.80++
Add on Soup base for single fish is from $8.80 ++, duo fish flavour is $12.80 ++
Unlimited top up of roasted whole fish into soup base.
Drinks excluded.
Dine time 2 hrs.
Kids (4-12) Pricing – $16.80++ daily
Kids below 4 eats free
Call for confirmation of price for that day you are going, promotion is subjected to change by management.
Dinner after 5.30pm is ala carte.
Operating Hours:
Open 11.30 am to 2am Daily (note opening hours and lunch buffet hours are different)
For more information:
(+65) 63383405
Brought to you by Ming Tang Spicy Roast Fish (名堂烤鱼).