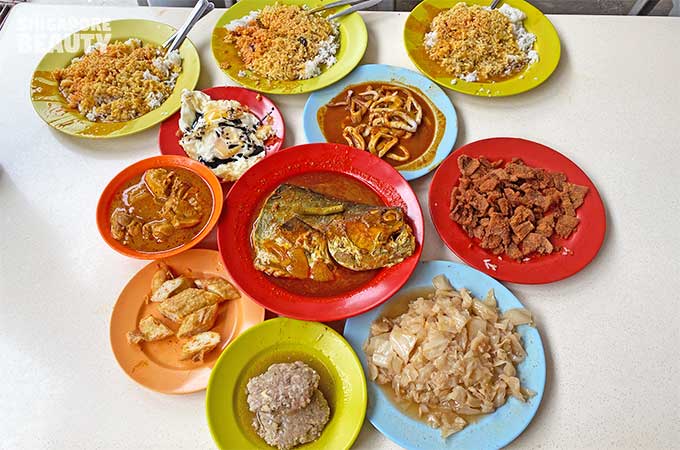 Beo Crescent Hainanese Curry Rice aka No name Hainanese curry rice is one of the best Hainanese Curry Rice in Singapore with a reasonable price tag to the dishes. There are other contenders such as Scissors Cut CR, Loo's Hainanese, Maxwell, Sin Chie Toke Huan and many more. This popular 32 years old economic rice Cai png food stall is famous for their old school home cooked curry and pork chop bacon. Beo Crescent curry rice is one of the tourist must eat food in Singapore for a more in depth understanding of Singaporean's staple.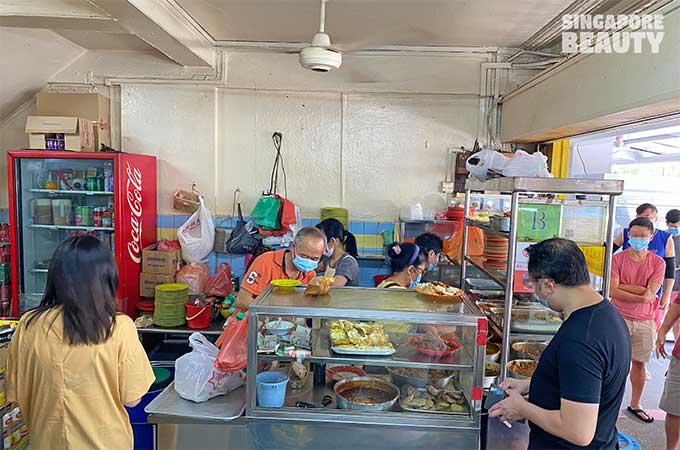 The peak hour for this No Name Hainanese Curry Rice can spiral out of control during lunch say around 11 am and the seats are also limited. Unfortunately, they do not have delivery at the moment. The sub peak hours are around 10.30 am where the queue is more waitable and more likely to get seats. The seat are scattered from the front of stall, to within the coffee shop and sometimes even spill out to the back alley, alfresco style dining. In view of the limited seats, do graciously give up your seats to others when you are down to your last spoonful of rice, so that they may also enjoy this tasty curry rice.  Since the stall closes at 3pm, the items get sold out pretty early. If you are aiming for the Asam curry fish head or curry squid, our advice is to go there early to get a head start on this famous Hainanese Curry rice.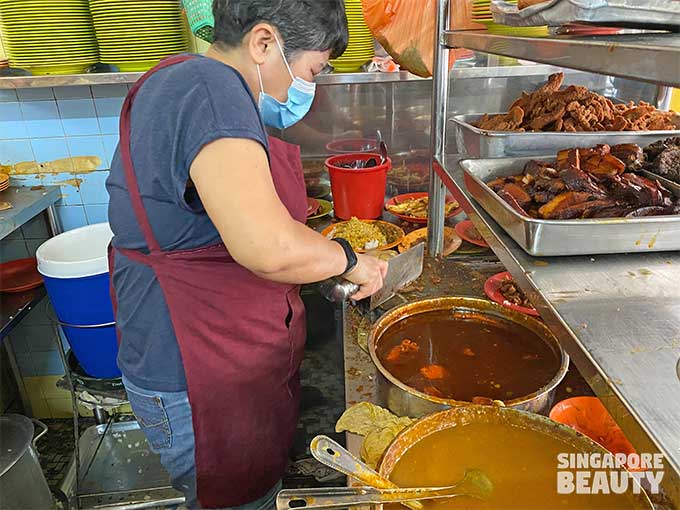 Here are the popular dishes and our breakdown menu of Beo Crescent Hainanese Curry Rice based on our numerous visits with some indicative price. They are crispy fried pork chops bak pow, braised pork belly Lor Bak, fried egg, stewed cabbage Chap Chye, cereal prawn, curry rice, sambal sotong squid, meat patty, Asam fish head steak, curry chicken, almost every item is a must try.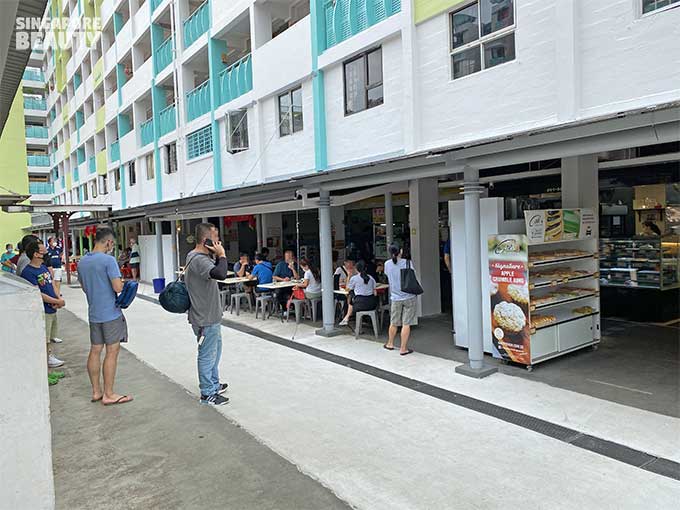 The multitudes of sides at this popular Beo Crescent Hainanese Curry Rice are simple dishes but less is more in this case. The simpler the dish, the harder to perfect it and needless to say this particular stall has nailed it as proven by the daily insane queue.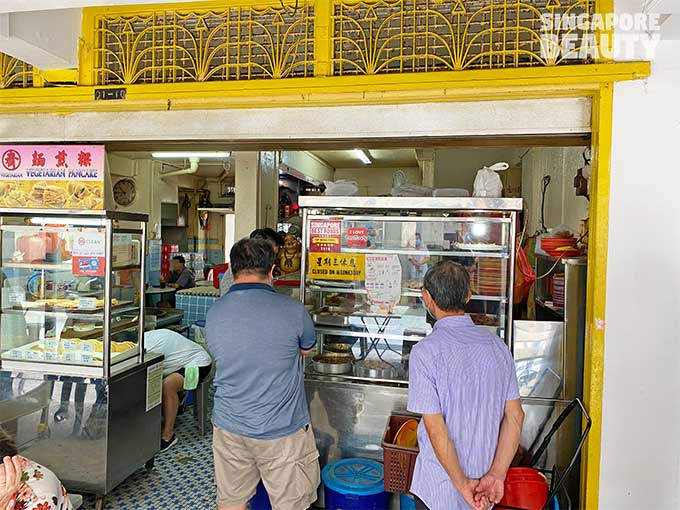 The stall is located at a corner within an old school coffee shop in Beo crescent, Bukit Ho Swee Tiong Bahru neighborhood. It does not have a signage and the stall seems to be naturally lit by the indirect sunlight from the corridor.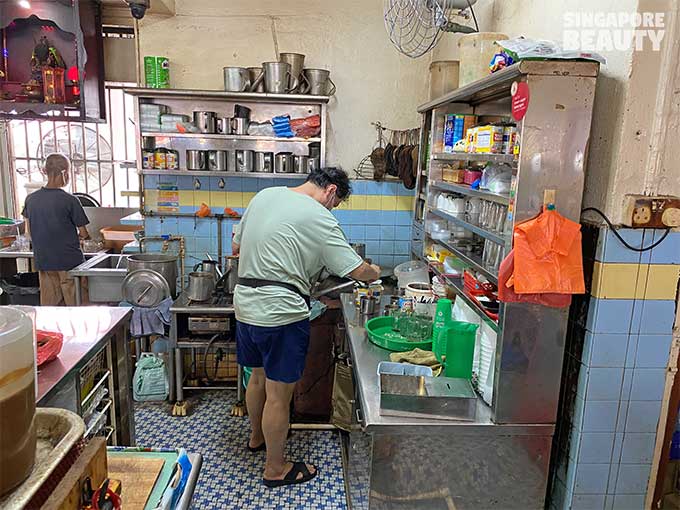 This old school coffeeshop in Singapore seems frozen in time with the traditional yellow and blue ceramic tiles lining the walls. These square tiles are typically used in coffeeshop and HDB kitchen in the 80s for ease of cleaning. Wall hung fan that helps to circulate the air in the naturally ventilated coffeeshop. Coffee brewed using traditional handcrafted steel flask and strained using cotton kopi socks. It is the real old school charm of a traditional kopitiam that has been through times. The walls are of a glossy cream colour in low lit interior using fluorescent tubes.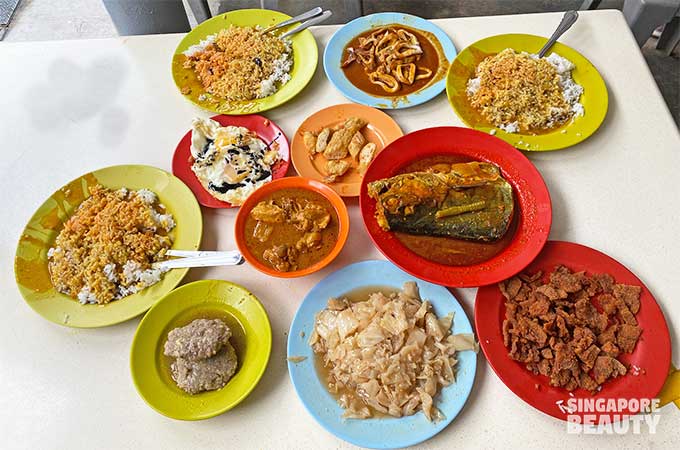 Beo Crescent Curry Rice has neither menu nor price list of the dishes. Just trust your instinct and order your fill. How to order – choose a single serving where the toppings will be over a plate of steamed rice and expect a glorious mess overflowing with goodness. You can also order based on the number of pax sharing the food, where the dishes will be plated individual on small colourful plate like ours. We ordered these and the total damage is $36.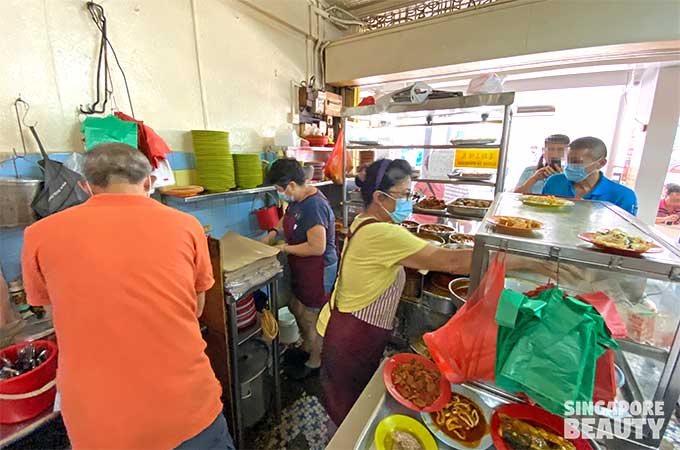 It is like having an economic rice buffet when we order to share.  Since the stall is naturally lit, it is a bit of a struggle to actually order the food by looking at them. Our advice is to just tell them your order instead of pointing at the food you want. Speed is the game here, have in mind what you want to order and let the stall hands work their magic when it is your turn. The service is fast and no fuss.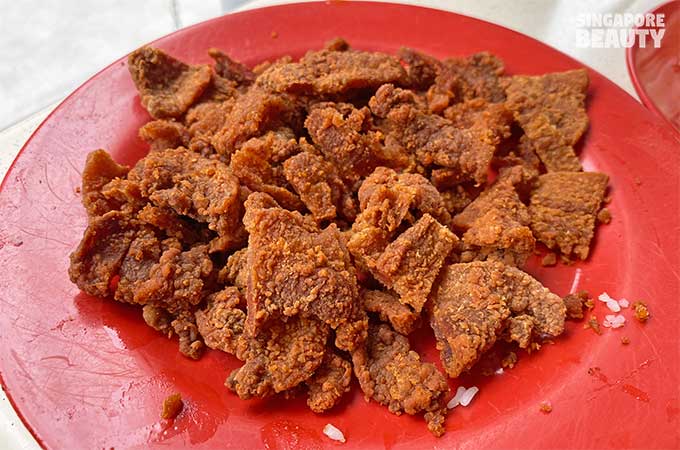 Crispy fried pork chops ($4 per portion) are unlike your normal pork chop that has meat encased between the crispy breaded crust. The pork chops here are prepared in a traditional Hainanese style where the joy is in the savoury pork chop crackers.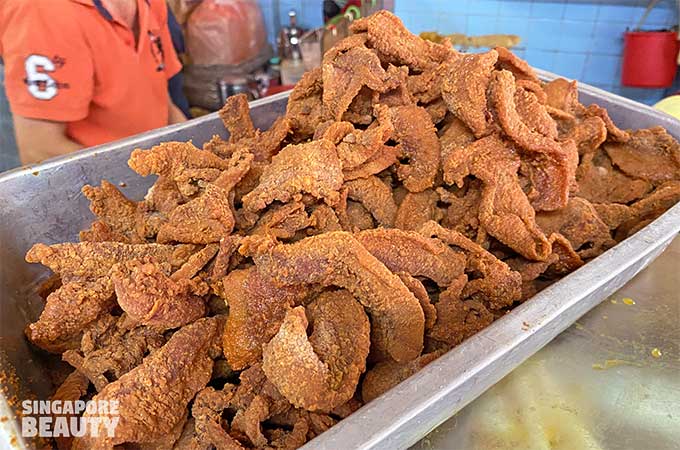 The cuts of pork chosen for this crispy version have to be higher in fat contents for the cutlet to be so thin and crunchy. The pork are marinated in fermented red bean curd Nam yu and double fried till a deep amber hue. It has a rich smoky flavour. It is so well deep fried that the pork chops actually disintegrates when you bite into them.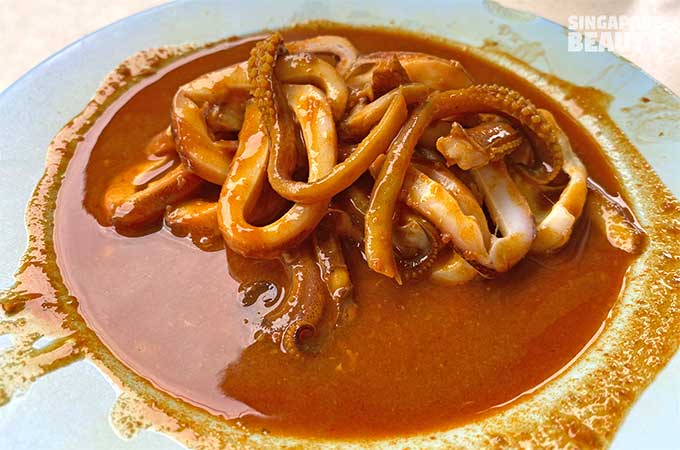 The curry squid is soft and tender in a mild curry gravy that is sweet and aromatic with traces of grounded spices. The squid rings are cooked perfectly without any rubbery texture.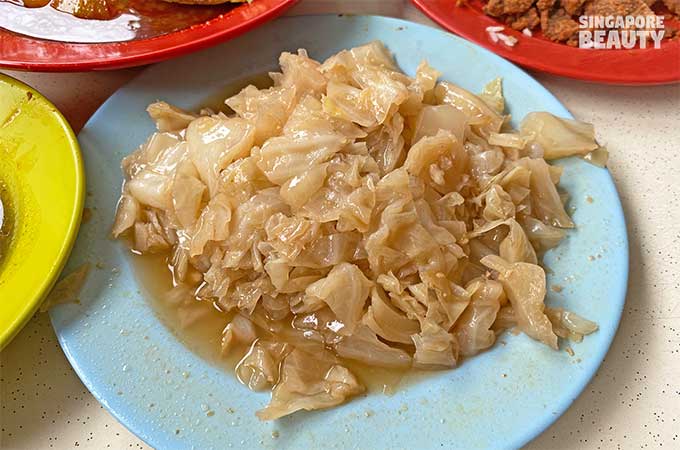 The stewed Beijing cabbage ($2 per portion) is cooked till they are almost translucent and has a melts in the mouth texture. The salinity of the crustacean shrimp flavour helps to brings out the natural sweetness in the cabbage. It has a nostalgic home cooked flavour.
The sunny side egg ($0.50 per egg) has a glossy shine to it with a runny yolk and crispy golden edges.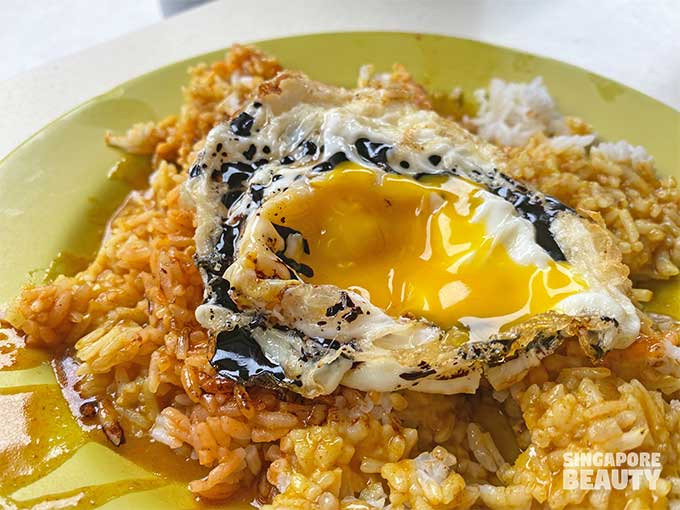 The edges of the whites are nicely crisp up like ruffles of a skirt and a drizzle of dark soy sauce for a subtle sweet and saline kick.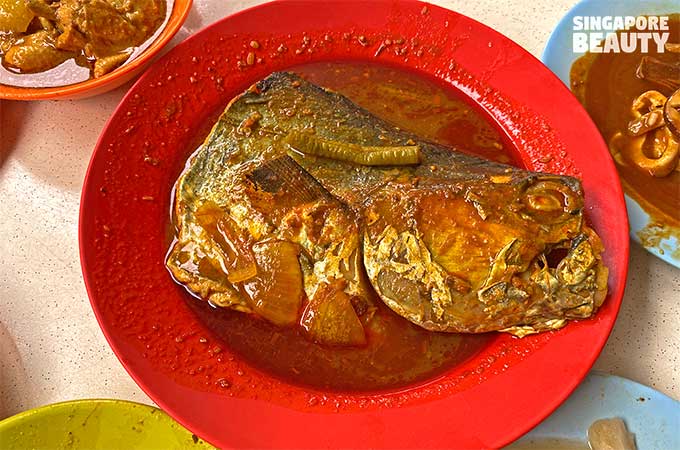 The Asam curry pairs well with the Batang fish head used with the perfect tangy and a hint of spiciness.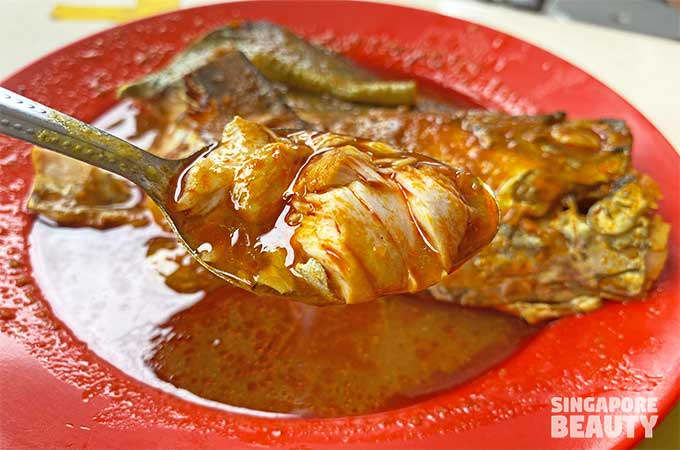 Asam fish head and fish steak has some tender fillet of meat that is cook perfectly.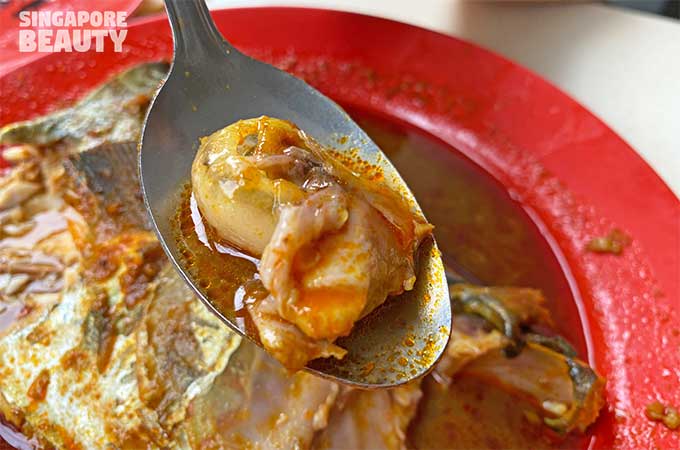 For fans of fish eye balls, the ones here do score some points with its gelatinous texture.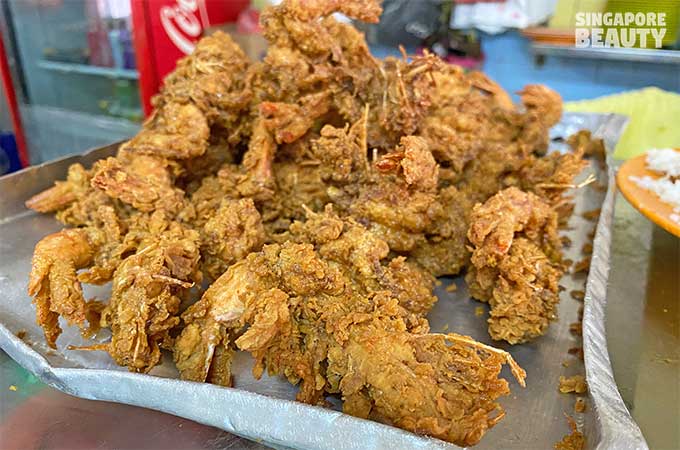 Cereal fried prawns ($4 per portion) are encased in a savoury thin battered flour crust. The prawns are relatively good size and fresh too. Even though it is deep fried, you can taste the sweetness of the prawns. It is deshelled and super crunchy, can eat it whole including the tail.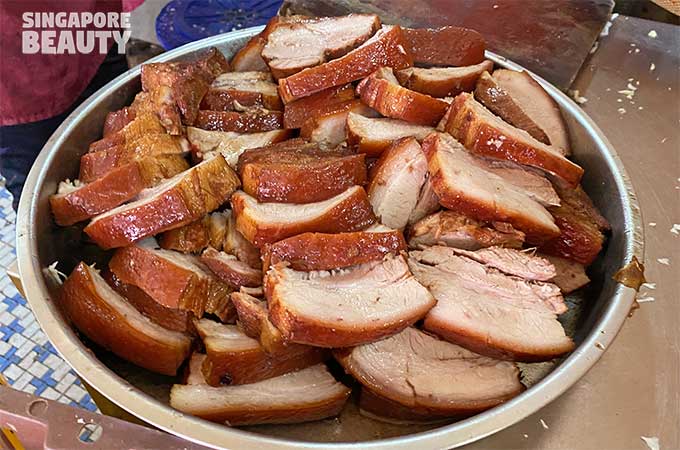 Braised pork belly ($3 per portion)is super tender and has melty fat layers. The flavour is intense and well marinated in savoury dark soy sauce and with specially imported spices.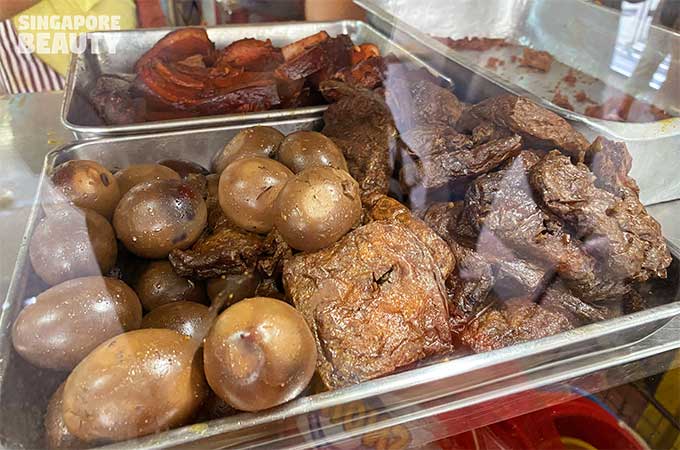 The well braised eggs are also very popular with the regulars. The flavour is so intense that the white of the hard boiled egg has taken on a dark teak colour and the yolk takes on a deep yellow hue from the soy spice marinade.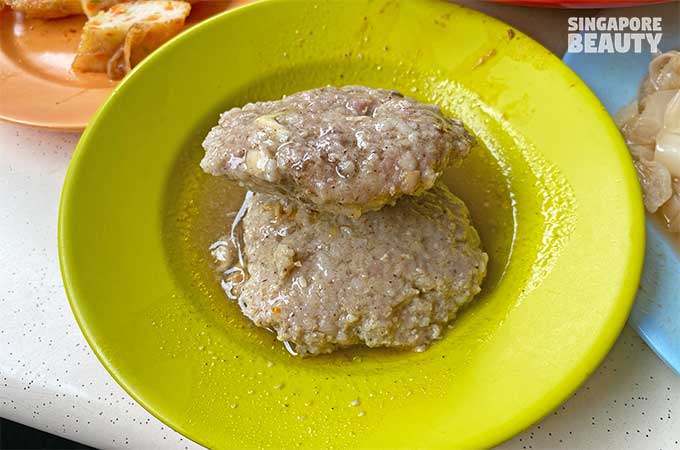 Minced pork patty is springy and mildly saline. The texture is almost velvety as a result of the proportion of higher fat versus lean meat ratio. It is almost like a meat cake!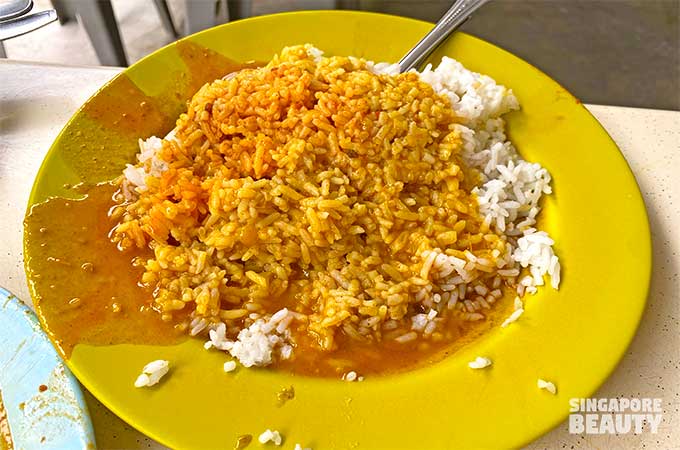 The curry rice ($0.50 per serving) is usually served in duo sauce, yuan yang or the yin and yang. A generous ladle of thick gooey curry gravy with some insane crimson hue Lor bak braised stewed cabbage sauce. The best of both worlds, the aroma of spices and the sweet herbaceous flavour of the lor zhap.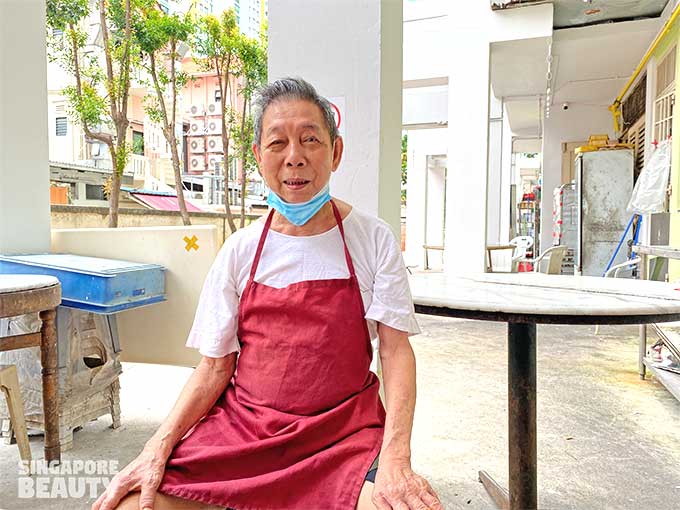 The Founder aka boss of this Beo Crescent Hainanese Curry Rice aka No name Hainanese curry rice is constantly hands on at his stall even though he has roughly 5 assistants running the operation. Opened in 1988 by Mr. Pang Tao Chin, who is 74 years old now. He is the OG of Hainanese Curry Rice Hawker in Singapore.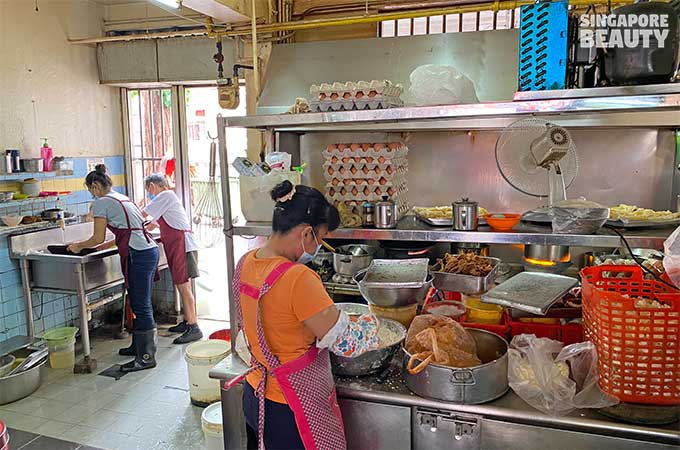 We managed to catch up with him after our early lunch for a quick chat before he resumes his work. Mr. Pang has a friendly humble disposition and takes pride in his food. This stall is relatively consistently good in terms of flavour and quality of the dishes. We are looking forward to the day when the second generation of Mr. Pang decides to take over to continue the legacy of this wonderful Beo Crescent Curry Rice. Meanwhile do head over to support them.
Opening hours:
7am to 3pm (Thurs – Tues)
Closed on Wednesday
Beo Crescent Hainanese Curry Rice aka No name Hainanese curry rice Location :
Ho Ping Hng Coffeeshop
40 Beo Crescent, #01-10, Singapore 160040
Nearest MRT : Tiong Bahru