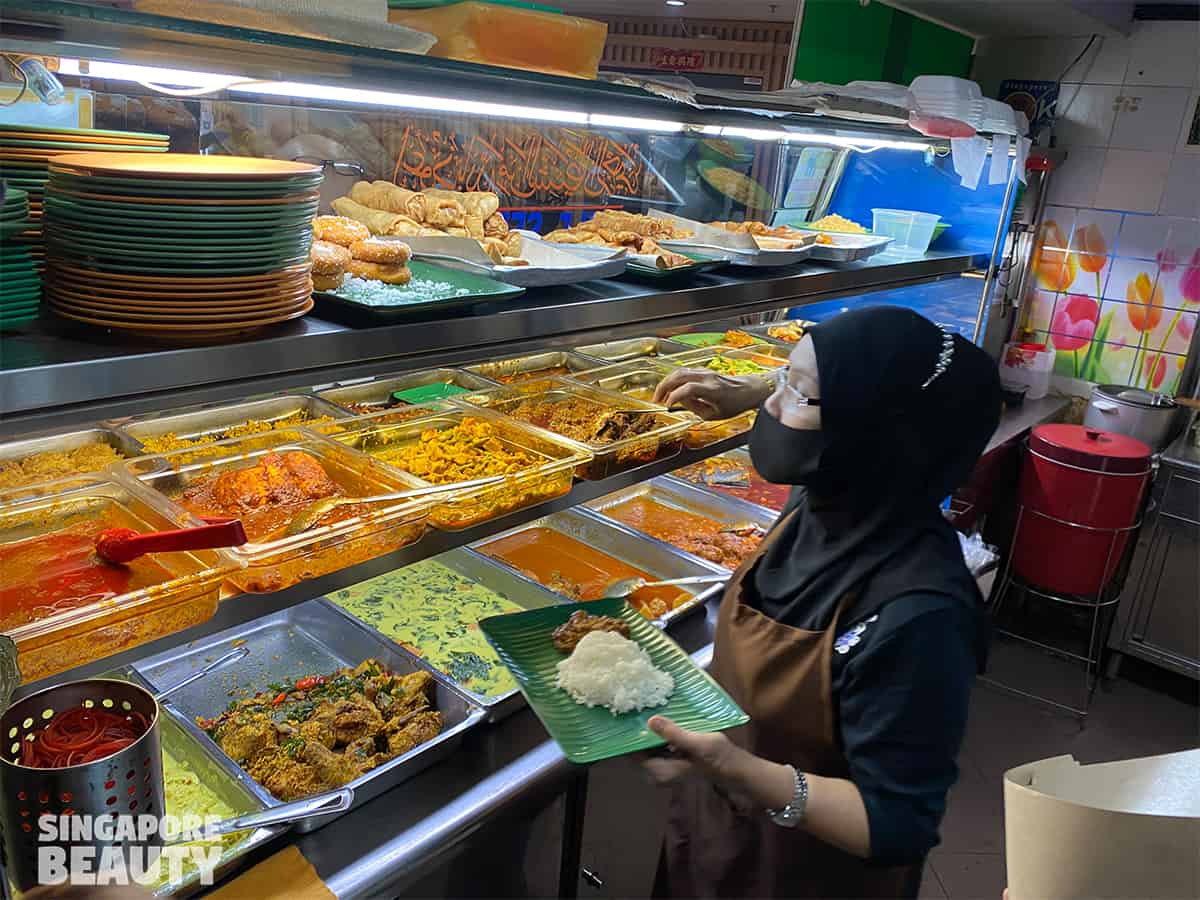 Nur' Ilham June & Family Nasi Padang is a family run eatery selling delicious Halal food such as Nasi Padang, nasi sambal goreng, gado gado and tahu goreng. Besides that they also sell fried mee at only $1 for breakfast, other dishes such as nasi ambeng, nasi lemak, mee rebus, mee siam, mee soto, lontong are also available in limited quantity daily during lunch. Nasi ambeng originates from Indonesia and is a traditional Javanese platter that is commonly eaten during special celebratory occasions such as wedding. This is a sharing dish that usually consists of a variety of dishes such as beef rendang, sambal goreng, fried ikan, sambal sotong, begedil, ayam (chicken) curry, sambal prawns, cuttlefish and more surrounding a pyramid of steamed fragrant nasi (rice) in the centre. The Nasi Ambeng is traditionally served on a large dulang (tray). Today, we are here to review their signature Nasi Padang at Nur Ilham June & Family Nasi Padang at Manhattan House located at Chin Swee road. This is definitely a hidden gem. They are neither in the limelight of the food blogging scene nor social media. Despite that, they are a very popular nasi padang stall that is well known amongst the working crowd around the vicinity.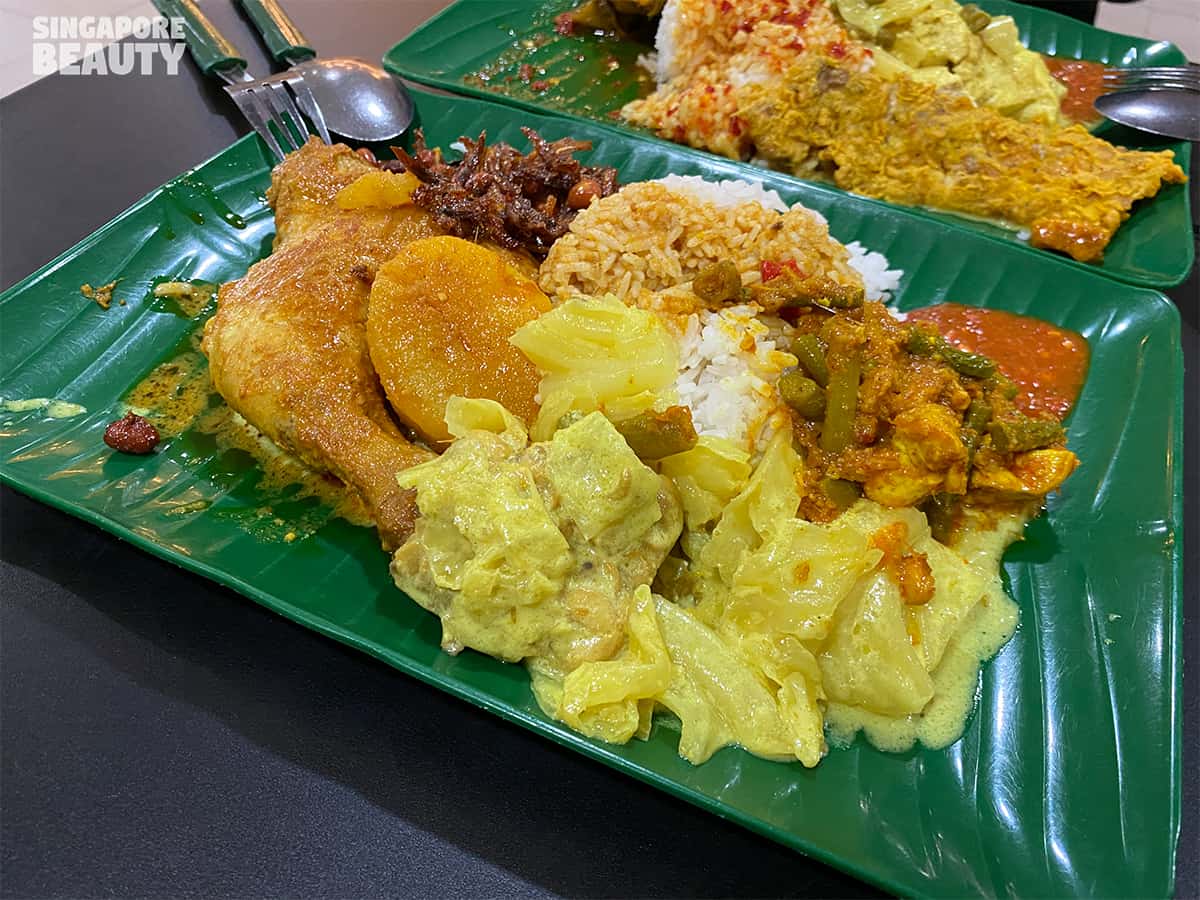 This is a 11 years old Halal food eatery selling up to 30 dishes from Nasi Padang to Singapore's favourite noodle based dishes such as mee rebus. Founded in 2009 by Mdm June and her family, they have been selling these steamed rice with an amazing selection of authentic Malay dishes.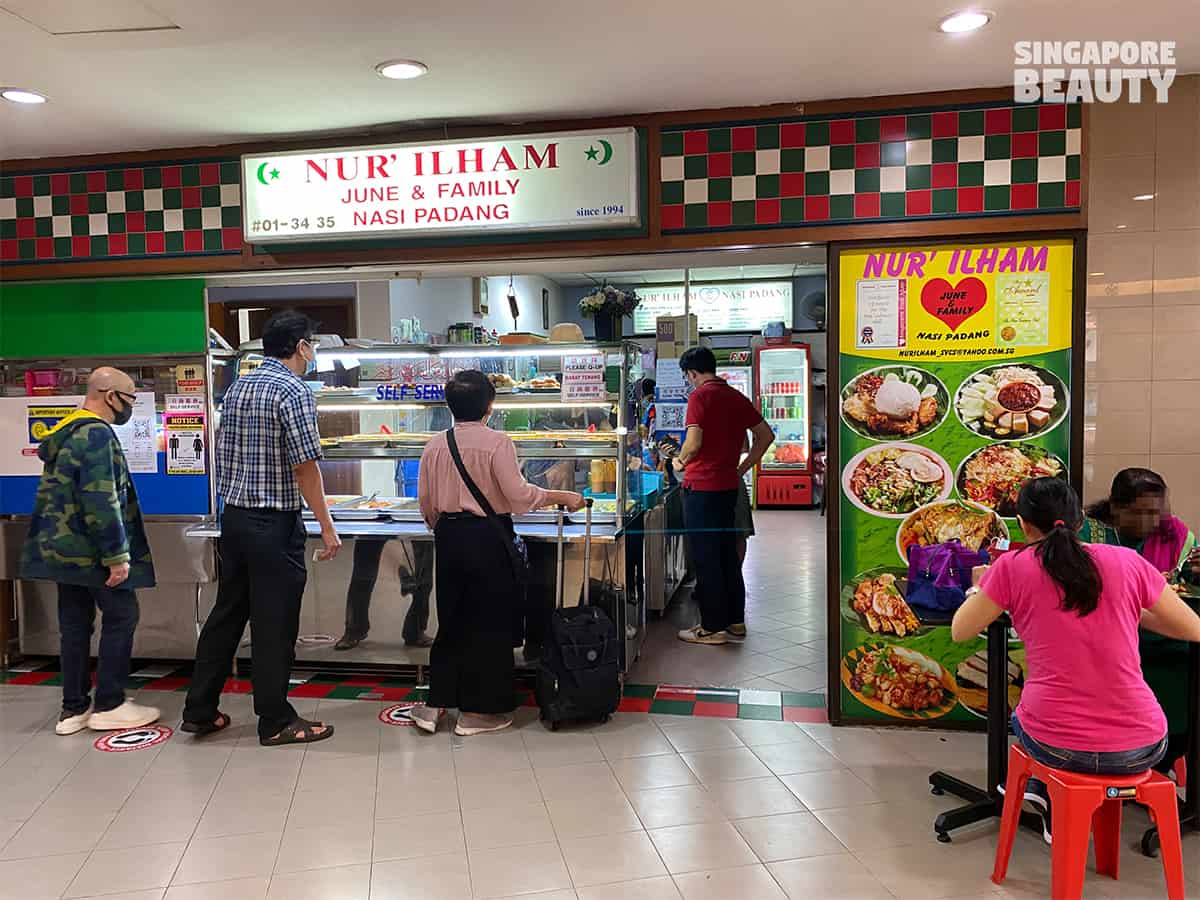 This humble halal eatery at Chin Swee Road near Chinatown is a crowd magnet with queue forming up even before lunch hour kicks in. However, with a clockwork style of operation, the food queue moves pretty quickly and efficiently with ease and some friendly service.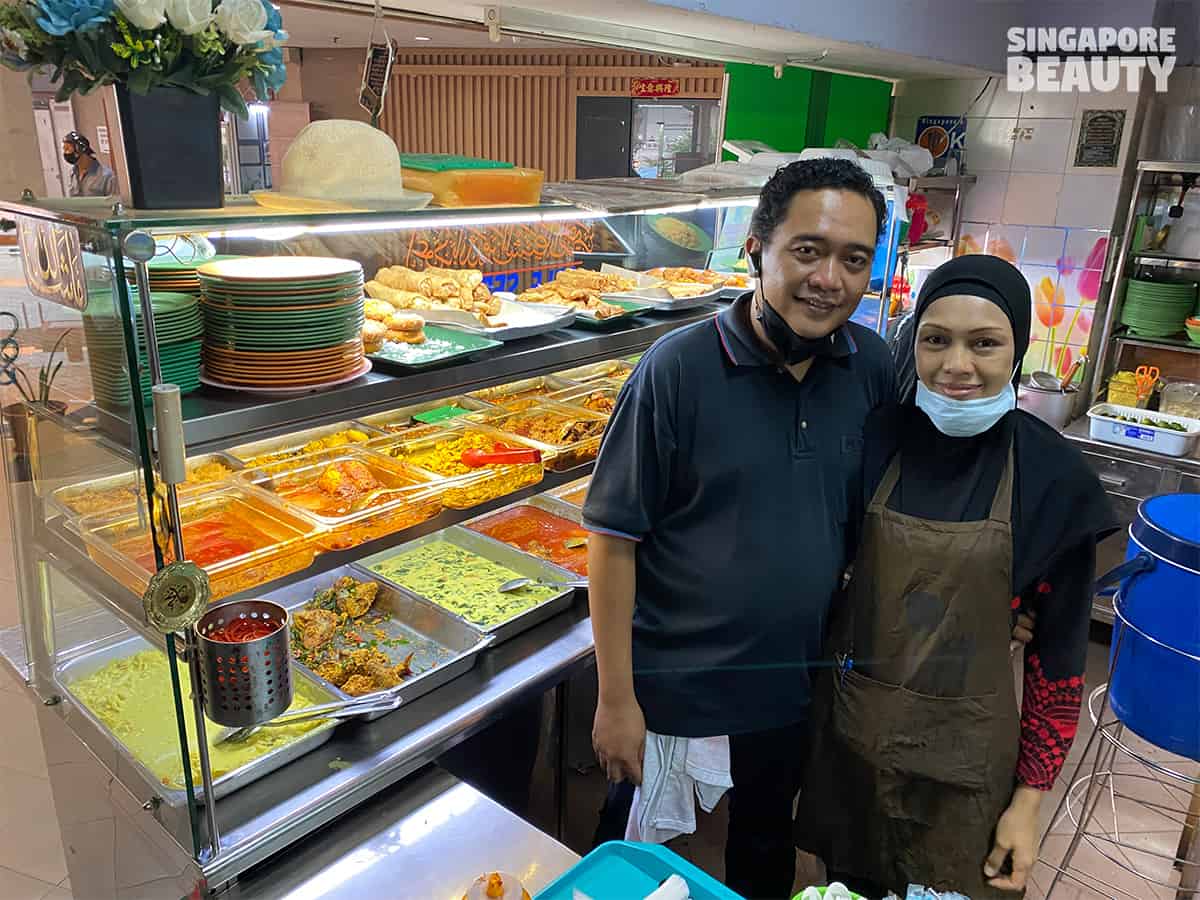 We managed to steal a moment of their time for a quick chat about their blooming family business. Nur Ilham June & Family Nasi Padang is currently helmed by the second generation of Mdm June, 65 who is the chef in charge of cooking most of the dishes on the display menu. The second generation consist of the children of Mdm June, such as siblings Mr Zul and Mrs Shida (pictured) who oversees the daily operation of the eatery, preparation of ingredients and Nur Ilham June & Family Nasi Padang delivery orders. Their team also consist of other members of the family.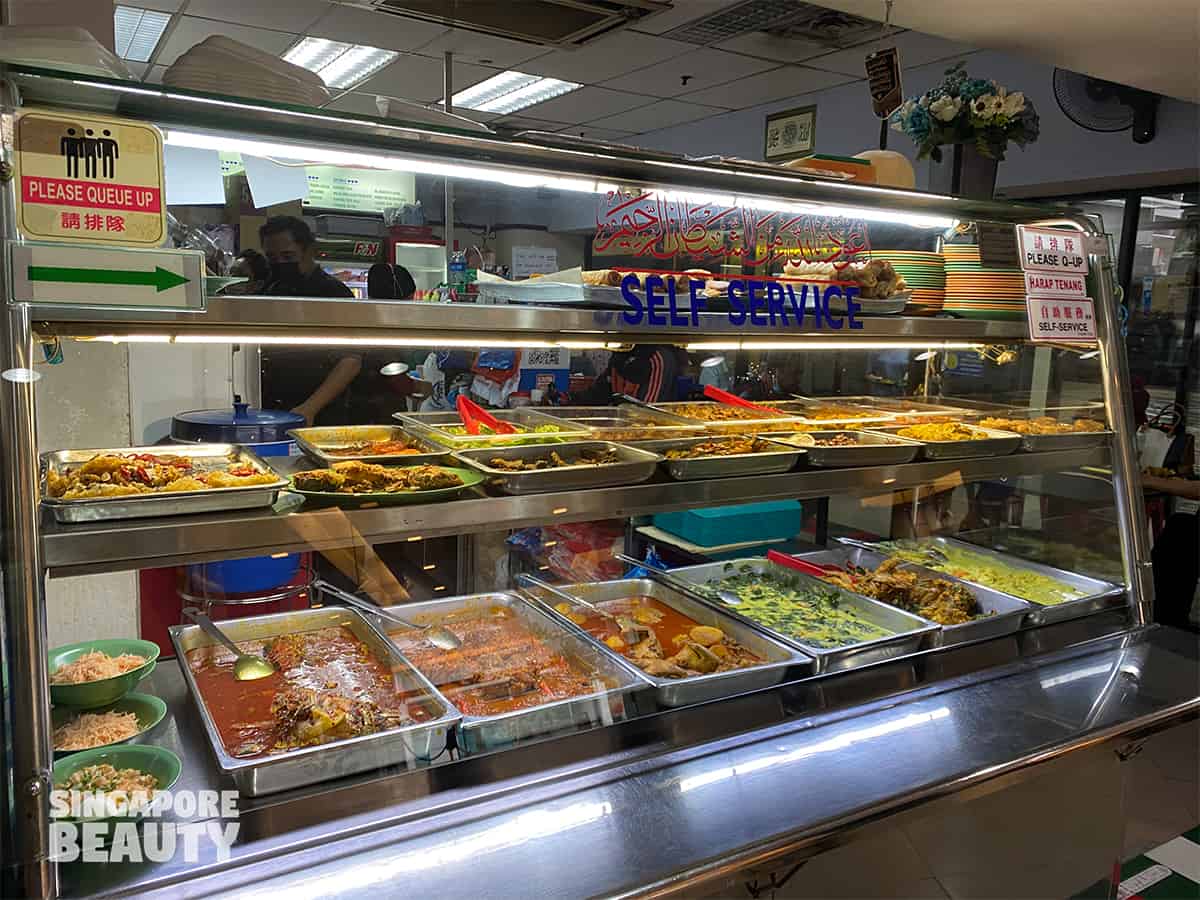 This is a heart-warming display of family togetherness where each member of the family work hand in hand to share with the public the beautiful home cooked food they have to offer. They have also been nominated for a Halal food award which will be announced at a later date. Mrs Shida was initially hesitant to be featured by our writer as she worried that they might not be able to handle a sudden surge of crowd.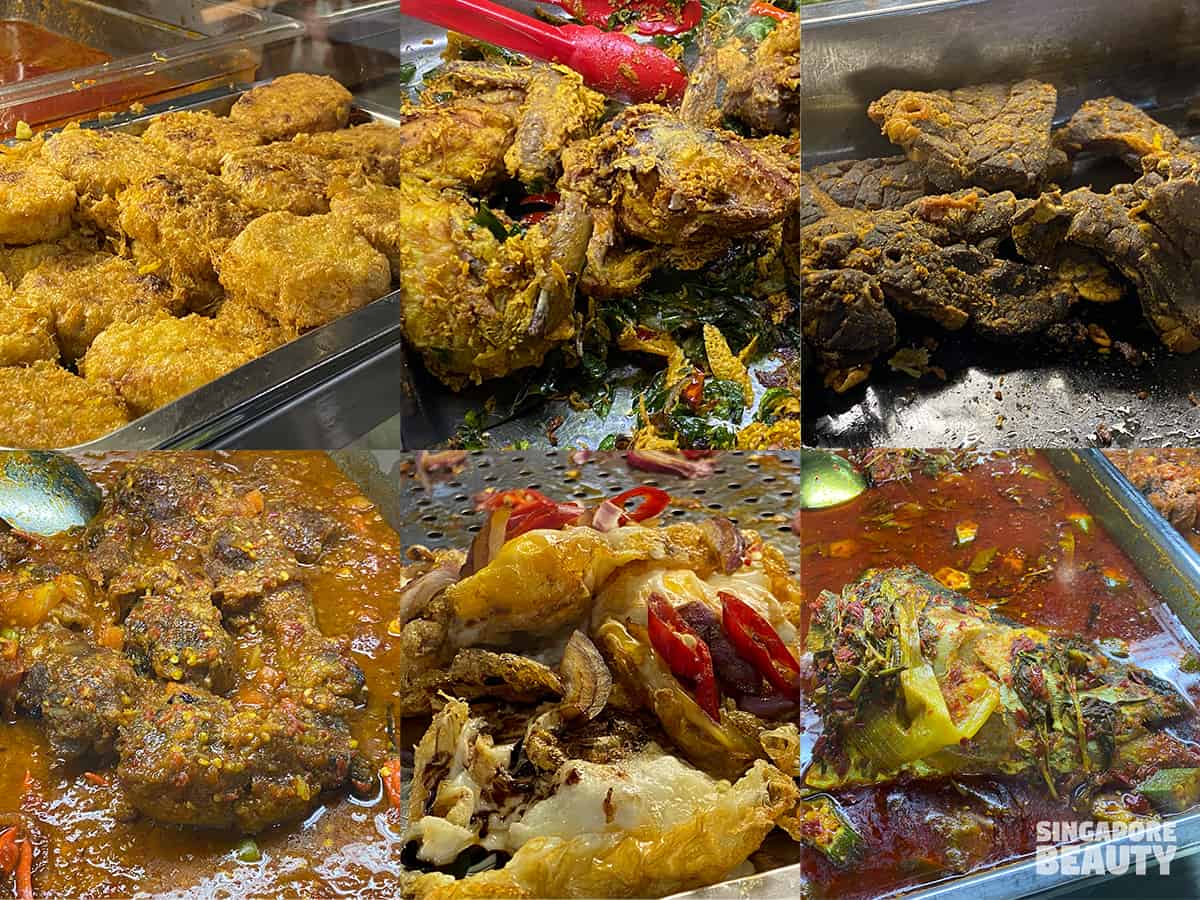 Here are some quick snap shot of the food that is still available shortly after lunch hours. The food gets sold out pretty quickly. Be there early if you are looking to try something in particular from their stall. Their popular Asam fish head curry will have you yearning for more with the savoury tangy from the spices and herbs used to simmer the fish fillet in. Paru goreng is well marinated and fried to a vivid teak hue with intense flavours too. Ayam balado is drenched in a rich gravy made by sautéing tomato chunks, pounded chilli with seeds, lime and many others aromatic spices. Curry chicken is well cooked as seen from the separation of the chilli oil from the chilli gravy. This is known as pecah minyak in Malay when the moisture in the ingredients in a curry has evaporated and the oil floats to the top. Chicken meat is still tender and moist with an alluring thick and robust curry flavour. How about some delicious ayam penyet style of fried chicken with crisp curry leaves and chilli?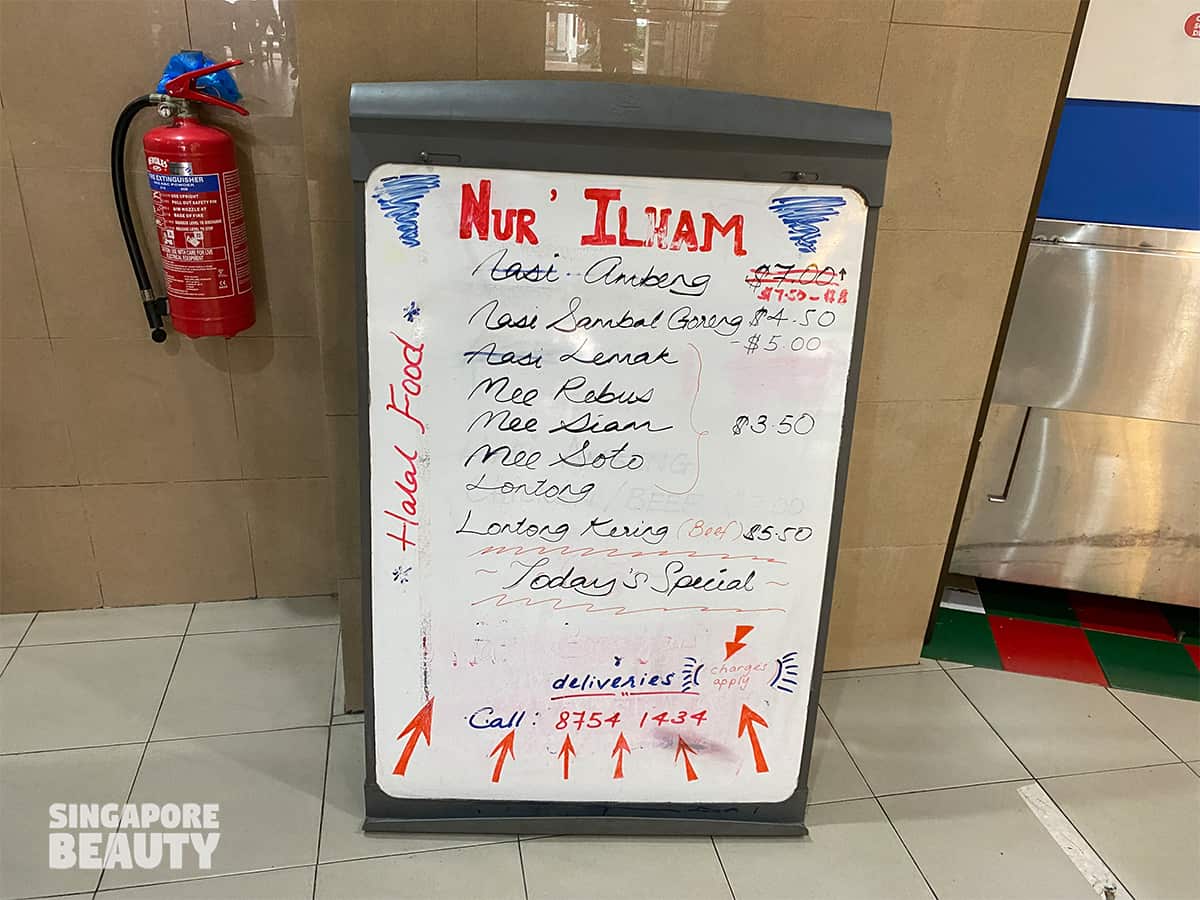 Here's the menu of Nur' Ilham June & Family Nasi Padang for noodles and Nasi ambeng.
This is what we ordered for lunch and the damage is $15.50 inclusive of a can of iced green tea. It consist of a plate of steamed rice with stewed cabbage in coconut milk, sambal goreng tahu, curry chicken and caramelised crunchy ikan billis peanuts with a ladle of chicken curry and their signature sambal goreng fried chilli paste. The other plate consists of fried tempe, asam fish fillet, stewed cabbage and steamed rice with fish gravy. I must admit it has been a hearty lunch that almost gave me a food coma in office. The food is delicious with a long lost flavour of authentic traditional Malay Muslim food that is hard to find nowadays near Chinatown.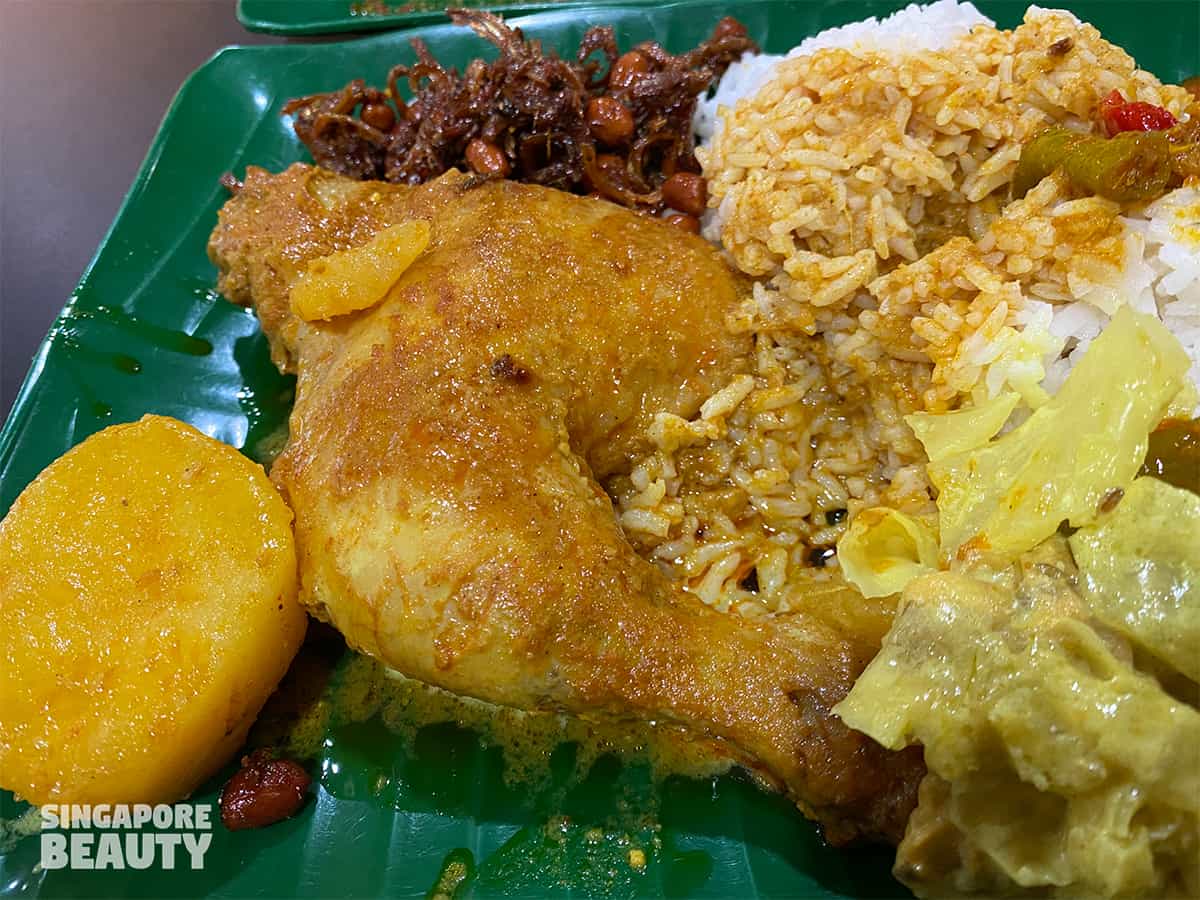 A whole chicken leg that is coated with a rich blend of spices and with the flavours of a mildly spicy curry. The gravy that is ladled upon the steamed rice has a nice spice kick to it with a tone down lemak that we enjoyed. Lemak in Malay means rich, greasy, high in fats, creamy often with a reference to coconut milk. The aroma of the spices took centre stage here instead of the coconut milk which makes it more palatable and less jelak. Jelak in Malay means overwhelming sick with eating food that is overly greasy, sweet or starchy.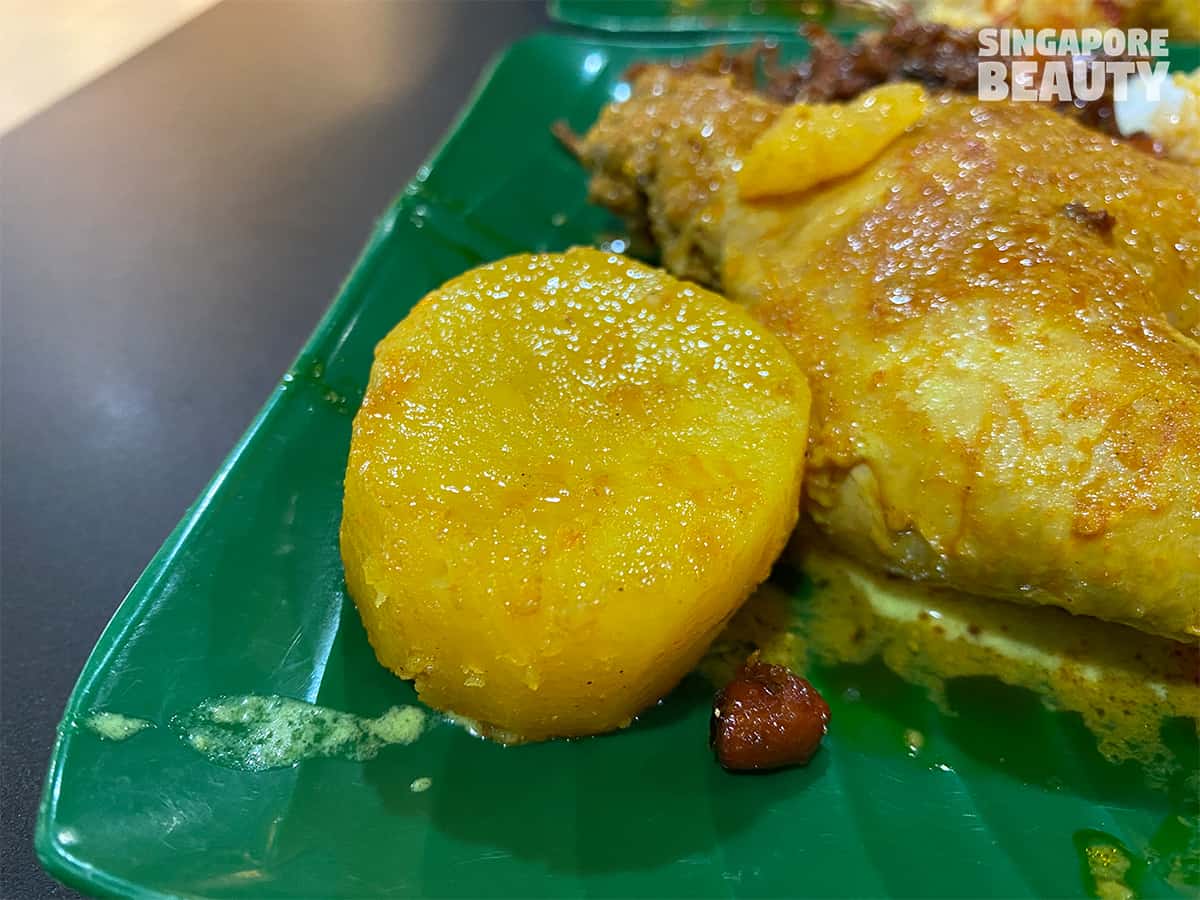 The soft curried potato has been thoroughly cook and infused with the flavour of the curry with a rich golden sunrise hue throughout the entire chunk of potato. It also has a slightly tangy after tone to it with each velvety bite which is pleasant and inviting.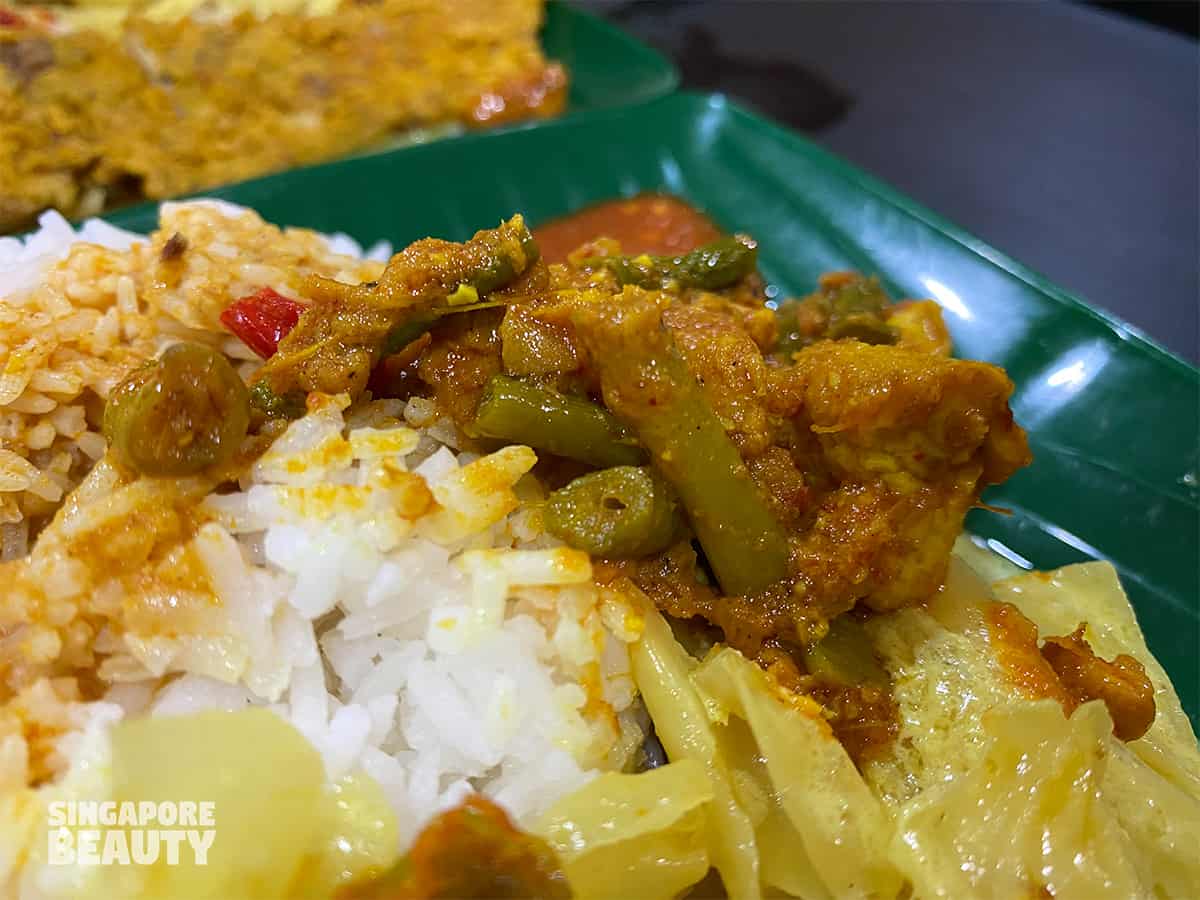 Sambal goreng tahu has diced golden fried tofu, chunks of tempe that is coated with an umami paste of sambal chilli and soft succulent tender long beans that are well cooked. It has a smoky and mild lemon-citrus flavour to the dish.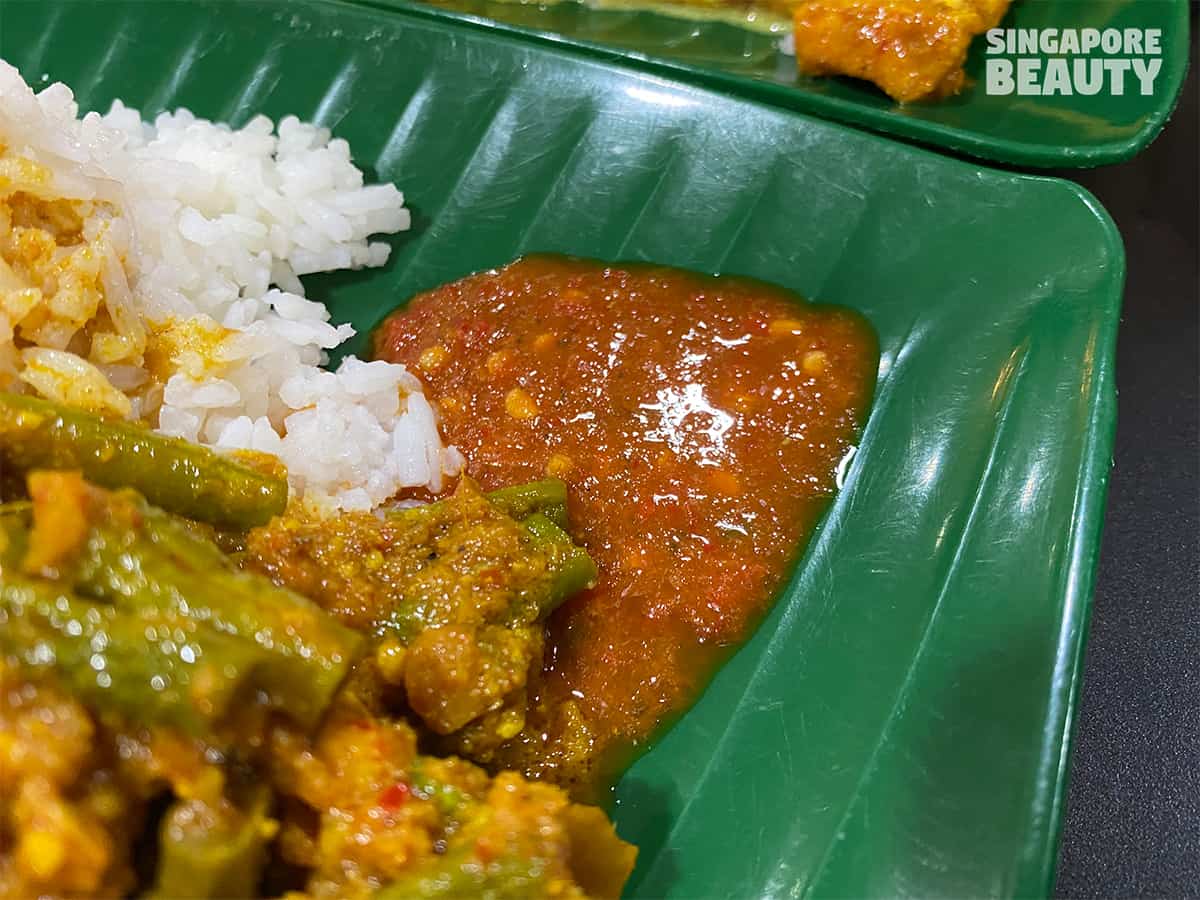 Be sure to get some of the correct chilli to go with your nasi padang, their signature sambal goreng fried chilli paste is a orangey concoction of pounded kaffir lime leaves, shrimp paste, tamarind, fresh chilli padi, dried chilli and some other spices. This sambal goreng recipe goes well with practically anything in their stall especially the nasi padang and adds the extra oomph to every dish with its tangy and spicy kick that will linger for a while at the back of your throat.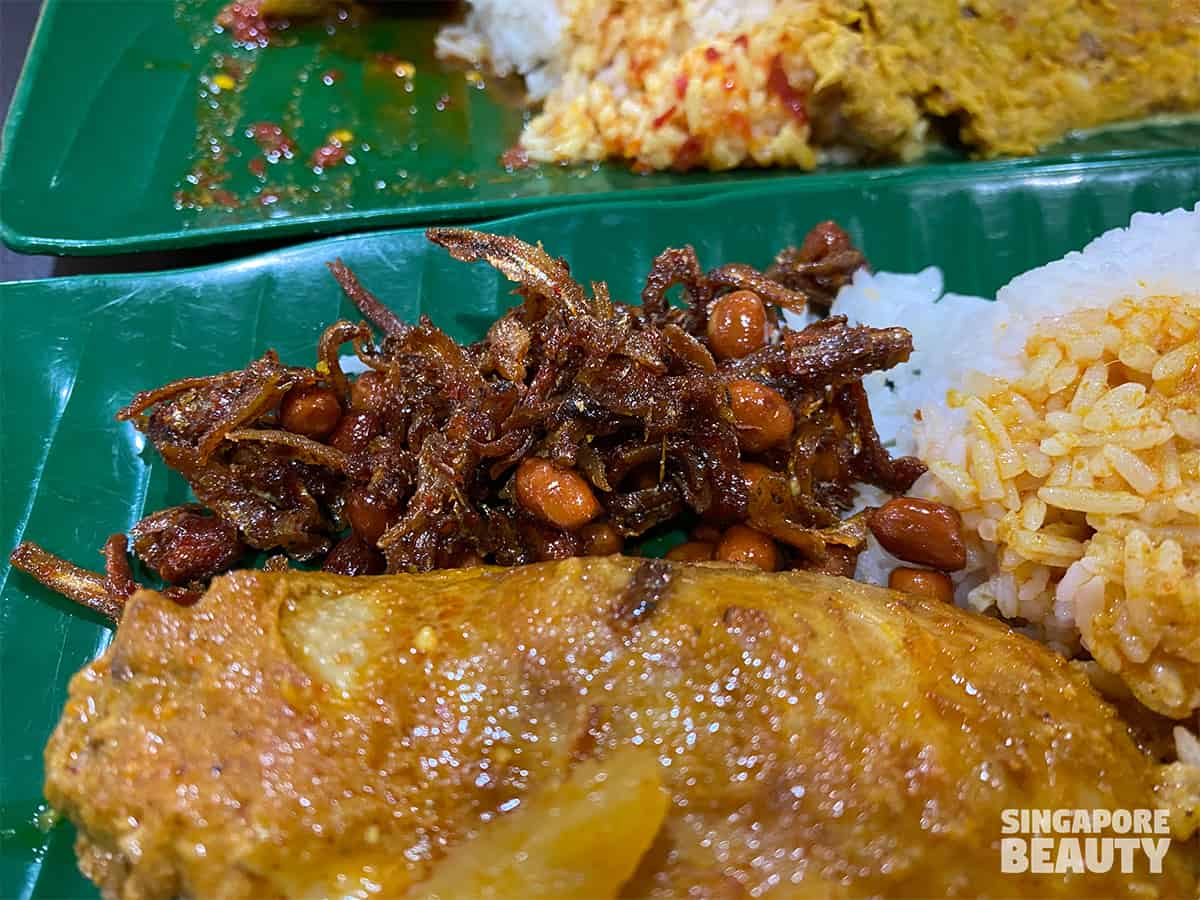 The caramelised ikan billis and peanut are cooked to a dark chocolately hue. Despite being pre-cooked and on the tray for a while, the ikan billis are super crunch and has no bitter aftertaste. It is a blend of honeyed with savoury flavours from the baits and a crunchy texture from the peanuts.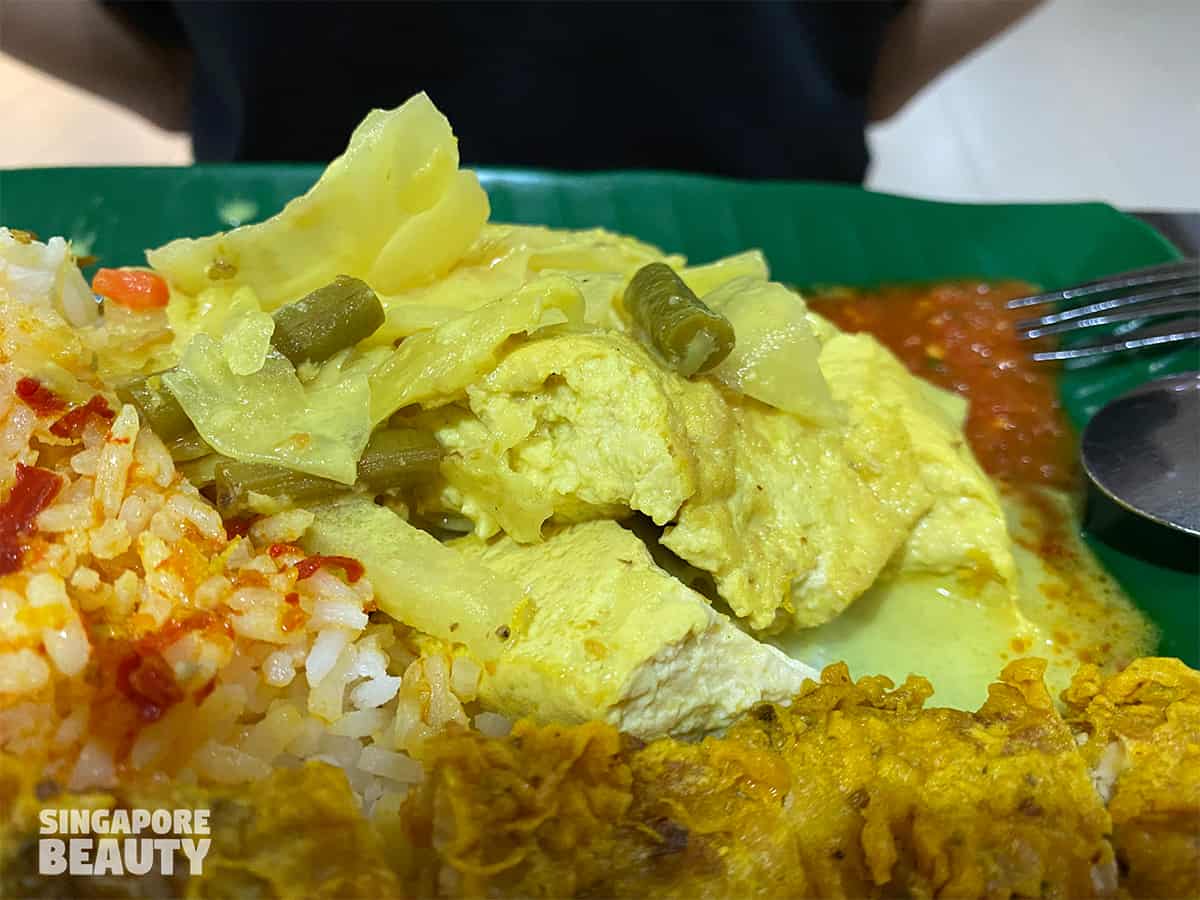 These stew cabbage – sayur lemak or lemak lodeh – consist of cabbage, jicama, long beans and wedges of bean curd cooked till soft in coconut milk flavoured with turmeric, shrimps, shallots and more. Soft and custardy beancurd with melt in your mouth cabbages that are mildly sweet and coconutty.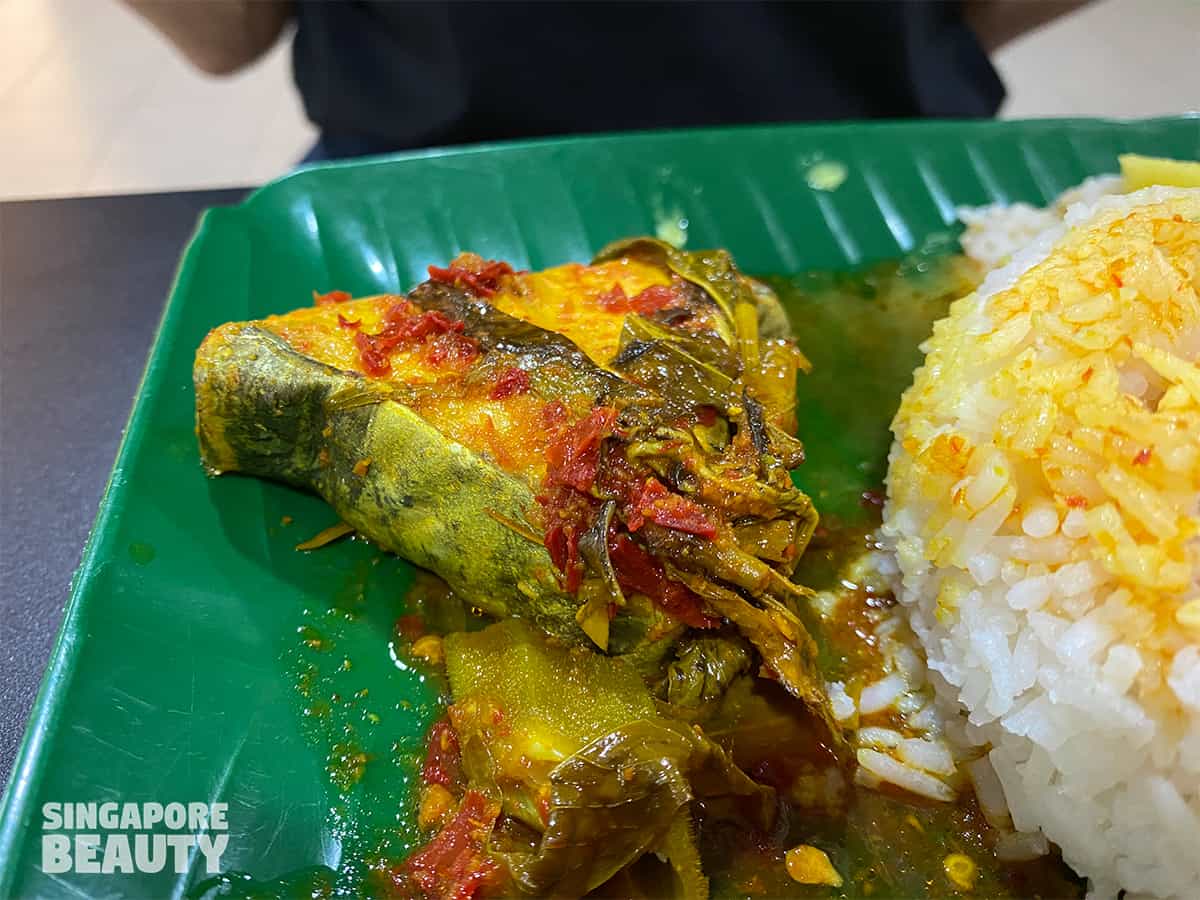 Asam Pedas (spicy tamarind fish) – savoury firm steaks of mackerel stewed in tangy, spicy yet sweet gravy loaded with pounded chilli. It has an appetising lemony flavour that will entice you to wolf down loads of steamed rice. The gravy is loaded with a sharp nutty aroma from the stalks of curry leaves that are used in the stew. Meat is of a firm yet moist texture with a rich fatty fish flavour. Highly recommended dish to try.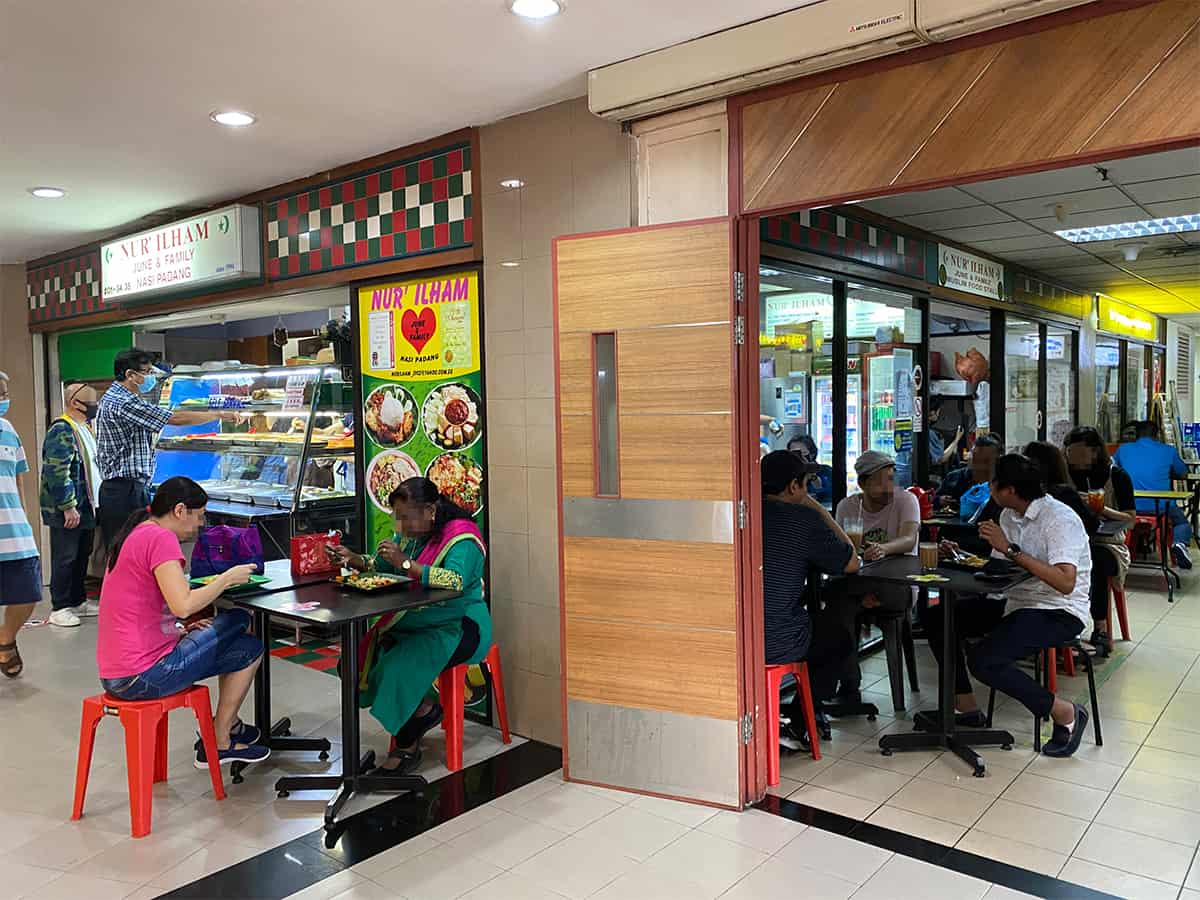 Seating space at Nur Ilham June & Family Nasi Padang eatery are limited and we do advise takeaways if you are working nearby. This is a fully air conditioned ground floor space with a pretty peaceful eating environment inside Manhattan house, near Chinatown. This is our first time trying their nasi padang and definitely will be return for other dishes on the Nur Ilham June & Family Nasi Padang menu.
Location:
Nur' Ilham June & Family Nasi Padang
Manhattan House
151 Chin Swee Road #01-34/35, Singapore 169876
Opening hours: 7am to 3pm
Closed on Saturday, Sunday & PH