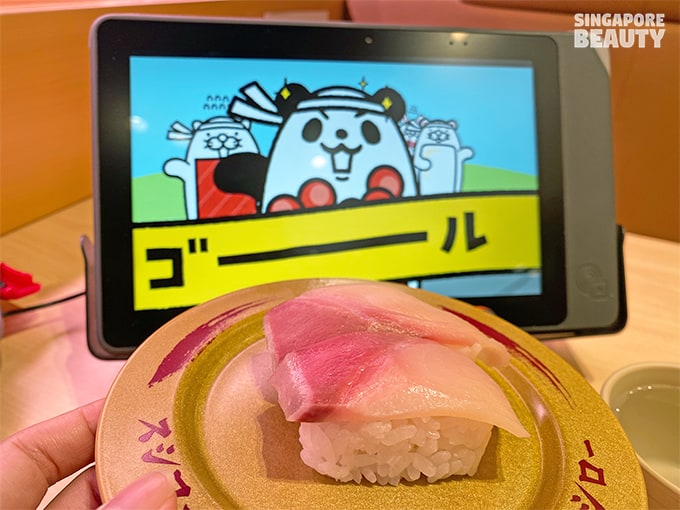 Sushiro Singapore is a Japanese chain restaurant that offer premium sushi like Otoro sushi & Uni sea urchin at affordable sushi price. It is also Japan's Largest Conveyor Belt Restaurant also known as Kaiten Zushi.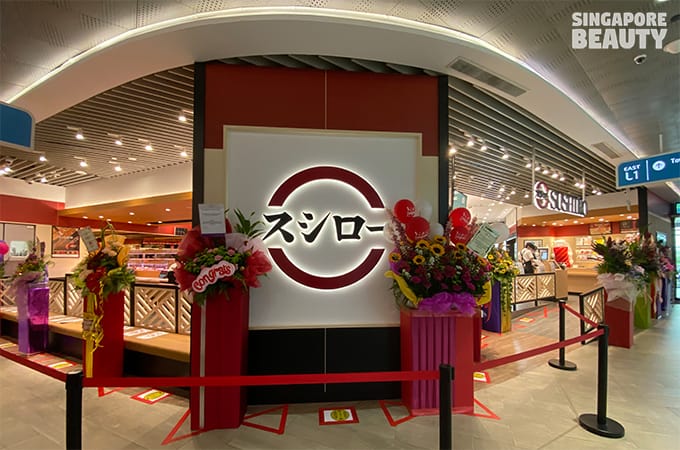 Sushiro plans to open many outlets in Singapore and the newest one is at Waterway Point S.C.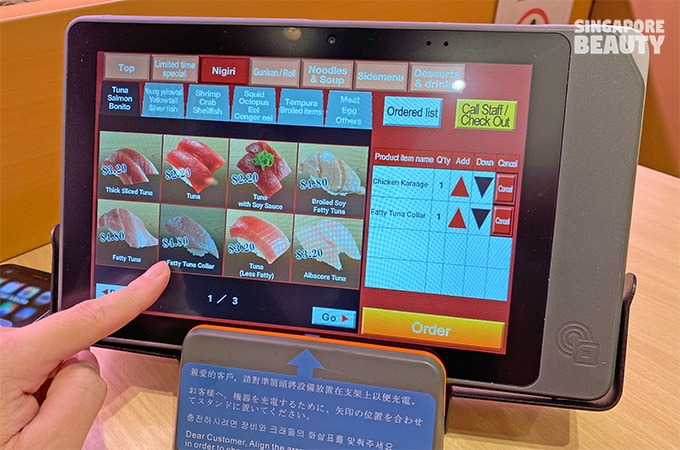 There are more than 100 selections on Sushiro menu which includes top sushi, limited time specials, nigiri, gunkan roll, noodles, soup, sides, desserts and drinks.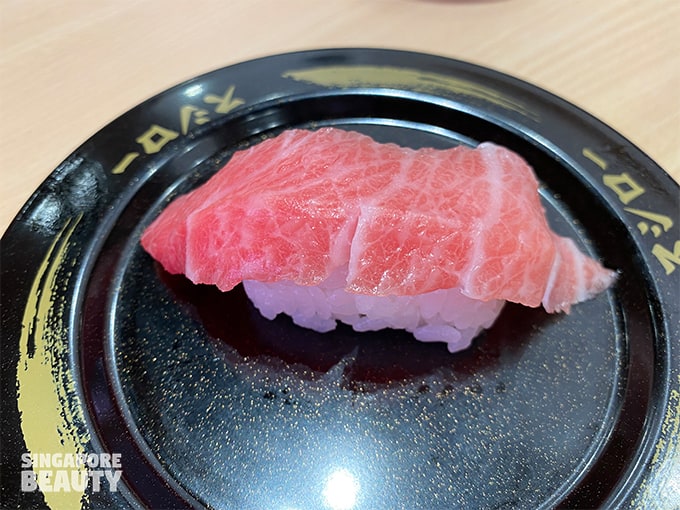 Sushiro delivery is available via Grab and Foodpanda. As this is a popular sushi chain, you can make reservations at Sushiro using their Sushiro Singapore App to cut the queuing time.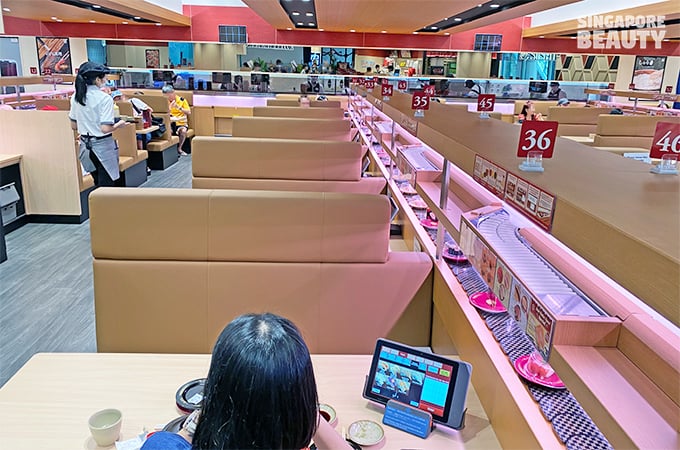 Sushiro opens it first Southeast Asia outlet in Singapore on the Aug 19, 2019, at Tiong Bahru Plaza which boast a 162 pax sitting capacity. Founded in 1984, with 30 years of history – Sushiro- a kaiten Sushi restaurant in Japan, also have outlets in Korea, Taiwan, Hong Kong. It is Japan's most popular Sushi chain with over 530 outlets globally.
Was craving for some Japanese Food at Waterway Point. Sushi Express queue was long and we decided to check out Sushiro toward the ending stretch of the mall. We were expecting a long queue for lunch and to our surprise, it was quite manageable with only 4 pax ahead of us. Naturally, I drifted in to try this newly open Sushiro restaurant.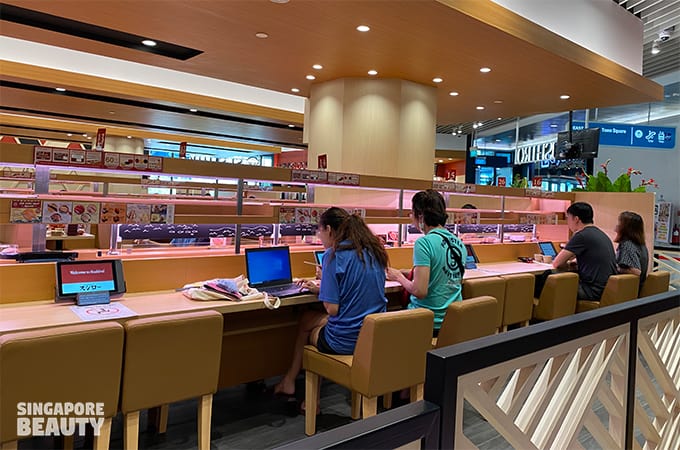 The shop has 2 types of sitting arrangement – bar counter seats facing the conveyor belt or booth bench seating with conveyor belt beside you. It feel like you are on a moving train, with the high backed bench seats and the sushi on conveyors are the scenery that keep refreshing with new additions of sushi.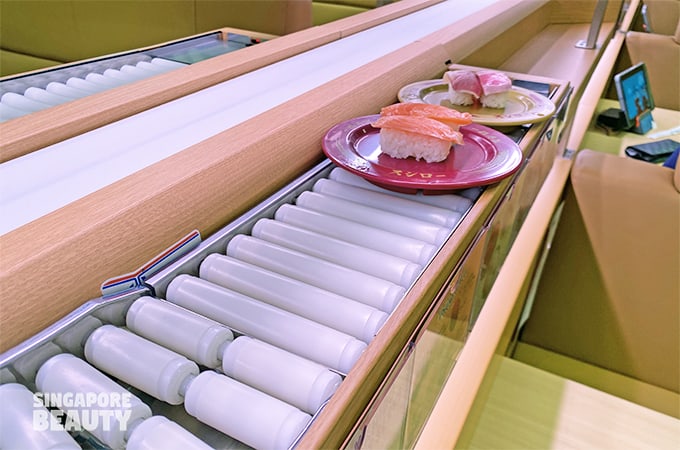 Although a conveyor belt system for sushi is no longer a novelty, Sushiro has up the kaiten game by having a separate "parking lot" for order from the menu.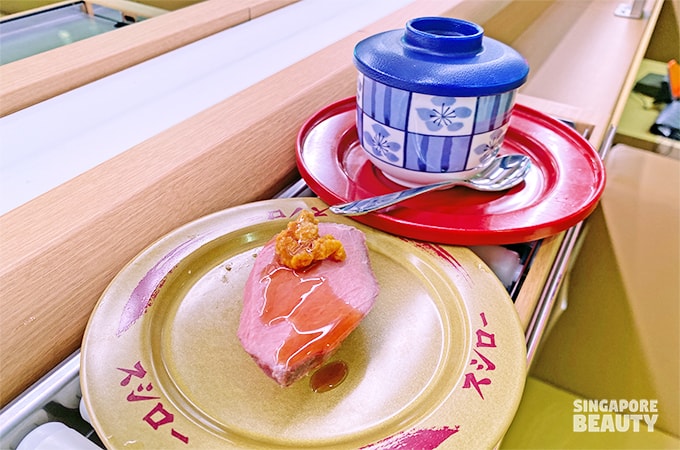 When ordering from the ala carte menu, you can only order up to 4 plates each time. Why is this so? This becomes obvious when the individual food arrives in their parking lots that are only catered for 4. They literally rear ended one another on the top tier.
Luckily the ramen are secured with a clip on top lid. Phew!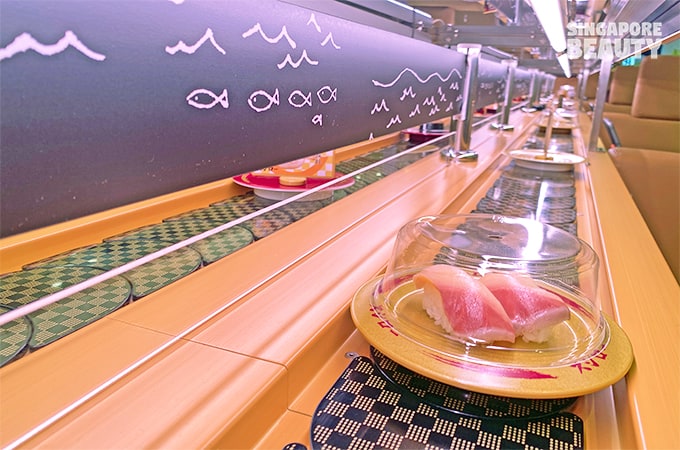 The bottom belt is where you can grab random sushi you fancy and upper belt is for your ala carte order from menu. Each of the sushi plates are electronically tagged to ensure the plate only remains for a safe period of time on the belt to be consumed. These plates will be removed from the belt once it reaches a mileage of 350metres on the track. These tagging systems also help them with charting which is the most popular item on their belt according to consumer's rate of snapping up the individual sushi plates.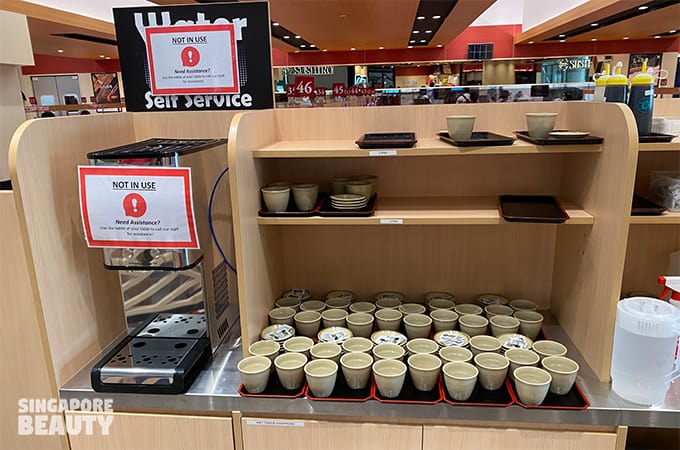 During this period, they do not serve hot green tea and only has free cold water available. Or otherwise you can order their ala carte soft drinks.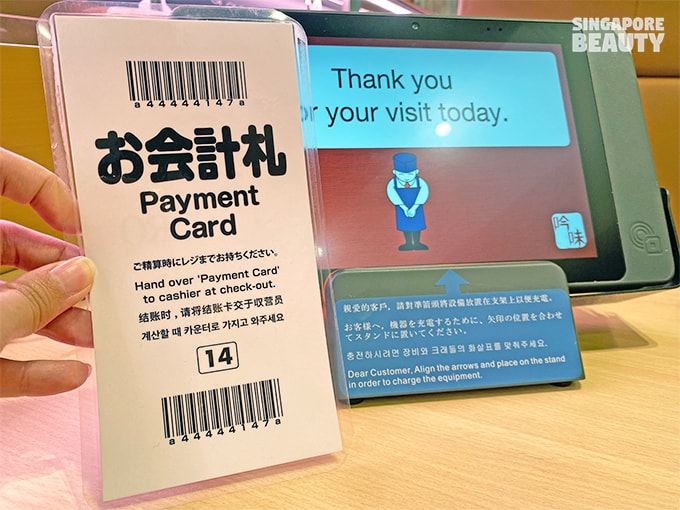 You will be issued a payment card for you to scan. Go through the payment process without a cashier. Get your credit cards ready.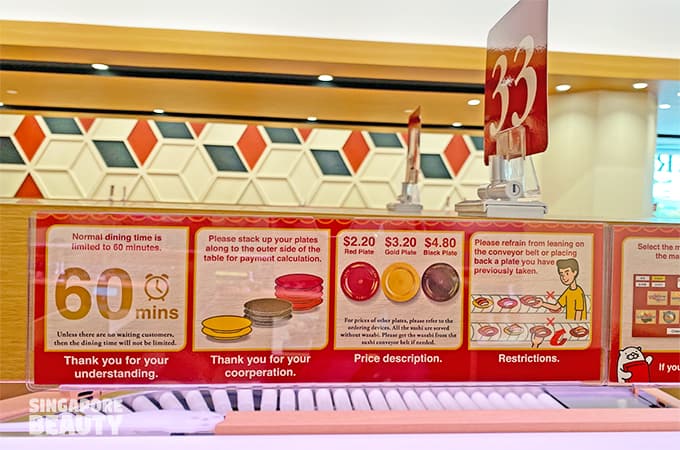 The colour coded plates are priced from $2.20++ red, $3.20++ gold and $4.80++ black. The dine in time is limited to 60 minutes for ala carte in view of the long queue that may form. However if there is no demand for tables, you can carry on and eat more.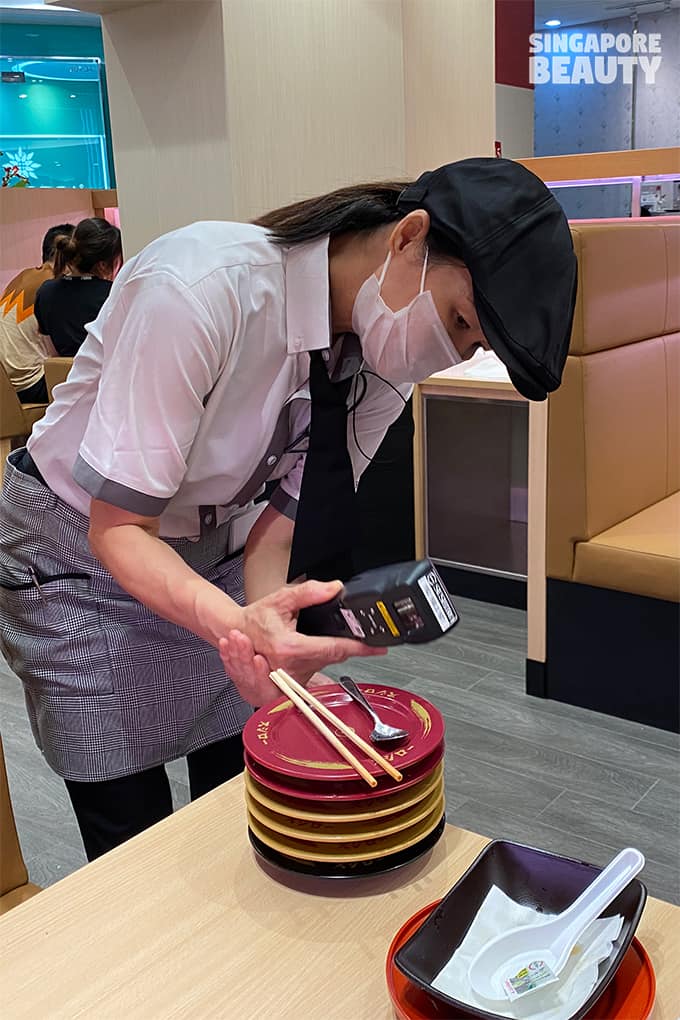 The plate tagging system also helps to ease the process of checking out. The waiter will scan the plates with a device to collate the no. of plates and cost to be paid accordingly.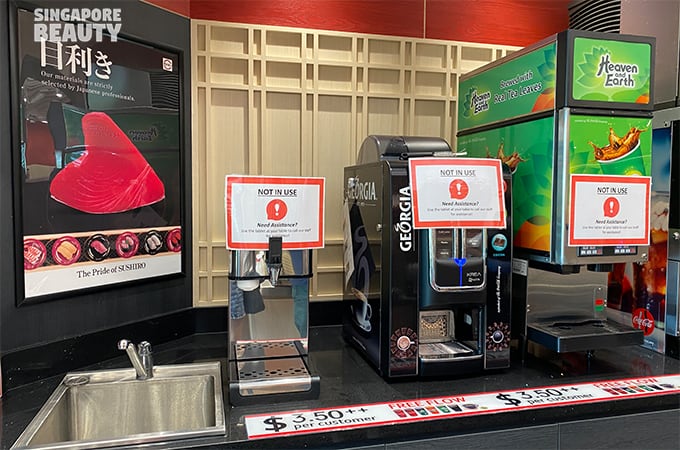 The free-flow drink machine is halted in view of the dining safety measures. They can only resume the $3.50 per head free-flow drinks upon new directions.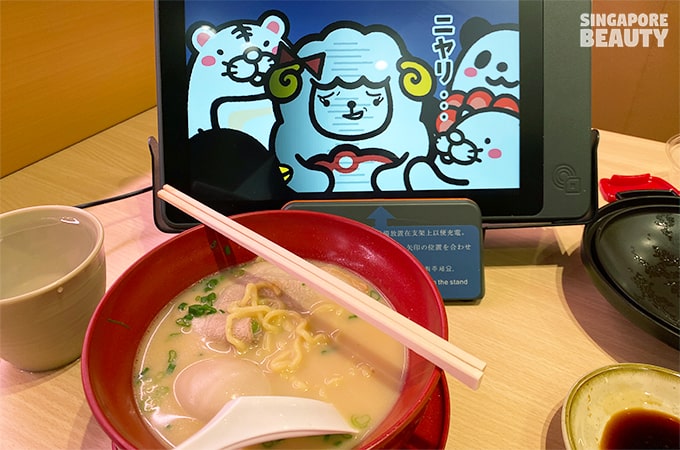 Let's get started with our order. You place order from the touch screen menu on your table. The electronic touch screen menu has an interesting kaiwaii cartoon clips and manga when it is in the idle mode. It adds some Japanese vibes while you are dining there.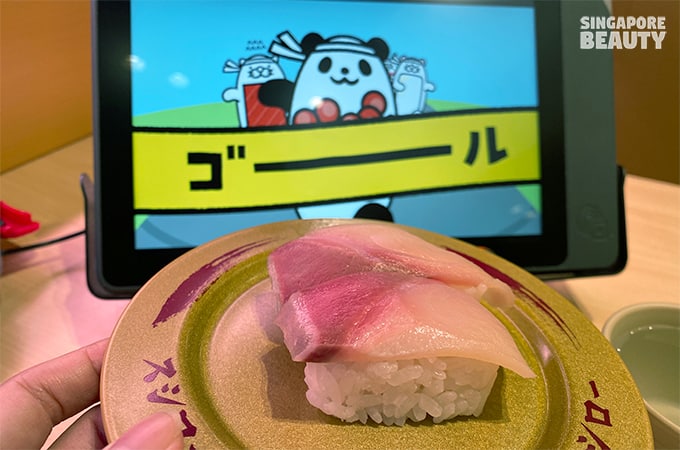 Young Yellow Tail $4.80 – with a fatty and soft texture. The rice for the sushi is moulded by a machine which also helps to loosen the grains by fluffing them up with air. The rice here is actually smaller and more fragile.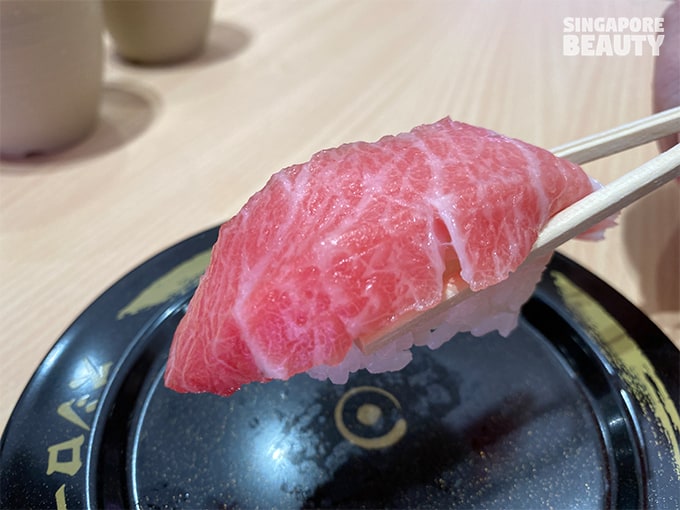 The legendary otoro fatty tuna collar $4.80 – the fattiest part of a tuna – is almost falling apart with the amounts of melty fish fats.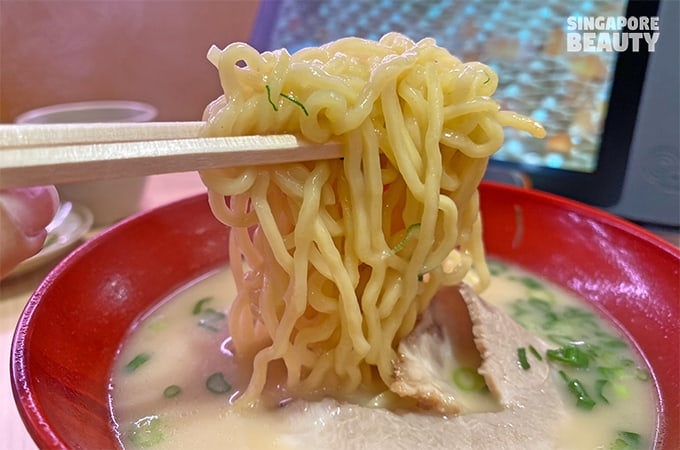 Tonkotsu ramen with egg $7.80 – texture of noodle is al dente with a thick rich soup. The generous amount of scallions also adds a unique sweet and peppery flavour to the broth.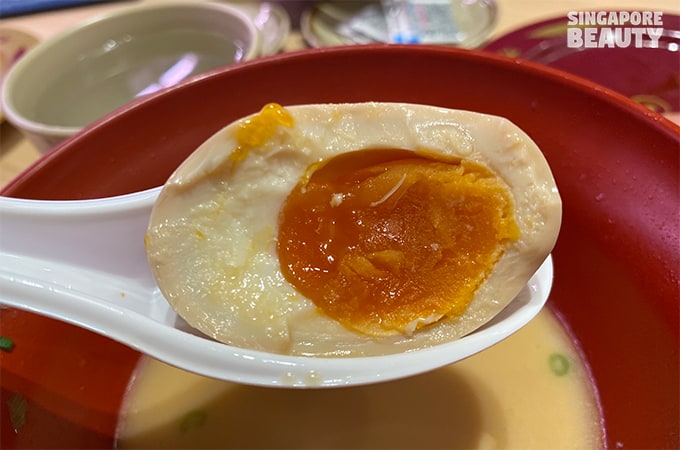 Egg is Japanese type of soft boiled egg with a creamy yolk.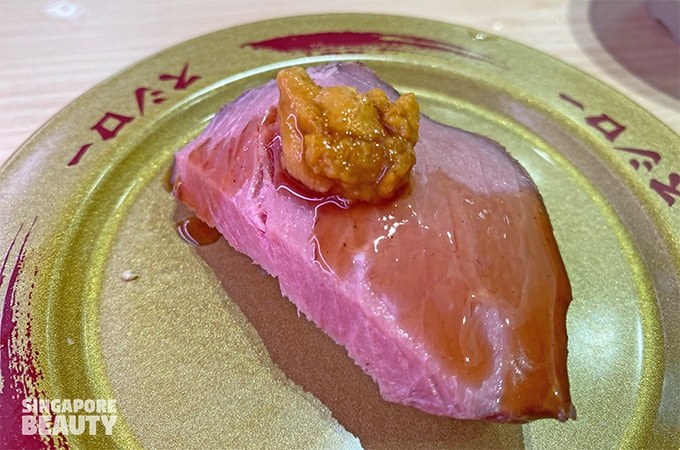 Sea urchin and roasted beef $3.20 – is a little too tough for my liking. The uni is good though with the melt in mouth texture.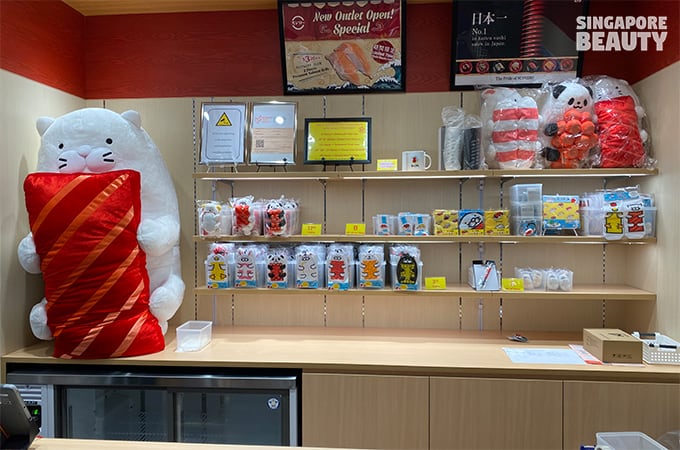 At the cashier counter, you can also check out their merchandise that features Sushiro mascots as plushie.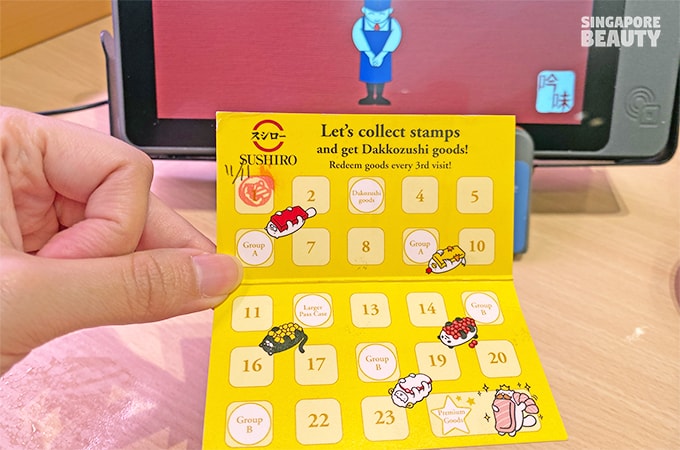 They also have a Sushiro reward card for Dakkozushi goods redemptions when you hit certain spend and milestones.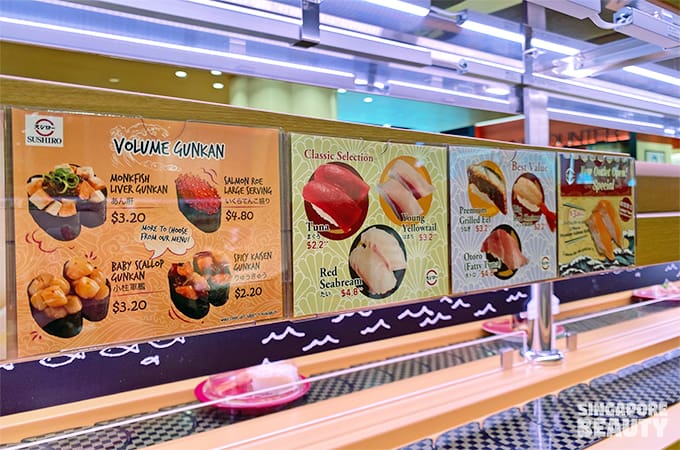 Definitely will be returning for the variety of sushi and those seasonal ingredients that are flown directly from Japan- such as Monkfish liver gunkan.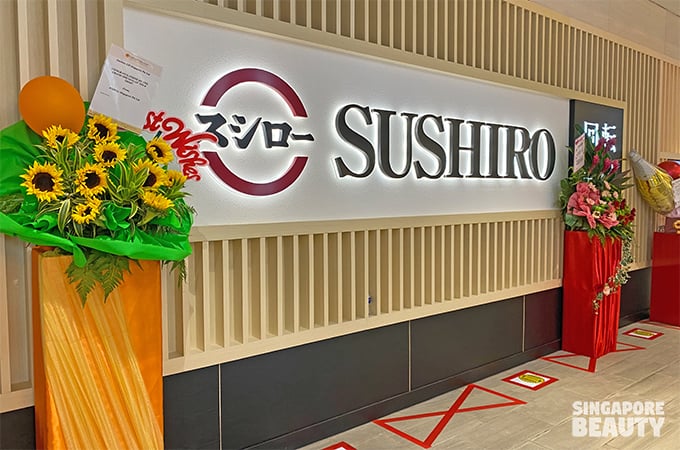 The overall Sushiro review is a pleasant one with some hits and some misses.
Sushiro outlets:
Causeway Point #05-16/17/18
Bedok Mall #B1-10
Waterway Point #01-31/32
Tiong Bahru Plaza #02-118
Isetan Scotts Shaw House Lido #03-K1/K2
Opening hours 11 am onwards daily.