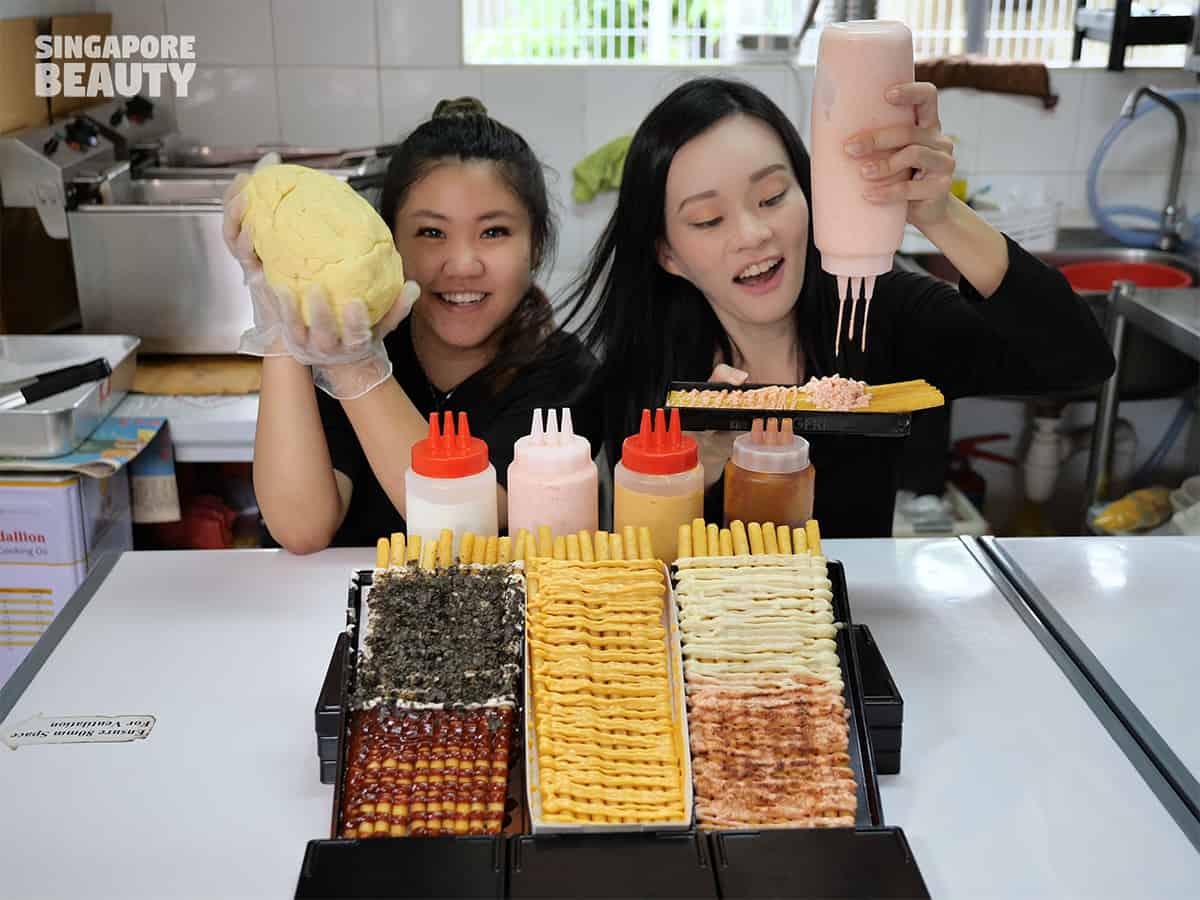 Big Big Fries menu consist of super long XXL fries more than 20cm that is zhng with a variety of scrummy sauce.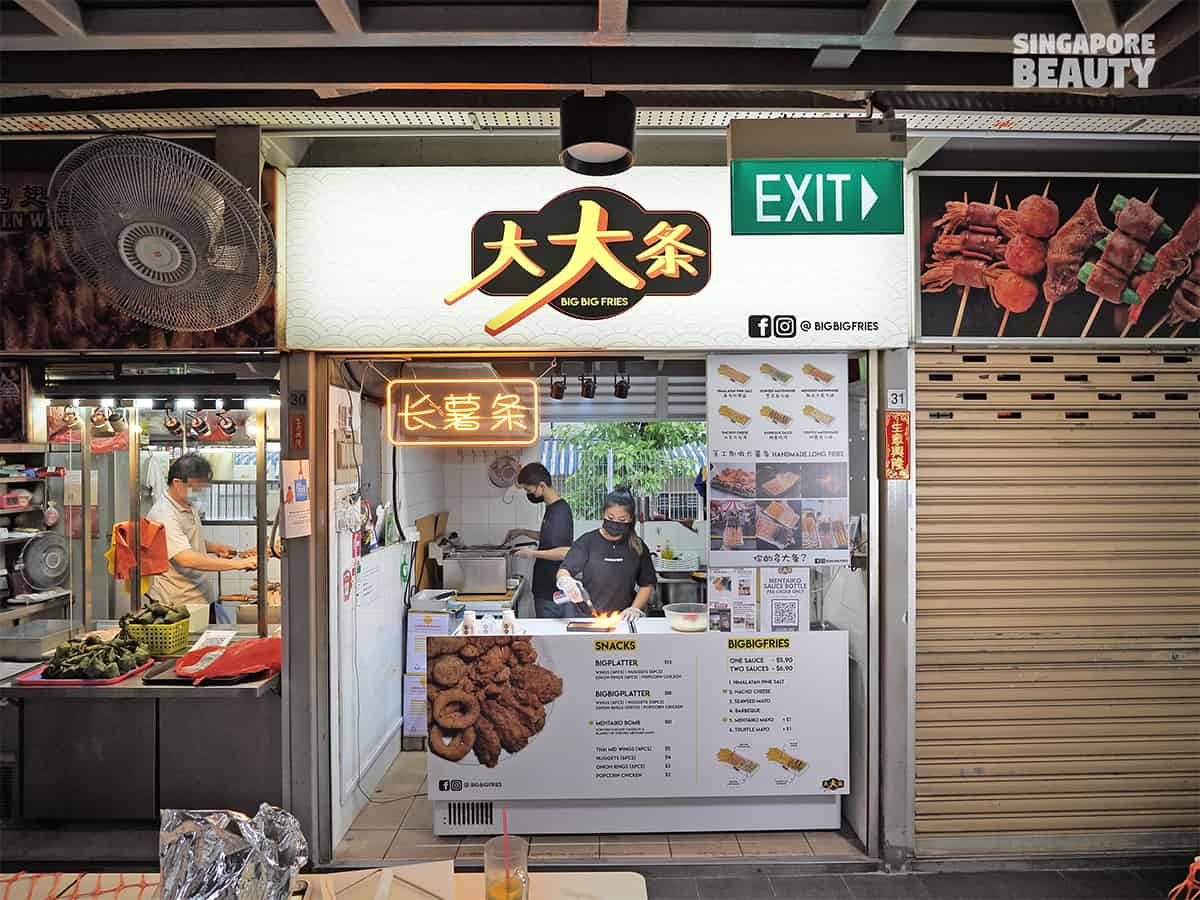 BigBigFries is founded by two young hawkerpreneurs who are in their twenties.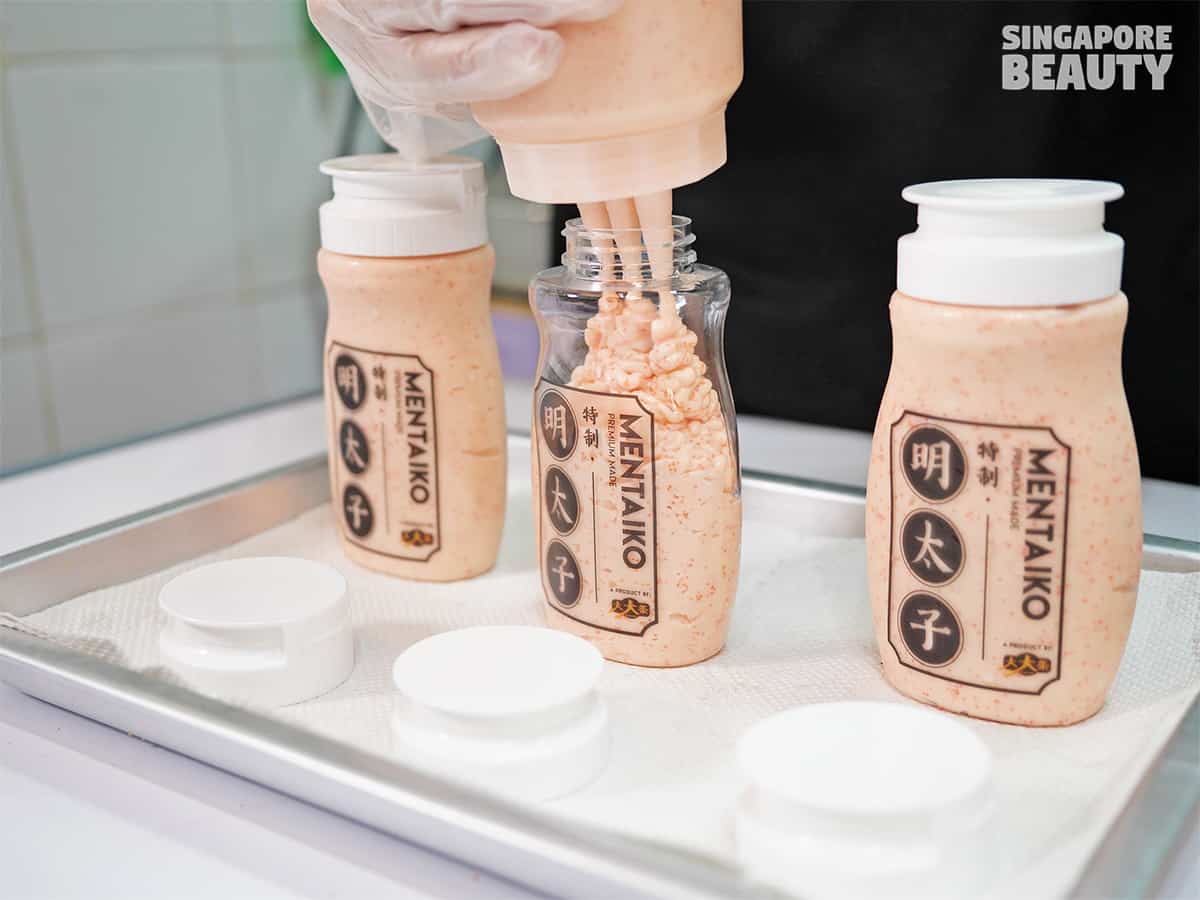 The latest craze best seller at BigBigFries is the bottled mentaiko mayo sauce that has a sizeable waiting list.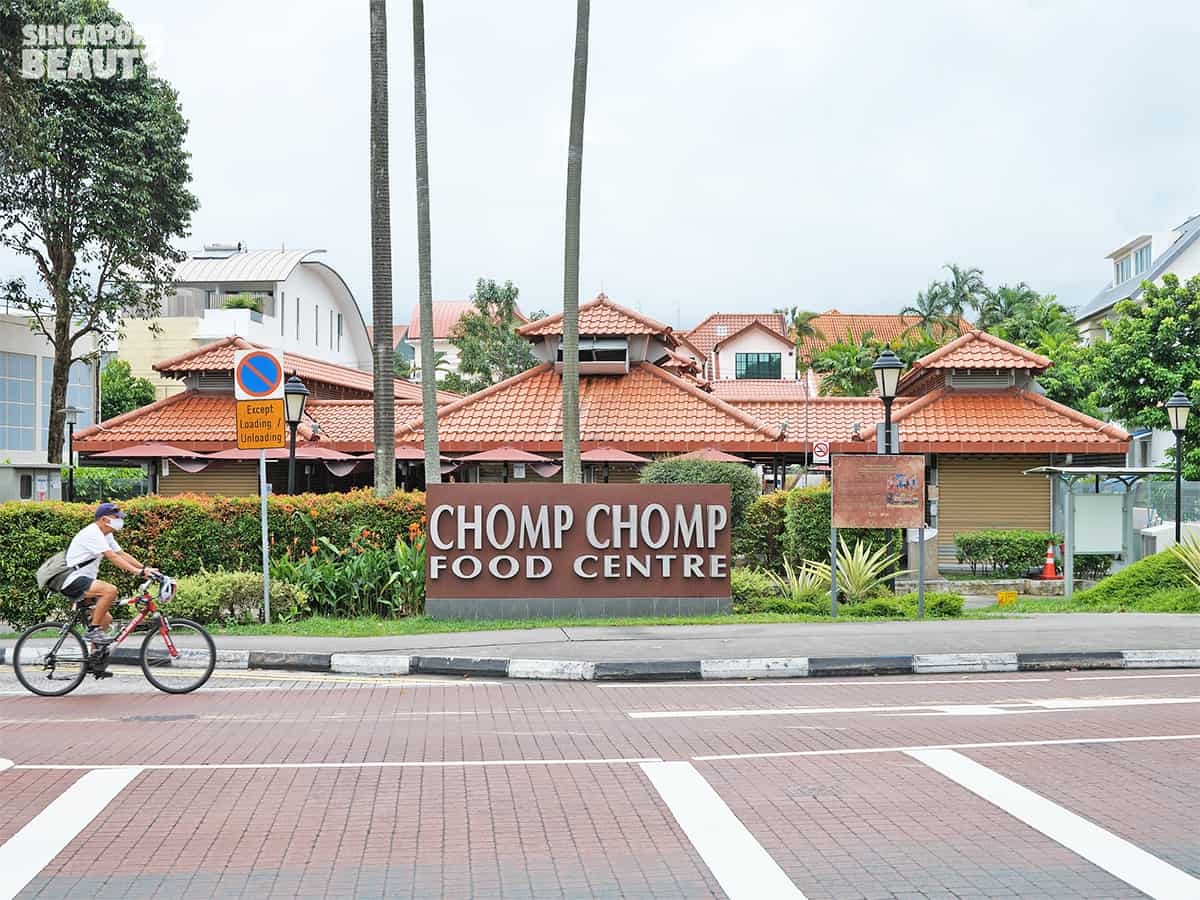 Big Big Fries has now found a permanent location at Chomp Chomp Food Centre after the closure of Jurong West Hawker Centre and also offers delivery on FoodPanda.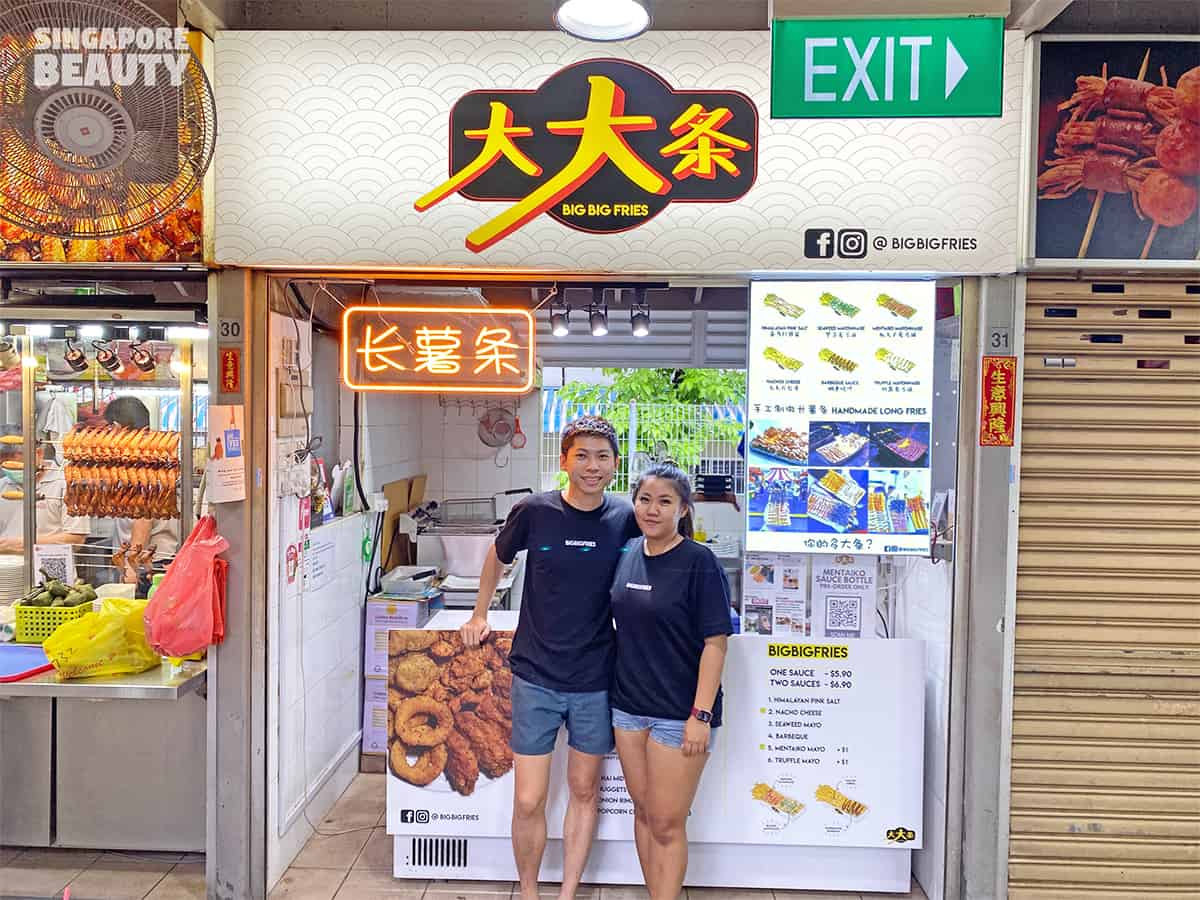 Founder Leon 28 and co-founder Yanling 24 are no amateurs to this game of frying and serving up fries with their vast experience gained at many of Singapore outdoor fairs. They are regular anchor of fairs such as ARTBOX, Uncle Ringo, Chatuchak Singapore and Singapore Expo Fair.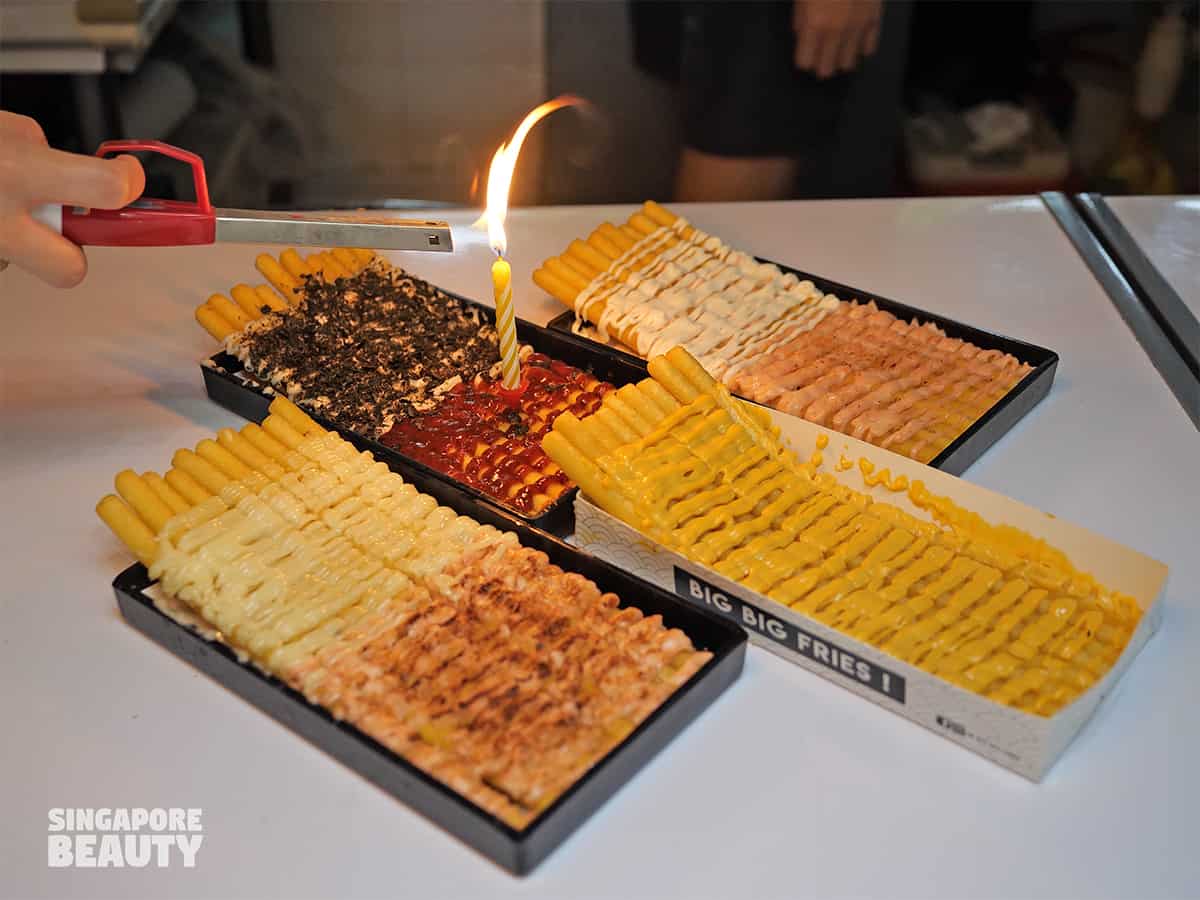 From now till 30 Nov 2020 during Big Big Fries anniversary, flash the Singaporebeauty video post to enjoy $1 off every fries purchased, 2 set of fries means $2 off. This is the promotion code you have been waiting for.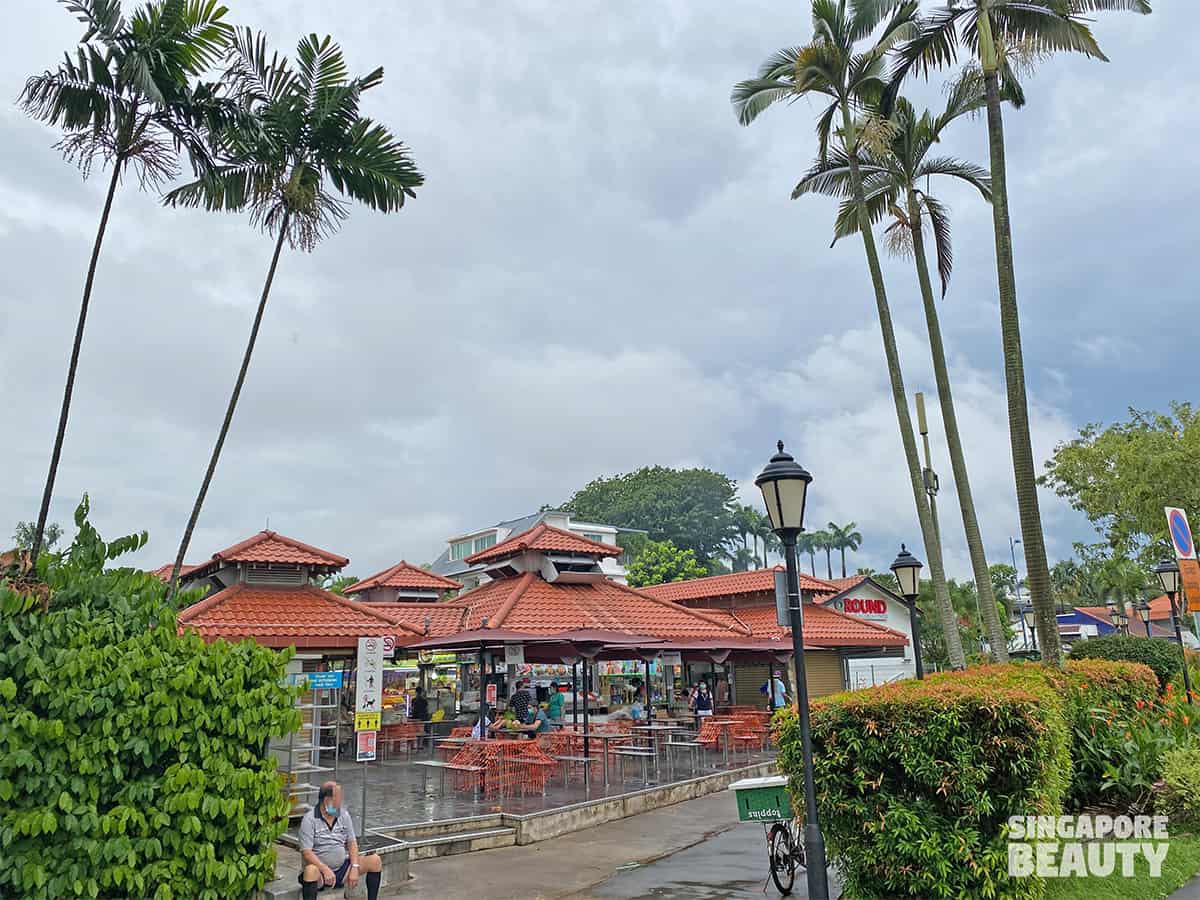 Why the sudden decision to go into hawker centre? Here's a short chat with the founder Leon. The decision came since food fairs & pop up are on the halt this year. BigBigFries are a hit with the fun fair goers with their handmade cut fries. They wish to explore hawker centre culture to bring some fun and some different food mood to the hawker scene.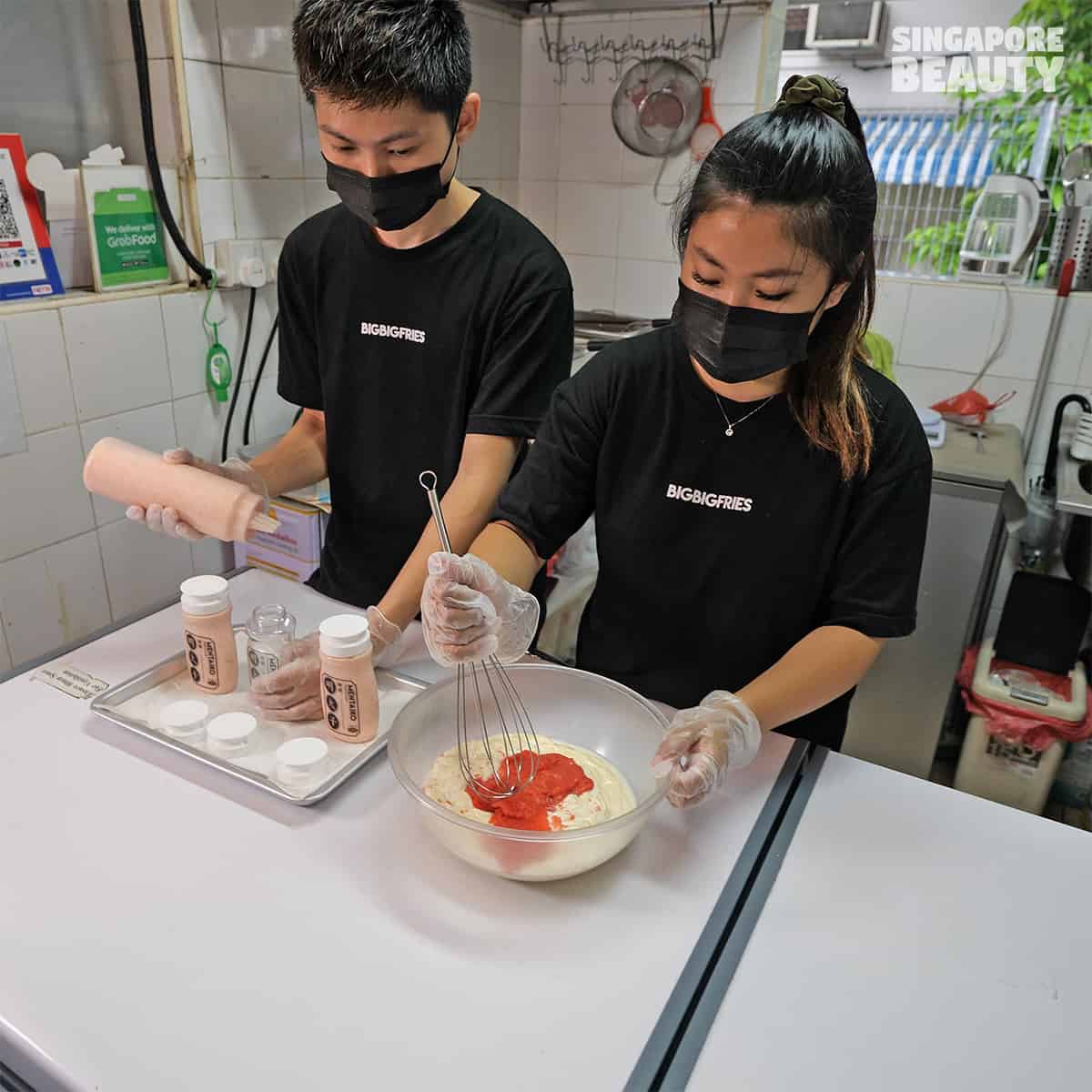 This way they can also continue to sell their delicious fries. He also wish that by doing so, could attract more young hawkerprenuer like himself to keep the Singapore Hawker trade going with injection of fresh young blood. To him, hawker culture in Singapore is something he feels is worth preserving and protecting, it is like a heritage.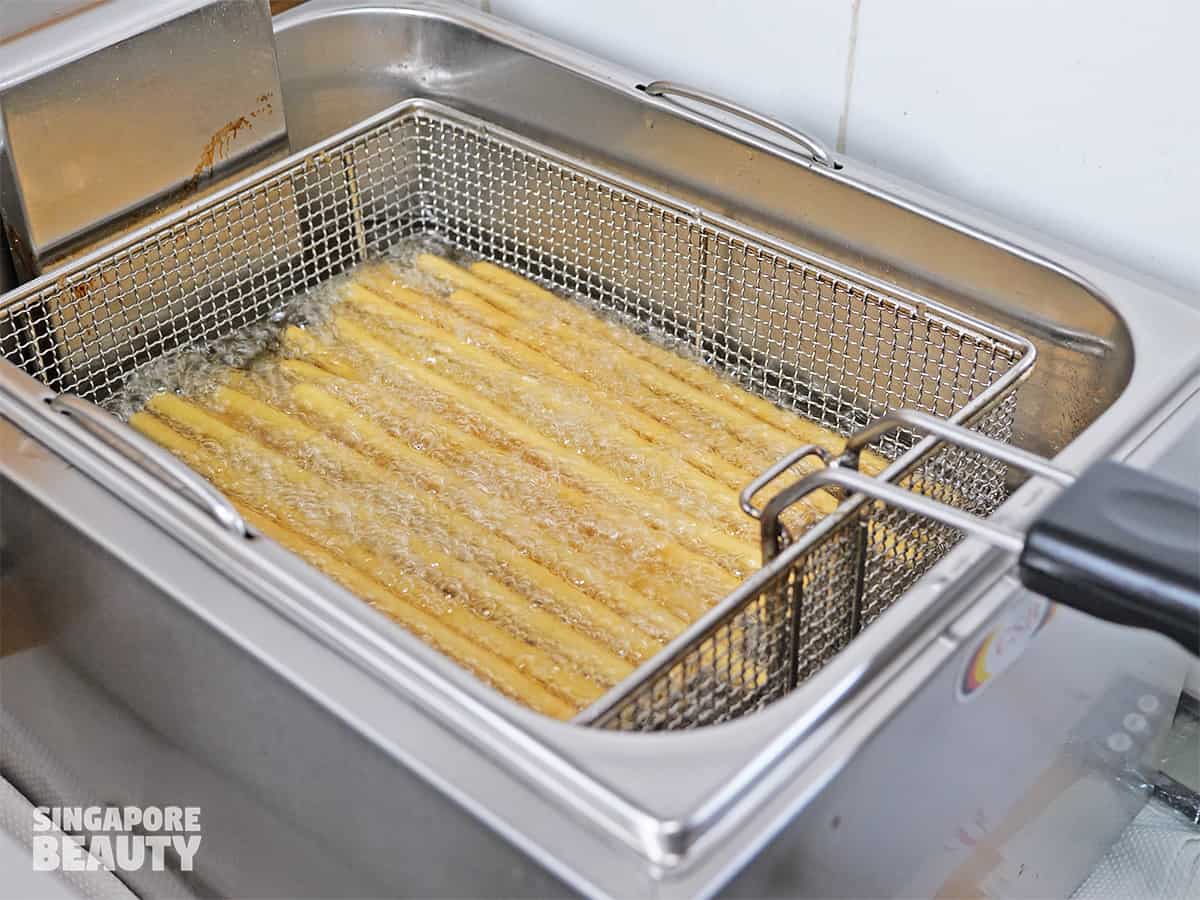 The fries are fried-to-order so you can be assured that your fries will always be piping hot and crispy. The fries are best consumed within 30 minutes where they are at their optimum texture and flavour.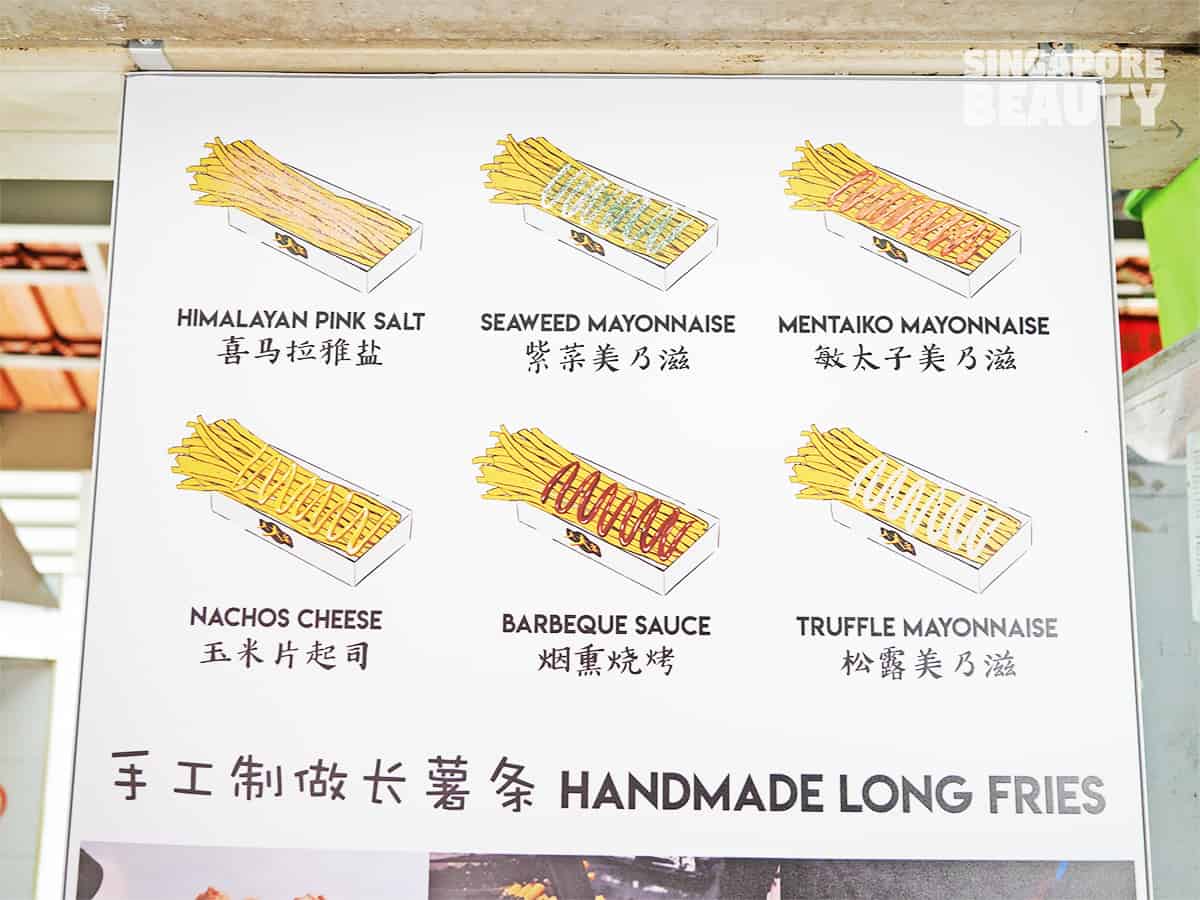 The type of Big Big Fries sauce and seasoning menu includes Himalayan pink salt, Nacho cheese, Seaweed mayo, Barbecue, Mentaiko mayo and Truffle mayo.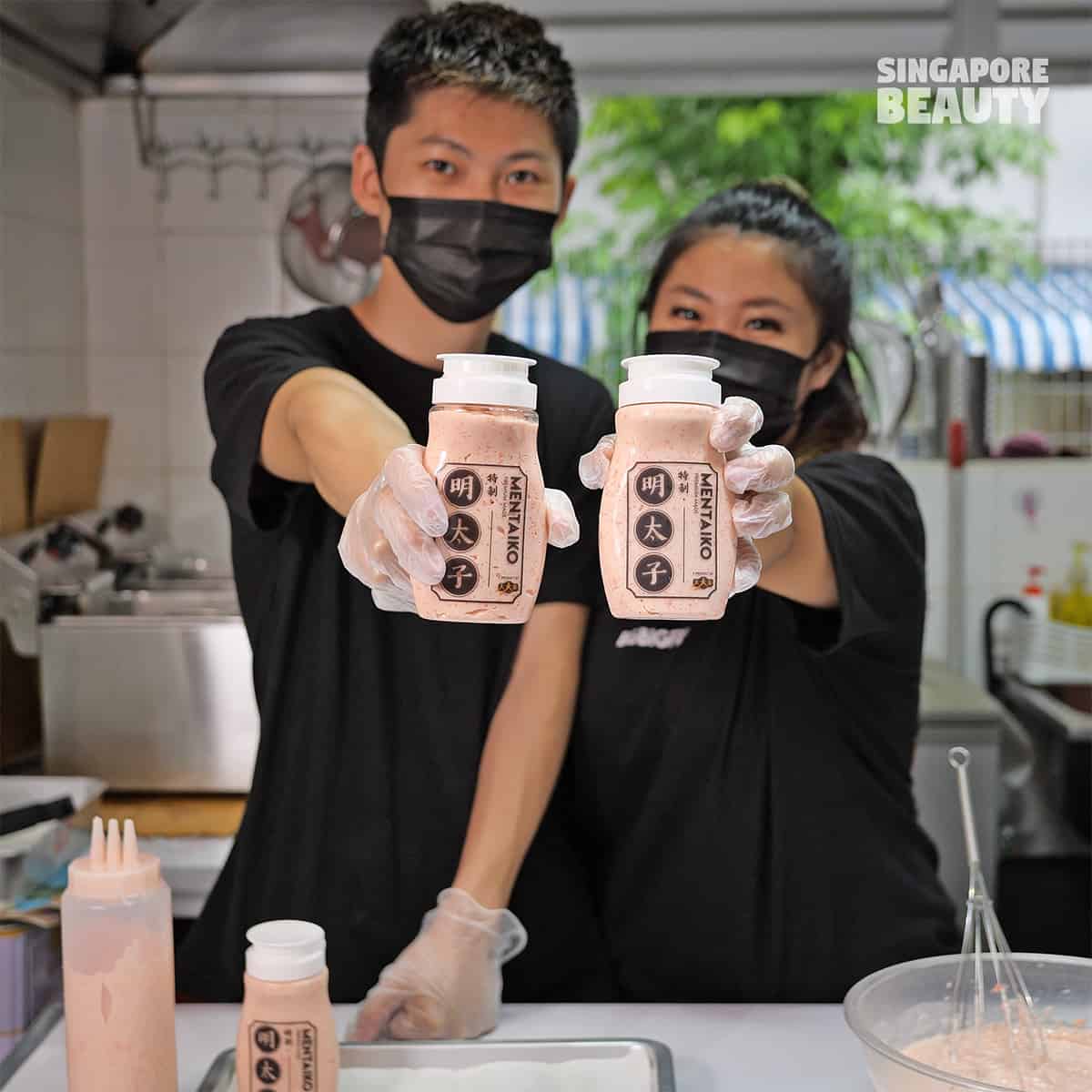 The BigBigFries mentaiko mayo is so popular that they have started to sell them bottled to customers. The response is overwhelming. Their signature bottled mentaiko sauce with premium flavours has a waiting list on their order and still counting. You can only preorder from now on based on their next available slot. $12 each or at a discounted promotion price of three for $33. Delivery or self collect option is both available.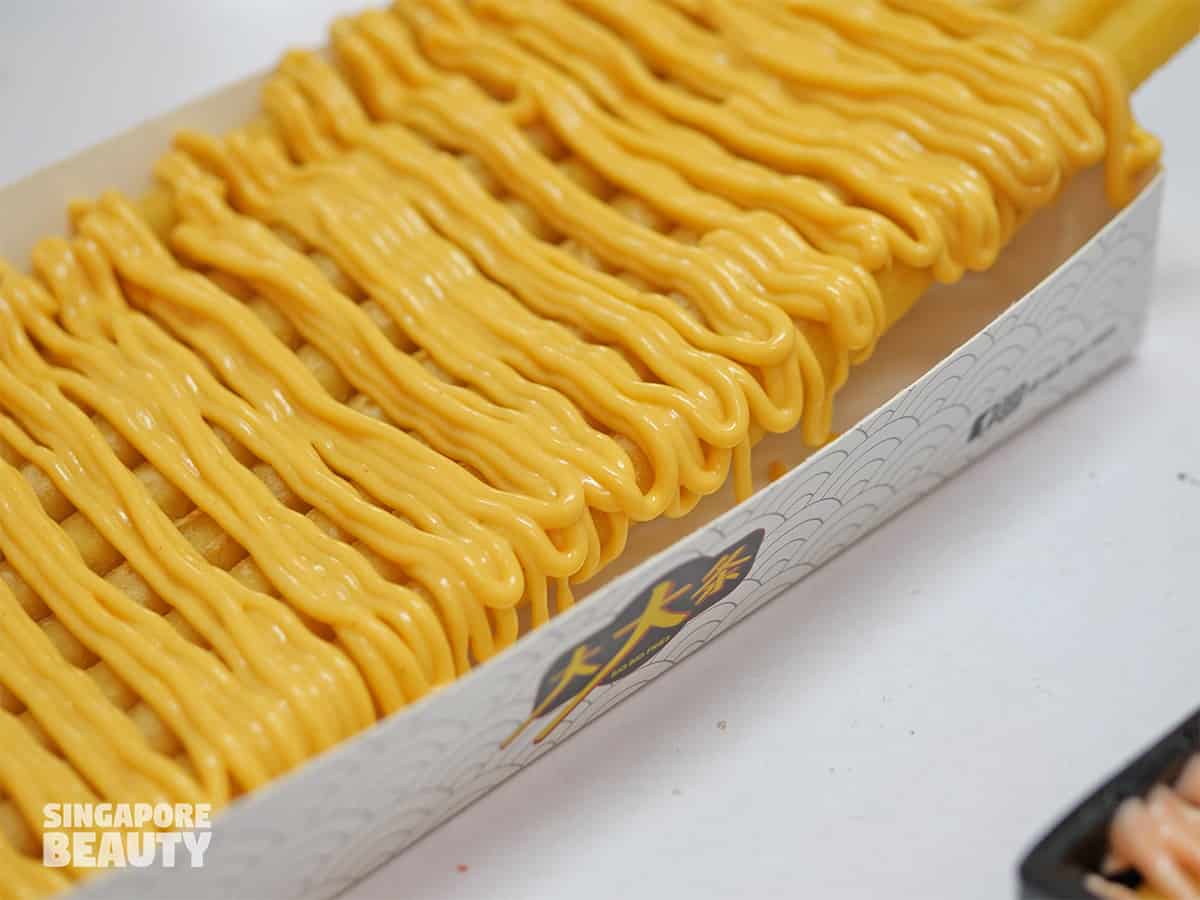 The fries are drenched in a pool of famous nachos sauce. These are the perfect go to for movie goer's warm nachos sauce on crispy fries. Box-office takeaways counters, head up please!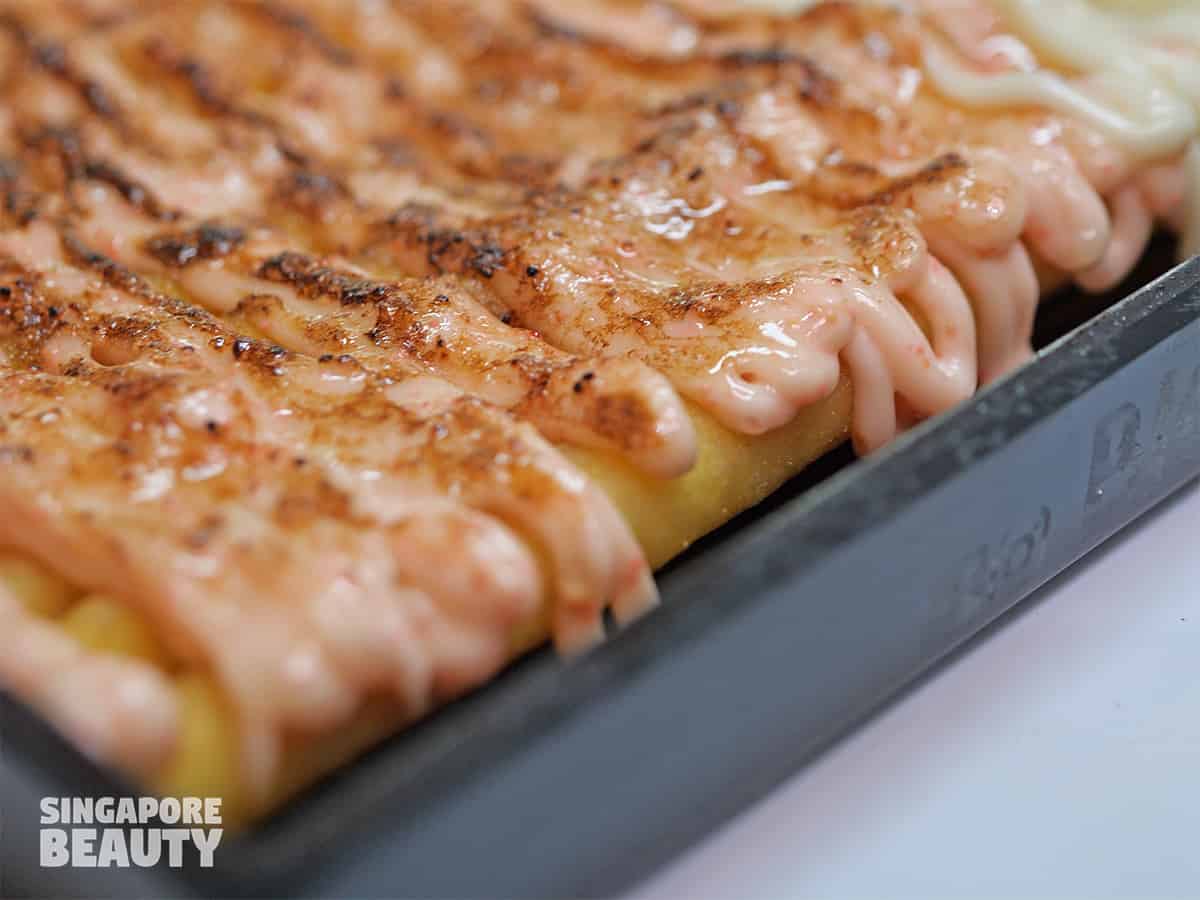 The secret to their mentaiko recipe which makes them different from others is a kept secret. All I can say is that the mentaiko is rich and the proportion of mentaiko to mayonnaise is amazingly generous. You can be assured you are getting a bang for your bucks.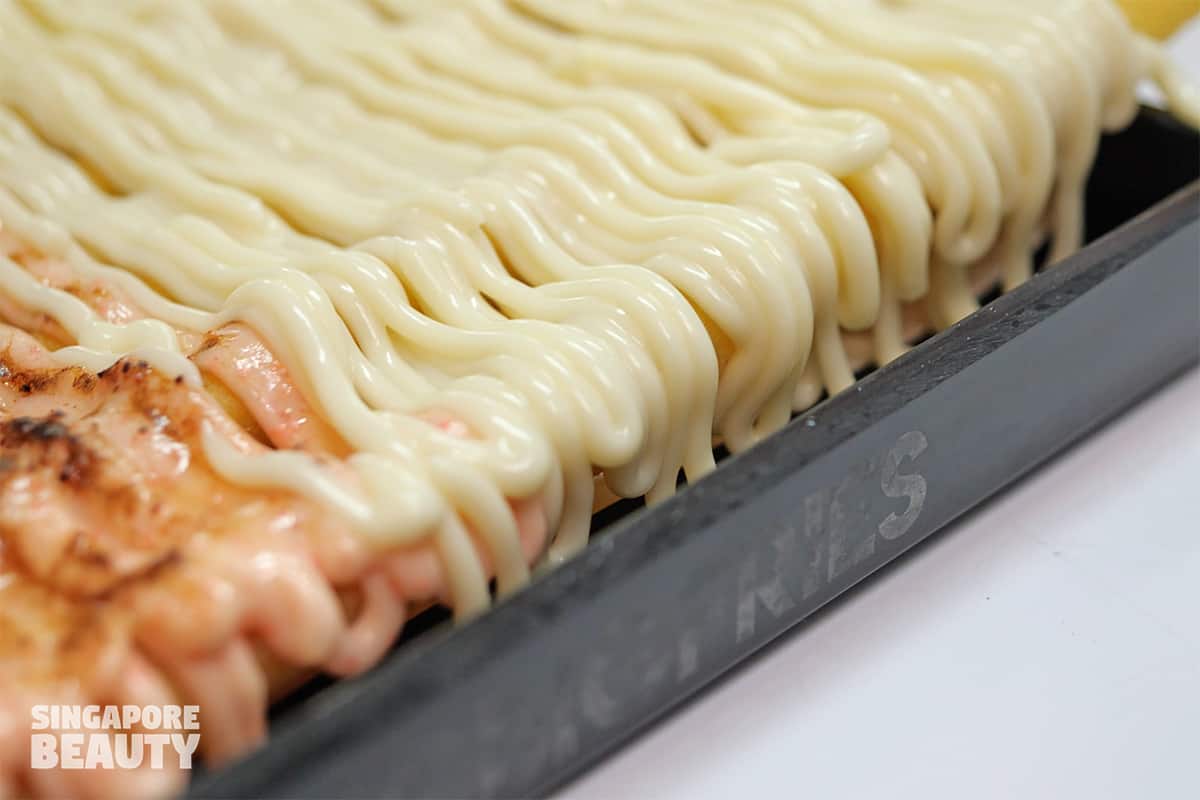 With this bottled mentaiko mayo, the dressing for your Christmas and New Year party dressing is now sorted. So what's stopping them from creating another bottled truffle mayo which is equally good? Hmm, I wonder.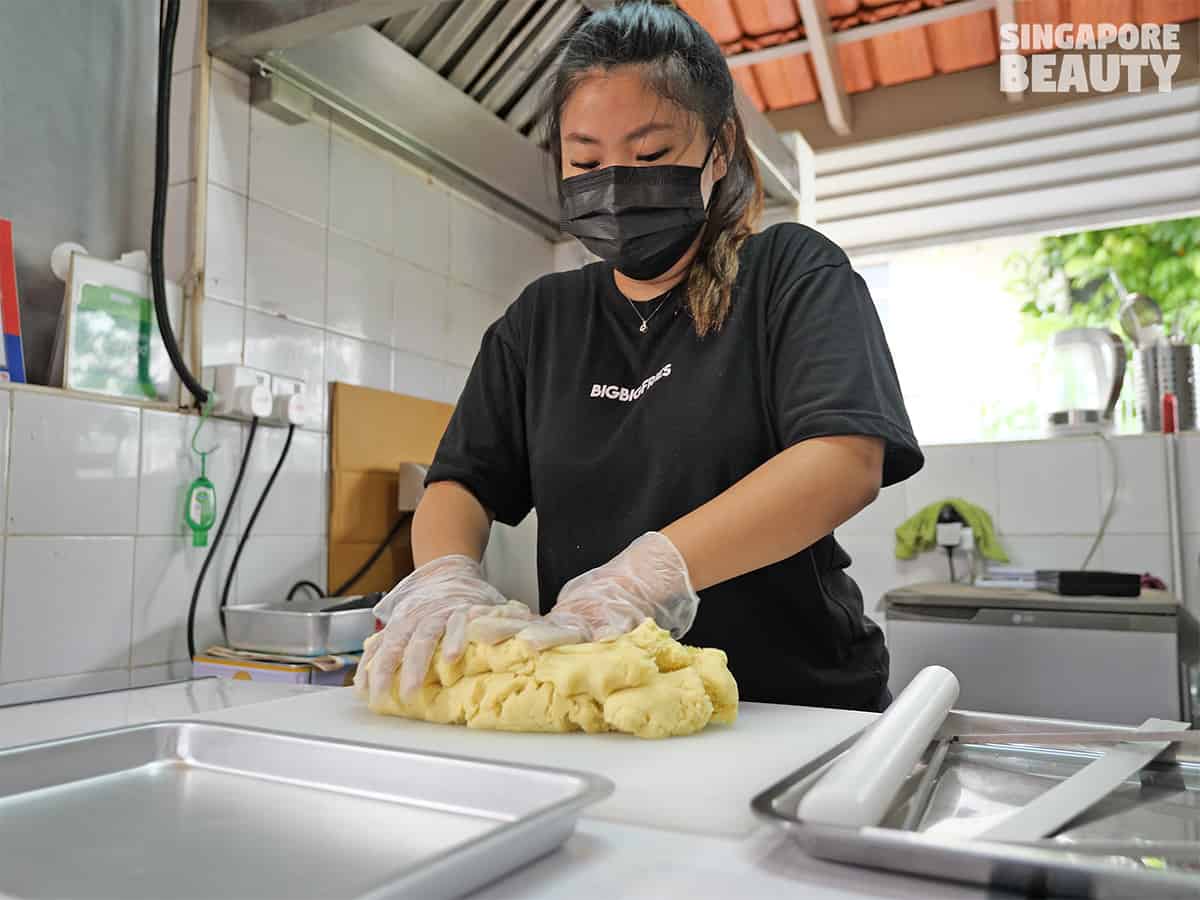 Here's how to do Big Big Fries: knead the potato dough till soft.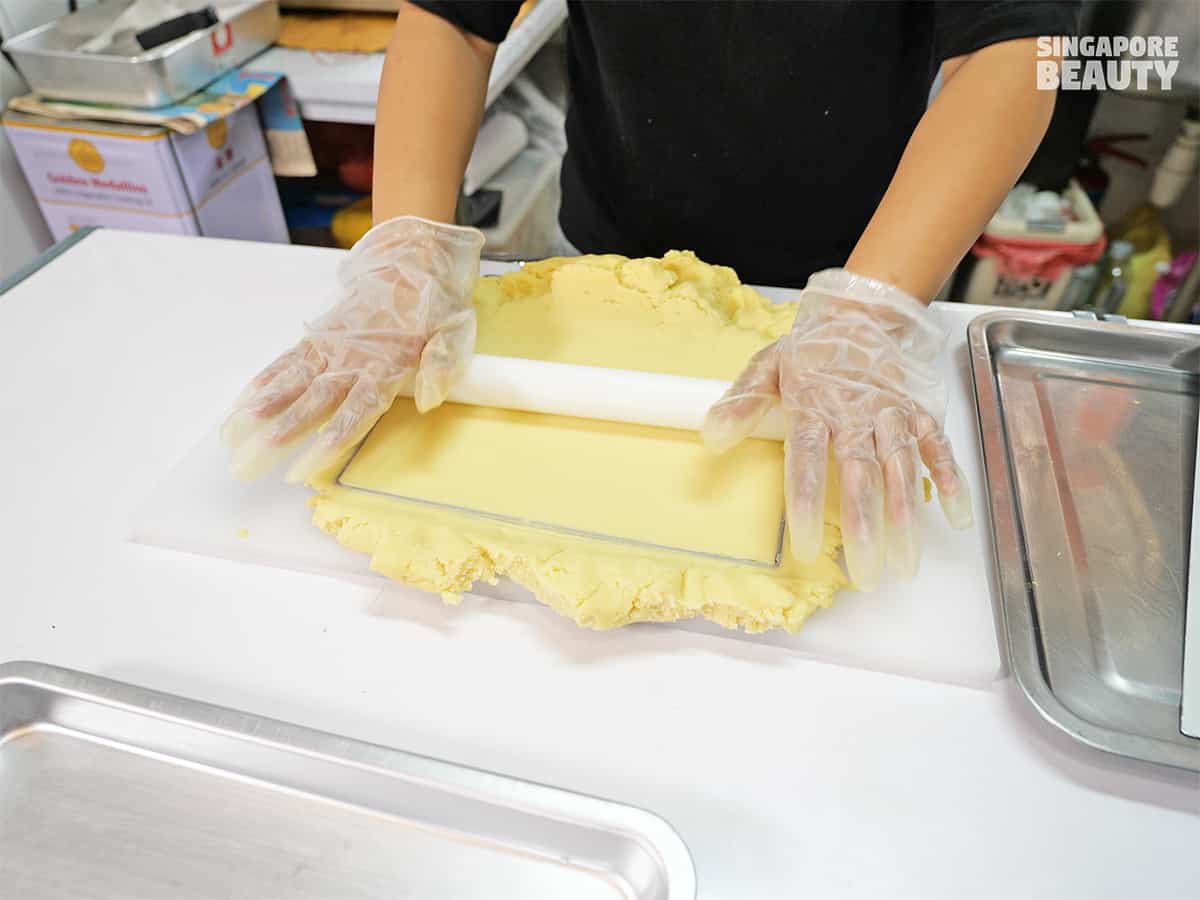 Mould the dough to shape.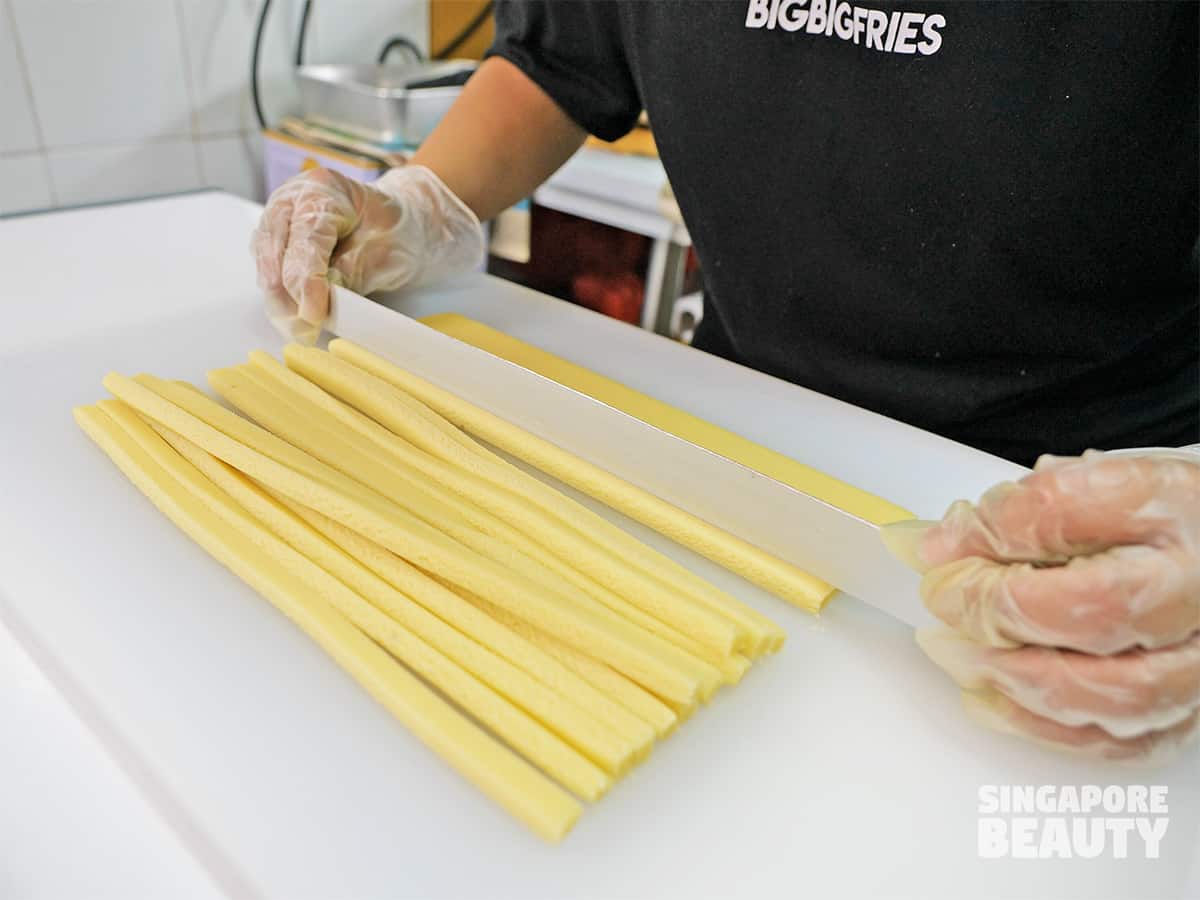 Cut to perfect shoestring fries. Fry them and enjoy with their super addictive dressing sauce.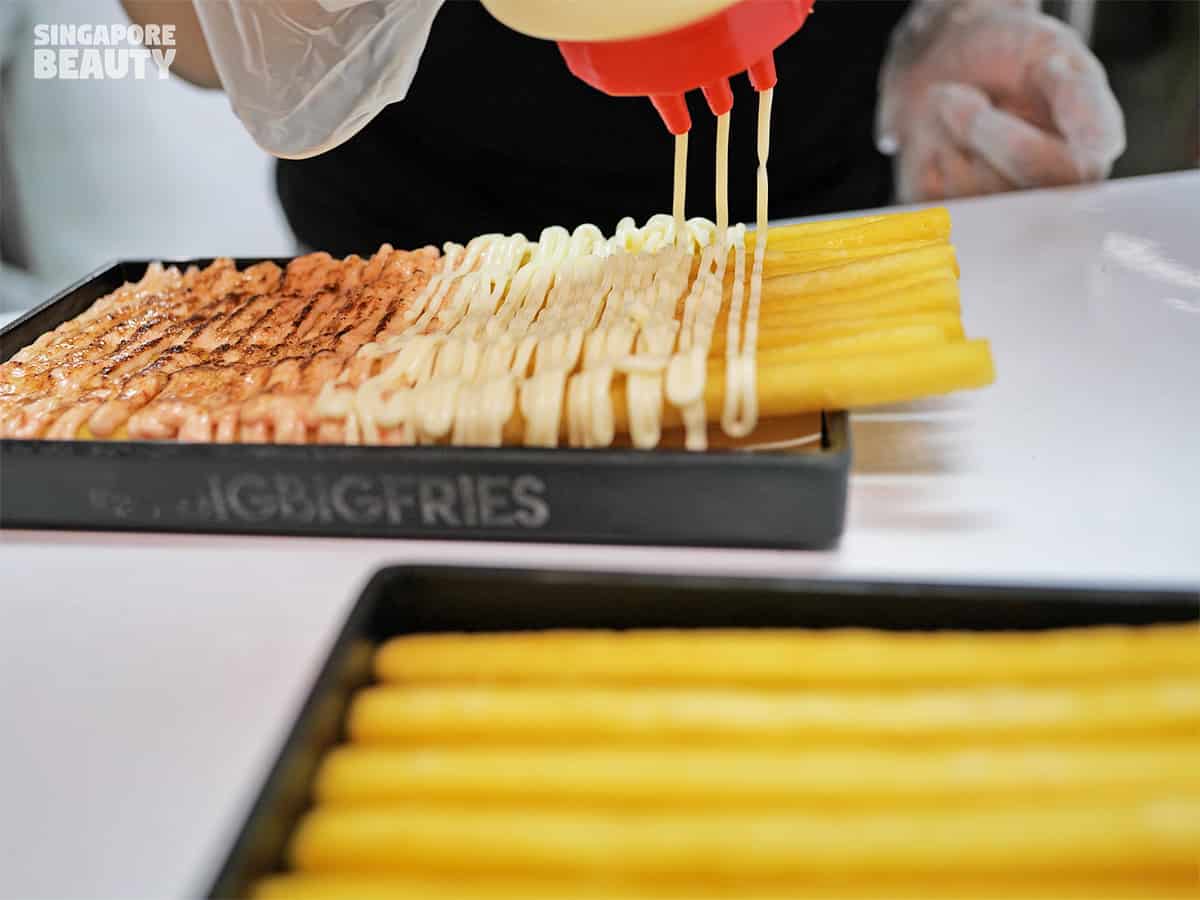 What to order at BigBigFries? Of cos their most premium combo – the friend special set. According to Yanling, this combo used to be only known to friends and regulars, but now they are sharing it with everyone who patronizes them.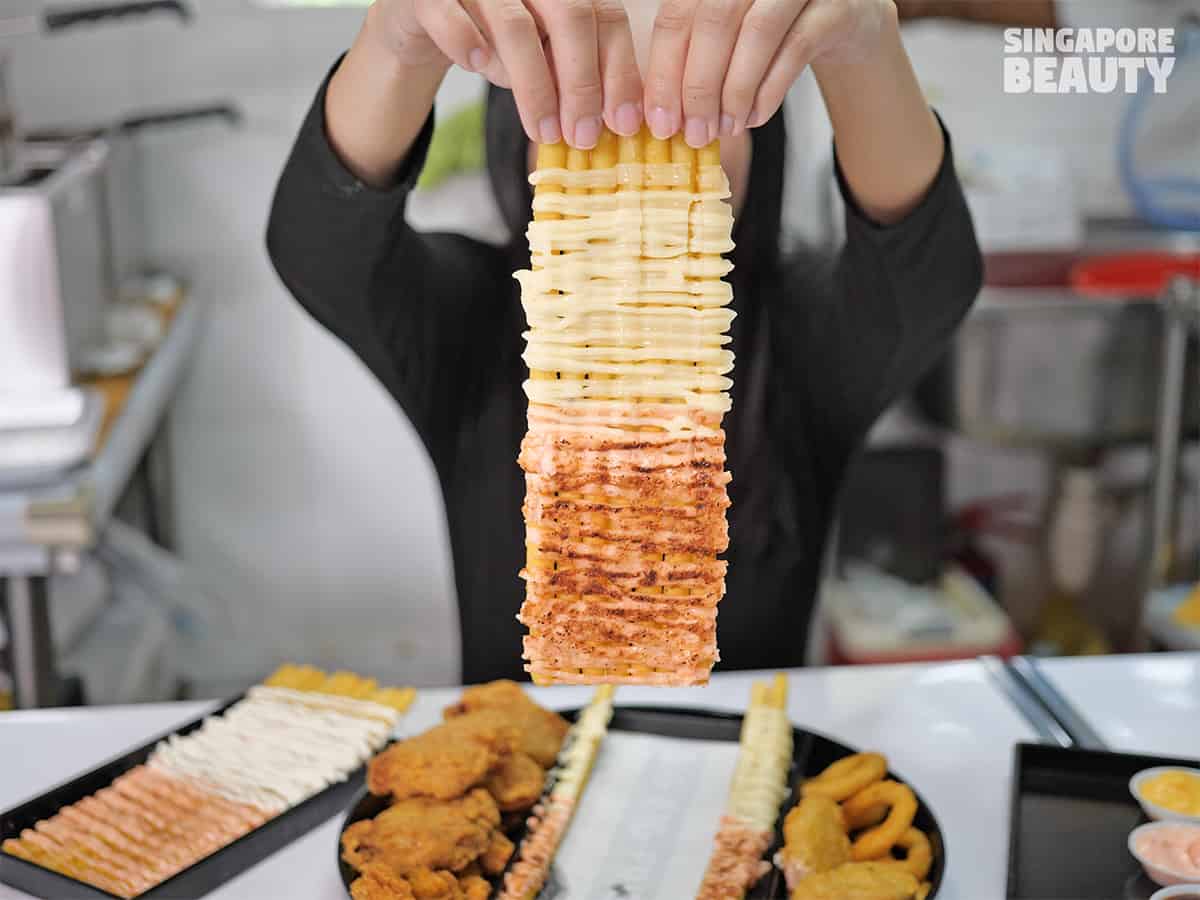 Truffle mayonnaise is made with close to 90 percent pure white truffle olive oil, Japanese Mayo and some other ingredients. The aroma of the truffles hits you with your first bite, pungent and sharp with a musky scent.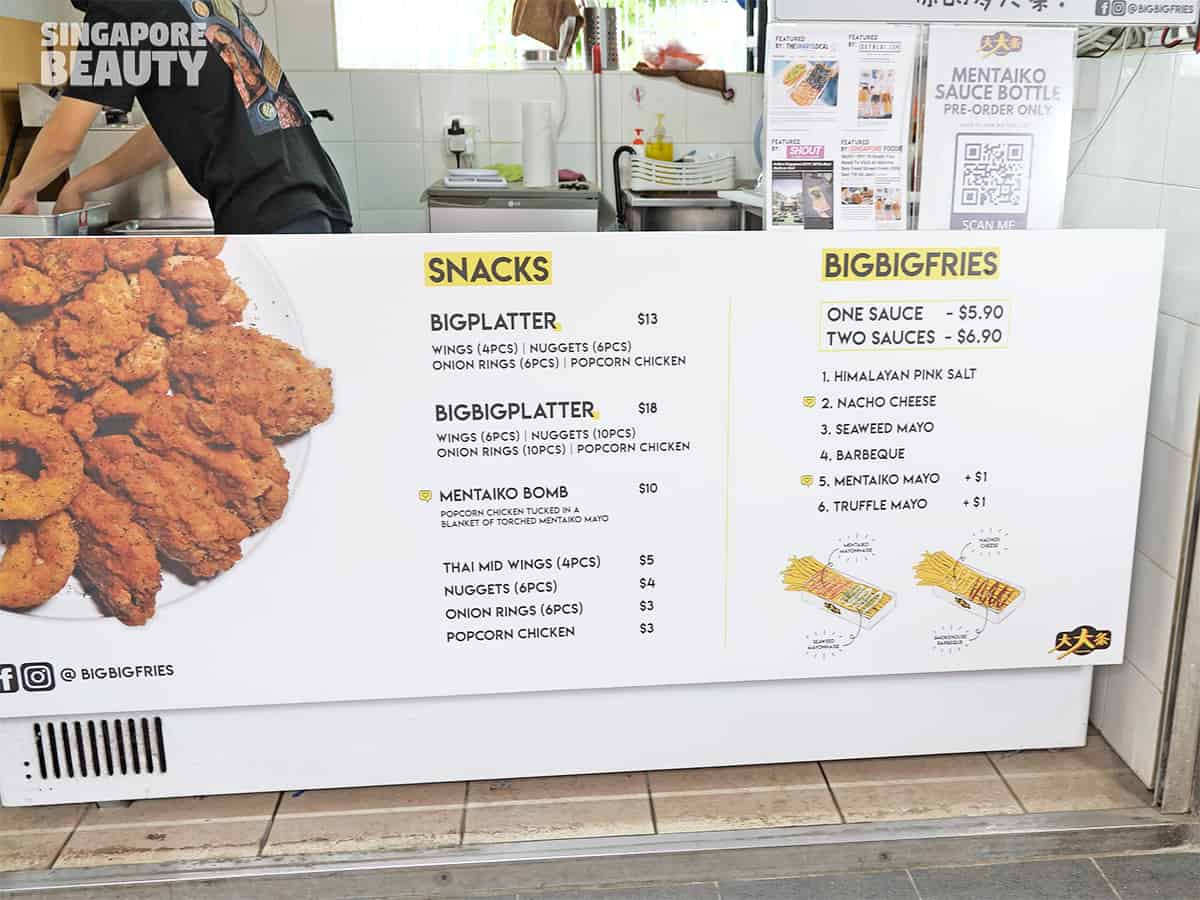 Classic single dressing starts from $5.90 single sauce and the double sauce $6.90 where you get a dual dressing of your choice or add on $1 each for the premium sauce.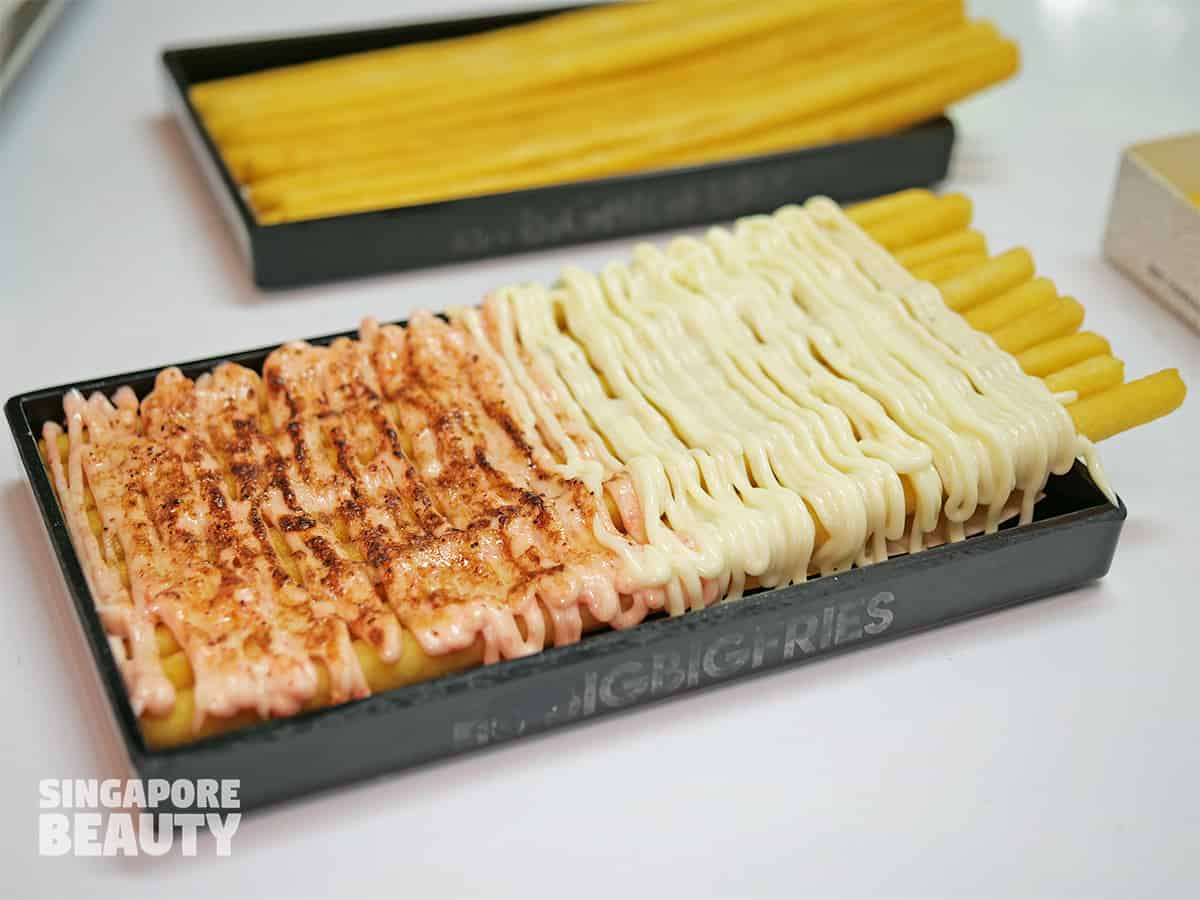 The most popular Big Big Fries combination is the Mentaiko and Truffle Mayo fries. The creamy and tangy mentaiko mayo versus the pungent truffle mayo, get the best of both worlds. Add on some smoky flavour on the mentaiko mayo with the blowtorch too!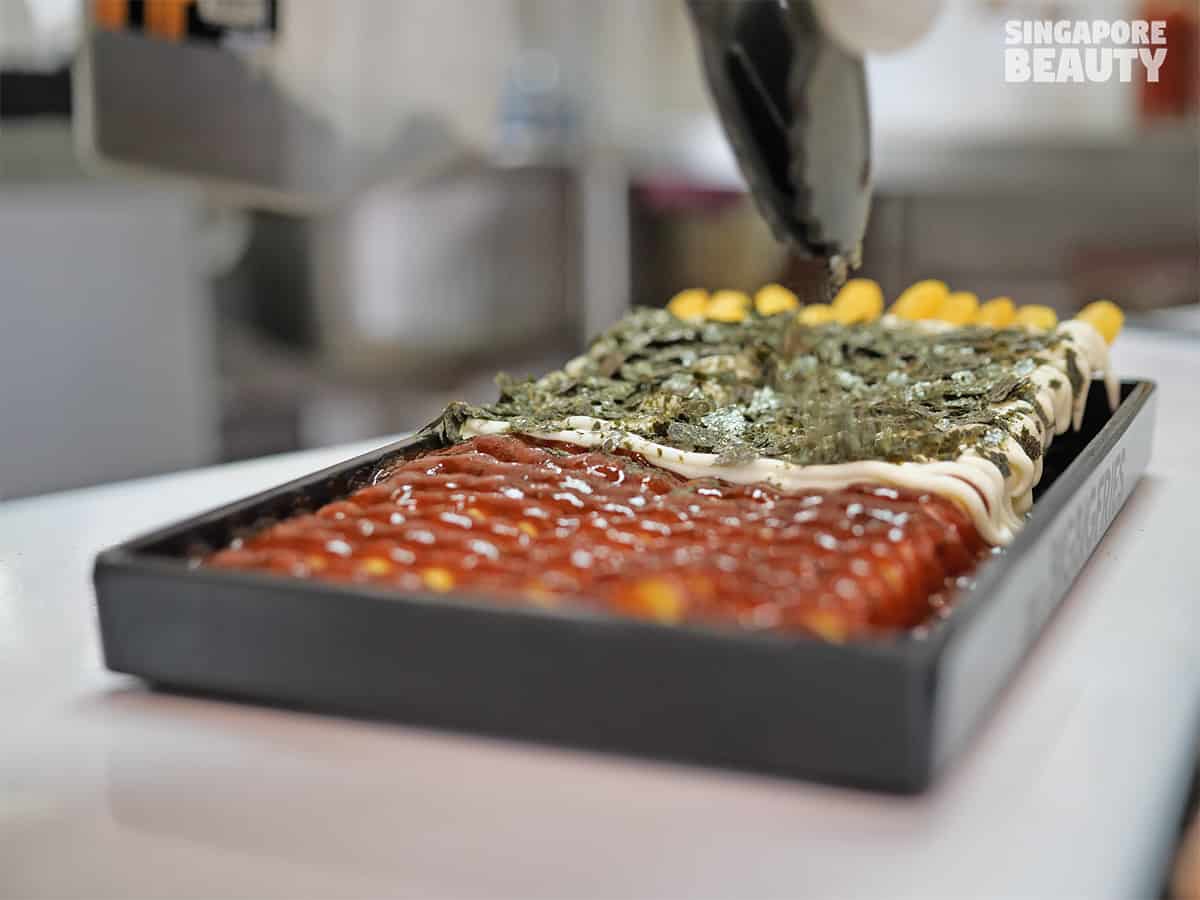 The barbecue sauce and seaweed mayo dressing for the fries is also popular with those who are after the smoky flavour and umaminess of seaweed.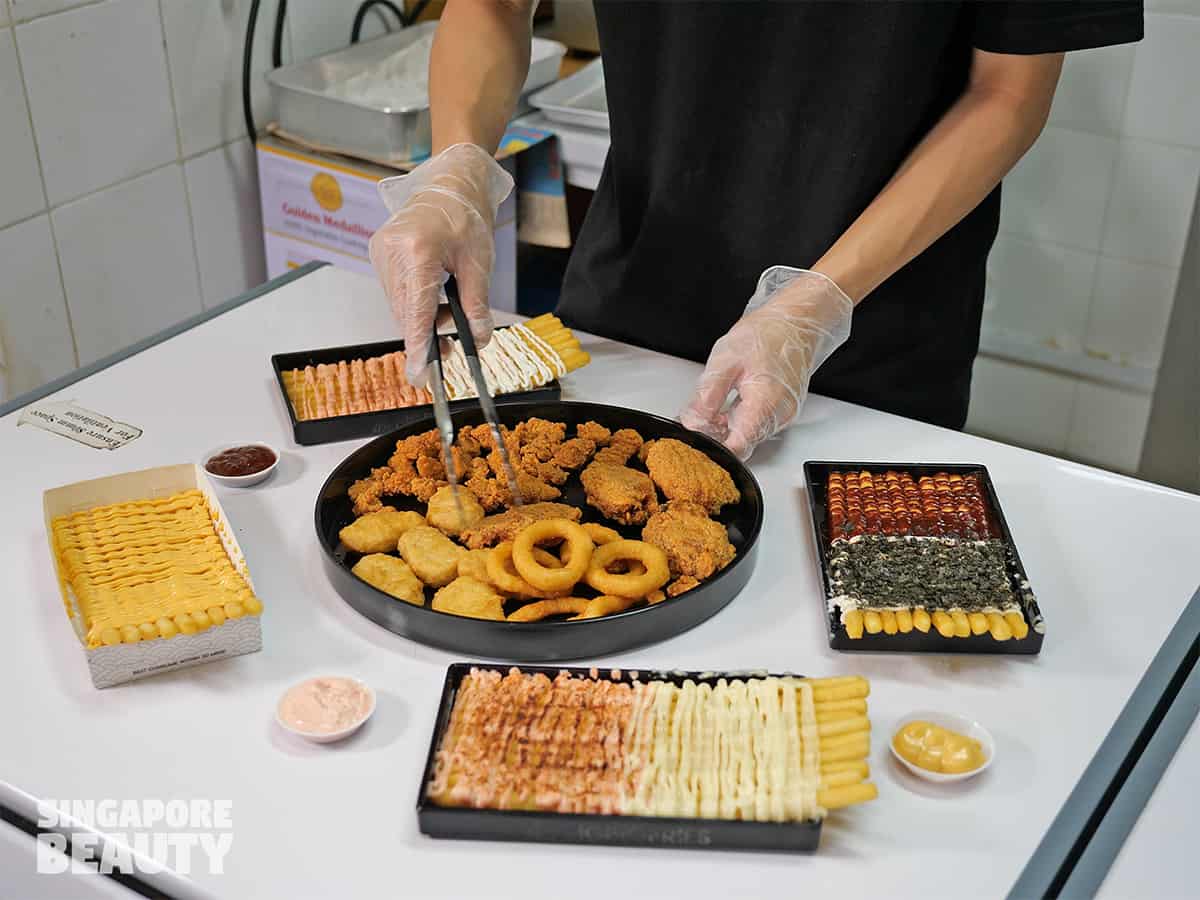 For those who are planning for a party platter, dun be shy to mix and match the Big platter with the BigBigFries. Top up for extra sauce if you need.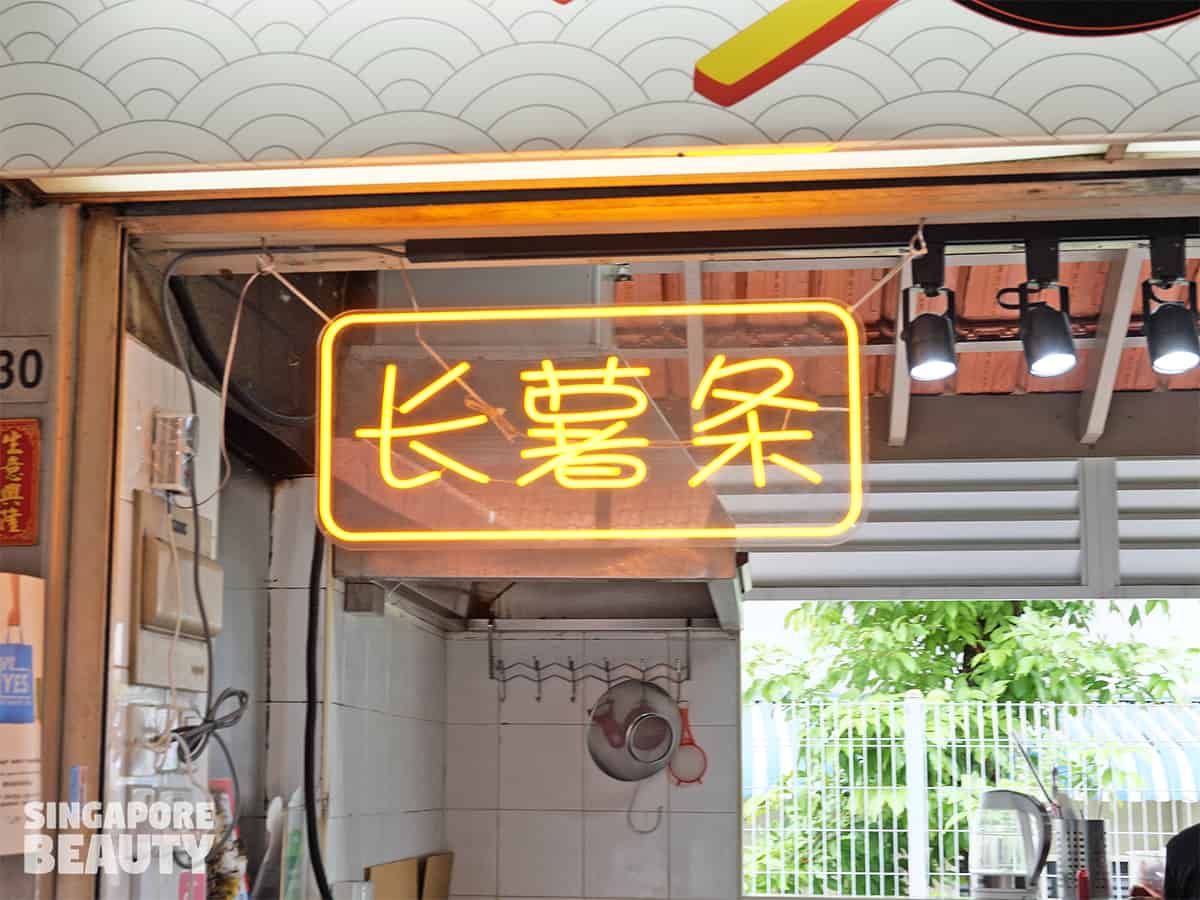 Can't wait to try Big Big Fries now? They are opened till late except Tuesday at Chomp Chomp Food Centre, Serangoon Gardens Singapore. Great supper food to go with a pint of cold booze. See you there!
Location of BigBigFries :
Chomp Chomp Food Centre
#01-30, 20 Kensington Park Rd, Singapore 557269
NEWest Mall
1 West Coast Drive #01-65, S128020
Call : 8298 8556
Opening hours:
Monday, wed to Thursday 4pm till 11 pm
Friday to Sunday 4pm till 12 am
Tuesday closed (except PH)
11am-9pm
Closed on Tuesday
All outlets of BigBigFries are permanently closed.