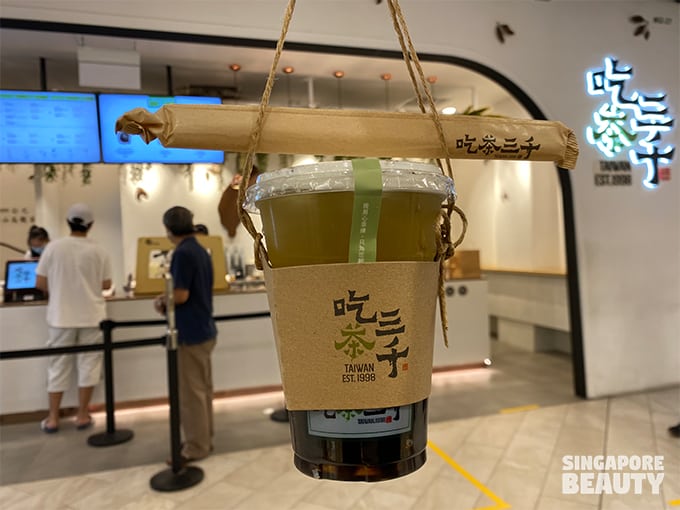 ChiCha San Chen (吃茶三千) which literally translates to eat tea three thousand.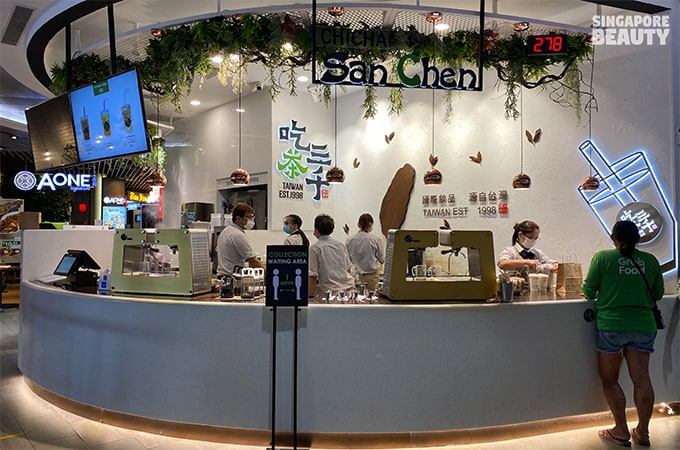 It is a Taiwan bubble tea chain that has grown and expanded rapidly with slight under 20 locations all over Singapore. It is famous for their award winning Dong Ding Oolong Tea.
This bbt chain started from Taichung City, Taiwan in 1998, more than 20 years ago with over 200 outlets in Taiwan and China. They are famous for their freshly-brewed-tea drinks. Their first flagship outlet in Singapore is in 313@Somerset, it drew an insane crowd on its opening.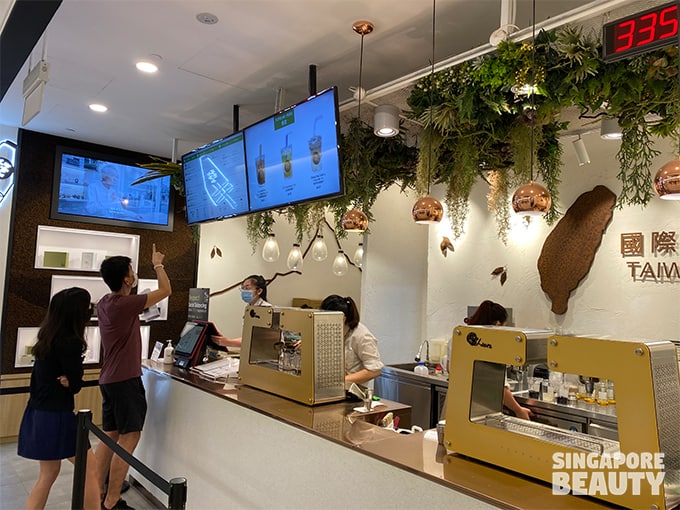 What set this ChiCha San Chen bubble tea chain apart from so many other BBT shops that is readily available in most malls? This Taiwanese bubble tea chain is fast taking over the tea drinking scene in Singapore and arising as one of the most popular BBT in Singapore as seen by the insane queue of young & old tea drinking crowd and their many stores peppered all over Singapore.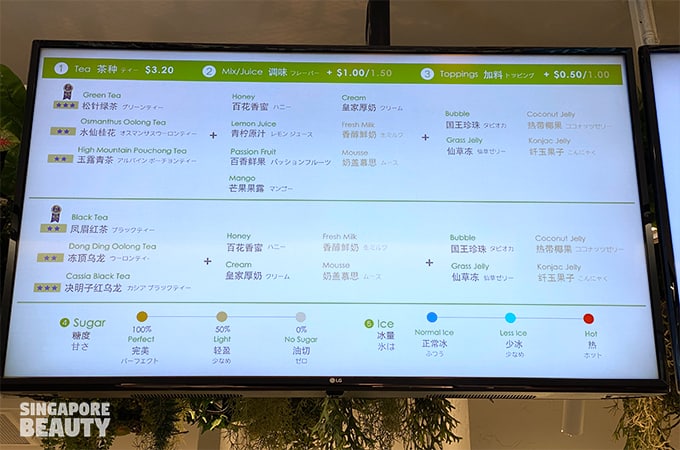 Here's the menu of ChiCha San Chen bubble tea from Taiwan. The price of this ChiCha San Chen is considered medium range starting from $3.20 to $5.70 with 1 topping and 1 add on. By the way they only comes in one size, this is consider a personal size drink.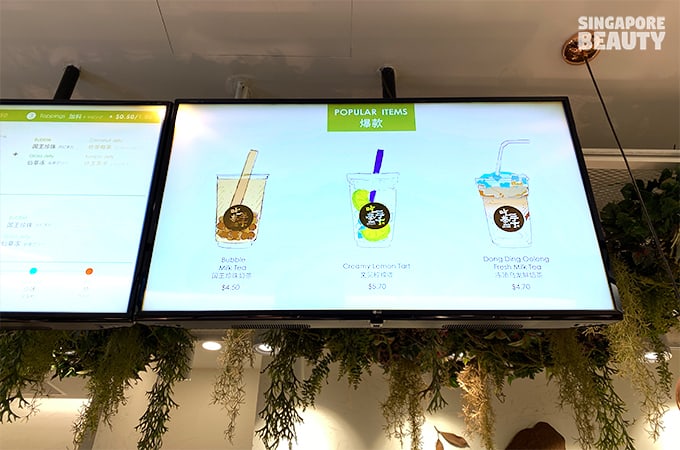 Here's the menu of popular drinks at ChiCha San Chen.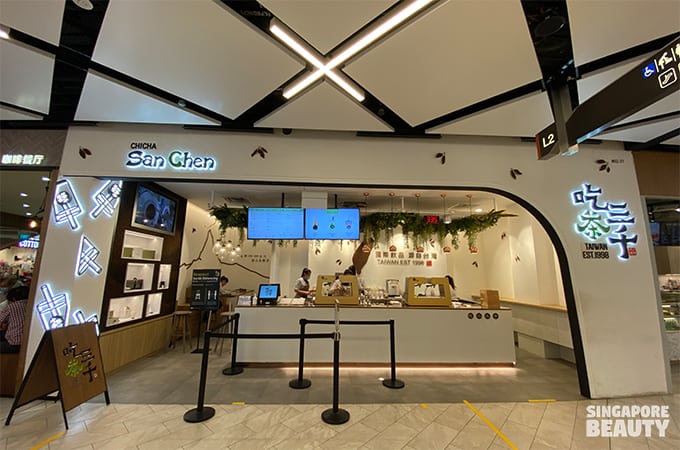 The clean minimalistic frontage with some teapresso machine that is brewing tea by drip style. This Teapresso machine has over 1000 possible configurations and 3 steps of temperature settings. The bubble tea at ChiCha San Chen is brew-to-order and made fresh for each order from toasted tea leaves. The tea leaves are harvested from ChiCha San Chen's own tea plantation on mountains and from artisan tea leave growers. These are then processed and flown directly from Taiwan to Singapore for the cup of tea we had.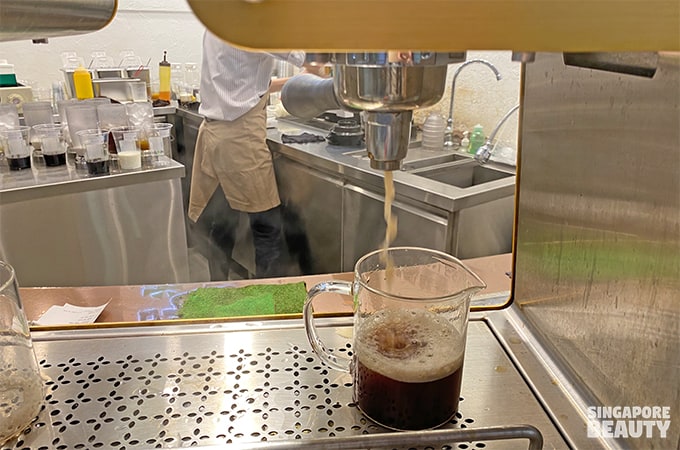 They are not dispensed from a warmer where tea are pre-made. Since the tea are brewed to order from pure real whole tea leaves, be prepared to wait 5-10 minutes where the crowd is considered manageable at their outlets.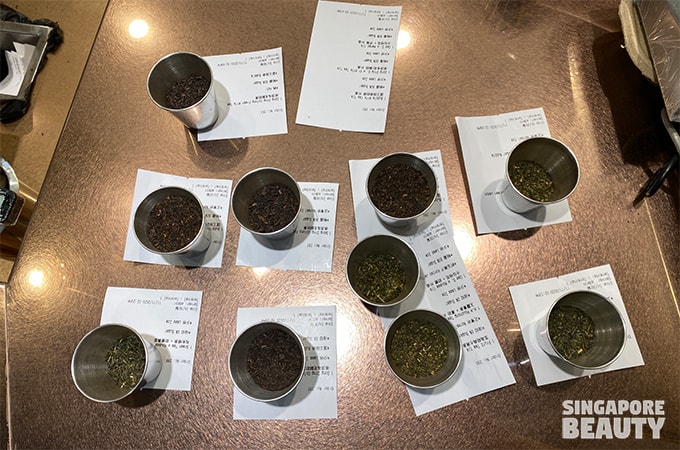 This is how it works; you place your order for tea at their counter. The choice of Taiwanese tea leaves includes green tea, Osmanthus oolong, High Mountain Pouchang, Black tea, Dong Ding Oolong and Cassia black tea.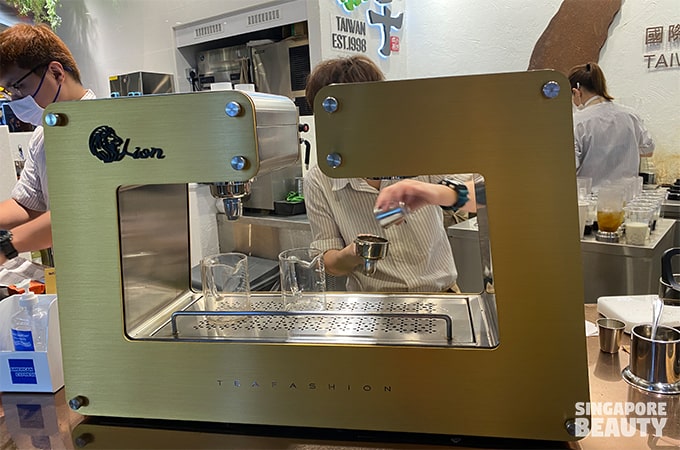 The staff will weigh the amount of tea leaves for your order and fill the tea portafilter with the tea leaves. Next the machine will do the magic by brewing your tea. Since the brewing is by the machine, the temperature of the water, time for the tea to steep and the golden ratio for leaves to water is perfectly controlled. We should be expecting some pretty consistent depth of tea each time.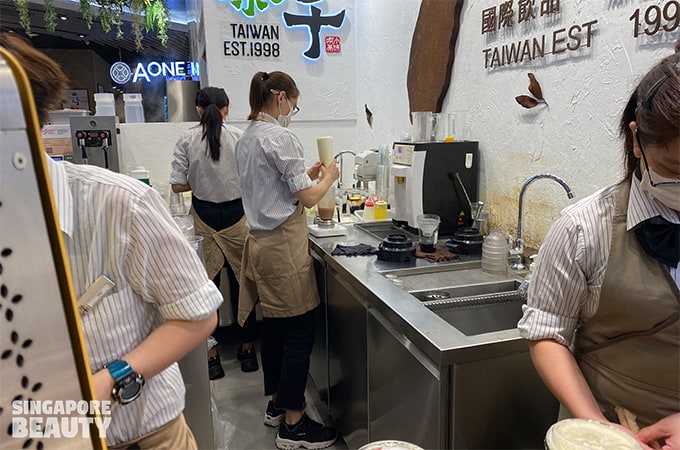 Next, you have the option for add ons such as mix or juice to your tea which I find refreshing if you are looking for tea and some fruity flavours at the same time. The mix/ juice option includes honey, lemon juice, passion fruit, mango, cream, fresh milk or mousse. After the tea is brewed, the barista takes over the process of flavouring with add ons and toppings.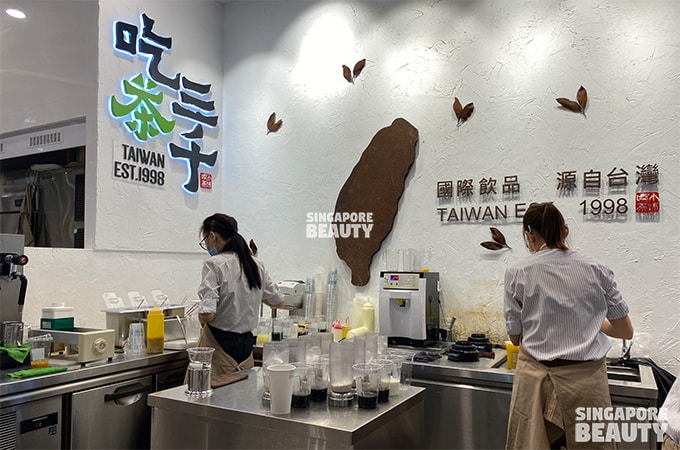 With the flavours chosen, you can add some topping for some texture to your ChiCha San Chen BBT. Topping of ChiCha San Chen includes bubble, grass jelly, coconut jelly and konjac. Lastly choose you level of sugar from 0, 50 to 100 % and the amount of ice for the tea.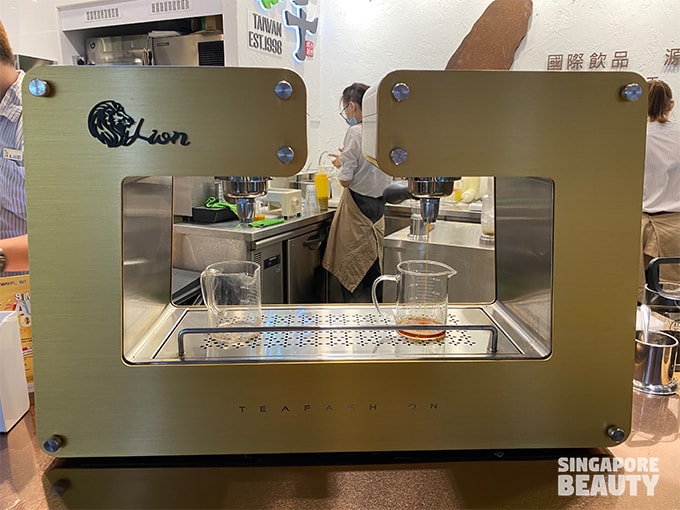 Then retreat and watch your tea get weighed and brew like coffee using the Lion Brand teapresso machine at ChiCha San Chen.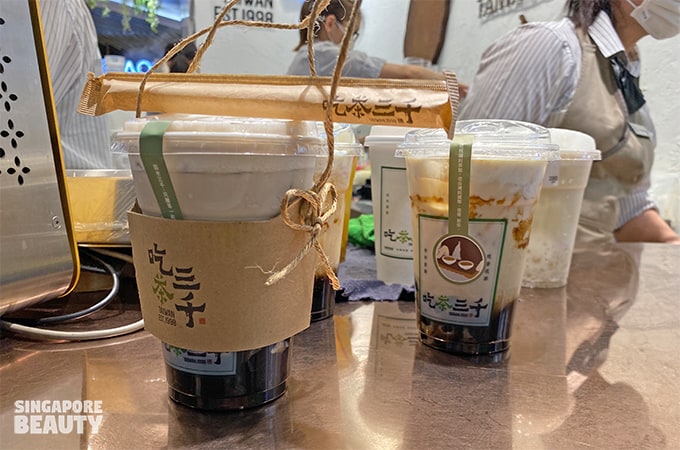 I am a fan boy of ChiCha San Chen and I am also a believer of friendly, patient service. If you are new to the tea brand, the staff will gladly make recommendation on the type of tea based on your preference such as the flavours of tea to get, the best and most popular combination of tea and fruit bases and more. The bubbles are bigger and has a caramelized flavour to it. The outside is soft and gooey and the inside of each bubble has a nice springy texture. This is a recipe for a good BBT bubble.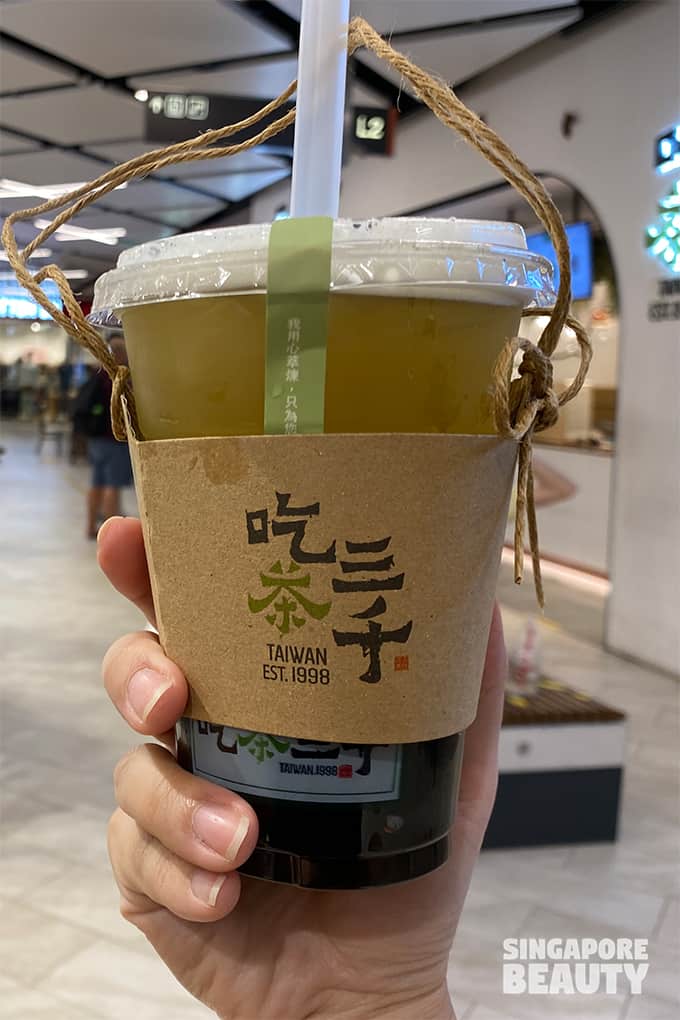 We tried and review the green tea with add on bubble and sugar level 50 percent. The aroma of the tea is considered mild flavoured and with 50 percent sugar level, the bitterness of the tea still shines through. We have tried the same teas on three different outlets and somehow the flavours of the green tea seems to have some inconsistency in term of the deep of flavours. We attribute it to maybe the batch of green tea, the roasting process and the yield of the tea during different seasons.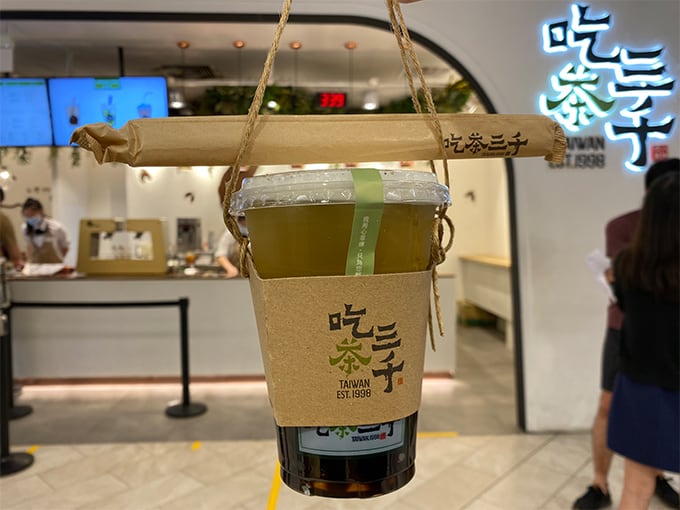 However in terms of packaging, I felt that much thought has been put into it with some nice rustic straw like strings to carry the cup which also feel very environmental eco-friendly.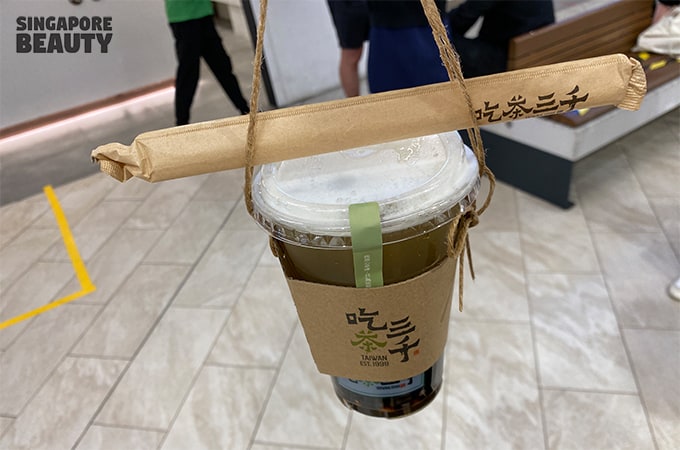 The cup and straw is plastic though with a user friendly paper based cup holder so that you dun get chilled hands from holding an iced tea or burnt when you order a hot one.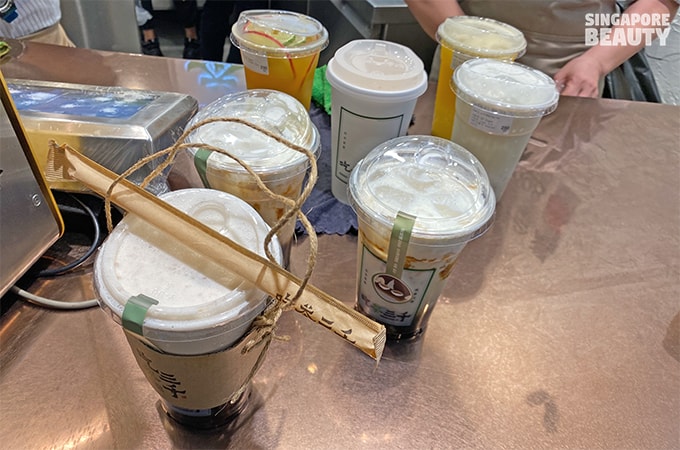 ChiCha San Chen's Dong Ding Oolong Tea achieved the Highest International Authority iTQi certification (International Taste & Quality Institute in Brussels) in 2017 aka a three Michelin-star award in tea.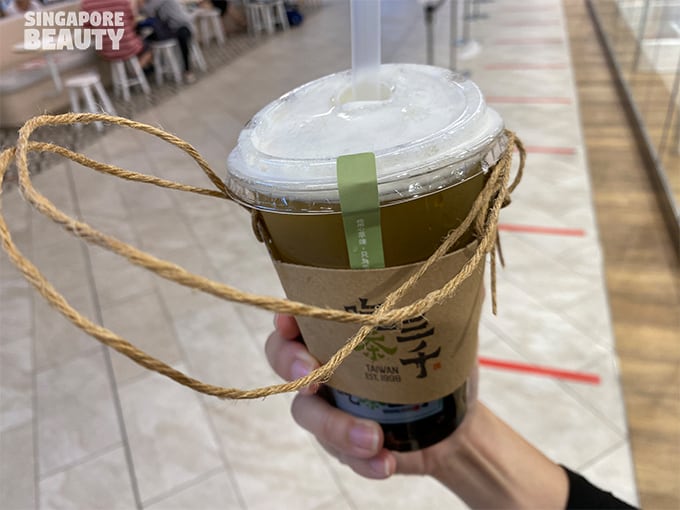 I will return and try ChiCha San Chen's signature Dong Ding Oolong Tea with 100 percent sugar level to see if that makes the tea drinking experience more balance where I get to enjoy the richness of the tea and the kick of a honeyed treat.
ChiCha San Chen outlets:
Ang Mo Kio Hub (AMK Hub), #B1-65A/65B
Boon Lay MRT, #01-16
Clarke Quay Central, #B1-K9
Change Alley Mall #B2-20/21
Fusionopolis Place, #B1-21
Hougang Mall, #01-25
JEM, #01-17
Marina Square, #02-208
NTU: Fine Food @ South Spine Foodcourt
Paya Lebar Quarter PLQ, #02-27
313@somerset, #03-41
Takashimaya Shopping Centre, #B2-03
The Star Vista, #02-28
Tampines 1, #B1-32
Westgate, #B2-01
Woodlands MRT, #01-33
Wheelock Place, #B1-05
Waterway point #01-42
Operating Hours:
From 11 am onwards for most outlets (Mon- Sun) with exception of Fusionopolis & NTU (weekdays only) which opens from 10 am.
With close to 20 outlets, nothing is going to stop ChiCha San Chen from adding more outlets in the coming months!