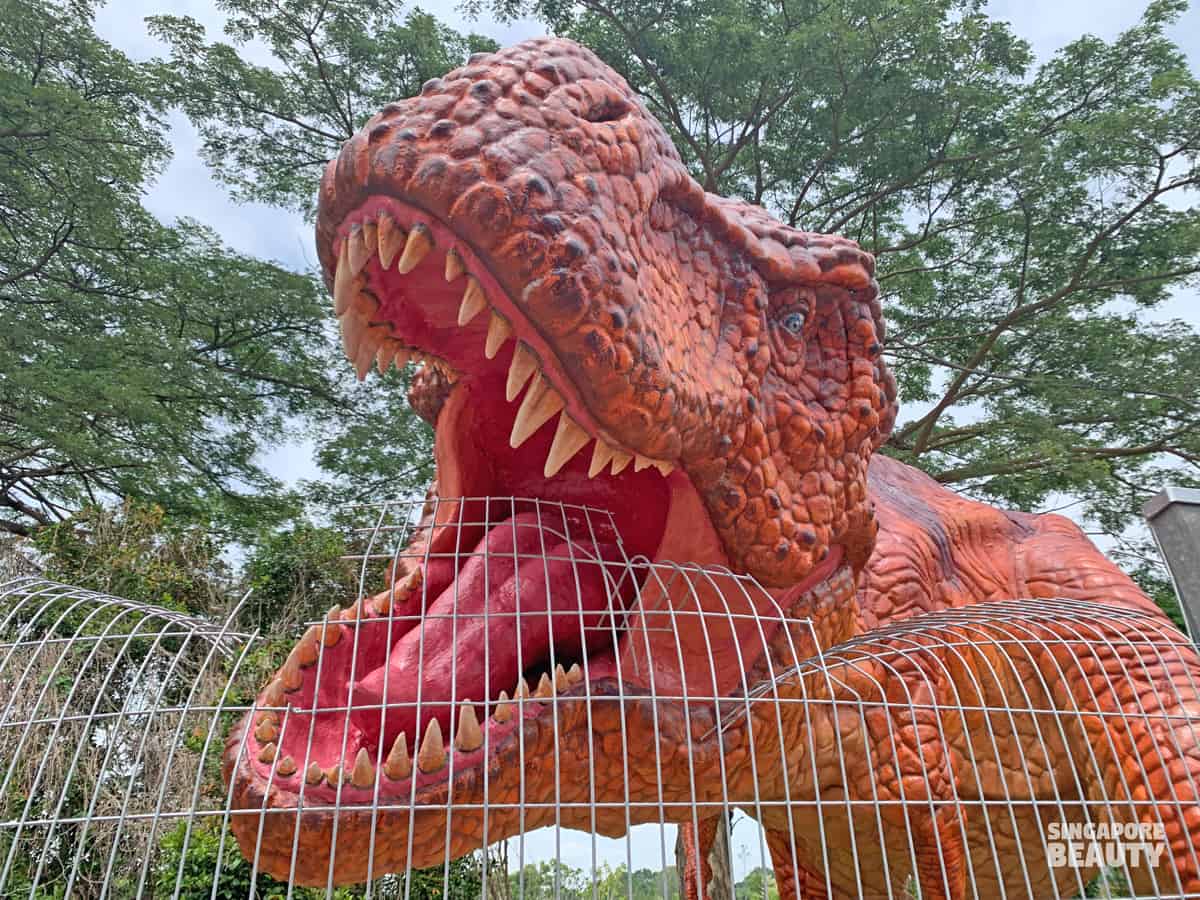 This Changi Airport Connector is a 3.5km shared path for cycling, jogging and walking. Within this connector is a 1km path that house Singapore's first largest life size dinosaurs such as Tyrannosaurus Rex. One of the T-Rex eggs display is misused for some tiktok video and exposed to some vandalism shortly after opening. There are also safety issues to be addressed as one user is hit by a golf ball while walking along the path. Perhaps they need a safety net as the theory of wind direction may not work. This park connector is built next to an existing Tanah Merah Country Club with a golf course. They have a location map at the start of the Jurassic Mile when you enter from Changi Airport Terminal 4 Car Park 4A. Free parking is available at Jewel and Terminal 3 for 2 hours. They also have pay per use shower facilities, Hub and Spoke cafe and bicycle locker service along this connector.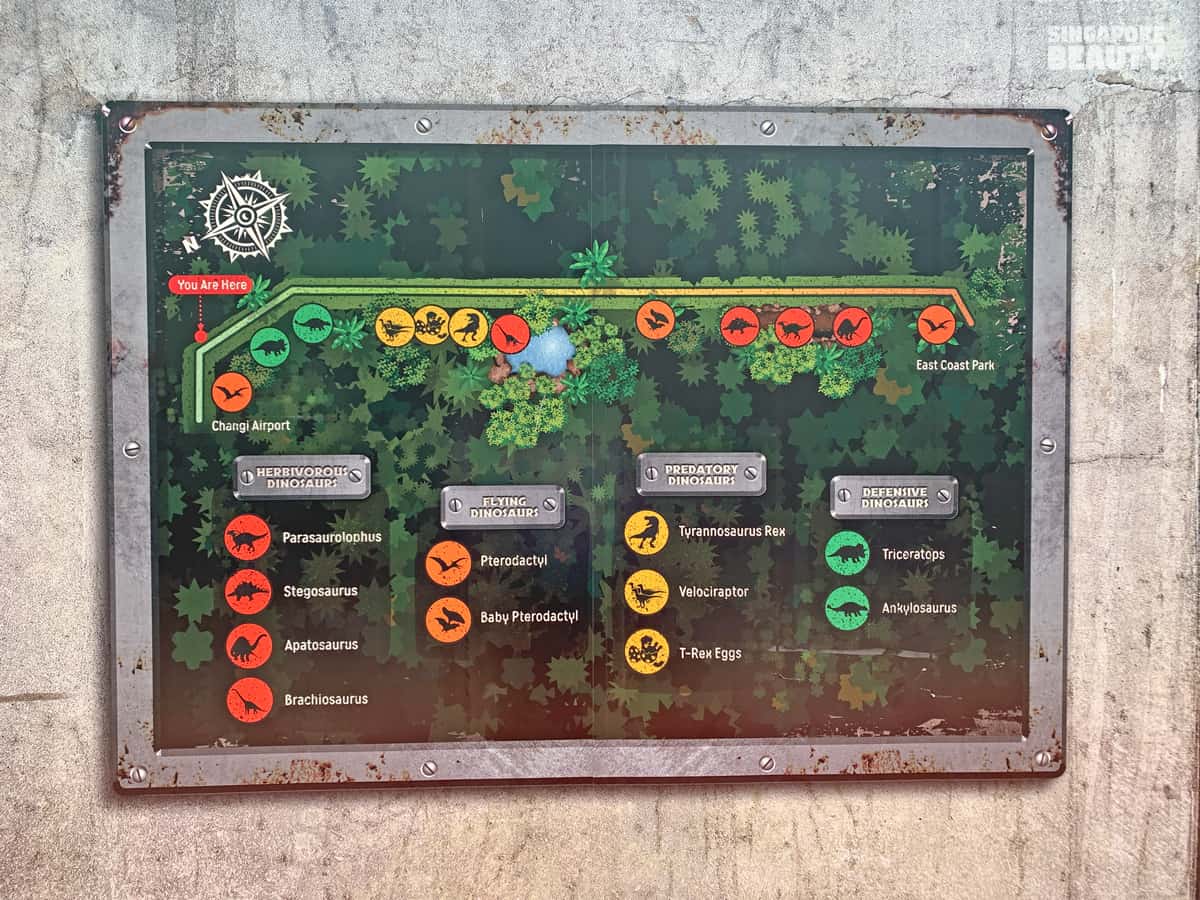 Here's the location and map of the Jurassic Mile.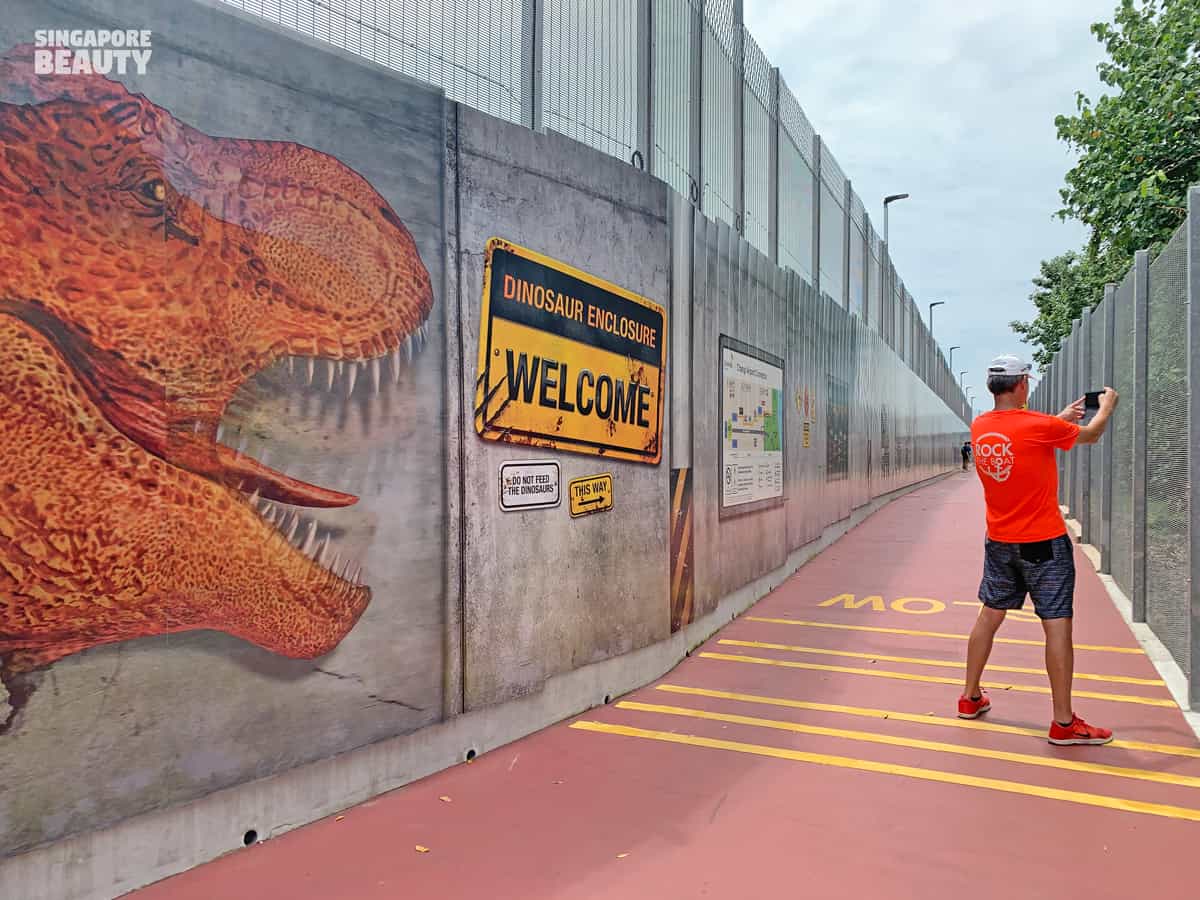 This one km will roughly take you 30 minutes to walk and maybe do some selfie for your instagram concurrently.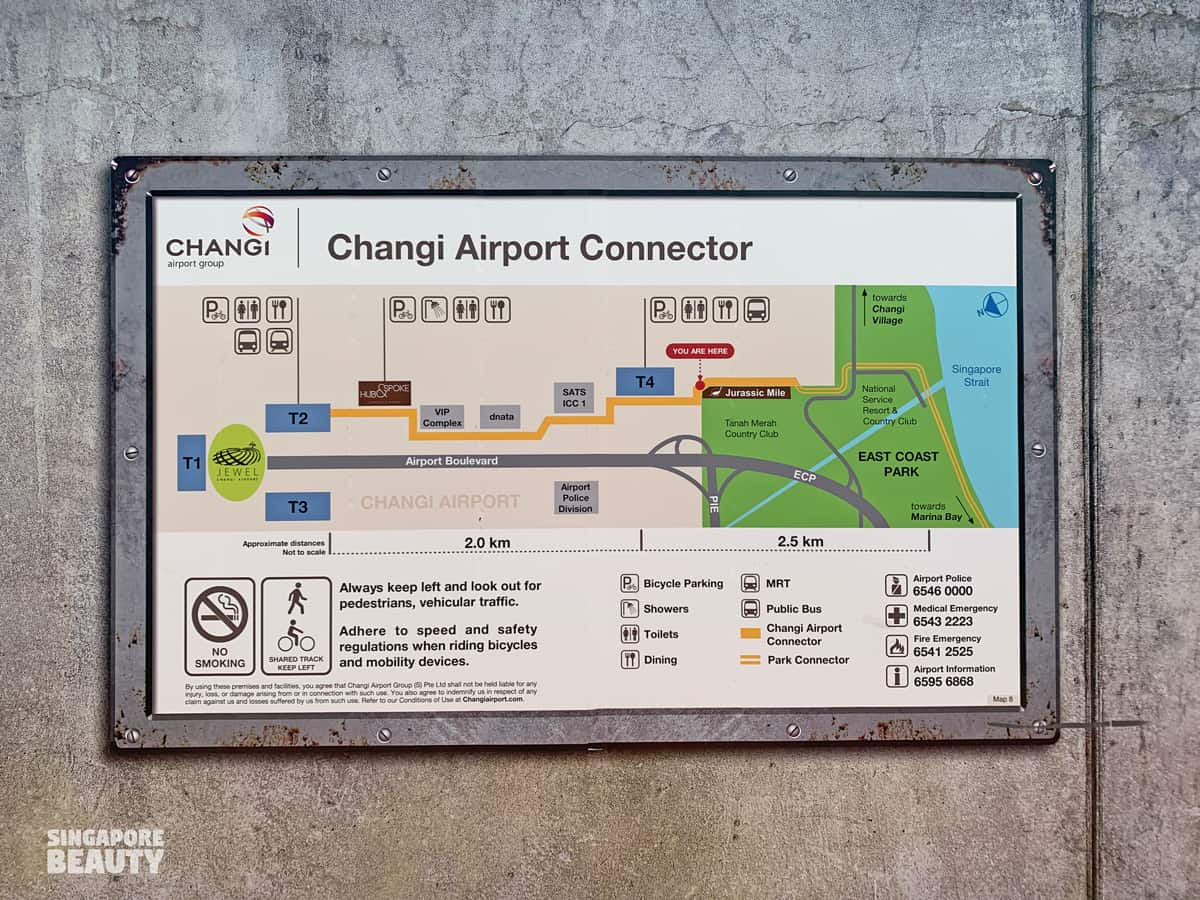 Changi Airport park connector to East Coast Park is open for less than a month on the 11 Oct 2020.
You can watch this comprehensive full 1km route video completed in around 25mins.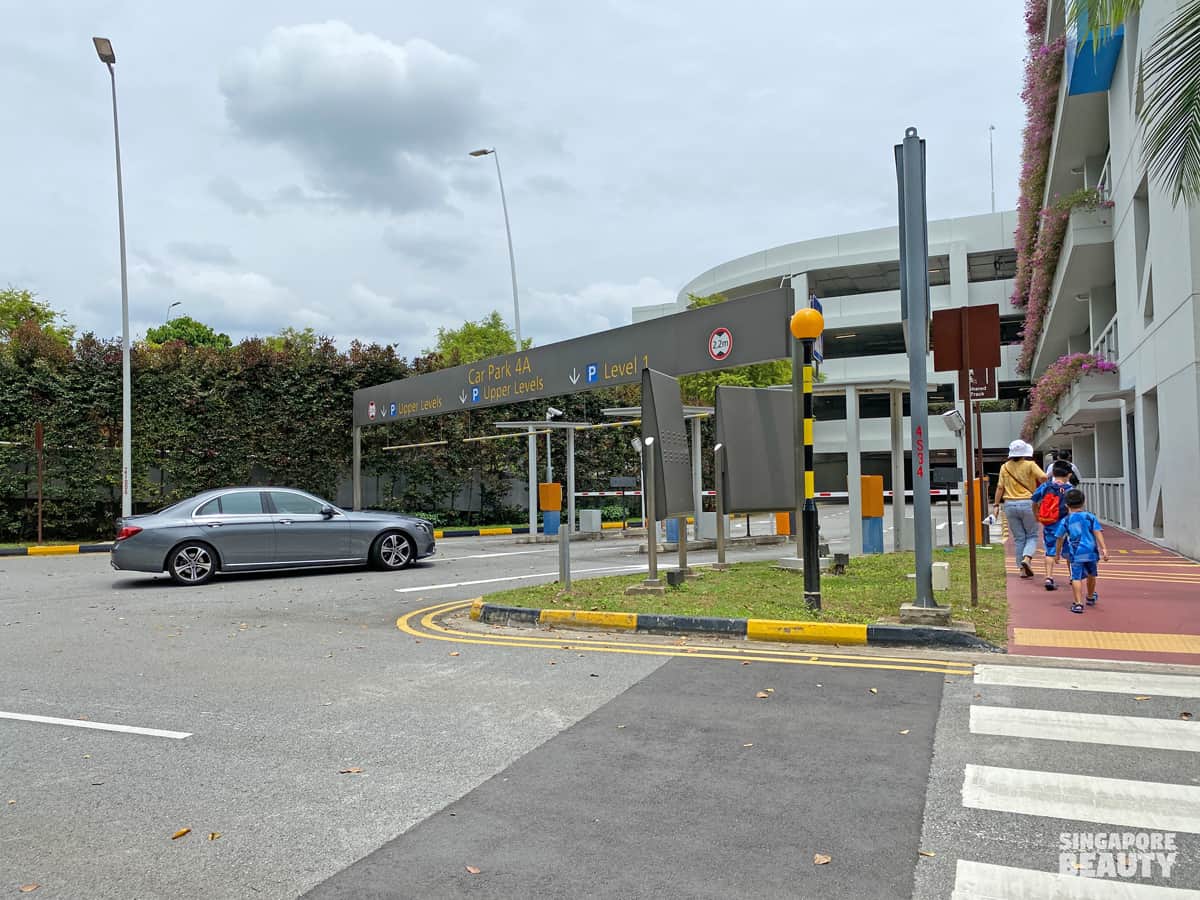 The start of the Jurassic mile can be accessed from the nearest  Changi Airport Terminal 4 Car Park 4A if you are looking for parking.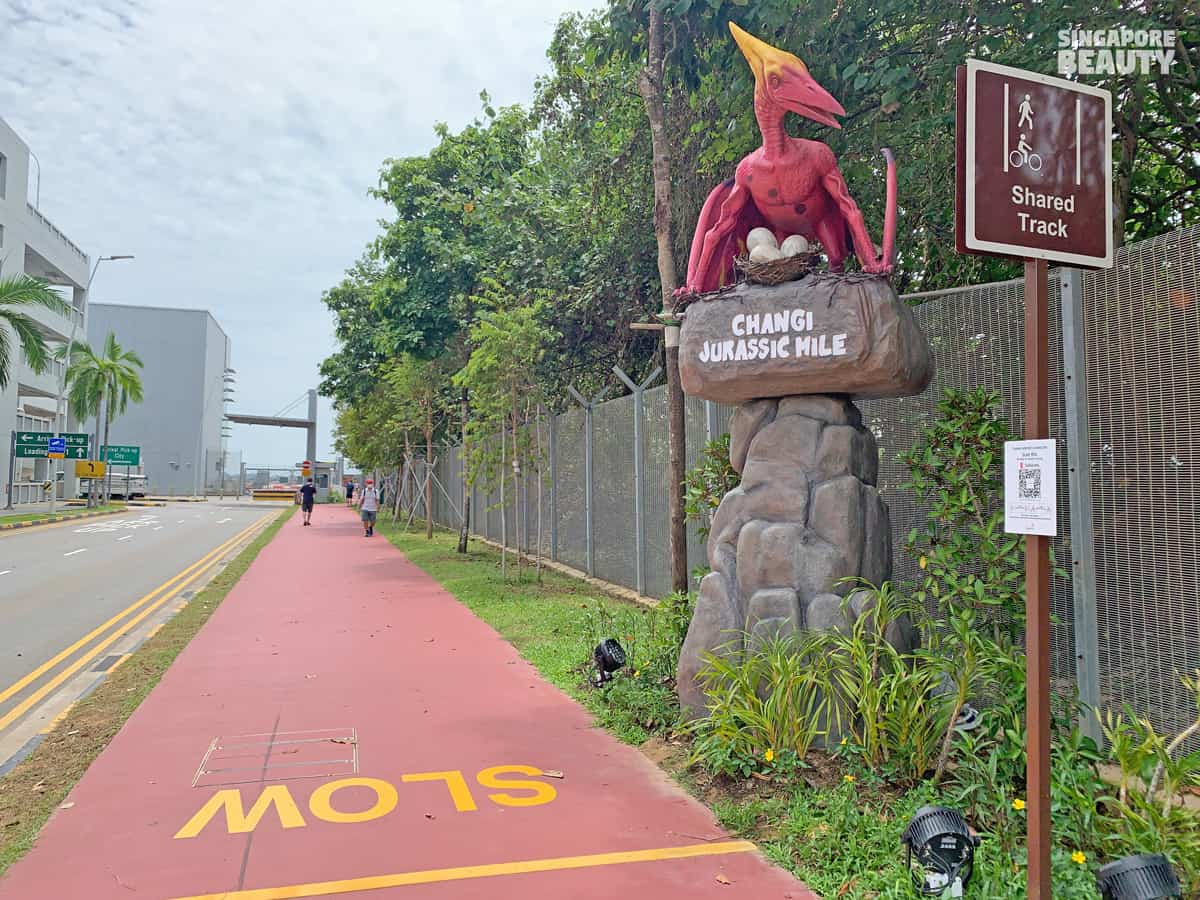 This is the nearest car park to the start of the Jurassic Mile.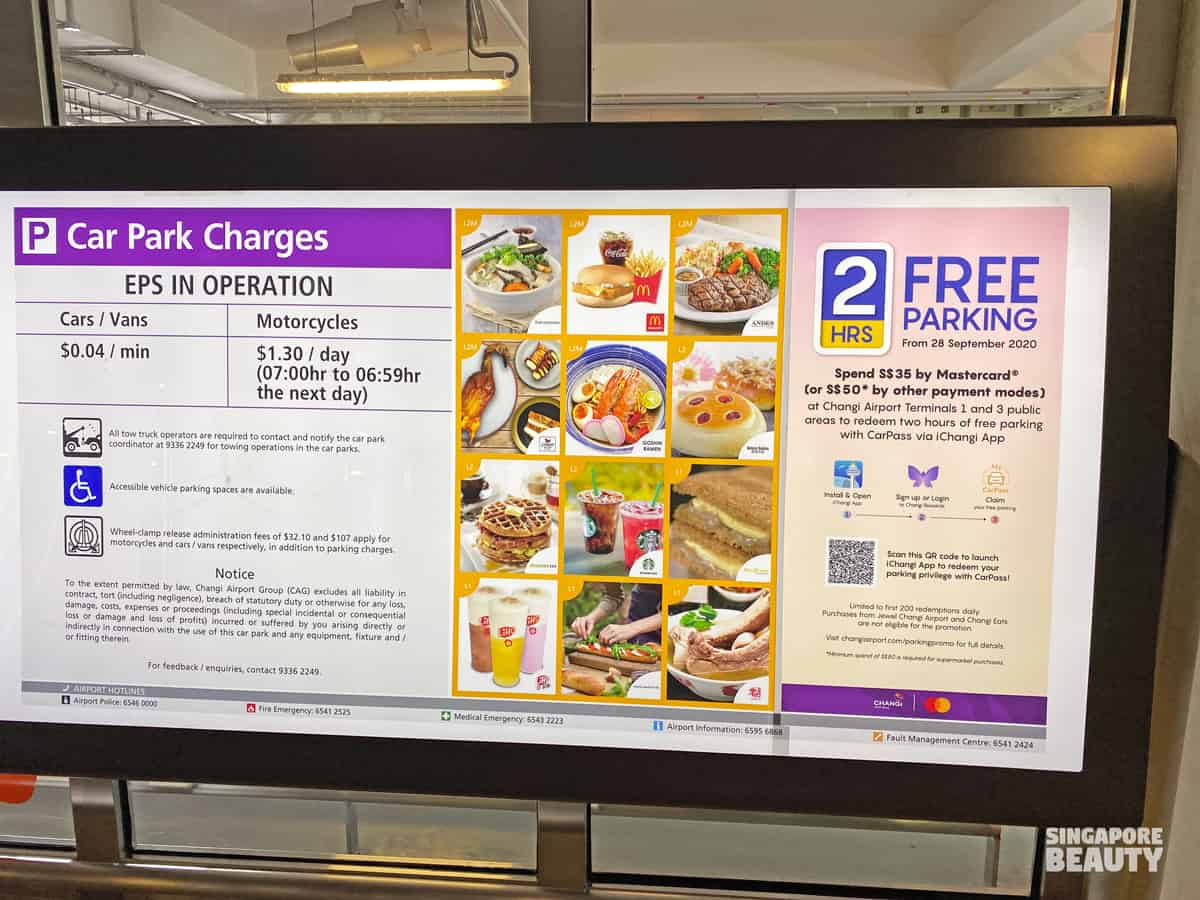 For those who are also looking for free parking at Changi Airport after the Jurassic Mile walk, you can park at Jewel Terminal 1 or 3 public areas. They have a free 2 hour parking from 28 Sept 2020 till further notice. However, you need to have a minimum $35 nett spending at the airport and is limited to 200 redemption per day via Apps. T & C applies.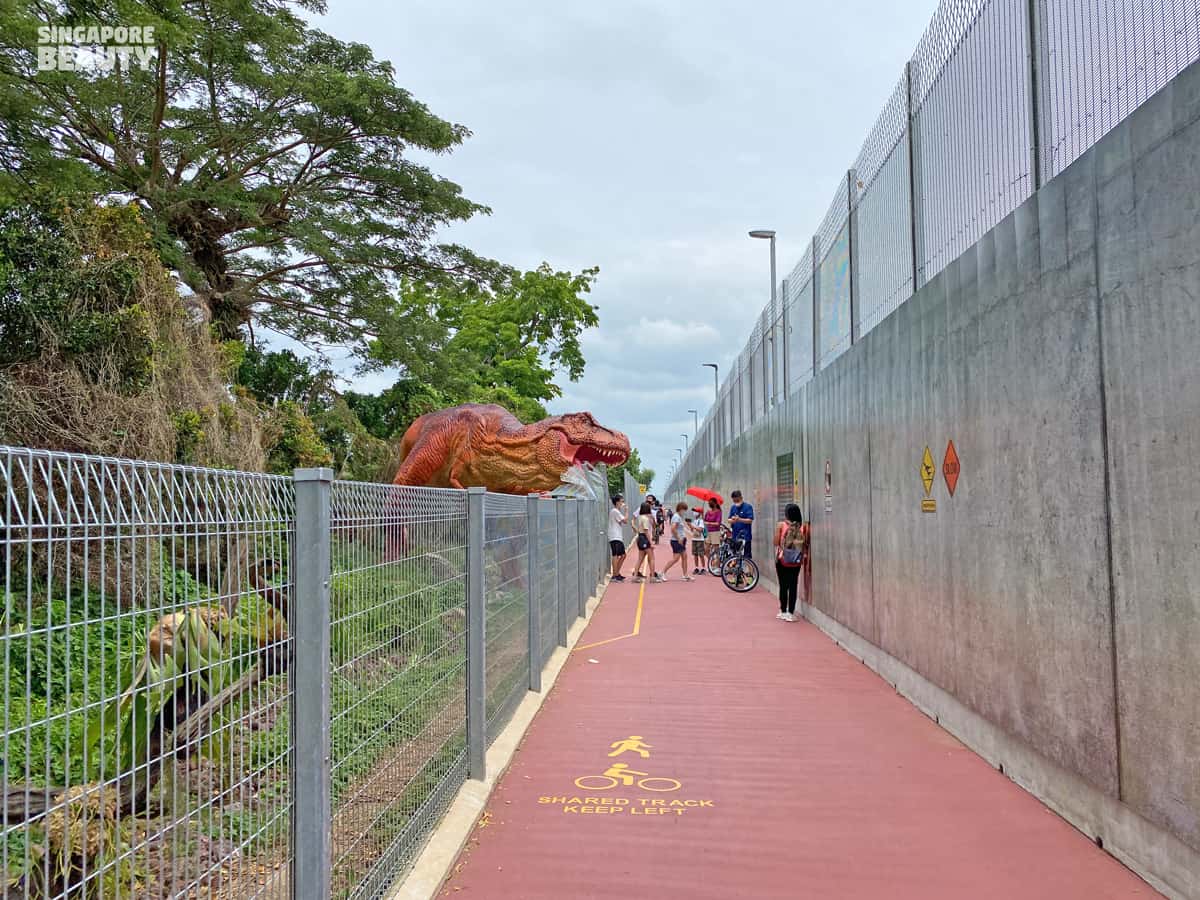 This Jurassic mile is a fun outdoor experience that is a must visit place for family or tourist. It is also a great jogging and cycling path as it is kind of shaded and sandwiched between a tall wall and open fenced with landscape and dinosaurs on the other. This is the latest park connector in Singapore and part of the Park Connector network (PCN).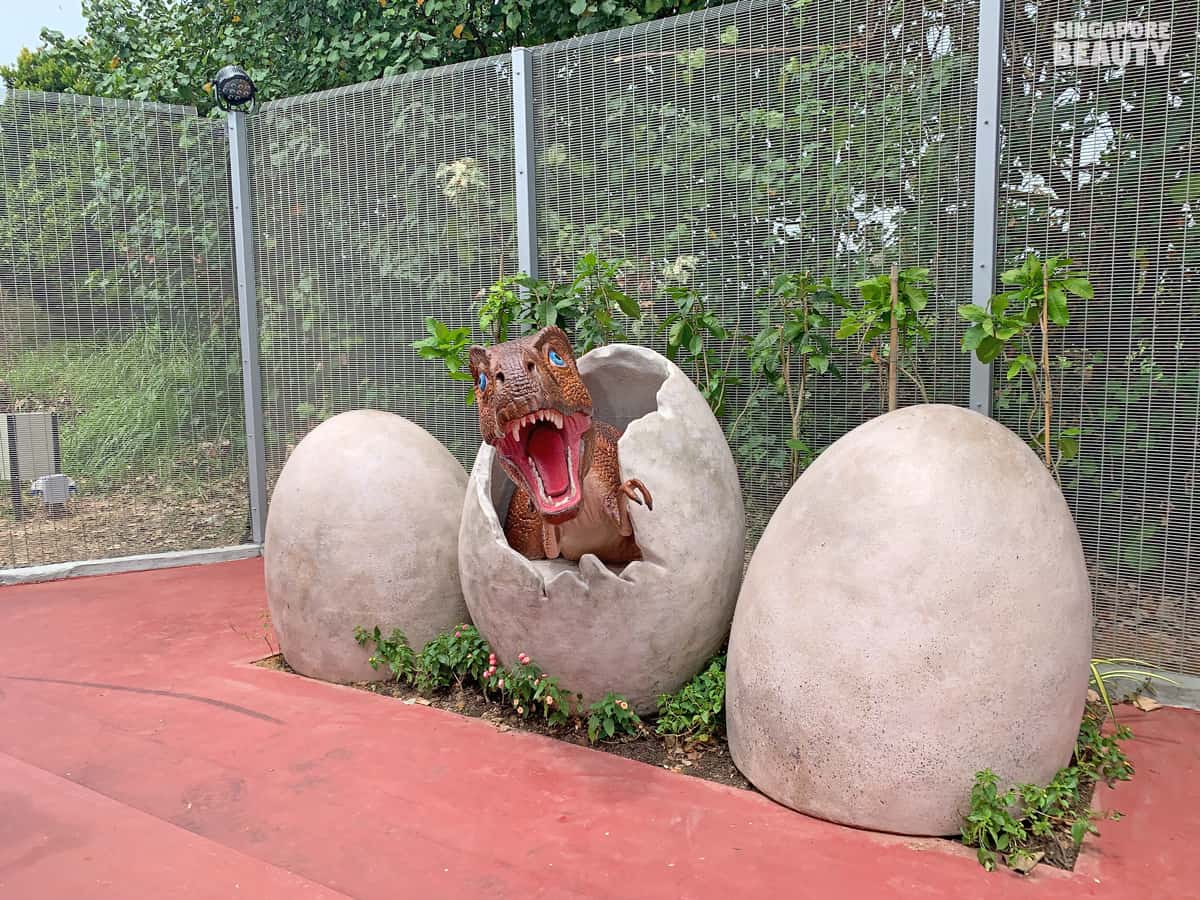 It has received much media reviews and attention. Although most of the life size dinosaurs are safely fenced up, they do have one baby dinosaur that is placed at mid way along the connector for some up close photo opportunities. Unfortunately, someone has apparently taken it far too up and close with it by riding on it to do a Tiktok video. This drew much criticism and disapprovals from the online community. Many are concerned with the vandalism and damage that could result from inappropriate engagement with the display.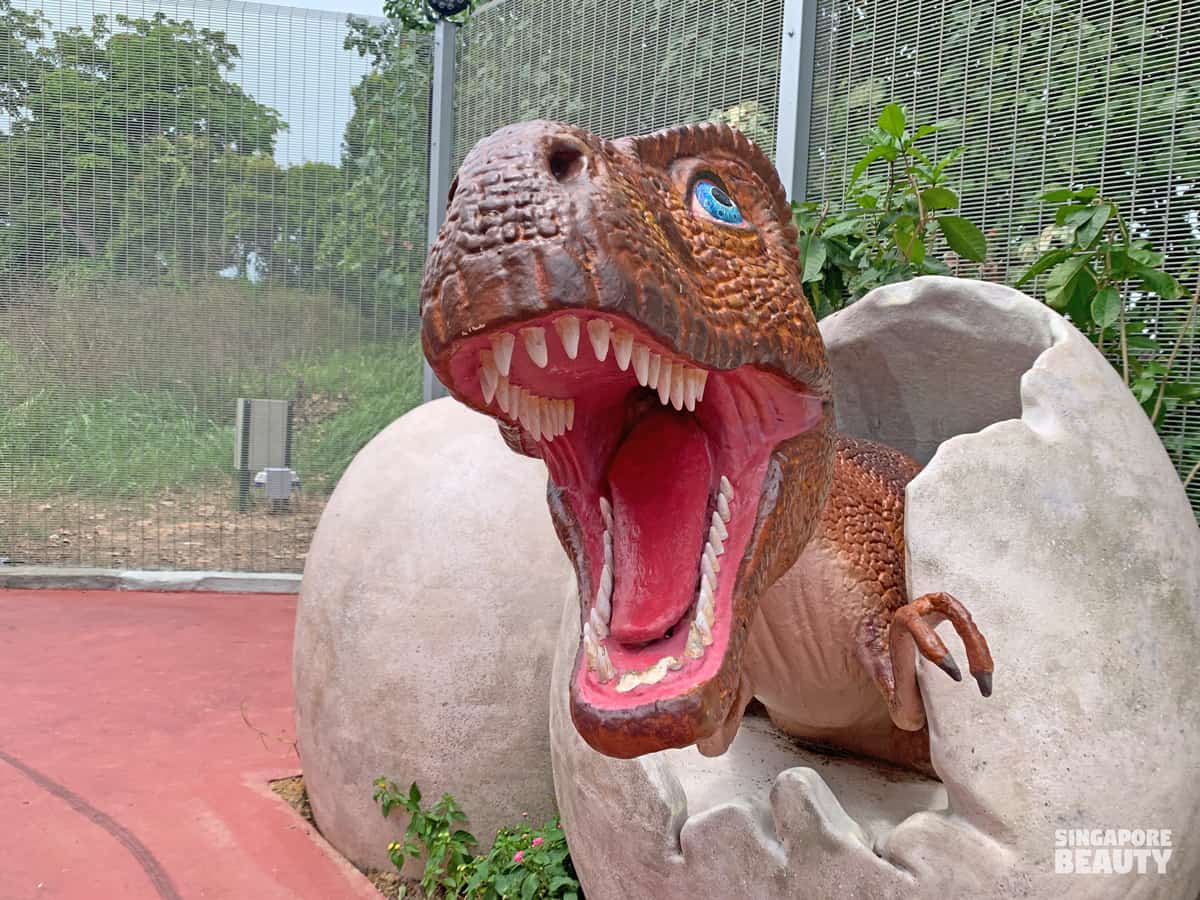 This baby dinosaur emerging out of it egg will also be removed temporary for maintenance as many of the baby dinosaur lower set of teeth are found missing and damaged shortly after opening.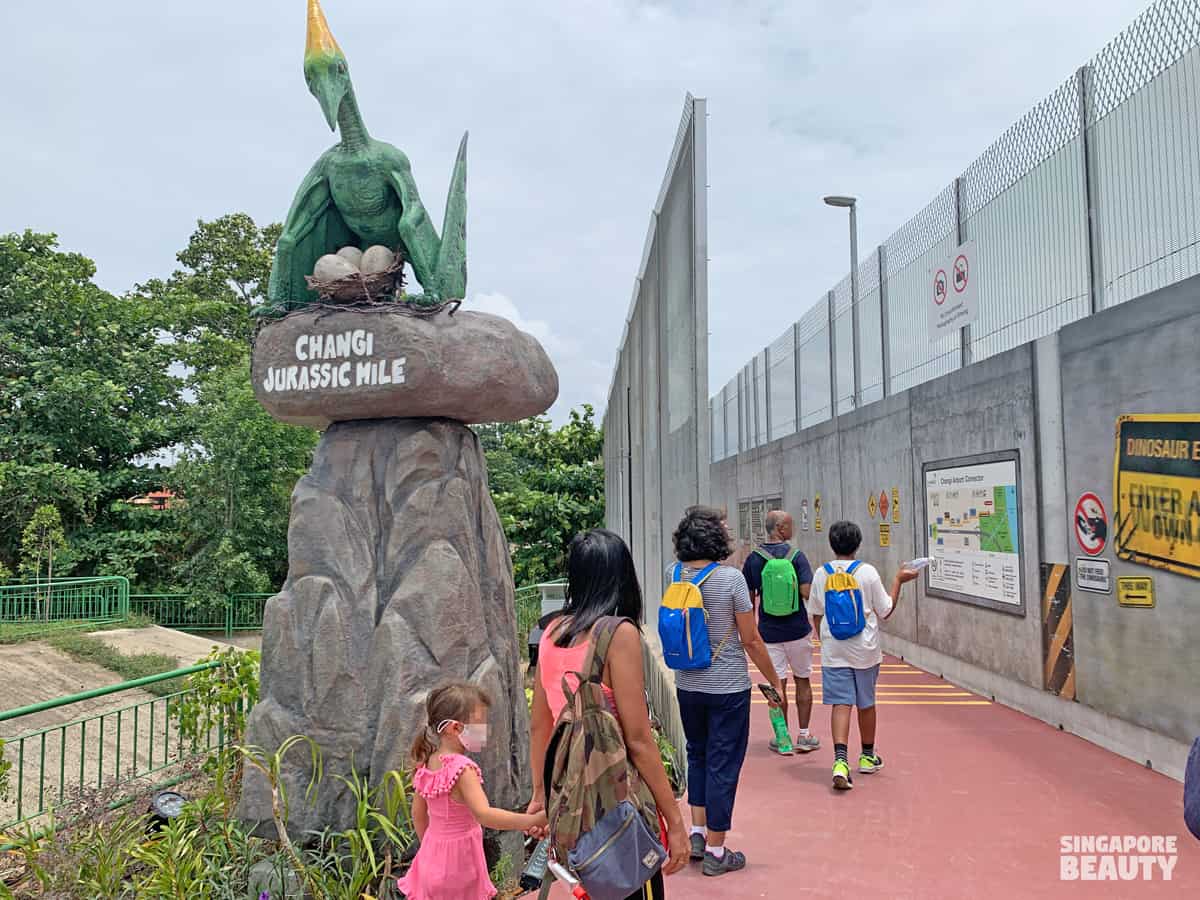 For crowd control and social distancing to be effective, those who plan to go on a Friday or weekends between time (9 am to 11pm), from Oct 16 to Jan 03, please make your virtual ticket bookings online via Changi PlayPass before heading down. The duration of visit is limited to 1 hour. Book at https://playpass.changiairport.com/#/jurassicmile2020 . For weekdays, booking are not required. Good news for those who can't sleep at night, this park connector is open 24 hours so you can make your way there after supper. These dinosaurs are lit up after dark with some cinematic dramatic light for the extra real life feel to these pre historical giants at this Jurassic Land Themed Park. This place is free to visit as there is no entrance fee to be paid.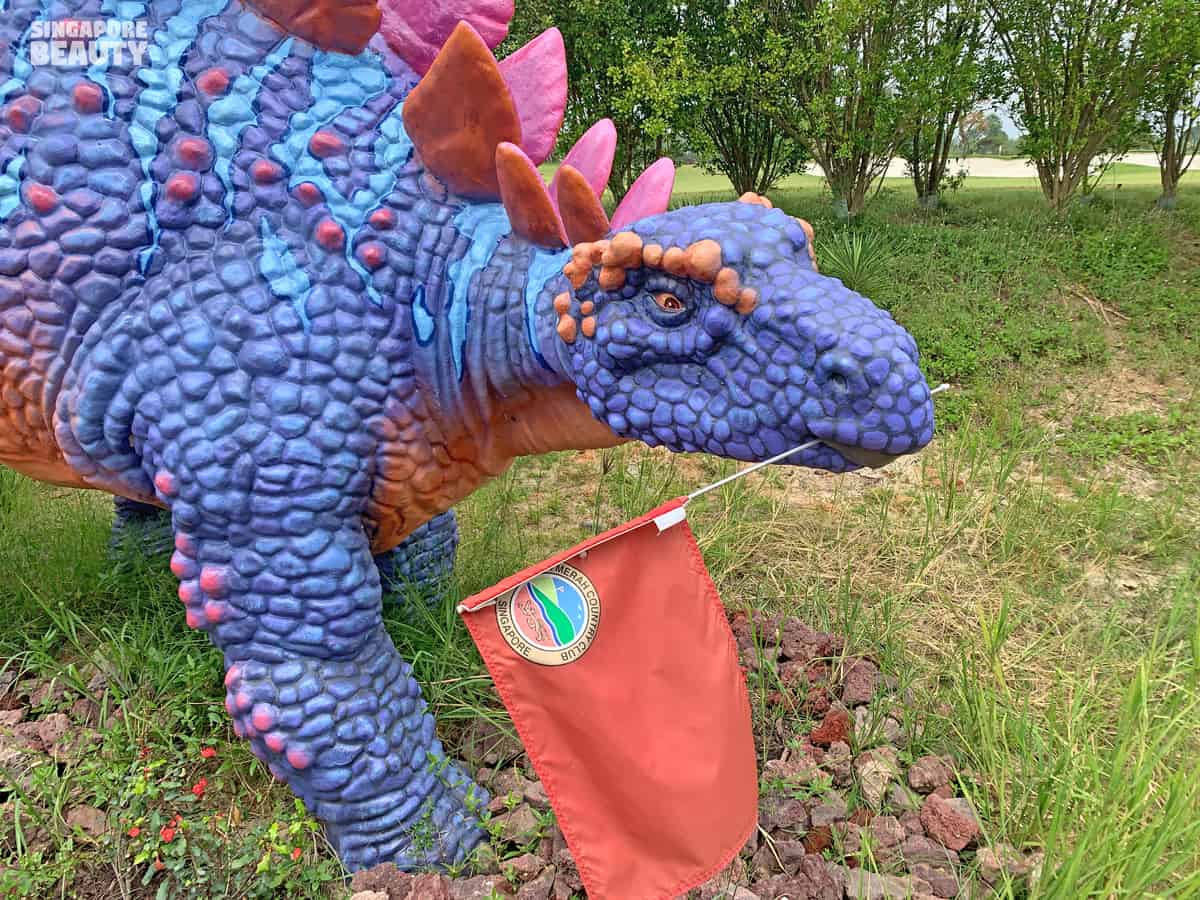 With a total of more than 20 life size dinosaurs, you will be wowed by this experience. These extinct creatures that used to roam the land have landed in Singapore permanently.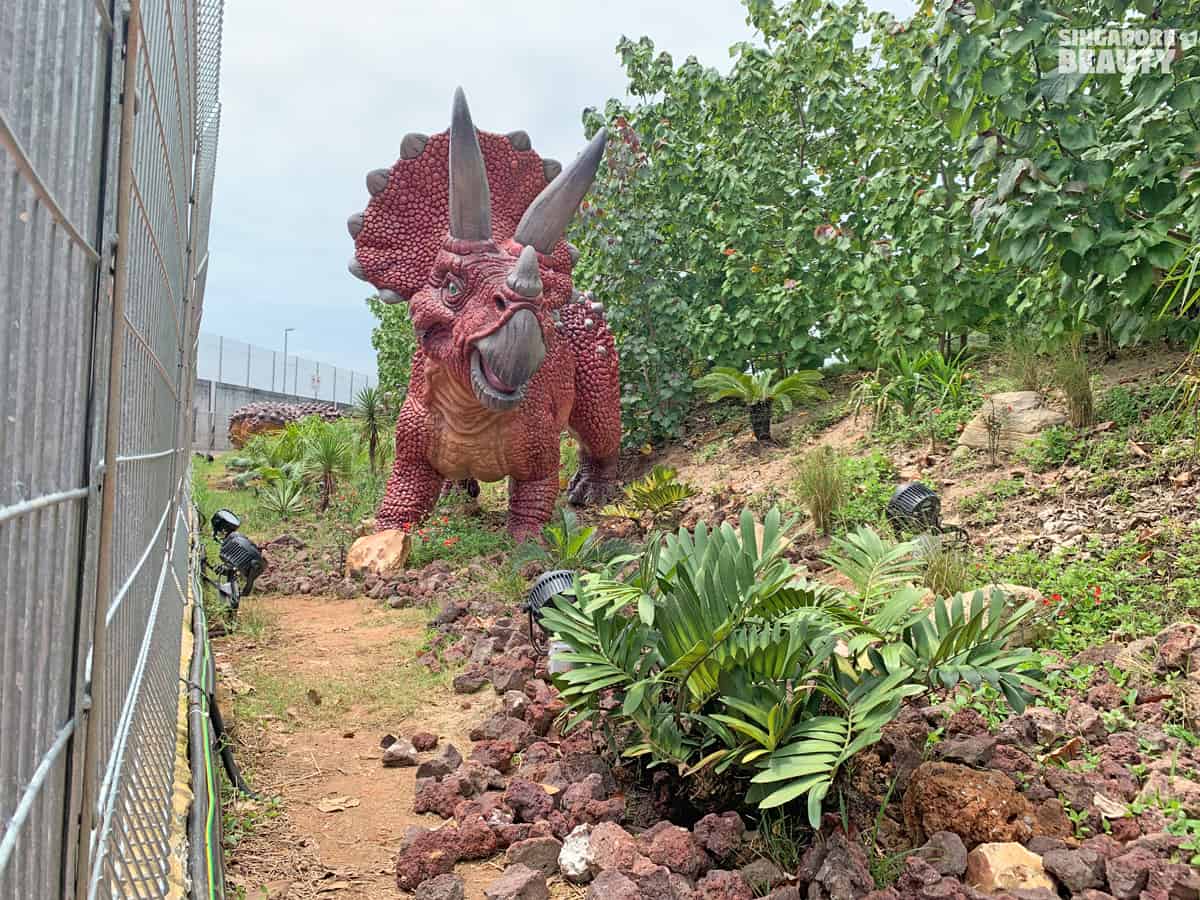 The trail starts with these Defensive Dinosaurs – Triceratops followed by the Ankylosaurus.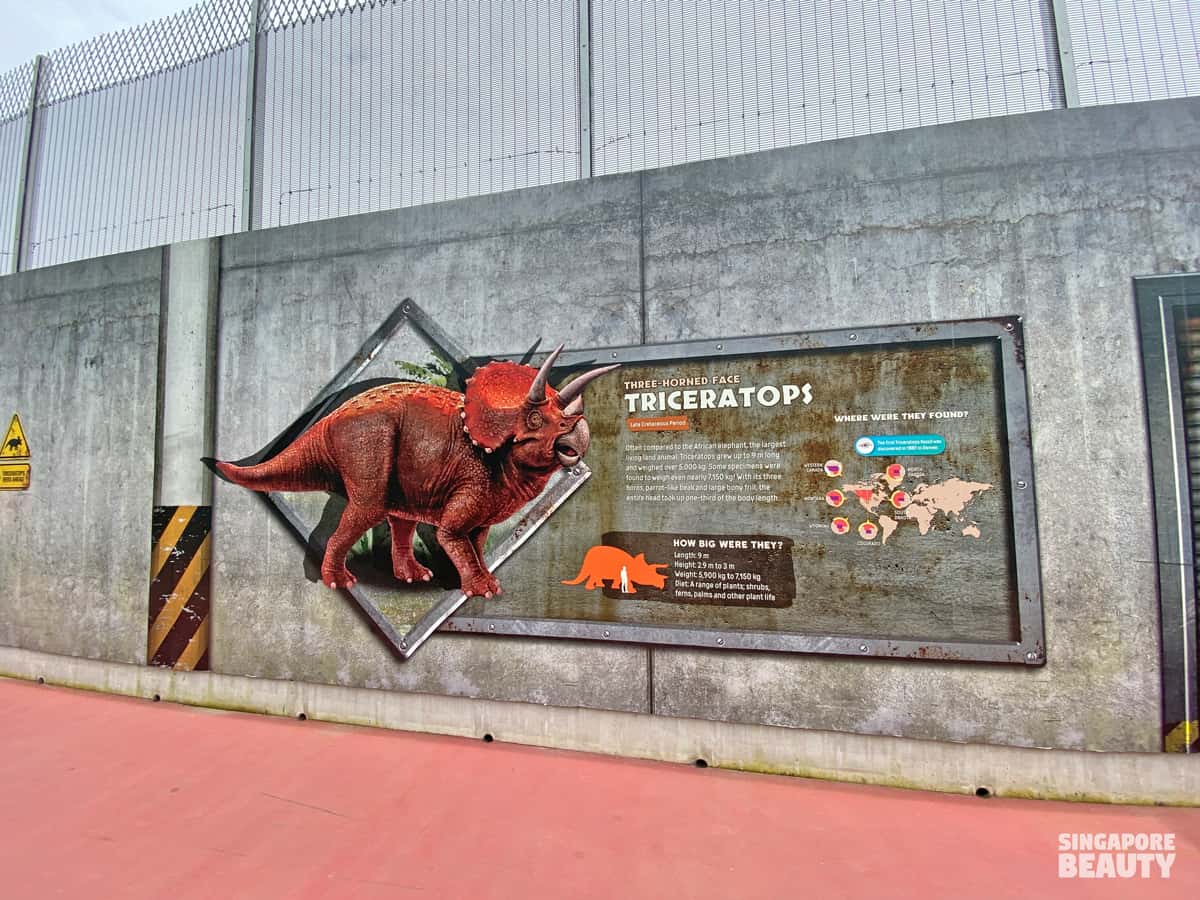 Here are some fun facts about the Triceratops. Standing at 3m tall and weighing to a maximum of over 7000kg.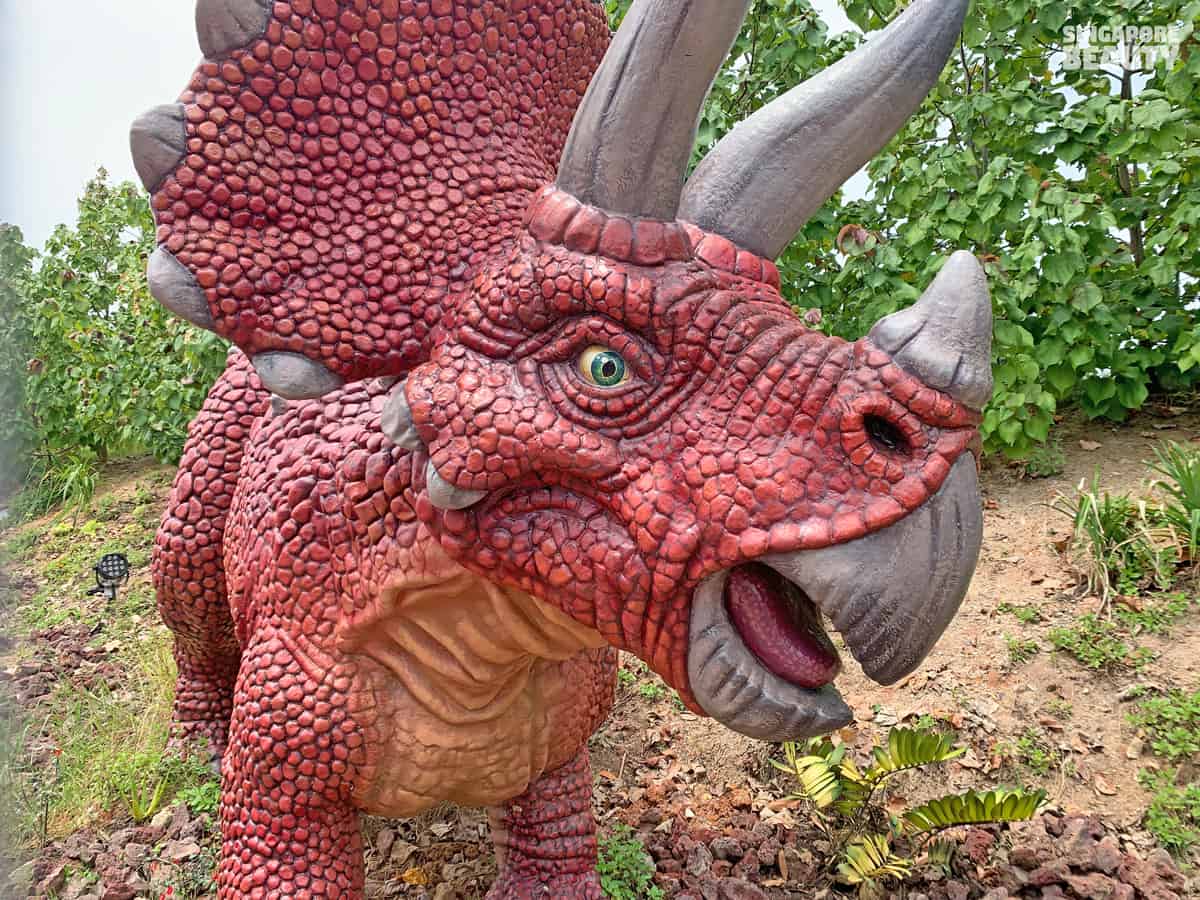 These dinosaurs diet are actually plants and is amazing that they can grow to such massive size.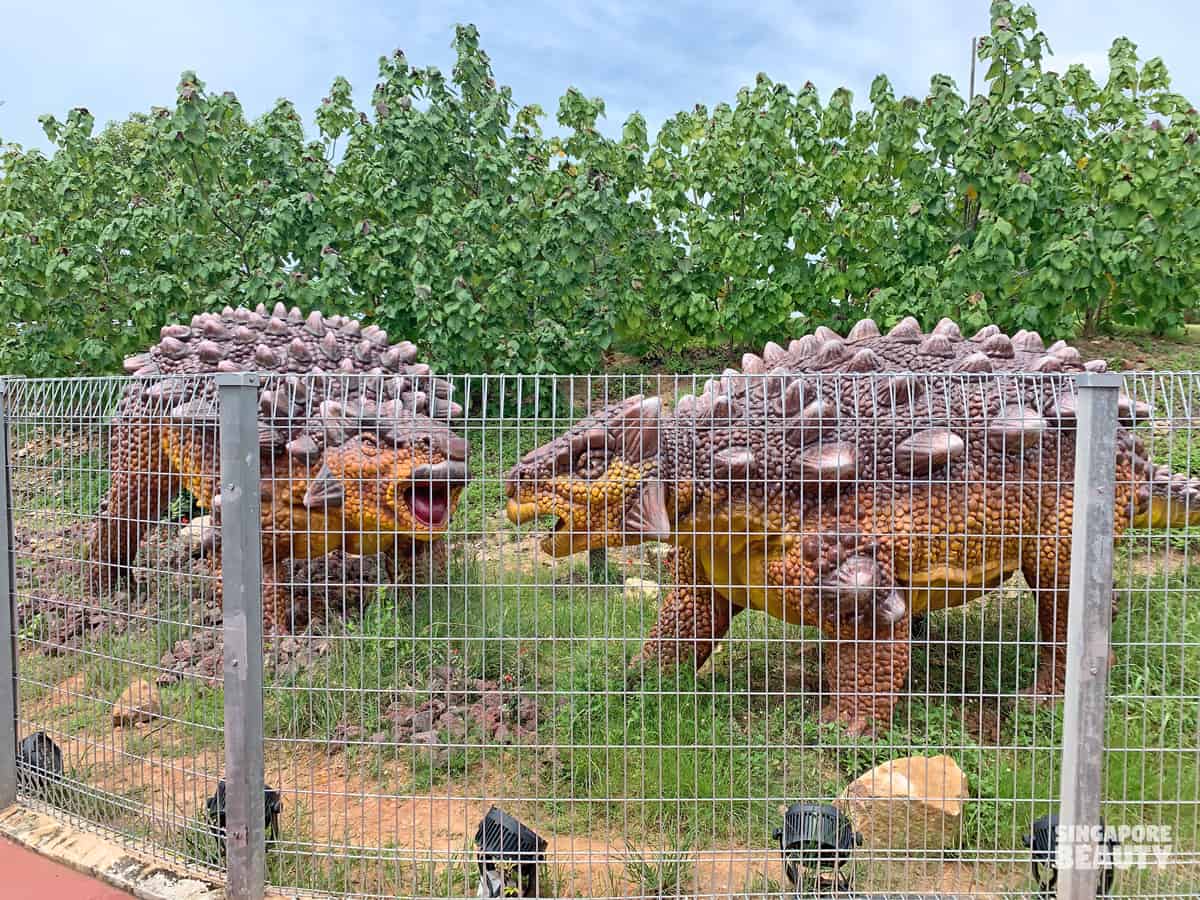 Ankylosaurus are believed to roam the lands of Canada and Western United States as evident from the fossils that were unearthed in 1906.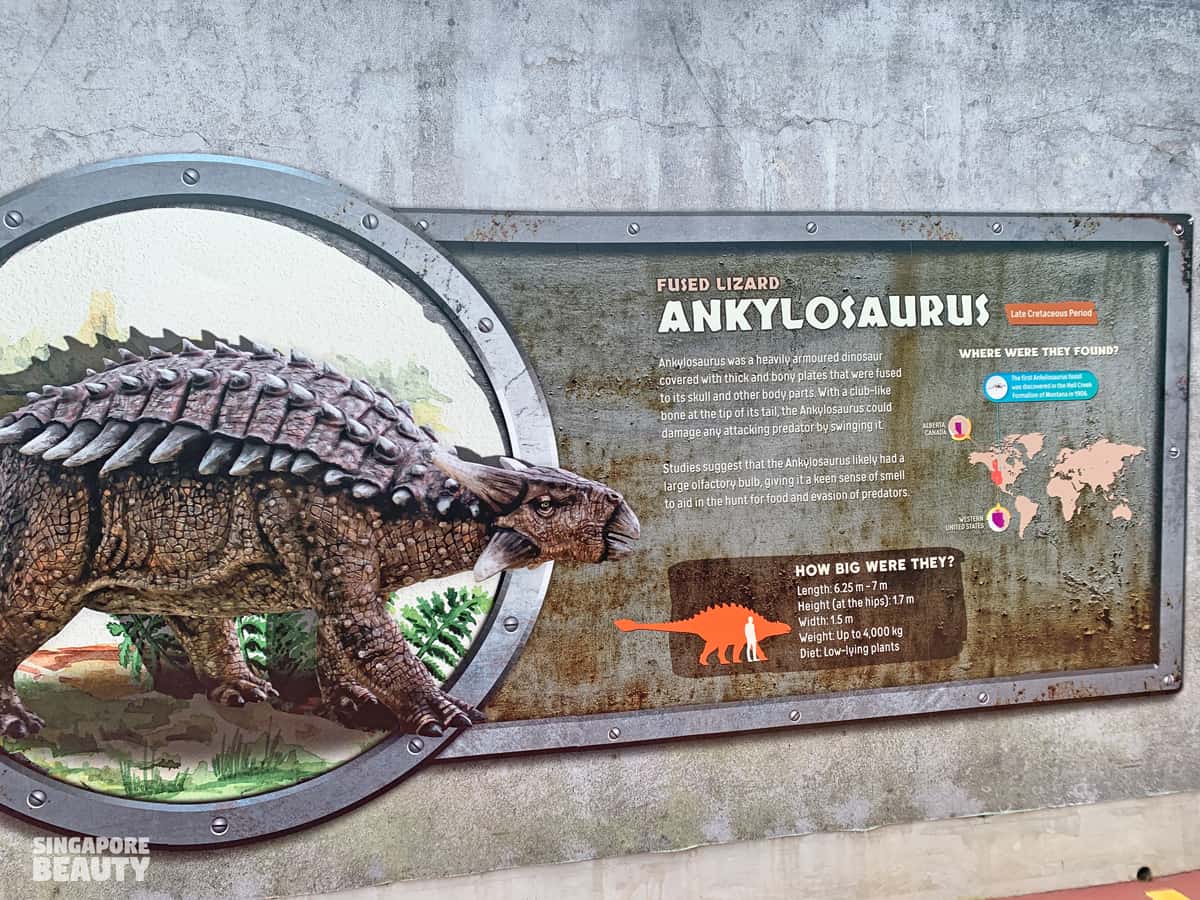 Some fun facts about the Ankylosaurus. Standing at 1.7 m tall, it can weigh up to 4000kg and is a herbivore.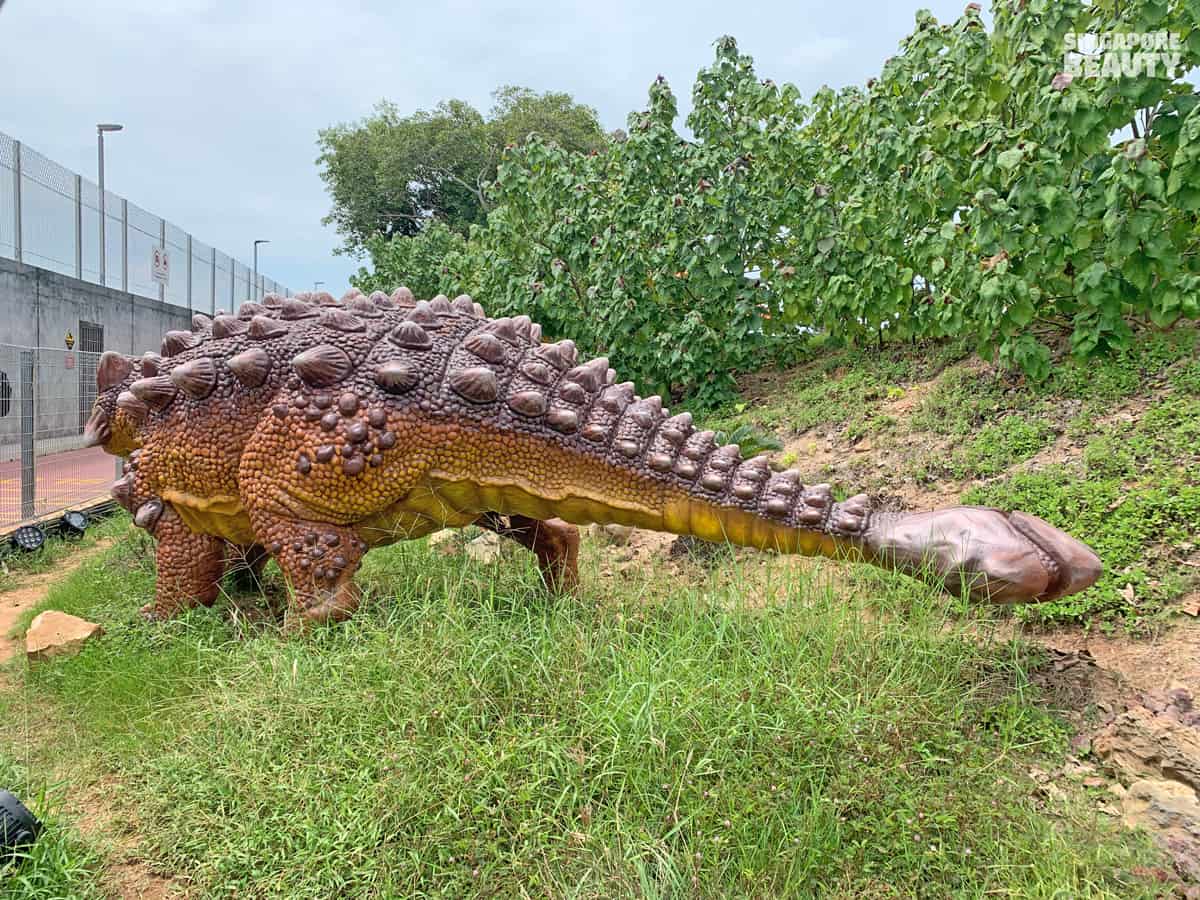 It is believed that the club shaped tail is its strong defence against predators.
A bunch of bad disruptive Velociraptor ripping off the top of your golf cart while you run for your precious life. These are predatory dinosaurs as evident from their sharp teeth.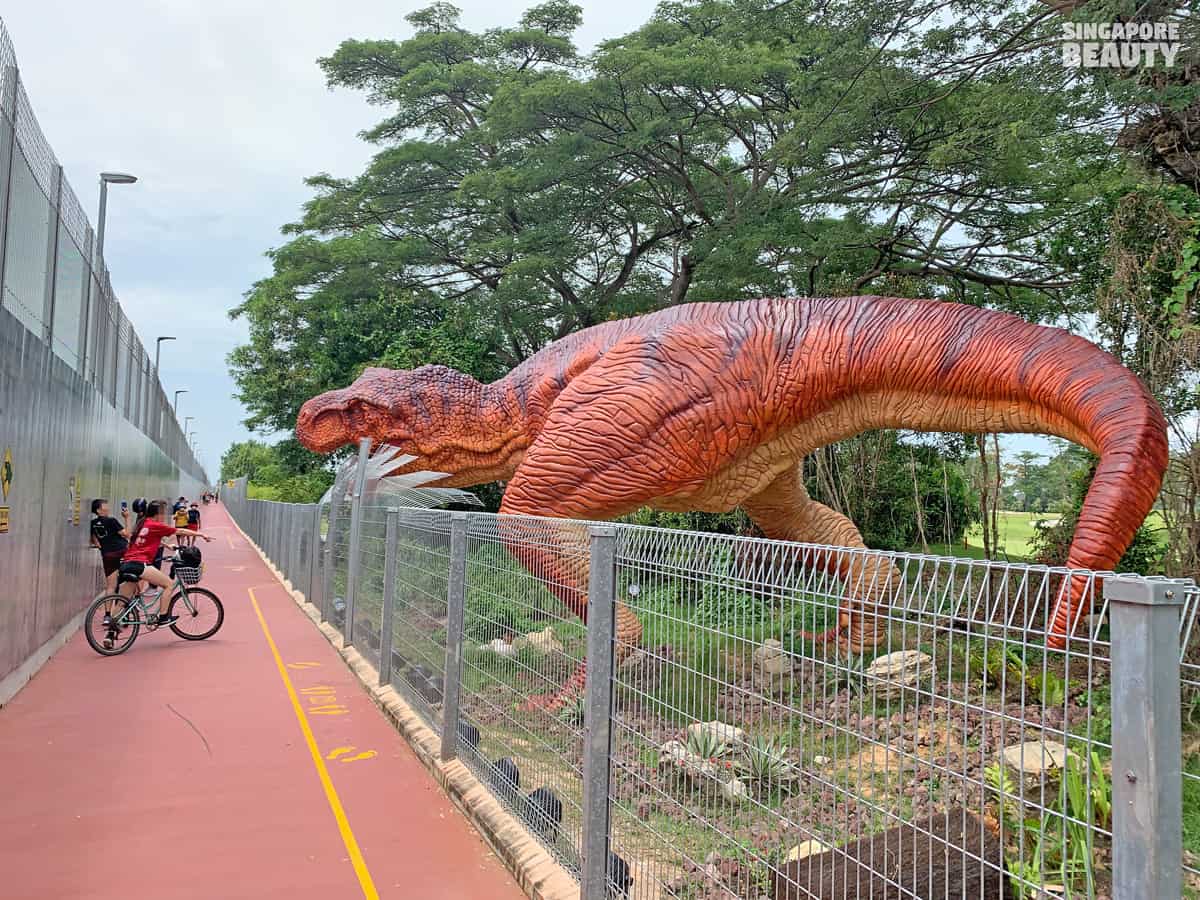 Towering Tyrannosaurus Rex aka T-Rex seems to be the star of the Jurassic Mile. It has chewed off the fence with its strong jaws.
Here are some fun facts about the Tyrannosaurus Rex. These are classified under the predatory dinosaurs.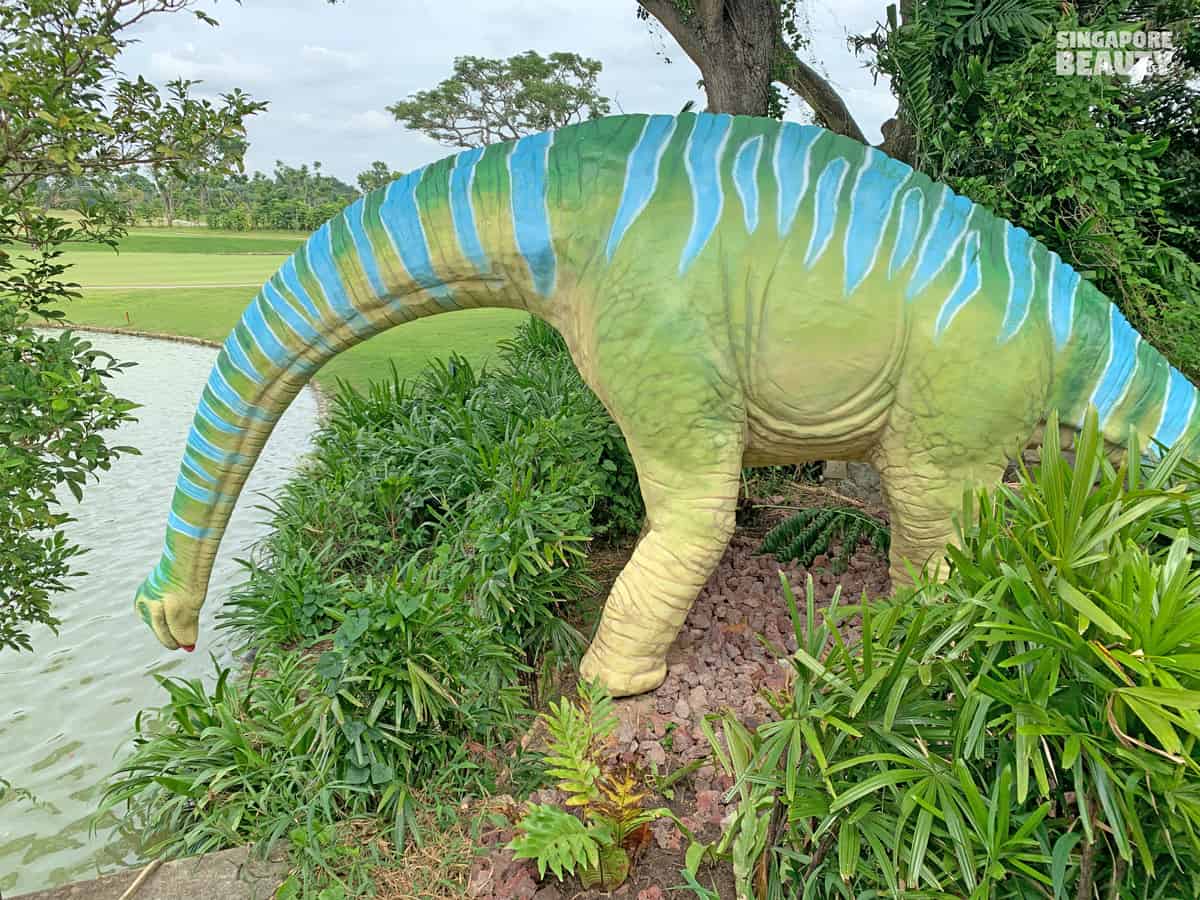 Brachiosaurus chilling by the lake. These are herbivorous dinosaurs.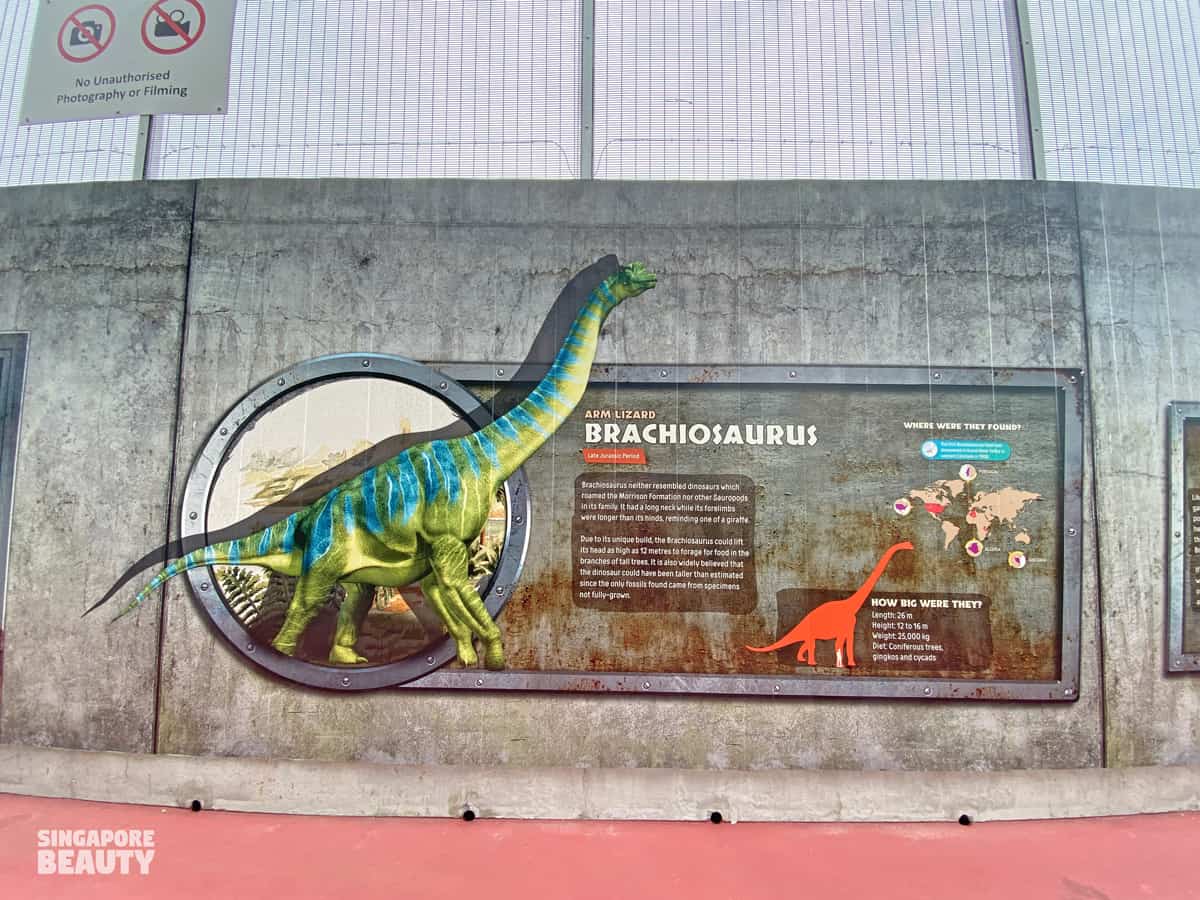 Some fun facts about the Brachiosaurus. These can grow to as long as 26m in length and to 16 m in height or more, weighing up to 25,000kg. These are like giraffe that feed on leave on tall trees that explains the long neck perhaps.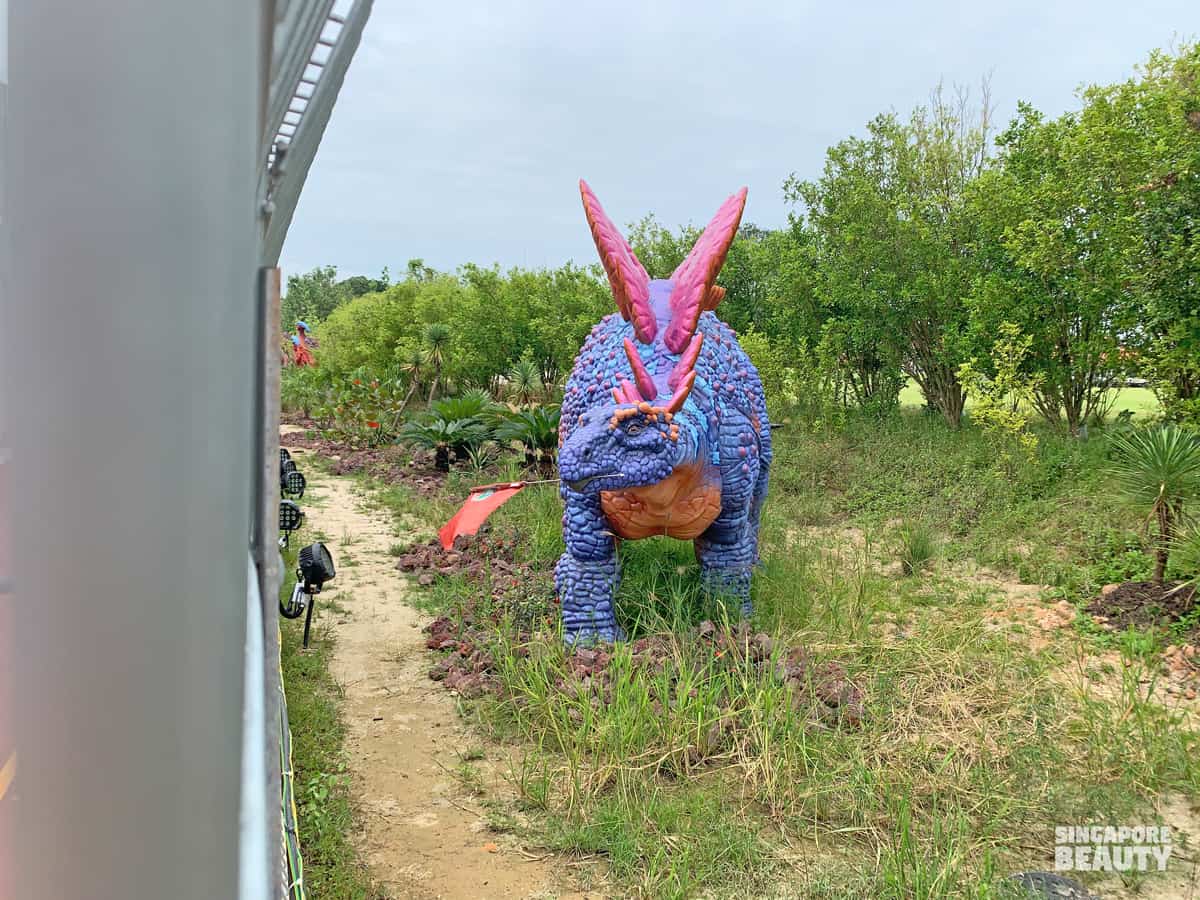 Stegosaurus are categorised under the Herbivorous dinosaurs.  The fossils are found in Western North America, Southern Africa, Southern India, China and Western Europe.  These can grow to 9m in length, 3 m height and weight more than 3000kg.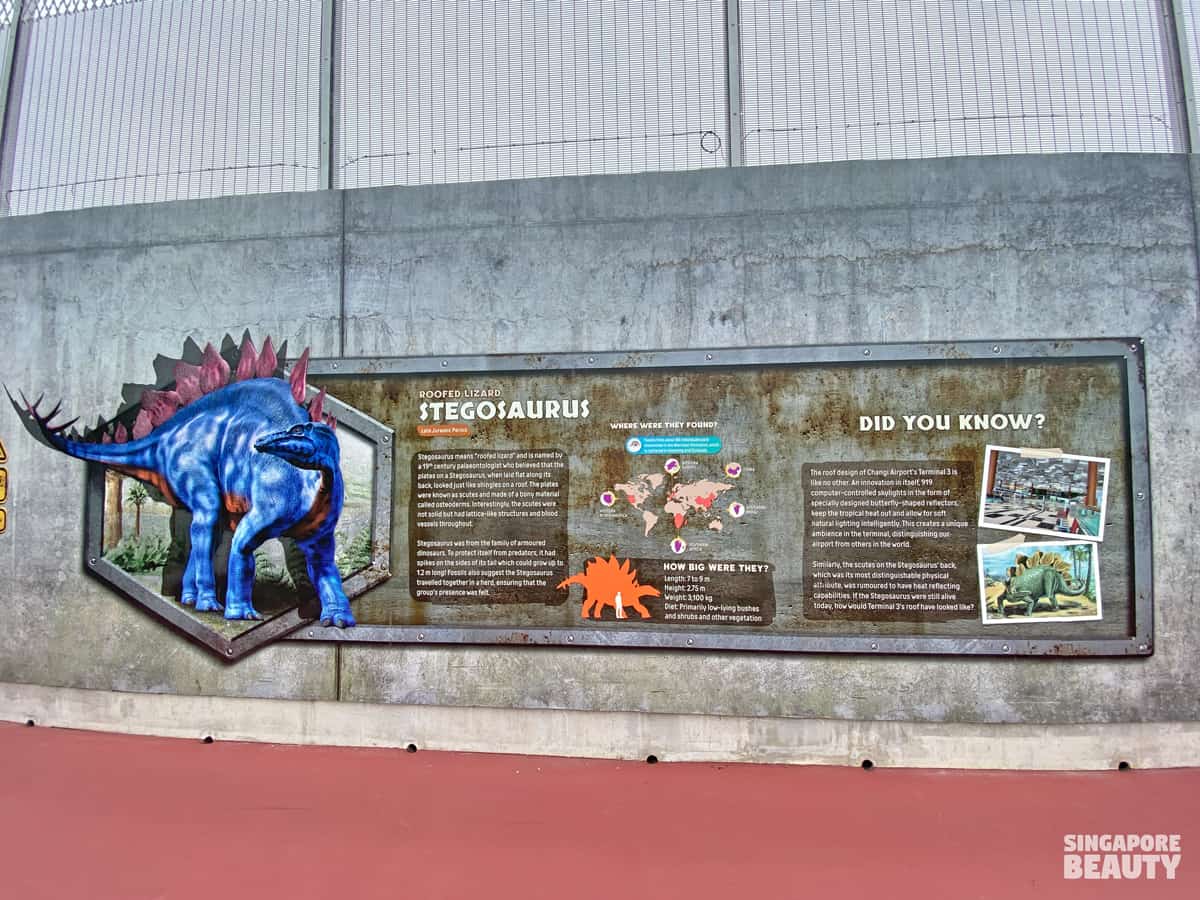 Here are some fun facts about them. Stegosaurus also known as roofed lizard due to the scutes on its back reminds one of roof shingles tiles.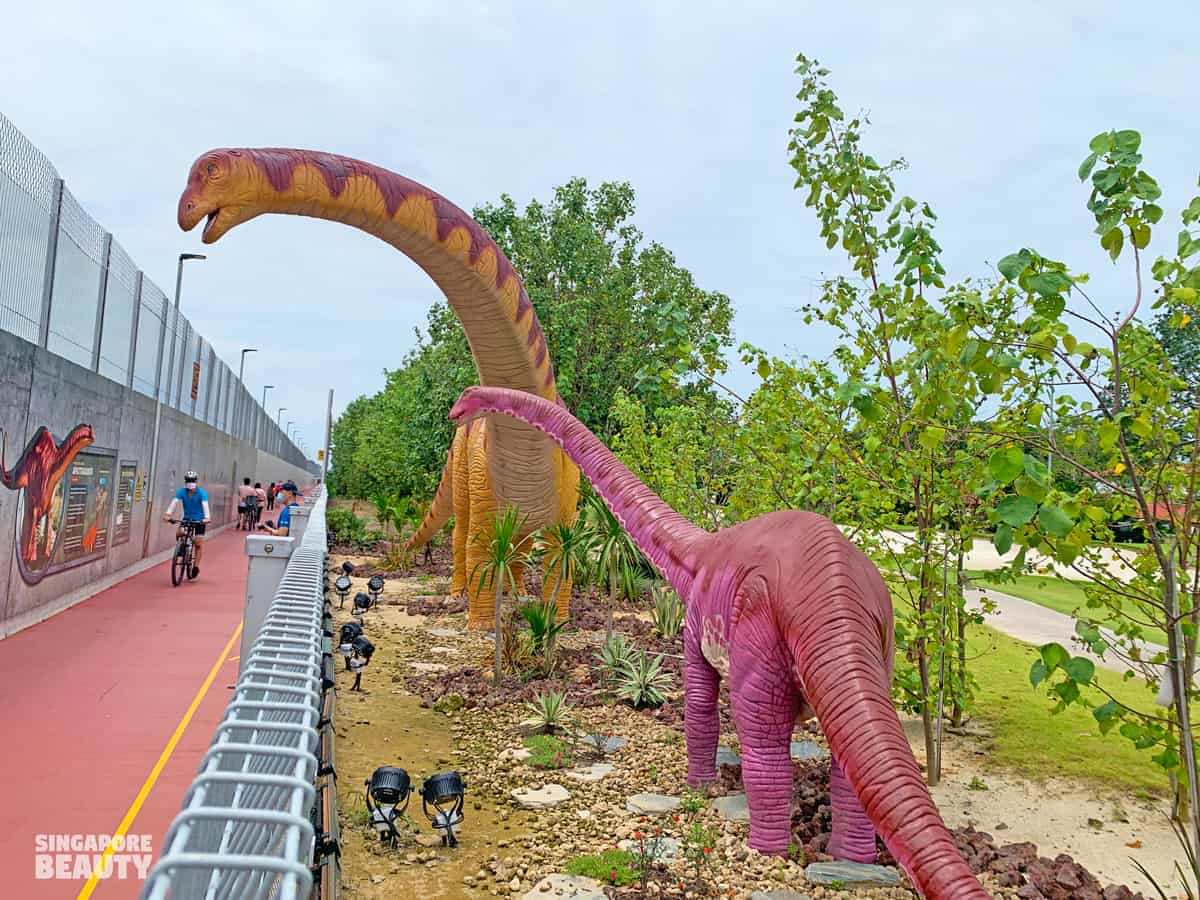 These are Apatosaurus aka deceptive lizards. These can grow up to 26m or more and stand at more than 4m with a massive weight of 18,000kg. These are herbivore.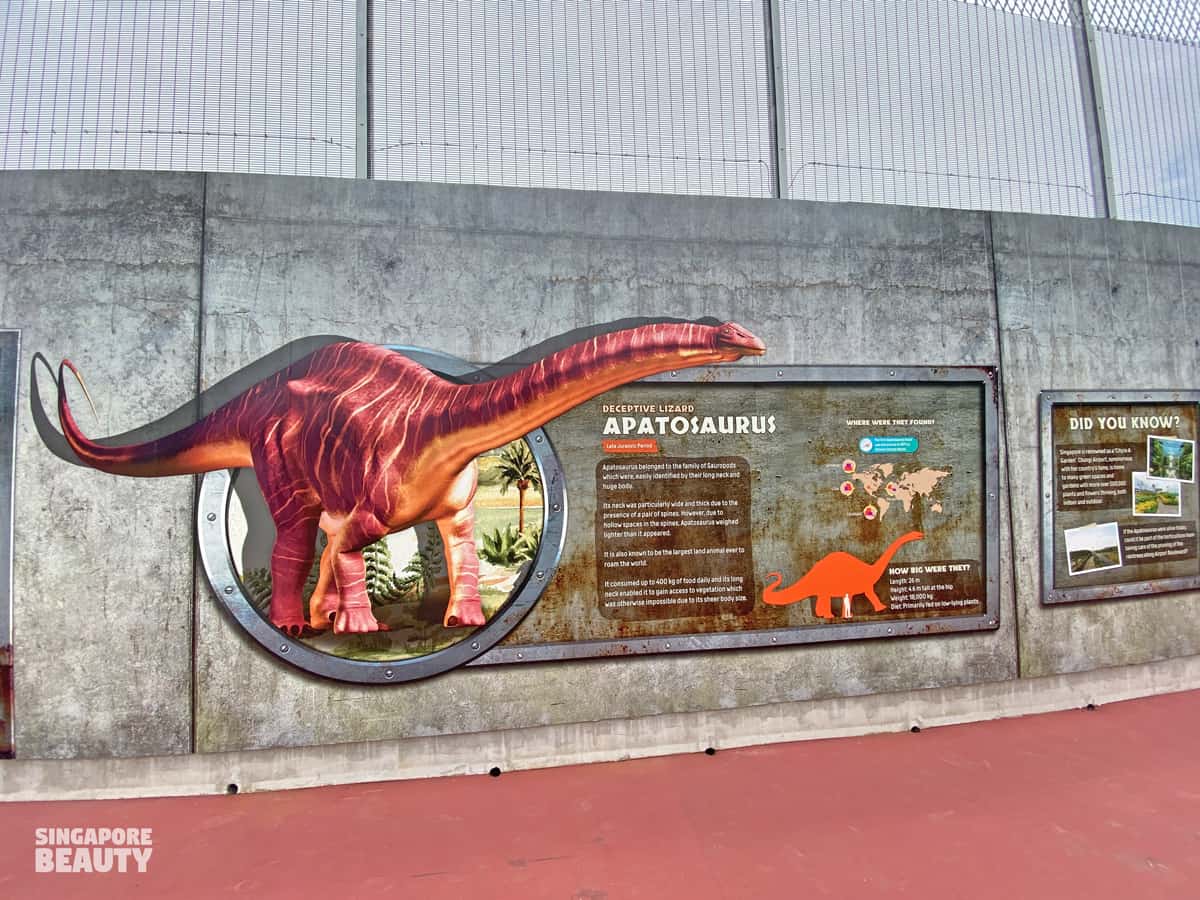 Here are their fun facts. This is the largest land dinosaur with one of the longest neck that feed on close to 400kg of ground vegetation daily.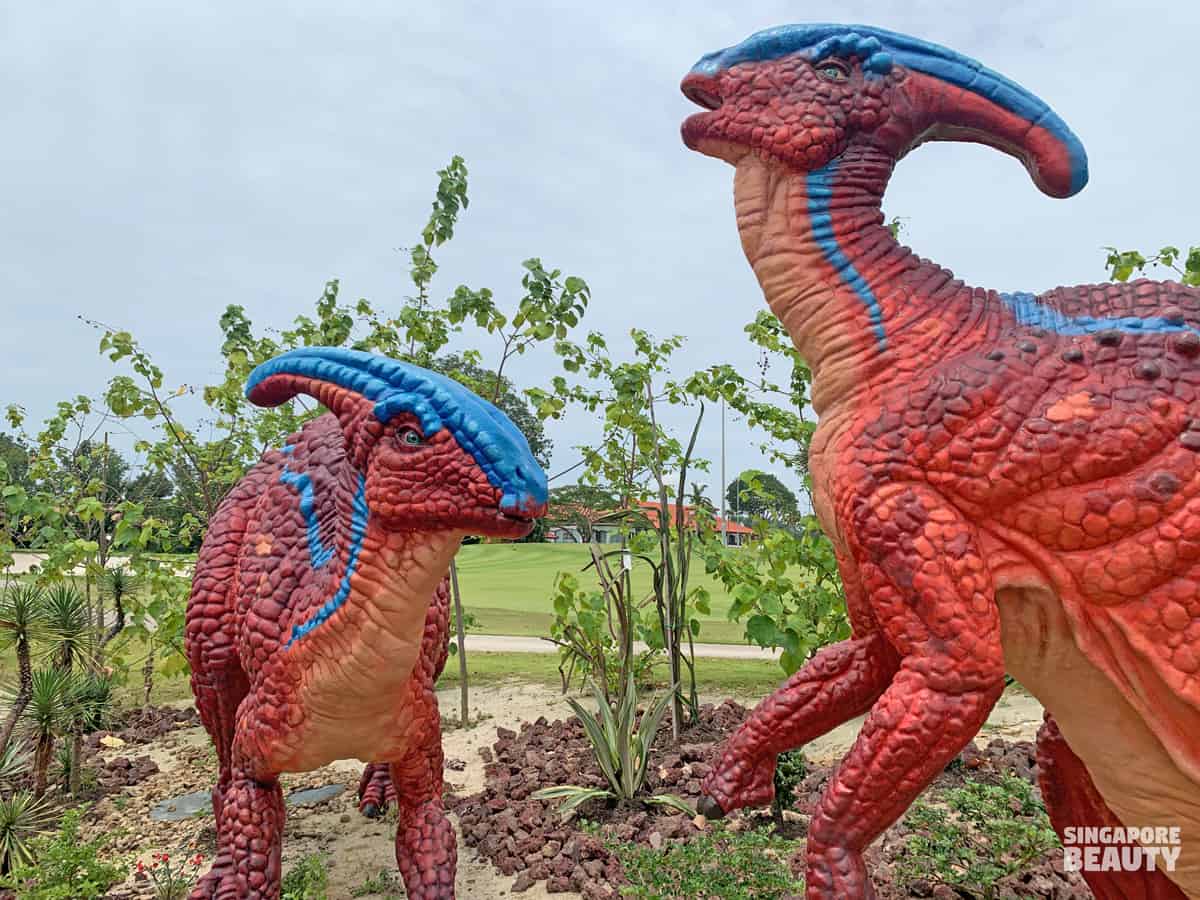 Parasaurolophus looks like they are merry making in party hats with the crest shaped crown on their heads. This crest plays an important part for them to communicate with one another of the same species by sending low tone sound waves across vast lands.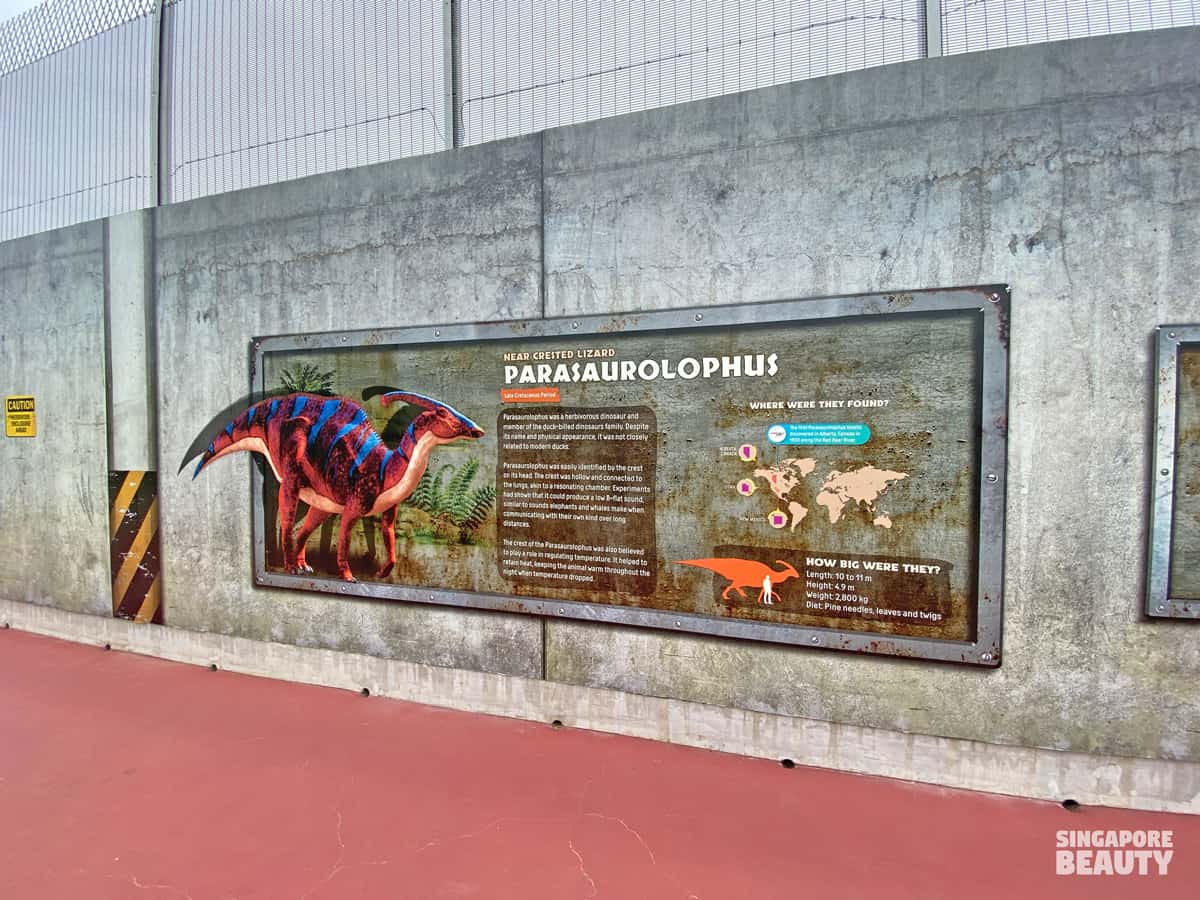 Here are some more fun facts on them. They can grow up to 11m, stands at close to 5m and weigh close to 3000kg. With all these information boards each types of dinosaur, this is a highly informative and experiential journey for kids and adults alike. Not to mention the Jurassic park setting that is created by real life themed park background music and the occasional dinosaur's roar!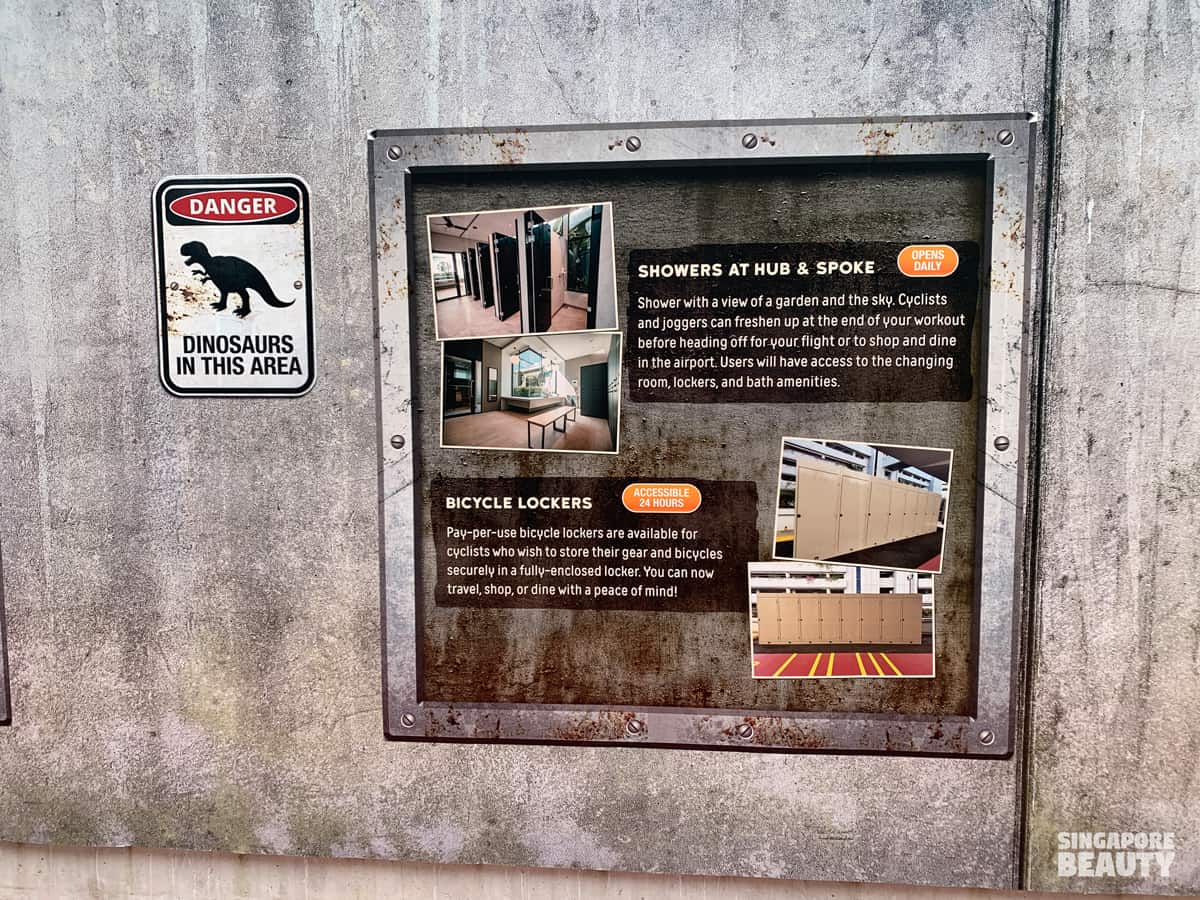 There is also a one-stop to rent bicycle, eat and pay-per-use shower facilities ($3 per entry) along this Changi Airport Connector. Bike rental are from $6/hr for kid bike and from $8/hr for adult bike. The bike can be returned at 7 other locations along the cycling path for the convenience of the users. Operated by GoCycling, you can return the bicycles at any of the pit stops from Changi Beach Park, East Coast Park, Coney Island at Punggol Settlement or even up to Jurong Lake Gardens.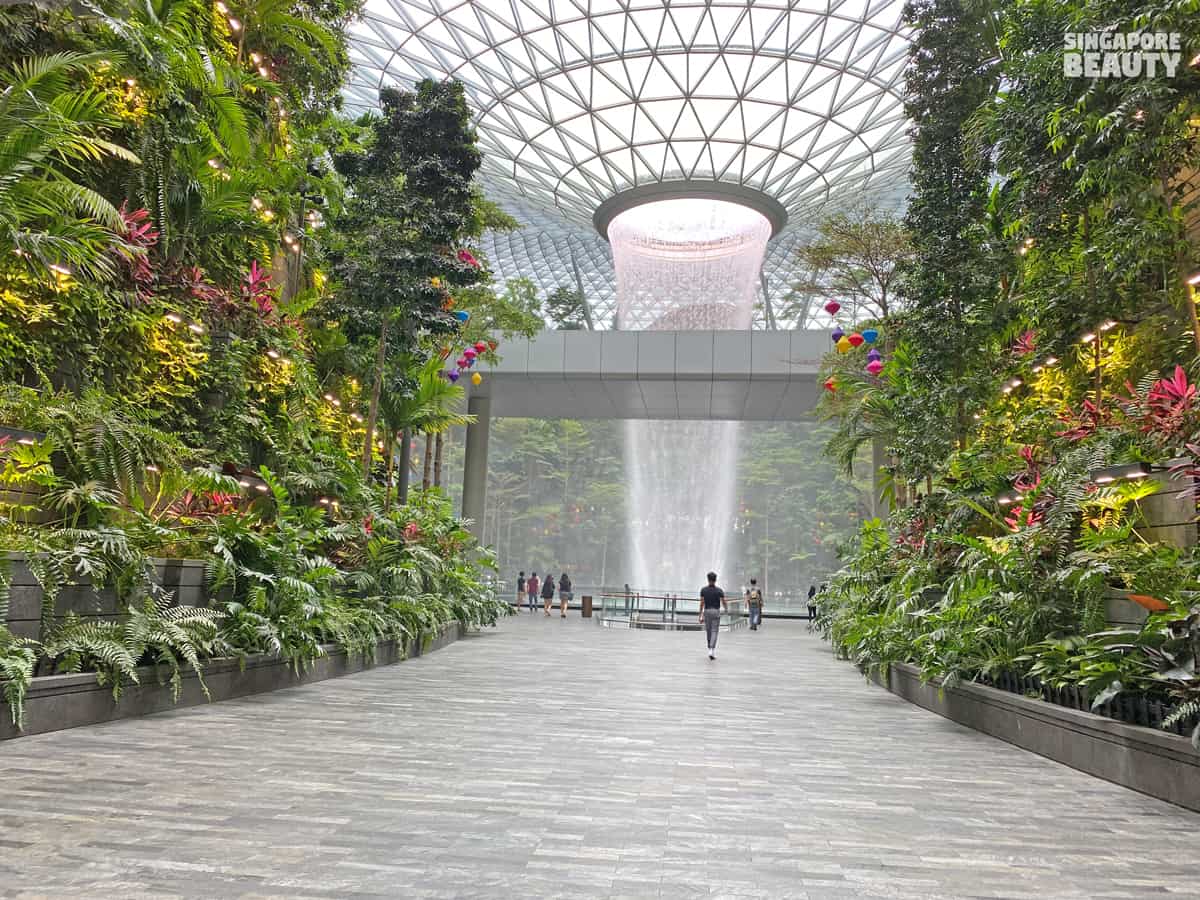 You can now cycle and jog to Jewel Changi Airport to enjoy the spread of dining options there using this connector.  There is also bike lockers too if you decided to cycle there and take a nice family dinner inside the airport without having to lug along your bicycle to the airport grounds at $5 per day.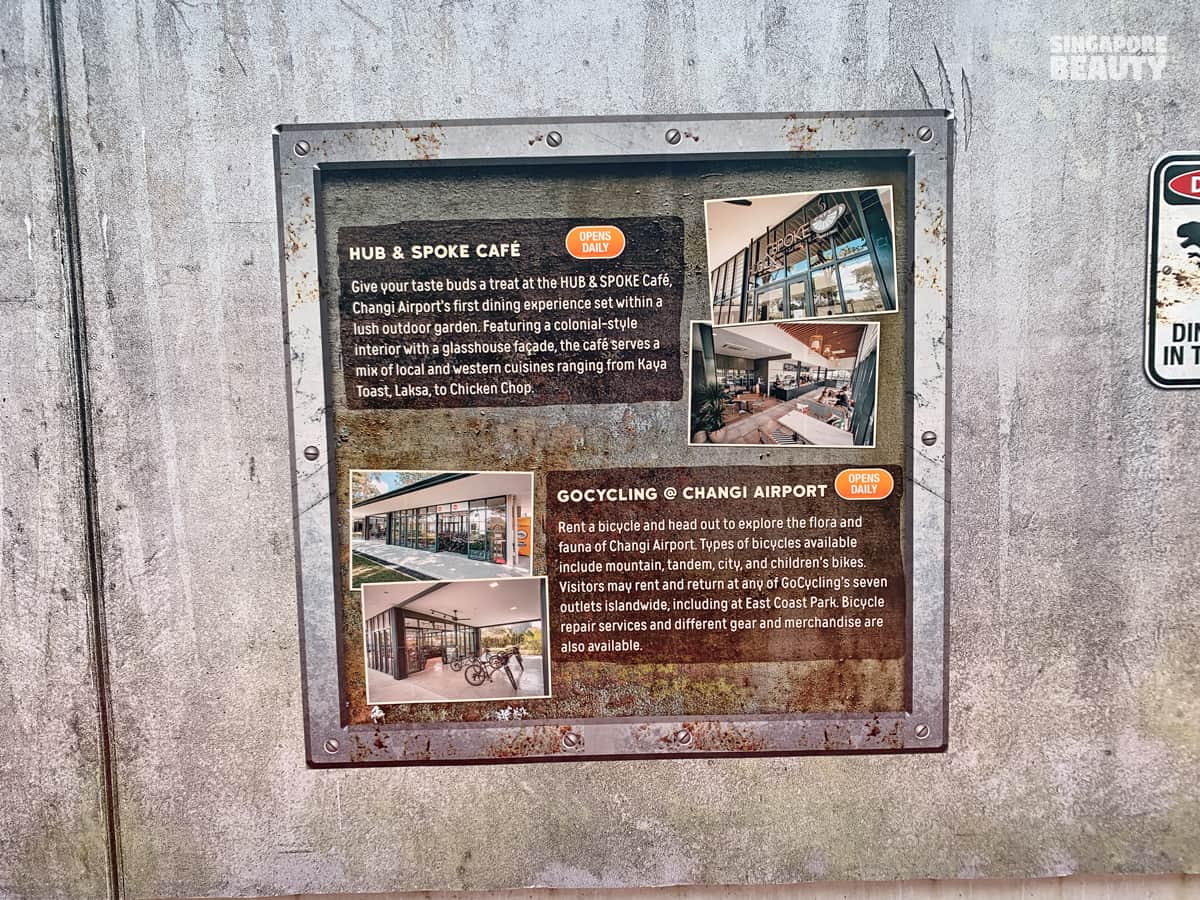 HUB & SPOKE cafe has both western and local food on their menu. Breakfast starts from 7.30am! So you can be there for some kaya toast or some Benedict eggs on toast, Pasta or even nasi lemak! You can chill there with their alfresco dining options or enjoy some cool indoor dining.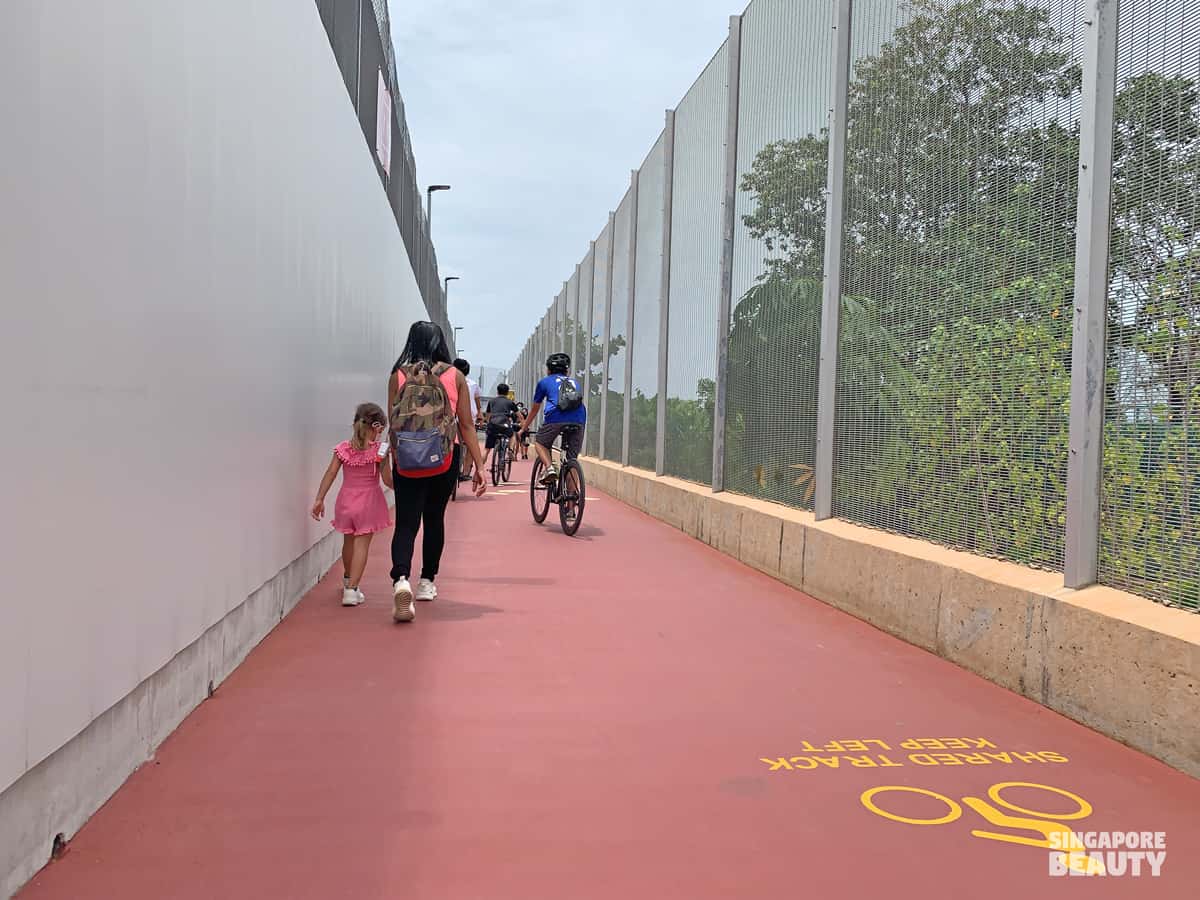 Easy to navigate even for kids and elderly as the place is pretty much flat and not much terrain. There are also some shade from one side of the tall walls that divided the airbase and the park connector path.  This is a good size path that is shared by runner, joggers, cyclist and walkers. Hence while you are there, place be cautious of the cyclist around you if you are walking and vice versa. Those with young children should keep a keen eye on their charges to ensure it is a safe enjoyable path for all to share. Cyclist should too be watchful of elderly strolling along and onlookers who are engrossed with the exhibits.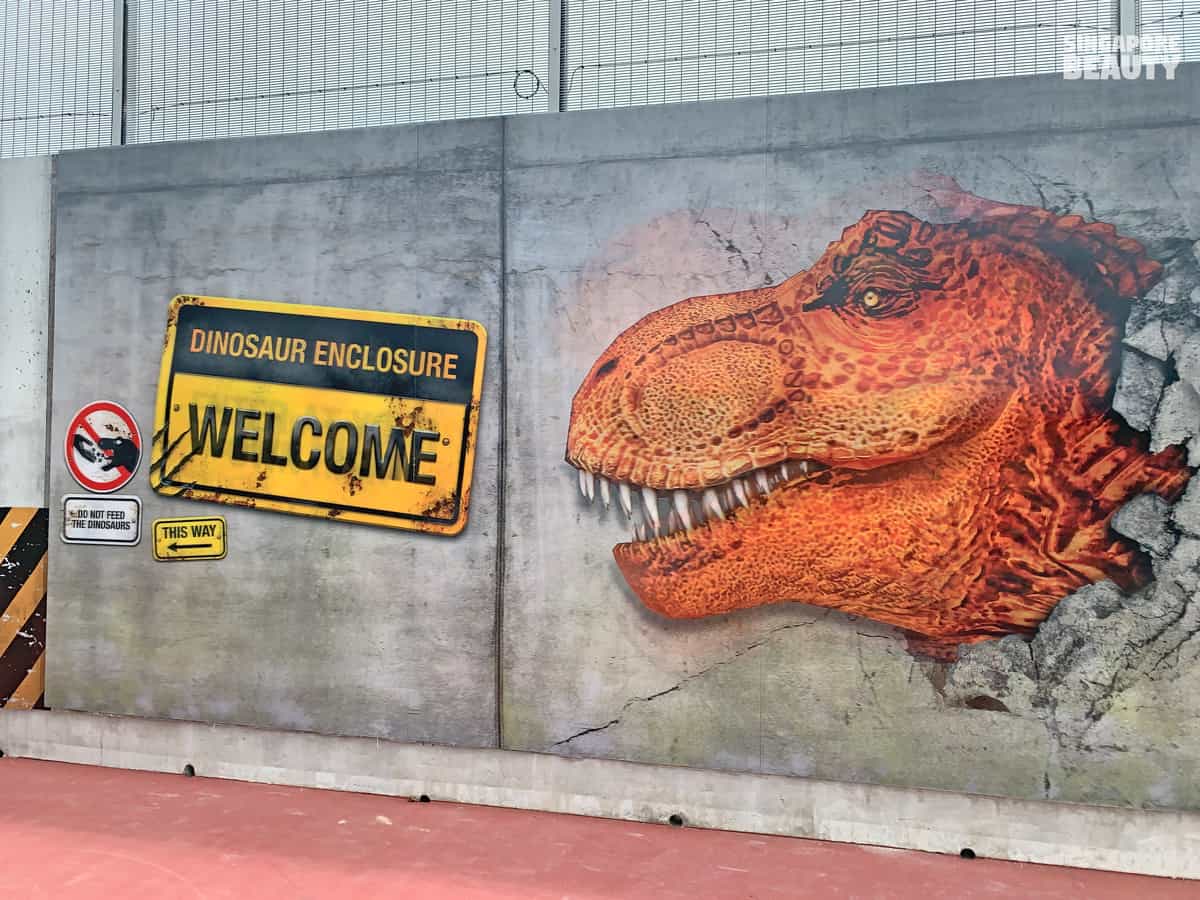 It will be the latest tourist attraction when the travel bubble is reached between countries or when the travelling resumes. Welcome to the Dinosaur Enclosure lenticular print at the entrance.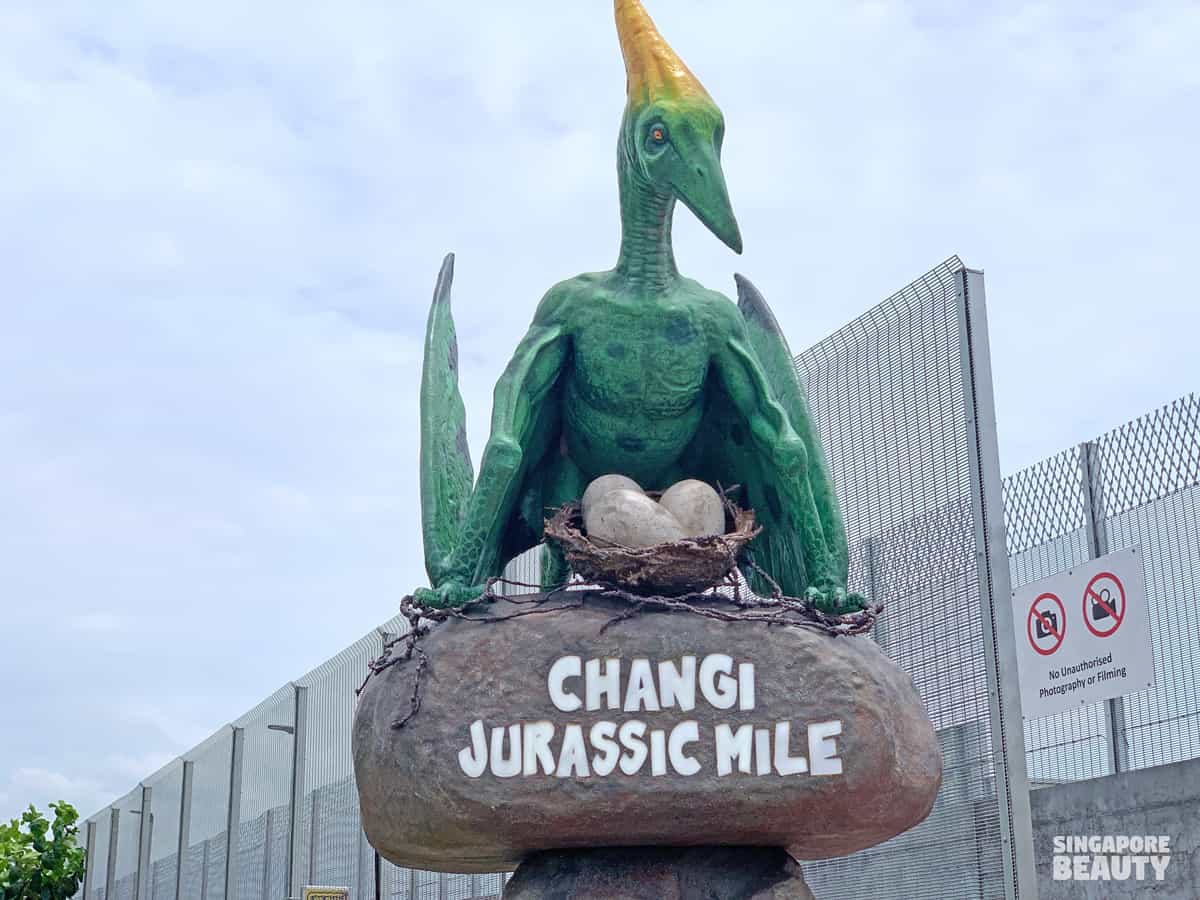 Changi Airport Connector Jurassic Mile is definitely on our list of tourist must visit and must see free activities in Singapore the first thing to do when they land.
Address: Changi Jurassic Mile (Entrance next to Changi Airport Terminal 4 Car Park 4A)
Bus to take: 24,34,36,110
Nearest MRT : Changi Airport
Admission is free!