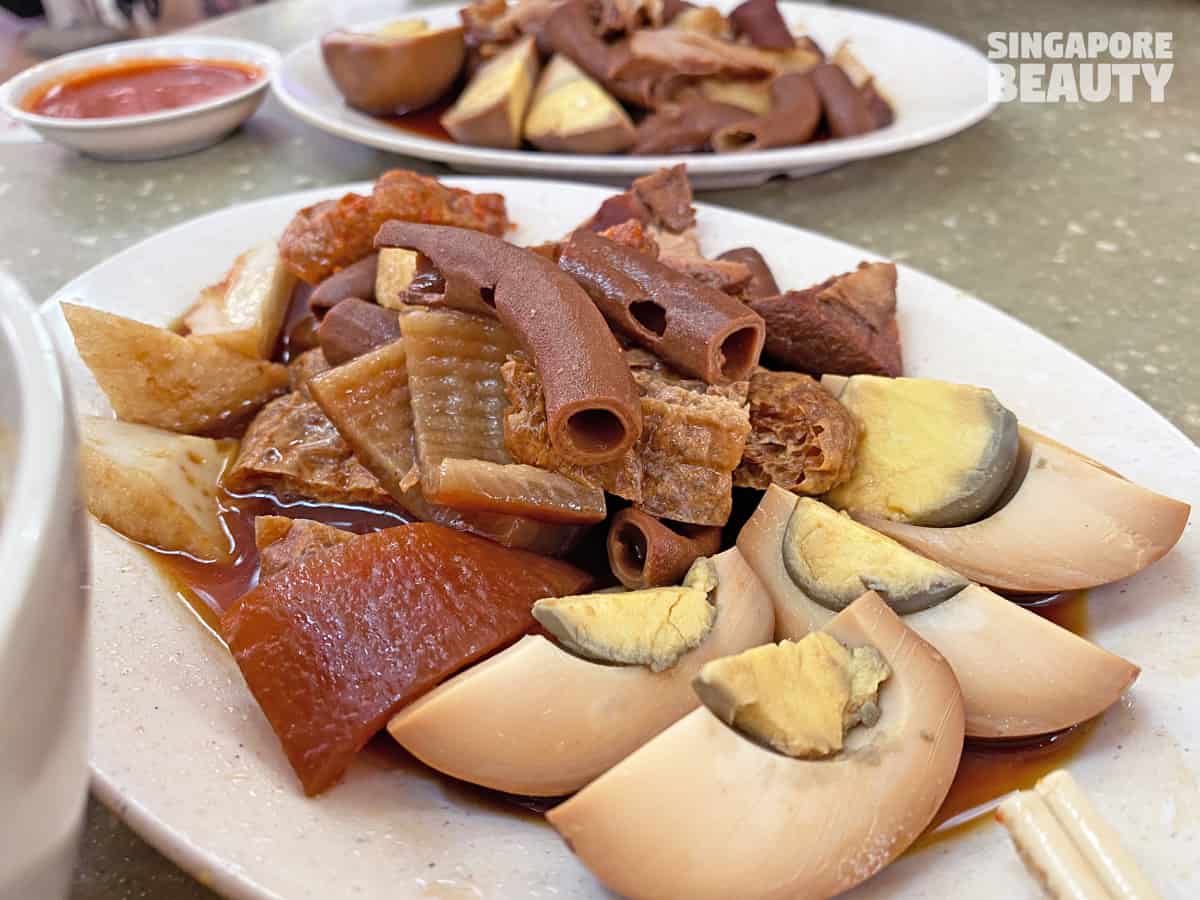 Guang Liang Cooked Food is a hawker stall selling kway Chap and is often sold out before lunch. Kway chaps is a Teochew dish that comprised of a plate of braised pork innards and a bowl of flat rice noodles in savoury soy based dark broth.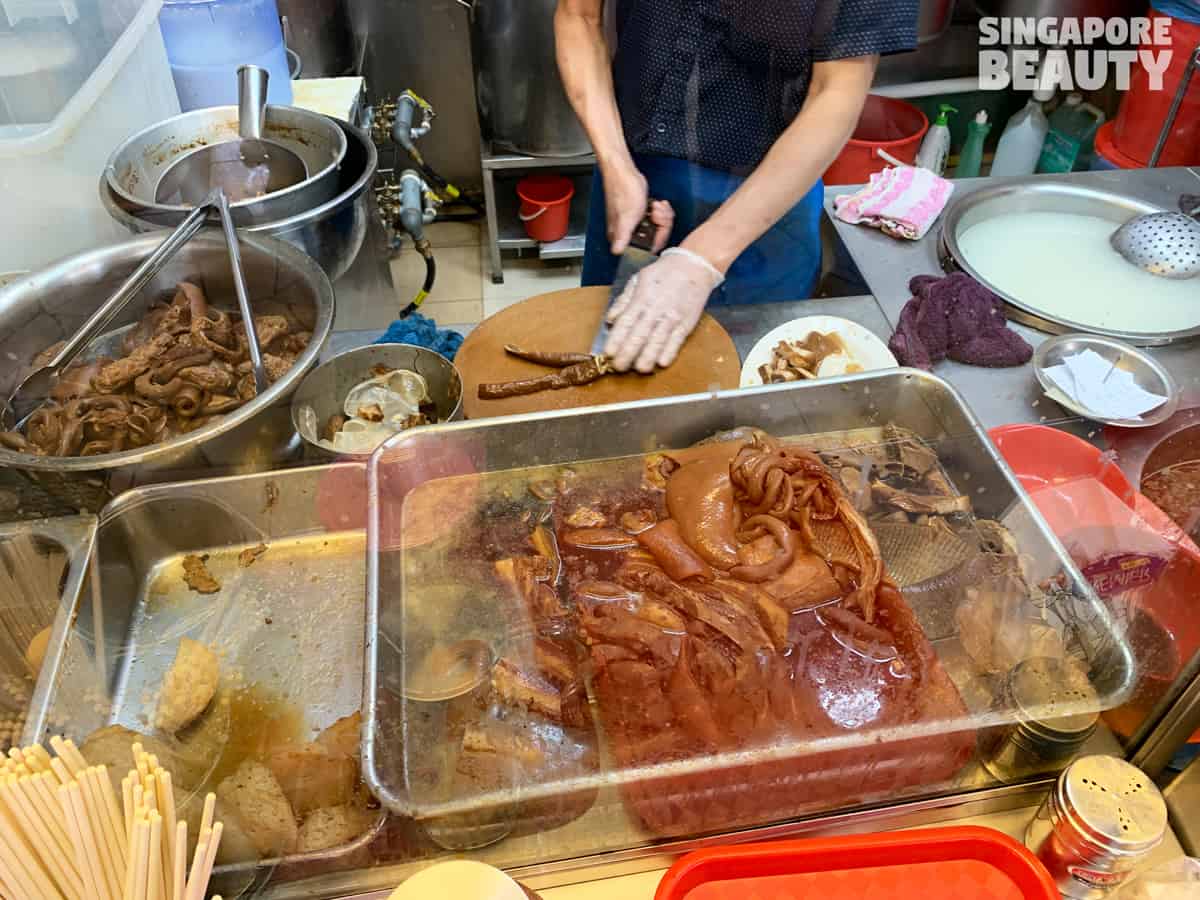 Guang Liang Cooked Food is famous for their kway chaps 粿汁 braised pork belly, pork intestines and are value for money. It is one of the best kway chaps 粿汁 in Singapore as testified by the constant long queue daily.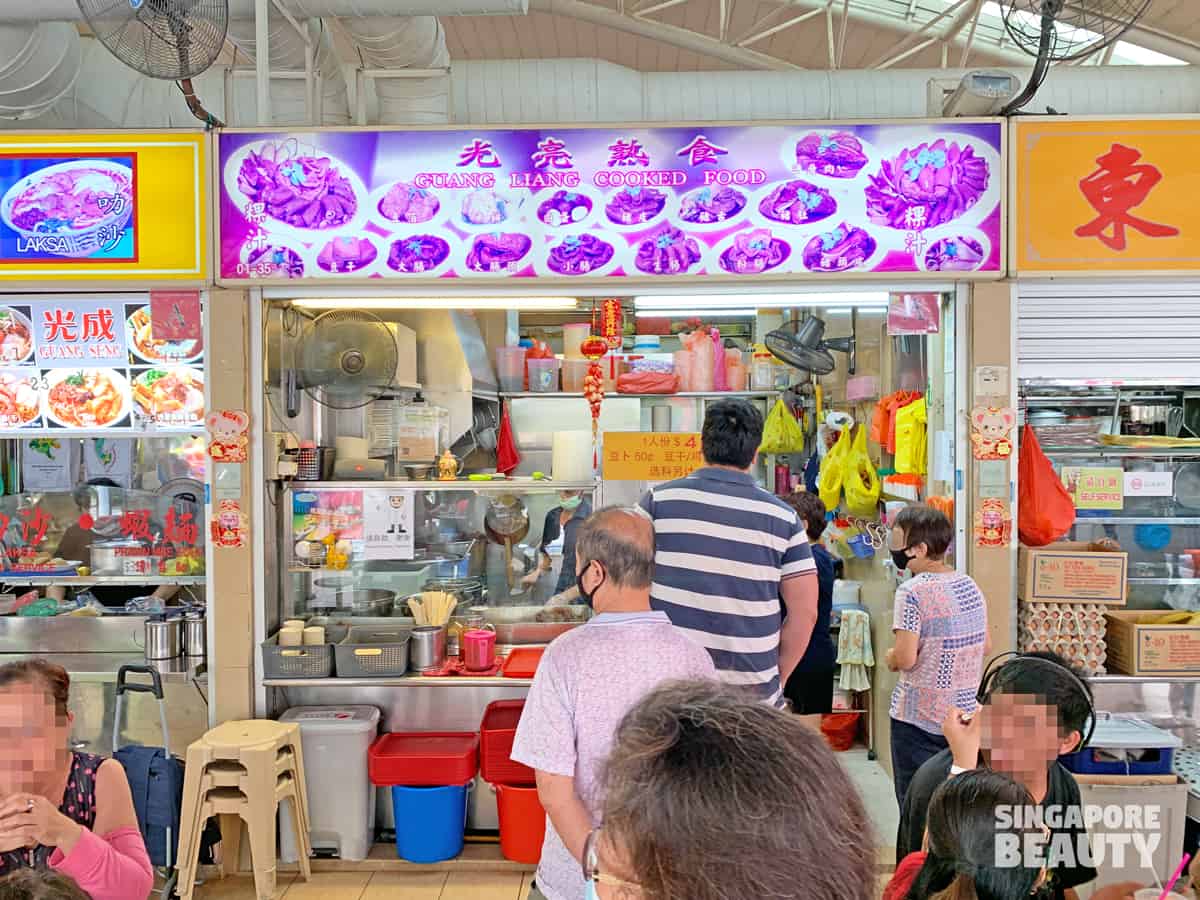 Guang Liang Cooked food is located in Bedok Reservoir Food Centre, you can choose to customize your plate of pork innards or take the standard plate that consists of mixed pork innards and some other sides.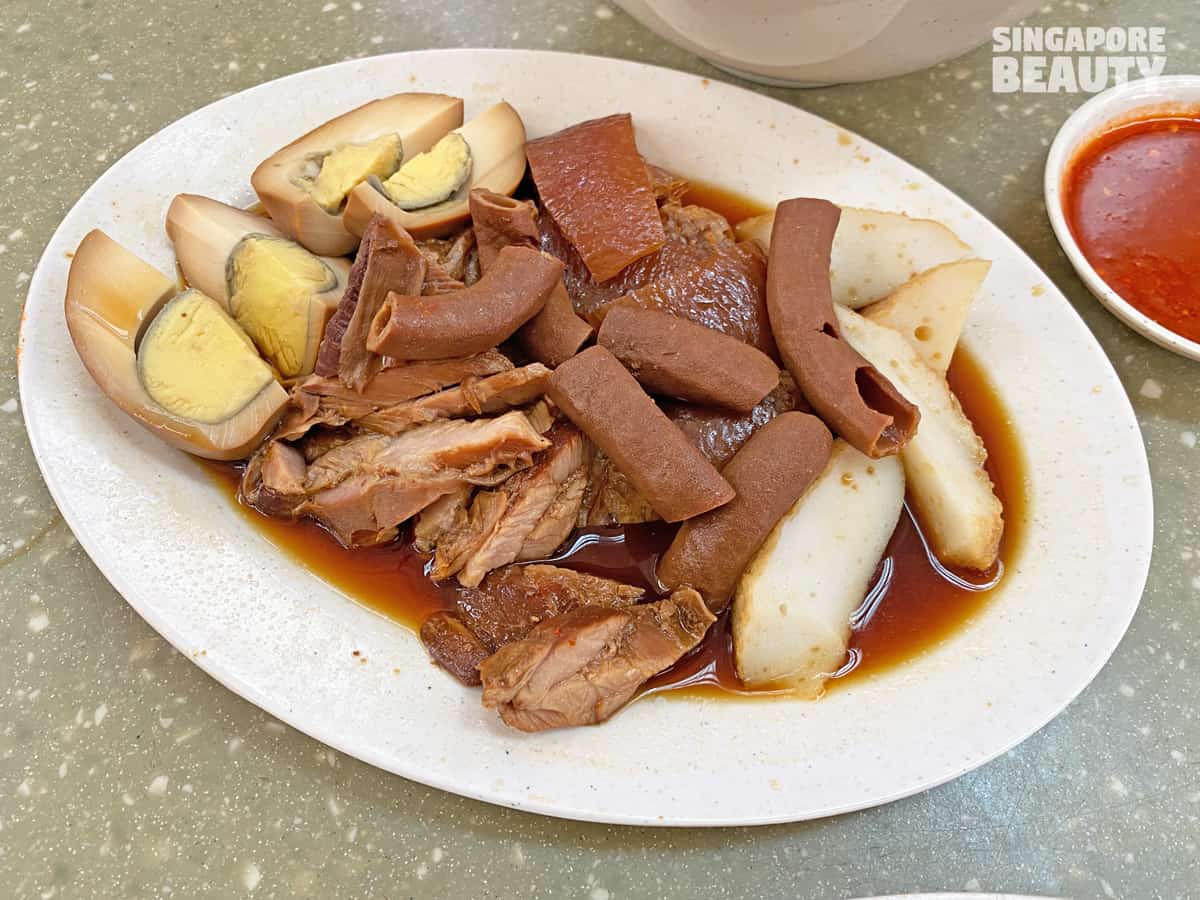 The standard plate of chap at Guang Liang cooked food menu consist of braised egg, pork skin, small pork intestines, fish cakes, braised pork belly and tau pok.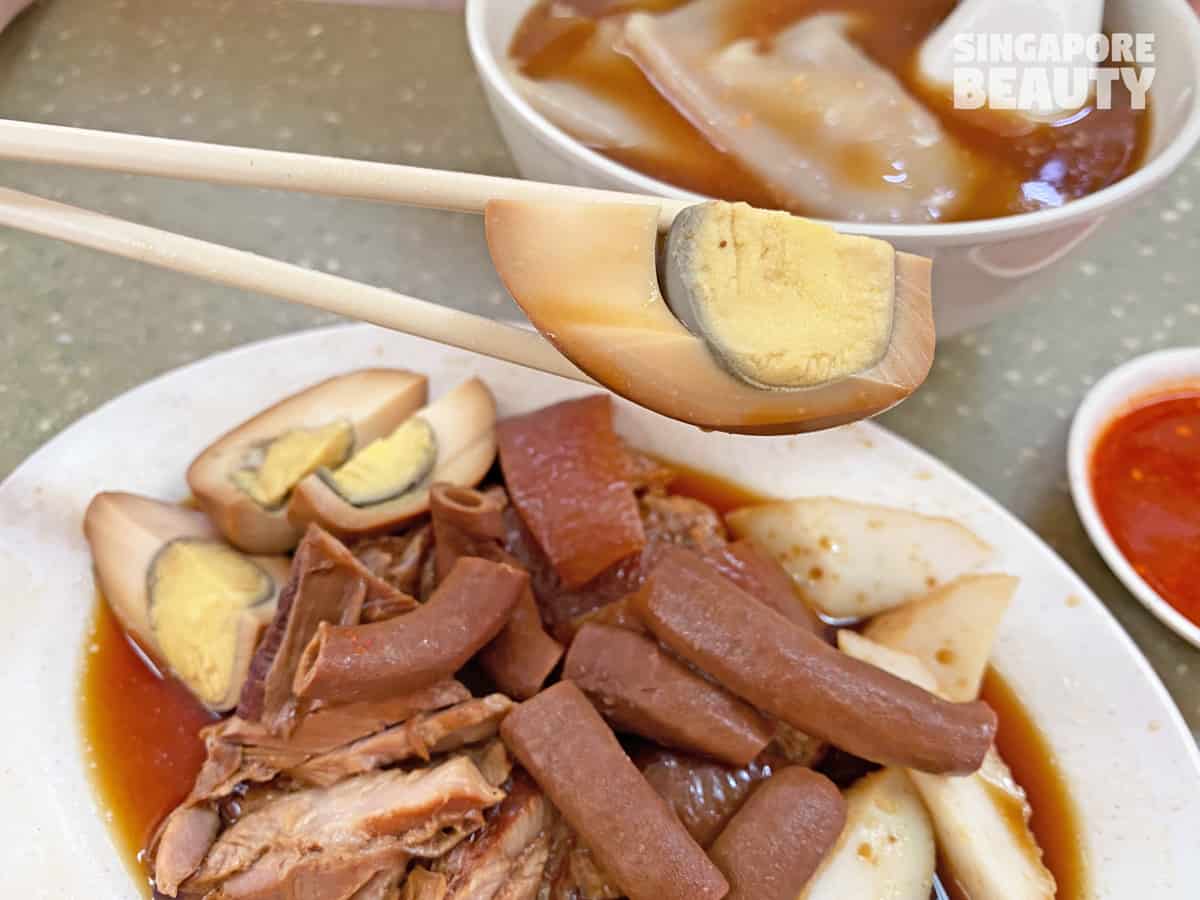 Braised eggs are those well cooked type with a spongy texture yet breaks into curd bits when bitten. From the look of the yolk that takes on a sunny yellow hue with a grey coat, you can tell the egg is super hard boiled and custardy texture. The egg white is fully infused with the flavours of the braise and takes on a gradient type of amber hue. This egg is extremely flavourful and on the briny end.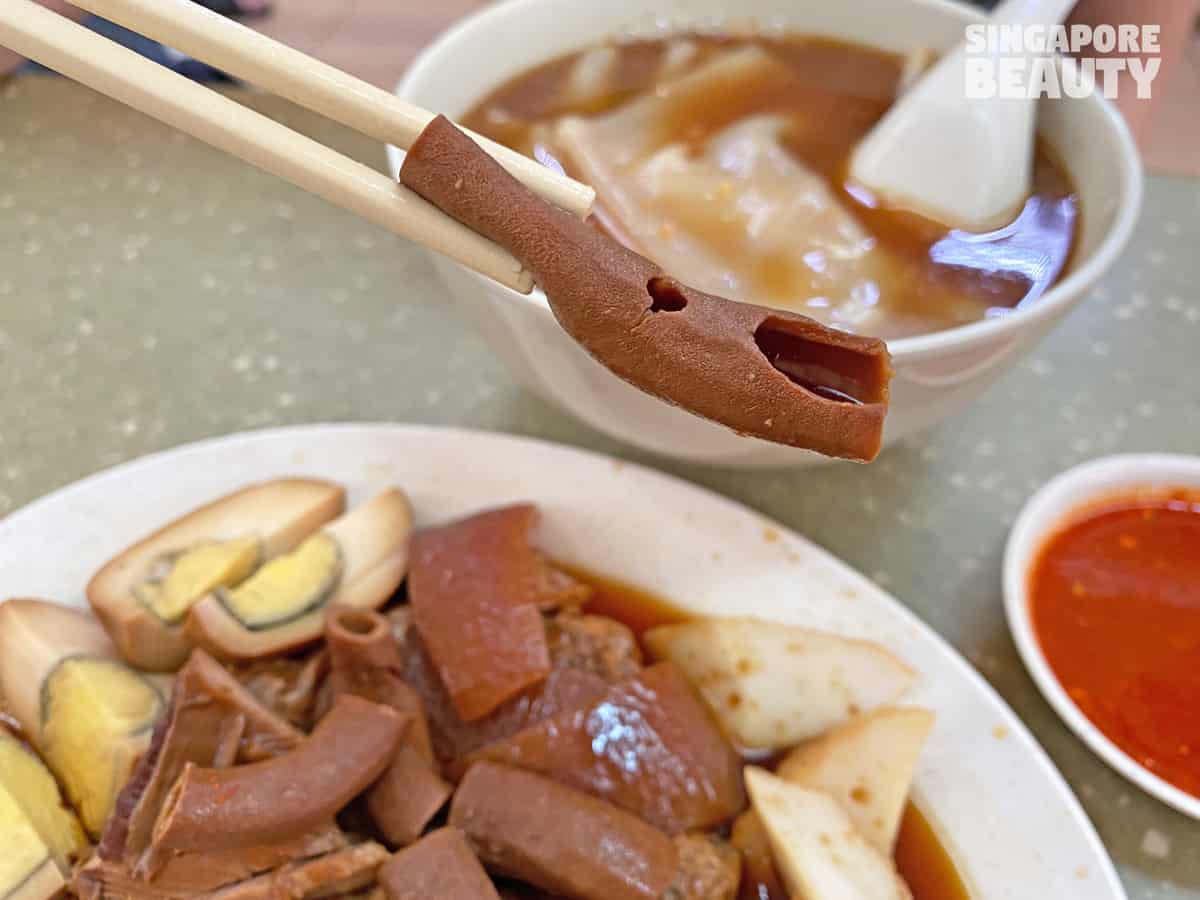 The small intestine at Guang Liang Cooked food is a must order best seller dish. The intestines are so well cleaned that only the skin of the intestines are left and you will not find any of those grit that belongs to the inside of the intestines. It is the tender and melts in mouth type without need for much chewing.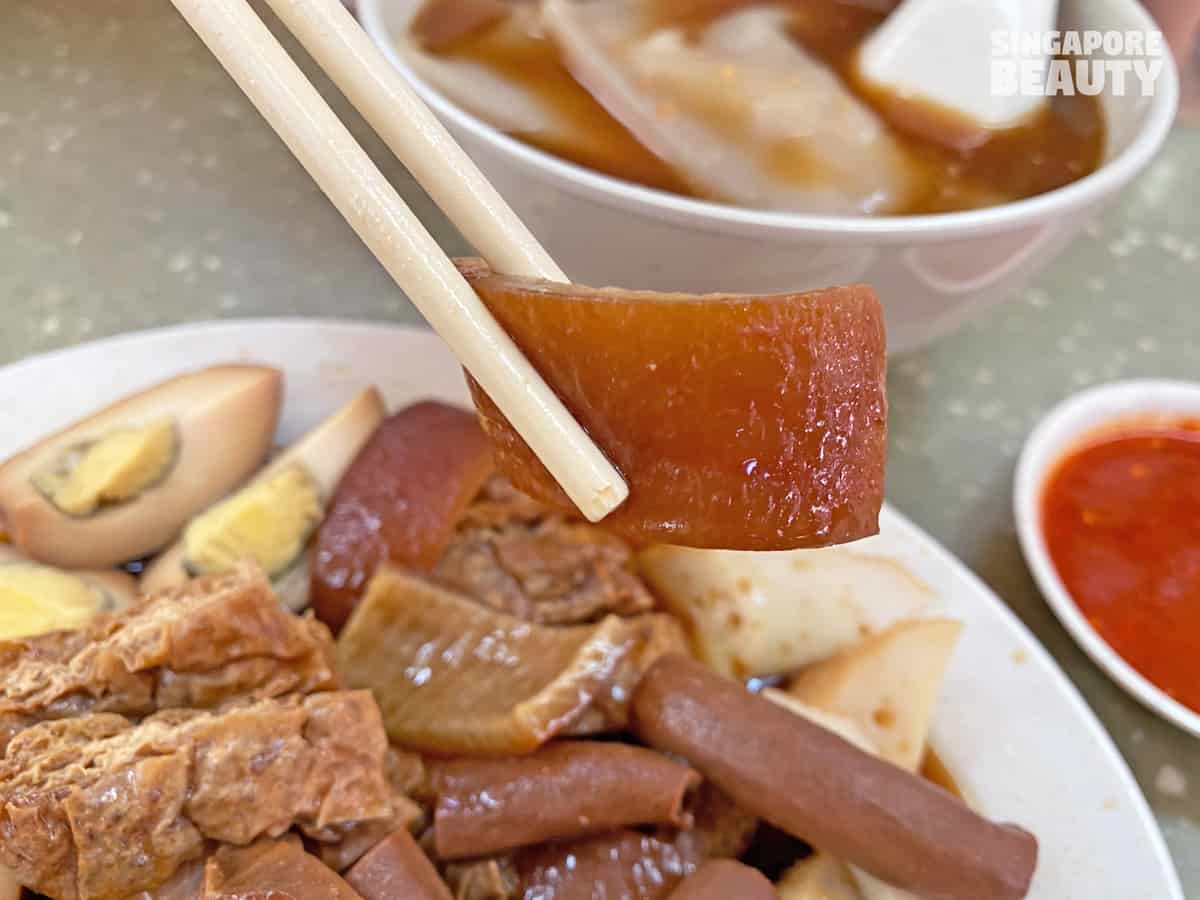 Pork skin is well cooked till it has a firm jellied like texture. The gamey flavour of the pork skin is non-existent and has a gelatin like texture to it. Very rarely, will you find a few stray animal hair on them, but most of the time the skin is well cleaned.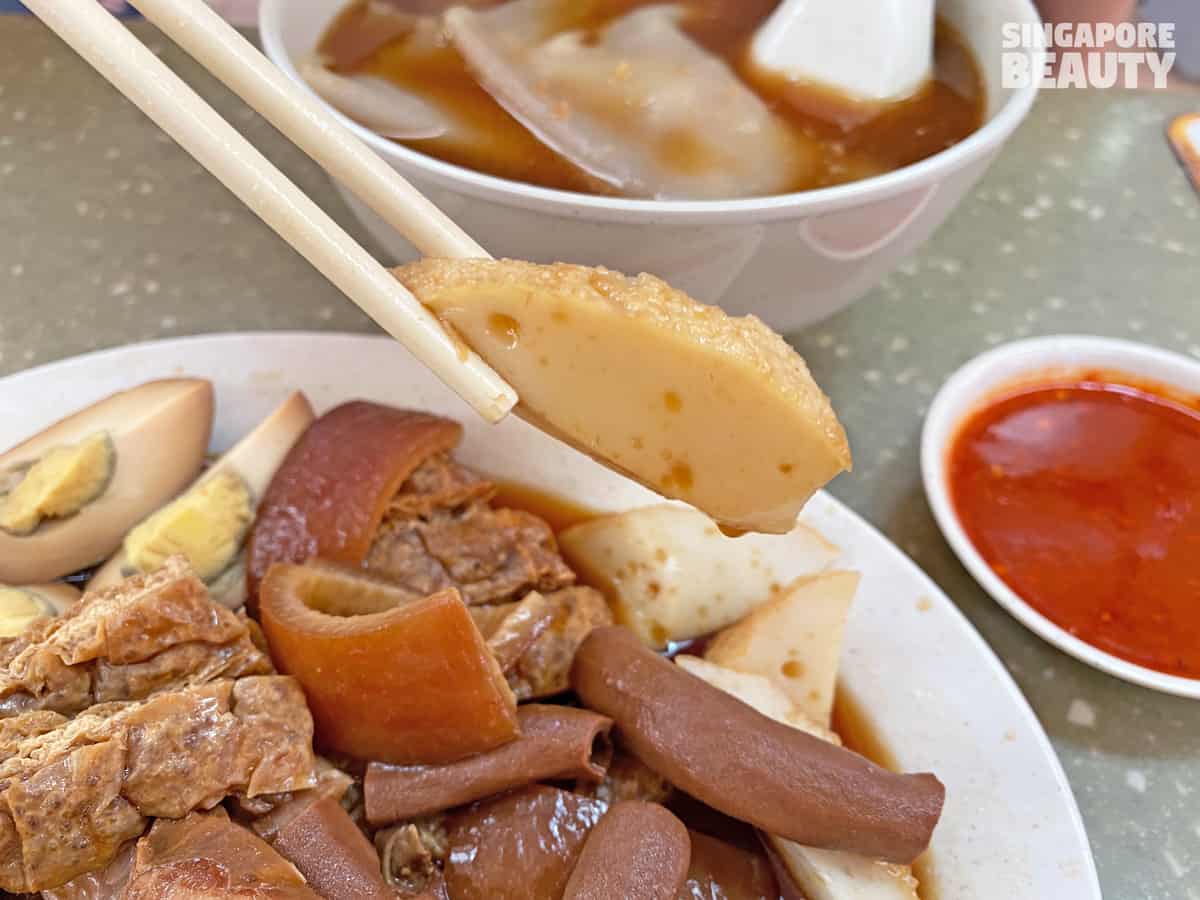 Fish cakes are the average fish cake that you find in any fishball noodles. It has a light crusty skin that encases the soft fish cake which makes it a joy to eat.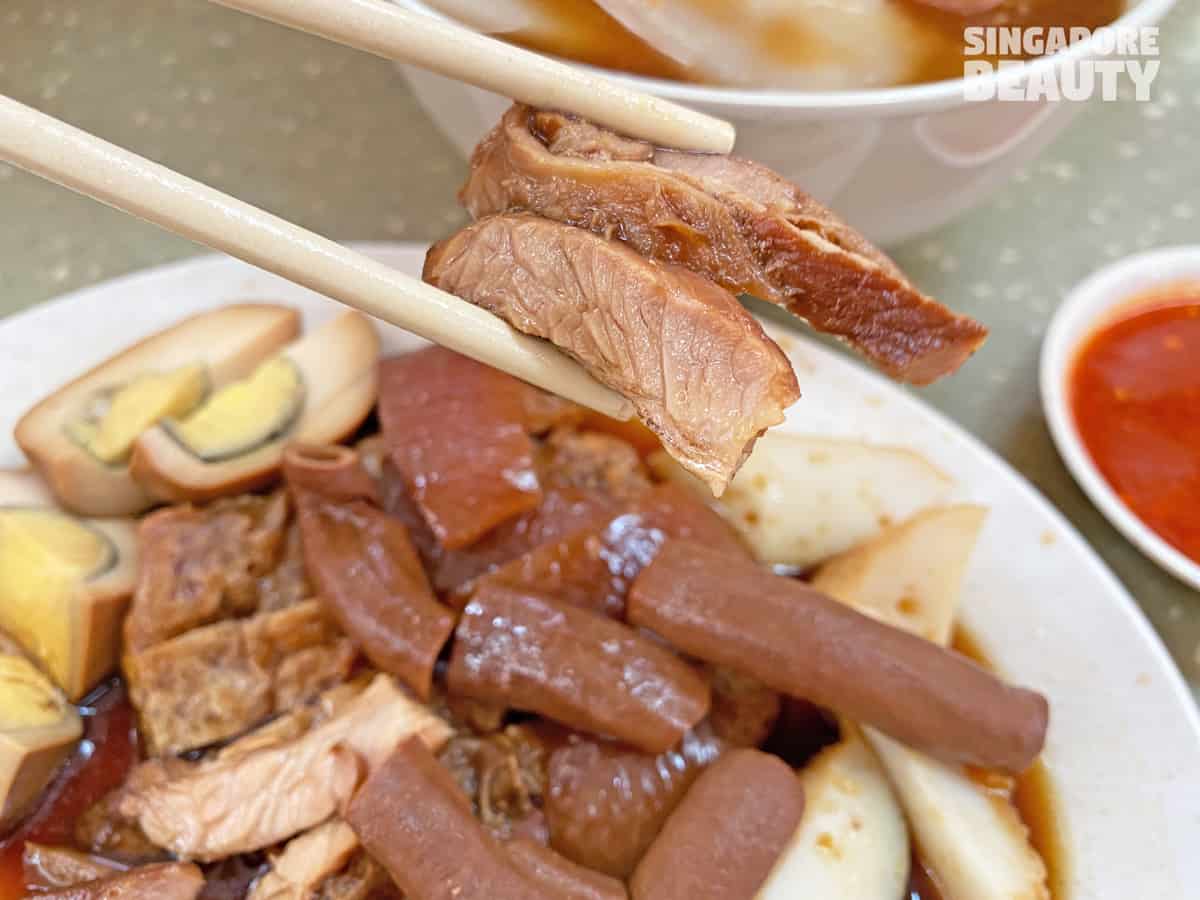 Braised pork belly are the more lean type with fork tender meat that is so well braised till with a dark amber hue. In the standard plate of Kway chap, the portion of pork belly is considered generous.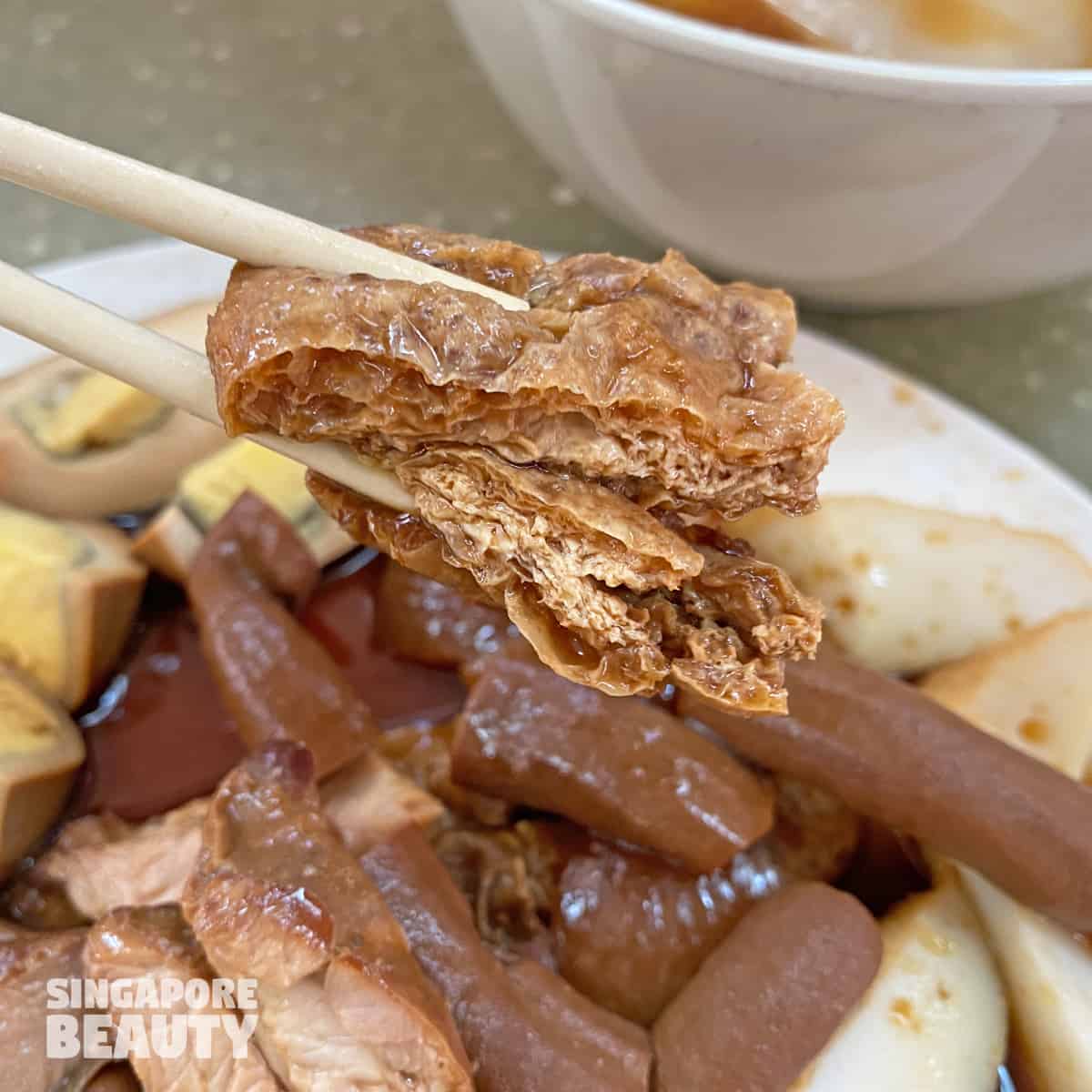 Tau pok are extremely curdy and has fully absorbed all the flavours of the spiced soy based marinade. Beware of the explosive juice that spurts out when you bite on them. Dip them in the homemade chilli sauce for an extra tangy kick.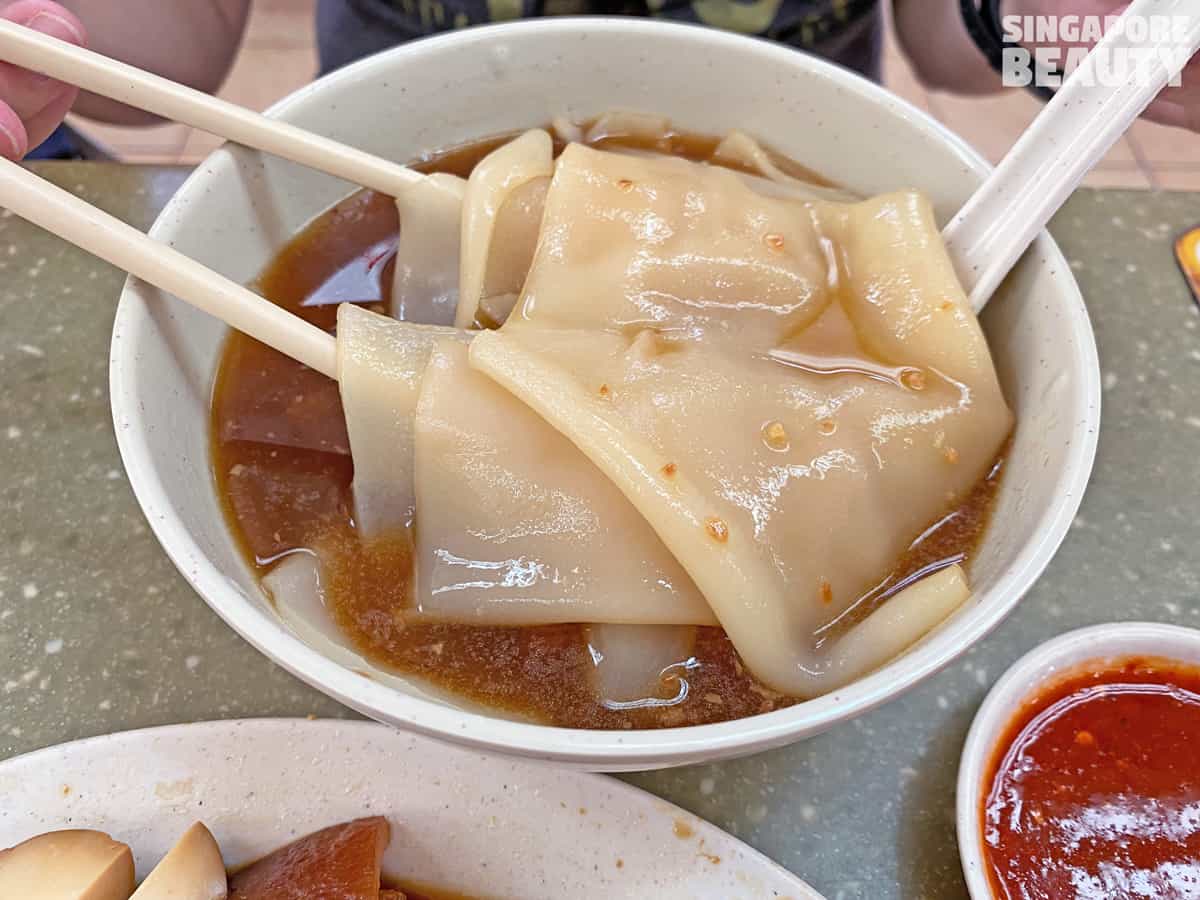 The bowl of rice flat noodle is swimming in a savoury garlicky soya based broth. These rice flat broad noodles are so slippery that you need a chopsticks and spoon to get them into your mouth.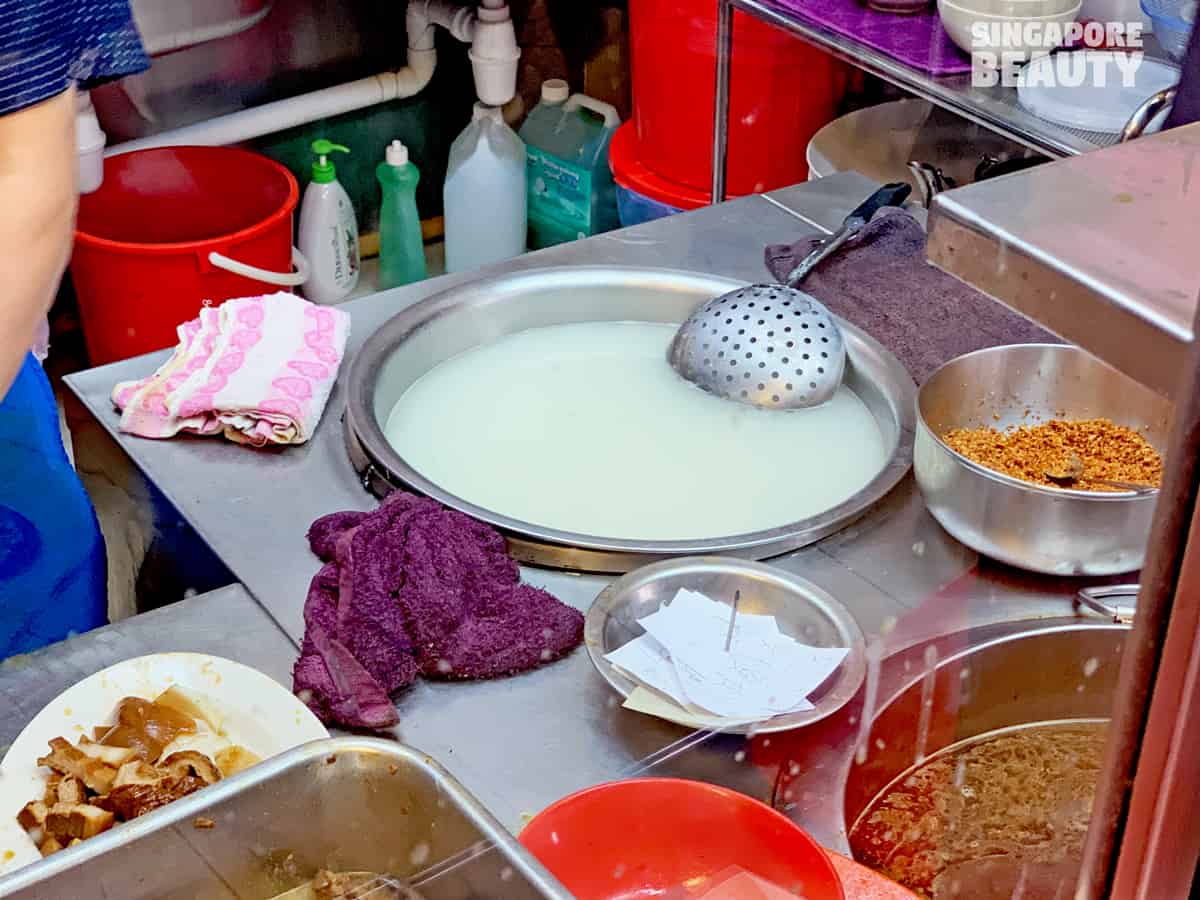 The signature broth is mixed with some rice water from boiling these noodles for a thicker and silkier broth texture.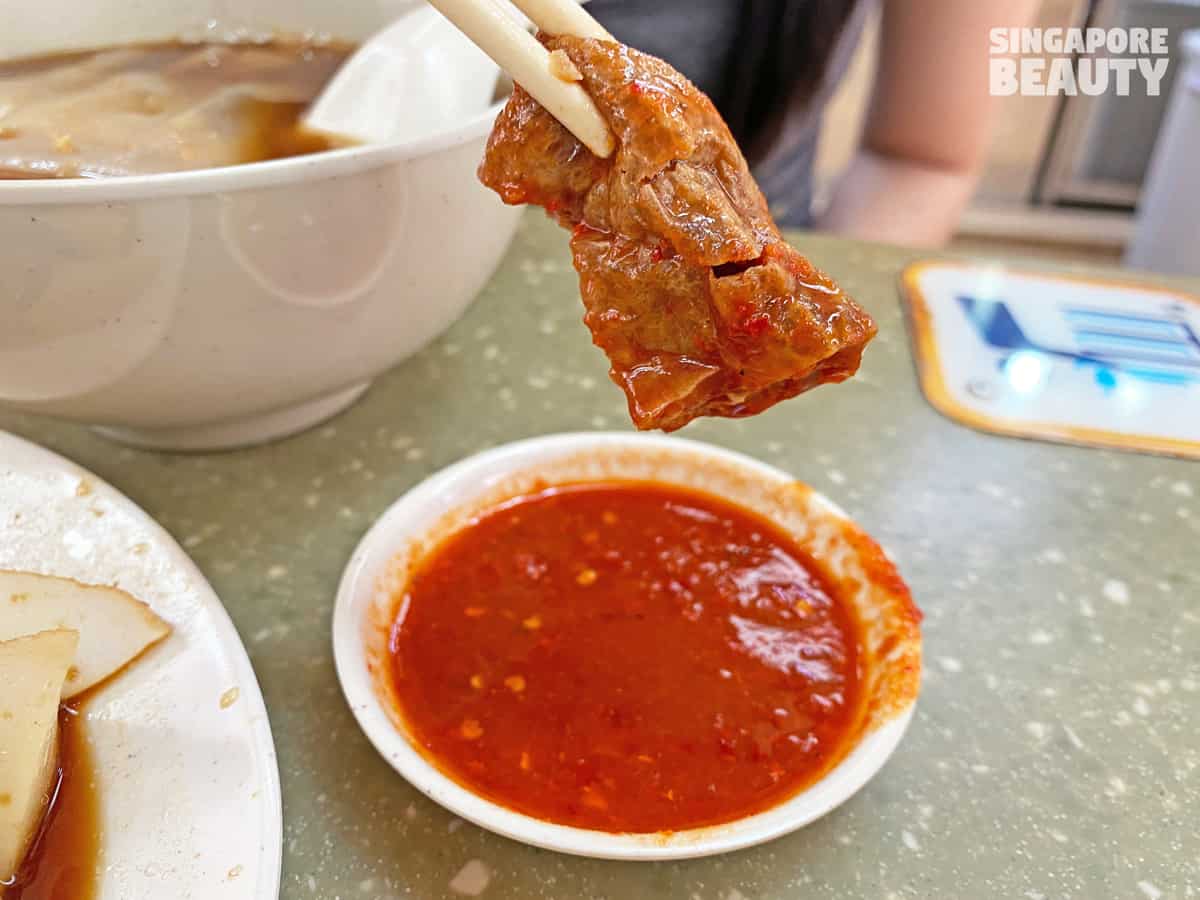 The chilli sauce is a must have in this Guang Liang Cooked food kway chap as it has a nice vinegary base with a little bit of heat.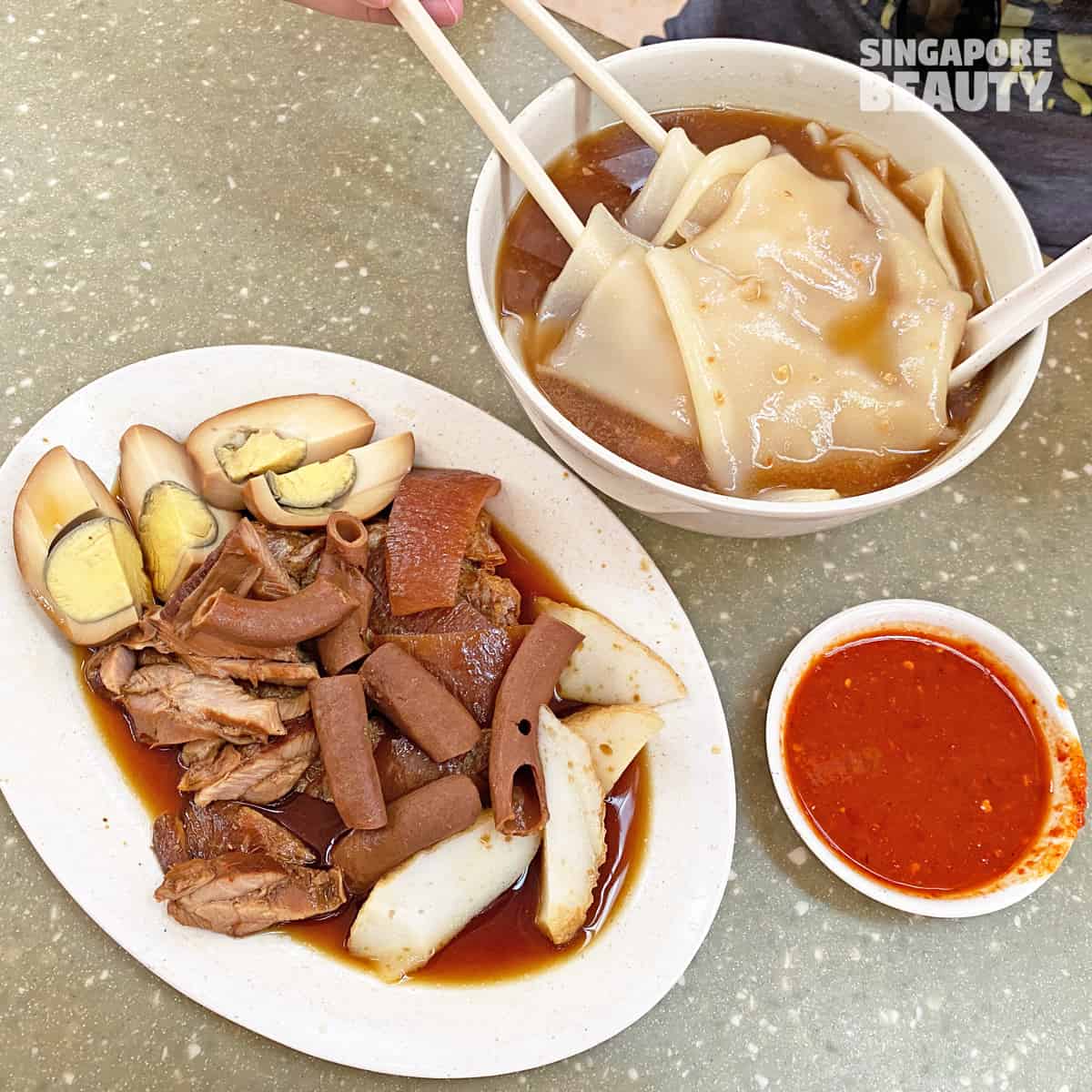 The chilli sauce also helps to cut the grease should you feel any while having the chap mixed pork innards platters. It adds a tangy tone to both the mixed pork platter and kway.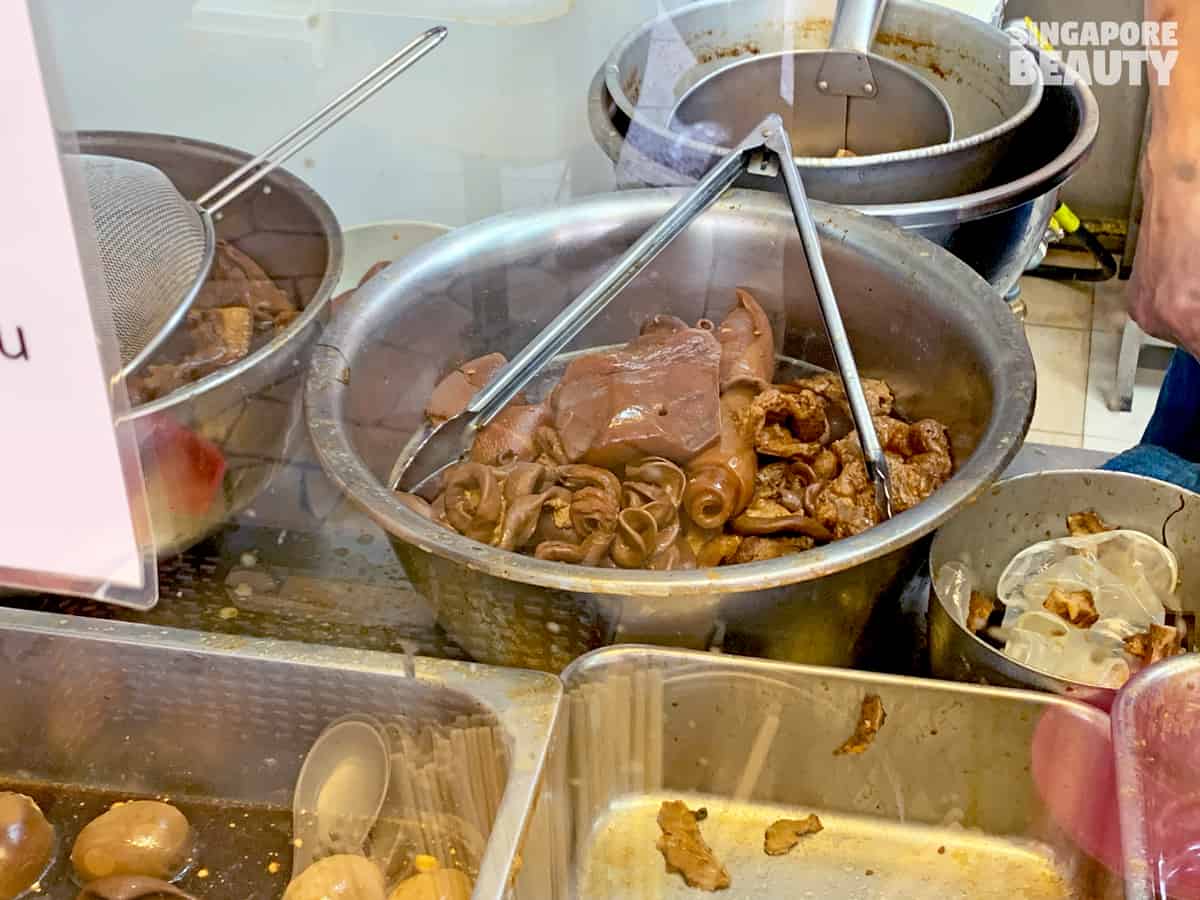 Every item is so well marinade with their own unique texture and flavours to complement one another.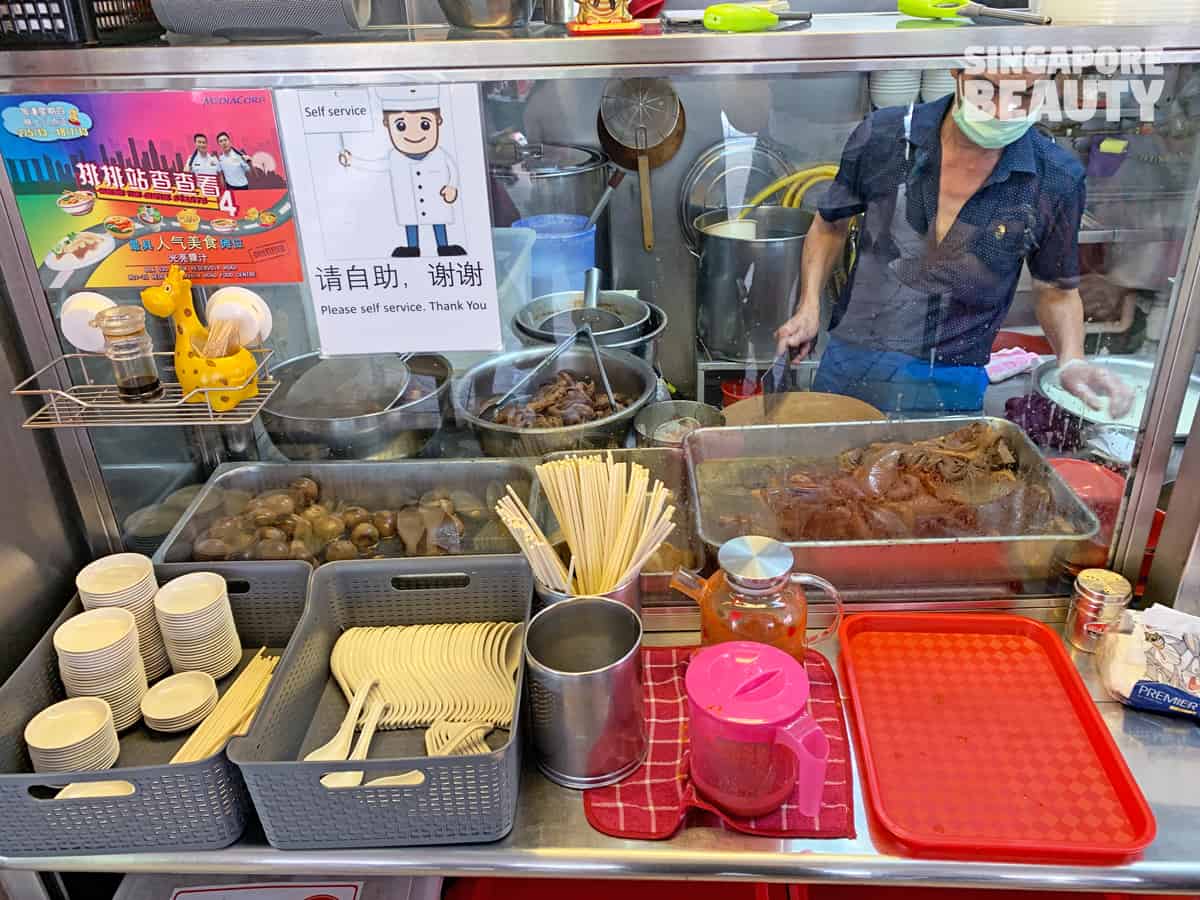 The overall verdict for Guang Liang Cooked Food is that from this simple platter of famous kway chap, you can taste the hours of preparation put into it. Yes, this is worth waking up early and queuing for this set of slurp worthy kway chap that makes your heart go bedok bedok.
Guang Liang Cooked Food Location:
Bedok Reservoir Food Centre
630 Bedok Reservoir Rd, #01-35, Singapore 470630
Opening hours:
5.30am to 1 pm (Wed to Sun)
Closed on Monday and Tuesday