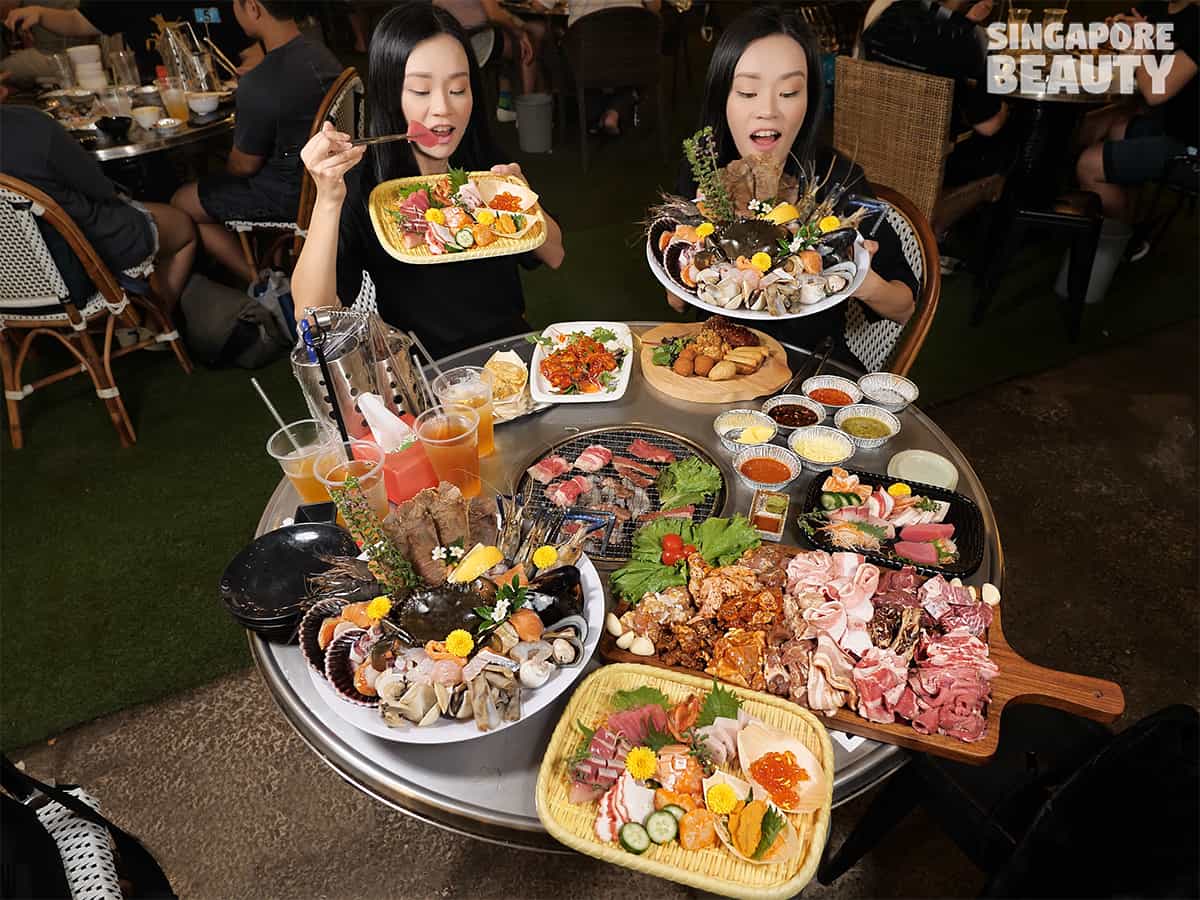 Singapore's largest al fresco buffet The Three Peacocks is now open, the wait is over. We are talking about Singapore most popular buffet and reservation is required so as to ensure safe dining distance for all. Literally opened with a bang with a refurbishment and minor renovation to the dining area. Upon seated, you will be served with a welcome sashimi platter, a starter meat platter and a seafood platter to get you started.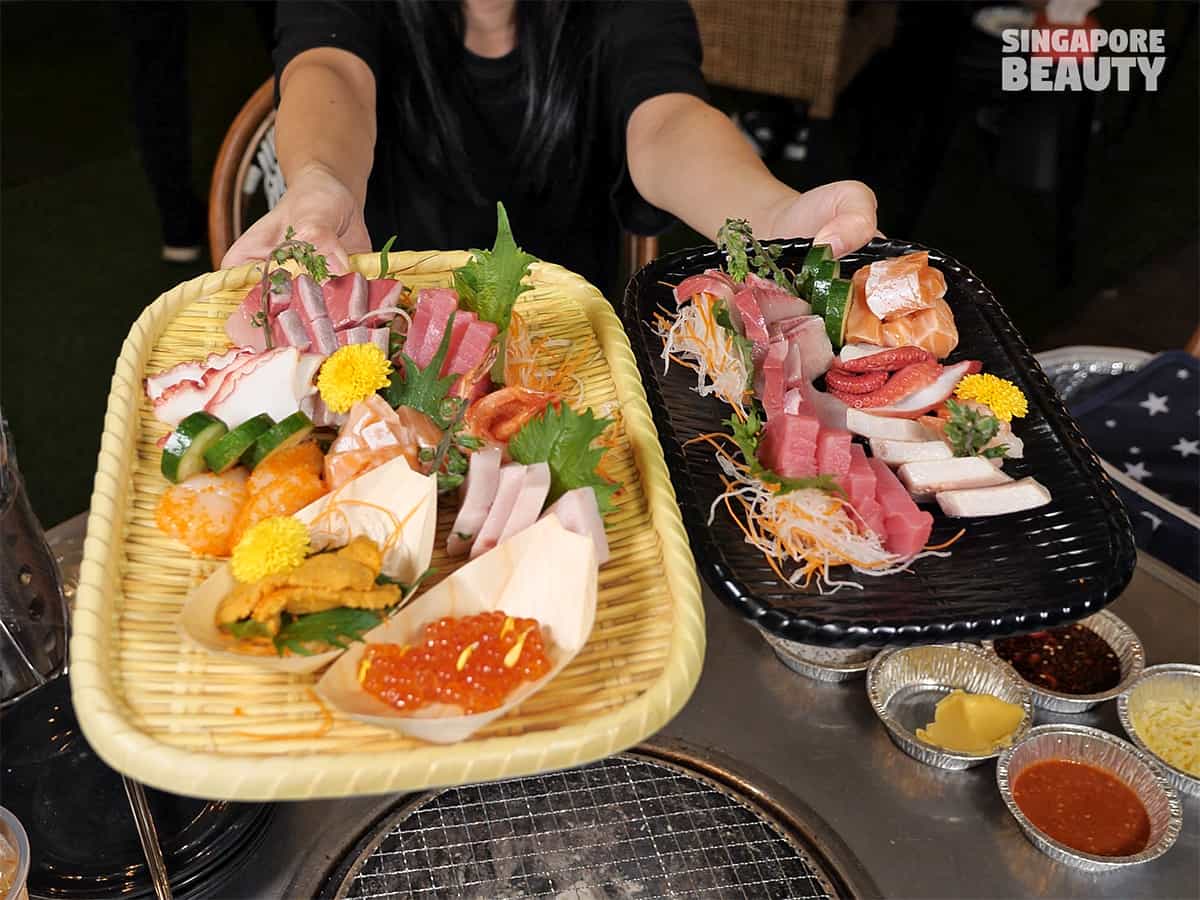 The Three Peacocks welcomes you with a sashimi platter in the woven plate and this redemption platter will only be served once. It consist of premium Uni (sea urchin), tuna, hotate(scallop), mekajiki (swordfish), hamachi (yellow tail), salmon, boiled tako (octopus), ikura (salmon roe) and sweet shrimp.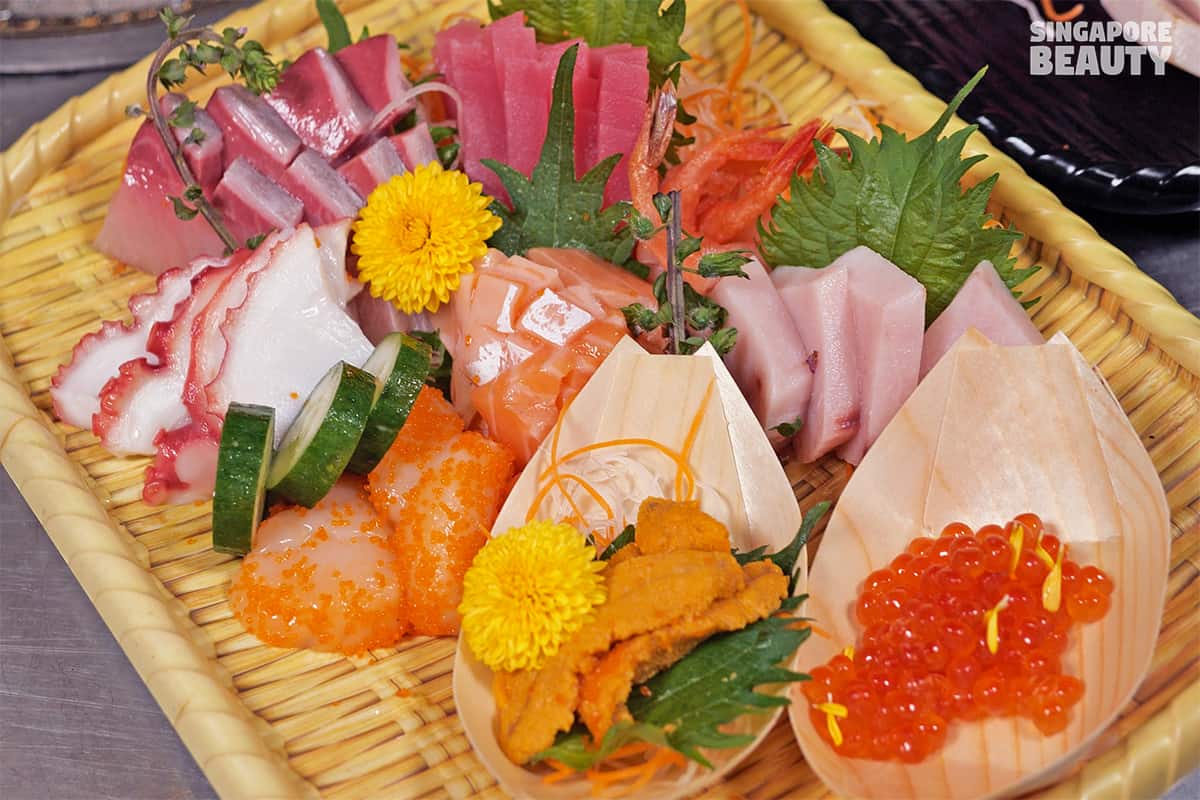 The premium items in The Three Peacocks sashimi platter are the uni, hotate and ikura. The briny uni is rich, creamy and buttery. Hotate are coated with flying fish roe which adds extra crunch to the sweet and tender texture of hotate. The ikura are mouthful of delightful burst of oceanic flavours with a briny rich aftertaste.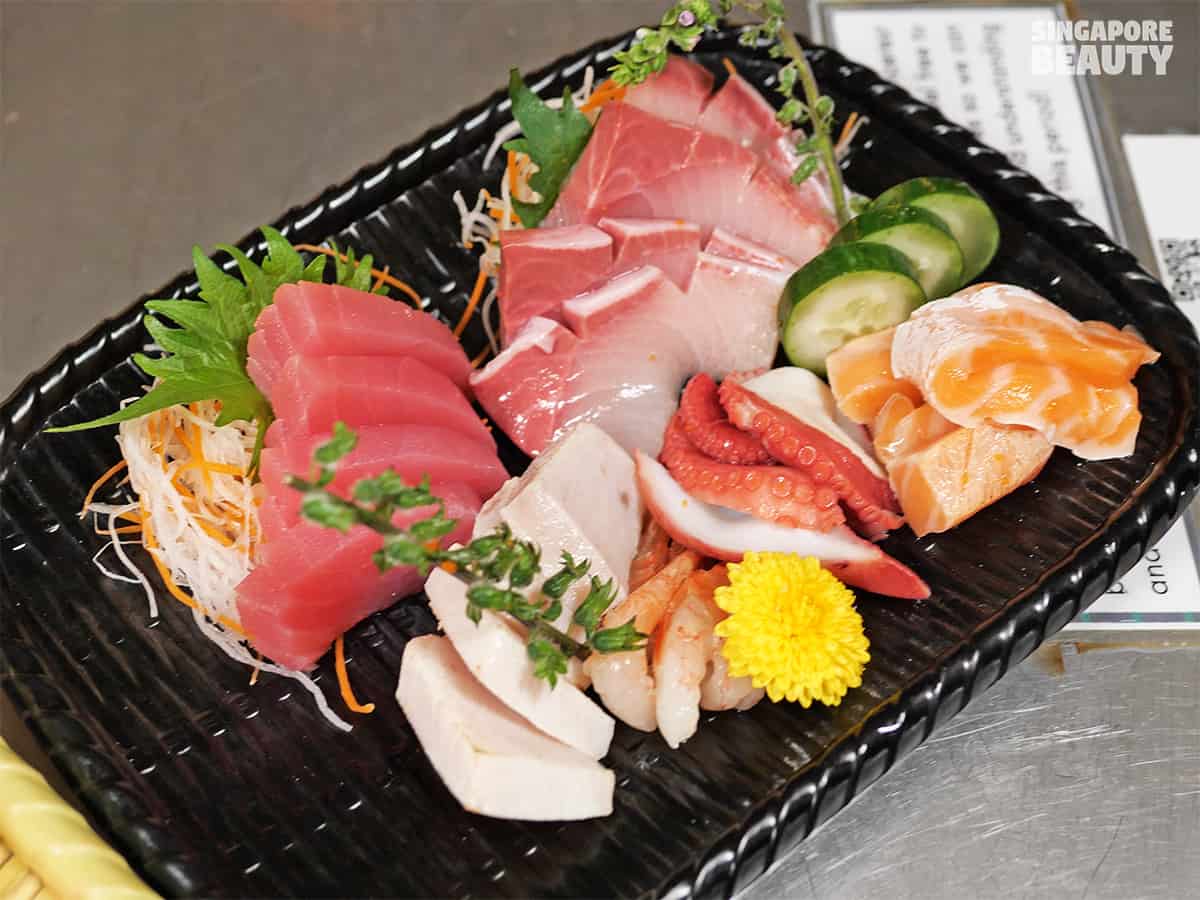 The second round of free flow sashimi will have all the above except uni, ikura and hotate. For sashimi lovers, this is as good as a sashimi buffet at The Three Peacocks. You can enjoy unlimited tuna, salmon, hamachi, sweet shrimp, taco and mekajiki.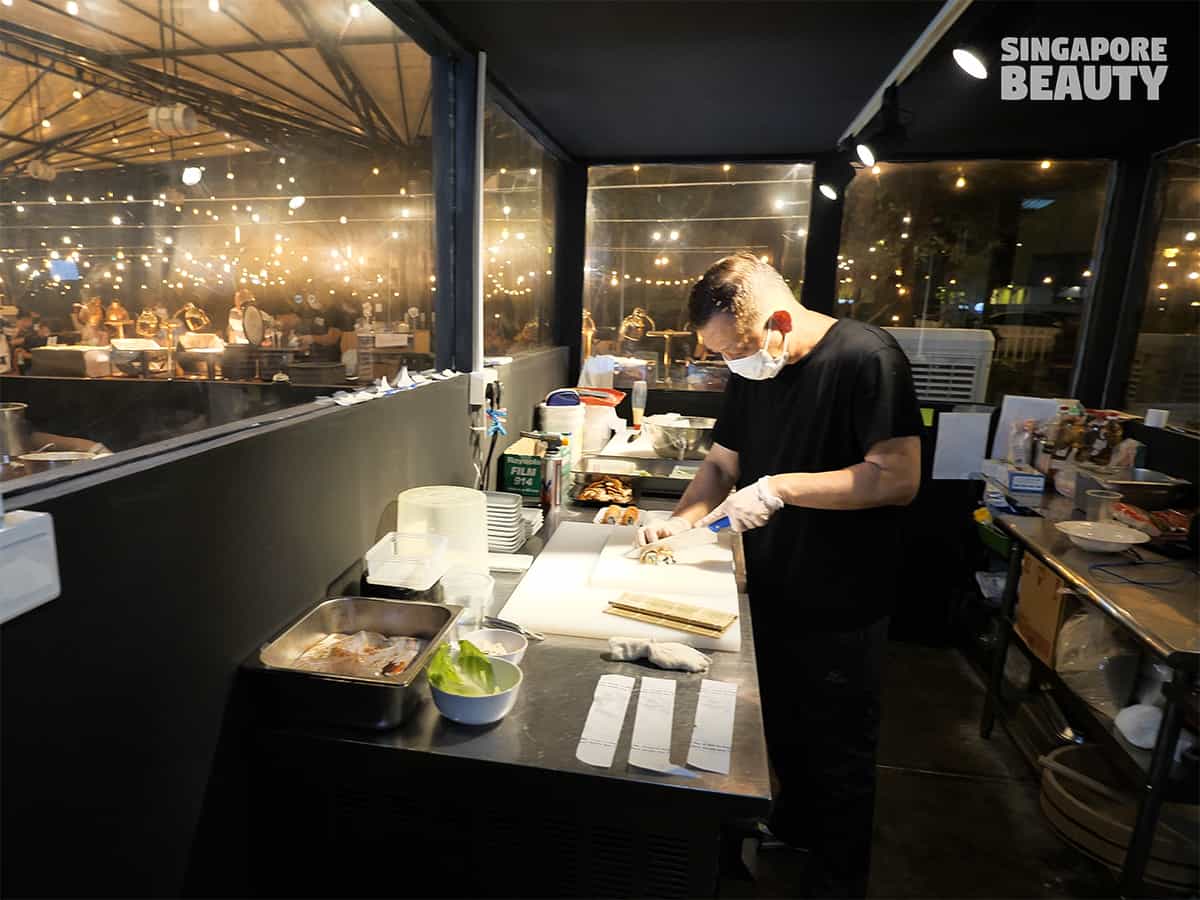 There is a newly added Japanese show kitchen for Japanese cuisine. The welcome platter of chirashi and sashimi is prepared fresh inside this kitchen.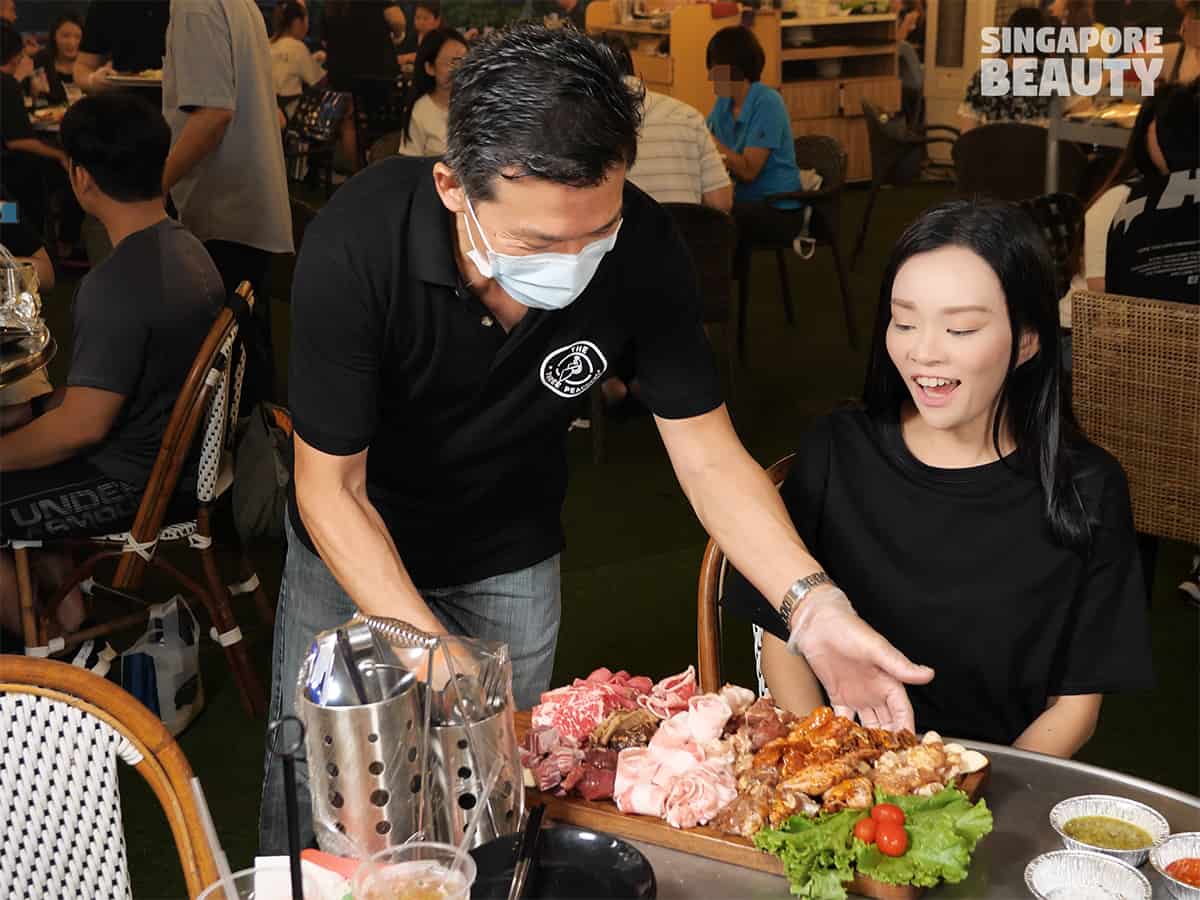 The second starter platter is an assortment of prized cuts of meats that is either marinated or in original flavour.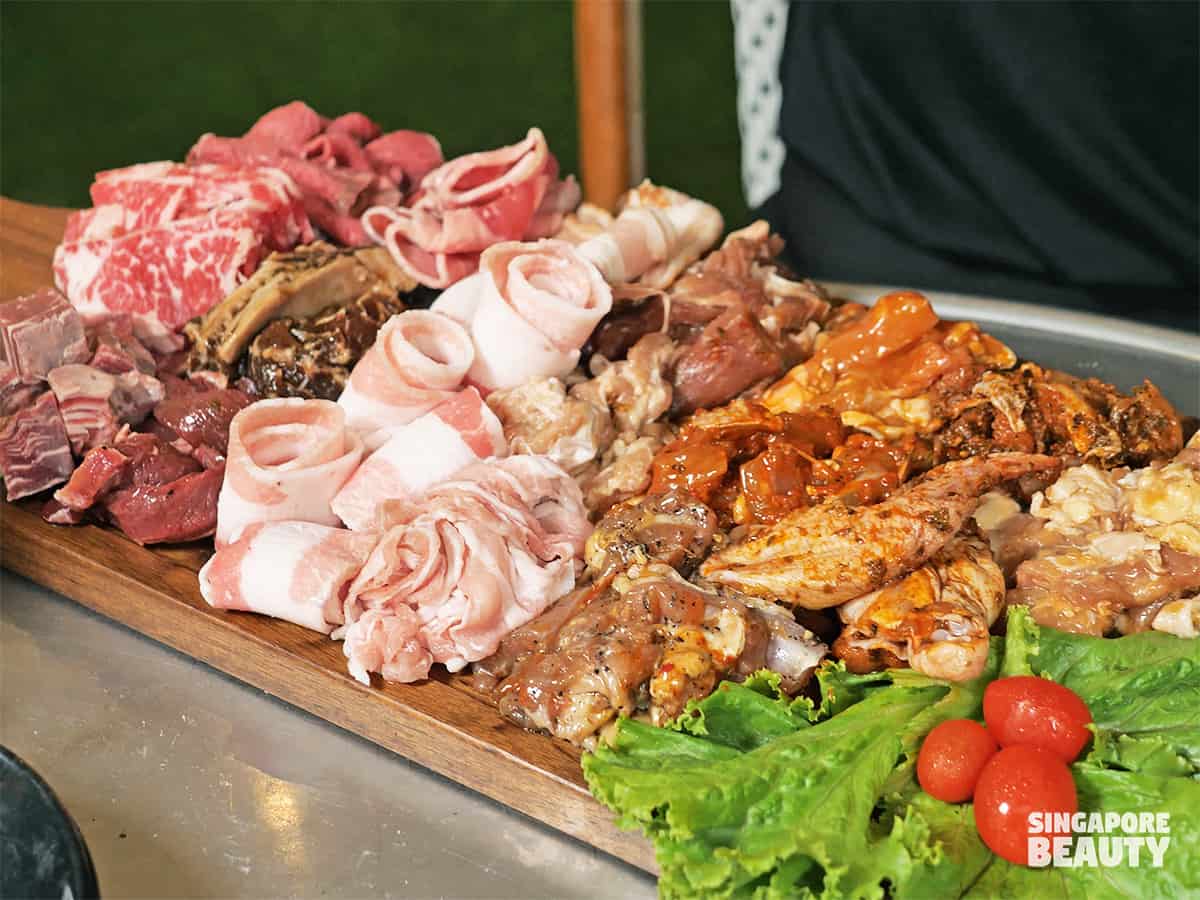 In this meat platter served by The Three Peacocks, you can find premium meats such as wagyu cubes, sliced wagyu, finger ribs, beef tongue, brisket, pork belly, korean marinated chicken wings, bulgogi chicken, black pepper chicken and more.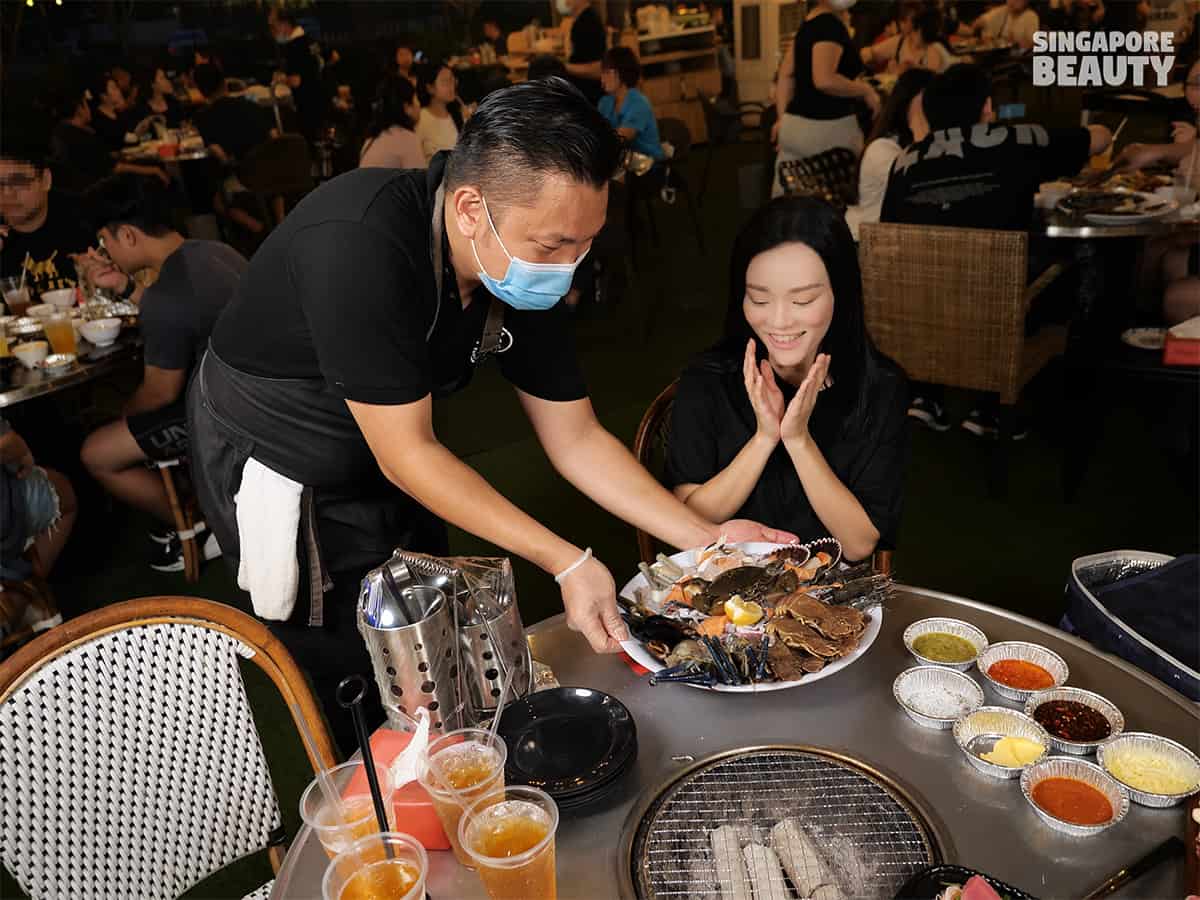 The third starter platter at The Three Peacocks is the seafood platter with live seafood that are freshly dispatched for you such as mud crabs and oysters for barbecue.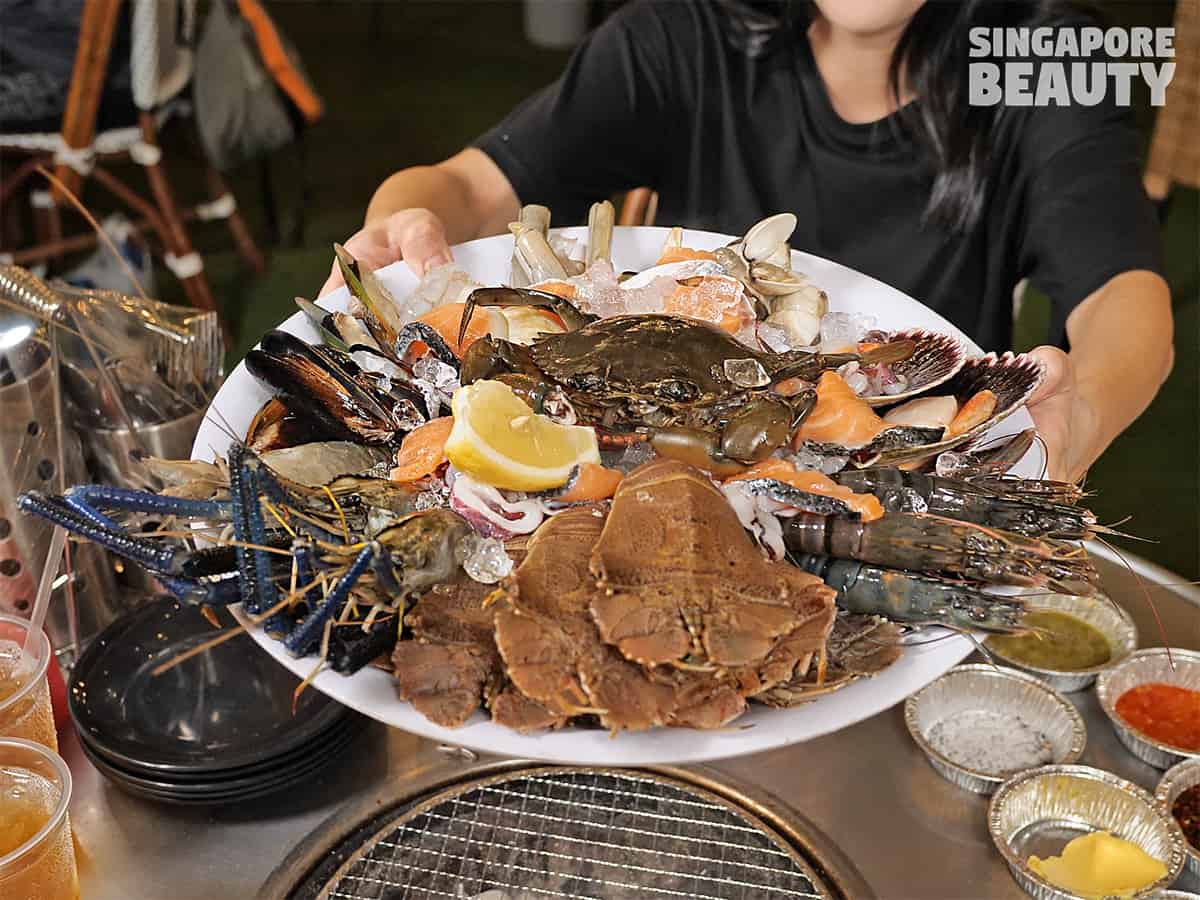 Inside this seafood platter, you can find a good mix giant prawns, slipper lobsters, half shell scallops, tiger prawns, bamboo clams, salmon and more shellfishes.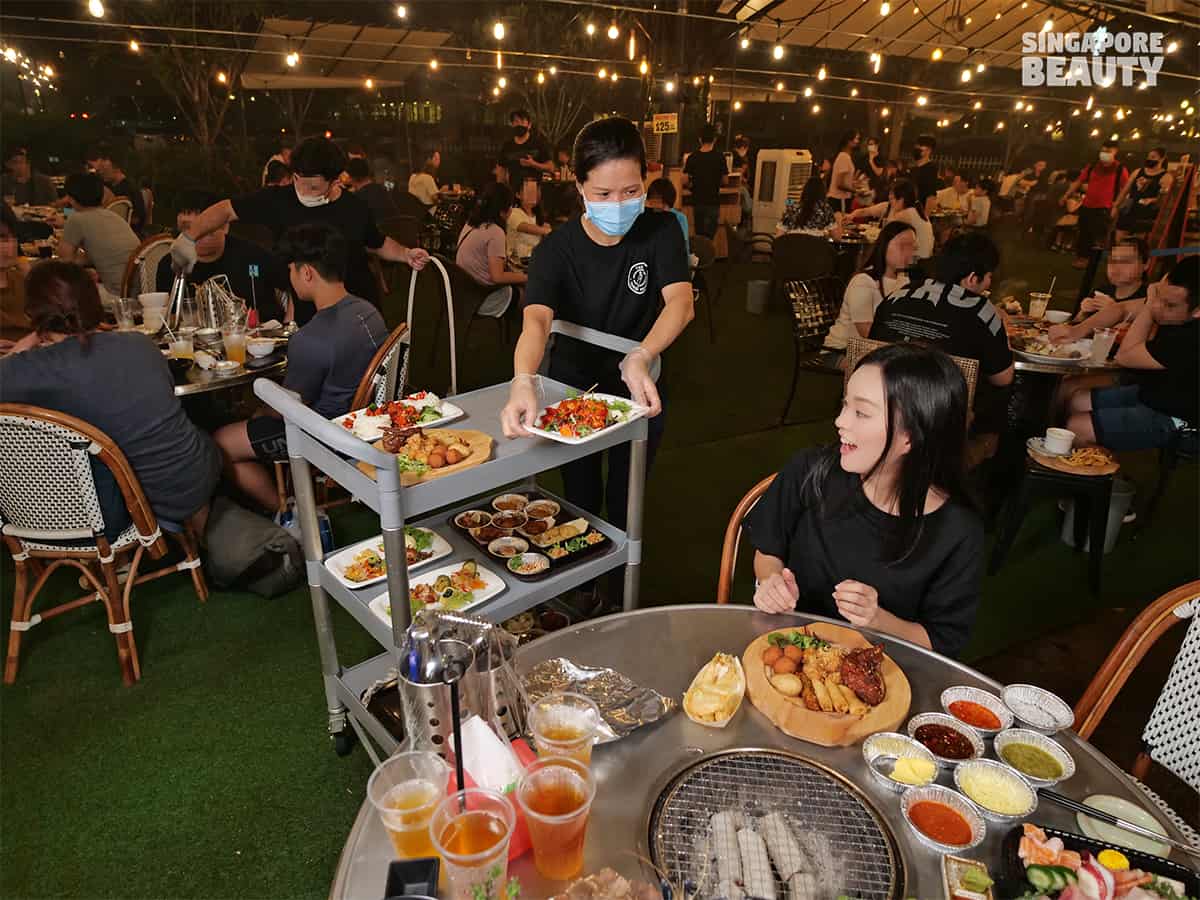 For those who loves some ready to eat cooked food from their hot station, they have a table service food cart where you can choose finger food, mains and small taster bowl delights while you barbecue.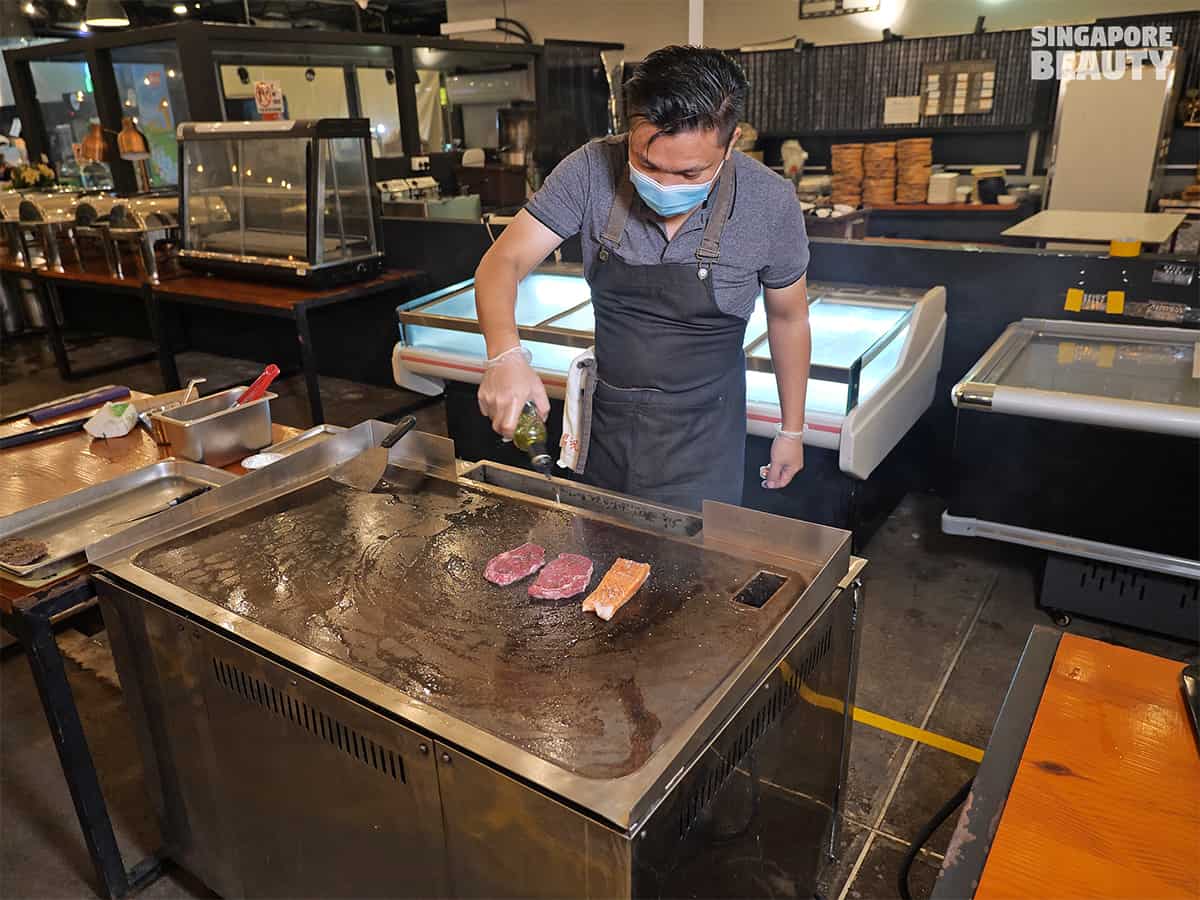 Live station Teppanyaki is also available where steaks, seafood and more will be cooked fresh by a dedicated teppan Chef.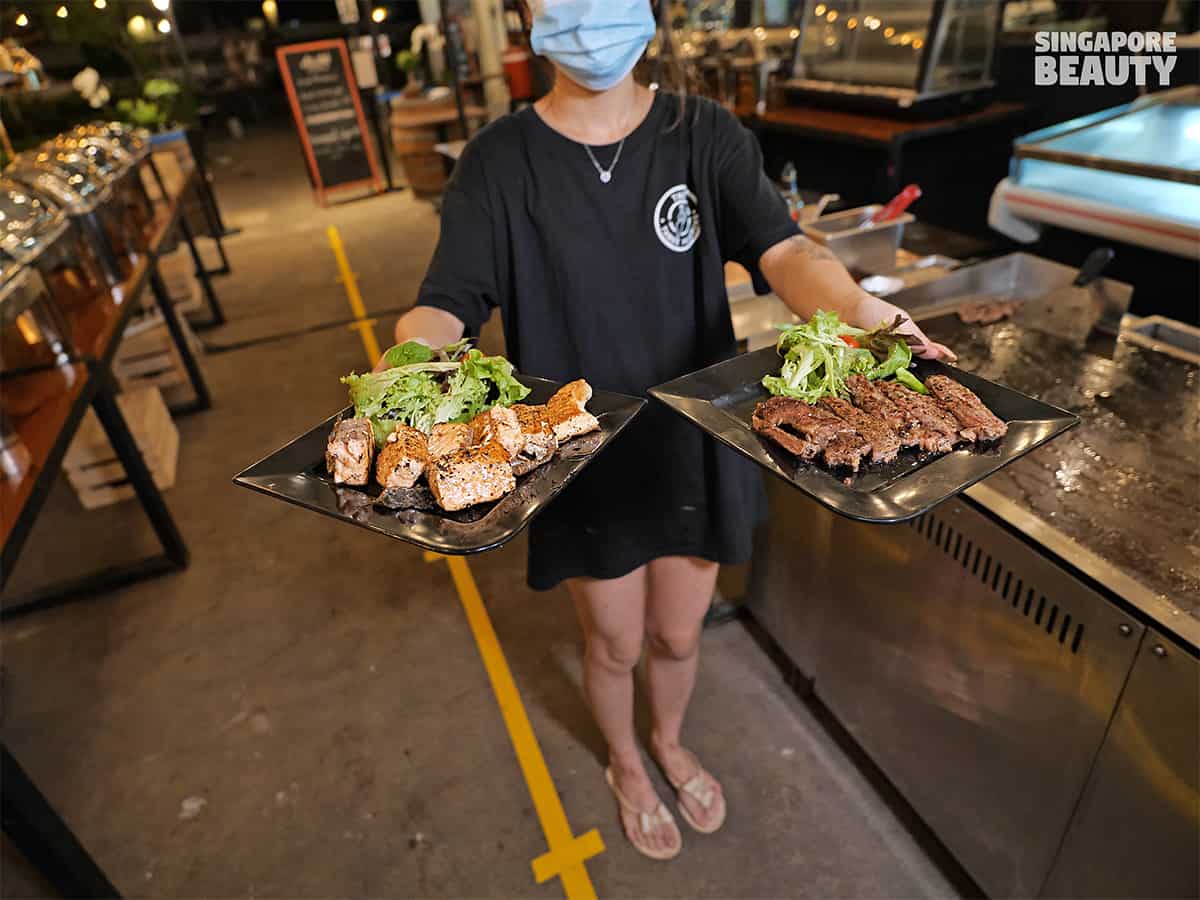 The menu for teppanyaki is on rotational basis which includes, half shell cheese scallops, sweet prawns in marinara sauce, wagyu sliders, yakisoba and more.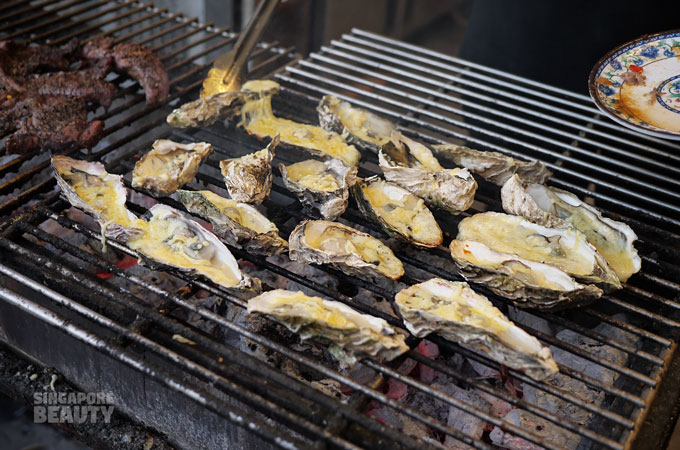 Do check out the other live station where the chef barbecue seafood such as oysters, sting rays, chicken wings and more local delights.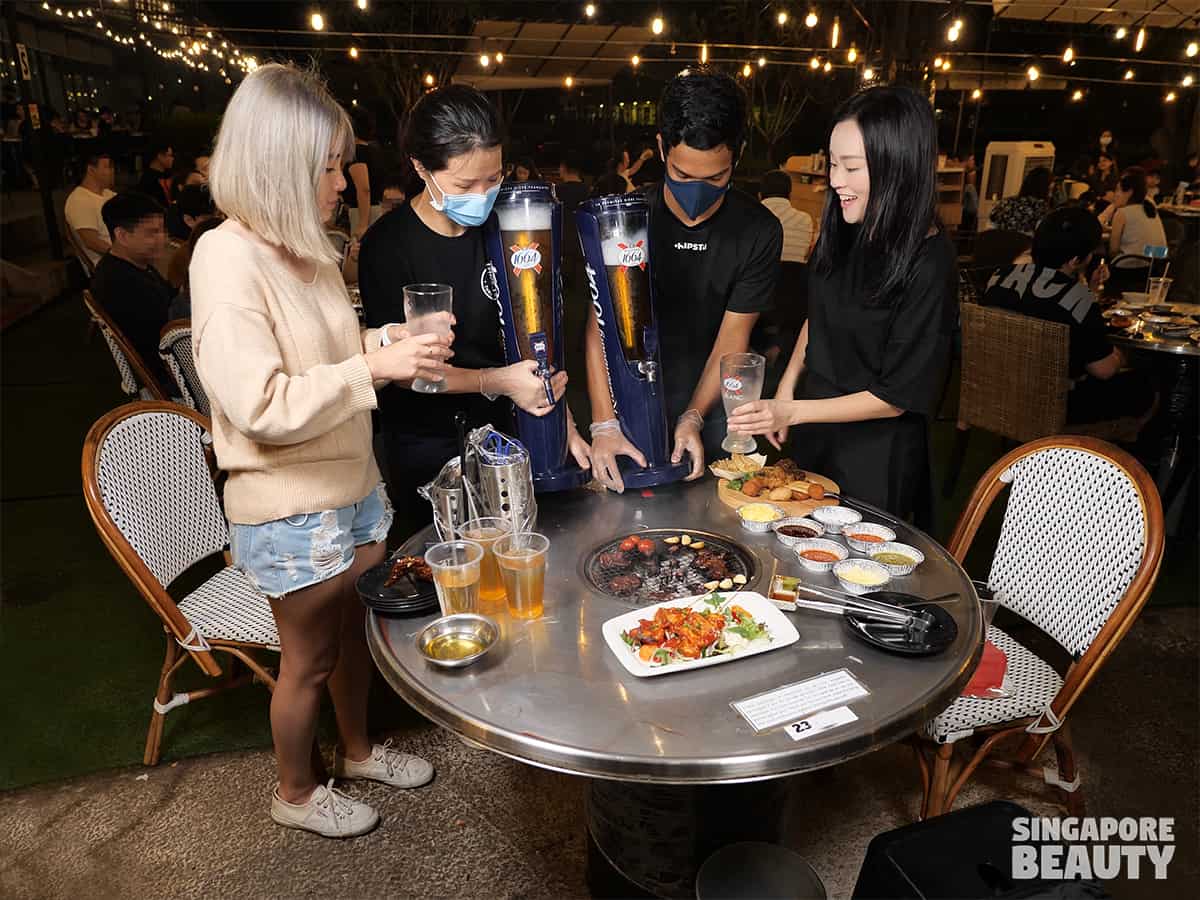 The Three Peacocks will be having a Kronenbourg 1664 French beer tower promotion at one for $72+ and two for $118+ while stocks last. This is the best way to chill together with some sizzling hot smoky barbecued meats.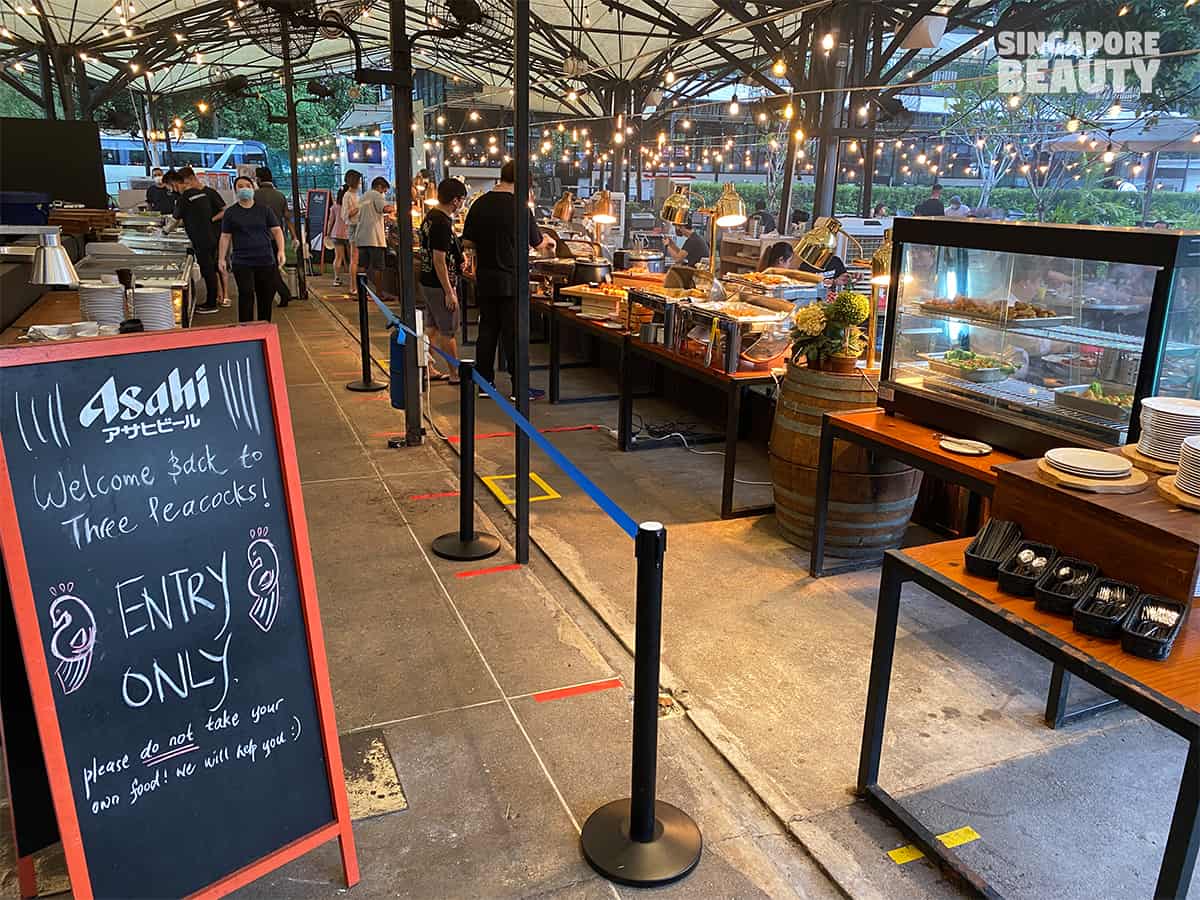 This is Singapore's largest al fresco bbq buffet with a new line of buffet that seems to stretch an eternity and a meat & seafood bar. In line with safe distancing measures, the food in this buffet line will only be served by the crew to your table, you will not be able to take your own food from the buffet line.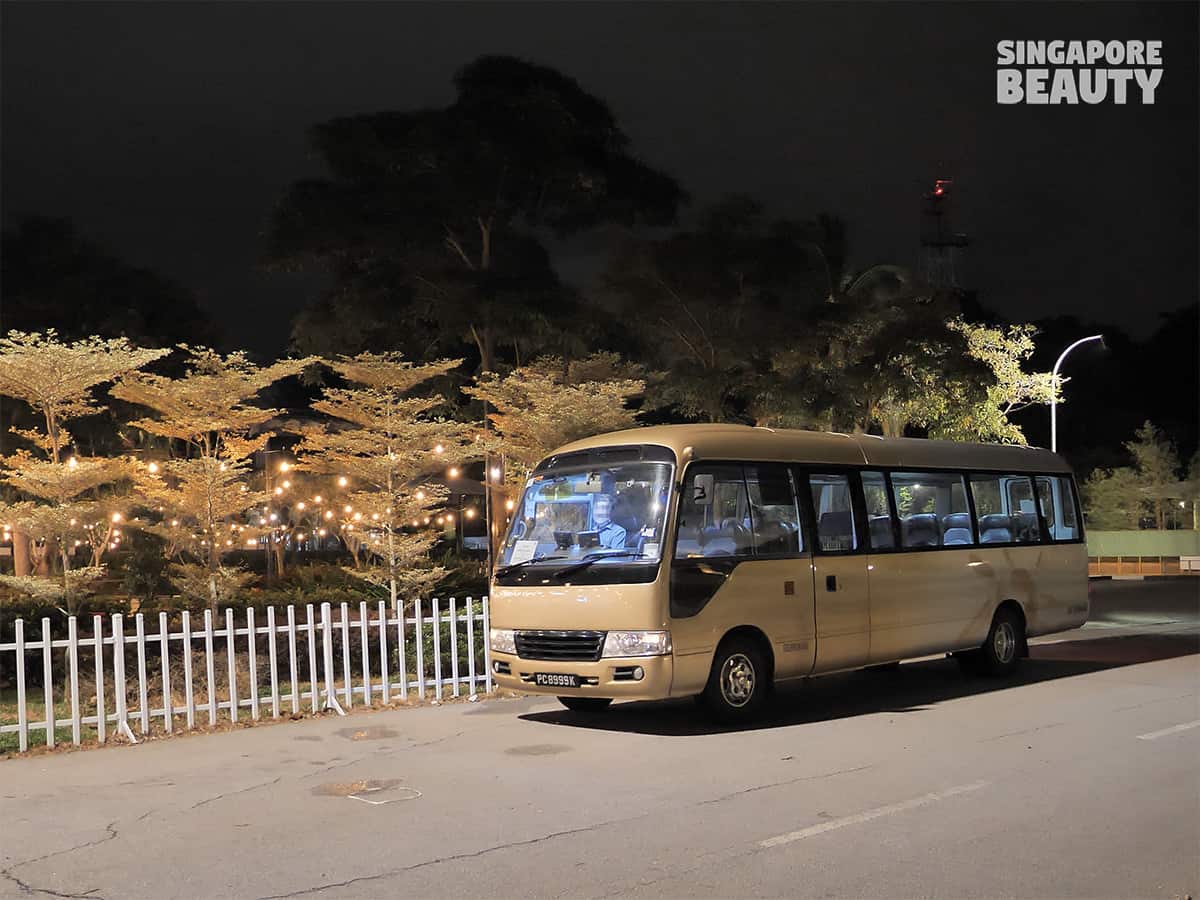 The Three Peacocks has also arranged charter bus service from Labrador MRT station MRT Exit A to ferry you from the nearest mrt right to their restaurant door step just like a VIP. The shuttle bus timing are available from 5.30pm to 10pm every 30 minutes intervals. If you drive, outdoor parking is plenty and complimentary here.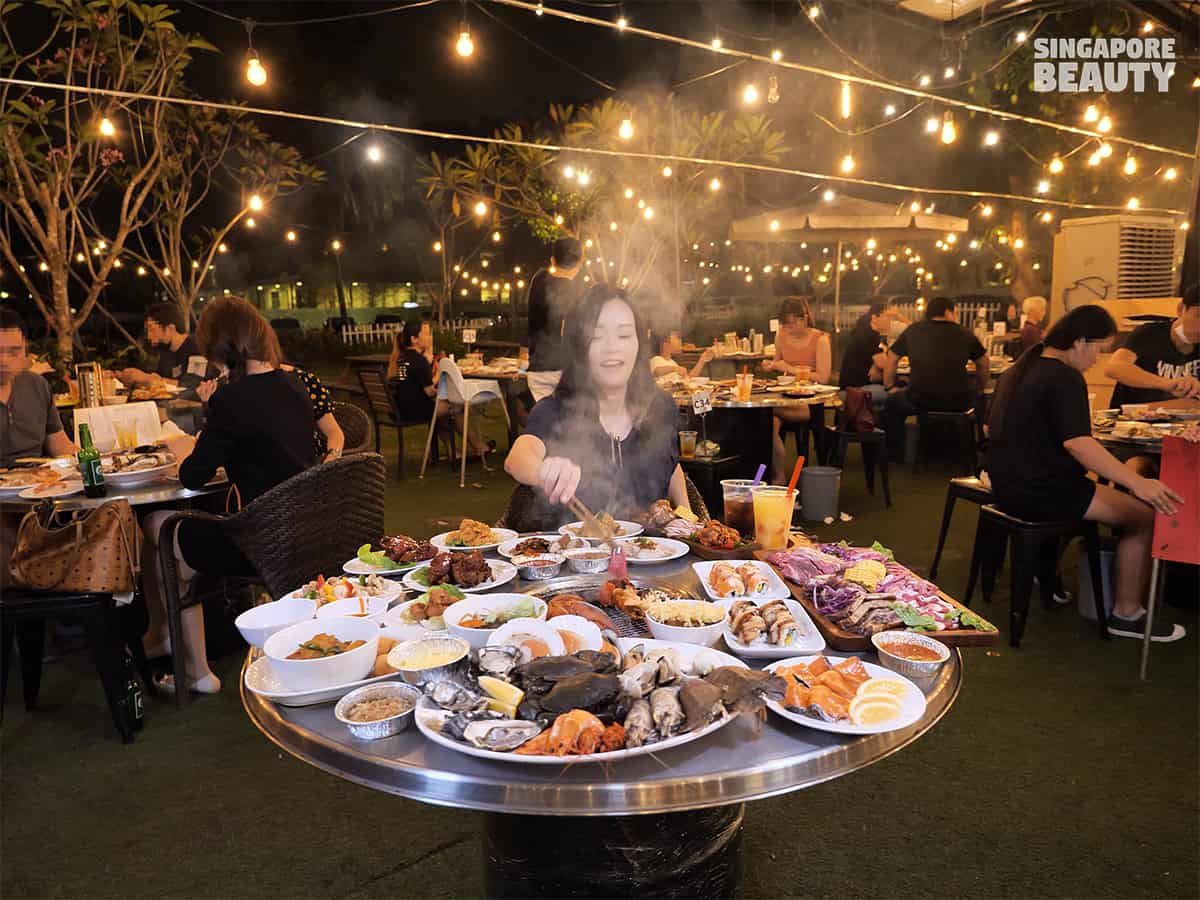 It is an epic BBQ barbecue buffet with over 100 items that is popular for it free flow seafood and live seafood. You can safely enjoy your food with peace of mind with the safety measures in place.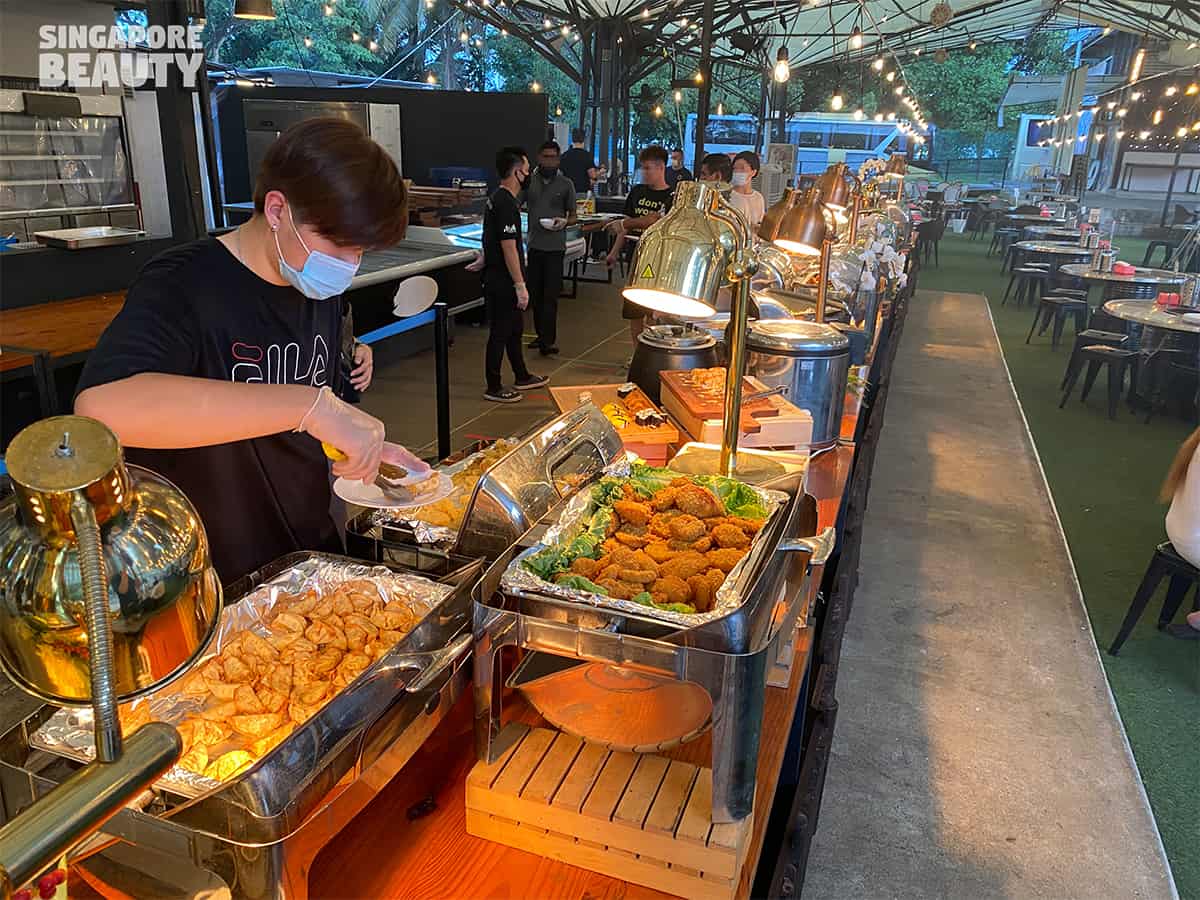 The buffet line is a hot station consists of ready to eat international cooked food on warmers and heaters. These cooked food are served by the crews to your table from a mobile food cart.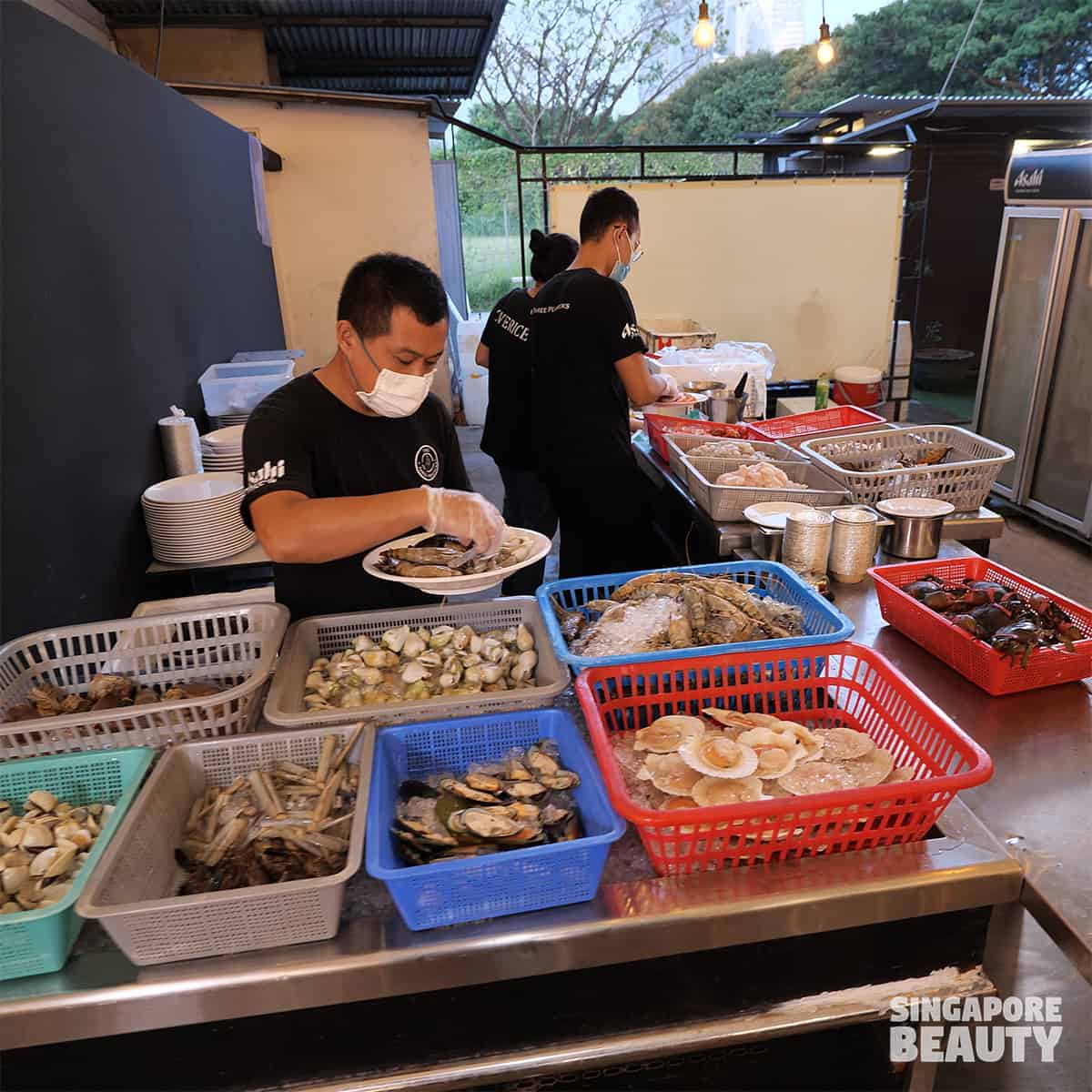 The variety of seafood includes giant river prawn aka Thai river prawn, slipper lobsters, scallops, salmon, tiger prawns, crawfish, Japanese oysters, gong gong, lala, mussels and more live seafood such as mud crab and oysters.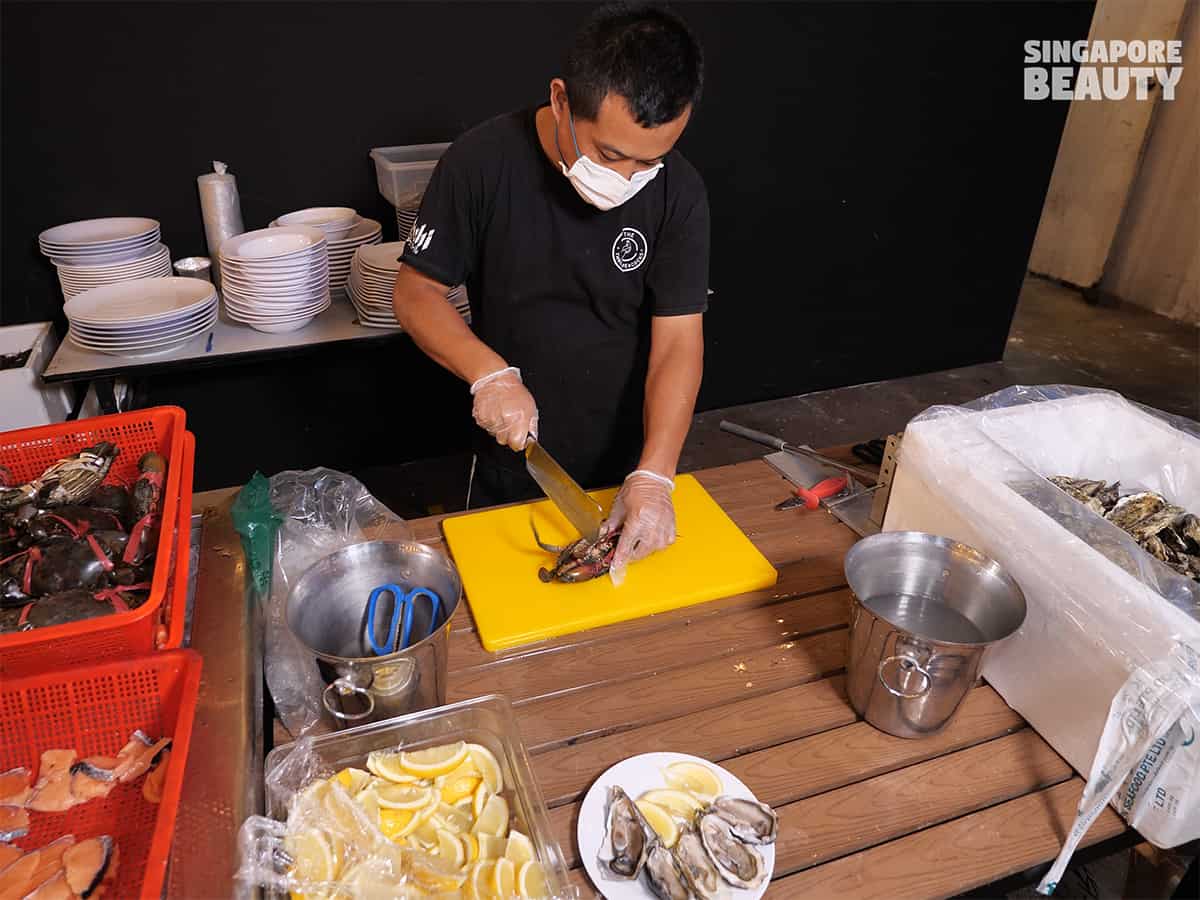 The live mud crabs are dispatched upon order for the buffet and cleaned for ease of barbecuing.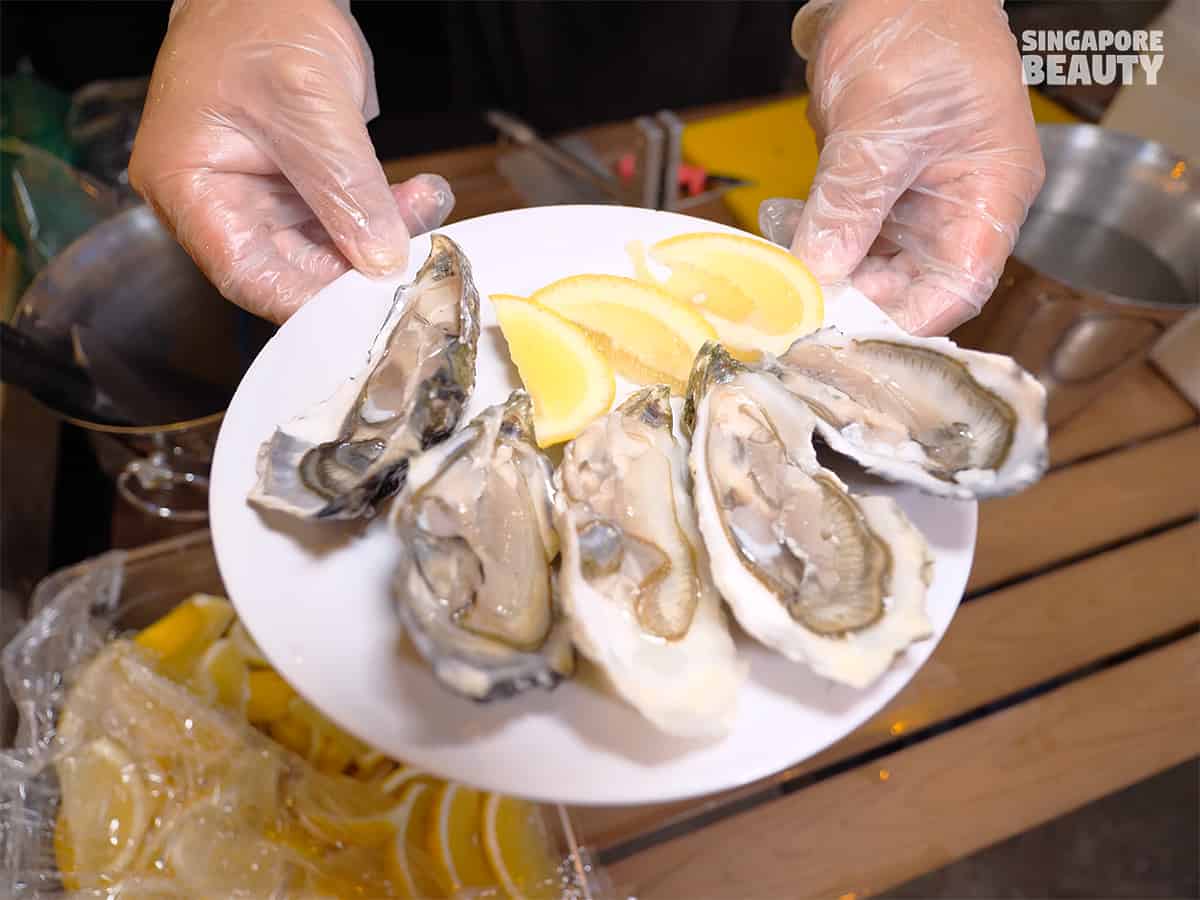 Adjacent to this seafood bar, there are some freshly shuck-to-order live oyster sashimi buffet. For the live Japanese oyster sashimi, choose from 4 choice of sauces such as Tabasco, wine sauce, vinaigrette based and more.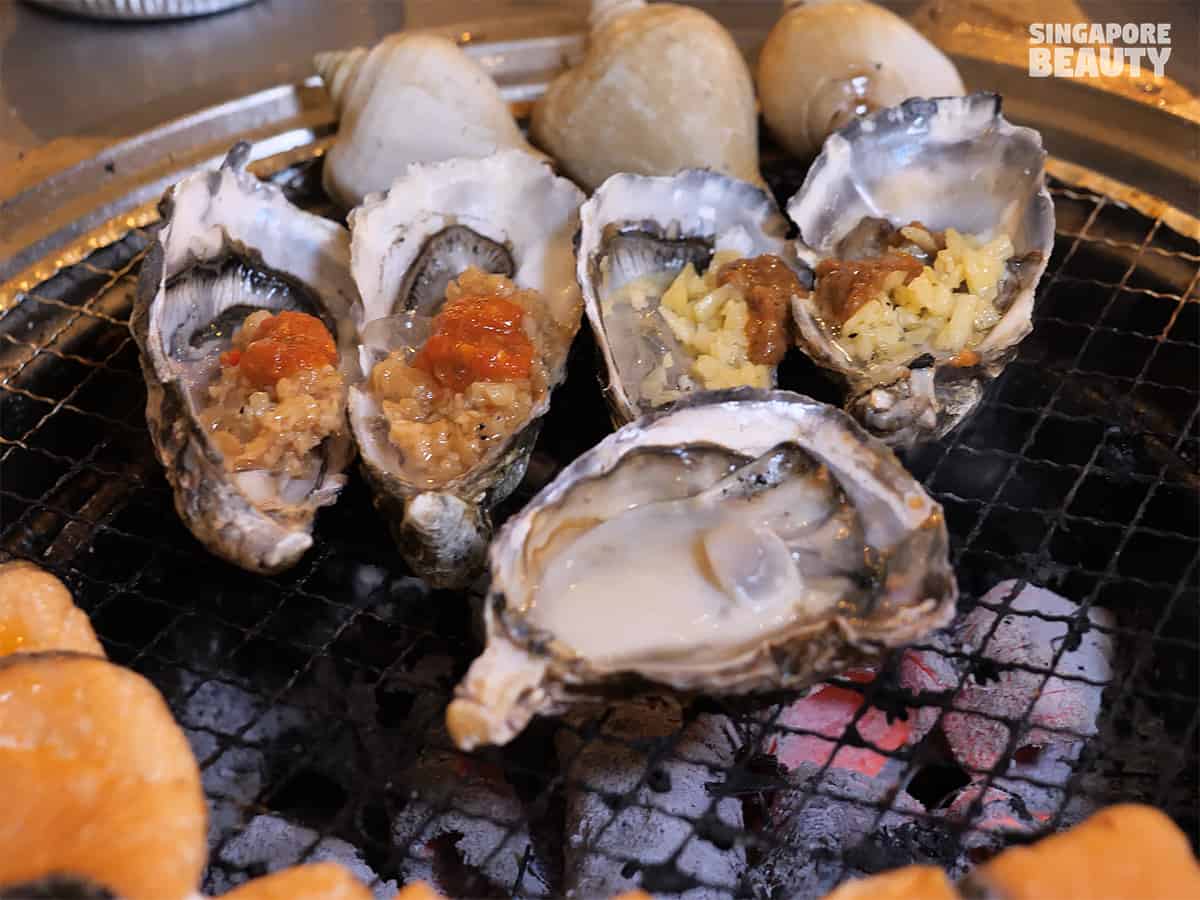 Customise half shell oyster for your barbecue needs with cheese topping or garlic butter toppings. These Oysters are free flow and you may request for them 2 at a time per pax whilst stocks last.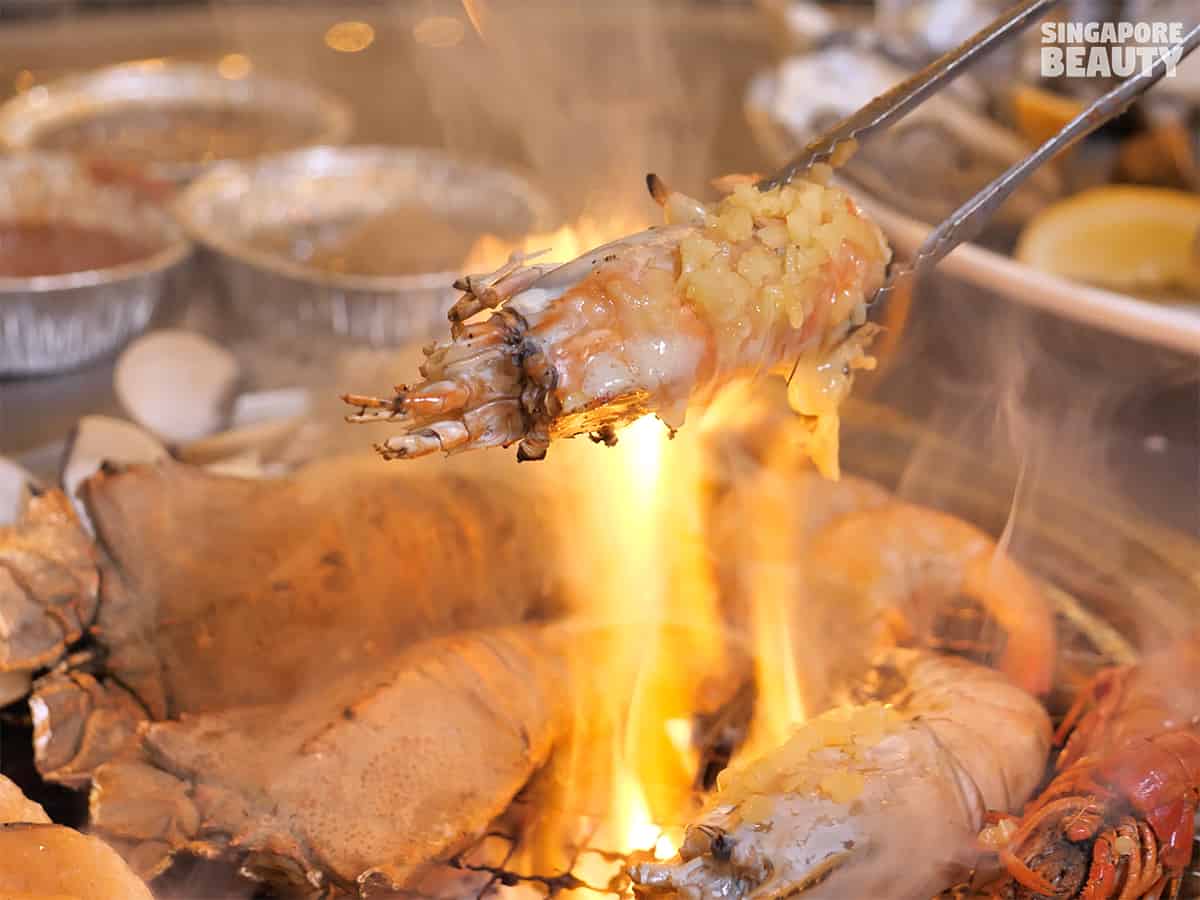 Time to barbecue some cheese giant river prawns, slipper lobsters, craw fish and more. Enjoy some savoury seafood feast with this unlimited seafood buffet, only at The Three Peacocks.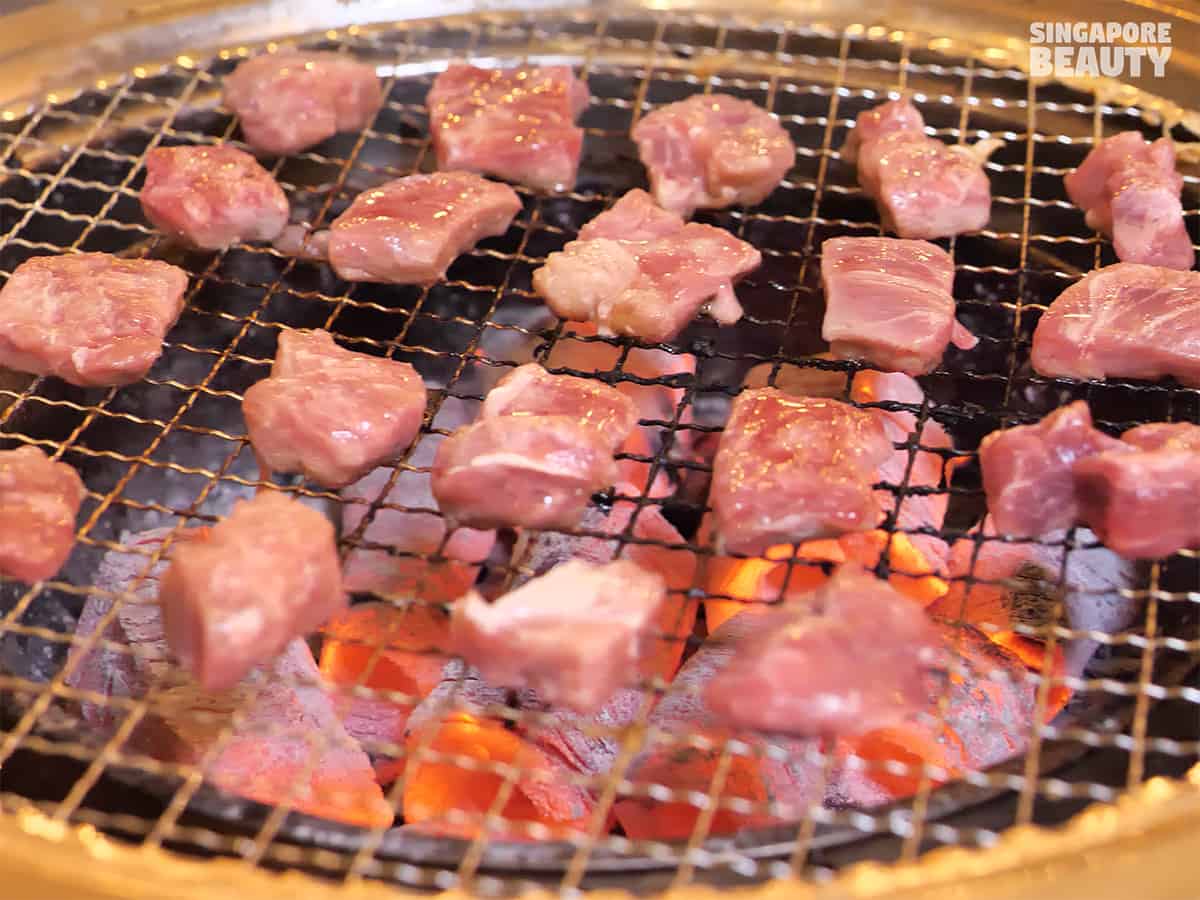 The meat collection bar is where you place order and collect them at the same time. With over 25 types of meat inclusive of free flow premium wagyu cubes and sliced wagyu, you will be spoilt for choice.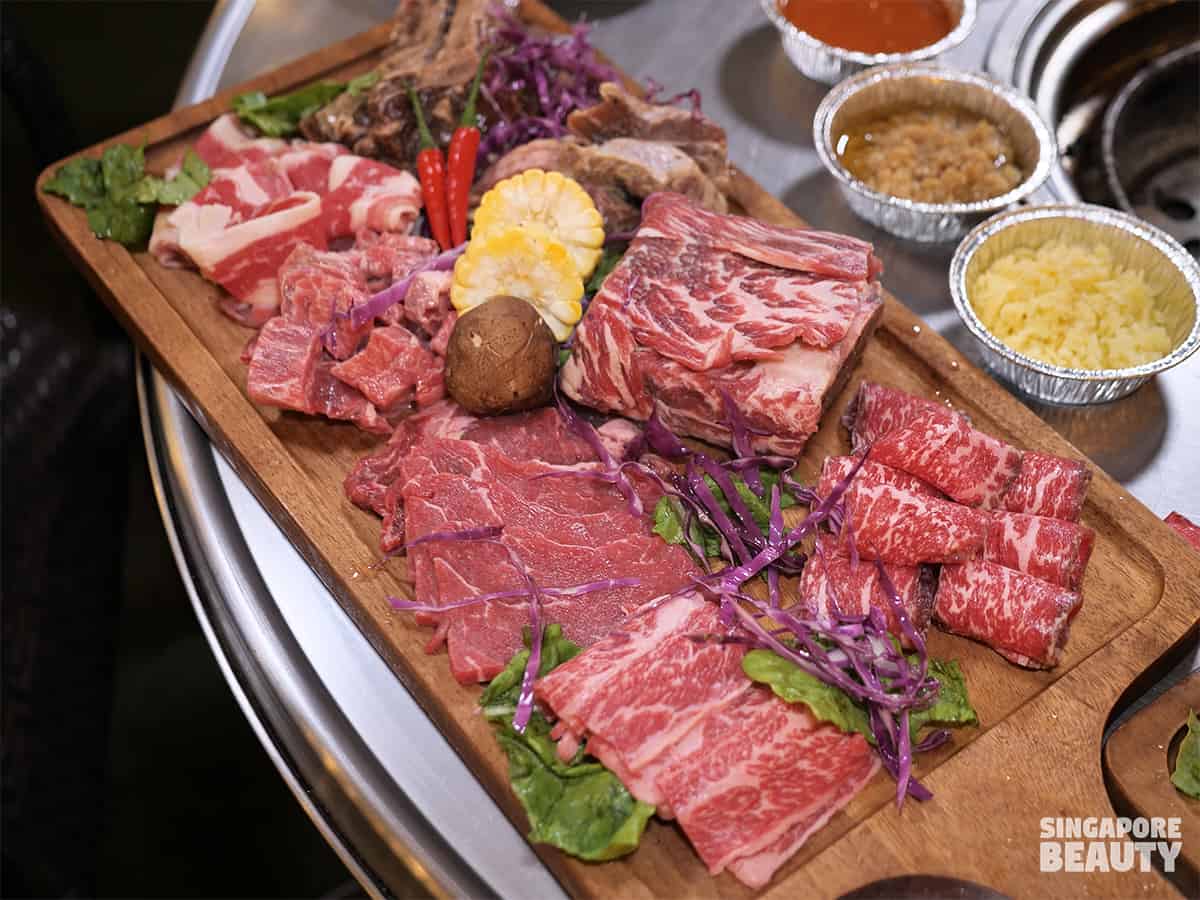 They have Korean spicy chicken, honeyed soy garlic chicken, teriyaki chicken, miso pork, Korean marinated pork collar, Angus short plate, wagyu, ribeye, oyster blade, Cajun beef cubes, beef bulgogi, satay and more. The server will help to create your meat platter with these meats after your selection.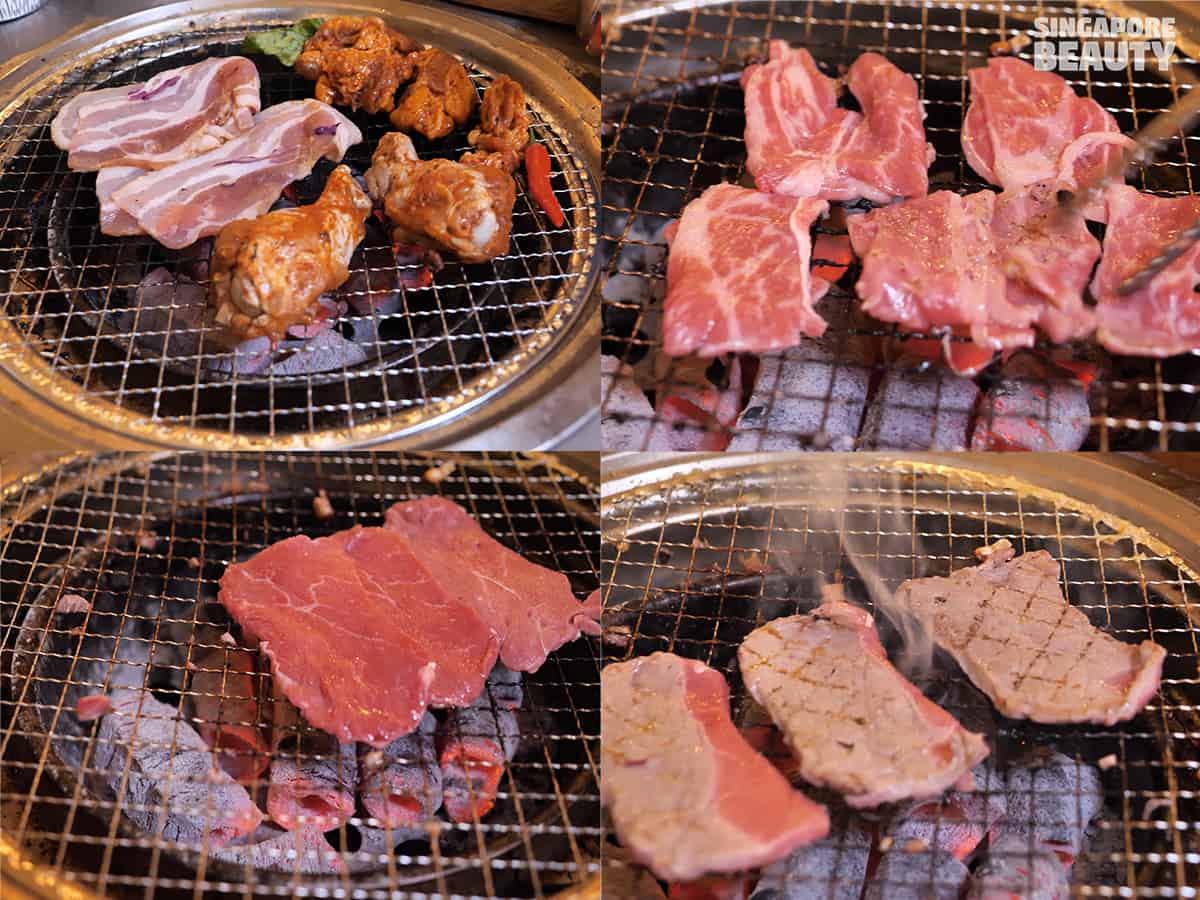 You can barbecue a variety of meat at The Three Peacocks Buffet on charcoal grills. The flavour of the meat has a nice char when you barbecue with real charcoal and taste better too.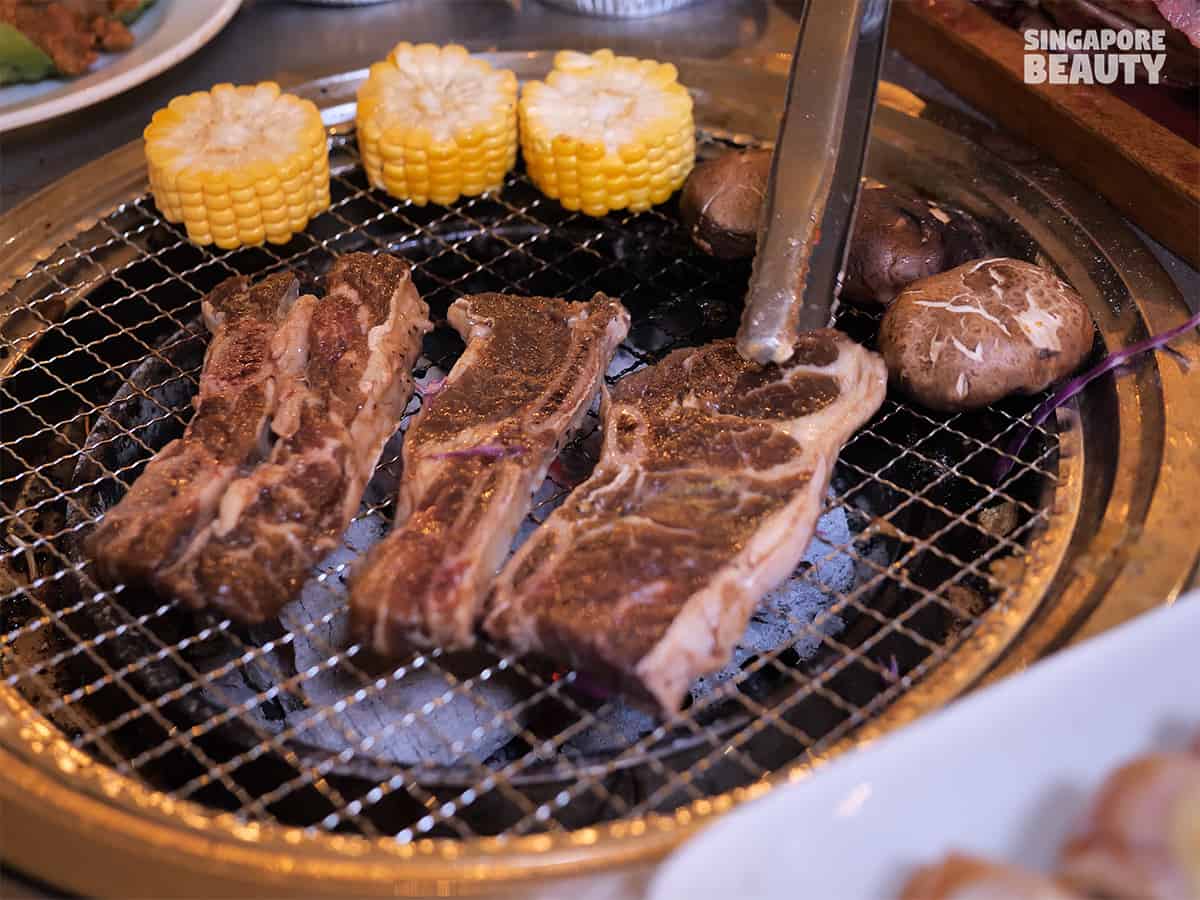 They also have bone in prime galbi gui which is a premium beef ribs and Angus Boneless short ribs that are great for smoking hot barbecuing.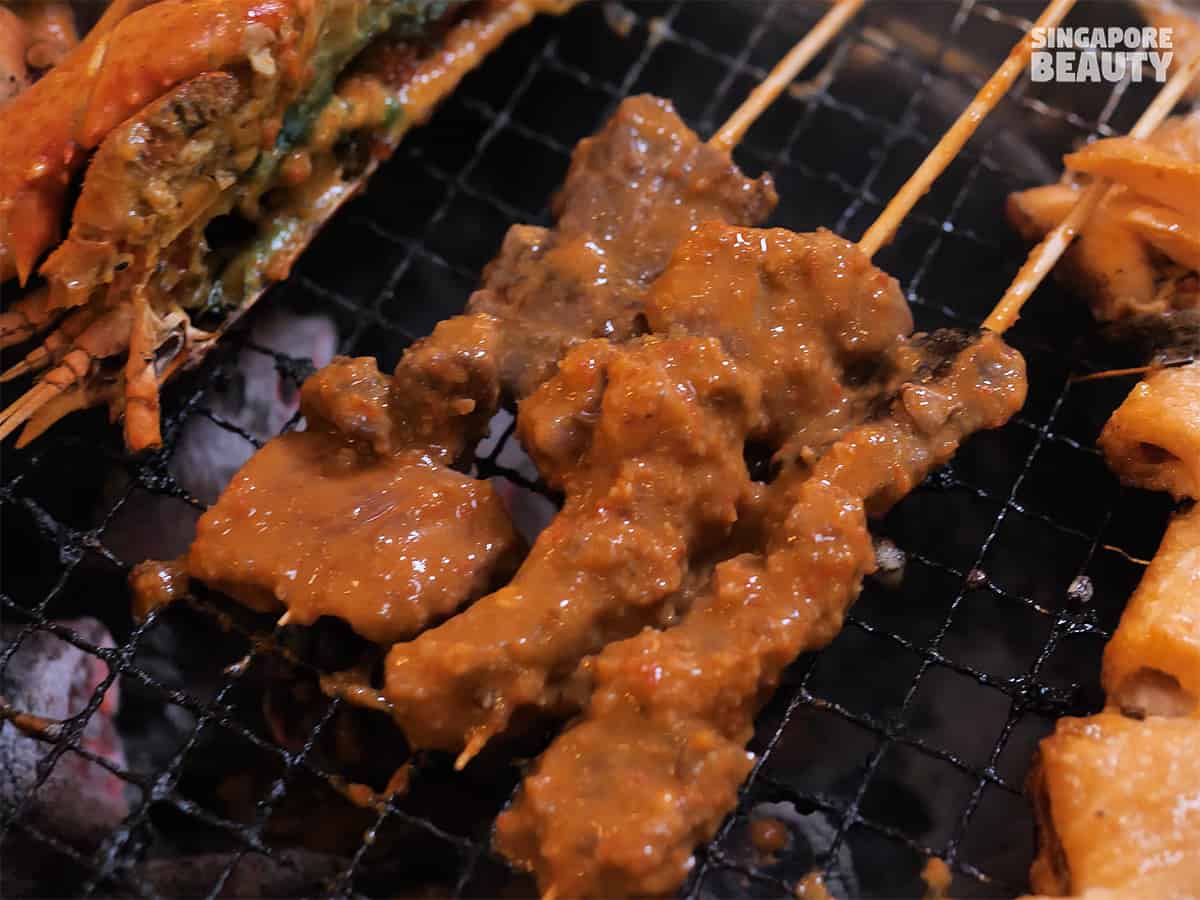 For those who love satay, here is your chance at barbecuing Singapore favourite meat skewers here with choice of chicken, beef and lamb. The satay also comes with a rich and thick nutty dip that is made in house.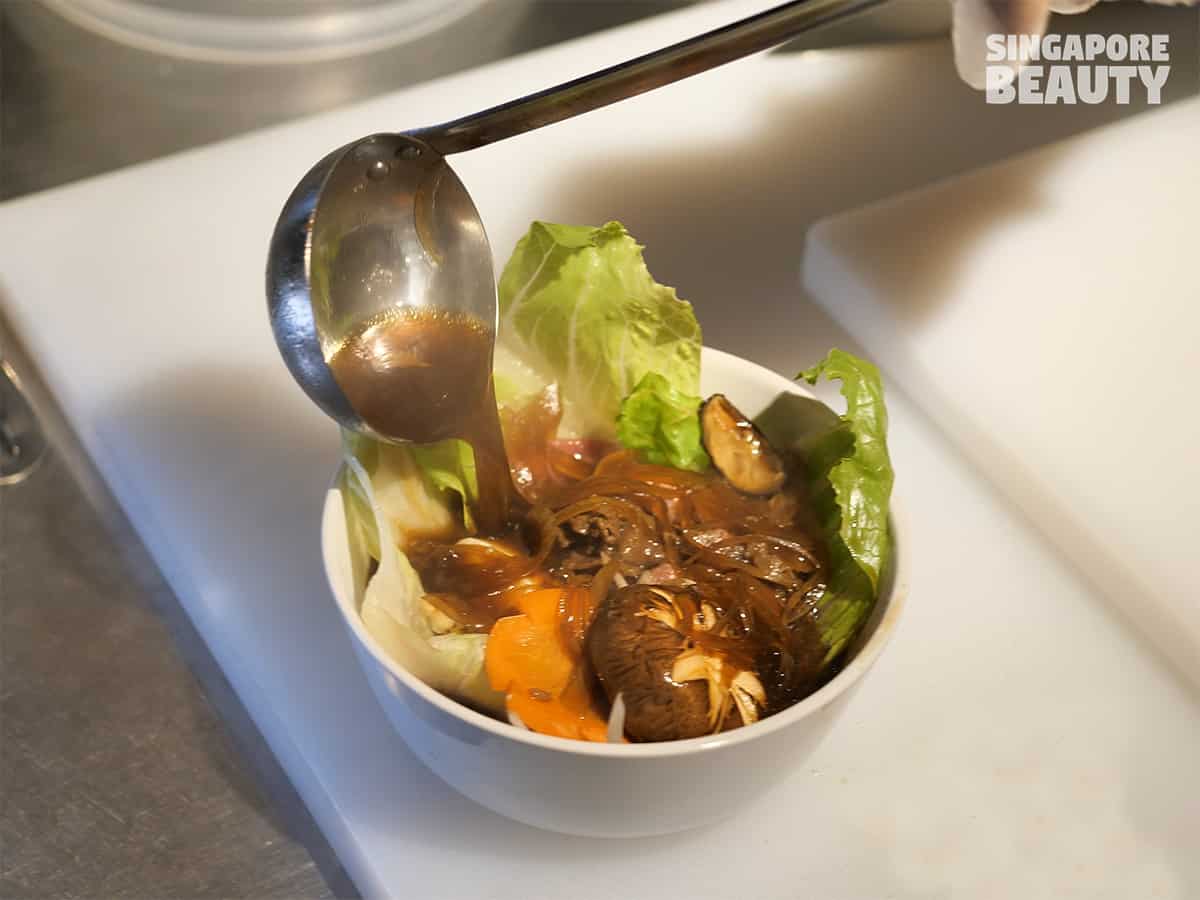 Since it offers an international spread of food, we need to get some of the freshly made to order sushi roll, sukiyaki beef and chicken curry don. Tempuras are freshly fried to order so that you get the freshest crisp bite.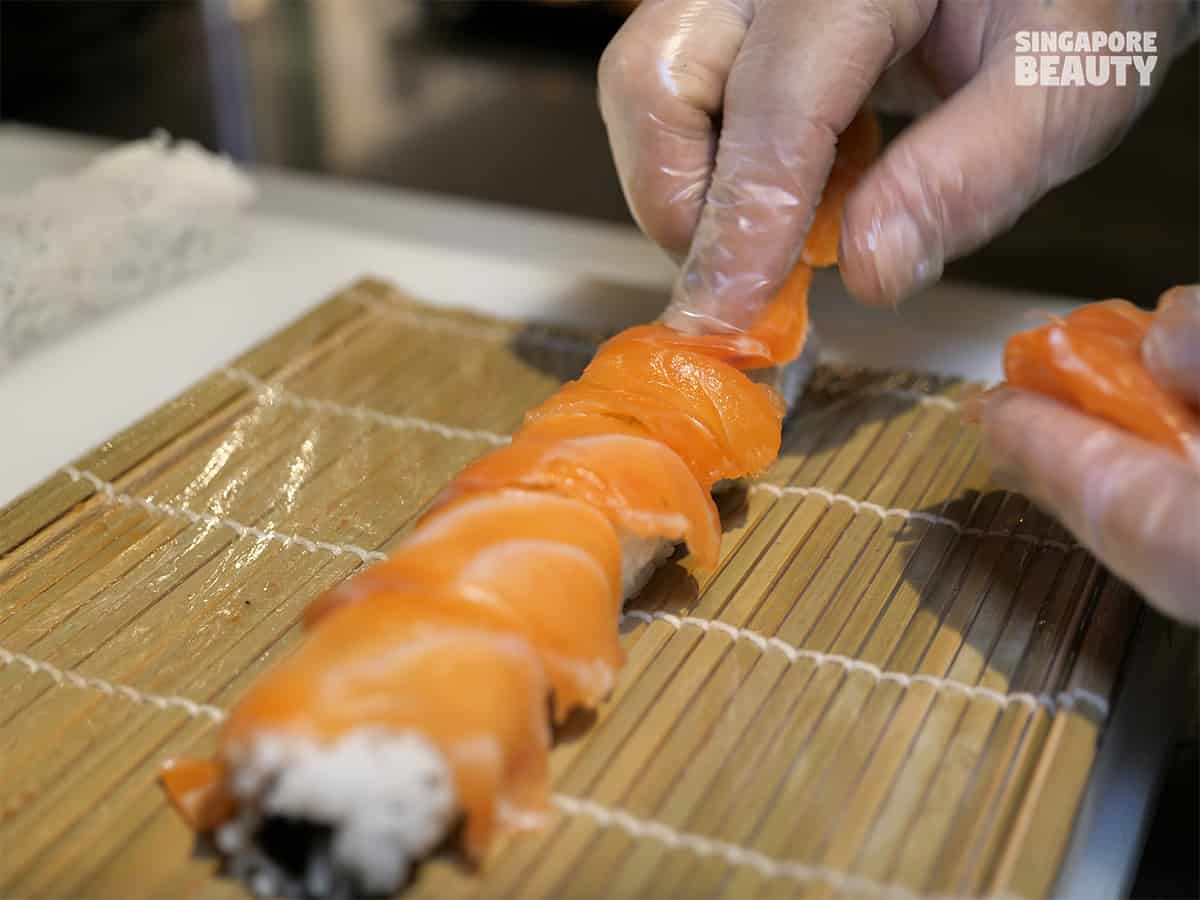 At this Japanese cuisine show kitchen, you can watch your sushi roll being created from the gathering of the rice to the laying of the ingredients on your sushi to the rolling and cutting of it to bite size before plating. This concept is as good as a fresh sushi buffet.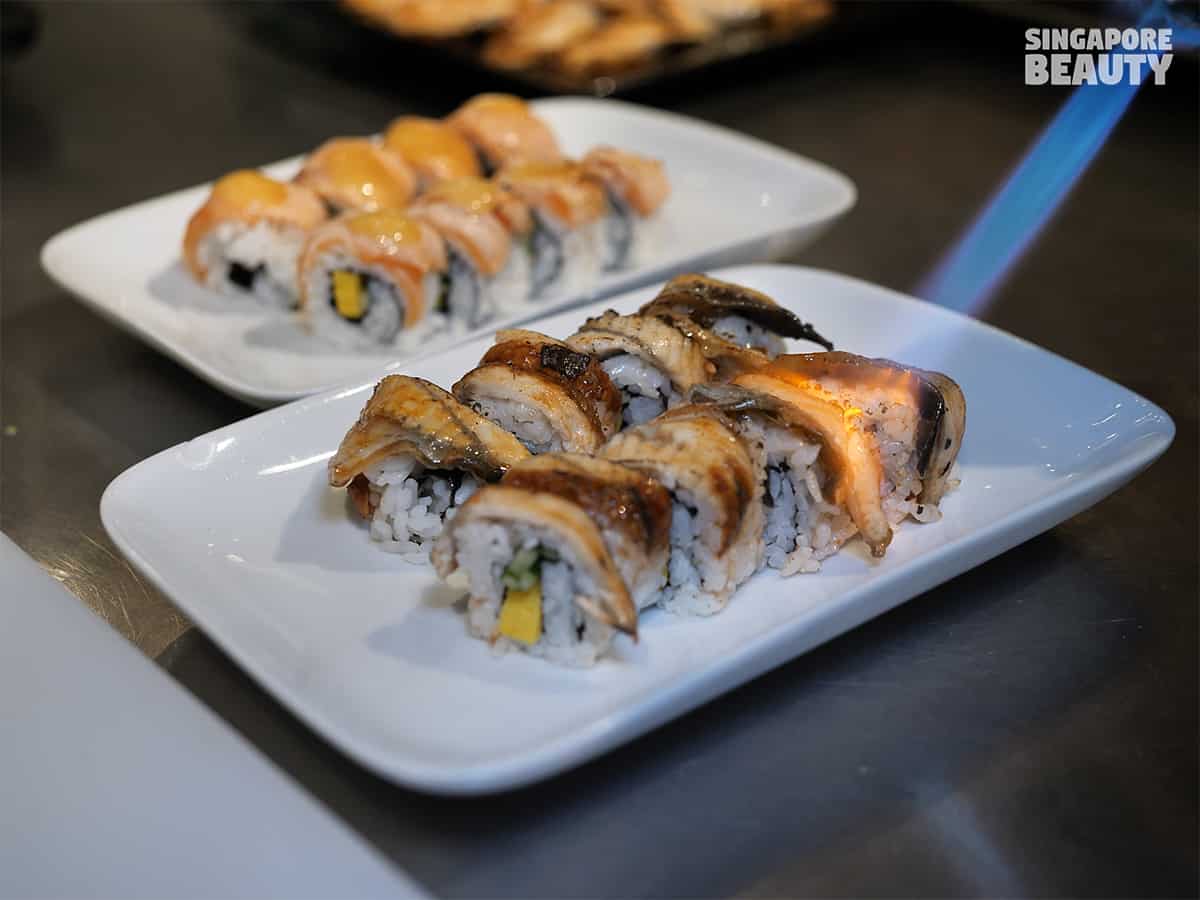 It is an avant-garde, educational and fun experience at this Japanese show kitchen.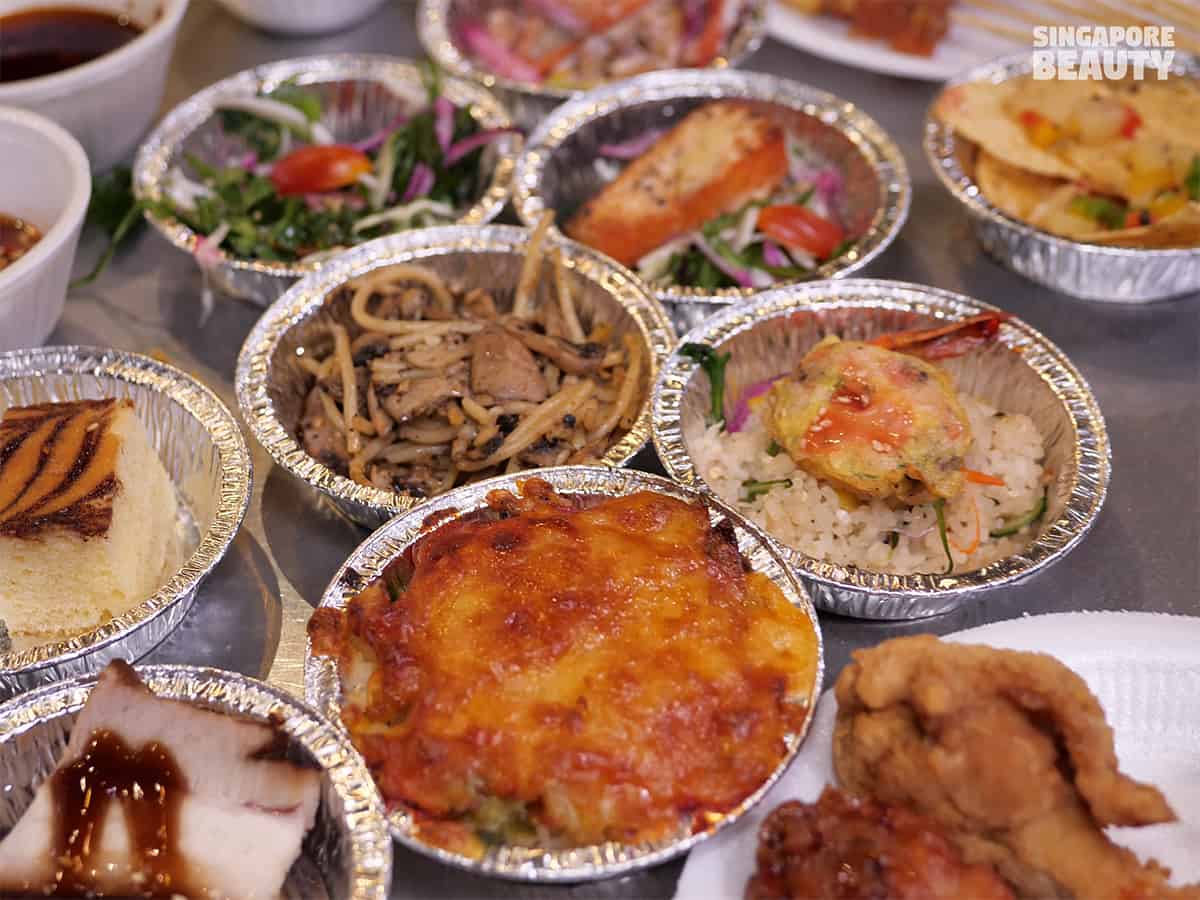 Special daily creations such as yakisoba, cheese bake rice, tomato spaghetti, seafood carbonara, lobster claw salad, personal pan pizza, Uncle Roger's egg fried rice and more are also available.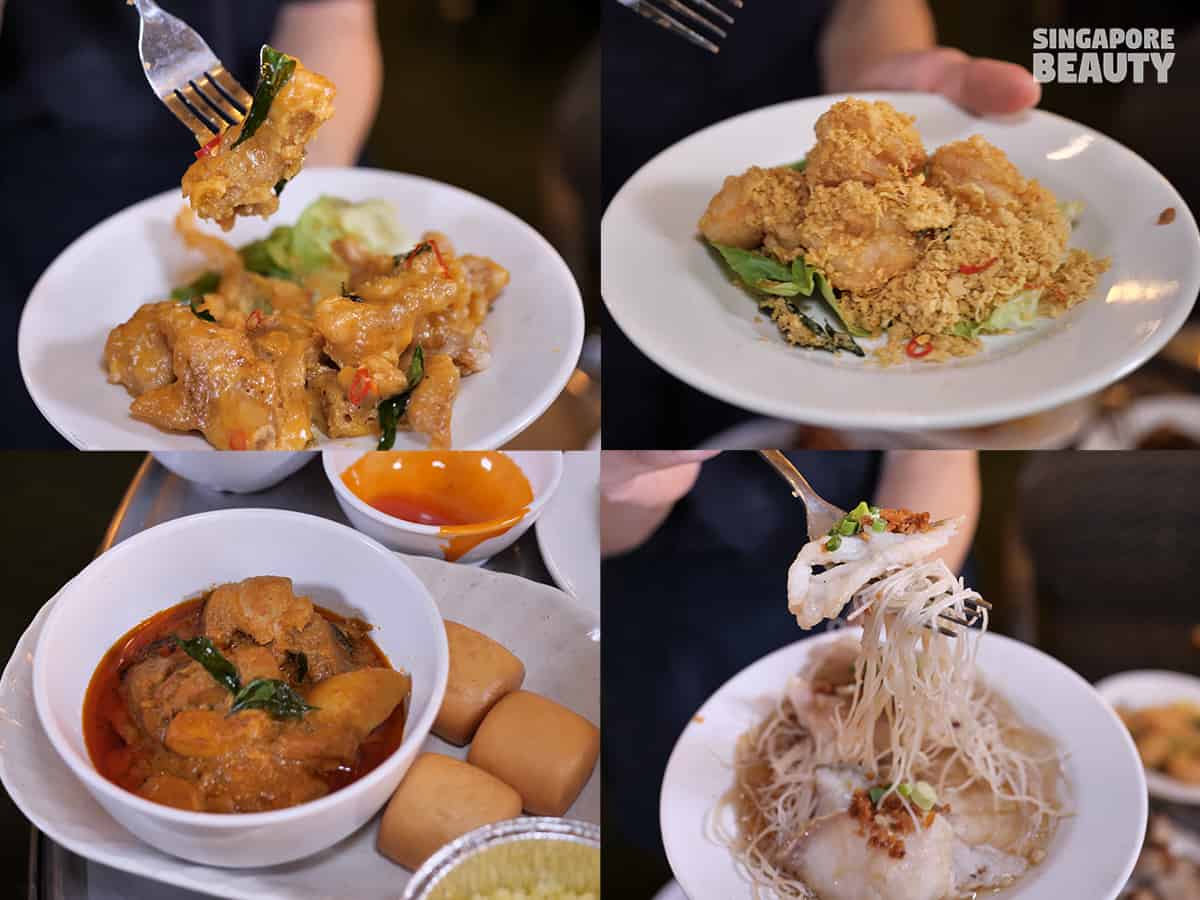 Daily specials such as Cantonese style zi char food. These includes pork ribs, curry chicken with toast, cereal deep fried prawn balls, steamed seabass in soy garlic sauce, lychee sweet sour pork ,shrimp paste fried chicken, salted egg chicken and roasted meat delights.
These roasted delights are created by their in house HK cuisine chef who prepare, dry and roast the meat all in house.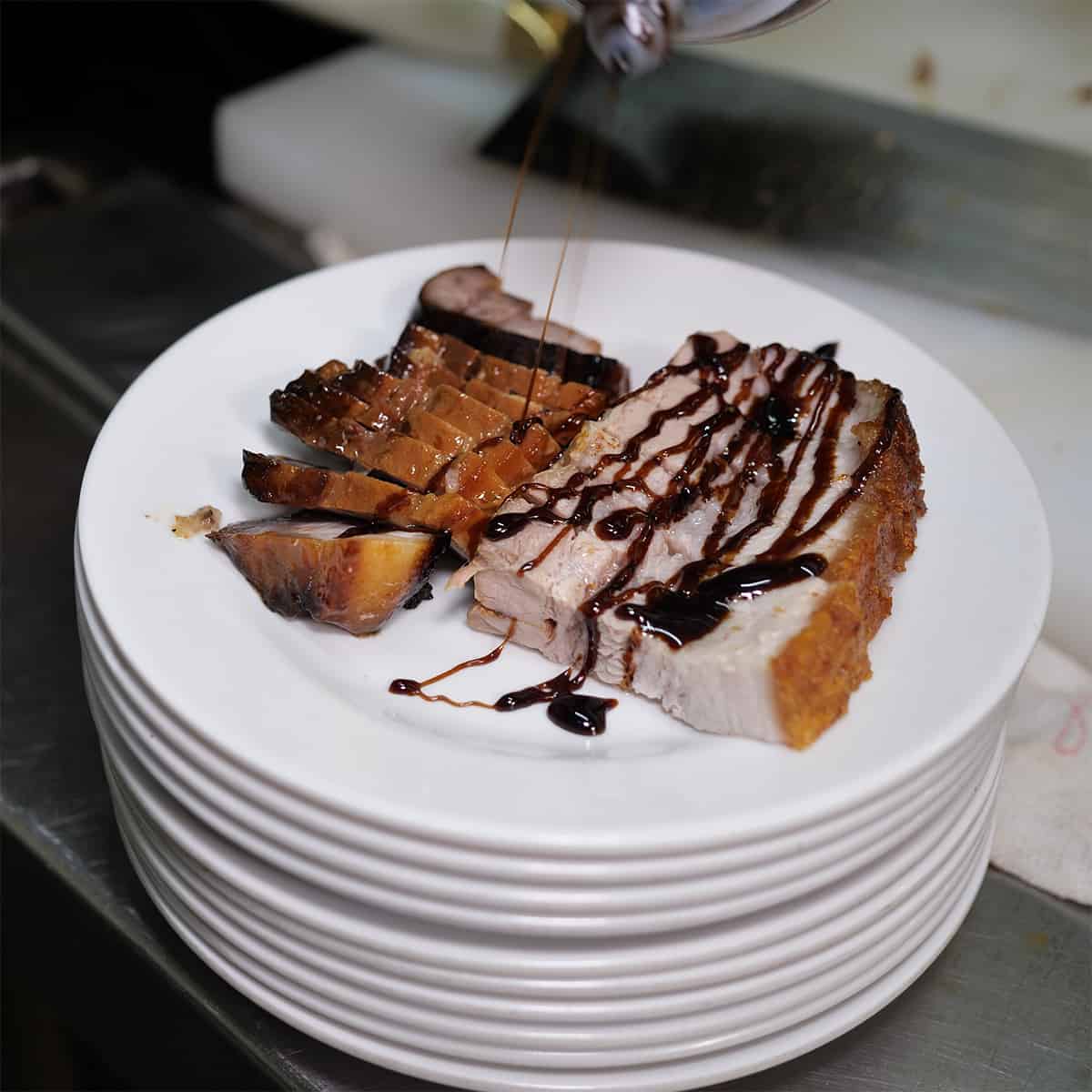 His popular Singapore HK fusion roasted delights are roasted pork belly with crackling skin and honeyed char siew lean with selected meat fillet. The meats are best enjoyed with a smoky gooey sweet barbecue sauce.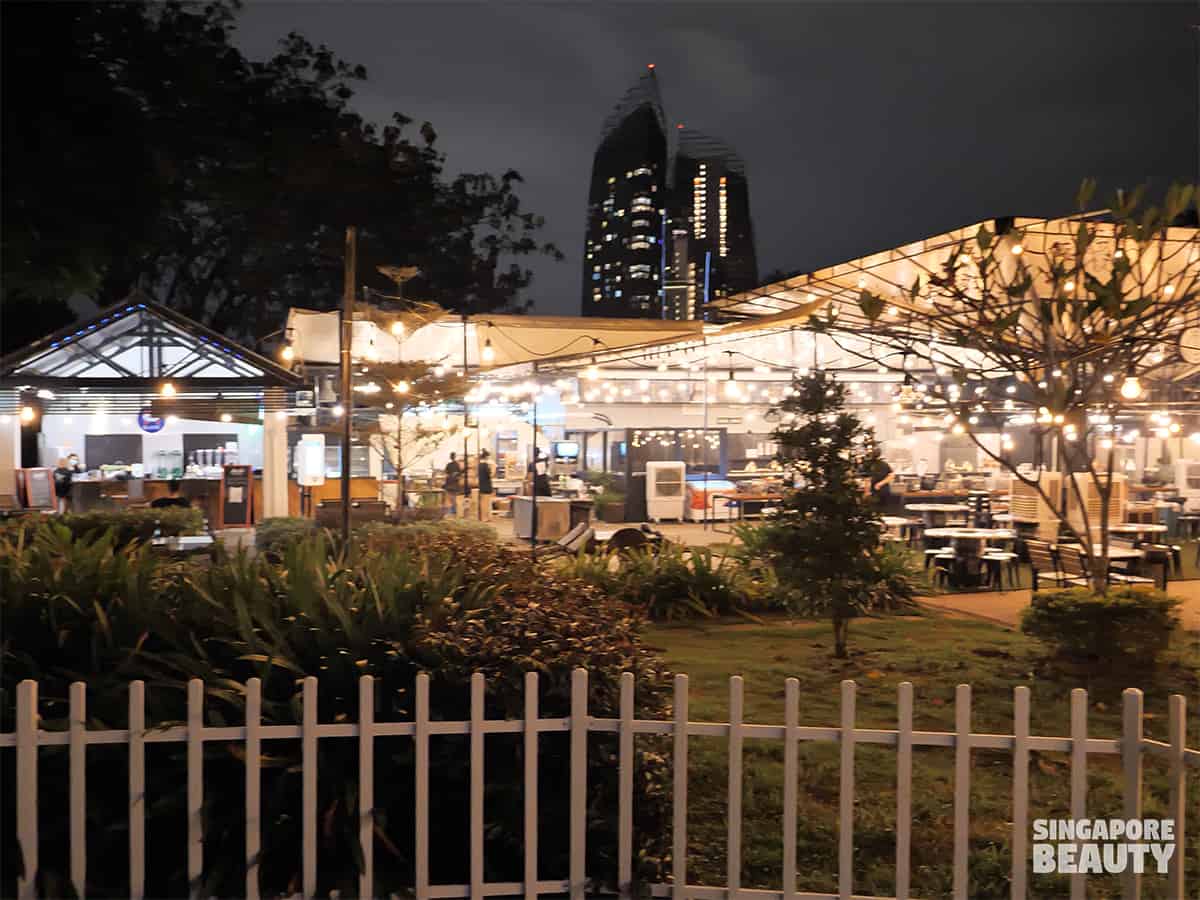 Be transported to a mesmerising world of lush greenery with festive fairy lights like a magical secret garden oasis retreat.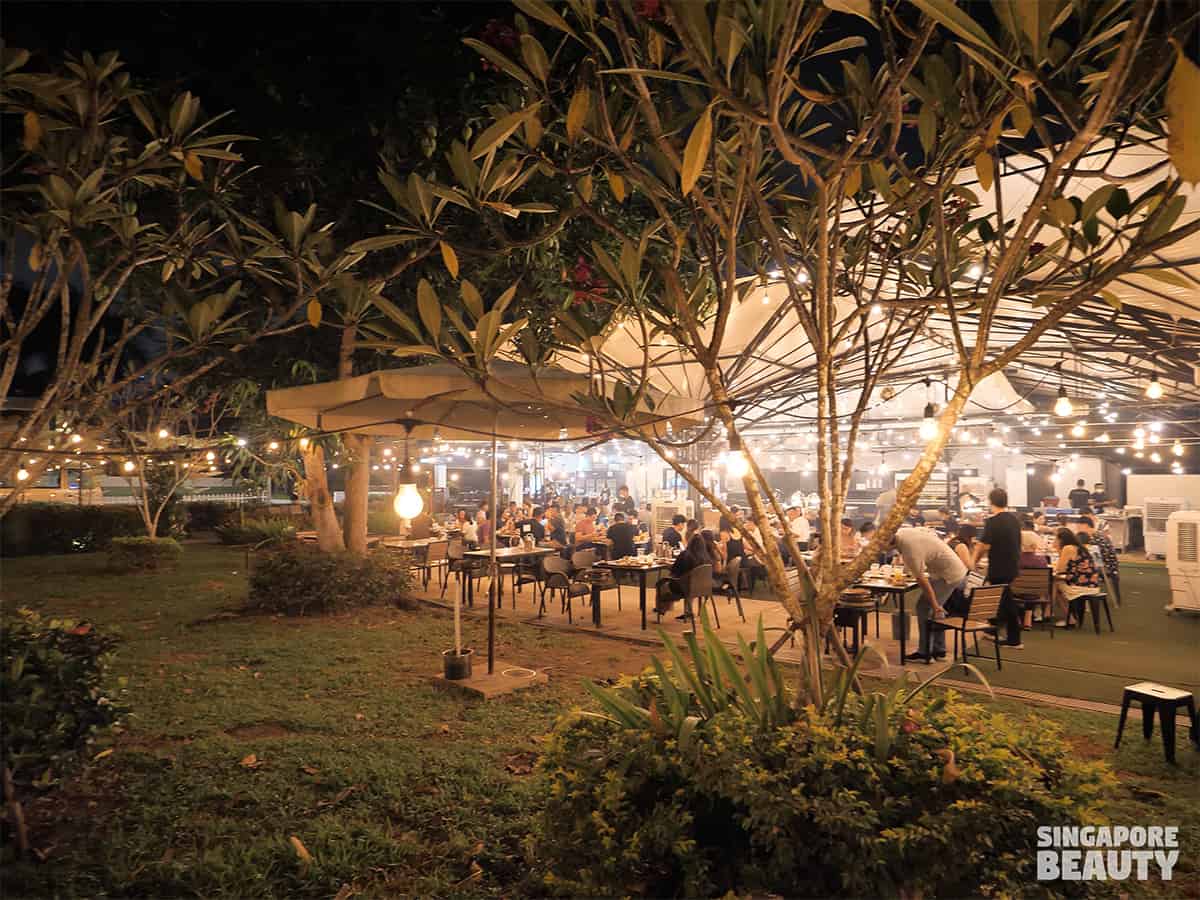 It is also a romantic place to bring your love ones for a date in Singapore that has great food and scenery. You can end the bbq buffet dinner with a relaxing stroll by the Labrador beach park next to The three peacocks.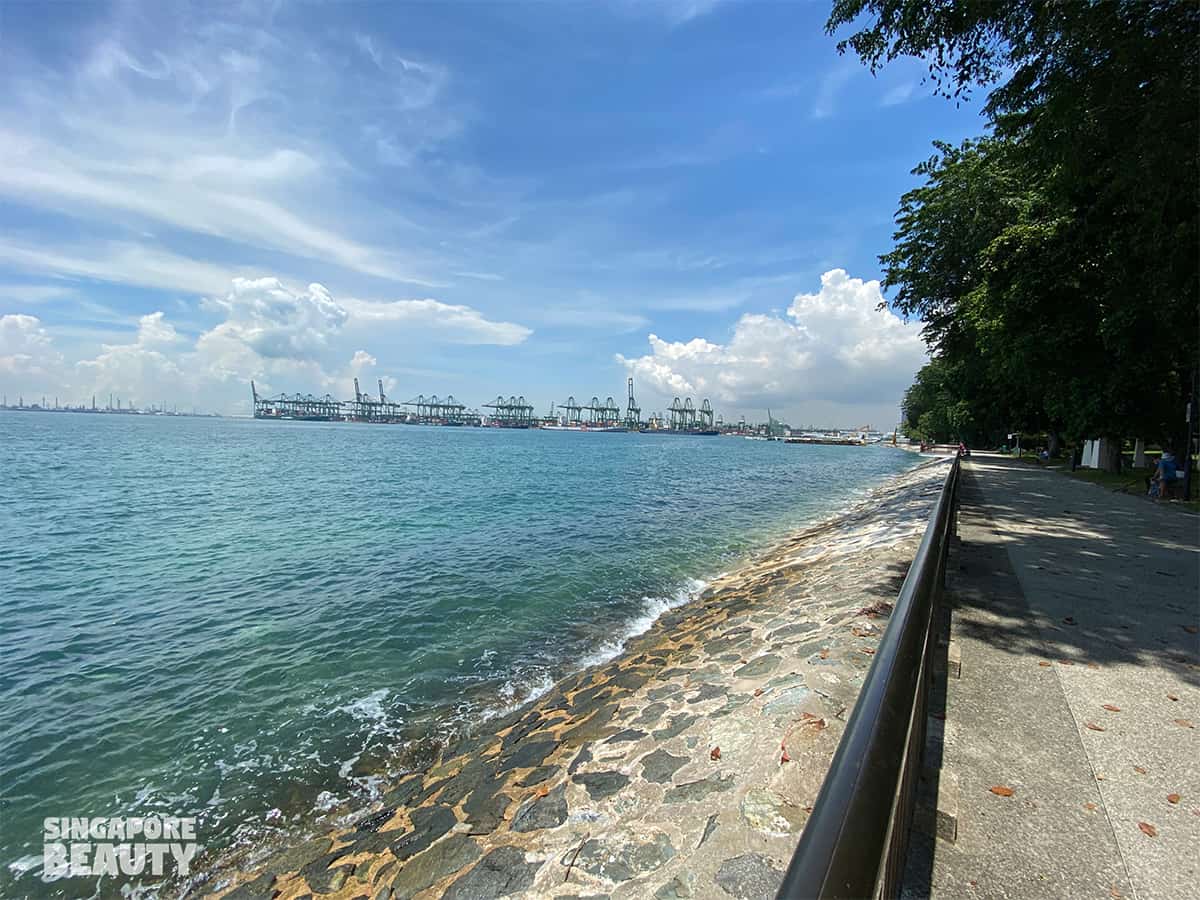 The three peacock is an alfresco dining restaurant right next to a beach park.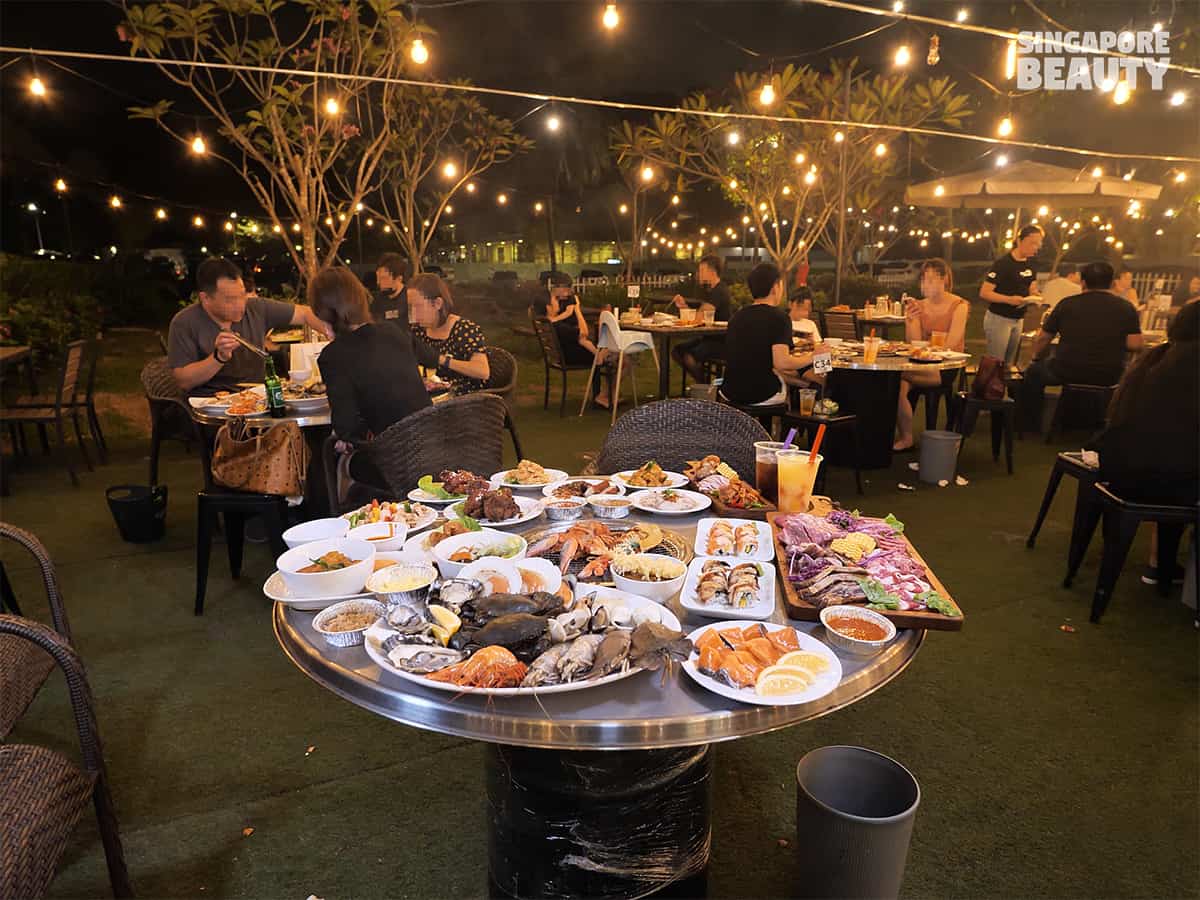 With so much new additions to The Three Peacocks buffet menu, you need to get your tables reserved soon. Bask in the glow of fairy lights and the kiss of cool sea breeze while barbecuing. See you at The Three Peacocks at Labrador park soon.
The Three Peacocks Bbq Buffet
Weekday (Monday to Thursday)
Adult price – $59.95 nett
Senior price (60 yrs above) – $49.50 nett
Kids price (7-12 years old) – $28.71 nett
Weekday Dine time 3 hours
Weekend (Friday to Sunday)
Adult price – $64.90 nett
Senior price – 51.90 nett
Kids price – $30.91 nett
Weekend Dine time 2.5 hours
All tables will be served 3 welcome platters – Sashimi platter, meat platter and seafood platter free flow.
Sashimi platter is free flow for tuna, salmon, hamachi, mekajiki, boiled taco, sweet shrimp.
For Premium sashimi platter which consist uni, hotate and ikura salmon caviar only 1 serving.
Free flow drinks, desserts and ice cream included.
Kronenbourg 1664 Blanc beer Promo whilst stocks last:
1 tower $72+(10%service charge)
2 towers $118 +
Opening hours:
5pm to 11 pm daily
Location:
8 Port Rd, Singapore 117540
Free parking (lots of space). Shuttle bus is available at Labrador Park MRT Exit A
Shuttle bus timing 5.30 pm to 10.30 pm (every 30 minutes intervals)
Reservation: 6251 0213
By reservations only. Walk Ins are subjected to availability
Brought to you by The Three Peacocks