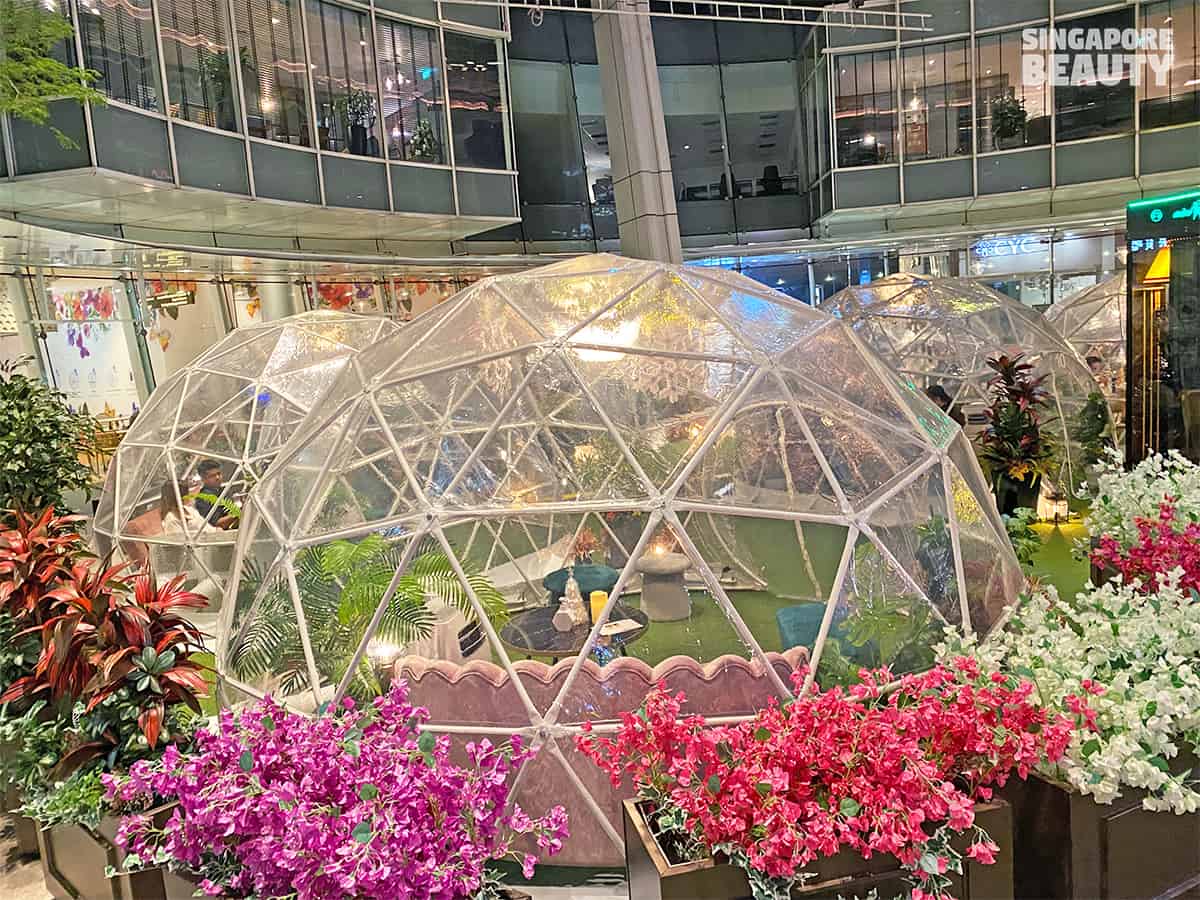 Dome Dining at Capitol Piazza and Chijmes Singapore is the best way to celebrate your Christmas this 2020. Dine in these whimsical domes housed on the outdoor alfresco piazza grass lawn fronting Capitol Singapore.
Dome Dining Menu Options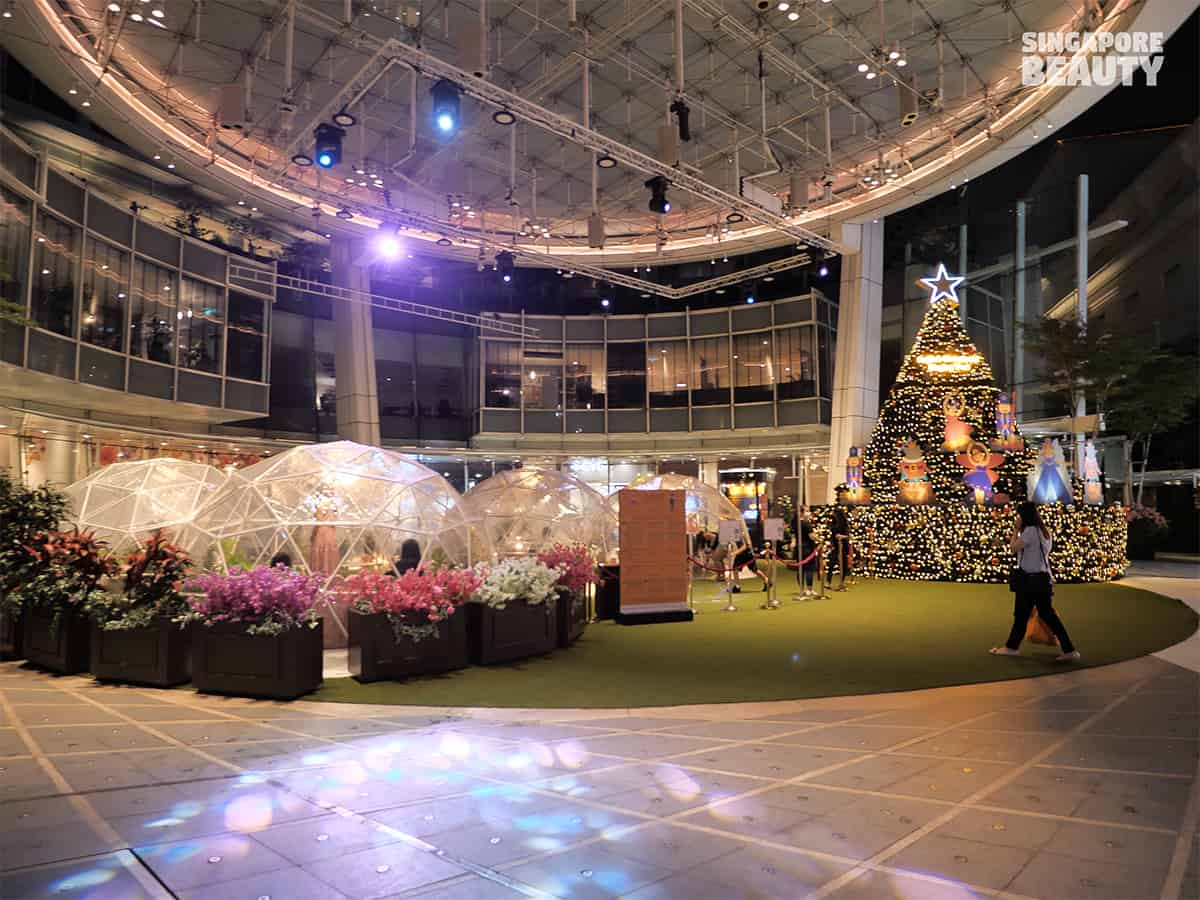 Booking for this dome dining experience may be full now, but let us review the Dome Dining at Capitol Piazza and Chijmes Singapore together here. Do look out for their next dome dining booking opening in Jan 2021 on Capitol Singapore's Facebook page to book these domes.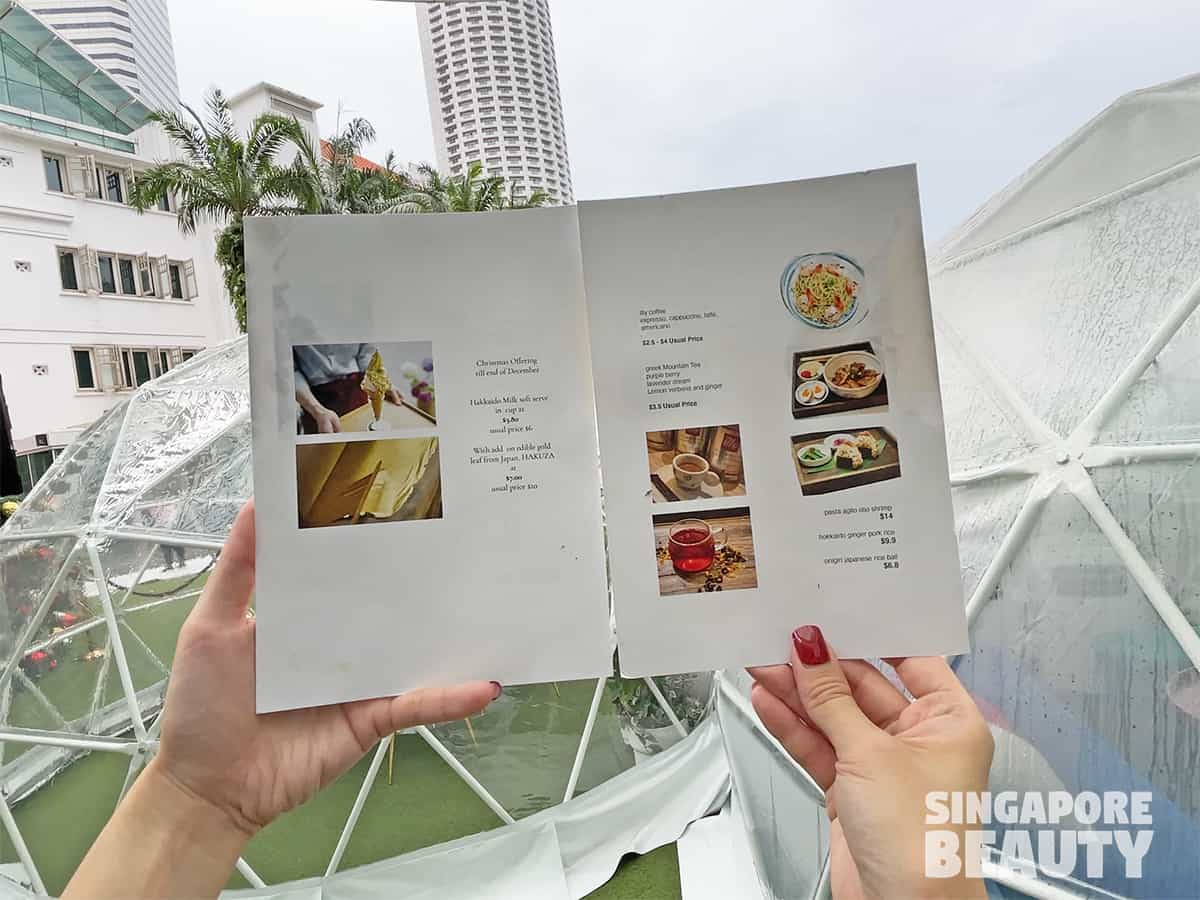 There is a dome dining menu available inside the dome or you can order from any of Capitol outlets as well. The menu available inside the dome can be very limited in options. Do note that there is no minimum spending required here as long as you purchase some food from the F&B or any outlets at Capitol Singapore.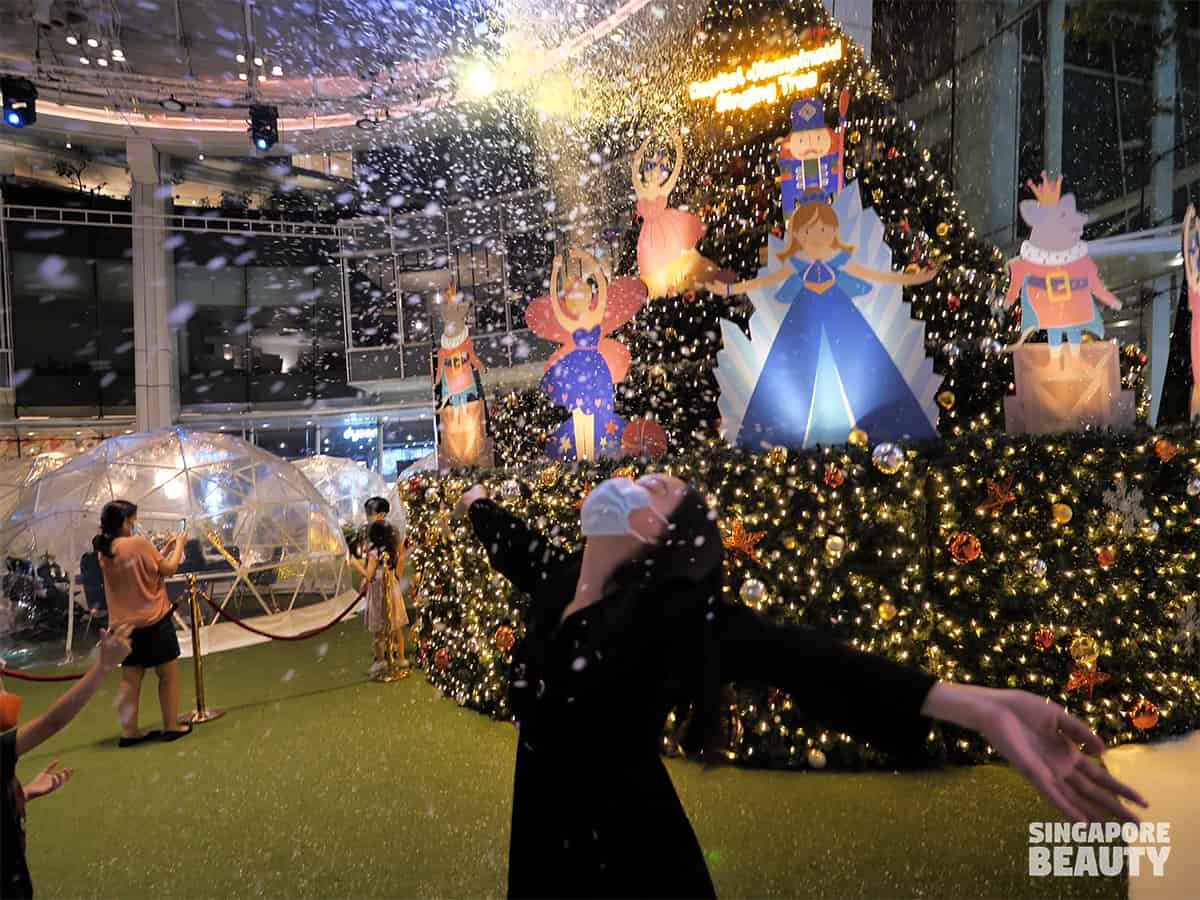 The catch here is that this dome dining Capitol price is literally zero with no minimum spend required with free entry. Come night, this lawn is transformed into a winter wonderland that actually snow. These snowfall timing at dome dining at Capitol runs for 5 minutes long in 1hour intervals starting from 730pm, 830pm and 930pm.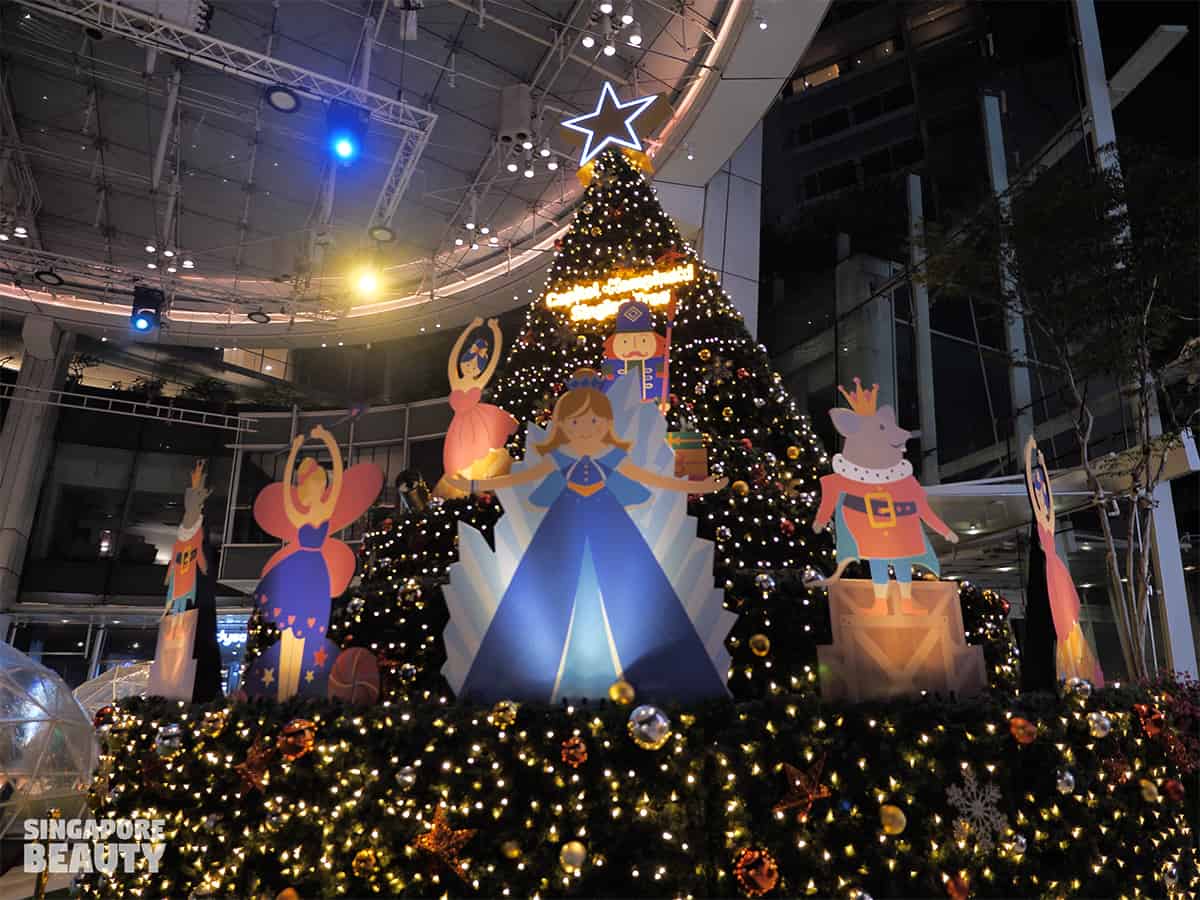 Check out the Capitol Kempinski Singing Tree that carols and has life size standees from the Nutcracker.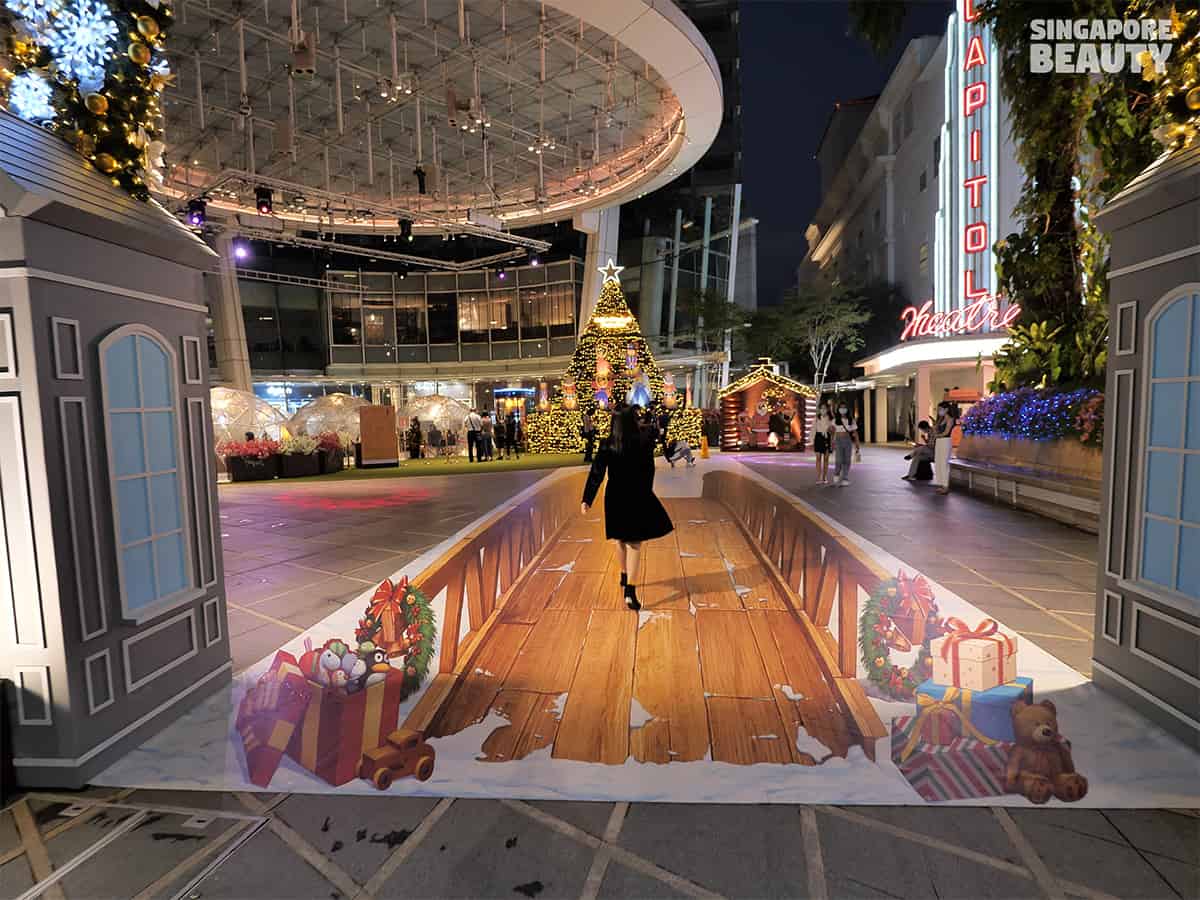 Check out this 3D trick-eye installation of bridge at the entrance of the Land of Snowflakes at Capitol Singapore dome-dining entrance.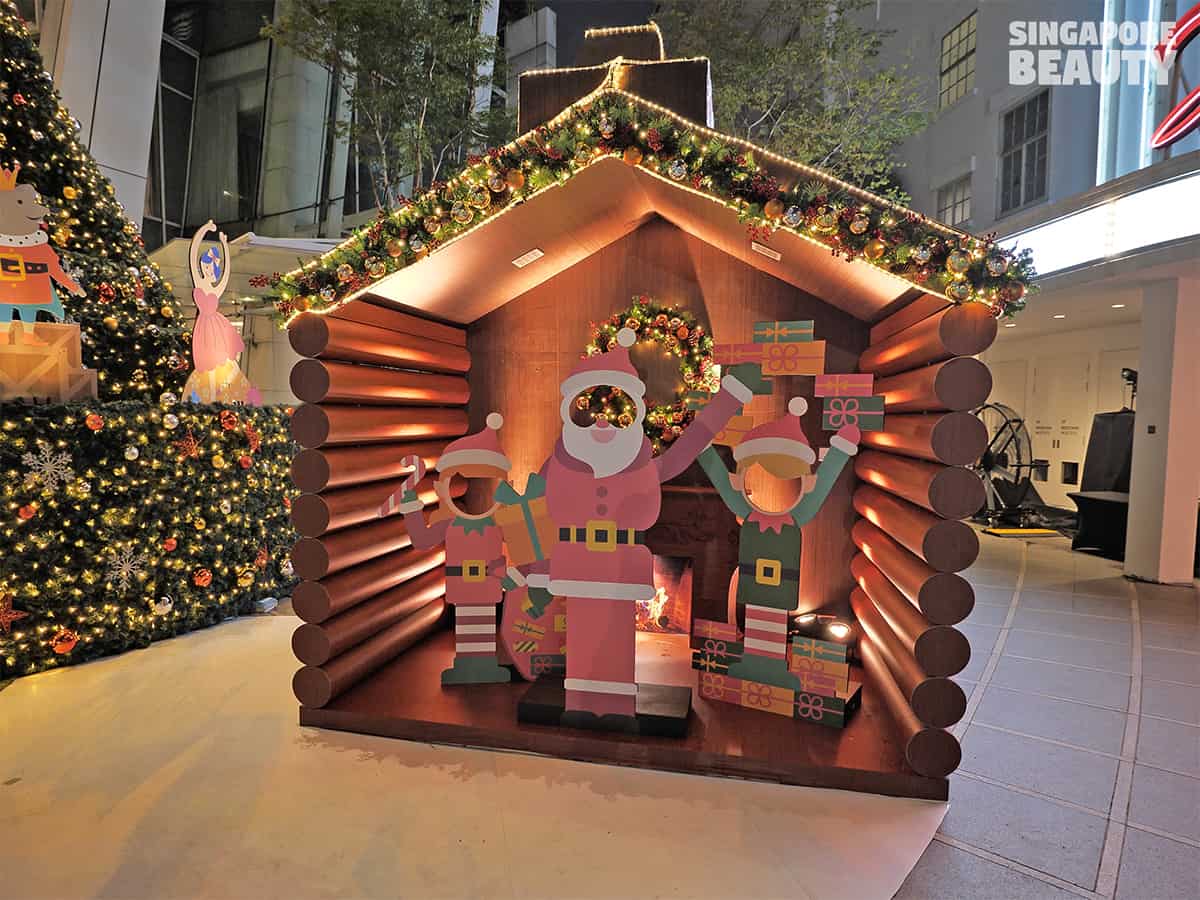 Be one of Santas's elves in his log house with a fireplace.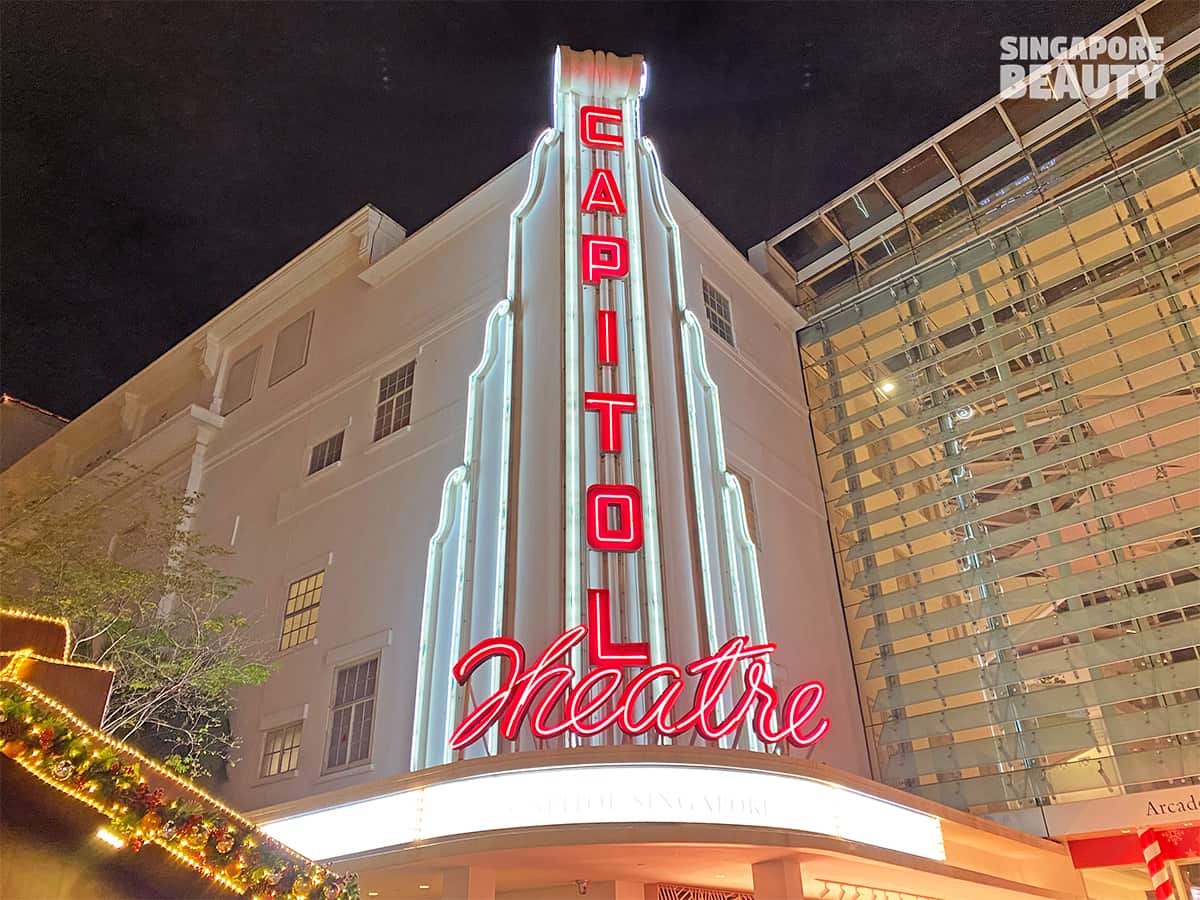 Get a nostalgic photo shoot with the shocking pink retro neon signage at Capitol Singapore too.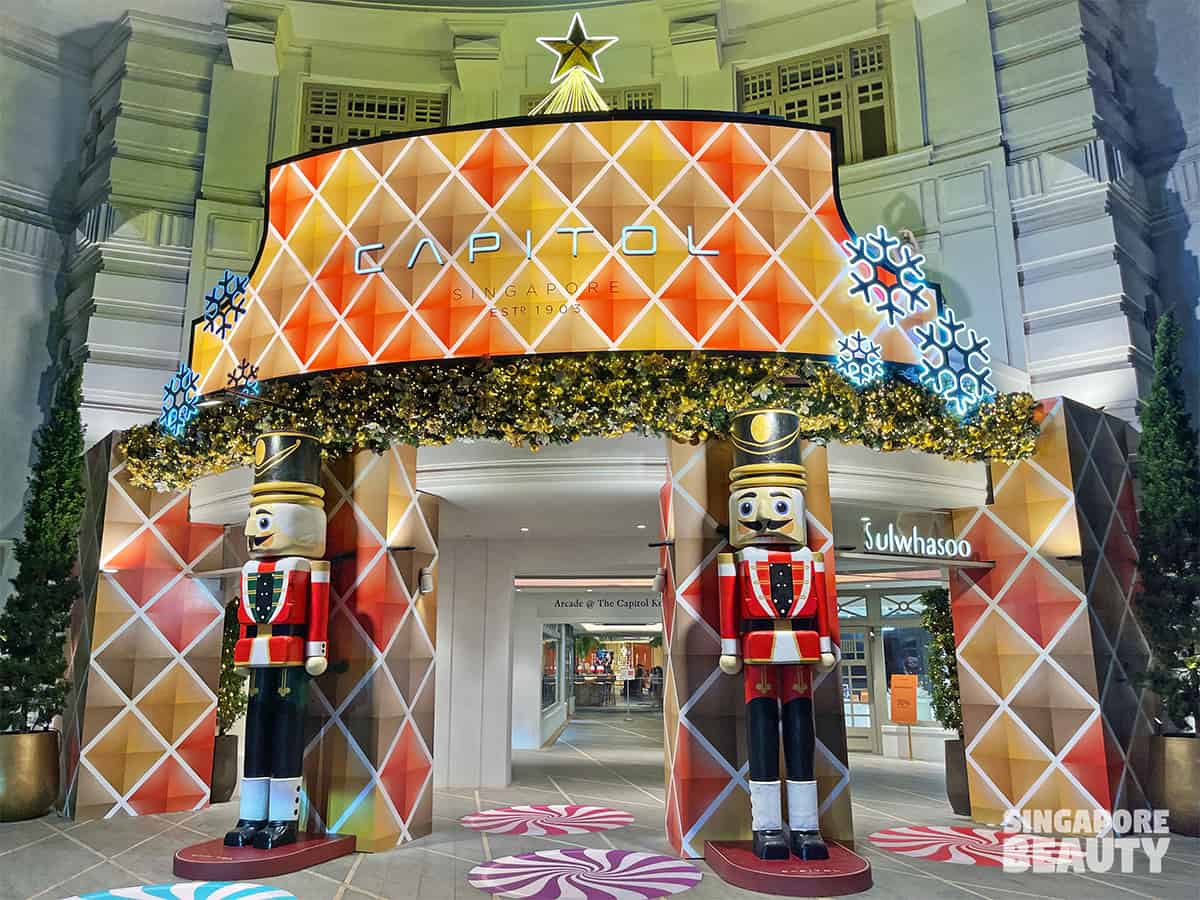 Soak in these Nutcracker-themed Christmas wonderland with snowfall, Christmas Market, carolling and hands on workshop at Capitol Singapore. Pose with these head turning 8 metre talk nutcrackers soldiers at the entrance of Capitol.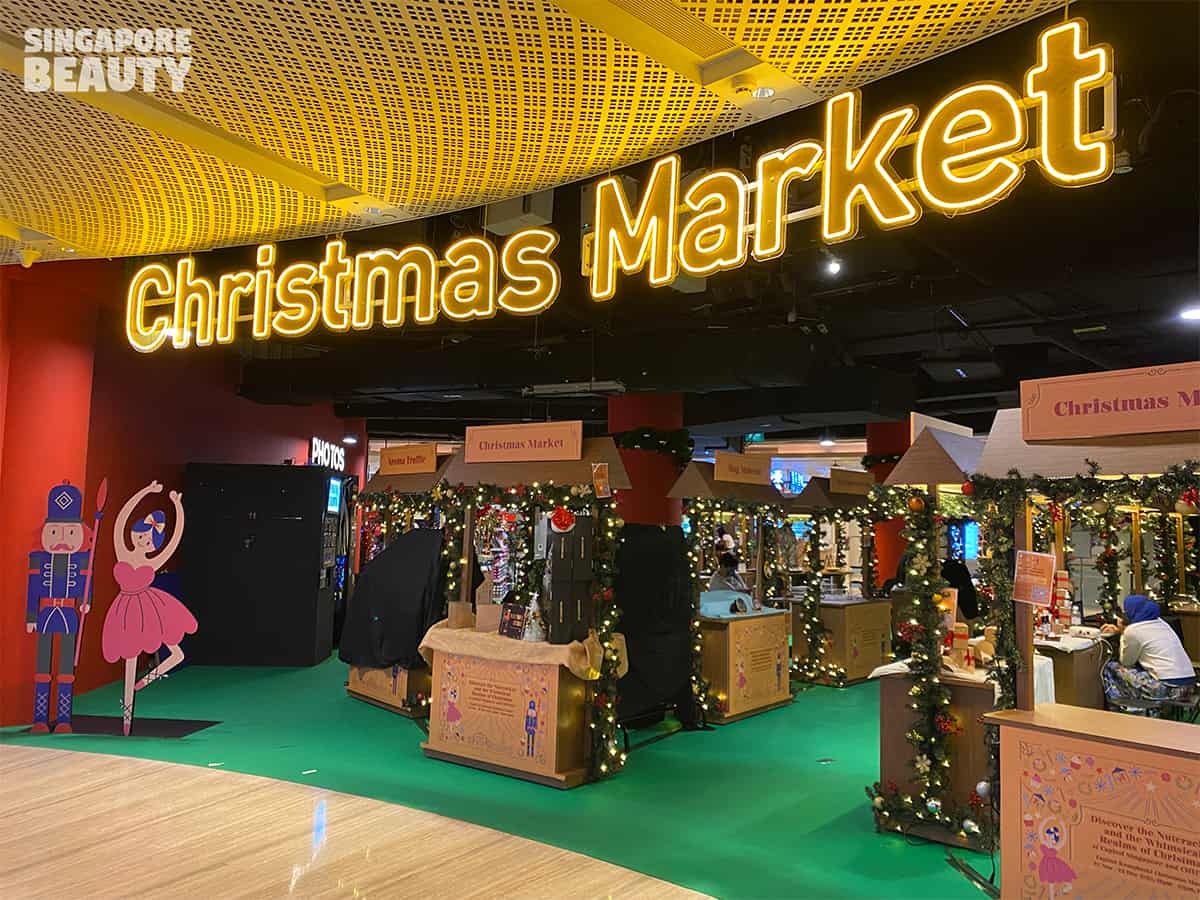 Get into the festive mood of Christmas shopping here at the Christmas Market within Capitol after your dome dining experience. If you are someone's secret Santa this season, you can get some unique gifts such as fragrances, Christmas decorations and more here.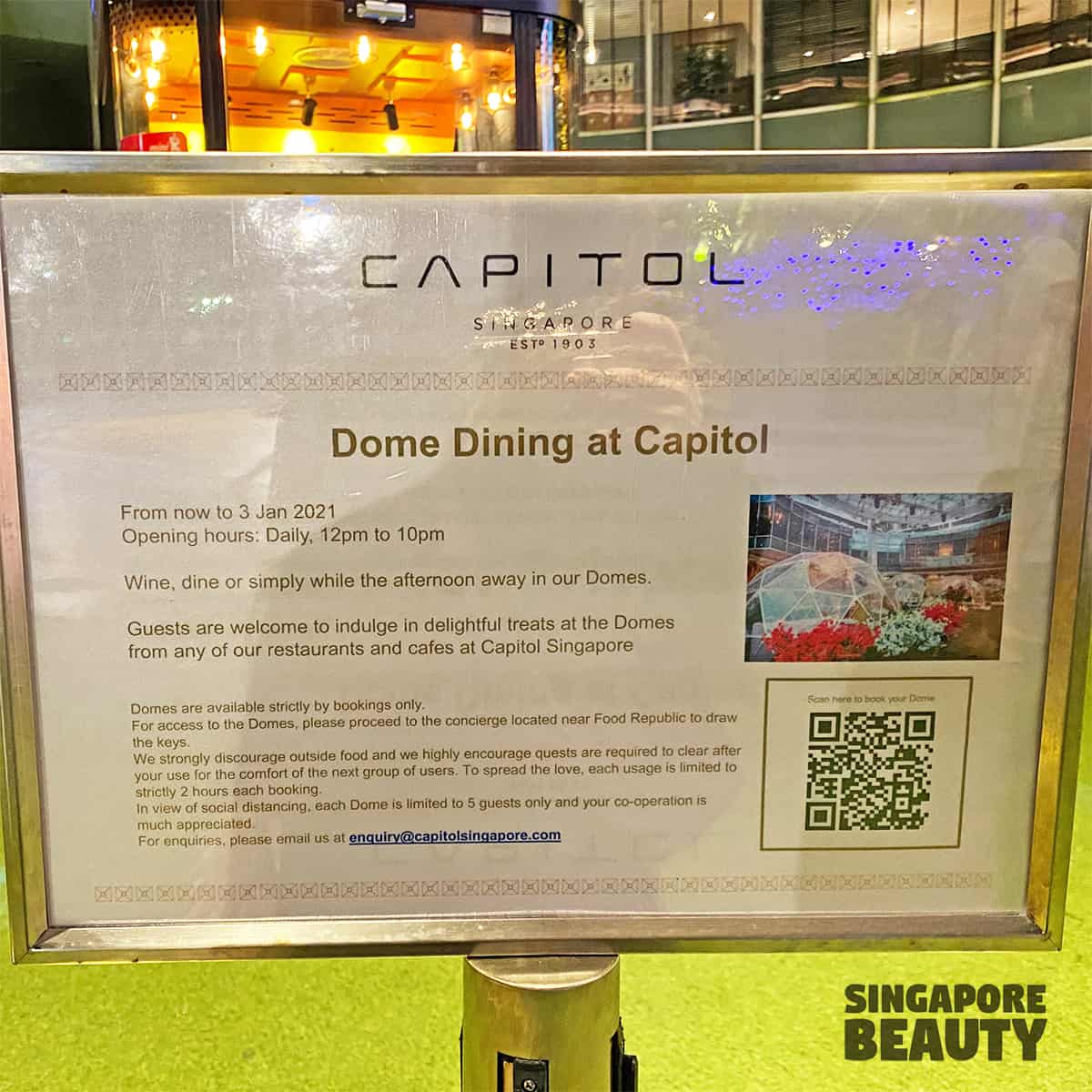 For those who would like to try their luck with getting into these domes, you can pop over during the off peak hours and scan the QR code to see if any of these domes is still available due to no shows or cancelled booking.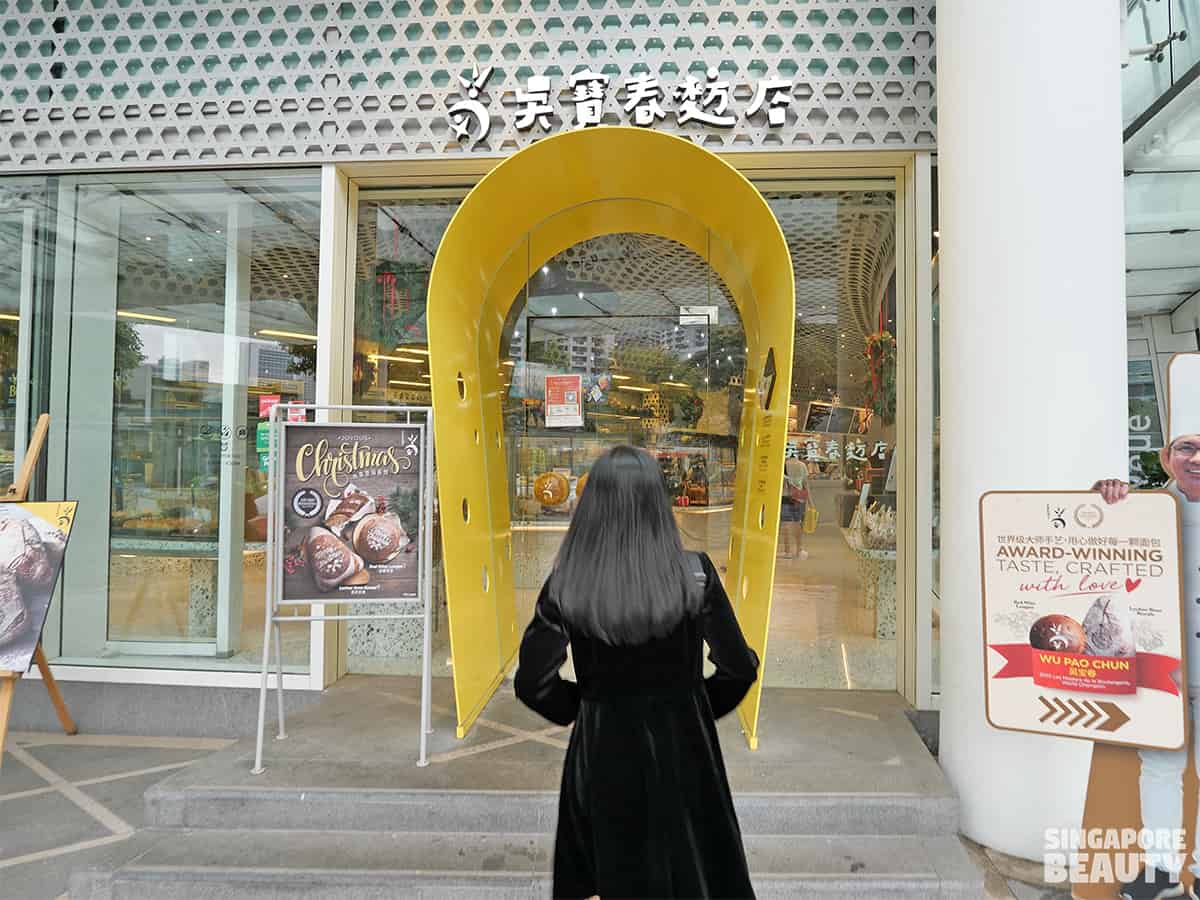 You can take away some pastry and cakes from the café bakery (Toast Box or Wu Pao Chun Bakery Singapore) within Capitol for your garden party inside the dome dining. For those on a budget, you can even purchase your drinks from HAO mart within Capitol Singapore.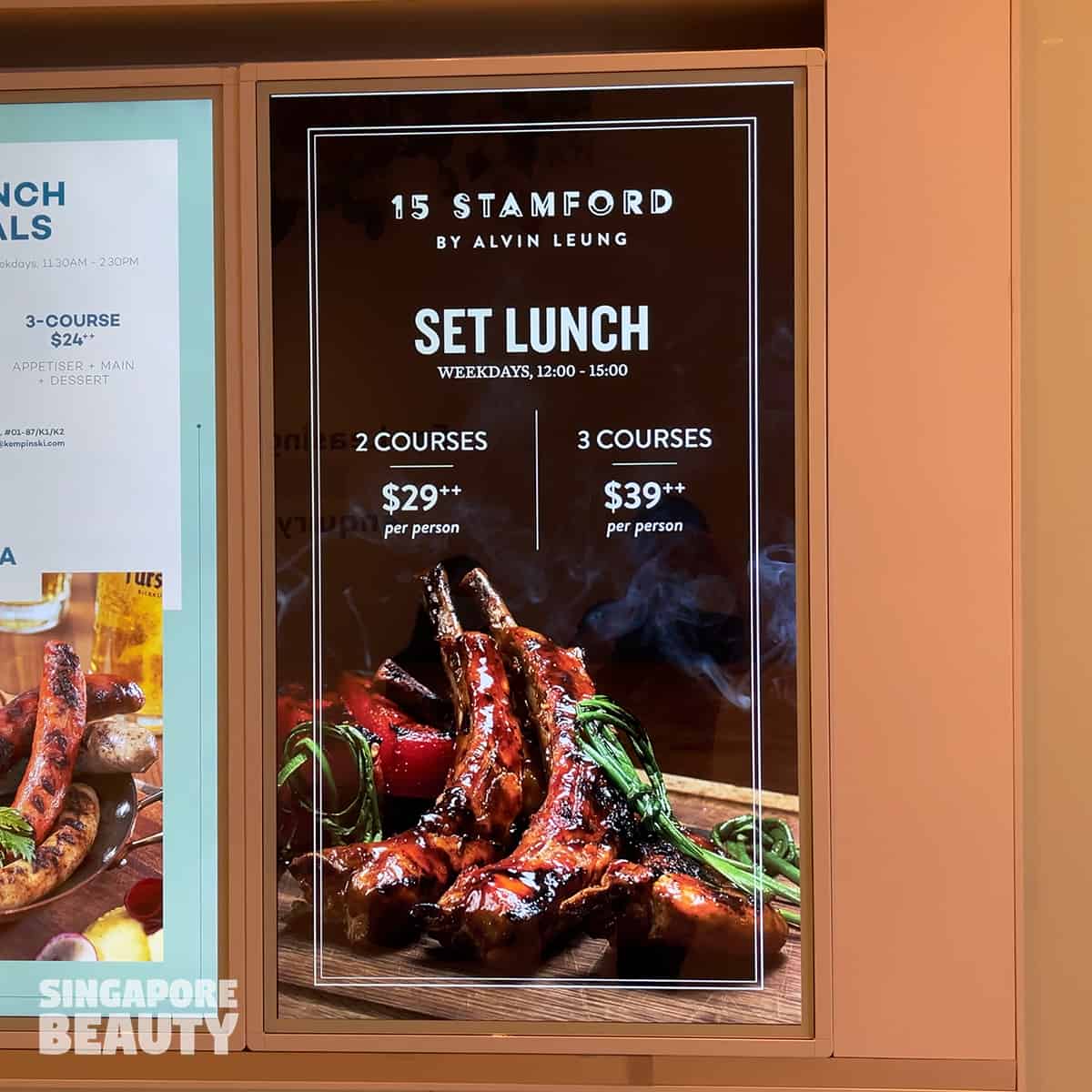 Grand Capitol Kempinski Hotel 15 Stamford have a set lunch menu starting from $29++ per pax weekdays 12 to 3pm.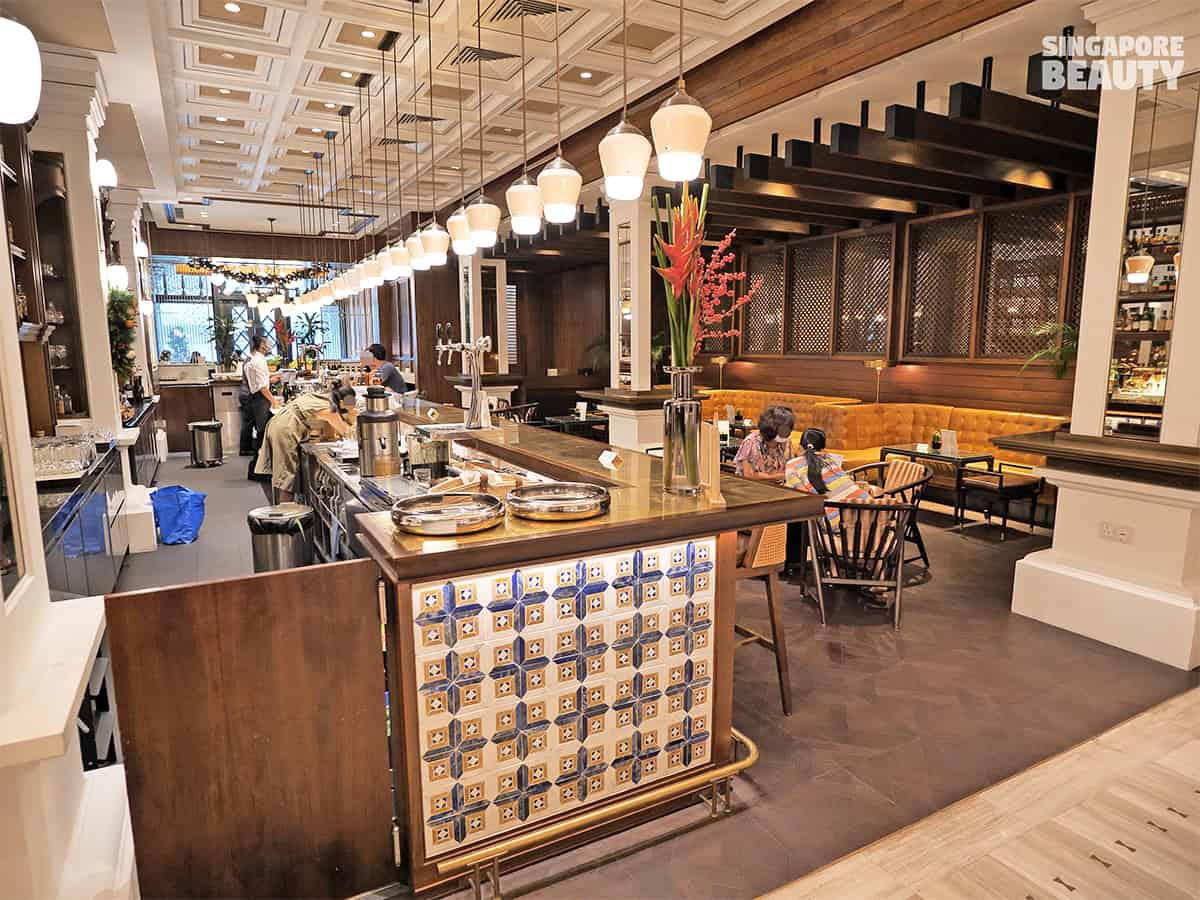 For a more formal dining experience, you can order from the adjoining luxe Grand Capitol Kempinski Hotel 15 Stamford by Alvin Leung for a more satisfying meal inside the Capitol dome dining.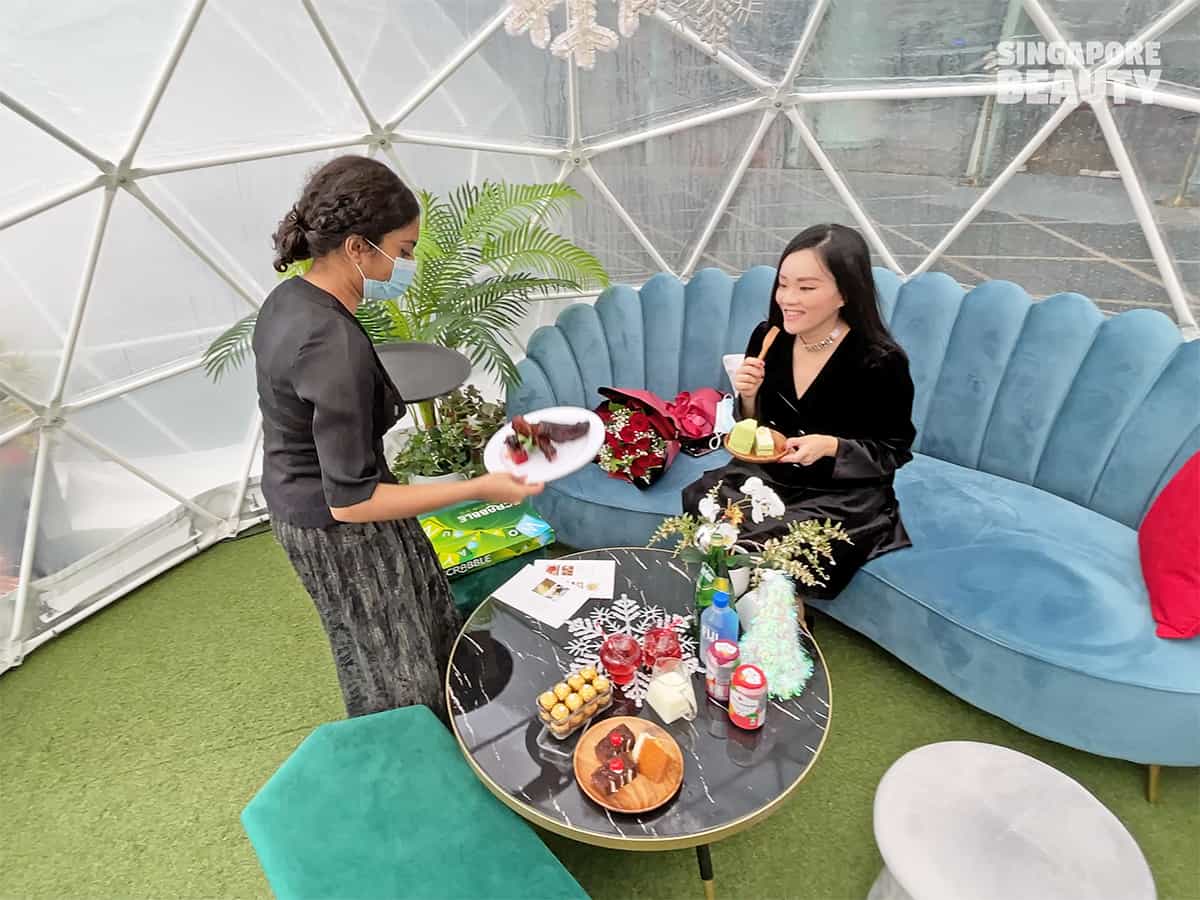 Special arrangements can be made with the hotel restaurant crew Ms Angel for delivery to the domes during their off peak hours. We tried the pork prime ribs bak kut teh $38++ on their menu.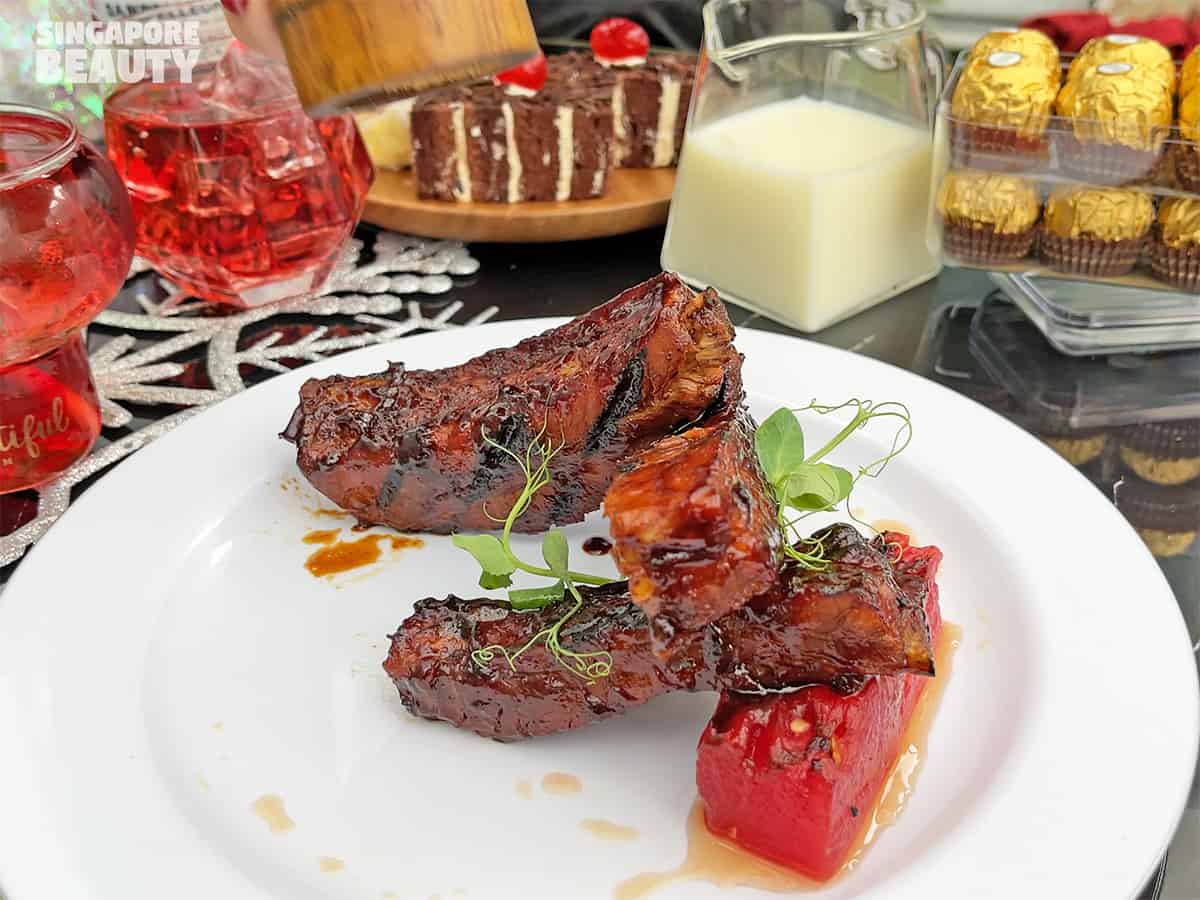 The pork ribs are fall off the bone type and extremely savoury with angelica bbq sauce. It also comes with a refreshing block of sweet candied compressed watermelon.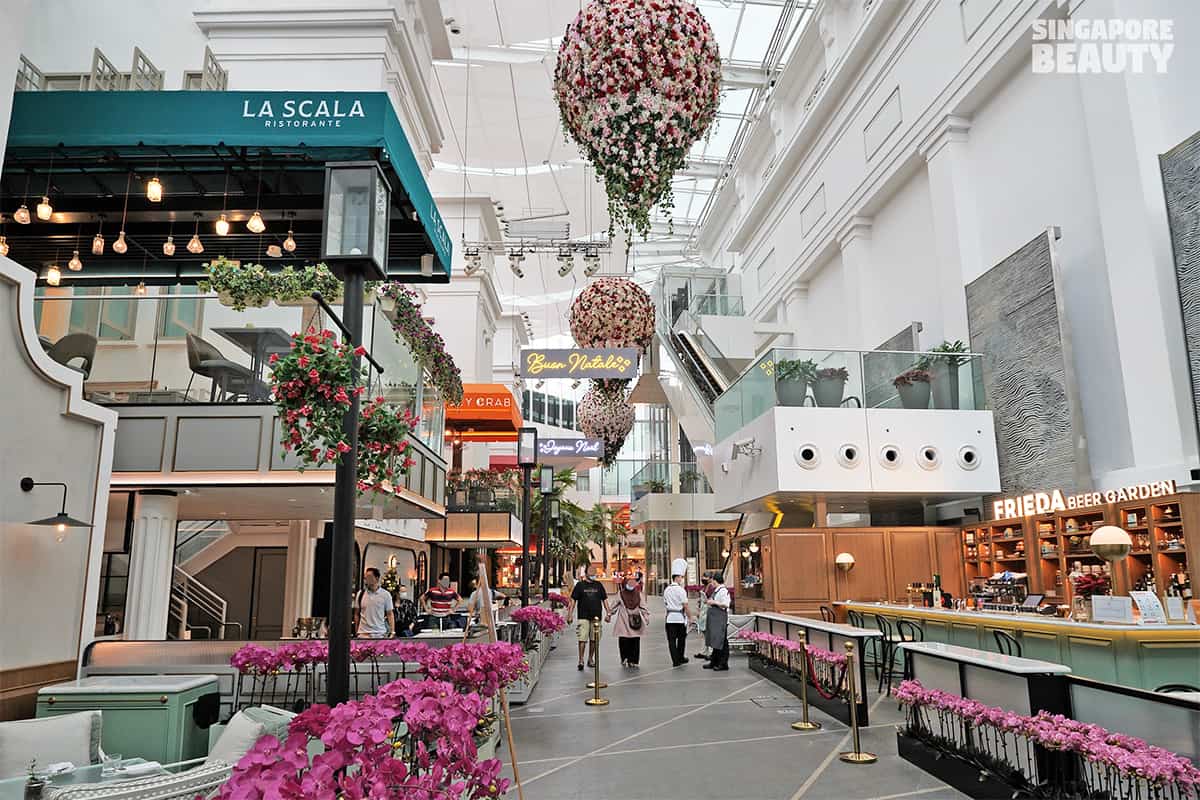 Just be warn that if you make the bookings of the Dome during the tea time hour after 3pm, most of the ground level restaurant café are closed for their breaks, so getting your formal dining experience at the Hotel could be the best option. This tip could save you a futile trip from going restaurant to restaurant to get food to your bubble dome.
This private dome dining experience also comes with free rental of board games. Games such as Coup, Off Track, Sushi Go, Saboteur, Chope, Games Room – Games Compendium, Monopoly Neon Pop, The Singaporean Dream, Taboo and Scrabble are available for rental at the Conceige.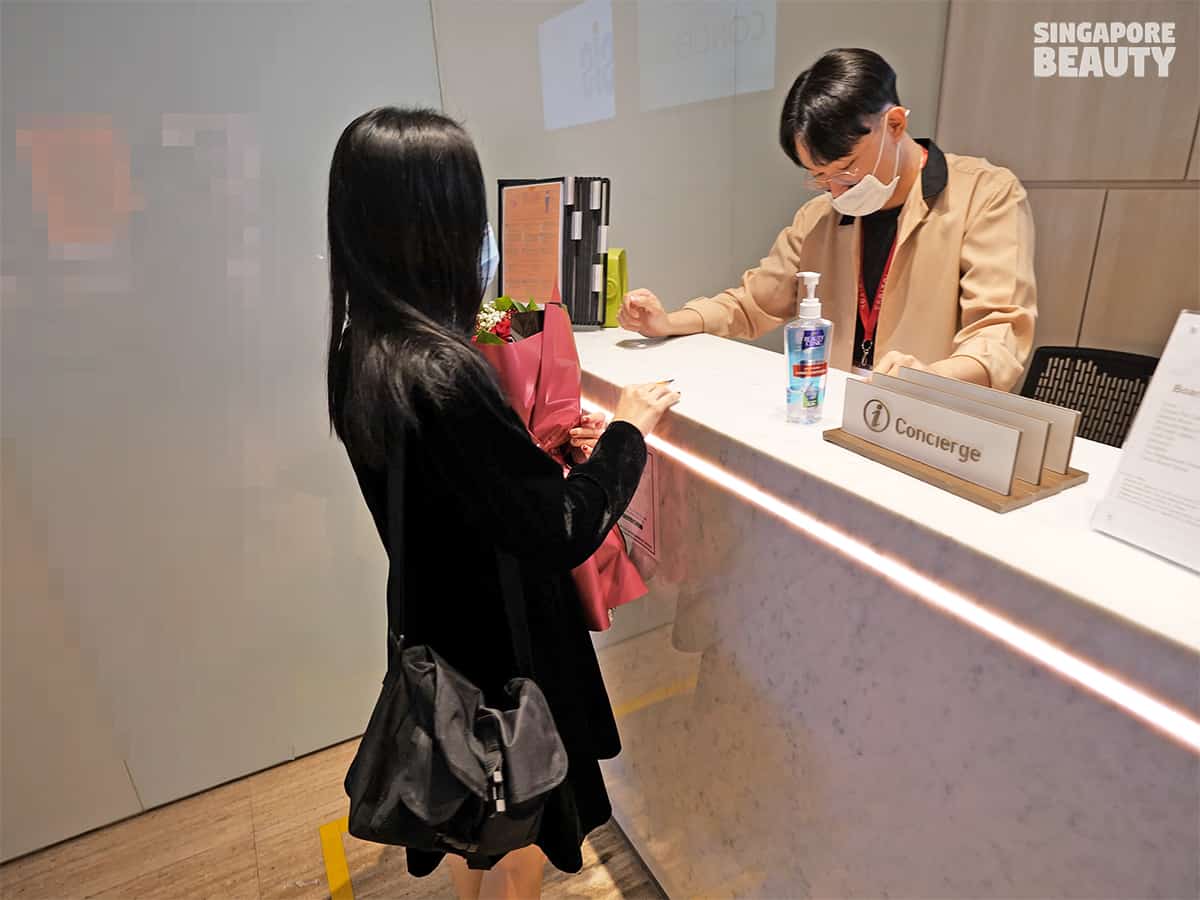 Do return the games together with the dome keys to the concierge at the end of the dining experience.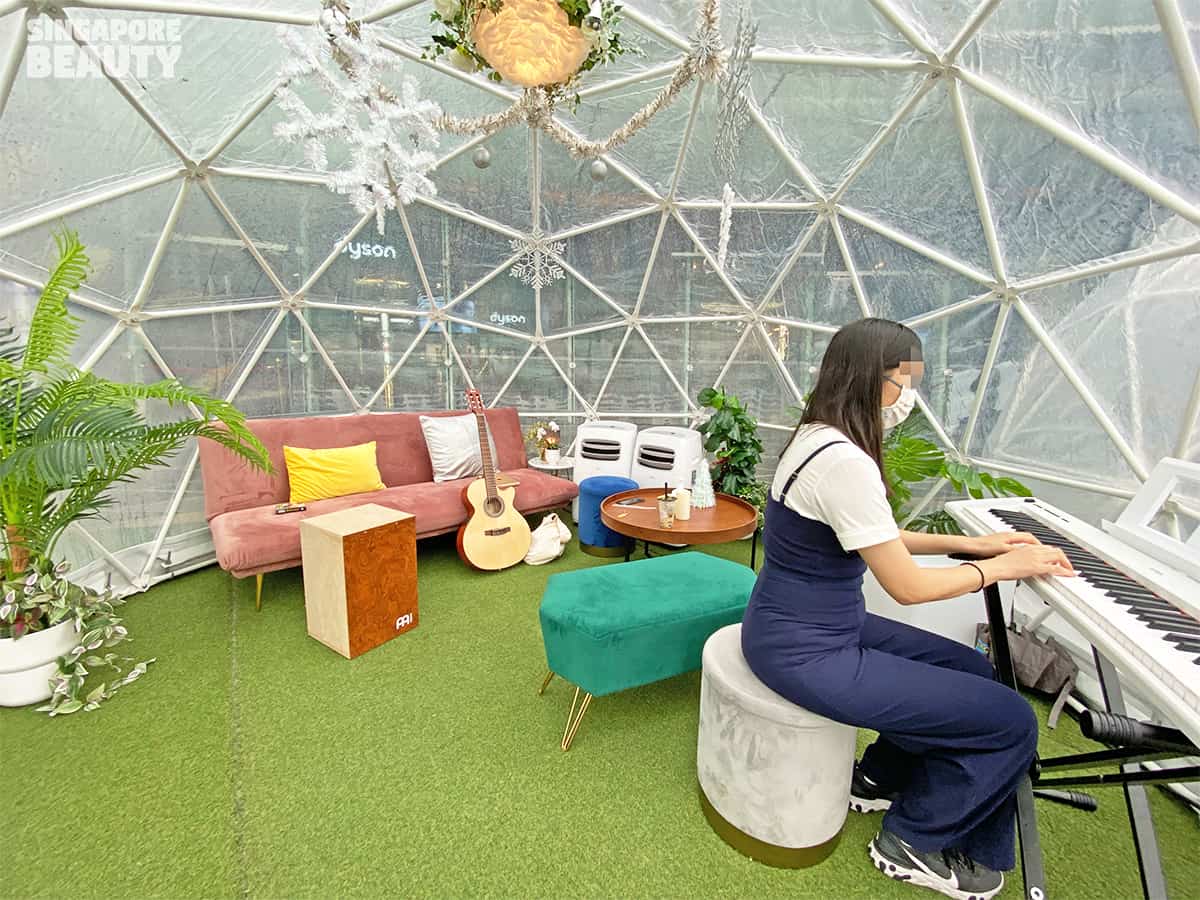 For those who are musically inclined, you can unleash your musical talent inside one of the music-themed dome that comes with a guitar, keyboard and cajón. You can jam to your hearts delight here with your friends!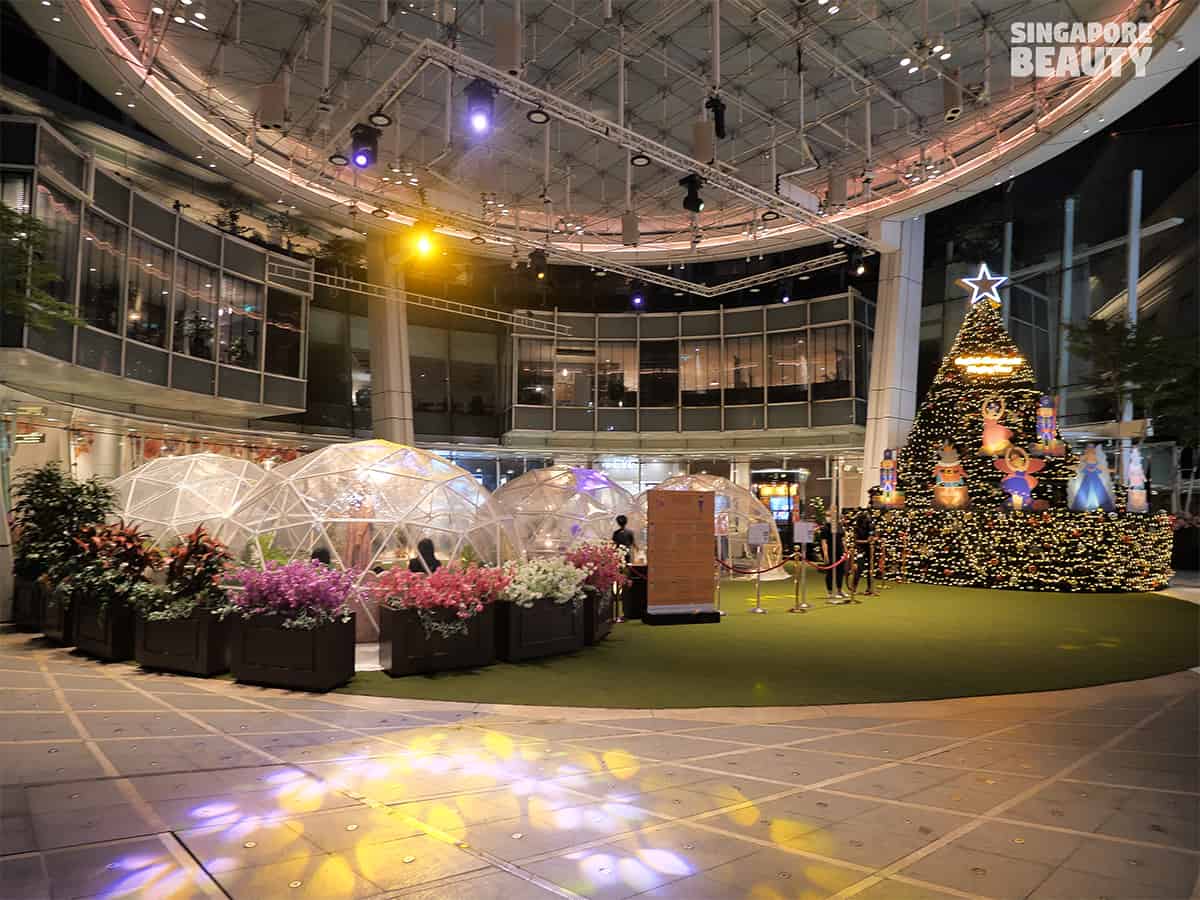 There are a total of 10 dreamy bubble domes to chill out at the Capitol Singapore to have your exclusive private dining experience.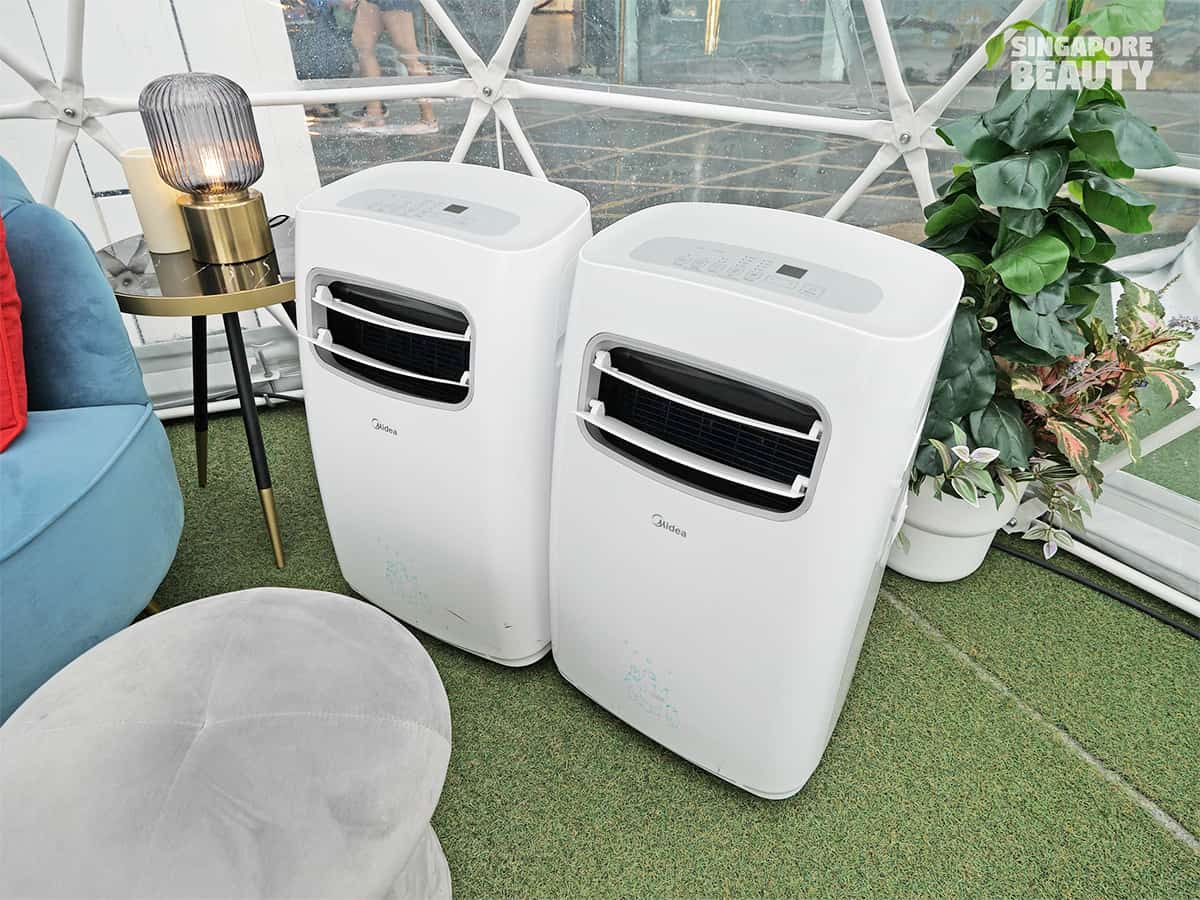 Every one of these outdoor dome dining is uniquely designed, furnished and air-conditioned. Here's how the dome internal designs and furnishing are.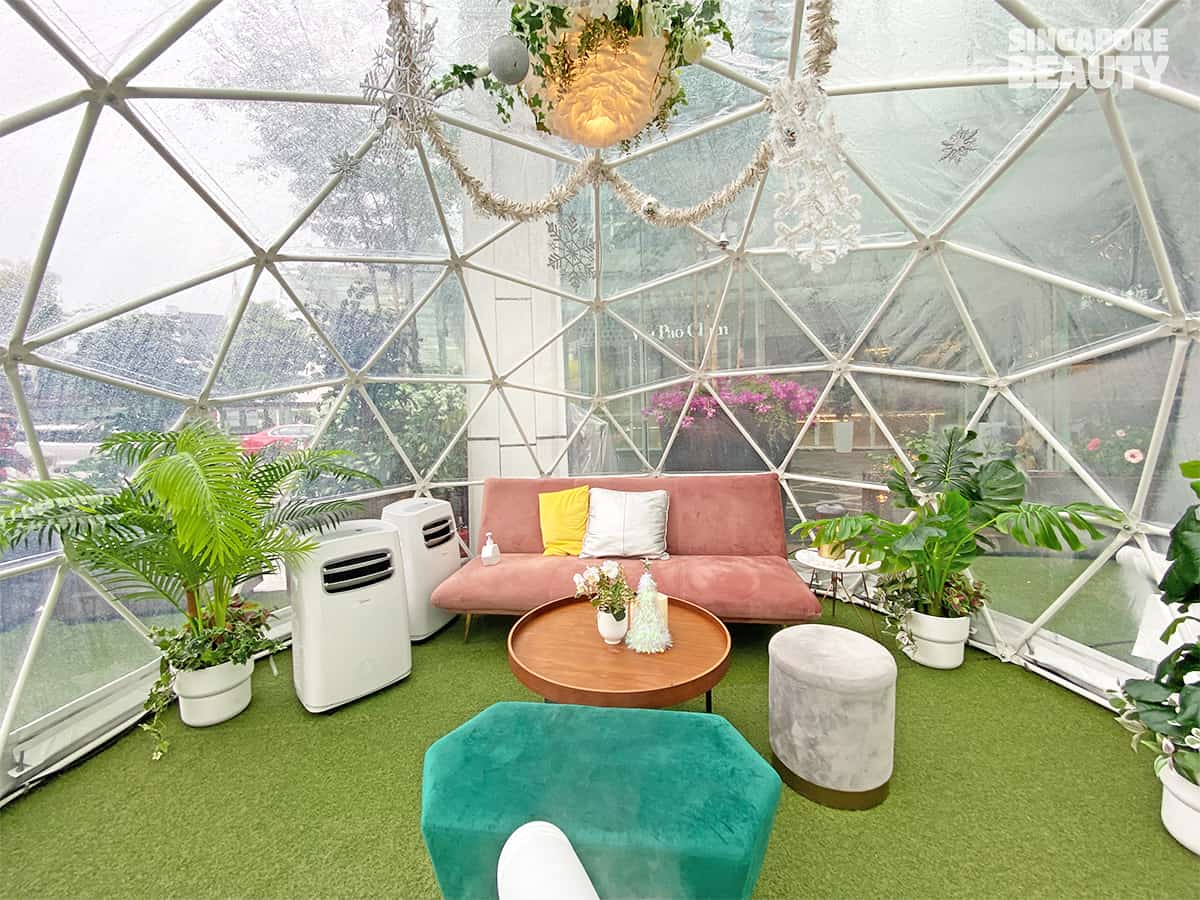 Dome no. 2 with green foot stool, pink velvet couch and a wooded coffee table.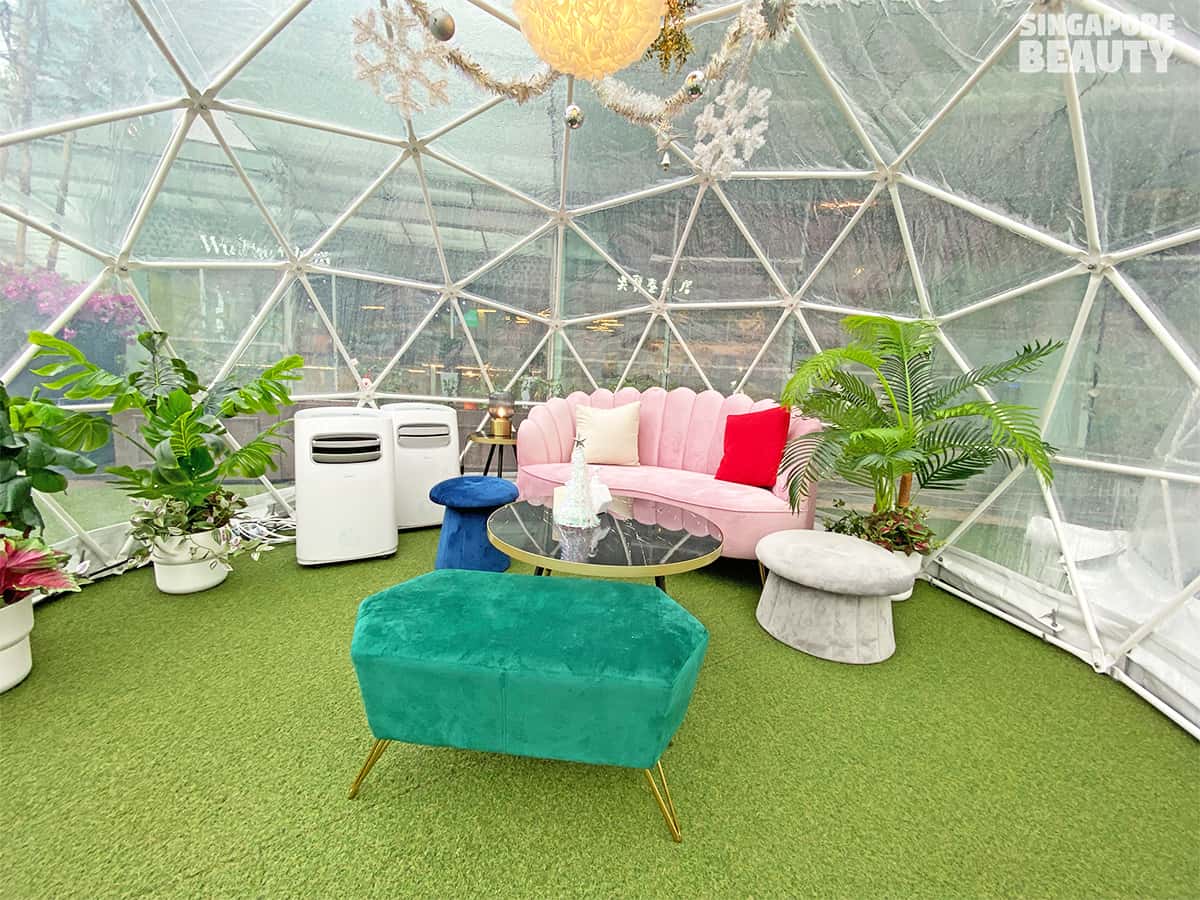 Dome no.3 with shell shaped soft pink couch and marble coffee table.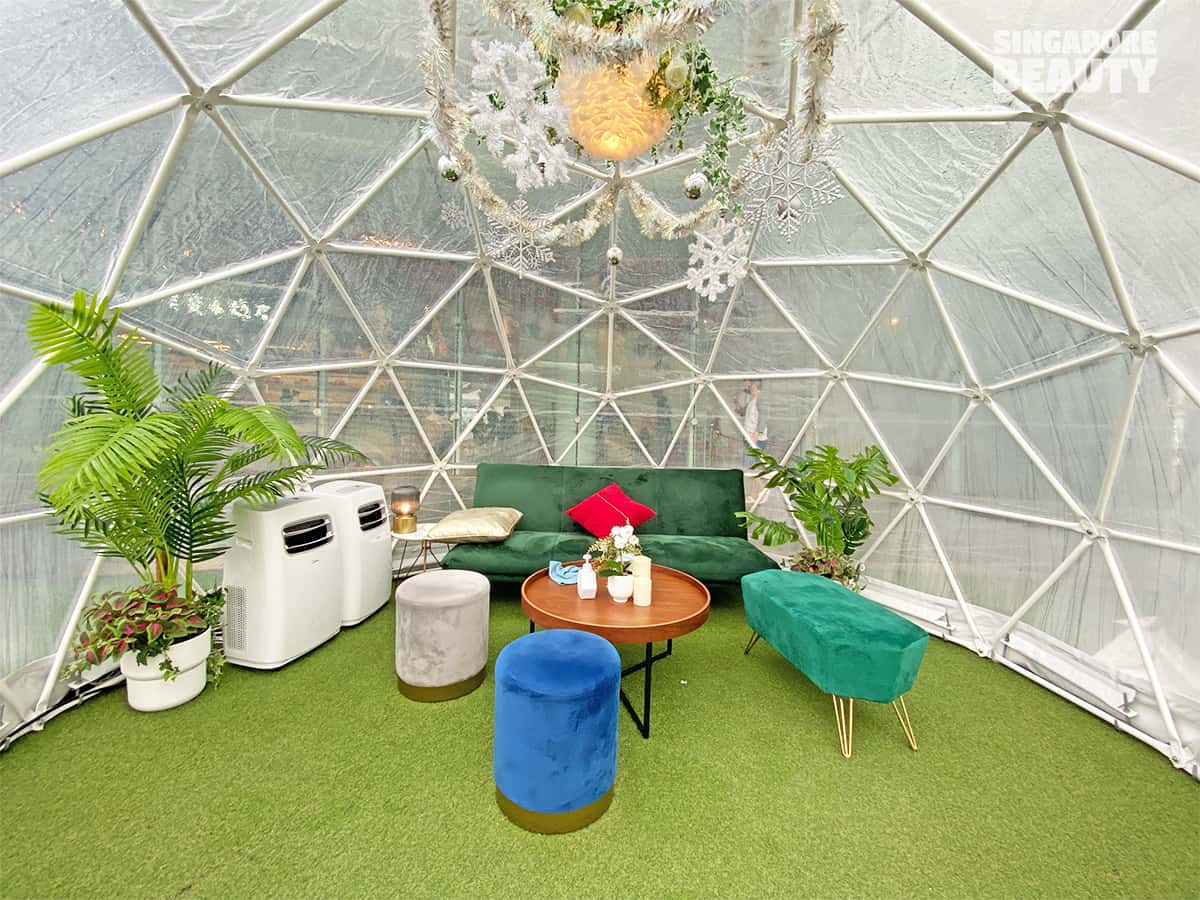 Dome no.4 with Christmas green couch, emerald foot bench and wood grain coffee table.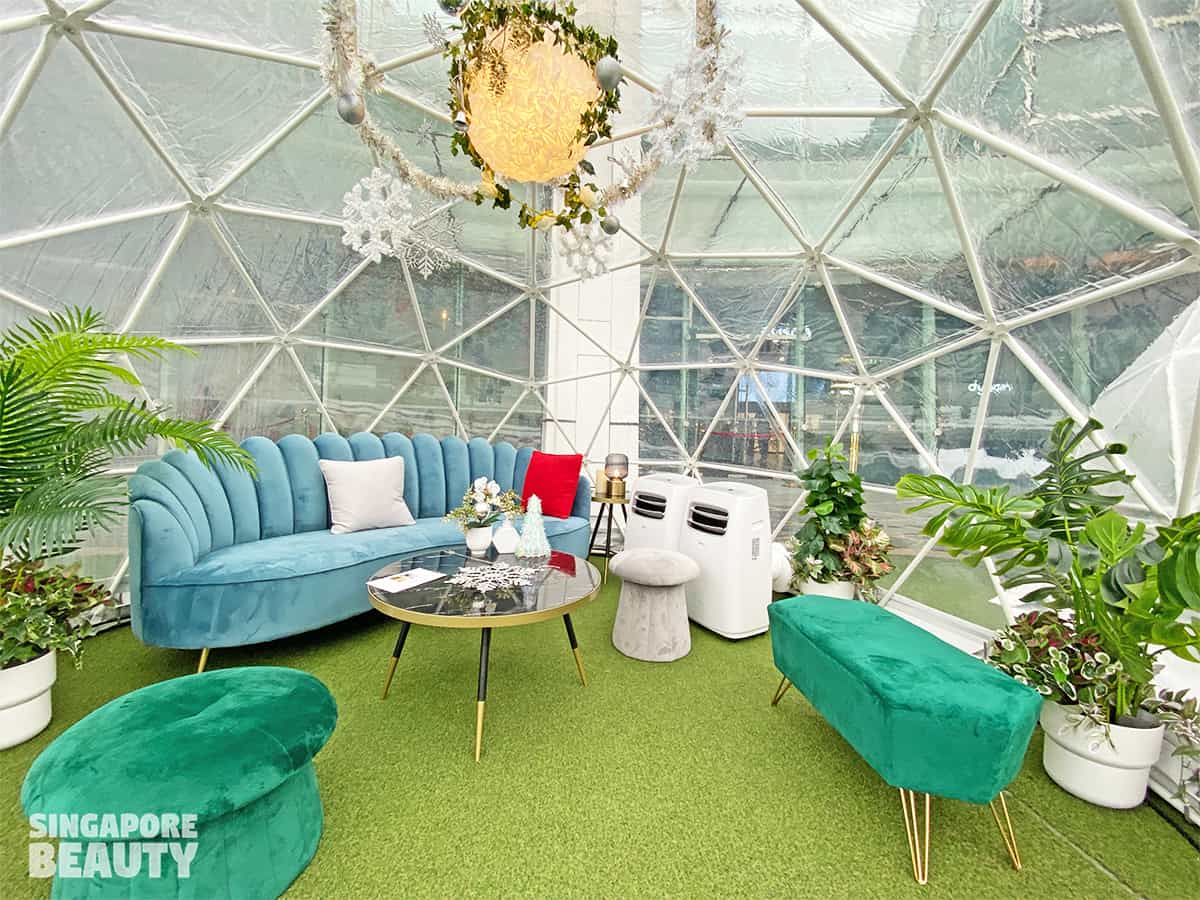 Dome no.5 with shell shaped soft back couch, emerald foot bench, gem like cushioned stool and marble side table. This is the dome with the most furniture.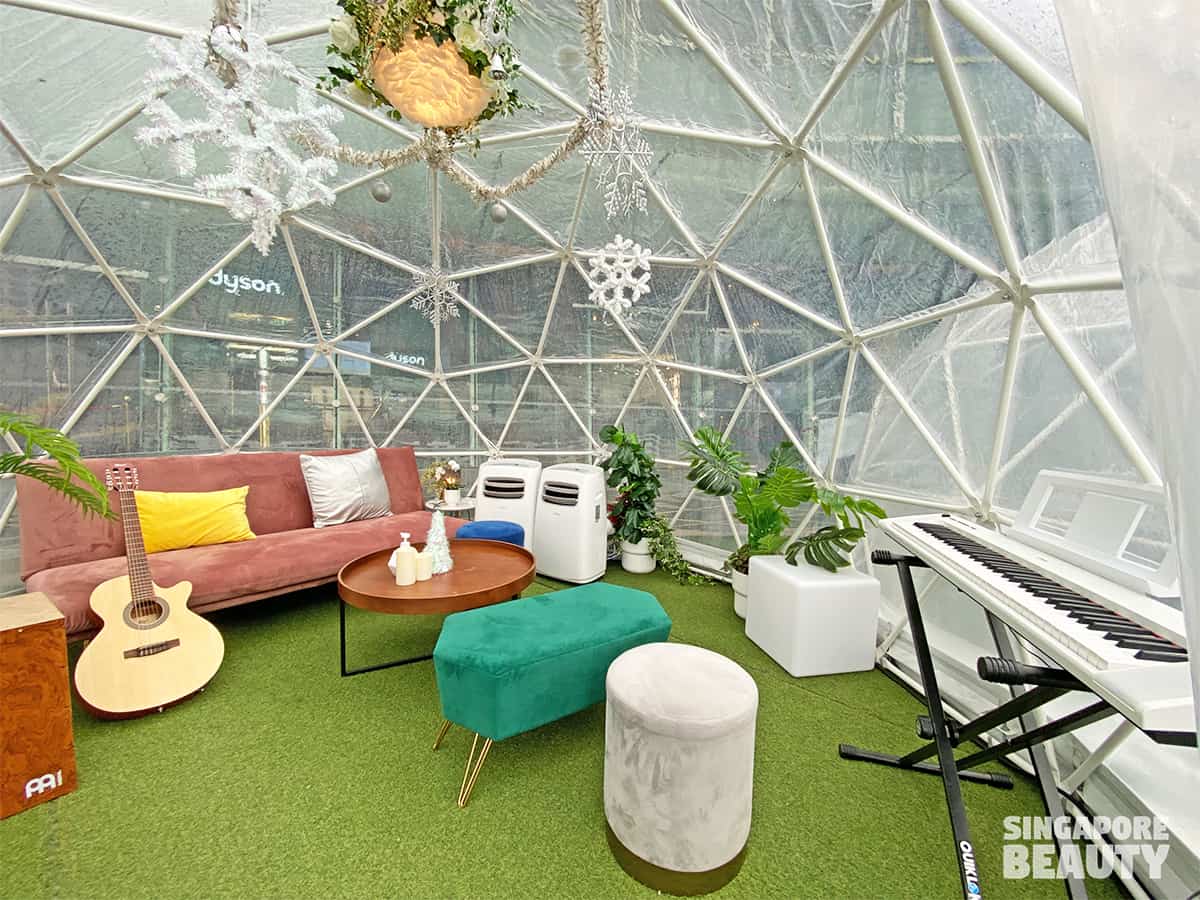 Dome no. 6 is the only music-themed dome with musical instruments. It is one of the hottest room to book.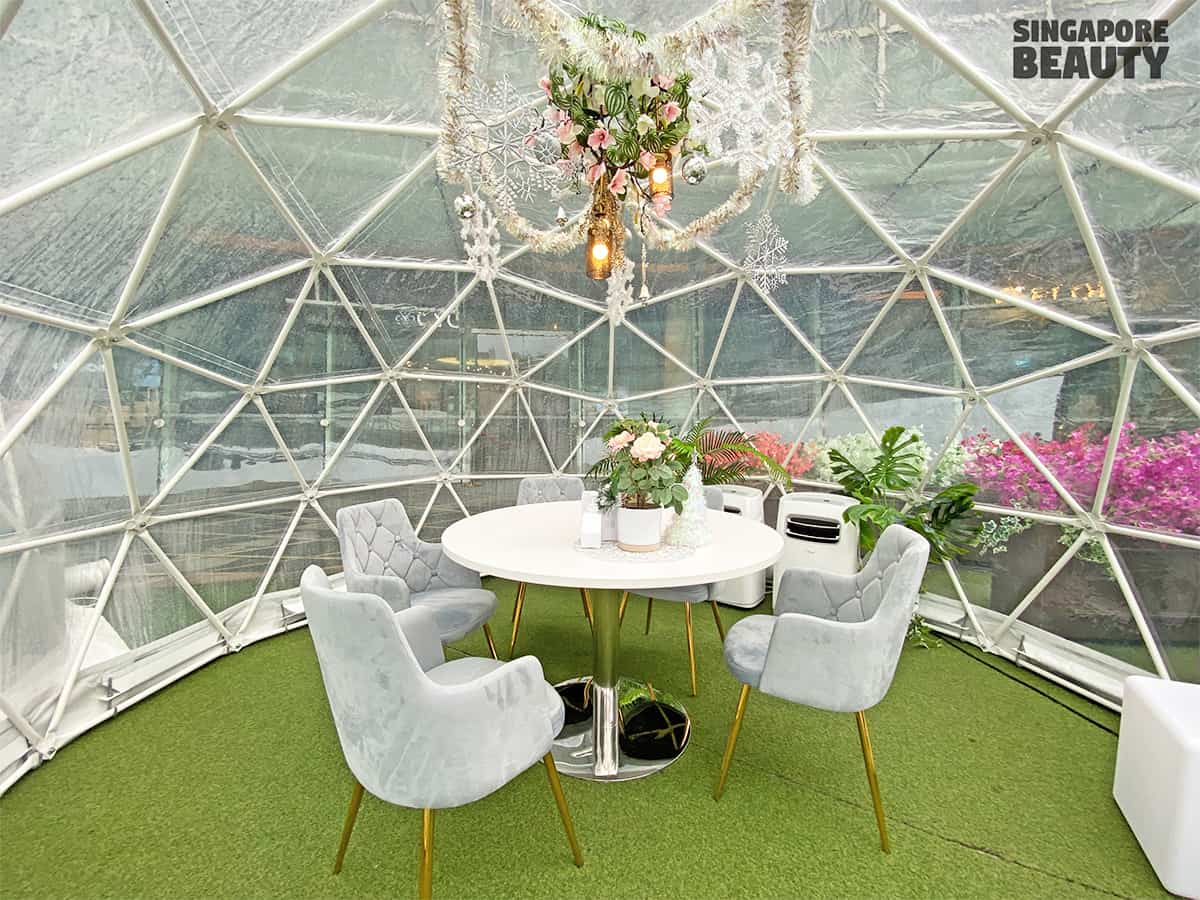 Dome no. 7 has a proper table for some serious dining and flower chandelier as well with classy grey low back chair.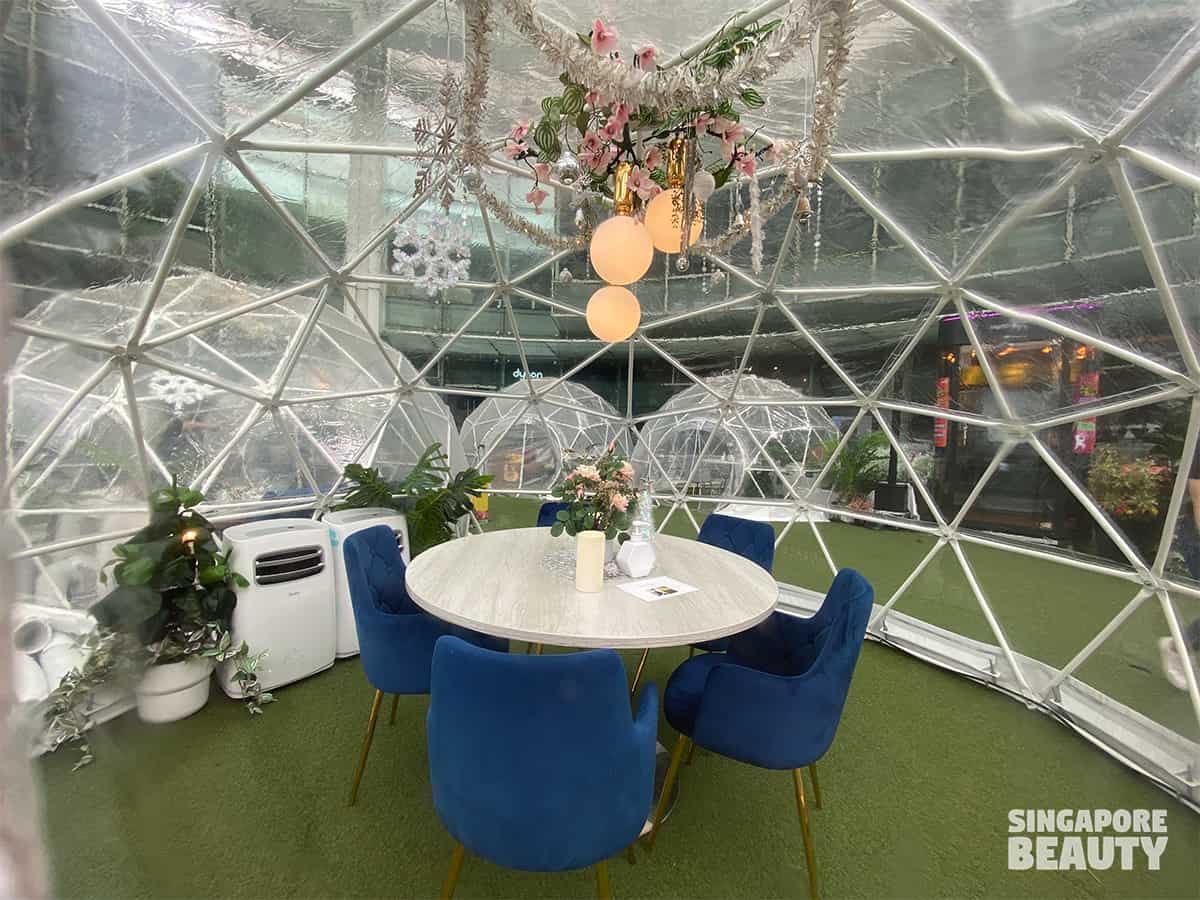 Dome no. 9 and 10 are facing the entrance of the dome land and this dome at Capitol has the best views at night. However, do note that you are not able to select your preferred dome as these are assigned to you by the management of Capitol Singapore.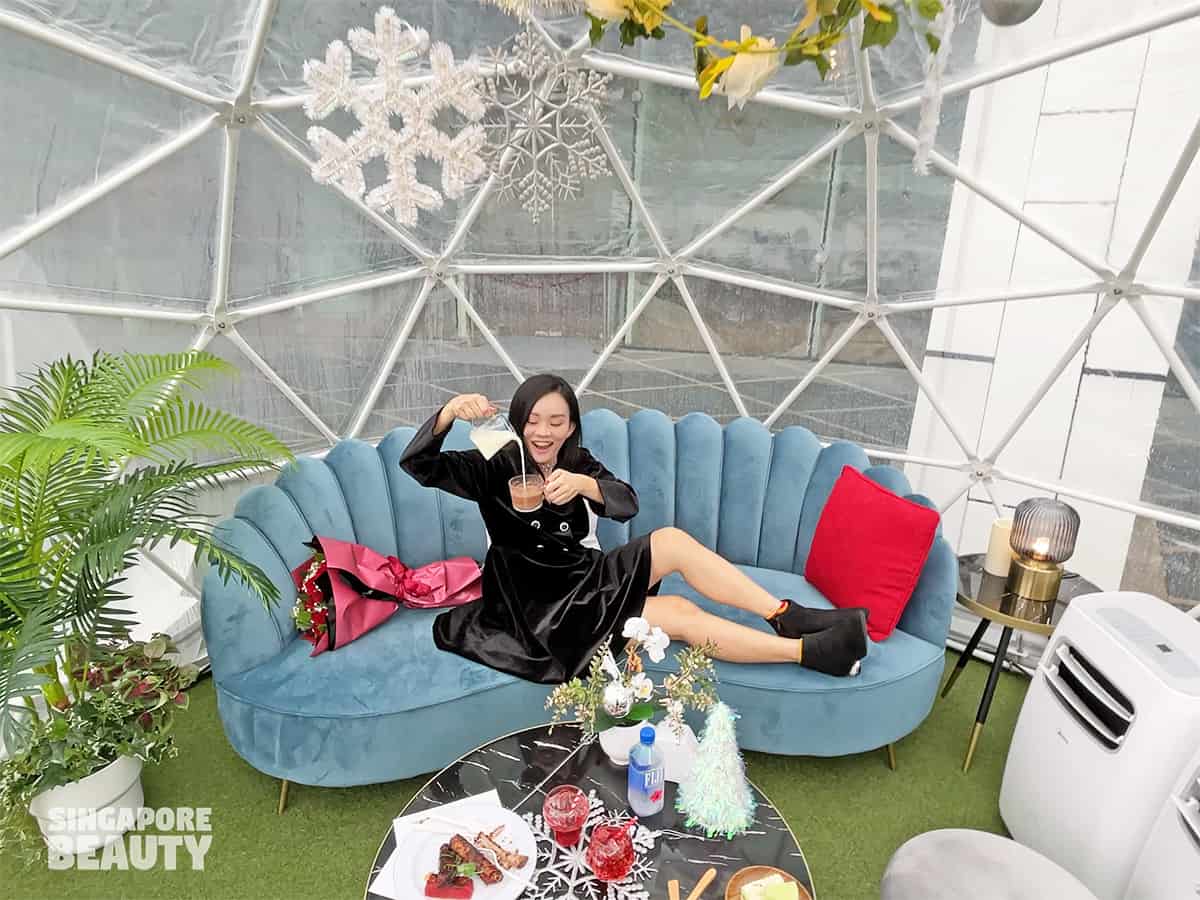 However, if you are looking to match the décor of the dome with your outfit or props for an impressive photo-worthy picture, you can call the concierge to check which dome you will be assigned with. The concierge staff actually do not know the colour themed of the dome as per our last conversation with him, so we have attached these pictures for you to identify the theme of your dome with the number tagged to it.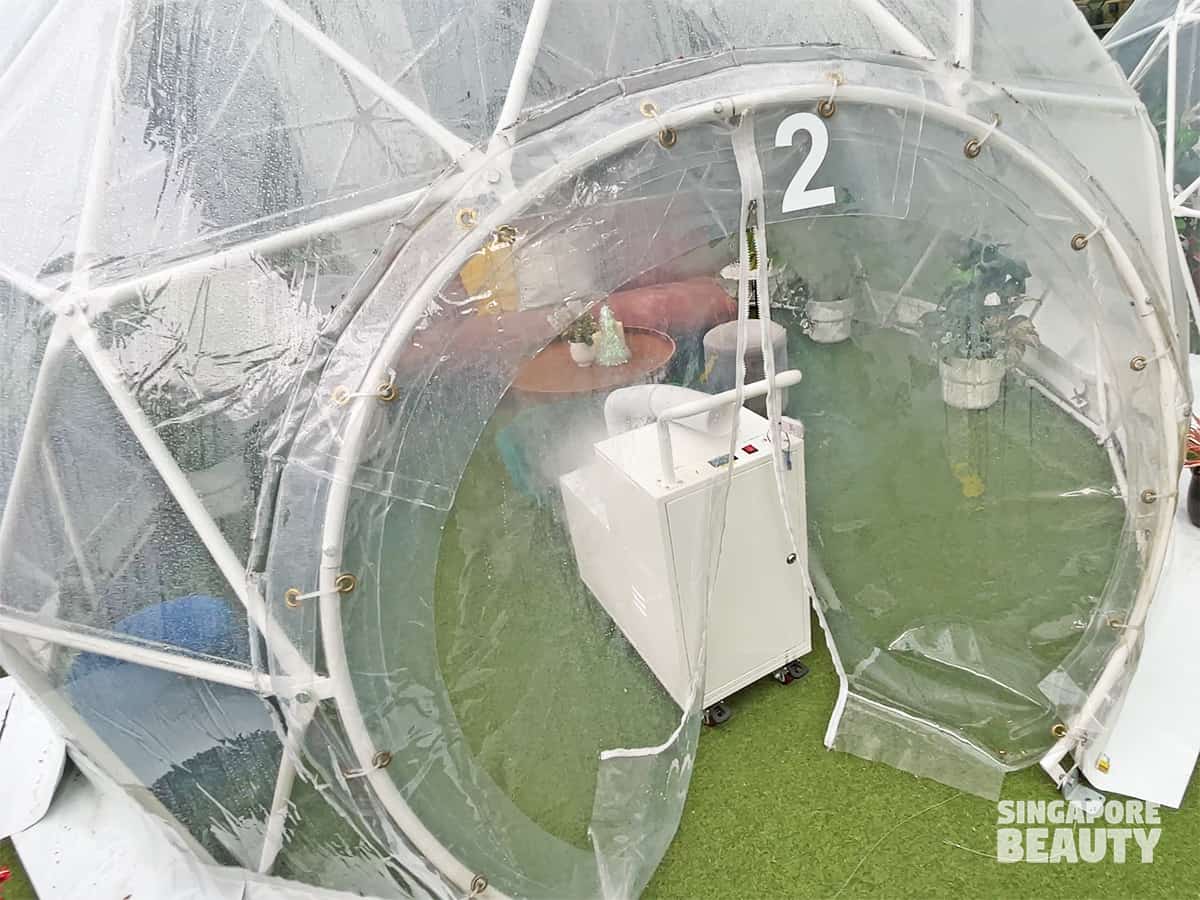 The domes are wiped down and disinfected by fogging after each use. Here a picture of them being disinfected. Intermingling between domes is discouraged and each dome can accommodate to a maximum of 5 users. You can enjoy the dome for 2 hours in each session.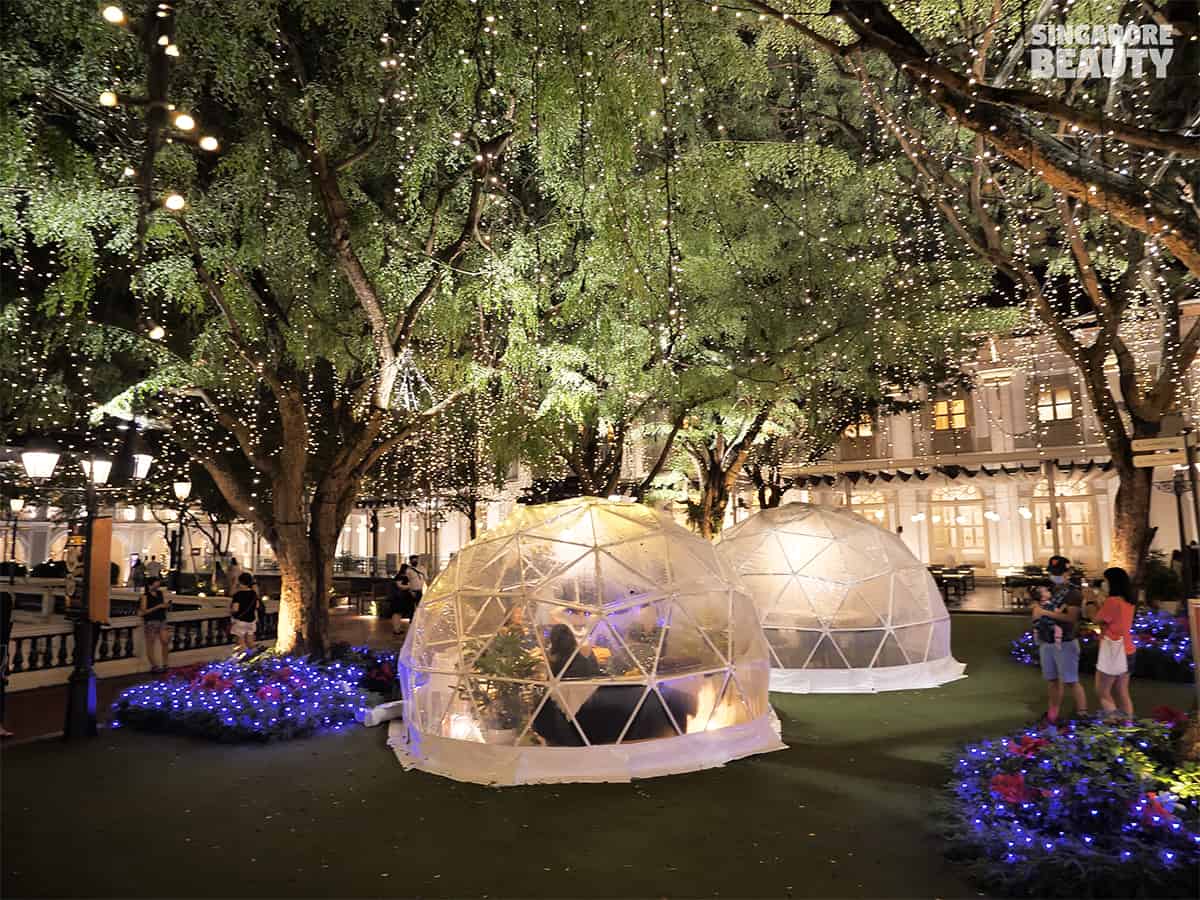 These are the alternative dome dining at Chijmes. There are a total of 5 of them.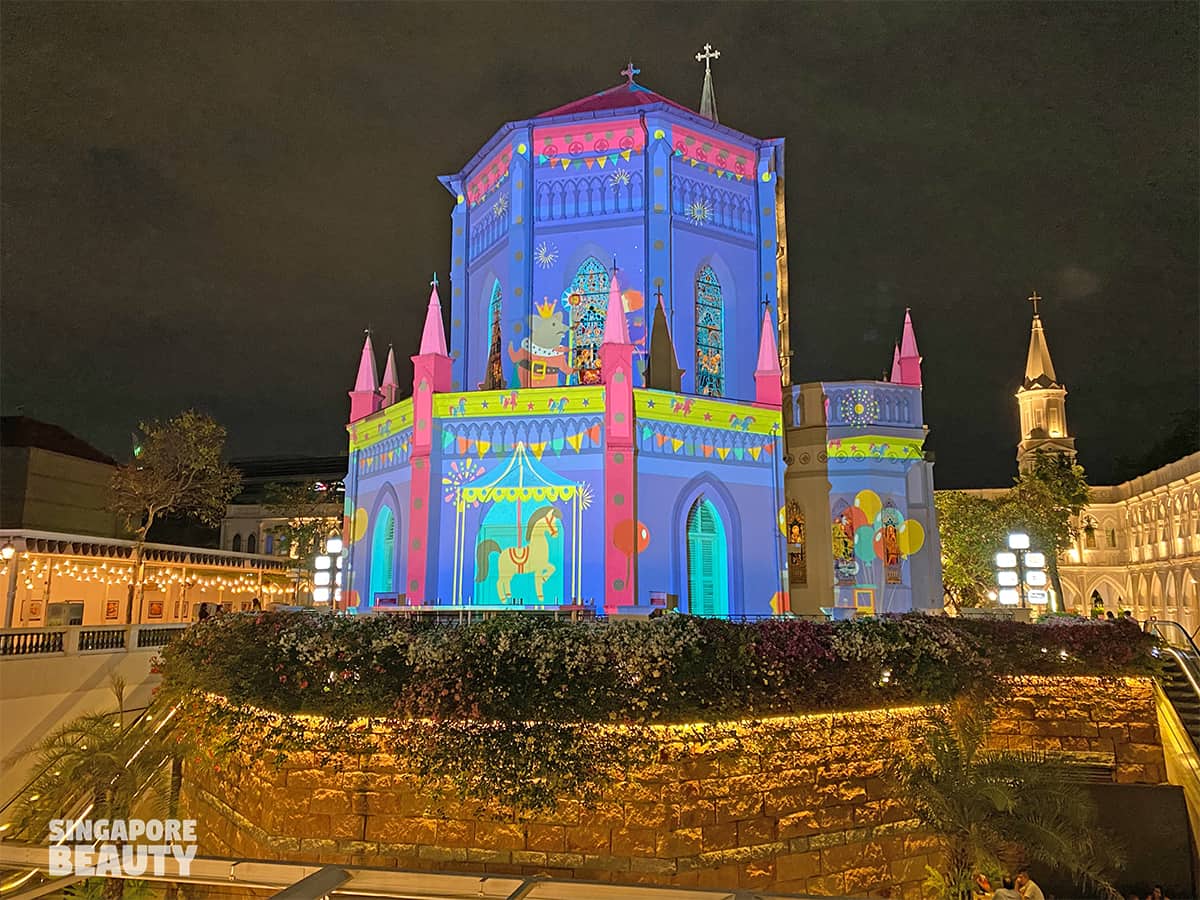 Catch a 1 minute Nutcracker Christmas short musical that is project mapped on the halls of Chijmes when evening falls.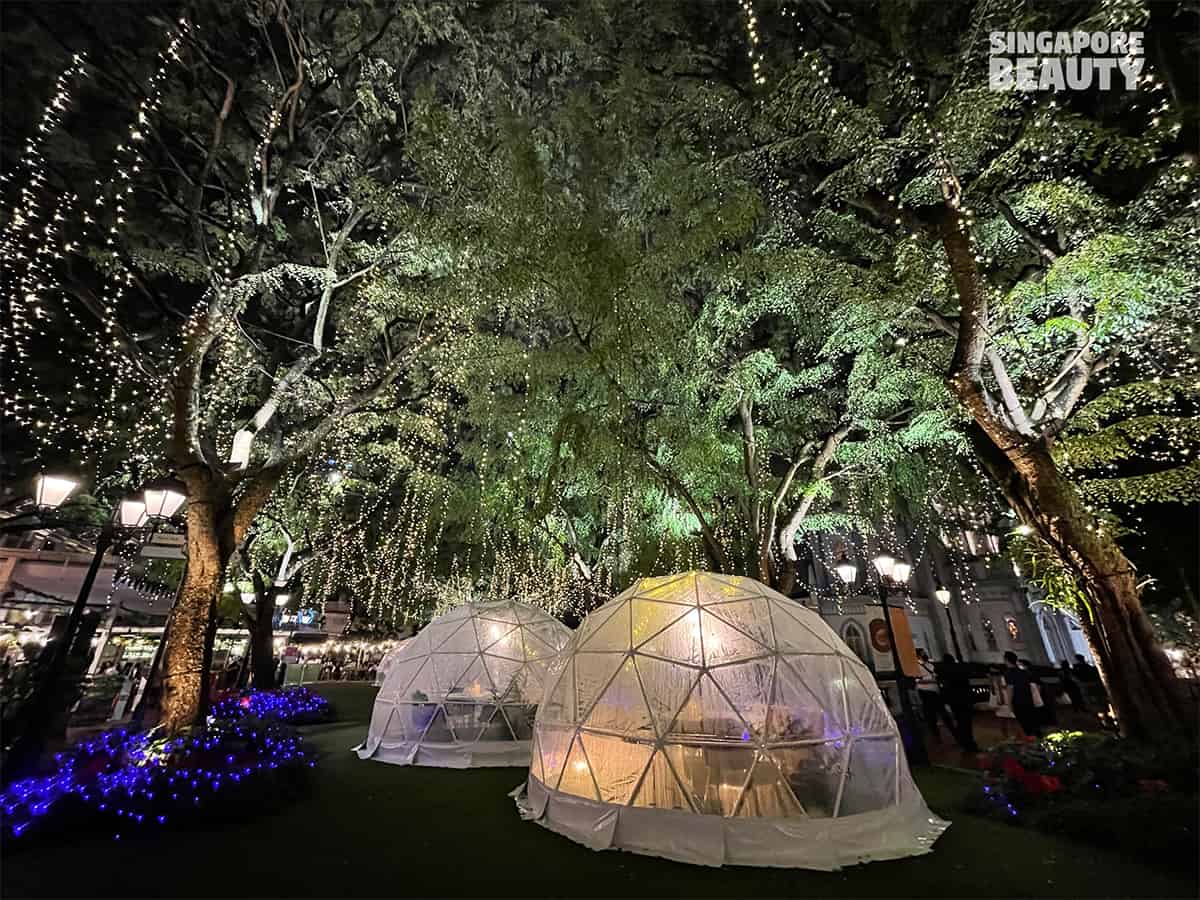 There are other dome dining experience such as sea aquarium at Sentosa and at Seletar the Summerhouse that comes with a more premium price tag, if you really want to experience it but missed out on this almost free dome dining experience at Capitol & Chijmes Singapore. As the holidays is around the corner, soak in the spirit of Christmas with snowfall at Capitol Singapore Outdoor Plaza and a musical on the wall of Chijmes Hall while you drink in the stars.
Dome-dining at Capitol Outdoor Plaza
Address: Capitol Singapore, 11 Stamford Road, Singapore 178884
Date: 20 Nov Until 25 December 2020 & January 2021 onwards
Time: 11AM to 930PM Daily
Telephone: 6499 5168
Dome-dining at Chijmes, The Lawn
Address: Chijmes, 30 Victoria Street, Singapore 187996
Date: 20 Nov 2020 till 3 January 2021
Time: 1230PM to 1030PM Daily
Telephone: 6337 7810