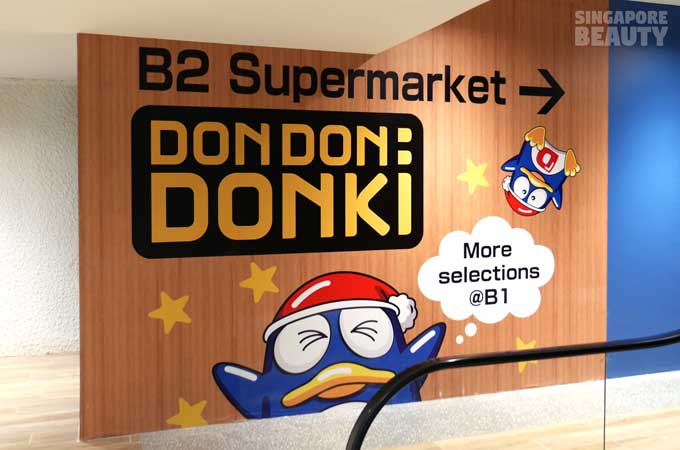 Don Don Donki or Don Quijote as known in Japan has opened its door to Singapore in Orchard Central today, 1st Dec 2017. They are Japan's largest discount mega chain store and the first flagship store in Singapore and in South-east Asia region. You can be assured of products that are made in Japan or designed in Japan.
This is a one stop store that opens 24-hours and 365 days. It occupies a double storey retail space located at basement B1 and B2 of Orchard Central. They feature a comprehensive range of 30,000 products.
At B1 F, you can expect party goods, character goods, watches cum clocks, bag, seasonal goods, cosmetics, perfume, hobby, clothing, electrical appliance, home goods, pet goods, drinks, health goods, confectionery, souvenir, stationery, shoes and bedding. At B2 F, you can expect fresh fish, fresh meat, chilled foods, fruits cum vegetables, Bento onigiri, ice cream, snack cum delicacy and liquor.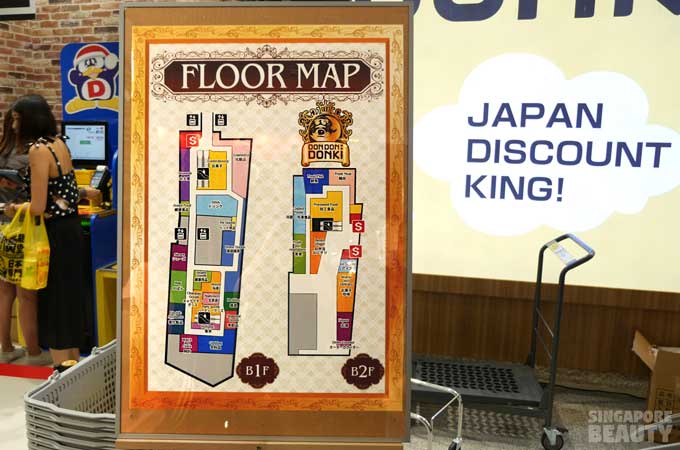 To get you started, take note of the floor map near the entrance and plan your shopping route.
At B1 F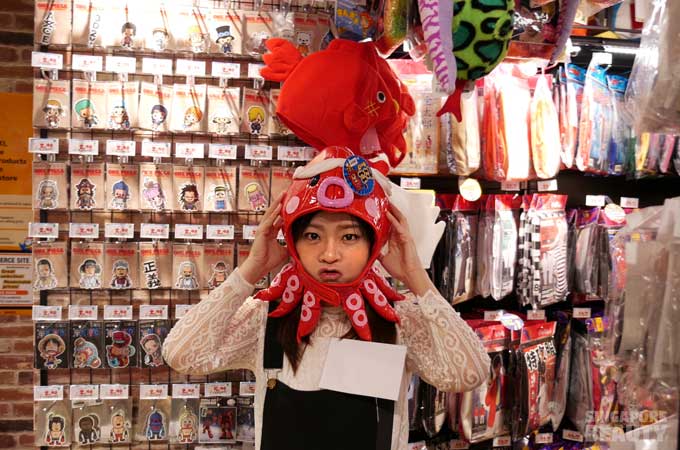 Party Goods section – be dazzled by the mask, head gears, wigs, comedian costume and character onesie.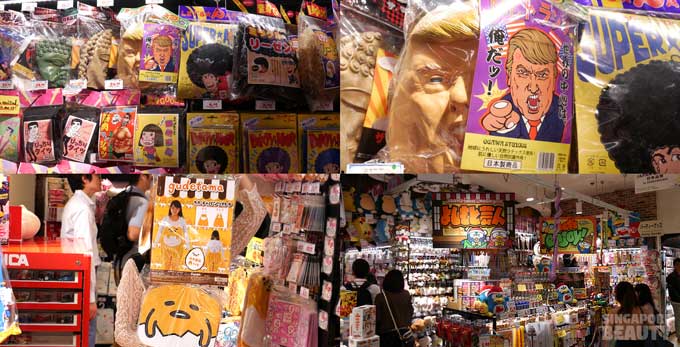 Mask – Want to look like Trump? Try this and get some cheap thrills out of it. Over-the-top headgears – Octopus, goldfish, whale, anyone? Wigs – This is the place to get all the makeover you always wanted. Wigs come in various shades, colours, length, style and texture. You can find wigs for rockers, fisherman, caveman, clown's mob, receding hair line, geek style, center parting bob, braided hair, and Elvis look-alike with long side burn. Character onesie – The hottest egg in town, Mr Gudetama. There is a section devoted to Gudetama and Sanrio product that features bags to stationery and many others.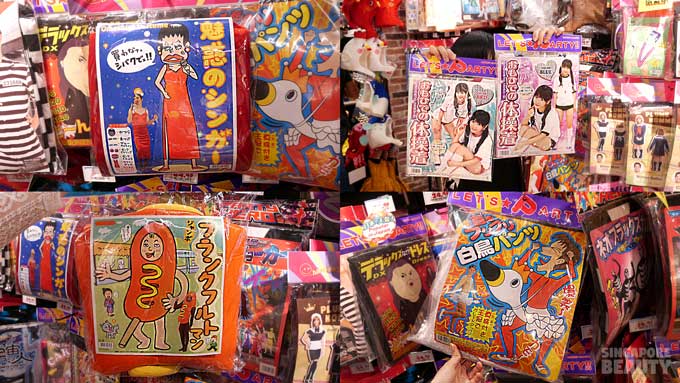 Comedian costume – drag queen, Elvis, Jail breakers, hotdog sausage bun, swan ballerina and many more.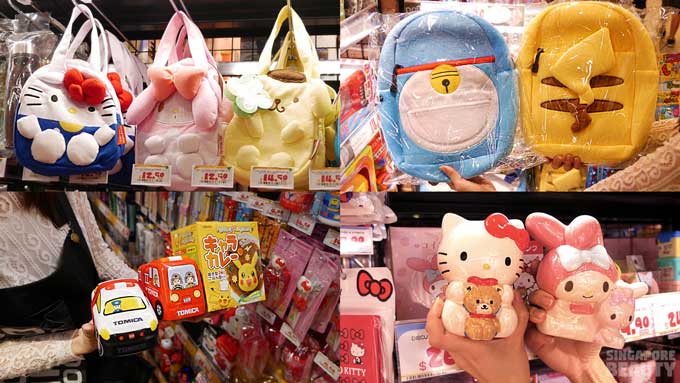 Hello kitty and My melody coin bank. These are fragile, handle with care. I am so tempted to buy these. Time to get creative with these lunch box, utensils, tumblers and lunch bags. These lunch bags are for you if you are going green and packing healthy lunch to work or school. How about packing your lunch in Tomica police car and fire engine lunch boxes for your kids? For Doramon and Pokémon fans – Plush backpacks for kids!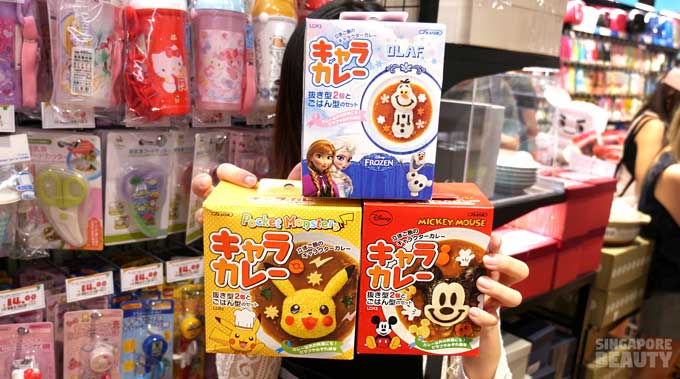 Make some kawaii bento for your kids with these bento moulds? Pikachu, Mickey Mouse and Olaf up for grabs!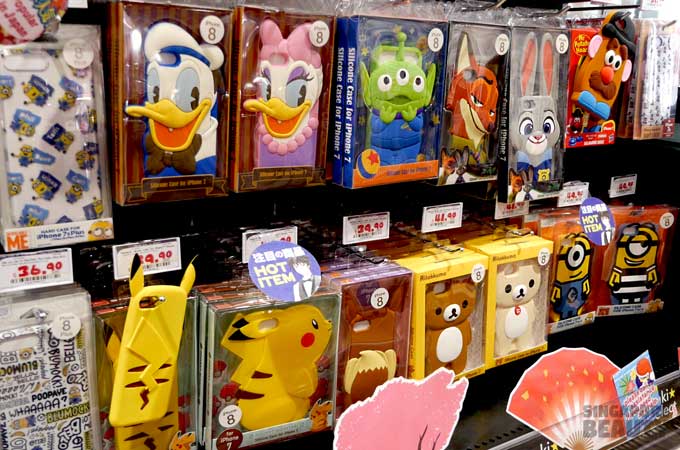 Not forgetting the Disney fans, Rilakkuma, Minions jail break fans. You can get fancy phone covers here.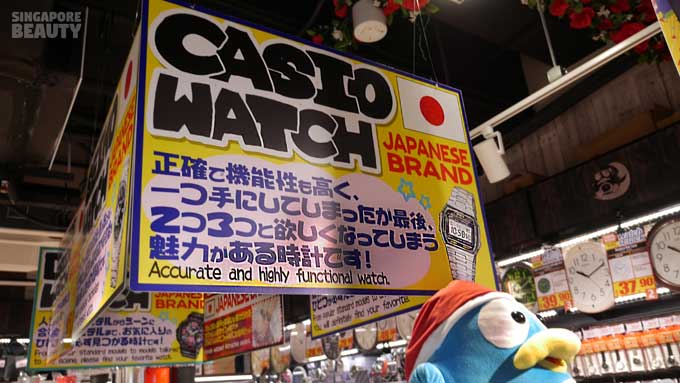 At Watches and Clocks – this is the best deal and you should get one if you need a watch.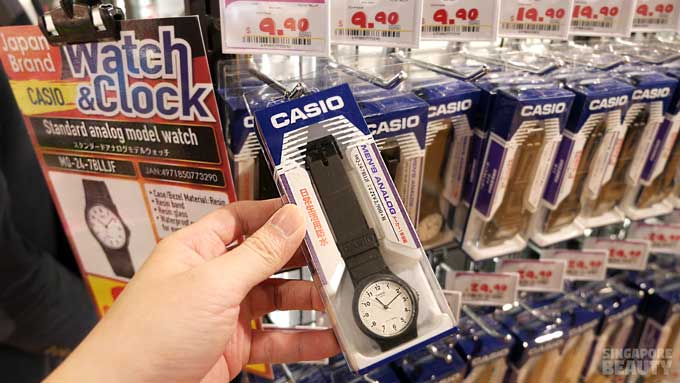 The cheapest Casio watch at $9.90 only and water resistant too. Grab one before they are all gone!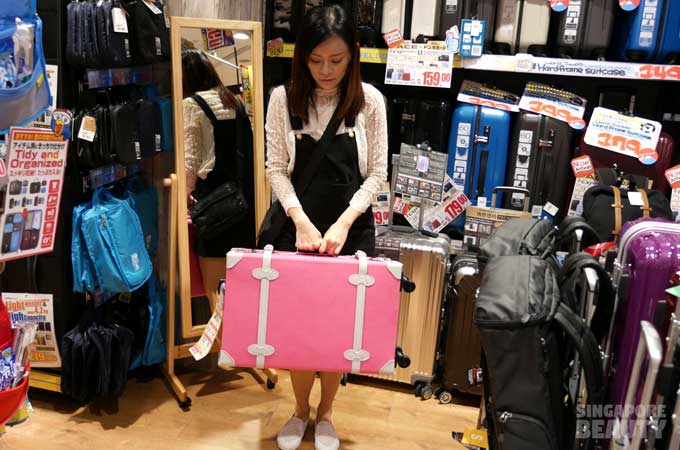 At Bags – Now if you have got time on your hand (pun intended), do travel soon and see what the world has got to offer. Travel in style with their luggages – various selections and great designs. I chose this classic design that comes with wheels!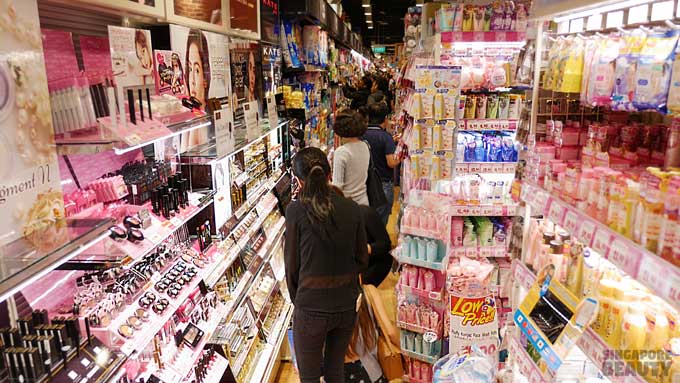 At Cosmetics – they have a wide range of make-up, beauty-routine products, mask, cleanser, nail polish and many more.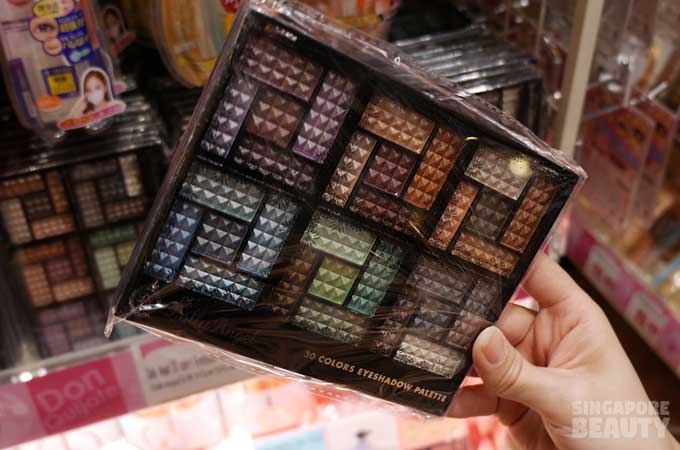 So many eyes shadows for $9.90? This is a steal!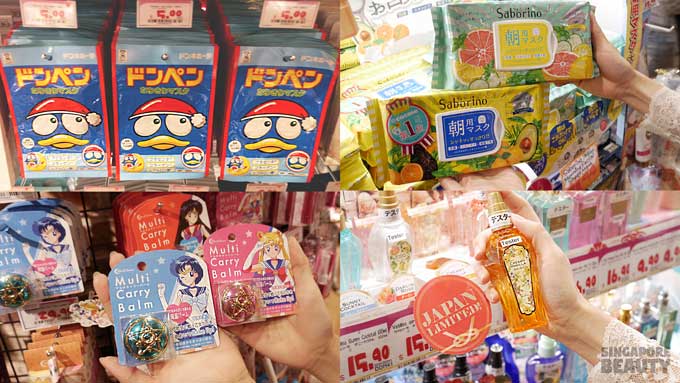 Don Don Donki mascot mask? If you love the mascot, you will probably buy this too! Fruity cleansing wipes to remove your make-up. Comes in tropical and citrus scent. How about a lip balm in Sailor moon casing? Find Japan limited edition perfumes here. The colourful package makes all these perfumes so irresistible and not to mention some of the fruity invigorating scents they carry here. Fragrance comes in creamy vanilla, sunny cocktail, darling rose scent and many more. Great to carry around as some of these are housed in light weight bottles.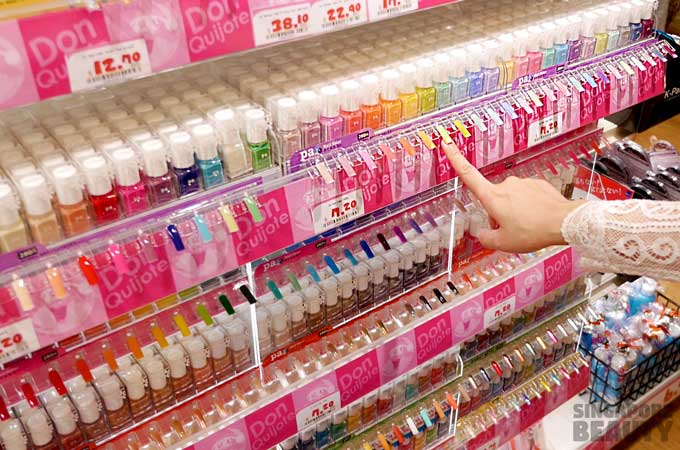 How can we forget our pretty neon and candy colour nail polish?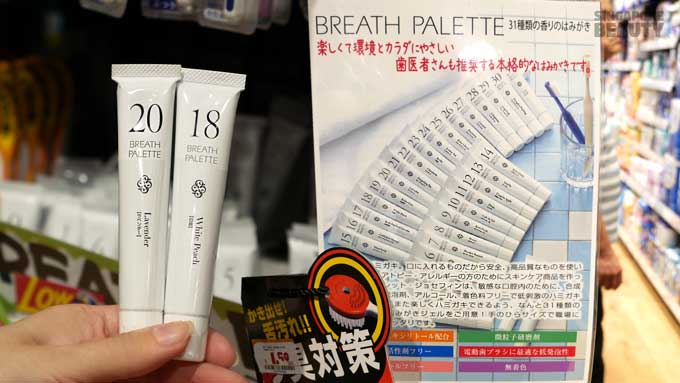 Toothpaste – Breath Palette's flavoured toothpaste, $1.90 in 31 flavours. Ever heard of Indo curry toothpaste?! If you ever get caught under the mistletoe this Christmas, you will be glad that you used the white peach scented toothpaste. Brand new start for 2018 with an exotic fruity and flora breath.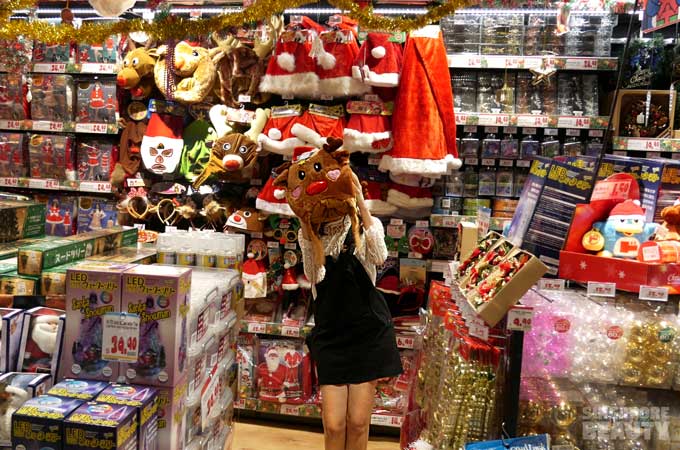 At seasonal goods – As Christmas is around the corner, you are just in time to shop for your Christmas decorations and festive wear here. Bad Santa, reindeer and Grinch?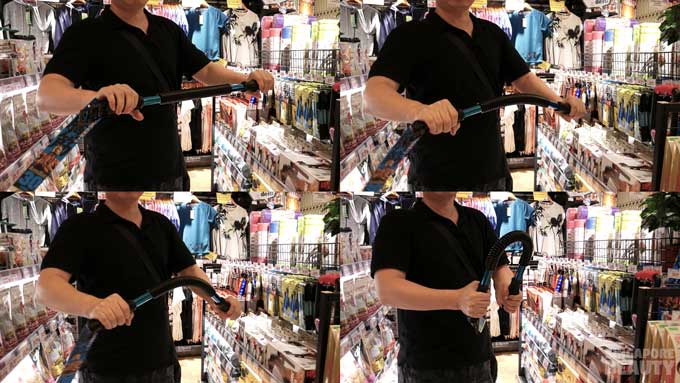 At Hobby – you can find yoga mats, weights, disc and all types of equipment designed to build the targeted muscle group you want. Time to flex your muscles and get active after the Christmas feasting.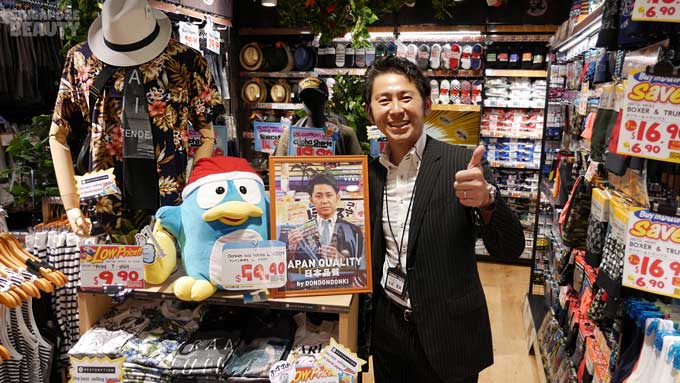 At Clothing – We met up with Mr Akio Hirai, the merchandiser and he assured us that these are Japan quality products by Don Don Donki. Time to get dressed. Men's T-shirts going for only $9.90.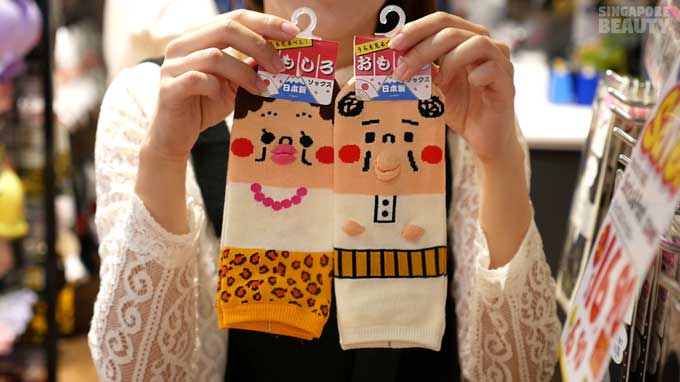 How about some matching socks for your bestie?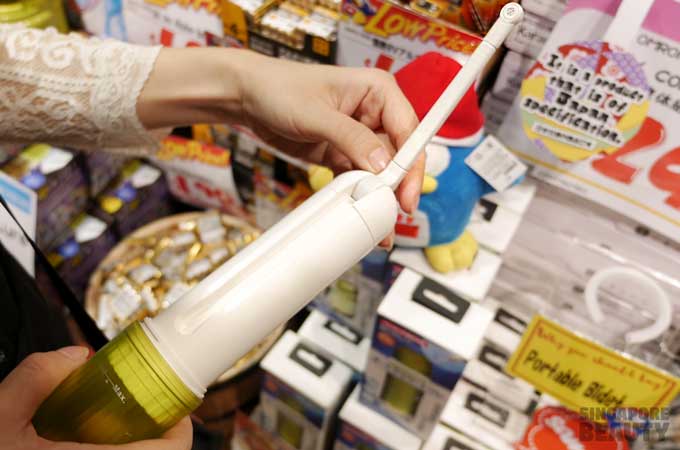 At Electrical Appliance – We are intrigued by this portable bidet and it should work the same as a conventional bidet.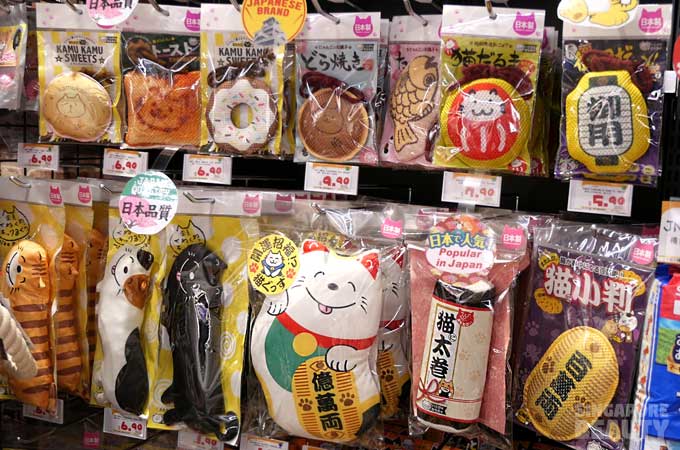 At Pet goods – Cute Japanese playmates for you paw friends.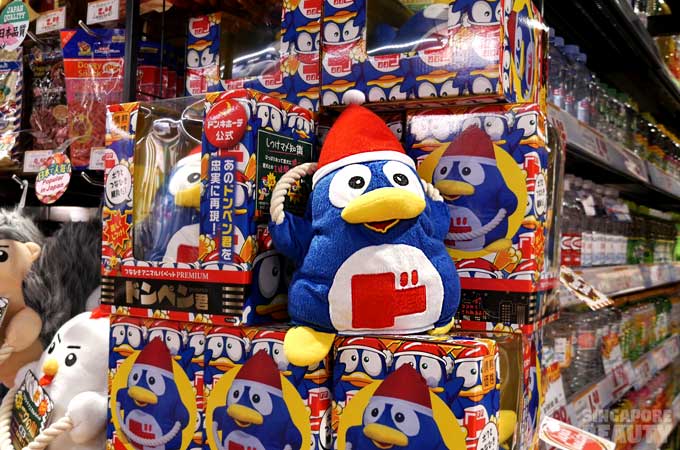 They even have the mascot for you to play tug of war with your paw friends. Worth investing in this.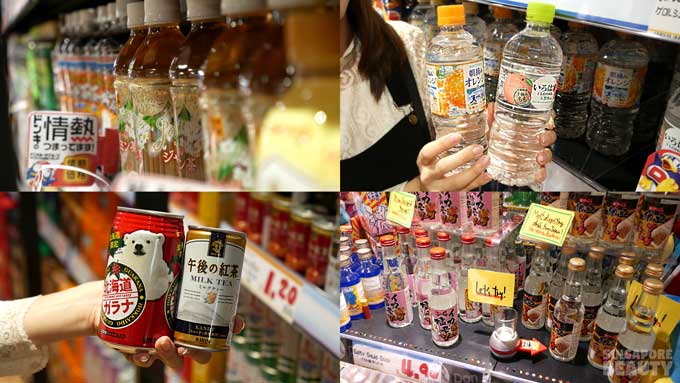 Drinks – head over to the drinks section to quench your thirst. Drinks can go as low as $1.00 for a can of tea imported from Japan. How about some natto sodas and salty squid soda? These are labelled as Japan's most disgusting drinks.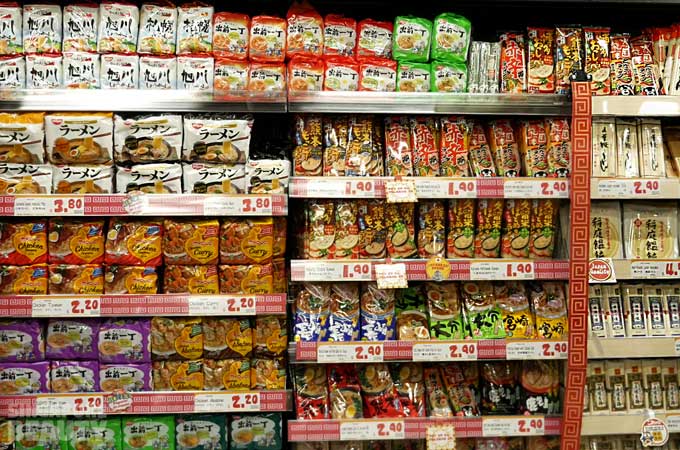 At Noodle section – A wall of instant and dried noodles awaits you!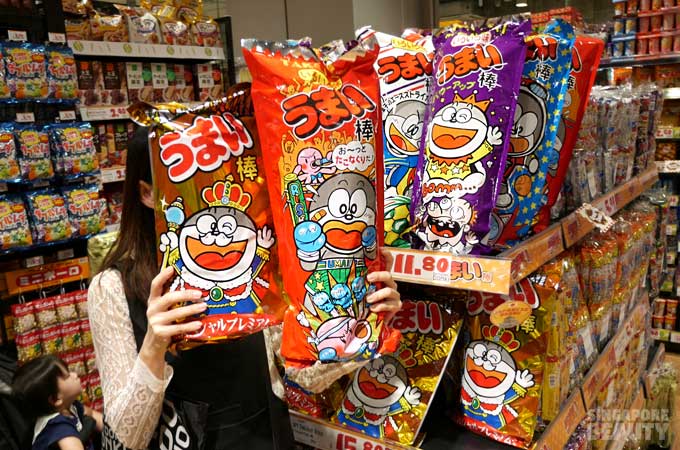 At Snack Section – Shelves exploding with different variety of Japanese nibbles and munchies that will make you drool. They come in seductively adorable and eye-catching packaging. This is heaven for all kids and adults alike.
At B2F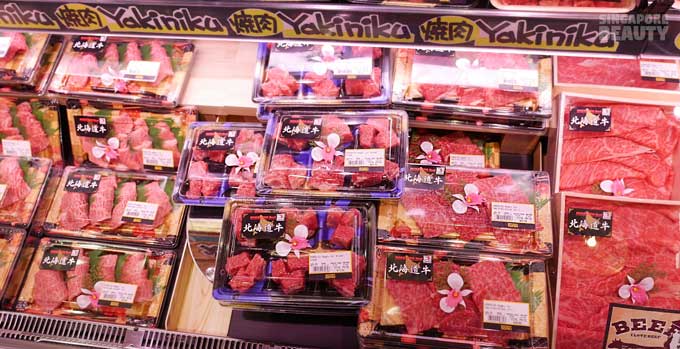 At Fresh Meat Section – Premium cuts of beef are available such as the marbled and tender Tokachi Wagyu (Kobe) beef that melts in your mouth. These beef are imported straight from Hokkaido and you can be assured that they are the freshest Waygu (Kobe) beef around.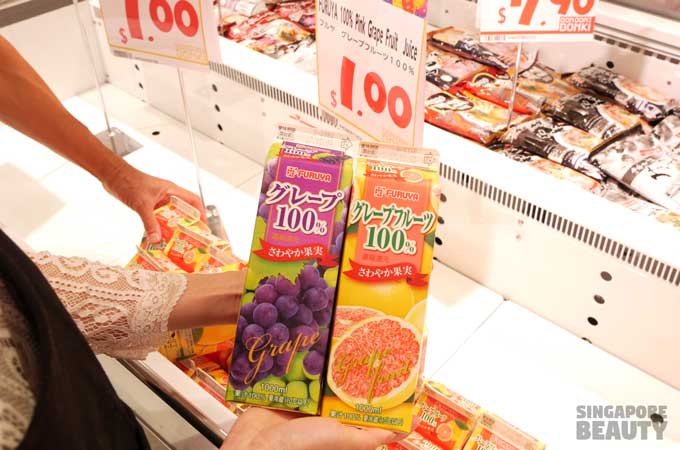 Chilled Foods and Drinks – These 100% fruit juice are going for only $1. Available in flavours such as grapes, pink grapefruit, apple and orange. The apple and grape juices are apparently the best sellers. I managed to grab the last carton of grape juice to try. It is surprisingly light, fruity and refreshing.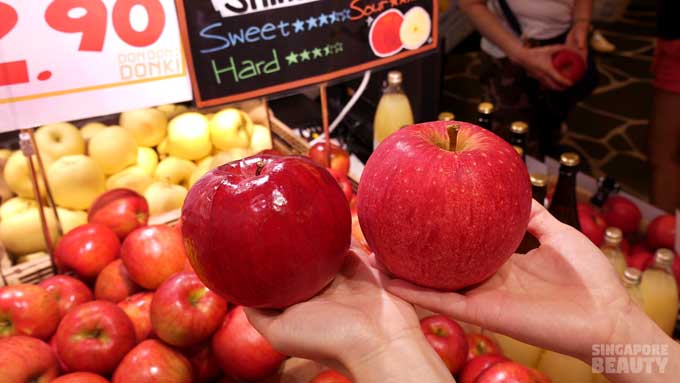 At Fruits and Vegetables section – Come and get these very rare variety of Japanese apples such as Mutsu, Daikouei, Kurenaino Yame and Kinsei. These are the sweetest and biggest Japanese apples in Don Don Donki going for $2.90 each according to the promoter. Their sweetness, hardness and sourness statistics are on display signboards to aid you in making an informed choice.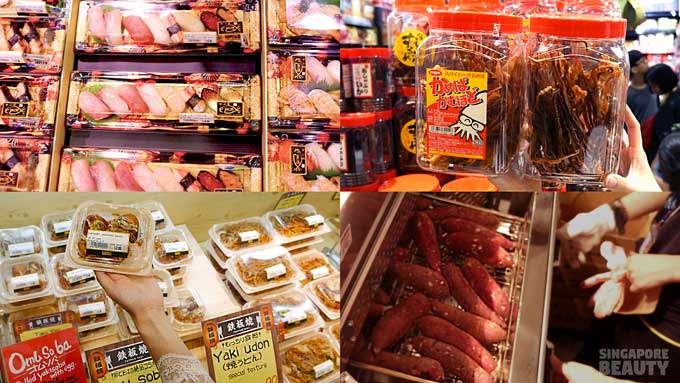 Ready to Eat section – Tuna kabuto, bento, huge sashimi, onigiri, large variety of grab-and-go sushi, gelato made from Hokkaido milk, snack, baked sweet potatoes, delicacy and so much more. You will be spoilt for choice by these quality Japanese fares.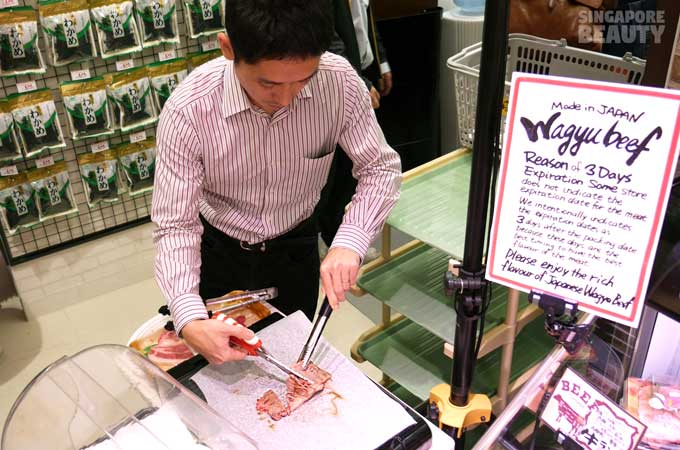 Free food tasting too before you buy and this includes Wagyu beef. Yum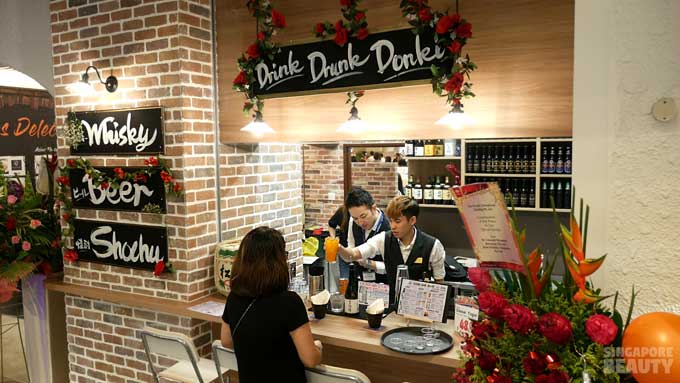 This is Don Don Donki's first mini bar outside of Japan too. Do swing by to get a potent cocktail to quench your thirst if you are in the mood for one.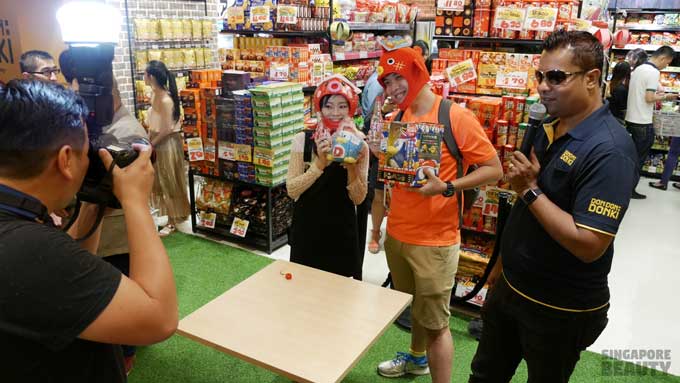 Lastly do support the emcee and participate in their contest giveaways in store for these few days to celebrate their grand opening. The games in these contests are enjoyable – drinking contest, eating hot ramen and getting dressed in their cosplay costume. I would not mind a free chilled drink and some food to wolf down after spending hours shopping there. The sweet endings! Don Don Donki Mascot to take home!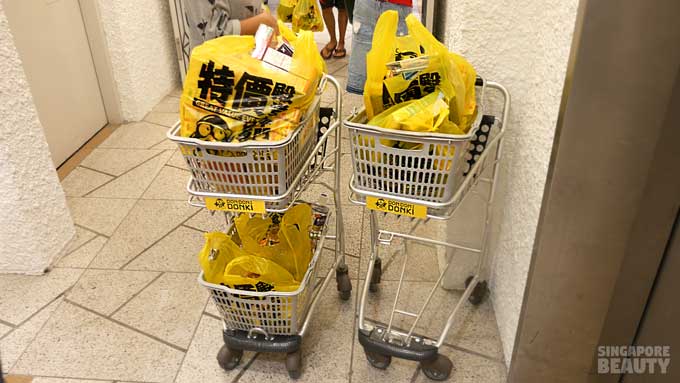 We are almost done with our shopping. Head down soon to get yours done today! Want more of Don Don Donki in Singapore? Hokkaido Marche is targeted to open by end of January 2018 and set to wow many more Donki-natics with pocket-friendly dishes in a night market dining theme. The second Don Don Donki outlet is set to open soon in Tanjong Pagar's 100 AM mall coming June 2018.
Don Don Donki
Orchard Central B1 & B2, 181 Orchard Road, Singapore 238896 (Somerset MRT)
Opening Hours: 24/7
Hotline: 6443 8556