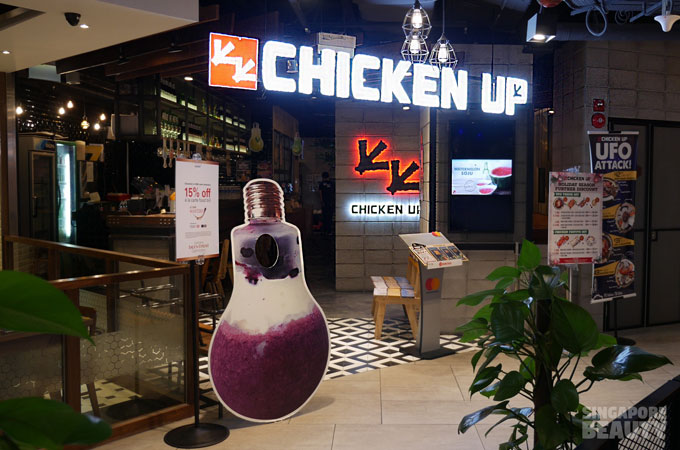 Christmas is around the corner! Are you looking for a cosy and relaxed place to celebrate with your love ones, friends and colleagues? How about celebrating at Chicken Up?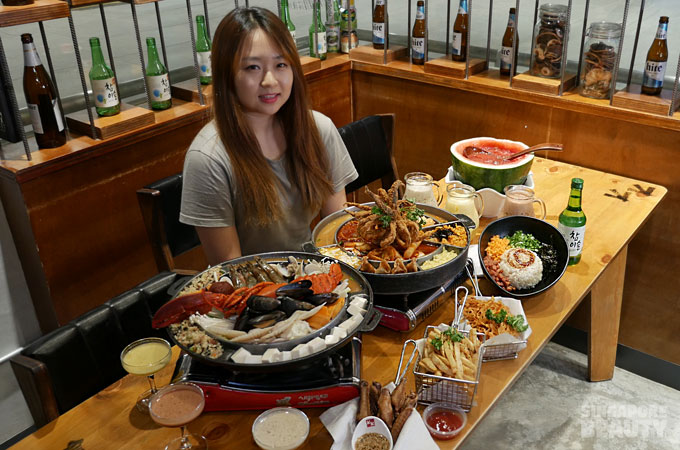 How about a Korean feast like this?
Main menu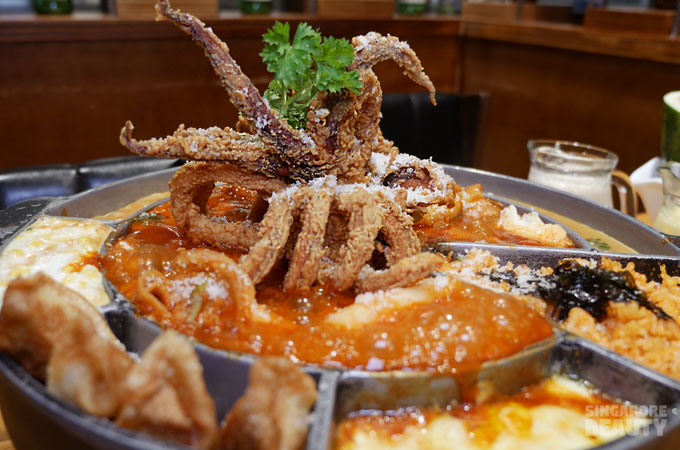 UFO Snow Squid Topokki $42 – We tried the UFO snow squid topokki which is good for sharing for 2-3 pax. This UFO platter has a good size deep fried squid atop rice cake (Tteok-bokki), fish cake, cabbage, carrot, zucchini in sweet red chilli sauce and beef seasoning.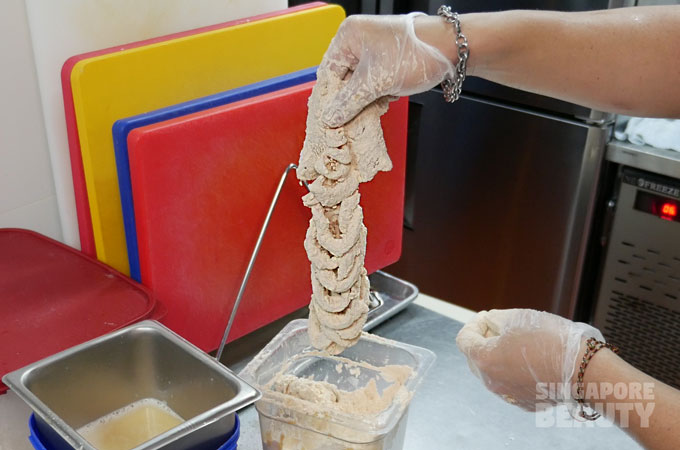 The squid is freshly prepared for each order. This squid is double-dipped in their special egg wash before coating it in a light seasoned panko flakes. Beautifully crafted and cut so that it forms a nice skirt of squid when it is deep fried.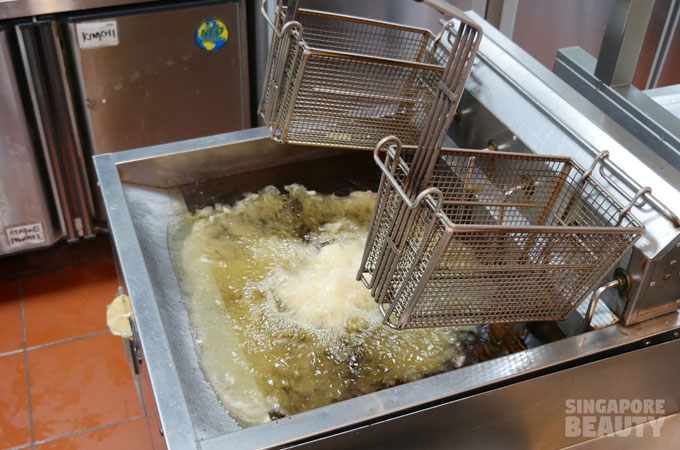 Fried in hot oil to perfect golden coat.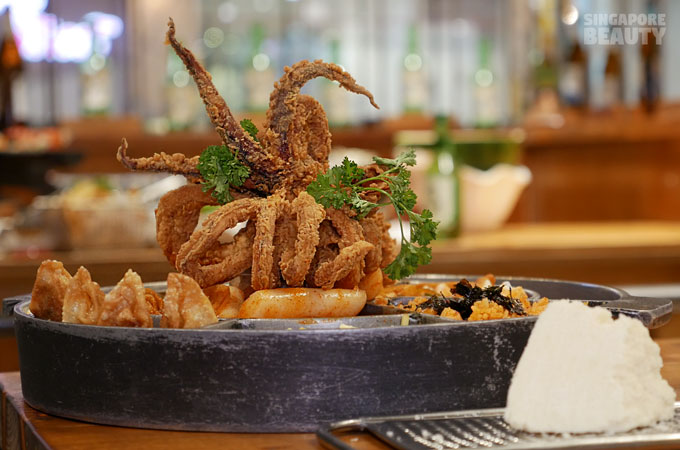 I was expecting a dry and tough squid but it is actually soft and chewy with a thin and light crust. You can see the squid beneath the crispy crust, this is how thin the crust is. Delish.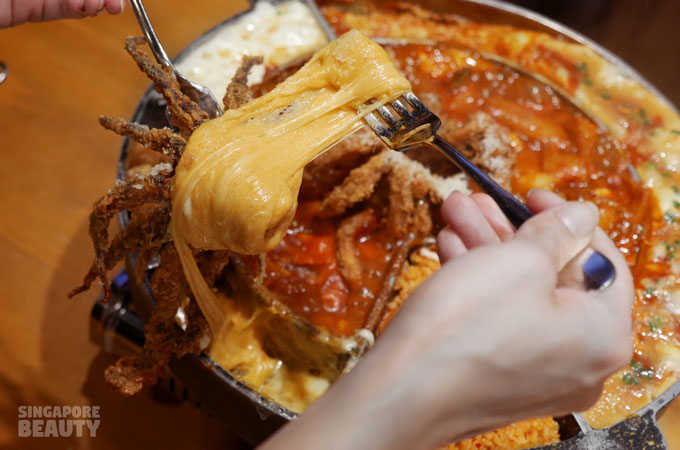 Wrap the melty cheese around the deep fried squid.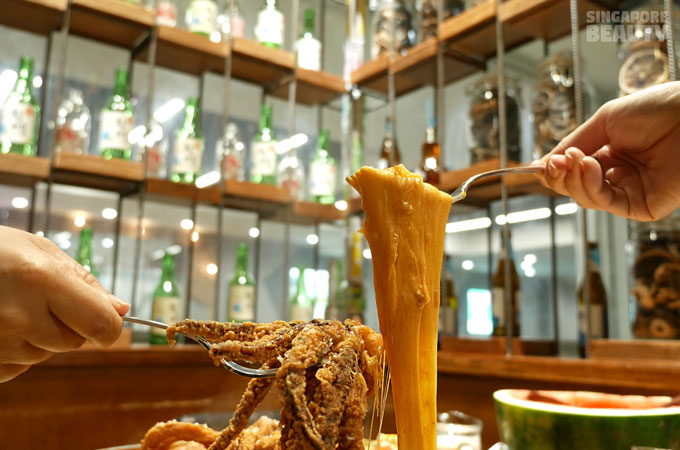 We love to see the "cheese bridge" as it gets lifted.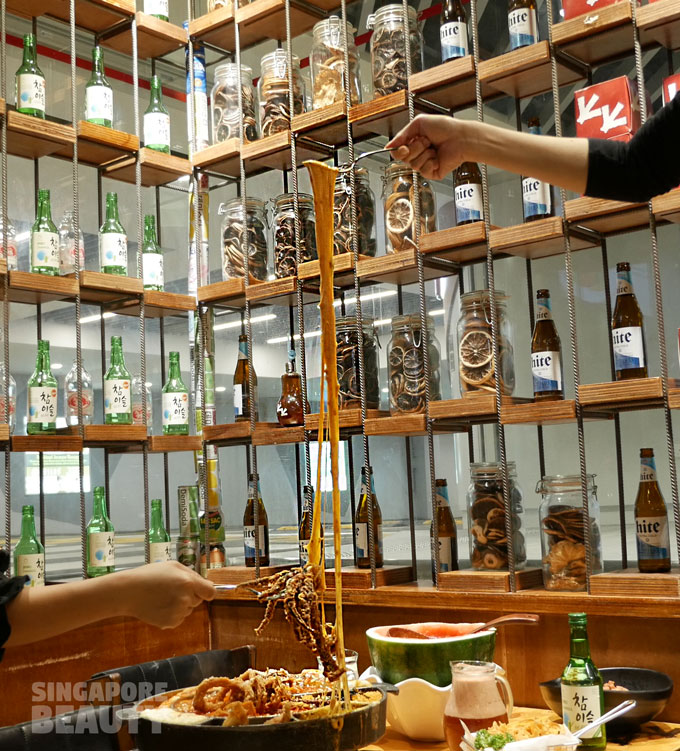 Strings of gooey cheese that dangle teasingly are fun to watch and addictive too. Look how stretchy it can get!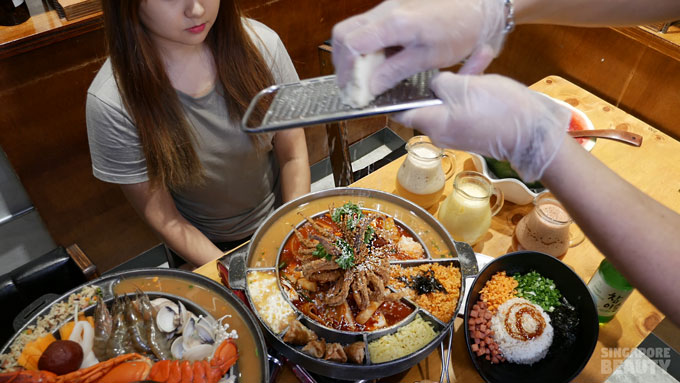 How about some raining snow cheese on the fried squid?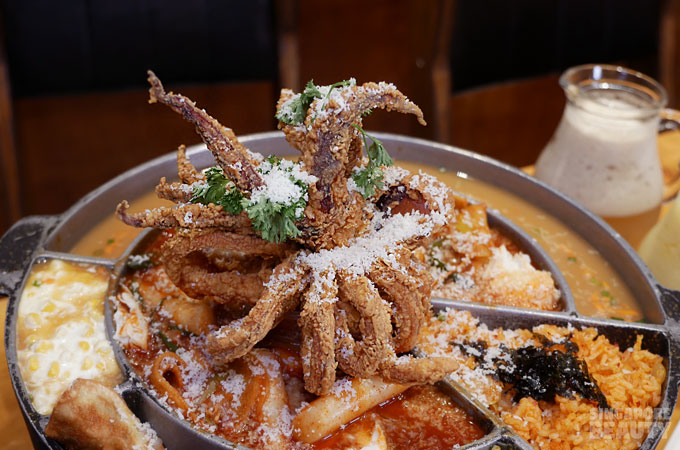 Delicious crunchy squid with copious of freshly grated snow cheese. Yum.
The sides that come with this UFO are cheese corn, kimichi rice, cheese dip, deep fried gyoza and Korean custard egg. The texture of the crispy squid goes well with the creamy cheese corn kernels. Each grain of Kimichi rice is robust with the goodness of kimichi sauce, chilli flakes, soft cabbage and topped with the umaminess from the nori shreds. Scoop a spoonful of the mild flavoured steamed egg custard with bits of carrots and green onions and feel it melt away in your mouth.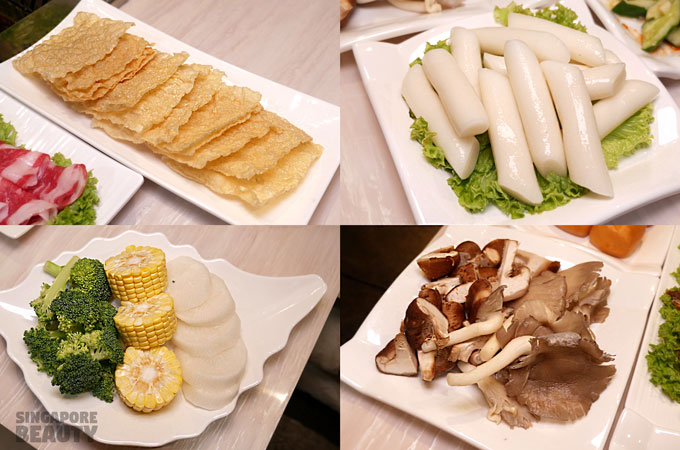 The fish cake is a soft yet chewy warm Korean dduk (rice cake) coated with a thick gooey coat of sweet red chilli sauce.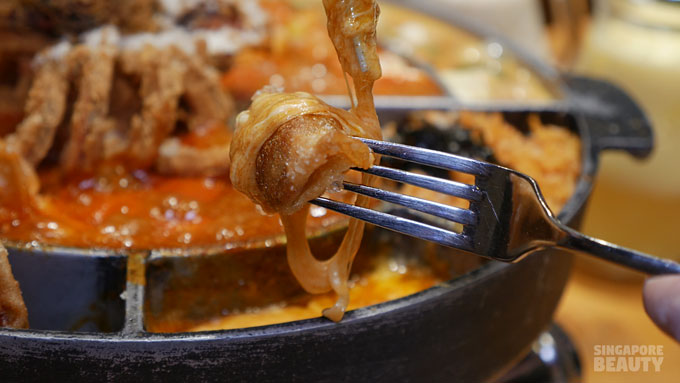 The Gyoza's flavourful and warm filling wrapped in a crispy crust is enough to make you drool.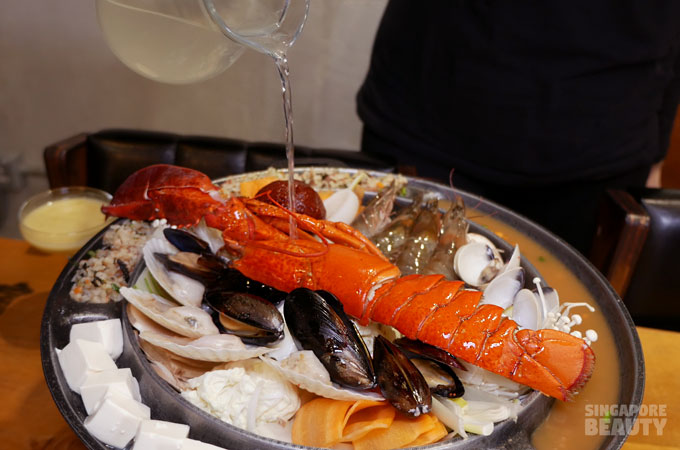 UFO Seafood Stew $49 – For the seafood lovers, we recommend the Chicken up impressive crowd pleaser, UFO seafood stew. It is a hearty combo of a half Boston lobster, prawn, scallop, mussels, clams, squid, cabbage, carrot, zucchini , spam rice, steamed egg with veggie, silky tofu and pepper paste soup! Serves 2-3 pax.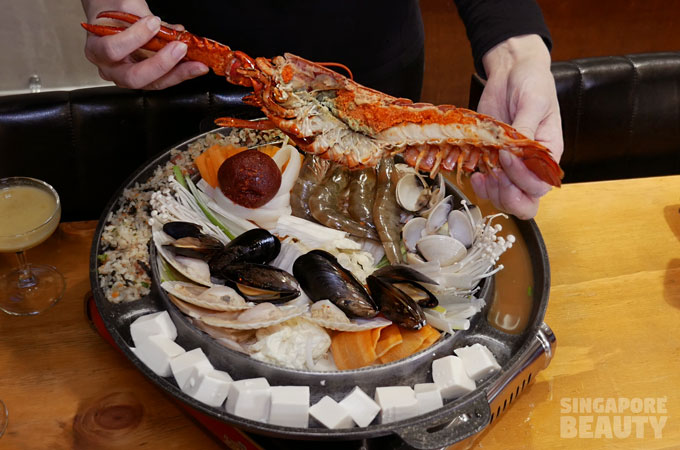 The Boston lobster is full of roe and the flesh is juicy and succulent.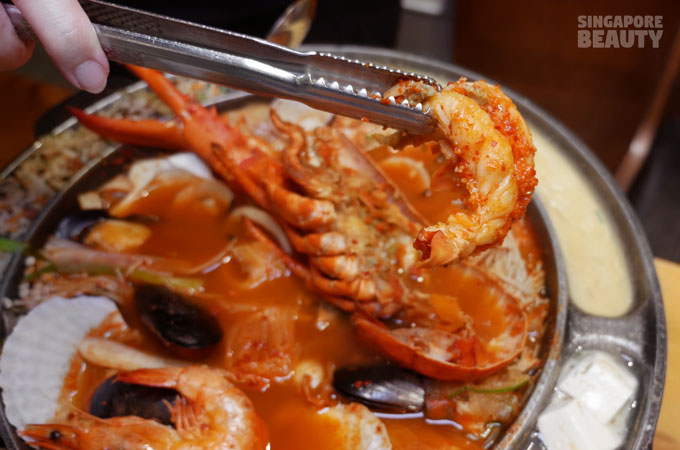 The roe is of a grainy texture and not the creamy type.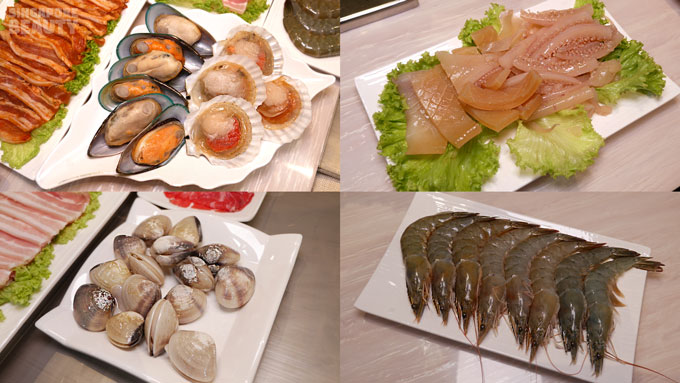 Prawn, clams and half shelled scallop goes well with the spicy soup.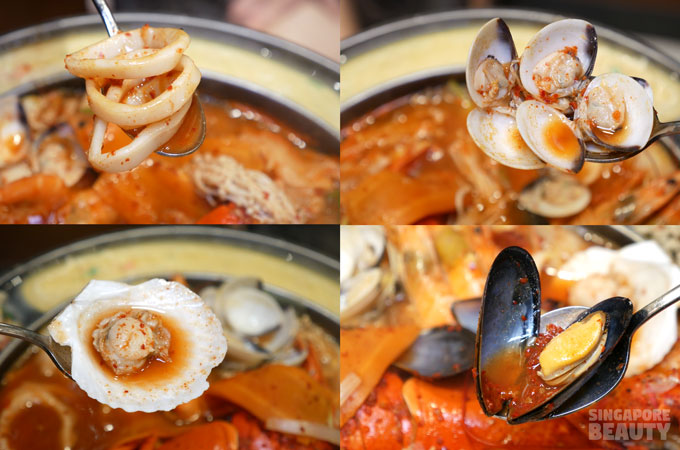 You can taste the briny tang of the half shelled scallop when you slurp the scallop with the soup. Tender and springy bite size squid rings in spicy soup.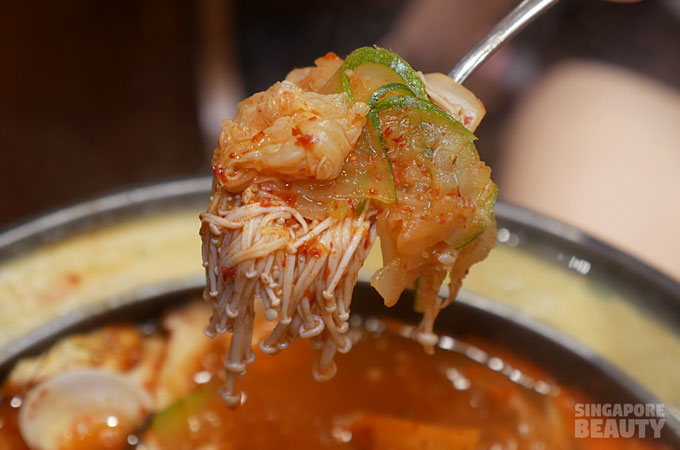 The flavourful soft veggie soaks up the piping hot spicy soup and is a delight to eat.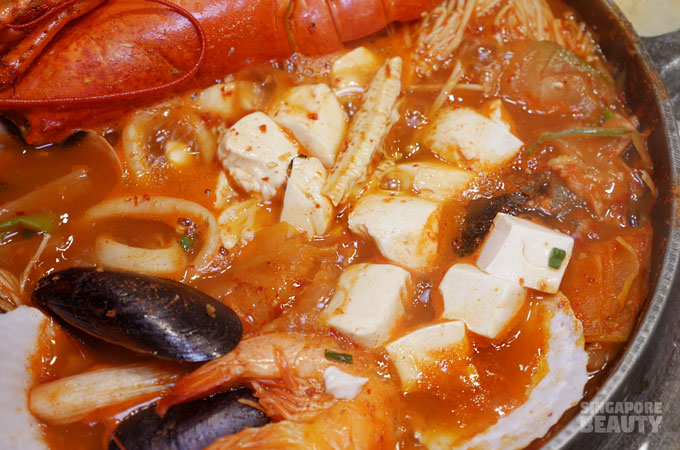 Slurp the soup with the silky tofu and soft custard egg. They slip down your throat effortlessly. The pepper paste soup with the chilli flakes packs a punch so sip it slowly.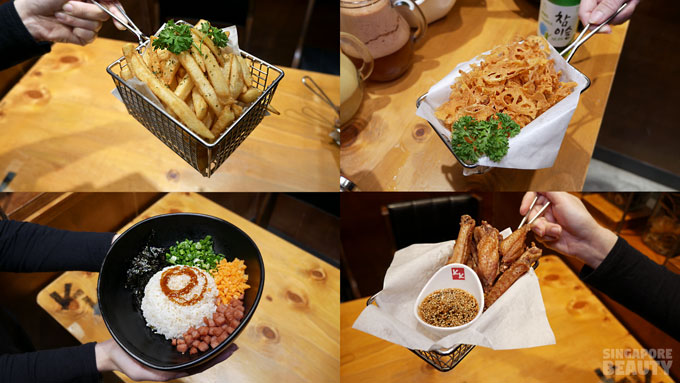 SidesTruffle fries $8 – The French fries is misted with aromatic truffle oil topped with parsley flakes. Fries are the fat type with a thin crispy crust over moist mushy potatoes. The aroma of the truffle oil is so intense that you can smell it from a distant before it reached your table. Good news for truffle lovers!
Lotus root fries $8 – This is a Korean-Chinese fusion finger licking snack. The paper thin lotus root is fried in hot oil resulting in a crispy and crunchy texture. It is dusted with cheese powder and it feels like nacho cheese tortilla but more crispy and lighter. Recommended!
Finger Wings $8 (10 pcs) – These are well marinated with Korean secret spices before going into the hot oil. The mid wings are halved for convenience of eating and the meat falls off easily from the bone. There are a total of five whole mid wing joints to share. The texture is on the crispy and flavourful end.
Spam rice balls $8 – This is a Korean-Hawaiian fusion dish. Spam rice or "luncheon" rice consists of a colourful variety of chopped carrots, green spring onions, strips of nori and the yummy spam cubes topped with some sweet Korean sauce.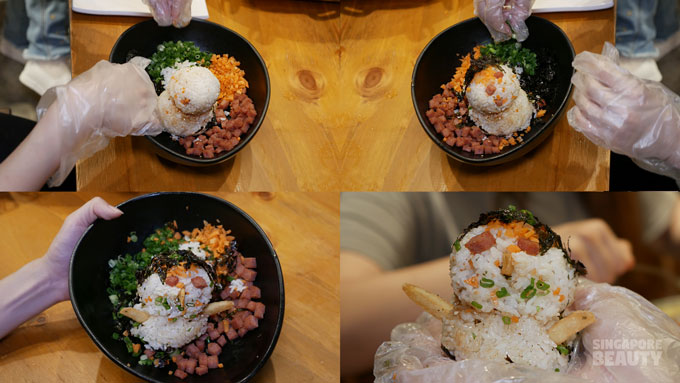 DIY your own spam rice balls by mixing the ingredients well and rolling them into a ball. You can even create your own snowman spam rice ball from it.
Dessert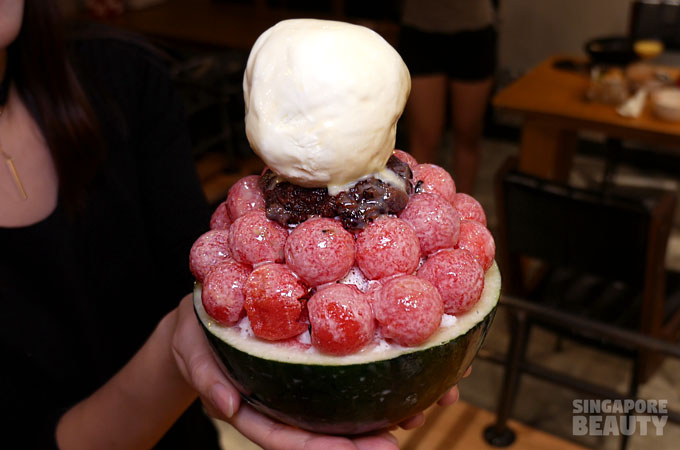 Watermelon Bingsu $18 – This is a lovely Korean shaved iced dessert. It comes with balls of watermelon, soft gooey red beans drizzled with plenty of condensed milk served in a watermelon husk. The fine shaved ice is topped off with a ball of delicious vanilla ice-cream.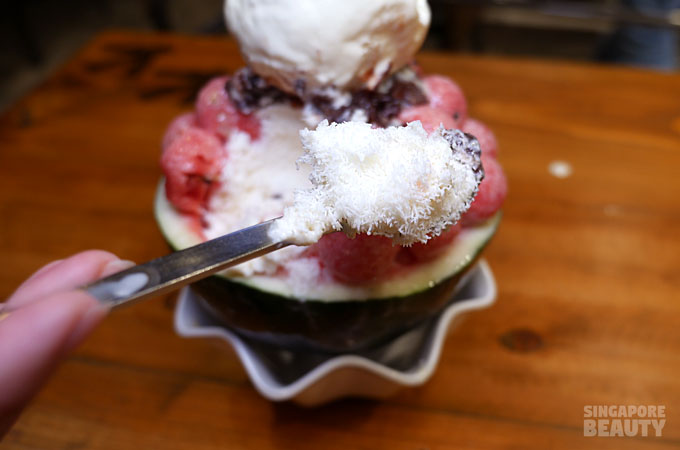 The very delicate milky shaved ice melts quickly in my mouth. Refreshingly sweet.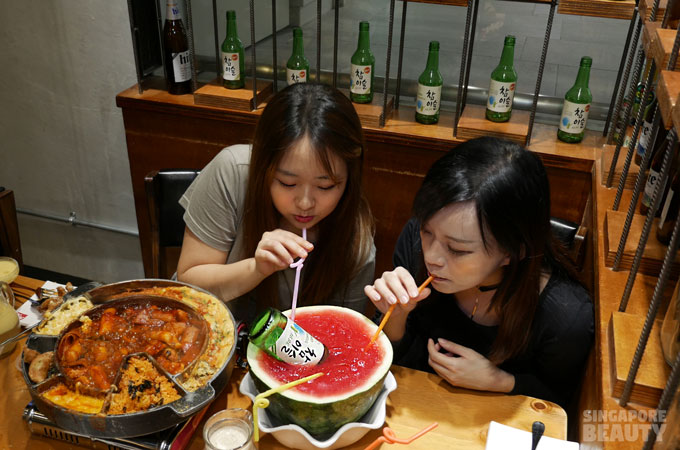 Watermelon Soju $38 – The Watermelon Soju is a concoction fresh watermelon juice and soju served in a watermelon husk. A bottle of Soju is freshly popped and added to the watermelon juice. It taste like sweet watermelon juice with undertones of diluted vodka.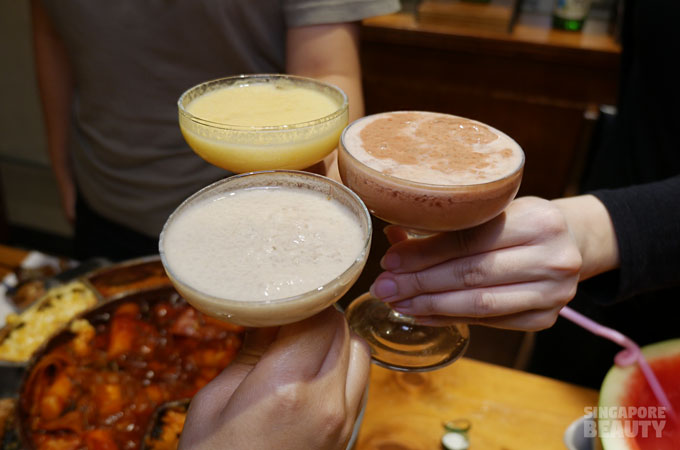 Free Flow Margarita $15 – Free Flow margarita in mango, grapes and grape fruit flavours for 2 hrs available for dine in only in chicken Up Centrepoint outlet.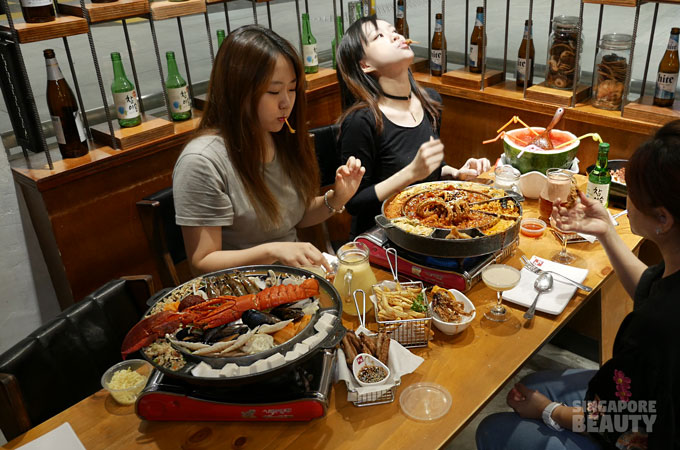 [Wednesday Ladies Night] With a min $50 nett spending in group of min 2pax (dine in only), you get to choose either a free watermelon Bingsu(worth $18) or a watermelon soju(worth $38). The size of the watermelon soju is 2x the size of the watermelon Bingsu. The choice is obvious isn't it?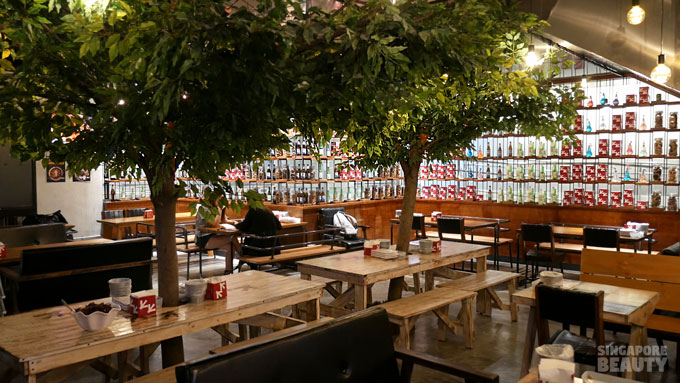 The perfect place for those who like to spend a cosy festive season with love ones and friends over good food and drinks! Head over to Chicken Up now for that mashisoyo Korean fare.(mashisoyo means delicious in Korean)
*Wednesday Ladies Night and all dishes are available at all ChickenUp Outlet.
*$15 free flow margarita only available at Orchard Outlet.
Chicken Up Outlets:
Centrepoint
176A Orchard Rd #01-33H, Singapore 238844
Tel: 6635 2651
Open Daily: 11am – 11pm
Tanjong Pagar
48 Tanjong Pagar Road #01-01, Singapore 088469
Tel: 6327 1203
Mon – Thurs: 5:30pm – 2:00am
Fri – Sat: 5:30pm – 3:00am
Suny: 5:30pm – 12:00am
Parkway Parade
80 Marine Parade Road, #01-10, Singapore 449269
Tel: 6348 0460
Mon – Thurs: 12:00pm-  10:00pm (last order 9:15pm)
Fri – Sun: 11:30am – 11:00pm (last order 10:15pm)
Buangkok
Blk 277C Compassvale Link #01-13 (Unit No.2A), Singapore 543277
Tel: 6481 4495
Sun – Thurs: 11:00am – 11:00pm
Fri – Sat: 11:00am- 3:00am
Brought to you by Chicken Up