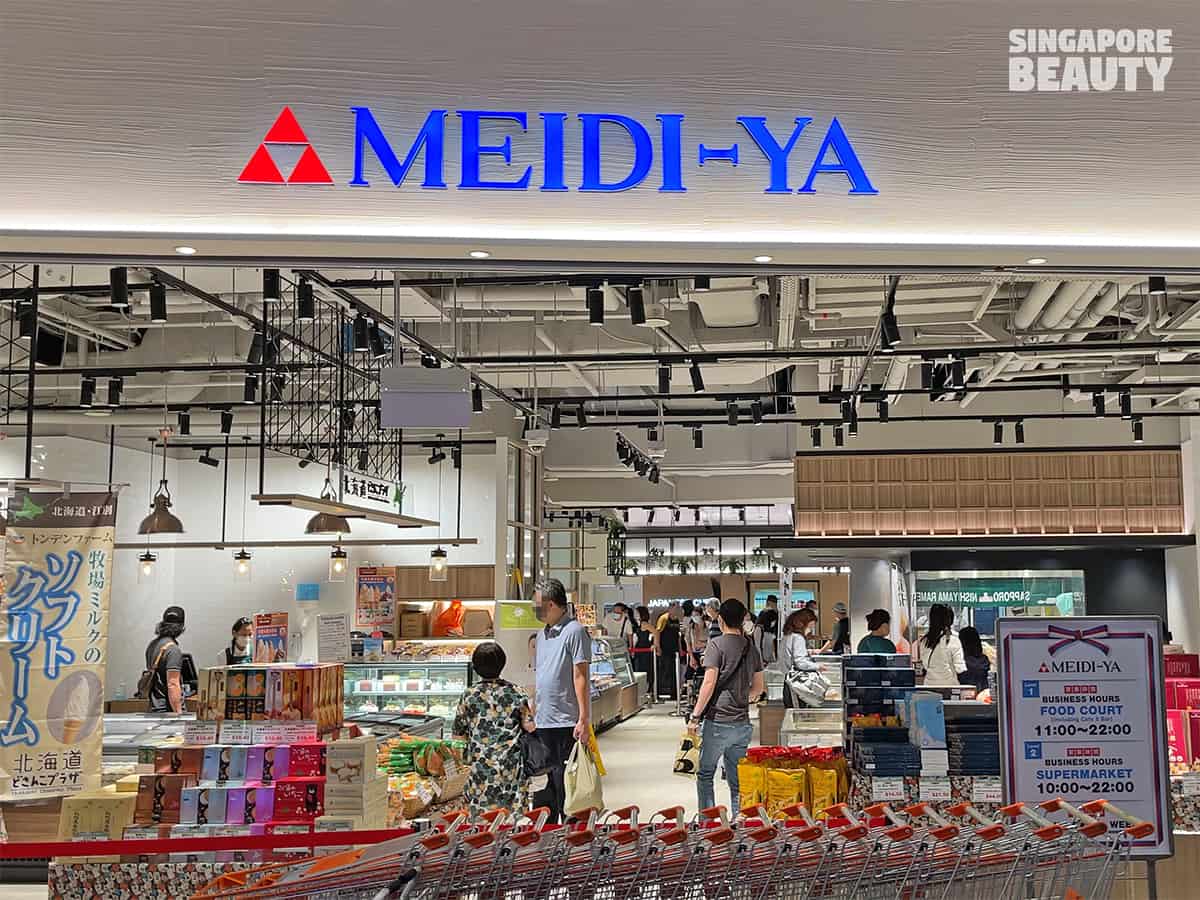 With the closure of Liang Court's Meidi-Ya and its opening of another outlet at Great world city, we are here to explore the newest Mediya oulet at Millenia Walk Here is our in depth tour of Meidi-Ya Singapore Flagship Outlet at Millenia Walk with a supermarket, bakery and a food hall.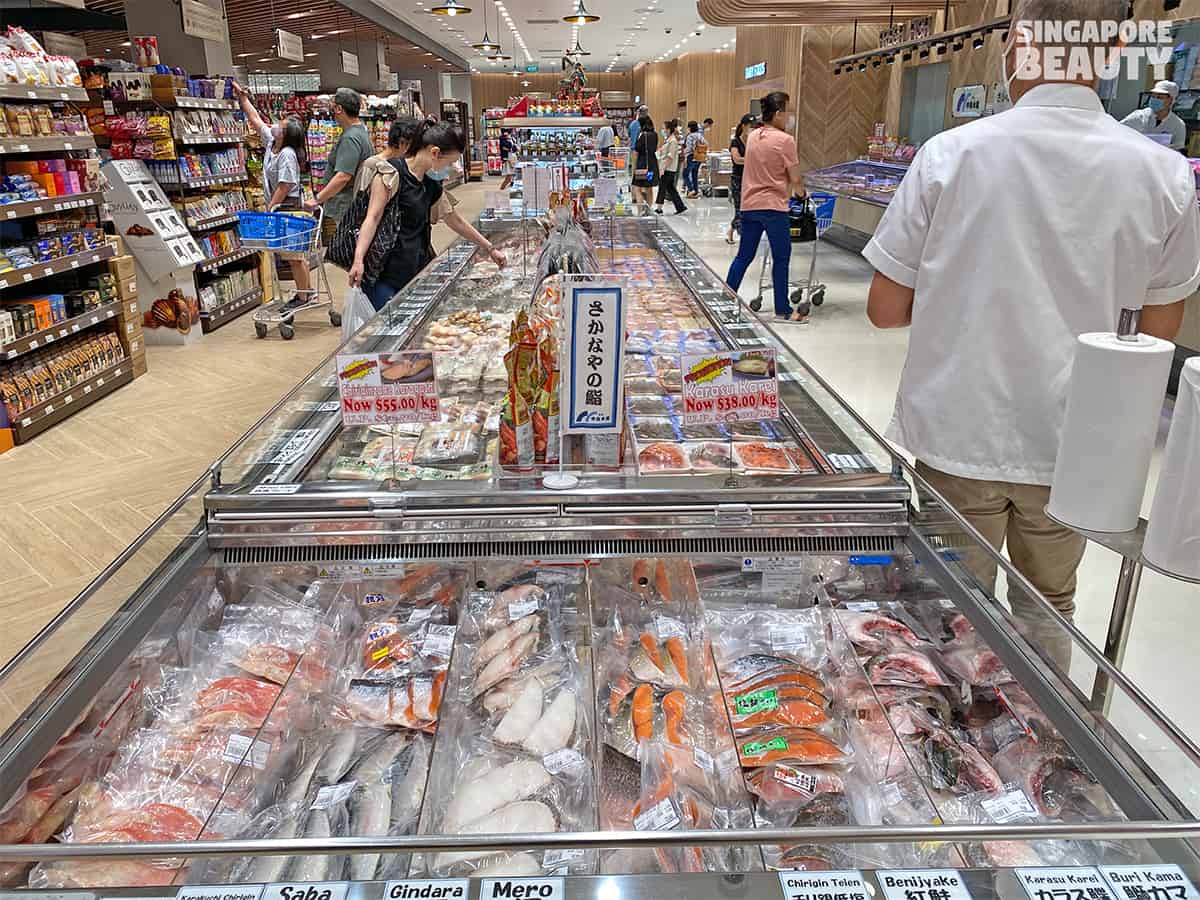 This premium Japanese Meidi-Ya flagship store is at a strategic location at Millenia Walk, Singapore. The review of Meidi-Ya Singapore Flagship store is as follows:-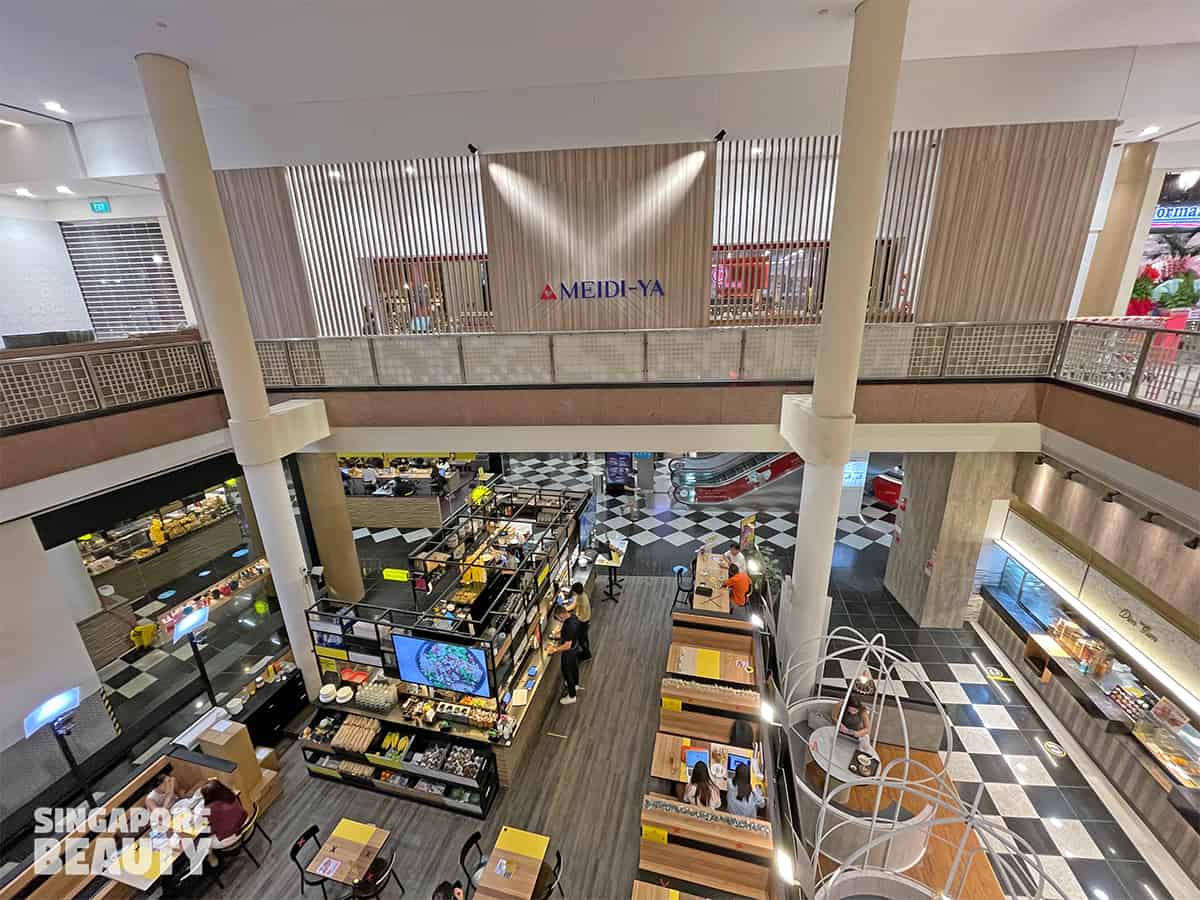 Housed within this two storey space is an international supermarket with Japanese groceries & food, Gokoku Japanese fresh bakes bakery from Kobe and restaurant like food hall.
Level 2 Meidi-Ya Supermarket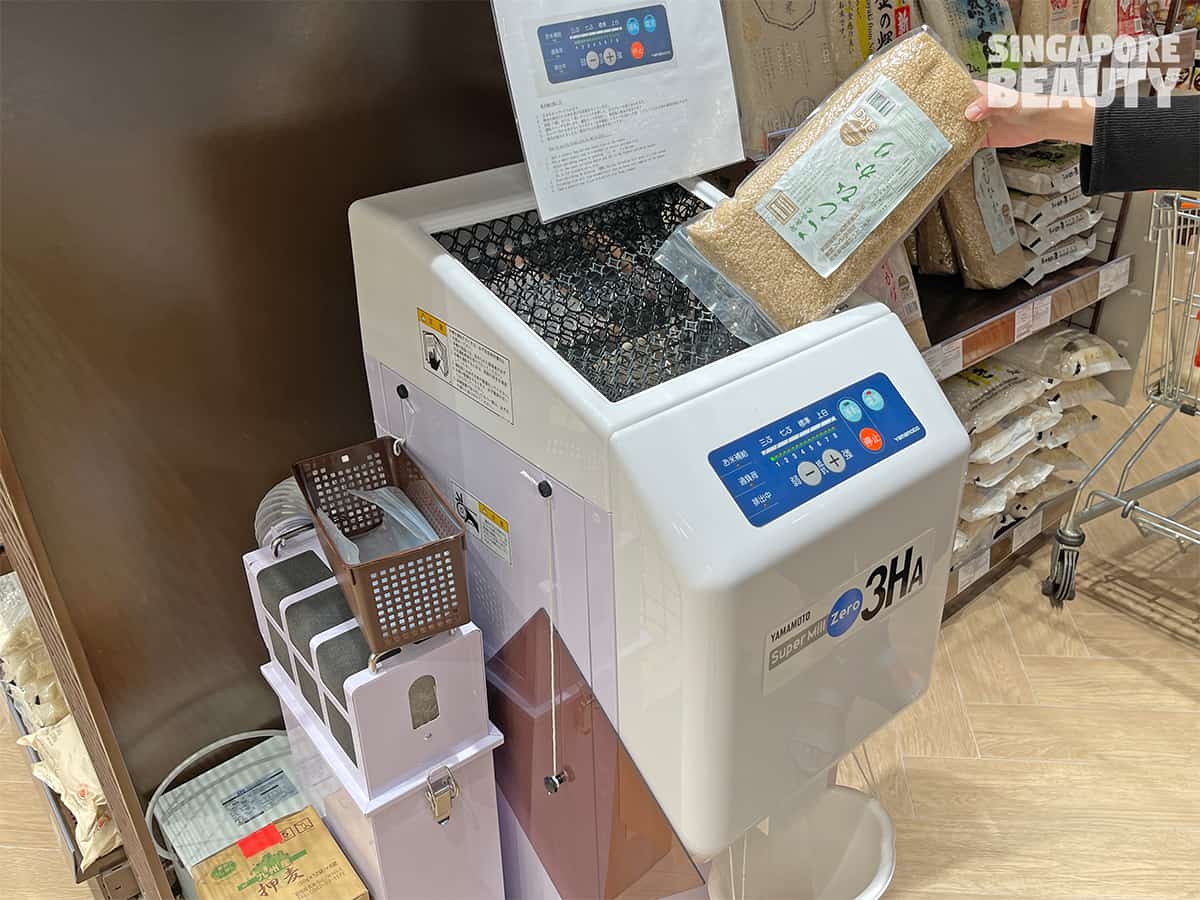 Yamamoto super mill zero 3HA milling machine
Level 2 is the supermarket, many of the customers of Meidi-Ya are intrigue by this Yamamoto super mill zero 3HA milling machine for polishing brown rice.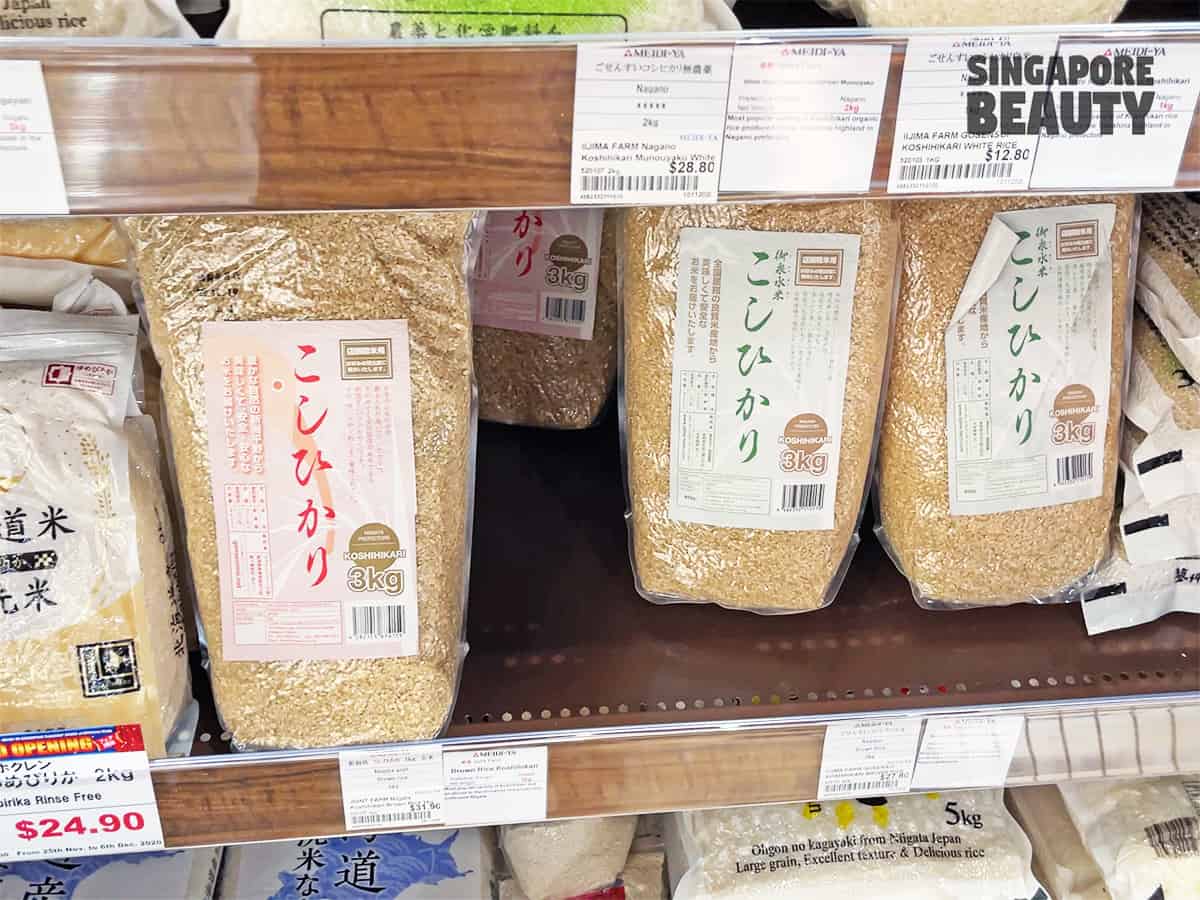 This machine is exclusively for brown rice brand Joint Farm Niigata Koshihkari brown rice ($31.90) and Iijima Farm Nagano brown rice ($27.80). This is how it works: get a pack of brown rice from the shelve. Select the intensity of the polishing you required.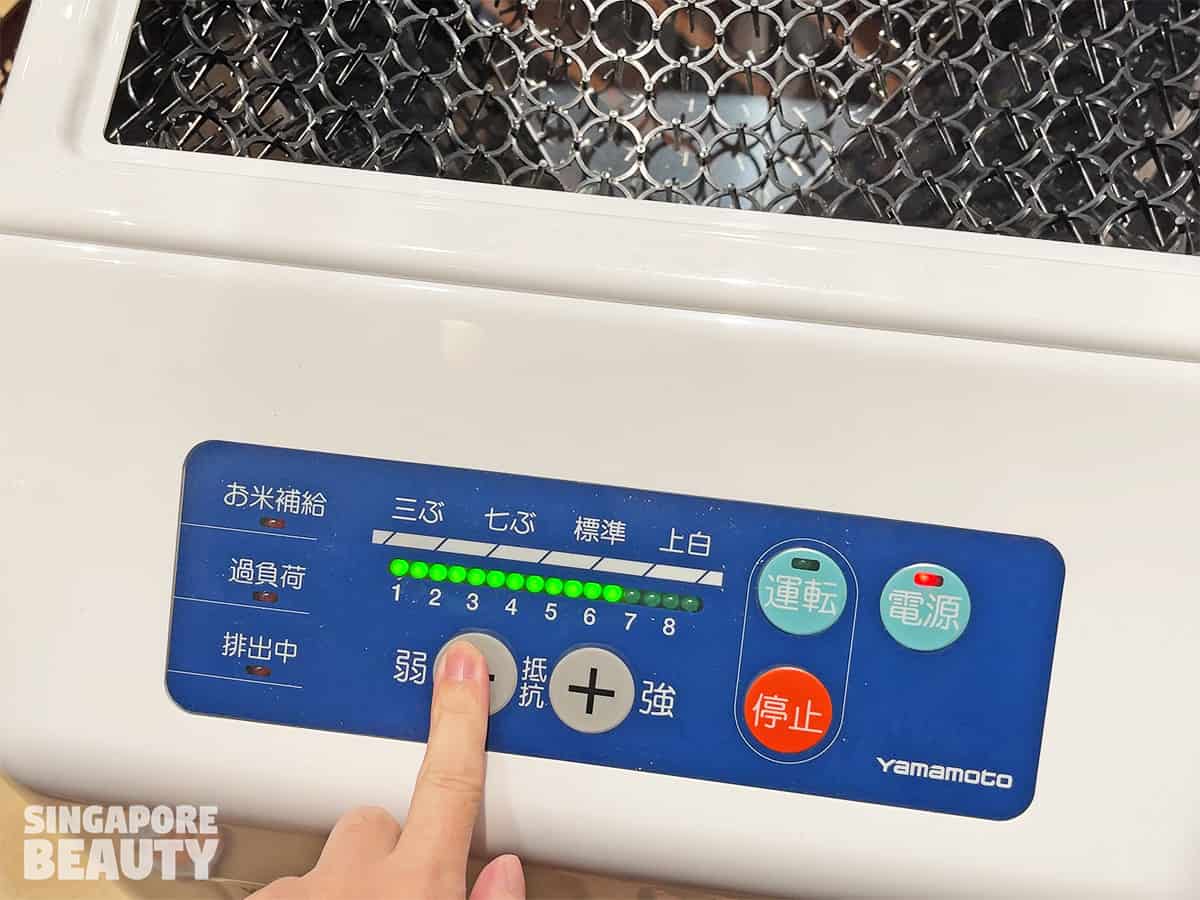 The recommended setting to strength of 6 is the standard. The order of intensity is from 1 to 8, with maximum polishing at 8 which will give you super white glistening rice grains. Empty the contents of the rice bag into the top loaded rice milling machine at Meidi-Ya.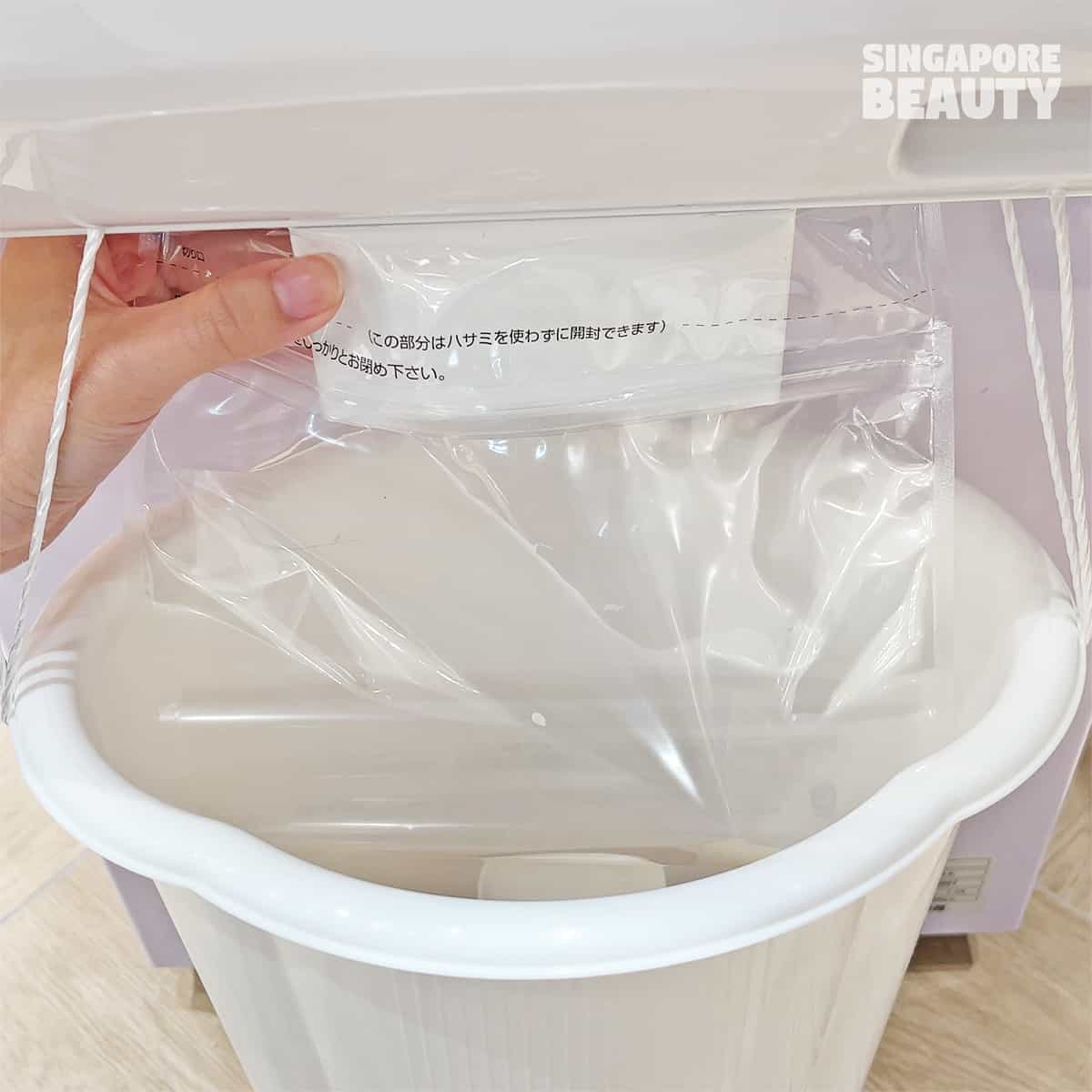 Fit the output shaft with the zip lock type of clear rice bag from the basket and start the machine. The machine will start milling and dispense a bag of white polished rice.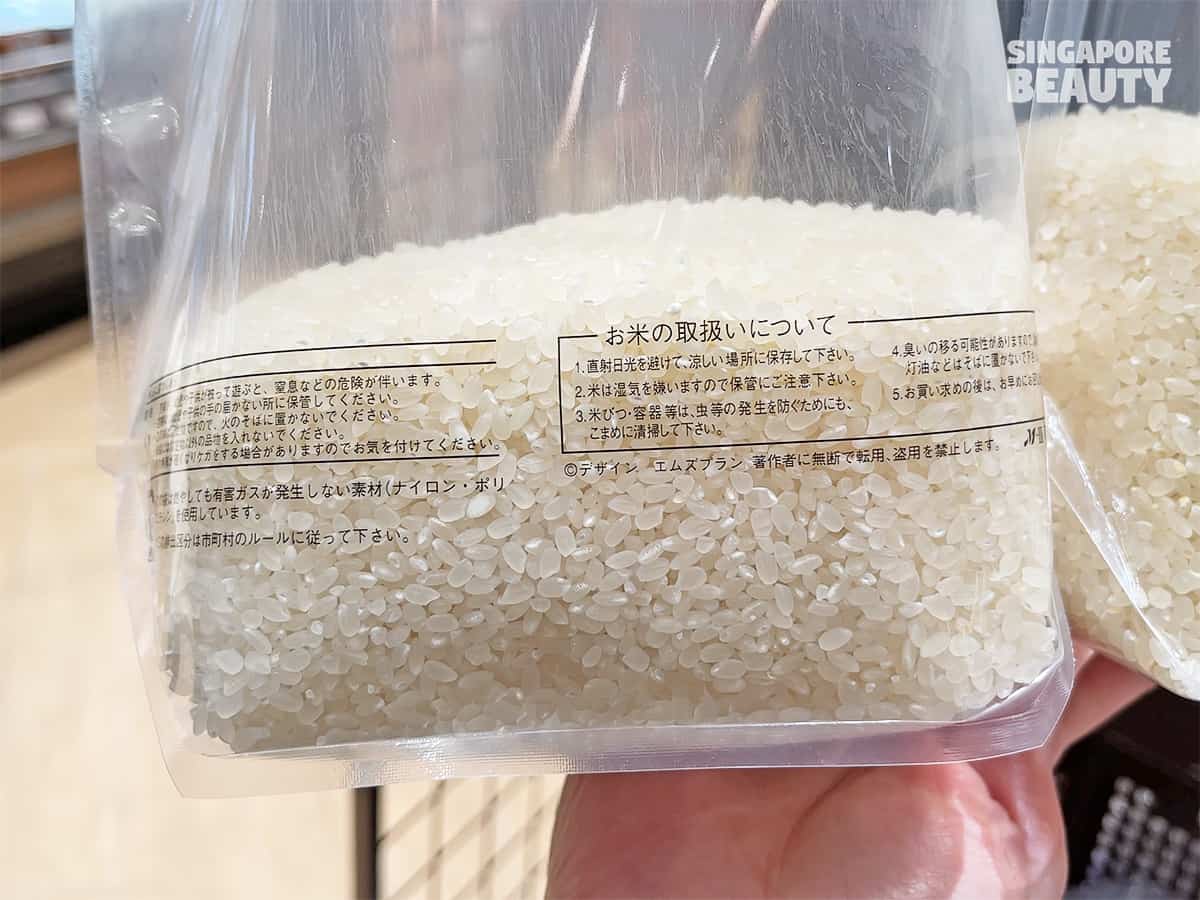 After the polishing through the mill, the polished white rice grains will be a little moist and warm, so be sure to let out the moisture before sealing it again for payment.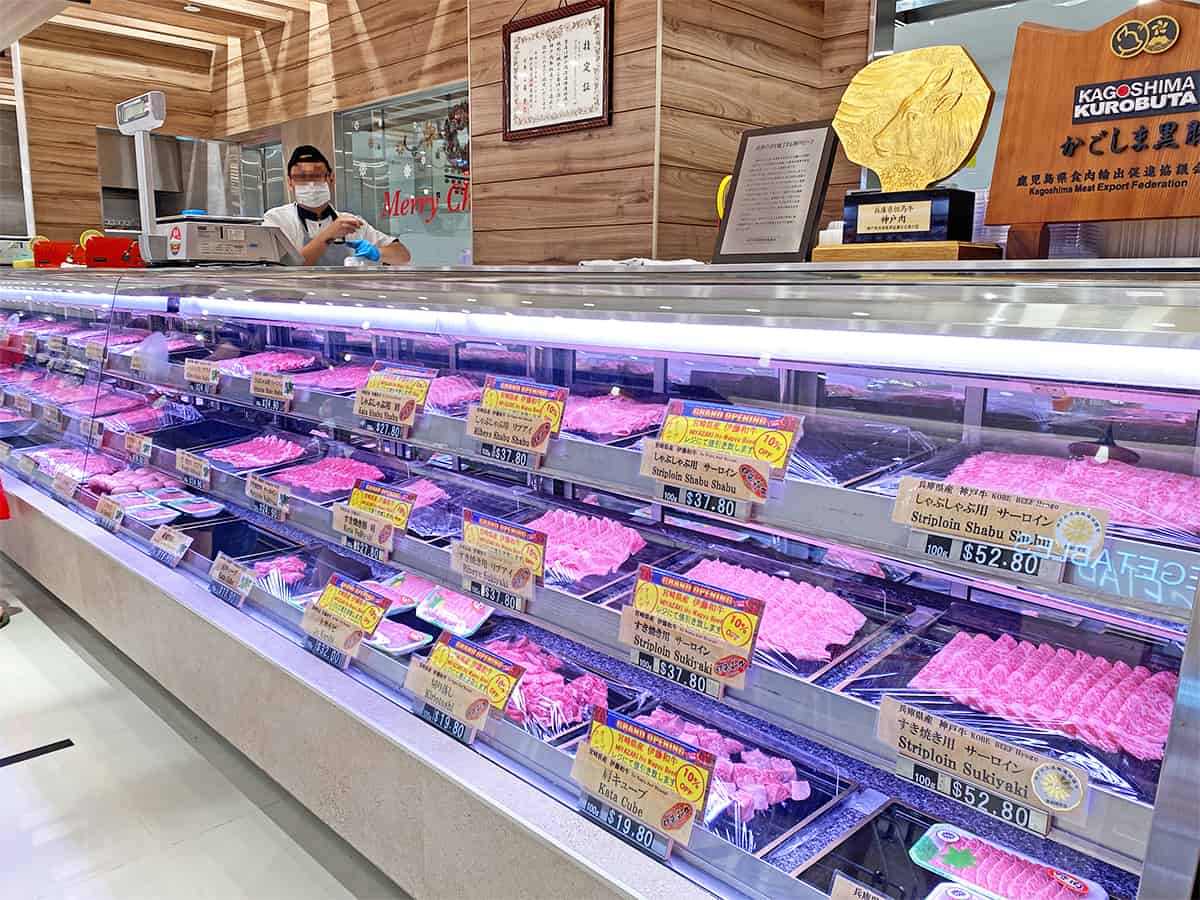 At the fresh meat counter, you can count on them to get your different cut of premium beef or pork here for your shabu shabu, sukiyaki or yakiniku needs. Just to name a few, striploin, kata, ribeye, kiriotoshi and jo karubi with extra marbling.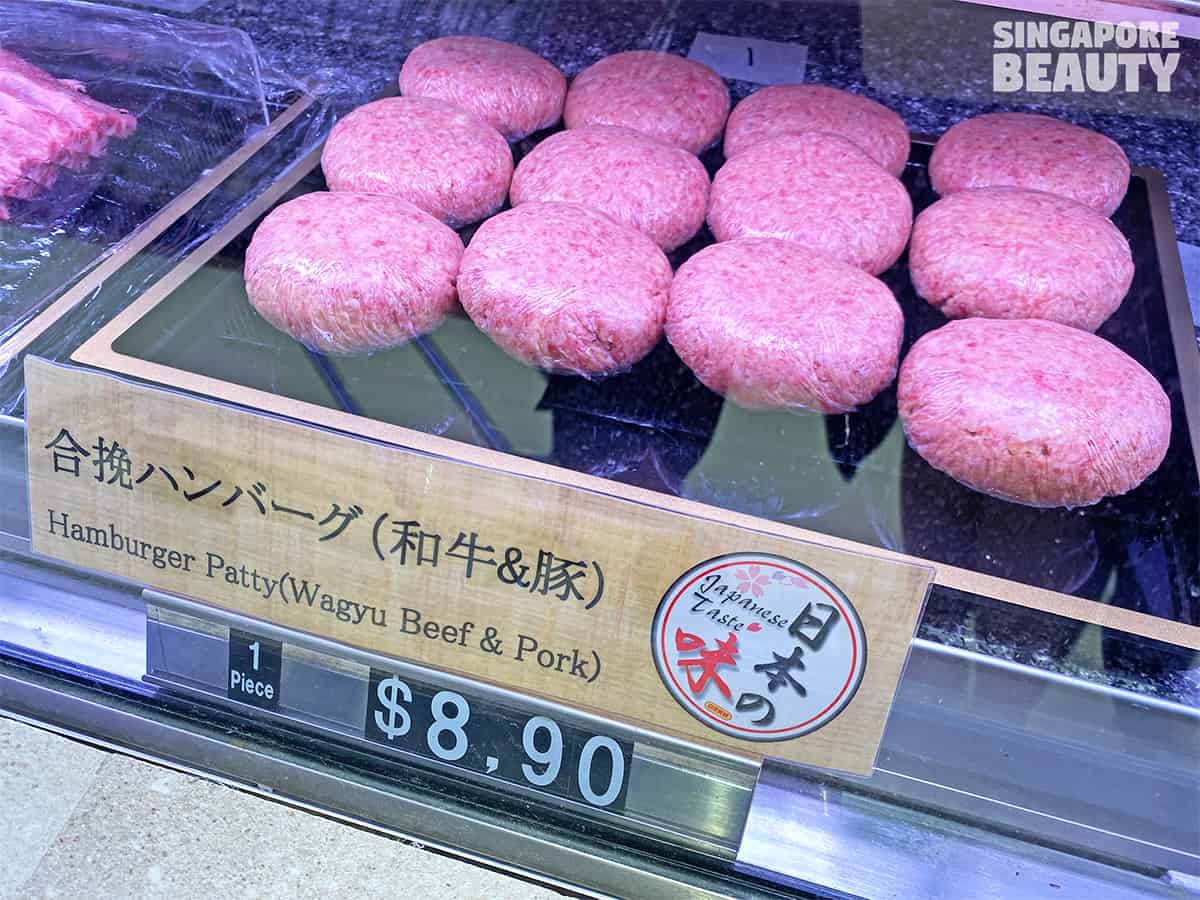 These Meidi-Ya Hamburger patty ($8.90) are made with wagyu beef and minced pork. Best for your home style Japanese hambagu steak drizzled with ketchup based tonkatsu sauce or curry just like those in Yoshoku restaurant. These are usually enjoyed with a steamed rice, potato wedges, onions and salad, just not between burger buns.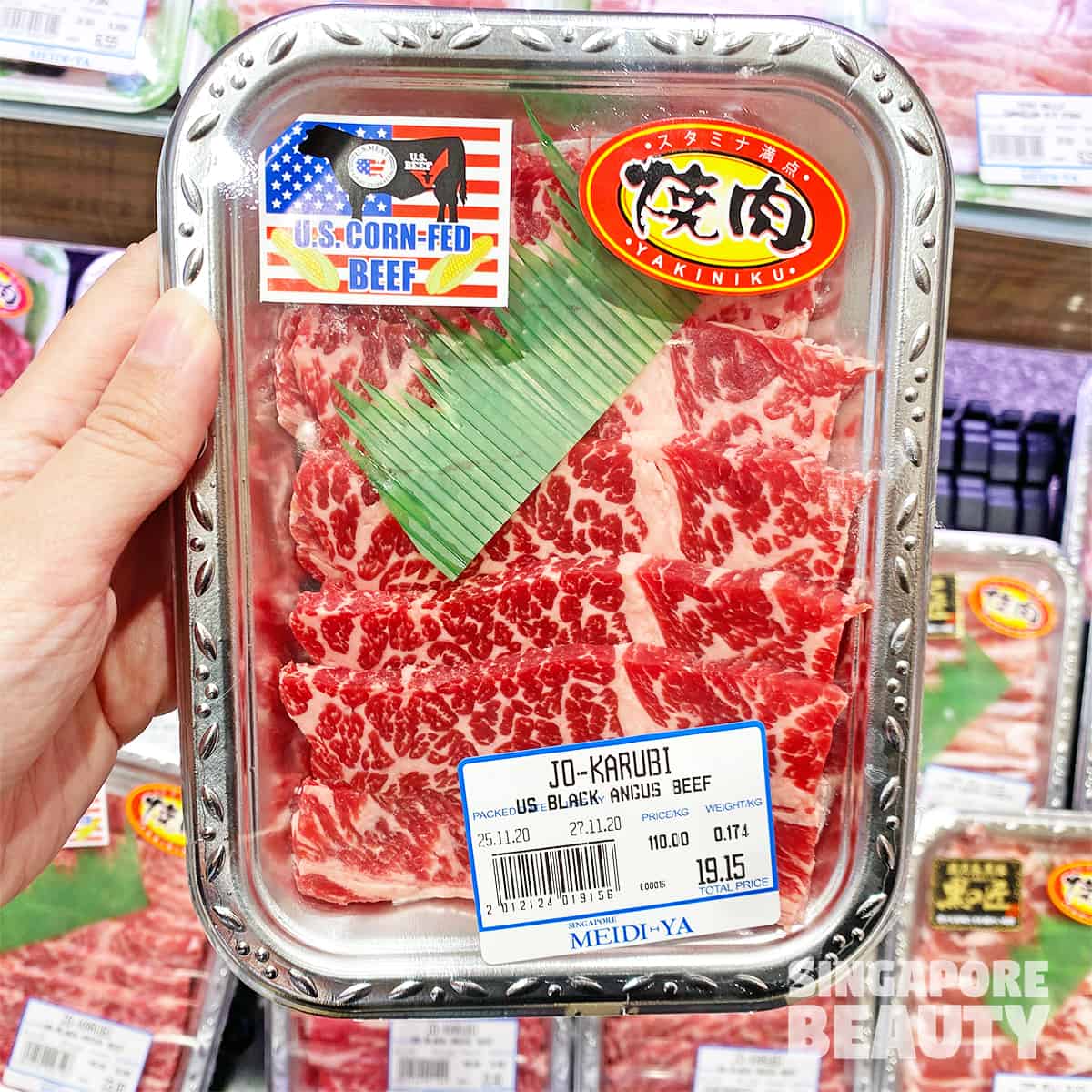 Check out these thick slices of Jo-karubi US Black Angus beef that is great for yakiniku, with that amount of marbling, your cooked beef will sweat and glimmer like it just ran a marathon.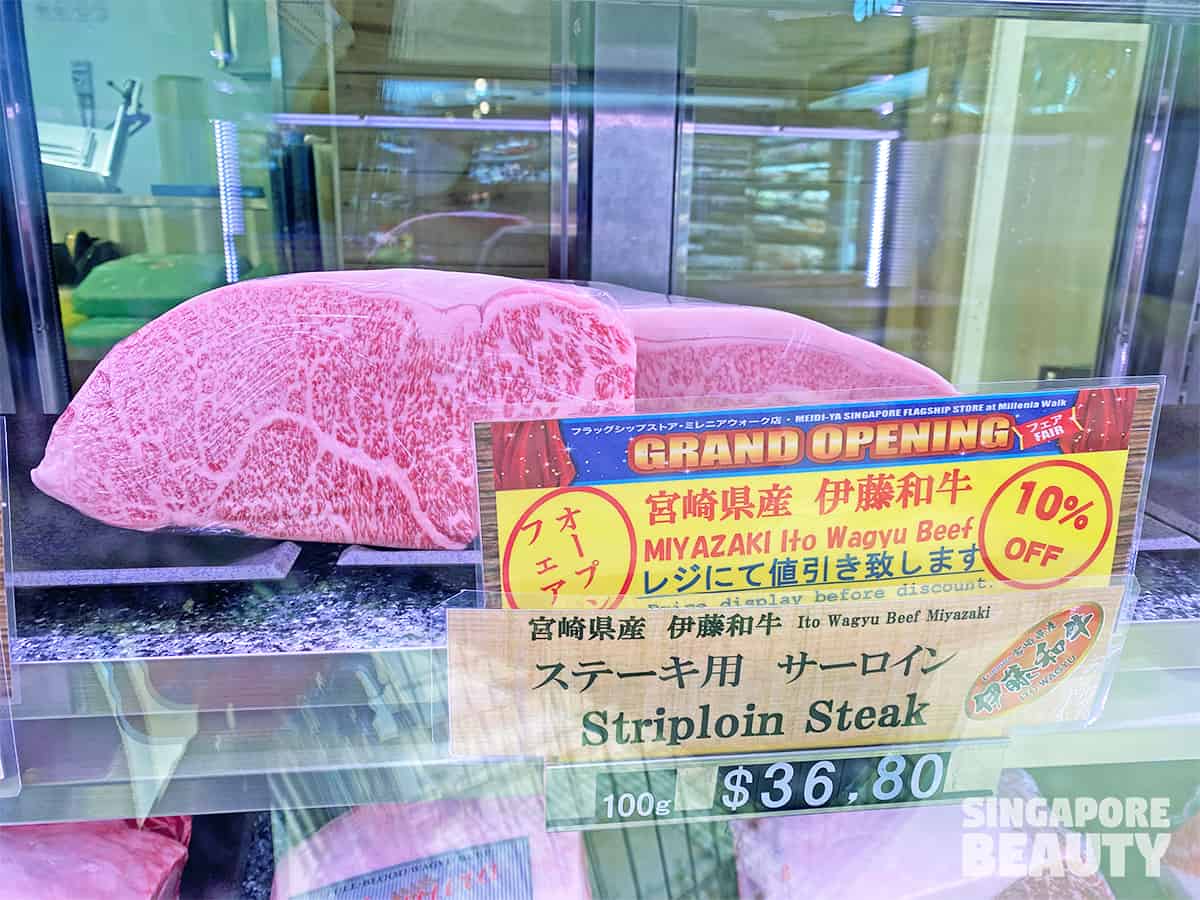 The MeidiYa supermarket also carries block of discounted Wagyu at their meat counter. There is a storewide 10 % discount on selected premium meat till 6 Dec 2020. Great ideas for the romantic candle light dinner for that special anniversary or your crush that you have been carrying a torch for.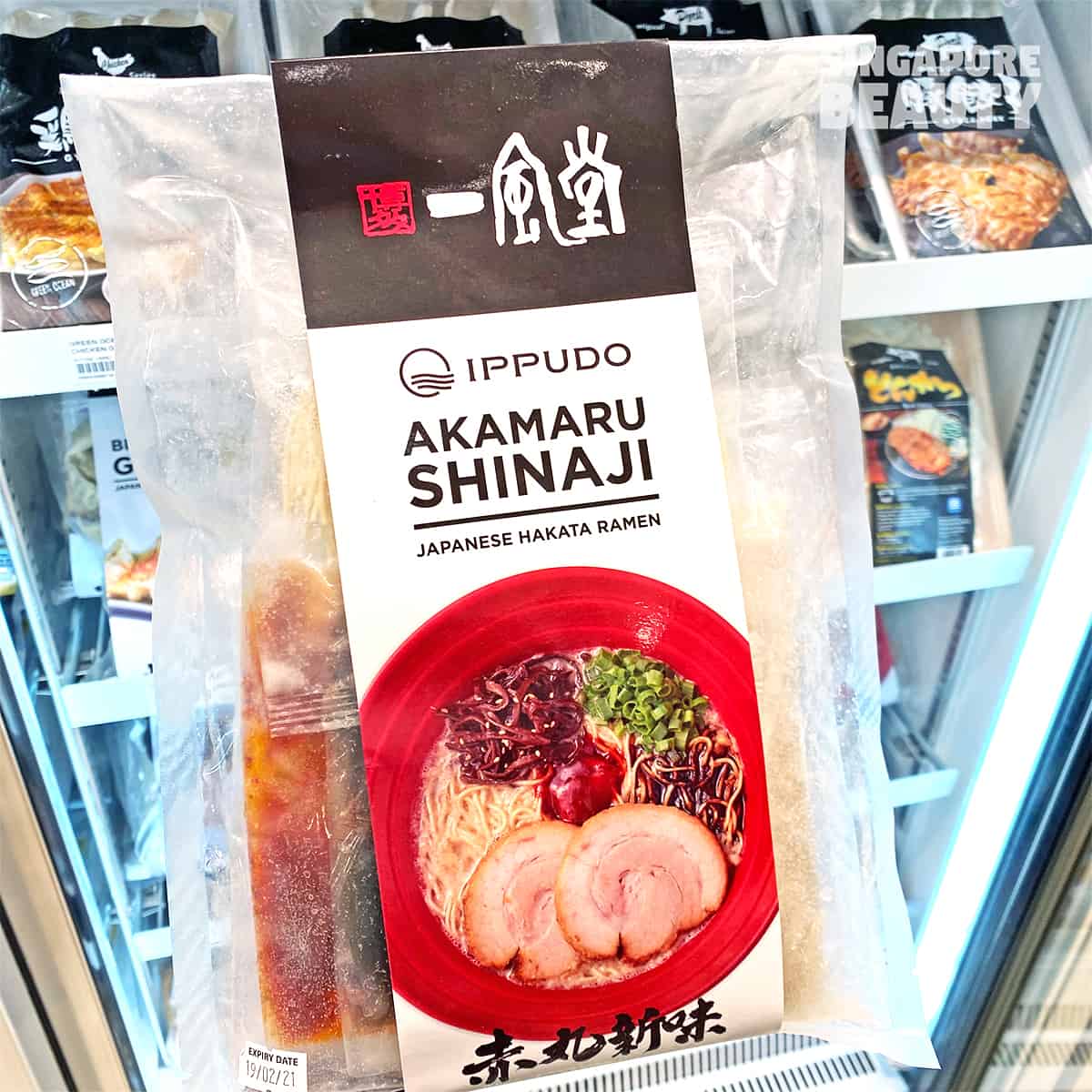 Ippudo Akamaru Shinaji ($14.80) ramen home kit is all you need for a bowl of warm comforting chef standard ramen to impress someone. It comes with pre packed ramen, tonkotsu soup, chashu, and black fungus.
Get a pack of Ippudo pork chashu ($12.60 for 180 grams) prepared in Japanese Hakata style to zhng any ramen you can get at Meidi Ya supermarket.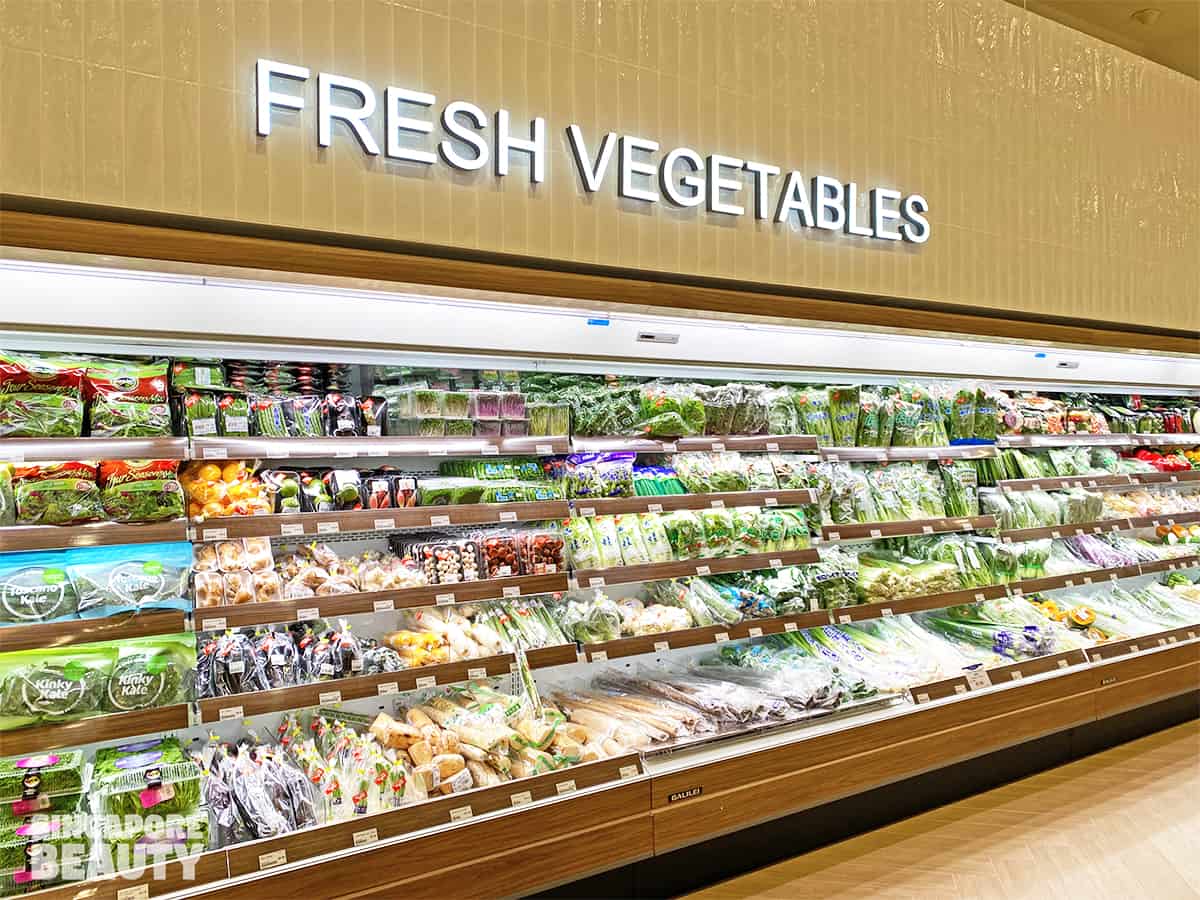 They carry a range of products from Japan as well as some local produce. Most of the seasonal Japanese fruits such as melon, la France pear, Sun Fuji apple, Shine Muscat, fruits from Yamagata are either air-flown from Japan or shipped by sea weekly.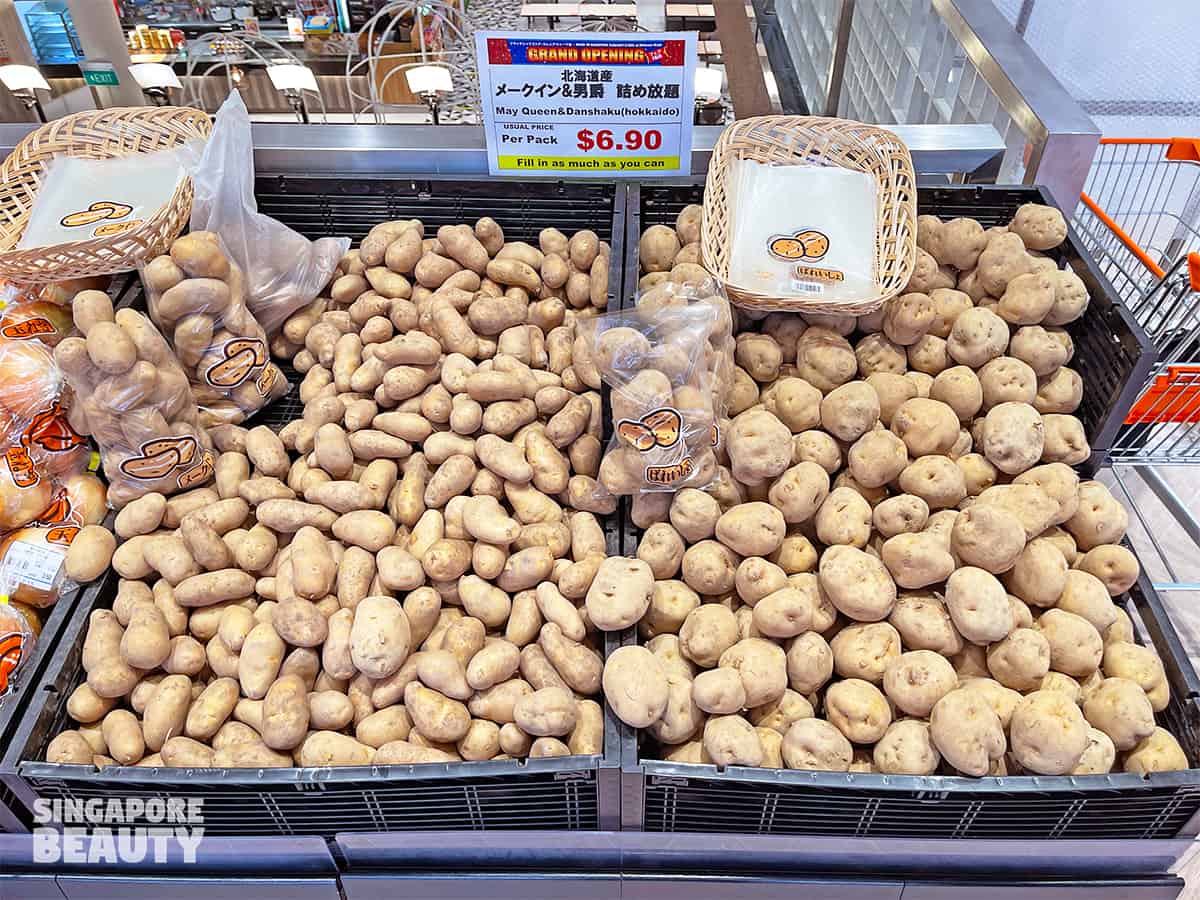 They also have a fun all-you-can-bag-potato section at the grocery department where you get to fill as many potato into a bag as possible for $6.90. There are 2 types of potatoes – May Queen or Danshaku – you can choose, the smaller ones which are for Japanese curry because these are firmer, the larger ones are best for mashed potato salad. The friendly promoter will assist to help you fit as many potatoes as possible into the bag if you ever help.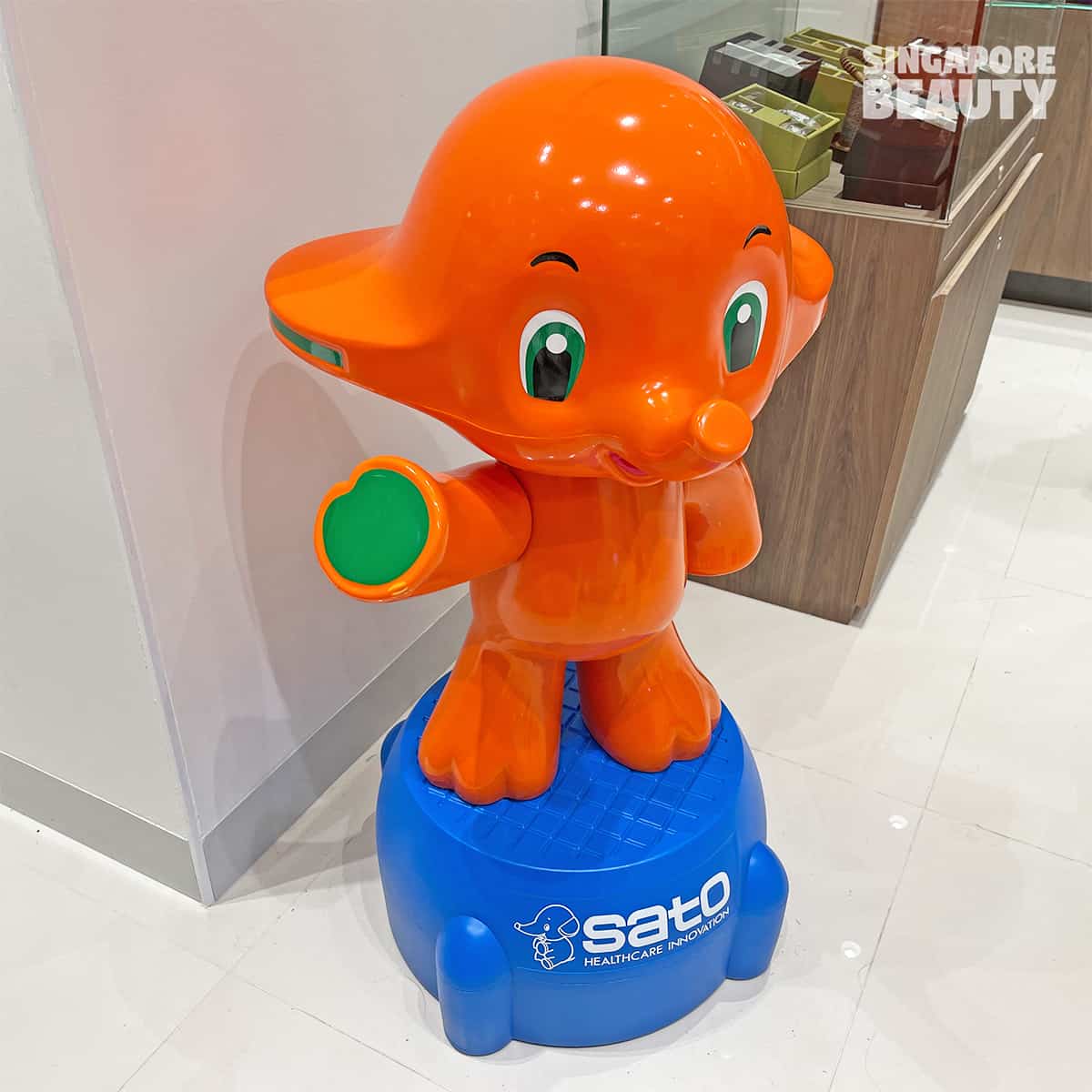 Nishino pharmacy with Sato healthcare & beauty products and even some authentic Japanese cook home wares and household products near the travelator.
Here's what we found from the supermarket that is worth trying :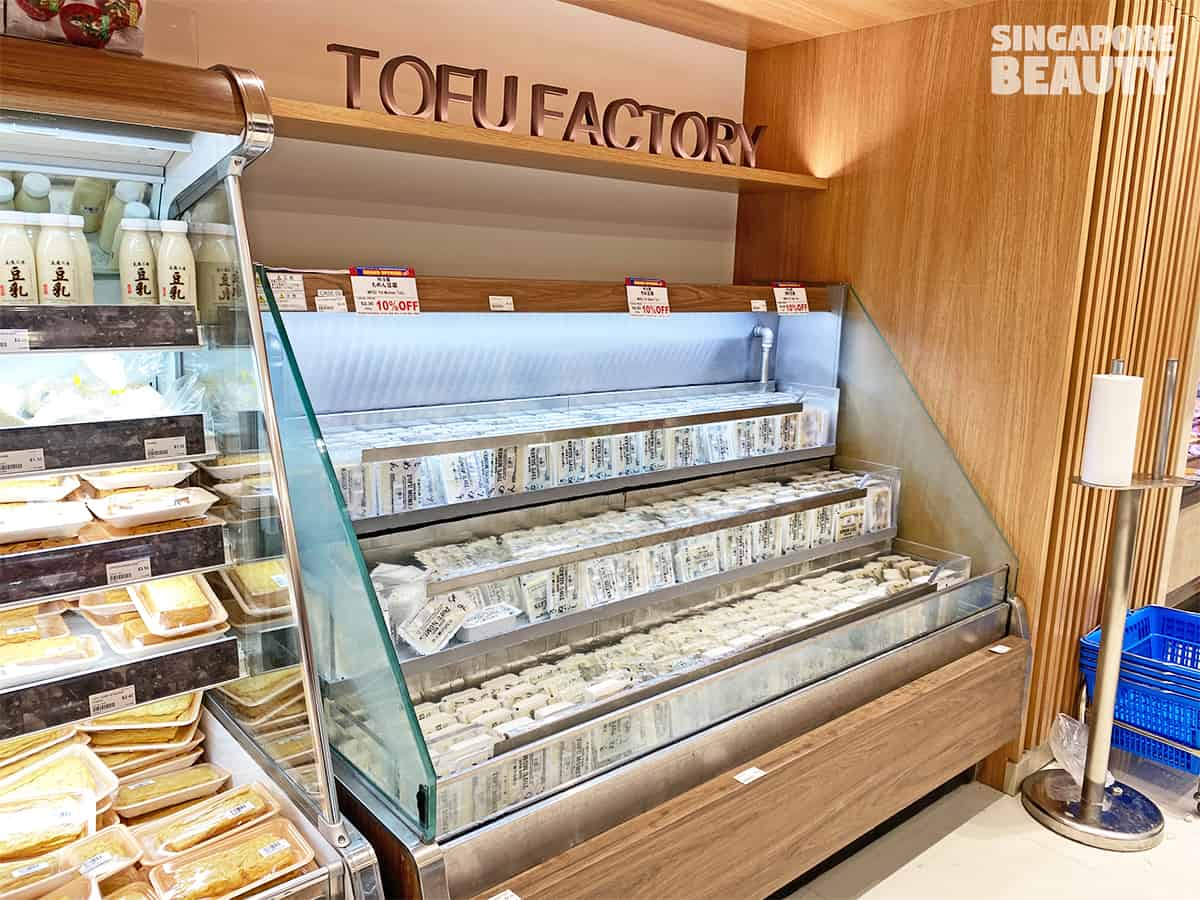 Tofu Fountain at Meidi-Ya
This Meidi-Ya homemade Tofu Factory is actually produced in a local factory with techniques and ingredients from Japan.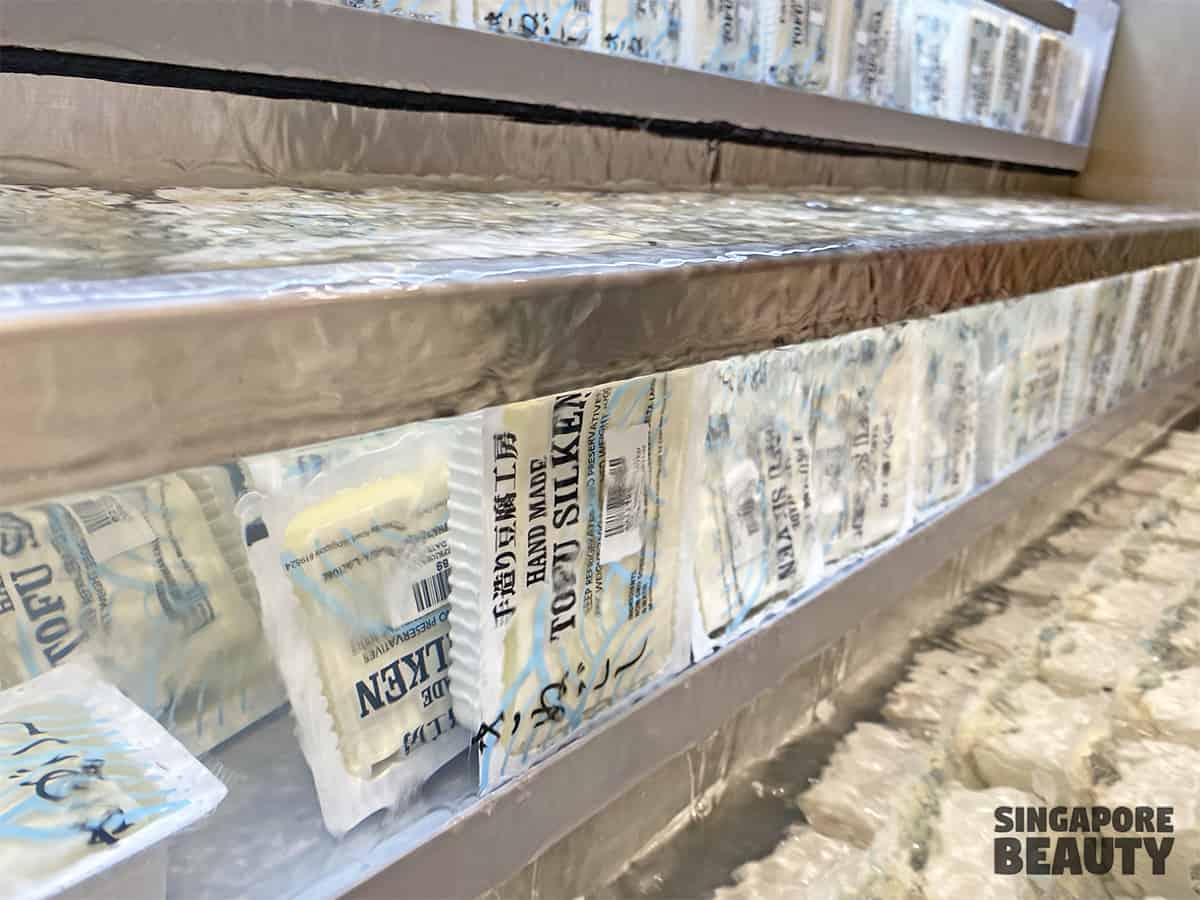 The tofu is kept chilled in this tofu fountain. But why do they keep in an icy cascading waterfall like display at Meidi-Ya? Are these better than our usual tofu, now is the time to find out.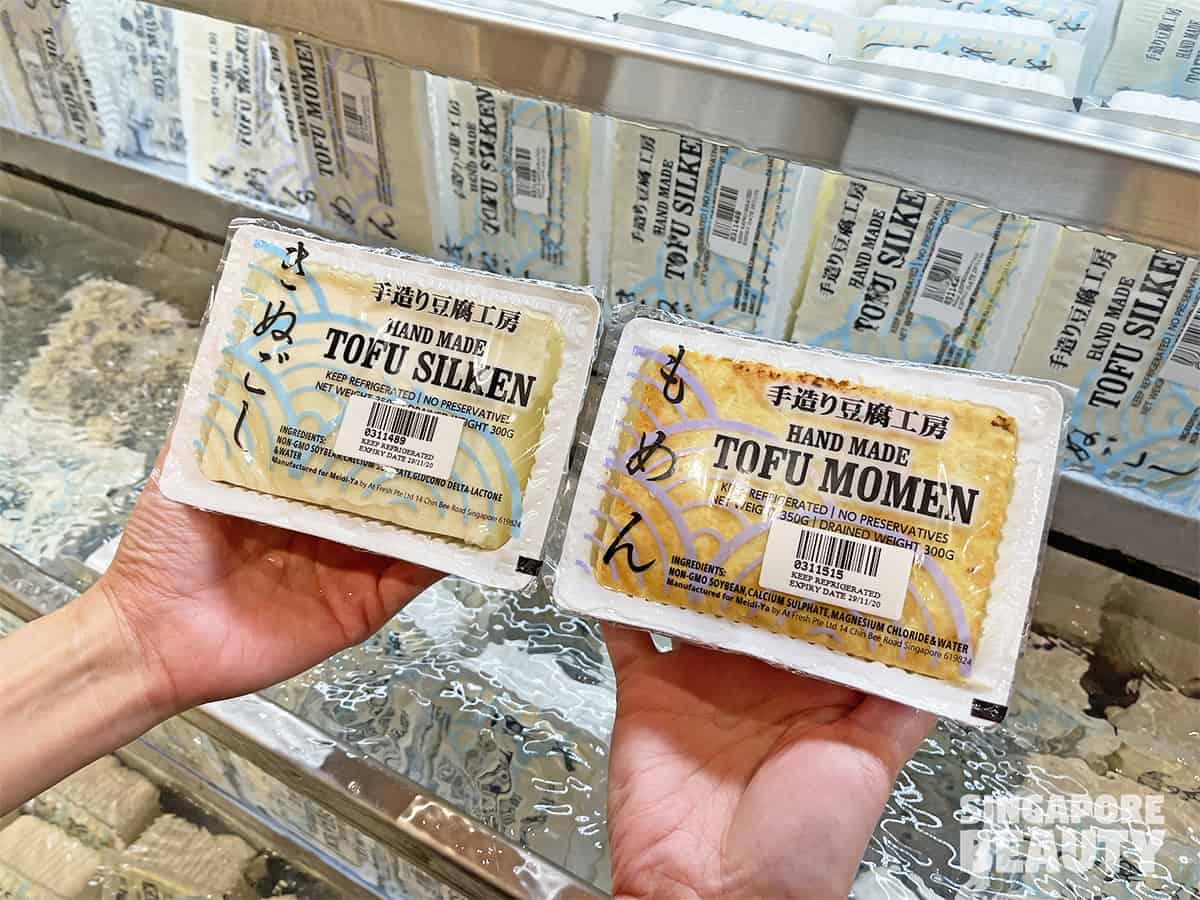 MeidiYa are having a 10% discount on 3 types of tofu – Momen, Yaki and silken- starting from $2.20.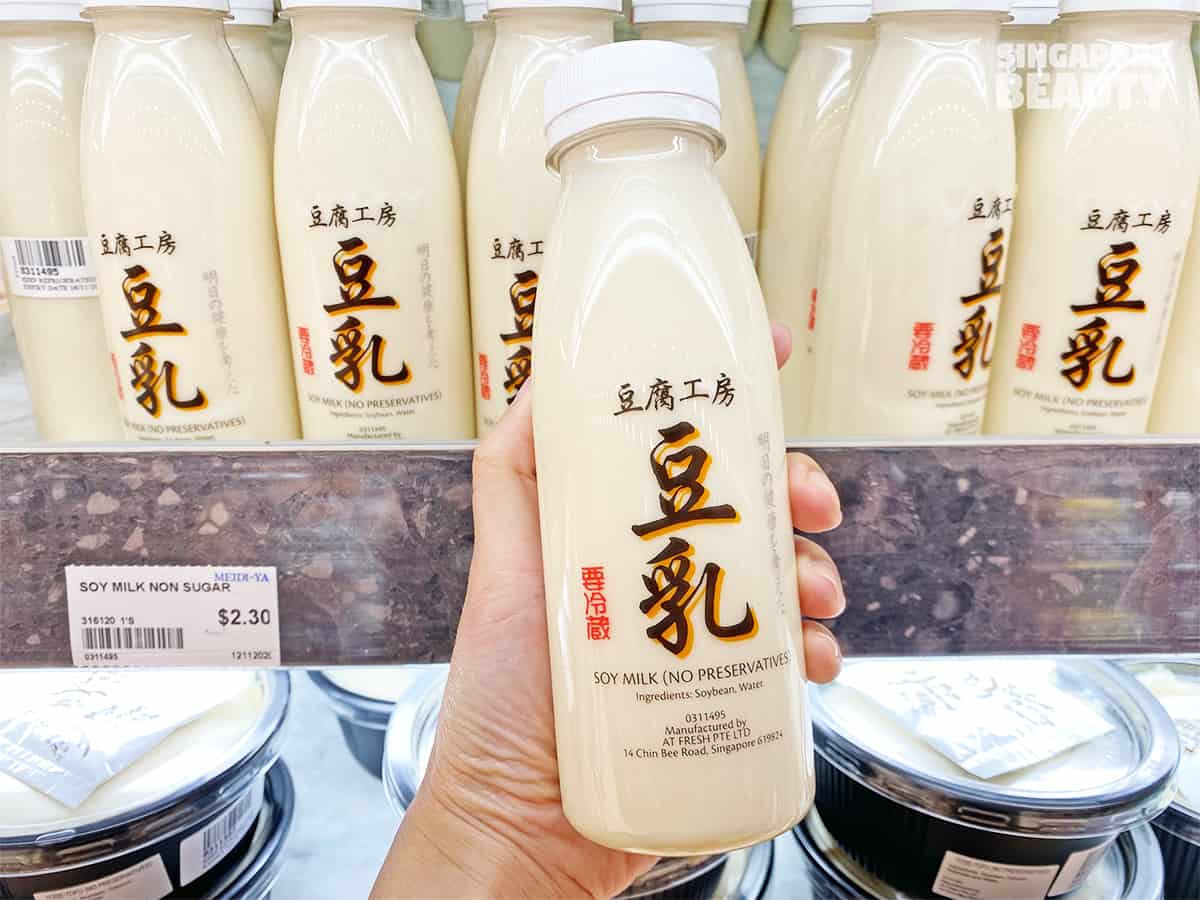 Soy Milk non sugar ($2.30) – for those who are lactose intolerant, you can try some of these soy milk as alternative for breakfast. Made with soybean and water without preservatives and sugar, perhaps the healthiest drink around.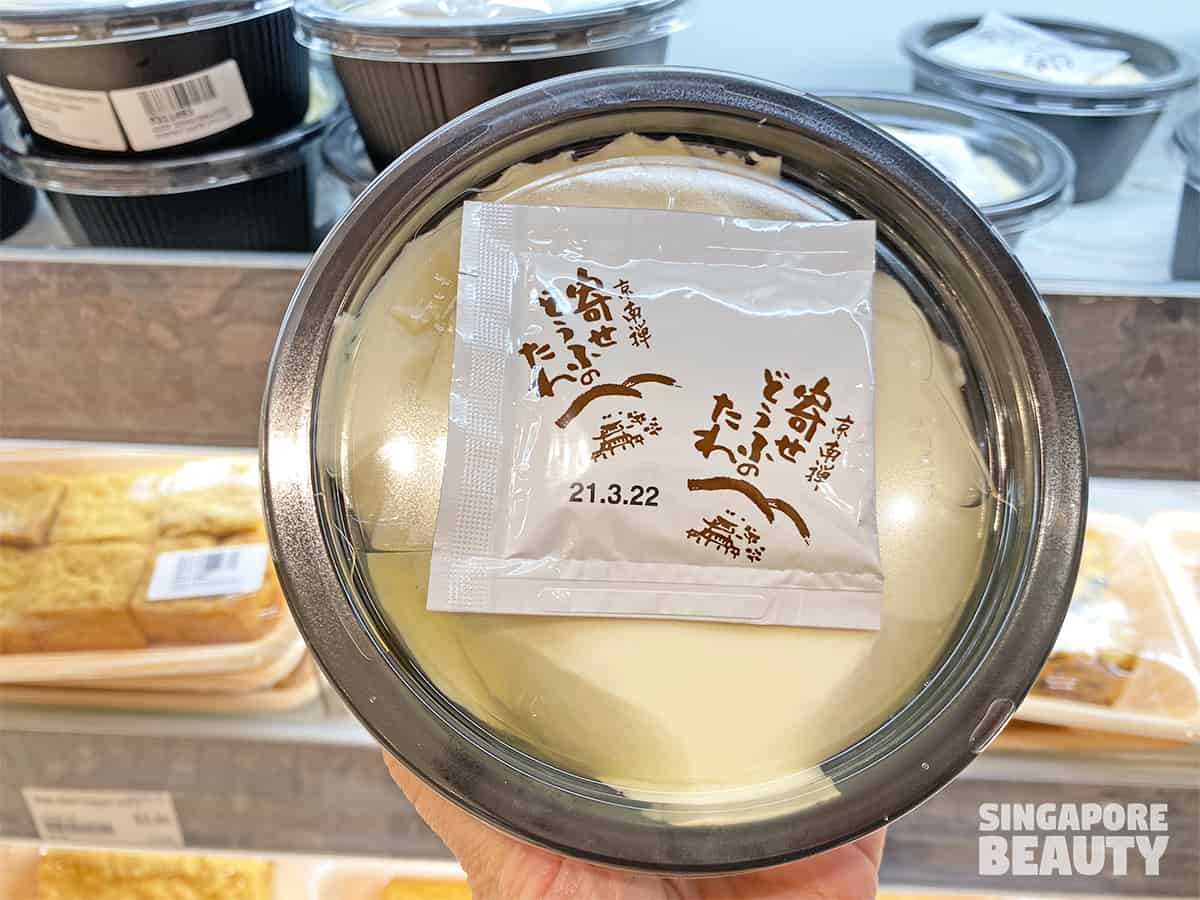 Yose dofu ($3.50) – is made by adding a coagulant agent (calcium sulphite) to it. It is like our soybean pudding. It can either be eaten straight from the tub or be used in soup stew.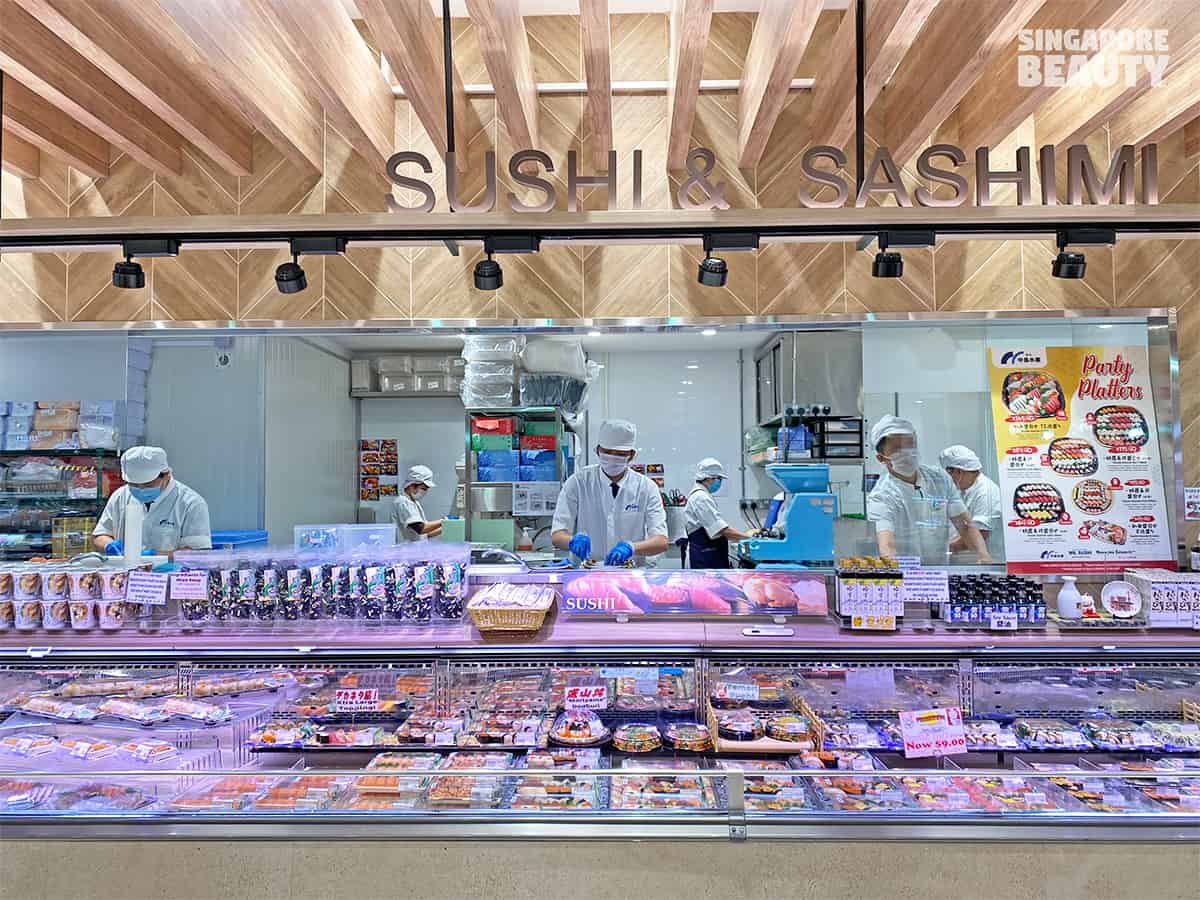 A wide range of fresh seafood, sushi & sashimi from Nakajimasushi is available inside the supermarket.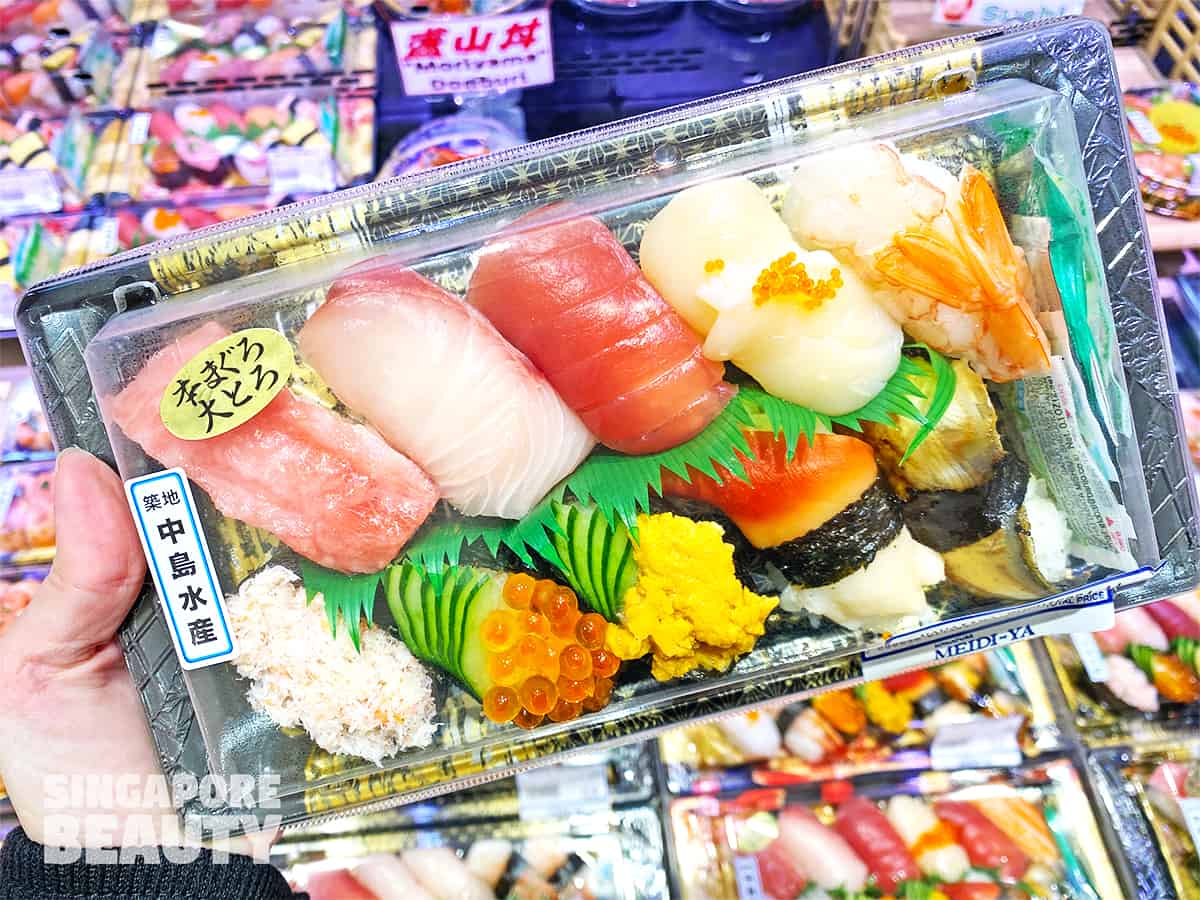 Ever wonder why the sashimi is so fresh at Nakajimasushi?
The variety of sushi and sashimi you can get at Meidi-Ya Nakajimasushi is overwhelming that spans at least across 8 metre worth of display chiller.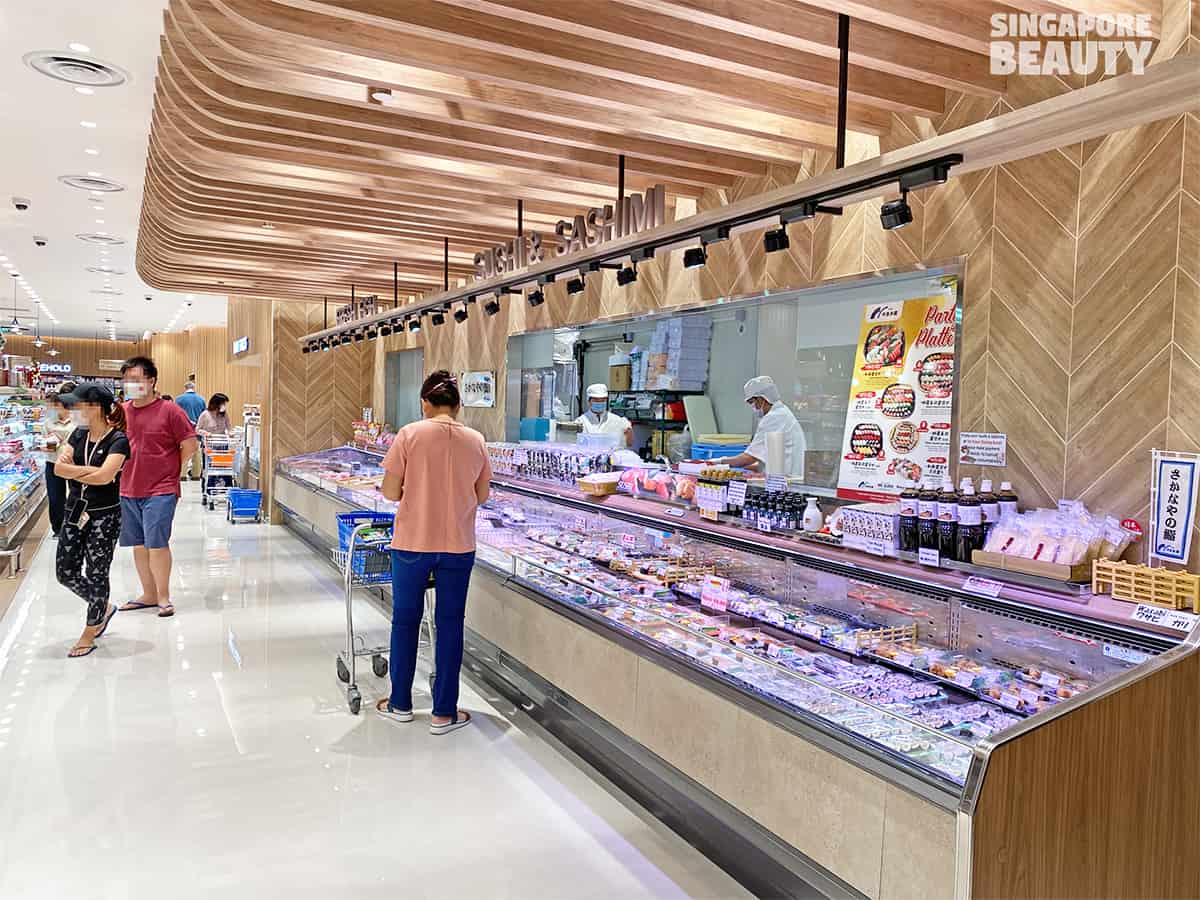 Here an overview of the size of this Meidi-Ya takeaway fresh fish, sushi and sashimi counter.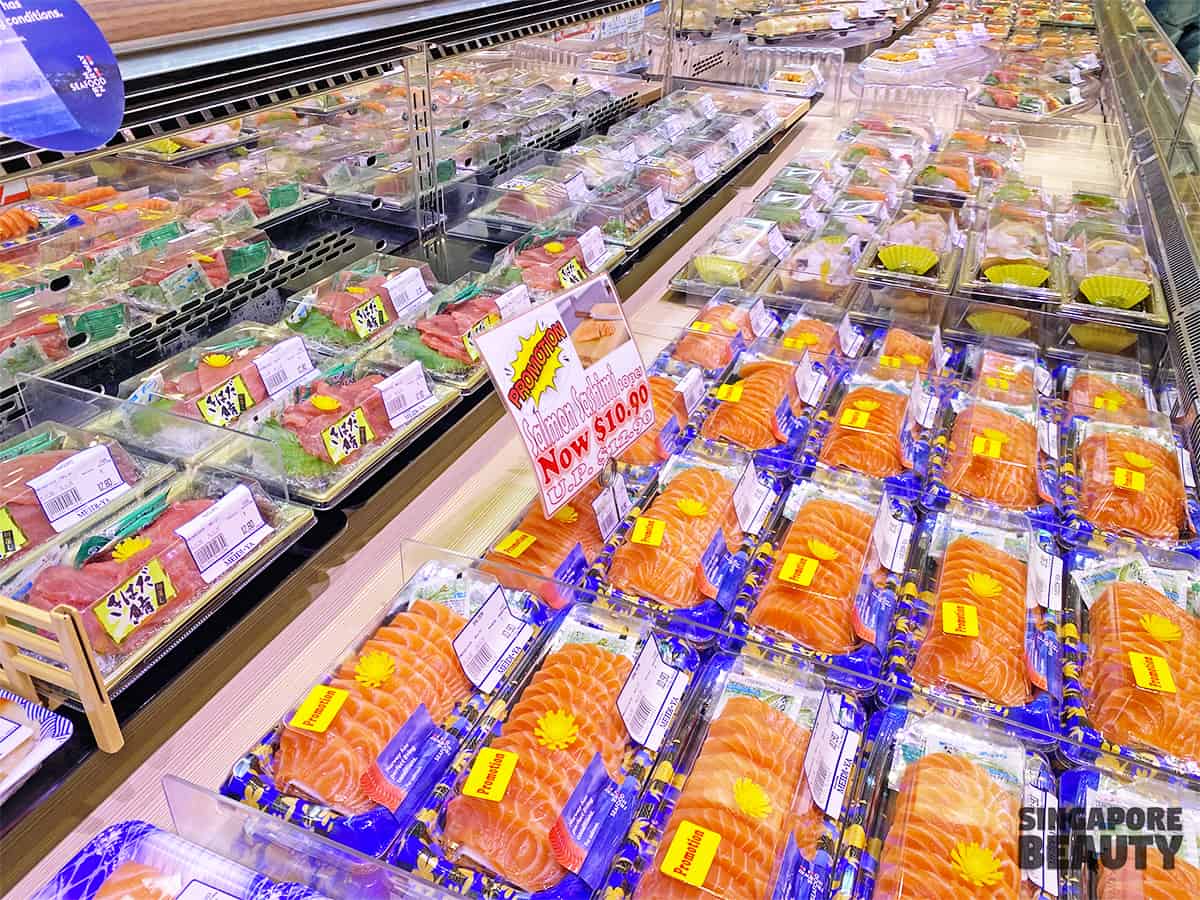 These fresh fishes for sashimi are directly flown in by Nakajima Suisan who is also the largest fish supplier in Japan.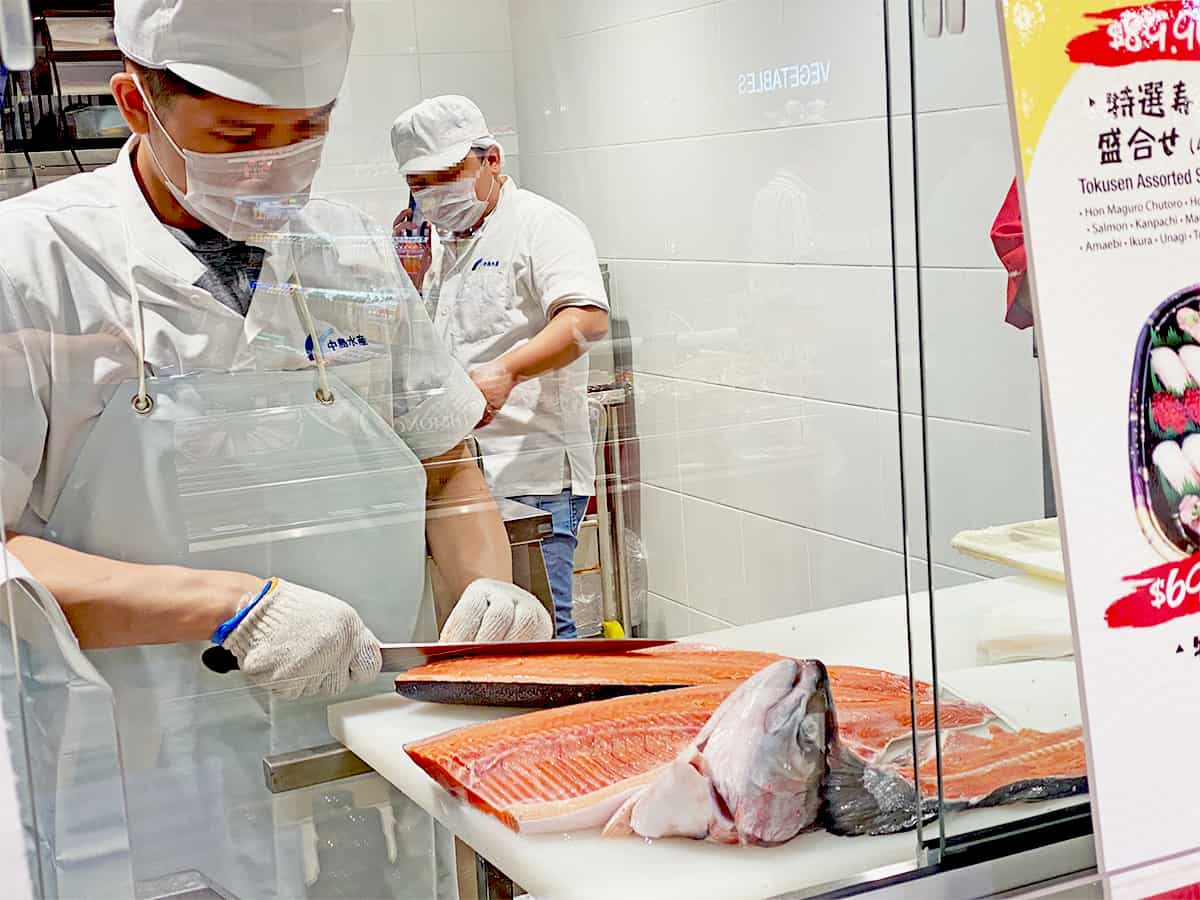 You can also watch the chef slice whole fish for sashimi at the live station show kitchen. These are then systemically packed for immediate sale at the sashimi display chiller straight from the cutting board. They also have another outlet at basement of Takashimaya inside the food village besides this outlet at Meidi-Ya.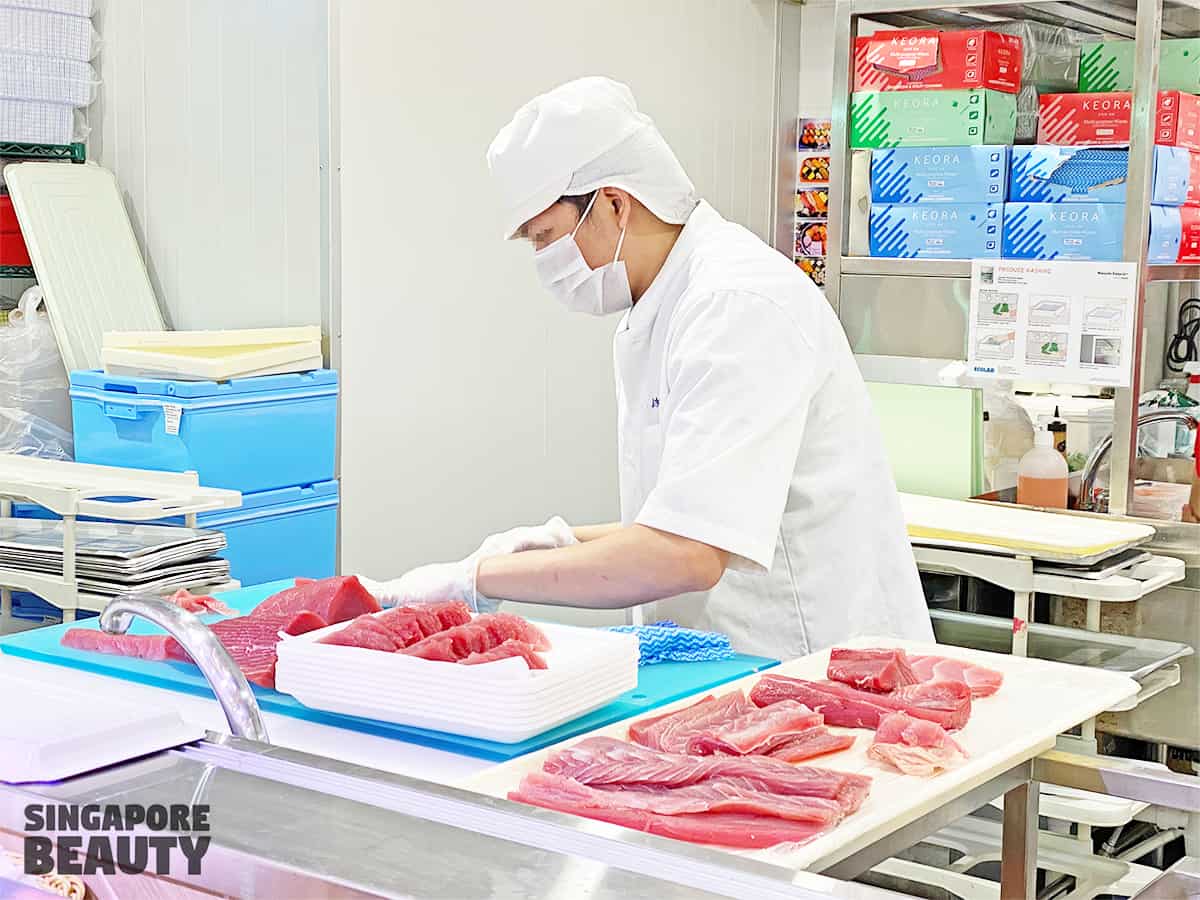 This is also where you can get premium Ootoro in Singapore.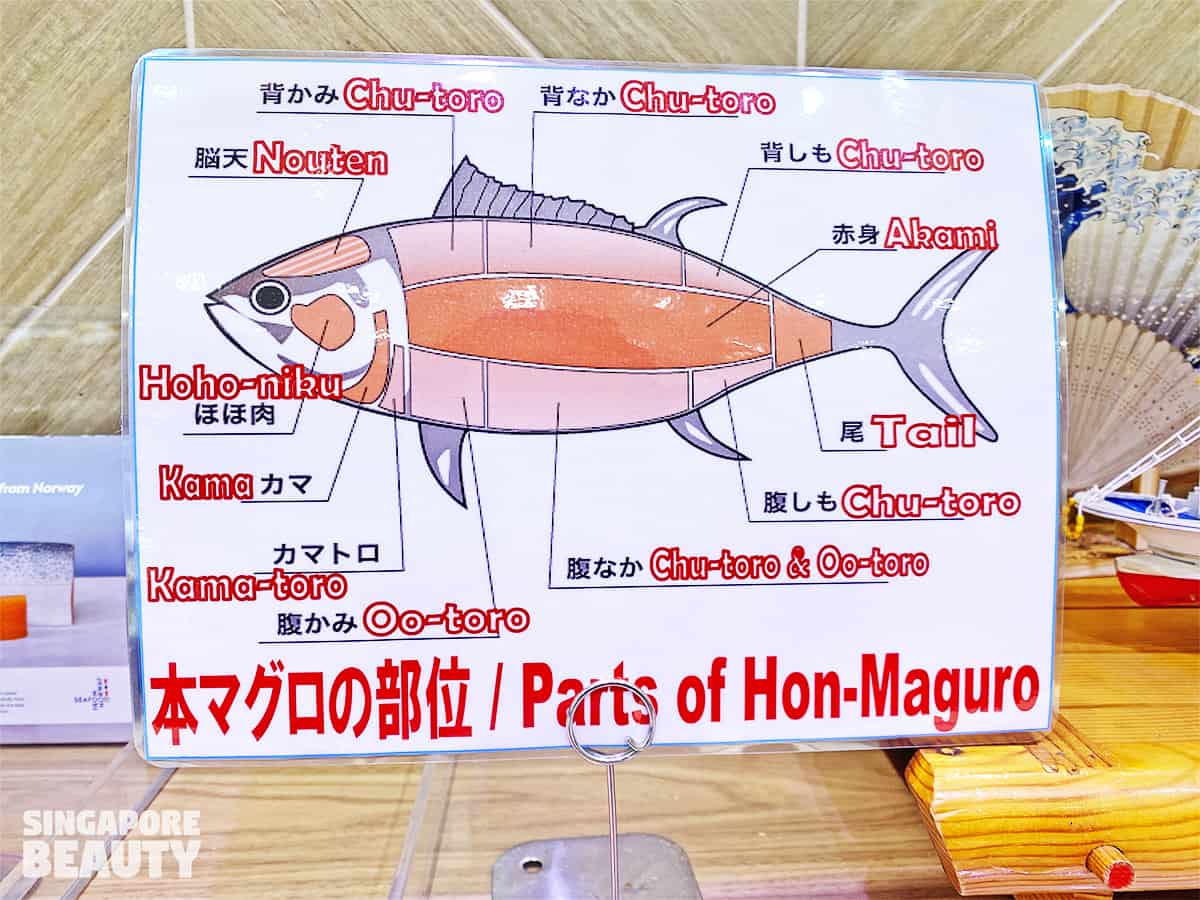 If you are not sure which part of a Hon-Maguro bluefin tuna you are getting, just refer to this parts chart at the Meidi-Ya sushi station.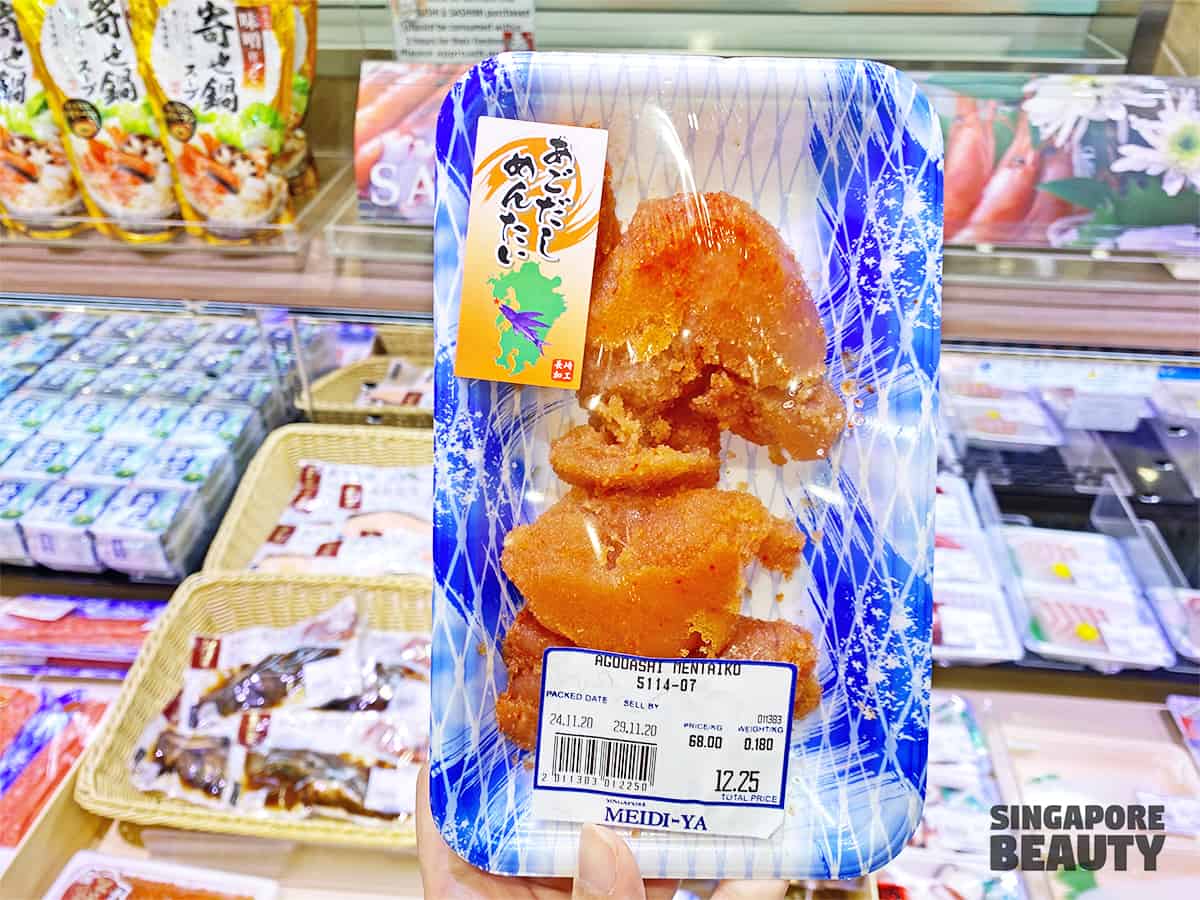 They also have some Agodashi Mentaiko ($12.25) for your pasta needs too.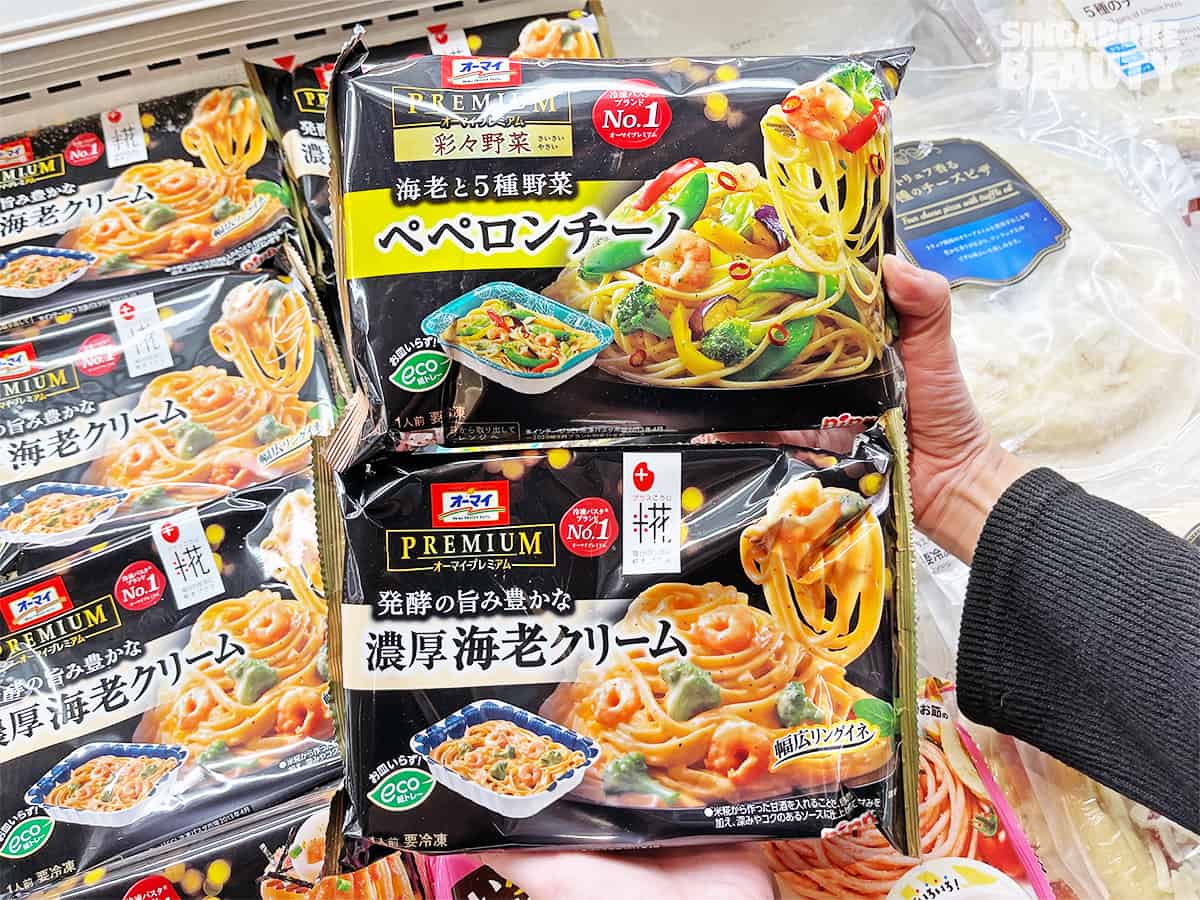 It is always a known fact that most of the Japanese ready to eat food inside the packaging will look as good as the image shown, at least a 95 % resemblance according to sources.
We have been looking forward to the opening of this supermarkets so much so that we set a reminder for it. Stepping into this supermarket, it gives me a adrenaline rush like I need to go through each and every item on the shelves to make sure I did not missed out on the good stuff.
Here are some of the what to buy at Meidi-Ya :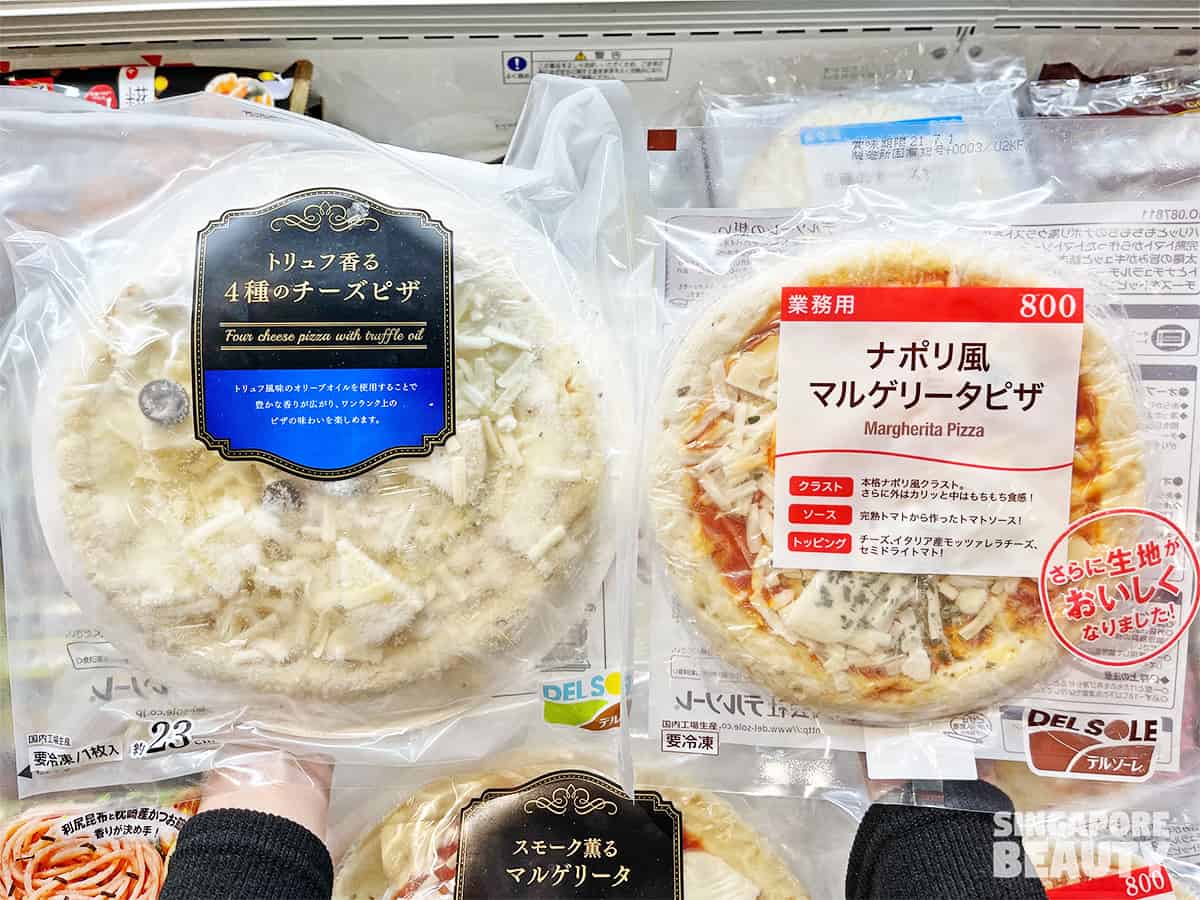 These ready made four cheese with truffle oil and margherita pizza ($12.80 each) are great for a party. These are in see through packages so you get what you see. The best thing of all is that these are ready in 5 minutes by popping them into your home oven. Likely can get that cheese pull with the amount of cheese on them.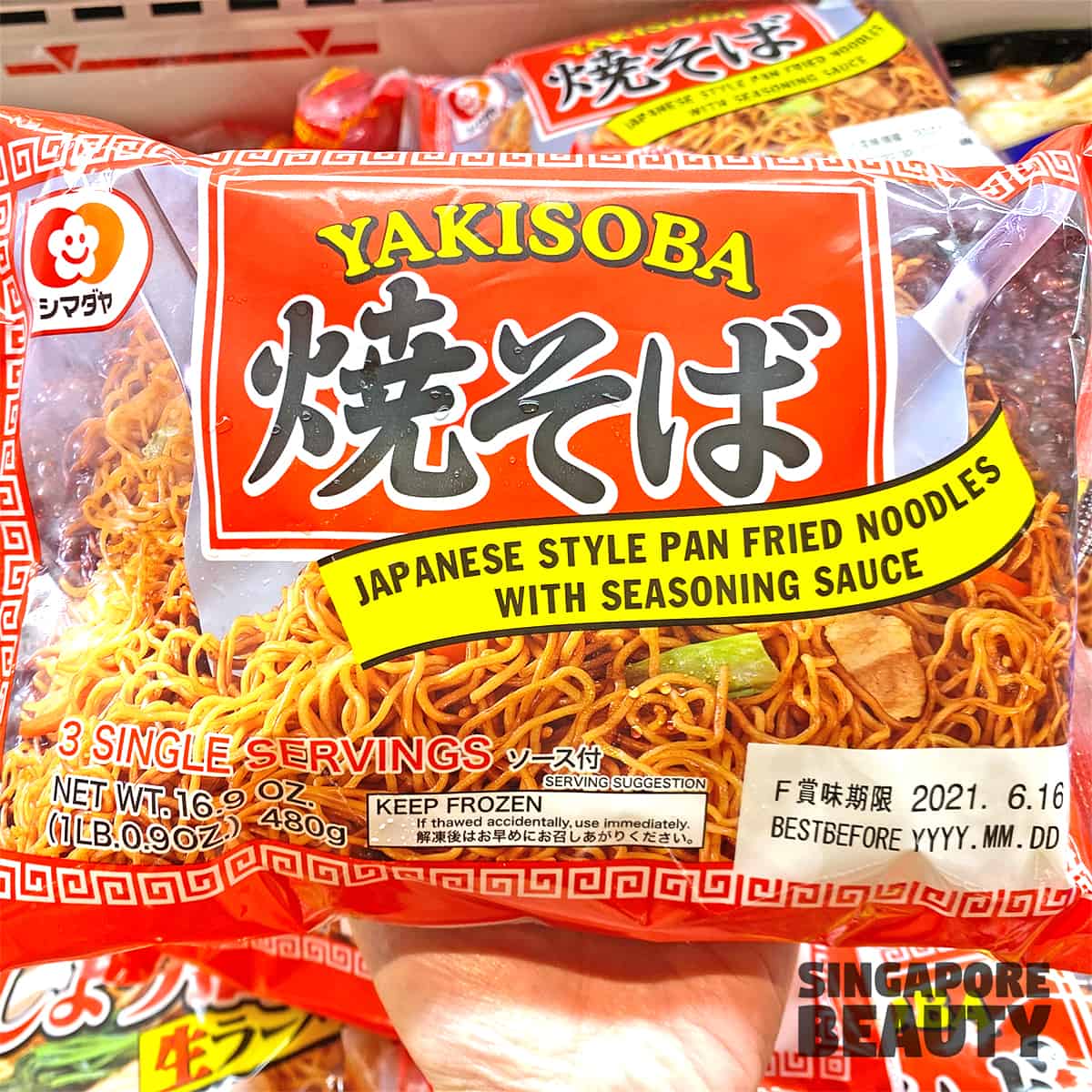 How about some premade Yakisoba ($6.10) Japanese style pan fried noodles with seasoning sauce? with only 3 steps you get your cravings for Yakisoba fixed in the comfort of your own home. Pan fried some ingredients such as vegetable and meat. Next empty a serving of the yakisoba with its sauce pack into the ingredients. Stir and serve!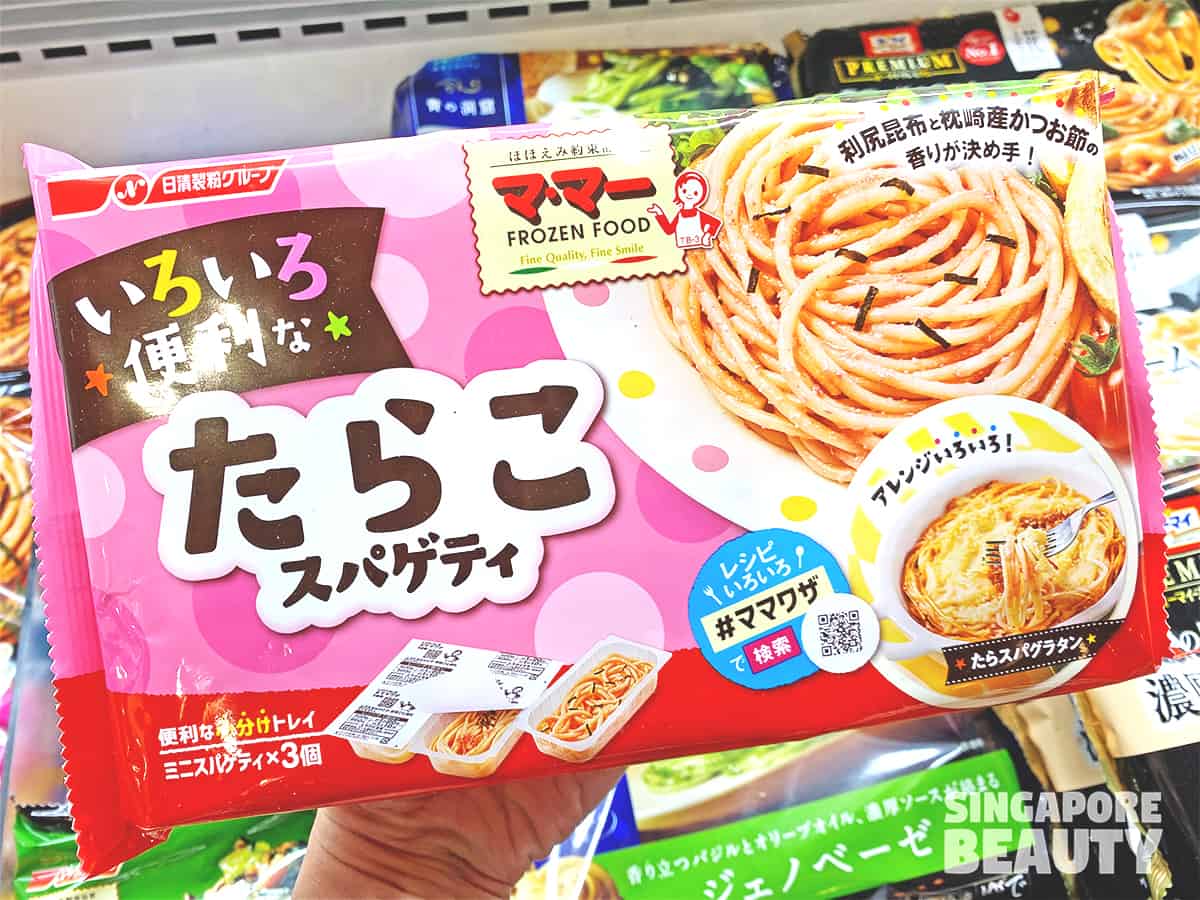 This is one of the most popular frozen food brand Nissin in Meidi-Ya supermarket. Yaki Tarako Koumi Shoyu pasta spaghetti with seasoning ($5.50). It is a ready to eat frozen food stated to contain ingredients such as octopus, clam, eggplant, zucchini and pasta. We gotta try it to know.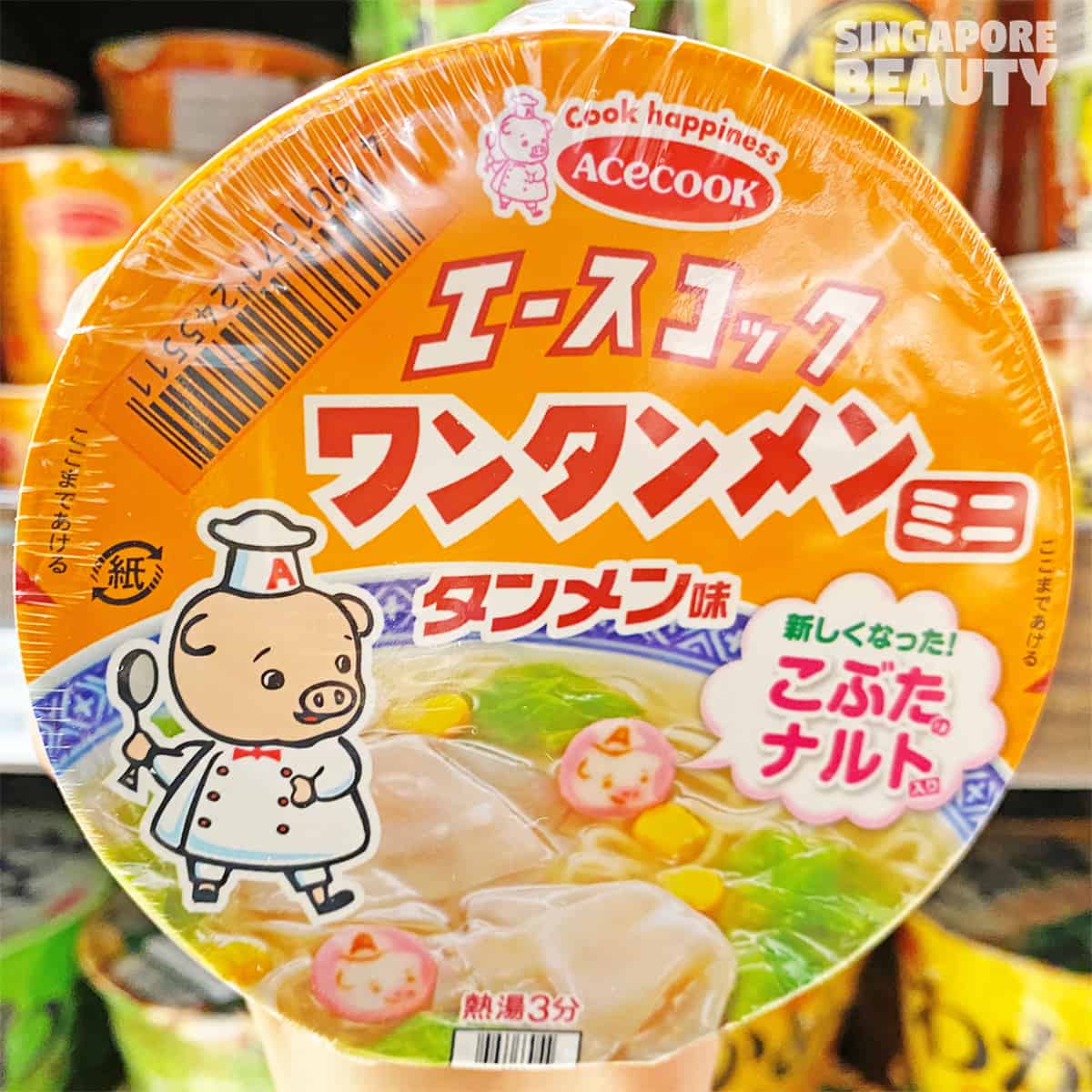 More instant noodles Ace Cook Wantanmen instant noodle ($2.70) with a cute fish cake imprinted with a cartoon pig. I am swayed by these cute packaging and the idea of some silky wanton.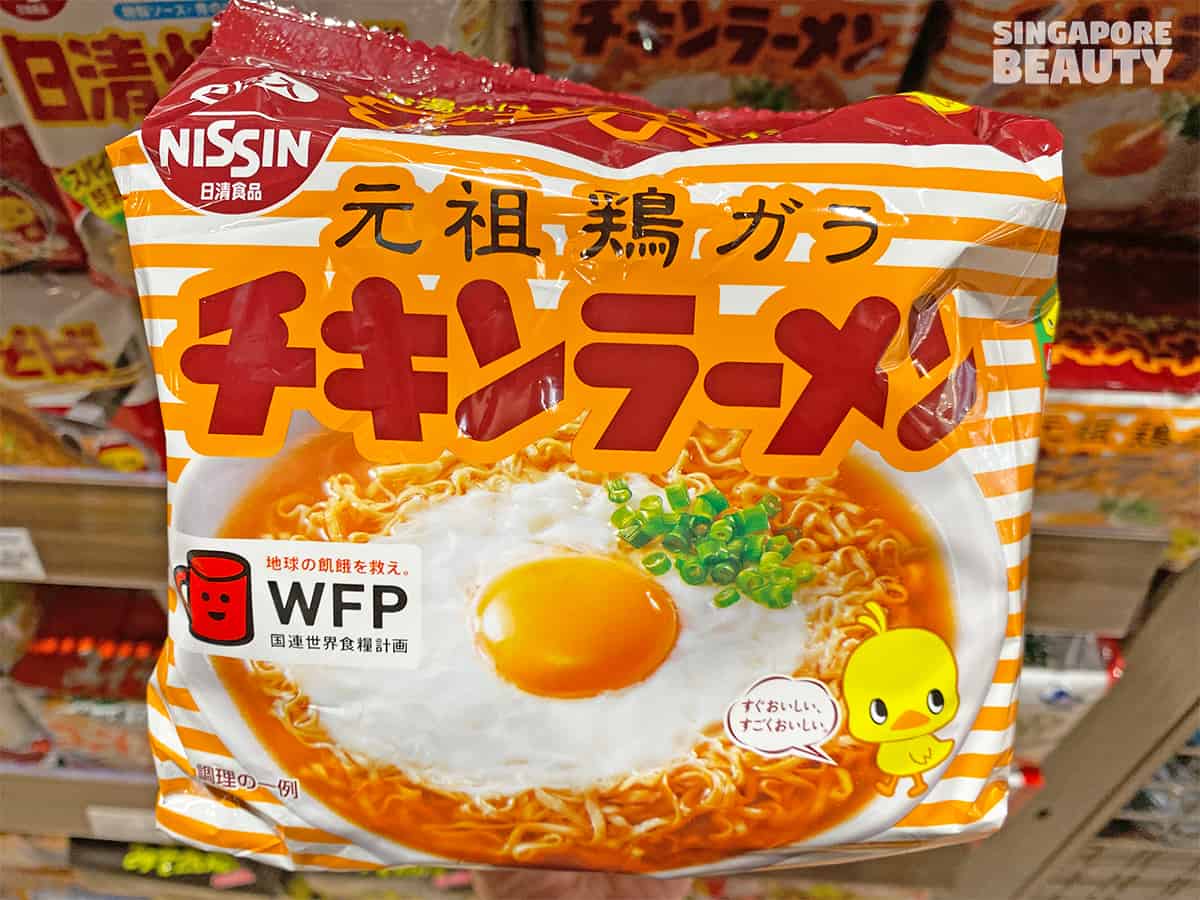 Fell head over heels in love with this Nissan chicken ramen ($9.80) after trying this at the Cupnoodle museum Osaka. This is actually the OG of Japanese Instant ramen. It is first introduced by Nissin Foods in 1958 and actually created by the master Momofuku Ando who invented instant noodle. This instant noodle is extra springy and has a nice shoyu based broth infused into the noodles itself. There is no extra seasoning pack in this noodle, just add water and boil. It is created with a dent in the centre of the noodle so that an added egg can sit nicely in the centre of your noodle just like the picture. Highly recommended Meidi Ya must-buy with the only setback as the pricy tag.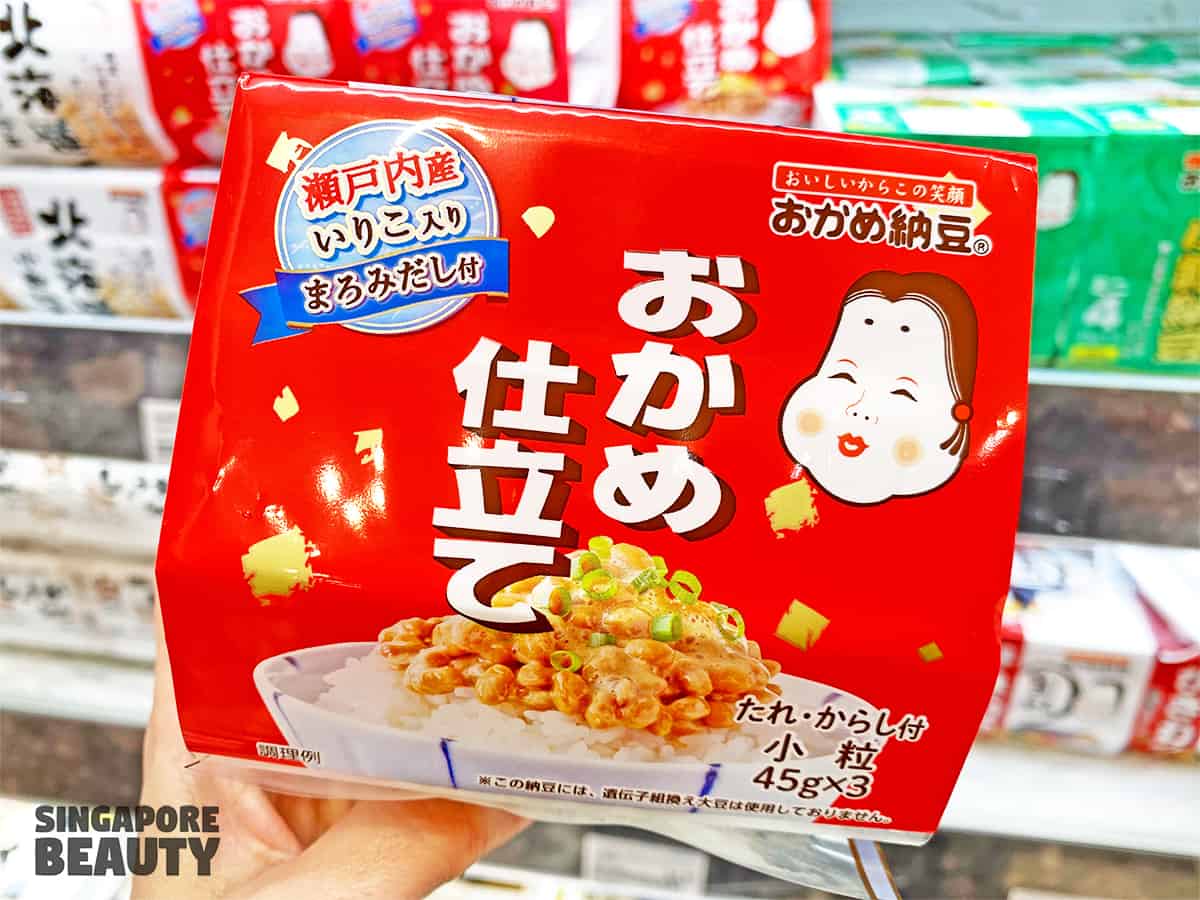 Okame-shitate natto ($4.30) are great for steamed rice. These comes individually packed with 2 type of seasoning. Add the bonito soy sauce and mustard to taste. Mix gently with chopsticks till it gets sticky, they are ready to be enjoyed with a bowl of steamed rice.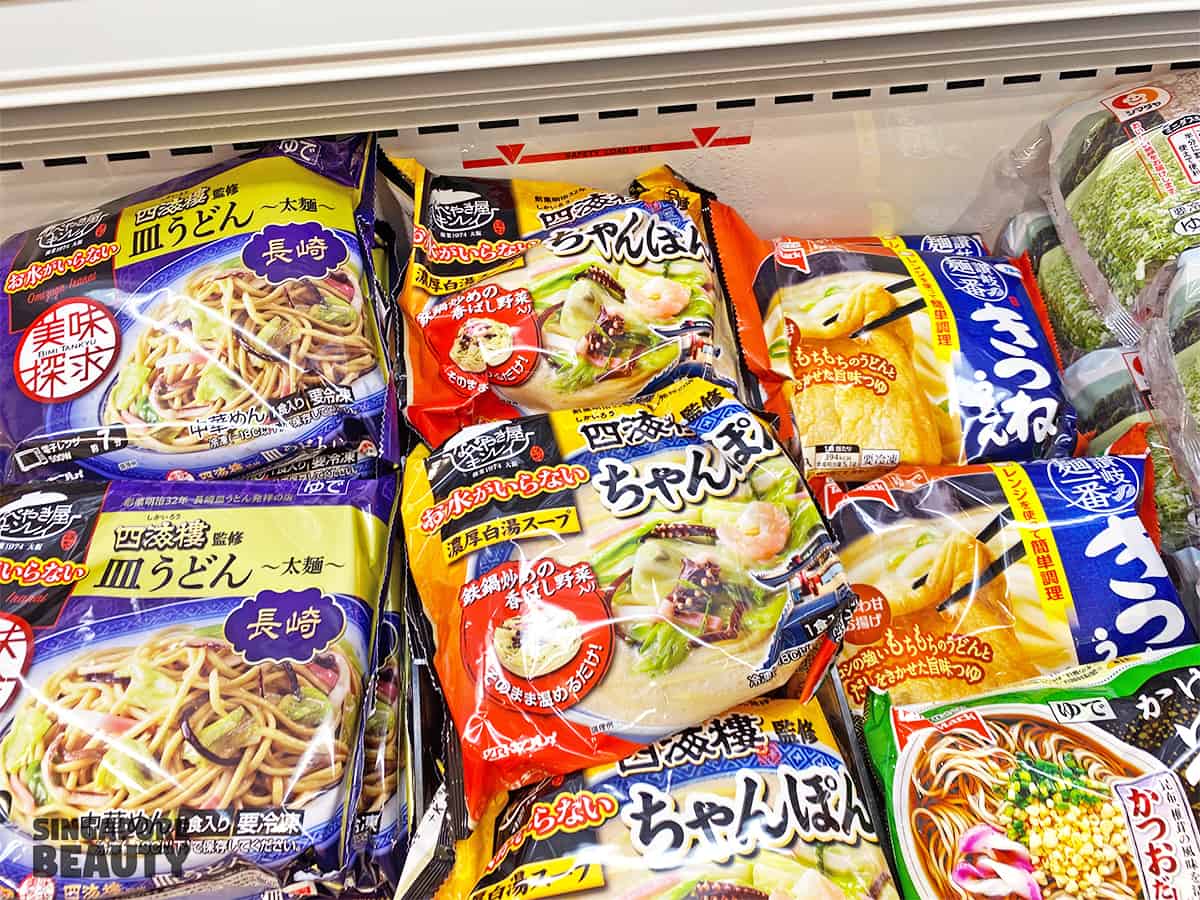 More individual portion udon, ramen and soba (from $3) that comes with small portion of ingredients such as mixed vegetable, octopus, shrimps and fish cake only at MeidiYa.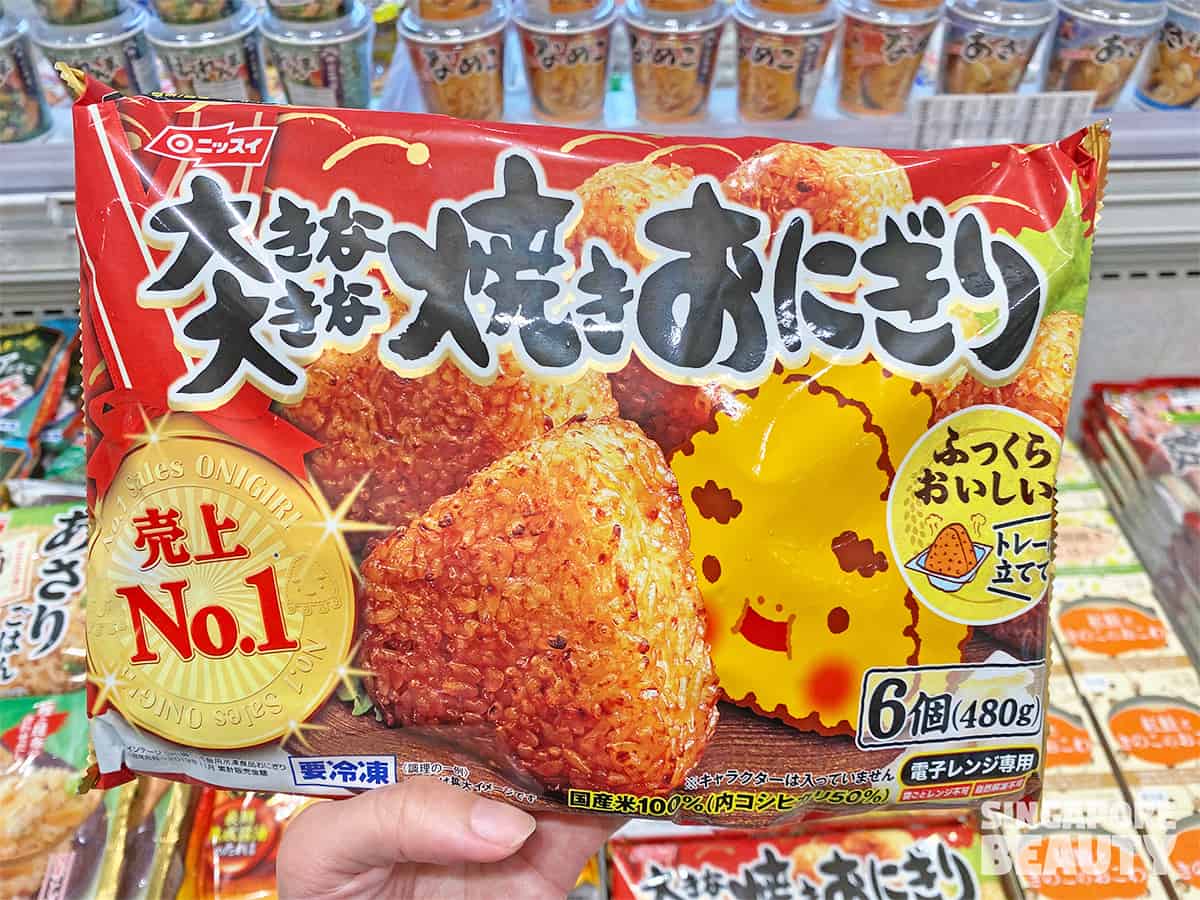 Need some quick carbs to pick you up? Here are some simple Nissui Okina Yaki Onigiri ($9.80) ready in 90 seconds. They do not have that fluffy face with cloud like eye brows or rosy cheeks on the onigiri as shown on the packaging though but these are surely some steaming hot comfort bites in the night after you crazy supermarket spree at Meidi-Ya.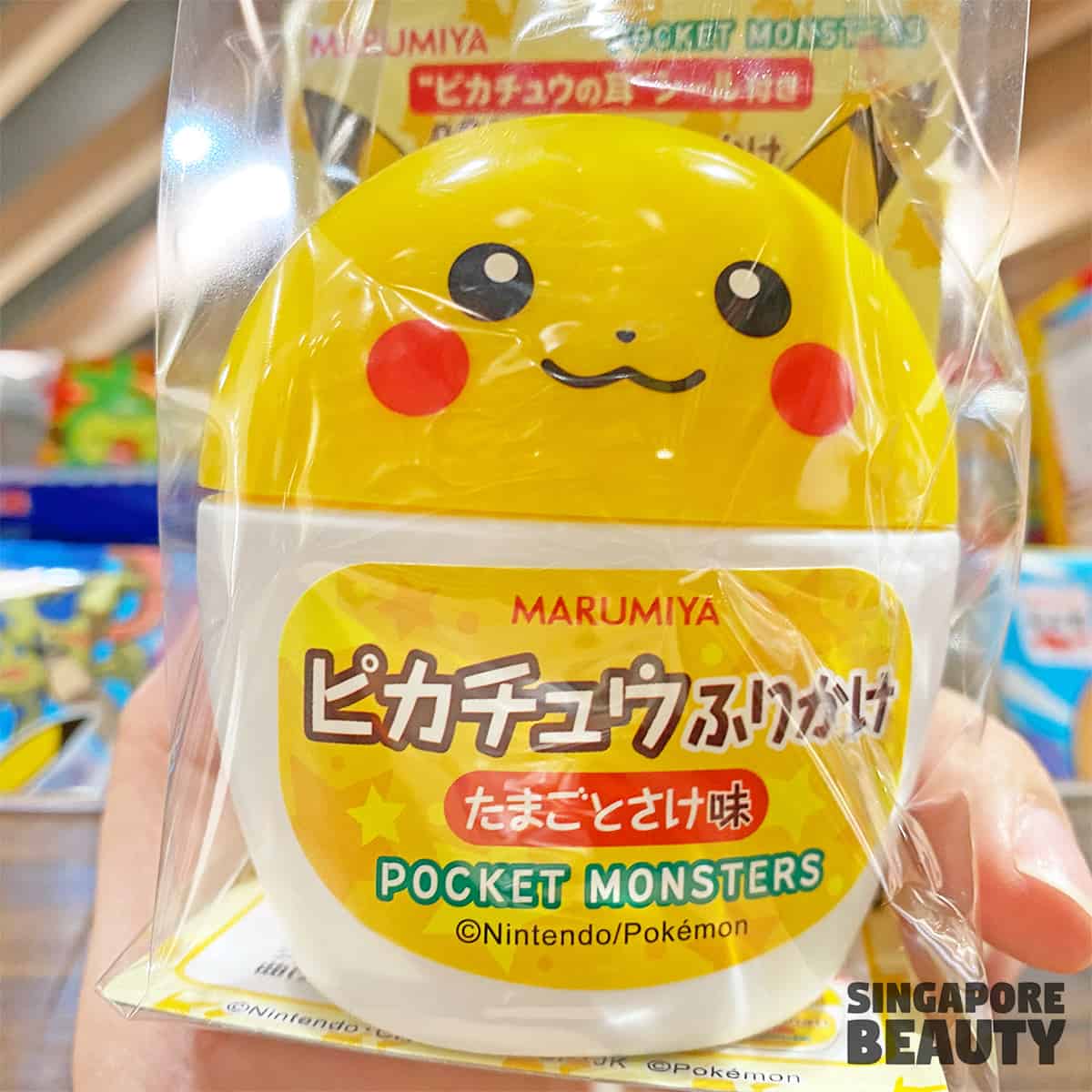 Add some soul to your otherwise plain Onigiri with this Marumiya pocket monster Pikachu egg & salmon furikake ($5.05), comes in Anpanman, doramon and pokemon packaging.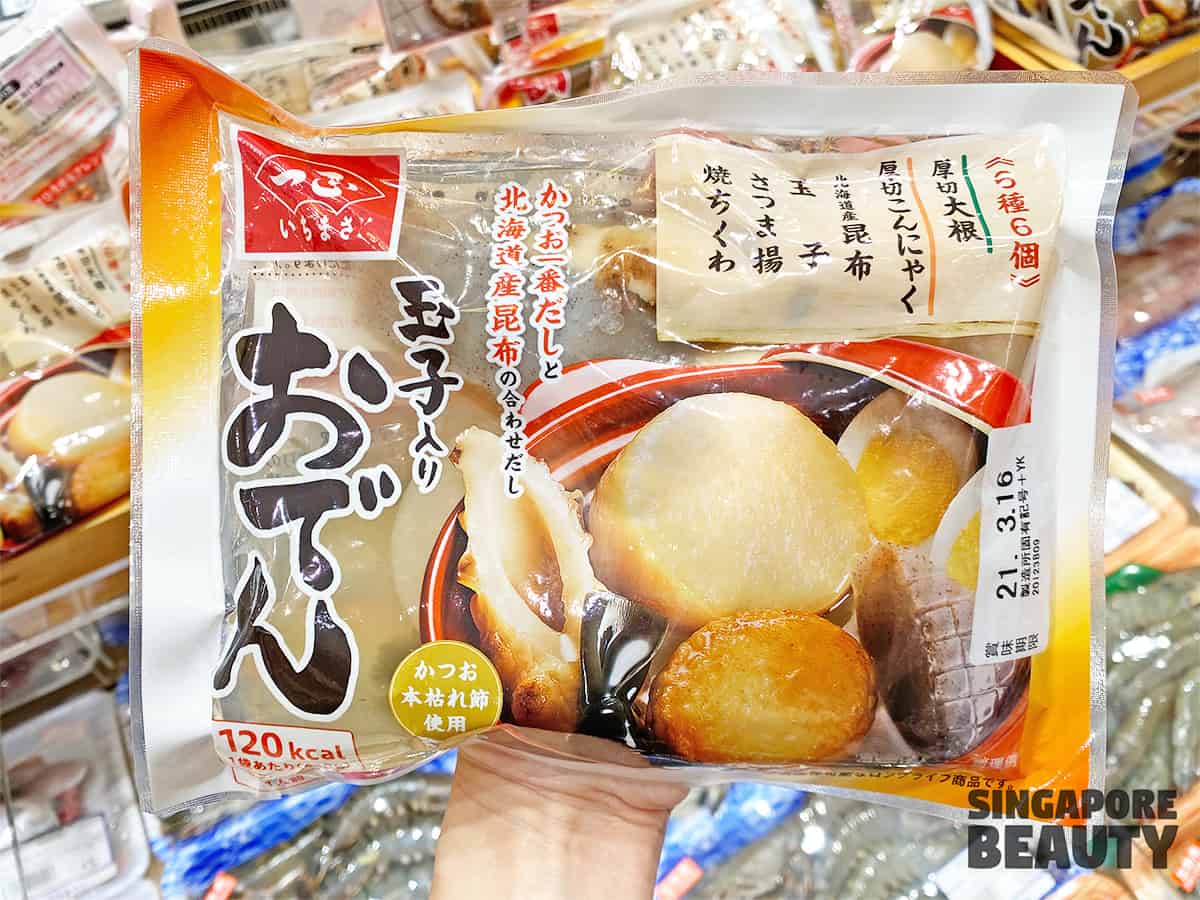 Oden with egg ($7.90) is always welcomed on the dining table. This pack comes with fish cake, raddish, egg, konnyaku and kelp I a savoury bonito soup base.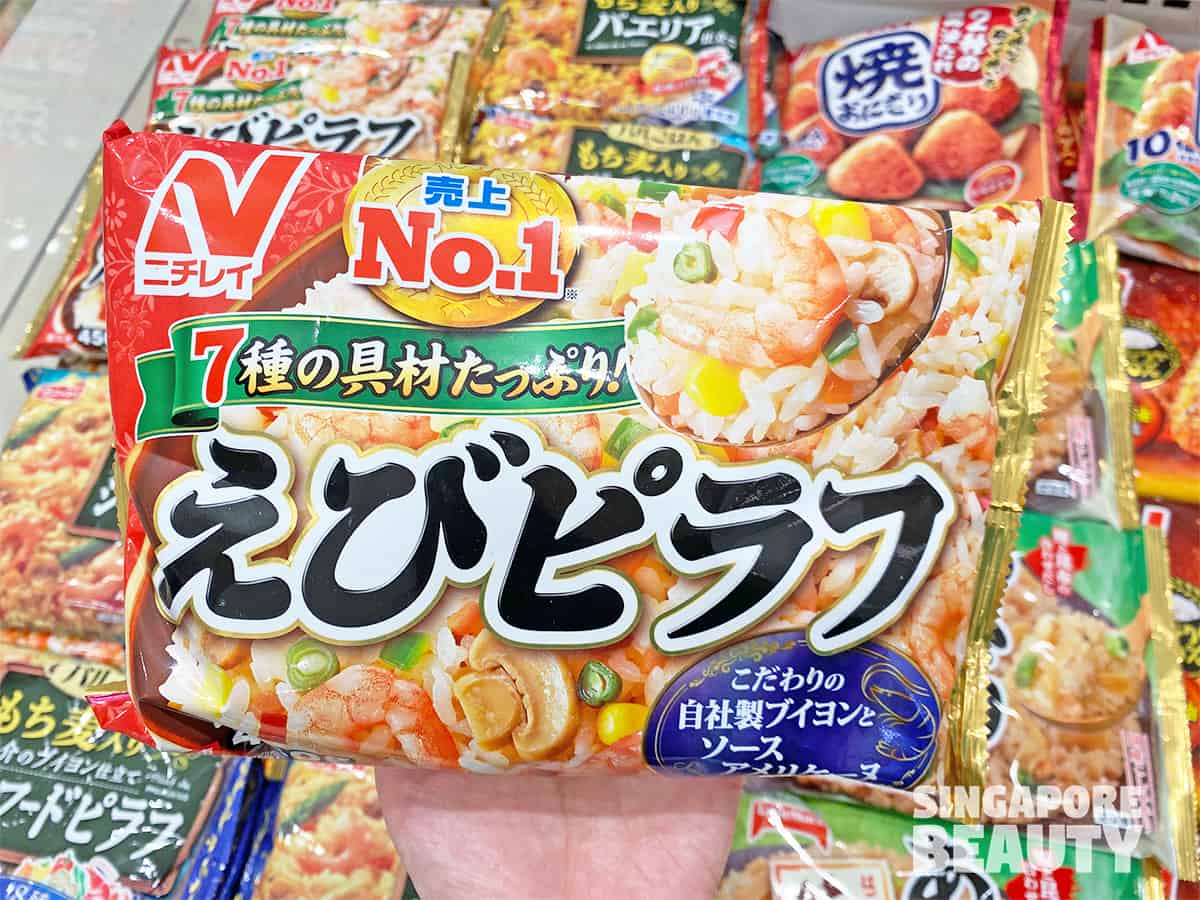 Nichirei shrimp pilaf ($10) frozen fried rice ready in under 4 minutes. No wok needed though but for sure there is umaminess in it. This is uncle Roger approved fried rice found in Meidi-Ya.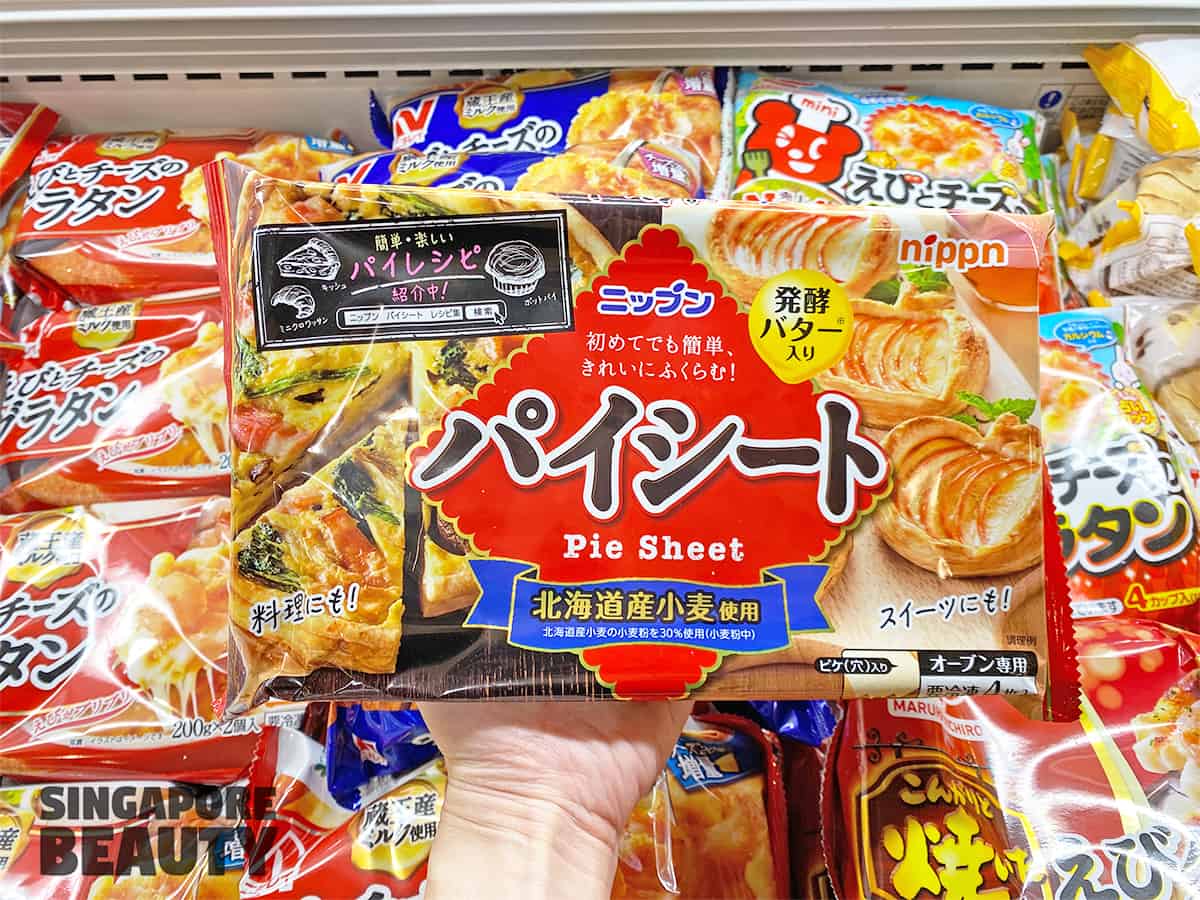 Nippn pie sheet ($6.85) are always welcomed in our fridge. Get down to making some flaky crust egg tarts, apple strudel, quiche or chicken pie with these. Those who are avid bakers knows how tedious the process of making a pie sheet is. Now with this pie sheet, that dream of waking up to a breakfast croissant is just a breeze. Cut, roll and bake, fresh hot crispy pie in an instant!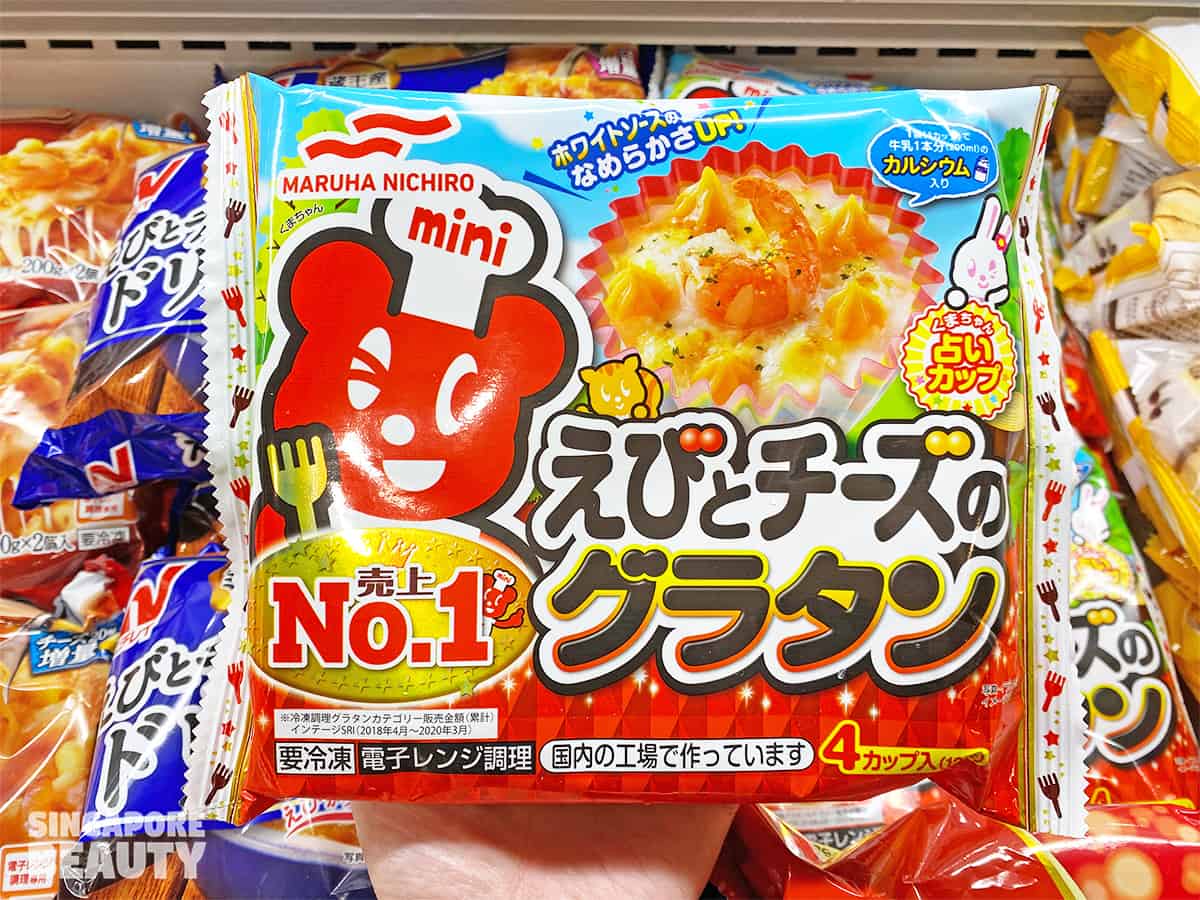 Anyone fancy Aqli Ebi Cheese Gratin (from $12). These are like savoury mini bake cheese treats made with macaroni, shrimp, flour and some other ingredients in a mini tart tray. Perfect as small bites with a cup of tea.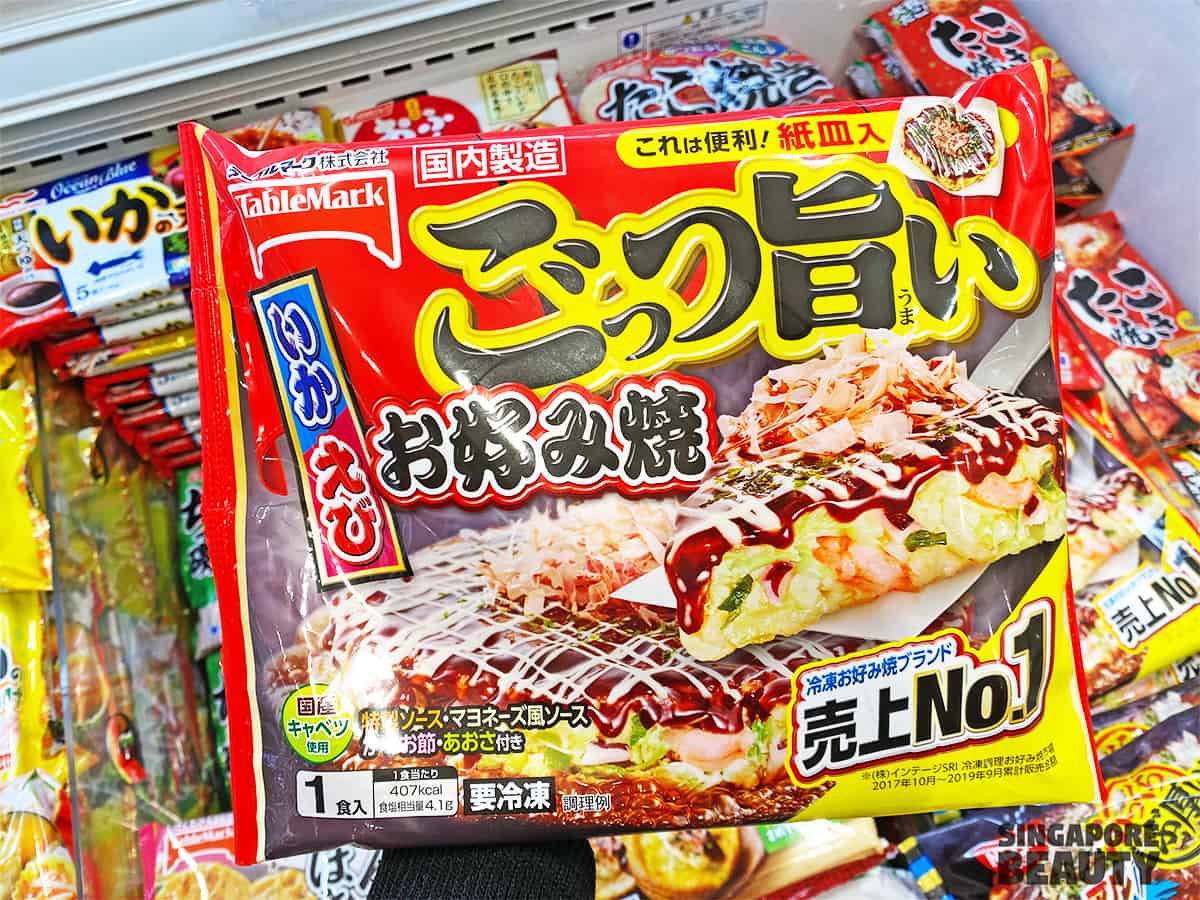 Nissin Seafood Okonomiyaki ( $7.80) enjoy some of these Osaka comfort food that comes with otafuku sauce.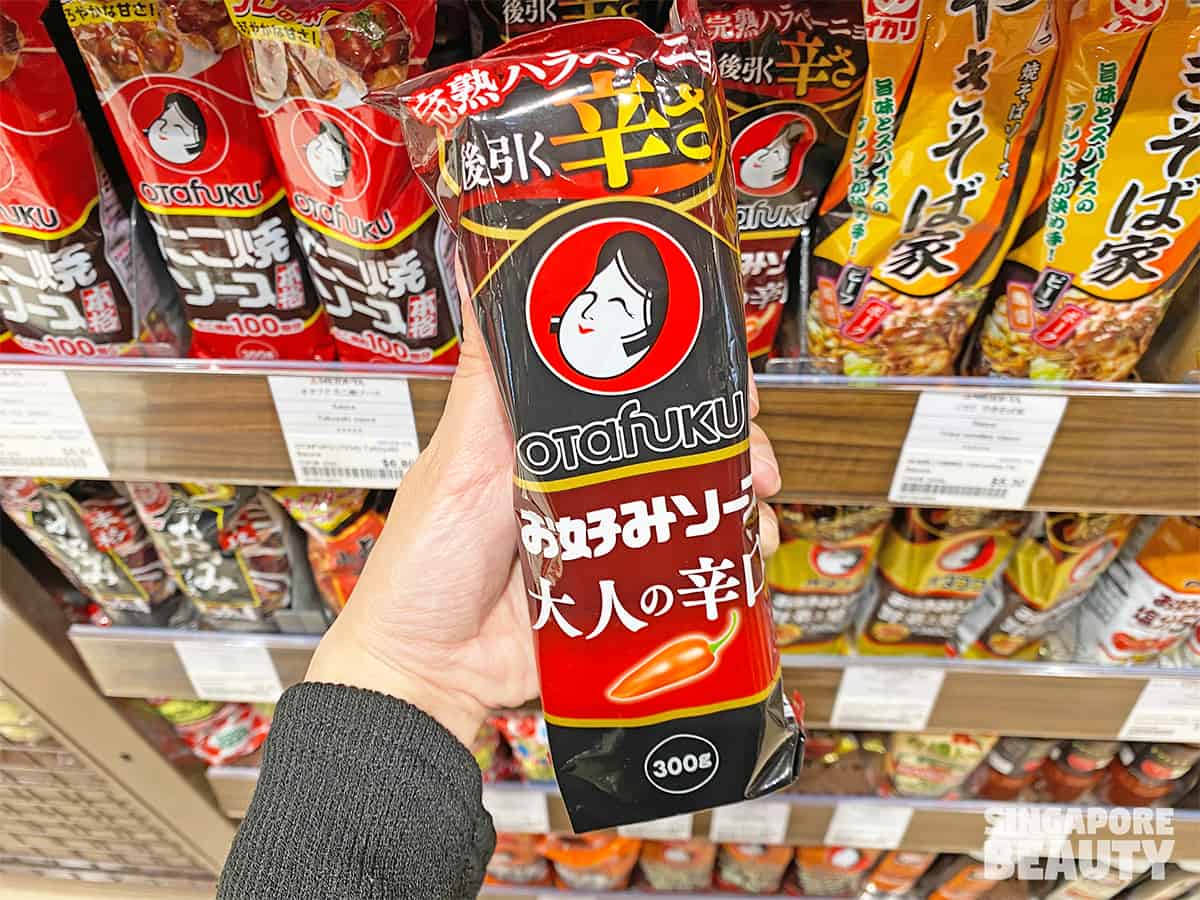 Otafuku sauce spicy ($5.80) add a spicy umami kick to for your homemade Okonomiyaki and takoyaki! You probably need a Bruno compact hotplate to do the above.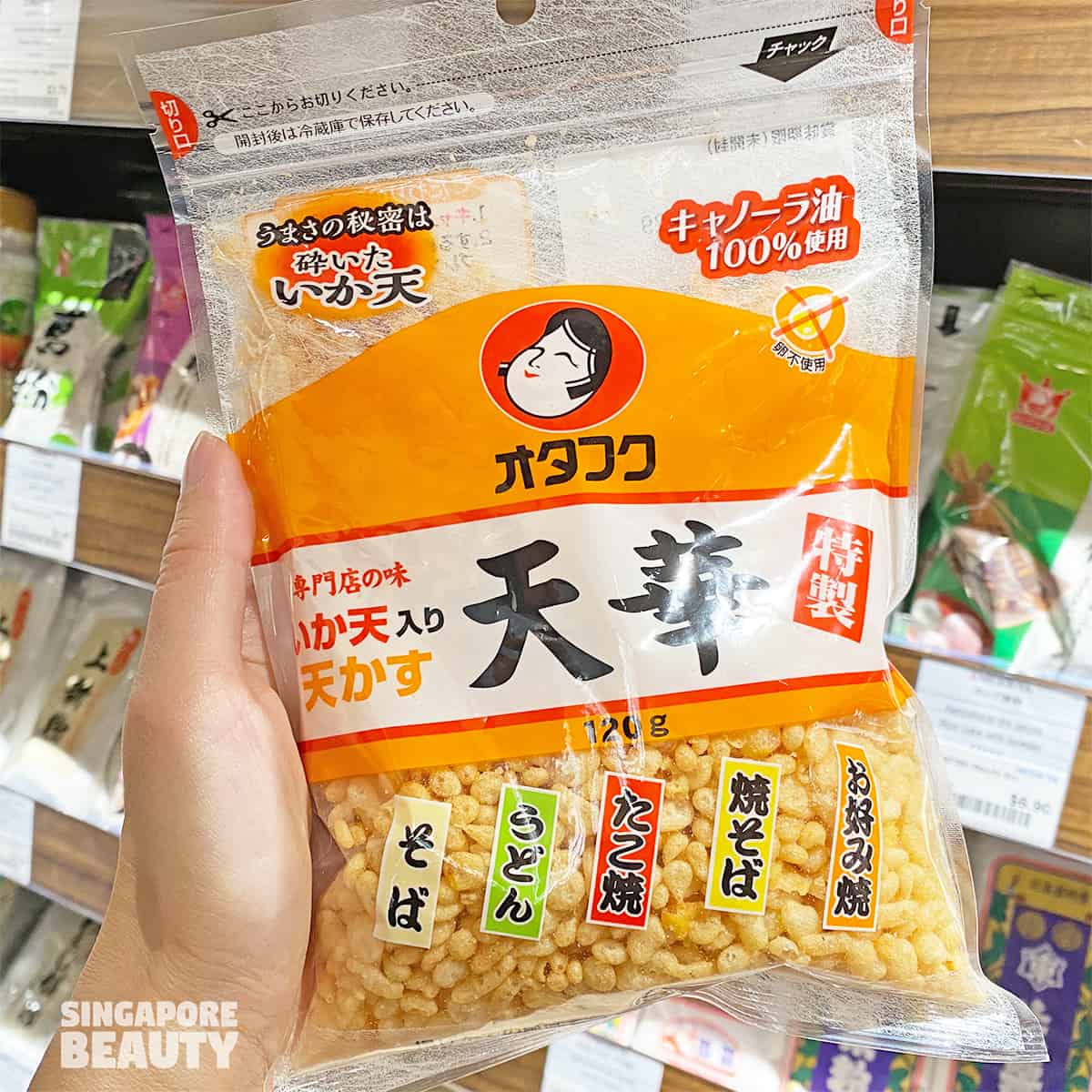 Add some extra crunch to your Okonomiyaki with this Otafuku tenka tenkasu ($5.40) – deep fried flour bites.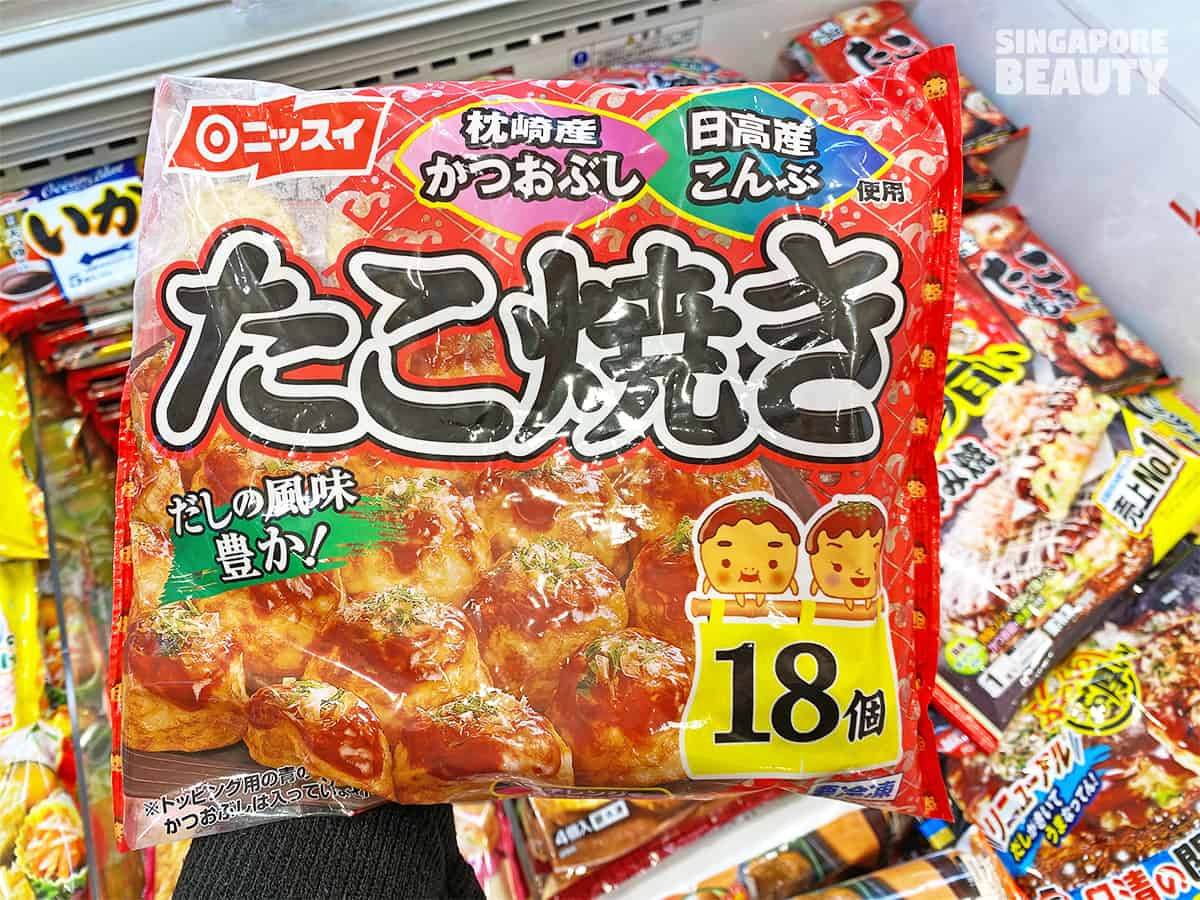 Nissui Takoyaki ball 18's ($12) for a pack of 18 round fluffy balls that has a spongy interior that has cabbage as fillings. Most likely you need to get your own Otafuku sauce and bonito flakes to complete the experience.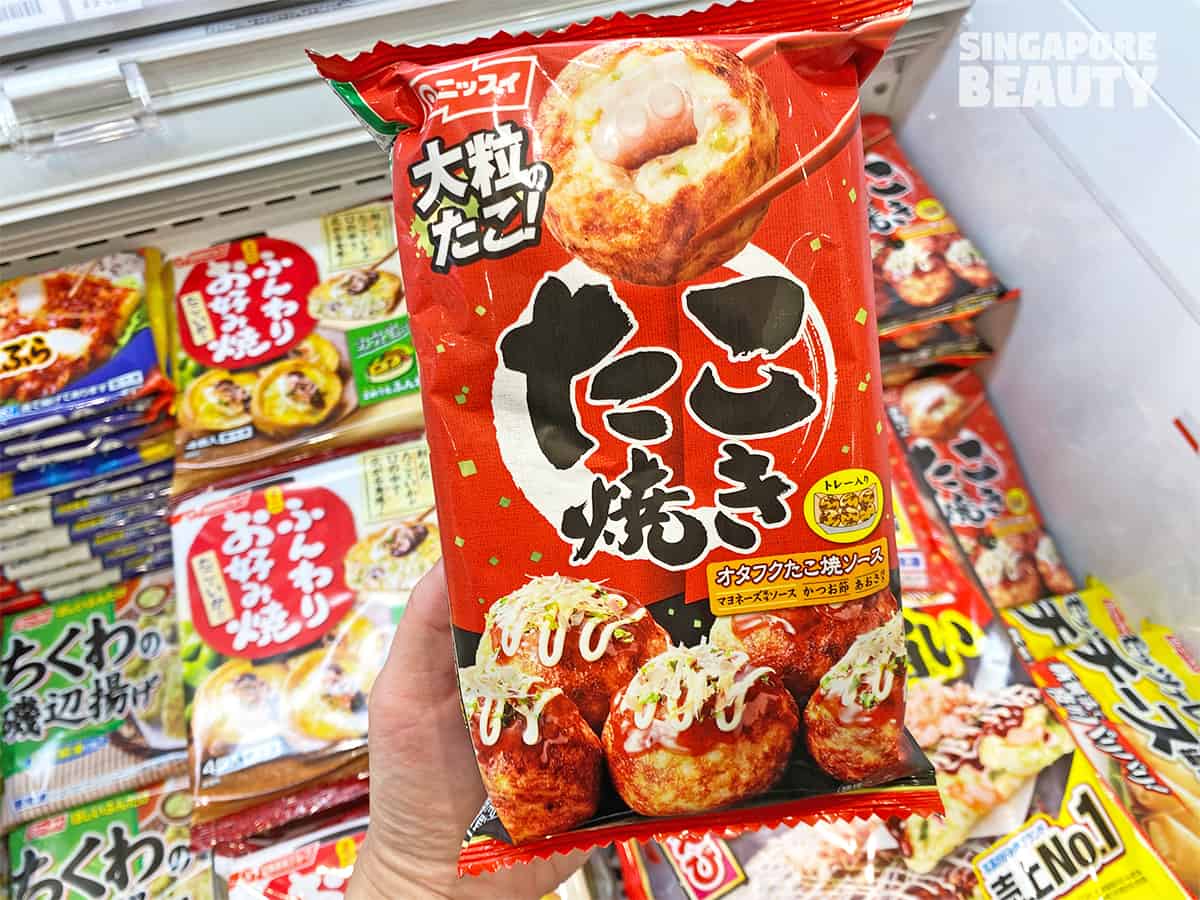 Nissui Takoyaki 6's ( $8.50) might be a better option for those who prefer a chew of some briny octopus chunks comes with bonito and dried seaweed powder.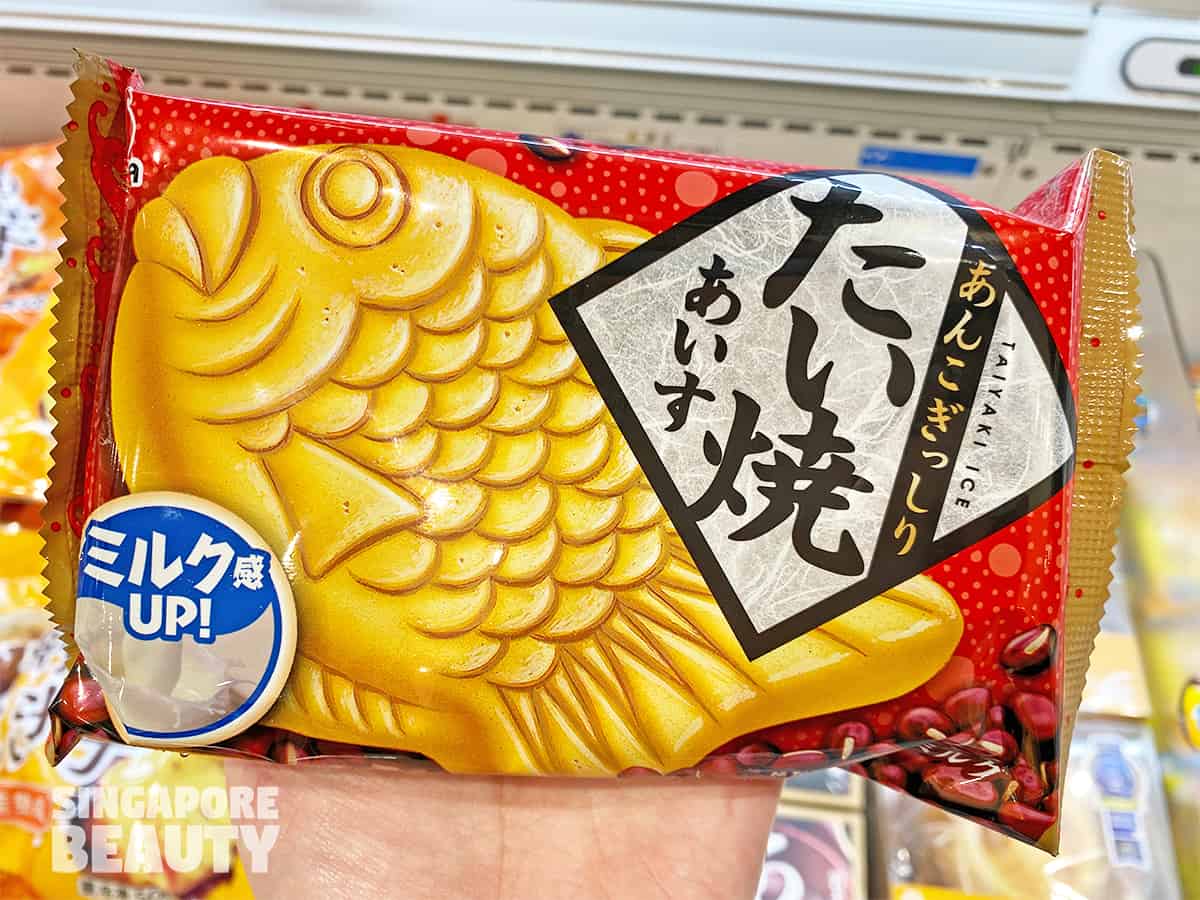 Seika Taiyaki ice cream ($3.45) with red bean azuki encased in a fish shaped waffle. Just be warned, the waffles is the soft type. Time for some dessert!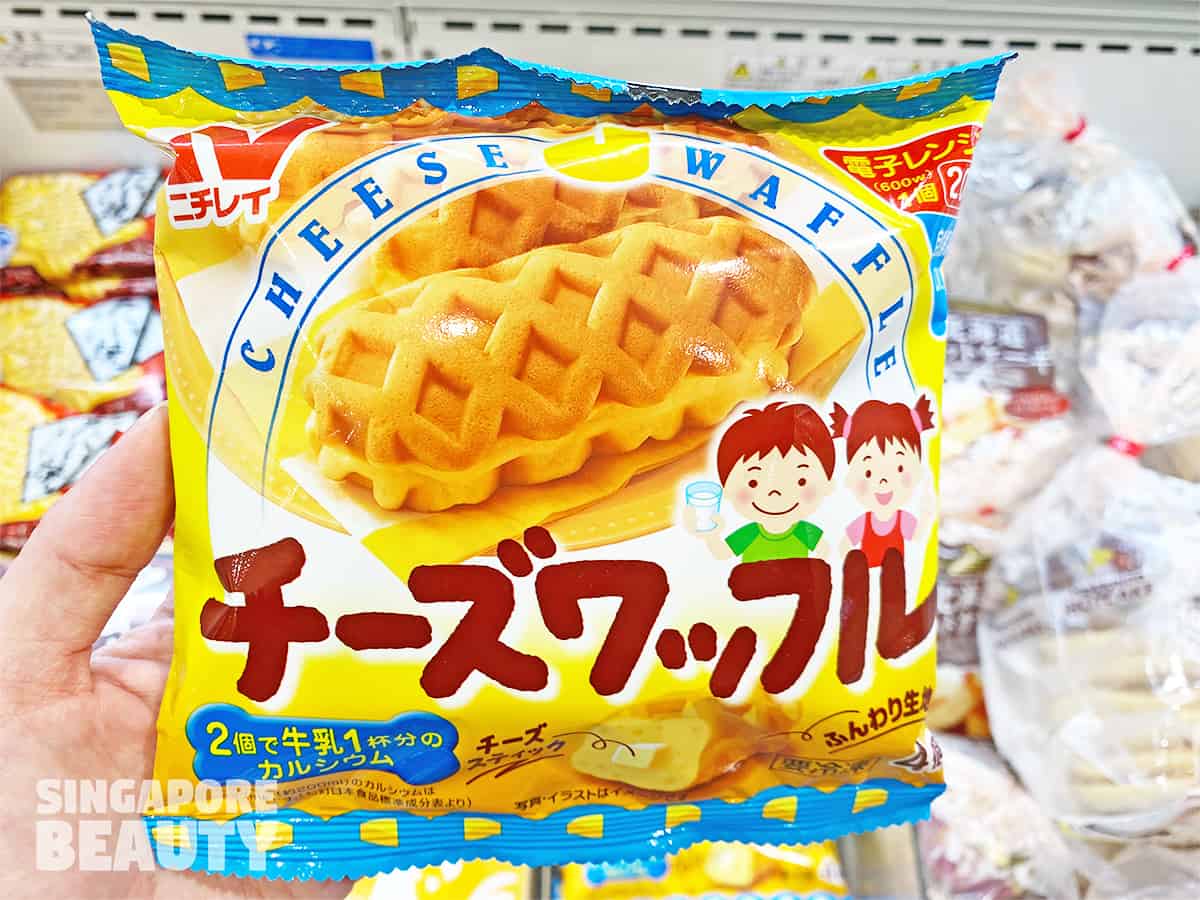 Nichirei cheese waffle ($5.80) that is ready in 20 seconds in a microwave. For those times when you need a hot gooey cheese stick of waffle. It looks like it has a hotdog inside by the shape but it really doesn't. Add your own bacon or sausage for a extra savoury kick.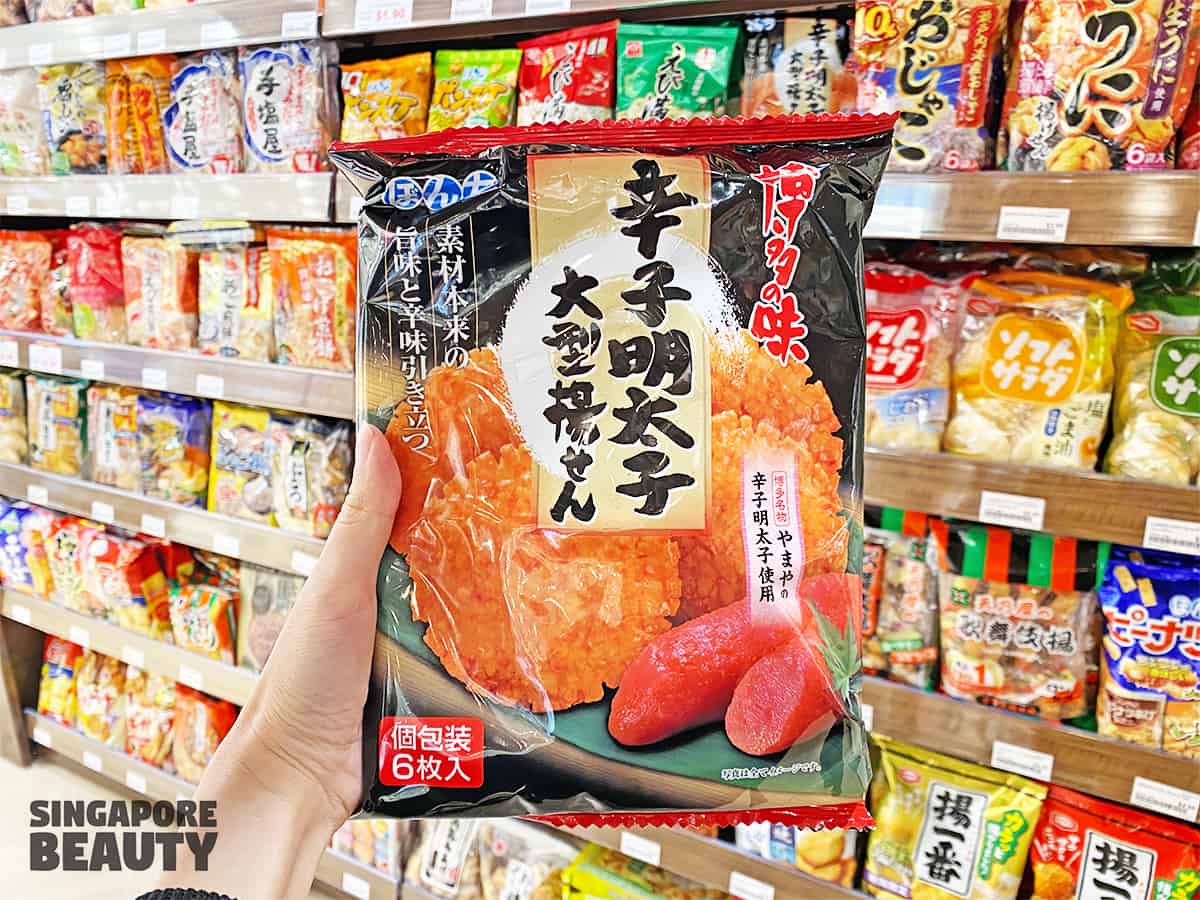 Need some chips to distress when you WFH? Meidi-Ya snack section are stocked with plenty of quirky munch on finger snack such as this mentaiko crackers.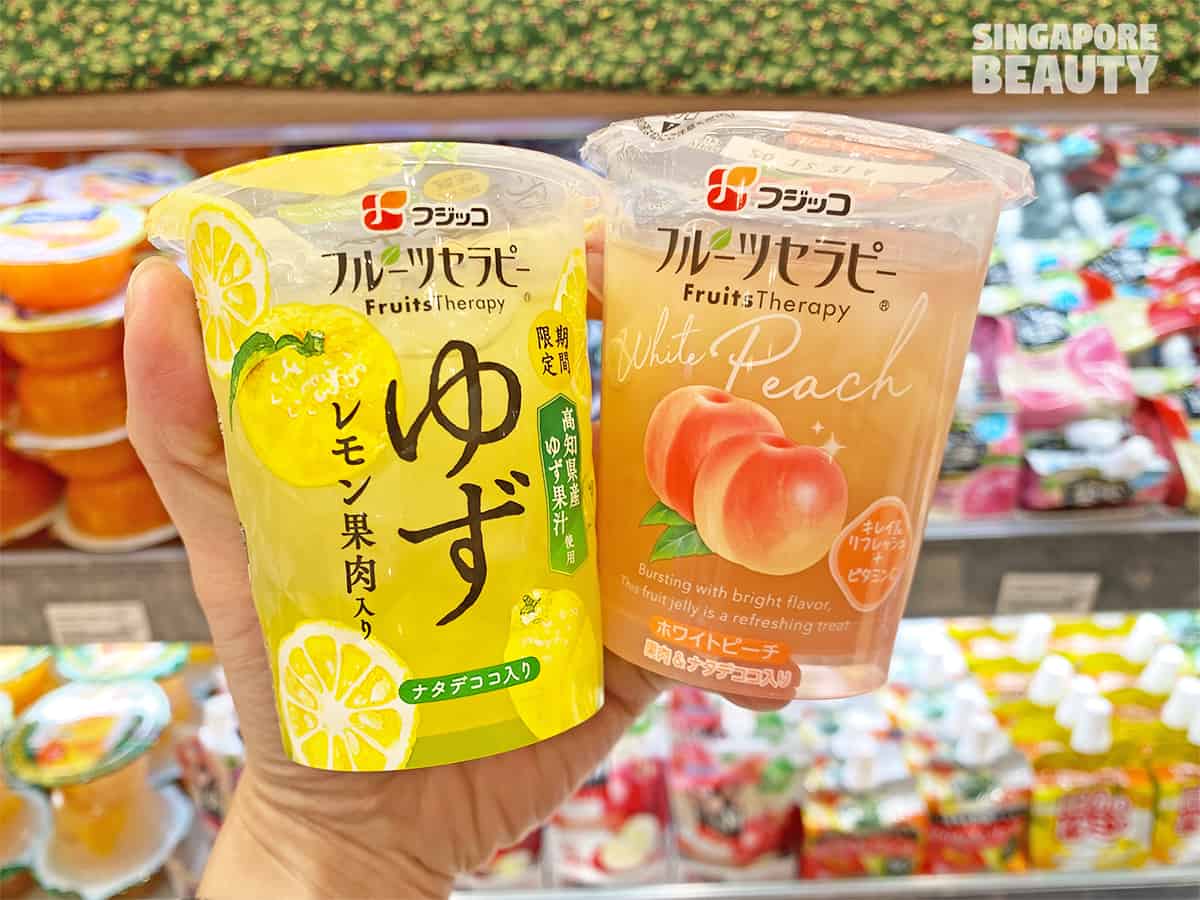 Fujicco fruit therapy jelly($2.50). Plenty of fruit jelly with real chunks of fruits inside available in Yuzu & lemon, white peach, Valencia orange and Campbell grapes.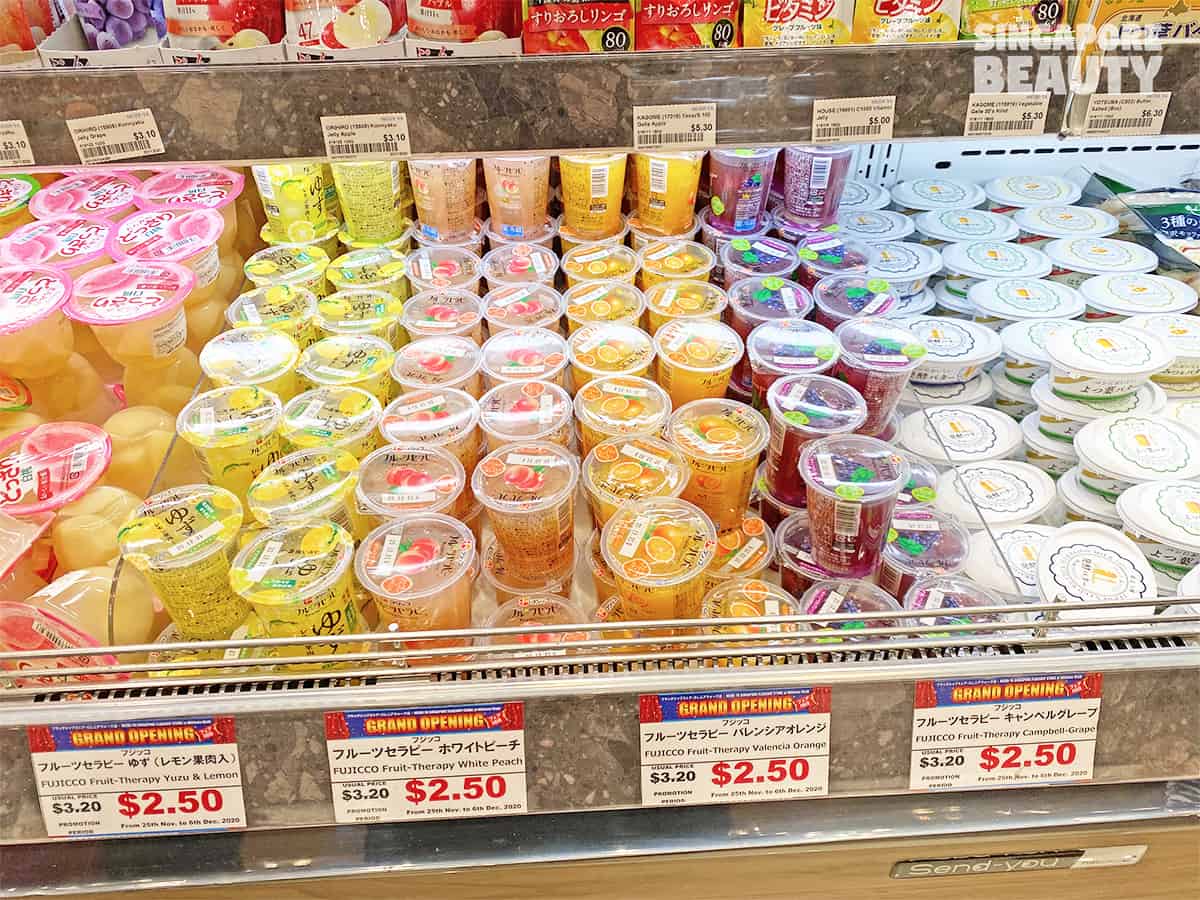 Cold and jiggly jelly, these will be gone way too soon in that family fridge of yours, so stock up more!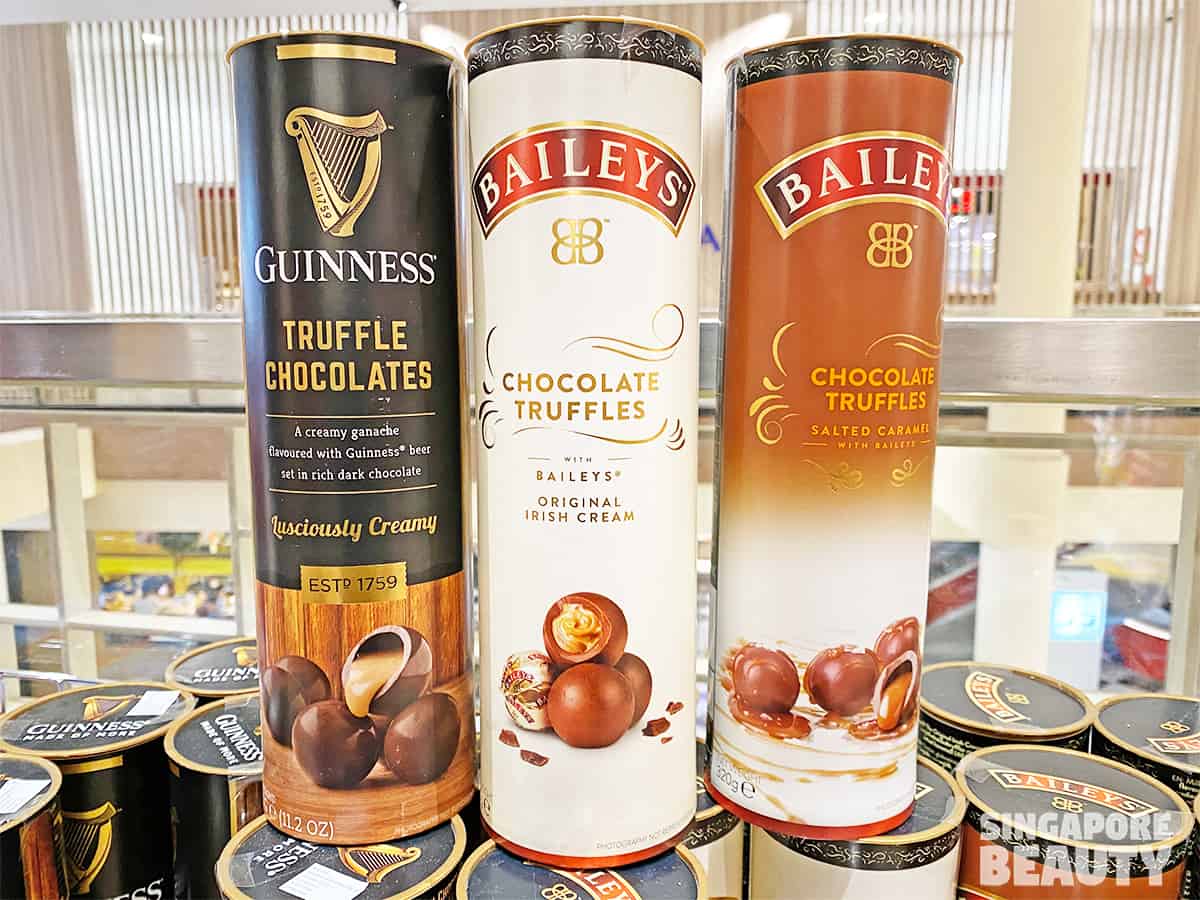 Guinness truffle chocolates, Baileys chocolate truffles and chocolate truffles with salted caramel ($19.95 each). Talking about the quirkiest of all snack in Meidi-Ya, this tube has a tie of the title with the jelly beans that follows below.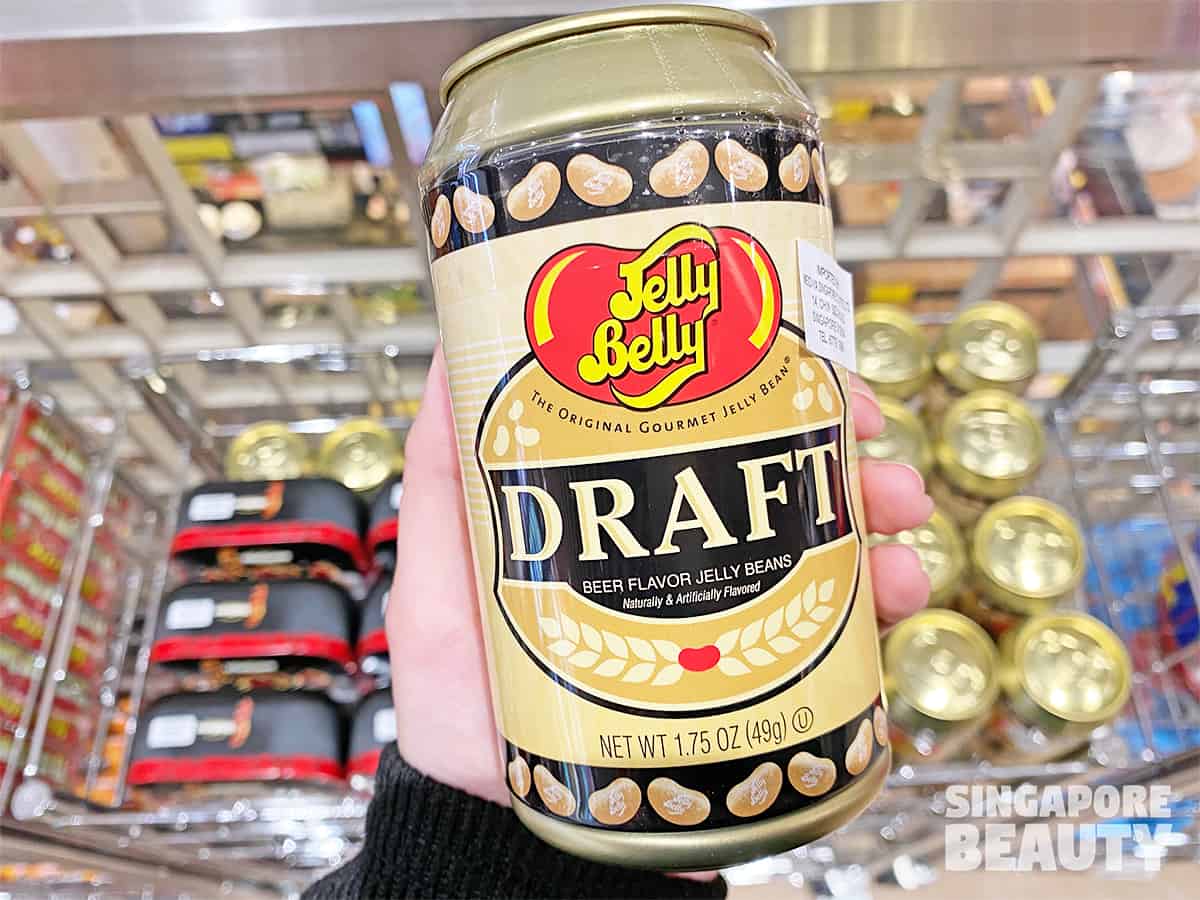 Jelly belly beans draft beer ($7.65) – sweet jelly beans with beer flavour. I will have mixed feelings after eating these. These are better off to be used on my gingerbread house for Christmas as deco.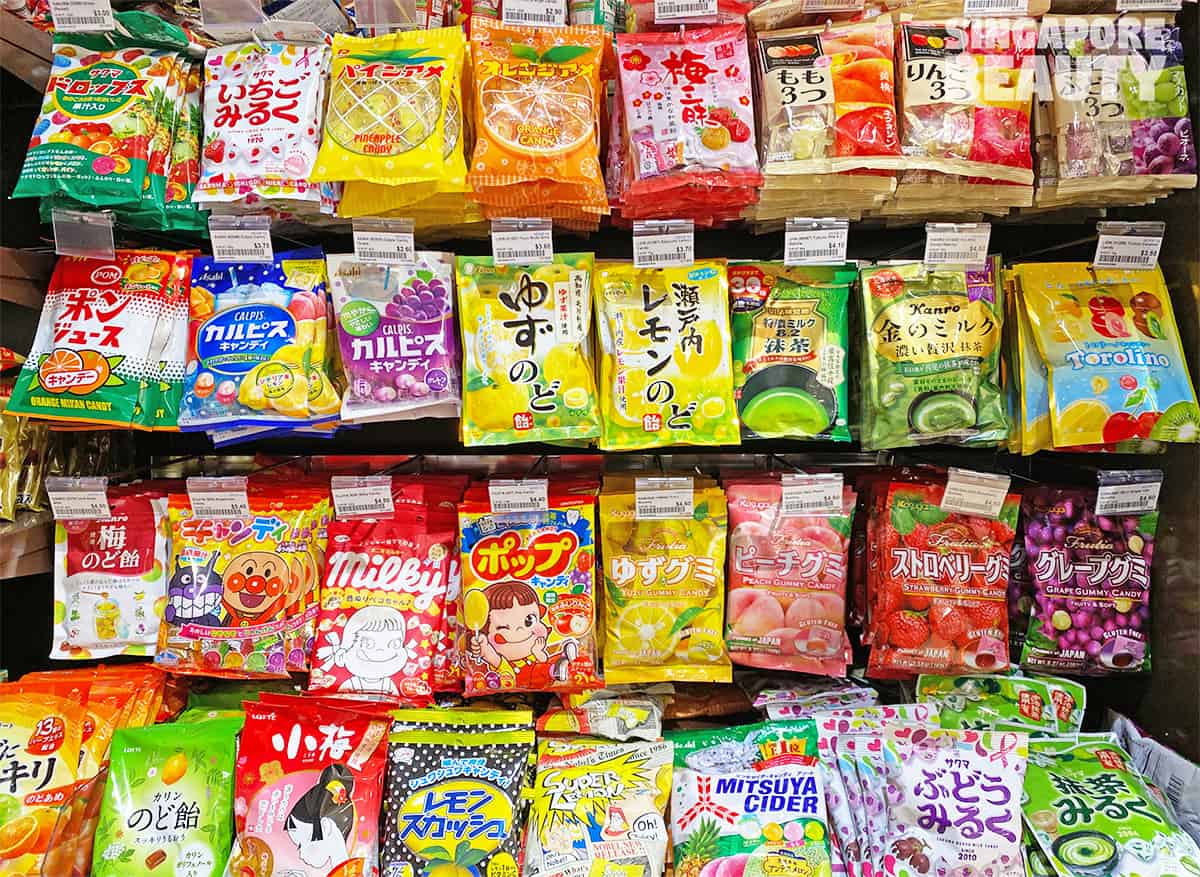 More treats for your sweet tooth. Matcha, lemon, peach flavoured lollipop, sweets and even gums with the face of Anpanman.
But then again, the overall experience is a good one, I feel transported once again back to Japan inside Singapore Meidi-Ya flagship store.
Here, you can get a good range of products from hotpot soup stock, Meidi-Ya homemade tofu and more. Interlinked internally with a travelator, you can now do your groceries at level 2 and do a hot meal at level 1 after checking out with your cart full.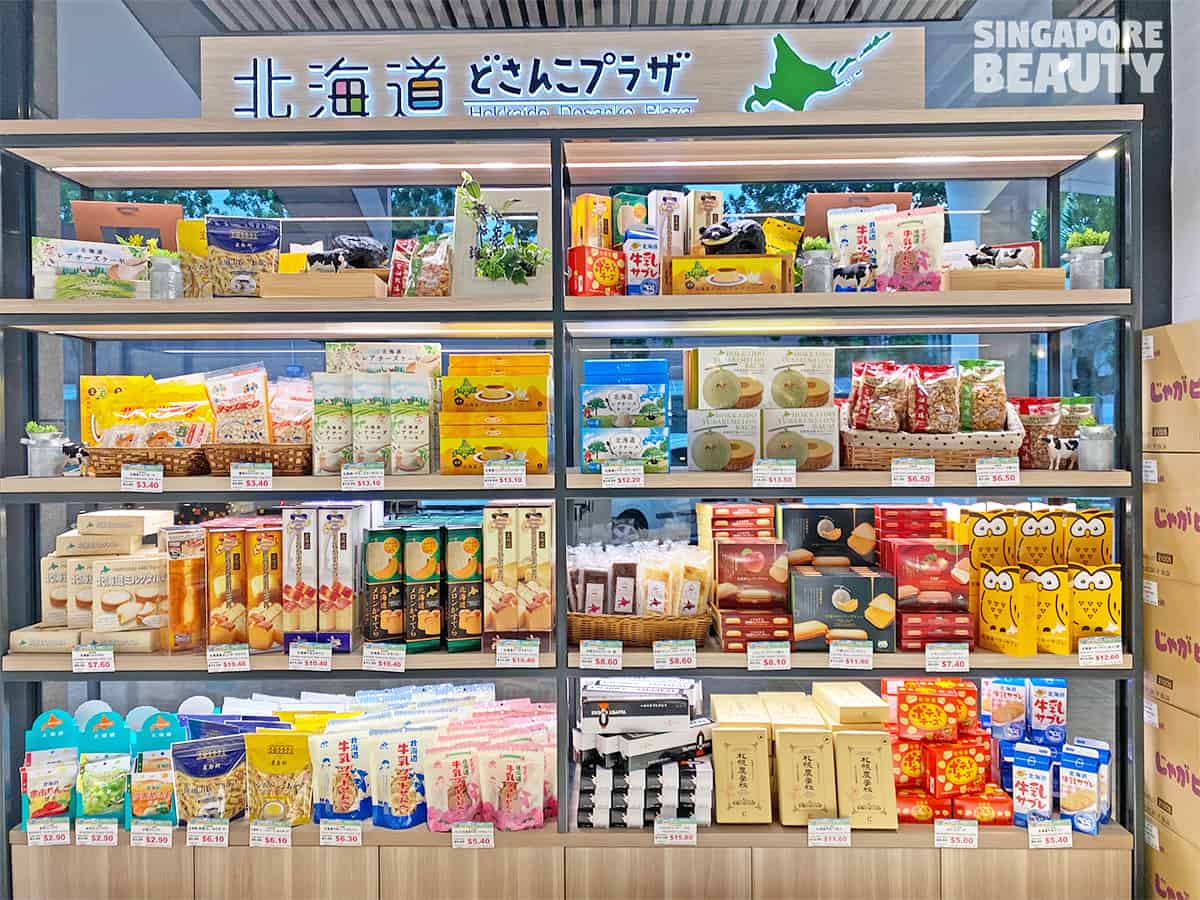 Level 1 Meidi-Ya Food Hall, Café & Hokkaido Dosanko Plaza fair
Level 1 is the ready to eat cafe food and the Hokkaido Dosanko Plaza fair.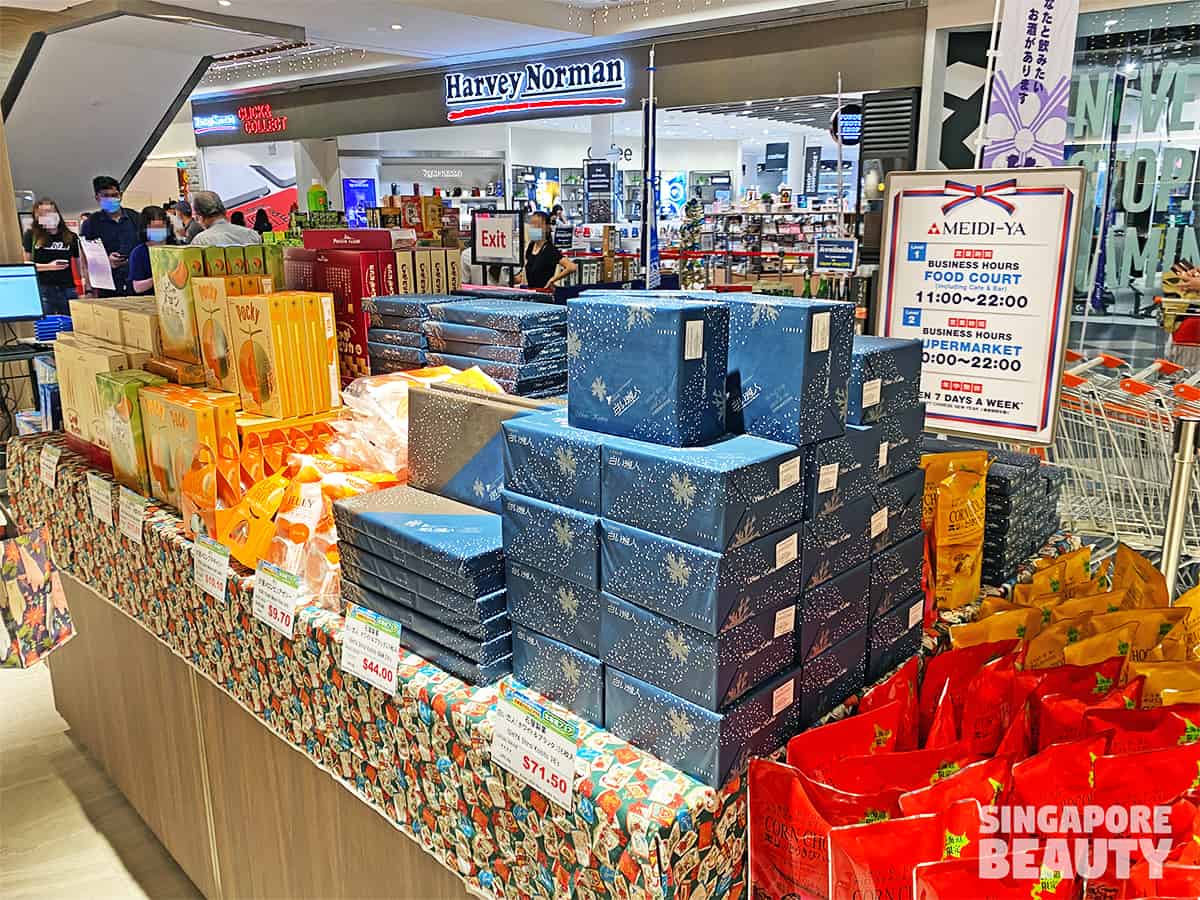 Currently, this Hokkaido Fair will be running from 28 Nov till 13 Dec 2020 at Food Hall of Meidi-Ya.
Indulge in the soft-serve ice cream, Hokkaido crab bentos and some snack that can only be bought exclusively in Hokkaido. These food are sealed with the Dosanko tag as proof of their place of origin. Fancy some Hokkaido castella that is available in melon, milk or butter flavour? Each of these castellan starts from $10.40 each.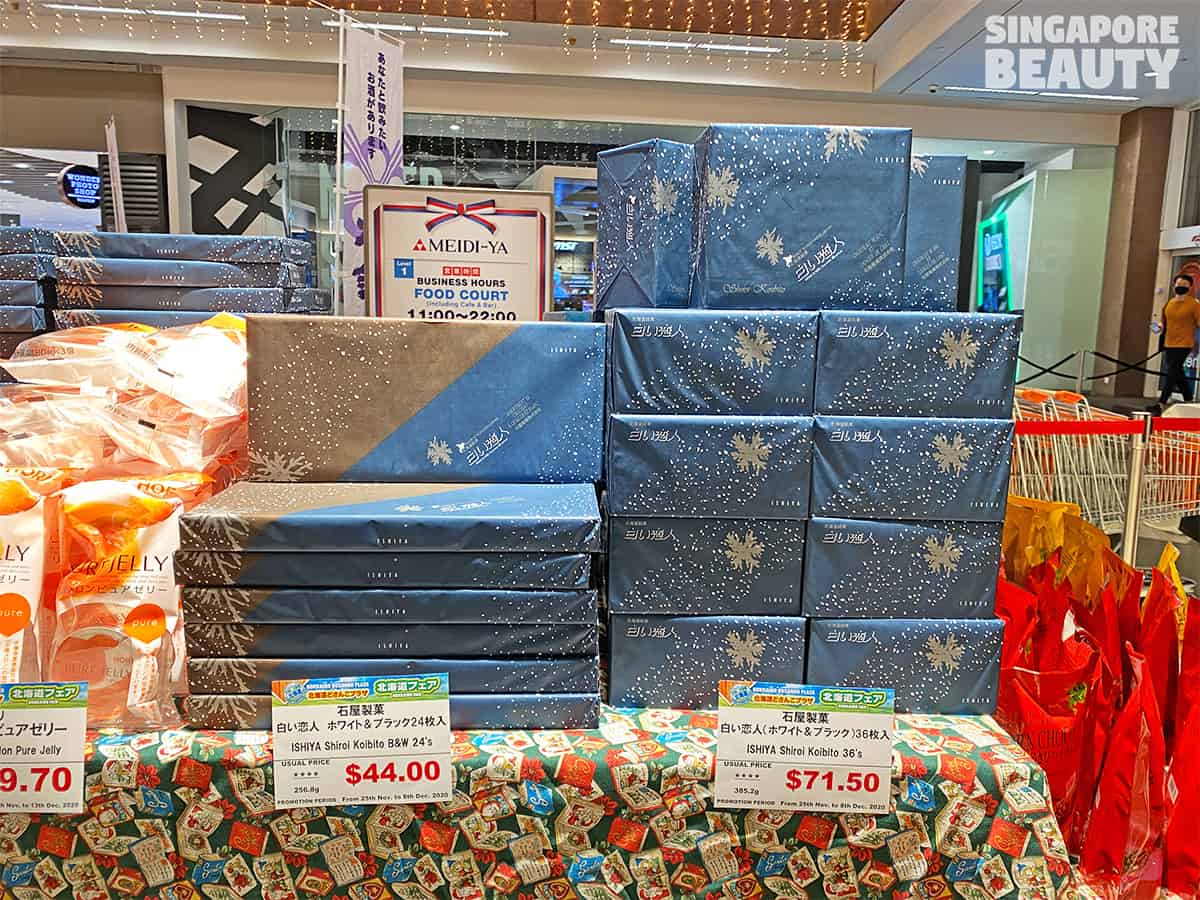 Here, you can get a good range of products from Hokuren, Hokkaido, Meidi-Ya original jam, Hokkaido Bentoss bento, premium pudding, jaga Pokkuru, melon-flavoured Pocky sticks, Imagawa-yaki in red bean and custard cream flavours, basque cheesecake, Ishiya Shiroi Koibito 白色恋人with white and chocolate flavours(from $16.50 to $71.50) in Singapore without flying to Japan. We seldom see these cookies as these are usually with a short shelve span.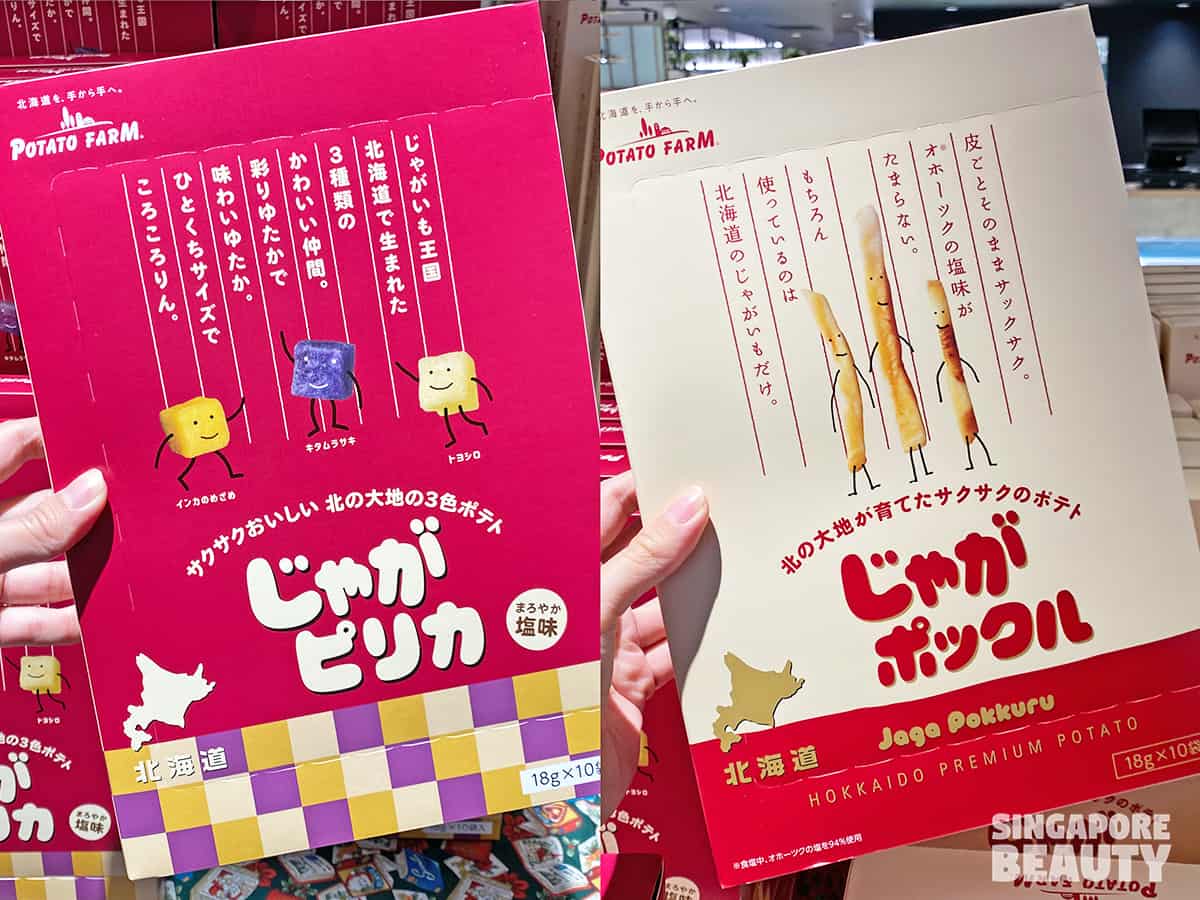 Potato Farm Jaga pirika mixed potato cubes ($18.50) (left pic) and jaga Pokkuru sticks ($19.80)( right pic) are on promotion now. Grab some while it last. My personal preference is for the Jaga pirika as it is actually a mix of 3 types of potatoes cubes –yellow, purple and white .
Soft serves ice cream starts from $4.80 each are available in 7 flavours such as melon, matcha, blueberry, strawberry chocolate, vanilla and caramel.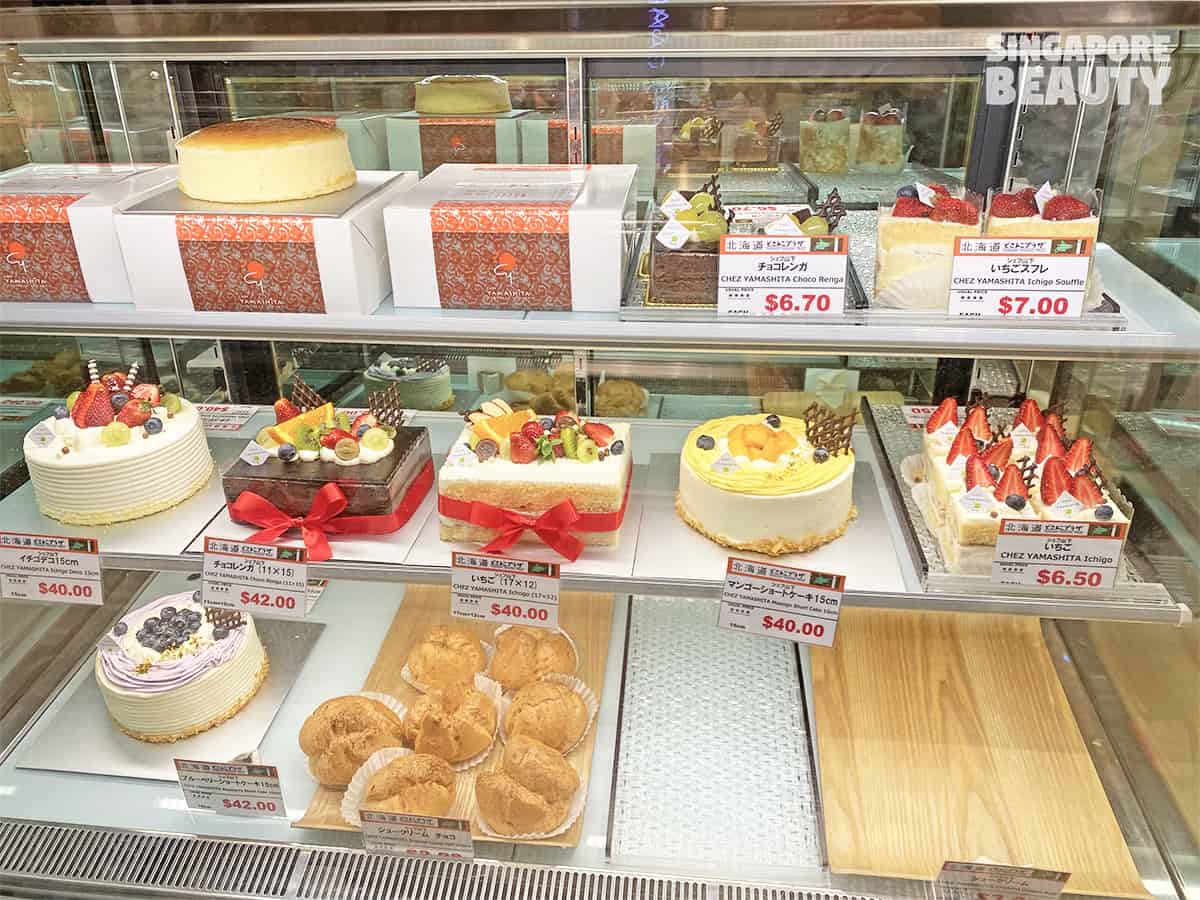 Cakes by Chef Yamashita, you can get a slice of these Japanese artisan cakes from $6.50 onwards or a whole fruit cake from $40 onwards. They are known for their fruity sponge cakes with fluffy light as clouds cream.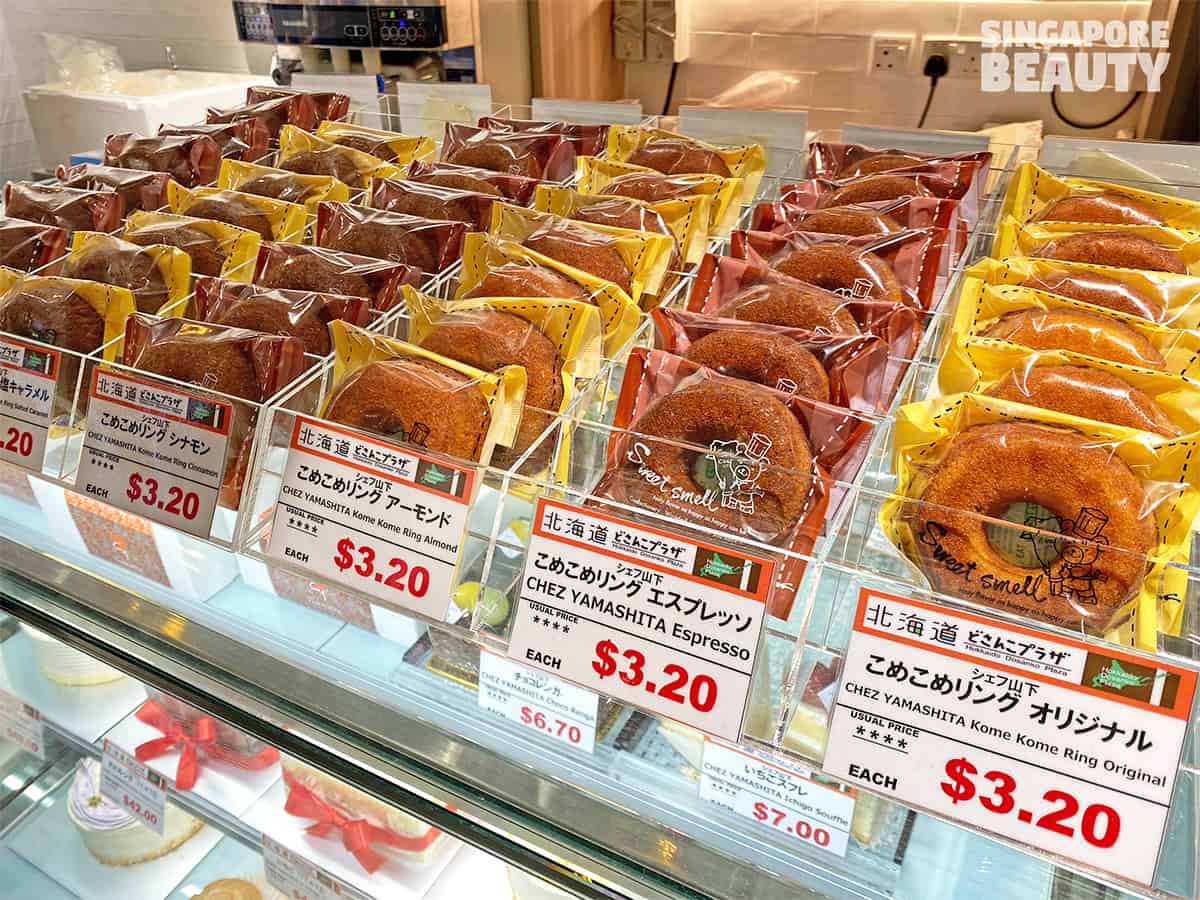 You can also get some Kome Kome ring ($3.20) which comes in original, espresso, almond, cinnamon, salt caramel and chocolate flavour.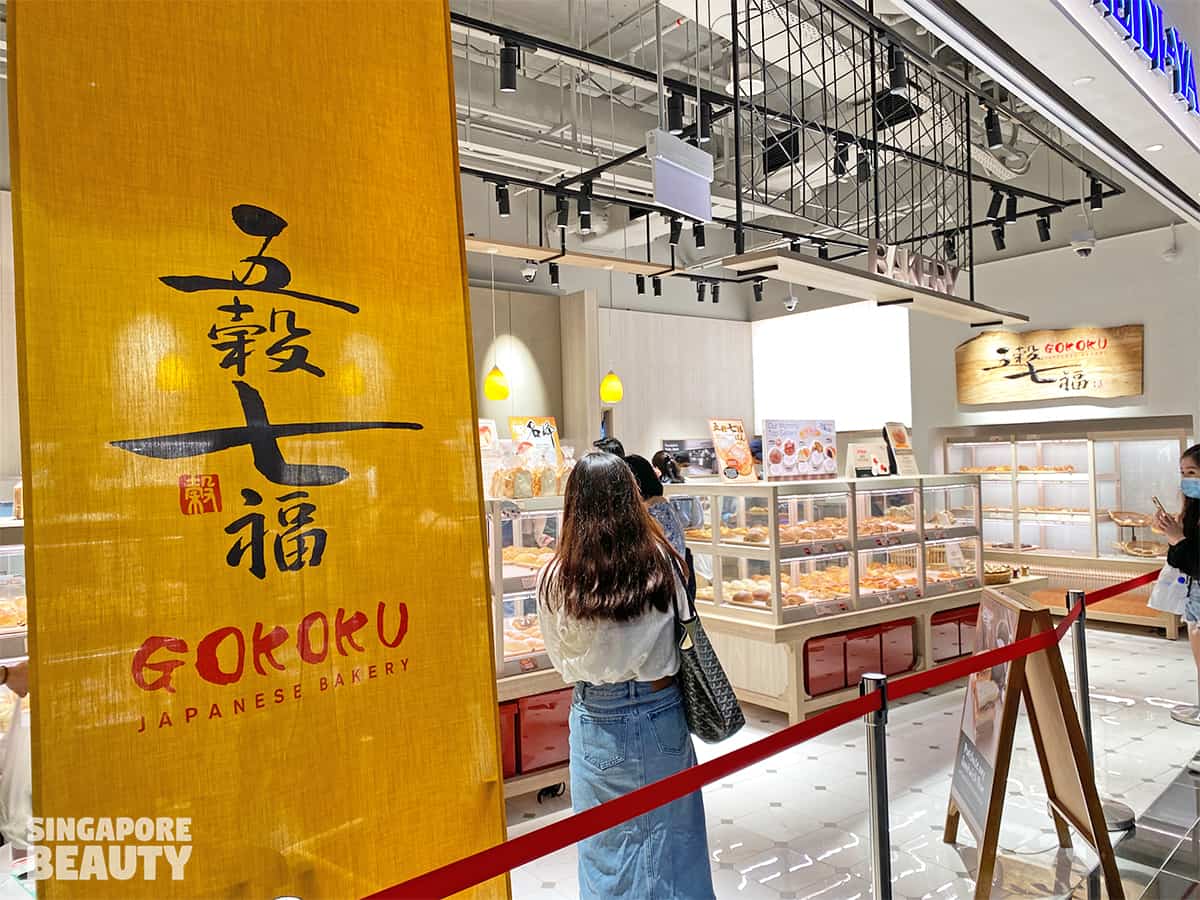 Gokoku Japanese bakery from Kobe is one of the first of this brand that also house a dine in concept in Singapore with its fresh bakes. They have 2 other Gokoku outlets in Great World City and Jurong Point.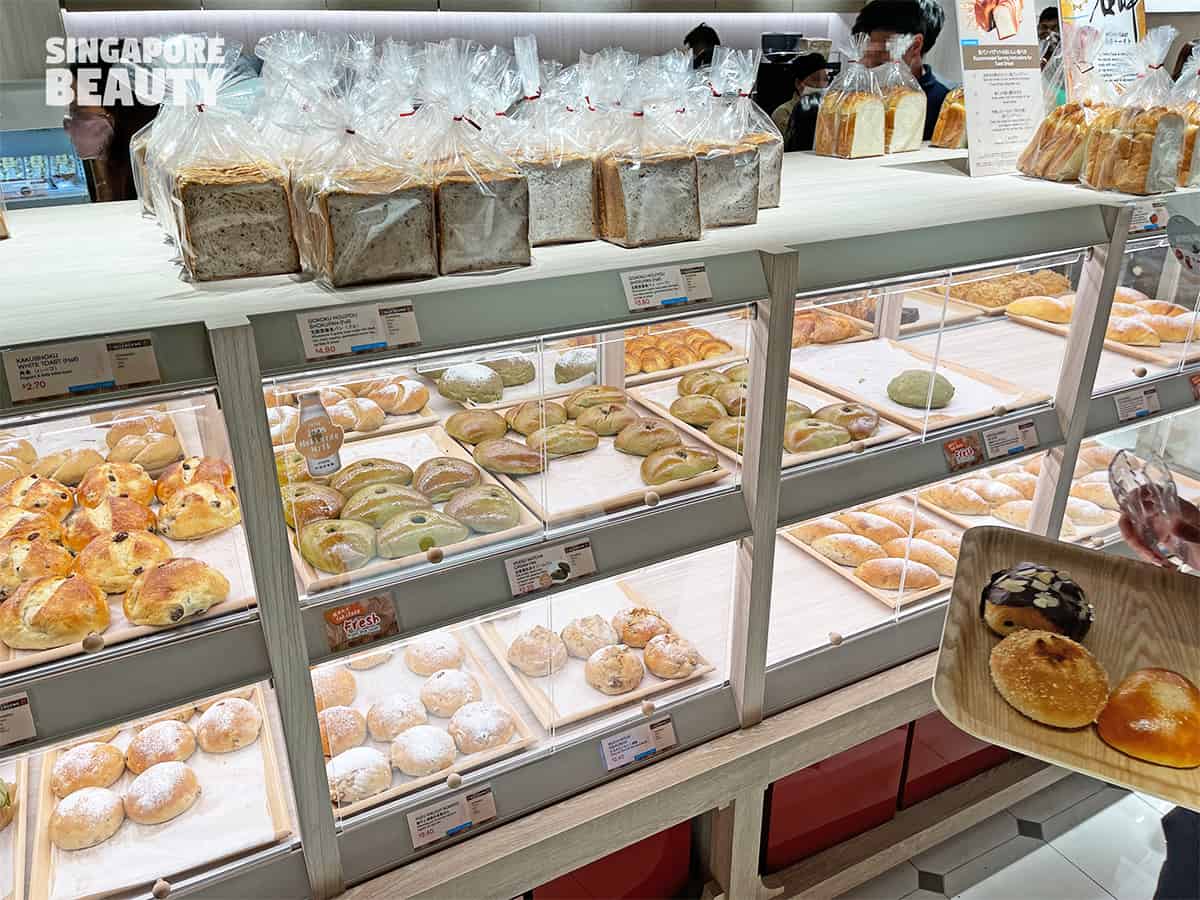 This bakery uses Japanese flour, grains and baking method to bring as authentic a flavour of its healthy Japanese buns to Singapore as possible.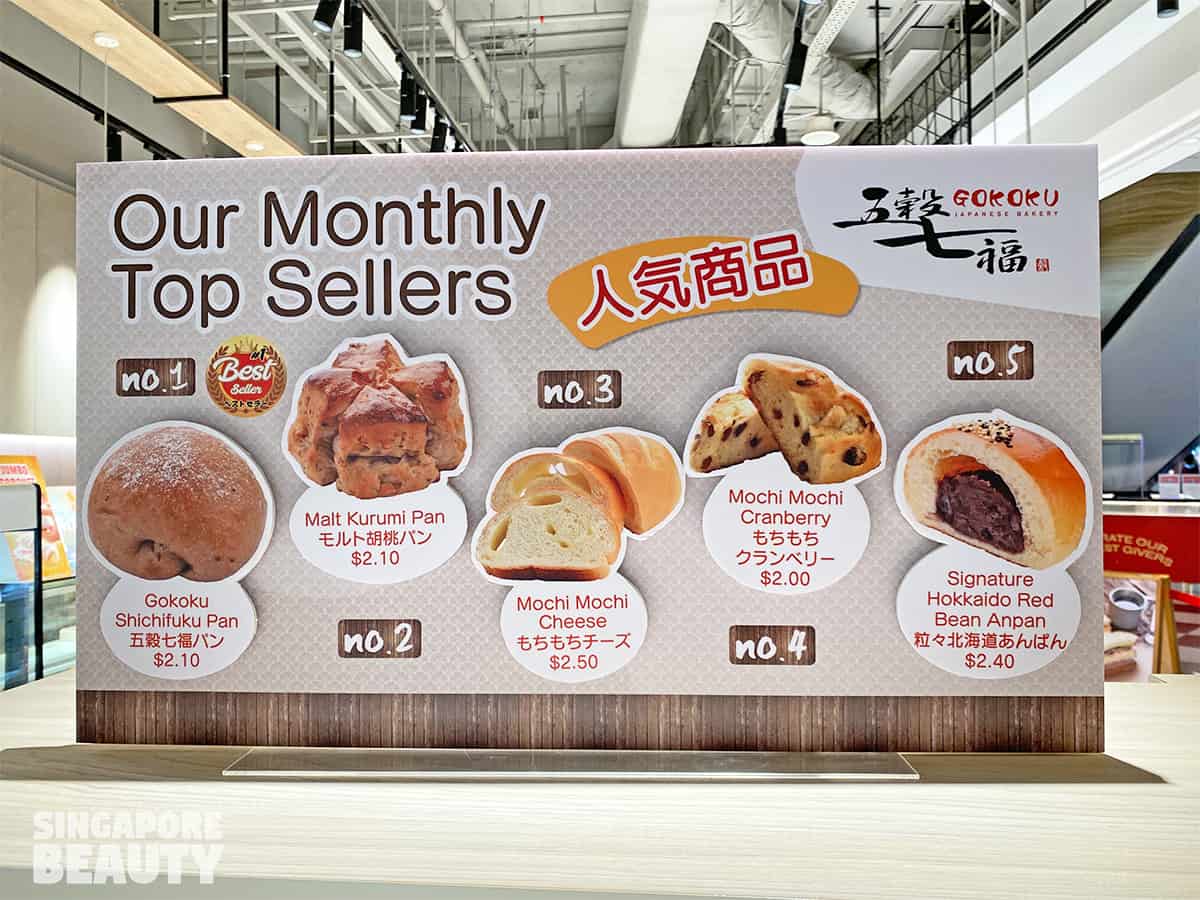 These are the top 5 best sellers in this bakery that you can try. Get 50cents off coffee with purchase of any sandwiches or burger.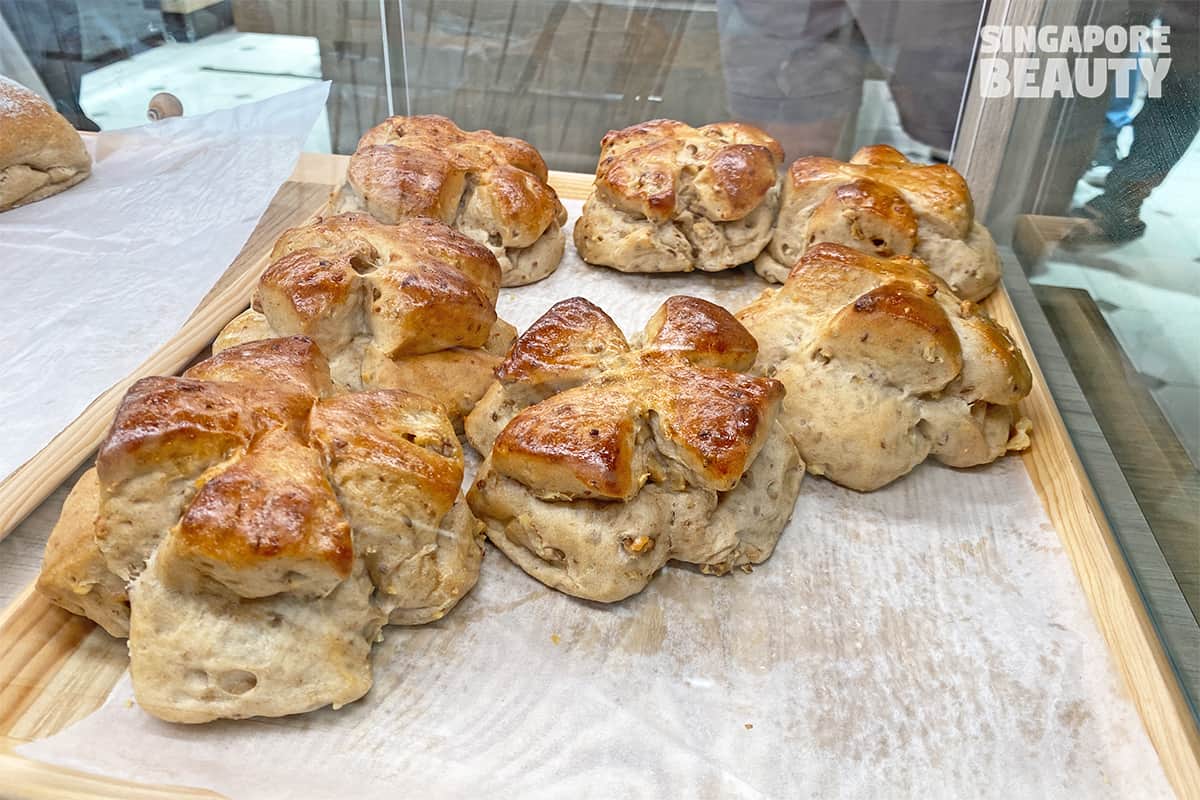 With these Gokoku best seller clover shaped bun Malt Kurumi Pan ($2.10), you can be sure you will be biting into loads of walnut goodness and inherit so good luck too.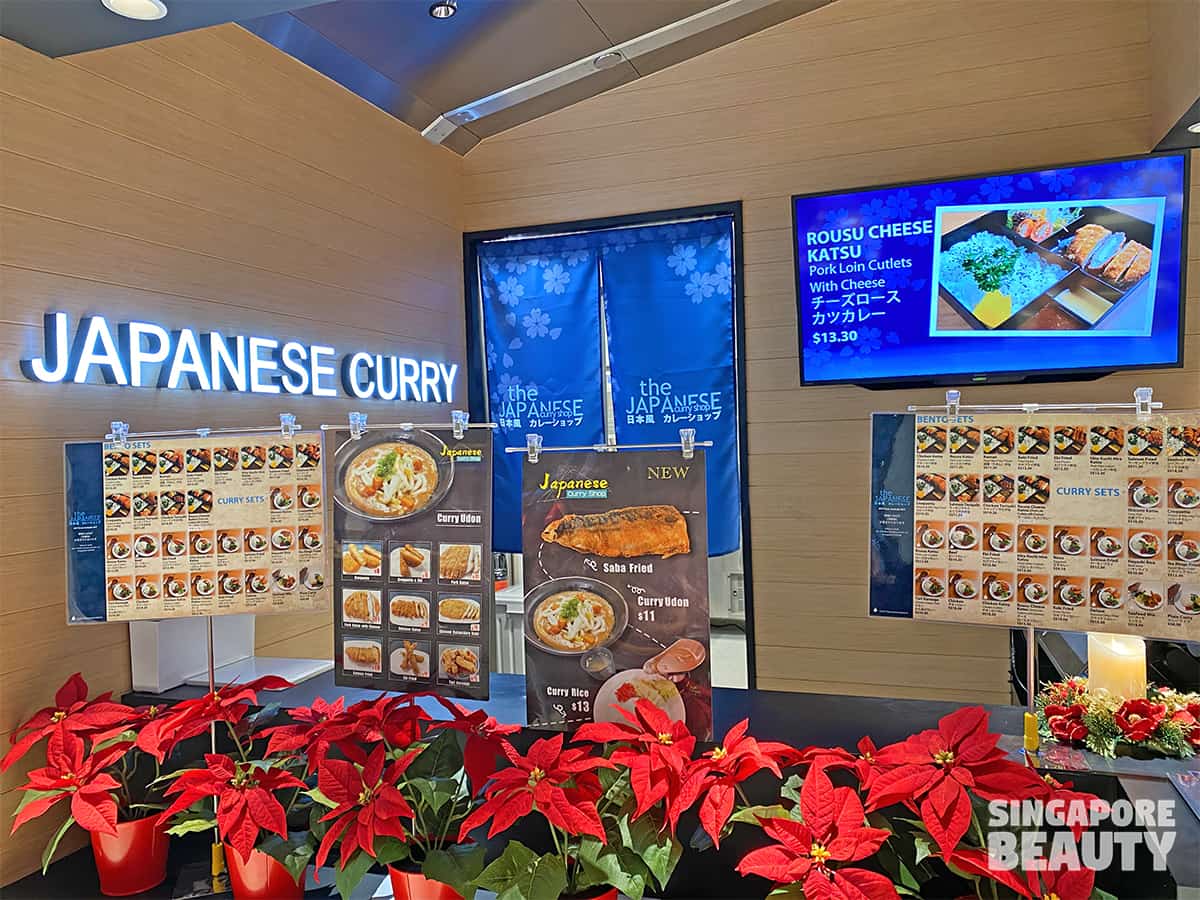 The Meidi-Ya Japanese cafe has a 88 seating capacity with an attached alfresco outdoor space. In this food hall, you can also find a small range of sushi from Nakajimasushi, Japanese curry and a Sapporo Nishiyama ramen counter.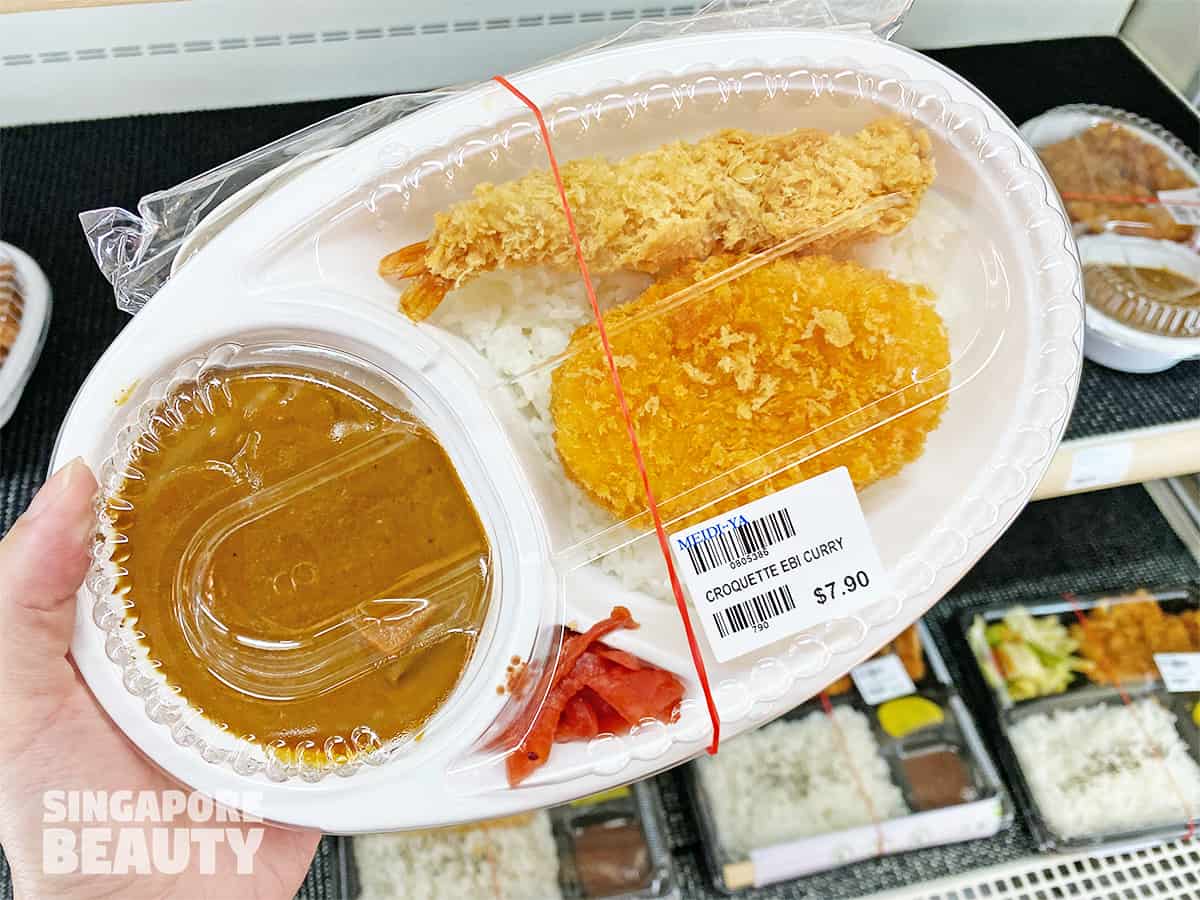 A set of croquette Ebi with Japanese curry and rice goes for $7.90.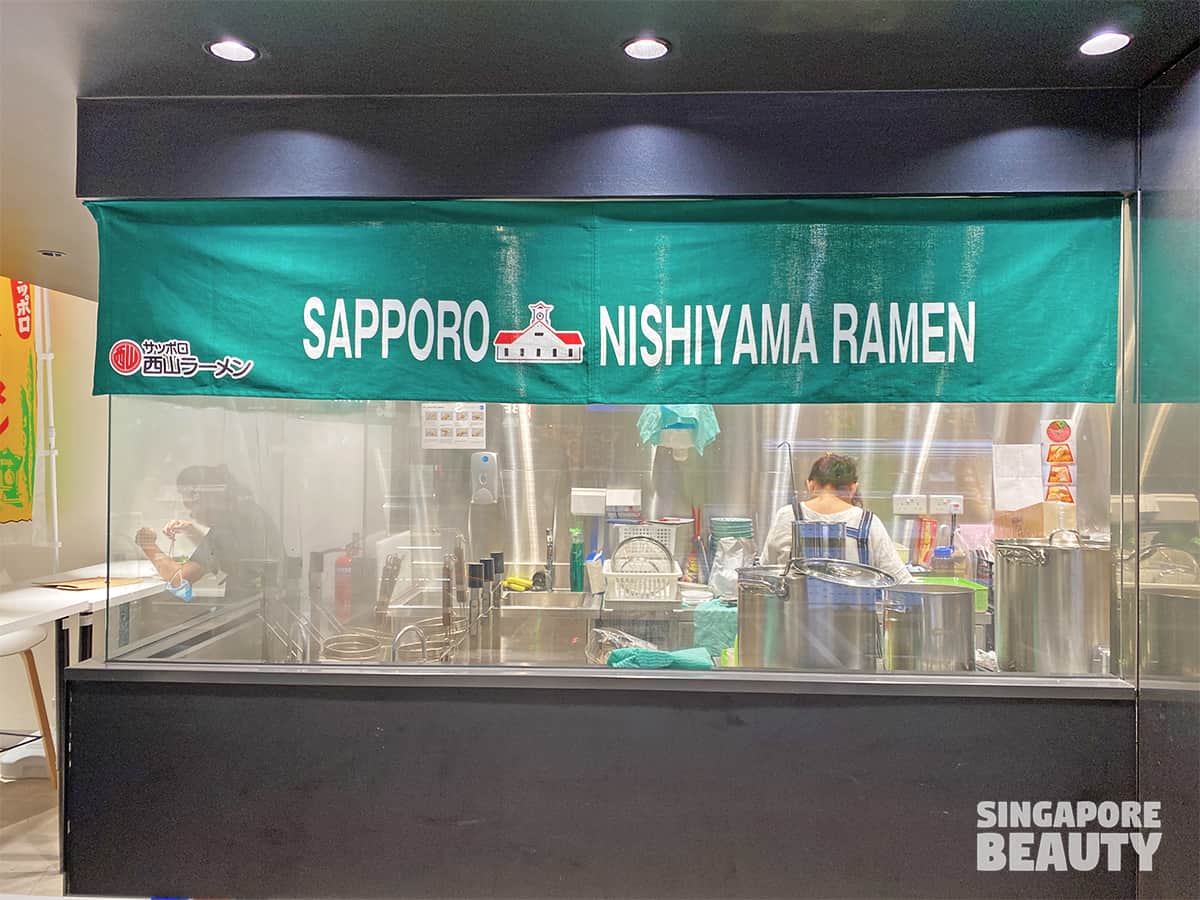 Sapporo Nishiyama ramen counter has some healthy light ramen to choose from.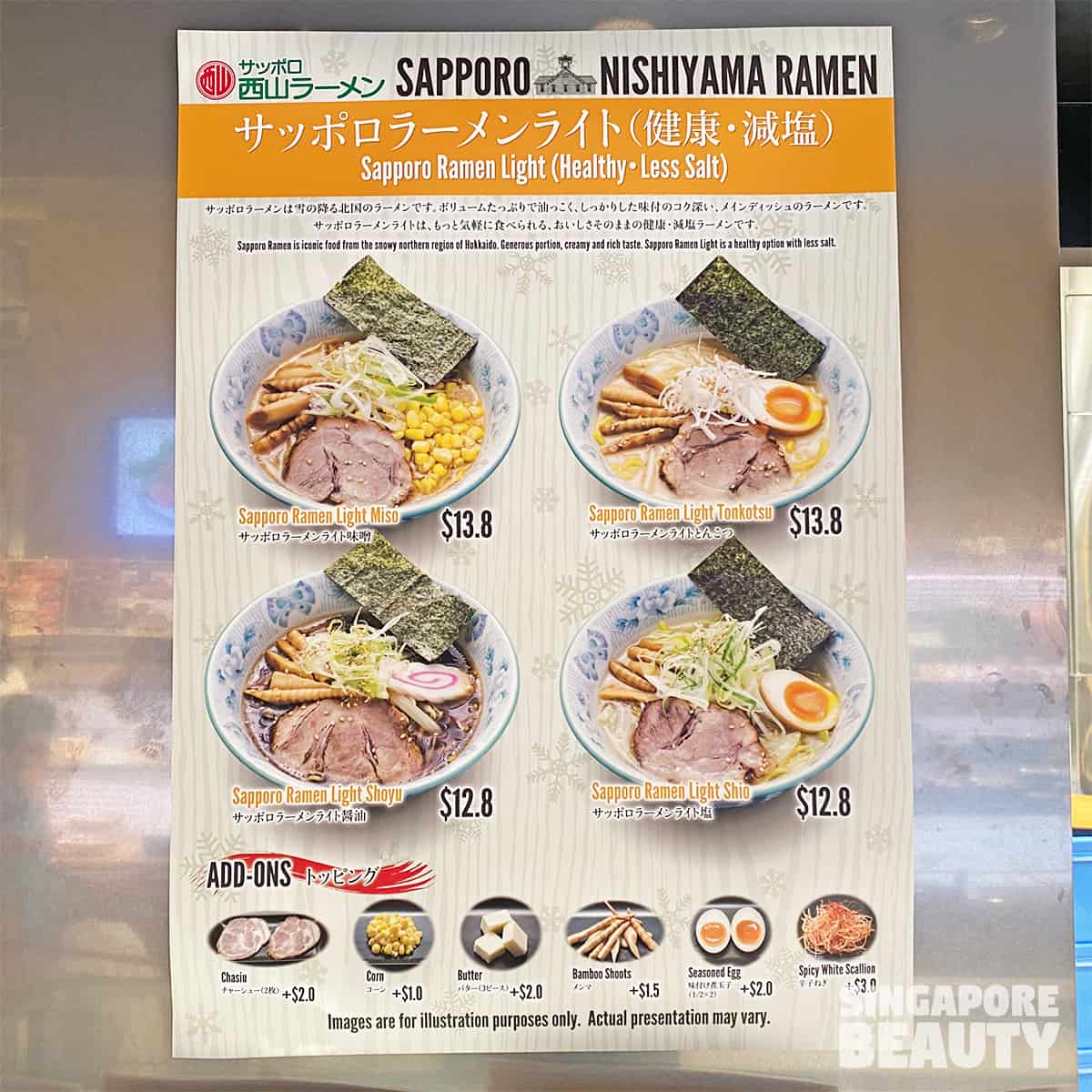 These are the menu of Sapporo ramen with light shoyu, tonkotsu, miso and light shio starting from $12.80.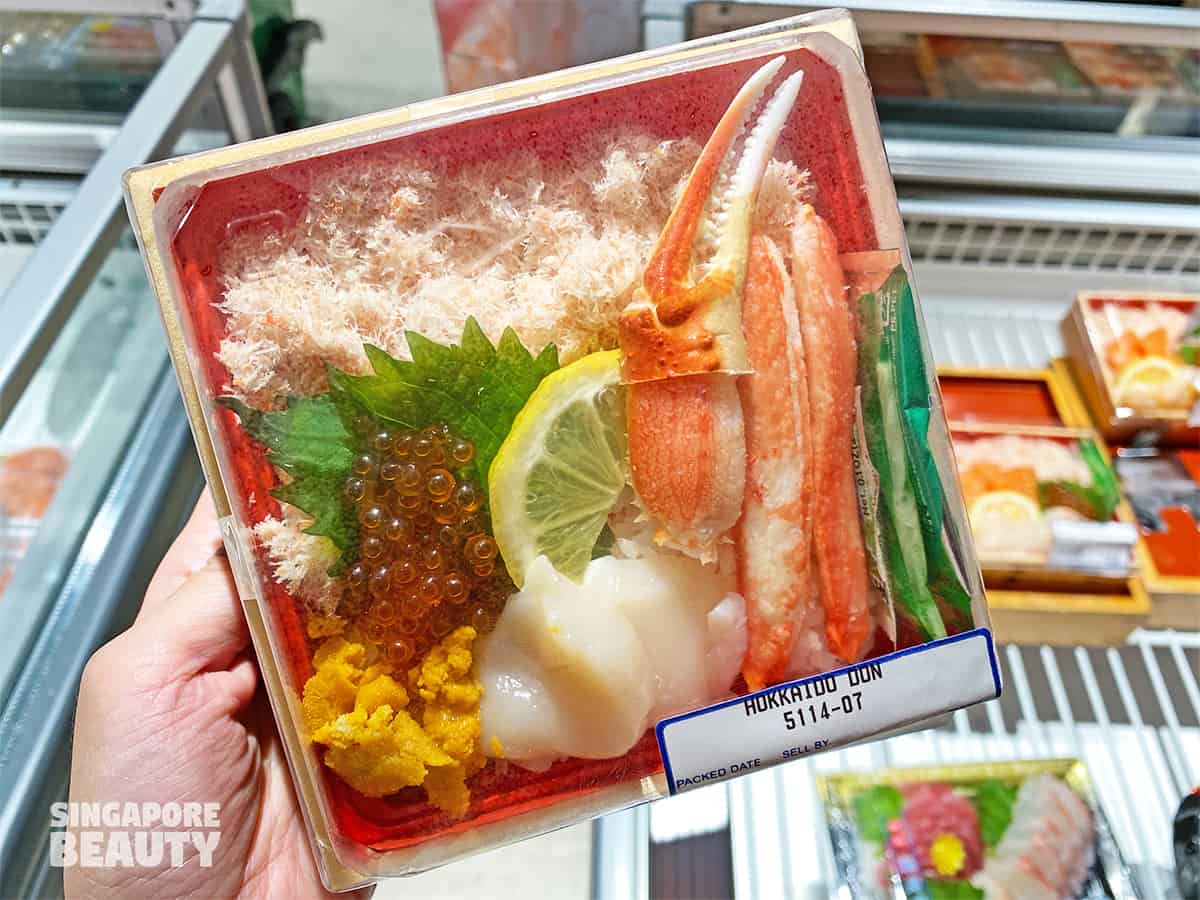 Do get their Meidi-Ya Hokkaido Don ($25) that comes with uni, roe, scallops and snow crab bento. These snow crab claws come deshelled in its full glory for you to enjoy with ease.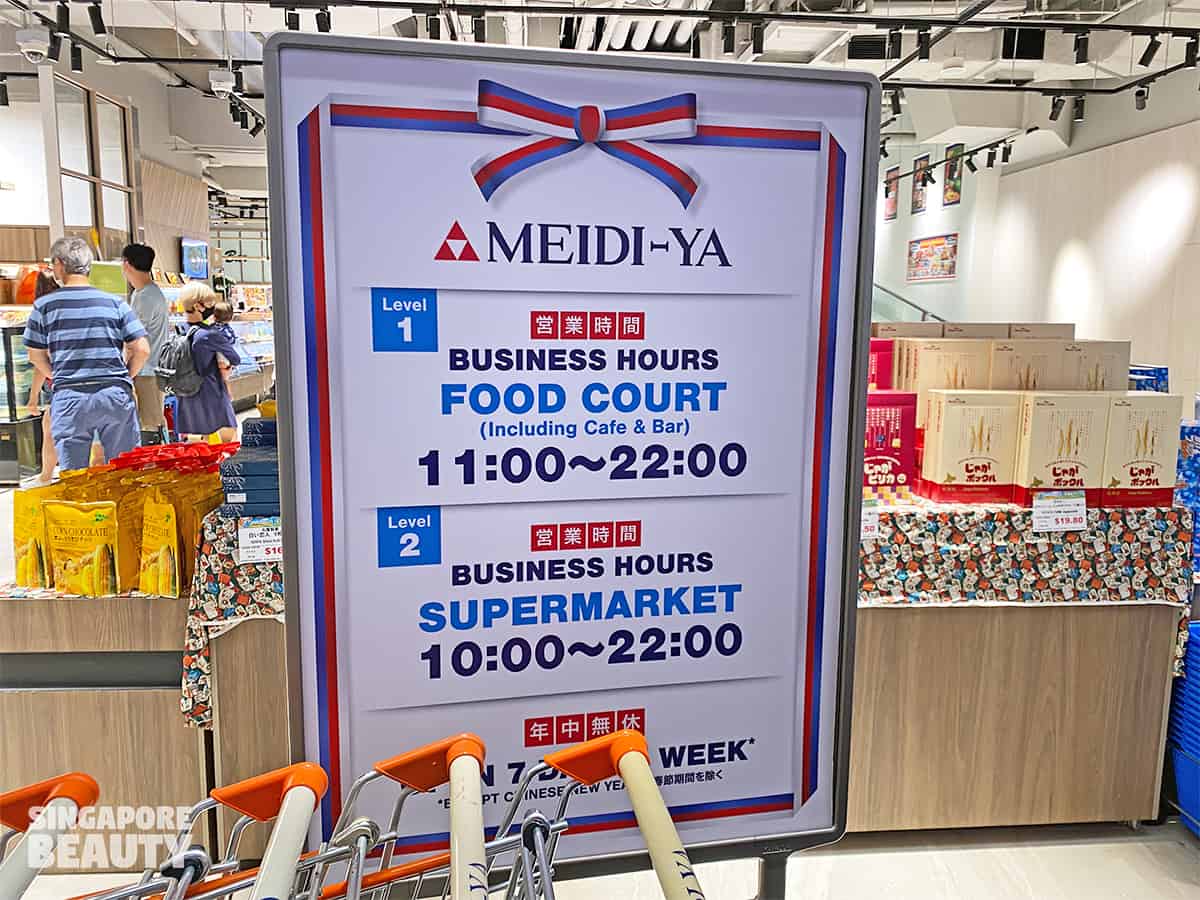 The Meidi-Ya flagship store is located at #01-51 to 56, #01-65 and #02-26 to 36 Millenia Walk, and will be open daily from 10am to 10pm.
To celebrate the opening, Meidi-Ya has a good amount of food and giveaways. The most attractive Meidi-Ya promotion is with a minimum spending of $200 in exchange for a Meidi-Ya exclusive Eco cooler grocery bag, limited to 3000 pcs. On the 28 and 29 Nov 2020, there is also a whole day free parking at Millenia Walk to celebrate their opening.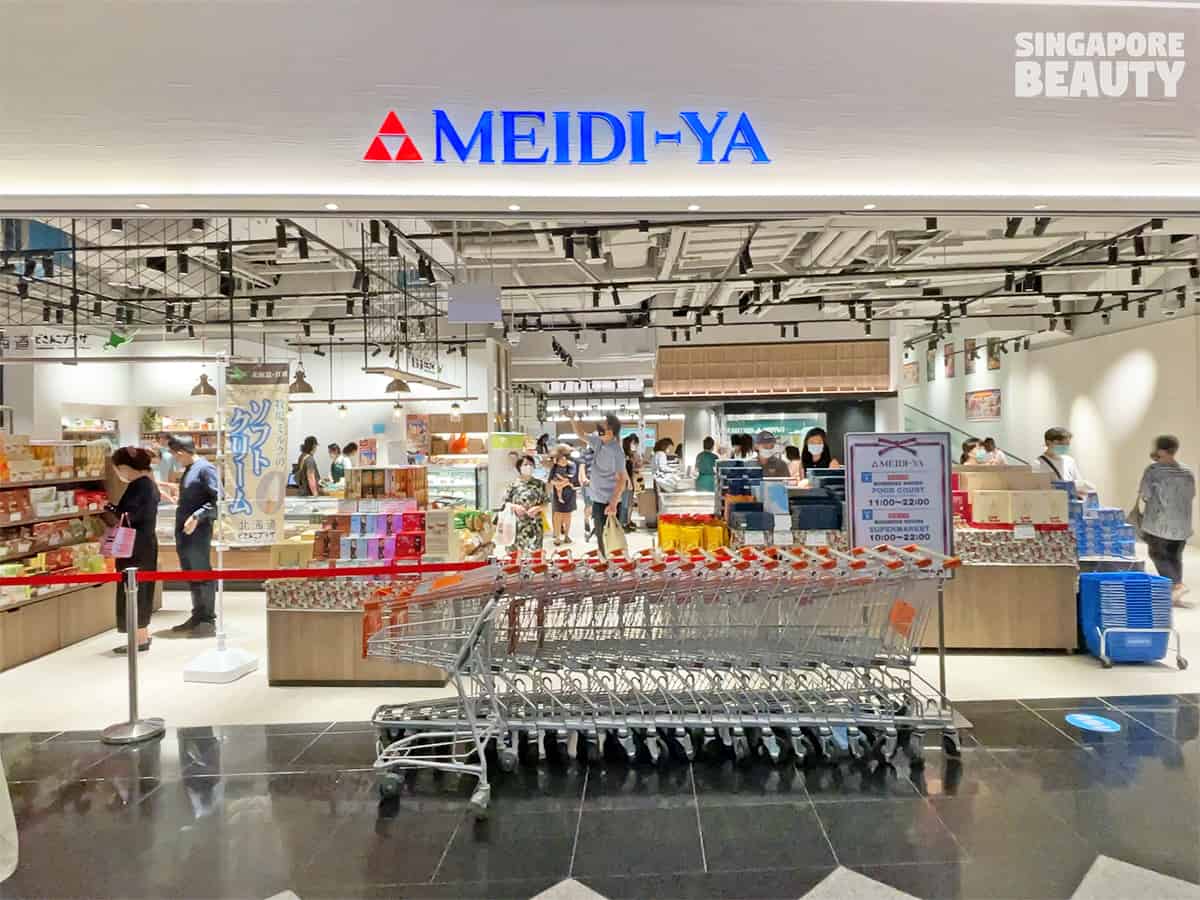 Do visit this massive 24,000 square-metre maga store. It had its soft launched on 25 Nov 2020 and is the largest Meidi-Ya store outside of Japan.
Location:
Meidi-Ya at Millenia Walk
9 Raffles Boulevard, #02-26 to 36, Singapore 039596
Opening hours:
Supermarket 10am – 10pm Daily
Food hall 11am – 10pm Daily
Telephone: 6339 1111