Yu Pin Steamed Seafood (御品蒸海鲜) serves only the freshest of seafood.
[Restaurant is permanently closed]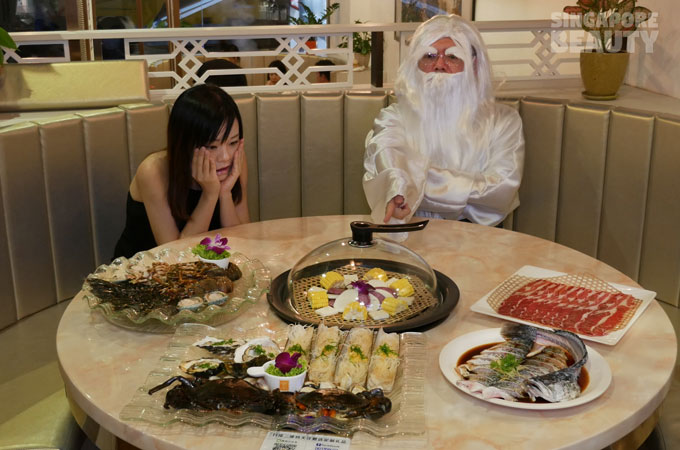 À la carte menu:
Sea Bass $22 | Tiger Prawn $12/6pcs | Crab $12/pc | Crab with roe $22/pc | American special beef $28 |Kagoshima Pork Belly $20 | Lobster $42 | Clams $18 | French Oyster $8/pc | Hokkaido Scallops $16/4pc | Abalone $22/pc | Razor Clams $12/pc
Set Meal:
Set Meal starts from $98++ for 2pax. A premium seafood Set A consist of live sea bass, live lobster, live abalone, live crabs, live tiger prawns , live clams, French oyster, razor clams, Kagoshima pork belly (or American special beef), assorted root vegetables and congee cost $178++ for 2 pax. We had the premium seafood set ($348++) for 4 pax. They have multiple sets available, do contact them for more details.
Thanksgiving Promo! All you can eat $2.00++ each(U.P $8.80++) live shucked oyster between 23 to 30 Nov 2017 when you order any of their sets.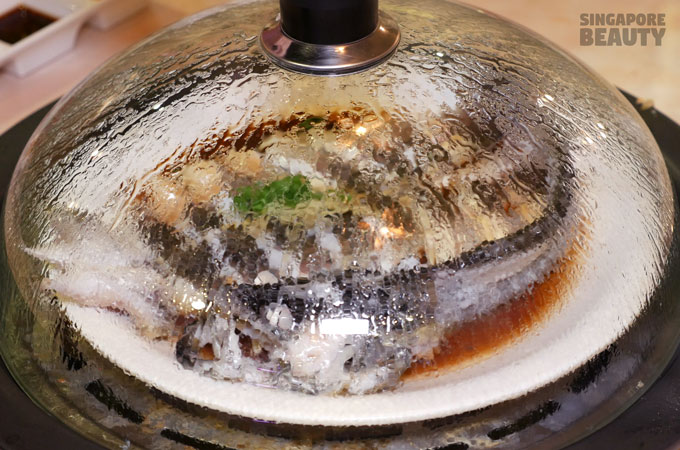 The sight of fresh seafood cooked before your very eyes through the glass dome lid serves to tease you and heighten the anticipation of savouring them. Within minutes of steaming, you get to savour the goodness of fresh seafood in their glory.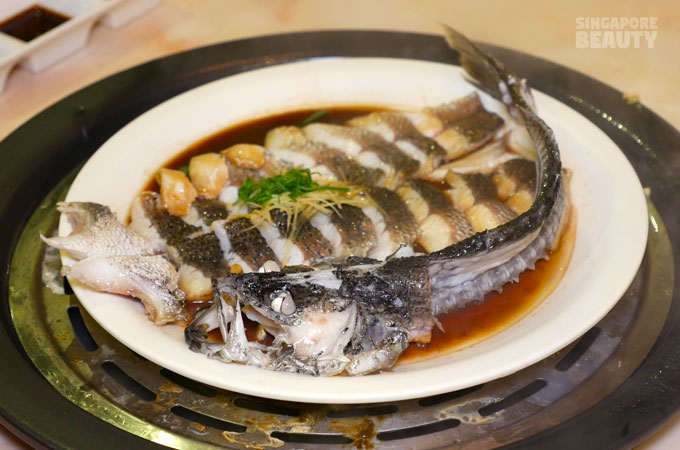 Filleted and deboned live sea bass is steamed in a special soya sauce to retain a tender texture.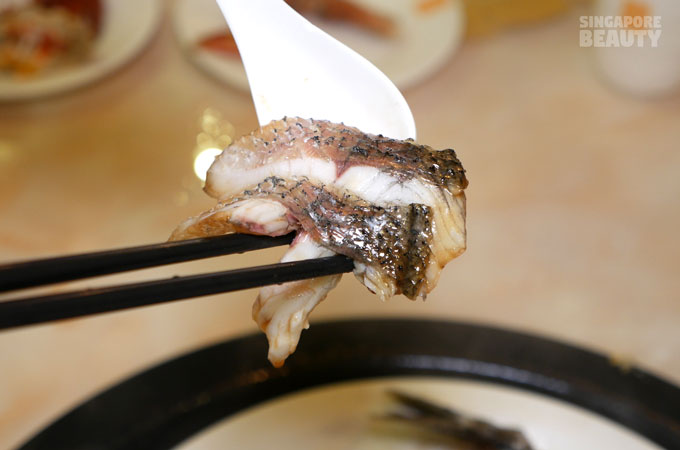 Sweet and savoury fillet with aromatic shredded ginger and spring onion makes the best combination for steamed sea bass. The fish skin melts in your mouth like butter. If you are a fish head lover, you will love the jelly-like collagen and crunchy parts of the fish head.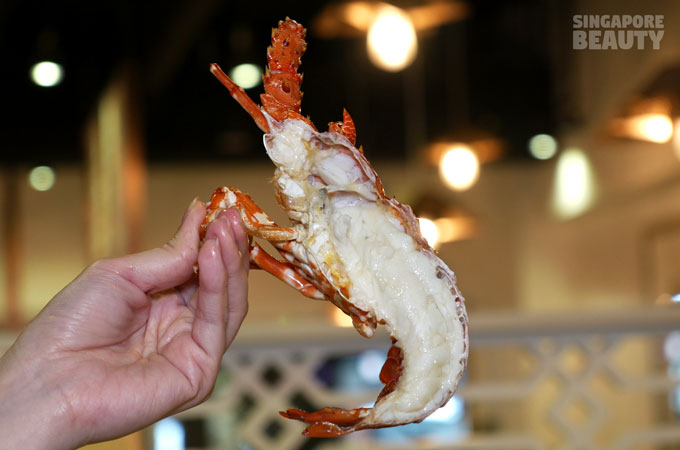 The next star has to be the live lobster. Fleshy succulent texture with natural sweetness of fresh seafood fills the lobster shell.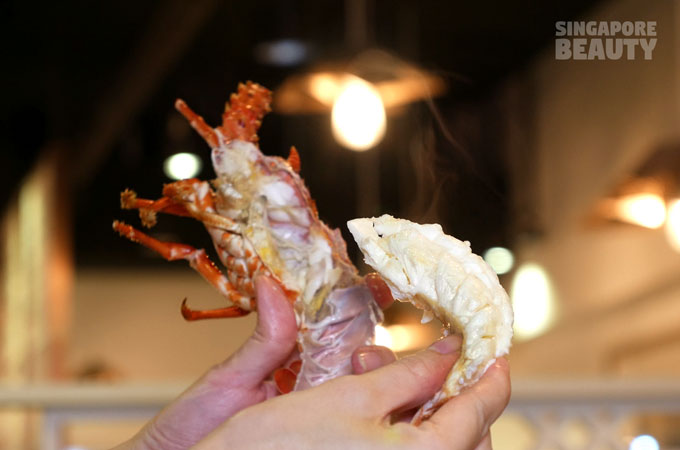 The flesh is of a good size and can be easily deshelled. While steaming you will see the halved lobster twitching. Do not be alarmed as these are the reflex action found in lobsters.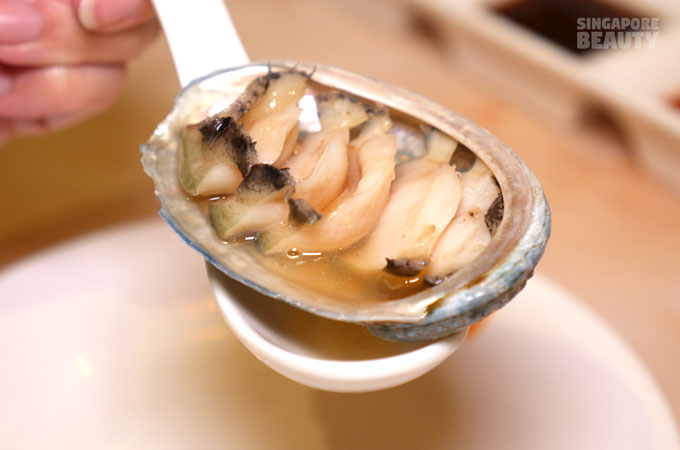 The next delicacy is the live abalone served in a shucked mother of pearl like shell. Was expecting a chewy texture and to our pleasant surprise the abalone is soft and tender. You need to savour every bite of this abalone as this is the most prized item in this platter. True to its name, steaming the abalone enhanced it more in terms of texture and taste.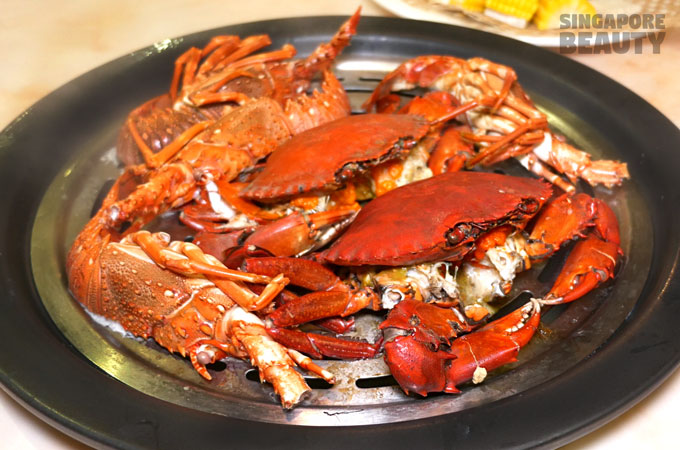 Need more crustaceans? How about some live crabs full of golden roe? Only the premium roe crabs are served in Yu Pin Steamed Seafood (御品蒸海鲜).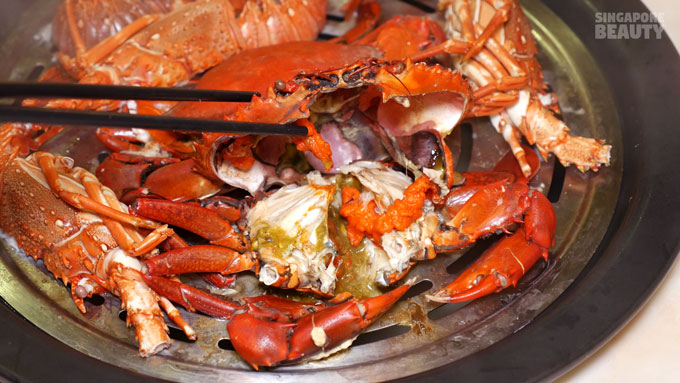 These custard creamy roe are the highlight of this dish. The texture is likened to the salted egg yolk but in a creamy sweet version.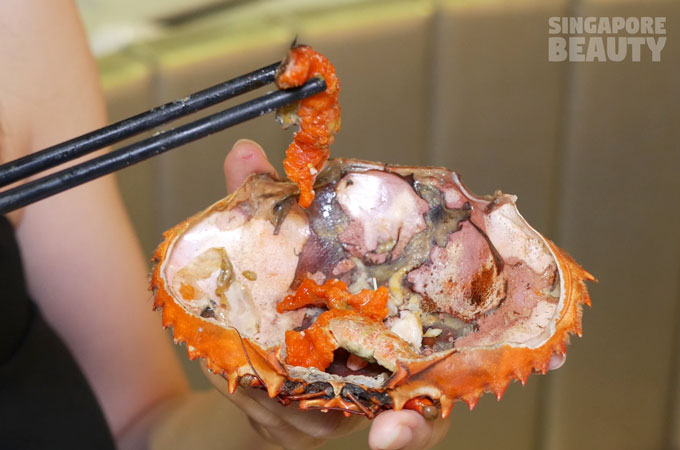 Look at the top shell, it is full of orange-roe! If you like them firm, do steam them for a longer time, like I did.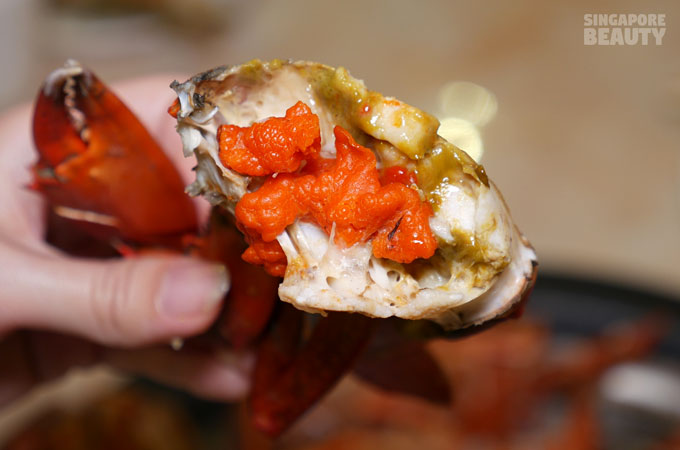 These are meaty and fleshy crabs not "water crabs". You will need to ask for a crab cracker to break open these shells.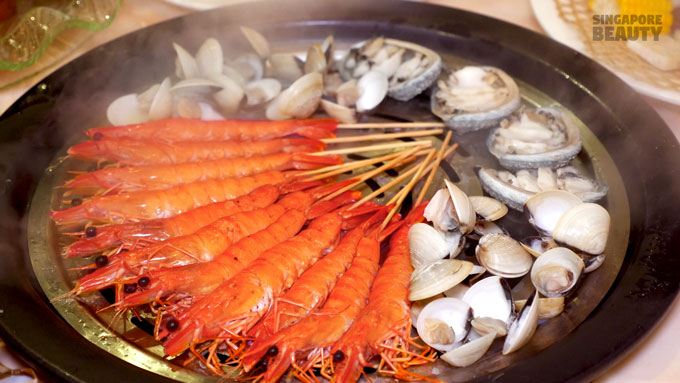 These live tiger prawns are skewered and still "kicking" while steamed. The prawn metamorphose from a shiny black armour to a glorious orange-red coat after steaming for a minute or so.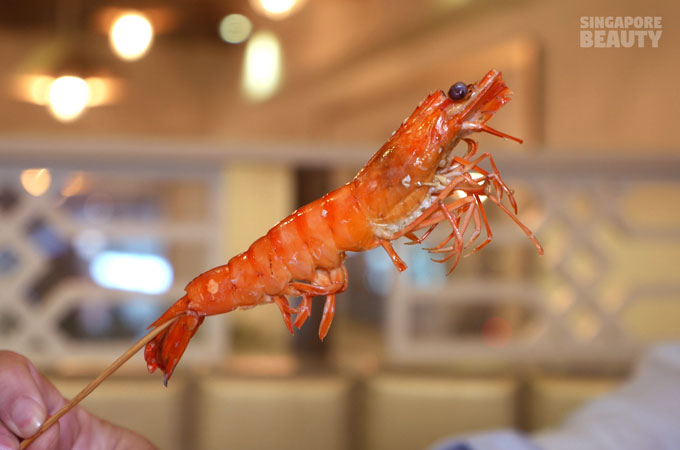 Steam live prawns are simply the best. Juicy succulent and easily deshelled. The nature sweetness of fresh seafood is unbeatable and needs no dipping sauce.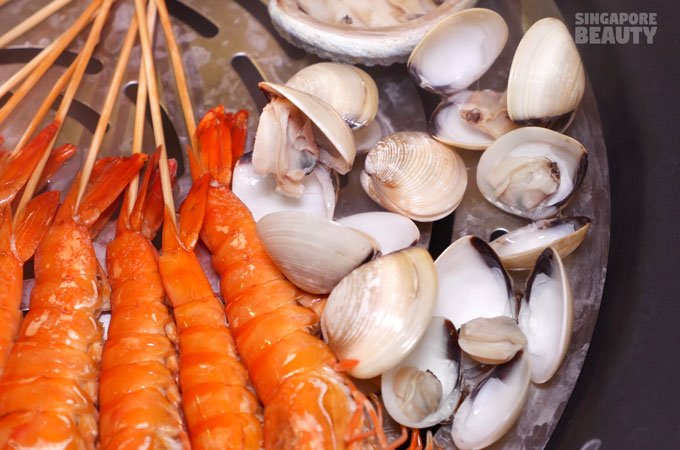 The sight of live clams with glossy shells popping open one after another can be an interesting sight for some. It is like an orchestrated performance by these shelled friends. The popping of the shell just indicates that all these clams are live and extremely fresh. Creamy and slides down your throat well. I need more of these. Yum.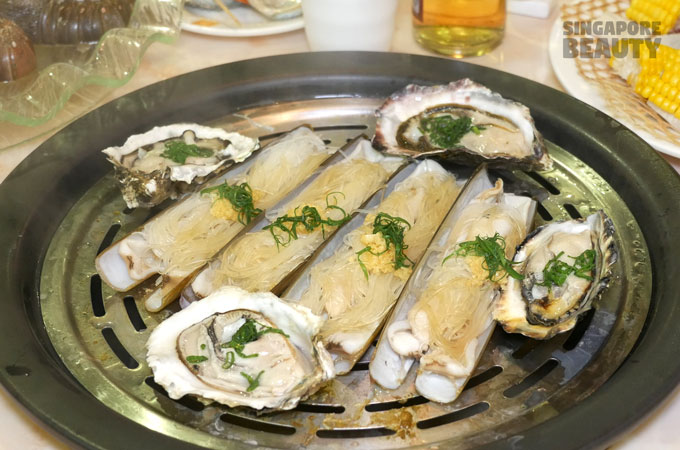 These French oysters are dressed in spring onions and steamed in their own juice.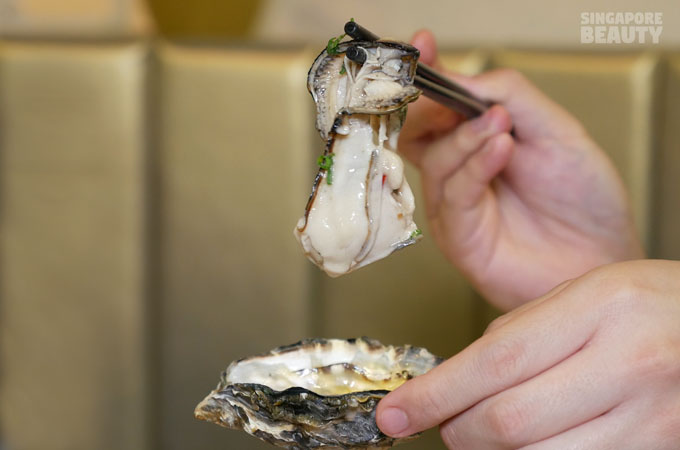 Fat, juicy, creamy textured that melts in your mouth. Slurp every bit of the juice in that shell!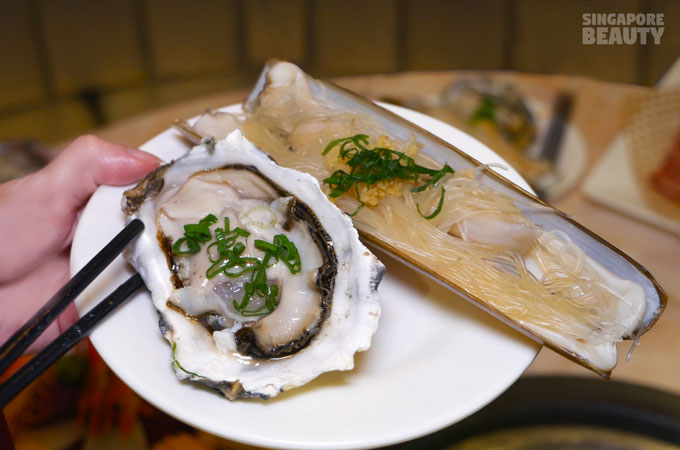 Razor clams are huge about the size of a lady's palm. The glass noodle rich with garlicky undertones, soaks up the sweet juice from the razor clams. Eat every bit of it carefully before they slip off your chopstick.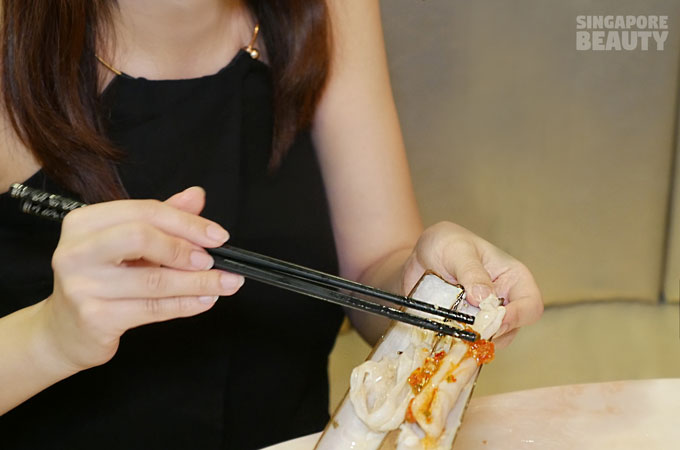 These goes best with their Thai chilli sauce. Drizzle a generous about of the Thai chilli sauce on it. Chewy, tangy and a hint of heat.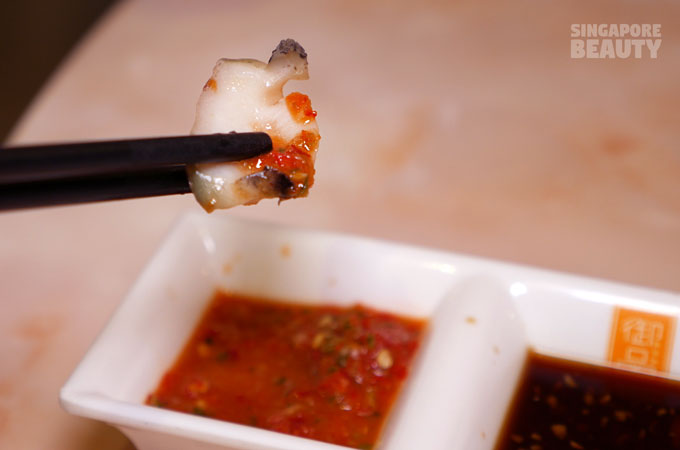 This is how their Thai chilli looks like. It has bits of finely grounded chilli and zest of limes in a special light sauce.
For the meat, choose either Kagoshima pork belly or American special beef.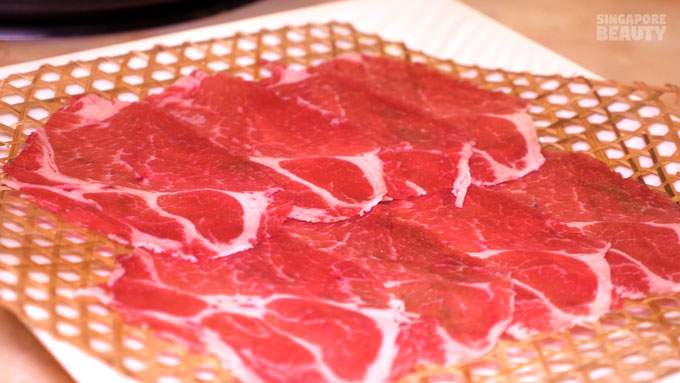 Kagoshima Pork Belly – These meat are thinly sliced to cook quickly and retain their meat juices.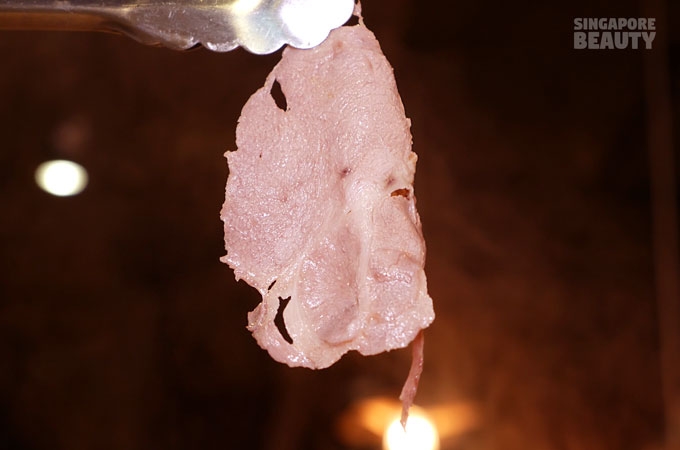 Be careful when you eat them, as the steam from these meat could sting you. Look at how the meat curls up when cooked, springy and tender texture.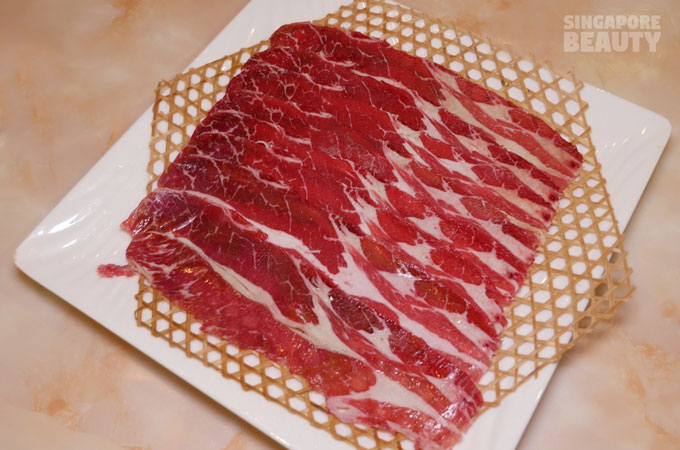 American Special Beef – Looking at the amount of marble in these premium cut meat, you can be assured a tender and soft texture.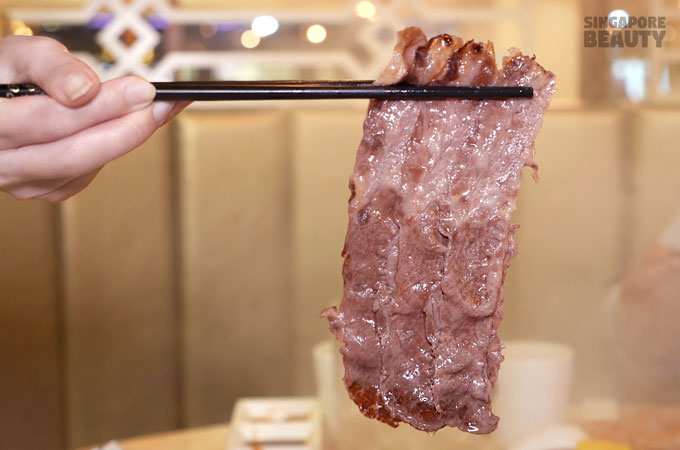 Tender and moist texture. Look at how the meat glisten in the light!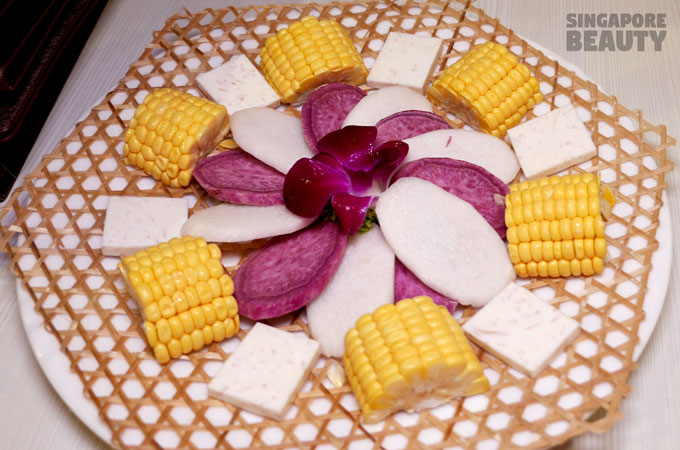 Assorted  root vegetables consist of healthy choices like purple sweet potato, sweet corn, taro and yam. Rich colours full of vitamins and great for detox. I like to eat this last to cleanse the palate to get ready for the last dish.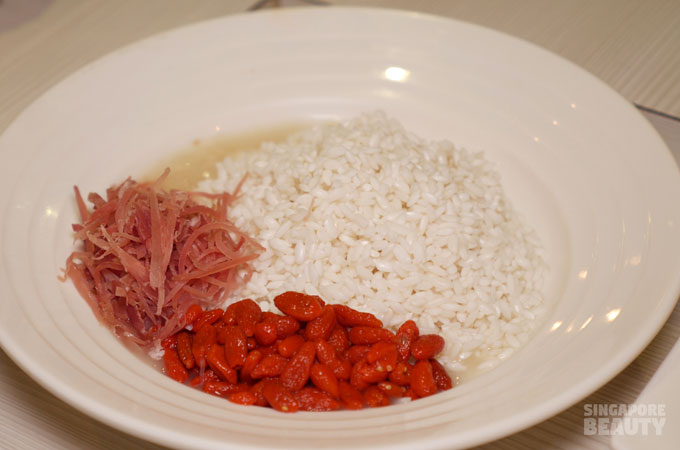 Last dish is slow cooked congee with ingredients such as wolfberry, pearl rice grains and the juices from the steamed seafood.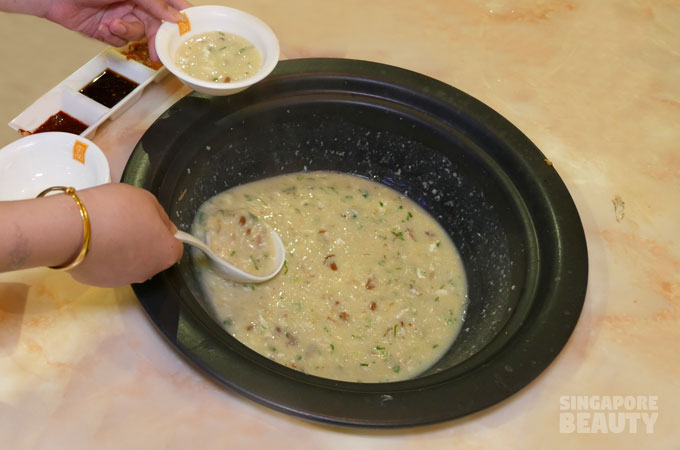 You only get to savour this dish at the end of your meal where all the juice and broth from the steaming of the seafood oozes through the steamer into the pot below. Topped with chopped green onions, eggs and Chinese pickles, this is a good way to end a hearty steamed live seafood feast.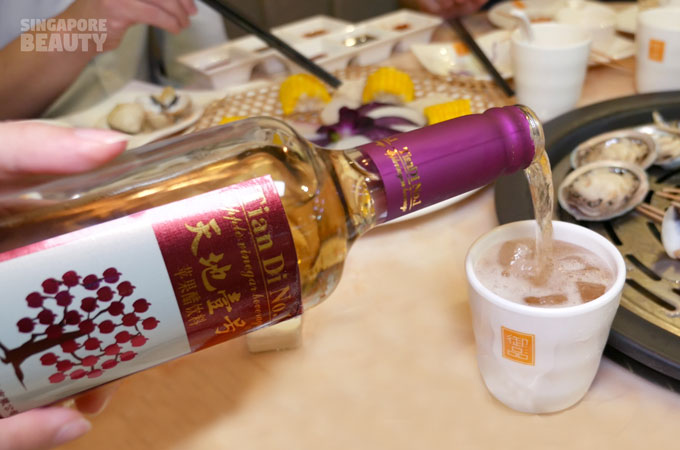 Their apple vinegar sparkling is also good for digestion. Do order some of these to go with the seafood. I like this as it is refreshing, fruity and not overly sweet.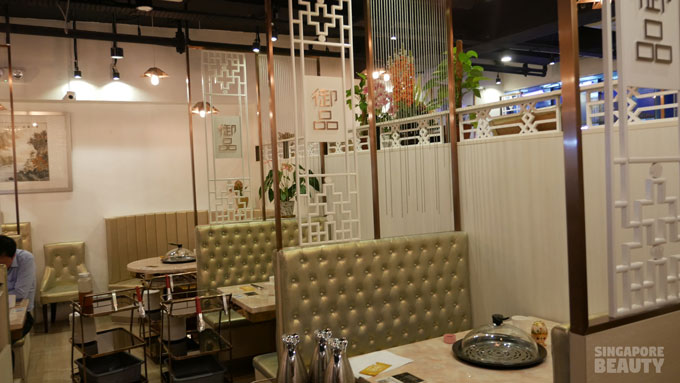 Yu Pin Steamed Seafood (御品蒸海鲜) is the place you want to be seen with your friends and family. Cosy and intimate setting with cushioned backing bench seating for 4 or more. For larger groups, do reserve their round tables which hold a minimum of 6 pax.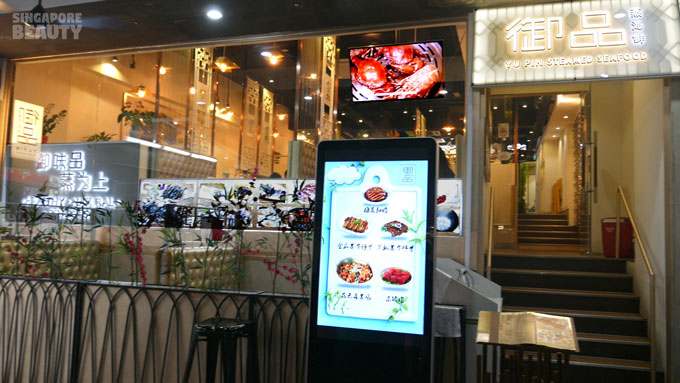 Swing by today and give this a try if you are craving for healthy steamed live seafood and greens. Do make a reservation to minimise the waiting time for food as most food are prepared fresh on the spot upon order.
Location:
470 North Bridge Road, #01-05, Bugis Cube, Singapore 188735

Restaurant permanently closed.
Operating hours
Open Daily
11:30am – 15:30pm
18:00pm – 23:30pm
Reservations
(+65) 62649266
Brought to you by Yu Pin Steamed Seafood