Jiu gong ge hotpot (九宫格火锅) has launched Singapore's first 5 tier BBQ seafood bomb tower. As its name implies, you will expect an "explosion" before starting on your seafood feast. The bomb will explode in front of you when it is detonated and expect some "fireworks" followed by a billowing cold stream of smoke. Get ready your camera for this instagram worthy moment.
This 5 tier BBQ seafood tower is a good alternative to the usual zi char and is good for 8 to 10 pax. Let us bring you through each tier and see what is in this 5 tier seafood tower.

BBQ Seafood Tower Tier 1 – There are a good quantity of pomfrets, kaika (fish with a sword on its lower jaw) and prawns on skewers.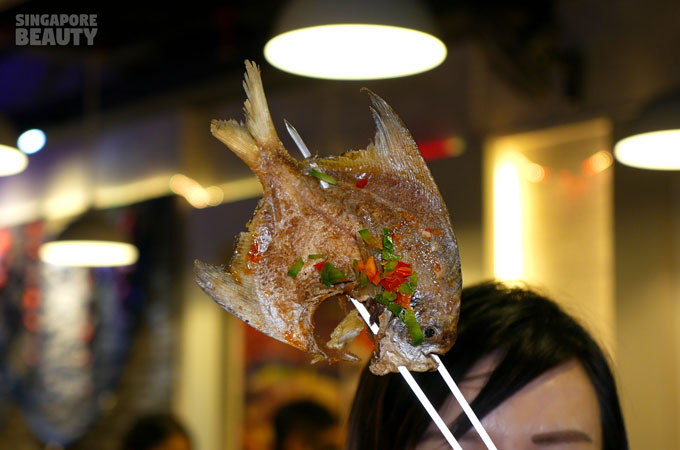 Pomfret – This is pan fried to perfection. It is removed from the hot oil at the optimum temperature so that it will be light and not greasy. Moist and firm flesh with a lightly salted skin. I always have a soft spot for such pan fried fish as I love the flavourful fish skin to go with the moist flesh. This needs no dipping sauce to go with it, maybe some chopped peppers to enhance the savoury flesh.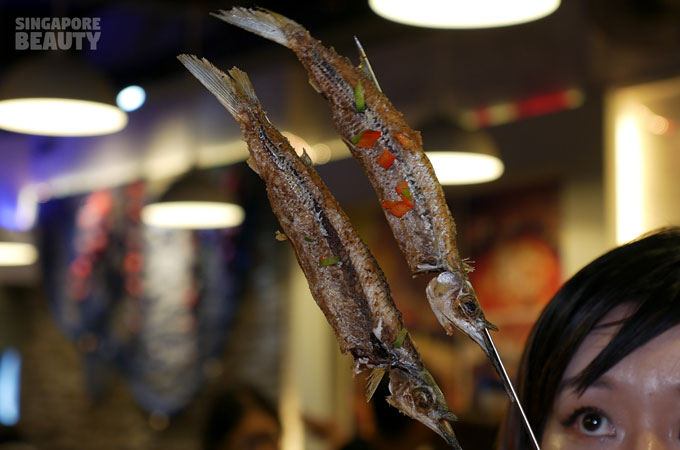 Kaika – Deep fried fishes with tender and flaky flesh. This fish is so crispy that you can eat it whole. Despite being deep fried to a crisp, the flesh remains moist. It has the aroma of a toasted fish skin and taste good even without any sauce.
Grilled Prawns – These are skewered and easy to deshell. Coated with a sweet and savoury sauce that is infused into the flavourful flesh. The flesh has a crunch to the bite and brings with it the natural sweetness of a prawn.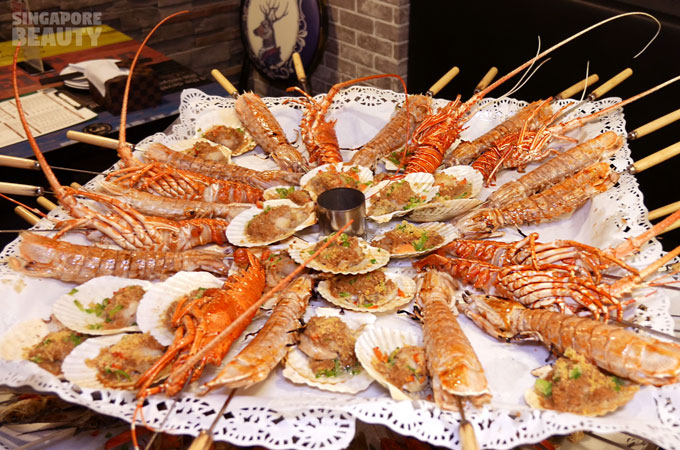 BBQ Seafood Tower Tier 2 – The spread consist of mantis shrimps, live lobsters and shucked scallops.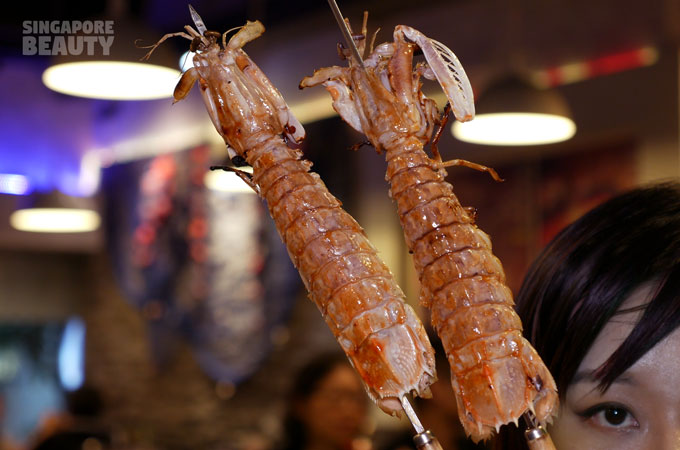 Mantis Shrimps – These are ferocious crustaceans that pack a punch. I mean physically and literally. The mantis shrimp has a "hammer" that is capable of cracking open clams and smashing them to pieces for food. It also packs a punch in terms of texture and taste. The flavours is locked in during the process of slow grilling and double dipped in a savoury glossy sauce. Deshelling this is no easy feat, I strongly suggest doing it with a pair of scissor. However to savour the flavourful flesh, it is worth the effort.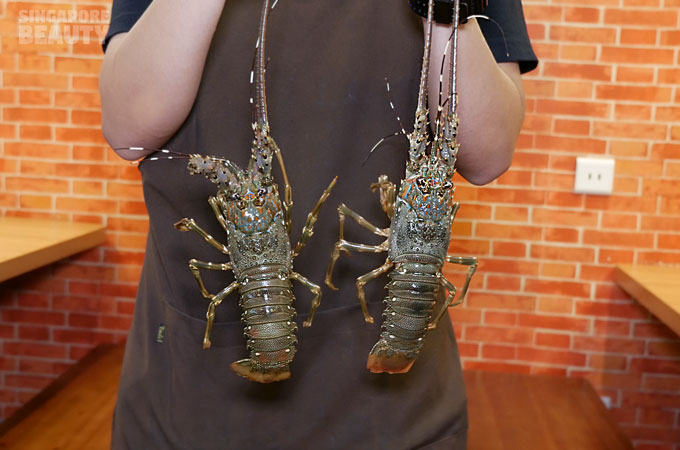 Live Lobsters – These lobsters are live and prepared on the spot for each order to retain it freshness.
Grilling live lobster might seem like an extravagance, however this is also one of the ways to reap the full goodness of this large marine crustacean.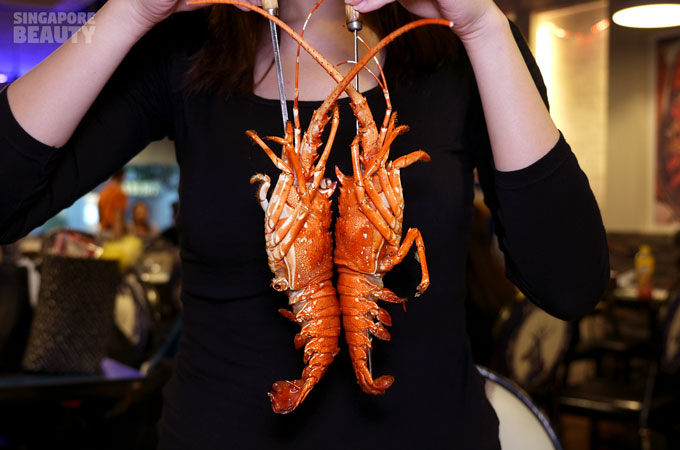 Roasting the lobster releases the aroma from the shell which is enough to make one salivate.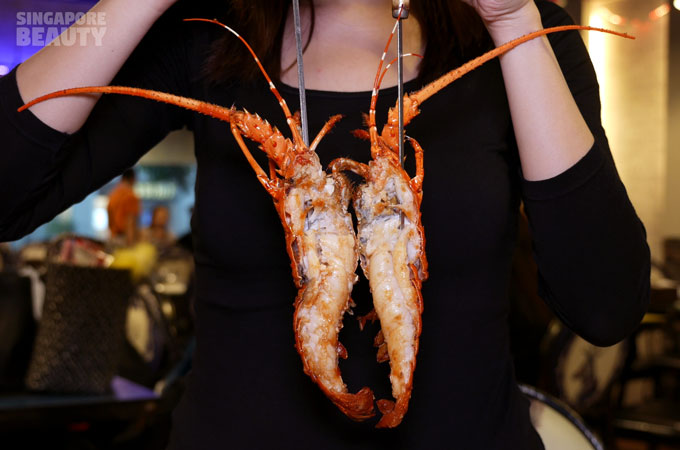 The lobsters are fresh and have a springy texture. The succulent flesh is packed with umami lobster flavour.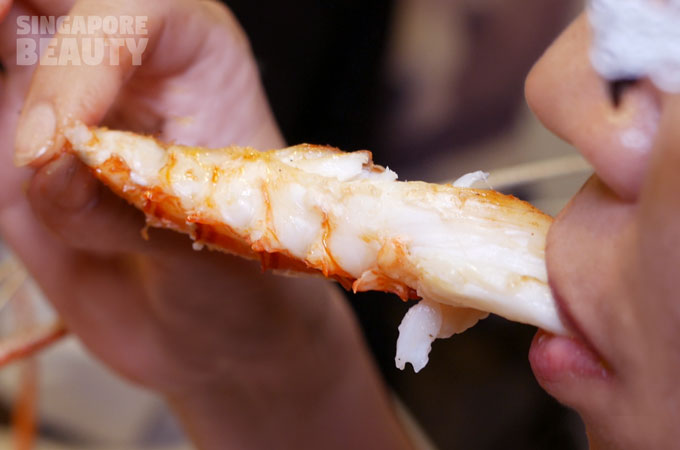 Easy to deshell and eat it whole.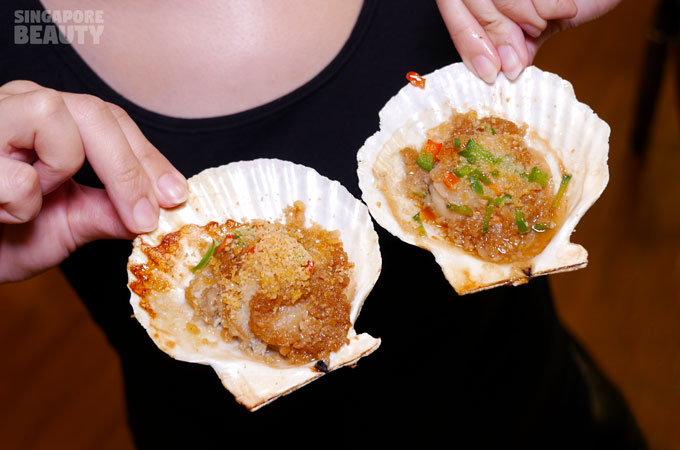 Scallop – Shucked and ready to eat half shelled scallops. These are topped with sautéed chopped garlic, spring onions and peppers. The strong garlicky tones are excellent for those who like its aromatic fragrance.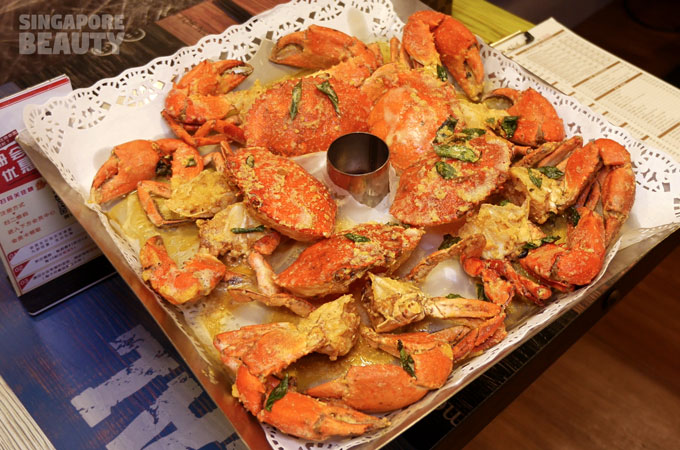 BBQ Seafood Tower Tier 3 – This is a bed full of local's favourite crab.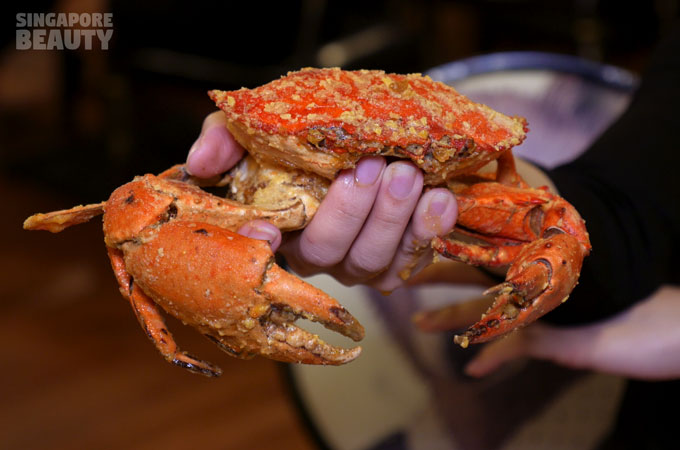 The deep fried crabs are coated with a creamy and grainy salted egg sauce. The deep fried crab is stir fried sparingly with curry leaves to give it a light aromatic undertone.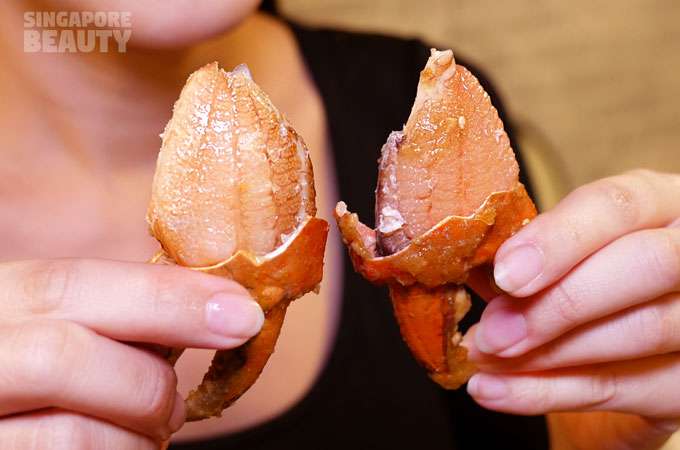 The sauce is so good that I was licking them off the shell of the crabs before digging into the claws. The meaty claws are still moist even after all the cooking.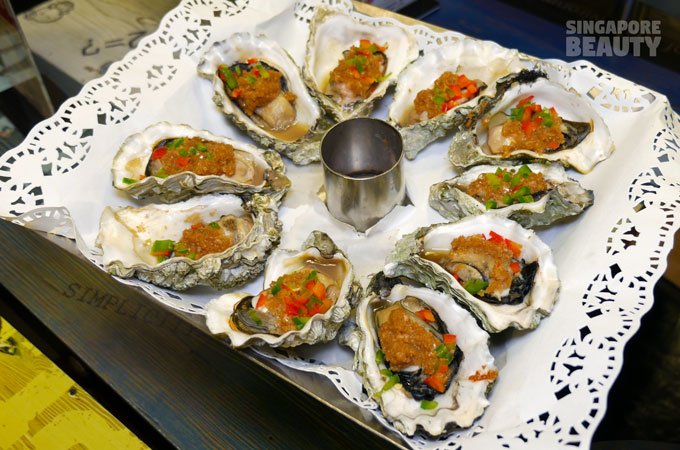 BBQ Seafood Tower Tier 4 – Fat and creamy oyster drowned in savoury chopped garlic and chilli pepper.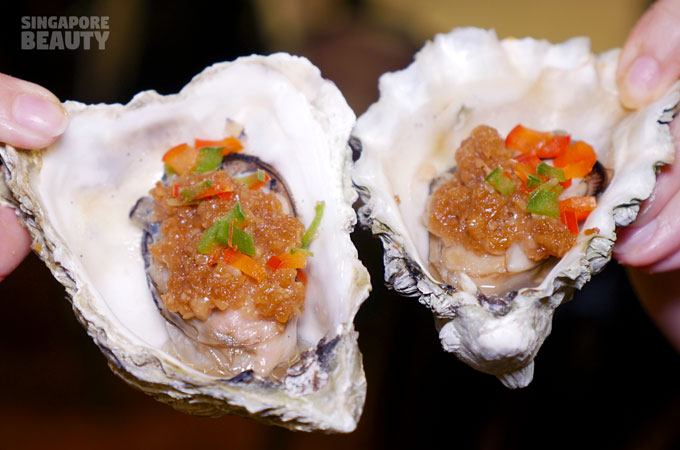 The strong flavour goes well with the lightly flavoured oyster. Eat this oyster in one go and experience the flavours exploding in your mouth. Get a drink tower to prepare your palate for the next anticipated dish. Steamed abalone at the peak of this 5 tier BBQ seafood tower.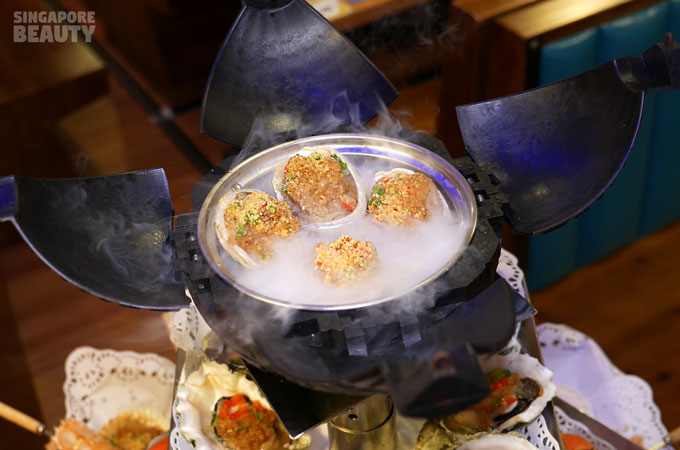 BBQ Seafood Tower Tier 5 – This steam pot at the top holds whole abalone and clams steamed in their own juice.
These abalone are different from canned ones in terms of texture and taste. These are fresh abalone and have a crunchy texture.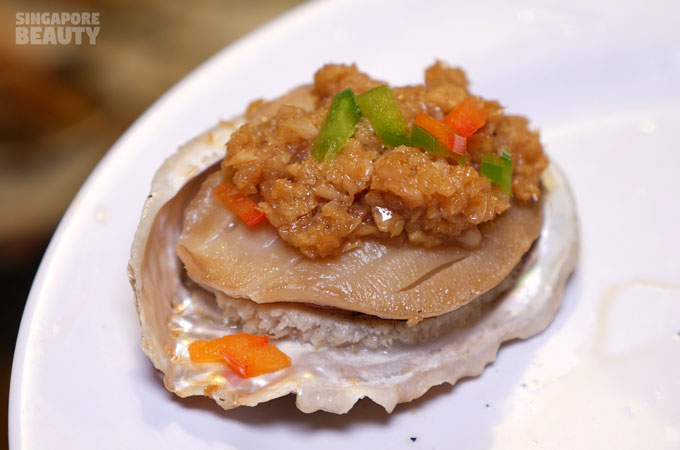 Topped with chopped fragrant garlic and served in a mother of pearl shucked shell.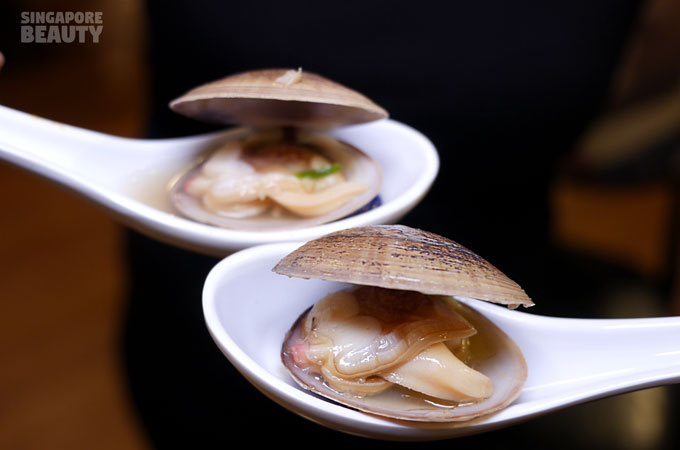 The abalone are nested atop these steam clams. These are steamed in their own concentrated juices and oozing with seafood goodness. Succulent and tender.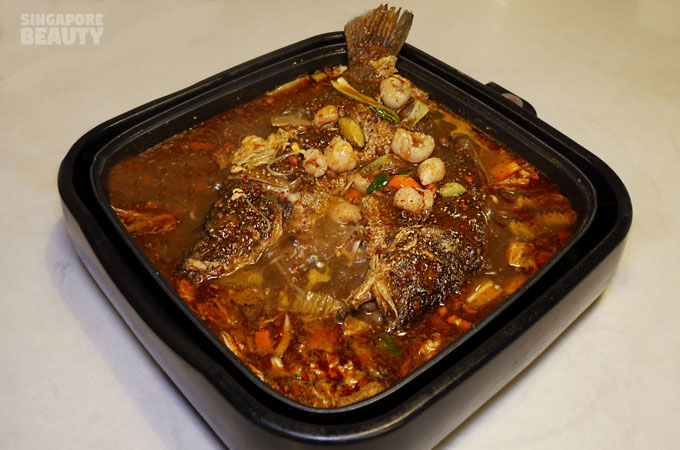 For those who still have room for good food after ordering this 5 tier BBQ seafood tower, you can top up $20 (small size) for their in house lychee roasted fish (small). The roasted fish we had here is the medium size ($38) for 4 pax.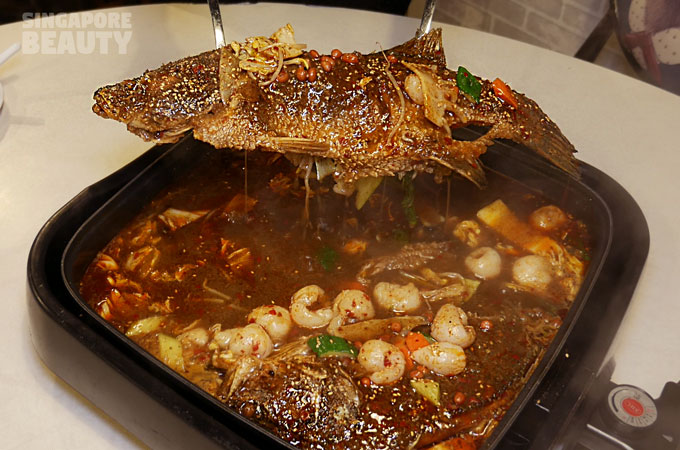 This roasted sea bass is served in a simmering sweet and slightly spicy broth. The sweetness of the broth comes from the plump lychees and green peppers.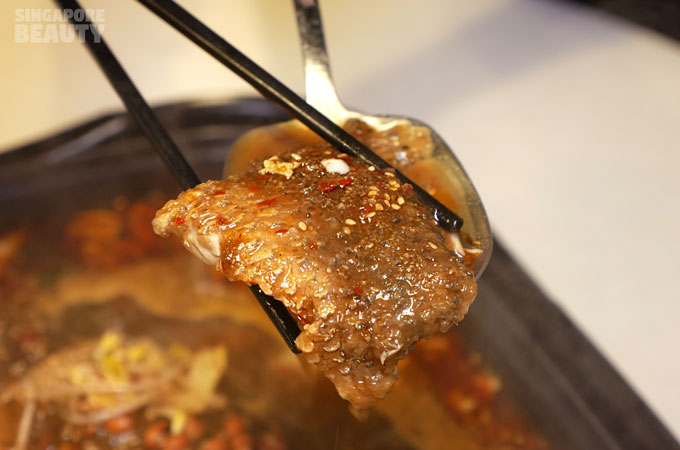 The combination of this fruity lychee and the savoury broth is a surprise. The flesh is infused with the fruity sweetness. This is a dish that you will make a return trip for.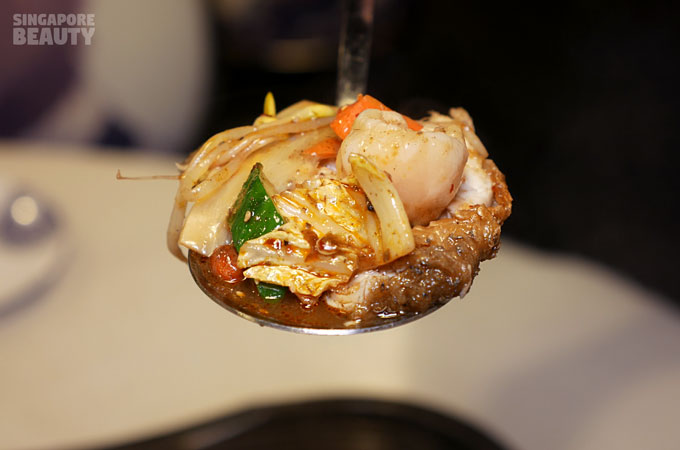 Eat the flesh with the fruity lychee, soft cabbage, crunchy nuts, cucumber and carrots. Yum.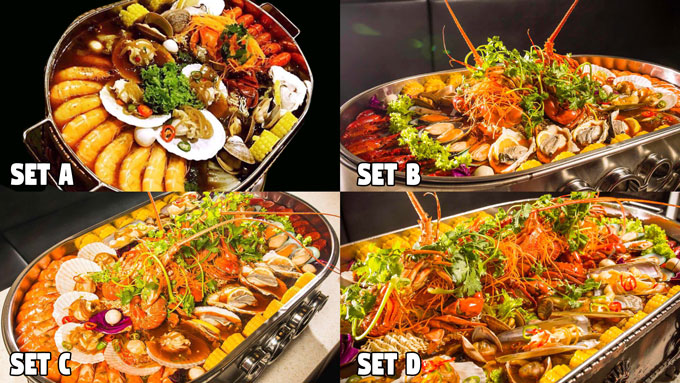 Picture Credits to Jiu Gong Ge Hotpot. What if I can't find so many people for bomb tower! You can also try their signature seafood platters. The prices are Set A $58++(2 pax), Set B $118++(3-4 pax), Set C$198++(5-6pax) and Set D $238++ (7-8 Pax).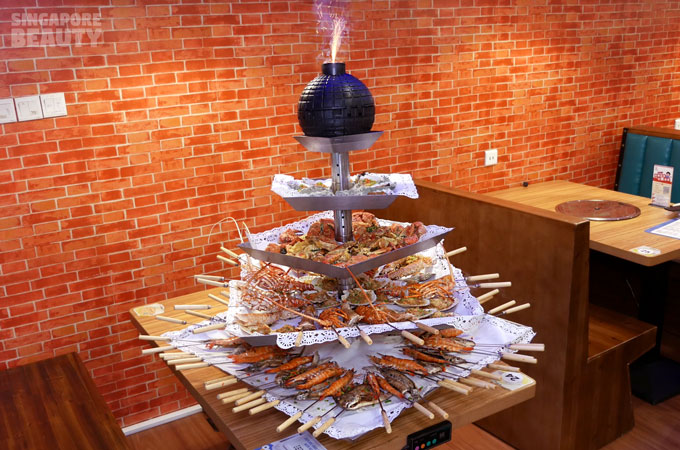 This 5 tier BBQ seafood tower is really over-the-top for the variety of seafood it has. Although it is named 5 tier BBQ seafood bomb tower, it actually houses several type of seafood cooked in a variety of ways, from steamed to deep fried.
There is something for everyone in this tower. This tower is under the 2017's promotional price of $399++ (U.P $499++) (8-10 pax). They also have a tower for 5-6pax at $339++. You need to pre-order this tower at least 1 day in advance and limited to 3 sets per day. Do make your reservation soon as the festive seasons are around the corner and slots are fast taken up for this 5 tier BBQ seafood tower. For corporate events, special arrangements can be made. Do call their hotline for more details.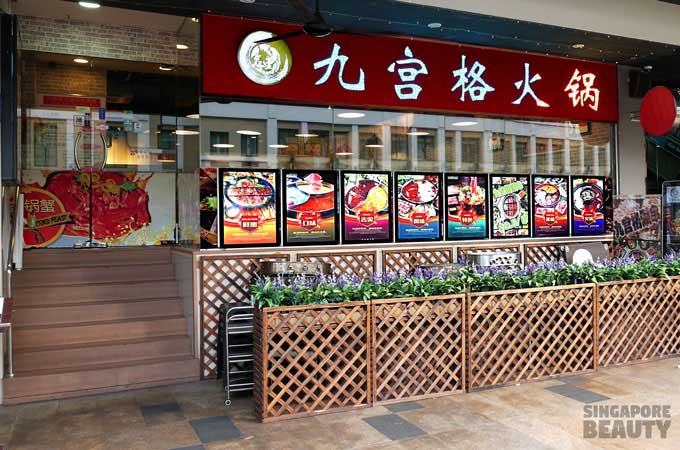 See you at Jiu gong ge hotpot (九宫格火锅)!
Bomb Tower Pricing:
Set A $339++ 5~6 Pax
Set B $399++ 8~10 Pax
Location:
470 North Bridge Road #01-02/01-03/01-04, BUGIS CUBE, S188735
Opening Hours:
Open 11.30 am to 2am Daily
Reservation:
63383405
Brought to you by Jiu Gong Ge.