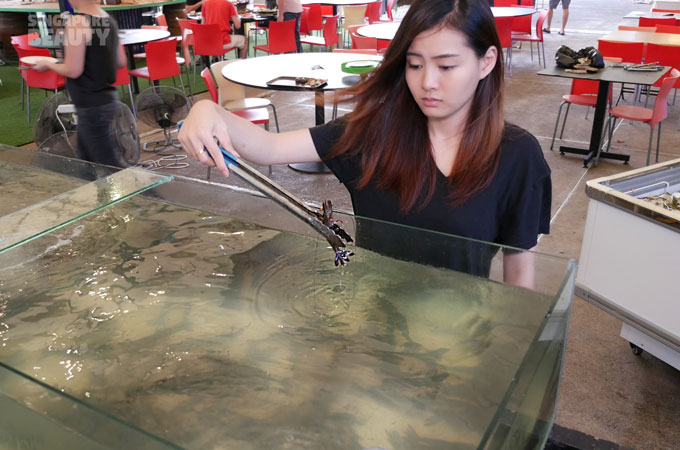 The Three Peacocks has added free flow live oyster, live tiger prawns, live mud crabs, greasy grouper fillet, Italian pasta live station, hand stretched pizza, BBQ-for-you station, free flow Wagyu beef steak, garden salad, Korean fried chicken, Japanese Yakitori, local delights and meat cum salad station to its existing buffet menu. Premium add-ons such as snow crab legs and lobster tails are also available now.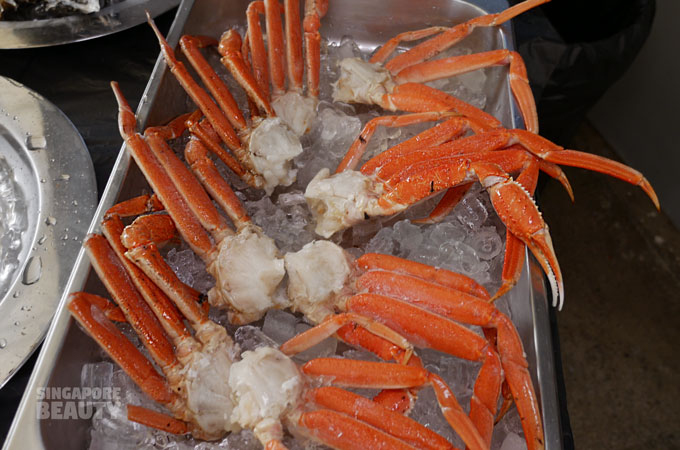 Look at these snow crab legs! These are premium add-ons for the bbq. You really do not need a reason to pamper yourselves these days. If you want them, just add them! These are going at $18+ for a cluster of snow crab legs (approx 4 legs, 1 claw and body). Order your garlicky lemon melted butter snow crab legs at the live cooking station.
How about some BBQ lobster tails at only $10+ each?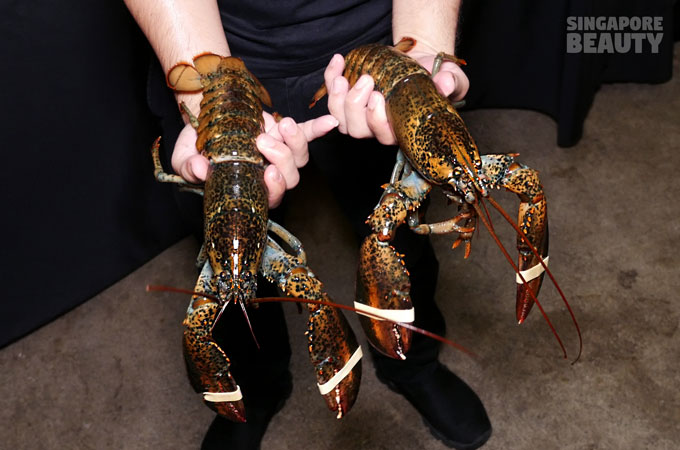 Or a whole live Boston lobster for $28+ ?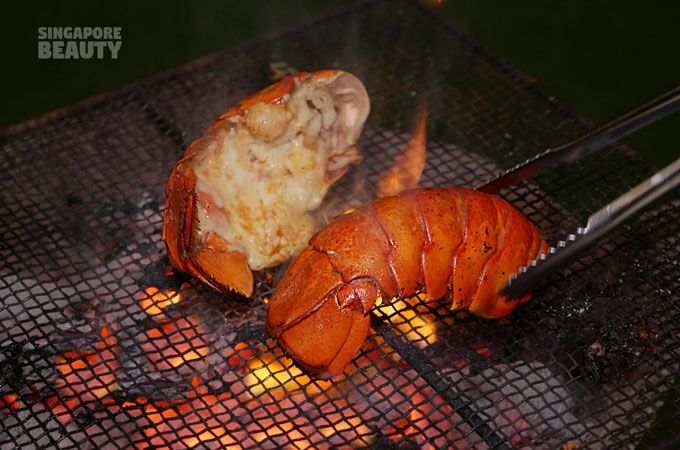 BBQ the lobster tail cut side down till the shell turns a brilliant orangey red.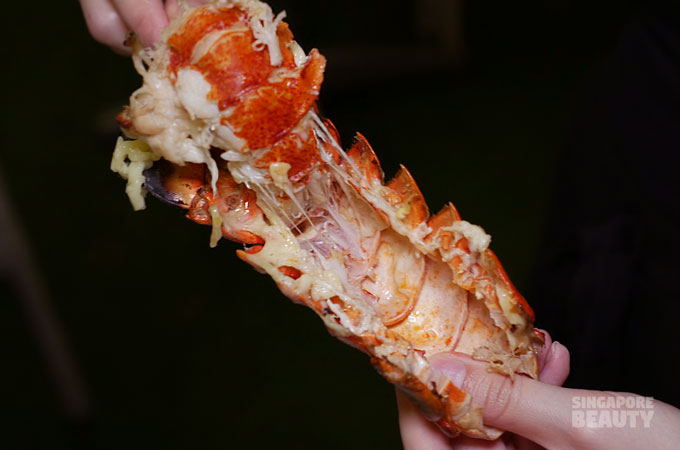 Flip over the tail, sprinkle shredded Mozzarella cheese, salt and pepper for a sweet succulent lobster flesh.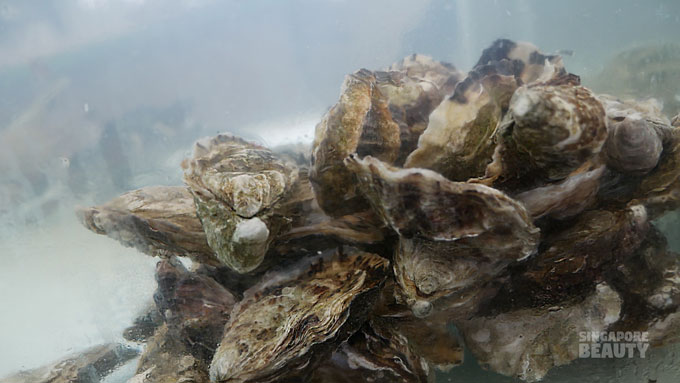 Free flow live oyster and shucked for you service.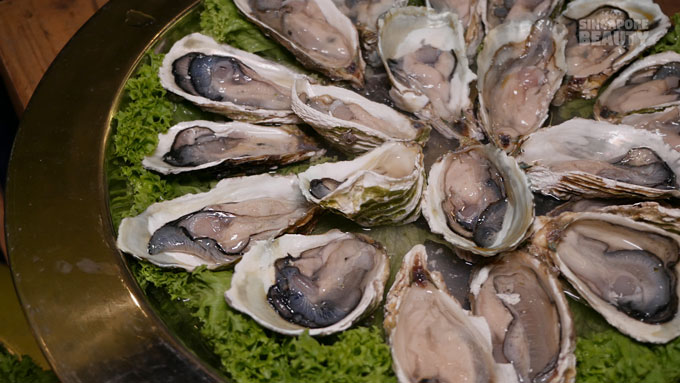 Create your dressing for the oysters from French style in classic vinaigrette with a zap of Tabasco or au natural with a drizzle of freshly cut lemon wedges.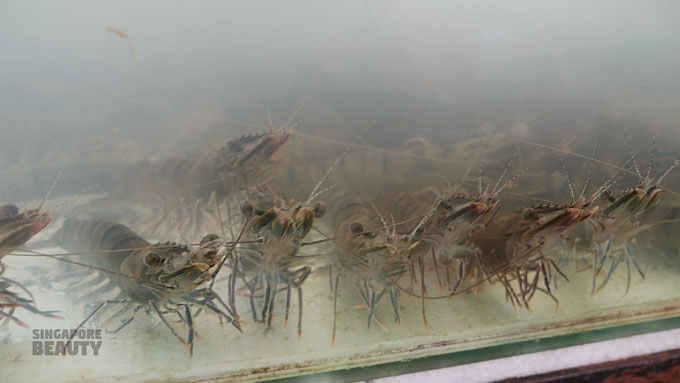 Catch your own live tiger prawns straight from the tank.
These tiger prawns are of a good size and best grilled to a crunchy perfection.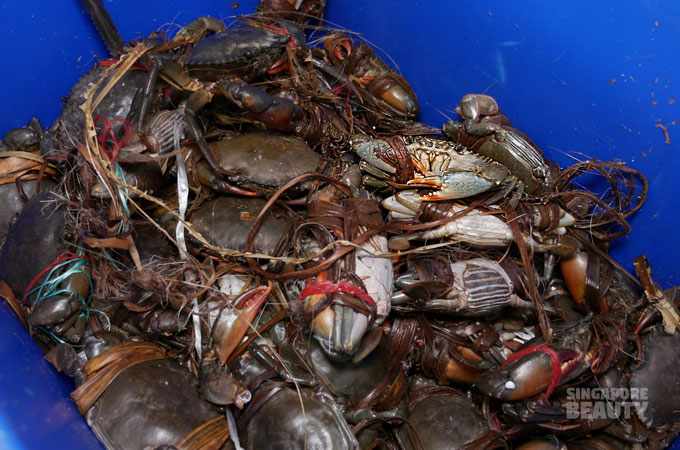 Unlimited live mud crabs for you to choose.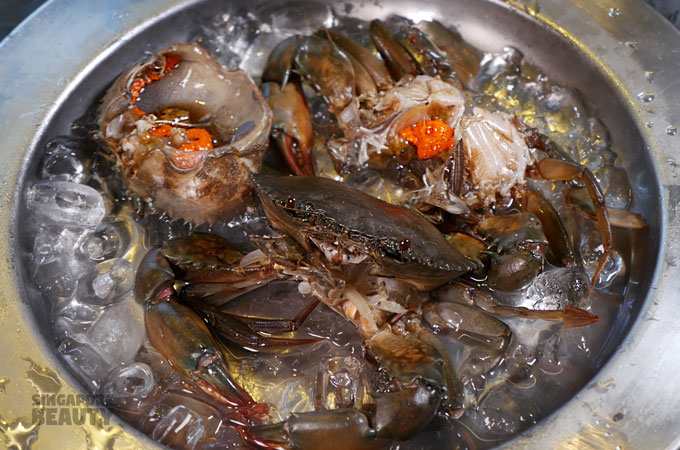 We found some yellow roe crabs and red roe crabs. Good news for those who loves roe crabs.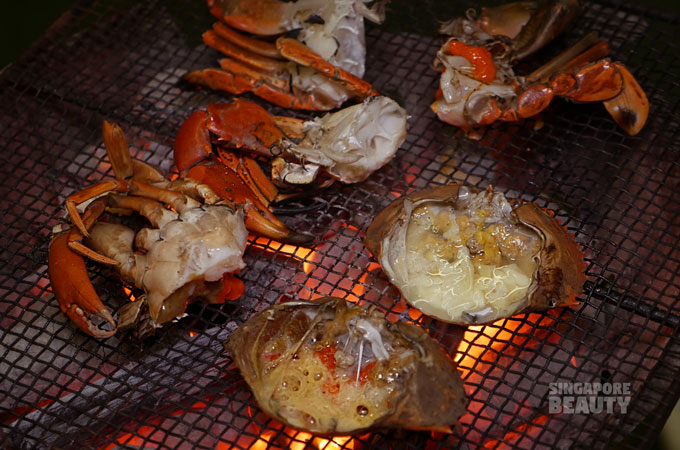 These are creamy innards in a pool of sweet briny juices.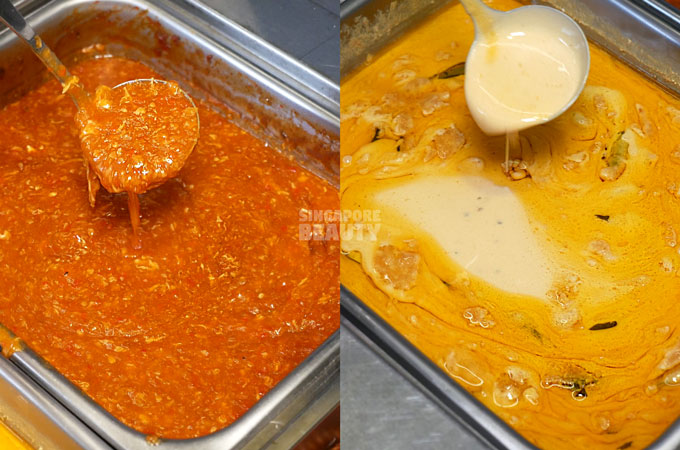 Thinking of chilli crab and salted egg crabs? Pile on loads of these free flow sauce on your crabs!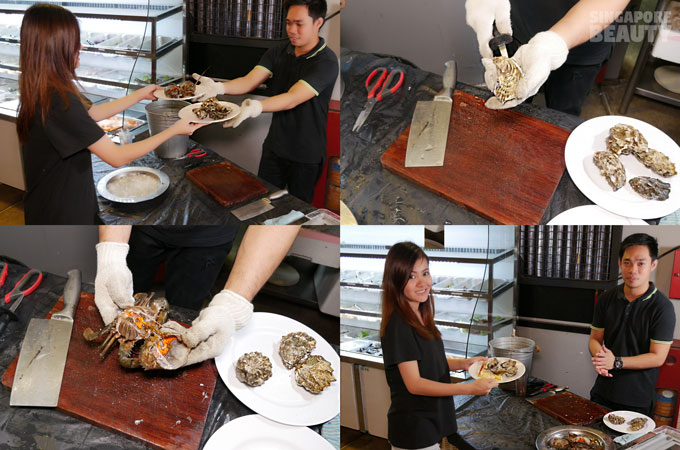 The Three Peacocks has added a hands-free-experience for customers by providing a service station for live crab dispatching and oyster shuckling. Making the BBQ experience fuss free and enjoyable.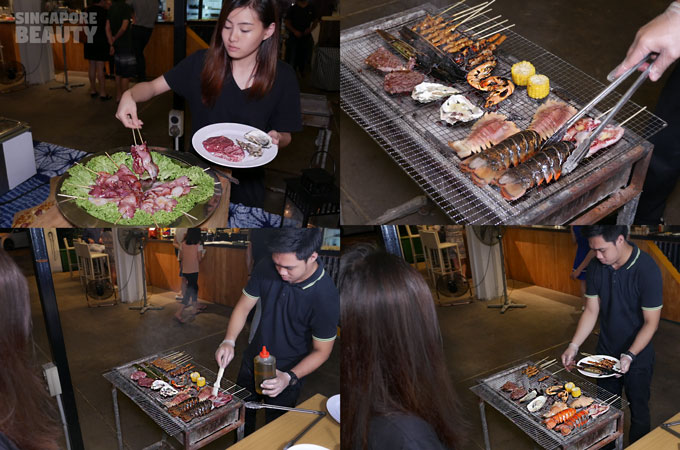 Want more? Bring your meat to the BBQ for-you live station, sit back and get your selects grilled for you, the way you want it.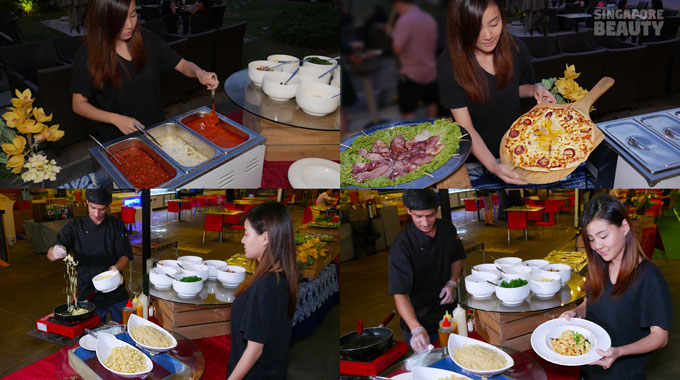 You can also order your Italian pasta cooked on the spot at the live station. Get your pasta fix here, available in Bolognese, Classic Alfredo, Marinara or Aglio Olio style. Hand stretched Italian thin crust pepperoni pizza are included in the buffet too! The variety of pizzas and types of pasta varies daily.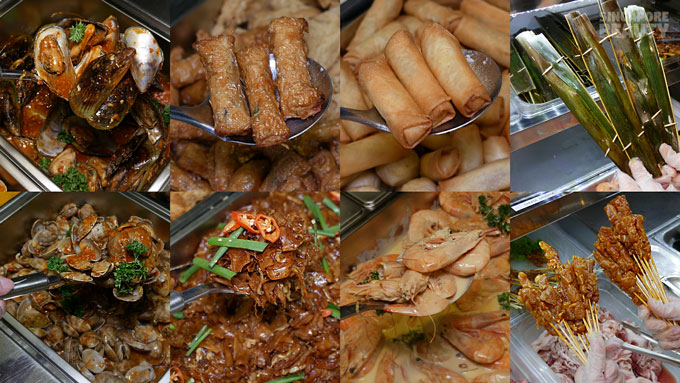 How about some local delights?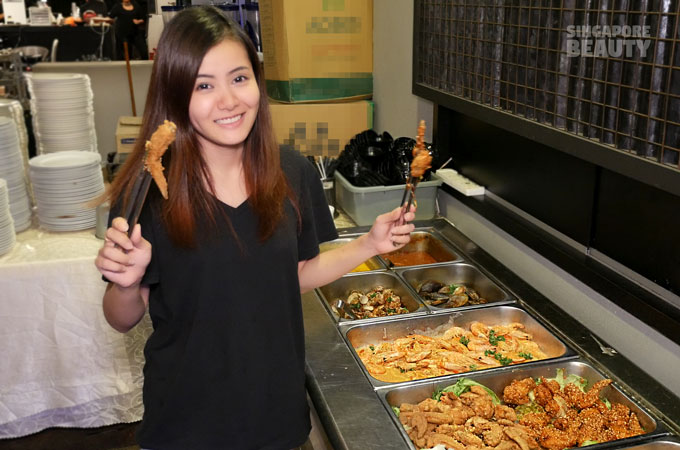 Chicken Satay, Otah, spring rolls, ngoh hiang, salted egg prawns, sambal mussels, stir fry chilli lala, fried kuey tiao, Korean fried chicken wings and many more. Varies daily.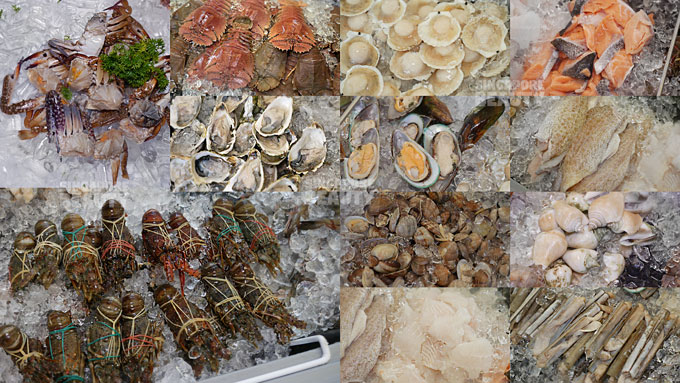 Choose your baby lobsters(seasonal), greasy grouper fillet(seasonal), slipper lobster, dory fish fillet, salmon fillets, bamboo clams, flower clams, gong gong, mussels, scallops, squid sticks and many others from the iced bed.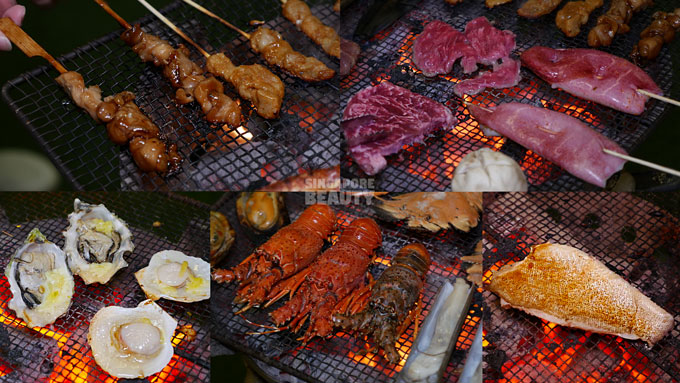 Let's grill! BBQ melty wagyu steak, cheese topped oysters, briny roe crabs, chicken yakitori, squid on skewers, greasy grouper fillet slathered with ABC BBQ sauce, baby lobsters, lemon garlic butter scallops, which one is your favourite?
Create your own sauce from this condiments counter. Parmesan cheese, salt, pepper, sesame sauce, mushroom sauce, Korean chilli sauce, sweet chilli sauce, Korean soya, sambal tumis, classic satay sauce, chicken satay sauce, classic vinegar, mala sauce, light soya sauce, Sichuan chilli sauce, garlic chilli, ABC bbq sauce, Dijon mustard, garlic, chilli padi and Tengjiao sauce.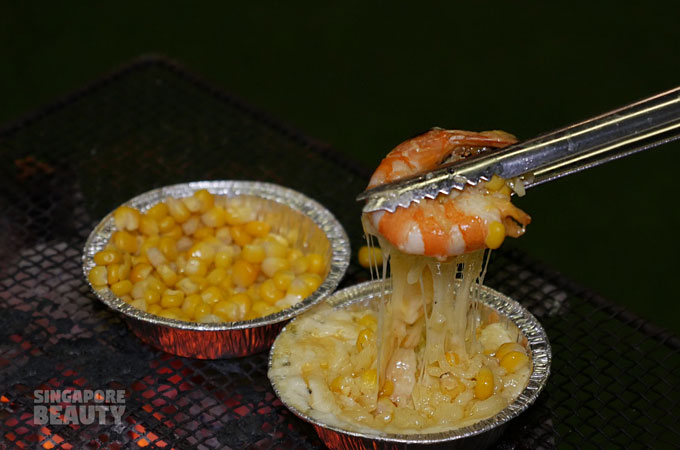 Free-flow cheese and corns at the counter! Melt this over the hot white coals and get the cheese pull which is a joy to eat and watch.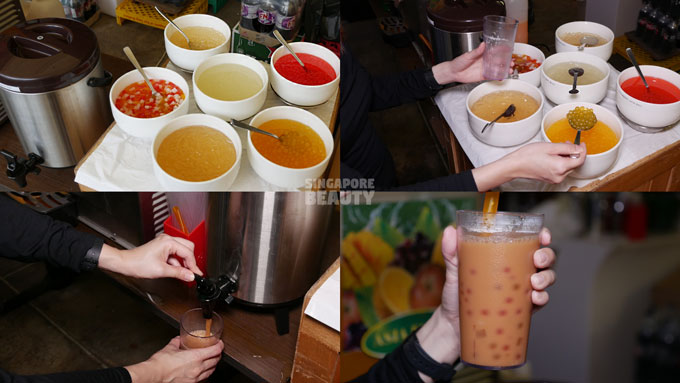 Top up $3.99 for free flow iced Thai milk bubble teas with strawberry juice balls, orange juice balls, aloe vera jelly, Aiyu jelly and coconut jelly.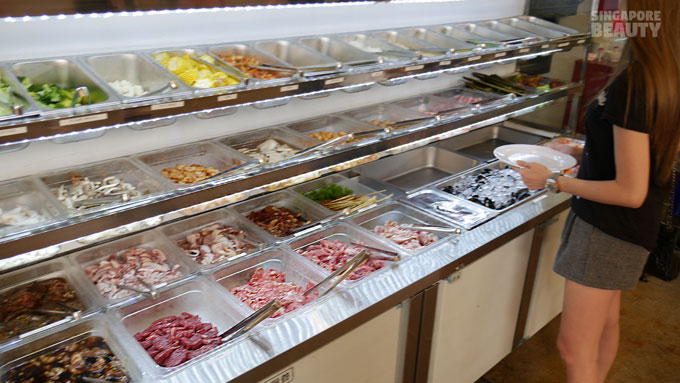 You will be spoilt for choose at the meat cum green stations.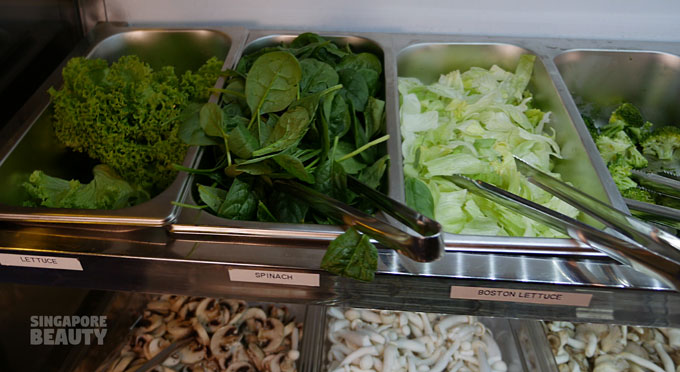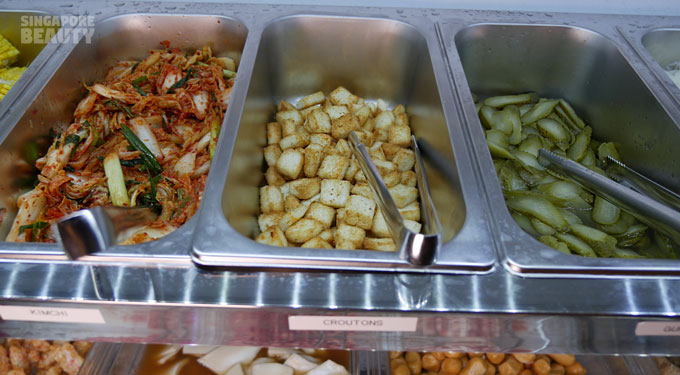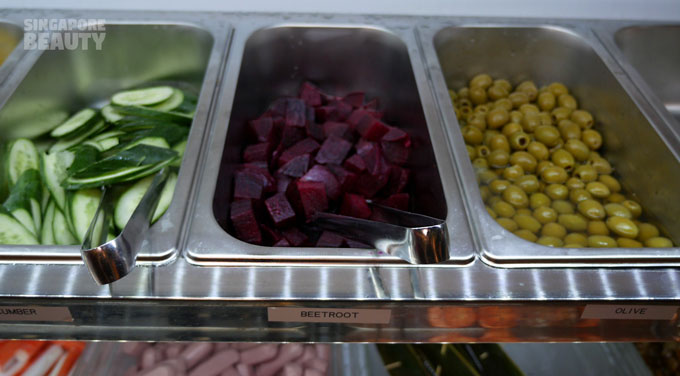 Create your own garden salad at the meat cum greens stations. Available are baloney, hard boiled eggs, olive, beetroot, Japanese cucumber, lemon slices, ginger, pickles, gherkins, croutons, kimchi, corn cob, feta cheese, steamed broccoli, Boston lettuce, spinach, lettuce, swiss mushroom, white Shimeji mushroom, oyster mushroom, ready-to-eat mussels and prawns.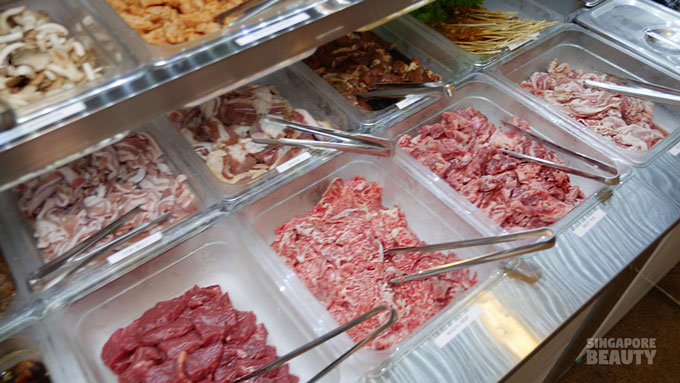 For meat lovers – Korean beef short plate, chicken bulgogi, black pepper chicken, marinated beef, ribeye, pork belly, bacon, wagyu beef, beef ribs, Korean pork collar, chicken satay, beef slice, yakitori, cheese sausage, chicken cheese balls, crab sticks, sausage and yakitori, seafood nuggets and mocked abalone.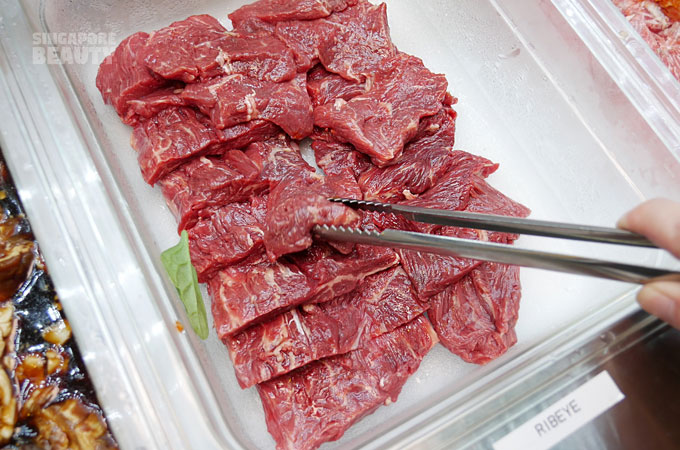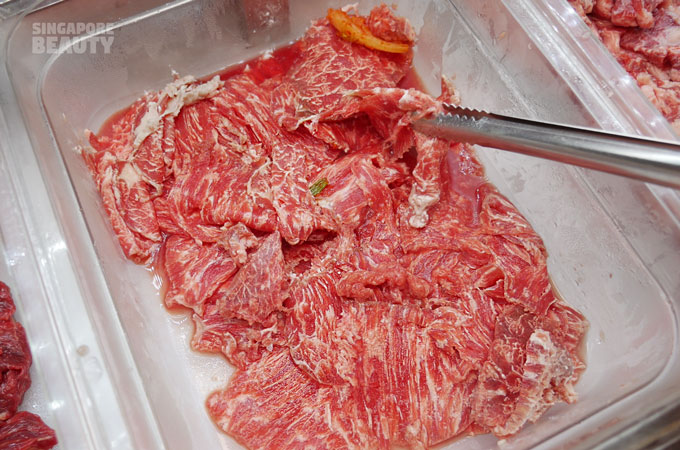 Melts in your mouth wagyu beef slices and ribeye selects are perfect for roasting. All you need is a good rub of butter with a dash of salt and pepper to bring out the best flavours in it. These are free-flow too!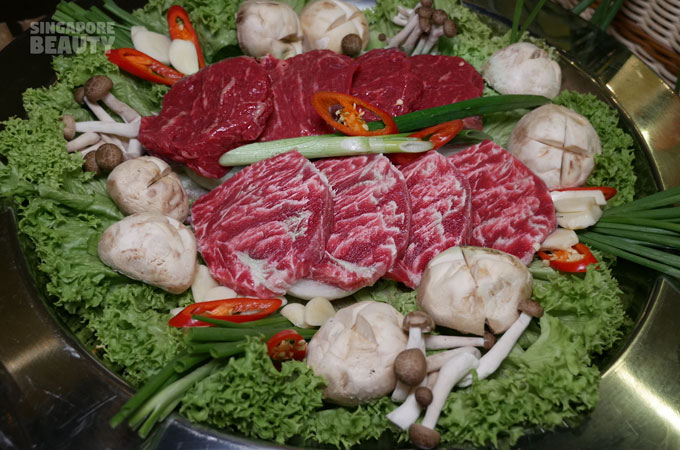 How about some wagyu beef steak?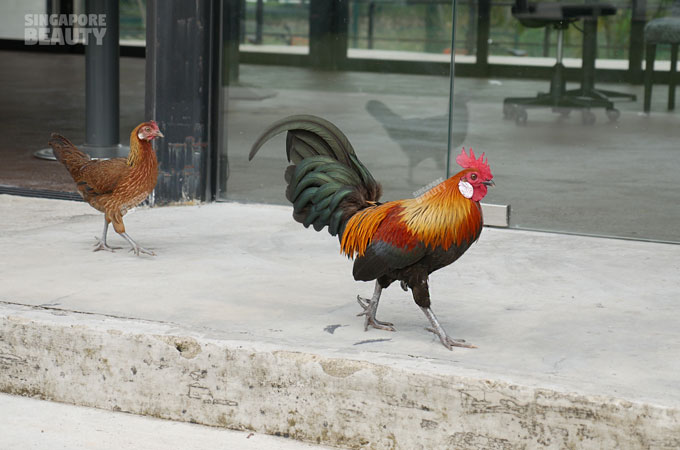 Besides excited diners and the great natural ambience, occasional sightings of free-range gamecock, hen and peacocks gracing the grounds of the Three Peacocks are something to look forward to.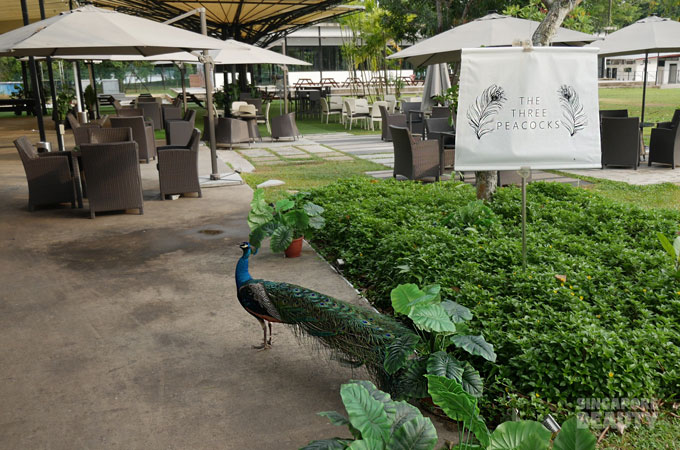 What is the next thing that dining with nature has to offer? A wild hog or an iguana?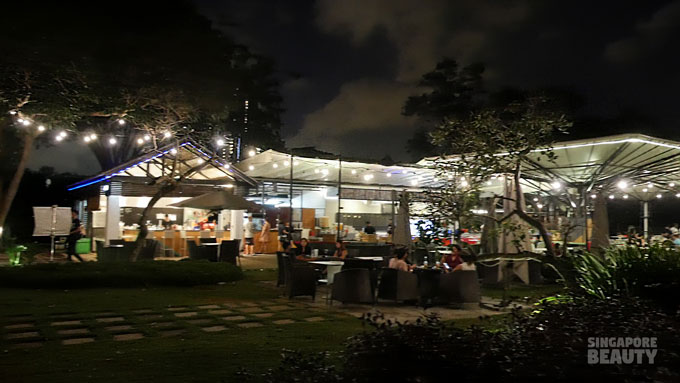 This buffet is waiting for you, time to feast. More exciting things are coming your way soon at the Three Peacocks!
Buffet Price and timing:
Daily Buffet at $41 + per head.
Monday – Thursday: 5pm – 12am
Friday & Saturday: 5pm – 1am
Sunday: 5pm – 12am
Location:
8 Port Rd, Singapore 117540
(close proximity to Labrador Nature Reserve)
15mins from Labrador MRT station.
If you are driving, parking is free and lots aplenty.
Non-buffet Operating hours
5pm till 1am Daily
Reservations
(WhatsApp Only) (+65) 98511802
Brought to you by The Three Peacocks