Are you ready for unlimited Grilled Fish Buffet marathon with unlimited sides and appetisers at an unbelievable price of $18.80+ (Mon-Thurs), $22.80+ (Fri-Sun, Eve & PH) right in the centre of Chinatown?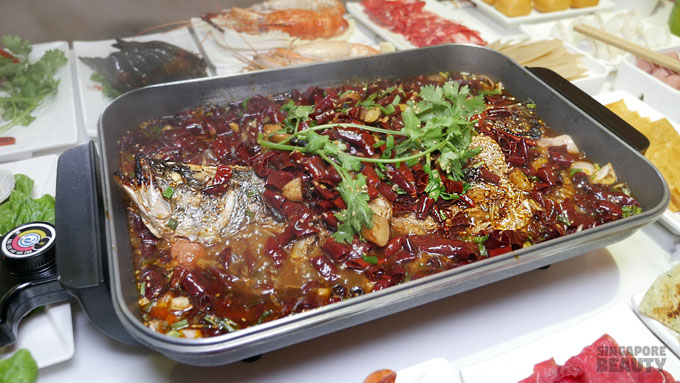 These grilled sea bass are cooked-to-order under 2 minutes with a commercial pressure oven. Imagine feasting into unlimited servings of these delicious grilled fish at no additional cost.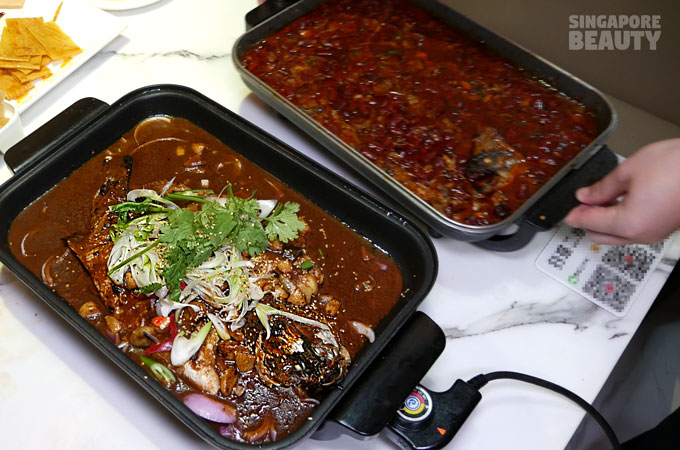 Every fish ordered is served on a fresh tray of spices and broth. This is an authentic grilled fish buffet marathon for fish lovers, meat lovers as well as seafood lovers! You are welcomed to eat as many fishes as possible to your heart's delight!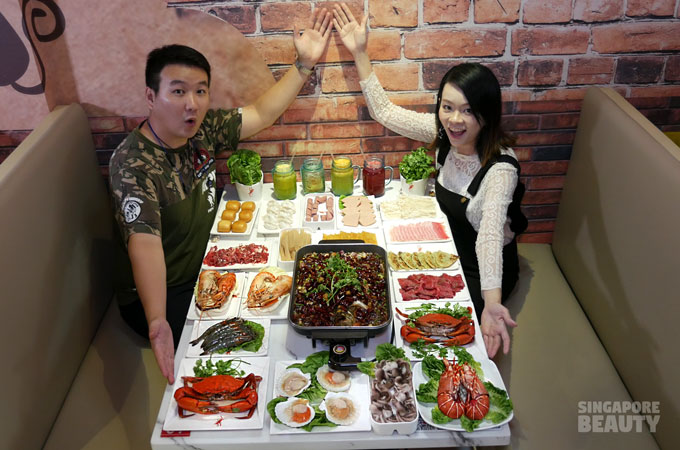 According to the chef, the cook time and the size of the fish selected are crucial to getting the perfect wow factor grilled fish.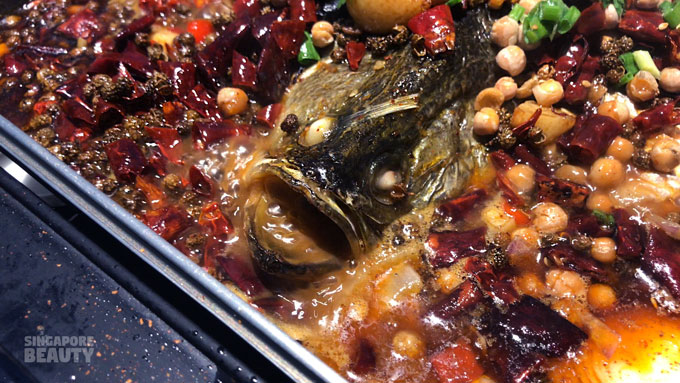 Fragrant Spices Grilled Fish
You can see the robust broth bubbling through the mouth of the fish. The butterflied fish is savoury and fragrant as it soaks up the flavour from the intense broth. The flesh of the fish is infused with these spices. The butterflied fish also makes it a breeze for all ages to consume.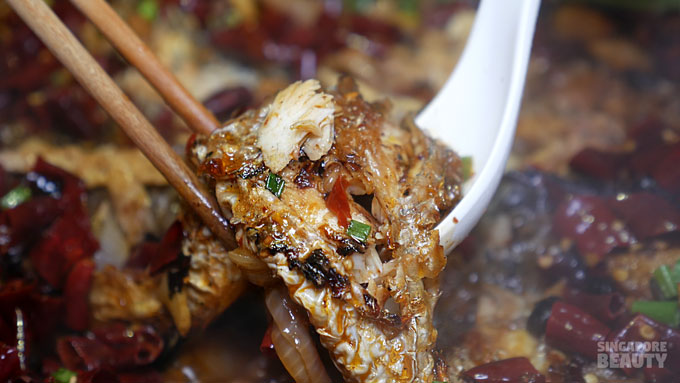 The perfect grilled fish with tender, juicy flesh and gelatin like fish skin. Served with a generous savoury topping of roasted garlic, crunchy chilli pepper, toasted chickpeas, sweet parsley and caramelised onions. All these ingredients are sautéed in hot chilli oil and simmered in broth with the freshly grilled fish. Eat with the spices to get that oomph!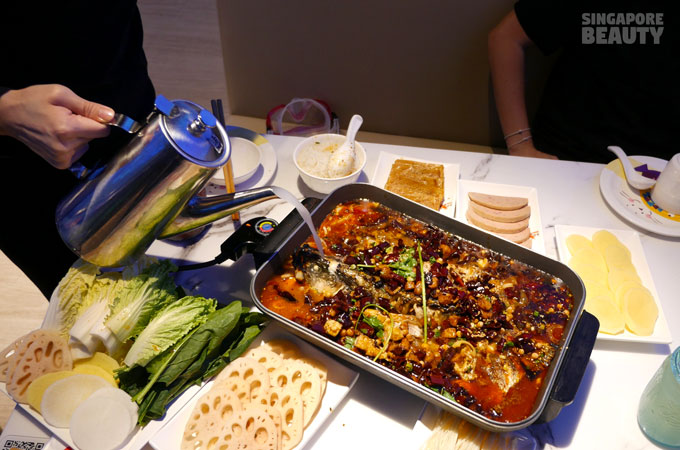 The broth is refillable too, so slurp to your heart's content.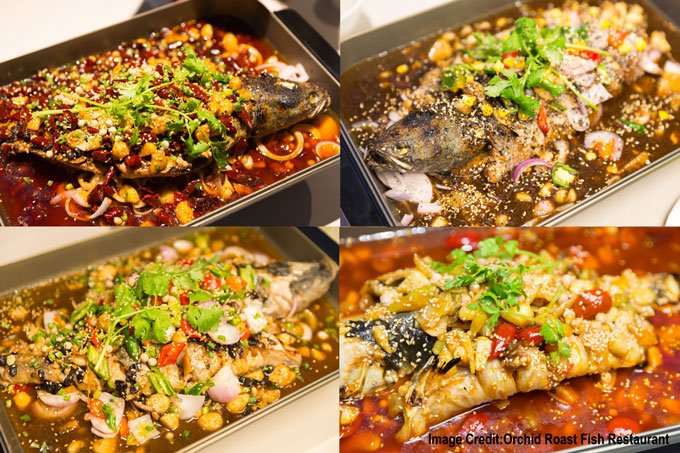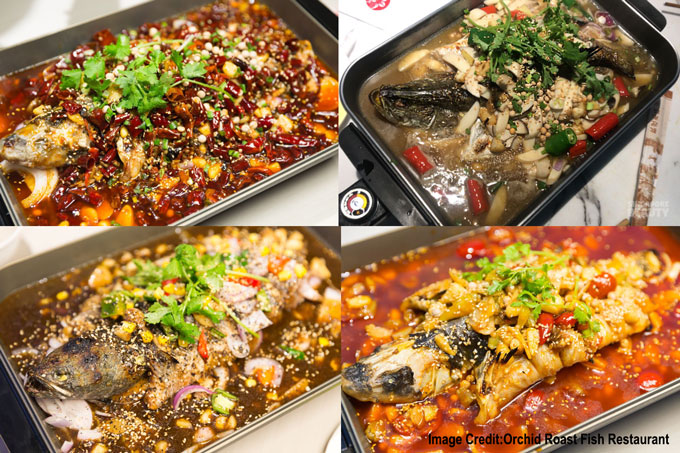 There are 9 different flavours you can choose- fragrant spices, special recipe sauce, fermented soya bean sauce, pickled chilli, original spicy, signature extra spicy, chicken broth with mushroom, Sichuan style sauerkraut and black pepper sauce – to delight your taste buds.
We suggest to start with the mushroom chicken broth flavour and move on to the more intense flavours to best enjoy this grilled fish buffet.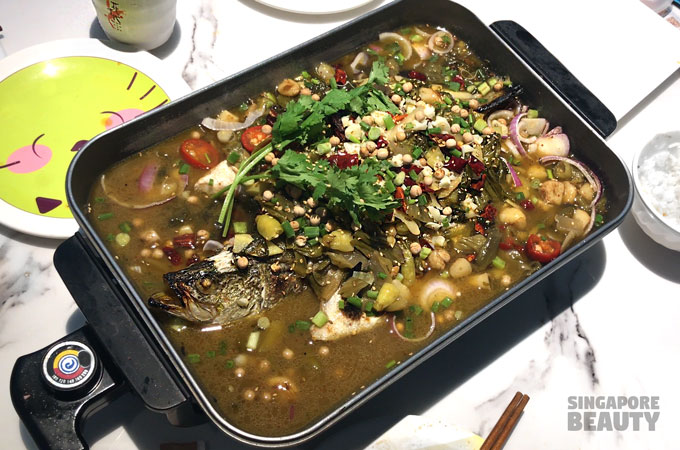 Followed by the Sichuan style sauerkraut flavoured grilled fish and to the finale – fragrant spices grilled fish.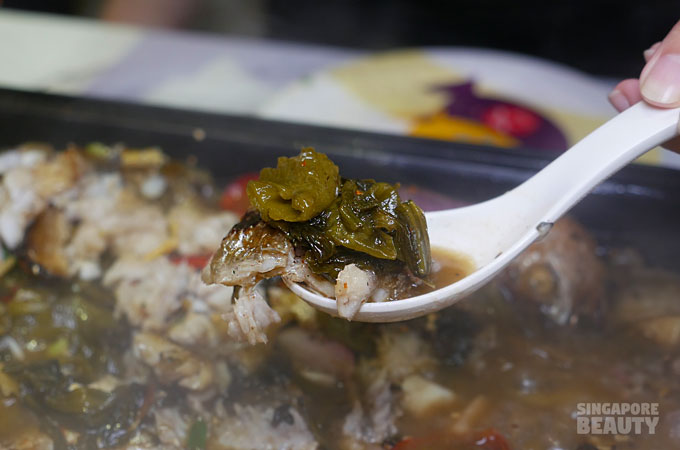 Top the flesh with the Sichuan style sauerkraut (like pickled vegetables). This briny cabbage whets your appetite and kick-start your engine for the feast!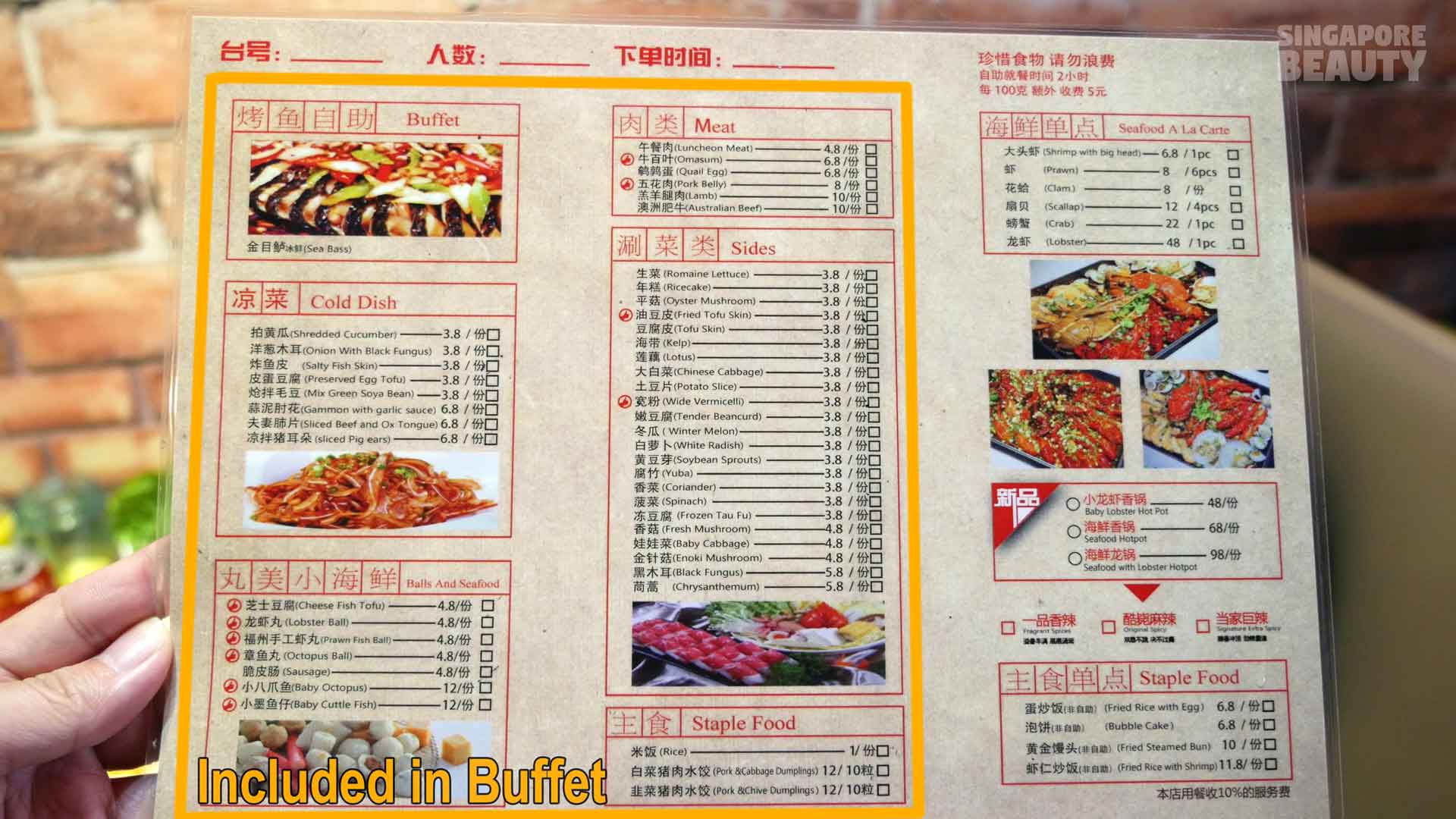 There are a total of 47 side dishes that is included in this grilled fish buffet! You may order these to add into the flavourful broth at no extra cost.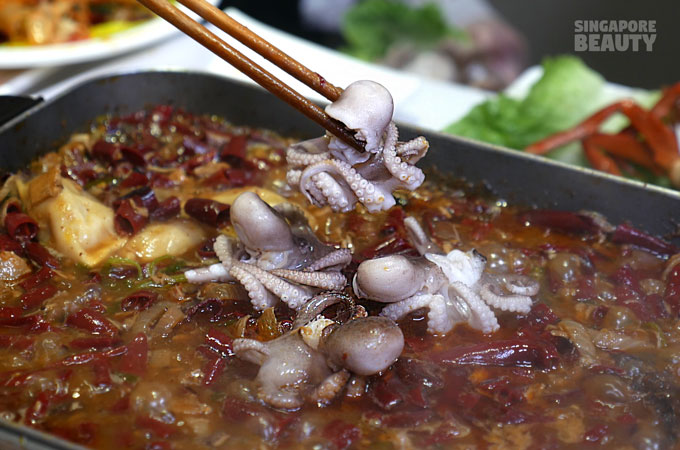 Included in these 47 side dishes are appetizers, seafood (baby octopus and baby cuttlefish), meats, handmade dumplings, vegetables, fungus, rice and surimi.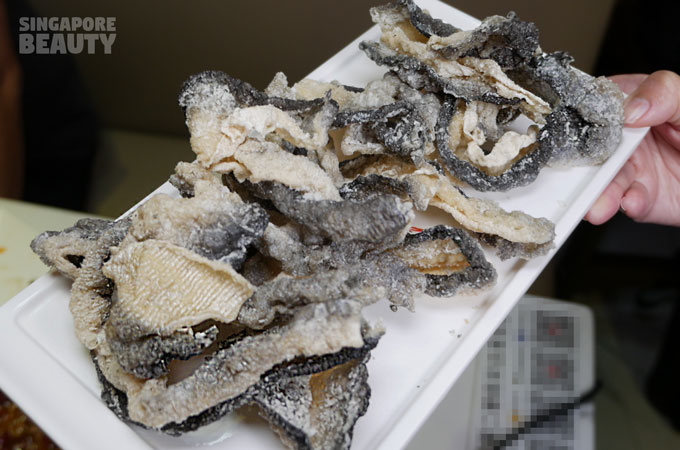 Appetiser (cold dishes) such as crunchy mini cucumber in spicy vinegar dressing, black fungus salad, crispy fish skin, century eggs with silky tofu, green soya bean salad, poached pork with garlic, braised Sichuan beef, beef tongue and crunchy pork ear salad.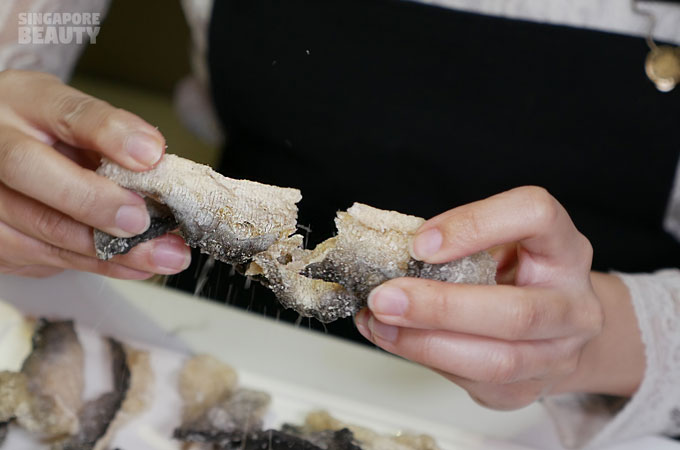 Free flow crispy fish skin is great news for crispy fish skin lovers. So crispy you can hear them crack!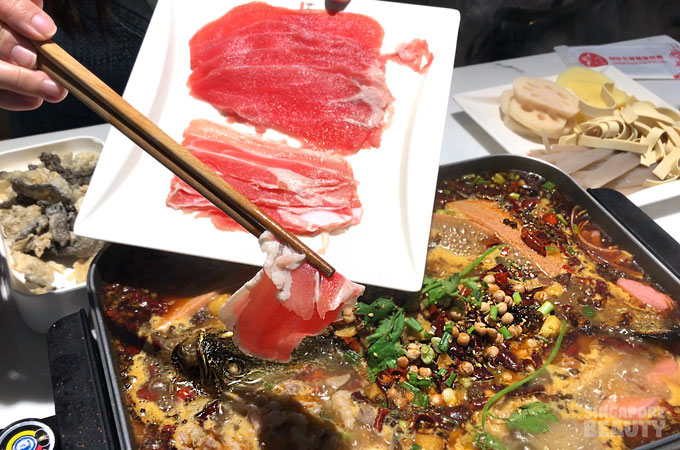 Meats included are lamb slices, pork belly, Australian beef slices, beef omasum, luncheon meat and quail egg. These meats are great as shabu shabu.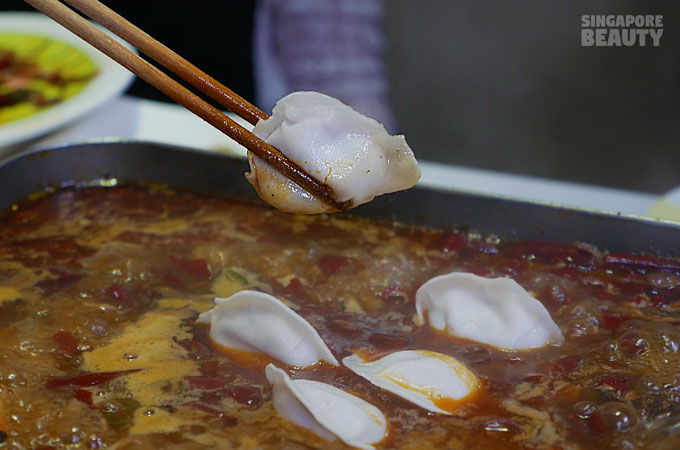 Orchid Roast Fish used to have a Dumpling buffet so this is one of their chef's recommendations. You should try the handmade chive pork and cabbage pork dumplings. The dumplings are plump and filled with juicy minced meat. Do cook these gently as these are tender and delicate.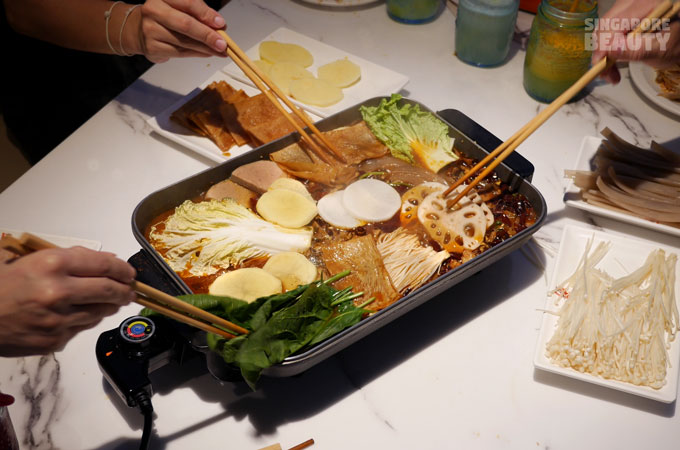 Vegetables includes Romaine lettuce, Korean rice cake, oyster mushroom, fried tofu skin, tofu skin, kelp, lotus slices, Chinese cabbage, sliced potato, potato noodle, silky tofu, winter melon, radish, soya bean sprout, yuba, sweet coriander, spinach, iced tofu, mushroom, baby cabbage, enoki, black fungus and chrysanthemum greens. Surimi included are cheese fish cake, lobster balls, Fuzhou prawn balls, octopus balls and sausages.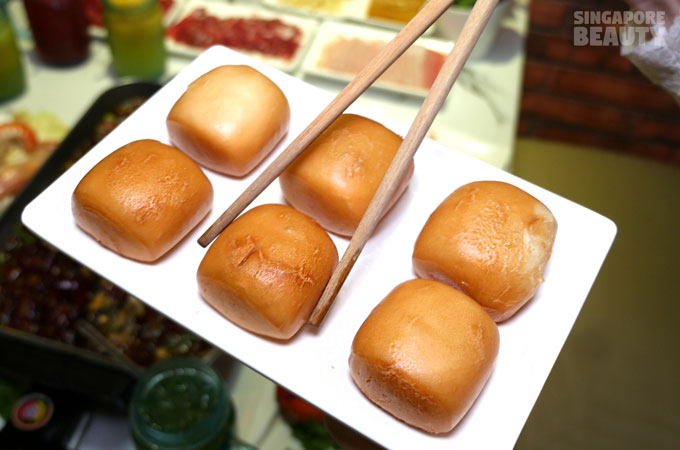 Ala Carte Add-Ons (not part of buffet):
Also if you are a fan of crispy mantou (Chinese buns) and fragrant scallion pancakes, do order some add-ons to dip into the bubbling broth. Crispy golden pillows of cloud-like mantou to soak up the goodness of the spicy broth. Yummlicious.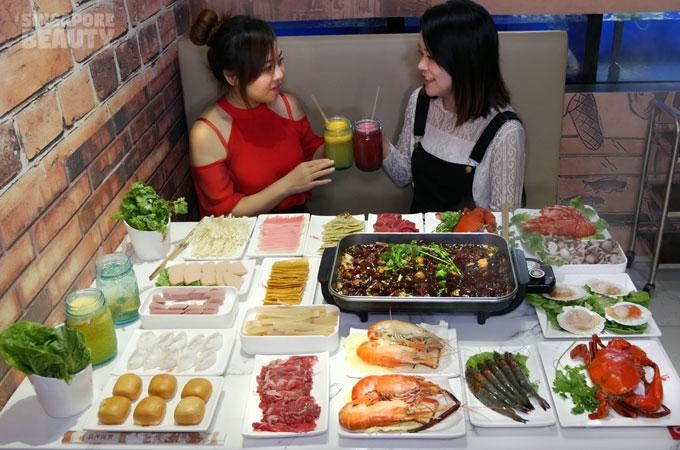 Freshly Juiced Drinks (not part of buffet):
Chill with some refreshing fresh fruit juices after the hot and spicy roasted fish. Available are freshly squeezed fruit juices, water, tea, canned drinks and beers. The price of drinks starts from $1.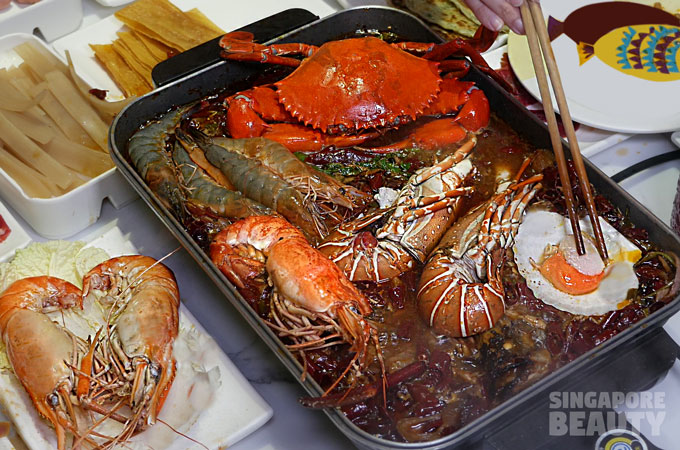 Ala Carte Premium Seafood Add-Ons (not part of buffet):
Orchid Roast Fish restaurant has premium seafood which you can order to add on to the grilled fish buffet.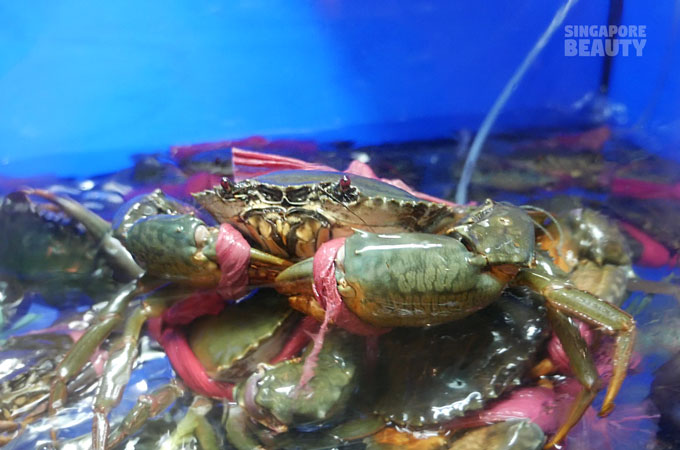 Such as live mud crabs,
giant river prawns with lots of roe and creamy innards in the head, lobsters, crunchy grass prawns and half shell scallops. The price of these seafood starts from $6.80.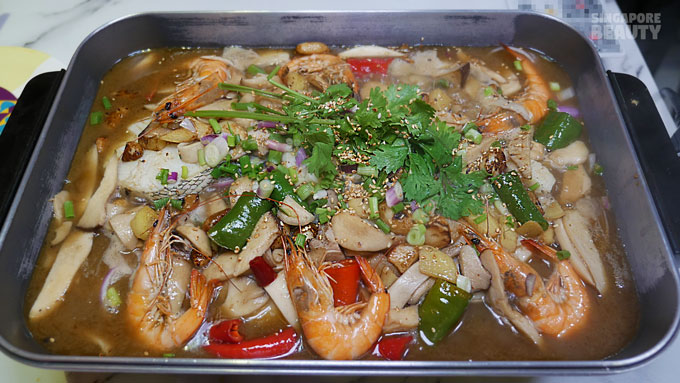 Orchid Roast Fish(花千代秘制烤鱼)restaurant has launched a Cod Fish and Prawn Platter ($68) and this platter is here to stay due to the overwhelming response from their customers.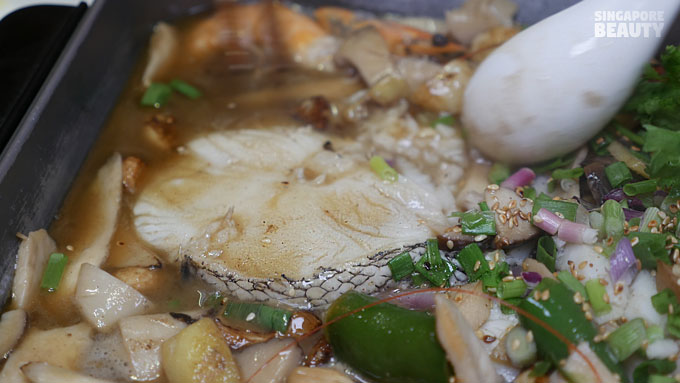 Cod fish steak has a delicate texture that melts in the mouth.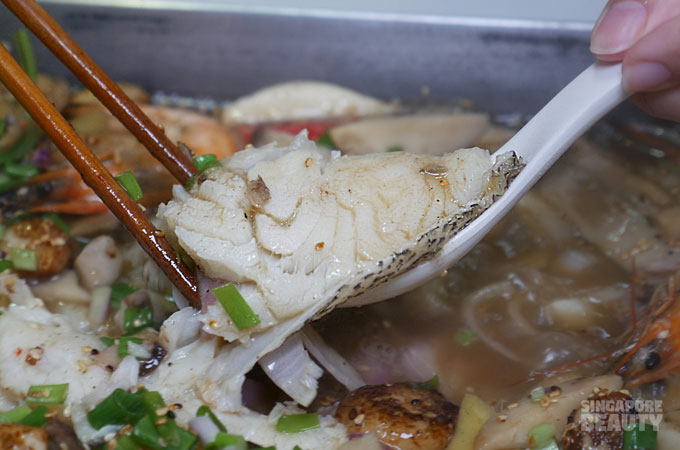 The cod fish steaks are of good size and great for sharing. The silky texture of the king mushroom chicken broth enhances the texture of the cod steak.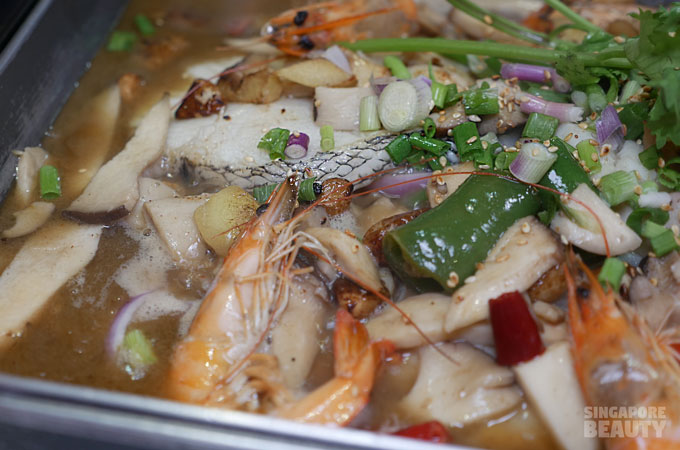 Do order some fluffy steamed rice to go with this mouth-watering cod steak and drizzle on some of the savoury gravy. Enjoy!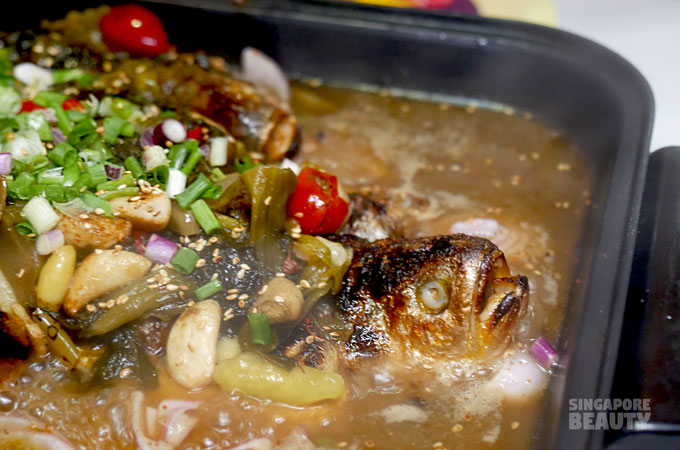 Another newly launched dish is their Yellow Croaker Fish Stew $38.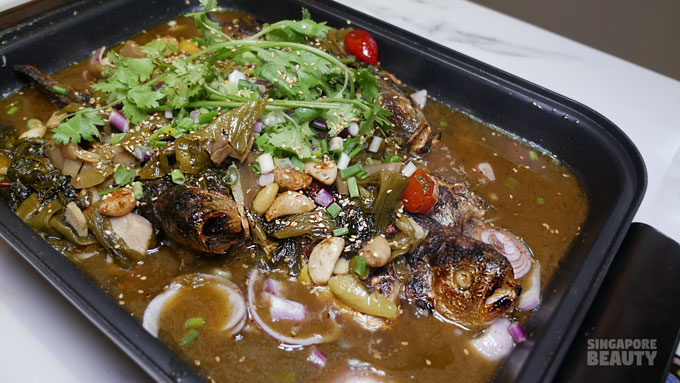 This is a rare fish to find in Singapore and it originates from Fujian China. There are only a few restaurants in Singapore that serves this fish and Orchid Roast Fish restaurant is of them.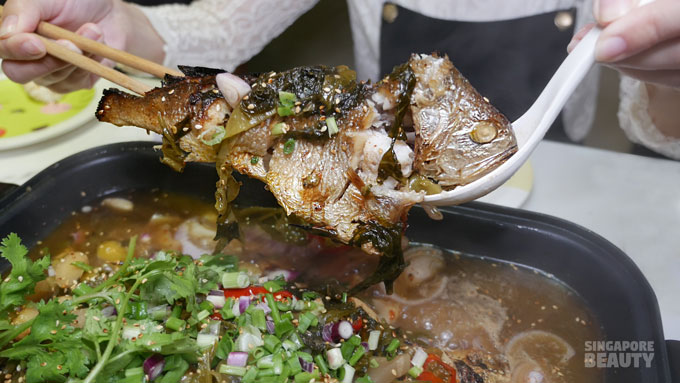 The flesh of this fish has a mild sweetness to it and the flesh is extremely delicate.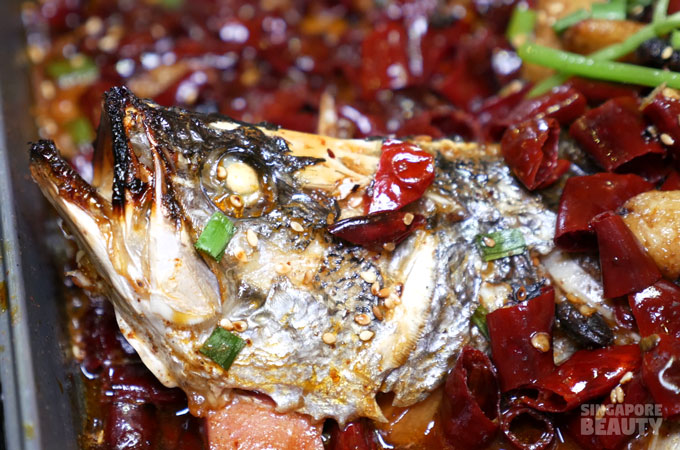 This buffet definitely deserves a big wow with the variety of side dishes and unlimited servings of grilled sea bass in 9 different flavours.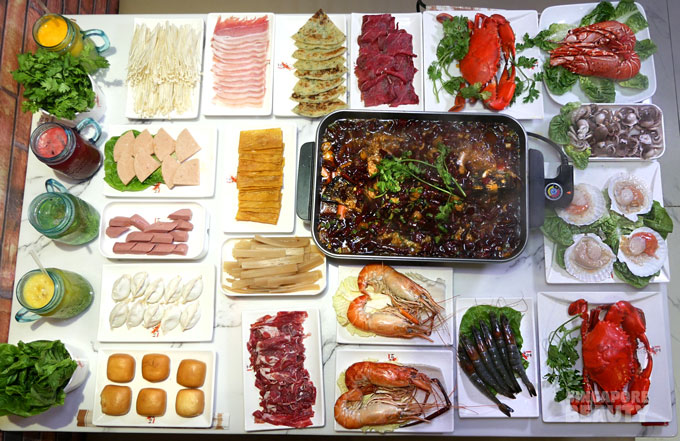 Grilled fish lovers, seafood lovers, meat lovers all needs to be here at least once. For the pocket-friendly buffet prices, I am a happy camper!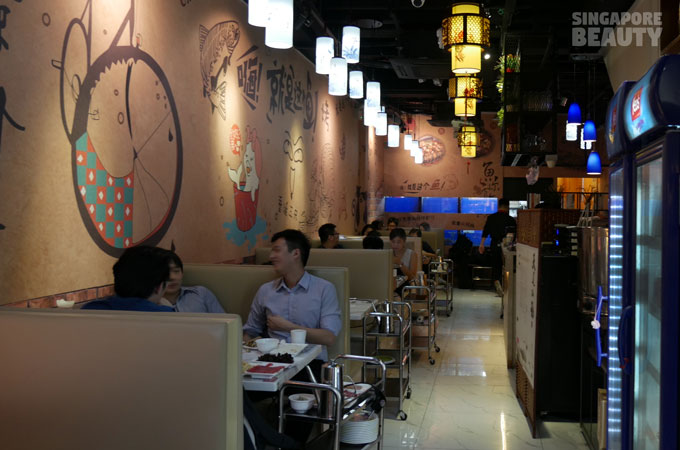 Comfortable cushioned bench seating, chilled environment and whimsical wallpapered interior, this is a great venue for small to large groups.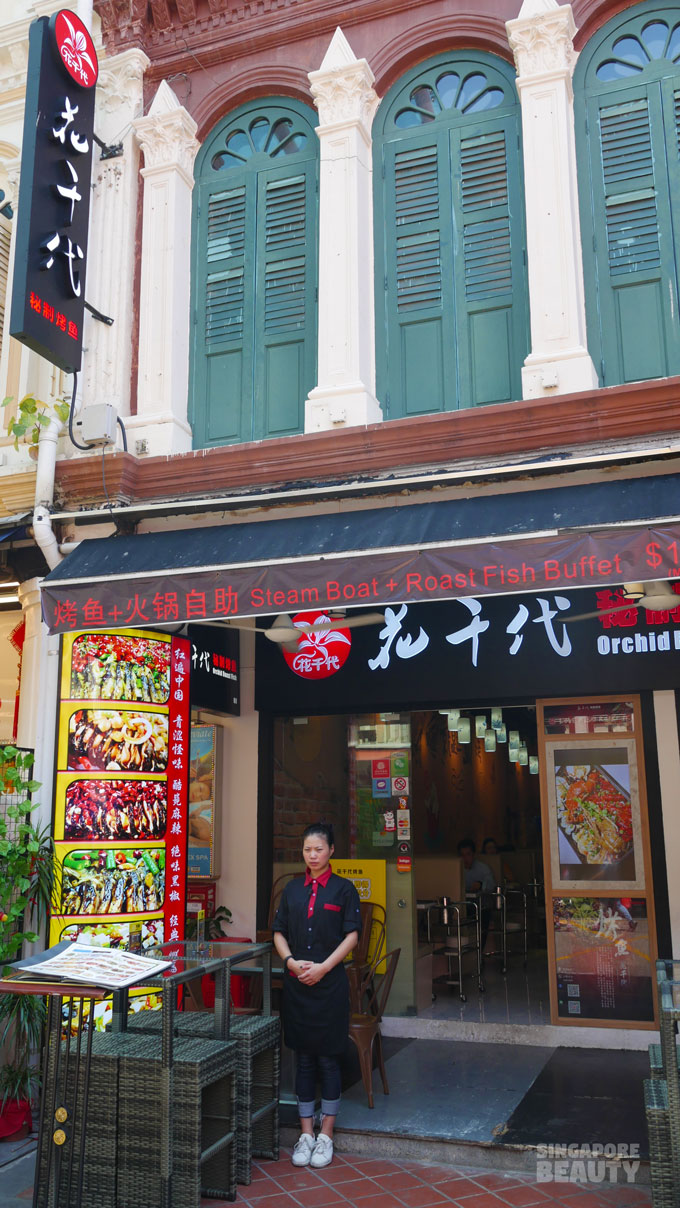 Head down to Orchid Roast Fish(花千代秘制烤鱼)restaurant today.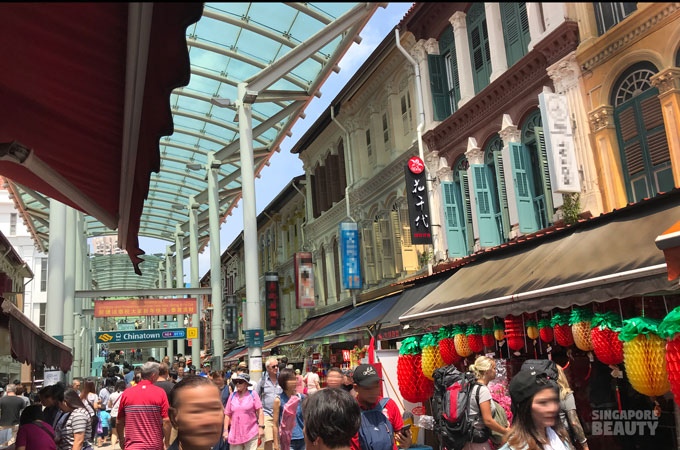 Orchid Roast Fish restaurant is housed in a 3 storey conservation shophouse and is a hidden gem in Chinatown, right next to Chinatown MRT Exit A.
Buffet Pricing:
Till 31st May 2018
Monday to Thursday & Eve Lunch – $18.80+/pax
Friday to Sunday & PH – $22.80+/pax
(2 hours dine-in time limit)
Starting 1st June 2018:
Monday to Thursday & Eve Lunch – $18.80+/pax
Monday to Thursday & Eve Dinner – $20.80+/pax
Friday to Sunday & PH Lunch – $22.80+/pax
Friday to Sunday & PH Dinner – $24.80+/pax
(2 hours dine-in time limit)
Child Pricing:
Age 8 and below – $8.8+/pax
Age 12 and below – $12.8+/pax
Age 4 and below – free
Operating Hours:
Mon-Thurs & Eve 11.30am – 10.30pm
Fri-Sun & PH 11.30am – 11pm
Location:
68 Pagoda St, S059227
Chinatown MRT Exit A (left side)
Restaurant permanently closed.
Reservation:
(+65) 6221 6369
Brought to you by Orchid Roast Fish