Welcome to Orchid Roast Fish restaurant ( 花千代秘制烤鱼) – the first 3D projection restaurant in Singapore that serves roast live fish!
Latest update here: Grilled Fish Buffet
[New Promotion 12Jan – 11Feb2018]
Orchid Roast Fish launches a new roasted fish buffet from Monday to Thursday $19.80++, Friday to Sunday $22.80++. Unlimited refill of roasted sea bass! Free-flow sides to add into the broth, cold dish and dumplings (meat & cabbage/ meat & leeks) and free-flow drinks (homemade winter melon tea, lemon tea & iced plum). You also get free-flow meat such as Sliced Black Pork, Australia Beef and Lamb. Love food & waste not. Wastage is chargeable at $5/100grams.
Located right in the center of Chinatown, next to Chinatown MRT Exit A (left side), this is a must visit restaurant for all tourists and locals alike.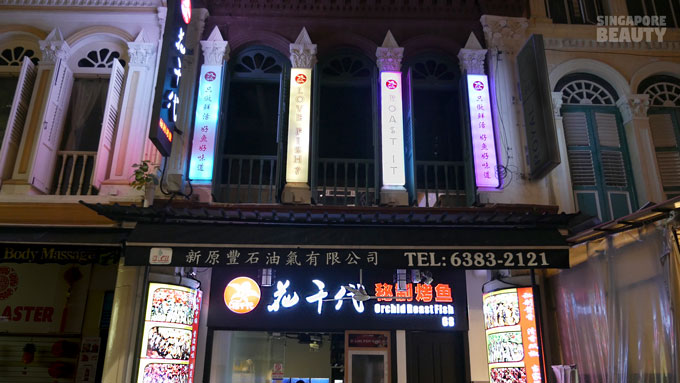 Orchid Roast Fish restaurant is housed in a 3 storey conservation shophouse.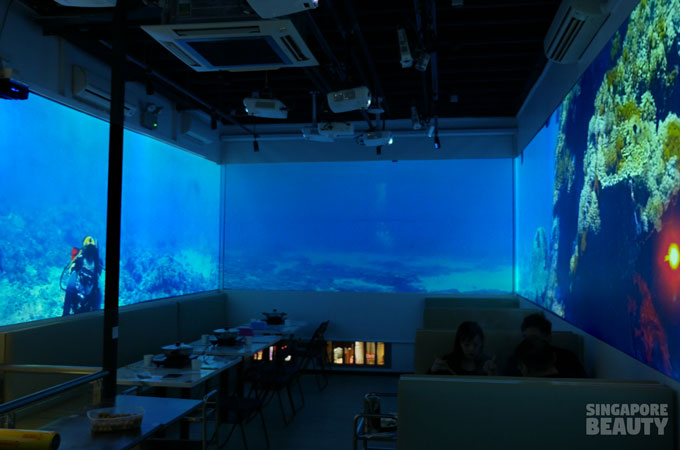 They boost of 2 multi-sensory indoor dining alley and aims to offer every diner an extraordinary dining experience with their 3D wall and floor projection mapping. I wish they have interactive table mapping too.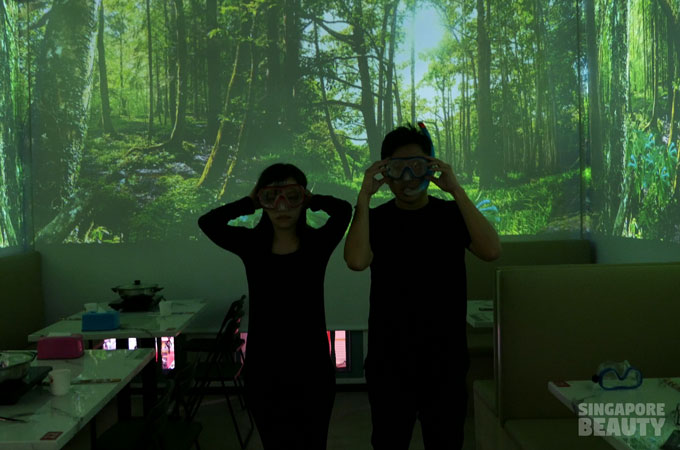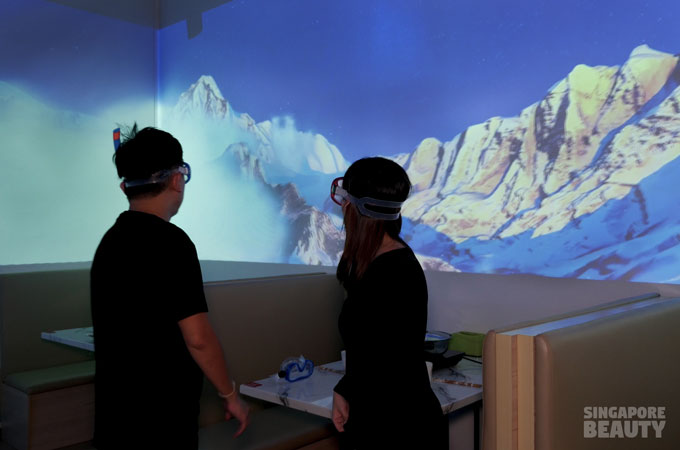 It will become the first multi themed restaurant in Singapore with different theme on each visit. A dazzling dining experience for your senses.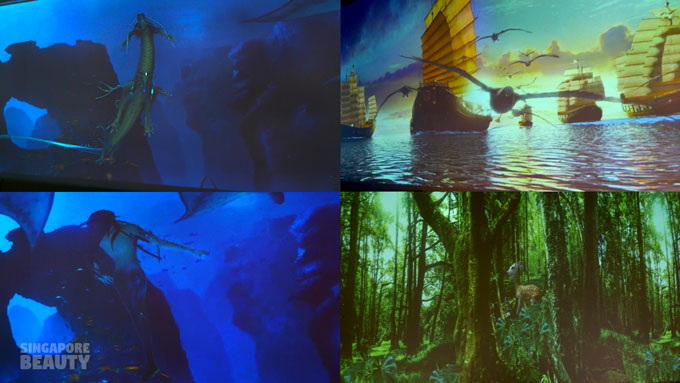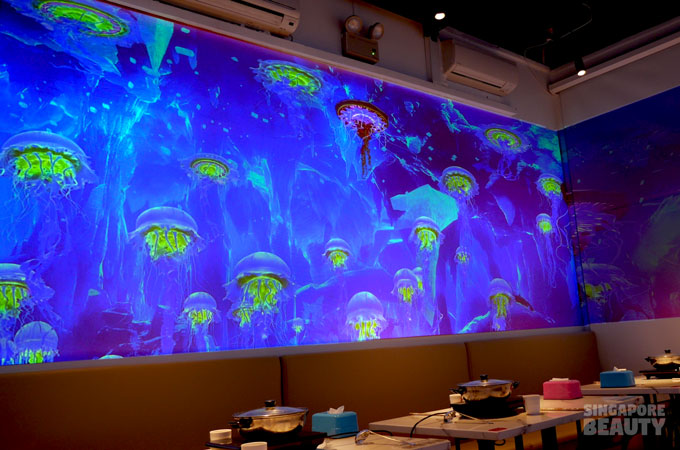 Expect the unexpected – see seagulls soaring above your heads, hear the sound of the ocean, snowing cherry blossom petals, dancing bloom of jellyfish, flying ferocious dragons and even Mermaids swimming by your side – in this theme restaurant.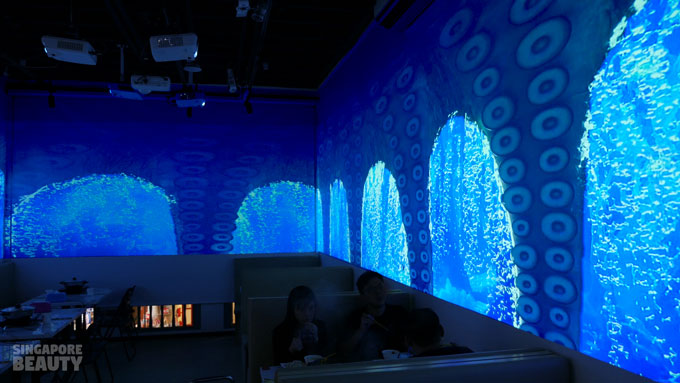 Stay calm if you ever get caught under the tentacles of their giant octopus and expect a refreshing shower of seawater. Get ready your camera for this instagram-worthy moment! This is a collaborative space between art and dining. Using digital technology to recreate virtual dining experience never before possible in reality. The line between reality and virtual world is blurred.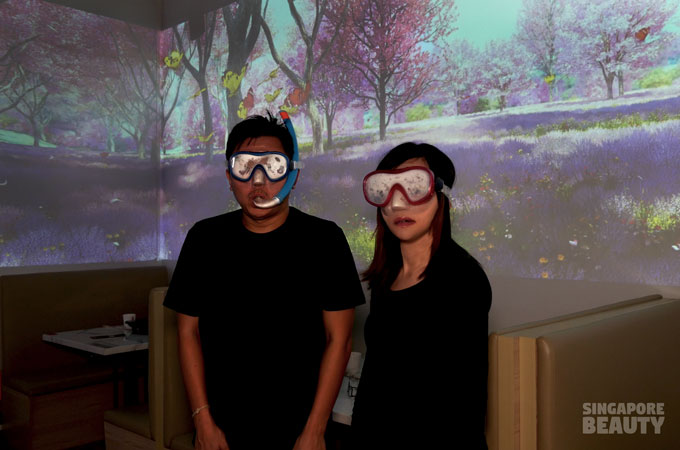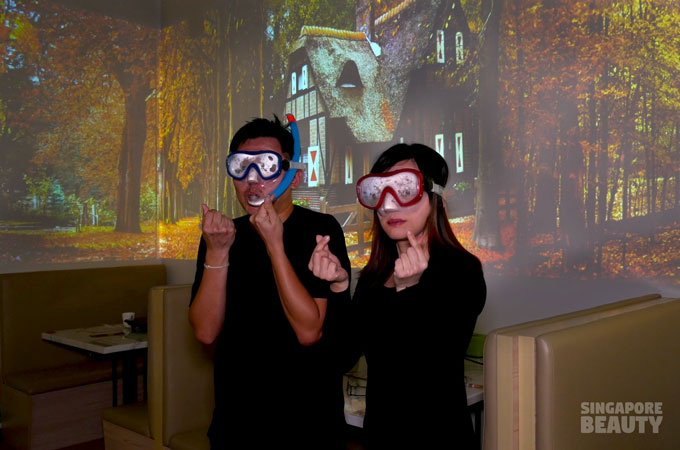 This space has transcended time, seasons flow in and out, from autumn to winter, winter to spring. Bringing you the beautiful elements of nature-air, wind, ground, fire, water, flowers, energy, ice, light and weather while you dine. The space is transformed with the play of shadows and silhouette of diners against the projections.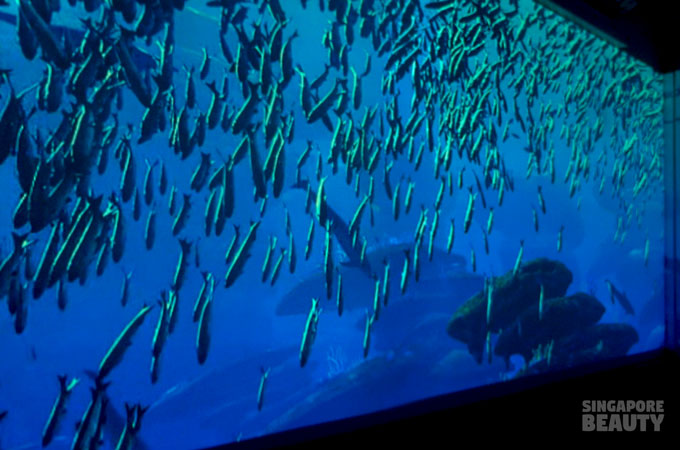 Experience the immersive space surrounded by orchestra of fishes, geysers of colours and sound of nature. The space has become a work of art. This experience comes at an affordable price tag. Simply order their signature roast fish or more to enjoy this new dining experience.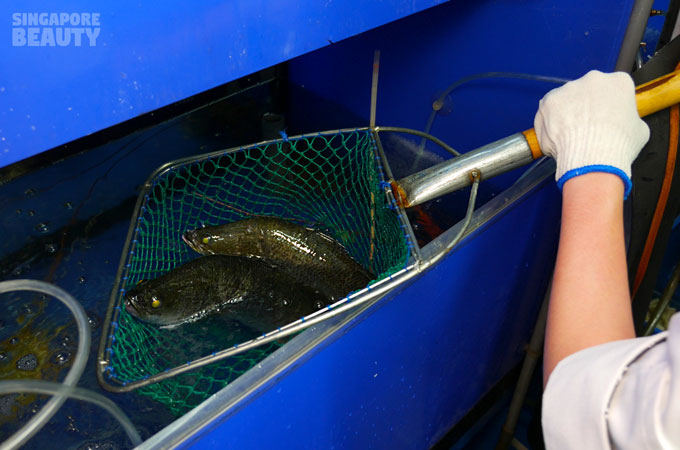 Orchid Roast Fish restaurant prides themselves on serving fresh ingredients and live catch too.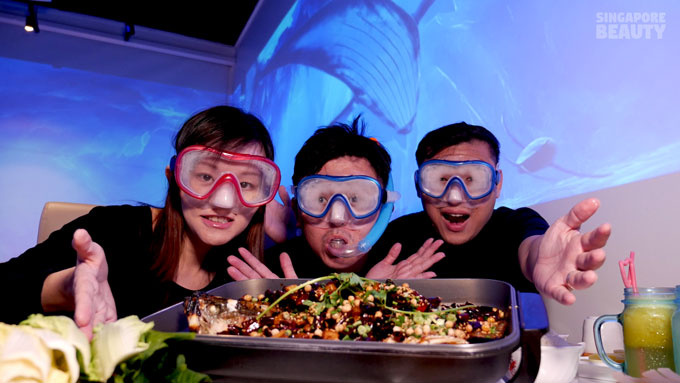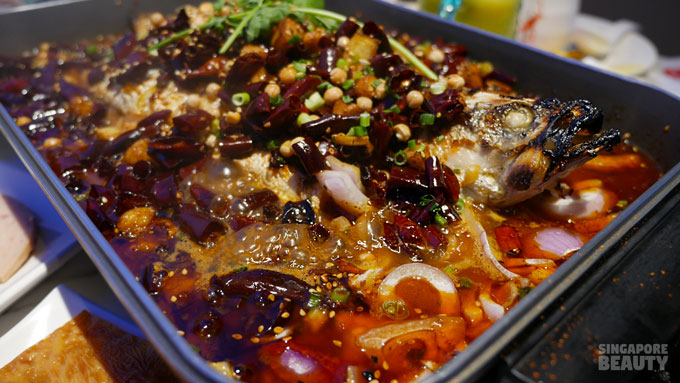 Roasted fish hot pan starts from $36 onwards. [We recommend you get their buffet which comes with unlimited Seabass refill!]. We ordered their best seller – the fragrant spices hot pan roasted live sea bass topped with spices and herbs.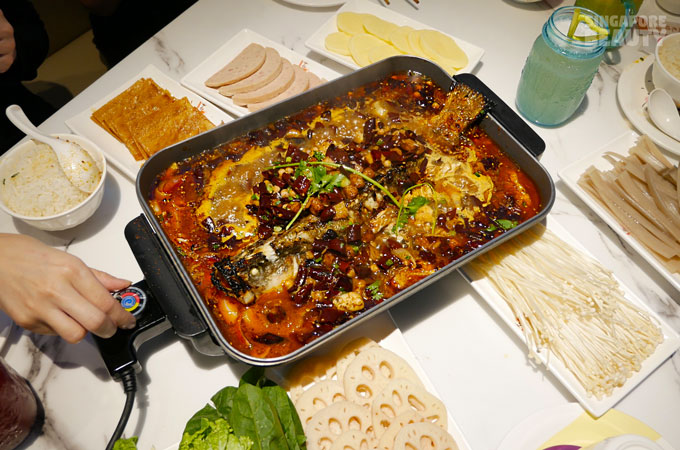 Served with a generous savoury topping of roasted garlic, deep-fried chilli pepper, toasted chickpeas, Chinese parsley and caramelised onions.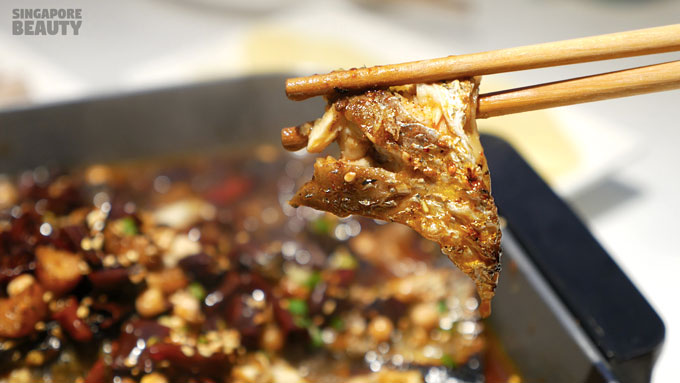 All these ingredients are sautéed in hot chilli oil and simmered in broth with the freshly roasted fish. The butterflied fish is flavourful and fragrant as it soaks up the flavour from the intense broth.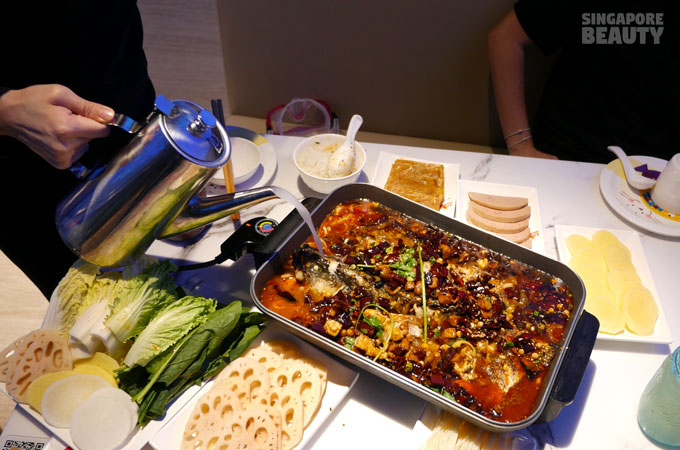 The broth is refillable too, so slurp to your heart's content. Spicy, savoury and tender flesh that goes well with a bowl of hot fluffy pearly rice.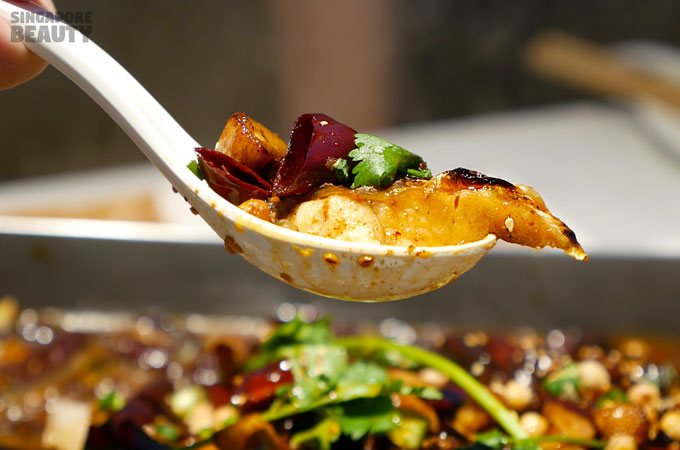 Eat the flesh with the spices to get that oomph!
They serve several choices of fishes – like Chinese striped snakehead, long snout catfish, Tilapia – to suit diner who prefers a different meat texture. They serve both live catch and frozen types of fishes, do check with the waiters what type of live catch are available for the day if you are keen.
Choice of roasted fish in 9 flavours – fragrant spices, special recipe sauce, fermented soya bean sauce, pickled chilli, original spicy, signature extra spicy, chicken broth with mushroom, Sichuan style sauerkraut and black pepper sauce – that is created to tease your taste buds.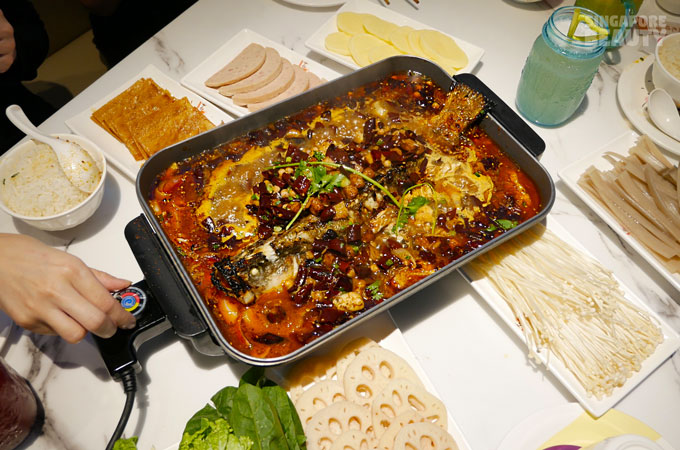 Do remember to order some of their sides to add into the broth after you have finished your roasted fish. Prices start from $3.80 per serving. [We recommend you get their buffet which comes with unlimited sides refill!] Sides available are sliced potato, luncheon meat, enoki, fried tofu skin, wide vermicelli, sliced lotus root, vegetable platter and many others.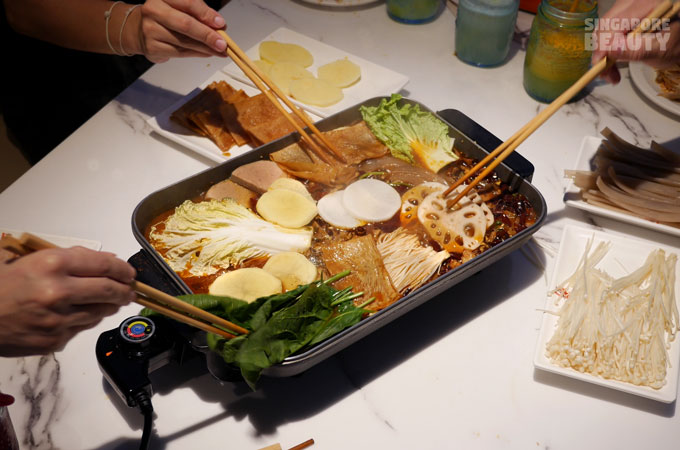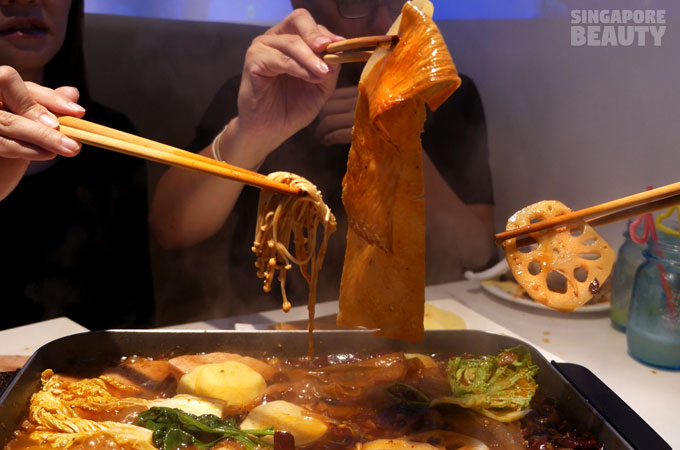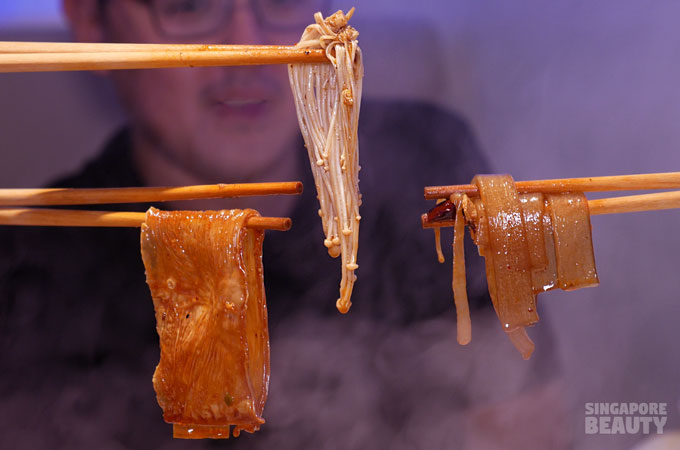 Simple sides to soak up the goodness of the spicy broth.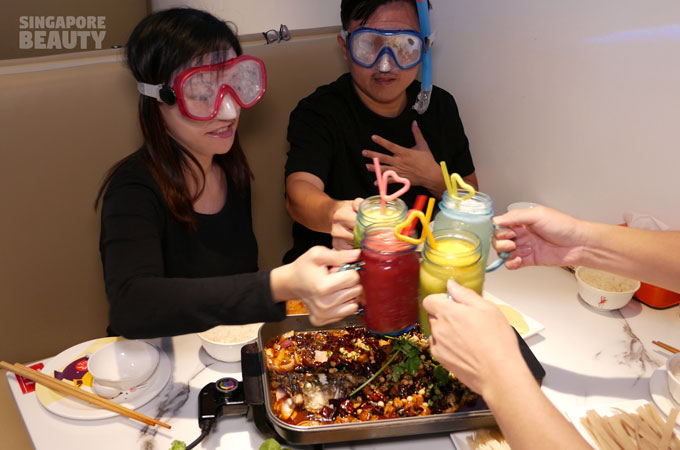 Chill with their refreshing fresh juices after the hot and spicy roasted fish. Prices start from $3.80. [We recommend you get their buffet which comes with unlimited homemade drinks!] Juices available are orange, watermelon, pear and pineapple.
This is a great place for gathering, dates and special occasions.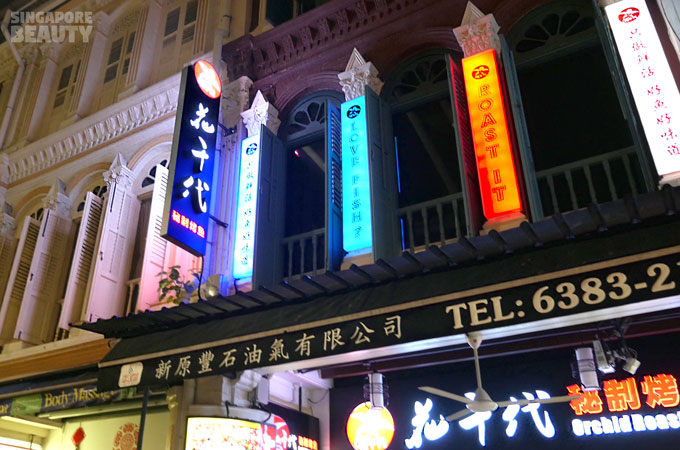 Head down to Orchid Roast Fish(花千代秘制烤鱼)restaurant today and call for reservation to secure a table. Bon appétit.
Buffet Pricing (12Jan – 11Feb 2018):
Monday-Thursday: $19.80++
Friday-Sunday: $22.80++
Location:
68 Pagoda St, S059227
Chinatown MRT Exit A (left side)
Restaurant permanently closed.
Operating Hours:
Open daily 11.30am – 11pm
Reservation:
62216369
Brought to you by Orchid Roast Fish