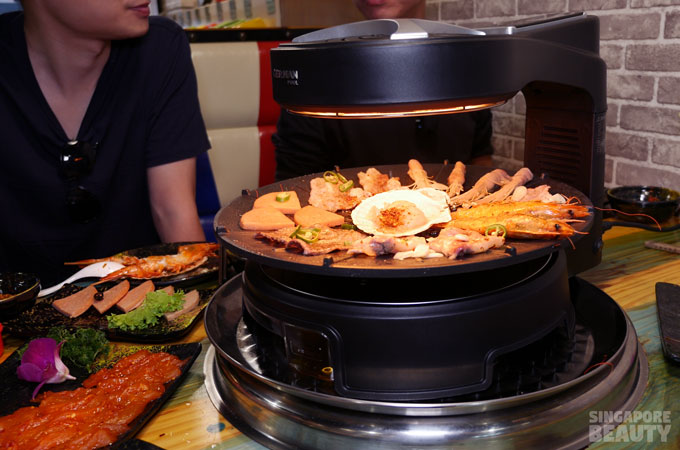 Jiu gong ge hotpot (九宫格火锅) have imported a few 3D Infrared Grills for a better indoor barbecue experience. Unlike conventional Korean BBQ grill, this grill experience is flameless, fumeless and less grease.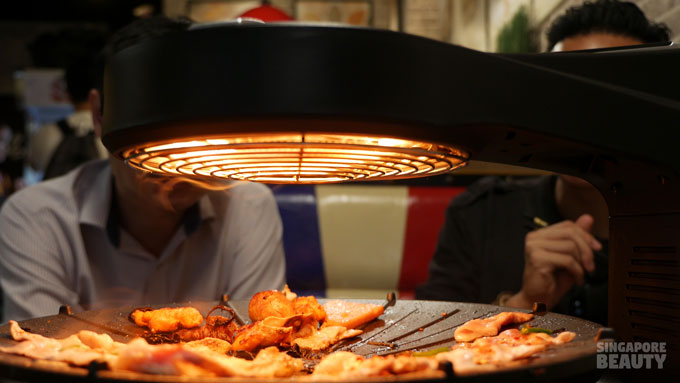 This is Singapore first rotating BBQ that uses a 3-way infrared heating system to grill food without the use of oil.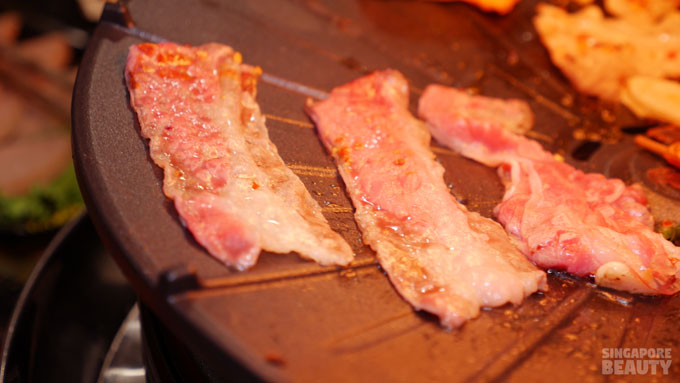 Food is grilled on a non-stick Teflon pan that funnels away excess melted fats into an internal drip pan resulting in a healthier, low-fat grills.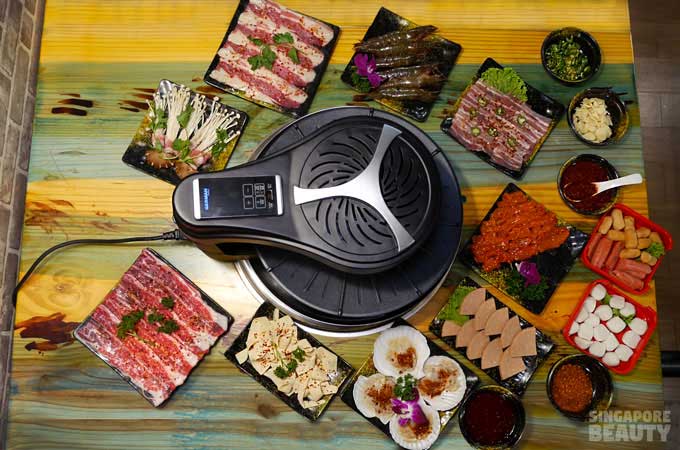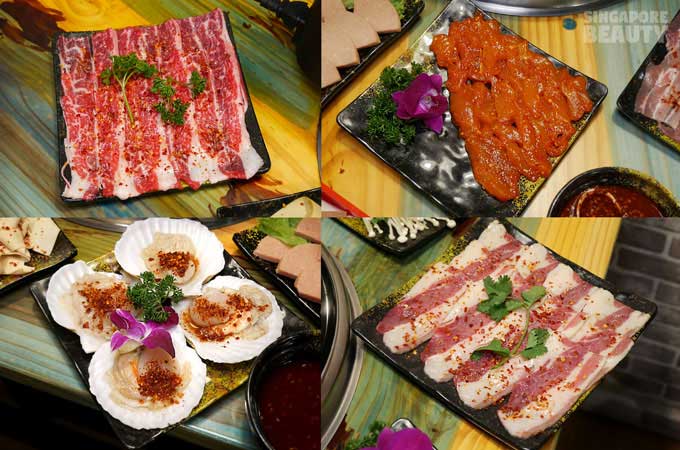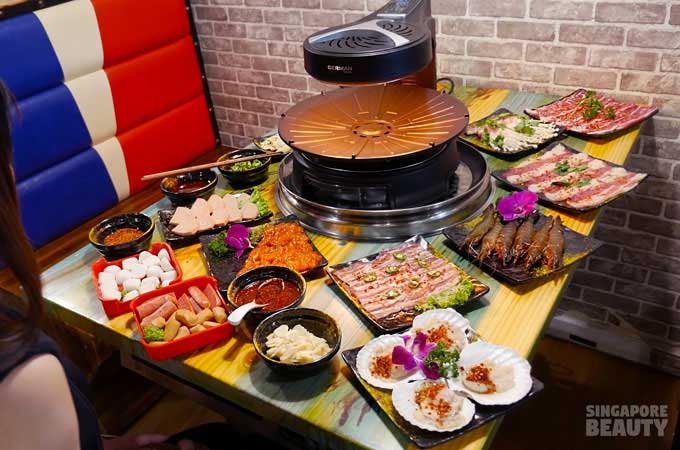 Imagine a (buffet of unlimited servingsPromo Buffet has ended) Set meal of beef slices, pork belly, bacon, marinated chicken fillets, Australian marbled beef , prawns, Australian scallop, fish ball, Taiwan sausage, tofu skin, bacon wrapped enoki, shiitake mushroom, luncheon meat and greens sunbathing in glorious warmth rays emitted from the grill's upper heating arm.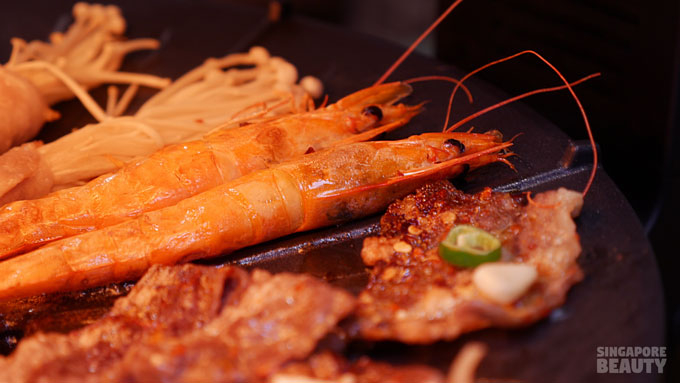 The upper grill heating method ensures minimum oil splatter to the heating element and prevents excessive fuming.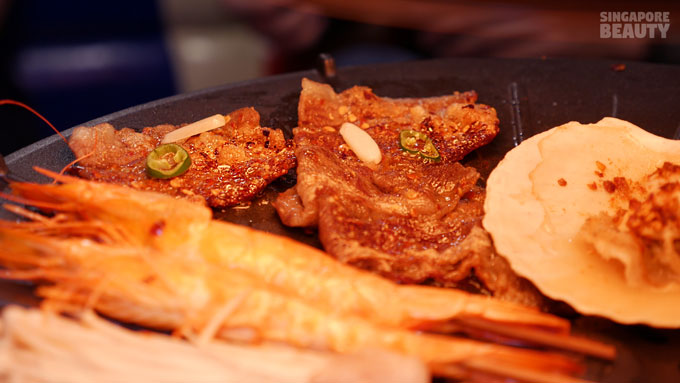 Since it is rotating 360 degree like a lazy Susan, it is easy to get to the grills and share among friends.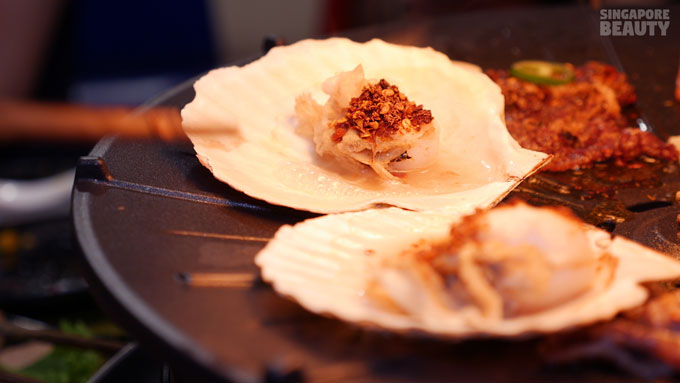 The half shell scallops seasoned with dry spices powder are plump and juicy. These are the perfect shellfish for grilling.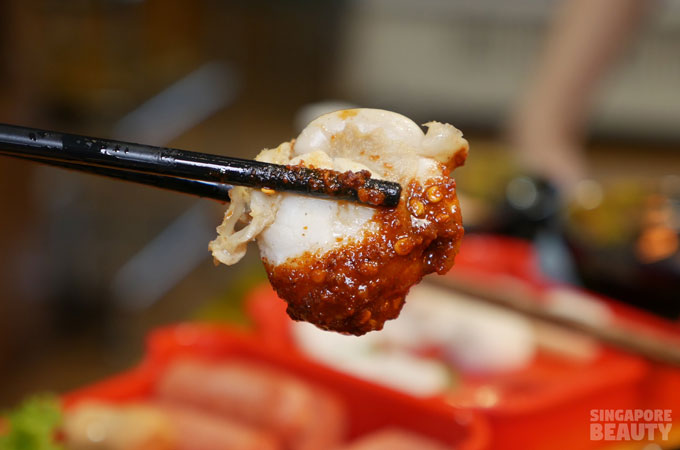 The scallop cooks quickly in its own juice and goes best with their special blend of mala sauce.
The thick Mala sauce is made from a blend of grinded spices and chilli flakes. The home made Mala sauce is one sauce that is indispensible in this Korean-Turkestan style BBQ.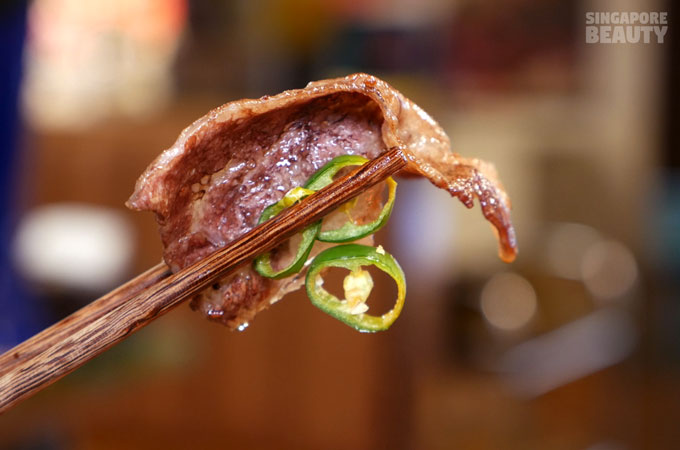 A hot sizzling grill seasoned with dry mixed spice together with this Mala sauce is addictive. They also have sweet sauce, dry grounded mixed spice, cut green chilli pepper and garlic to go with your grills.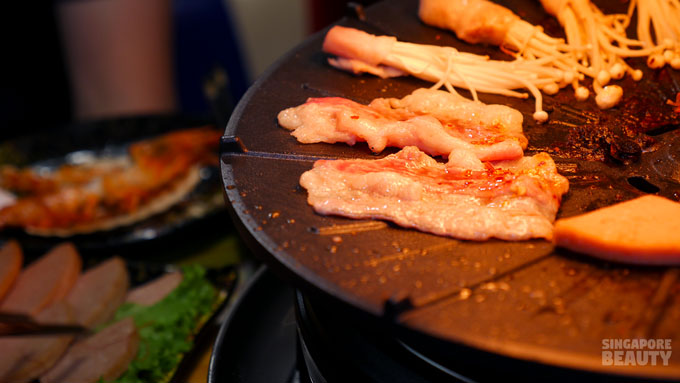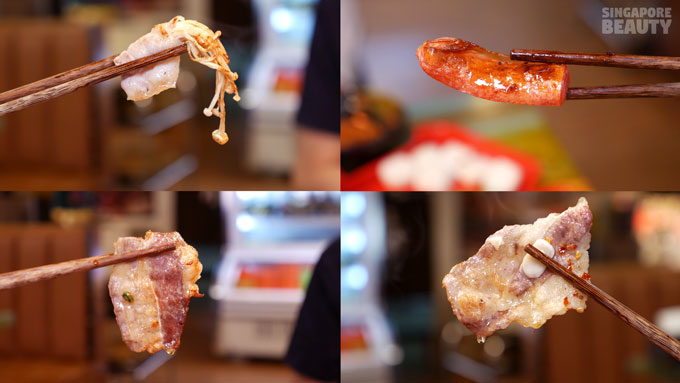 Crispy bacon and tender marbled beef sizzling in their own fats, popping and oozing with juice.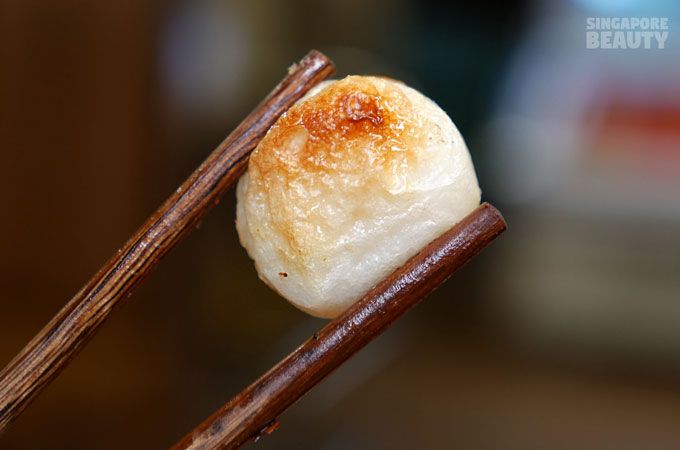 The fish ball cooked on the grill has a crispy skin but still juicy and QQ inside. The way it is grilled creates a golden brown chewy skin that is delightful to eat.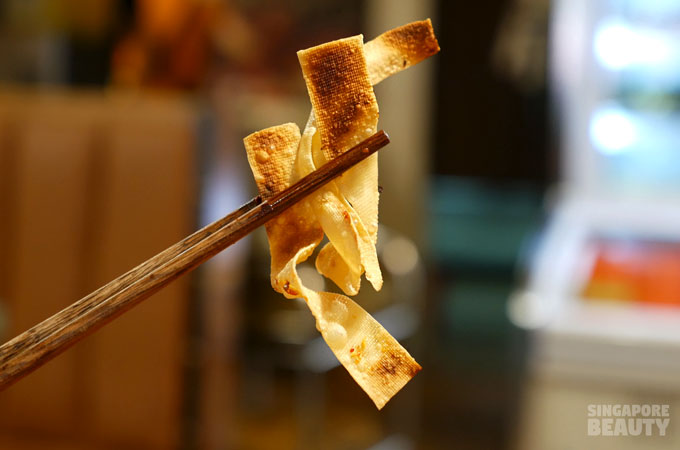 The ultimate show stopper was the grilled tofu skin dusted with spices, delightfully light, aromatic and crispy. It is very similar to a deep fried wanton skin but without the oily aftertaste.
At Jiu gong ge hotpot (九宫格火锅), a drink tower is a must to order to share among your friends. I recommend a refreshing 3 litres wheatgrass drink tower. Wheatgrass drink is known to be a beneficial superfood beverage that has healing properties due it its high chlorophyll content. Highly recommended and value for money.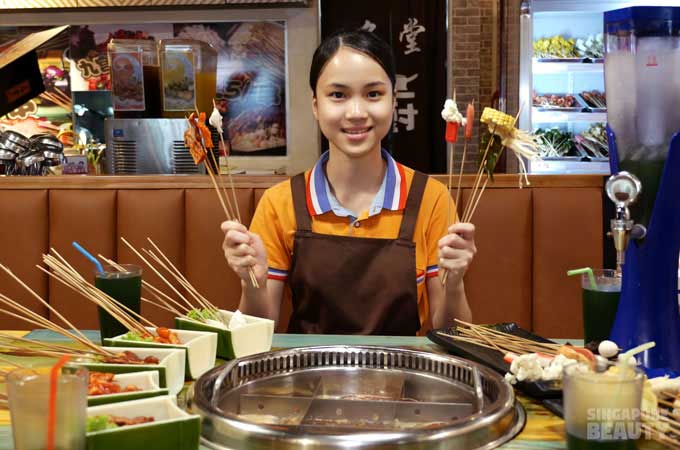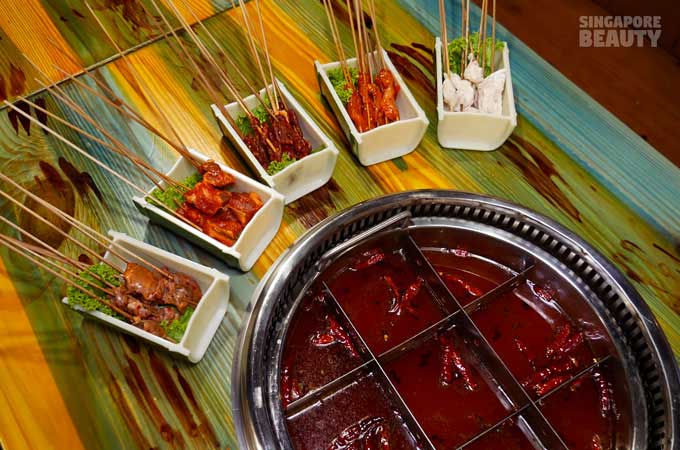 If you are a bargain hunter for good food, you will regret not trying Jiu gong ge hotpot (九宫格火锅) fifty cents (50 cents) Mala Lok Lok(麻辣串串香)steamboat.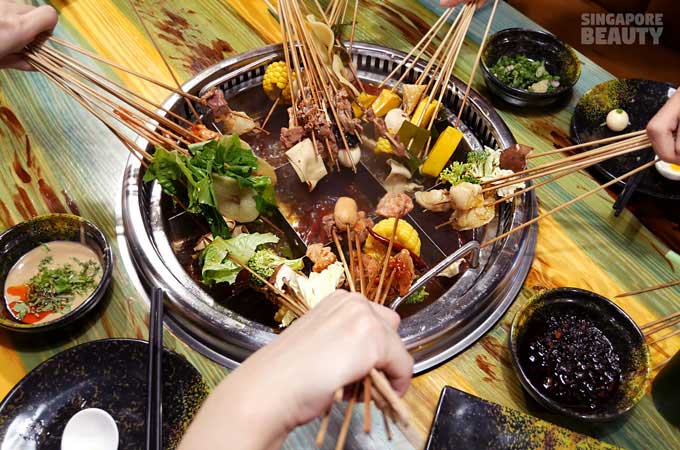 This is a large steamboat ($8) that has 9 individual slots for 2 pax and above.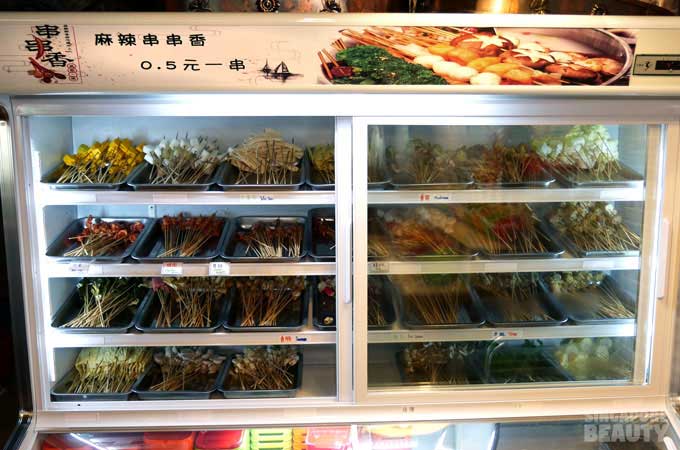 Lok lok simply means meat on a skewers or "happy happy" skewers. There are over 30 varieties of lok lok available – pumpkin, winter melon, beancurd skin with enoki,potato,mushroom with broccoli, quail egg with black fungus, braised tofu, cabbage, pork ribs, marinated chicken, chicken gizzard, beef, squid ball, braised chicken feet, beef tripe, pig stomach, crab sticks, braised pig intestines, Taiwan sausages, kelp, fish dumplings, sweet corn and more.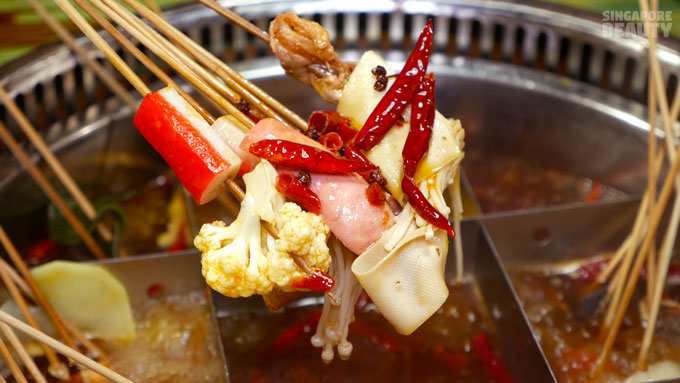 Steam pot soup bases available are Signature Mala Pot, golden broth, chicken broth, pig bone broth, tomato soup, mushroom soup and pickle cabbage soup.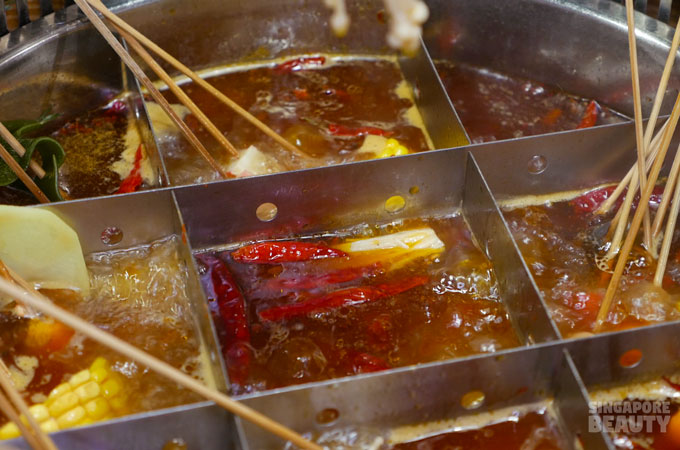 We recommend the Mala hotpot prepared with at least 10 spices, to give you the layered and flavourful broth. Excellent soup base to go with the lok lok. Look at the amount of roasted dried chill pepper,pepper corns, fragrant chilli oil and spices in the bubbling soup. Delish!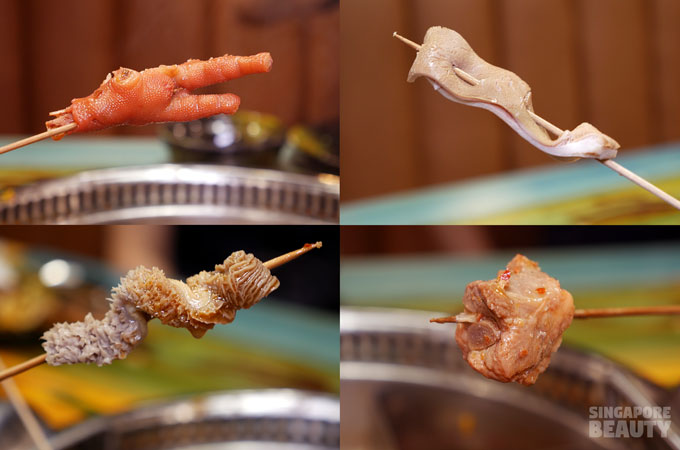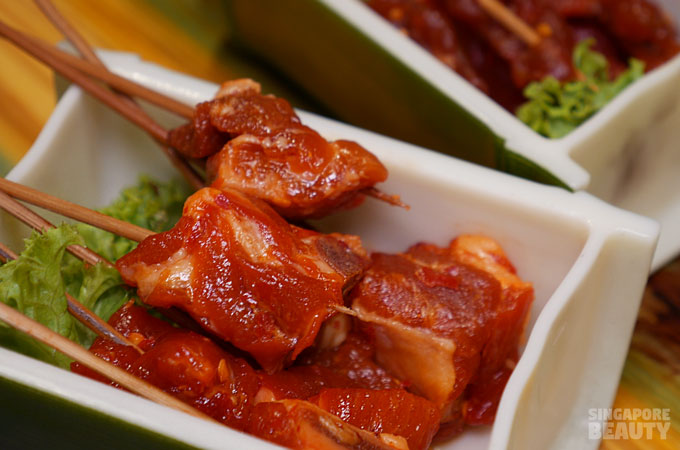 I recommend the braised intestines, marinated chicken ,braised chicken feet, fish dumplings, marinated pork ribs, pig stomach, beef tripe, sweet corn cob and beancurd skin enoki for the lok lok choices.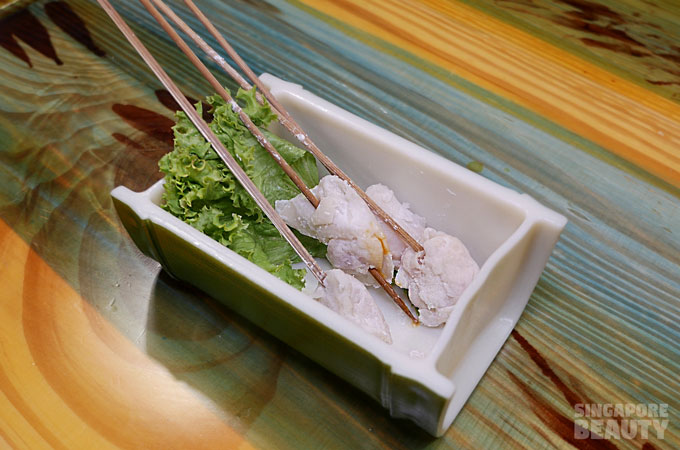 The fish dumplings or Her-Keow are springy, smooth textured and dense with meat fillings. Looks are deceiving because these are so good. When cooked, these Her-Keow are coated with a gooey coat that slides down your throat so well.
More than 20 condiments to go with your food – soya sauce, chilli oil, fermented bean curd, oyster sauce, seafood sauce, aromatic vinegar, beef sauce, chilli padi, chopped garlic,shacha sauce,coriander,special chilli sauce,chives,spring onion, sesame oil, pepper sesame oil , sesame sauce and even laoganma sauce.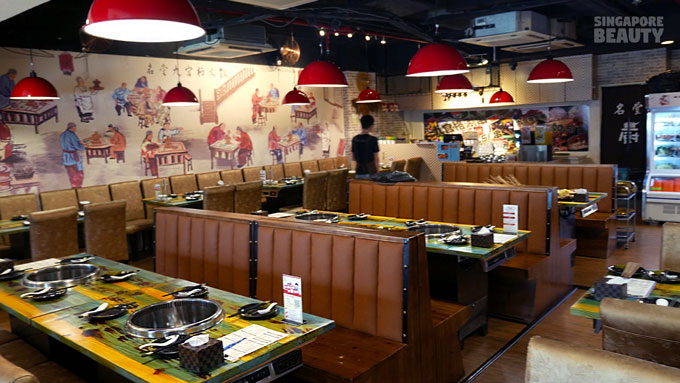 Jiu gong ge hotpot (九宫格火锅) has a spacious layout with comfortable cushioned bench seating good for large gatherings or cosy tables for 2 pax or more. Food is reasonably priced and prepared fresh daily. Besides Steamboat lok lok and BBQ, Jiu gong ge hotpot (九宫格火锅) still have many other dishes on their menu.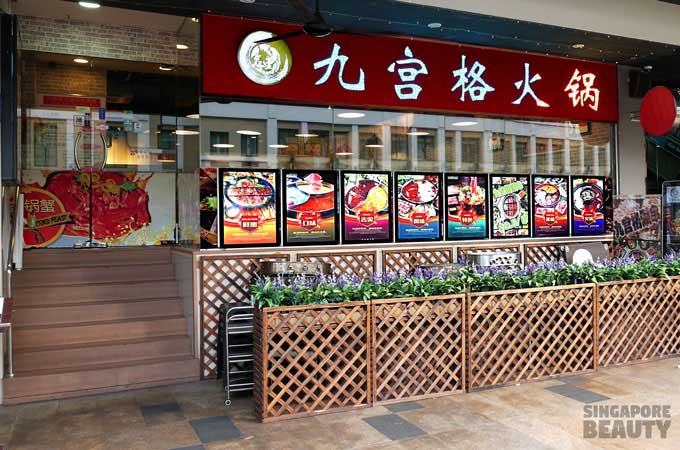 Do call them for more details and remember to make a reservation to secure a table before heading over.
Prices:
Due to overwhelming response, the Promo Buffet has ended earlier than expected.
Rotating 3D BBQ buffet
(Ends on 29th Oct 2017)
Monday –Friday Lunch (11.30am till 4pm) @ $18.80++ per pax
Monday-Thursday Dinner (5pm till 11pm) @$22.80++ per pax
(excludes PH)
Friday Dinner,
Saturday, Sunday & PH (lunch/dinner) $25.80++ per pax
Rotating 3D BBQ Set Meals (3-4pax)
$58.80++ Includes one drink tower!
Available during lunch and dinner.
Drink tower (Choose either guava or wheatgrass)
$16.80++
All day Steamboat Lok Lok
Monday-Sunday (11.30am till 2am)
Steamboat with 1 soup base $8 (+$1 for 2 additional soup base)
Lok Lok at 50cents per skewer.
Location:
470 North Bridge Road #01-02,01-03/01-04, BUGIS CUBE, S188735
Opening Hours:
Open 11.30 am to 2am Daily
Reservation:
63383405
Brought to you by Jiu Gong Ge.