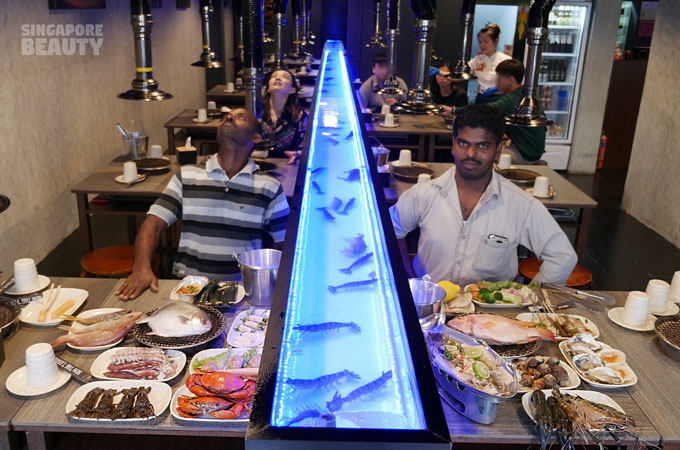 [Restaurant no longer exist] New Thai Tanic BBQ at Joo Chiat has reopened after a long renovation. They promised a whole new dining experience and even more exciting food in their buffet spread.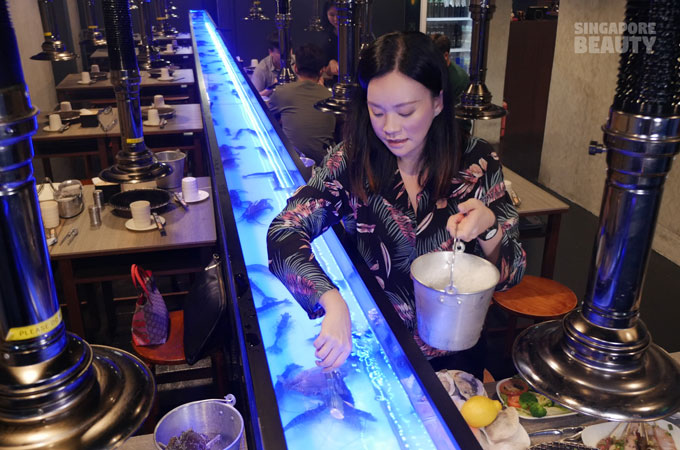 You can choose to catch your own live seafood by the BBQ table.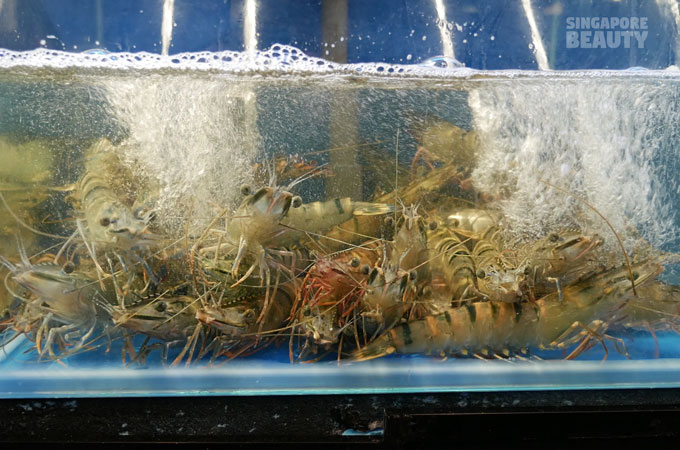 You can also get more live seafood at the two tier live seafood tanks.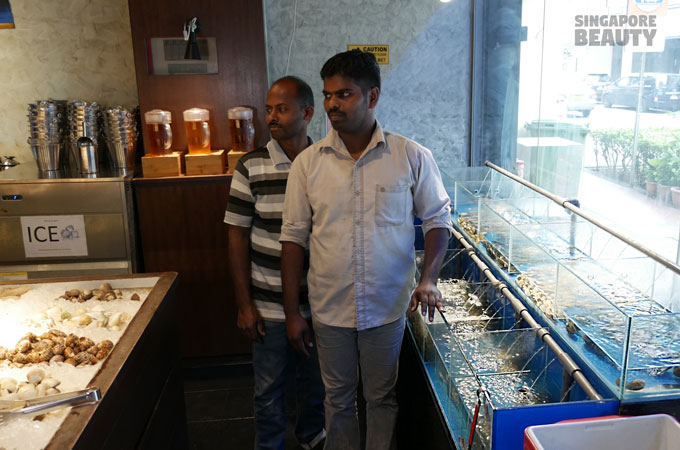 Live mud crabs, tiger prawns, lala, mussels, flower crabs and many more.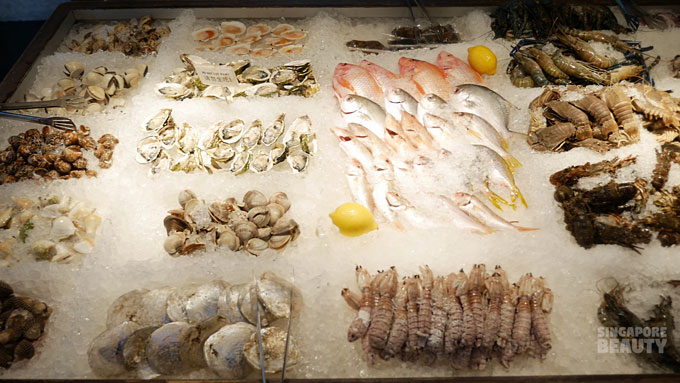 More varieties can also be "catched" from the New Thai Tanic iced bed ship. Over 29 types of seafood like sea conch, white Venus clams, flower clams, blood clams, half shell scallops, oysters, white clams, glass shells, mantis prawns, grouper, pomfret, tilapia, yellow tail fish, baby bamboo lobsters, slipper lobsters, Thai river prawns, soft shell crabs, squid and many more. All free-flow and you can eat as many as you like.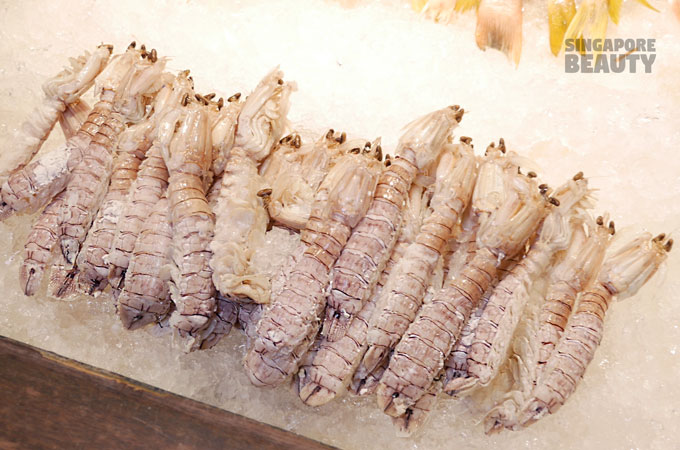 Unlimited mantis prawns, lovers of mantis prawns will be delighted!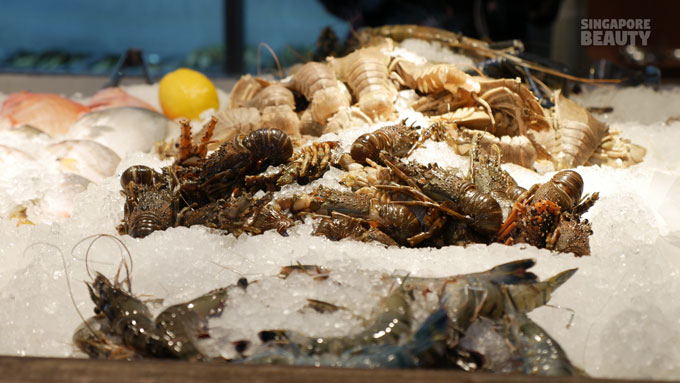 Free flow baby bamboo lobsters too.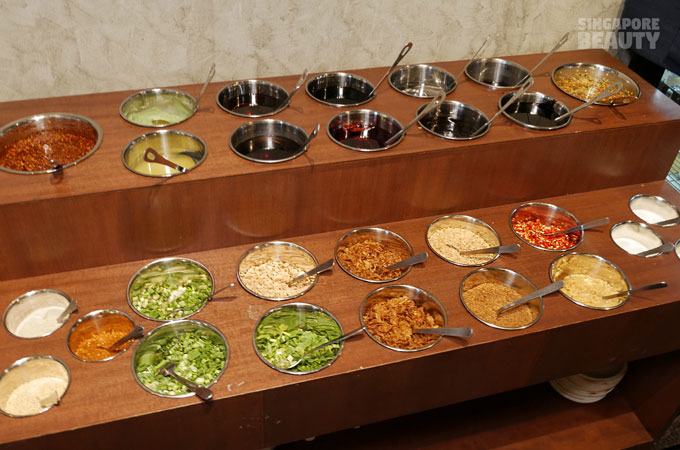 With over 25 types of condiments, you can easily customise your preferred way of cooking and eating your seafood here.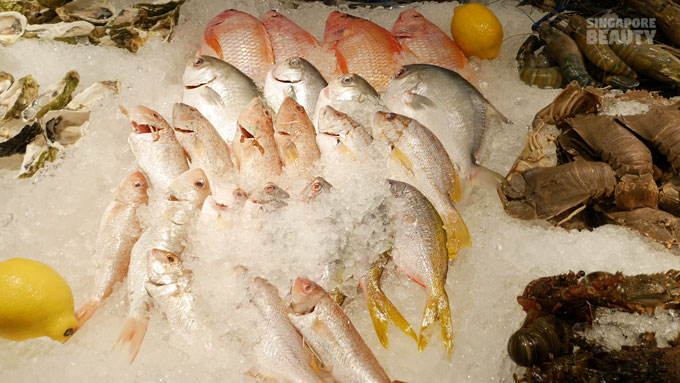 Close to 5 types of fishes available for you to DIY your own fish with your preferred sauce at the condiments counter.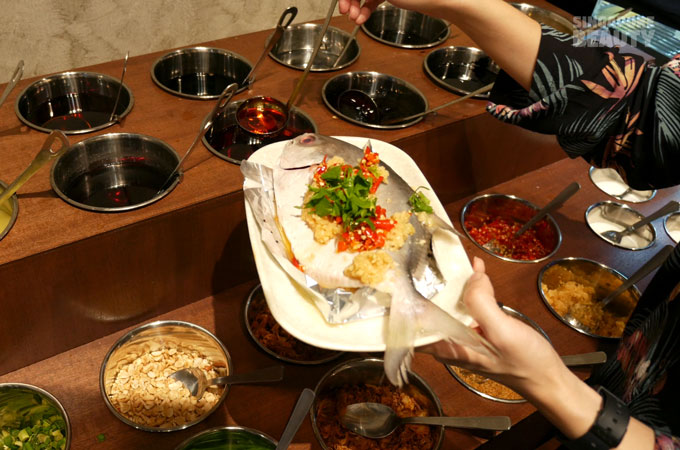 I like mine with lots of chopped garlic, chilli and Thai lime sauce. To do this you need to get the aluminium trays as the base so the fish can cook nicely in its own briny juice with the condiments intact.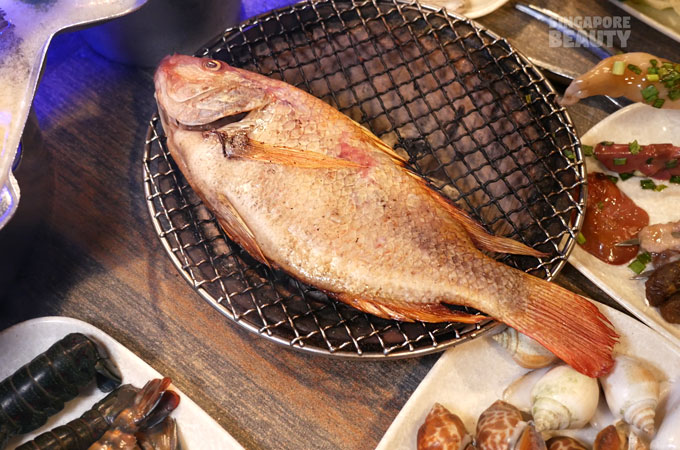 Barbeque the tilapia with the sea salt to enjoy the sweetness of the flesh.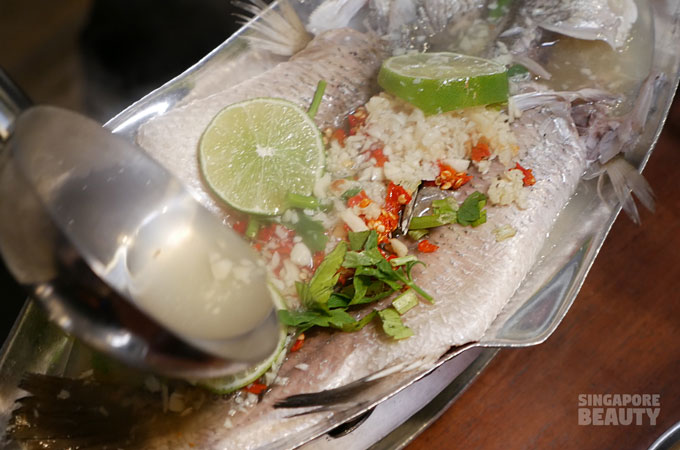 How about some free flow simmering hot Thai lime fish in tangy garlic sauce?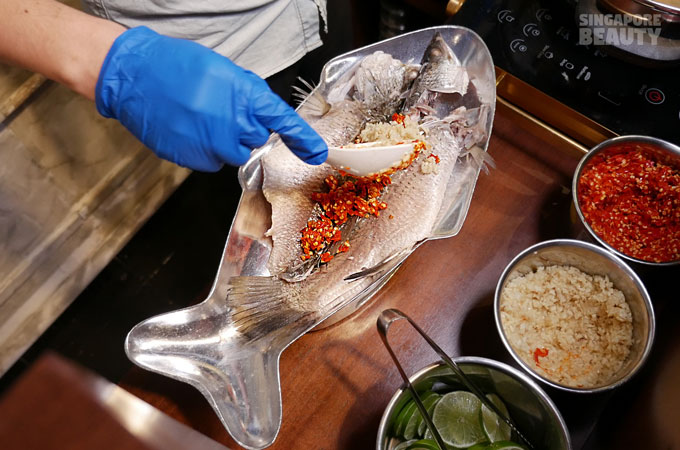 Tender flesh and melts in your mouth prepared and cooked right before your eyes.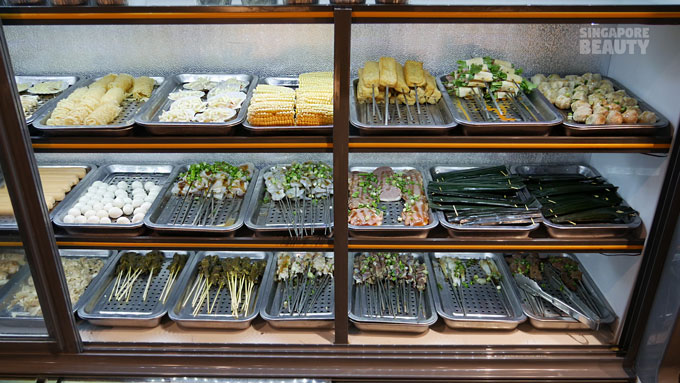 Want more, how about a 2 metre cold chiller full of food? Satay, meat skewers, seafood skewers, squid eggs, smoked duck, cheese scallop, mini seafood boats and many more.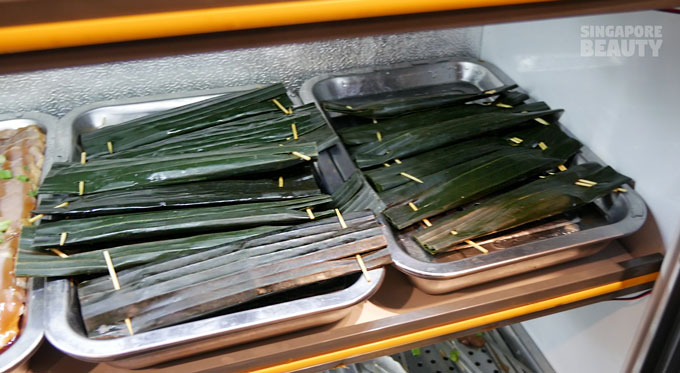 Hand-made otahs only available in New Thai Tanic. Bbq these to release the aroma of the banana leaves and dig into these plump otahs infused with aromatic flavours.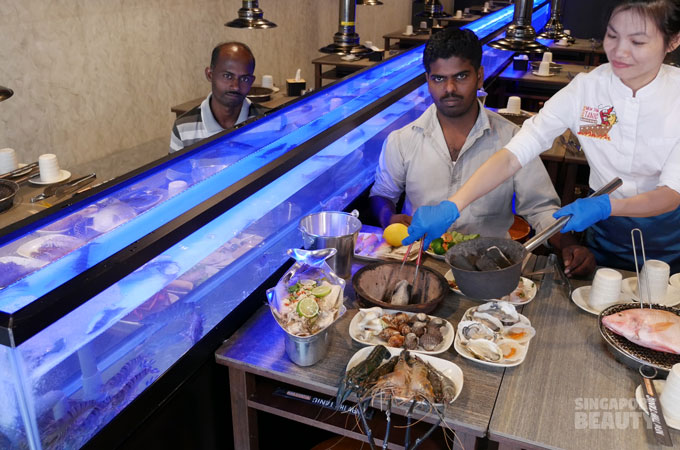 New Thai Tanic is the real charcoal bbq so that your food cooks nicely with even heat and a nice char.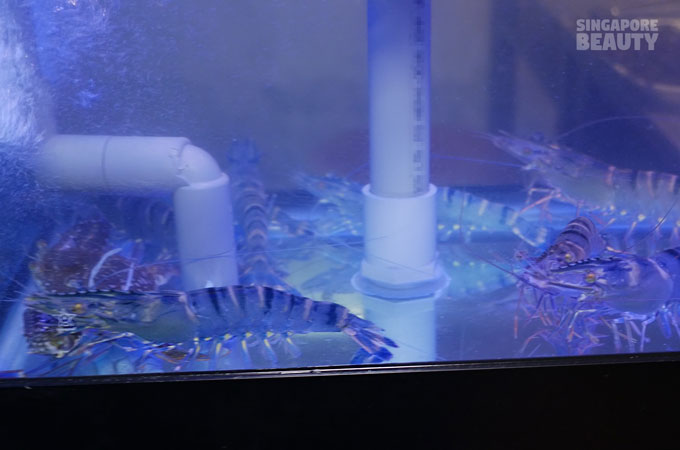 Watch the sea creatures in this aquarium swim besides you as you bbq.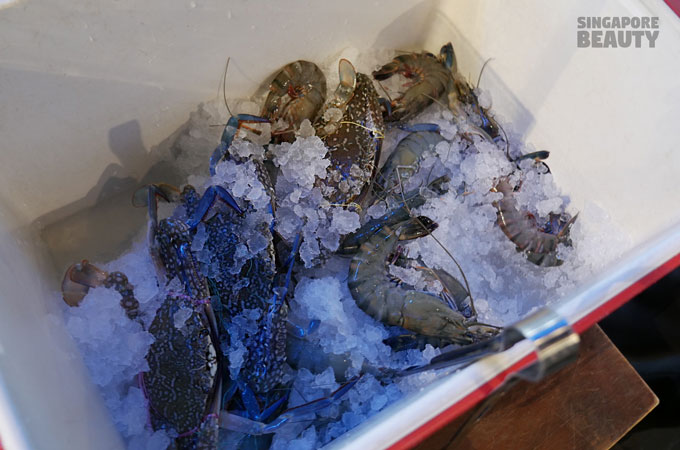 You can choose to ice your live seafood in the shared ice knock out box.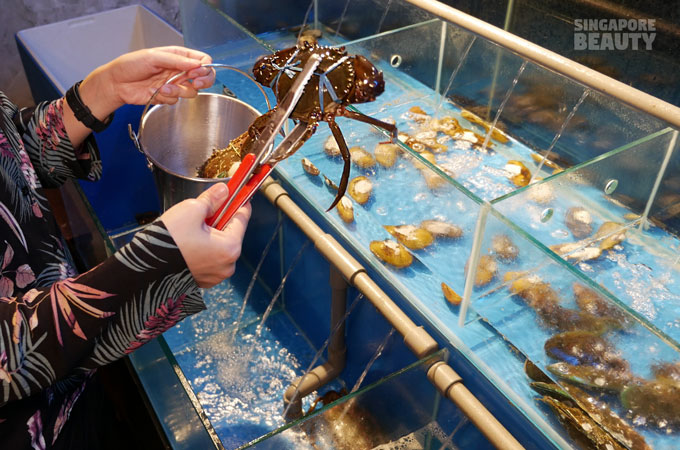 You can also get your personal ice bucket to bring your seafood back to your BBQ table.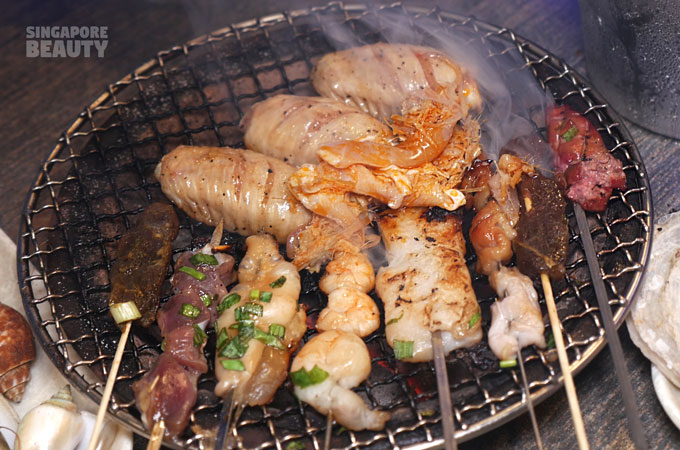 Lets the feast begin. Meat skewers.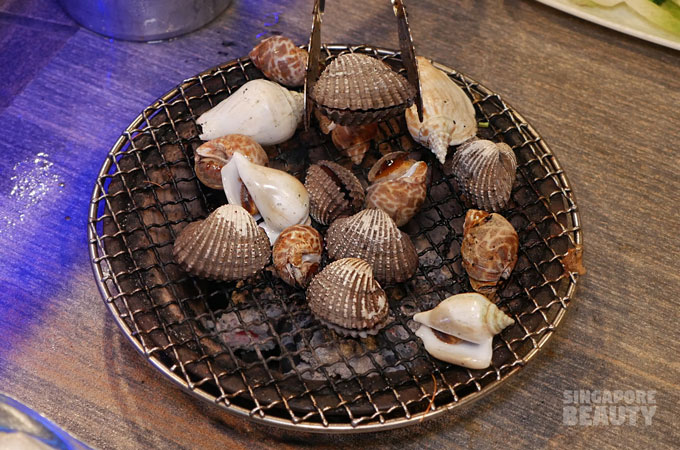 BBQ an assortments of seashells.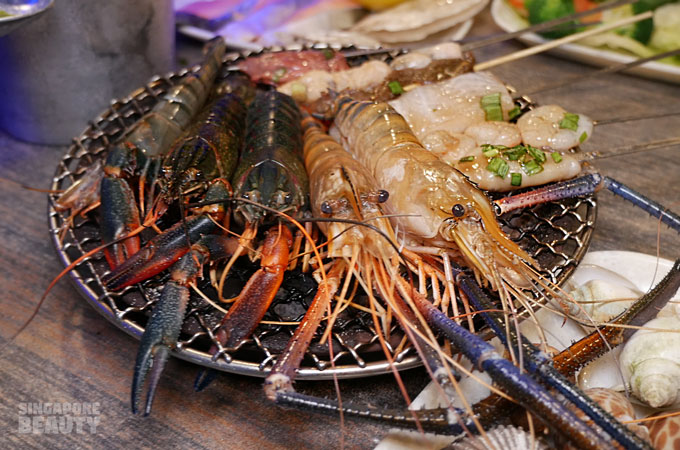 BBQ an assortments of prawns, baby bamboo lobsters and scampi.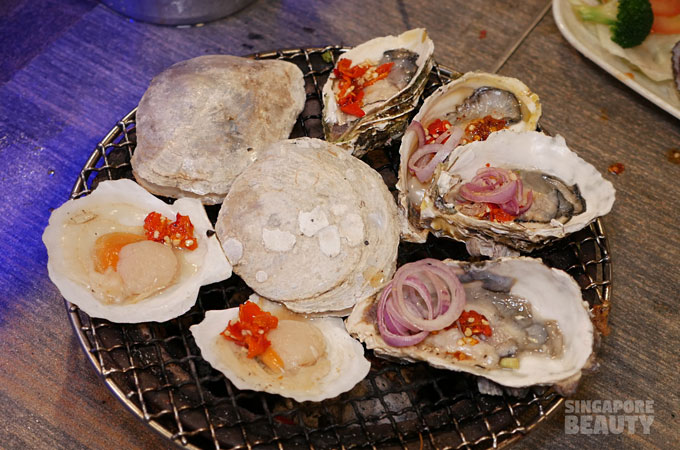 BBQ glass shells, oysters and scallops.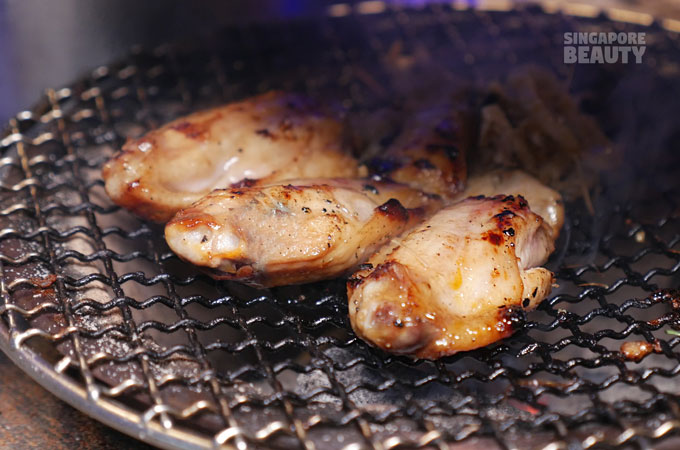 BBQ smoked wings.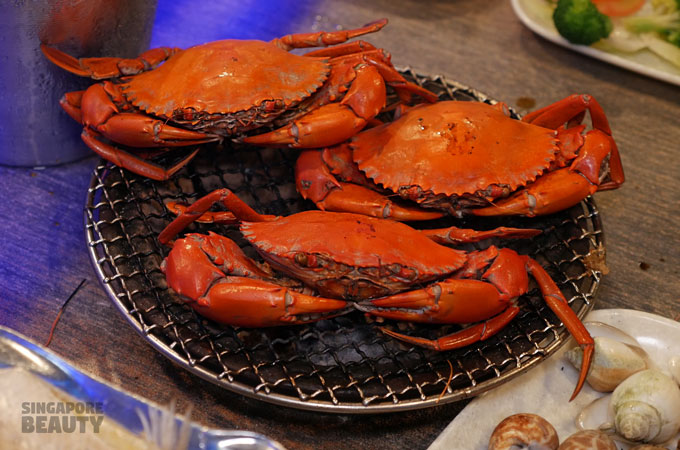 BBQ lots of mud crabs.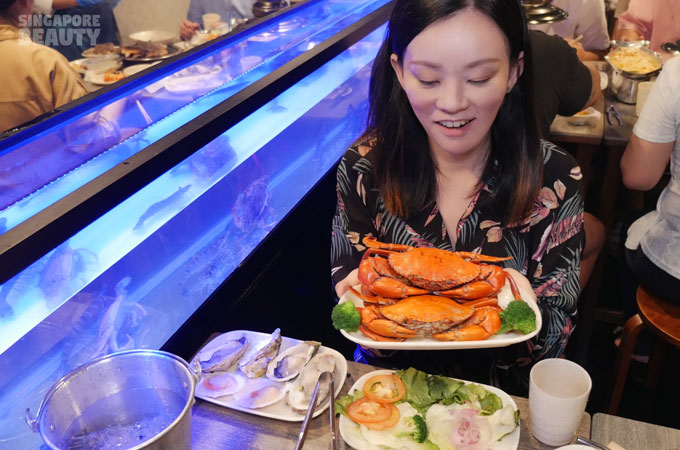 Time to feast!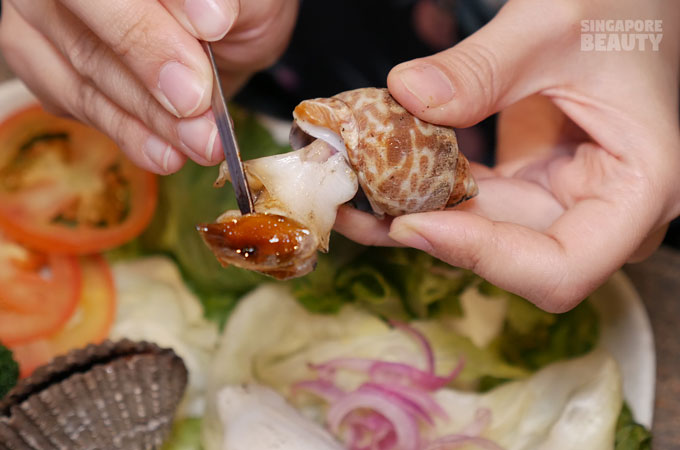 Cook your shellfish quickly and enjoy the succulents flesh.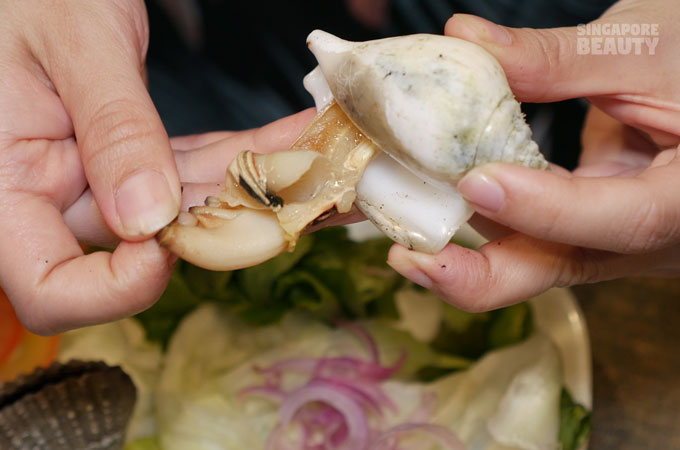 More shellfish.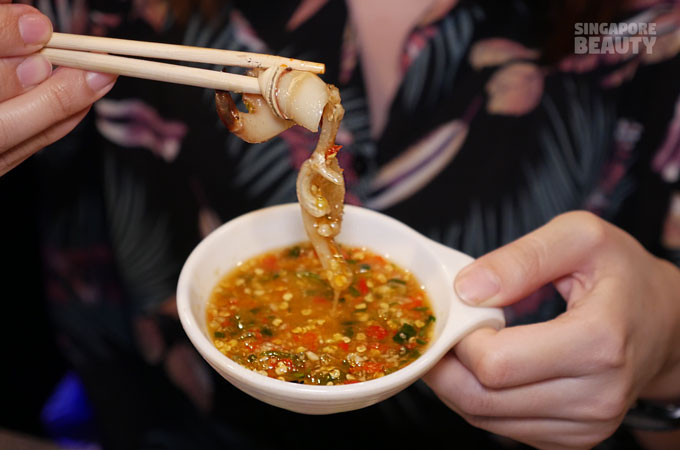 Dip all these into the delightful seafood sauce that is tangy, hot, sweet and refreshing. This is a must- try signature sauce at New Thai Tanic- secret recipe of the head chef.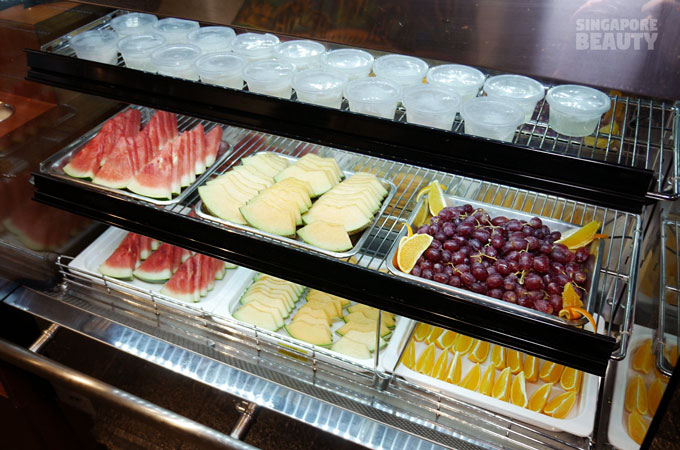 More fruits varieties, free flow home-made drinks and must try their coconut pudding with real coconut flesh.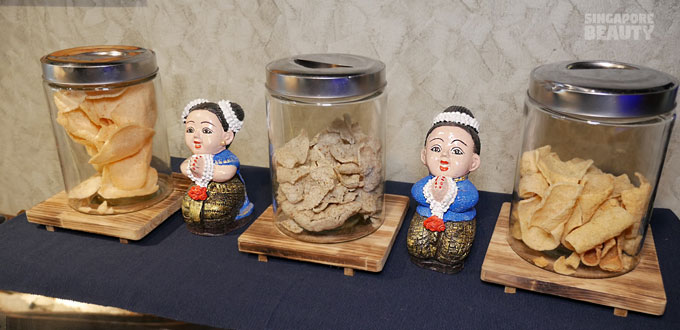 Unlimited keropok too!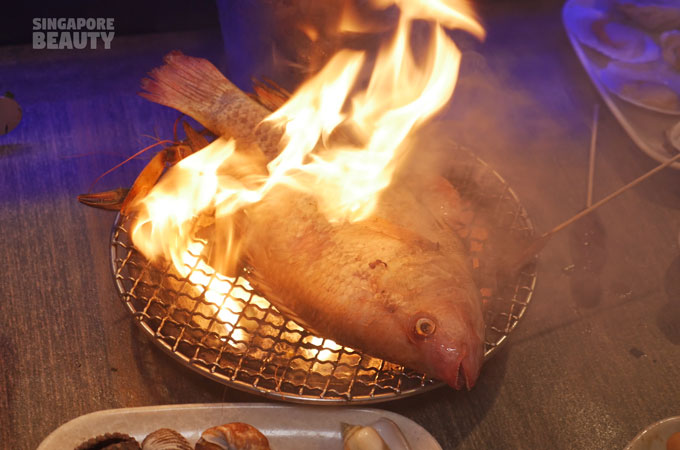 This New Thai Tanic BBQ is now the hottest "fish" in Singapore.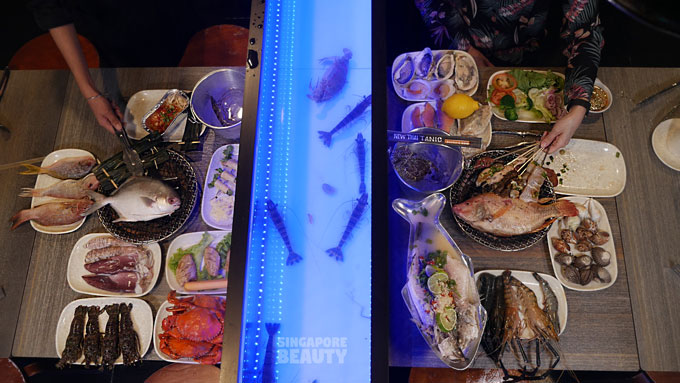 This is the time to head over to New Thai Tanic to feast.
Adult Price:
$44.90++/pax
Fri-Sun, Eves & PH: add $5/pax
Children Price (Age 12 & below):
Between 1.1m and 1.4m is 24.90++
Less than 1.1m is free
Senior Citizen Price (Age 60 & above):
$40.90++/pax
Fri-Sun, Eves & PH: add $5/pax
1 for 1 beer promotion whilst stocks last!
(Available: Asahi Super Dry, Asahi Super Dry Black, Carlsberg, Corona Extra, 1664 blanc & Somersby cider whilst stocks last!)
Address:
[Restaurant no longer exist]
Operating hours:
Monday-Sunday
Daily 3.30pm till 11.30 pm
Brought to you by New Thai Tanic