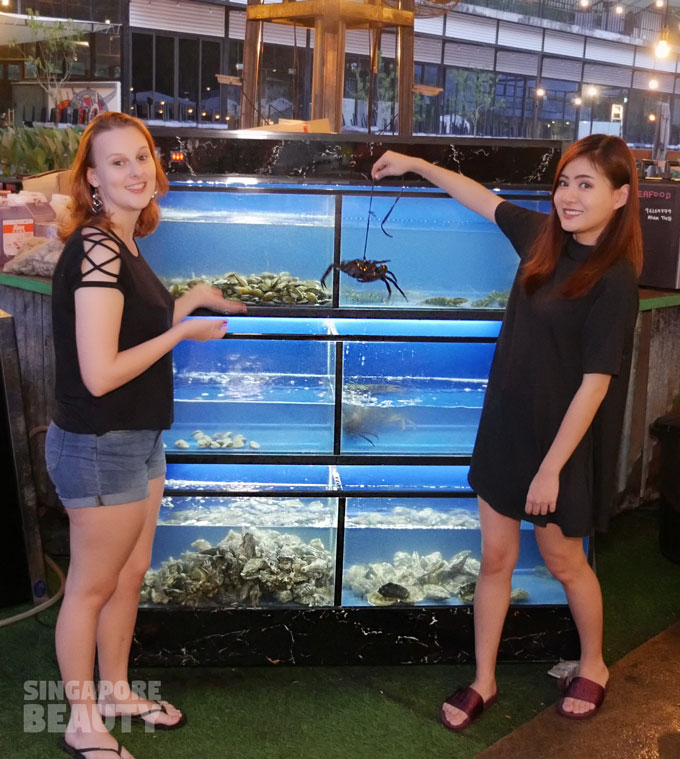 The Three Peacocks BBQ and steamboat buffet has added a new live seafood tank.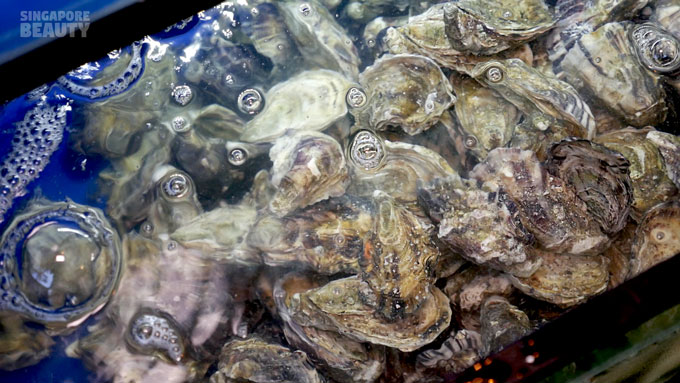 There are live white Venus clams, mussels, New Zealand oyster, tiger prawns and mud crabs too.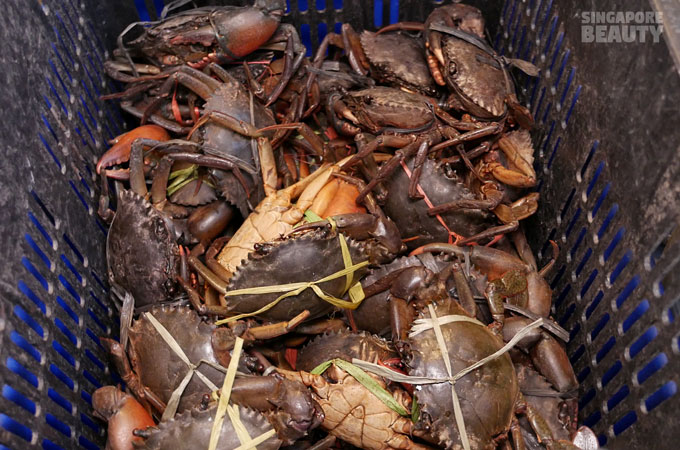 They provide dispatch service for the live crabs and live oysters.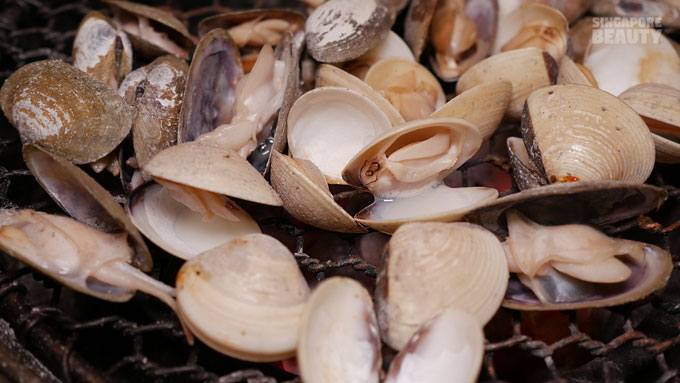 These live clams, mussels and oysters are best grilled with a dash of salt. Fresh succulent flesh in briny juices.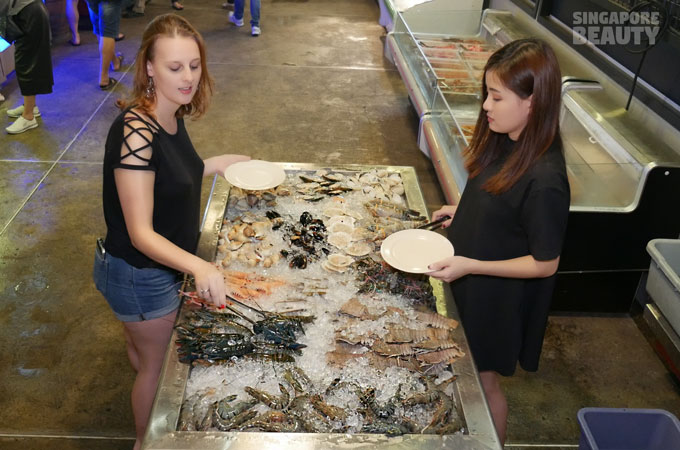 You can help yourself to unlimited variety of iced seafood on the display bed too.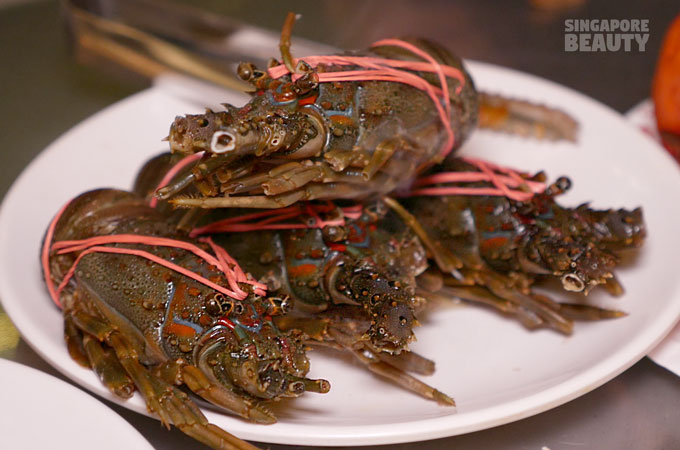 Baby lobsters, slipper lobsters, Thai river prawns, clams, scallops, tiger prawns, Norway lobsters, gong gong, la la, bamboo clams and some seasonal items too.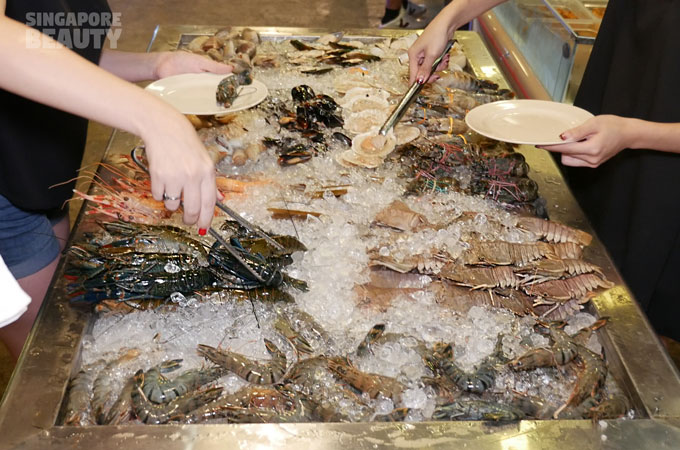 These iced seafood are great for BBQ and Steamboat.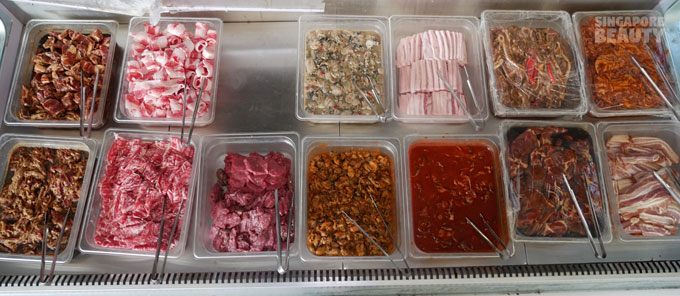 For meat lovers, you will be spoilt for choice at the chilled marinated meat and seafood station.
(add inmages of meat and seafoodx2 sets here)
Marinated beef finger ribs, short plate, wagyu, pork belly, pork collar, Korean spicy short plate, pork loin, tom yum chicken, black pepper chicken, chicken bulgogi and many more.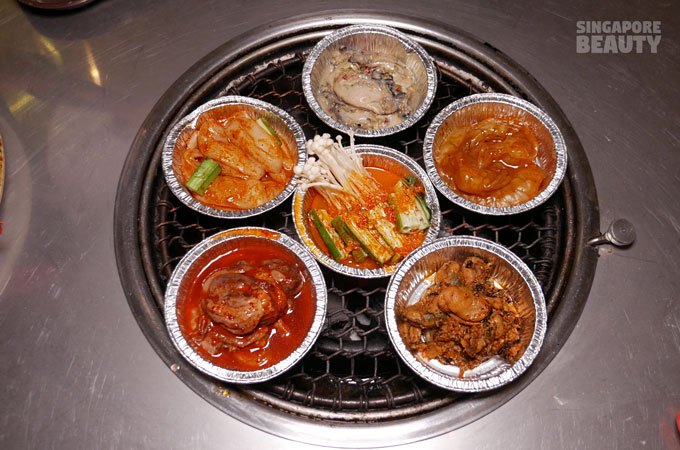 For seafood lovers, you can find daily specials seafood such as marinated garlic oysters, mussels, octopus and squid rings, okra with enoki and shrimps served in mini round tubs.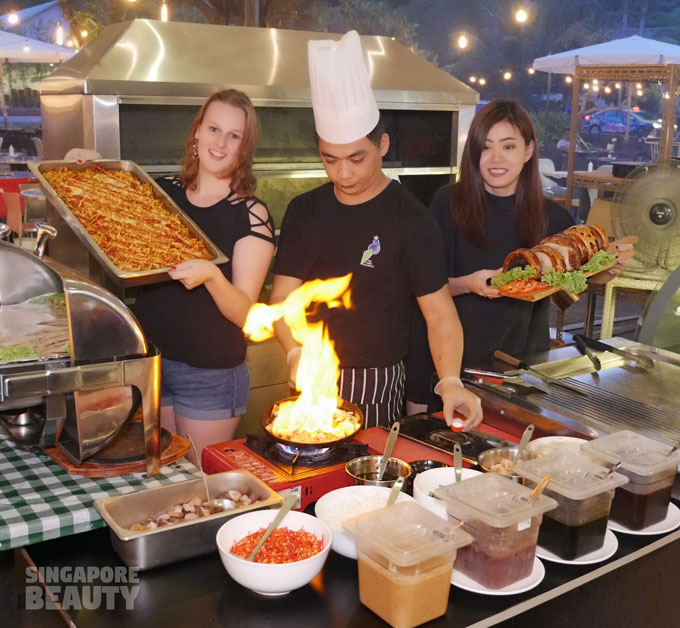 They have added more items to their live station menu which consist of cook-for-you cuisine tepanyaki style and cooked items. Cooked items such as cheese and mushroom prata, lasagne and lechon with peacock sauce.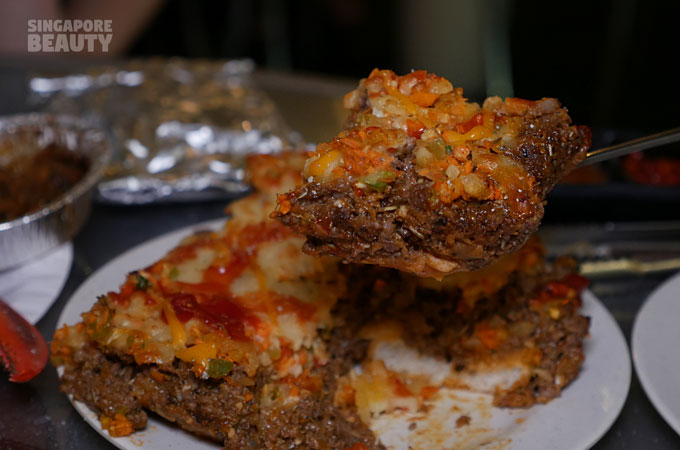 Lasagne with minced beef in marinara sauce, cheese, crushed tomatoes, herbs and onions. This is towards an intense rich meat pie texture. Beef lovers will love this.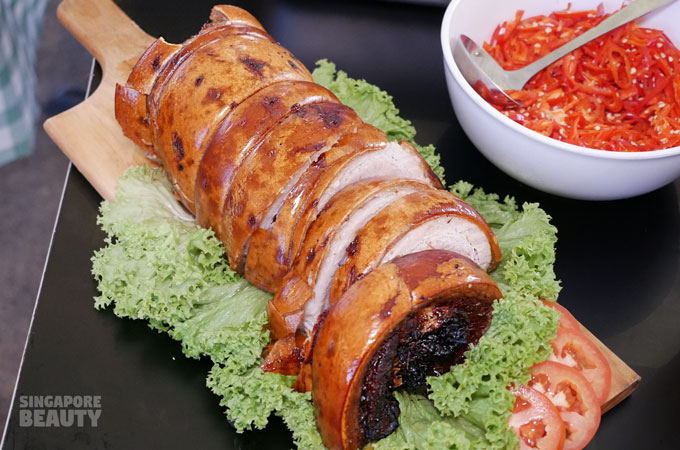 Lechon with Peacock sauce. This is a block of brick red crispy roasted pork served with Peacock sauce that is both sweet and savoury. The chunks of meat are oozing with roasted juices and have melt in your mouth layers of fats and meats. For roasted suckling pig lovers, you probably will enjoy this dish too!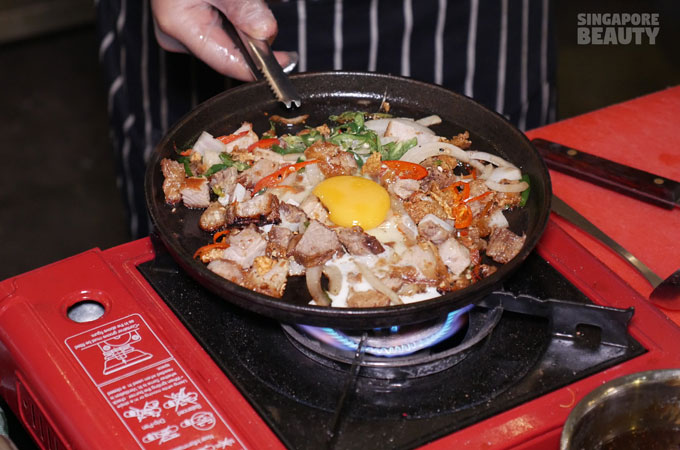 This dish is stir fry pork rinds aka Chicharrón with roasted meats, greens and egg. Great as standalone dish or pair this with the prata and burgers at the cooked food station.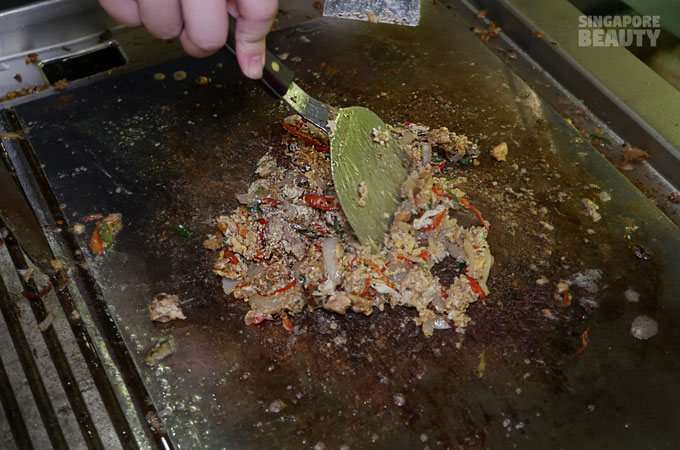 Get their daily special hot plate item of the day.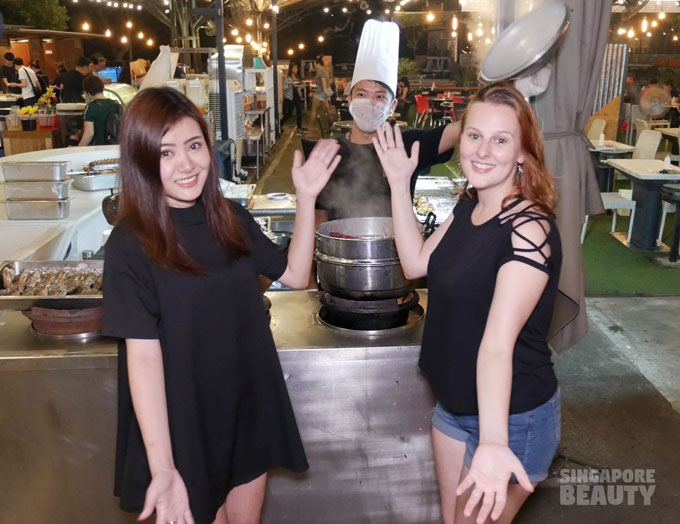 Want more? You can customise the way to cook your crabs here. Get some steamed mud crabs and flower crabs while waiting for your food to cook on the BBQ stove.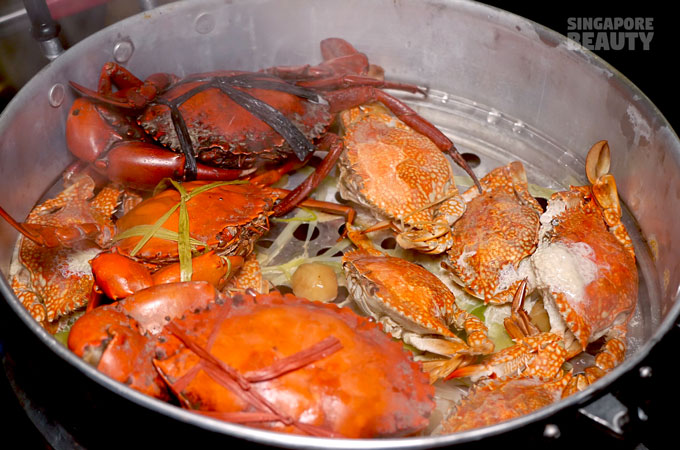 Beautiful red mud crabs-good enough to eat them off the steamer or drizzle on some sauces available at their cooked food station.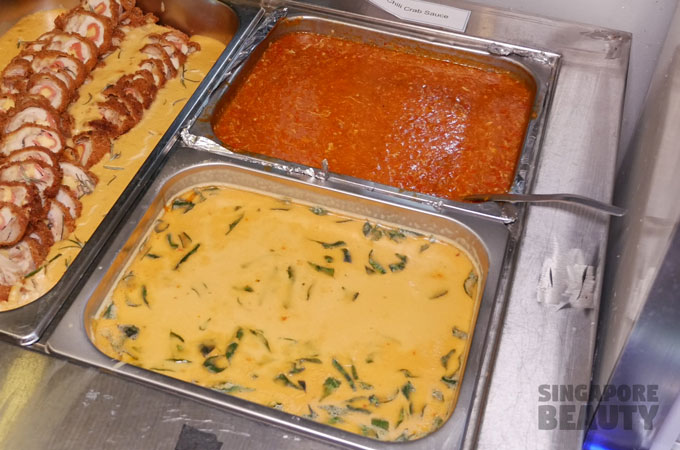 Your choice of salted egg yolk sauce and chilli crab sauce.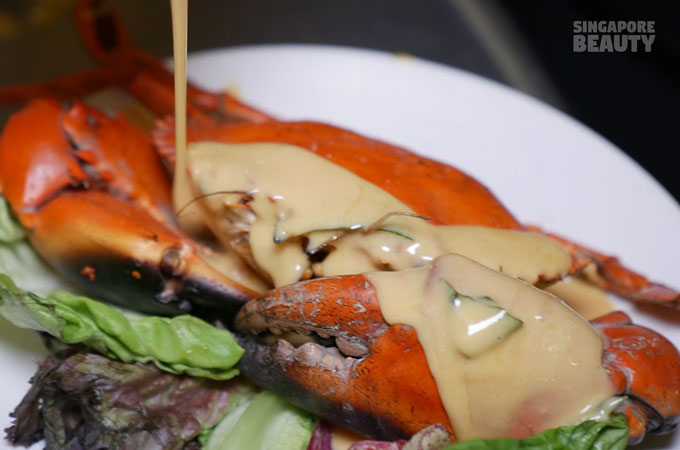 Complement your chilli crabs or salted egg yolk crabs with the mantou available at the cooked station too. Use these mantou to soak up the savoury sauces while you feast on the crabs.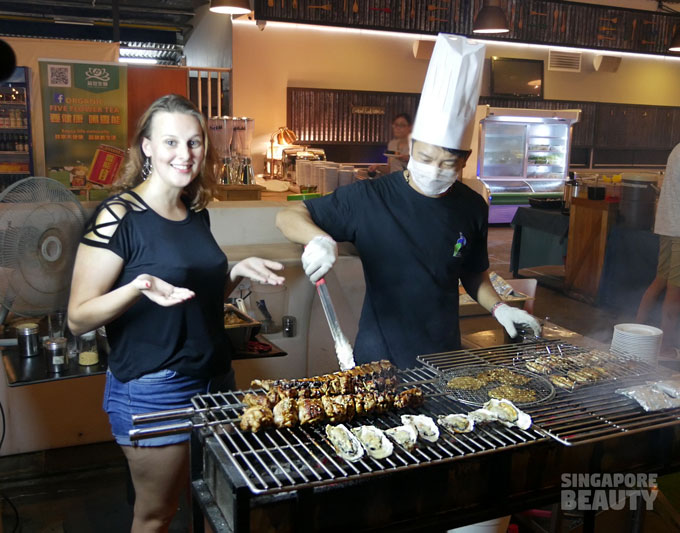 Marinated pork ribs, chicken skewers, garlic oysters, chicken skin, chicken wings and cheese spaghetti are available at the roasting station.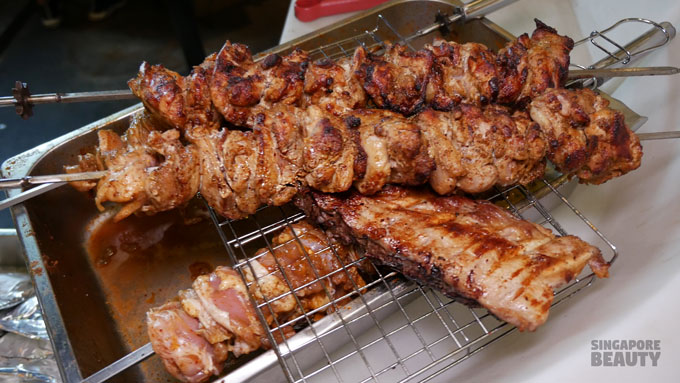 These grilled chicken skewers are well marinated, juicy and charred with crispy bits.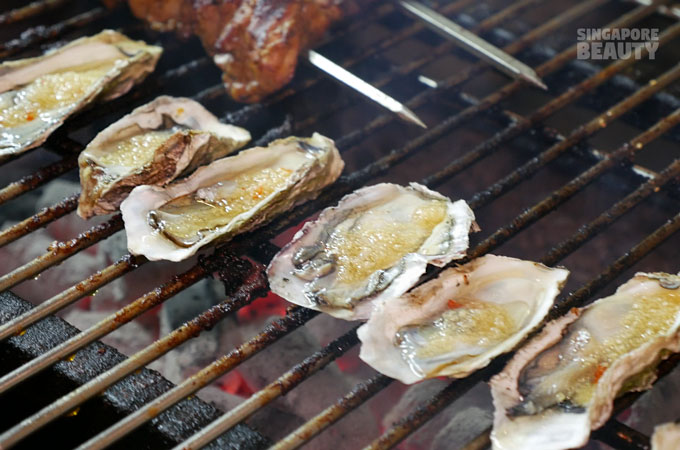 Oysters are about palm size topped with a concoction of minced garlic oil and chilli to get you salivating.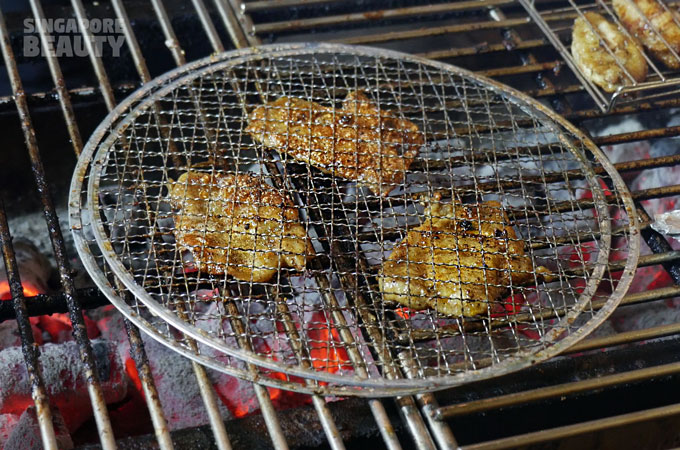 Lovely crispy chicken skins are available too.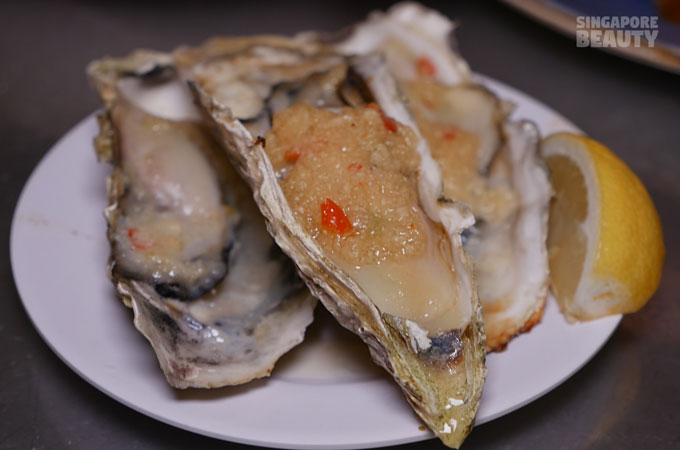 These will go down well with some of the in-house tap beers (beers are add-ons).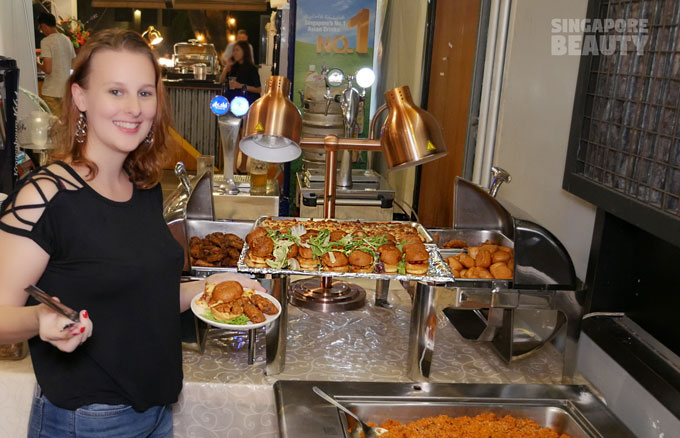 Cooked food station with loads mini burgers, fried chicken wings, nuggets, mantou, kimchi fried rice, and egg fried rice, meat rolls and more.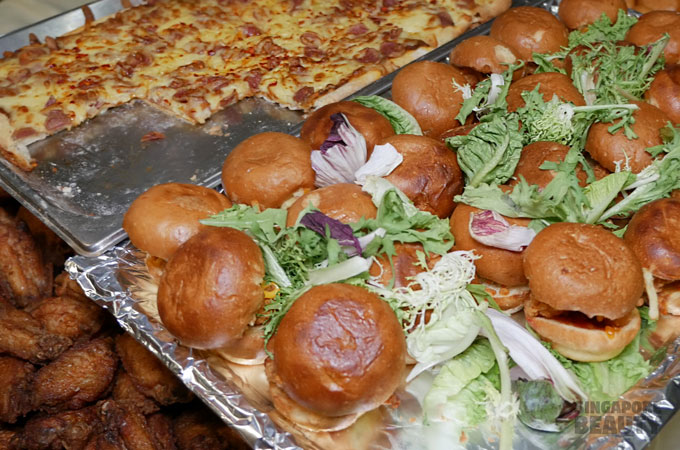 For fast food fans, get unlimited mini burgers, pizza and all comfort food here.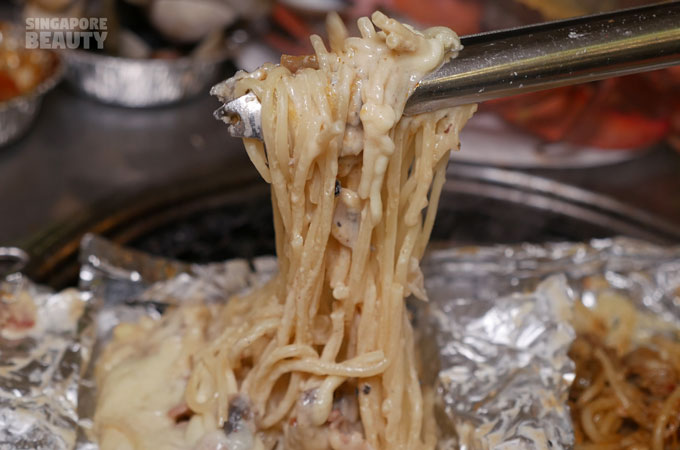 New on their bbq menu are these cheese carbonara and Bolognese spaghetti. BBQ these and enjoy the melty cheese with the al dente spaghetti.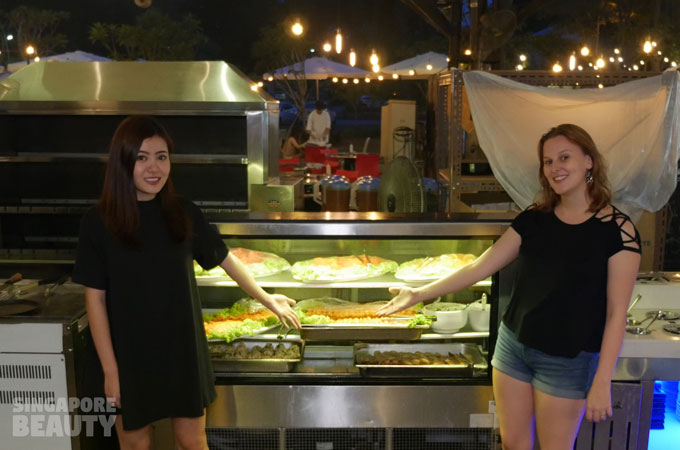 Help yourselves to unlimited salmon sashimi and vannamei.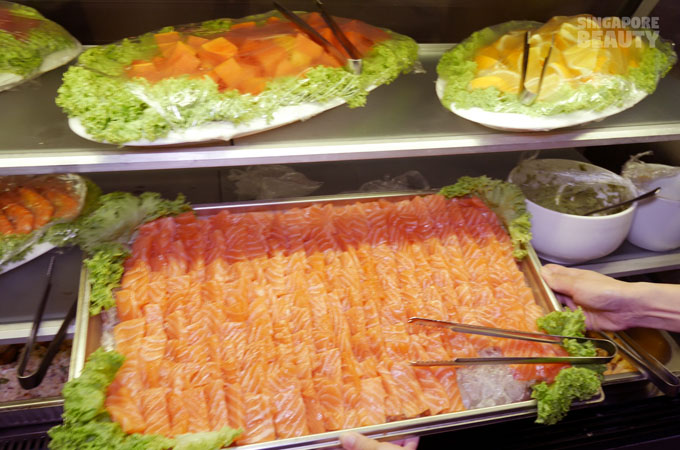 These salmon sashimi taste good on its own, barbeque or steamboat style. Delicate sweet salmon that melts in your mouth.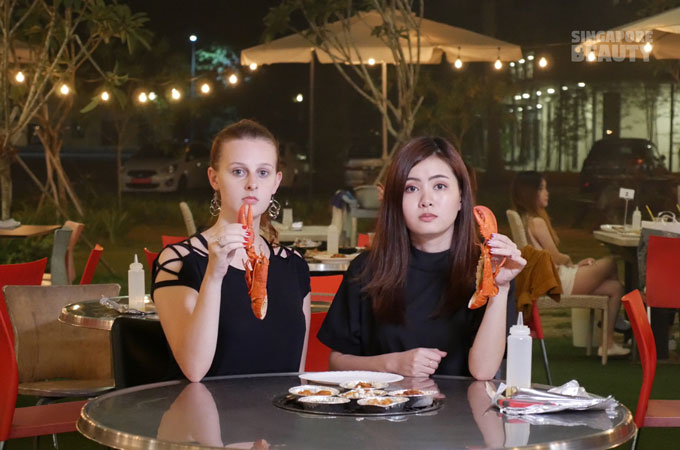 Each patron is entitled to half a ready to eat Boston lobster each whilst stocks last.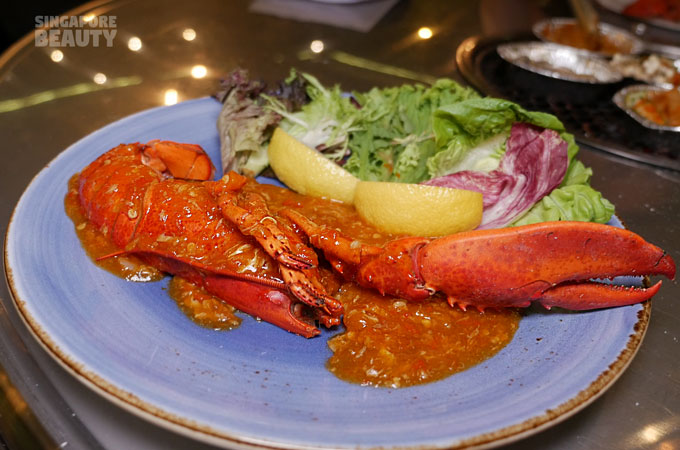 DIY your own chilli Boston lobster salad or chilli Boston lobsters with the sauce available at the cooked food station.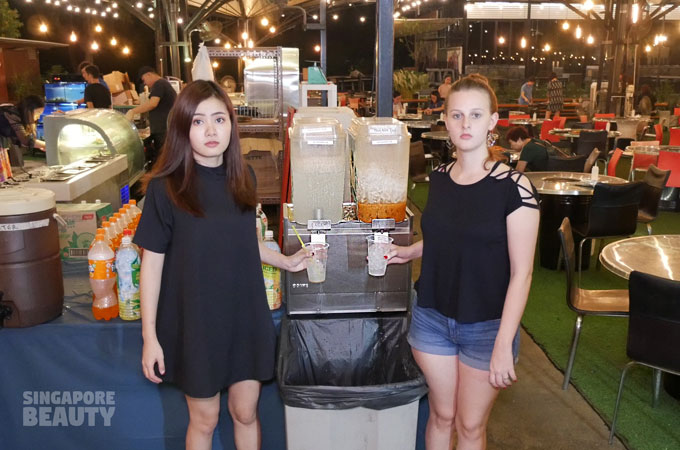 Top up $3.99+ for unlimited drinks and Thai milk Tea.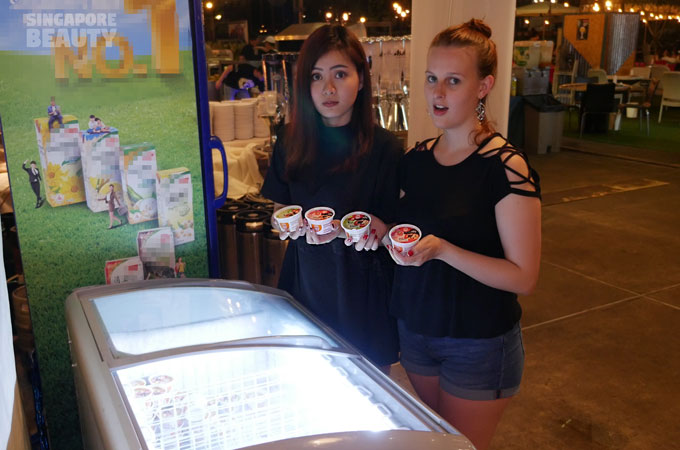 Ice Cream is included in the buffet. Great way to cool down after feasting.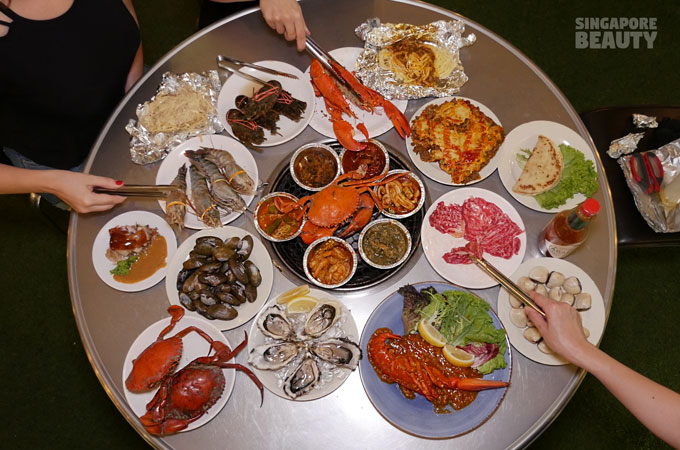 So much food and unlimited dine time, this is The Three Peacocks BBQ and steamboat Buffet.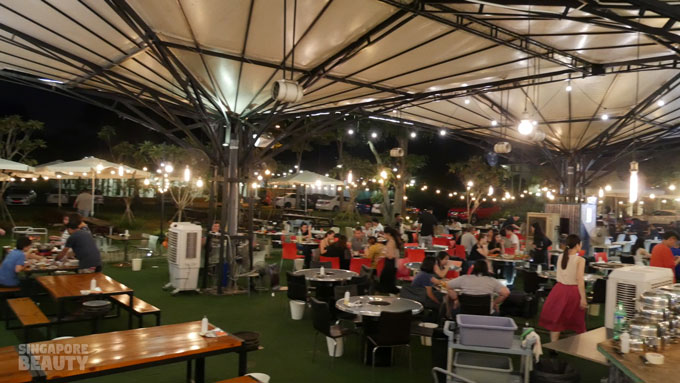 Seats are unlimited at this alfresco BBQ and Steamboat buffet. Big groups are welcomed too and you can choose the newly added large picnic bench seats with patio umbrellas . Head over to The Three Peacocks today.
Adult buffet price
Mon-Sun $41+
Kids (7-12 years old) get 50% off the normal price!
Kids (6 and below) eats free!
Add 3.99 for free-flow drinks
Dine time
No time limit
Promo
Free boston lobster per pax
Free 1 Hotpot for 6 pax ~
Additional Hotpot @ Only $11 Nett ! ~
(Mala Soup, Chicken Soup & Kimchi and Pork bone Soup Available)
Buffet operating hours
Monday – Thursday: 5pm – 12am
Friday & Saturday: 5pm – 1am
Sunday: 5pm – 12am
The Three Peacocks Location
8 Port Rd, Singapore 117540
(Close proximity to Labrador Nature Reserve)
If you are driving, plenty of parking space available.
15 mins walk from Labrador MRT station (CC27)
Reservations
Whatsapp (+65) 98511802 for reservations/ call them at 62510213
Brought to you by The Three Peacocks