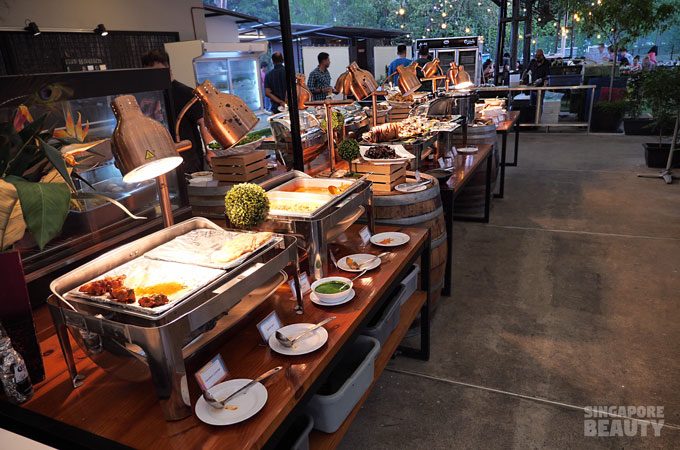 The Three Peacocks has upsized the spread to international buffet style. Be wowed by an array of western, Chinese, Indian and South East Asia cuisine.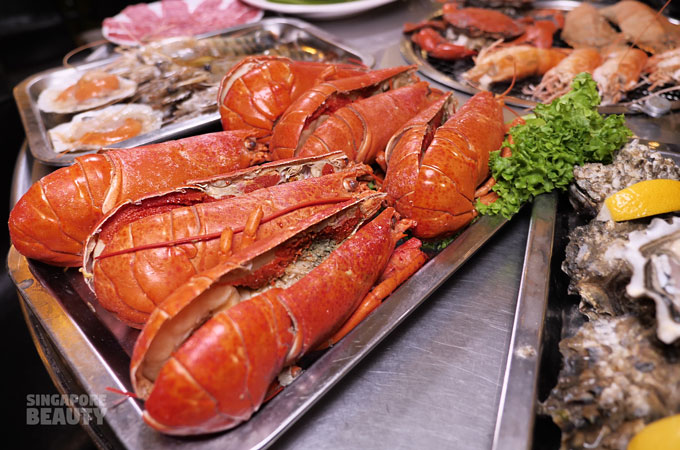 Every buffet goer at The Three Peacocks is entitled to half a Boston lobster.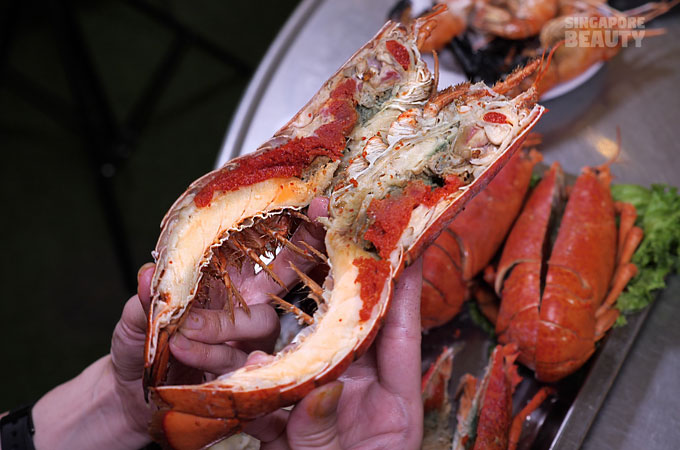 Feel free to eat these with the salted egg sauce or the chilli crab sauce at the cooked food section. You can also eat barbequed with some melty cheese (get the cheese near the bar).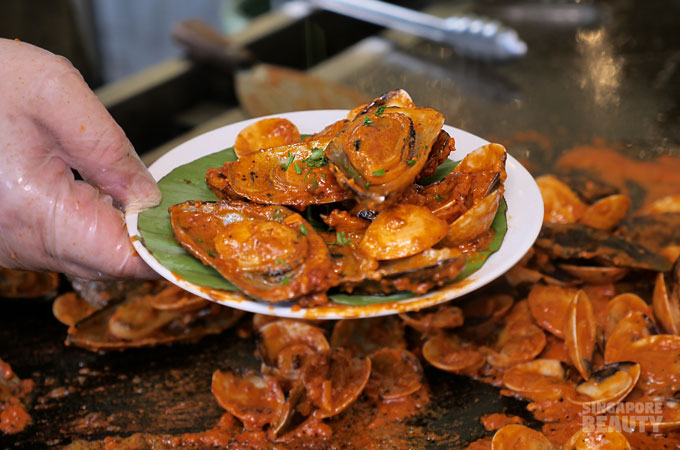 At the live station, get some succulent mussels and venus clams with Arrabiata red sauce.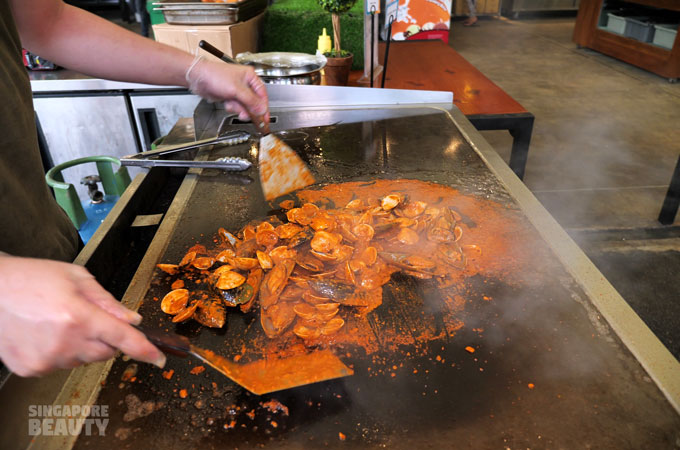 Teppanyaki style and served sizzling from the hot plate.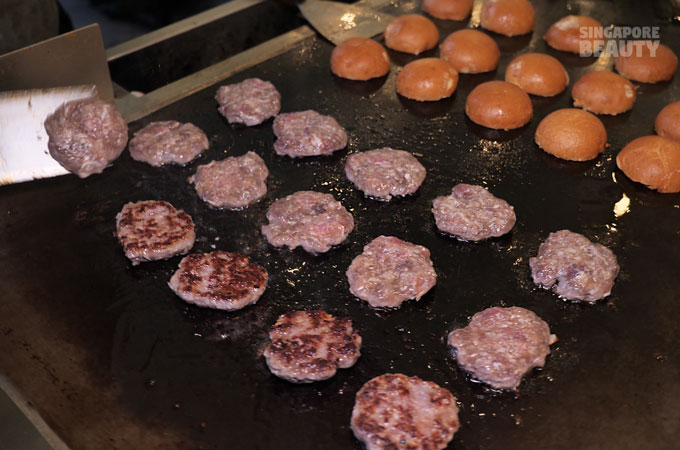 Get the mini burgers with wagyu patty at the live station too.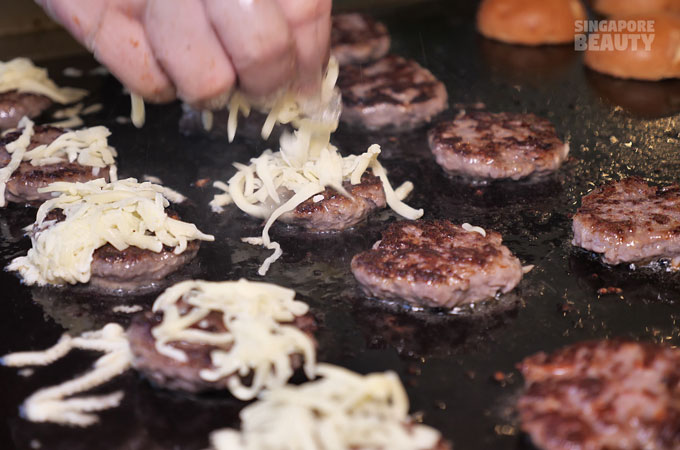 Toasted buttered mini buns with melted cheese on top of the wagyu patty.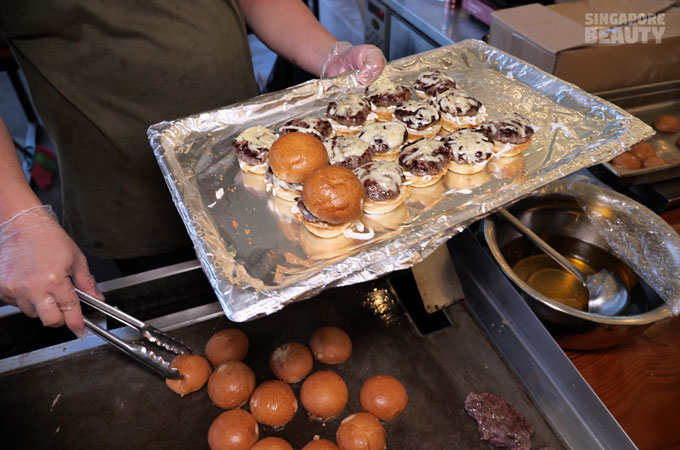 Juicy and creamy combination with light crunch from the toasted buns.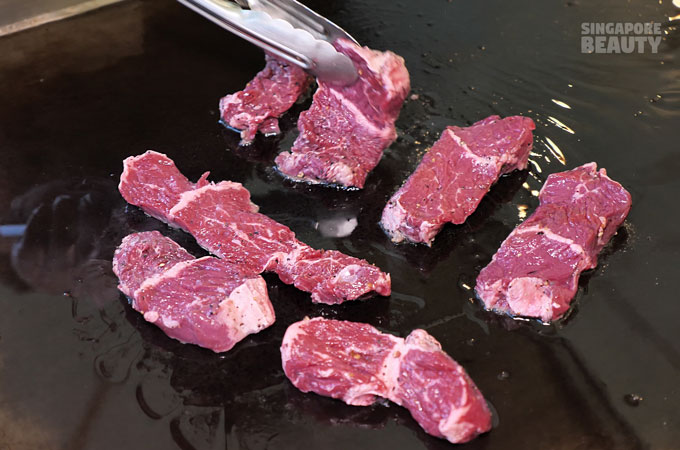 Wagyu with a good amount of fats and lean meat sizzling on the hot plate.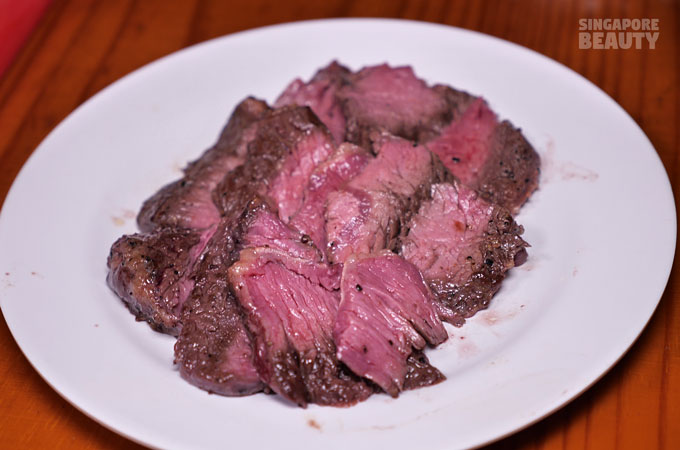 Wagyu cooked to medium rare doneness with a light shower of salt and black pepper. One of the popular picks recommended by the chef.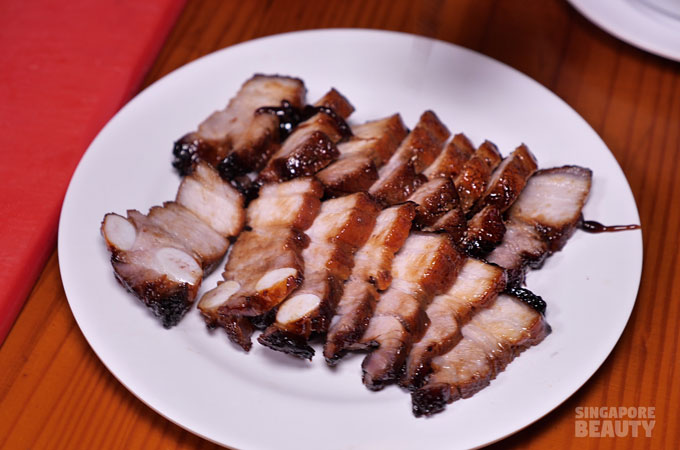 Braised char siew with a honeyed glazed coat, tender moist melt in your mouth texture and crunchy soft bones. Good amount of char to give it a smoky flavour. Recommended.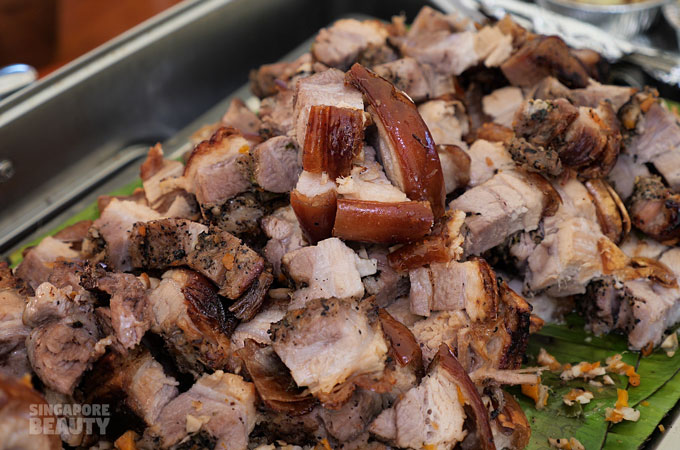 Pork Lechon with crunchy skin and soft tender meat with high amount of soft springy fats under that crispy skin.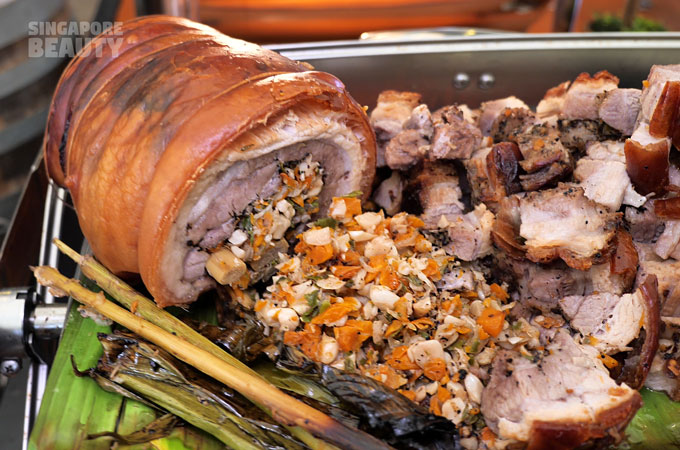 Paired the chunks of lechon (similar to roasted pork) with the chopped sides (garlic, cliantro, carrots, lemongrass, onions and spices).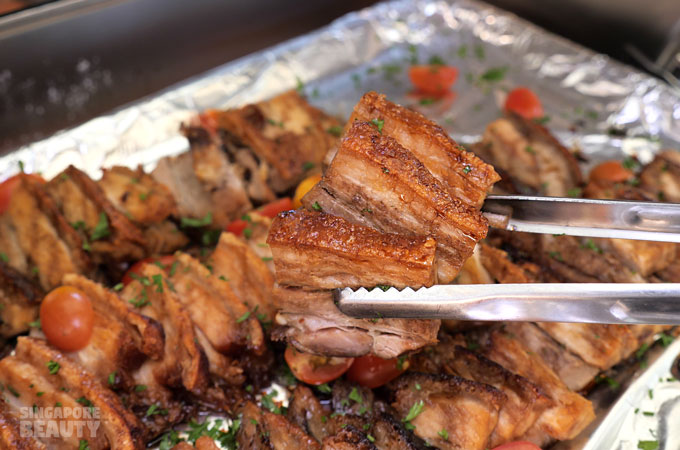 Newly added to the menu are some French pork bellies with a thin layer of crispy skin in a savoury sauce.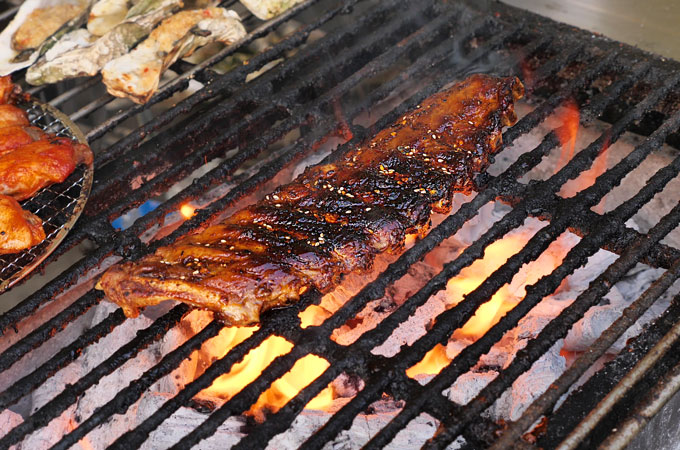 How about some sizzling hot caramelised sesame pork ribs from the BBQ station?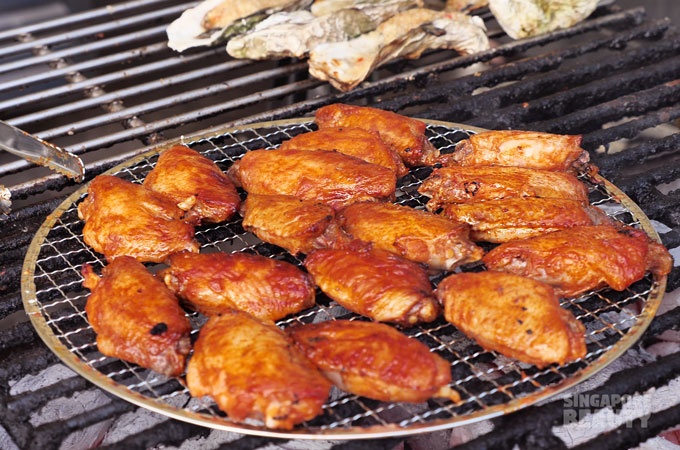 Grilled mala chicken wings.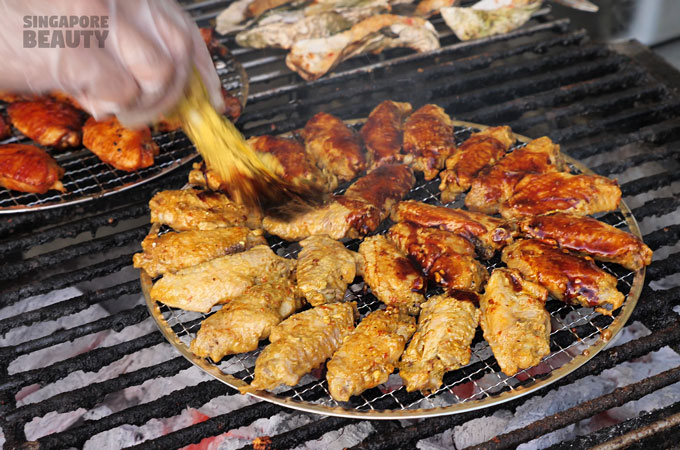 Also available are some Indonesian cuisine like ayam bakar (grilled chicken), ayam penyet (deep fried chicken drumstick), tioman fish penyet (deep fried fish) and ayam pedas (stingray).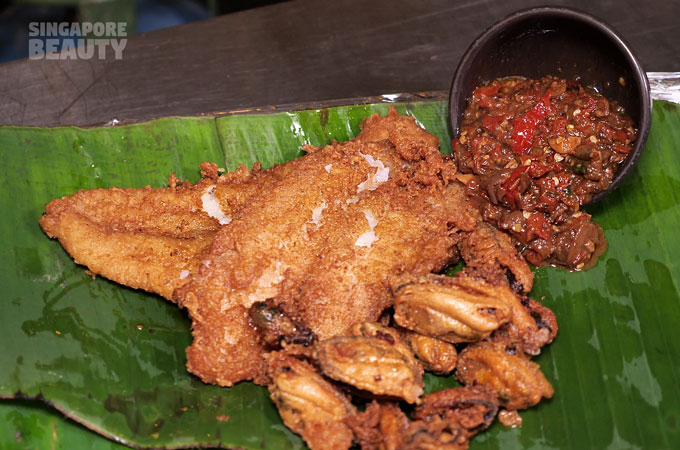 Get the freshly fried Indonesian cuisine at the live station. The Indonesian menu is on a rotational basis, do check with them over the phone while making your reservations.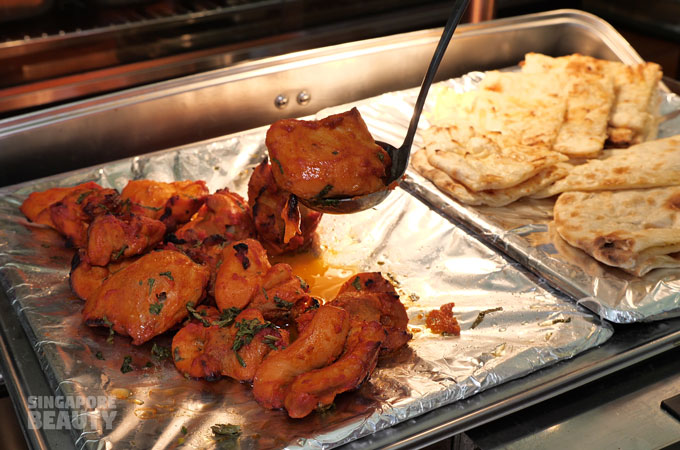 Southeast Asia cuisine such as tandoori chicken, naan, butter chicken and mixed curry vegetables at the cooked food station.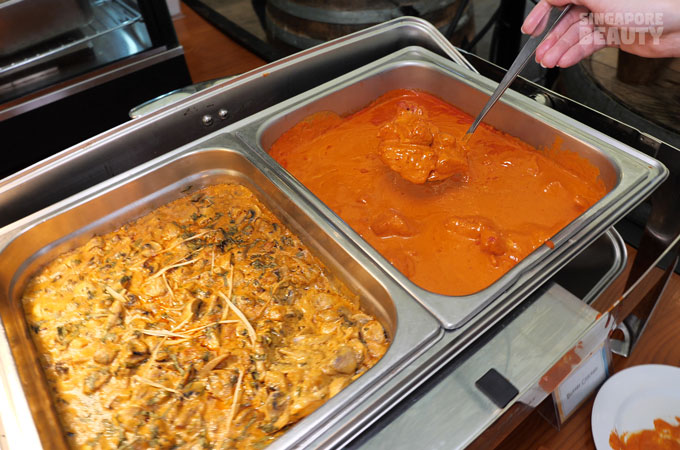 Paired these rich curry gravy dishes with the naan or use these as dip with tortilla chips or mantou.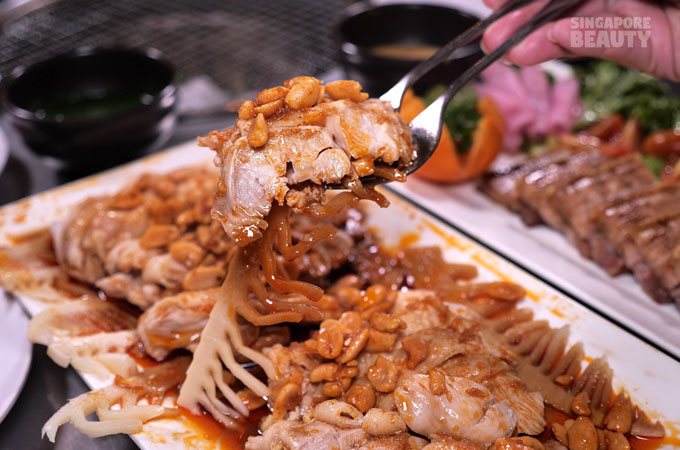 Or some Hainanese chicken in mala sauce nested on slices of young bamboo shoots.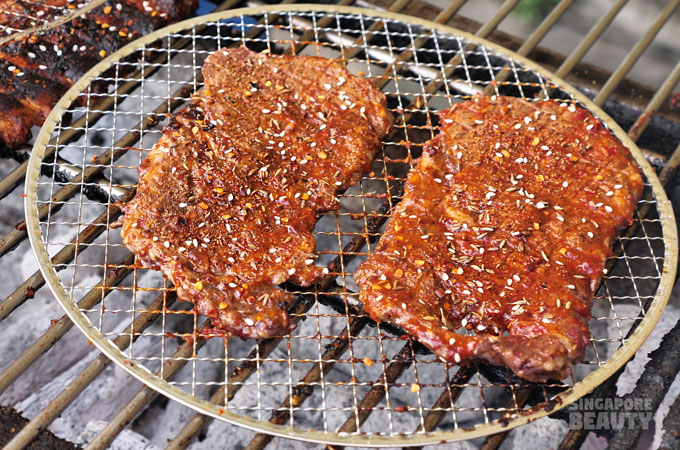 Spiced beef steak marinated in special sauce with cumin, fennel, sesame and chilli flakes.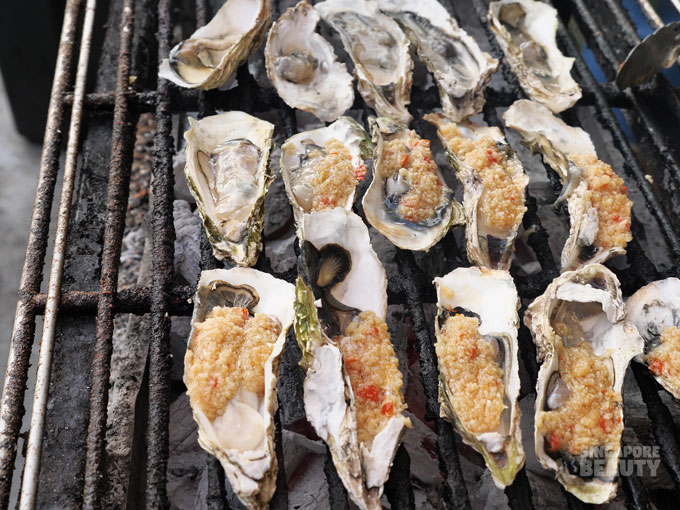 Good size oysters roasting in briny garlicky chopped garlic sauce.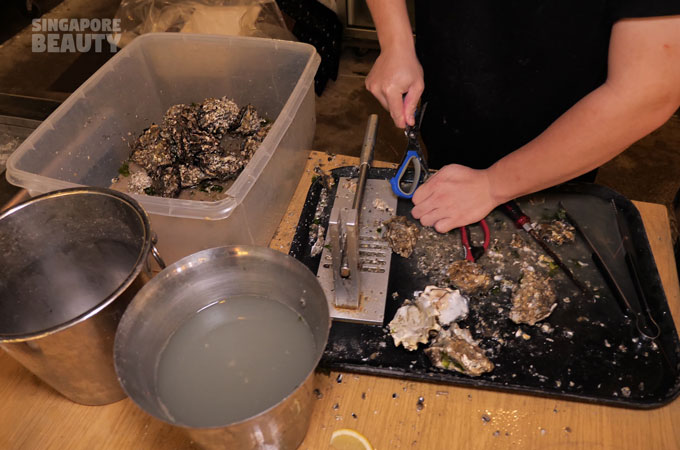 Or get the freshly shucked live oysters at the oyster bar.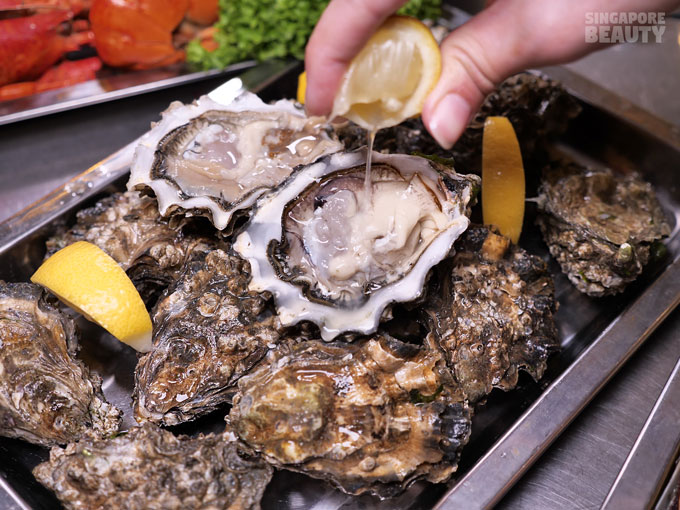 Best eaten with a wedge of lemon and some tabasco sauce.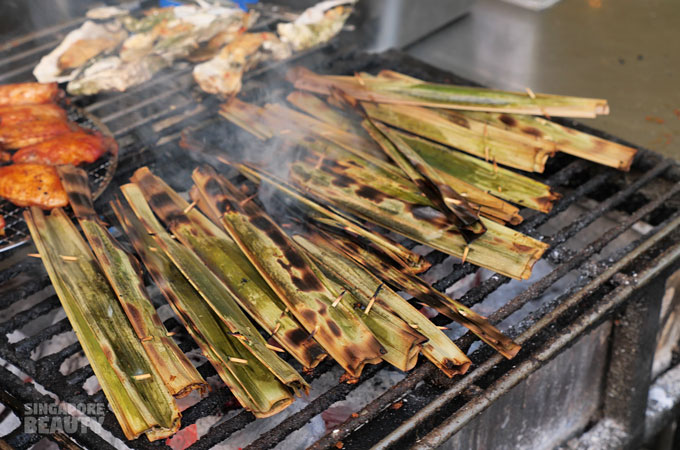 Local favourite like spicy fish otahs are also available.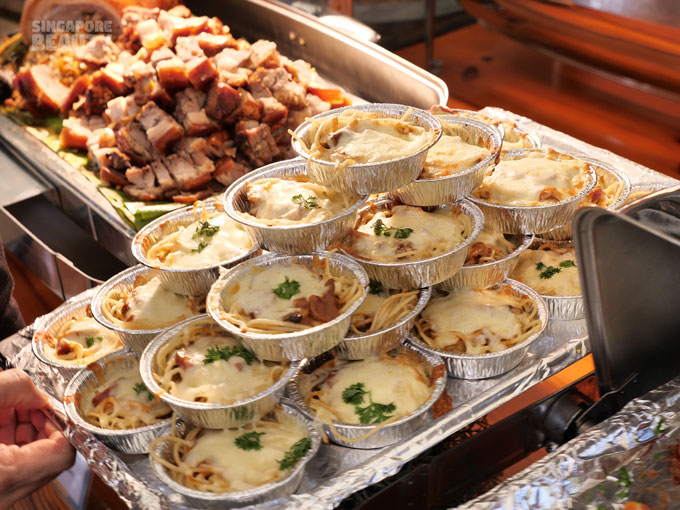 Ready to eat spaghetti Bolognese with melted cheese served in palm size tin. Bring these to the bbq pit to roast for that stringy cheese pull.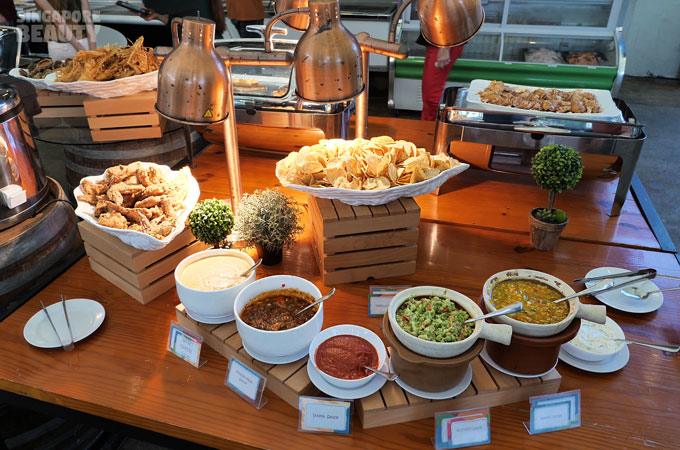 Tortilla chips and crispy wings with 6 dips (Nachos cheese, Minced meat sauce, mango salsa, avocado sauce, sour cream and vodka sauce).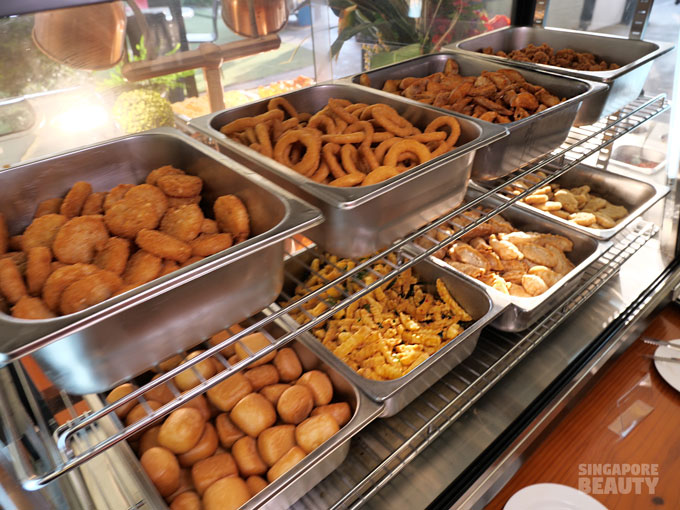 Thin crust pizza, onion rings, potato wedges, salted egg French fries, chicken pop corn, nuggets kept warm and crispy inside a food warmer.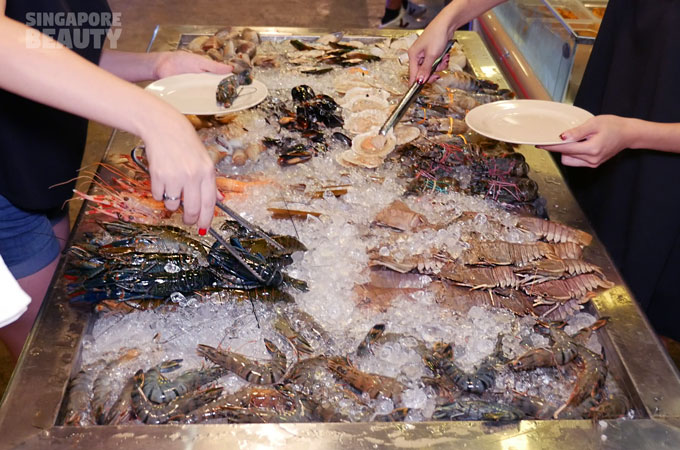 For regulars at The Three Peacocks, the highlight has got to be their live prawn tank, live mud crabs, live oyster bar, vannamei & scampi bed and the iced seafood bed.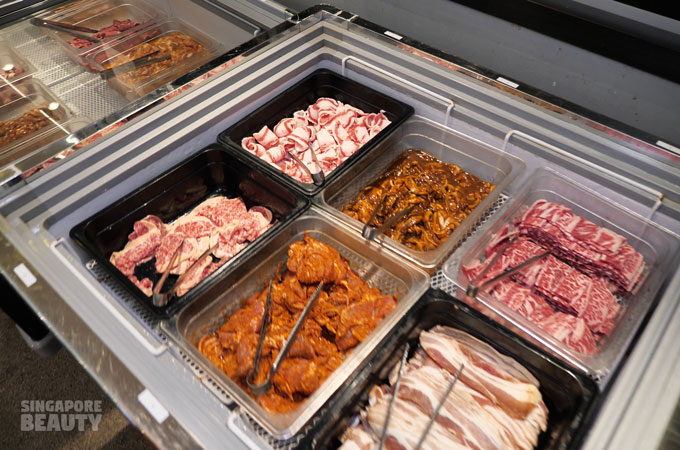 There are 26 types of marinated and shabu shabu meat( beef, pork and chicken) to choose from at the display meat chiller. Time to load up on bbq meat for meat lovers!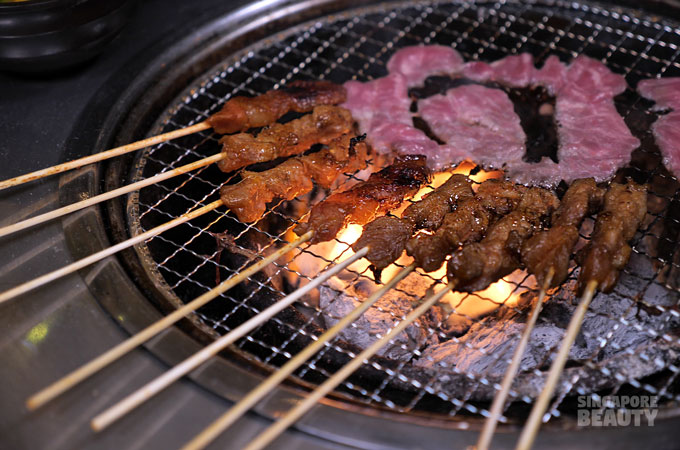 You can even find satay and wagyu at this meat display chiller.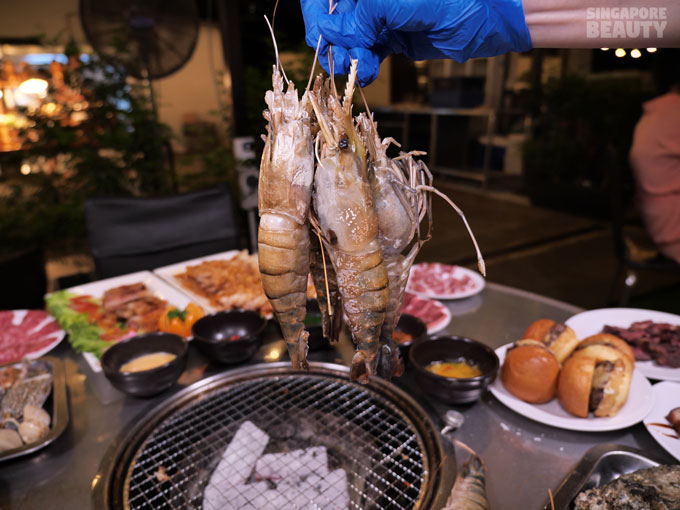 Lots of good size Thai river prawns to barbeque with cheese.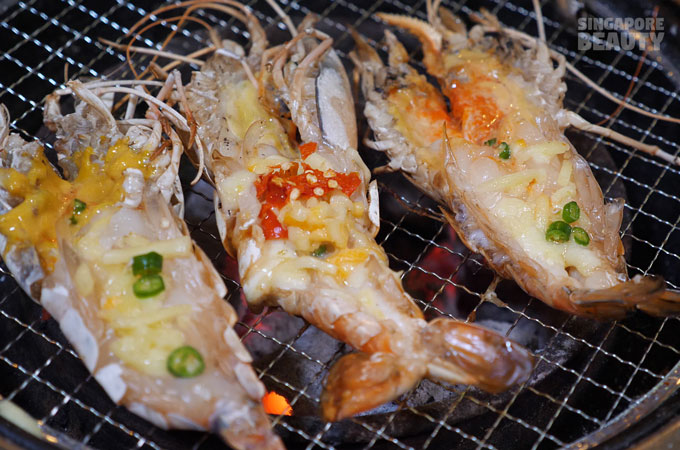 Sweet succulent prawns with savoury melted cheese.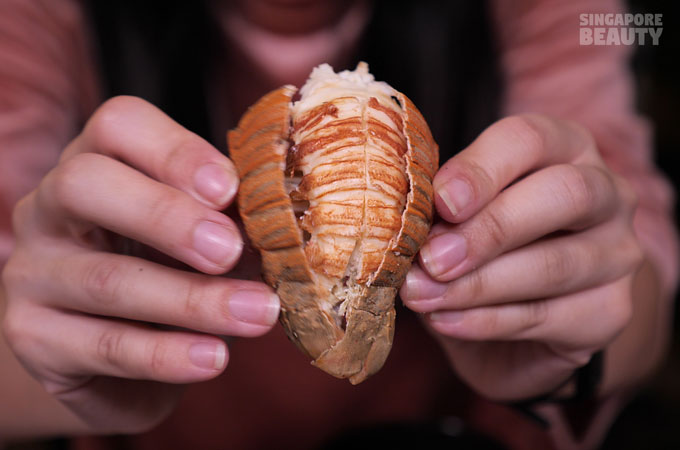 Slipper lobsters with stringy and firm flesh.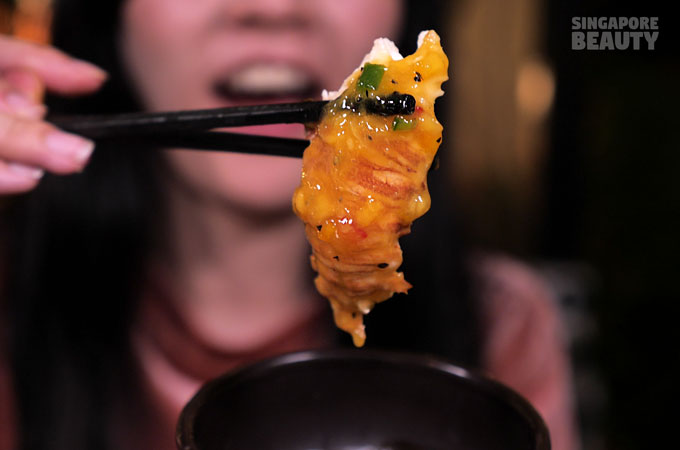 Pair these with some mango salsa sauce with real mango bits.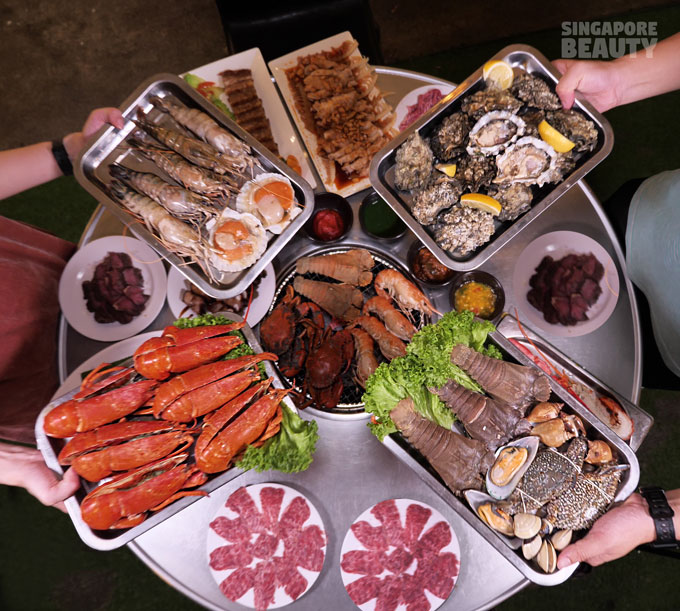 Enjoy the massive spread of seafood with a big group of friends!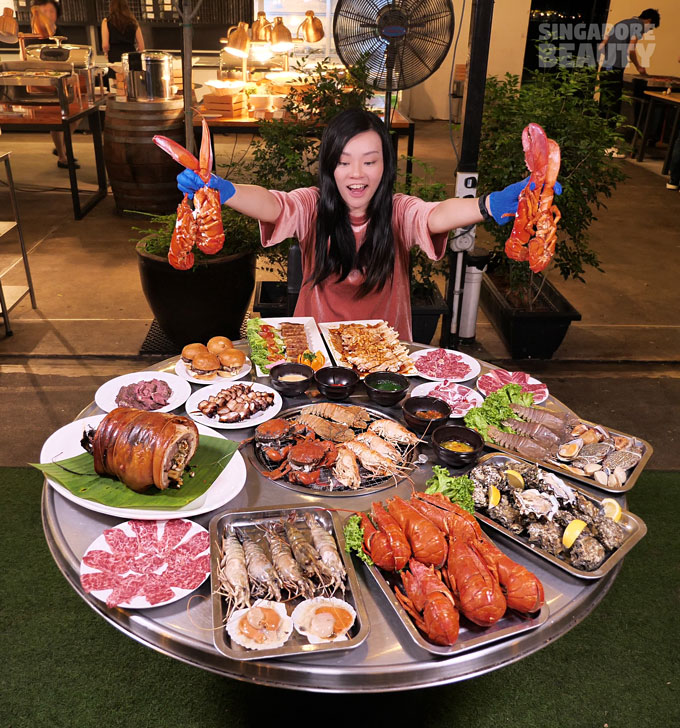 Bbq buffet with no time limit.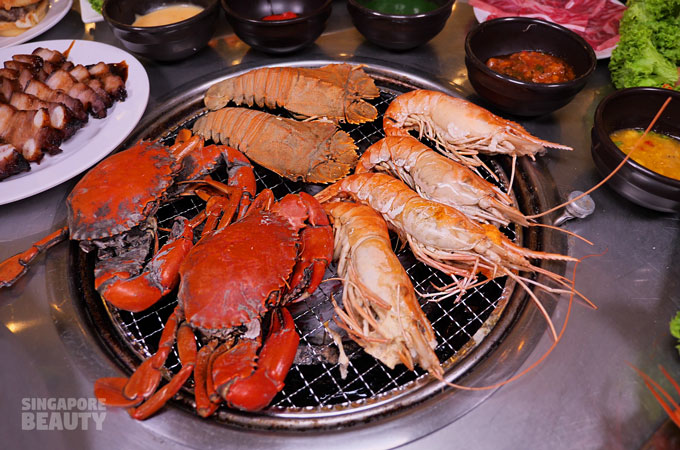 The BBQ buffet worth going to.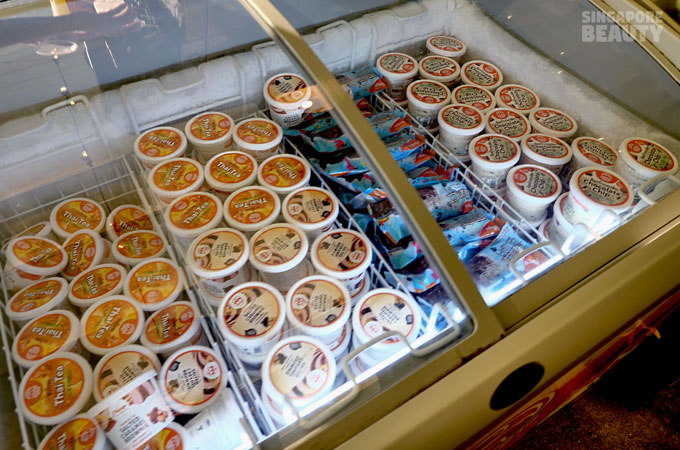 Cool down with some ice cream or pop sticks at the ice cream counter.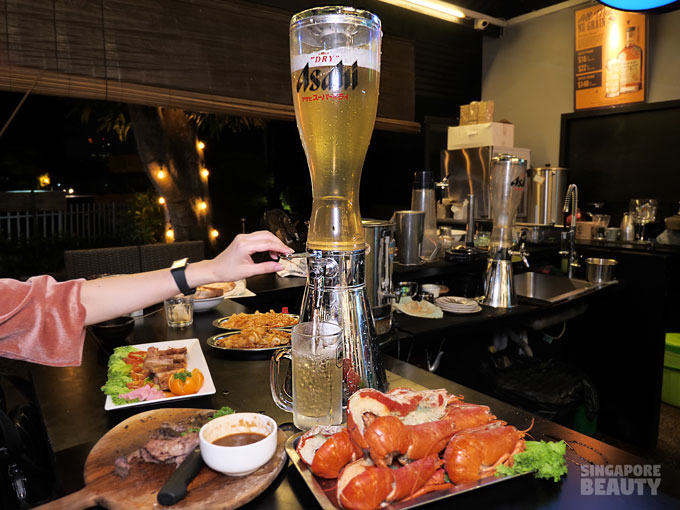 They are having 3 litres Asahi beer tower promotion this August 2019. Do check with them for the special promotion whilst stocks last.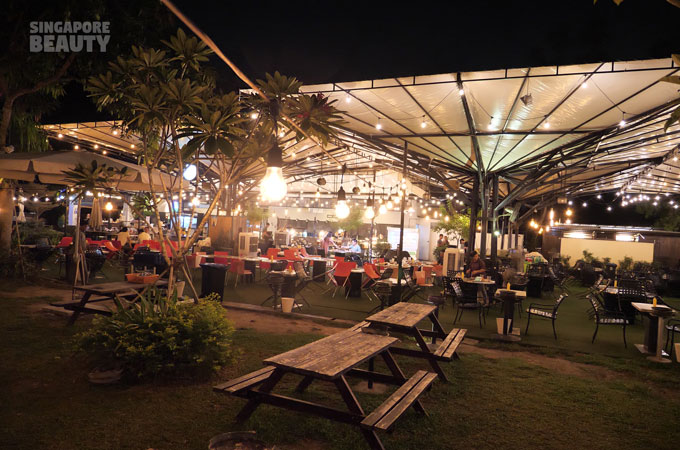 Head over to The Three Peacocks today or make a reservation for your International seafood buffet feast today. This alfresco buffet place is good for large groups and has a chill ambience with lush landscape that is almost magical.
Adult outdoor BBQ buffet price:
Mon-Sun (including PH and Eve)
Adult $41+
Kids (7-12 years old) $20.50+
Kids (6 and below) eats free!
Senior (60 and above) $31+
Add $3.99+ for free-flow drinks
All prices subject to 10% service charge, no GST.
Promo 1:
Free half Boston lobster (cooked) per pax
Promo 2:
National Day Drink Special (till 18 Aug 2019)
54 nett for 3 litres Asahi beer tower
54 nett for 2 buckets (10 bottles) selected beer
(choice of Asahi Super Dry, Carlsberg, Heineken, Somersby, Corona, Tiger)
Birthday special:
The birthday personnel gets a slice of cake or selected bottle of beer.
Adult indoor HOTPOT buffet price:
If you are there, you might have noticed that they have an indoor building. That is for their hotpot buffet.
Hotpot option 1: The Three Peacocks also have a choice of indoor hotpot buffet at $41+, each pax is entitled to half a uncooked lobster, including all seafood, meats and cooked food station at the BBQ buffet spread.
Hotpot option 2: The Three Peacocks also have a choice of indoor hotpot buffet at $30+ inclusive of free flow wagyu beef, black pork, soft drinks and cooked food at the BBQ buffet spread. Seafood is excluded.
Dine time:
No time limit
Buffet operating hours:
Monday – Sunday: 5pm – 1am
Last walk-in : 10pm
Location:
8 Port Rd, Singapore 117540
(Close proximity to Labrador Nature Reserve)
If you are driving, parking is free with plenty of space available.
15 mins walk from Labrador MRT station (CC27)
Reservations:
Call them at 62510213
Brought to you by The Three Peacocks