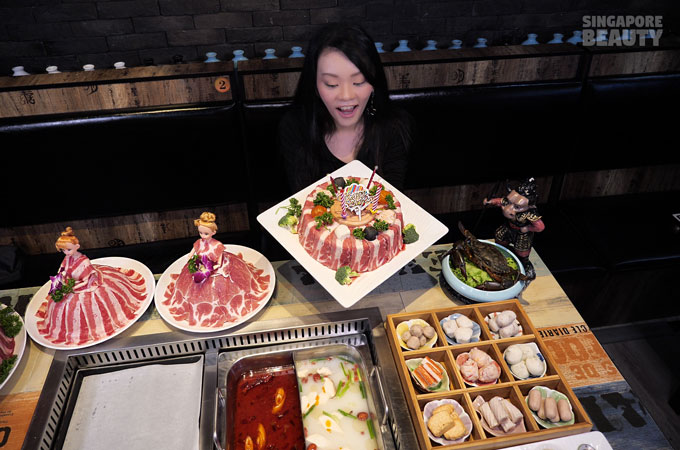 Bugis BBQ & hotpot 武吉士烤涮 is having a $15++ lunch BBQ with hotpot buffet promotion and throws in a complimentary 1-tier birthday meat cake for anyone that celebrates his/her birthday with 4 pax and above in the restaurant.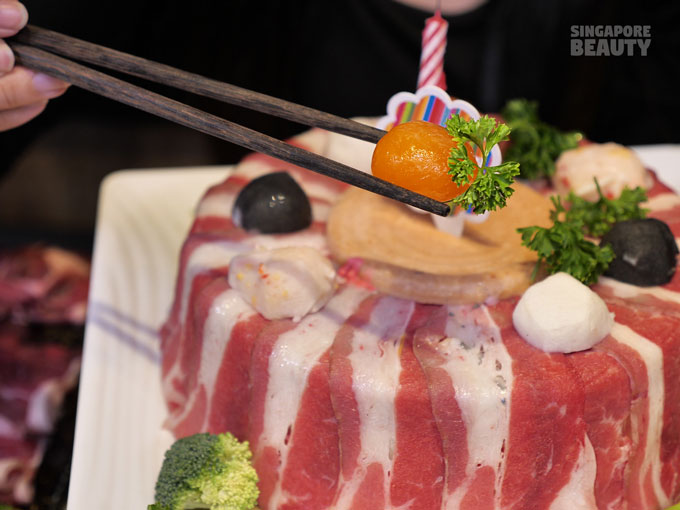 This one tier meat cake comes with shabu shabu meats, salted egg yolk, squid ball, lobster ball, luncheon meat as decoration.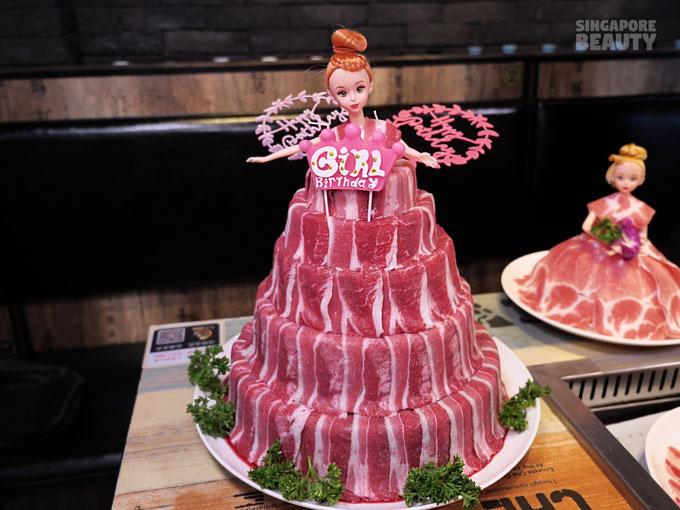 Or upsize to this 6 tier birthday meat cake for additional of $38++.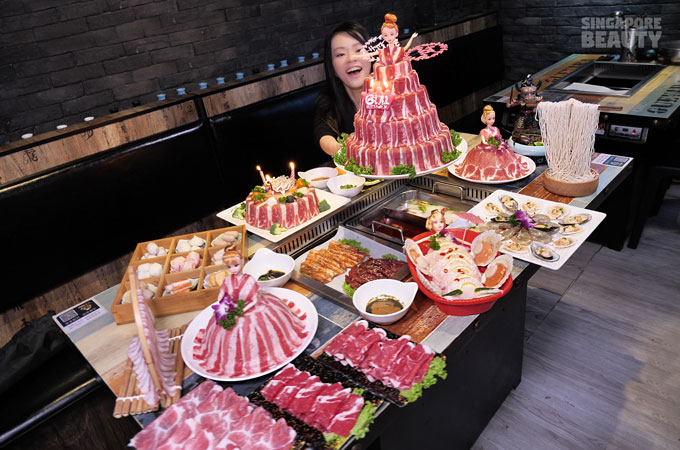 What is a better way to celebrate your birthday than with a unique 6 tier dolly meat cake? This is the place to have your birthday bash without much advance planning, probably just a reservation.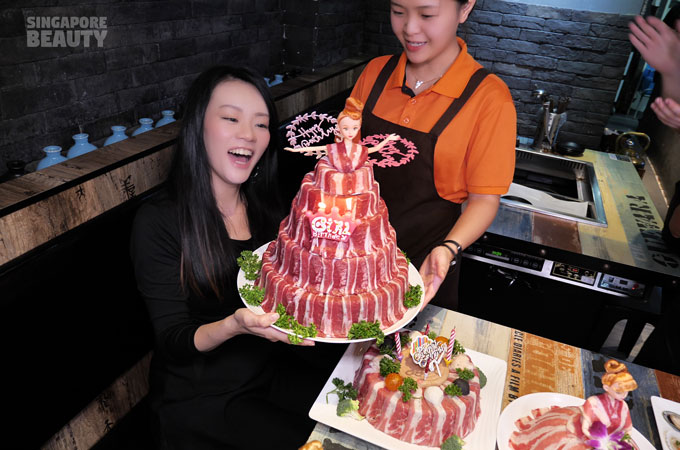 You may get the service crew to light up the birthday cake and bring it out to surprise your birthday pal of the day. A request can be made to sing a birthday song along with the lit 6 tier dolly meat cake as it make its way to surprise the birthday girl or guy.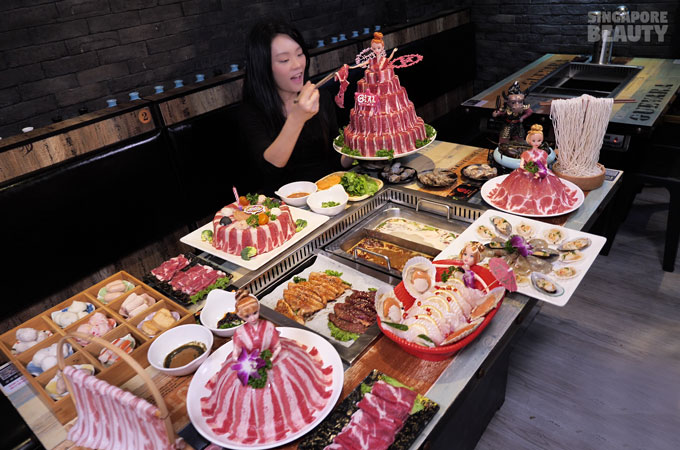 These are shabu shabu meat that are great for hotpot.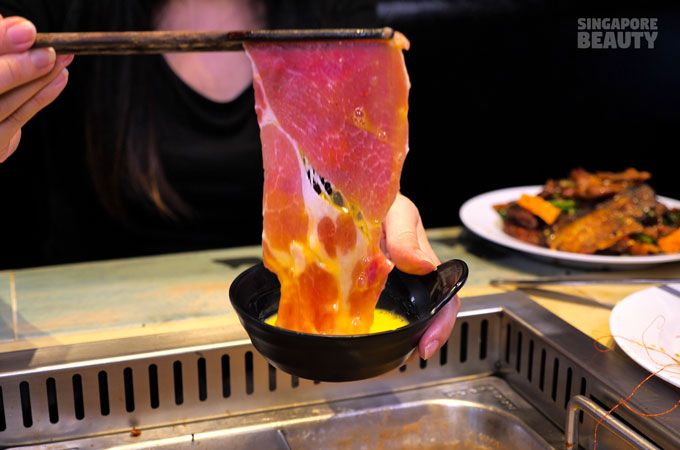 Dip these shabu shabu meat in an egg wash for that extra silky texture after cooking.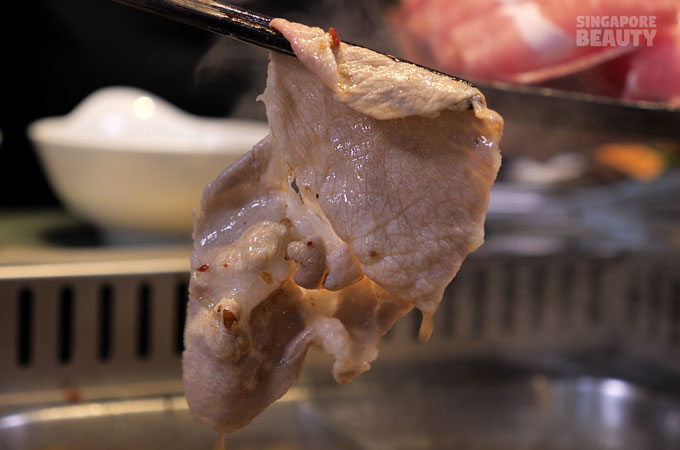 Tender juicy melt in your mouth shabu shabu meat.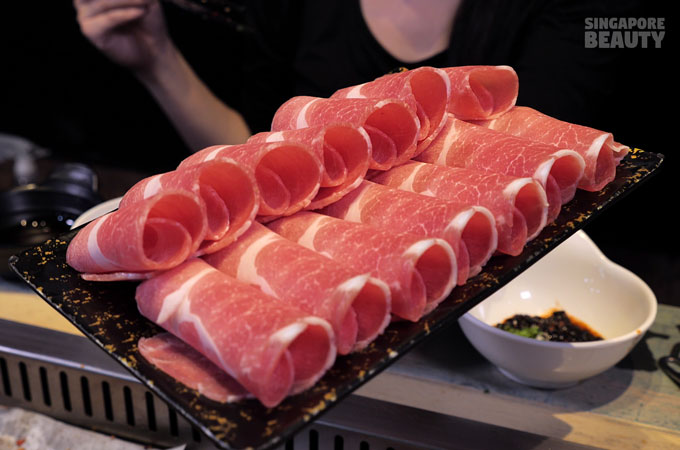 These meats are cut fresh in house with the meat slicer for each order to the perfect shabu shabu thickness.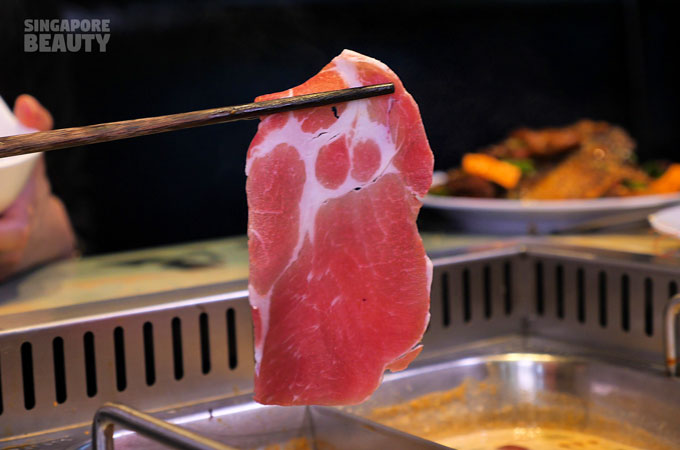 Check out the marbled grains in this shabu shabu meat.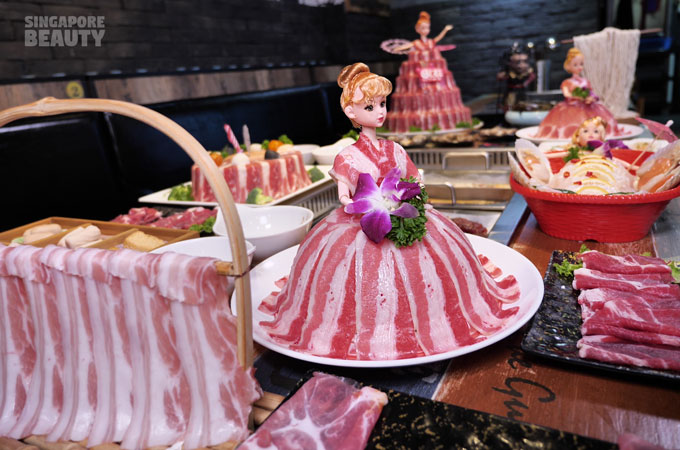 There are so many variety of meat presented in many unique ways – meat on a bamboo raft, meat on a dolly, meat cakes and meat roll.
You can choose the type of meat with various degree of meat vs fats ratio and the type of meat for your dolls to be cladded in. These dollies in meat are limited to 1 set per group as these are labour intensive "art pieces" according to the chef.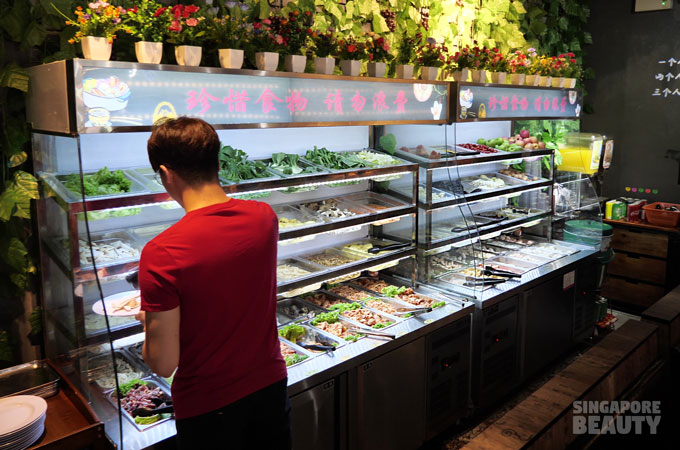 Besides the shabu shabu meat rolls that you order from the crew (included in buffet), there is an good range of marinated meats, seafood, surimi, noodles, fruits and greens that is at the DIY displayed double 4 tier chiller that is free flow to all the diners.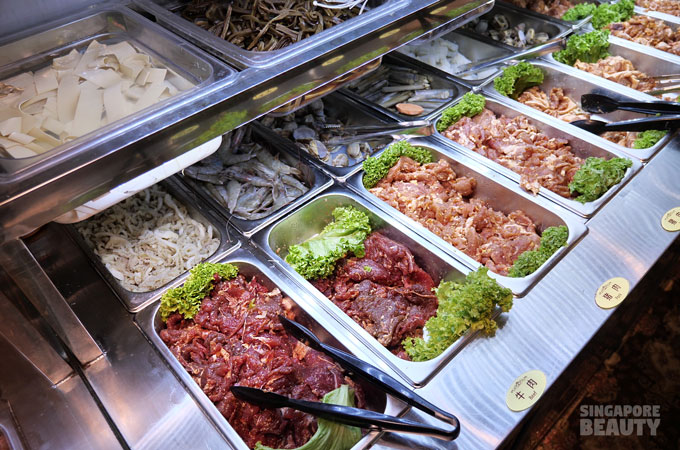 There is a good variety of meats such as marinated beef, pork and chicken for BBQ.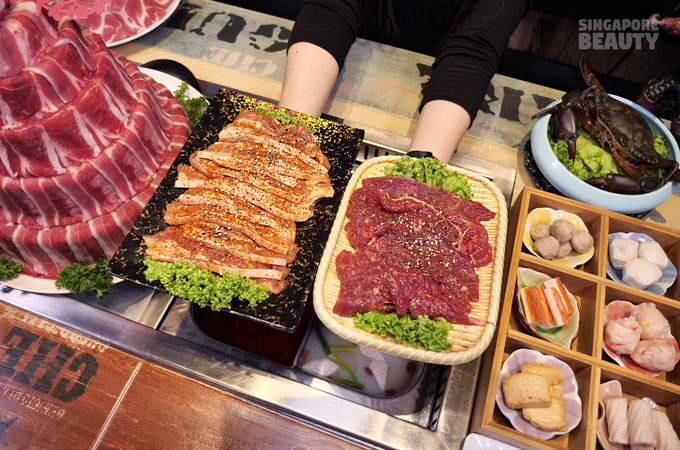 Some of these marinated meats are seasoned with spices such as cumin, chilli pepper and sesame for that unique exotic aroma when you BBQ them.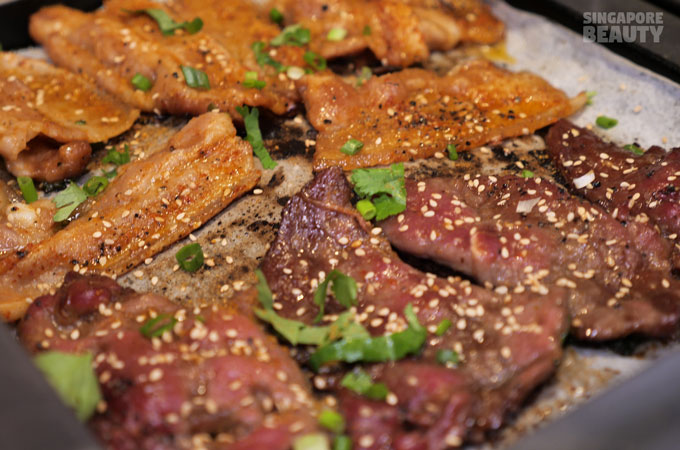 Cook these marinated meat on a low heat setting to retain the juices and tenderness.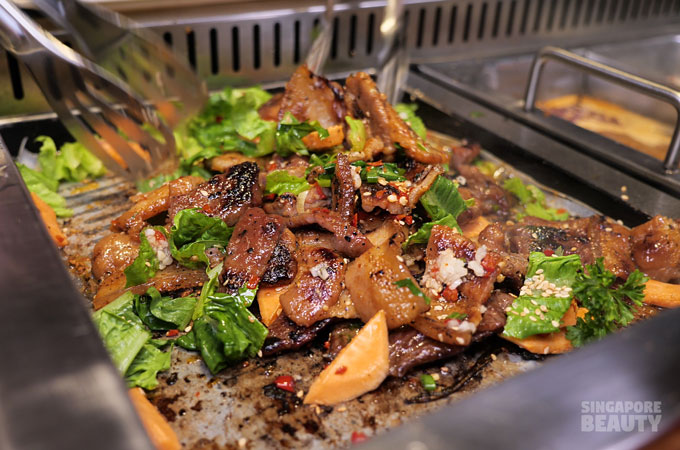 For those who love crispy bacon bites, you need to grill these on a high heat setting.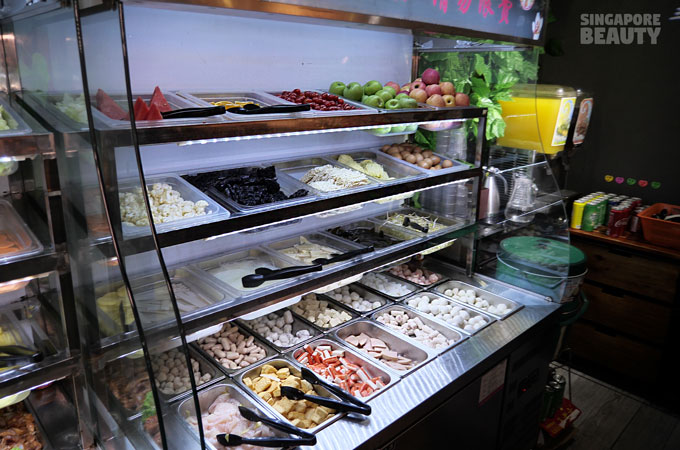 The crazy spread of surimi that you can imagine and fruits.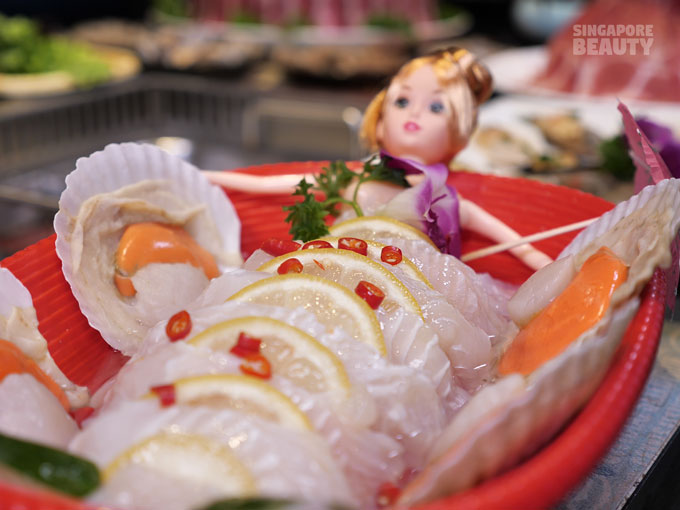 For 6 pax and above, you will get a complimentary "mermaid" fish platter that comes with 4 large half shell scallop and a good amount of fish fillet. The mermaid fish platter will only be served once, but you can order more of such large scallops from the kitchen that is included in the buffet.
Season these large scallops with the garlic, chilli and spring onion from their condiments counter and watch them sizzle in their own briny garlicky juices on the electric grills.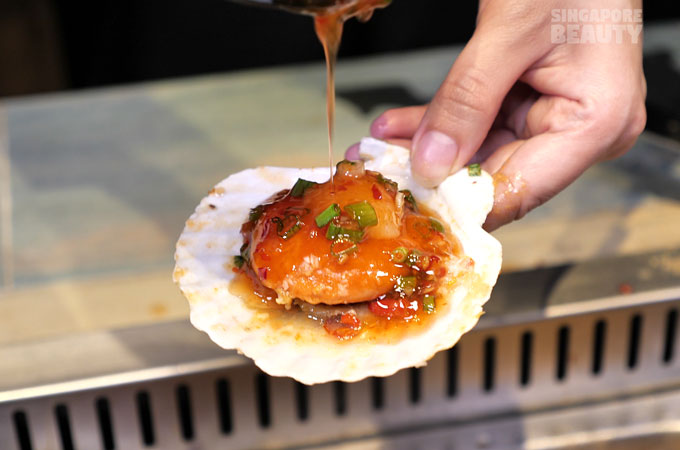 You can also cook these in the hotpot and drizzle on some sweet and spicy chilli sauce for a savoury bite.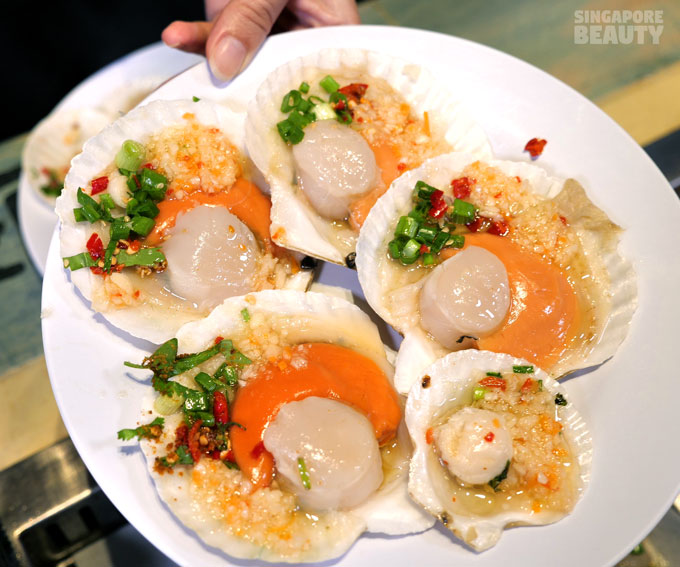 This is the size of the large half shell scallops compared to the standard size scallops (both included in the buffet), both of which needs to be ordered from the crew.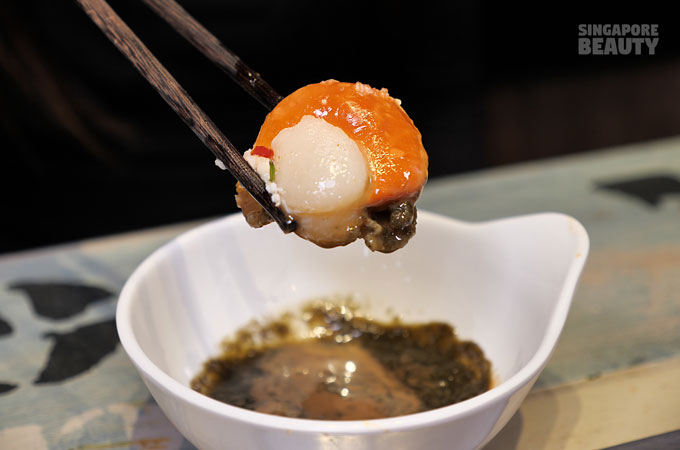 Dip these fat custardy scallops in their selected sauce.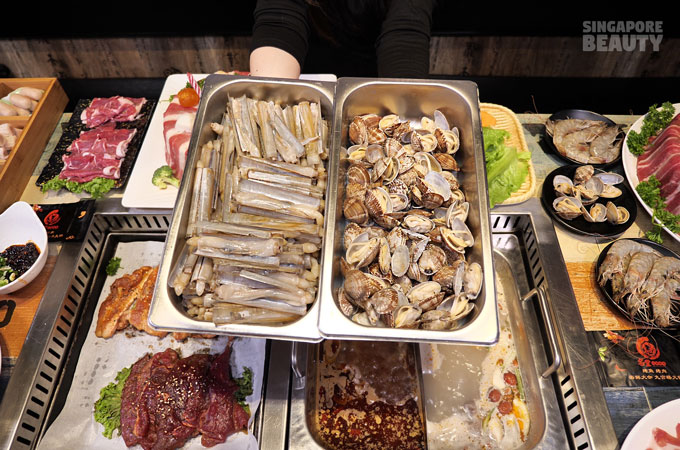 Help yourselves to unlimited prawns, bamboo clams, flower clams, mussels, squid and 2 types of half shell scallops.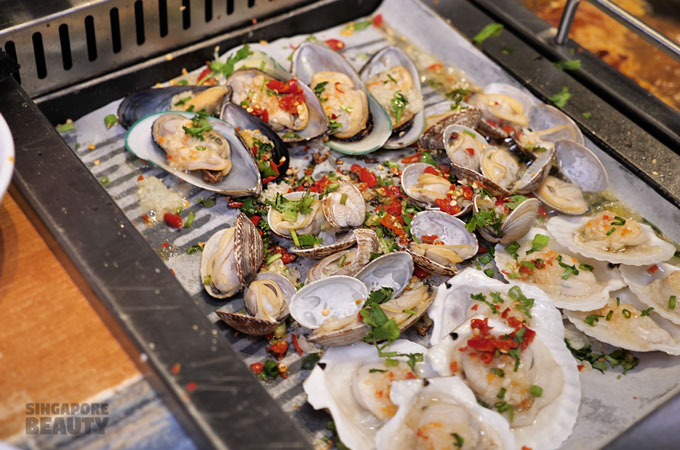 Unload good amount of garlic chilli and your desired shell fishes on the hot grills.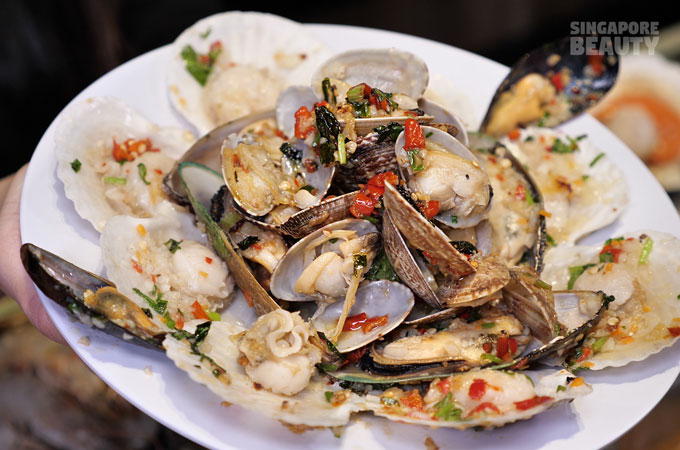 Create your own stir fry garlic chilli mixed shells platter using the bbq grills and condiments.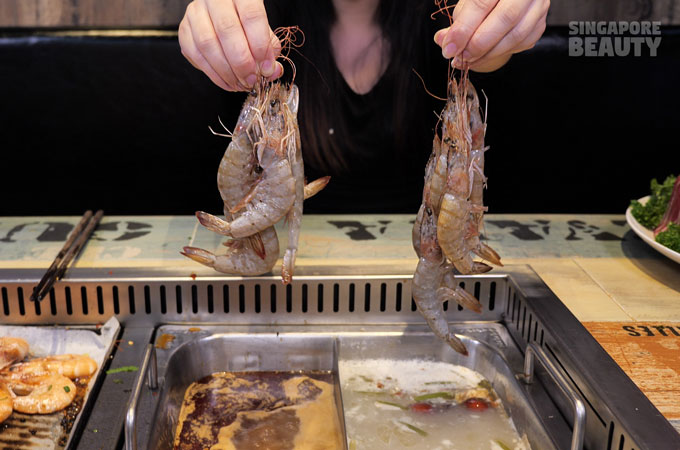 Remember to whack the glass prawns inside your hotpot.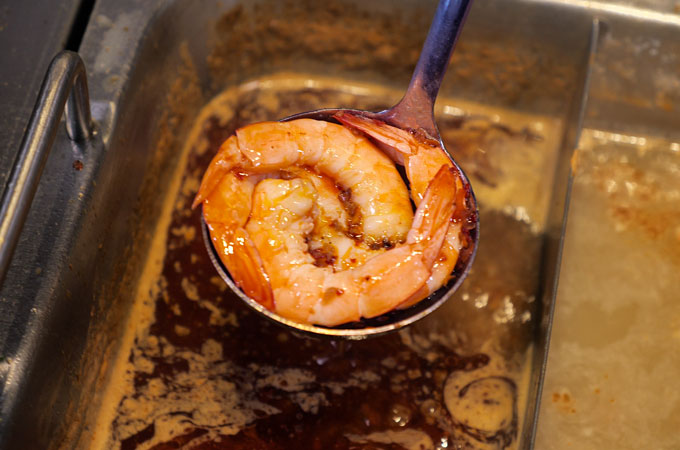 Sweet and succulent flesh to go with the savoury mala soup.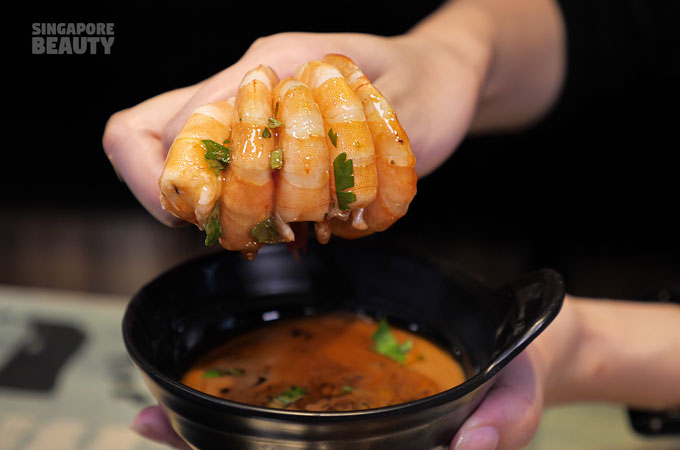 Or dip the prawns in the Thai chilli sauce or sambal belacan chilli sauce for the extra tangy and saline crunch.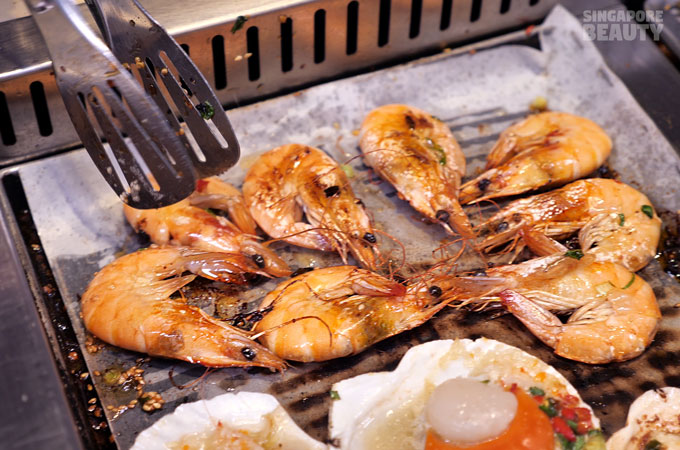 Or grill these prawns with a pinch of salt to savour the natural sweetness of prawns.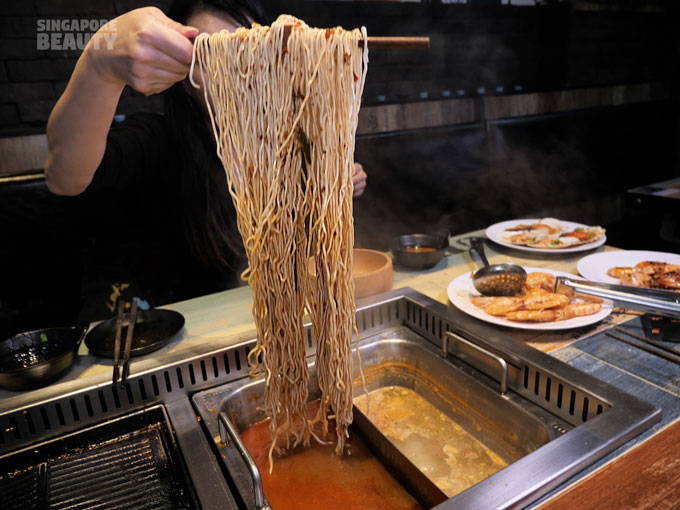 Add in the handmade flying noodle to soak up all the savoury seafood and meat flavours towards the end of your hotpot feast.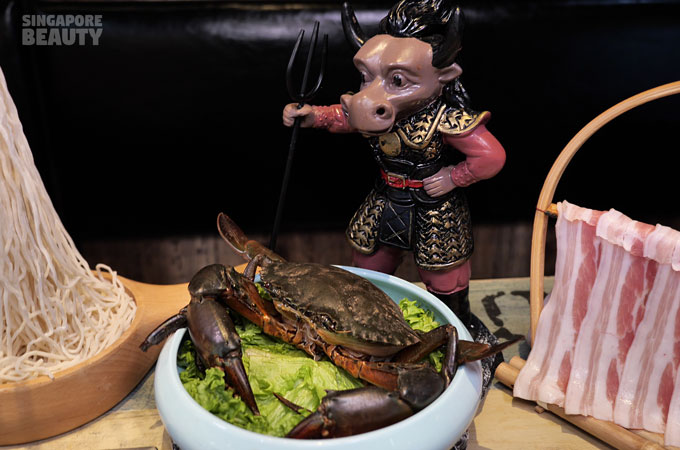 Feeling fancy? Crabs are escorted by a fuming ox-head (guardian of the underworld) to your table. Each mud crab is add-on of $12++ and not included in buffet.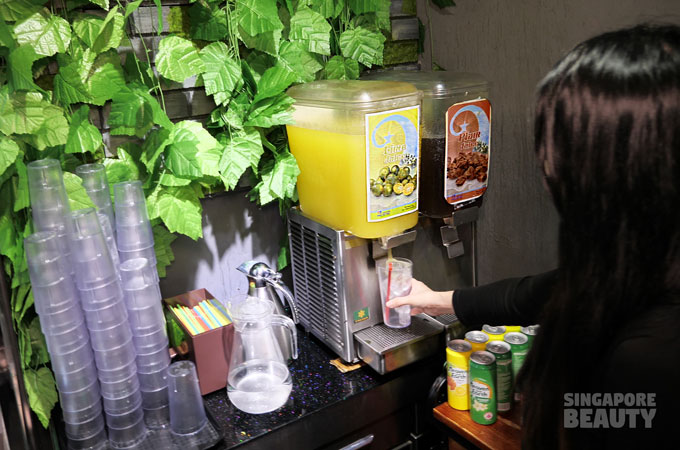 Top up $1++ per pax for free flow selected in-house plum, lime juice or drink of the day. $2++ each for canned drinks.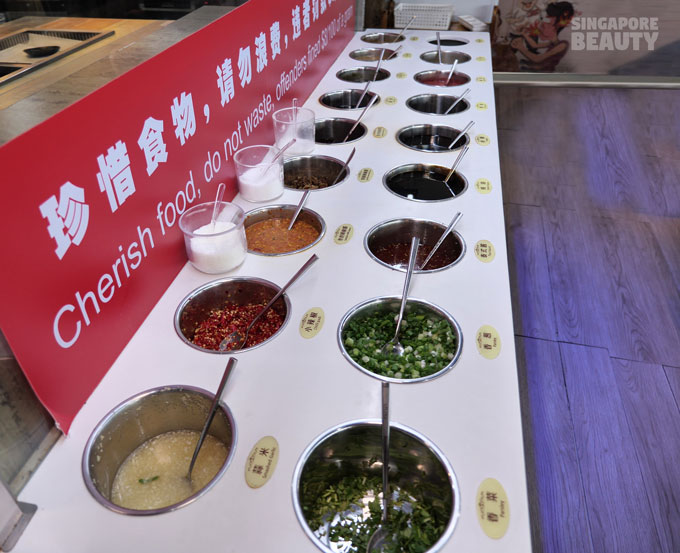 Condiments are included in buffet to help you season the food before you BBQ them or as dips.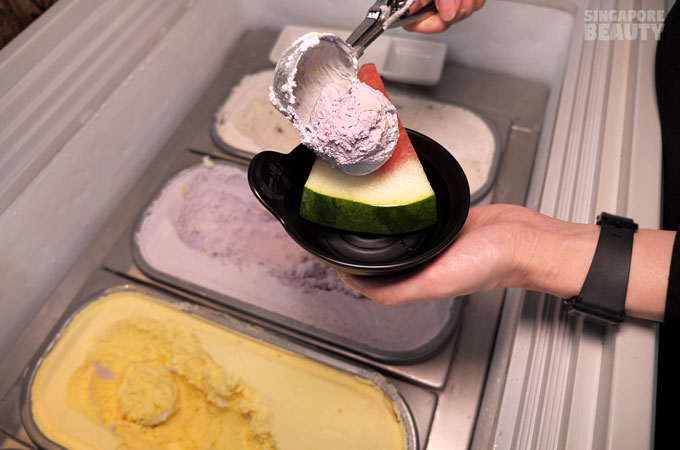 Help yourselves to ice creams and fruits at the end of your buffet. 4 flavours available daily.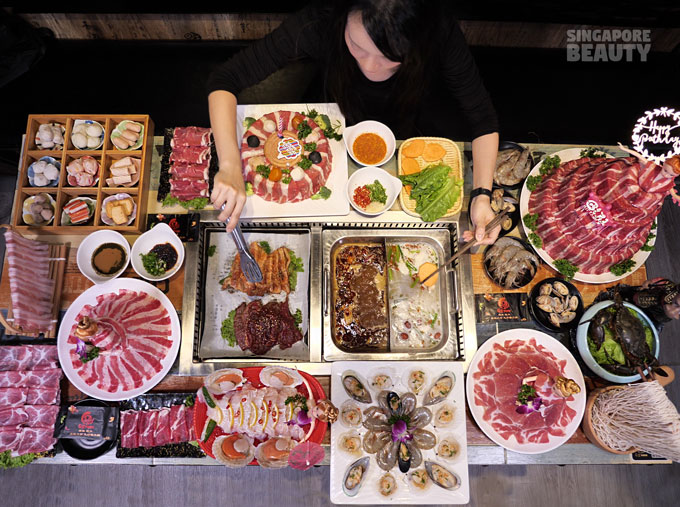 This is a crazy doll buffet spread that you need to try at least once and get hooked on.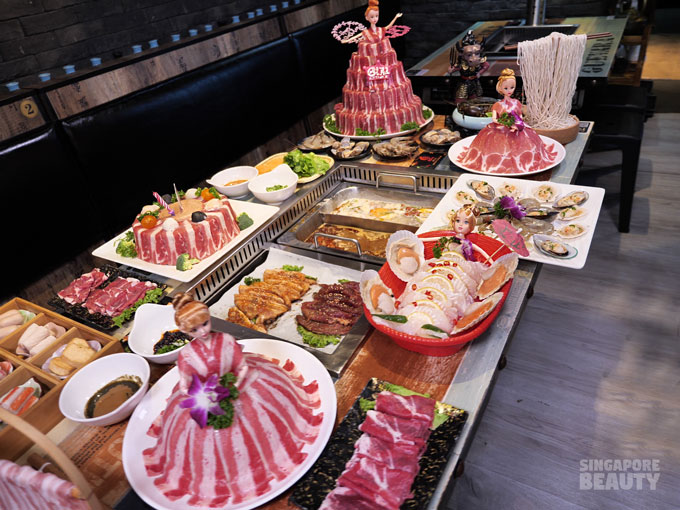 Be wowed by the 6 tier dolly meat birthday cake and get that instagram worthy birthday picture on your timeline today.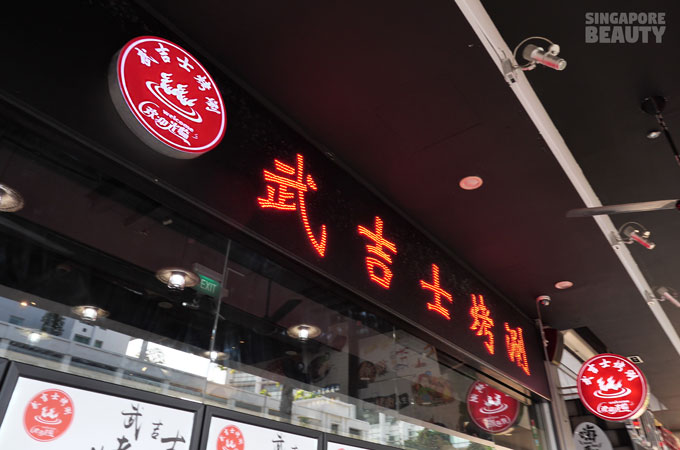 Head over to Bugis BBQ & Hotpot (武吉士烤涮) at level 1 bugis cube today and make a reservation soon.
Weekday Lunch Time Promotion
Monday to Friday (exclude Public holidays and Eve)
$15.00++
minimum 2 pax to dine.
Usual Daily Buffet Price:
Lunch Buffet $18.80++
Dinner Buffet $22.90++
Others:
Single/Dual soup add $9++ per table
Drinks is free-flow at $1++ per pax, Can drinks starts from $2++ per can
++All prices subject to 10% service charge and 7% GST
Dine time:
90 mins
Buffet operating hours:
Lunch hours: 11.30am till 3pm daily
Dinner hours: 3.30pm till 2am daily
Location:
Bugis BBQ & Hotpot
470 North Bridge Road #01-01 , Bugis Cube, S188735
For Enquires
Call them at (+65) 63383405
Brought to you by Bugis BBQ & hotpot 武吉士烤涮