Homemade Black Pepper Beef Rice For Lunch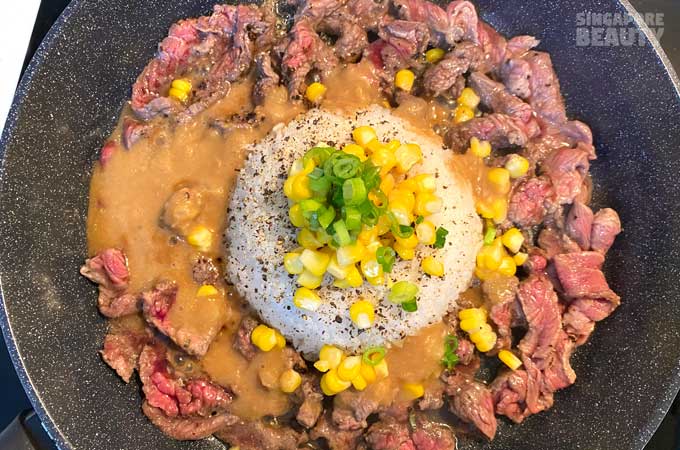 Make some sizzling hot black pepper beef rice for lunch, here is how it is done.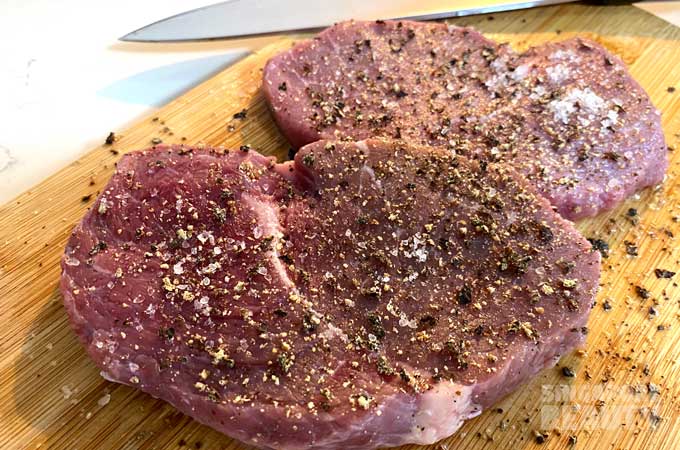 Season 500 gram beef steak with generous about of salt and black pepper and rub the seasonings in. Slice the beef into bite size against the grains of the beef steak.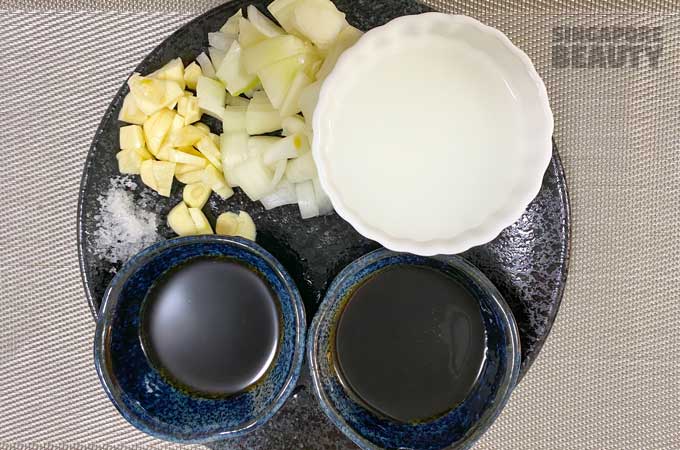 Proceed to make the sauce for the black pepper beef lunch. The ingredients needed for the honey soy garlic sauce are chopped garlic, diced white onions, a pinch of salt, corn starch water, honey and Japanese soy sauce. Prepare 2 cups of steamed rice and 1/2 cup of sweet corn.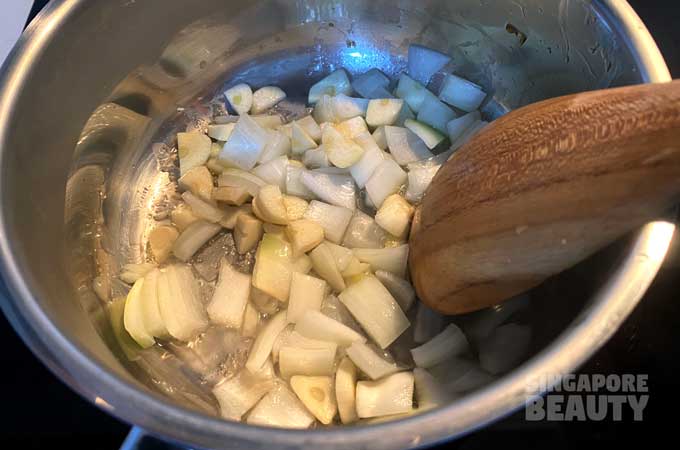 Heat up the saucer pan with oil, add onions and garlic and stir fry in oil till onion soften on low heat for 2 minutes.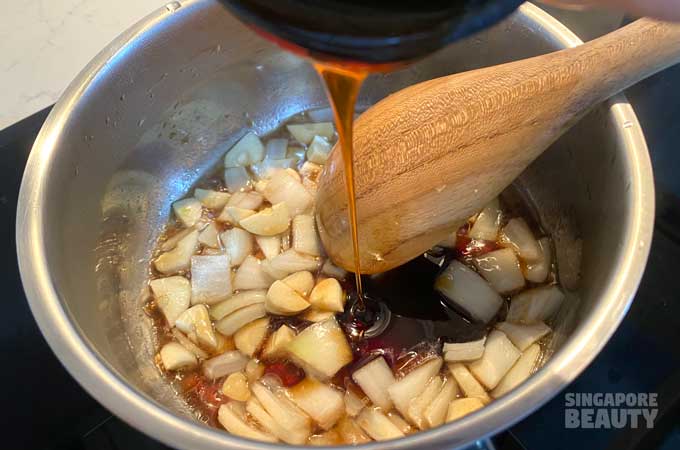 Add honey, soy sauce and salt into the saucer pan and stir fry for another 1 minute.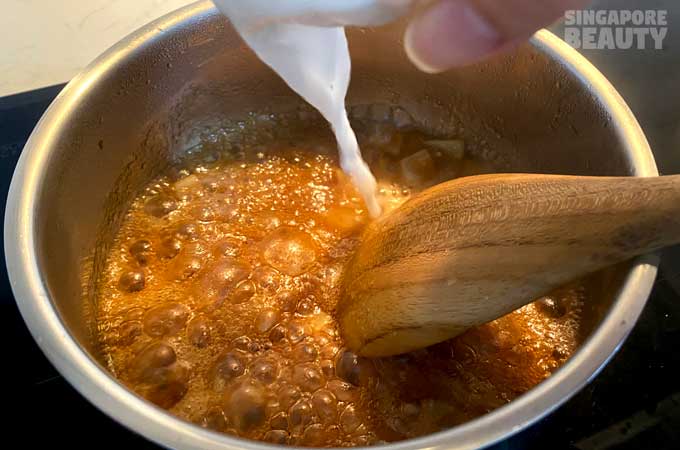 Add in the corn starch water when it starts to simmer. Stir quickly and remove from heat.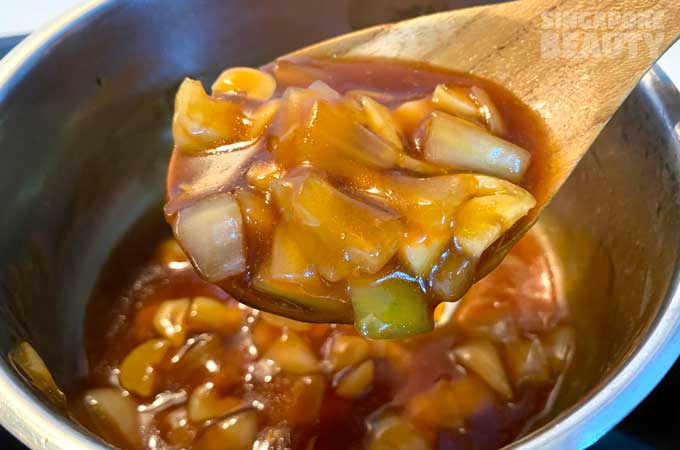 The consistency of the sauce should be gooey.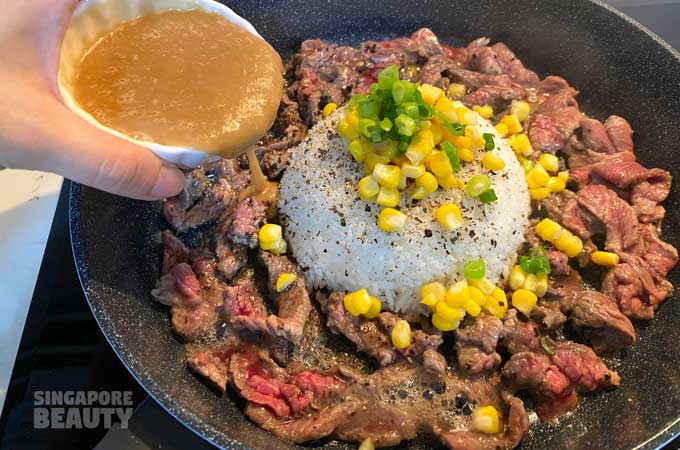 Blend the sauce with a handheld blender in the saucer pan or transfer to a kitchen food processor to blend it to a liquid consistency. Set aside the sauce.
The whipped butter topping for the corn. Whisk the melted butter at room temperature with white pepper, honey and a pinch of salt.
Set aside this whipped butter.
Time to assemble the black pepper beef rice for lunch. Heat up a frying pan with a ring of oil or a cast iron pan (if you own one). Add the rice in the centre of the pan and start laying the thinly sliced marinated beef around the rice. Grill the beef in the pan on low heat for 3 minutes.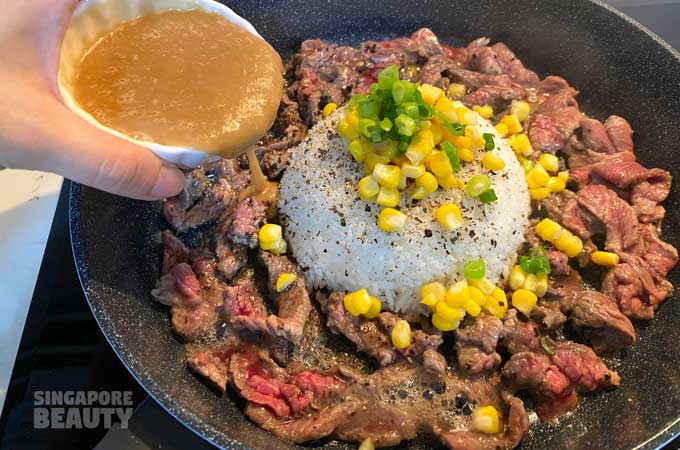 When the beef starts to simmer, top the rice with the crushed black pepper, white pepper, corn, whipped butter and spring onion. Drizzle the soy honey garlic sauce around the beef.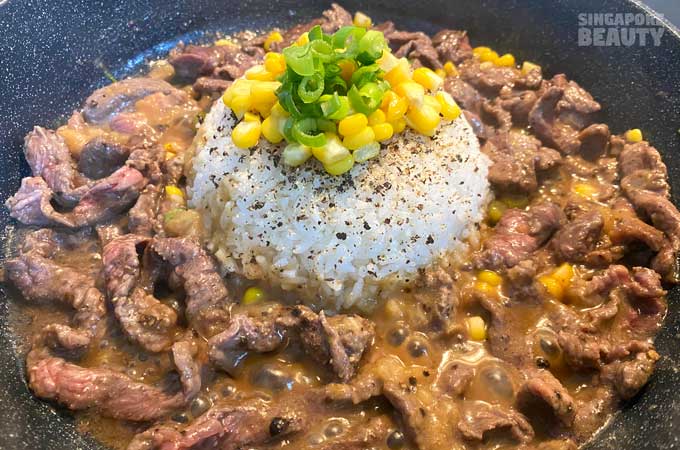 When the sauce starts to simmers with the beef, this black pepper beef rice for lunch is ready to be served. Mix the beef, rice and corn well and enjoy this sizzling hot pan of black peppery beef rice for lunch that comes with some crunchy puffed rice at the base of the pan.
Ingredient List
2 cup of steamed rice
500 to 600 grams of sliced beef steak
1/2 cup of cooked sweet corn
Pinch of salt pepper and generous amount of crushed black pepper to season beef
1 stalk of chopped green spring onion
For Honey soy garlic sauce
4 cloves of chopped garlic
½ cup of diced white onions
a pinch of salt
1 tbsp corn starch into ½ cup of water
2 tbsp of honey
1 tbsp of Japanese soy sauce
Whipped butter topping for the corn
2 tbsp of room temperature butter
Pinch of white pepper
1 tbsp of honey
a pinch of salt